Apple Butter Bread with Raisins
on Nov 09, 2014, Updated Nov 01, 2023
Apple Butter Bread with Raisins is the ultimate fall comfort food. Get ready for some feel-good autumn love with one of the best homemade bread recipes you'll ever taste. As a bonus, it is ready to eat, fresh from the oven, in just over one hour.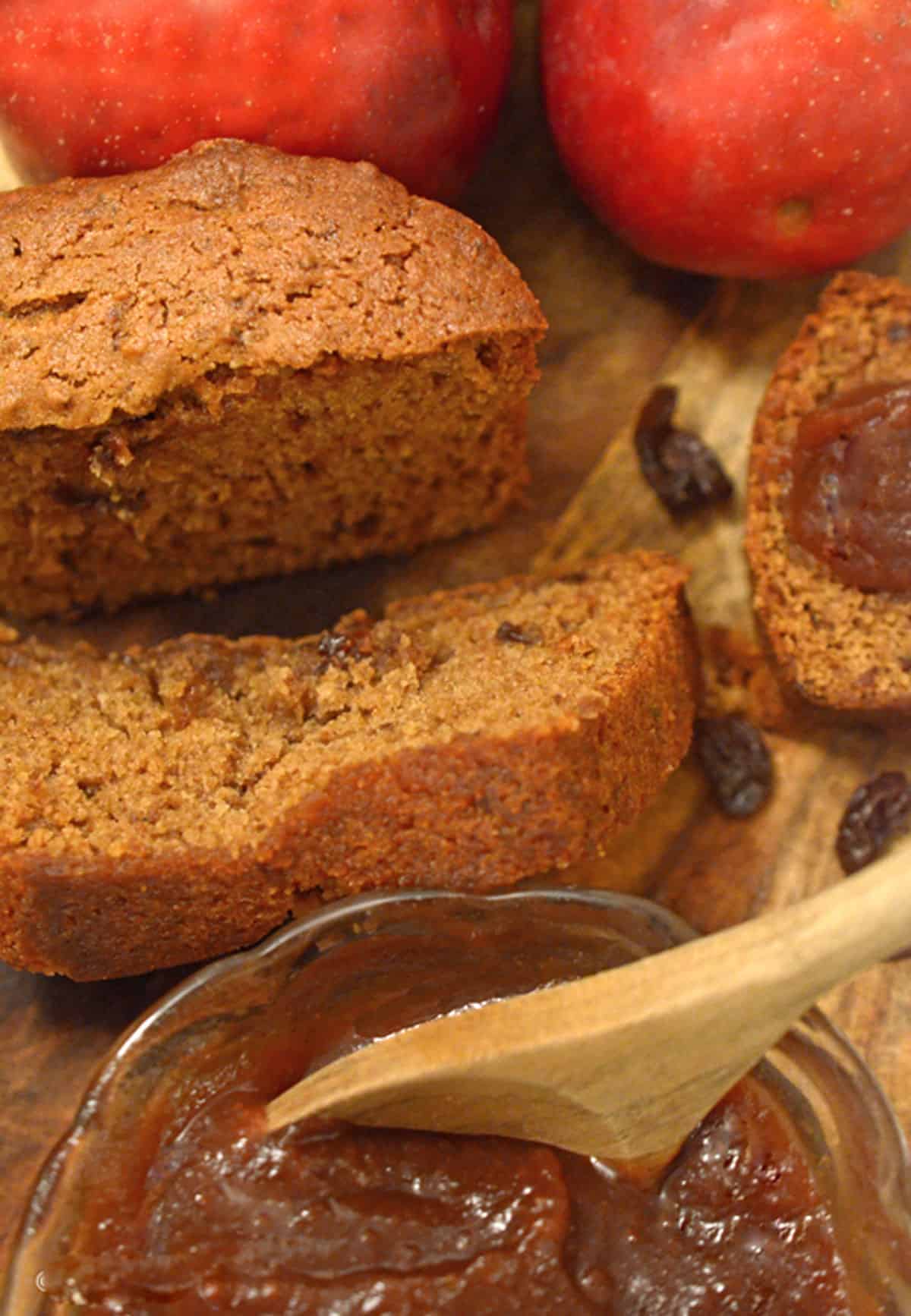 About this Recipe
We've been doing a few recipes using apple butter lately. Great tasting ideas like our Oatmeal Bars with Apple Butter Filling, Apple Butter Meatloaf, Apple Butter Muffins, and these Apple Butter-Dredged Pork Chops.
Like all of these recipes, this apple butter bread started with a batch of our own homemade apple butter. I grew up with this savory apple spread that came from the Amish and Mennonite areas of Waterloo, Ontario, in Canada.
Once I started making it myself, I knew I had to start doing more it than just slathering it on toast or on warm dinner rolls.
The bread is everything you love about fall. The warm aromas of apple, raisins, and cloves evoke an acute awareness of the season, like the falling leaves and sudden appearance of sweaters as they make their way out of cedar chests.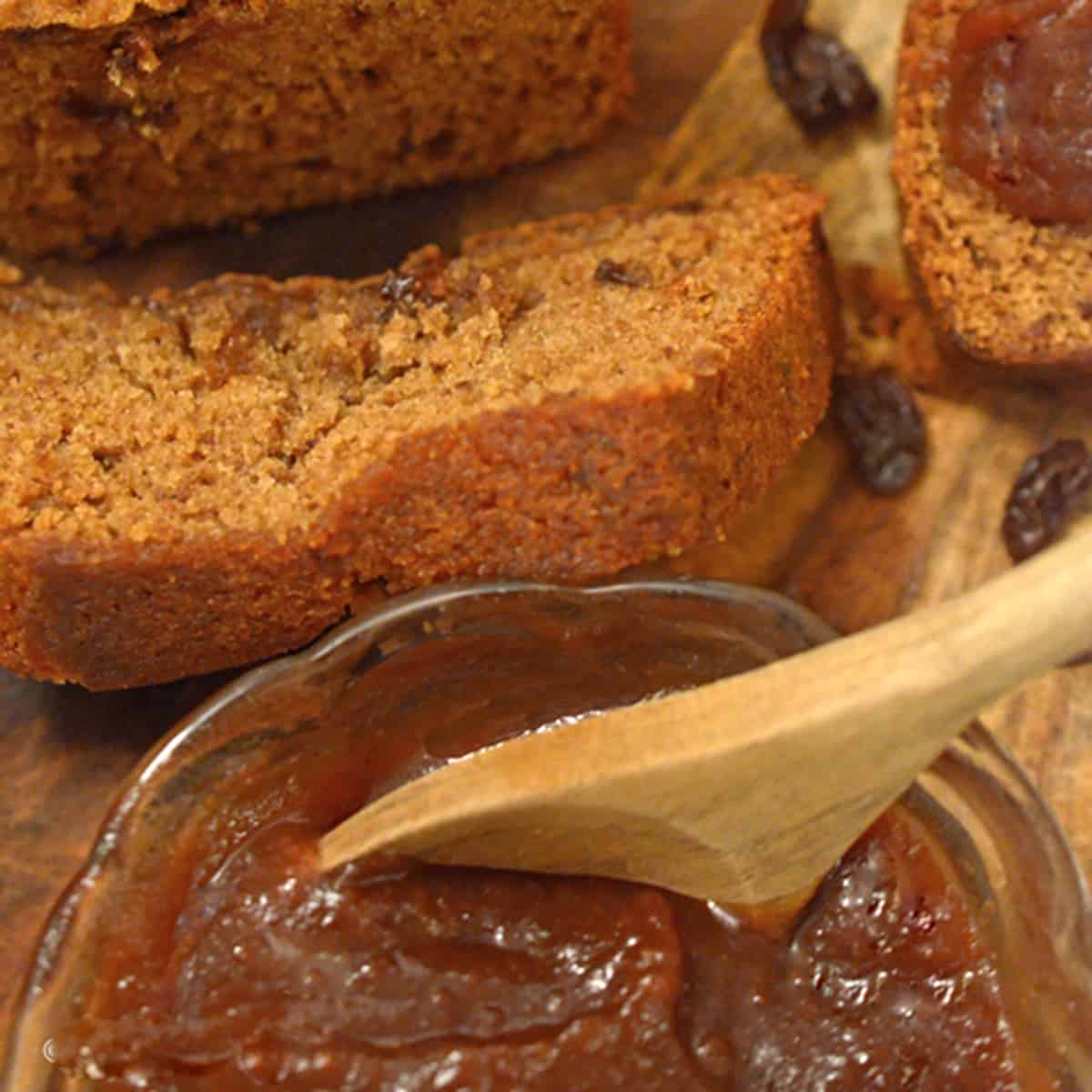 How to make Apple Butter Bread
(Full recipe with directions is in the recipe card below.)
1. Prep the Ingredients:
Ensure that all your ingredients are at room temperature, especially the egg and butter. This helps in achieving a smooth and well-mixed batter. This is a basic principle you should also follow for cookie recipes and for making the best homemade cakes and pie recipes.
2. Mixing the Dry Ingredients:
Consider sifting the flour, baking soda, baking powder, and spices together. Sifting helps in combining the ingredients evenly and removes any lumps, making the cake texture finer.
3. Creaming Butter and Sugars:
Properly cream the butter and sugars until light and fluffy. This process helps to incorporate air into the batter, making the bread lighter.
4. Processing Raisins:
Ensure that the raisins are processed well with hot tap water, as mentioned, to get a finely chopped mixture. This will distribute the flavor evenly.
5. Mixing:
Be cautious not to overmix the batter when incorporating the flour mixture. Mix until just combined to avoid developing too much gluten, which could make the bread tough.
6. Baking:
Preheat the oven thoroughly before putting the loaf in. An oven that hasn't been preheated properly can affect the rising and overall texture of the bread.
Check the bread for doneness a bit earlier than the mentioned time. Ovens vary, and it might be ready sooner.
7. Cooling:
Allow the bread to cool in the pan for the mentioned time before transferring it to a wire rack. This prevents it from breaking apart due to its soft texture when hot.
8. Pan Size and Greasing:
Make sure you use the correct size of the loaf pan as per the recipe and grease it well. It helps in easy demolding of the bread.
9. Environment:
Baking in a humid environment might affect the bread's texture. If it's too humid, you might need to adjust the baking time slightly.
10. Storing:
Store the cooled bread in an airtight container or wrapped in plastic wrap to maintain its freshness and prevent it from drying out.
Variations and Substitutions
Experimenting with these substitutions and variations allows you to customize this apple butter bread recipe to your taste preferences and dietary needs. This fall bread is super versatile and easy to customize.
Variations:
Nuts and Seeds:

Consider adding walnuts, pecans, or even pumpkin seeds to the batter for a crunchier texture and added flavor.

Dried Fruits:

You could add or substitute raisins with other dried fruits like cranberries, chopped dates, or dried apricots for a different flavor profile.

Spices:

Play around with the spices. You could add cinnamon, ginger, or allspice to alter the flavor slightly.

Zest:

Adding orange or lemon zest to the batter can give a refreshing citrus hint.
Substitutions:
Flour:

You can substitute all-purpose flour with whole wheat flour or a gluten-free flour blend for a different texture and to cater to dietary needs.

Sugars:

Brown sugar could be substituted with coconut sugar or more granulated sugar if unavailable.
You can also consider reducing the amount of sugar if you prefer a less sweet loaf.

Egg:

For a vegan option, substitute the egg with a flax egg (1 tablespoon flaxseed meal + 2.5 tablespoons water) or applesauce (1/4 cup).

Butter:

Consider using margarine or a non-dairy butter alternative for a vegan version.
You could also use coconut oil as a substitute for butter.

Apple Butter:

Pumpkin puree or another fruit butter (like pear butter) could be used as a replacement for apple butter, adjusting the spices as needed.

Raisins:

As mentioned earlier, you could substitute other dried fruits like cranberries or chopped dates for raisins.

Hot Tap Water:

You could use fruit juice like apple juice or orange juice instead of hot tap water when processing the raisins for added flavor.

Baking Powder and Baking Soda:

If you don't have baking powder, you could increase the amount of baking soda slightly or make your own baking powder by mixing cream of tartar and baking soda.
Recipe Tip
Remember that each modification may slightly alter the taste and texture of the final product.
Apple season is only a few weeks away the holiday season but this apple butter bread has Thanksgiving written all over it, inside and out.
Grab some apple butter, crank up the oven and get your flour and mixing bowl out. This is one fall bread you have to try. Happy autumn. -Dan
👨‍🍳 Tried this Recipe? Please leave a ⭐⭐⭐⭐⭐ rating in the recipe card below and leave a comment. We love hearing from our readers!
⏩ Stay in touch with us on social media by following us on Facebook, Pinterest, Instagram, and YouTube!
📬Get our Recipes delivered to your inbox for FREE!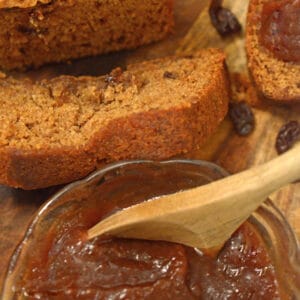 Apple Butter Bread with Raisins
Make this apple butter bread for yourself and you'll be convince that it is one of the best homemade bread recipes you've ever tasted!
Ingredients
1 1/2

cups

all-purpose flour

1

teaspoon

baking soda

1/2

teaspoon

baking powder

1

teaspoon

salt

1

teaspoon

ground nutmeg

1/2

teaspoon

ground cloves

1/3

cup

butter

,

softened

1/2

cup

granulated sugar

1/2

cup

packed brown sugar

1

egg

1 1/4

cups

apple butter

1/2

cup

raisins

1/8

cup

hot tap water
Instructions
Preheat oven to 350 degrees F (175 degrees C).

Grease a 8x4x2-inch loaf pan.

Mix flour, baking soda, baking powder, salt, nutmeg, and cloves in a bowl.

Beat the butter and sugars with an electric mixer in a separate large bowl until smooth.

Add the egg and continue beating until smooth.

Using a small food processor, add raisins and hot tap water. Process until finely chopped

Add apple butter to raisin mixture and process for an additional minute.

Fold apple butter and raisin mixtutre into egg, butter, and sugars mixture.

Mix in the flour mixture until just incorporated.

Pour into prepared loaf pan.

Bake in the preheated oven until a toothpick inserted into the center comes out clean, about an hour.

Cool in the pans for 10 minutes before removing to cool completely on a wire rack.
Nutrition
Calories:
244
kcal
,
Carbohydrates:
47
g
,
Protein:
2
g
,
Fat:
6
g
,
Saturated Fat:
3
g
,
Cholesterol:
27
mg
,
Sodium:
345
mg
,
Potassium:
127
mg
,
Fiber:
1
g
,
Sugar:
28
g
,
Vitamin A:
184
IU
,
Vitamin C:
1
mg
,
Calcium:
27
mg
,
Iron:
1
mg
Nutrition information is automatically calculated, so should only be used as an approximation.
More Ways to Use Apple Butter