Traeger smoked pork chops are an easy smoked pork recipe that any amateur can make. With just a few smoker recipes under my belt, I'm living proof!
Read on and I'll show you how to make these using a pellet smoker. Like many of our pork recipes, this easy one takes just a few minutes to prep.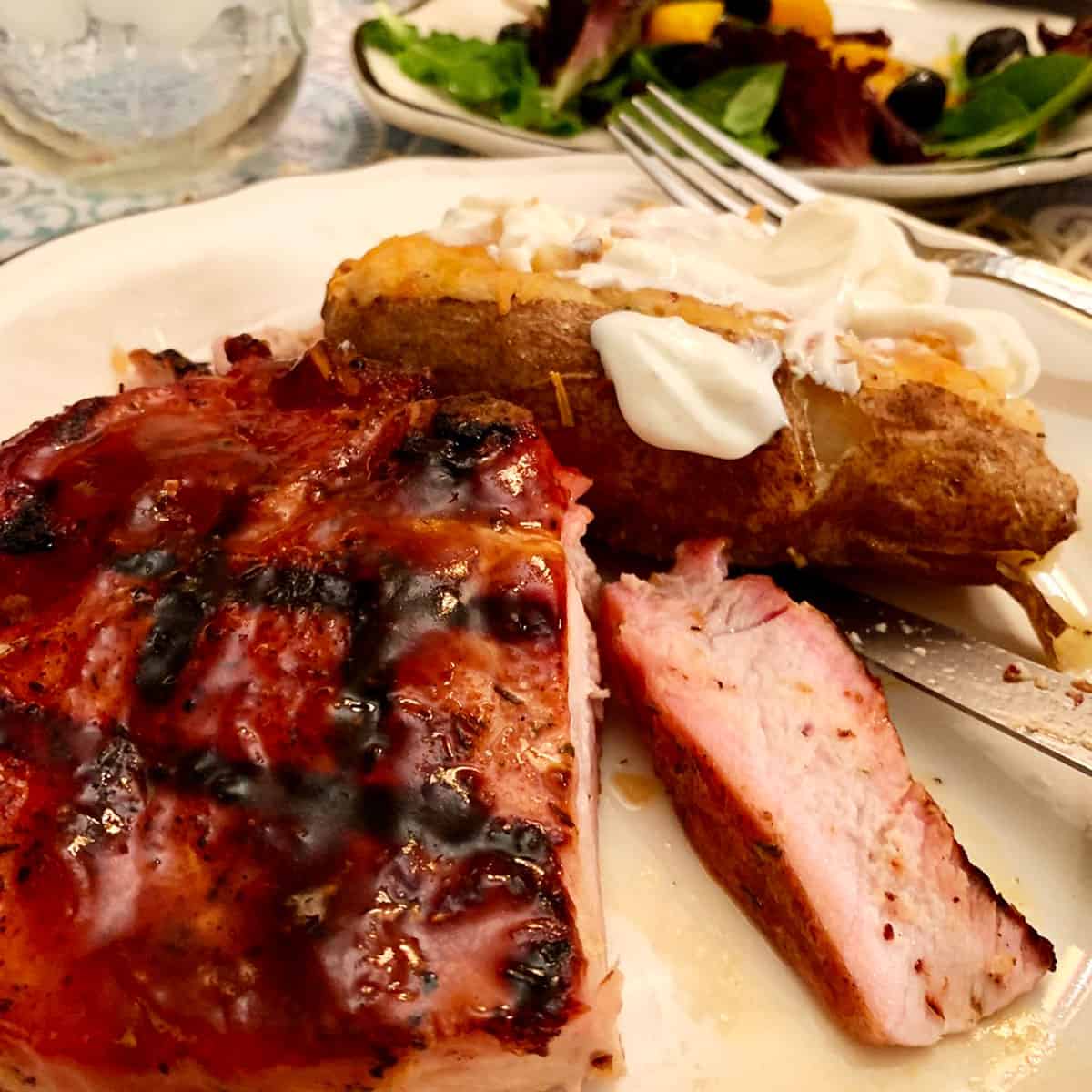 Jump to:
About these
We used our new Traeger Silverton 810 smoker from Coscto to make this easy meal. It's economical and perfect for a family meal or for having company over like we did this past Saturday night.
One of the benefits of living in farm country like Wisconsin is the ability to know where our food comes from. We picked these thick-cut pork chops up at a local butcher.
Pro Cooking Tip: Know your source! Like any recipe, these will only be as good as the ingredients you use.
Ingredients and equipment
We make this easy smoker recipe on a Traeger pellet smoker, but you can use an offset wood smoker as well.
You'll need a meat thermometer or you can use the temperature probe on your smoker if it has one. Be sure to calibrate your thermometer or temp probe before using it.
Food Safety Precaution: Never consume undercooked pork! Be sure the minimum temperature is 145° before pulling them off the smoker.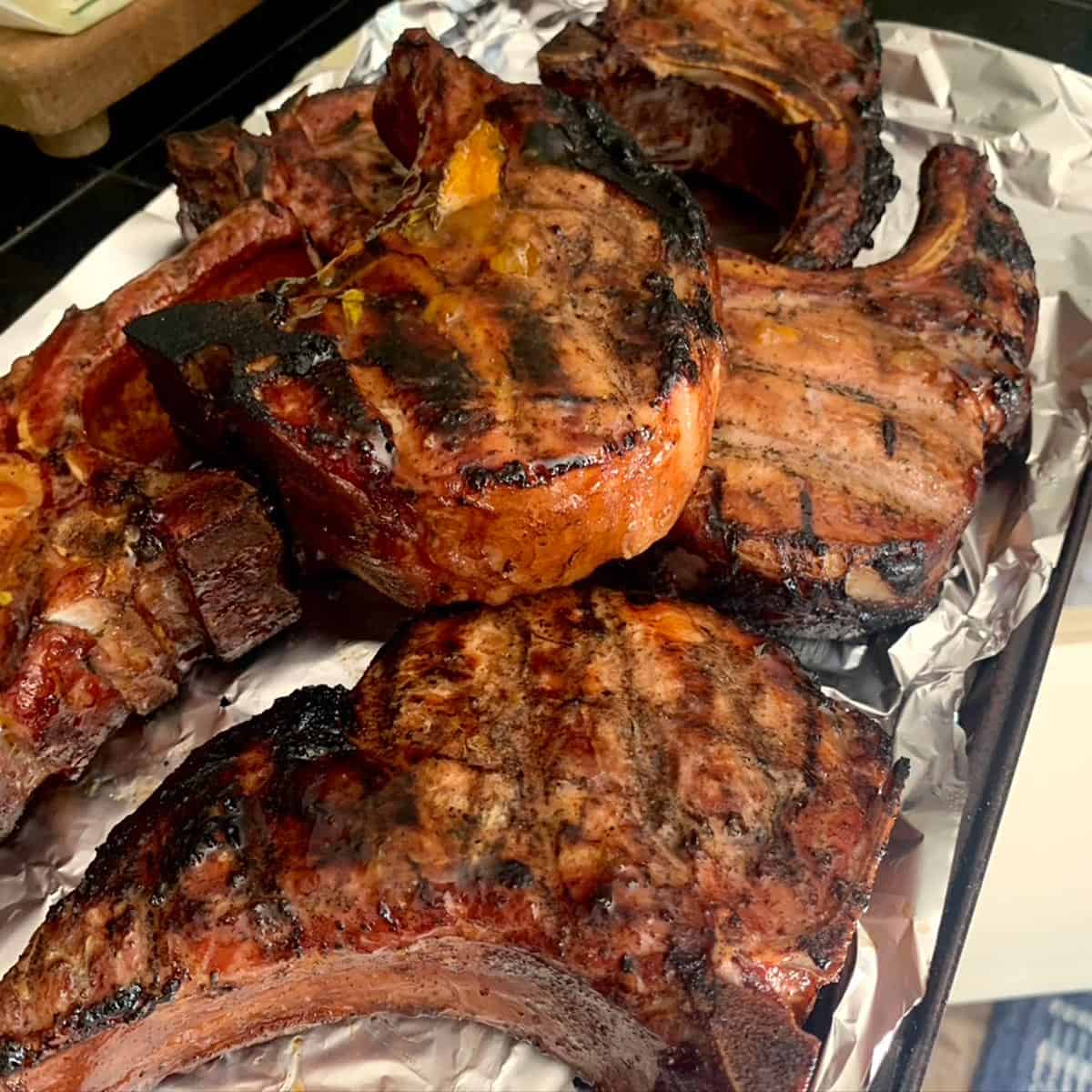 Thick-Cut Pork Chops. Use bone-in pork chops, 1 to 1 ½-inches thick. Thicker cuts of pork will absorb more smokey flavor. The bone will also add flavor and give you somethig to hold on to when eating these!
Kosher Salt - The larger salt crystals will flavor the meat nicely without over-salting which is easy to do with the smaller granules of iodized table salt.
Fresh Ground Black Pepper
Dried Thympe - This lends a mellow herb-flavor to the smoked pork chops.
Paprika - Sprinkle some of this on the meat to add some nice reddish color and a touch of warm flavor.
Barbecue Sauce - This is optional but a little bit will go a long way when you serve these.
Pro Cooking Tip - Be sure and heat the sauce up a bit before serving. No one wants cold sauce with a hot juicy piece of meat!
Substitutions and variations
Salt and pepper are pretty much a must when making these. Beyond that, you can use whatever you like for seasoning but remember, it doesn't have to be fancy or expensive.
Take a look in your spice cabinet. Some other flavorful options might include:
Chili powder
Cayanee pepper
Cumin
Oregano
Parsley
Brown sugar
How to make these
(full recipe below)
Make a dry brine using the dry ingredients.
Evenly sprinkle the uncooked meat with the spice mixture.
Allow the pork chops to rest, uncovered in the refreigerator for 3 to 4 hours before smoking.
Smoke at 225° F. until the internal temperature of the meat reaches 145°. This will take 1.5 to 2 hours, depending on the thickness of your chops.
How to reverse sear these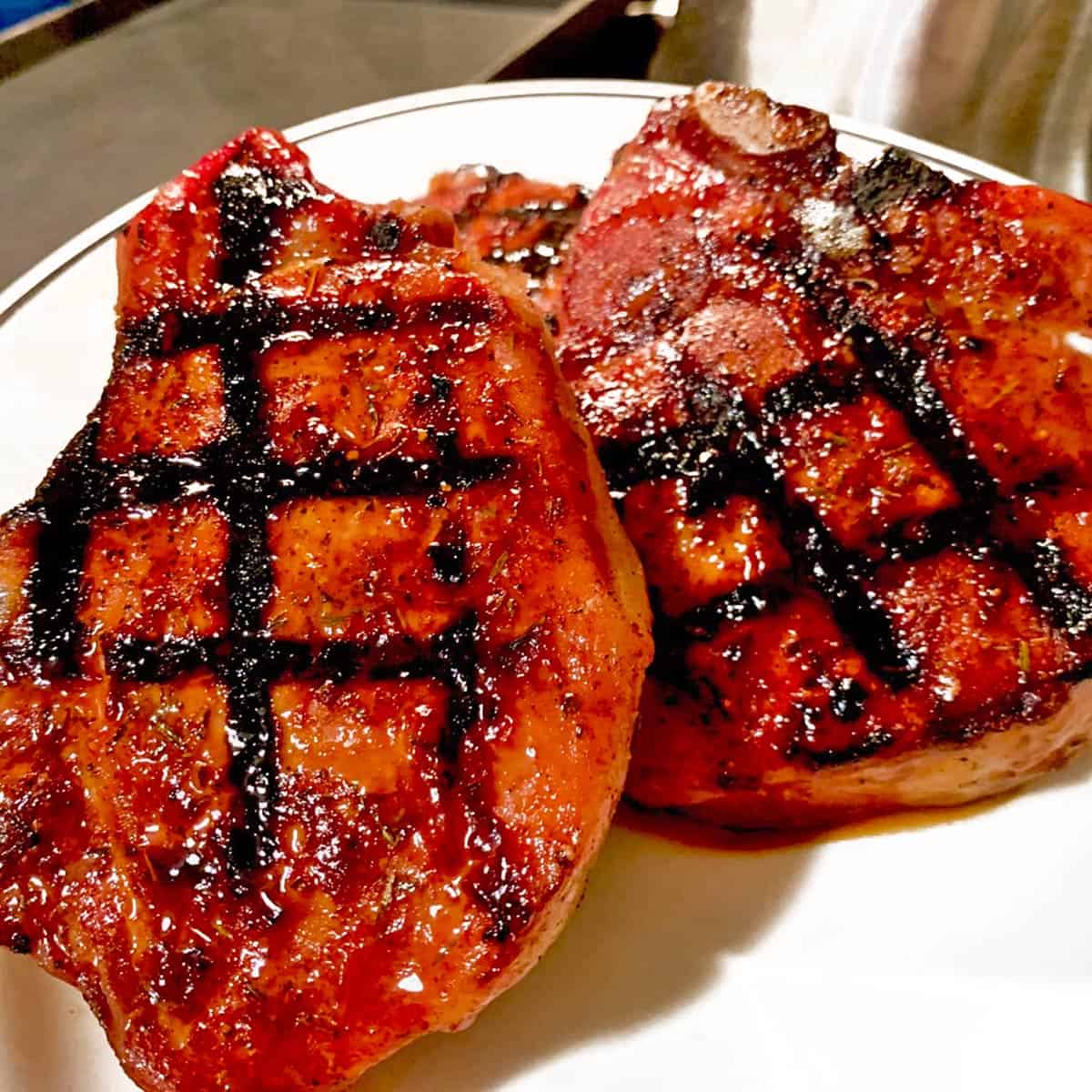 Searing these over hot grates after they are smoked will give you style points along with added texture and flavor from the caramelization of the meat. Most pellet smokers won't get hot enough to sear but there are a couple of ways to get around this.
Use GrillGrates that you can set in your smoker. These are made of stainless steel and will heat to 100 to 150° hotter than what the grates on your smoker will reach. This is how I add a nice sear meat that I sear on my Traeger pellet smoker.
Use a charcoal or gas grill to sear these at the end.
A kitchen sear pan will also work.
Pro Cooking Tip: Before reverse searing these, smear a little barbecue sauce over the surface. This will give the hot grates something to bite into and you'll be left with beautiful grill marks.
Top tips for the best smoked pork chops
Don't overcook them! You can safely eat these when they reach 145° F.
Use tongs to flip instead of prongs. You don't want to loose any more internal juice than necessary.
Do not slice or cut the meet while it is on theours, grill to check for doneness. This will dry it out.
No peaking while smoking! This will reduce the smoker temperature and allow precious smoke to escape.
Allow the meat to rest, tented with foil, for at least 5 minutes before serving. This will allow the meat fibers to reabsorb the juices.
Common questions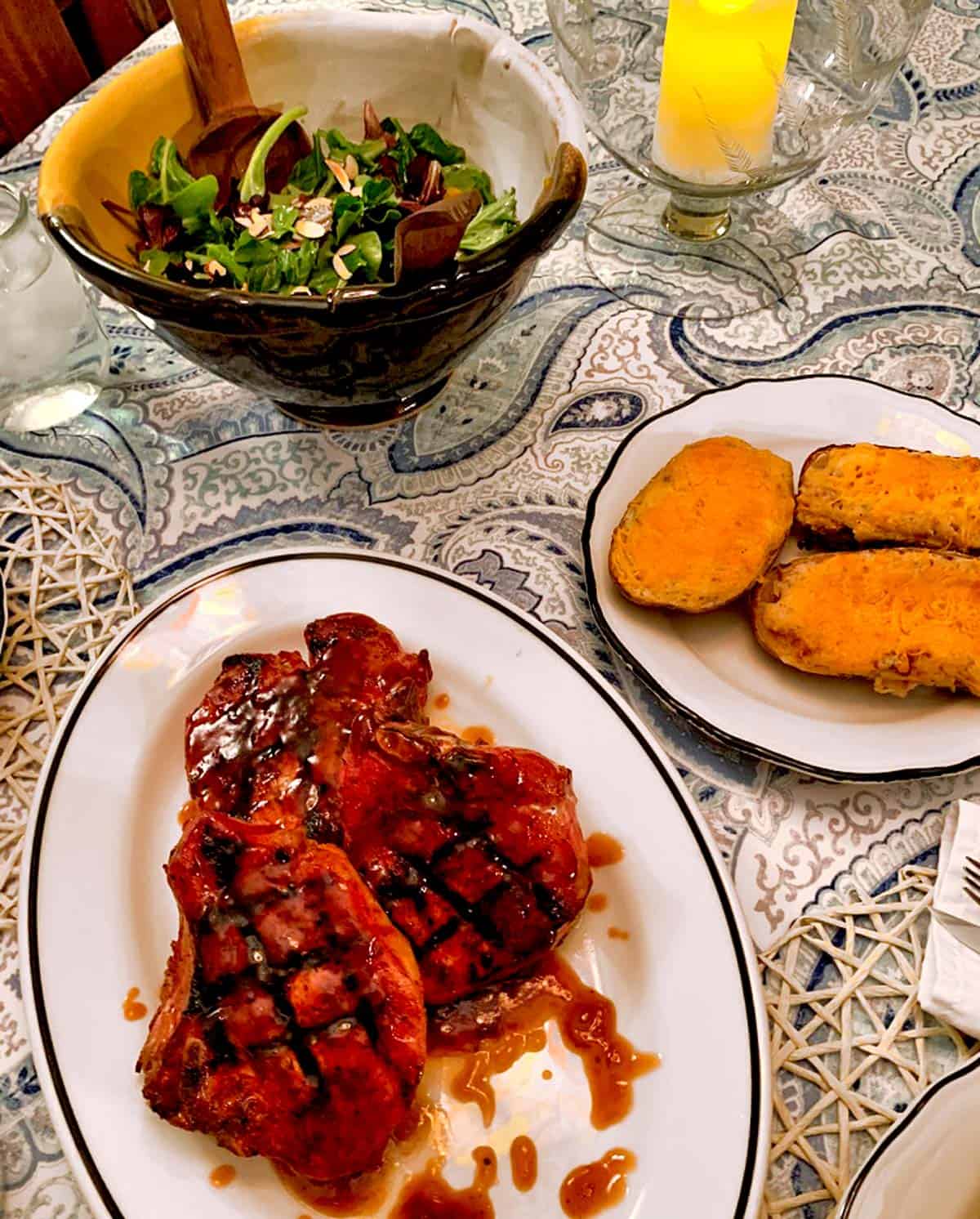 Can I use boneless pork chops?
You can use either bone-in or boneless cuts of meat for this recipe. I prefer bone-in but either works well. Either way, I suggest a thickness of at least 1-inch for maximal flavor and juiciness.
Do I need to sprtiz these?
If you maintain a smoking temperature of no higher than 225°, you do not need to spritz these nor do you need a water pan to keep them from drying out.
What is the best pellet flavor to use for these?
This is a matter of preference. Many will say apple because this is a classic flavor combination. However, the smokey flavor is mellow and really nothing more than a subtle compliment to the pork's natural flavor.
How can I get more smoke from my pellet smoker?
Many people like smoke tubes for added smoke. Also, certain models such as Traeger's Silverton 810 model have a "super smoker" option. This works for temperatures up to 225°.
What goes with smoked pork chops?
We like to serve these with our mandarin orange salad and twice-baked potatoes.
Similar recipes
👨‍🍳 Tried this Recipe? Please leave a ⭐⭐⭐⭐⭐ rating in the recipe card below and leave a comment. We love hearing from our readers!
⏩ Stay in touch with us on social media by following us on Facebook, Pinterest, Instagram, and YouTube.
📬 Get our Recipes delivered to your inbox for FREE!

📖 Recipe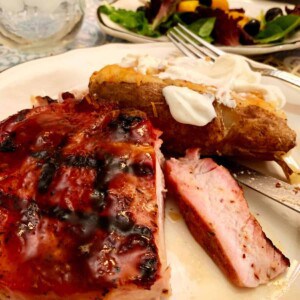 Traeger Smoked Pork Chops
Learn how to make smoked pork chops on a pellet smoker.
Print
Pin
Rate
Ingredients
3

Pork pork chops

About 10 oz. each, at least 1-inch thick.

1

tbsp

Kosher salt

2

tsps

Paprika

1

tsp

Dried thyme

Fresh ground black pepper

½

cup

Barbecue sauce
Instructions
Combine the seasoning mix and evenly distribute over the meat. Then, place the meat in the refrigerator, uncovered for 4 to 6 hours.

Preheat your smoker to 225° F. Place the seasoned meat on the the smoker and allow to smoke to an internal temperature of 145°. About 60 to 90 minutes, depending on the thickness of the chops.

(Optional) Slather a bit of the BBQ sauce on each porch chop and reverse sear at the end.

Tend the meat loosely with foil and allow to rest at least 5 minutes before serving. Serve with optional barbecue sauce.
Notes
Be sure to smoke these to a minimum temperature of 145° F.
Be sure your thermometer is calibrated!
Handle with a set of tongs to avoid piercing the meat.
Reverse sear at the end for best results.
Allow the meat to rest for at least 5 to 10 minutes before eating.
Nutrition
Calories:
526
kcal
|
Carbohydrates:
20
g
|
Protein:
62
g
|
Fat:
20
g
|
Saturated Fat:
7
g
|
Polyunsaturated Fat:
3
g
|
Monounsaturated Fat:
9
g
|
Trans Fat:
1
g
|
Cholesterol:
190
mg
|
Sodium:
2952
mg
|
Potassium:
1203
mg
|
Fiber:
1
g
|
Sugar:
16
g
|
Vitamin A:
788
IU
|
Vitamin C:
1
mg
|
Calcium:
47
mg
|
Iron:
2
mg