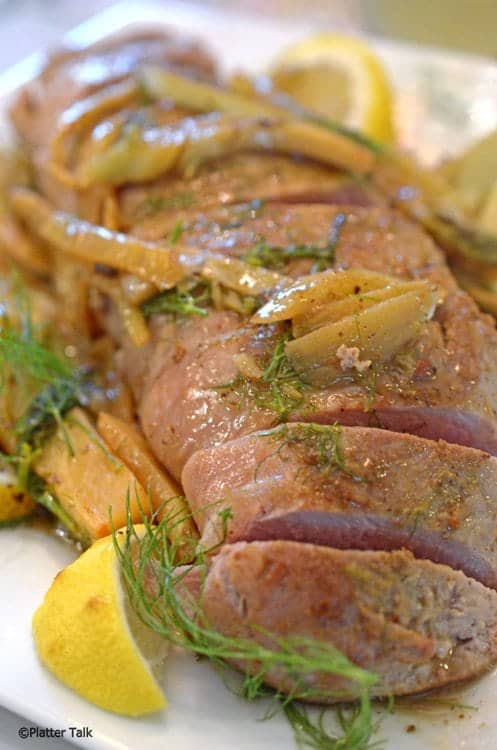 It's fall here in Wisconsin.  Perhaps not officially by the calendar but it is the thermometer that ultimate;y has the final say in determining what season is upon us.  We are waking up to temperatures in the 40's and daytime highs in the mid-60's   Packer season is in full swing and last night I noticed Christmas trees set up in a local department store.  It may only be the 17th of September but fall is most certainly here.   The fall season and cooler weather bring with them autumnal dishes and seasoning and with that in mind it seemed apparent that some fresh and seasonal fennel was in order when planning last night's meal.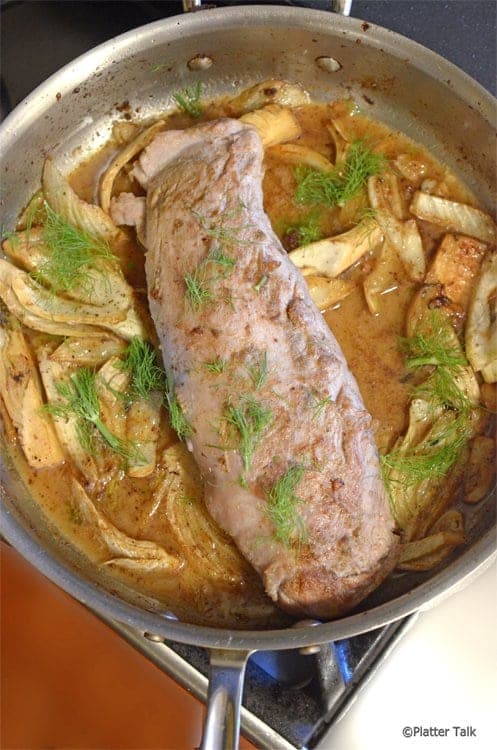 In the past, fennel seed is something that I have most often associated as the primary seasoning in Italian sausage.   Fennel seeds are sometimes confused with those of anise, which are similar in taste and appearance though smaller.
I've seldom if ever enjoyed the aromatic bulb of the fennel plant and as a result of this meal I am determined to become better acquainted.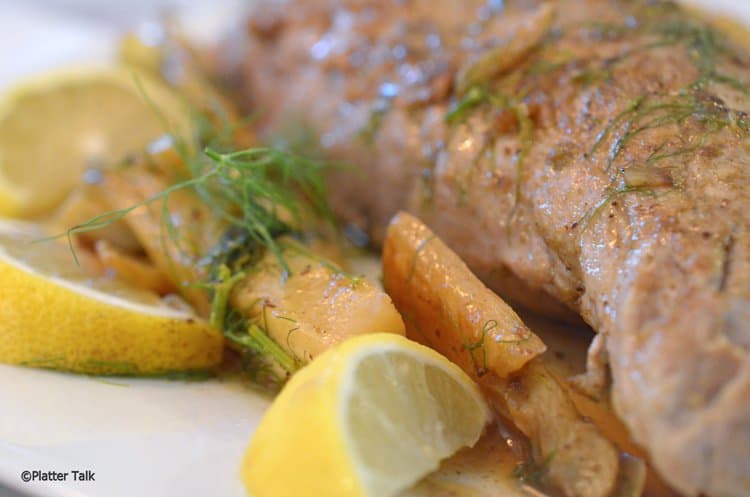 Likely because I haven't used fennel very many times, I was temped to supplement this dish with the addition of some more aromatics.  Perhaps some onion.  Maybe a bit of shallot I had on the countertop.  I'm glad I resisted.  The flavor from these sauteed then roasted fennel bulbs on top of the fennel seed-encrusted meat was completely sufficient for an earthy, mellow flavor.  The garlic and lemon juice at the end nicely completed the dish making for a flavor profile that was expansive and all-encompassing but not at all overpowering.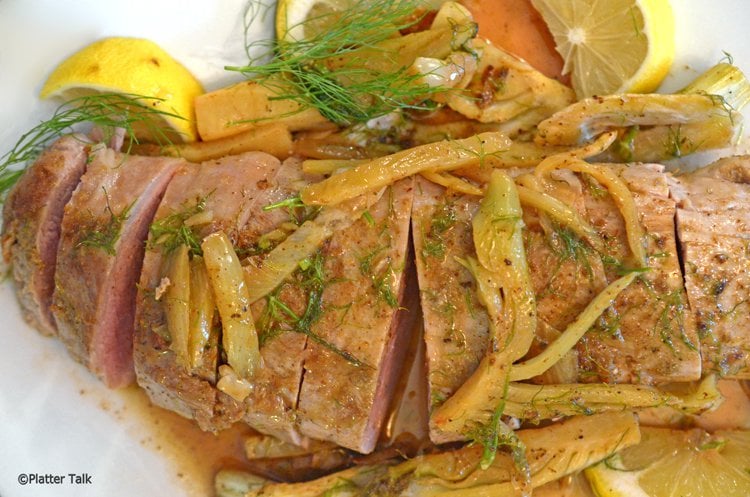 I love warm weather.  I love bright sunny days, green grass and being outside with bare feet and short pants.  Here in Wisconsin some of those things aren't going to be possible for quite some time but it's not all bad.  Our changing seasons include foods and flavors that are unique to each one.  I'm not looking forward to the bitter cold that may ensue down the road but if it brings with it  delicious and savory meals like this one, I'm confident that I can  hold out till next spring for the warm beautiful weather that I love, along with the wonderful dishes that are sure to tag along.  Happy fall.   -Dan.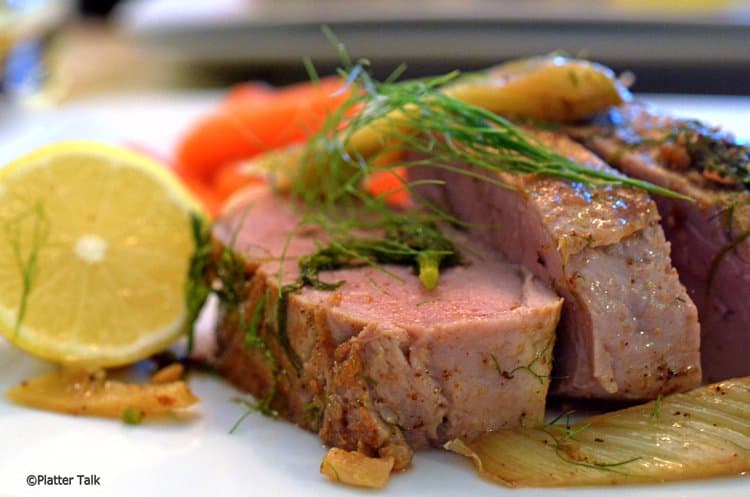 Never Miss Another Platter Talk Recipe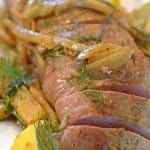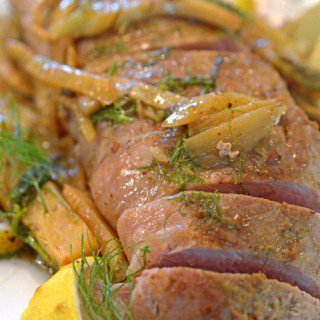 Fennel Rubbed Pork Tenderloin with Fennel Wedges
Adapted from Ian Knauer
Ingredients
1

lb.

pork tenderloin

1

tablespoon

ground fennel seeds

2

tablespoon

olive oil

2

fennel bulbs

trims removed and fronds reserved

3

cloves

garlic

crushed

salt and pepper

1

cup

dry white wine

1

cup

low sodium chicken broth

2

tablespoons

unsalted butter

juice form 1/2 lemon
Instructions
Preheat oven to 350 degrees.

Use paper towel to pat dry the pork until dry.

Rub fennel seed in pork, evenly distributing throughout.

In oven-safe pan or skillet, heat olive oil on medium high heat.

Brown tenderloin on all sides for about six minutes. Set aside on plate.

Cut fennel into 1/2 inch wedges

Using the same pan, sauté fennel and garlic over medium heat until fennel is brown and tender, about six minutes.

Add wine and deglaze pan, scraping up brown bits.

Add butter and broth to pan and stir.

Place pork on top of fennel and transfer pan into oven.

Roast until internal temperature of pork reaches 145-150 degrees, about 15 minutes.

Transfer pork to a cutting board and let stand for 10 minutes.

While pork is resting, transfer hot skillet to stove top, bring contents to simmer until almost completely reduced.

Add lemon juice, reduce heat and stir in 1/2 cup reserved (and chopped) fronds.

Slice pork, serve over fennel wedges and top with sauce.
Recipe Notes
In lieu of crushed fennel seed, substitute crushed anise seed.
Related articles across the web