Smoked salmon is one of my favorite foods to make on a smoker. This easy smoked salmon recipe uses just a handful of ingredients and can be tailored to your taste.
Because it stores well, you can enjoy this seafood delicacy for days after making it. I'm in love with this seafood recipe, and today I'm sharing what I have learned to help you make the best smoked salmon ever.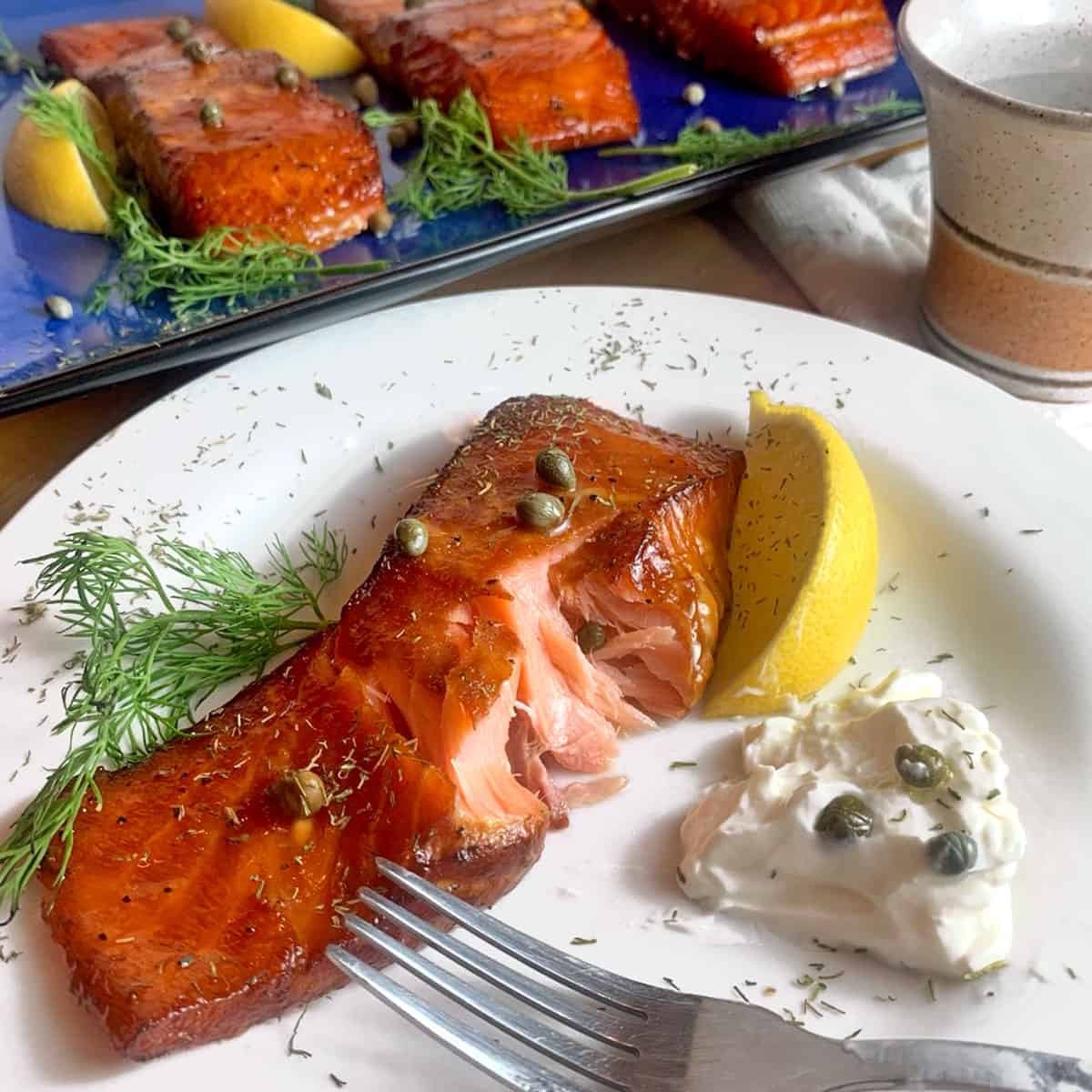 Serve this warm or cold.
Jump to:
About this
There are many smoked salmon recipes out there. Some use heat like this one, others use cold smoking for making cold smoked salmon like the lox that goes on bagels and cream cheese. Hot or cold-smoked, it's easy to make smoked salmon last for several days so you can enjoy it down the road.
This one starts with a simple cold water brine of salt and brown sugar. Next, it is dried from the brine and then smoked over indirect heat. All together this process takes between 12 and 15 hours to finish.
Like other smoked foods, for best results with this hot smoked salmon recipe you want to use a low temperature. The low heat along with your choice of flavored wood will give your fish a heavenly smoky flavor.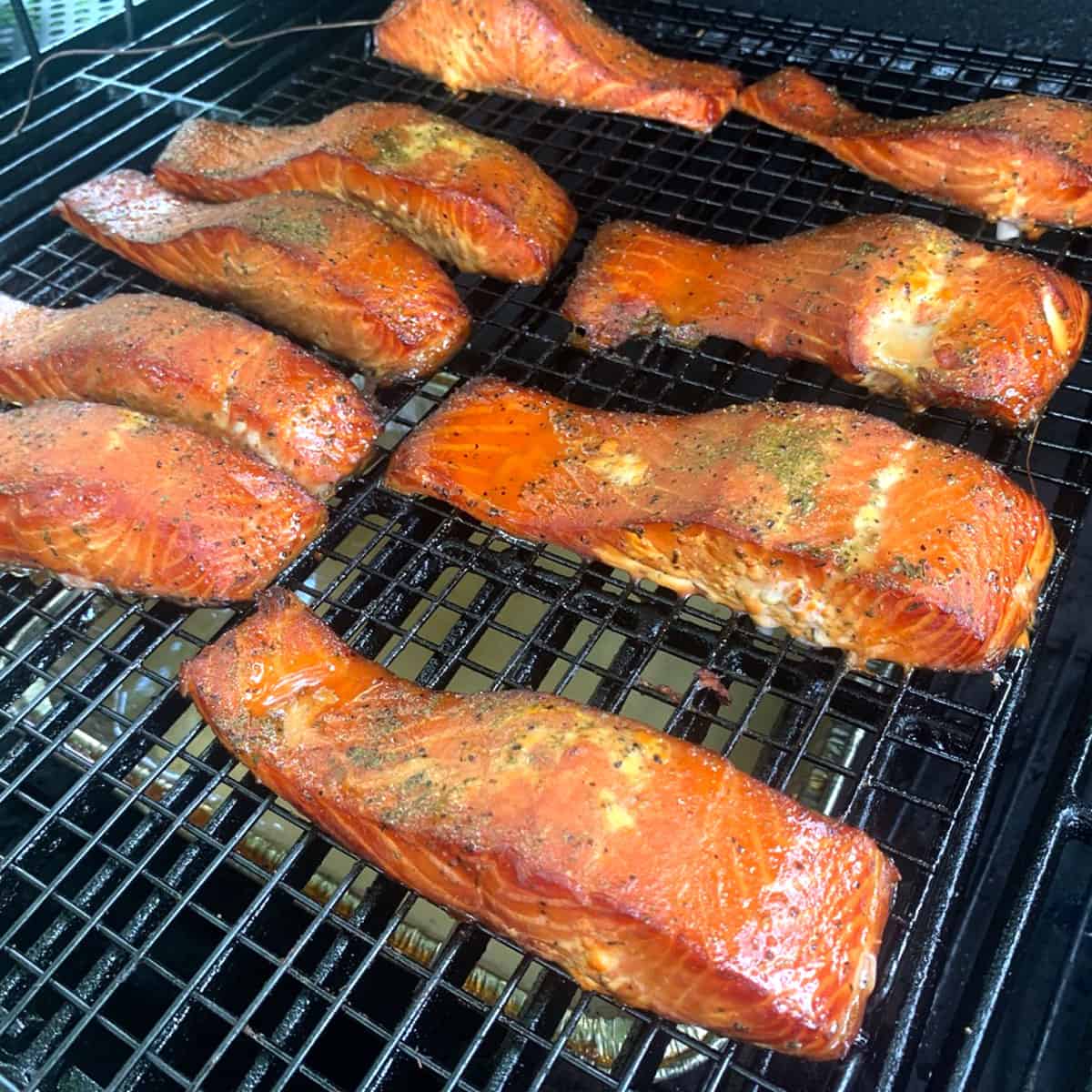 What you need to make it
I have included affiliate links for Amazon products for you to look at. I receive a very small amount of compensation for any products that you order through our site.
Aside from some salmon fillets and some basic ingredients which I will tell you about below, you'll also need a few supplies.
A Smoker – You can make this smoked salmon recipe on any type of smoker. I use a simple, no-frills offset smoker that uses wood. But you can use an electric smoker like the one we picked up at Aldi for $119. It works for pellet grills, like a Traeger smoker or even on a big green egg. Traeger grills and the like can set you back several hundred or thousands of dollars.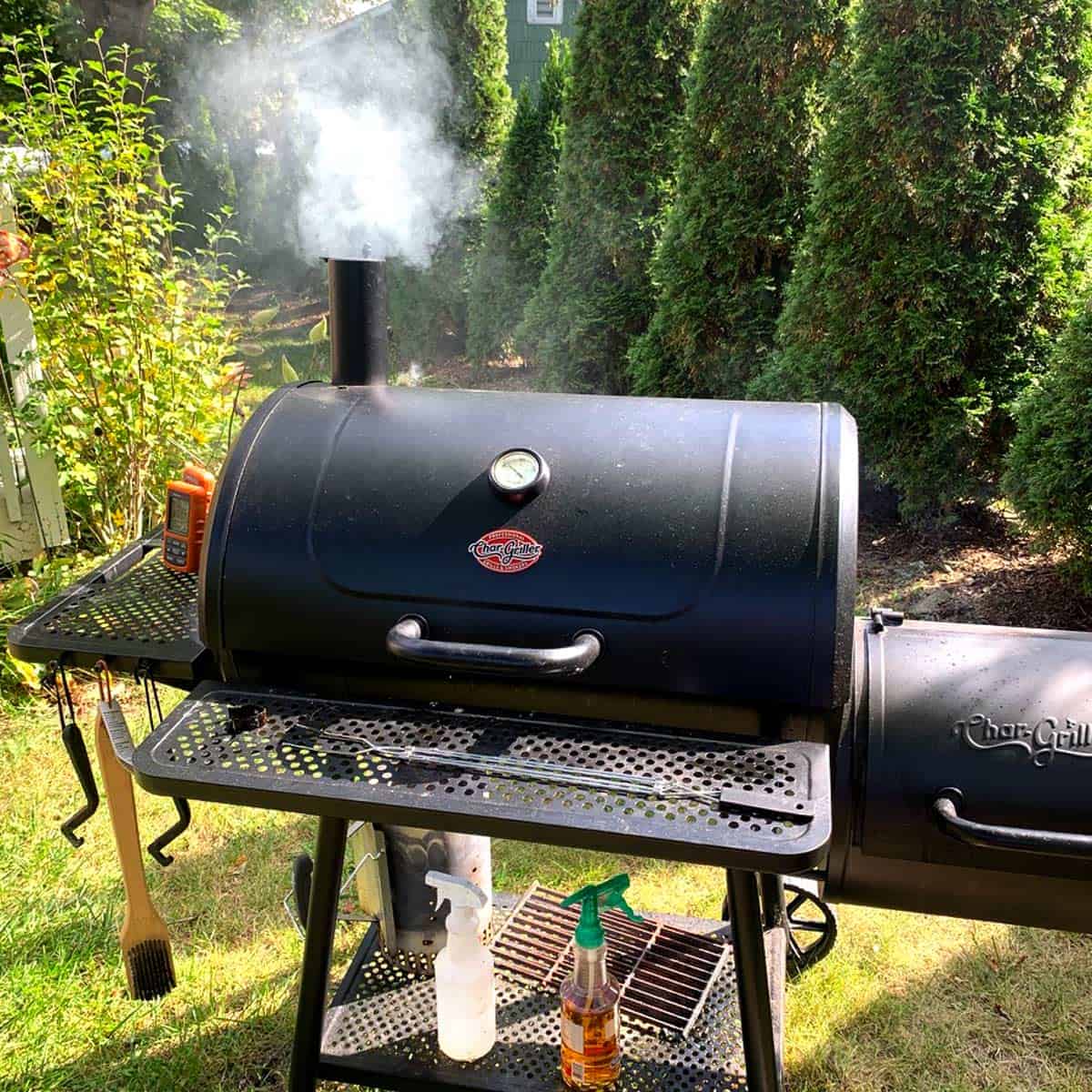 I recommend starting out with a less expensive type. Learn the basics and decide if you like smoking meat and fish. If the answer is yes, consider moving on to the big boys.
Hardwood chips or blocks of wood – This is a matter of preference. I usually prefer apple wood because I also use it when making smoked pork tenderloin. But cherry, alder, and oak work well too.
Pro Tip: Light your smoker using a charcoal chimney and hardwood lump charcoal. This will help you avoid the chemicals found in liquid charcoal and produce a cleaner smoker which will not affect the flavor of the salmon. You'll also want to use these when making your favorite grill recipes.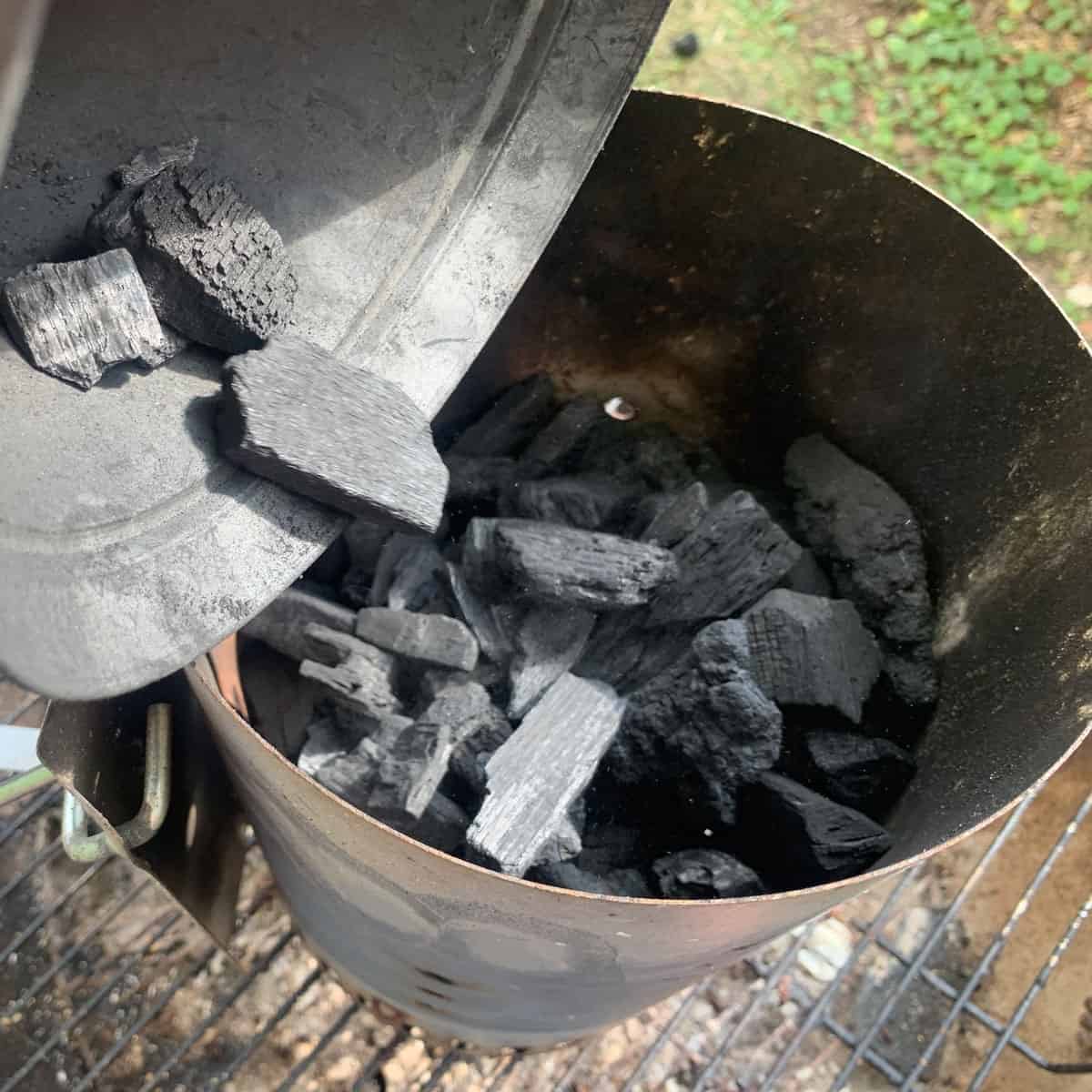 Large plastic or glass container – You need something that is non-reactive for holding the fish and the brine.
A cooling rack for drying and cooling.
Paper towel – For patting the salmon dry when it comes out of the brine.
Small fan (optional) – For helping to dry the fish when it comes out of the brine.
Water pan – This goes under the fish (beneath the grate to help keep it from drying out. Pro Tip – Fill this with hot water!
Pastry brush – Use this to baste the fish with maple syrup while it is on the smoker.
Thermometers(s) – I use this duo probe grill thermometer when using my grill or smoker. I suggest using this instant-read thermometer to spot-check the internal temperature. It is accurate to 1/2 of a degree and super fast.
What's in it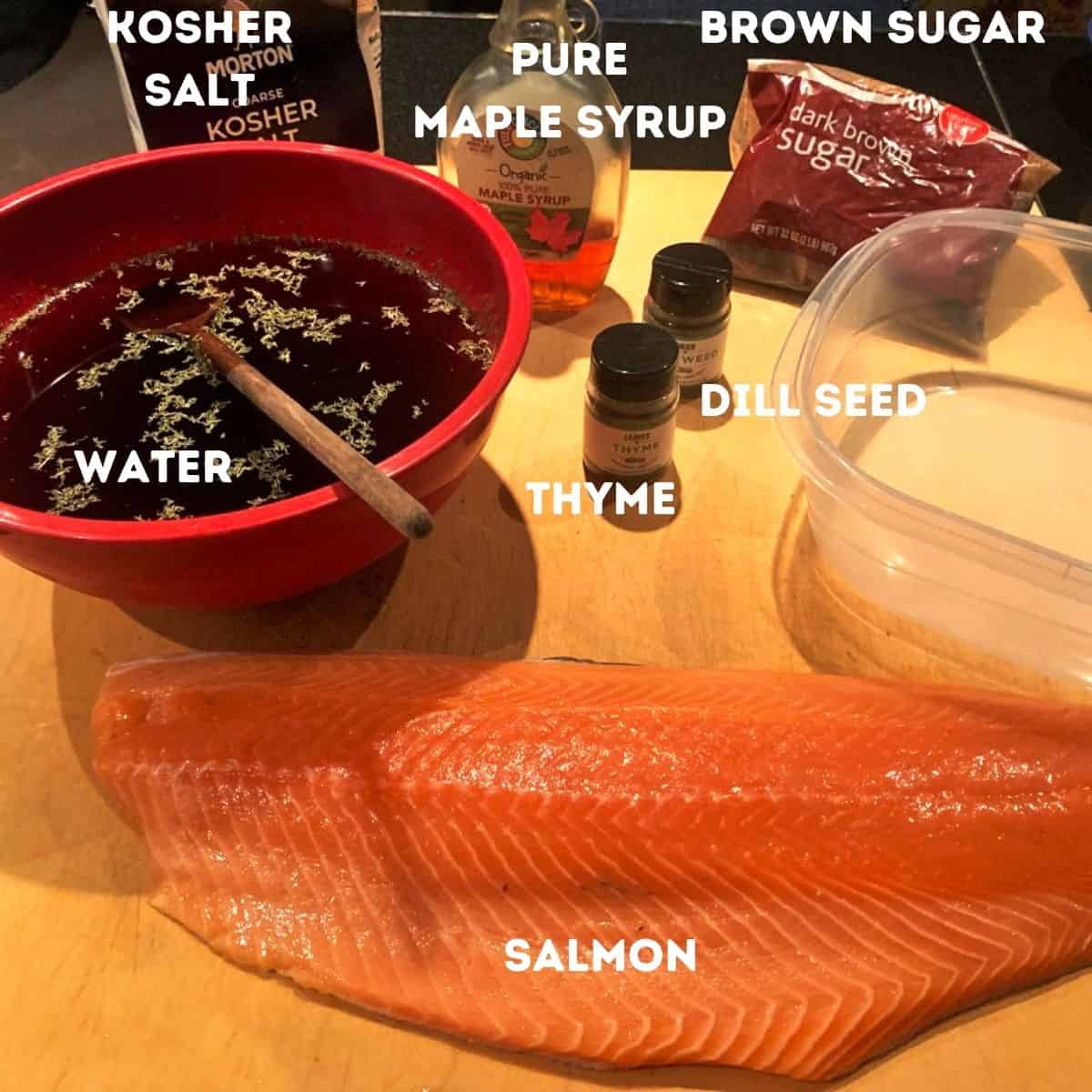 If you're lucky enough to have fresh fish, nothing works better! Wild salmon is always preferred over the farmed type. The Pacific Northwest is usually where this the wild kind comes from. Some of these varieties include:
King salmon (Chinok) has a high-fat content and is often considered to be the best type by many.
Coho salmon – Has a similar flavor to the above but a more delicate texture.
Sockeye salmon – Features a deep rich flavor and red flesh.
Atlantic Salmon – This is always farm-raised but if it's all you can get, it works just fine for this smoked salmon recipe.
Copper River Salmon is a common type but in reality, this is usually the King, Coho, or Sockeye variety.
As a note, Chum salmon is a smaller variety and is usually canned and sold frozen to overseas markets.
Where to get good salmon
If you want to take the guesswork out of where to buy the best salmon, I always suggest ordering it from Snake River Farms. They always have very high-quality meat and seafood, and the best part is that they'll deliver it right to your door. It doesn't get any better than that!
Kosher salt – The larger crystals are what you want to make the brine. You can also use sea salt for this. Avoid regular table salt as the iodine in it will give a bad taste.
Maple Syrup – Be sure to use pure maple syrup!
Dark Brown Sugar – I prefer the darker and richer flavor you'll get with this type. If all you have is light brown sugar, that will work too!
Dry Herbs – I use about a teaspoon each of dry dill weed and thyme to add to the wet brine.
How to make it
(Full directions are in the recipe card below.)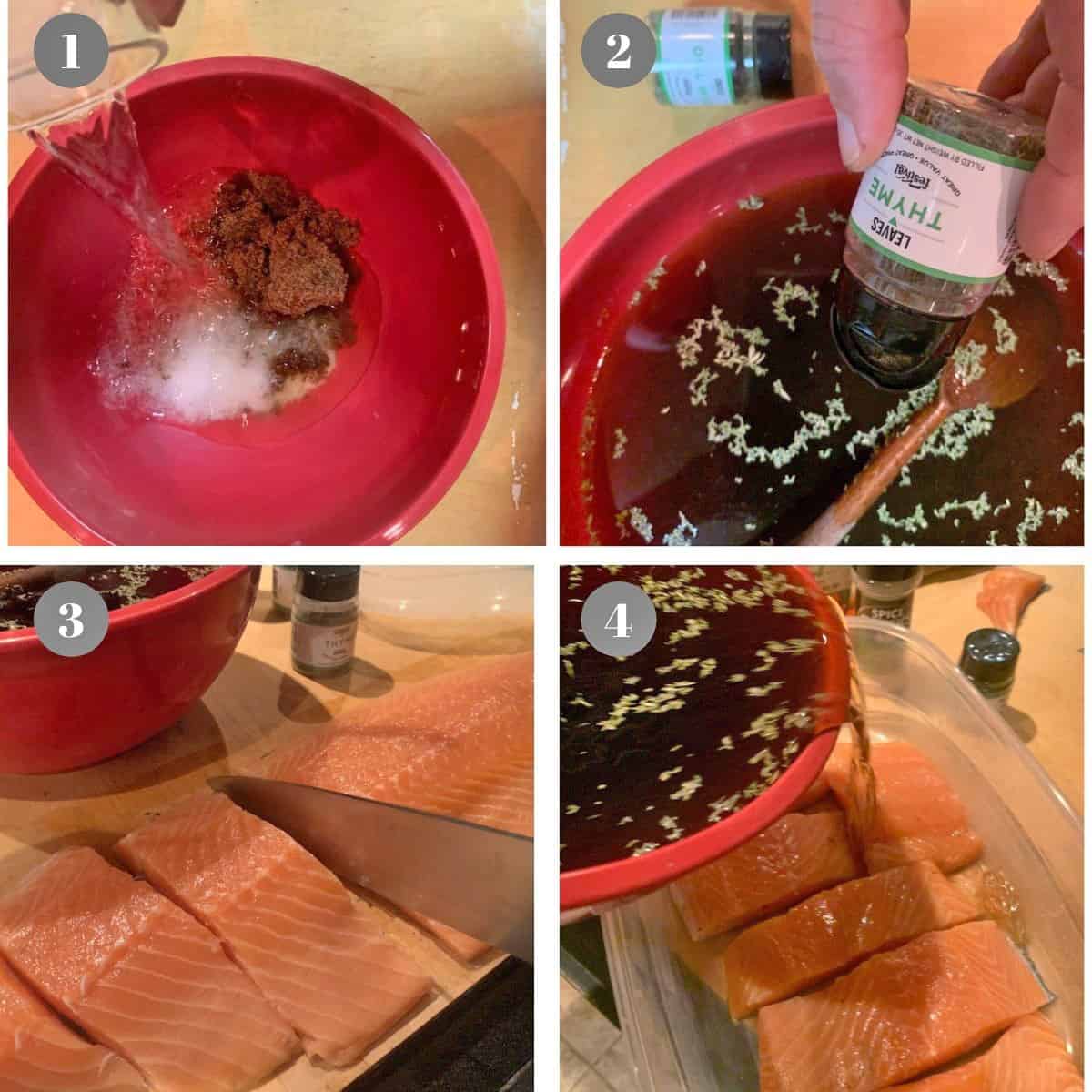 Add the salt, brown sugar, and cold water to a large bowl. Use a table fork to stir thoroughly making sure everything is completely dissolved.
Add dill weed and thyme and stir them into the brine.
Place the salmon fillet on a cutting board. Use a sharp knife and carefully cut it into slices, 2 to 3-inches in width.
Place the cut pieces into a large plastic or glass container. Pour the brine over it. Then cover and refrigerate for 5 hours.
How to dry salmon
Properly drying this is one of the most critical steps for learning how to smoke salmon. During the drying process, a slightly sticky and shiny substance called the pellicle forms.
This takes a minimum of 2 hours but I always go at least 3 hours. The salt from the brine will protect the fish from any harmful bacteria growth while it sits at room temperature.
A pellicle is a skin or coating of proteins on the surface of meat, fish or poultry, that allows smoke to better adhere to the surface of the meat during the smoking process. Without the formation of a pelliclle, the smoke will not stick to the fish.
To help the pellicle form, you want to dry the salmon on a cooling rack. This will allow for good air circulation. If you can open some windows to create a small cross-breeze that is even better.
I use a small fan as shown below.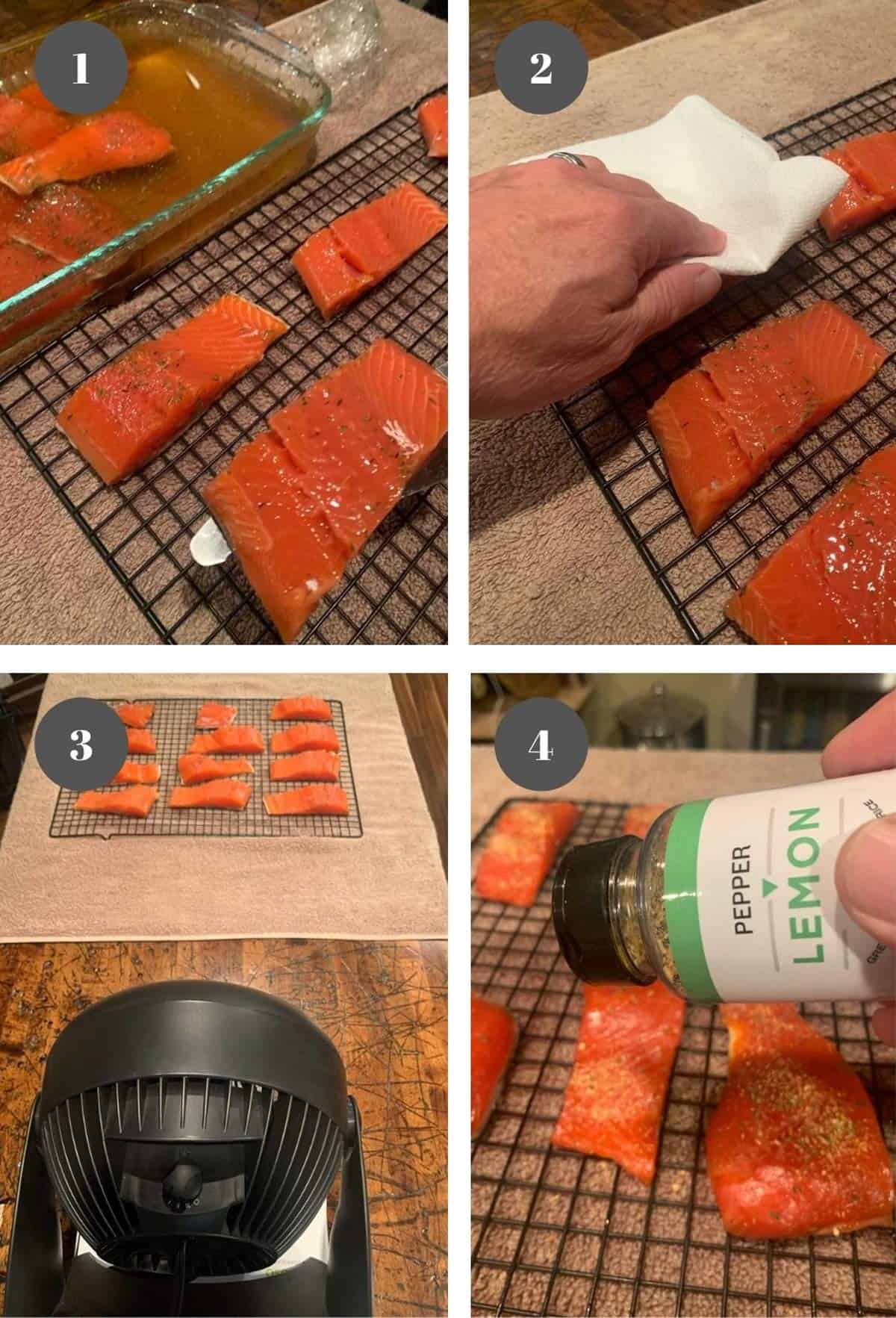 Places the pieces on a rack, skin side down.
Gently pat the salmon dry using a paper towel.
Allow it to dry for at least 2 hours, 3 is better. You can place in front of a fan to help the process.
After it's dry, I like to apply a liberal dusting of lemon pepper seasoning.
How to smoke salmon
When it is dry and it has a nice pellicle formation for the smoke to stick to, it's time to get to the fun part.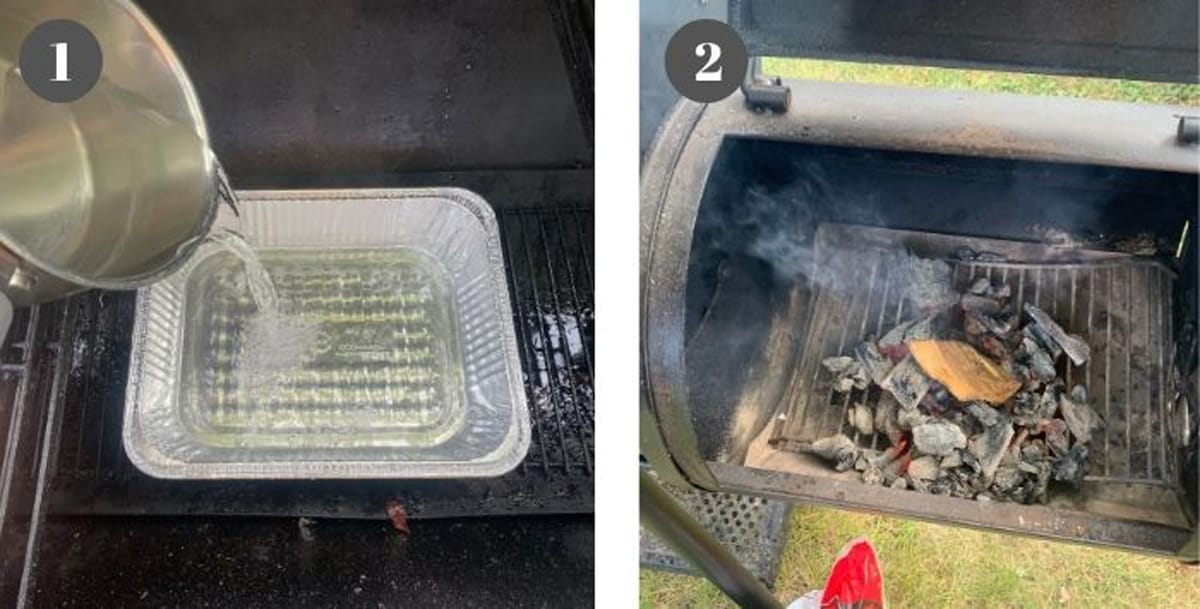 Place a water pan under the grate of the smoker and fill it with hot water.
After lighting some charcoal, allow the inside of the smoker to cool to about 140°. Place a handful of wood chips or a single block of wood on the hot coals.
Pro Tip – When you make this smoked salmon recipe, you want to start at a low temperature. You can always add more heat if necessary. Remember this rule: Go slow and low.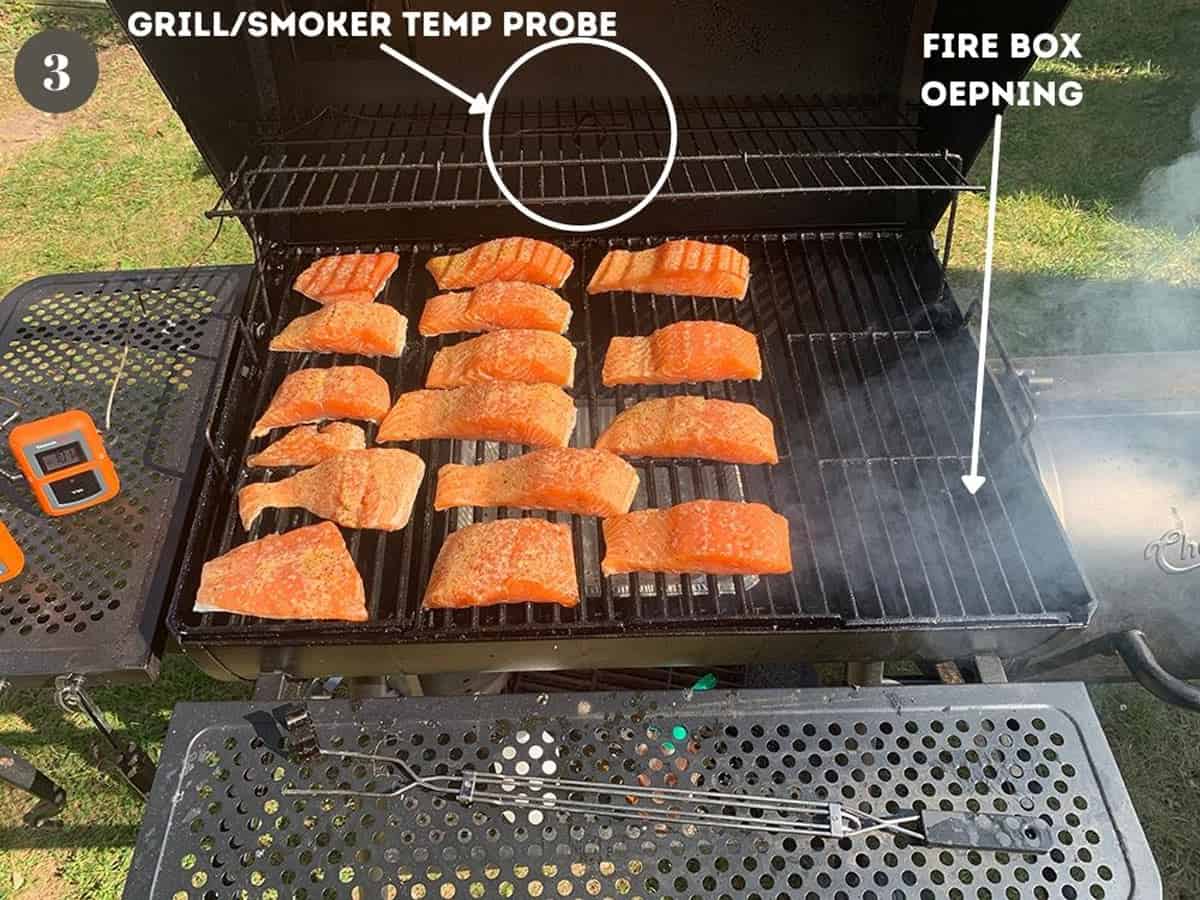 3. Place the salmon, skin side down, on the smoker.
Pro-Tips The area closest to the fire box will be the hottest part of the smoker. Position each portion as far away as possible (all the way to the left.) Make sure the thickest part of each piece is facing the fire box opening.
Use a temperature probe to monitor the smoker temperature. The thermometers that are attached to smokers and grills are notoriously inaccurate.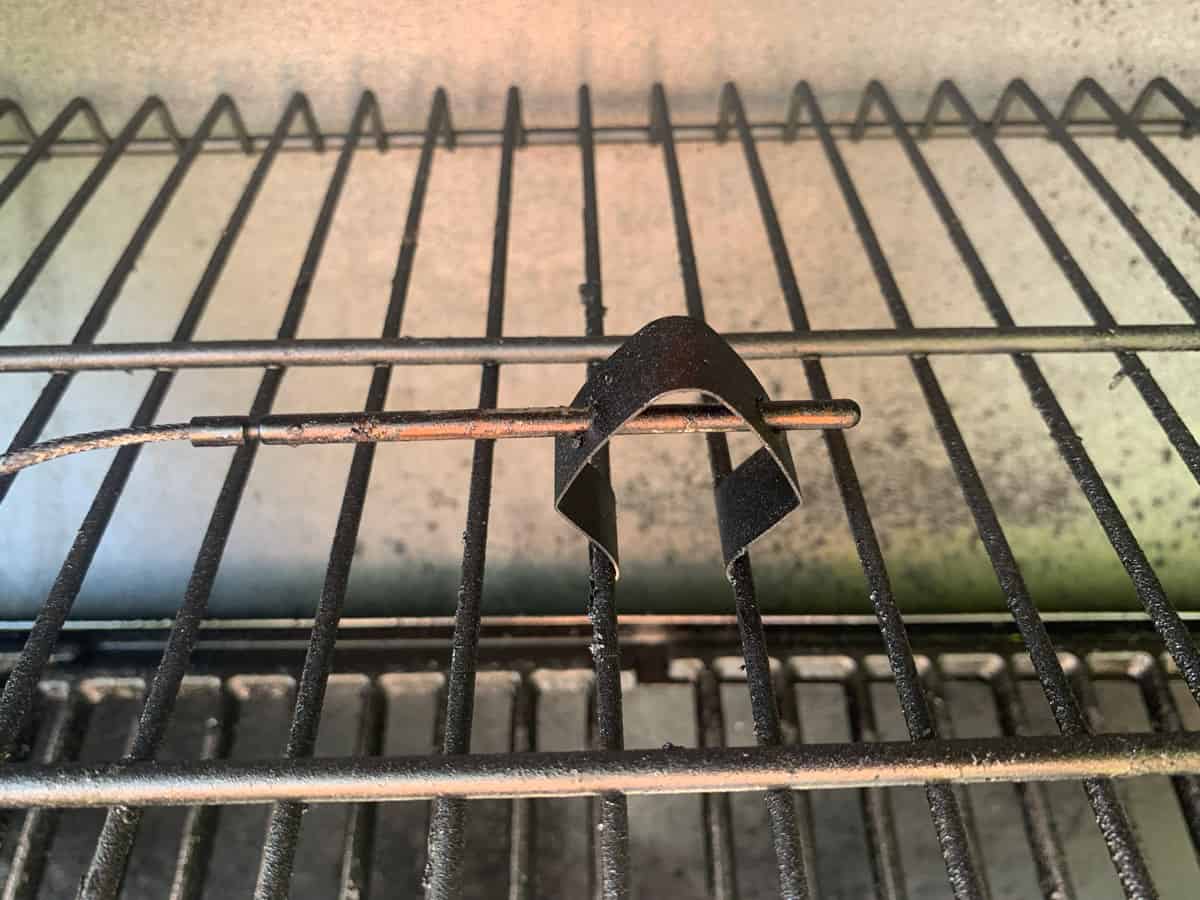 Through trial and error, I have found the best place to position the smoker temperature probe is above the upper grate rack. You want it to be roughly in the center and above the fish or meat that is being smoked or grilled.
Start the smoker temperature out at 140° to 150° F. Maintain this temperature for a couple of hours and gradually increase the smoker temp to 180°.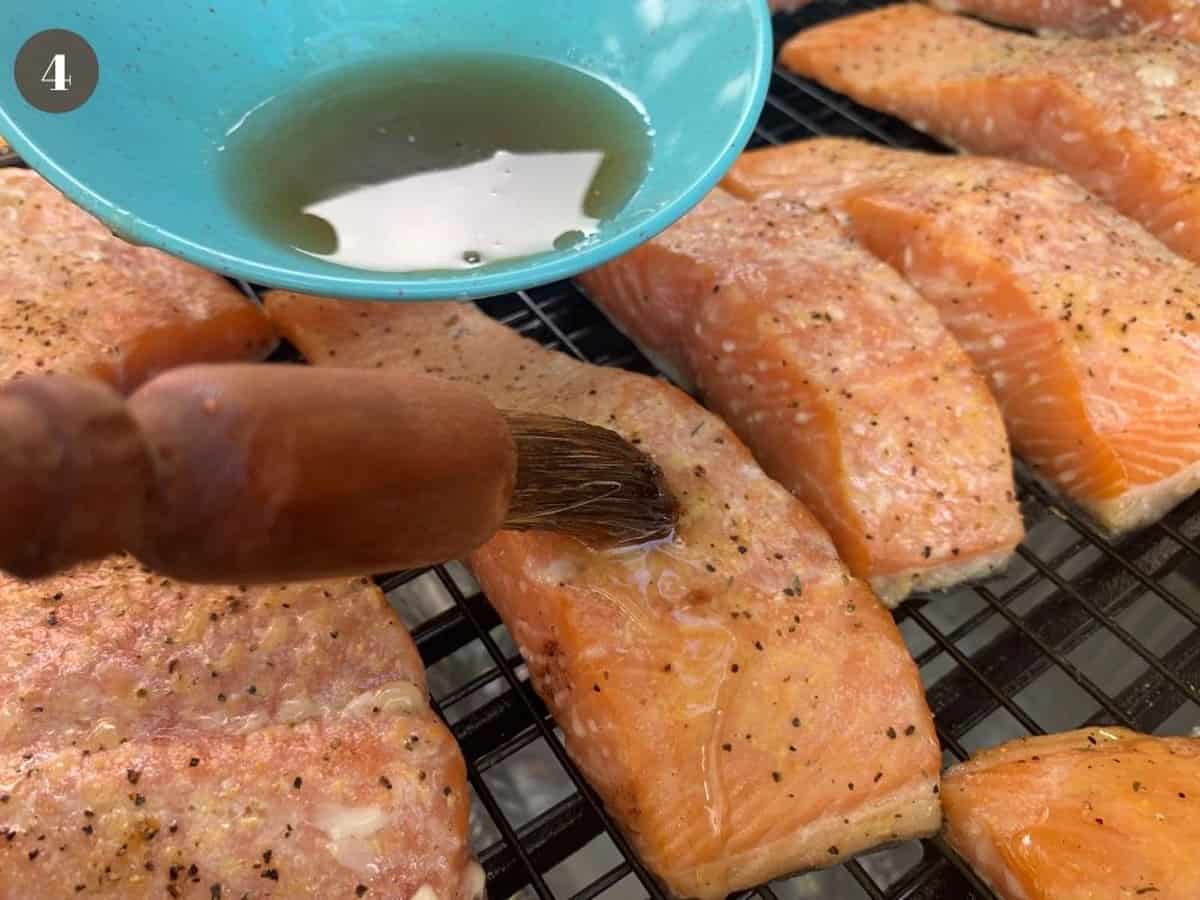 4. While it is slowly smoking, you want to baste the surface of the fish with a layer of pure maple syrup, every 45 to 60 minutes.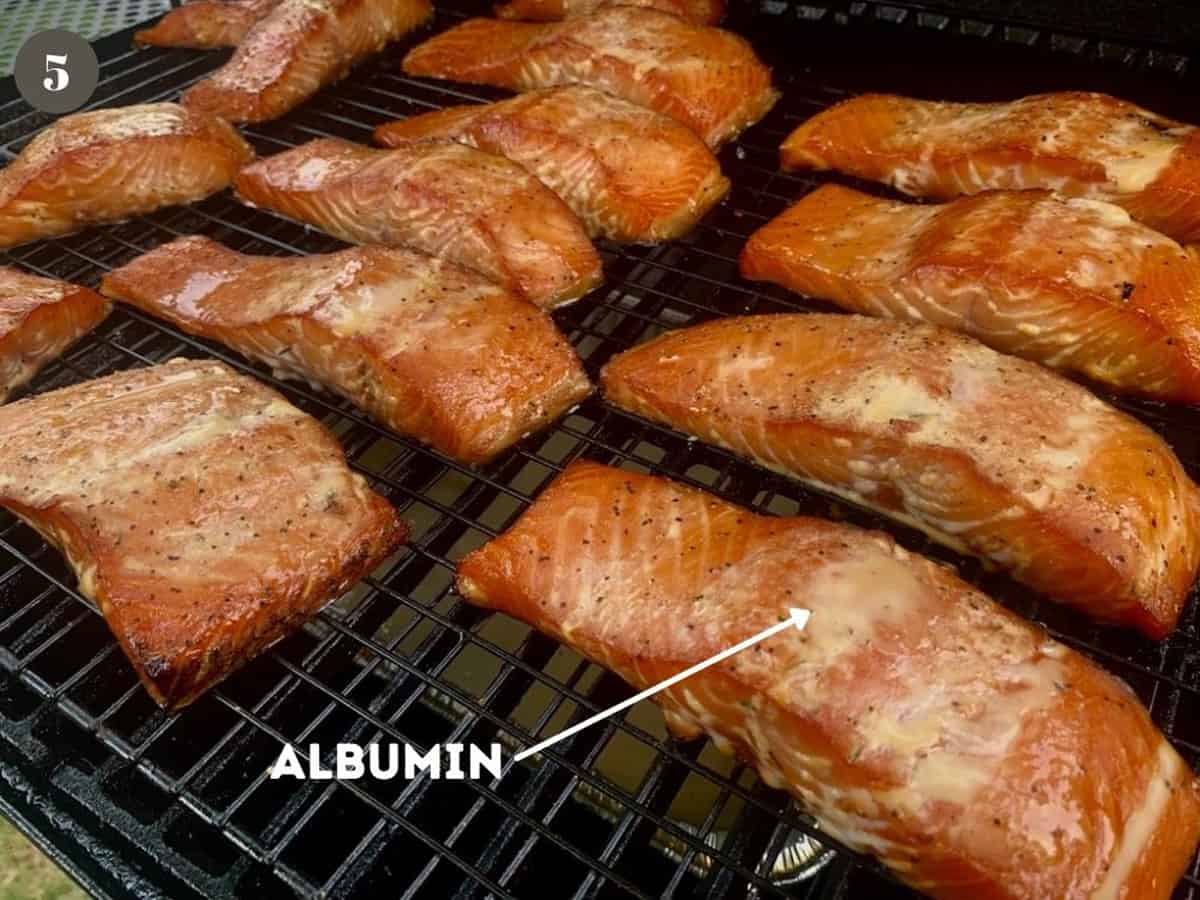 5. As the internal temperature of the salmon continues to rise, you may see the formation of white stuff called albumin come to the surface. This is a harmless protein and can be easily wiped off before eating. All of the albumin seen here was reabsorbed.
When this reaches an internal temperature of 130° F., remove it from the smoker and let is sit at least an hour before eating.
Pro Tip: Do not let the internal temp get above 140°. The fish will dry out rapidly beyond that temperature.
Substitutions and variations
For this smoked salmon recipe, you can use virtually any type of salmon. You can can use other types of fish as well, notably trout.
Instead of maple syrup, you can baste the salmon with honey or birch syrup.
Use the dried herb that you have on hand. Rosemary, oregano, and tarragon all work well.
Take a look at our favorite grilling and smoker accessories. We use these products all the time!
Common questions
How long does smoked salmon stay good for?
Depending on how you store it, this will stay good from 10 days to up to 1 year.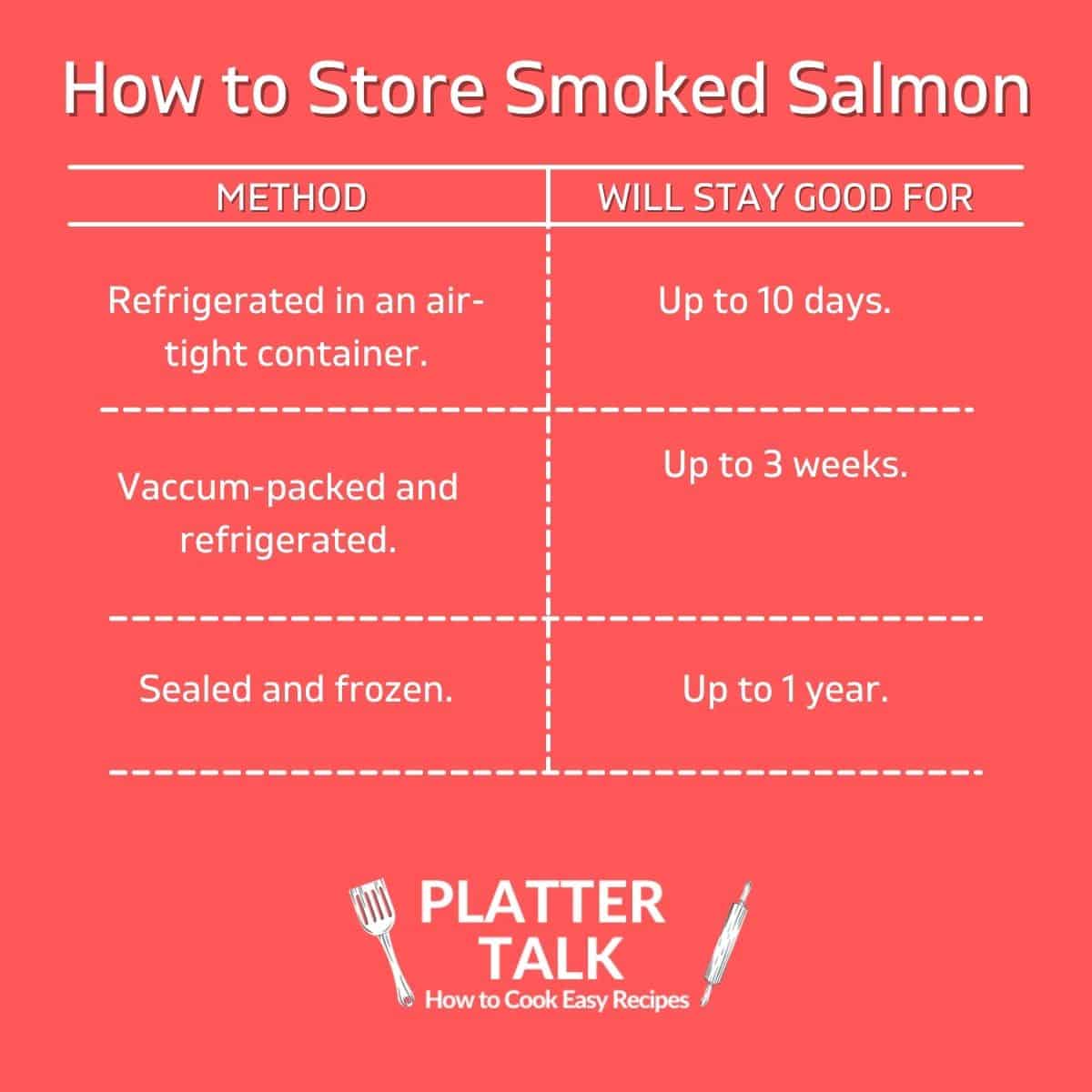 What goes with smoked salmon?
You can eat this by itself as an appetizer or as a main course, hot or cold. For added flavor, add some chopped fresh dill, some capers, fresh lemon slices, thinly sliced red onion, and cream cheese.

See our delicious recipe round-up for what to serve with smoked salmon.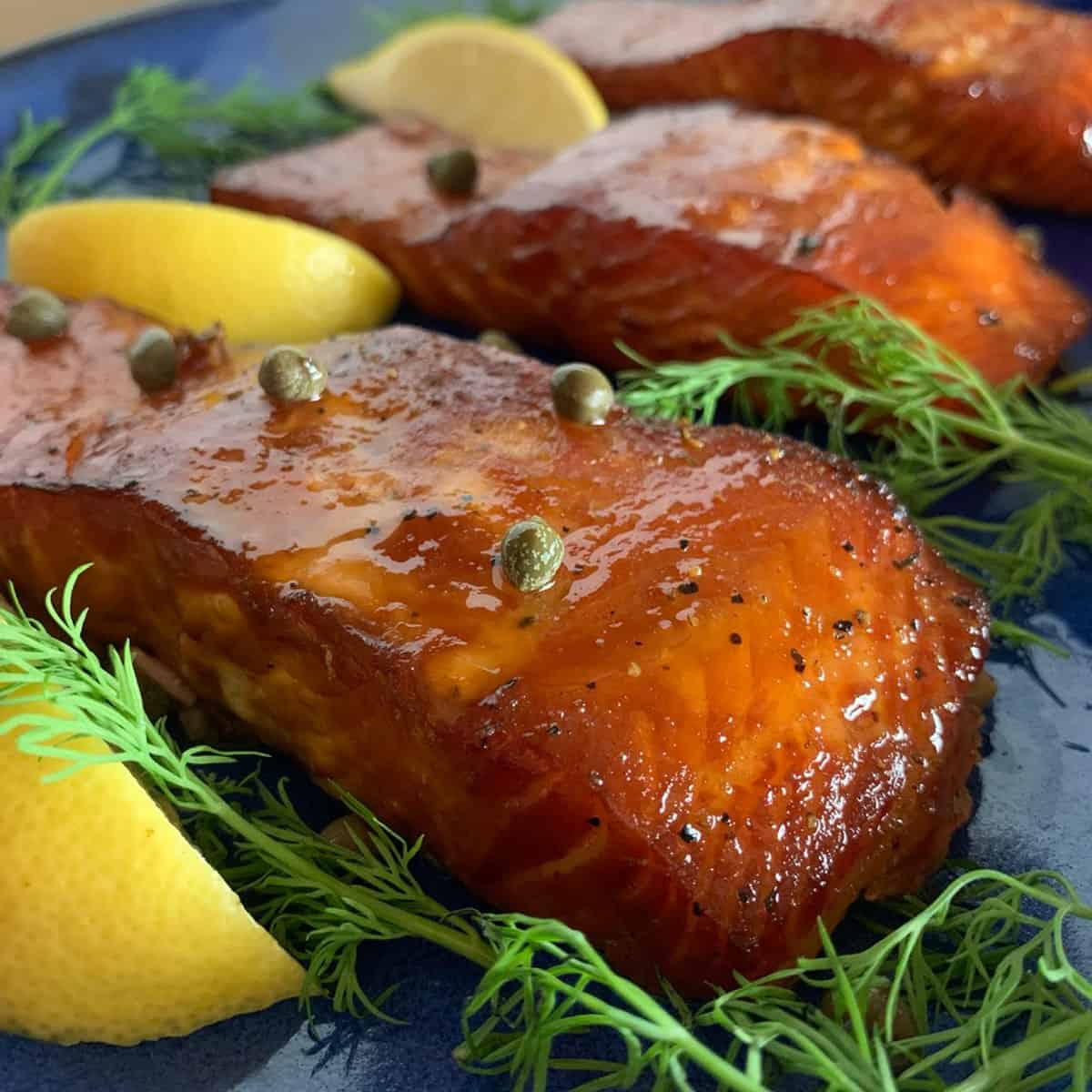 Similar recipes
Be sure to try our other high-nutrition and high-protein recipes!
👨‍🍳 Tried this Recipe? Please leave a ⭐⭐⭐⭐⭐ rating in the recipe card below and leave a comment. We love hearing from our readers!
⏩ Stay in touch with us on social media by following us on Facebook, Pinterest, Instagram, and YouTube!
📬Get our Recipes delivered to your inbox for FREE!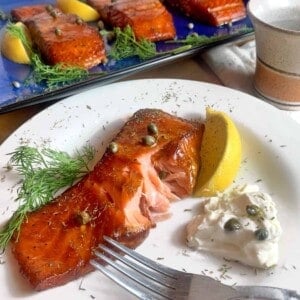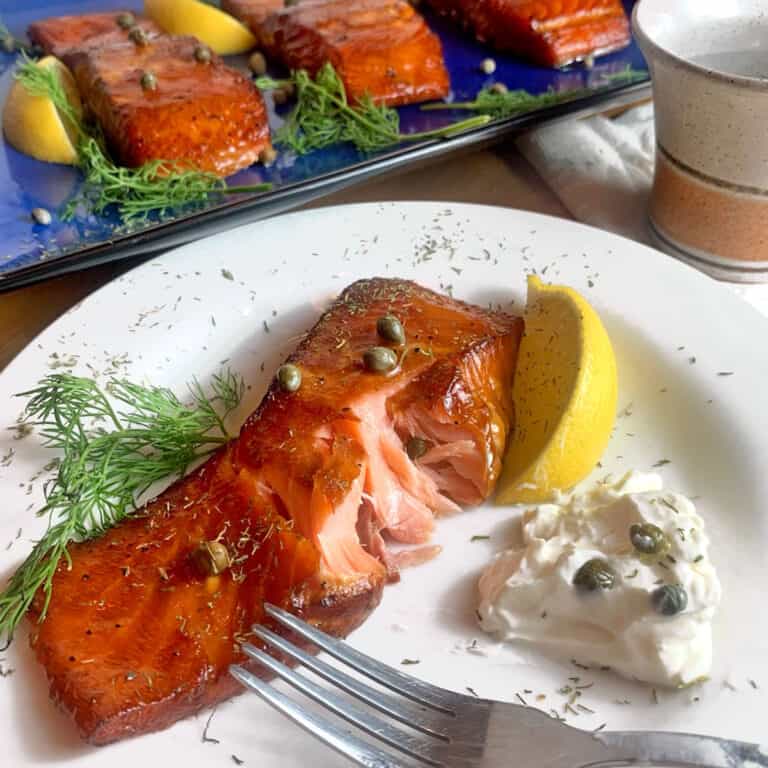 Smoked Salmon Recipe
Learn how to smoke salmon with this easy recipe that features a brown sugar brine and a glaze of pure maple syrup.
Ingredients
Cold Water Brine
1

quart

cold water

1/2

cup

kosher salt

1/2

cup

dark brown sugar
Optional Seasoning
1

tsp

dill weed

1

tsp

thyme

1

tsp

lemon-pepper

1

tsp

garlic powder
Instructions
Brine the Salmon
Use a large bowl and mix the water, salt, and brown sugar. Take a fork and stir it for a few minutes to make sure the solids are dissolved in the water. Add the dill weed and thyme.

Place the salmon filltis on a large cutting board. Using a sharp knife, carefully slice the fish into 2 to 3-inch portions. Leave the skin on. Place the fish in the brine, cover with plastic wrap and refrigerate for 5 hours.
Dry the Fish
After it has marinated, place the fish skin side down on a cooling rack Use a paper towel to gently pat salmon dry. Ideally you should do this where there is a cross-breeze. You can also use a small fan for this purpose. Allow it to dry for a minimum of 2 or 3 hours. This is one of the most important steps! It is critical for a slightly sticky sheen to develop. This is called a pellicle. The pellicle seals the salmon and helps to hold the smoke and it helps keeps the salmon from drying out. Once the fish is dry, apply a liberal dusting of lemon-pepper seasoning and a touch of garlic powder.
How to Smoke Salmon
Place a water pan below the grates of our smoker and fill it with hot water. Then, place salmon on the smoker and start out on low heat at 140-150°. Brush the fish with pure maple syrup every 45 minutes. After a couple of hours, gradually bring the temperature up to 180°. Your target internal temperature is 130-135°.
Notes
If you smoke too high too fast you'll get a fair amount of white stuff called albumin. Some is OK and expected. The less you get, the more moist your fish will be.
Try not to let the piece get above 140°. They start to dry out pretty fast above that.
Nutrition
Calories:
395
kcal
,
Carbohydrates:
18
g
,
Protein:
45
g
,
Fat:
14
g
,
Saturated Fat:
2
g
,
Polyunsaturated Fat:
6
g
,
Monounsaturated Fat:
5
g
,
Cholesterol:
125
mg
,
Sodium:
4819
mg
,
Potassium:
1161
mg
,
Fiber:
1
g
,
Sugar:
17
g
,
Vitamin A:
100
IU
,
Vitamin C:
1
mg
,
Calcium:
54
mg
,
Iron:
2
mg
Nutrition information is automatically calculated, so should only be used as an approximation.