Jerked Beef
Mention the words "Jerked Beef" to most folks and images of commercially prepared and packaged beef jerky come to mind, or for some the Jamaican-style of beef strips that are dry or wet-rubbed and marinated in a hot spice mixture.
If you're from northern New York state though, you  may or may not be familiar with another version of jerked beef, one that is somewhat of a hybrid of the other two I have mentioned.
Among those who are familiar with this style, it is known to be a rite of summer – tailor-made for grilling over hot coals or a propane grill, and delicious with just about any side dish or cold beverage that comes to mind.
Jerked Beef
I vaguely recall the first time I tried this delicious food from the grill.  I was probably around 10 or 11, similar in age to my own boys now, and it was received as a somewhat exotic fare; different from a traditional steak or hamburger that is well known among hot grates, and of course vastly different from the Cornell chicken barbecue that I wrote about a few weeks ago.
I had three sisters, all of them my senior and all very skilled cooks in their own right, beyond measure.
Through a mutual friend of the two oldest, this recipe was first introduced.
It caught on in our family very quickly, seeming to have it all – sweet, salt, and a touch of heat.
Additionally it's a perfect fit for the grill.
The caramelization of the the sugar encrusted meat lends a sweet crunch with a meaty and satisfying finish.
Many people have asked about the apparent marinade, as depicted in the above photo.
This natural marinade is produced as a result of the kosher salt extracting the natural juices from the meat.
These juices mix with the salt, pepper, and brown sugar and bath the meat, greatly enhancing the flavor.
As with any marinaded product, time favors flavor.
If you can let this soak for 2 days, it's even better than 1 day of marinading.
I don't make this very often.  Sometimes a year or so goes by between my own grilling of jerked beef, but let me tell you, it is mouth-watering and delicious every time I put forth the effort of preparing it.
If you're a fan of grilled chicken, try our

Cornell Chicken,

it's possibly the best chicken barbecue you've ever tasted!
As an added bonus for myself, it always conjures up memories of great family gatherings as a  young boy, along with recalling the special anticipation of something delicious that we enjoyed only on occasion, almost always with most of our family there to share.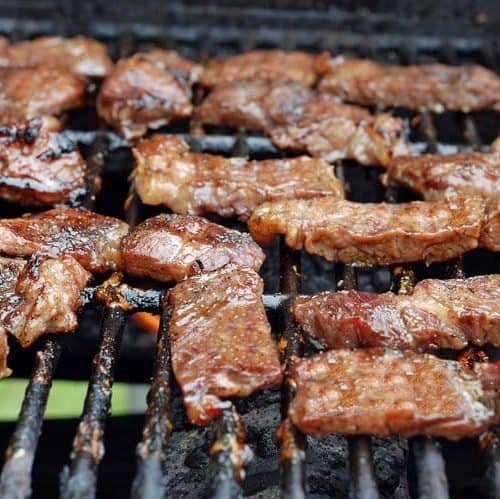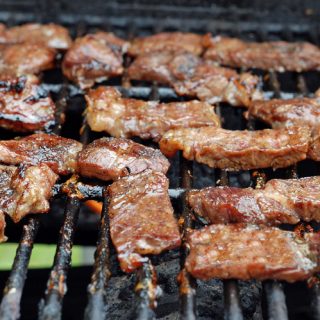 Jerked Beef
A sweet and salty grilled delicacy that can be made with beef, pork or venison.

Print
Pin
Rate
Instructions
Prepare beef by slicing into ½ to ¾ inch pieces parallel to muscle fibers. In a glass or ceramic container, spread a heavy coat of brown sugar, salt, and pepper. Place slices of beef, in a single layer, atop of this base of brown sugar, salt, and pepper. Repeat the process, placing dry ingredients on each subsequent layer of beef. When all t he beef is layered and coated, seal container with place wrap so that it is air-tight and refrigerate and allow to marinate for a minimum of 24 hours. Preheat grill to medium high heat and using tongs, place beef on grill and allow to cook on each side for 7 to 10 minutes.
Notes
Use a non-reactive, non-absorbent container to marinate beef. Growing up, I recall that ceramic crocks were frequently used. If possible, use kosher salt. The larger size crystals do a better job of covering the surface area of the meat, enhancing the self-marinade process and as a result, the flavor as well.
From my late sister Ann, one of the best cooks I've even known, "Use more salt then you think you will need." That said, go heavy with all of the dry ingredients.
It's O.K. to use different cuts of beef. I like to use an Angus roast. Others prefer sirloin tips or London broil. My sister Marlene recently divulged her preference of pork steak for this.
Have a deer hunter in the family? Try using venison for this, it's delicious and a great use of the meat.
Nutrition
Calories:
854
kcal
|
Carbohydrates:
71
g
|
Protein:
39
g
|
Fat:
45
g
|
Saturated Fat:
17
g
|
Cholesterol:
161
mg
|
Sodium:
3660
mg
|
Potassium:
709
mg
|
Sugar:
71
g
|
Calcium:
104
mg
|
Iron:
4.9
mg