The BEST Creamy Mushroom Sauce
Craving something delicious for dinner tonight? Look no further than this creamy mushroom sauce! This easy-to-make dish is an ultra-satisfying addition to any meal. It's a rich and flavorful combination of butter, mushrooms, cream, and herbs that will make everyone so happy!
It's guaranteed you'll be licking your plate clean after one bite!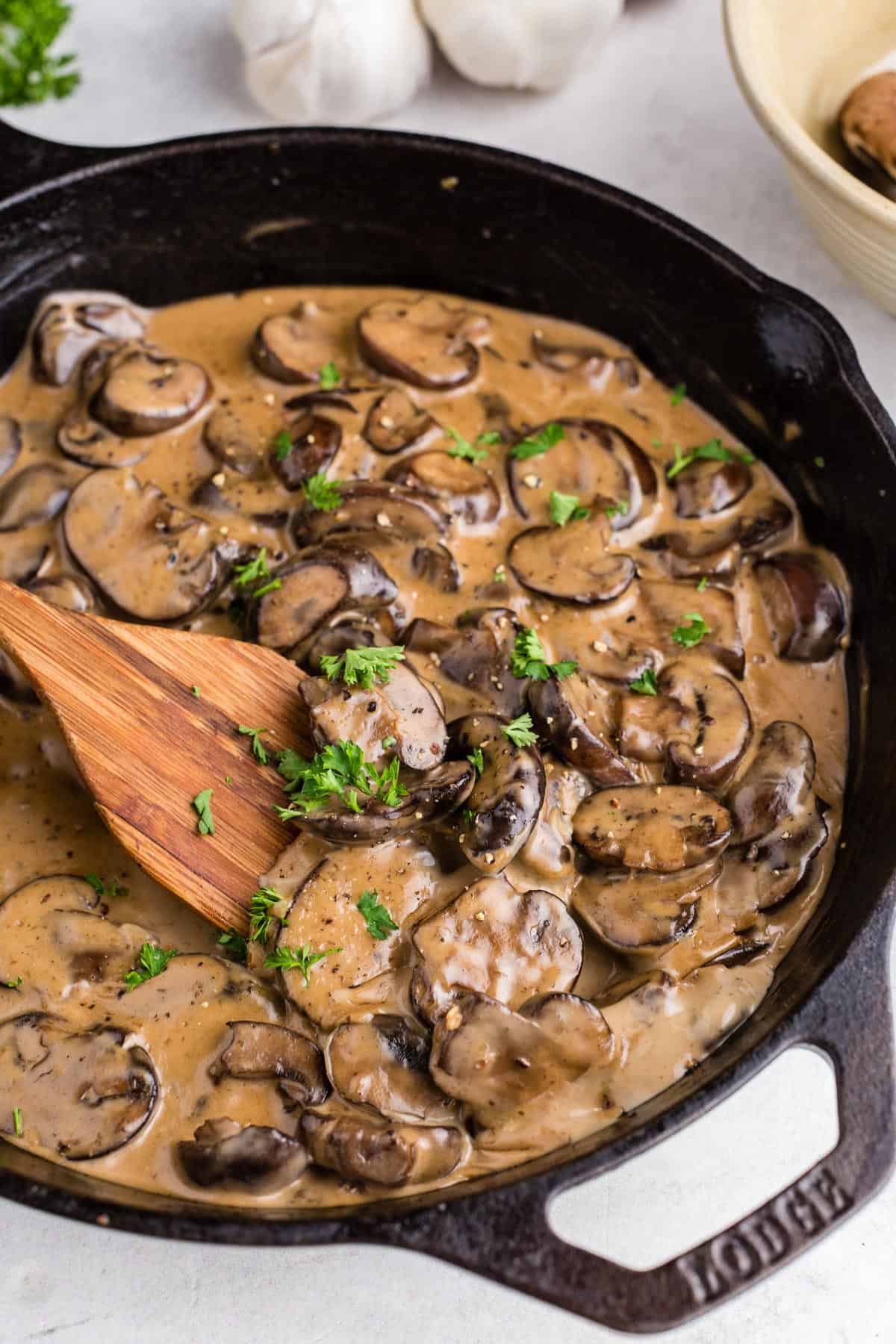 What can you pour this over?
You can pour creamy mushroom sauce on a variety of dishes such as:
What ingredients are needed to make creamy mushroom sauce?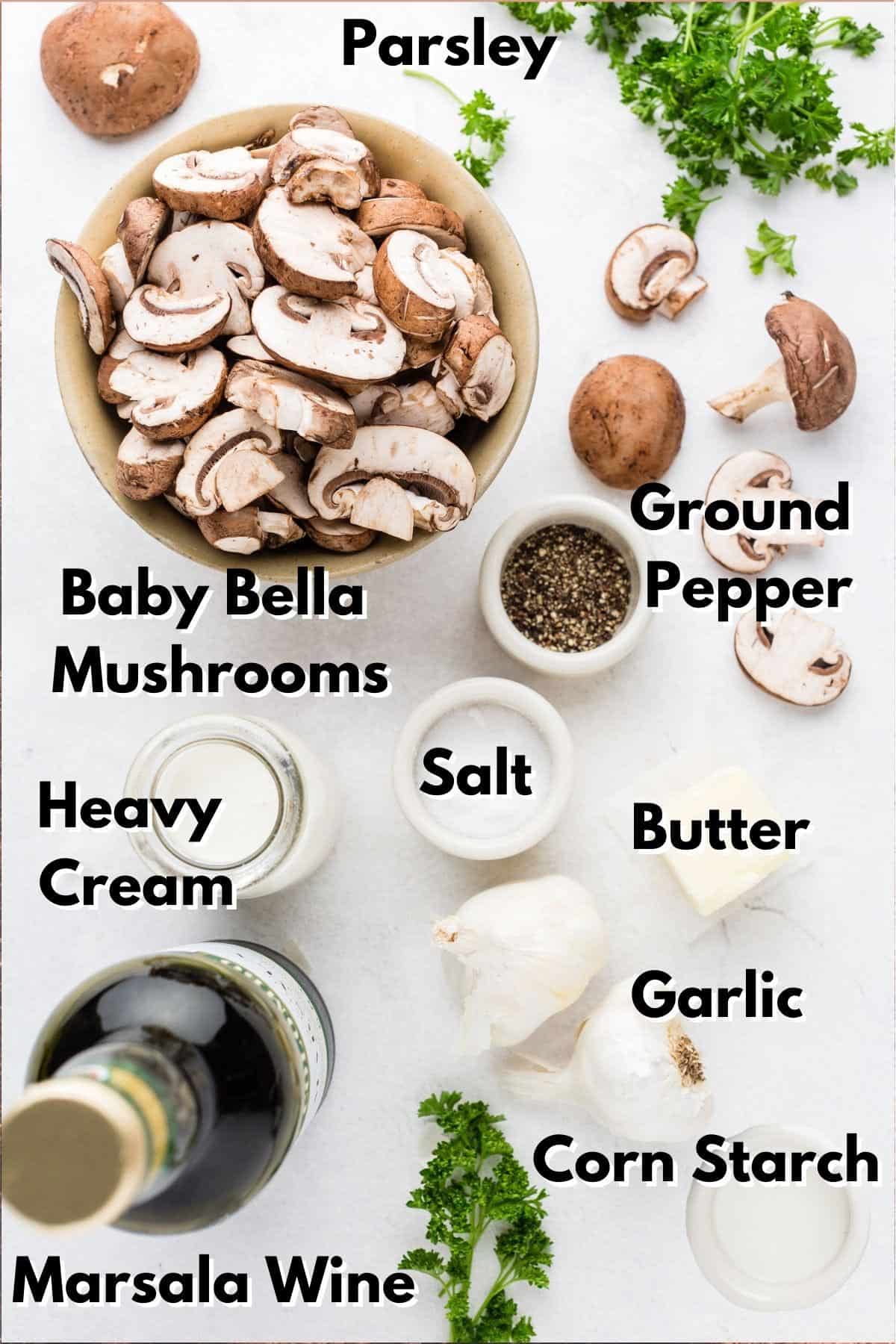 Baby Bella mushrooms – Choose the right mushrooms: Use mushrooms with a meaty texture and a rich flavor, such as cremini, shiitake, or portobello. Baby Bella mushrooms are a type of mushroom that are earthy and full of flavor, perfect for this dish.
Expert Cooking Tip: Clean the mushrooms thoroughly to remove any dirt or debris. Don't wash them as they will absorb water and become soggy.
Garlic, minced – Garlic is a common ingredient in many dishes, adding both flavor and aroma. Minced garlic can be used for sautéing vegetables or meats. If you can grow your own garlic or pick some up at your local farmer's market, this is always the best way to go.
Marsala wine – Marsala wine is a sweet Italian fortified wine that can be used for cooking. It's used in this dish to add extra depth of flavor!
Heavy cream – As a born and bred dairy farm boy, please use a good quality cream. Use a high-fat cream, such as heavy cream or double cream, for a creamy and rich sauce. Heavy cream adds richness to any dish, especially this one.
Cornstarch – Cornstarch is a thickening agent often used when making sauces; it's great for achieving the right consistency.
Salt and freshly ground pepper – Season to taste. This classic seasoning adds plenty of flavor to any dish. Use it as needed to get the perfect flavor!
Parsley for garnish – Parsley is an aromatic herb often used to garnish dishes. It adds a fresh touch and lots of color!
How to make it
(Full directions in the the recipe card below.)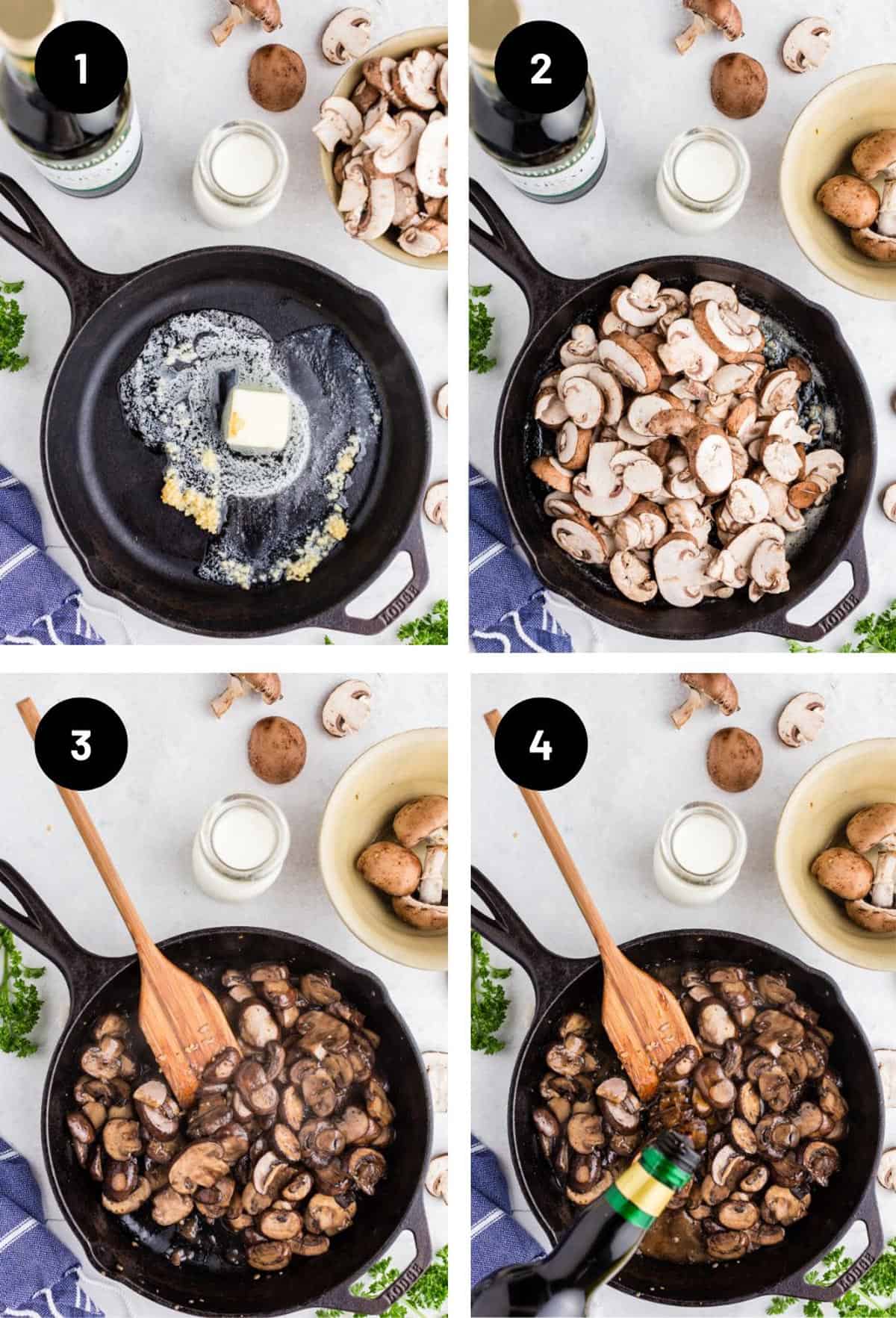 Heat 4 tablespoons of butter and minced garlic over medium-high heat until sizzling.
Add the mushrooms and spread them evenlSauté the mushrooms: Sauté the mushrooms in butter or oil until they are browned and tender. This will help to develop their flavor and texture.y in the skillet or pan. This is where using a large skillet comes in handy.
Add the salt and pepper and sauté the mushrooms. Sauté the mushrooms until they are browned and tender. This will help to develop their flavor and texture.
Add the wine and simmer for another couple of minutes until it is reduced (evaporated) by about half.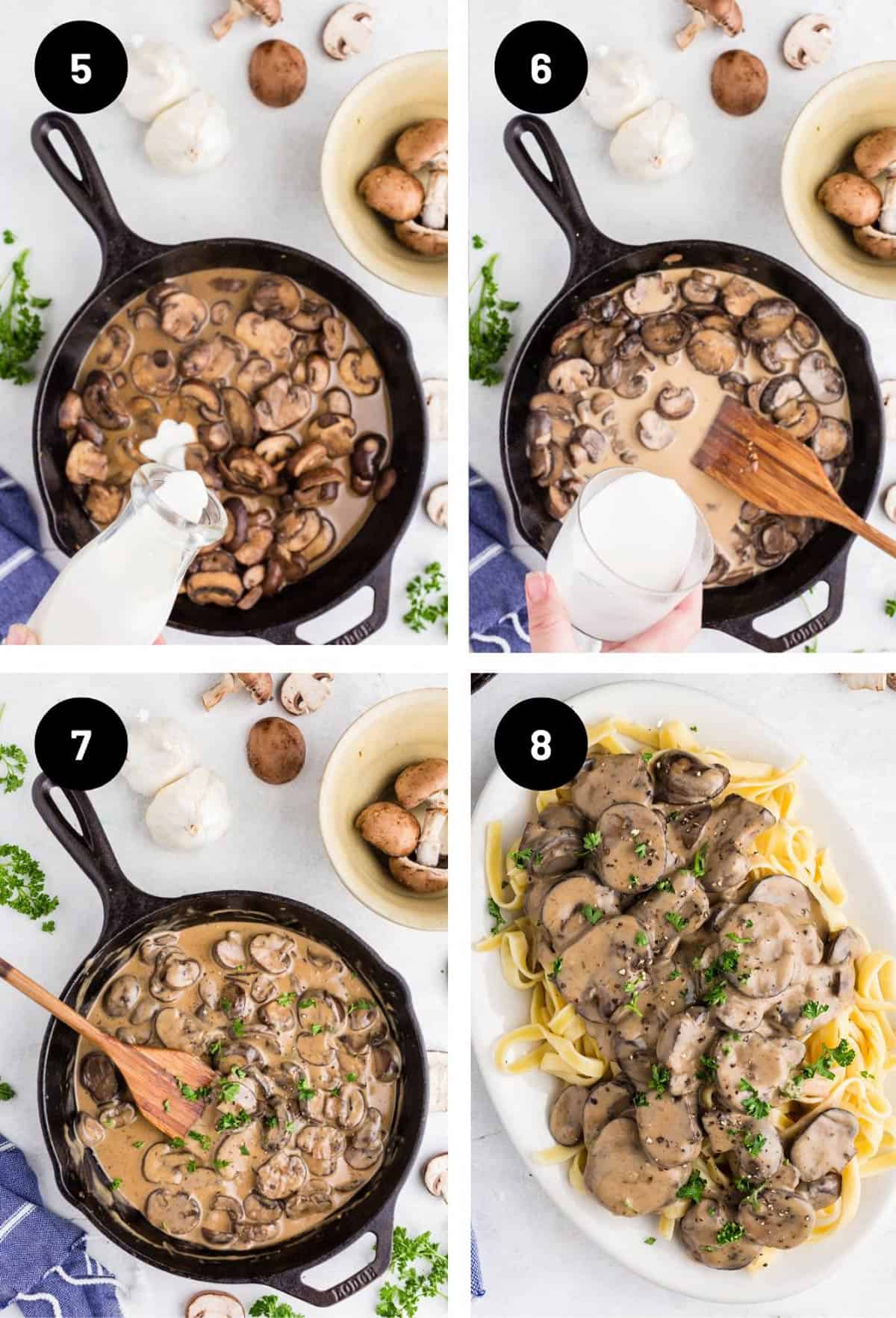 5. Stir the cream into the mixture.
Pro Cooking Tip: Try to avoid adding cold ingredients to a mixture that is going to be heated. Instead, gently warm the cream first or allow it to sit out for 30 minutes before adding.
6. Add the cornstarch mixture to the skillet. Do this while stirring and try to get it to distribute through the sauce evenly. Simmer the sauce until it is heated through and has thickened to the desired consistency. It will thicken pretty fast!
7. Stir and simmer until it's as thick as you want it.
8. Serve this immediately!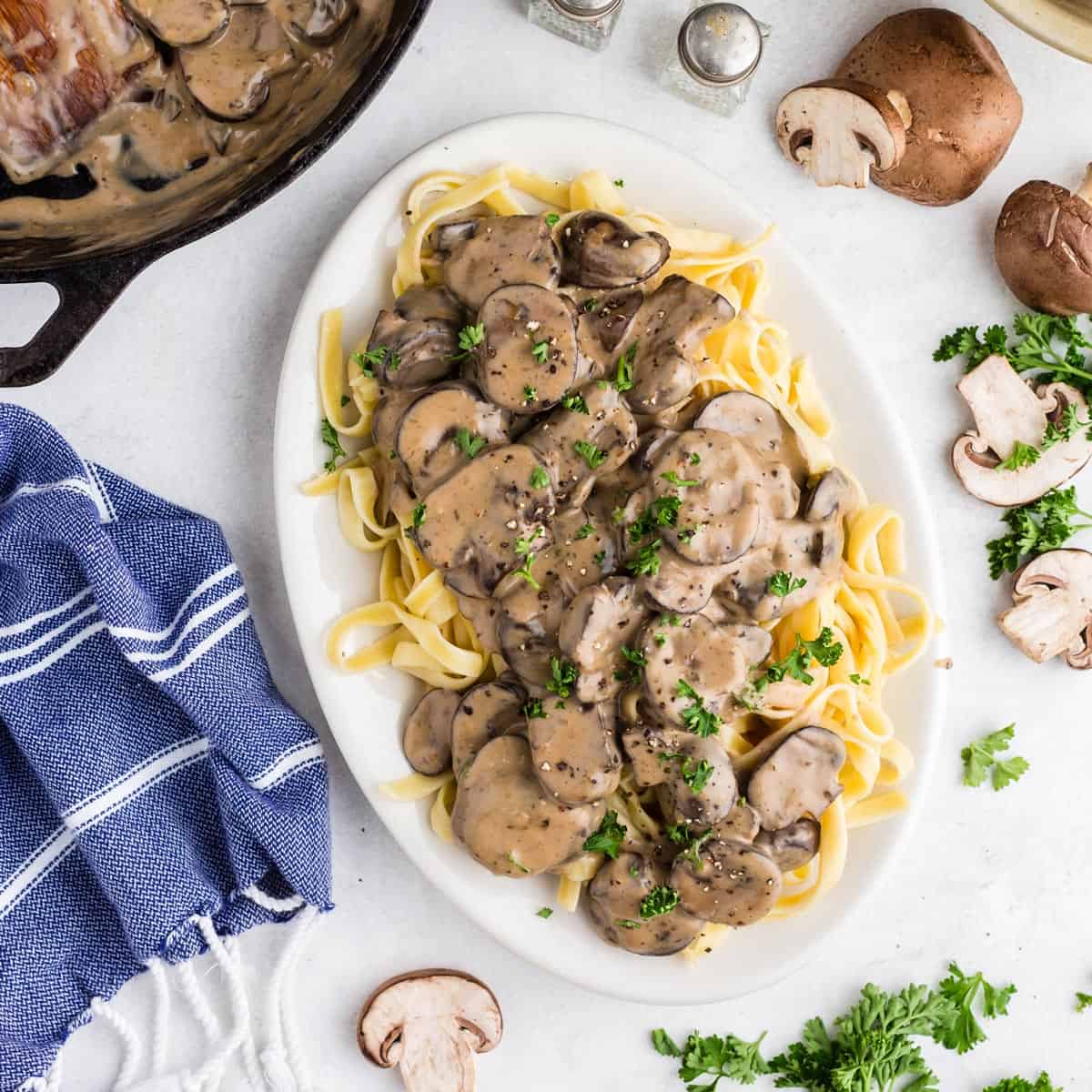 Readers' questions
How do you store this?
Creamy mushroom sauce can be stored in the refrigerator for up to 3-4 days. To store it, allow the sauce to cool completely before transferring it to an airtight container.

Once stored, the sauce can be reheated on the stovetop or in a microwave before serving.
Can you reheat creamy mushroom sauce?
Yes! Creamy mushroom sauce can be reheated on the stovetop or in a microwave.

To heat on the stovetop, add the sauce to a pot and cook over medium-low heat until it reaches your desired temperature. In the microwave, transfer the sauce to a microwave-safe container and heat for 1-2 minutes, stirring occasionally.
Can you freeze mushroom sauce?
You can freeze your creamy mushroom sauce for up to 3 months. To do so, let it cool completely before transferring it to an airtight container and freezing.

When you're ready to use, simply thaw in the refrigerator overnight and then reheat on the stovetop or in the microwave.
Does creamy mushroom sauce go with pork?
Absolutely! Creamy mushroom sauce is a great way to add flavor and moisture to pork dishes. It can be served as is, or used as a topping for grilled, sautéed, or baked pork dishes.
For example, you could make a savory grilled pork tenderloin with mushrooms and creamy sauce or a comforting casserole with pork chunks and creamy mushroom sauce.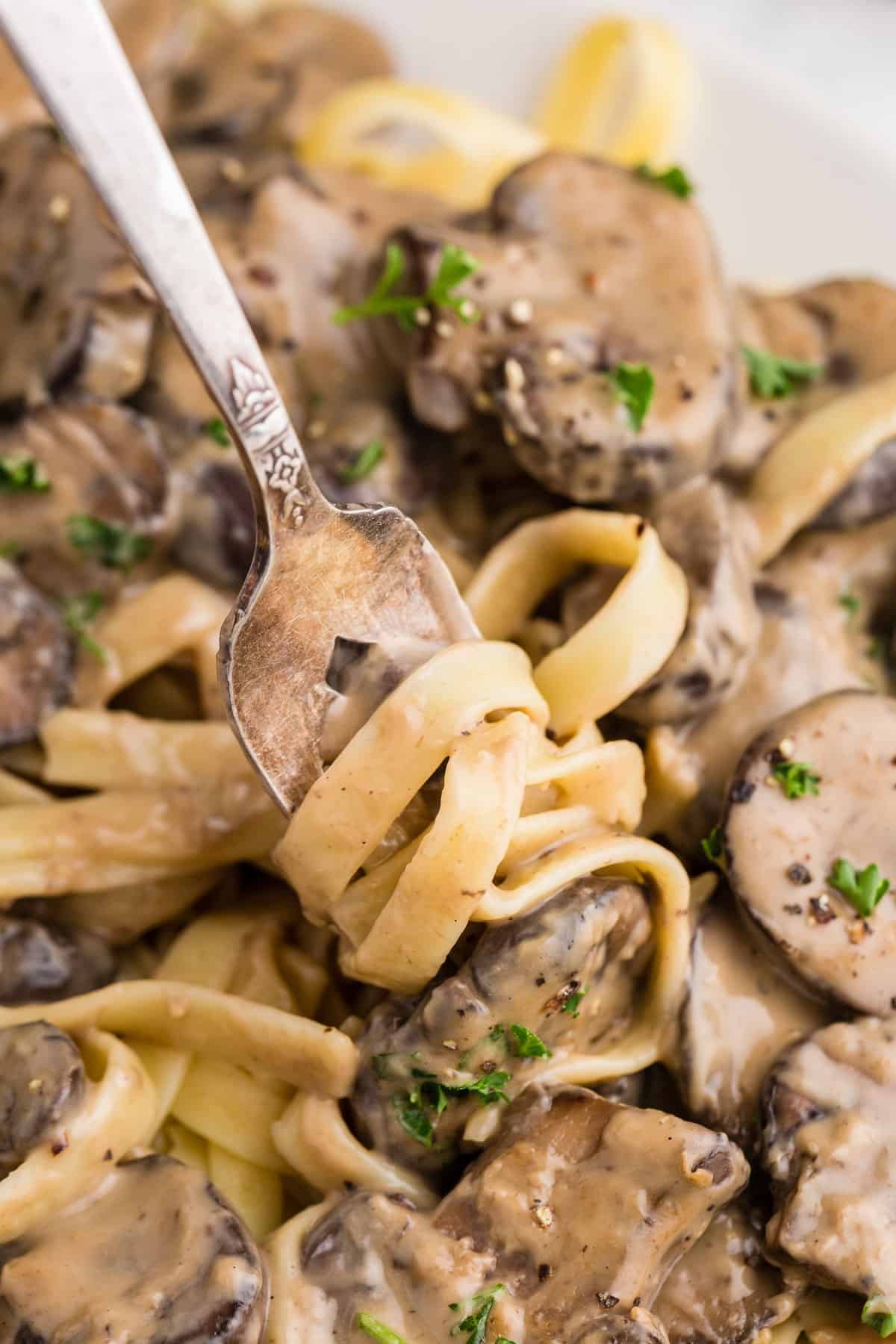 Variations
Are you looking for the perfect way to top your favorite pasta dish? Look no further than creamy mushroom sauce! Here are some delicious variations that will take your meal to the next level:
Garlic and Thyme Mushroom Sauce – Add a few cloves of crushed garlic and some fresh thyme leaves to your creamy mushroom sauce for an extra flavorful kick.
Blue Cheese Mushroom Sauce – Spice up your sauce by stirring in a little blue cheese. This variation is sure to be a hit at dinner time.
Sage and Onion Mushroom Sauce – Saute some onions and fresh sage leaves and add them to your creamy mushroom sauce for an earthy, savory flavor.
Pesto Mushroom Sauce – A little dash of pesto can really bring out the richness of the mushrooms and add an unexpected twist to this classic dish.
Will cream cheese thicken sauce?
Yes, cream cheese can be used to thicken the sauce. To use it in this creamy mushroom sauce recipe, simply add a few tablespoons of cream cheese when the mushrooms have already been cooked and stir until combined. The cream cheese will help create a thick and velvety texture that is perfect for pouring over your favorite dishes.
Salted butter – Salted butter helps enhance the flavors of savory dishes, providing a rich and creamy texture.
This white cream mushroom sauce is perfect for adding a touch of luxury to any dish and it's sure to please even the pickiest eaters. Whether you serve this over pasta, steak or salmon, you're sure to have a delicious meal that everyone will love.
Related recipes
👨‍🍳 Tried this Recipe? Please leave a ⭐⭐⭐⭐⭐ rating in the recipe card below and leave a comment. We love hearing from our readers!
⏩ Stay in touch with us on social media by following us on Facebook, Pinterest, Instagram, and YouTube!
📬Get our Recipes delivered to your inbox for FREE!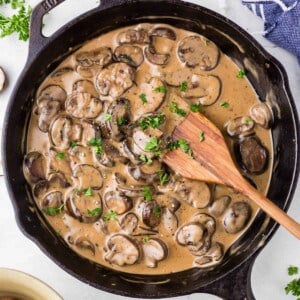 The BEST Creamy Mushroom Sauce
Creamy mushroom sauce is made from mushrooms and cream. Season this with your favorite herbs and spices or just salt and pepper. This easy sauce is a great topping for pasta, meat dishes, or vegetables.
Ingredients
Salt and fresh ground pepper to taste

4

tbsp

Salted butter

3-4

cloves

Garlic

,

minced.

1

lb

Baby bella mushrooms

,

wiped/rinsed clean and sliced into thick slices.

1

cup

Marsala wine

1/4

cup

Heavy cream

1

tbsp

Cornstarch

,

dissolved into 1 tbsp of water.

Parsley

,

chopped, for garnish.
Instructions
Heat 4 tablespoons of butter and minced garlic over medium-high heat until sizzling. Add the mushrooms and spread evenly in pan. Cook over medium high heat for several minutes without disturbing the mushrooms.

Add salt and pepper generously to the mushrooms. Stir them gently and continue cooking until all of the mushrooms have browned a bit and softened, and the liquid released while cooking has evaporated.

Add 1 cup of wine to the pan, stir, and cook for 2-3 minutes longer, allowing the wine to simmer and reduce by about half. Stir in the heavy cream.

While stirring, drizzle cornstarch mixture over mushrooms and sauce, mixing to distribute evenly. The sauce will thicken quickly. Add more cornstarch mixture, if desired, to achieve a thick but pourable sauce.

Garnish with additional salt and pepper ane finely minced parsley. Serve immediately over pasta, mashed potatoes, chicken, or steak.
Notes
You can saute onions or shallots along with the garlic.
Marsala or a dry white wine work really well in this dish.
You can add any herbs or seasonings you'd like – thyme and/or rosemary will work especially well.
Nutrition
Calories:
283
kcal
,
Carbohydrates:
16
g
,
Protein:
4
g
,
Fat:
17
g
,
Saturated Fat:
11
g
,
Polyunsaturated Fat:
1
g
,
Monounsaturated Fat:
4
g
,
Trans Fat:
0.5
g
,
Cholesterol:
47
mg
,
Sodium:
107
mg
,
Potassium:
590
mg
,
Fiber:
1
g
,
Sugar:
7
g
,
Vitamin A:
569
IU
,
Vitamin C:
1
mg
,
Calcium:
43
mg
,
Iron:
1
mg
Nutrition information is automatically calculated, so should only be used as an approximation.