Slow Cooked Tomato Sauce
on Sep 17, 2019, Updated Apr 07, 2020
Slow cooker tomato sauce is a simple sauce that you can use on top of pasta, chicken, casseroles, and so much more.
Although you don't have to let this spaghetti sauce recipe cook overnight, this slow cooker pasta sauce tastes better if you can wait a day to enjoy it.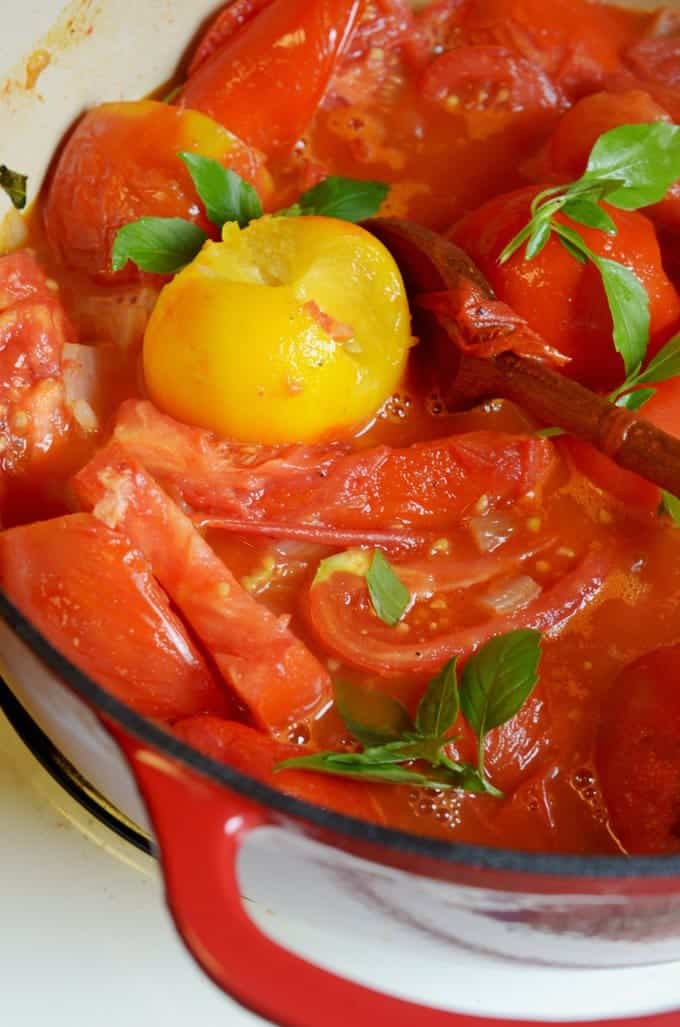 You can make this slow cooker spaghetti sauce on the stovetop, in a crock-pot, in an instant-pot, or even in the oven.
My favorite way to make this slow cooker pasta sauce is on the stovetop using a big Dutch oven, just like mama Leone taught us!
Slow-Cooked Tomato Sauce is a mini garden sauce pot that freezes well, and so you can enjoy it all year long.
What is this?



One taste of this slow cooker spaghetti sauce and you'll never use store-bought sauce again
Fresh Farmers Market Produce makes this Slow Cooked Tomato Sauce the Real Deal.
Ingredients

A big pot, a lidded Dutch oven works great, or a crock-pot.
Olive oil
Tomatoes
Sweet Peppers
Onion
Basil
Garlic
Wine (Red or white)

Tomato Paste
Variations and substitutions

A beef bone (or pork bone) and a cheese rind added to this spaghetti sauce will take it to the next level of taste!
A beef or pork bone

Using a beef bone or pork pone in your sauce will profoundly enhance the flavor and character of your sauce!
Bone marrow is leached from the bone, through the cooking process, giving it structure and adding a dimension that otherwise isn't there.
A rich flavor is extracted from the bone, elevating your slow-cooked spaghetti sauce to a higher level.
Bone broth is full of vitamins, mineral, collagen and amino acids, making your slow cooker tomato sauce even healthier!
A cheese rind

Add a cheese rind to your slow cooker tomato sauce for a deep savory flavor.
Remove the rind from the sauce before freezing or eating.
How many times have we said that simple is best, even when it comes to cooking?
No other recipe illustrates this principle better than Slow Cooked Tomato Sauce.
Yellow sweet onions are diced and sautéed in this Slow Cooked Tomato Sauce, thereby adding even more summer flavor.
You can also make this low-sodium marinara if you're watching your salt intake. It is delicious!
A simple sauce is best

Purists will tell you to seed your tomatoes and furthermore to get rid of the skins. Certainly, you can do that if you wish.
When I first started making my homemade tomato sauce, I would leave everything, including the seeds and skins.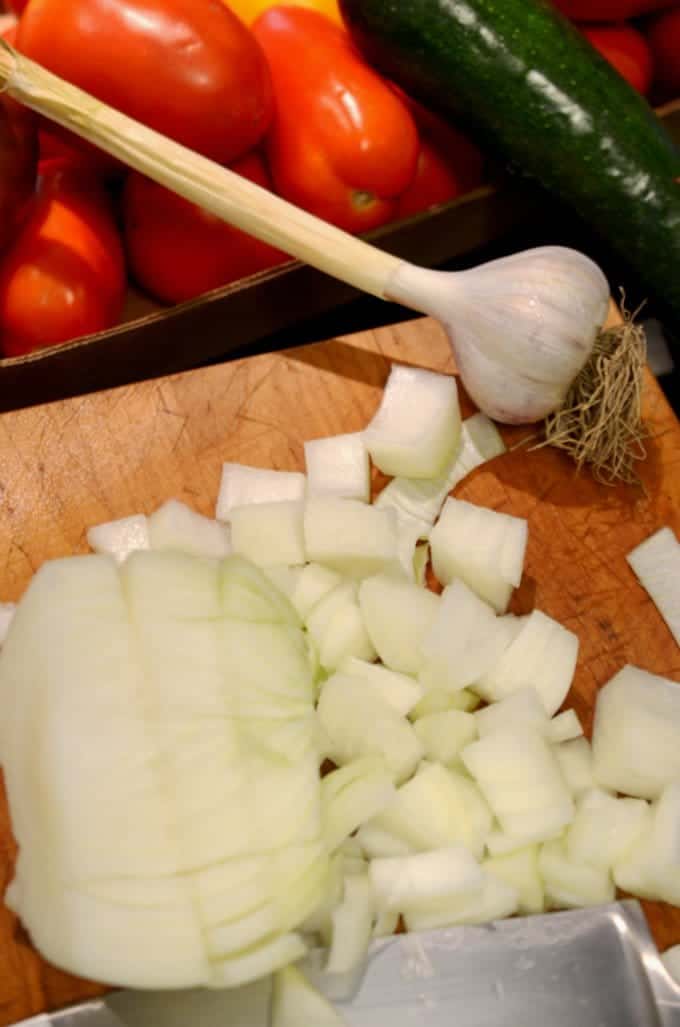 Then, I read that tomato seeds add bitterness and that the skins in general also detracted from the flavor and the sauce presents better without the skins.
And so, for a few years, I did the arduous process of hot water blanching, skinning, and seeding all of the tomatoes.
This proved to take a lot of both time and effort, but I always told myself that I was doing it in the name of good culinary practice and the name of better taste.
We left the seeds and skins on our tomatoes for this slow-cooked tomato sauce.
Fast forward a few years later, and I have a conversation about this practice with our dear friend, daughter of Italia, and creator of our Viva Italia series.
When I asked Paola her thoughts about this issue, and her response was, "Ah! I throw the whole thing (tomaot0) in the pot and let it cook."
Paola is one of the best cooks that I know.
In case you are wondering, and as you might have guessed, I stopped seeding and skinning my tomatoes for slow-cooked tomato sauce and have never looked back.
How to make it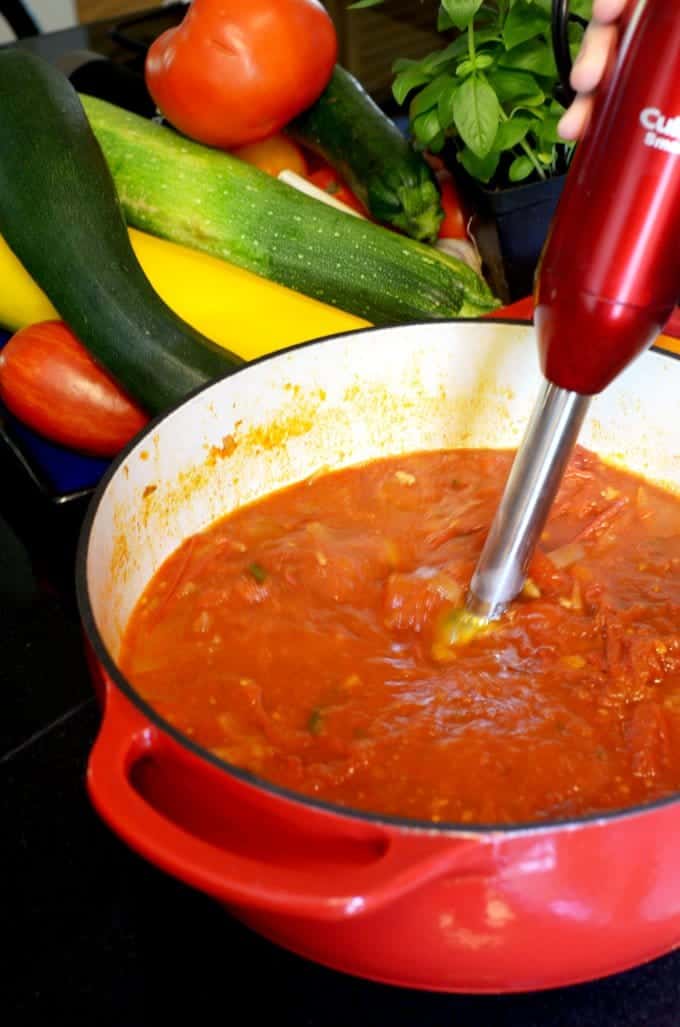 You can make this slow cooker tomato sauce in a variety of ways.
Make it on the stovetop (a Dutch oven works great).
Use a slow cooker or crock-pot.
You can make this spaghetti sauce in your Instant-Pot, using the slow cooker function.
You can make it in your oven, using an oven safe pot such as a Dutch oven.
The key is to allow it to cook slowly, even overnight if possible.
By the way, Lodge rates among the highest of Dutch ovens and also among the most affordable.
Can you say, "Win, Win!?
Use farmer's market produce for this
We like to make the best use of fresh summer produce, especially veggies like rainbow carrots and fresh sweet bell pepper.
For this slow-cooked tomato sauce, we use some roasted sweet peppers.
Feel free to add a few carrots as well, if you are lucky enough to have them on hand.
How to roast pepper in the oven

Place pepper in a hot oven at 400℉.

Allow roasting until bubbly and brown all over. It's not pretty by the time it finishes but remember, beauty is only skin deep!

Once you take it out of the oven, let it steam in a paper bag for five minutes.

Crimp the opening of the paper bag closed to keep the heat inside.

Remove from the paper bag and then peel the skin off.

Cut the pepper in half, remove pith and seeds and then slice or dice, as needed.
As you will see in the full recipe below, this Slow Cooked Tomato Sauce could hardly be any easier to put together, thus making for a fresh and flavorful sauce.
Sweet bell peppers are in season now and therefore create a great backup cast to the stars of this sauce, the red, ripe, and juicy tomatoes.
Make this homemade spaghetti sauce as chunky or as smooth as you want, by using an immersion blender.
Give this sauce a try this weekend and have a fresh taste of summer.
There will never be a better time to make it.
How to freeze spaghetti sauce

This spaghetti sauce recipe freezes well too and will taste almost as good in February as it does tomorrow night when you pour it over that big bowl of spaghetti.
Allow the tomato sauce to cool completely
Use a gallon-size zip-lock bag and ladle about 8 cups in each bag.

Adjust amount based on your needs.

Squeeze all the air out of the bag before sealing and then lay each bag flat in your freezer.
Thaw for a day in the refrigerator before using, then reheat on the stove top.
We wish you a happy summer, all year long, and in essence, this recipe will help get you just that.
What to use this with

Finally, don't let a drop of this homemade spaghetti sauce go to waste.
Try our homemade crusty bread recipe to help soak it up!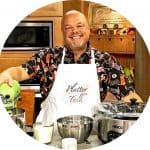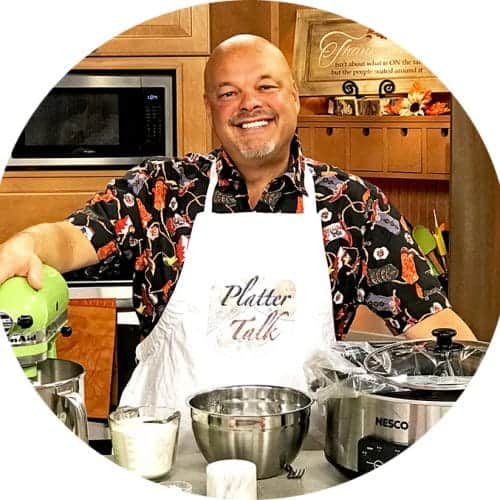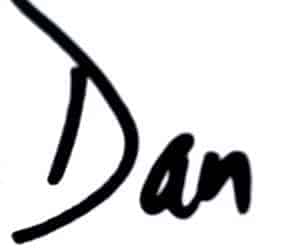 If you've tried this slow-cooked tomato sauce or any other recipe on Platter Talk, please let us know your thoughts in the comments below, we love hearing from you! You can also FOLLOW US on FACEBOOK, INSTAGRAM, and PINTEREST to see more delicious food and what we have cooking.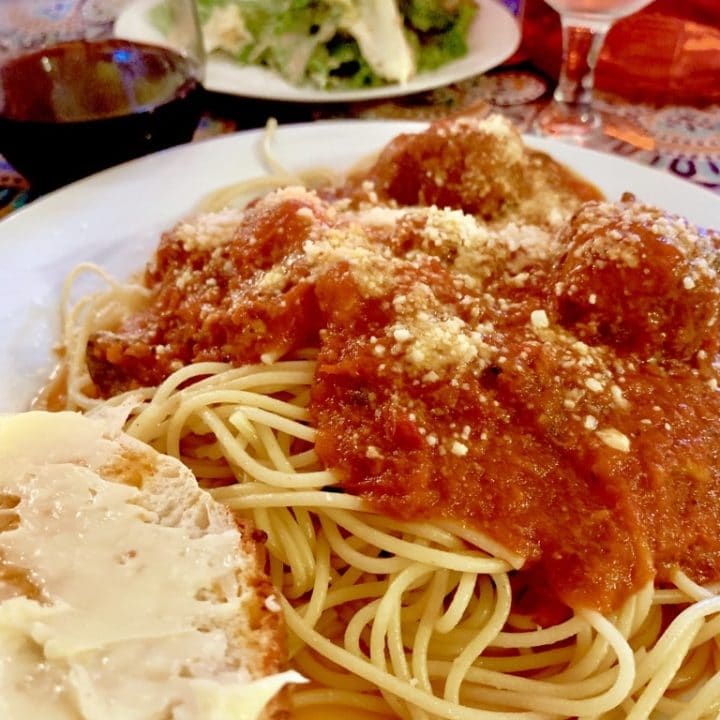 Slow Cooker Tomato Sauce
Make this crock-post spaghetti sauce in a variety of ways, for the best homeade spaghetti sauce ever!
Ingredients
2 to 2½

pounds

fresh ripe tomatoes

,

washed, stemmed.

1

tablespoon

extra-virgin olive oil

1

small onion

,

chopped

2 to 4

garlic cloves

,

to taste

3/4

cup

red wine

Salt and pepper

1

pinch

sugar

2

sprigs fresh basil

1-2

large sweet bell peppers

,

roasted, seeded, peeled and, cut into strips.

2

tablespoons

tomato paste

,

optional

1

tablespoon

chopped fresh basil
Instructions
Heat 1 tablespoon olive oil in a large, heavy skillet over medium heat and add onion. Cook, stirring often, until tender, about 5 minutes. Add garlic and stir until fragrant, about 1 minute and then add wine and reduce to half volume.

Add tomatoes, peppers, salt, pepper, sugar and basil sprigs and then increase heat to medium-high. When tomatoes are bubbling briskly, stir and reduce heat to low simmer and cover.

Allow to cook on low for a couple of hours, or overnight if possible. Stir every once in while. Remove basil sprigs and then taste and adjust seasoning to your preference.

Use immersion blender to smooth out the sauce. Do not over blend, leave some texture as desired. If sauce is watery, remove cover and allow to reduce while cooking. Thicken with optional tomato paste if desired. Serve when ready and garnish with chopped fresh basil.
Notes
If you don't want to roast the peppers (or carrots), simply saute them with the onion and garlic at the beginning of the recipe.
---
Adding a little tomato paste at the end of the saute process with thicken your sauce up a bit. For added flavor, brown the tomato paste before adding the wine to the pot.
Nutrition
Calories:
75
kcal
,
Carbohydrates:
9
g
,
Protein:
2
g
,
Fat:
2
g
,
Saturated Fat:
1
g
,
Sodium:
41
mg
,
Potassium:
457
mg
,
Fiber:
2
g
,
Sugar:
6
g
,
Vitamin A:
1707
IU
,
Vitamin C:
41
mg
,
Calcium:
22
mg
,
Iron:
1
mg
Nutrition information is automatically calculated, so should only be used as an approximation.
Updated from the original post of September 1, 2016