Grilled Eggplant Involtini features fresh bite-sized strips of grilled eggplant that are wrapped around a mixture of tomato sauce and basil-infused cheesy couscous and then oven baked to a delicious and savory perfection.
Grilled Eggplant Involtini
Involtini is an Italian term for small, bite-sized wraps and furthermore these can be made of vegetables, meats, seafood and the like. The involtini is wrapped around a filling and in essence this part of the recipe often  consists of a sauce, a cheese, nuts and cured meats.
We started the recipe for this eggplant involtini off by putting together a batch of fresh tomato sauce and then we fired up the grill.
Note from the above photo that not all of the eggplant are "perfect." There were a couple of parts that needed cutting out and notice also that this is not a big deal. They still roll well and were delicious.  All in all, this is all done in the name of keeping it simple and keeping it delicious.
Follow These Simple Steps for Grilled Eggplant Involtini:
Slice an eggplant into 1/4 inch thick pieces and then oil and season both sides.

Heat a grill to medium high, or by the same token if you don't have a grill you can use a hot grill pan.

Allow the eggplant strips to grill for about 4 minutes on each side, until tender and browned.

The eggplant can be grilled a day ahead of time and then wrapped and refrigerated for a day if you want to plan ahead.
For the Filling of this Grilled Eggplant Involtini:
Take 2 cups of basil-infused couscous and then stir in 2 cups of tomato sauce. Then, mix in some shredded mozzarella cheese and some Parmesan cheese.

Place about two tablespoons of the filling onto one end of a grilled strip of eggplant and then roll tightly.

Place the rolled eggplant involtini into a sauce-lined backing vessel and then top with a little more sauce and some additional grated Parmesan cheese.

Bake for about 20 minutes in a 350℉ oven, until bubbly. Allow to set for 10 minutes prior to serving.
We've featured a few eggplant recipes in the past here on Platter Talk and in fact this eggplant involtini is a beautiful and delicious addition to our repertoire.
Use a Good Sauce
To be truthful, as with any good sauce-based dish, so much of it depends on that sauce. Our fresh tomato sauce makes for a solid base to this eggplant involtini.
We hope you give both recipes a try soon! Thanks for reading our posts here on Platter Talk and once again,  be sure and let us know how you like this one.  -Dan
 Never Miss Another Platter Talk Recipe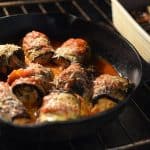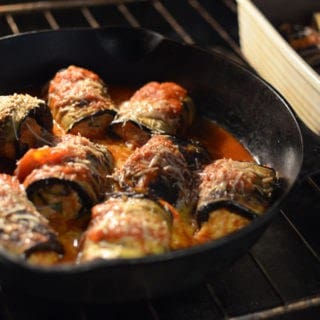 Grilled Eggplant Involtini
Inspired by Food & Wine Magazine
Ingredients
3

medium sized eggplants that are sliced lengthwise into 1/4 inch pieces.

olive oil

salt and pepper

about six cups of tomato sauce of which you can find the recipe here.

2

cups

couscous

cooked

a handful fresh basil leaves

coarsely torn

2

cups

mozzarella cheese

shredded

2

cups

Parmesan cheese

grated, divided.
Instructions
Heat grill to medium high heat and then preheat oven to 350℉

Brush slices of eggplant with olive oil and then season with salt and pepper on both sides.

Grill eggplant slices for about 4 minutes on each side, until marked and tender.

Meanwhile, prepare couscous as directed and stir in fresh basil leaves while still hot.

In a medium sized mixing bowl, combine couscous, Mozzarella cheese and 1 cup of Parmesan cheese along with 2 cups of tomato sauce and then mix thoroughly.

Use a deep 9x9" baking dish or skillet and then line with 1 cup of tomato sauce. Or, use a rectangular lasagna pan and then spread 2 cups of tomato sauce on bottom.

Lay grilled eggplant slices out on a clean flat surface and then add a dollop of 2 tablespoons couscous mixture to one end of each slice. Tightly roll eggplants, beginning at the end with the filling and then roll from end to end.

Place rolled eggplants in baking dish(es) and then cover with remaining tomato sauce. Sprinkle tops of eggplant wraps with remaining Parmesan cheese and then place in the hot oven.

Bake for 15 to 20 minutes until bubbly. Remove from oven and allow to set 10 minutes before serving.
Recipe Notes
The eggplant strips can be grilled and then stored in a sealed container for up to a day in the refrigerator.