Sweet and Savory Grilled Eggplant
on Aug 15, 2014, Updated Apr 28, 2021
This grilled eggplant is my favorite recipe from this past summer. It's easy to make, full of flavor, and one of our most popular healthy eggplant recipes.
I put this together just last evening, during the middle of a brief five-day family sabbatical at our small cottage on a small lake in the Middle of Nowhere, Wisconsin. I wasn't sure where I was headed with this recipe, but when I served it up I knew exactly where it landed; among the top of our summer creations.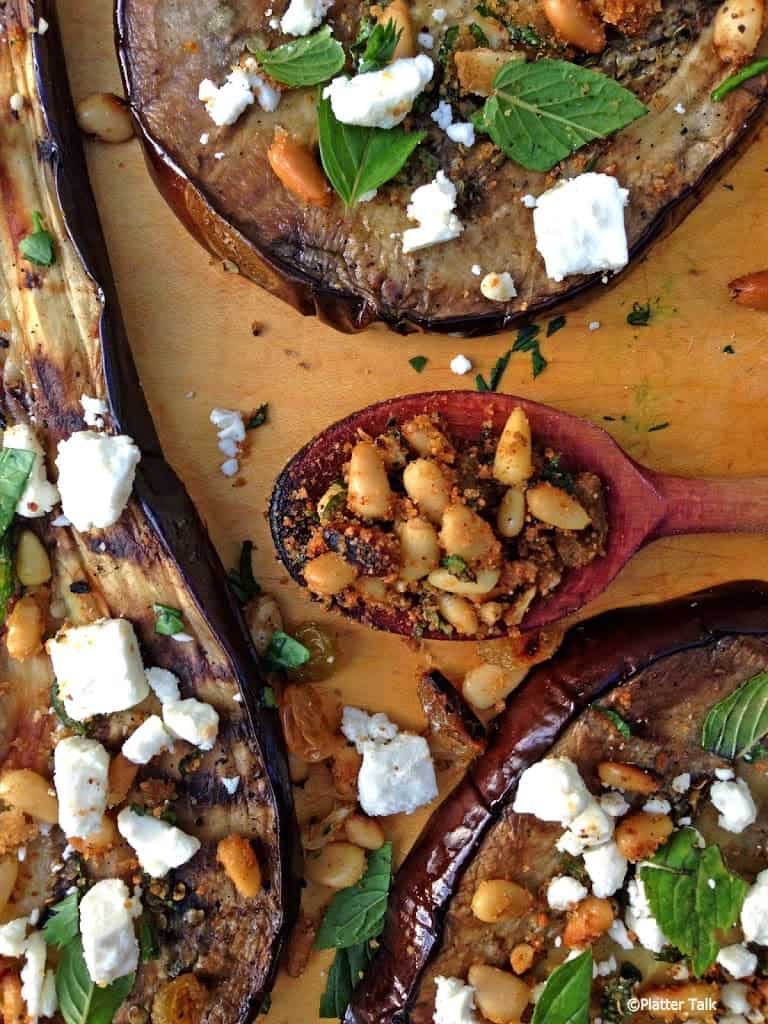 My intention was to publish this post next week but it became rapidly apparent that this is one that needed to be shared as soon as possible so that you have a few extra days to enjoy this dish during our soon-to-be fading summer season.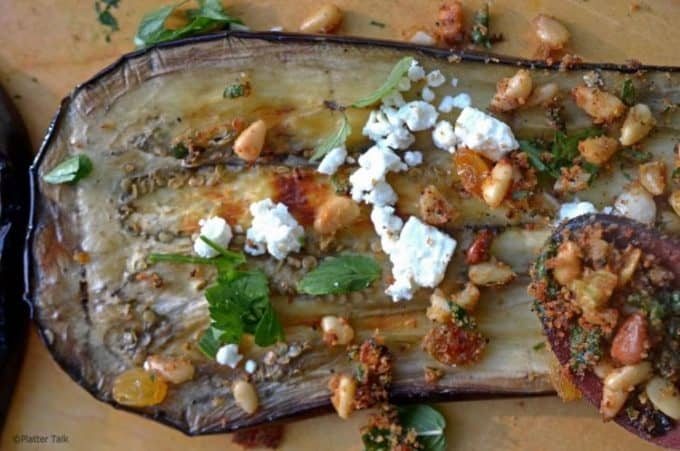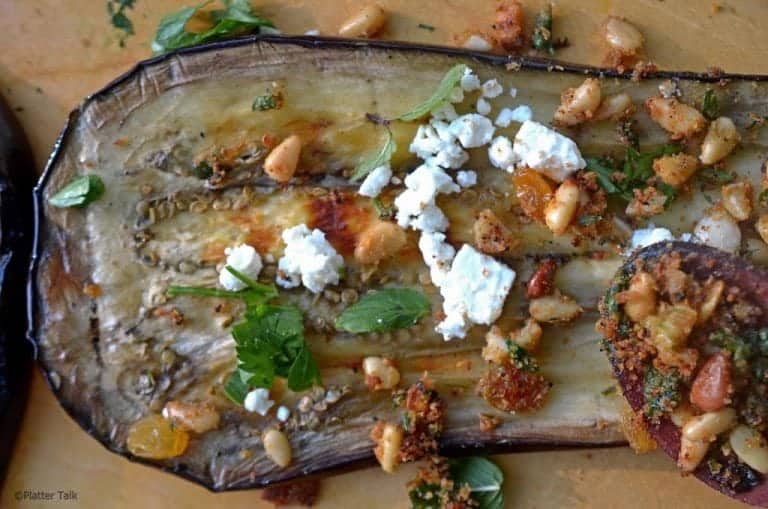 I can't say that I've never grilled eggplant before, it's been done by my own hands a time or two – yet always with tasty but unremarkable flavor, other than the indigenous taste of summer that is part of the outdoor grilling process.
There was nothing unremarkable about the taste of this eggplant. In fact, I found it to be completely sensational, in the most literal sense of the word. Among other things that I discovered, there is something magical about the taste of toasted bread crumbs and pine nuts that are then sauteed in olive oil. Where does the mellow sweetness come from? It's not the sugar. There is none.
Undoubtedly, the golden raisins lend a light sweetness to the mix, but it's balanced perfectly with the classic combination of savory garlic and parsley. I initially thought the idea of mint at the end to be a strange finish to this recipe. As it turns out, the soft undertones of the torn mint leaves are in fact the very flavors that crown this summer jewel. The sensation lingers on your palate in the form of a soft menthol that hangs around well after the table has been cleared. Knowing the mint came from our own cottage perennial beds added yet another element of pleasure and satisfaction.
Of note: There's not a grain of salt or sugar added to this recipe. With every bite of the charred vegetable comes a palatable reminder of the beauty and freshness of summer. Little wonder this is my favorite season and to date, this is my favorite meal. Please, give this one a taste. -Dan
👨‍🍳 Tried this Recipe? Please leave a ⭐⭐⭐⭐⭐ rating in the recipe card below and leave a comment. We love hearing from our readers!
⏩ Stay in touch with us on social media by following us on Facebook, Pinterest, Instagram, and YouTube!
📬Get our Recipes delivered to your inbox for FREE!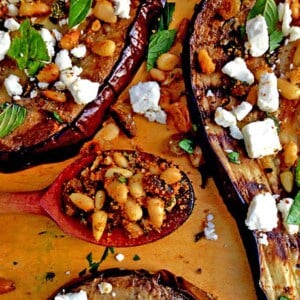 Sweet and Savory Grilled Eggplant
inspired by Angela Hartnett
Ingredients
1

large eggplant

,

thinly sliced

1/4

cup

pine nuts

,

toasted

1/4

cup

breadcrumbs

,

toasted

3

tablespoons

olive oil

,

plus additional to brush eggplant

2-3

cloves

garlic

,

coarsely chopped

1/4

cup

chopped Italian

,

flat-leaf parsley

3

tablespoons

golden raisins

1/3

cut crumbled feta cheese

1

small handful mint leaves

,

coarsely torn
Instructions
Light grill to medium high/high. I have become a charcoal convert.

Brush each side of eggplant with light layer of olive oil.

Place eggplant on hot grill, rotate at 90 degree angle after 2 minutes (same side) to mark.

Flip after 2-3 minutes.

Meanwhile, heat large skillet over medium high heat, with olive oil. Add toasted bread crumbs and pine nuts, stir for about a minute, then add garlic, parsley and golden raisins. Reduce heat and keep warm.

Remove eggplant from grill, top with sauteed mixture.

Evenly sprinkle feta crumbles over each piece, then sprinkle torn mint leaves on top of each slice.
Notes
Panko breadcrumbs may be preferable for their larger size and texture. Regular breadcrumb may be substituted as I learned with this preparation.
Alternatively, a grill pan may be used instead of an outdoor grill. Olive oil should be applied to eggplant slices, placed on a grill pan at medium-high heat for 2-3 minutes per side, then place in the oven at 350 degrees F. to finish.
Once again, I used one of my favorite kitchen tools, the cast iron skillet. It allowed me to toast the pine nuts and breadcrumbs and then saute them with the other ingredients; effectively turning this into a one-pot wonder.
Nutrition
Calories:
241
kcal
,
Carbohydrates:
22
g
,
Protein:
3
g
,
Fat:
16
g
,
Saturated Fat:
2
g
,
Cholesterol:
0
mg
,
Sodium:
54
mg
,
Potassium:
409
mg
,
Fiber:
4
g
,
Sugar:
11
g
,
Vitamin A:
25
IU
,
Vitamin C:
3.4
mg
,
Calcium:
31
mg
,
Iron:
1.3
mg
Nutrition information is automatically calculated, so should only be used as an approximation.
Pin this sweet and savory grilled eggplant for later!