Baked Eggplant Parmesan Recipe
on Feb 25, 2016, Updated Apr 07, 2020
Baked Eggplant Parmesan Recipe from Platter Talk –
While walking through my favorite grocery store, I ran across a special that they were having on eggplant. I knew that Dan had made some very delicious things with with this rarely used vegetable, so it was a no-brainer to throw it into the cart. Never in a million years would I have thought that I would be creating my very own Baked Eggplant Parmesan Recipe.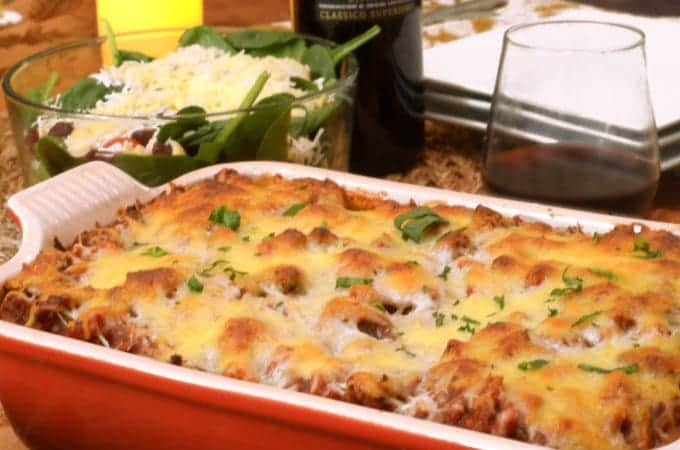 Baked Eggplant Parmesan Recipe

I must admit, I have never cooked with egg plant. I find it a very pretty vegetable but I have always been scared to cook with it. That was until I got the call from Dan that he was having a very busy day. In an effort to try to surprise him, I decided to put my fears aside and try my hand at my very first Baked Eggplant Parmesan Recipe.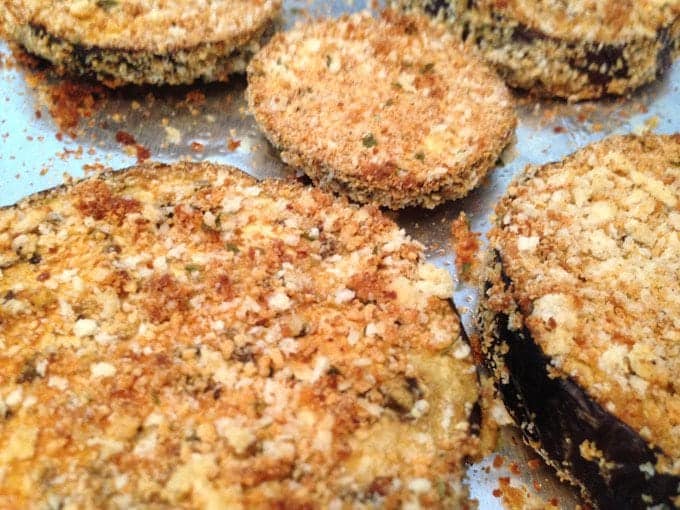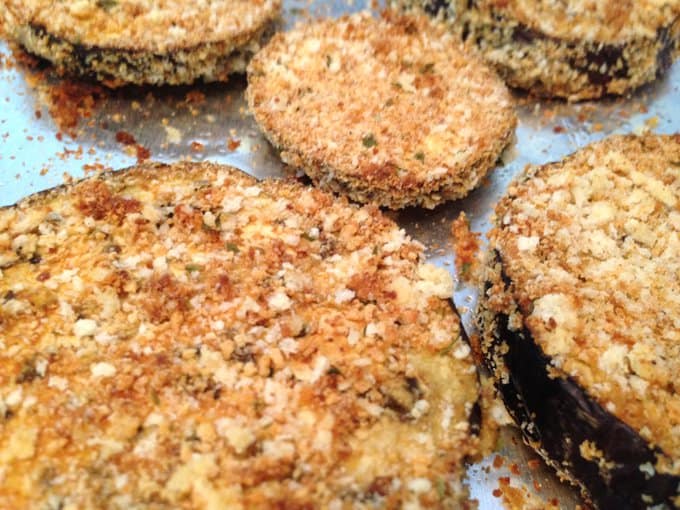 I remember watching Dan make a similar recipe and he breaded and fried his eggplant. While I knew that was an option, I decided to take another approach, the oven. By baking the breaded eggplant, I was able to make a more healthy alternative. Baking gives this Baked Eggplant Parmesan Recipe a lighter, less greasy texture, but still had all the crunch and flavor.
Up until a few years ago, I would run to the pantry and get a jar of my favorite spaghetti sauce. Mainly because it was convenient. H0wever, after experimenting with making my own marina, I found that putting together a sauce is easy and much more flavorful, plus you can control and know everything going into it.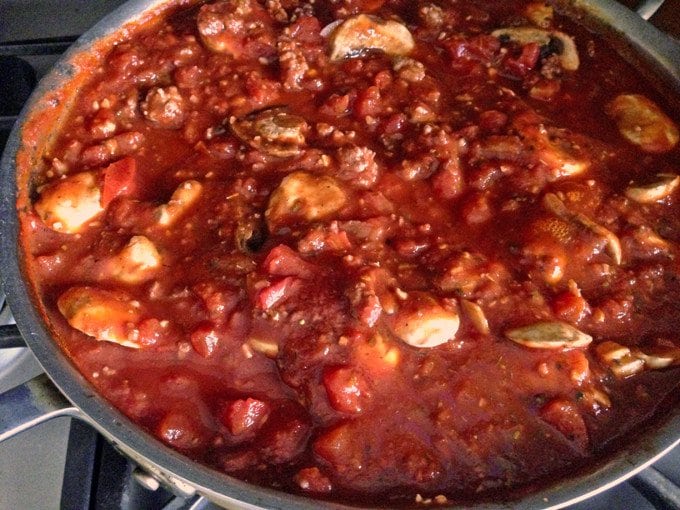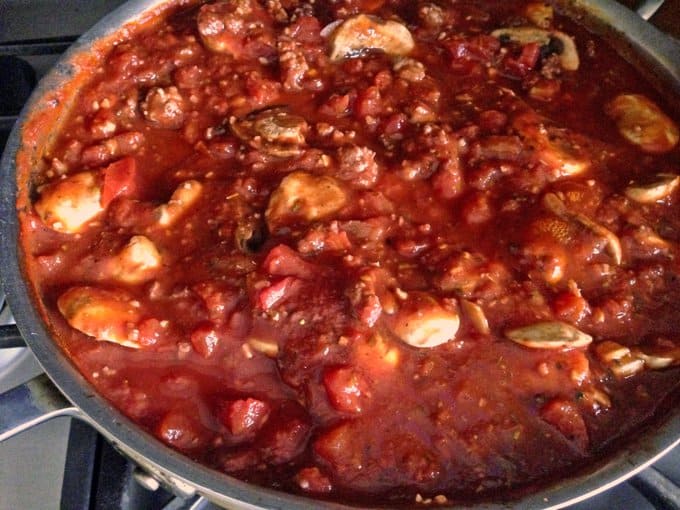 With my Baked Eggplant Parmesan Recipe, I took the liberty to make a sauce with fresh red pepper and fresh mushrooms. Maybe not a tradition but oh, so tasty.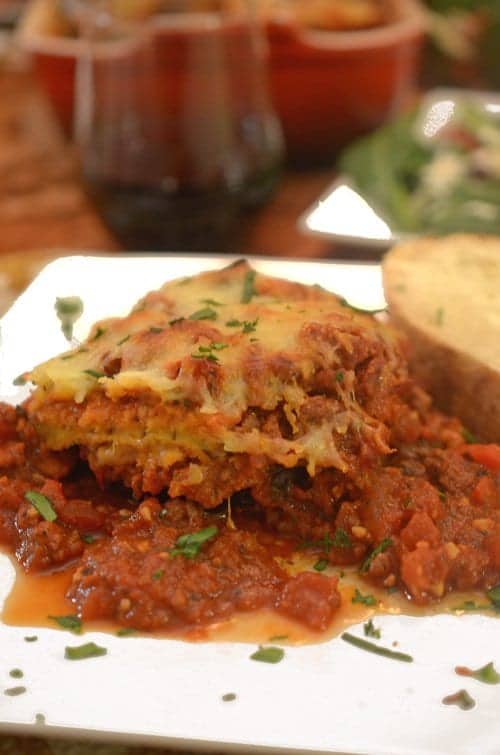 I can't tell you how much fun I had to put this together. Although, I will admit, when Dan came home I was a little nervous. How would my first attempt at a Baked Eggplant Parmesan Recipe taste? Did I mention that he invited a friend over to dinner as well? The pressure was on.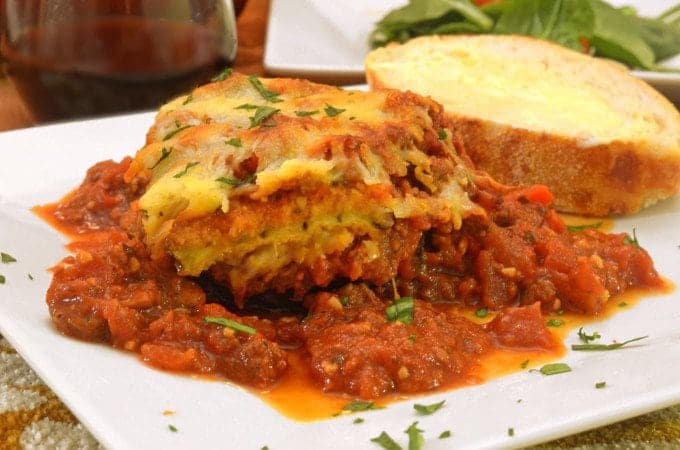 Well, my fears were quickly laid to rest with the first bite. Success! Our guest even asked to take a piece of my Baked Eggplant Parmesan Recipe home with her so she could have it for lunch the next day. What a great compliment.
What do you have to lose? I have taken all the fear out of this recipe for you. Just follow my instructions, invite some friends over, open a bottle of wine, insert your favorite conversation and enjoy a big piece of this Baked Eggplant Parmesan Recipe. -Scott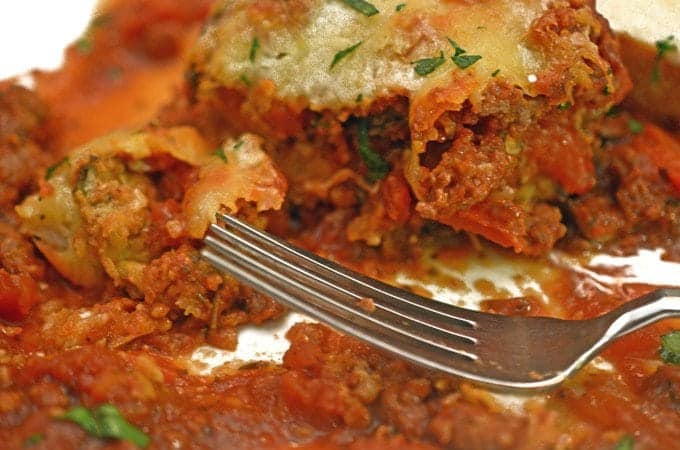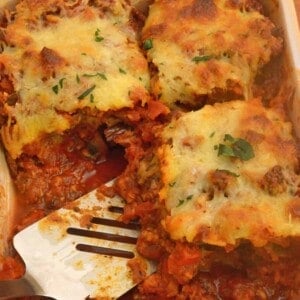 Baked Eggplant Parmesan Recipe from Platter Talk
Baked Eggplant Parmesan Recipe from Platter Talk
Ingredients
for the sauce
1

LB

Italian Turkey Sausage

1/2

onion diced

1

red pepper diced

8

oz

fresh mushrooms sliced

28

oz

can Italian crushed tomatoes

28

oz

can Italian diced tomatoes

6

oz

can tomato paste

,

small can

1

cup

red wine

2

TBS

minced garlic

2-3

TBS

dried oregano

,

or to taste

2-3

TBS

garlic powder

,

or to taste

2-3

TBS

dried basil

,

or to taste

2-3

pinches

of sugar

,

or to taste - sweetens the sauce

salt and pepper to taste
for everything else
1

med eggplant sliced into 1/2 thick slices

3/4

cup

Italian breadcrumbs

1/4

cup

Panko breadcrumbs

2

eggs

2

TBS

water

1

TBS

olive oil

2-3

cups

shredded Italian cheese blend

,

Parmesan, Mozzarella, or preference

salt and pepper to taste
Instructions
for the sauce
Place a large pan over medium heat on your stove top.

Add Italian sausage and cook until crumbly and browned.

If needed, pour off excess grease from the meat leaving a small amount.

Add onions and peppers to the meat and cook until the onion becomes translucent and the red peppers start to soften.

Push the meat and vegetable mixture to the sides of your pan creating an open circle in the middle of your pan.

Put tomato paste in the hole that you created and cook the tomato paste for a few minutes until the paste becomes darker. This will help to intensify the flavor.

Mix your meat mixture with the tomato paste.

Add the red wine and stir together.

Cook for a minute of two or until the mixture thickens.

Add the mushrooms and the remaining ingredients.

Stir together.

Place a lid on your pan, leaving it open just a little bit, and reduce heat to a low simmer stirring occasionally.

Cook for at least an hour to allow the vegetables to finish cooking and the flavors to incorporate.

Turn off heat, remove the lid and allow to cool.
for everything else
Preheat oven to 375 degrees.

Crack eggs into a bowl and add water and salt and pepper to taste.

Whisk the eggs and set aside.

Stir together the Italian and Panko breadcrumbs together and set aside.

Place aluminum foil on a cookie sheet and brush olive oil on the foil. This will help the eggplant no to stick while baking.

Take eggplant slices and dip into the egg mixture allowing the the excess egg to drain from the eggplant.

Dip both sides of the eggplant into the breadcrumb mixture to coat and place on cookie sheet.

Continue until all eggplant slices are breaded.

Place in the oven and bake for approximately 20-25 minutes.

Check the underside of the eggplant and see if golden brown. If so, flip the eggplant over and cook the other side for approximately the same time. If it is not golden brown, allow to cook for a few more minutes before flipping. Watch eggplant carefully so you don't burn them.

When golden on both sides, remove from oven and allow to cool.

Increase the temperature of the oven to 400 degrees.

In a oblong pan (approximately 9X6) add 1/2-3/4 cup of sauce to the bottom of pan. Spread so that it coats bottom of pan.

Place a layer of eggplant on top of the sauce.

Add 1/2-3/4 cup of sauce to the top of the 1st layer of eggplant.

Top with cheese.

Repeat the layering starting with the sauce, eggplant and cheese.

Place in oven and cook for approximately 30 minutes or until the cheese it completely melted and sauce begins to bubble.

Slice and serve immediately.

Enjoy.
Nutrition
Calories:
318
kcal
,
Carbohydrates:
21
g
,
Protein:
20
g
,
Fat:
16
g
,
Saturated Fat:
4
g
,
Cholesterol:
77
mg
,
Sodium:
1004
mg
,
Potassium:
470
mg
,
Fiber:
3
g
,
Sugar:
6
g
,
Vitamin A:
494
IU
,
Vitamin C:
23
mg
,
Calcium:
136
mg
,
Iron:
8
mg
Nutrition information is automatically calculated, so should only be used as an approximation.