Baked Haddock with Ginger Soy Glaze
on Jul 22, 2020, Updated Jan 23, 2023
This baked haddock dinner is one of my favorite seafood recipes. Made with a ginger and soy-based glaze, it will throw your taste buds into overdrive and leave plenty of calories for dessert. No wonder our baked haddock is one of my favorite low-fat recipes!
At just $5.00 per serving, you need to try these baked haddock fillets with an Asian twist tonight! This high-nutrition meal is just one of our many high-protein recipes.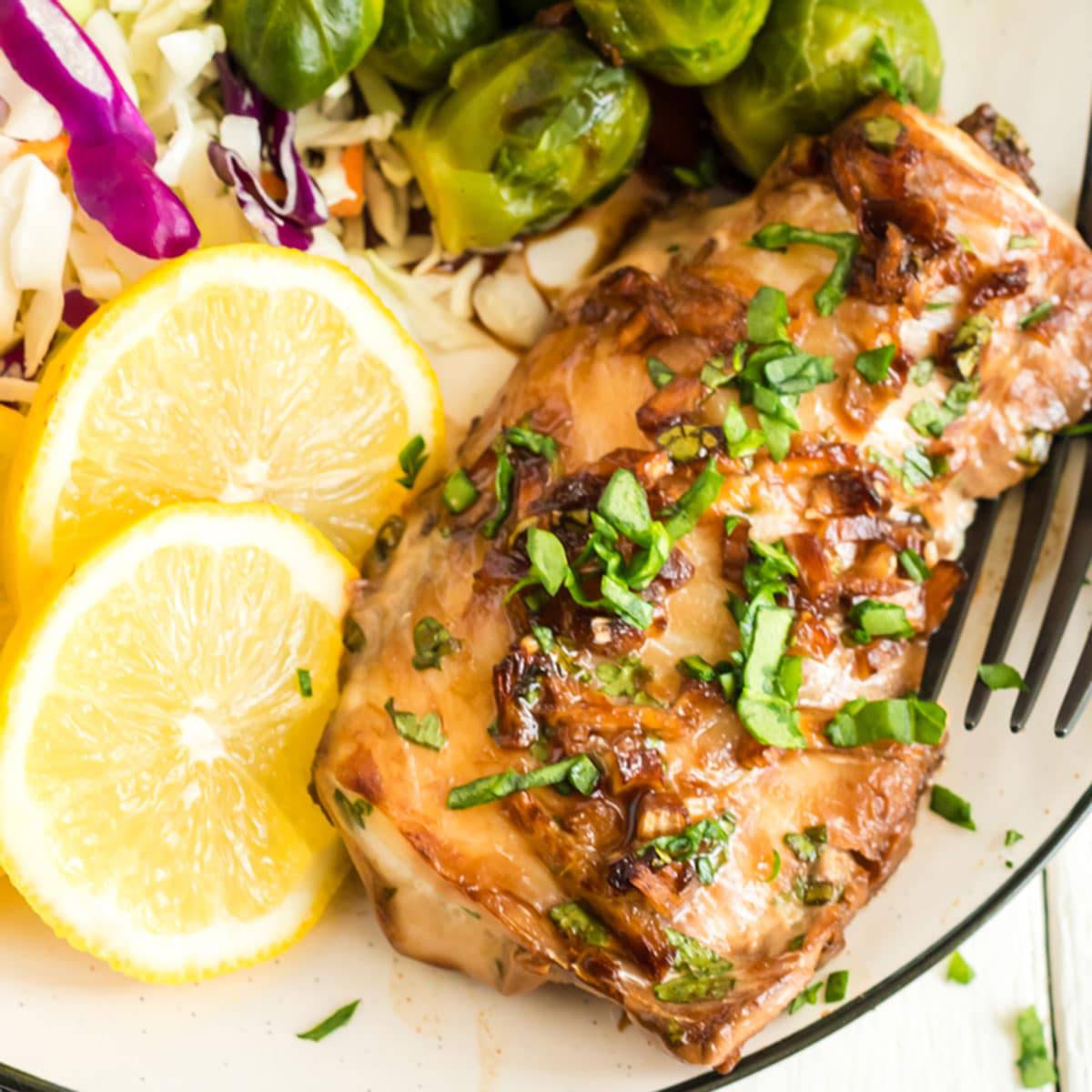 After the fish is marinated, the cooking time for this baked haddock is only about 30 minutes.
Jump to:
🐟
About this baked haddock recipe
Baked haddock, like this blackened grouper, can be a part of a healthy eating plan without being boring.
This white seafood is mellow in flavor, lean, and mild yet firm. It has plenty of heart-healthy omega-3 fatty acids.
Haddock recipes can be breaded, beer battered, then deep-fried, broiled, sautéed, or as in this meal, baked. These baked fish fillets with an Asian twist prove my point nicely.
Once the haddock is marinated, you can have it on the table and ready to eat in about 30 minutes, so it's easy to whip up at the last minute.
With under 300 calories per serving and at about $5 per serving, this baked haddock is one of our most popular Asian-inspired recipes!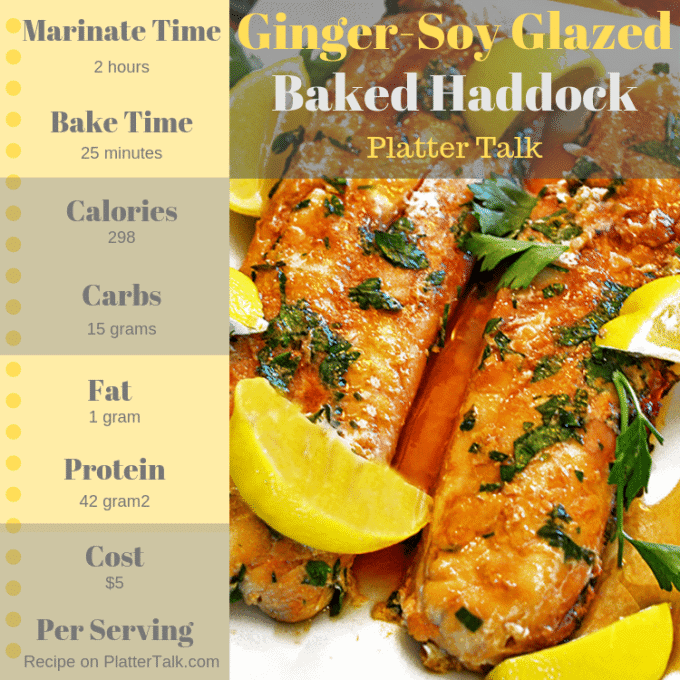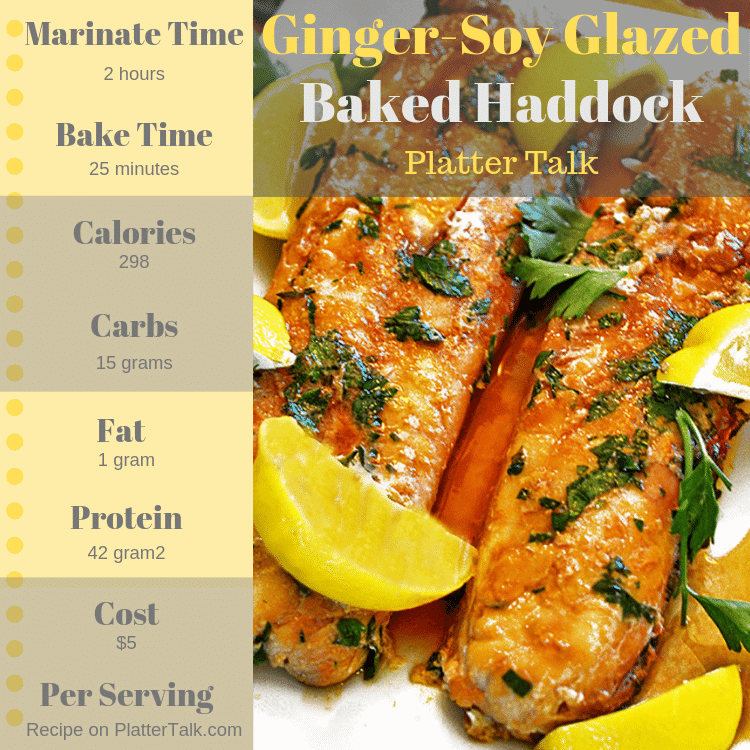 I love seafood but have to admit that I eat too little of it. I love to order baked haddock and other seafood entrees in restaurants because we don't make it often enough at the house.
It's simple to make, delicious and healthy recipes such as this baked haddock that cause me to ask myself one question: Why? Healthy seafood dishes shouldn't be reserved just for a special occasion!
And seafood can be very good for you, especially this recipe for baked haddock.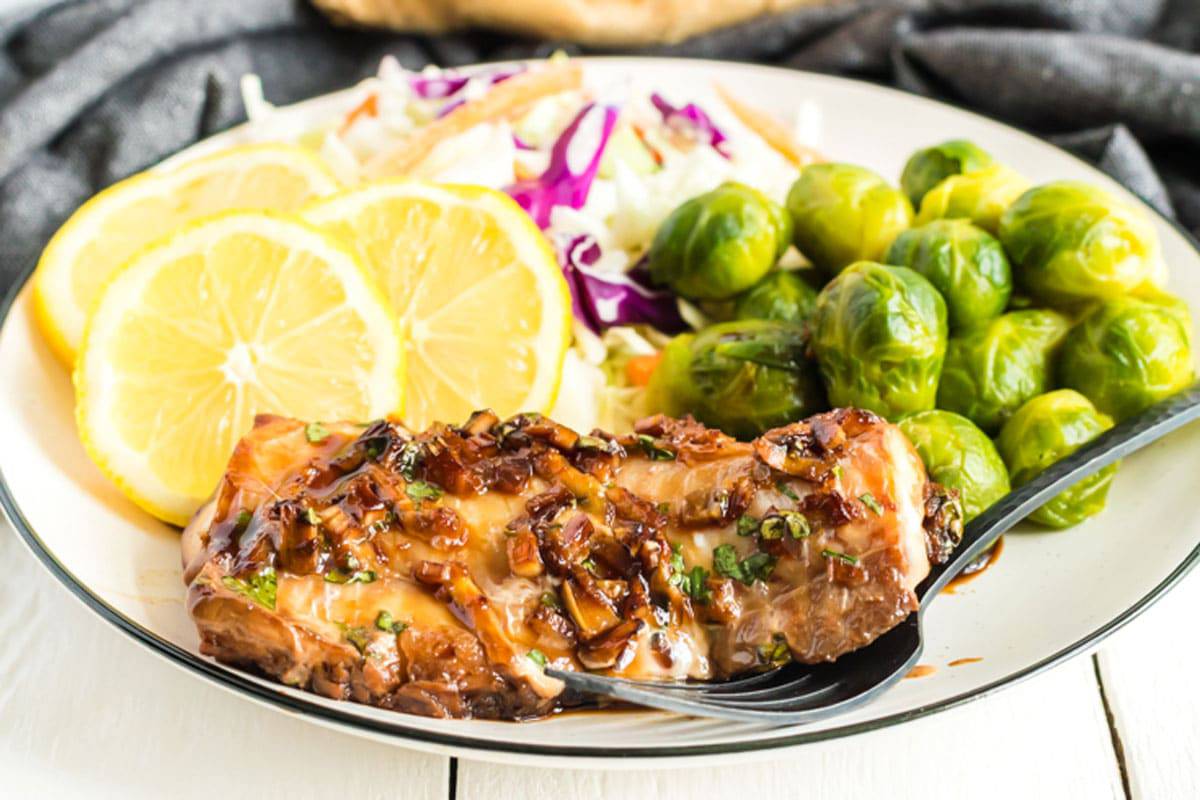 You can use fresh or frozen haddock for this healthy recipe.
📋 What's in it?
The shortlist of ingredients for this recipe is another factor that makes this baked haddock so appealing. Besides the fish, the marinade only takes a handful of common pantry staples.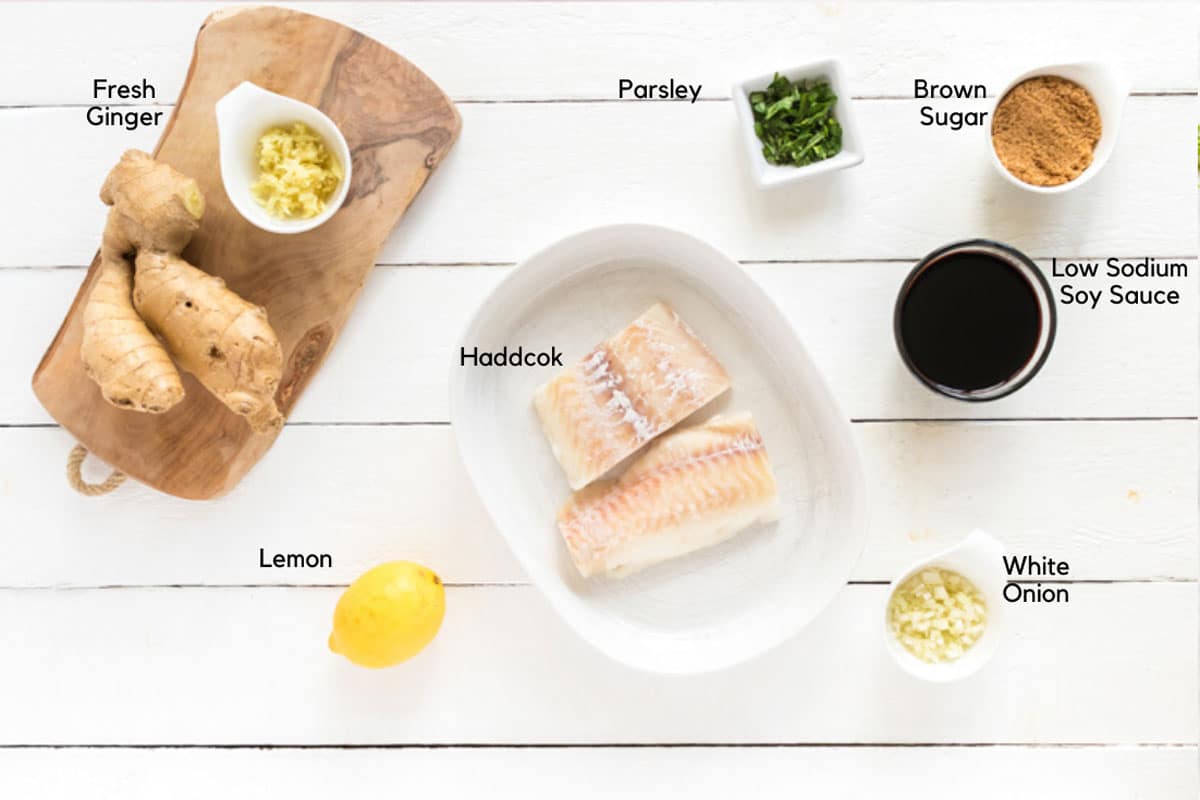 Haddock
Fresh ginger
Brown sugar
Low-sodium soy sauce or light soy sauce
Fresh lemon juice
Onion
Italian (flat-leaf) parsley
🥣 How to bake haddock
Another reason you will love this baked haddock recipe is that it is super easy to make. There are only a few steps before you bake it, and then you are good to go!
If you are using fresh fish, you can get started right away. However, if you are landlocked like we are here in the midwest, you may only have access to frozen seafood. If that's the case, you'll want to thaw it before marinating.
How to Thaw Frozen Fish
There are a couple of ways to thaw seafood safely. Using any of the methods below, leave the frozen fish sealed in its packaging.
Put it in the refrigerator the morning of or the night before.
Allow it to run under cool tap water (while still in a plastic bag.)
Place the haddock (while still in its package) in a bowl of room-temperature water.
Change the water every 20 to 30 minutes.
Do not use warm or hot water. You want the frozen fish to thaw slowly and even.
Pro Kitchen Tip: Do not defrost frozen seafood in the microwave! It is too delicate to thaw in a microwave oven evenly. Even in defrost mode, a microwave oven can cook tender parts of the fish and change its texture.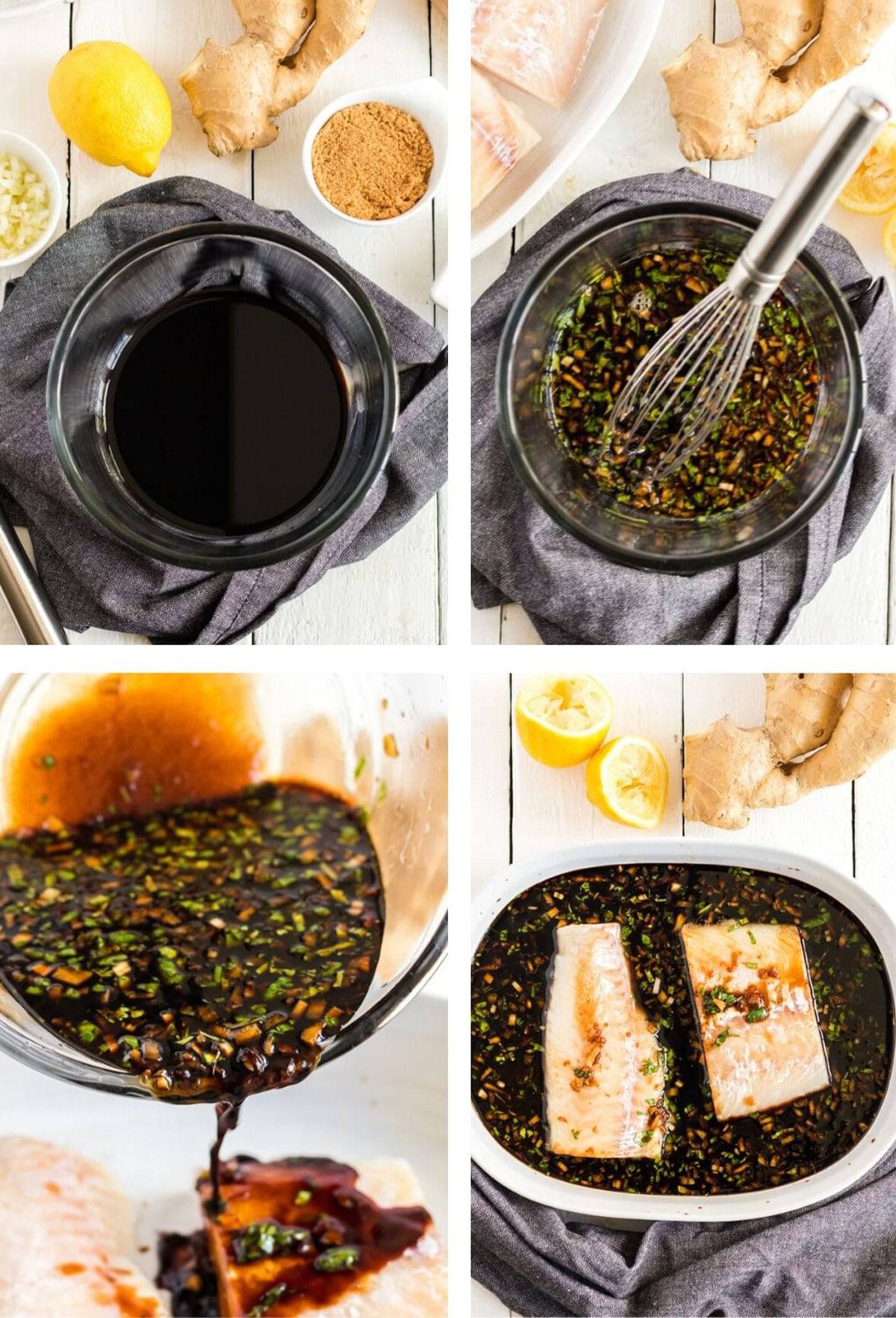 Pour the soy sauce into a small bowl.
Add the other ingredients.
Place the thawed fish pieces in a baking dish and pour the marinade over it. Make sure to reserve some extra sauce to spoon over the cooked fish.
Let it marinate for two hours.
For more flavor, you can marinate the haddock for up to six hours before baking.
Bake the marinated fish for 25 minutes at 325°.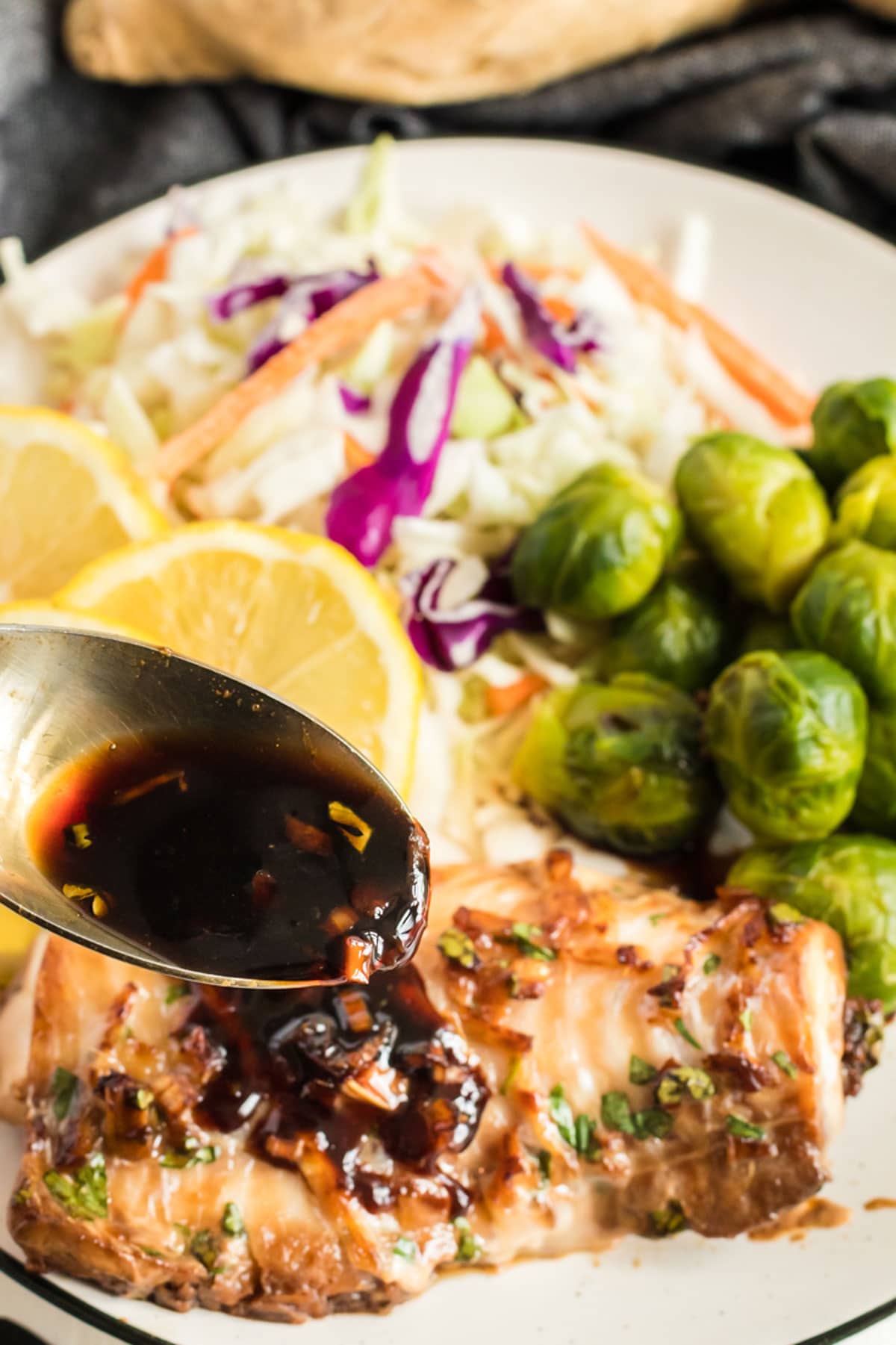 These baked haddock fillets are bathed in fresh ginger, soy sauce, lemon, and chopped fresh parsley.
Plate the finished haddock and spoon more of the warm reserve marinade over each piece.
Pro-Cooking Tip: Warm your plates in the oven for a few minutes before plating seafood. No one likes to eat cold fish (unless it is something like our smoked salmon.)
Fish cools down rapidly, and this will help keep it warm. I'm always impressed by restaurants that serve their seafood on warm plates. It tells me that someone knows what they're doing!
Haddock is lean, it's mild, and it's versatile. The fresh ginger in this seafood marinade, soy sauce, lemon, and chopped parsley gives a solid flavor to this otherwise light-tasting fish.
Scott, who is only half "sold" on eating fish of any kind, wolfed down this seafood recipe. We paired these baked fish fillets with oven-roasted Brussels sprouts and baby red potatoes.
You can substitute your favorite vegetable. Once again, I found myself asking, "Why?" Why don't I make fish recipes more often?
Give this healthy meal idea a try. If you or someone in your family isn't big on seafood, this marinated haddock recipe might bring the entire family into the pro-fish camp.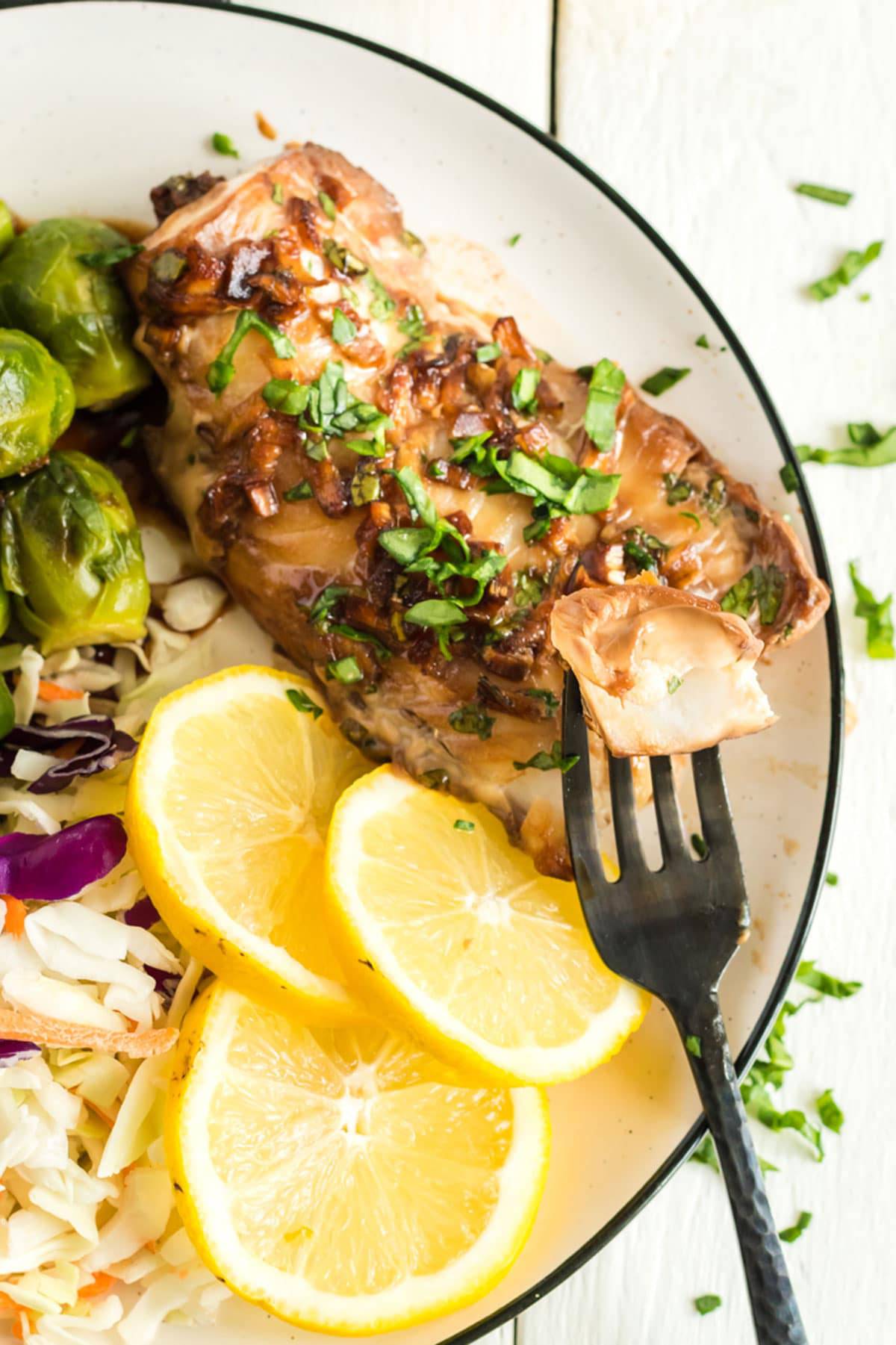 This baked fish takes just 25 minutes in the oven.
🙋
Common recipe questions
Is Haddock Good for You?
It is a lean fish, making it low in fat. It is loaded in protein, making it a super healthy dinner choice!
Is Haddock High in Mercury?
Haddock is low in mercury and one of the safest fish to eat if you are pregnant. You can safely eat 2 to 3 servings of this each week. Other healthy seafood choices include:
Cod
Lobster
Oysters
Salmon
Shrimp
Sole
Common questions
Can I bake haddock while it is still frozen?
I don't recommend baking seafood that is still frozen. Frozen fish contains a lot of moisture. This will lead to sogginess and dilutes the flavor when it is finished baking. Who wants that?!
Can I use this recipe with other fish?
This Ginger-Soy glaze would be great with a halibut fillet, salmon filets, red snapper, or any firm fish.
How do you know when haddock is cooked?
Raw fish is usually shiny and translucent in appearance. It is finished cooking when its color turns opaque.

Haddock and other fish is finished cooking when it flakes easily with a fork, as shown in the picture above.
Food Safety Tip: The FDA recommends fish to have a minimal nternal temperature of 145° F before serving it. This instant-read thermometer is the best one out there and it is the one I always recommend using. It is super accurate (to 1/2 of a degree) and lightning-fast!
What to serve with this
Part of the beauty of seafood is its versatility. This baked haddock goes with so many other foods
Looking for some healthy fish and chips? Then try this healthy seafood recipe with these delicious crispy kale chips! We also have some healthy snacks, like these easy-to-make garlic edamame.
More easy seafood recipes
If you're a seafood lover, I hope you'll look at my complete guide for storing leftover smoked salmon!
👨‍🍳 Tried this Recipe? Please leave a ⭐⭐⭐⭐⭐ rating in the recipe card below and leave a comment. We love hearing from our readers!
⏩ Stay in touch with us on social media by following us on Facebook, Pinterest, Instagram, and YouTube!
📬Get our Recipes delivered to your inbox for FREE!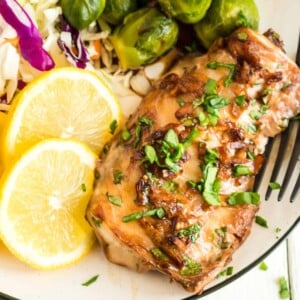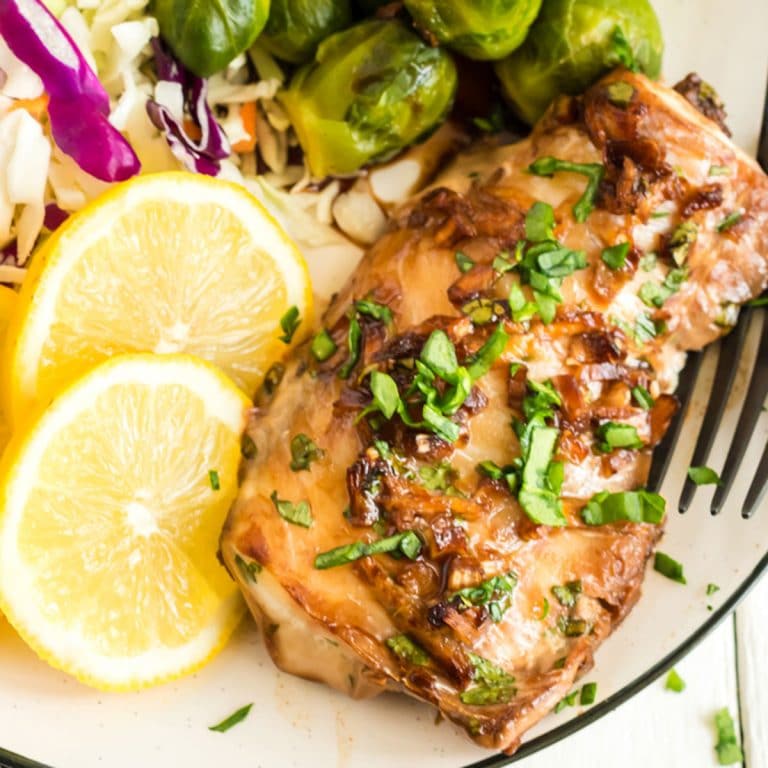 📋 Baked Haddock Recipe
These baked haddock fillets are bathed in a marinade of fresh ginger and soy, all accented with lemon and chopped fresh parsley. Make this healthy haddock recipe today!
Ingredients
2

haddock fillets

,

about 1 lb. total

3/4

cup

low-sodium soy sauce

1

chunk of fresh ginger

,

approximately 1″x2″, peeled and grated

1/4

cup

finely diced white onion

1/4

cup

brown sugar

juice from 1 lemon

1/4

cup

chopped Italian parsley leaves

salt and pepper to taste
Instructions
Combine ingredients for marinade in small mixing bowl.

Arrange haddock in 2 inch deep dish and pour marinade over fish, turning fillets to ensure they are well soaked.

Cover dish and refrigerate. Allow to marinade for 1 hour, longer for fuller flavor.


Preheat oven to 325 degrees.

Bake fish in marinade for 25 minutes, or until cooked throughout and tender and flaky.

Serve haddock on warm plates, spoon juices from pan over each serving.
Notes
Be sure and properly thaw the haddock before baking it.
For more flavor, consider adding some fresh, chopped herbs.
Always serve haddock and other seafood with a wedge of lemon and maybe a sprig of dill.
Use leftovers in seafood chowder or fish tacos.
Nutrition
Calories:
298
kcal
,
Carbohydrates:
15
g
,
Protein:
42
g
,
Fat:
1
g
,
Saturated Fat:
1
g
,
Cholesterol:
122
mg
,
Sodium:
1500
mg
,
Potassium:
857
mg
,
Fiber:
1
g
,
Sugar:
28
g
,
Vitamin A:
129
IU
,
Calcium:
64
mg
,
Iron:
3
mg
Nutrition information is automatically calculated, so should only be used as an approximation.
This recipe has been updated from the original post from September 30, 2014.