How to Make Crispy Kale Chips (Oven or Air Fryer Recipe)
on Jan 23, 2023, Updated Feb 02, 2023
Kale chips are my latest obsession with healthy snack recipes. How something this healthy can taste so good is beyond me.
If you are a "kale skeptic," I get it. I was too. Not anymore, though. Now one of my favorite healthy recipes, this crunchy and delicious snack has made a believer out of me.
Read on, and I'll show you how to make air fryer kale chips or in a conventional oven. Either way, I'm going to make a believer out of you!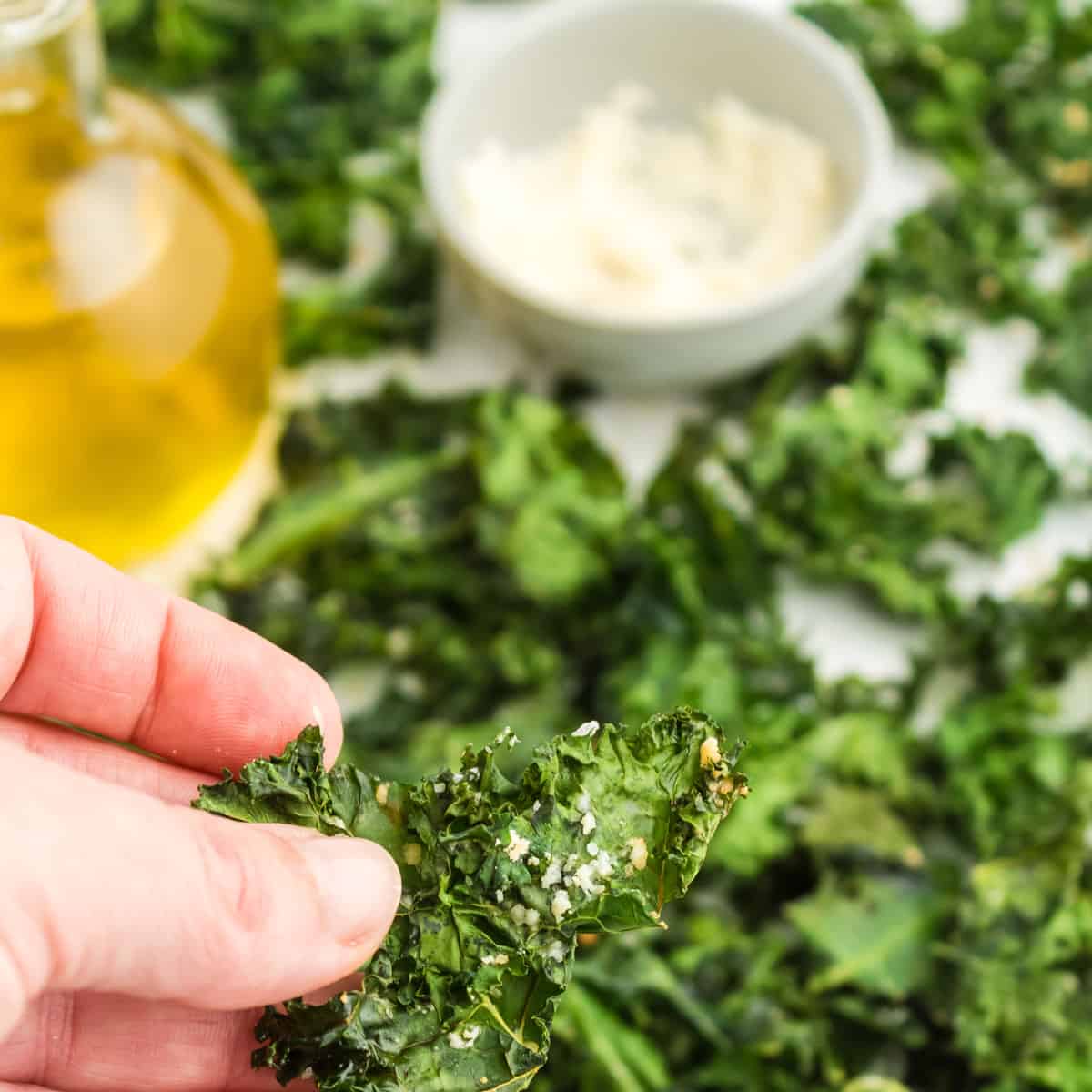 What are these?
This is a delicious and low-carb snack you can make at home. If you're trying to work on your healthy eating, these make an excellent replacement for french fries or even tortilla chips. This great recipe will make you forget potato chips altogether!
By itself, kale isn't all that appealing. Add simple ingredients like good olive oil, kosher salt, or sea salt, and it's a whole new ball game! Kale chips in the oven are delicious, but that's so 1990's (as my boys would say.)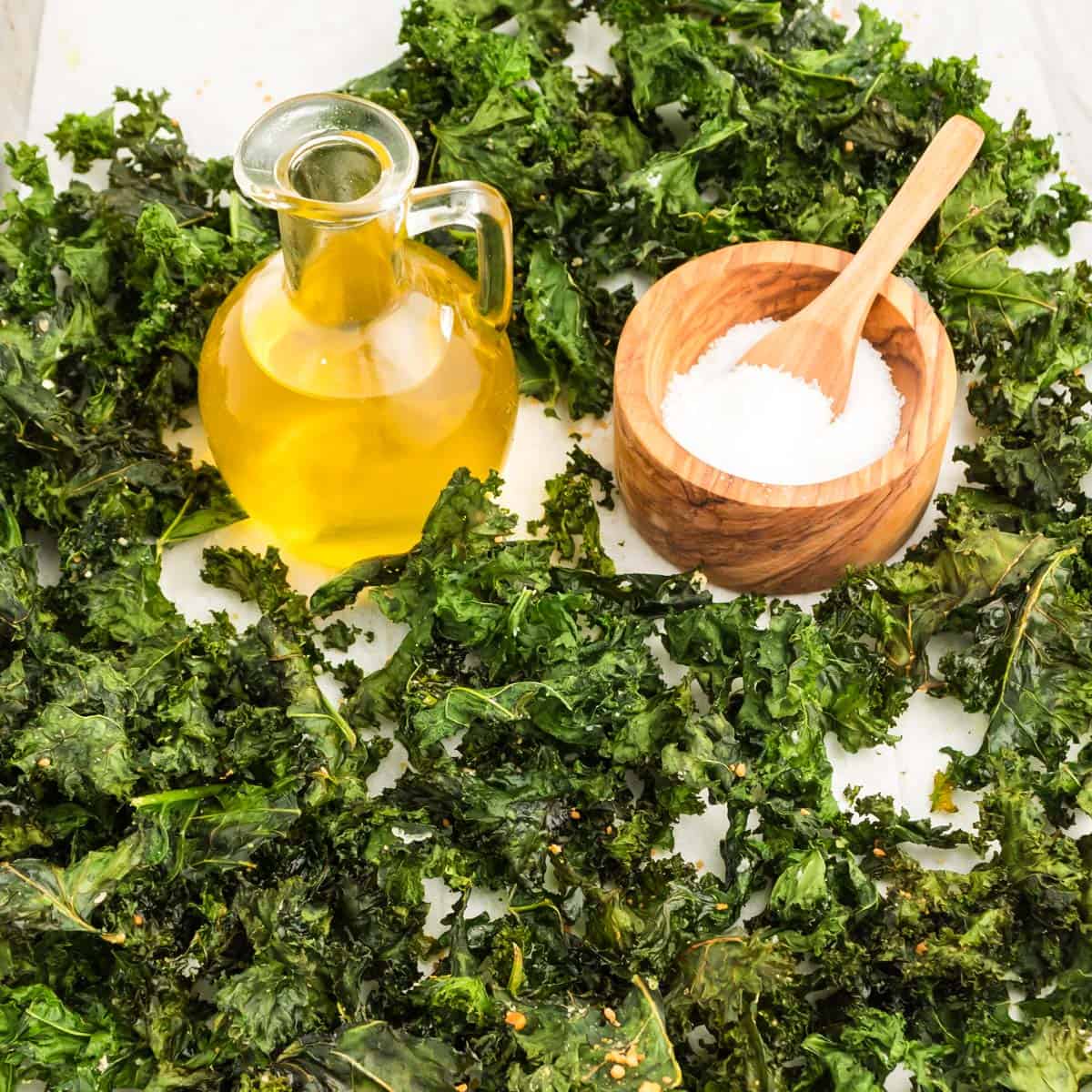 I will also show you how to make kale chips in an air fryer to save time. Both techniques are super simple, and you'll be amazed at how addictive these crispy homemade kale chips are.
If you're like me, you may devour the whole pan when you make your first batch of this tasty snack.
What's in them?
If you have ever heard that simple is best, then this recipe for kale chips is living proof! These are the basic ingredients to make this crispy and healthy snack.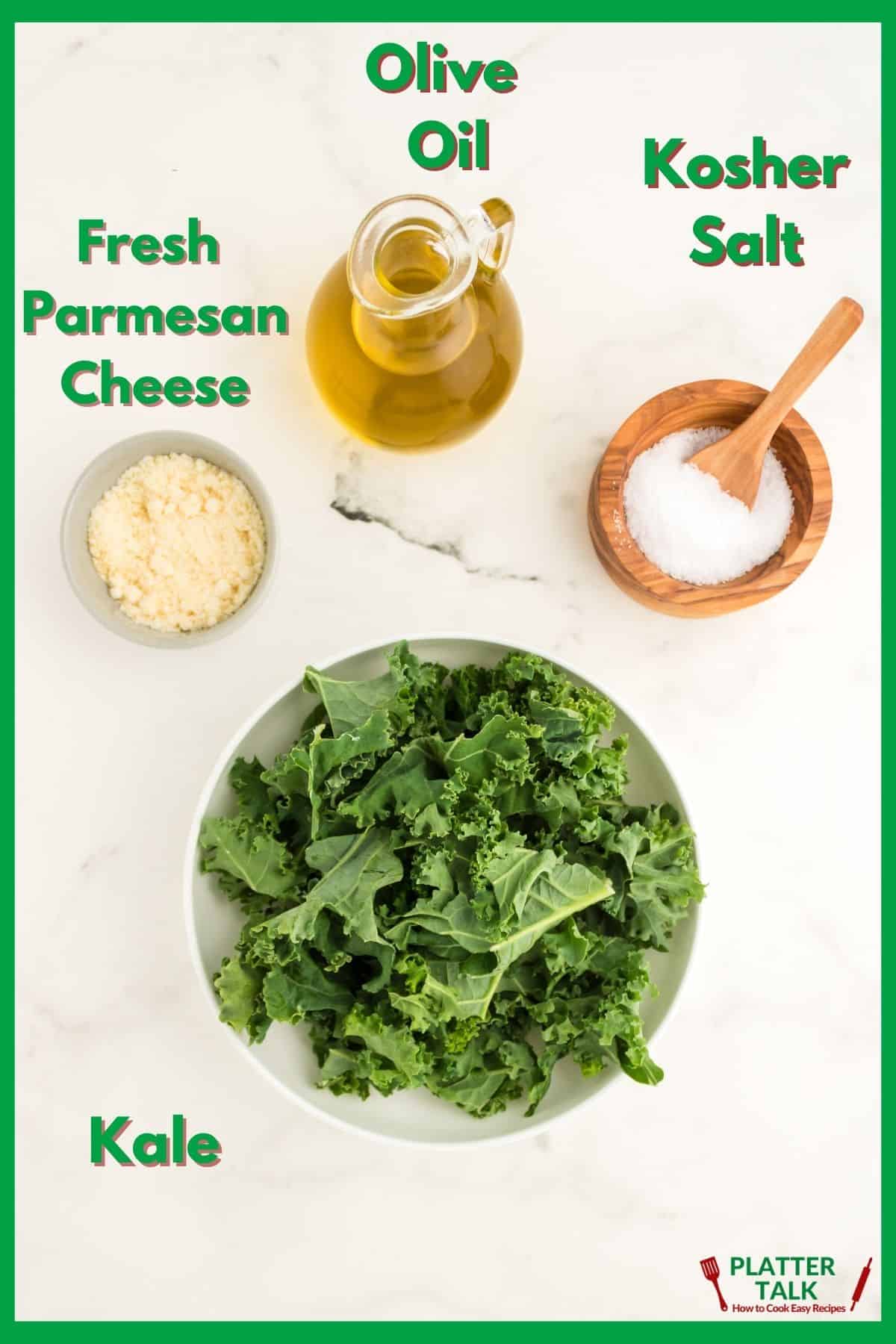 Kale is the main ingredient for making kale chips in the air fryer or oven.
The best variety of kale to make kale chips is a personal preference. Some people prefer the taste and texture of curly kale, while others prefer the more tender and delicate flavor of lacinato kale. You can use either variety to make them, and the cooking method will be the same.
Parmesan Cheese We like to use Parmesan cheese, probably because we use it for everything but washing our hair. From our Parmesan baked White Fish, Baked Zucchini Parmesan Recipe, Cheese Strata, and Parmesan-Crusted Pork Chops. We use it on almost everything!
But you don't have to use Parmesan cheese these. Use whatever kind of cheese you have on hand. Fresh cheese is always preferred and grated works best.
If you want to make these vegan, skip the cheese; this healthy snack is delicious and addictive either way!
Kosher Salt – You'll want to add a little salt to these, and we prefer the large crystals you'll find with kosher salt. A dash or two of table salt or sea salt will work if you have some of that on hand.
Olive Oil greases the leaves just a little so the heat from your oven or air fryer can work its magic. You can use a little canola or vegetable oil instead if you don't have olive oil.
How to make kale chips
(See the complete recipe for kale chips at the bottom of this post.)
Besides the ingredients listed above, you're going to need:
A large mixing bowl
Use a wooden spoon or something to stir the ingredients
A baking sheet
Parchment paper
First, preheat your oven to 300° F.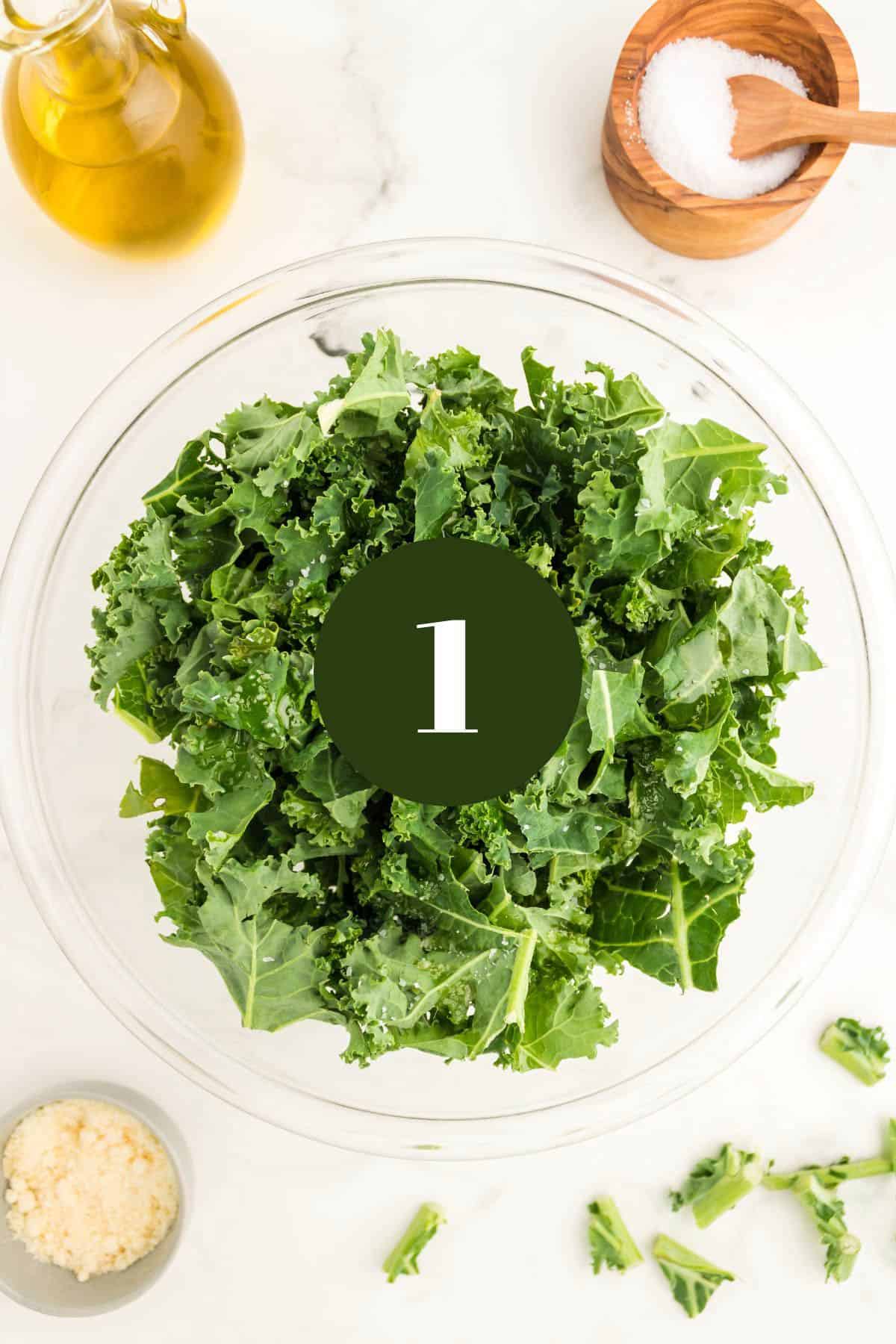 Prepare the ingredients.
Remove the thick stems from the leaves. Then, wash, rinse and dry the leaves. Use a paper towel to pat the leaves dry.
Pro Cooking Tip: Whenever you roast anything, be sure and remove as much moisture as possible, to prevent steaming – instead of roasting. Using a salad spinner is a great way to dry vegetables.
Place the dried and stemmed vegetable into the mixing bowl. Drizzle the olive oil over the while stirring. Sprinkle with grated cheese and salt.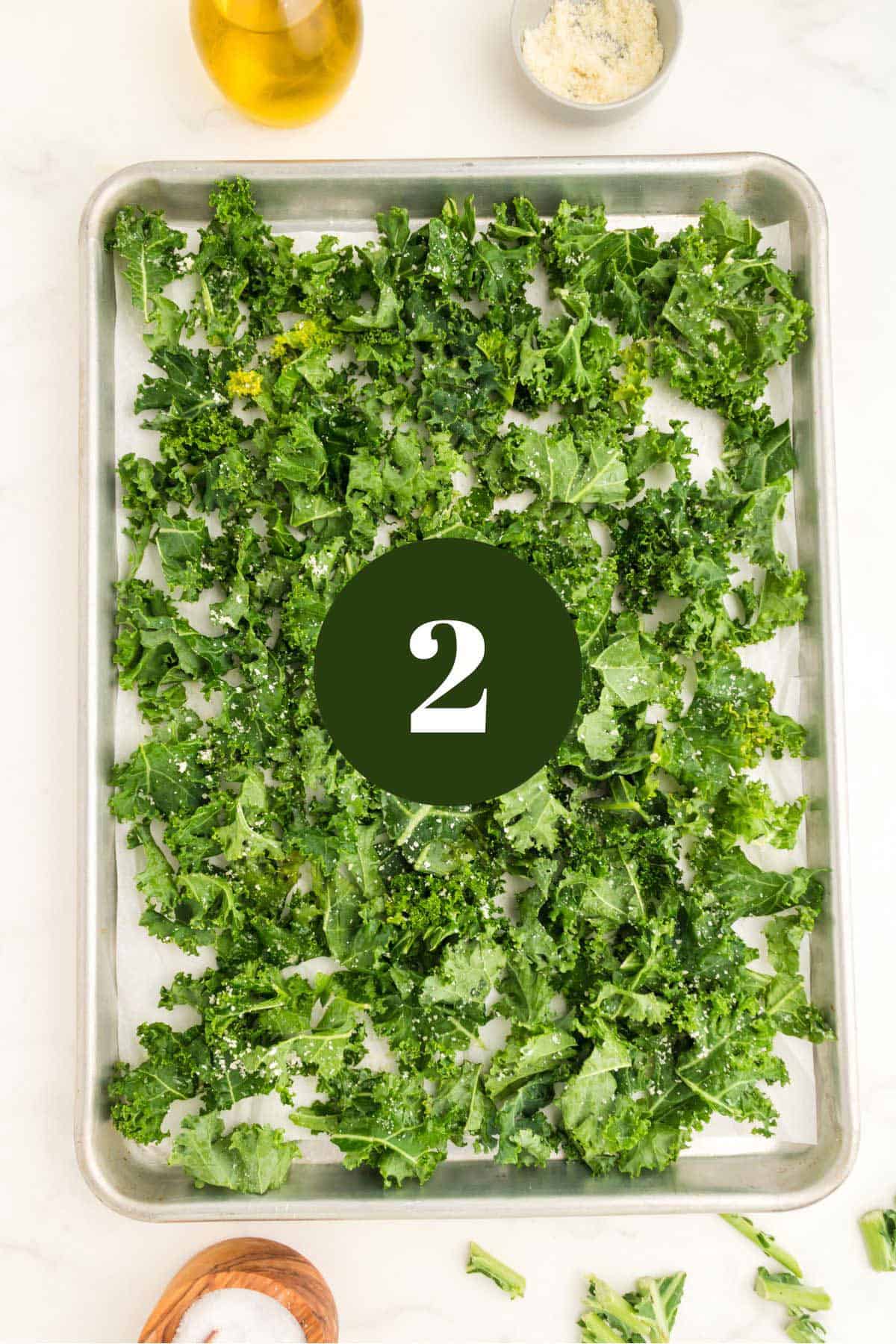 2. Line a baking sheet with parchment paper and then empty the contents of the bowl onto the baking sheet in a single layer.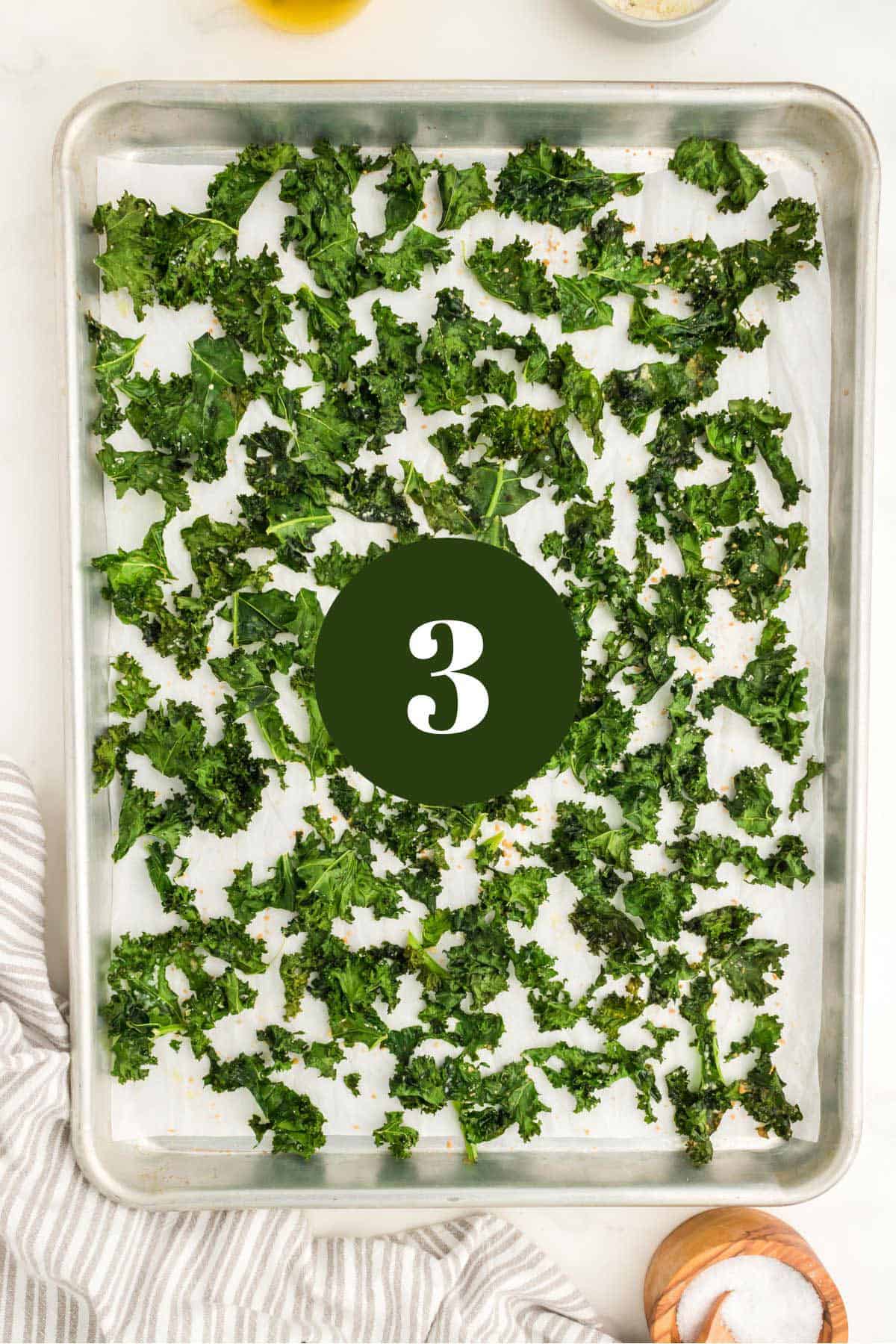 3. Place the baking sheet in the hot oven for about 7 minutes. Oven temperatures may vary, so check on these at 5 minutes. Once they caramelize and turn brown, they are ready to take out of the oven.
Air fryer technique
Wondering how to make kale chips in an air fryer? It is super simple. Using an air fryer to make these is my favorite way.
An air fryer is a perfect way to make a small batch of these if you want a fast and easy snack.
Prepare ingredients as above.
Place the prepared kale, in a single layer, on the rack (or basket) of your air fryer.
Air fry for 4 to 5 minutes on the "air fryer" setting or 350° if your machine allows you to set the temperature.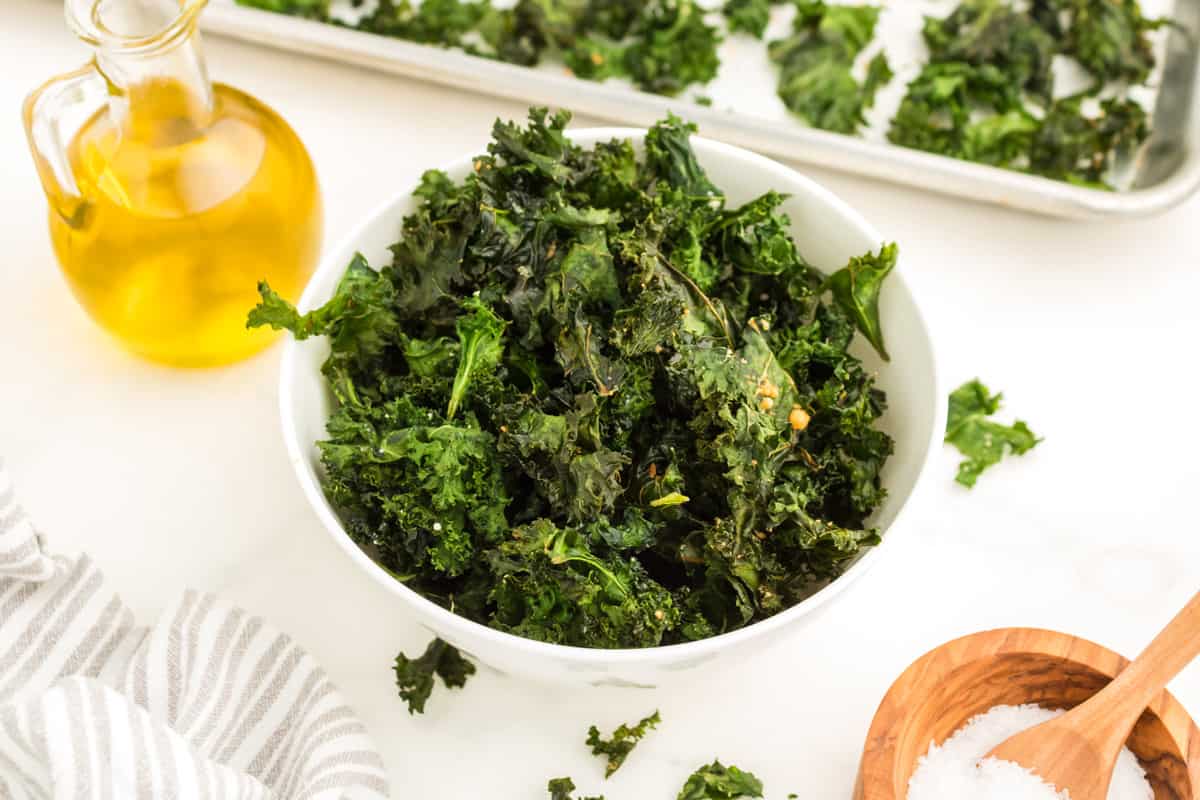 Variations
Most variations of this recipe have the same basic formula. But from there, many home cooks will add their personal touches, depending on personal taste.
Adding different seasonings makes the varieties almost endless for flavoring this easy recipe for crunchy kale chips.
Black pepper
Garlic or onion powder
Sesame seeds
Lemon juice
Soy sauce
Chili powder
Cayenne pepper
Expert tips
Make Sure it's Fresh – The most important thing is to use fresh, crisp kale that is not wilted or yellowed. Watch out for bruises, brown spots, or other signs of spoilage, as this can affect the flavor and texture of your final product.
Trim the Thick Stems – Stems will add toughness and bitterness to these. It takes just a second, and the results are so much better.
If your Kale Chips Aren't Crispy Enough – Leave them in the oven or air fryer for another minute. Do not turn up the heat! High heat will make them bitter.
Similar recipes
Common questions
How do you store kale chips?
For best results, you can store any leftovers in an airtight container for a few days.
👨‍🍳 Tried this Recipe? Please leave a ⭐⭐⭐⭐⭐ rating in the recipe card below and leave a comment. We love hearing from our readers!
⏩ Stay in touch with us on social media by following us on Facebook, Pinterest, Instagram, and YouTube!
📬Get our Recipes delivered to your inbox for FREE!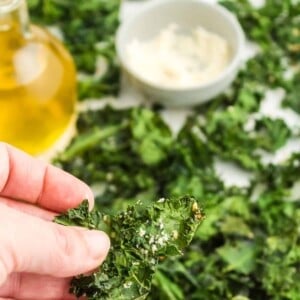 Crispy Kale Chips
This is a great healthy snack and a delicious way to add some green veggies to your day.
Ingredients
4

oz

kale

,

pre-washed, stems removed, and torn into bite-size pieces.

2

tbsp

olive oil

,

light, extra-virgin

0.5

tsp

kosher salt

2

tbsp

Parmesan cheese

,

grated
Instructions
Kale Chips in the Oven
Preheat oven to 300 degrees F. Line a large baking sheet with parchment paper.

Remove the thick stems from the kale. Place kale in a large bowl. Drizzle with olive oil and toss to coat or toss directly on the baking sheet. Sprinkle with salt and parmesan cheese and mix to coat.

Spread kale into a single layer. Bake for 7-10 minutes or until crispy.
Air Fryer Kale Chips
Preheat your air fryer to 350° F.

Place the kale in a large bowl, toss in the olive oil and salt, and other seasonings. Place the kale on your air fryer rack (single layer) or in the basket.

Air fry for 5 to 7 minutes, depending on your air fryer. When it is crispy, remove the kale from the air fryer and enjoy.
Notes
Be careful not to burn the kale – you may need to adjust the cooking time depending on the size of your kale pieces and your oven's temperature or your air fryer's power.
Nutrition
Calories:
82
kcal
,
Carbohydrates:
1
g
,
Protein:
2
g
,
Fat:
8
g
,
Saturated Fat:
1
g
,
Polyunsaturated Fat:
1
g
,
Monounsaturated Fat:
5
g
,
Cholesterol:
2
mg
,
Sodium:
346
mg
,
Potassium:
101
mg
,
Fiber:
1
g
,
Sugar:
0.2
g
,
Vitamin A:
2852
IU
,
Vitamin C:
26
mg
,
Calcium:
102
mg
,
Iron:
1
mg
Nutrition information is automatically calculated, so should only be used as an approximation.