Parmesan-Crusted Pork Chops Recipe (Oven or Air Fryer)
on Feb 17, 2014, Updated Aug 04, 2023
Parmesan Pork Chops are a simple, easy dinner recipe that transforms any night of the week into a special occasion. These are by far one of our favorite ways to make pork chops.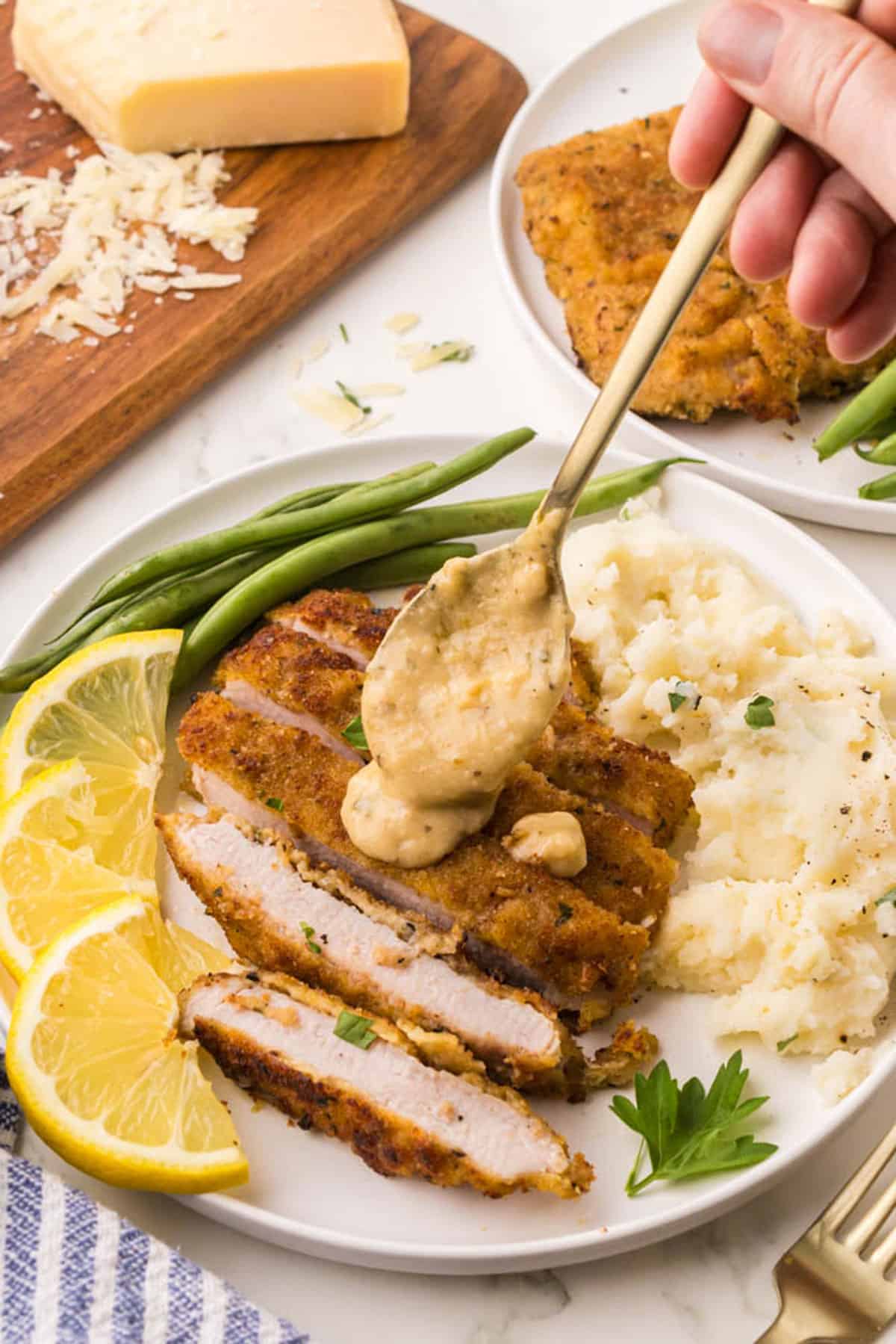 With its golden-brown, crispy Parmesan crust and juicy pork chops inside, you'll get a collection of flavors that will leave your whole family asking for seconds.
The best part, you can make this tasty and inexpensive boneless pork chop recipe in under 30 minutes. Read on, and I'll show you how it's done!
About this thin boneless pork chops recipe
These Parmesan crusted pork chops are part of a simple but delicious meal that will instantly become a family favorite. This easy recipe goes together quickly using just a few ordinary ingredients.
Parmesan cheese can add so much flavor to many different recipes. Things like baked zucchini Parmesan, baked Parmesan white fish, and creamy lemon and Parmesan noodles. I can't think of many things that you can't use it with!
As an added bonus, you can make these in the oven or air fryer. Either way, this is an easy pork chop recipe for every occasion!
Ingredients for Parmesan pork chops
What makes this Parmesan pork chops recipe an instant hit? It's all about the blend of simple ingredients that meld together to create so much flavor.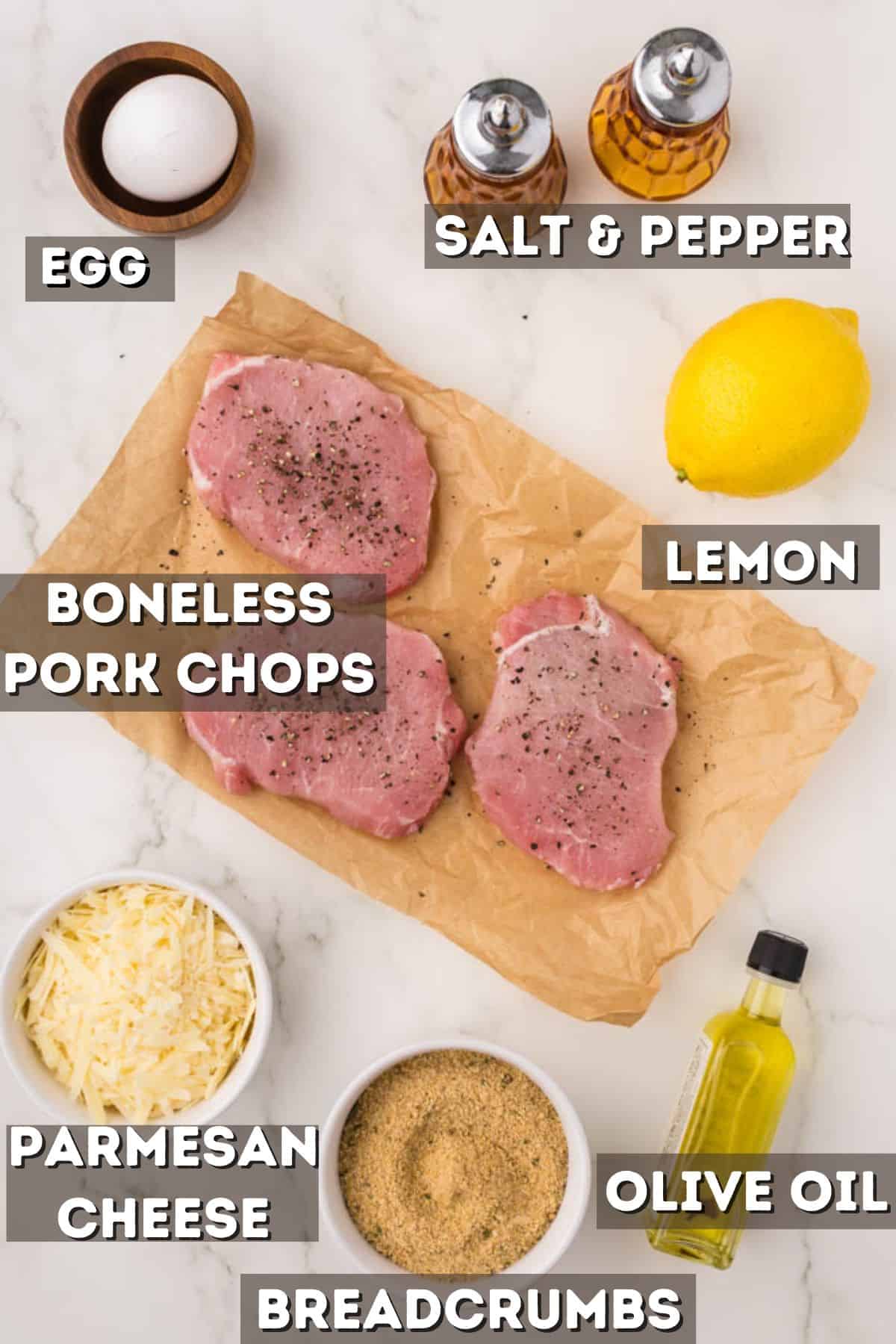 Bone-in Pork Chops or Boneless Pork Chops: The choice is yours! Both cuts result in a tender pork chop that holds up well against the Parmesan coating. Whether you prefer the meaty flavor of bone-in chops or the convenient ease of boneless pork loin chops, the recipe will turn out delicious either way.
Panko Bread Crumbs or Italian Bread Crumbs: These crunchy bits give your parmesan-crusted pork chops their signature crispy exterior. Choose panko for a denser, crispier crust or Italian bread crumbs for a lighter crust and deeper flavor.
Olive Oil or Vegetable Oil: You'll need this to get that golden-brown color when cooking pork chops. This will also ensure they remain juicy. Cooking at medium-high heat in a cast iron skillet or baking sheet gets the best results.
Parmesan Cheese: The star of the show! Combined with breadcrumbs, create a Parmesan cheese mixture that forms a crispy crust when cooked, bursting with rich, umami flavors.
Eggs: You'll dredge these savory pork chops in an egg wash to help everything stick together. I always like to use extra-large or jumbo eggs if I can find them.
How to make Parmesan pork chops
When it comes to cooking pork chops, there are several options. If you are a fan of that perfect sear, then frying them on medium-high heat in a cast-iron skillet with some olive oil will bring out the delicious flavors.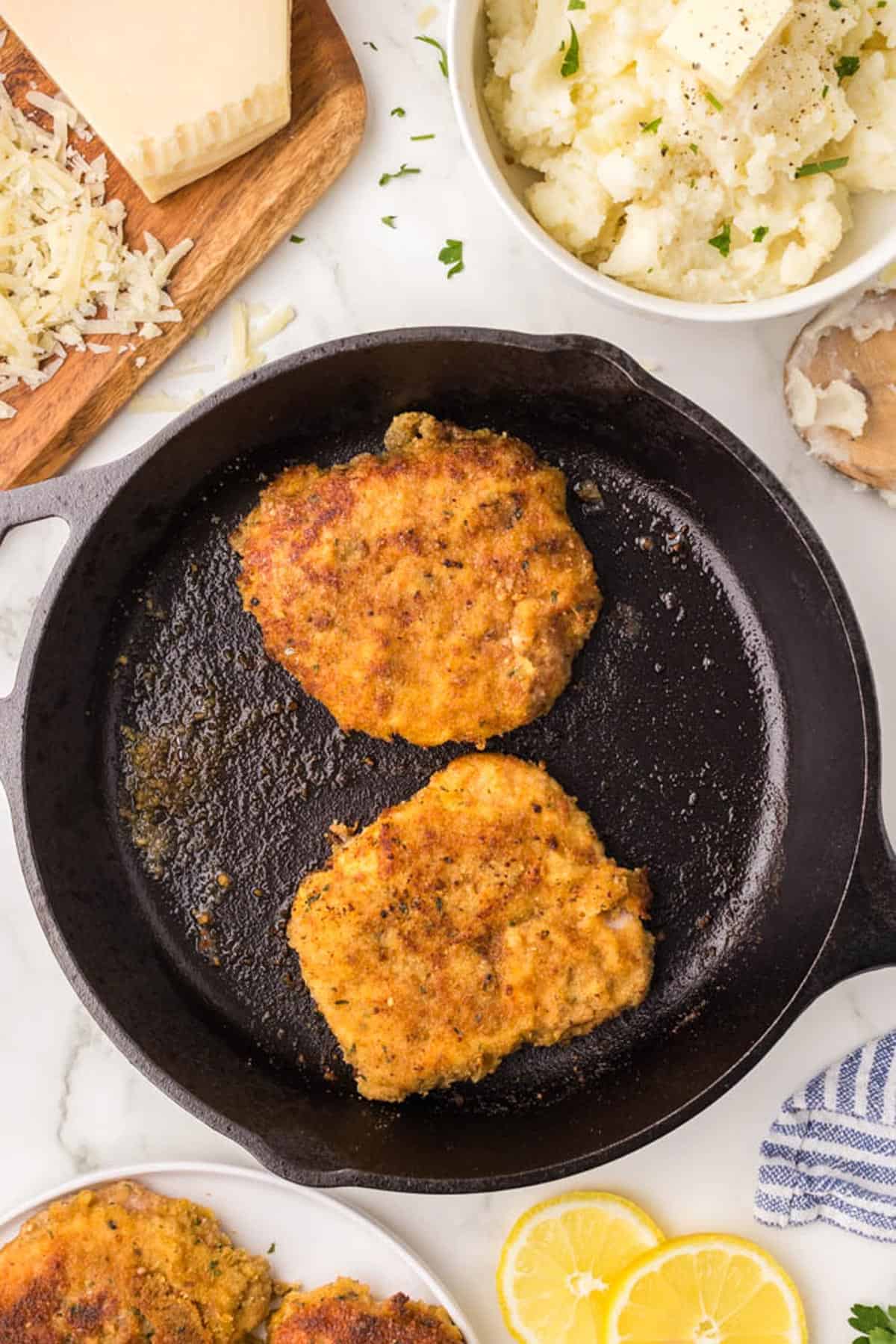 Alternatively, for a less hands-on cooking method, why not try making air fryer pork chops?
Simply place the breaded chops in a single layer in the air fryer basket, spray with cooking spray, and let the magic happen. Air fryer pork chops are one of our favorite ways to use an air fryer!
Whichever method you choose, remember to use a meat thermometer to ensure the internal temperature reaches 145 degrees F for the best pork chops. You can be sure you're at a safe temperature by using this instant read thermometer. It's the one I always use and I highly recommend it!
Creating this easy dinner idea is a breeze! It all starts with beating the 3 eggs in a small bowl. Then, you're going to put the breadcrumbs in another bowl, and the Parmesan cheese in a third bowl. the preparation of your breadcrumb mixture in a shallow bowl.
Pro Cooking Tip: Be sure and use bowls that are big enough to accommodate the meat.
Next comes the crucial step: dredging the pork chops.
Start by coating the pork chops with the grated cheese. Use your the palm of your hands to firmly pat the meat so the grated Parmesan will adhere better.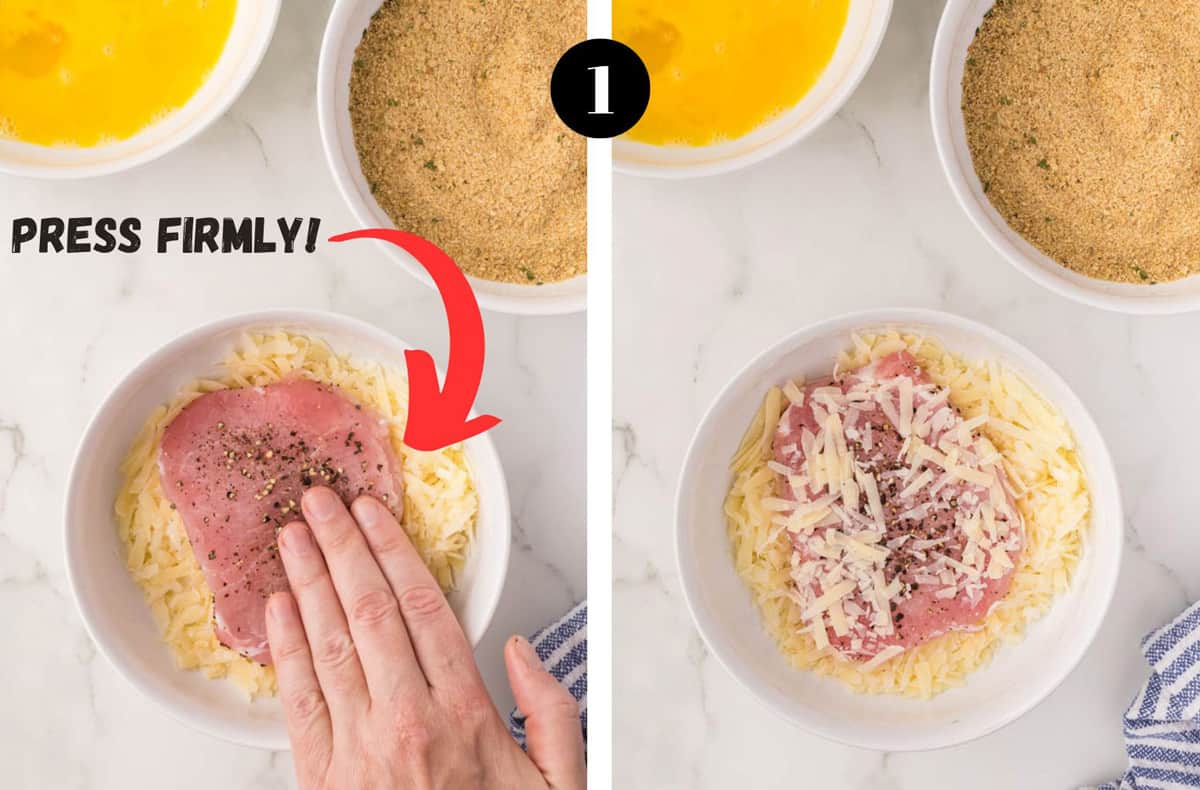 2. Next, dip the meat into the bowl of beaten eggs. Allow the excess egg mixture to drip back into the bowl and then quickly dredge the meat into the bread crumbs. Once again, pat the meat to help the breadcrumbs stick.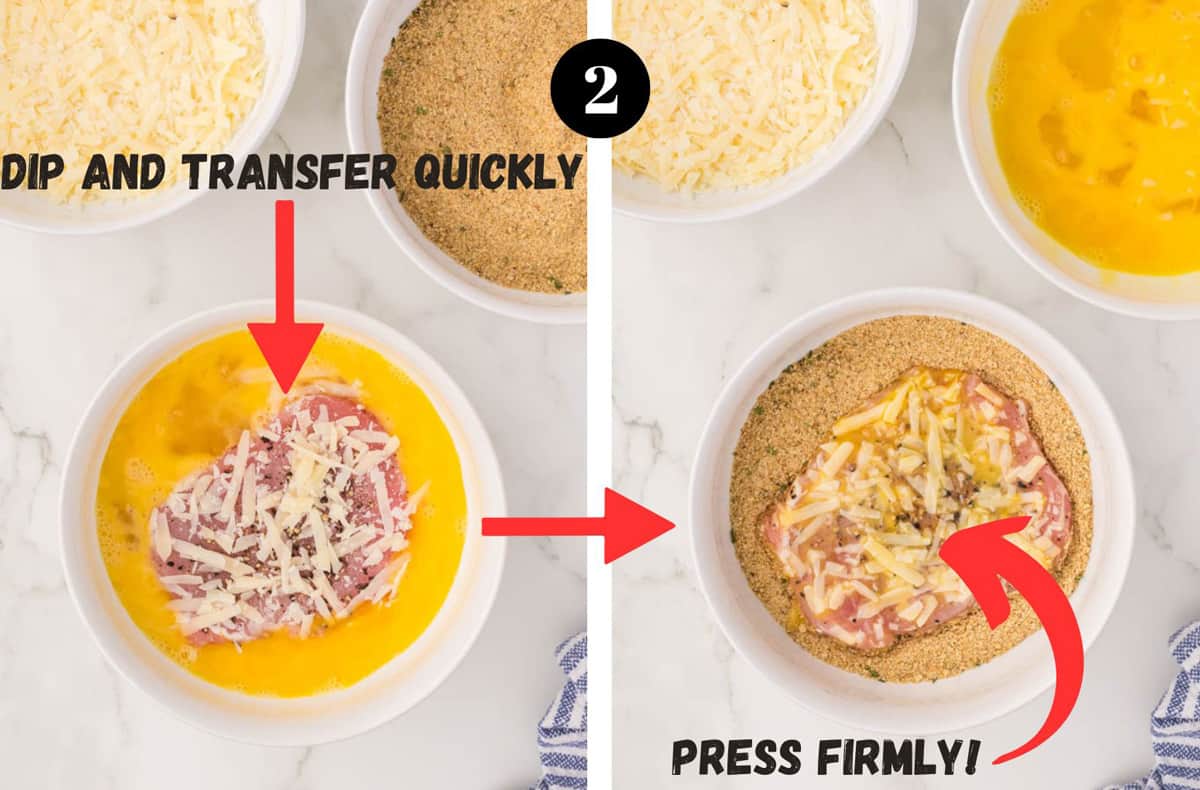 Prepare all of the chops in this manner, and place on a large sheet pan until they are all properly dredged.
Next, you'll take a large skillet and heat the oil over medium high heat. Add the pork chops, working in batches if necessary. You'll want a heavy duty skillet like the cast iron one shown above.
This is a great skillet to make so many favorite family meals like our skillet lasagna or our skillet chicken pot pie and biscuits, and so many more. Or you can use something like the All-Clad skillet shown below.
I also love making these Parmesan pork chops in this skillet. I like to use because it is oven safe which means you can keep these warm in the oven using the same pan you cook them in.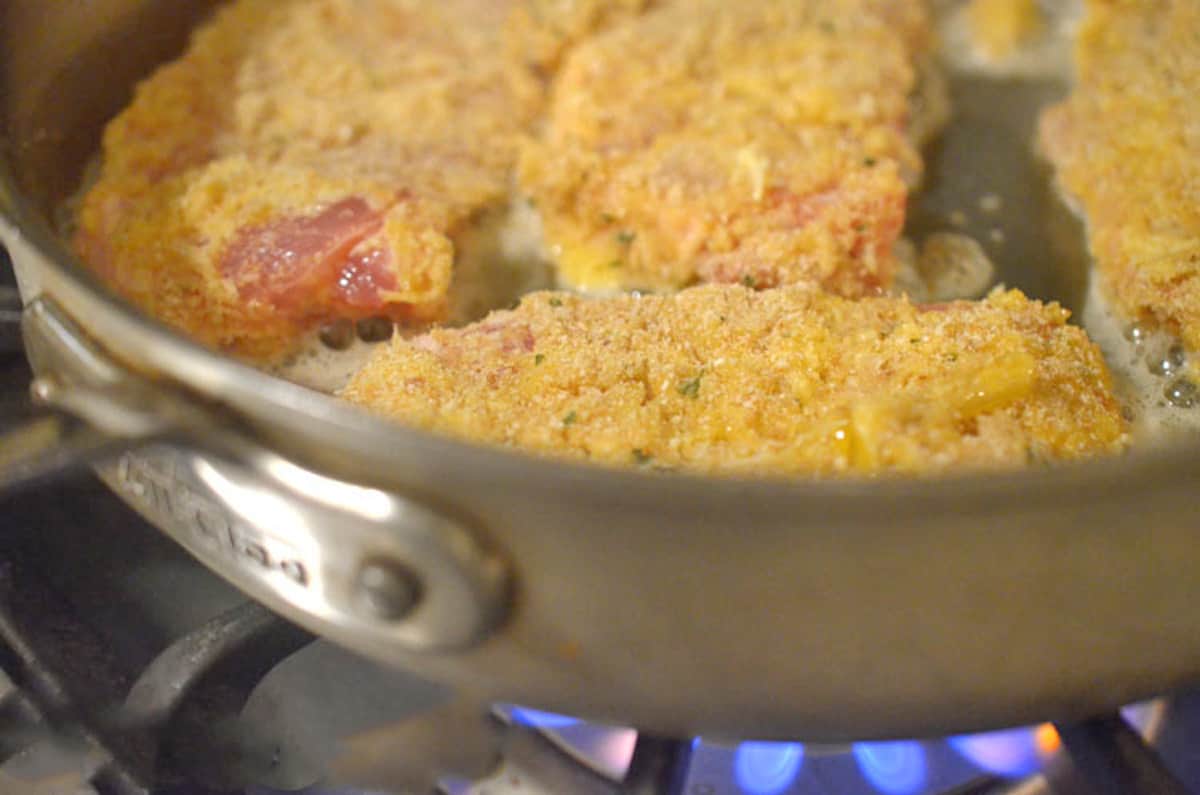 Flip each piece after a couple of minutes and cook until the centers are done and the outside is golden brown.
Make it your own: variations and substitutions
For extra flavor, add some seasoning to the breadcrumb mixture. Some great choices include things like:
Italian seasoning – This medley of herbs adds a dash of Mediterranean flair to the breadcrumb mixture, elevating the flavor profile of this recipe for Parmesan pork chops.
Garlic powder or onion powder – These aromatic powerhouses infuse the pork with savory undertones, providing a flavorful base that complements the Parmesan-crusted exterior.
This dish is delightfully versatile! For a keto-friendly version of the dish, substitute panko bread crumbs with almond flour or pork rinds. This simple swap makes the recipe perfect for those following keto pork chop recipes.
You can also choose to cook your chops to your preferred thickness. From thin-cut pork chops for a quick, 15-20 minute cooking time to thick boneless pork chops that require a bit more time, this recipe caters to your personal preference.
What to serve with this easy boneless pork chops recipe
Now that you know how to cook these Parmesan pork chops, you may be wondering what to serve with them.

These go well with fresh homemade bread, green salad, and roasted veggies. Almost any vegetable and starch will work.
Think of things like risotto, steamed kale, and even mashed potatoes (of course) or these crispy potatoes made with duck fat. Almost any vegetable and starch will work. Think of things like risotto, steamed kale, and even mashed potatoes (of course!)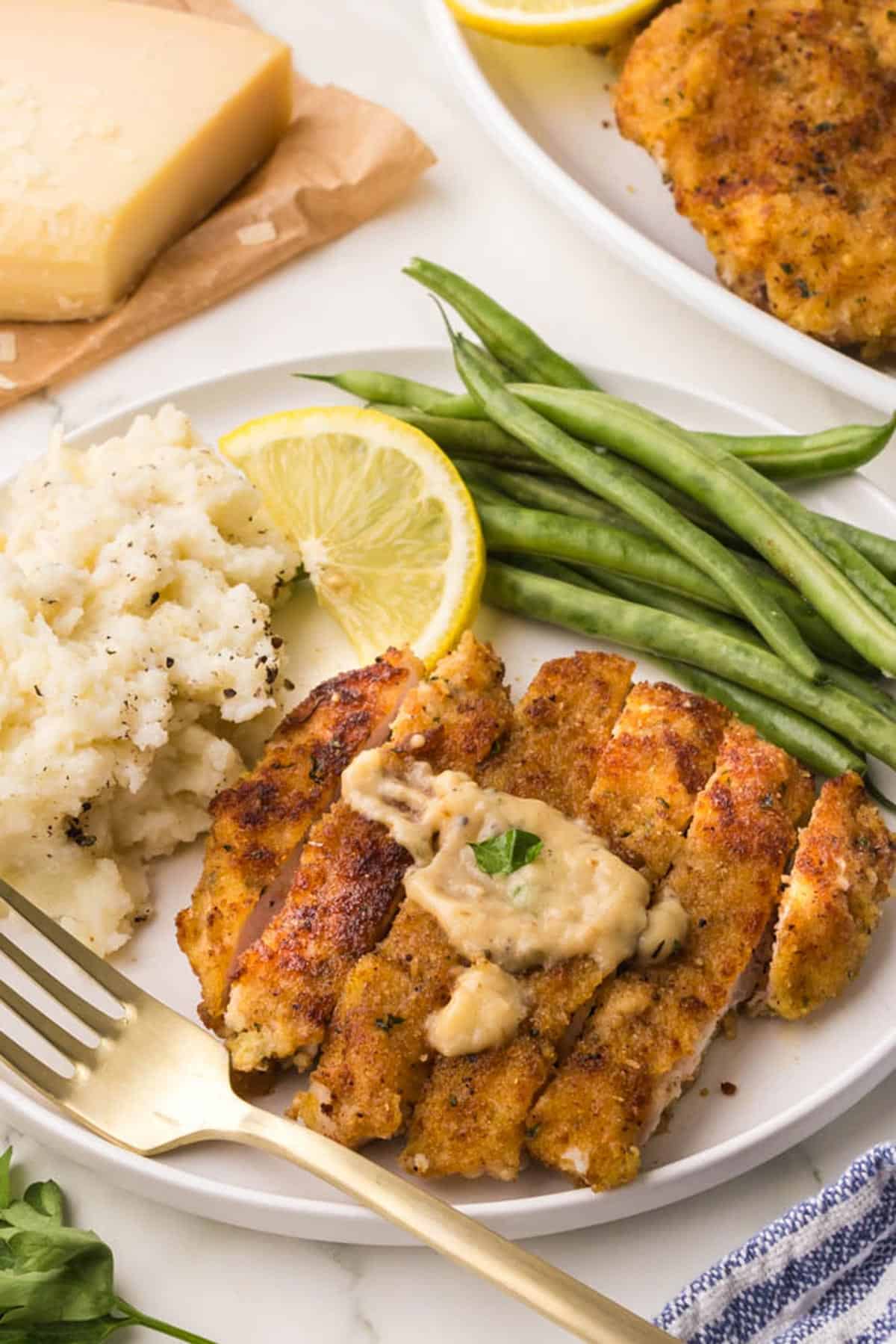 If you have an extra 15 minutes, I have another delicious serving idea for this recipe. This creamy Parmesan garlic sauce served over your chops right before serving will make you think you have died and gone straight to heaven!
The creaminess of the sauce beautifully balances out the crispy Parmesan crust. You have to taste it to believe it!
This Parmesan pork chops recipe is ideal for busy weeknights when you need an easy weeknight meal that delivers on flavor. It's sure to win over the entire family, even the pickiest eaters!
Answers to your questions
What's the best way to store leftover Parmesan pork chops?
Keep leftovers in an airtight container in the fridge. They'll stay fresh for up to 3 days, and reheating is a breeze!
Can I use a slow cooker or Instant pot for this recipe?
These are best made on the stove top, to get that perfect crispy Paremsan crust.
What is the ideal internal temperature for pork chops?
For the juiciest and safest results, cook your pork chops to an internal temperature of 145 degrees F. Always use an instant-read thermometer to check the temperature.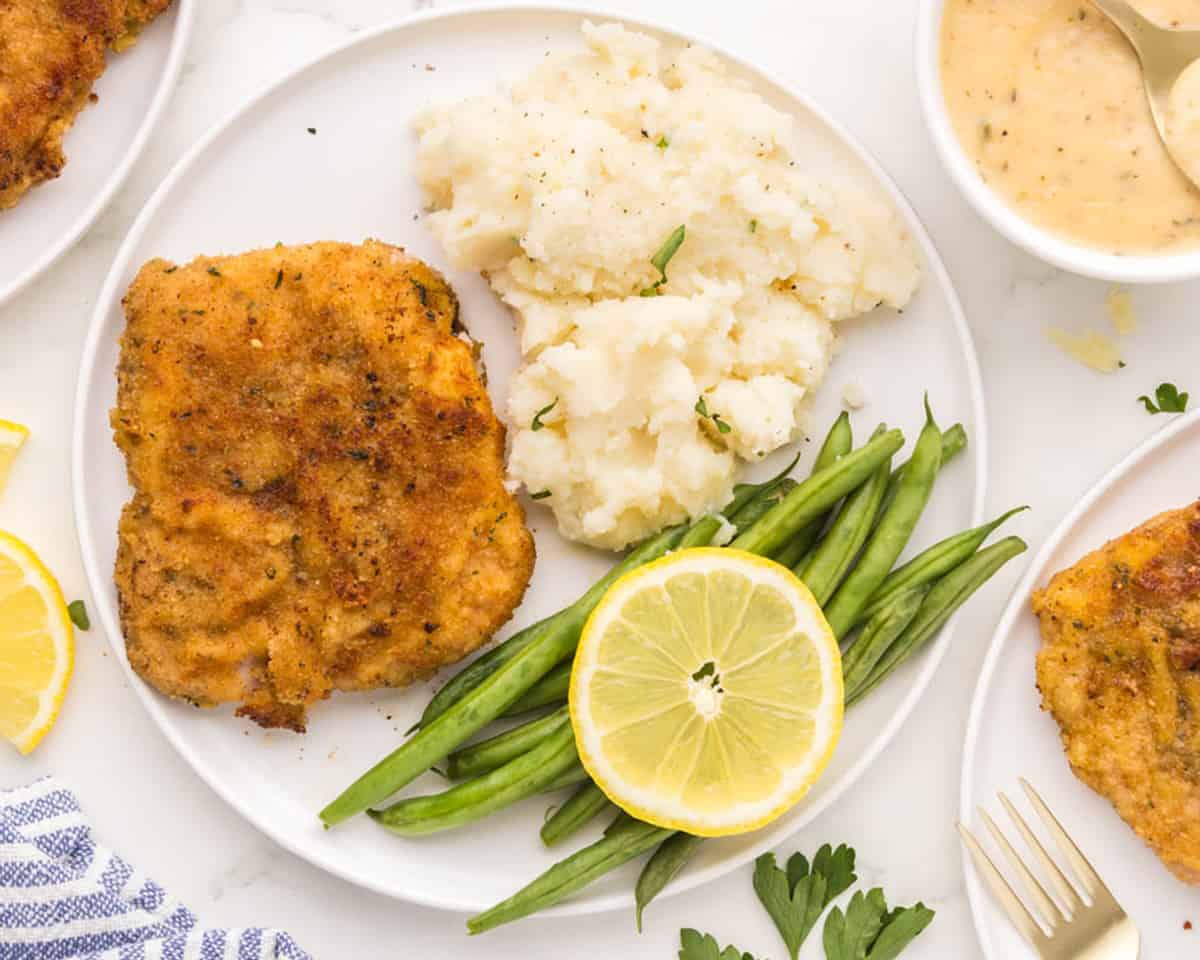 So, there you have it. This easy pork chop recipe has all the hallmarks of a favorite recipe: simple to make, flavorful, and a hit with the entire family.
So why not shake up your dinner routine and give these Parmesan Pork Chops a try? You won't be disappointed. Happy cooking!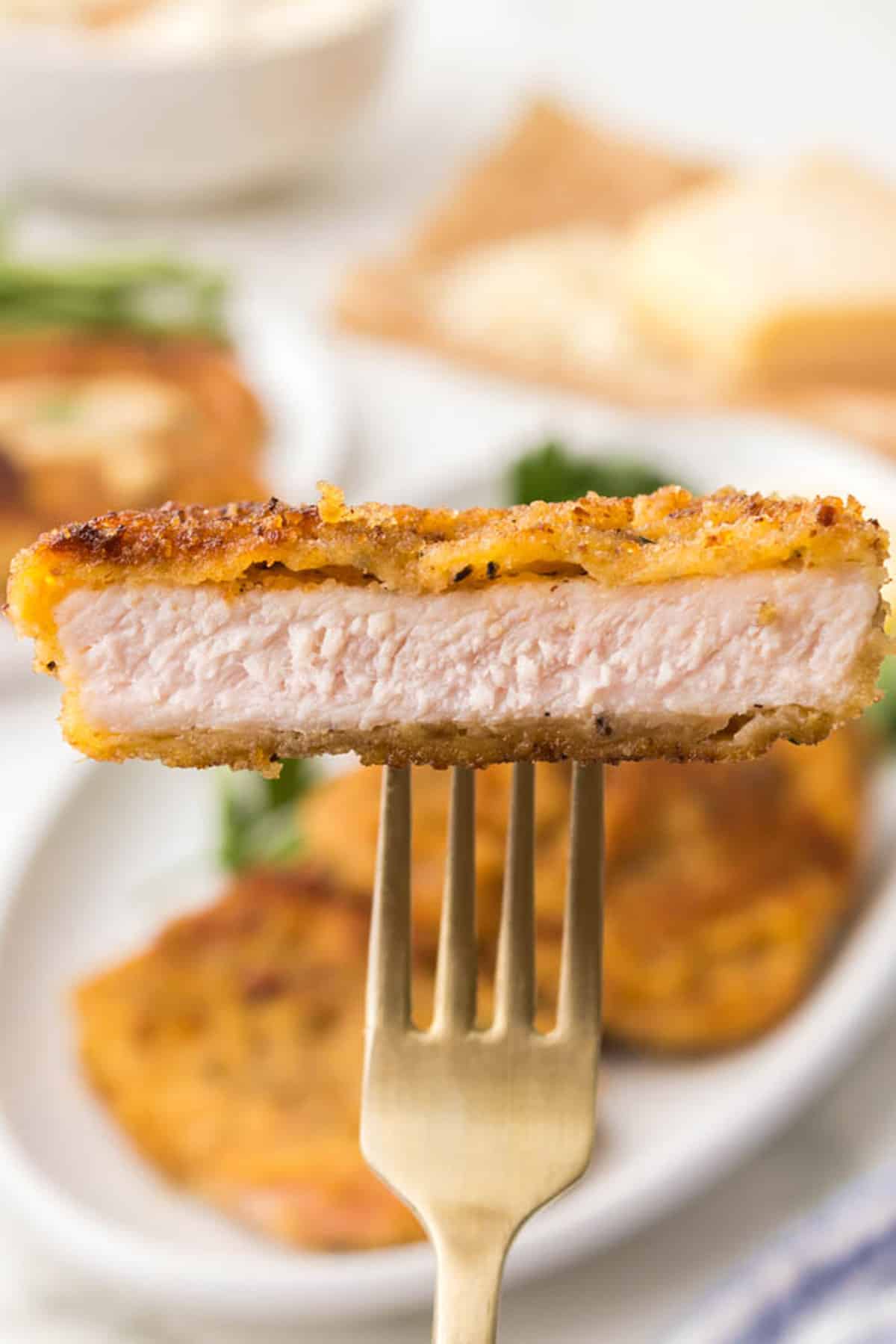 👨‍🍳 Tried this Recipe? Please leave a ⭐⭐⭐⭐⭐ rating in the recipe card below and leave a comment. We love hearing from our readers!
⏩ Stay in touch with us on social media by following us on Facebook, Pinterest, Instagram, and YouTube!
📬Get our Recipes delivered to your inbox for FREE!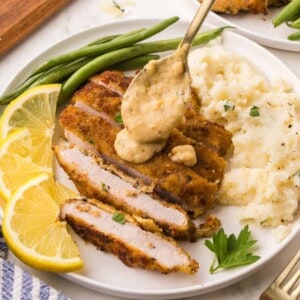 Parmesan-Crusted Pork Chops
adapted from Giada De Laruentis
Ingredients
3

large eggs

2

cups

dried Italian-style bread crumbs

1.5

cups

freshly grated Parmesan

1

lb.

thinly cut boneless pork chops

6

tablespoons

olive oil

Lemon wedges

,

for serving

Salt and pepper to taste
Instructions
Beat the eggs in a small bowl

Place the bread crumbs in another small bowl.

Place the cheese in a third small bowl.

Sprinkle the pork chops generously with salt and pepper.

Using standard breading procedure, perform the following:

Coat the chops completely with the cheese, patting to adhere.

Dip the chops into the eggs,

Then coat completely with the bread crumbs, patting to adhere.

Heat 3 tablespoons of oil in a very large skillet over medium high heat.

Add pork chops, in batches if necessary, and cook until golden brown and the centers are done.

Transfer the chops to pre-warmed plates and serve with lemon wedges.
Notes
3 Tips for Making the Best Parmesan Pork Chops
Preparing the breadcrumb mixture: Mixing bread crumbs with the optional garlic powder, onion powder, and Italian seasoning in a shallow bowl is a crucial step that infuses the crust with a medley of flavorful spices, creating the basis for the crispy, flavorful coating of your Parmesan Pork Chops.
Dipping the pork chops: Thoroughly dipping the pork chops in the egg mixture and then into the breadcrumb mixture ensures that every side of the pork chop is evenly coated, creating a consistent, delicious Parmesan crust during the cooking process.
Cooking the pork chops: Whether frying on medium-high heat in a cast-iron skillet or using an air fryer, properly cooking your pork chops until they reach an internal temperature of 145 degrees F as checked by a meat thermometer ensures the juiciness and safety of this delicious dinner recipe.
Nutrition
Calories:
769
kcal
,
Carbohydrates:
40
g
,
Protein:
49
g
,
Fat:
45
g
,
Saturated Fat:
14
g
,
Cholesterol:
224
mg
,
Sodium:
1170
mg
,
Potassium:
609
mg
,
Fiber:
2
g
,
Sugar:
4
g
,
Vitamin A:
471
IU
,
Calcium:
569
mg
,
Iron:
4
mg
Nutrition information is automatically calculated, so should only be used as an approximation.
More tasty pork chop recipes
Updated from the original post from February 27, 2014.