The Best Crispy Potatoes (Made with Duck Fat)
Crispy potatoes are an unsung hero among easy side dishes. You can make this TikTok crispy potatoes recipe using only three main ingredients. Yukon golds (or baby red potatoes), a bit of your choice of fat, and kosher salt. And whatever seasoning you like. How could it get any better?
Read on, and I'll share what I learned last night at a friend's dinner table. I discovered how this recipe for roast potatoes is made even better by using a secret ingredient: Duck fat.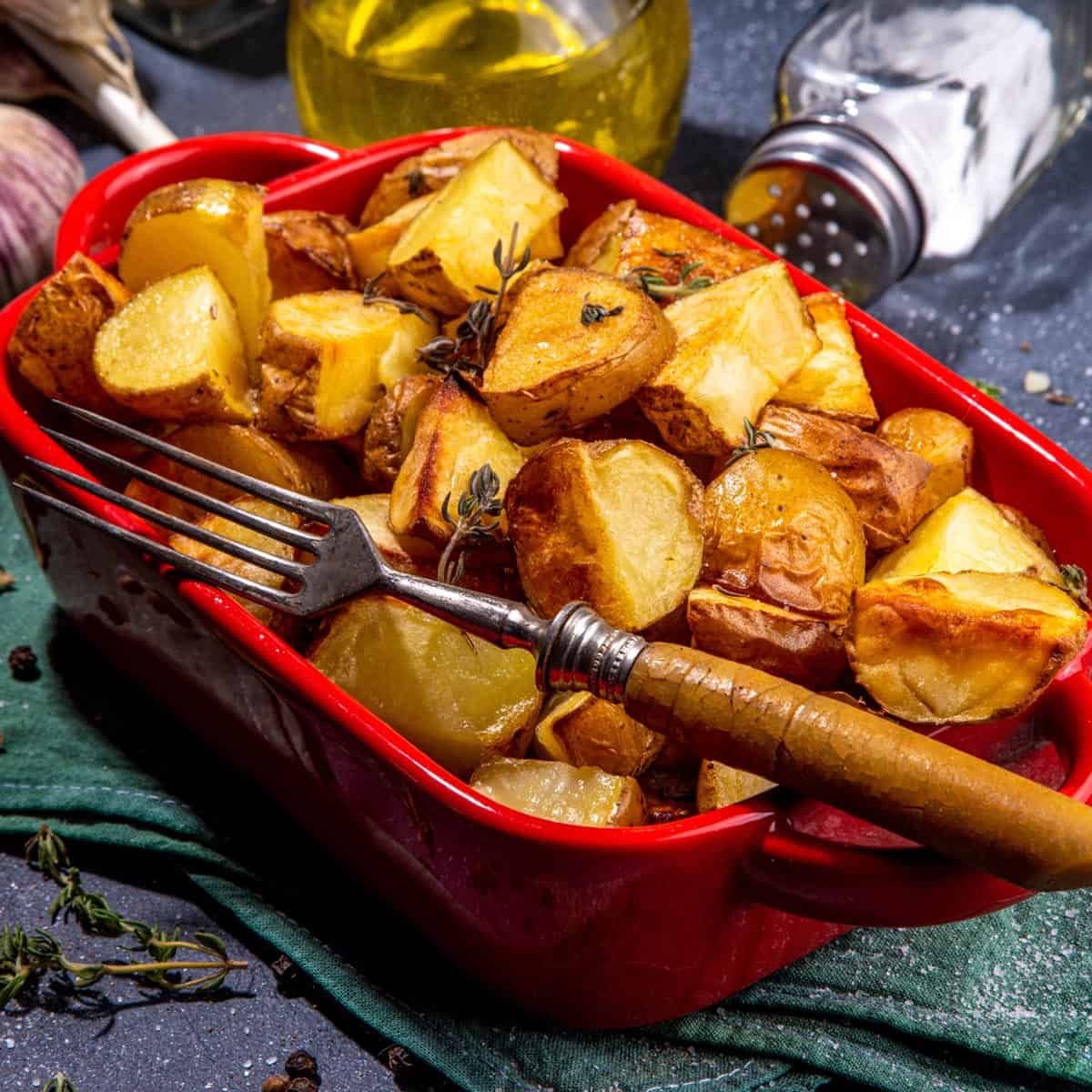 About this recipe
These Internet-famous crispy potatoes have a crispy exterior and a soft, creamy interior. One of my favorite potato recipes, this simple side dish is great for weeknight dinners, a traditional holiday dinner, or even an air fryer beef stew.
You can use a couple of different types of potatoes and almost any seasoning that you have on hand.
As I learned last night, the technique is more important than anything if you're wondering how to make really good crispy potatoes. For best results, you'll want to use potatoes that aren't high in starch, but nearly any variety will work; red or white potatoes.
What's in them?
Yukon gold potatoes are the best for making this crispy oven-roasted potato recipe.
This variety has just the right amount of starch to give make the best roasted potatoes with a soft interior with crispy edges instead of a batch of soggy potatoes like you might get with russet potatoes.
Russets are high in starch and the best choice for homemade mashed potatoes.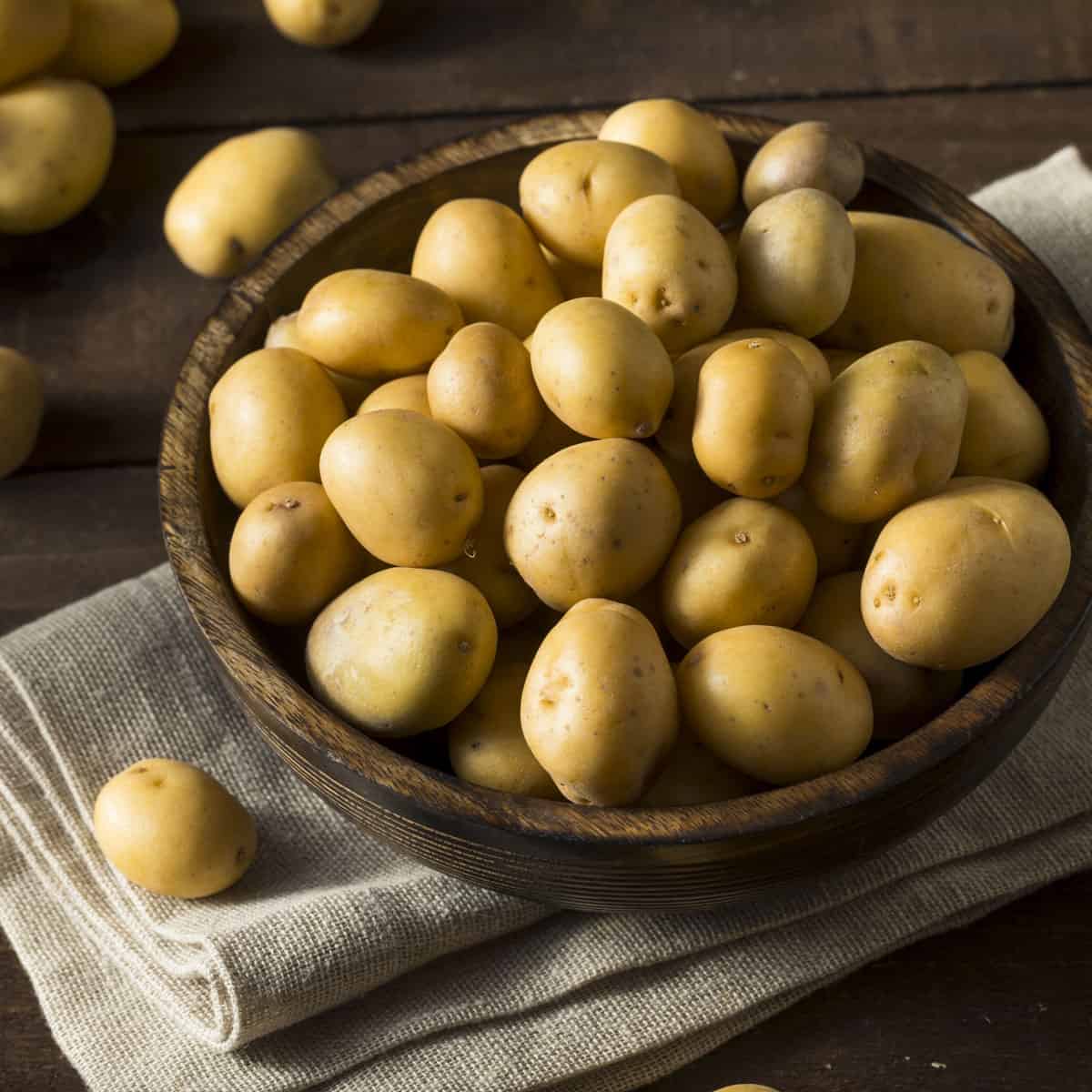 Fingerling potatoes are another good choice for making these. This kind of potato holds its form well and doesn't get mushy inside. Plus, I think they look beautiful on a plate!
Duck Fat is my secret ingredient for these crispy potatoes. Goose fat works well, too, because they both have a higher smoke point than butter or olive oil. This means you can use it at high heat without worrying about the off-taste you might get from using other fats at high temperatures.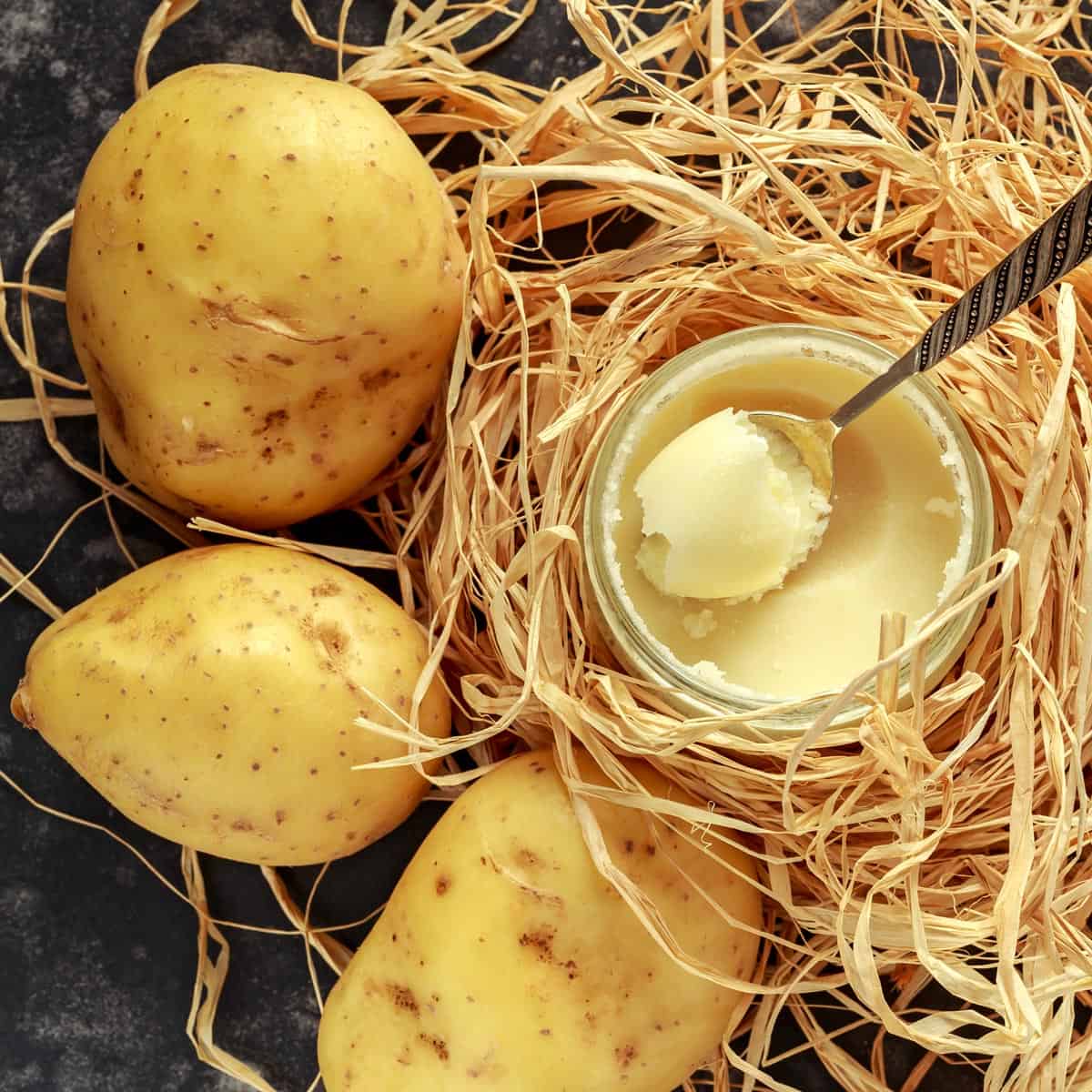 Even better, you can use duck fat a second time as it recycles well. The fat molecules in duck or goose fat are large and therefore don't penetrate like other oils.
But what I love the most about using duck fat to make crispy potatoes is the flavor it gives them. Savory and almost 3-dimensional, it takes this delicious recipe to a new level!
Kosher Salt is the third ingredient for making the best crispy potatoes. Besides getting absorbed by the small potatoes and thus adding flavor, it also helps in creating alkaline water. This helps the surface of the potatoes break down a bit and gives them a beautifully crisp exterior when roasted in a hot oven.
You can also do this by adding some baking soda to the pot of water; about half a teaspoon for every 2 quarts of water seems to do the trick.
How to make these
(Full recipe for crispy potatoes is in the recipe card below)
The first thing you'll do when making this crispy potato recipe is to parboil them. You can get a head start by doing this ahead of time and then roasting them for a half hour or so before you're ready to eat.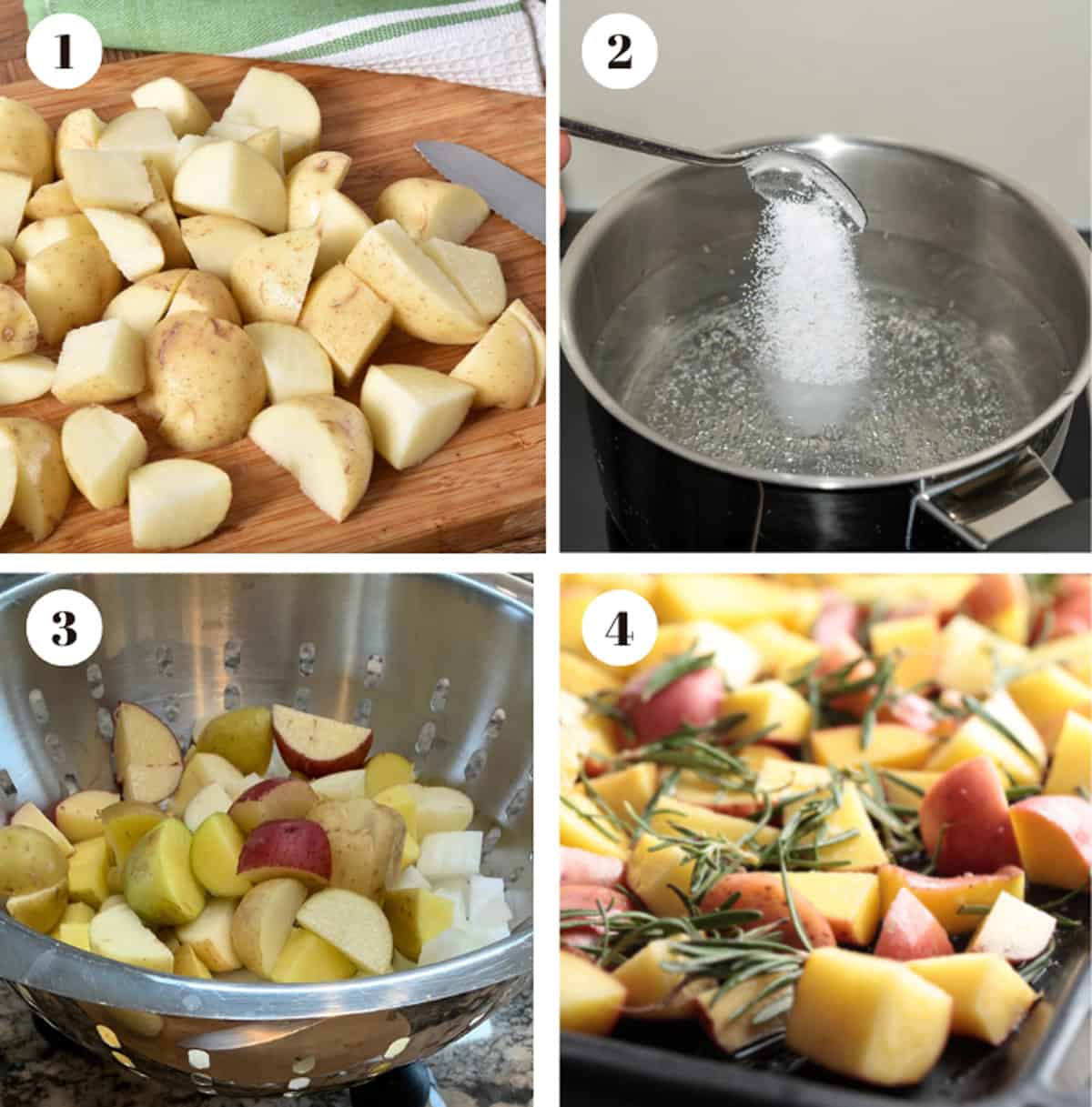 You'll start by washing and cutting the raw potatoes.
You'll start by washing and cutting the raw potatoes.
Fill a large pot with cold water, add the salt (and optional baking soda) and bring it to a boil. You'll want enough water to cover the spuds. Add the potatoes and boil for 10 to 15 minutes, until they are barely fork-tender.
Drain them in a colander, and don't be gentle about it! Roughing up the edges will give the small pieces more texture and make them crispier. (You can use a spoon to help do this.)
Place the drained potatoes on a large rimmed baking sheet in a single layer.

Now is the time to add the secret ingredient to help make these the best crispy potatoes you've ever had! Drizzle or gently brush the duck fat onto the surface of the potatoes. Now, you can add whatever fresh herbs or dried seasoning you like.
You'll roast these at 425° in a preheated oven and let the Maillard reaction do its magic as the crispy potatoes turn golden brown. This takes about 25 minutes.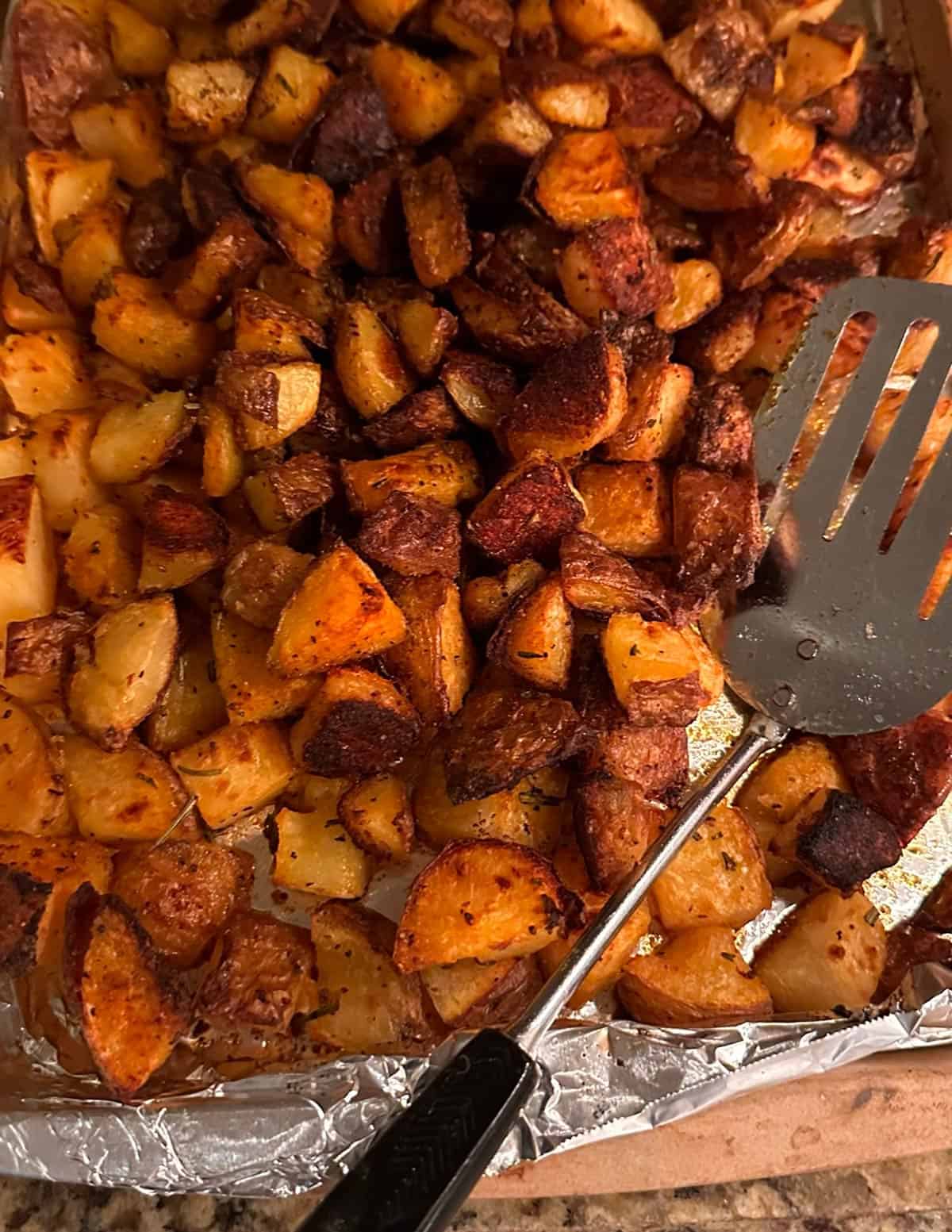 Expert cooking tips
When parboiling, add the cut potatoes to boiling water. This will help excoriate the exterior and give you a better crunch after being roasted.
Leave the potato skins on when for an extra crunch. Plus, not peeling them gives you more time to do other stuff!
Pat these dry with a paper towel after you drain them.
For extra crispy potatoes, leave them in the oven for a few minutes after turning it off.
Air fryer instructions
This crispy potatoes recipe is also super easy to make in the air fryer. I put a batch together this morning to show you how it's done! The process is almost the same as using an oven.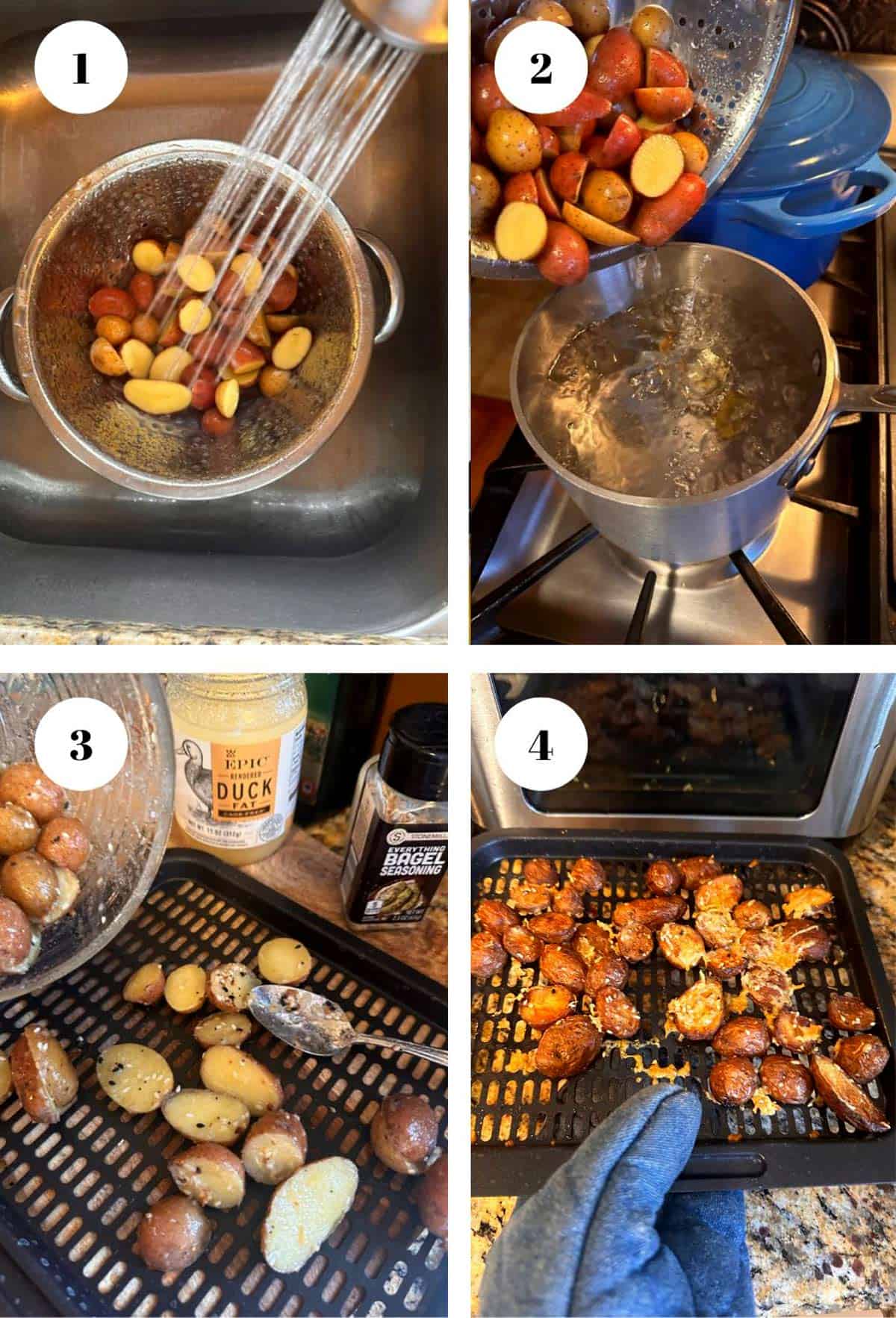 Wash and cut the baby potatoes.
Parboil them in salted water.
Drain them and transfer them to a large bowl. Drizzle some duck fat over them and whatever seasoning you want.
Place them on your air fryer rack in a single layer (or use a basket.) Use your "air fryer" setting, or 400° F., for 12 minutes and allow them to sit in the air fryer for another 5 minutes.
I sprinkled some everything bagel seasoning and dried parsley over these air fryer breakfast potatoes. Then, I added a little Parmesan cheese. Delicious!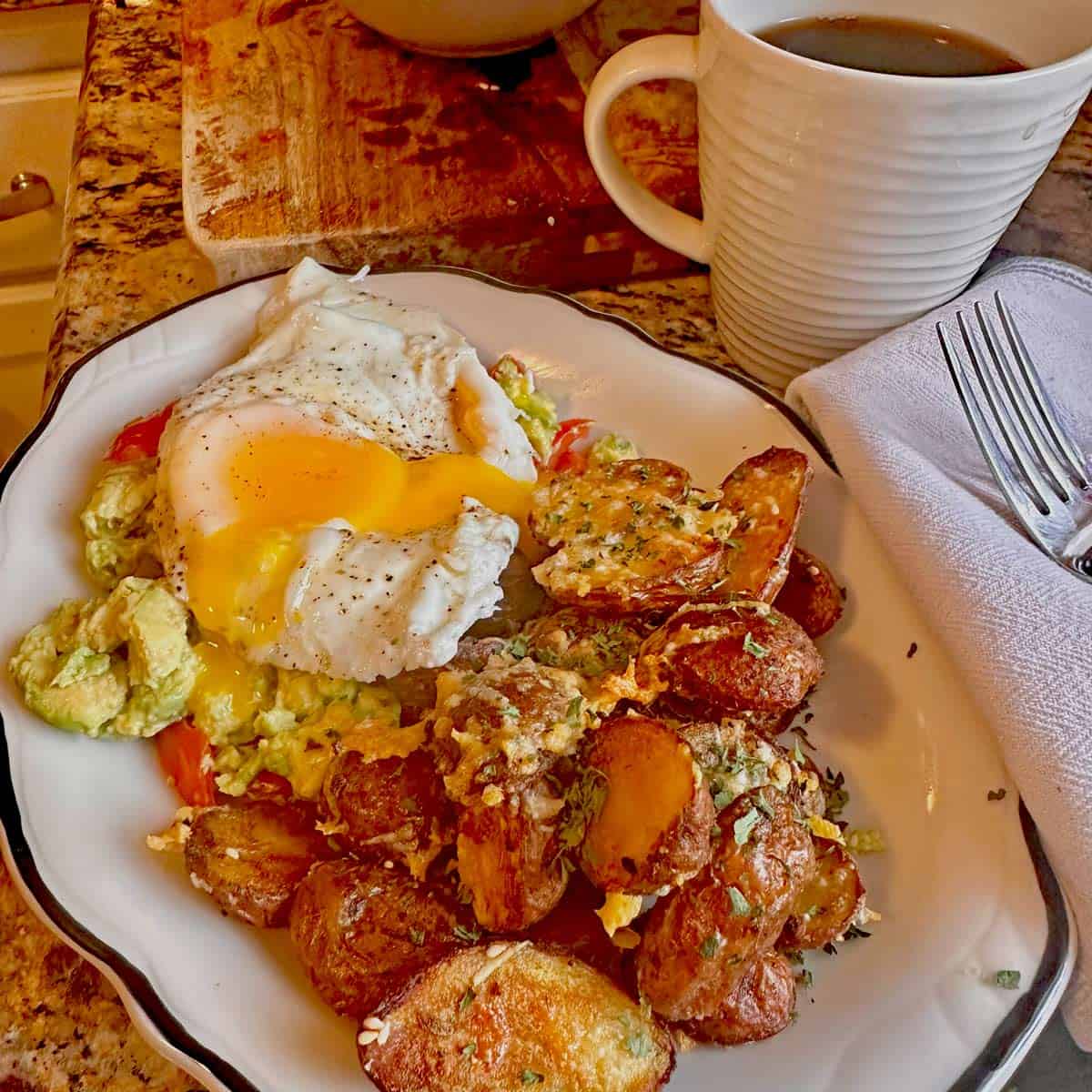 Variations
When you're making crispy potatoes, you can do so many different things with them. Use whatever fresh or dried herbs and seasoning you have on hand. Some good choices for jazzing up these crispy roasted potatoes might include:
Fresh thyme
Garlic powder
Onion powder
Fresh garlic
Garlic herb oil
Everything bagel seasoning
Parmesan cheese
Sour cream (on the side)
Crispy smashed potatoes are another great option when making these!
Questions from readers
How many pounds of potatoes do I need for this?
Use whatever quantity you think you're going to need. A small handful per serving is a good rule of thumb.

How can you tell when these are done?
This is another matter of personal preference. If making this crispy potatoes recipe in the oven, check on them at about 20 minutes.

You'll want them to be golden brown, but the level of doneness is up to you! (Try one of the smaller pieces when you wonder if they are done, and then go from there.)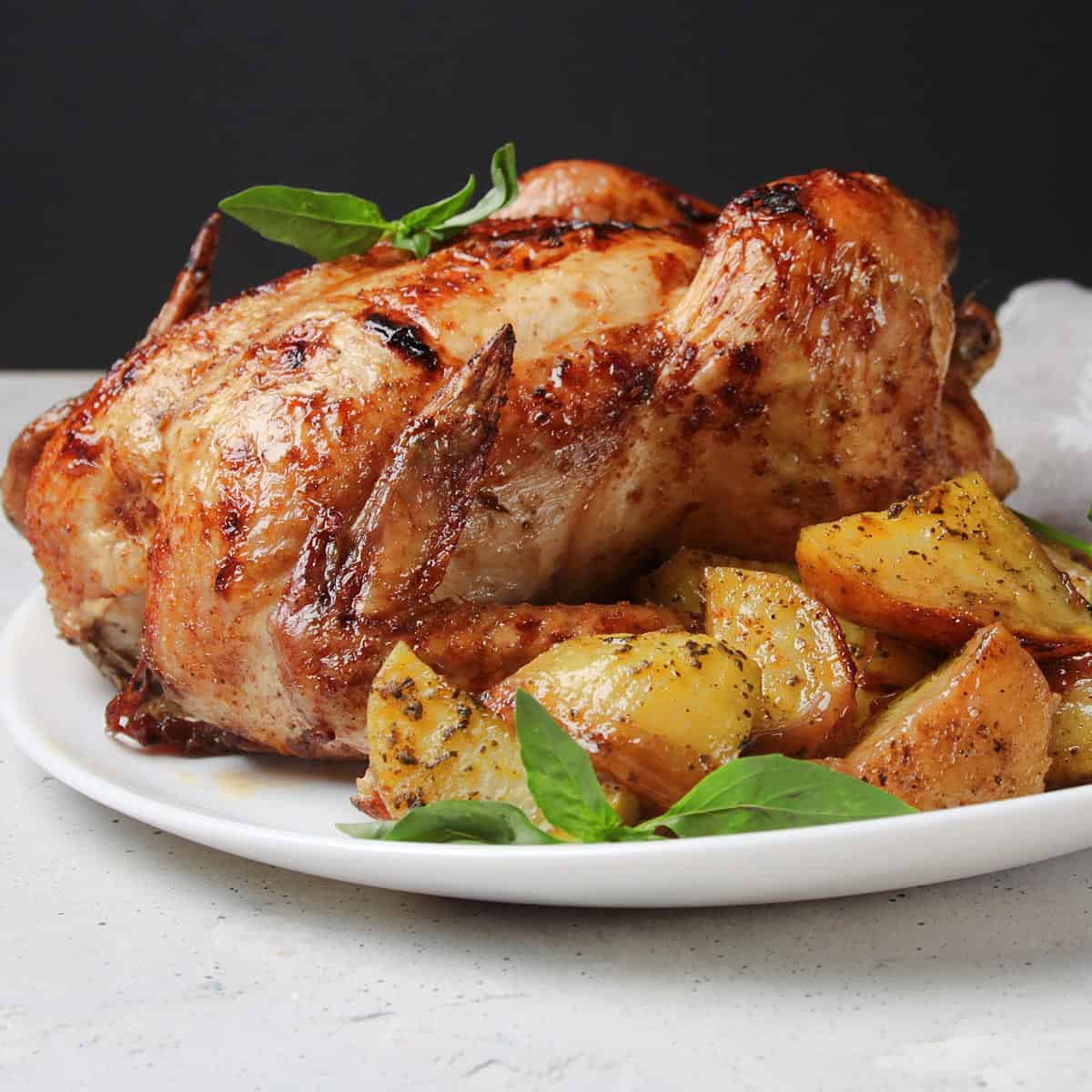 Similar recipes
👨‍🍳 Tried this Recipe? Please leave a ⭐⭐⭐⭐⭐ rating in the recipe card below and leave a comment. We love hearing from our readers!
⏩ Stay in touch with us on social media by following us on Facebook, Pinterest, Instagram, and YouTube!
📬Get our Recipes delivered to your inbox for FREE!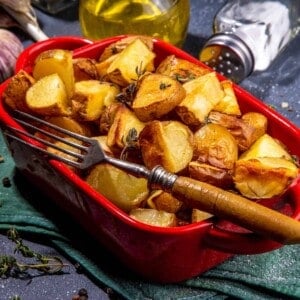 The BEST Crispy Potatoes
This internet-famous crispy potatoes recipe uses duck fat for extra flavor and texture. We show you how to make these in the oven and air fryer!
Equipment
1 large pot

1 paring knife

parchment paper or aluminum foil
Ingredients
1

lb.

Yukon gold potatoes

,

cut into 2-inche pieces, skin on.

2

quarts

water

,

enough water to cover the potatoes

1/4

cup

kosher salt

1/2

tsp

baking soda,

optional

1

tbsp

duck fat
Instructions
Preheat your oven to 425° F. Then wash the potatoes and cut/cube them into 2-inch pieces. Leave the peel on.

Fill a large pot with water and bring it to a boil. Add the salt and the optional baking soda. Once the water is boiling, carefully add the potatoes and cook for about 10 minutes until they are almost fork-tender.

Carefully drain the potatoes in a kitchen colander. Shake them dry and stir with a spoon to rough the edges.

Transfer the drained potatoes to a large bowl. Drizzle the duck fat over them using a rubber spatula to stir them. Add additional seasoning or fresh herbs as desired.

Place them on a parchment paper-lined baking sheet in a single layer and then transfer them to the hot oven. Roast these for about 20-25 minutes or until golden brown. Once they look done, turn the oven off and allow them to rest for 10 minutes before serving. This is a good time to add some shredded cheese if you desire.
Notes
Expert cooking tips for making the Best Cripsy Potatoes

A pinch of baking soda to the water will help make your potatoes crispier.
Rough the edges of the parboiled potatoes for better texture.
Use a paper towel to pat dry the potatoes after you drain them.
Allow these to rest in the oven (turned off) for 10 minutes when done.
When you take these out of the oven, drain them on a paper towel, brown paper bag, or cooling rack to help remove any excess oil.
Nutrition
Calories:
116
kcal
,
Carbohydrates:
20
g
,
Protein:
2
g
,
Fat:
3
g
,
Saturated Fat:
1
g
,
Polyunsaturated Fat:
0.5
g
,
Monounsaturated Fat:
2
g
,
Cholesterol:
3
mg
,
Sodium:
7241
mg
,
Potassium:
479
mg
,
Fiber:
2
g
,
Sugar:
1
g
,
Vitamin A:
2
IU
,
Vitamin C:
22
mg
,
Calcium:
32
mg
,
Iron:
1
mg
Nutrition information is automatically calculated, so should only be used as an approximation.