The BEST Slutty Brownies Recipe (Oreos Cookie Brownie)
Slutty brownies might have a questionable name, but there's no doubt about their deliciousness. Setting aside all moral judgment of this easy dessert recipe, these very naughty brownies will no doubt satisfy your sweet tooth. And then some!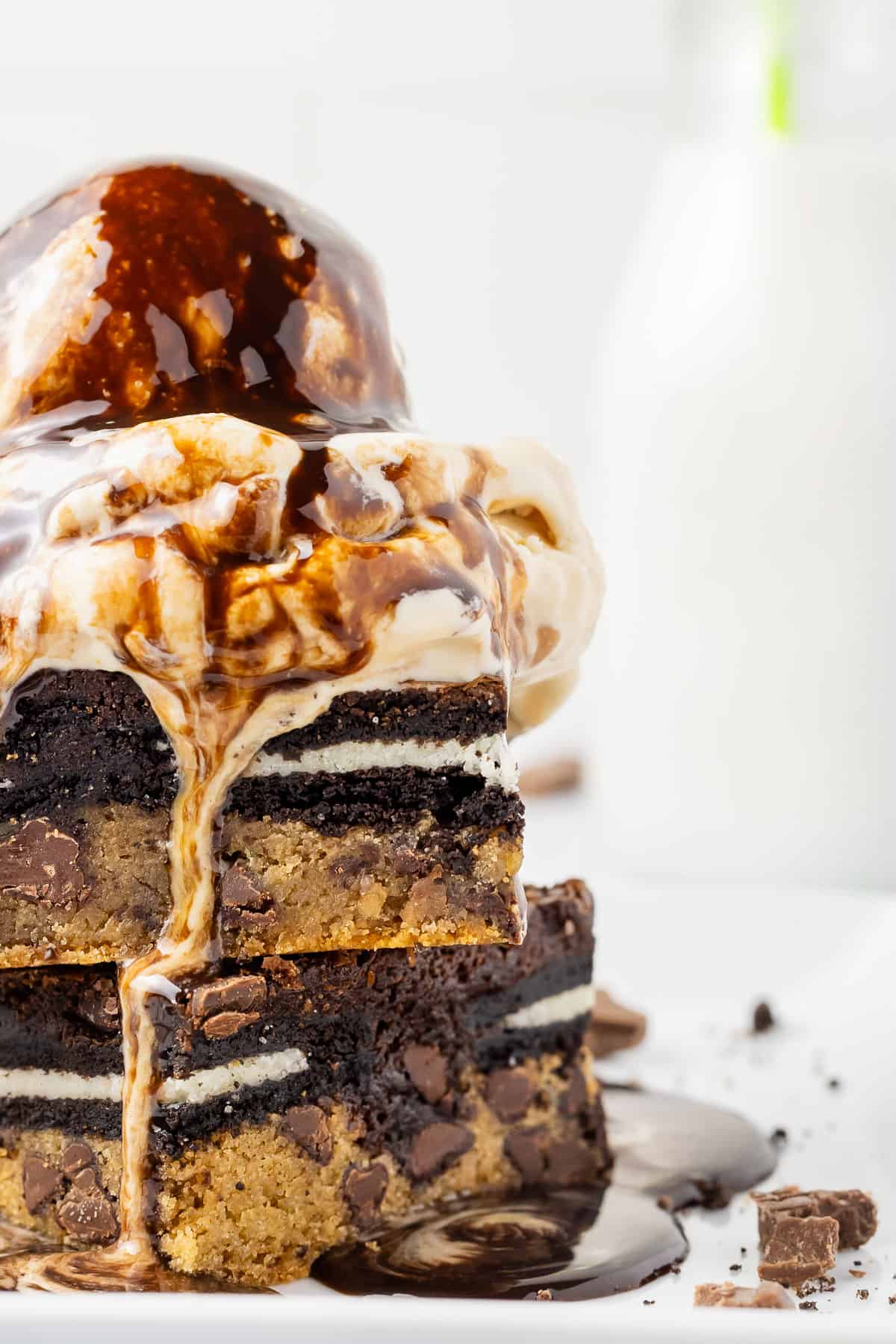 If you're hunting for the ultimate chocolate chip cookie n' Oreo fudge brownie bar, you're in the right place. These indulgent bad boys have your name written all over them.
Take it from a man who accidentally overdosed on chocolate at the age of 5 and was rushed to the emergency room (true story); this slutty brownie recipe is one you don't want to miss.
The best brownie recipe
Maybe it's because my dependence on chocolate started at such a young age. Or possibly because I've been baking for well over 50 years now (can you believe that?)
Or, for the simple reason that I have an insatiable sweet tooth that just won't stop. But I think these slutty brownies are perhaps the best brownie recipe. Ever.
With all that said, I need to warn you that these slutty brownies are not for the faint of heart. I would feel horrible if you needed a shot of epi in the keister like I did when I was a little kid.
Rest assured, though, the odds of that happening are extremely low. In fact, this is a case where the benefits of trying this recipe far outweigh the risks.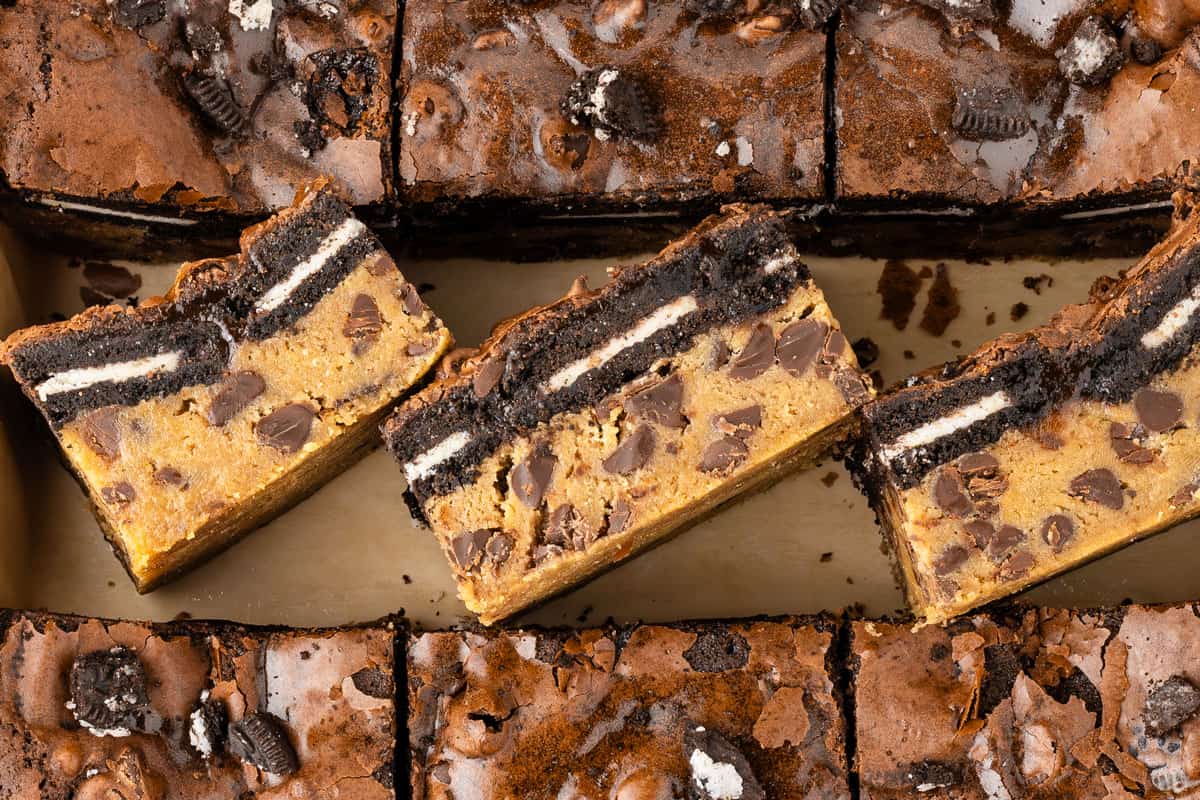 You may have guessed by now, but I know a thing or two about brownie recipes. Like our Thomas Keller Brownies, our Chocolate Brownie Baklava, or these Supernatural Fudge Brownies. There's no question at all, these slutty brownies are a great fit to our family of other great desserts.
Yep, I have been around the brownie block a time or two. It's almost embarrassing.
Maybe for "normal people." But I've never been embarrassed easily, especially when it comes to something like the best brownie recipe of all time.
What does it take to make the best brownies like this slutty brownie recipe? To start with, you want fudgy brownies that are packed with soft and gooey chocolate brownie flavor.
This slutty brownie recipe takes things to the next level, though. With layers of chocolate chip cookie dough and Oreos, you get a decadent dessert treat that has just the right balance of ingredients. Welcome, my friends, to chocolate heaven.
Oreo brownies
Some people (of more pure mind, perhaps,) refer to these as Oreo brownies. Call these what you will, but the Oreo layer in these triple-decker brownies brings on a very naughty twist.
Oreo brownie recipes are popular for obvious reasons. Adding a layer of Oreo cookies between the brownie and cookie dough base creates a delicious brownie with a creamy, crunchy center that's simply irresistible.
If just reading about this slutty brownie recipe makes you feel a tinge of guilt or self-consciousness, it's completely normal. You'll get over that feeling with a single bite. I promise! By the second bite, you won't even remember what day it is.
Slutty brownie recipe ingredients
Slutty brownies are made from three main components: a base of chocolate chip cookie dough, a middle layer of Oreos, and a top layer of rich brownie batter.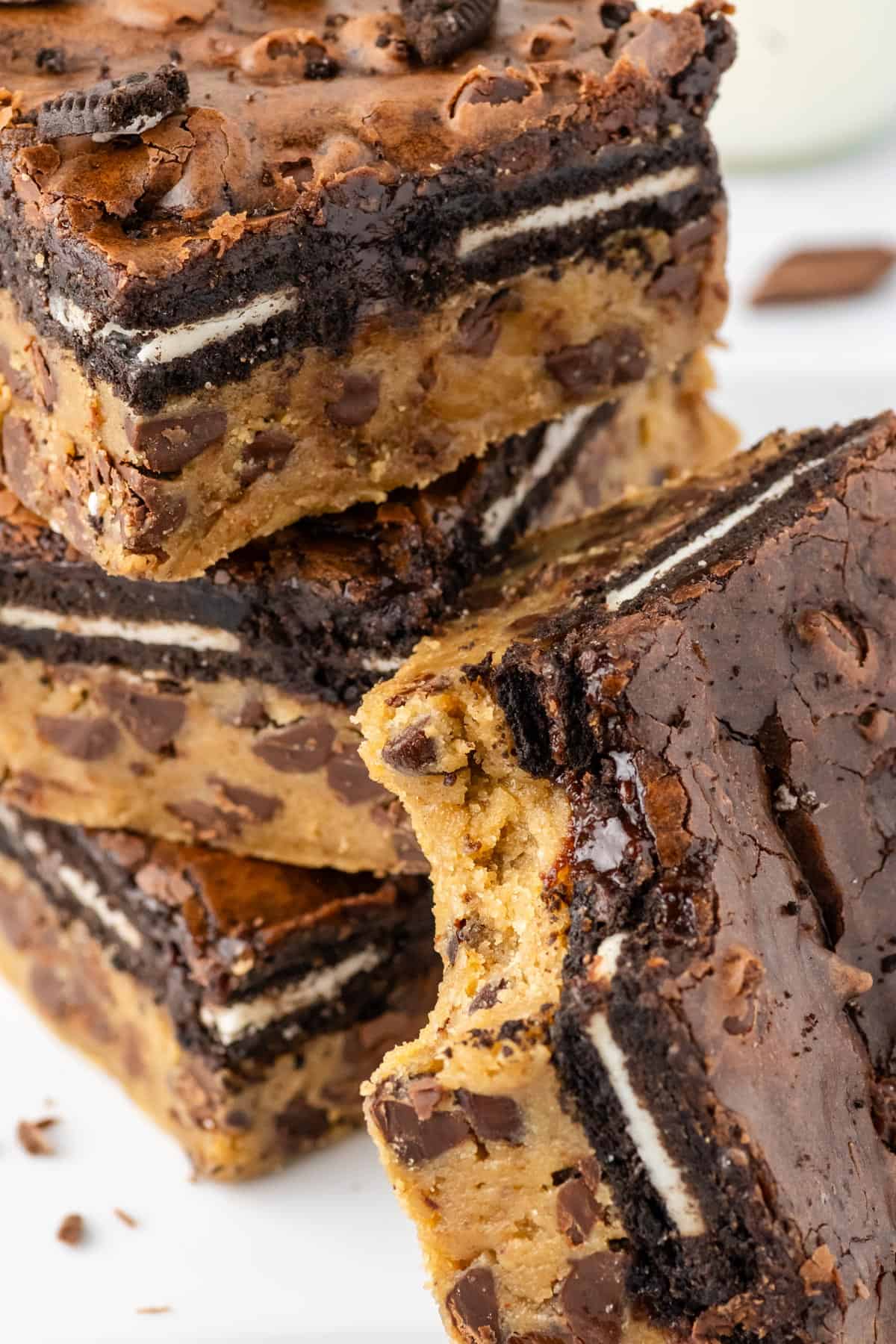 Is it any wonder why slutty brownies have such a naughty reputation? Hopefully, the name is starting to make more sense to you at this point.
Slutty brownie recipe ingredients
Like many of the best dessert recipes, slutty brownies take only a few ingredients.
Your ingredients might be a little different than these, depending on which brand of brownie mix you use.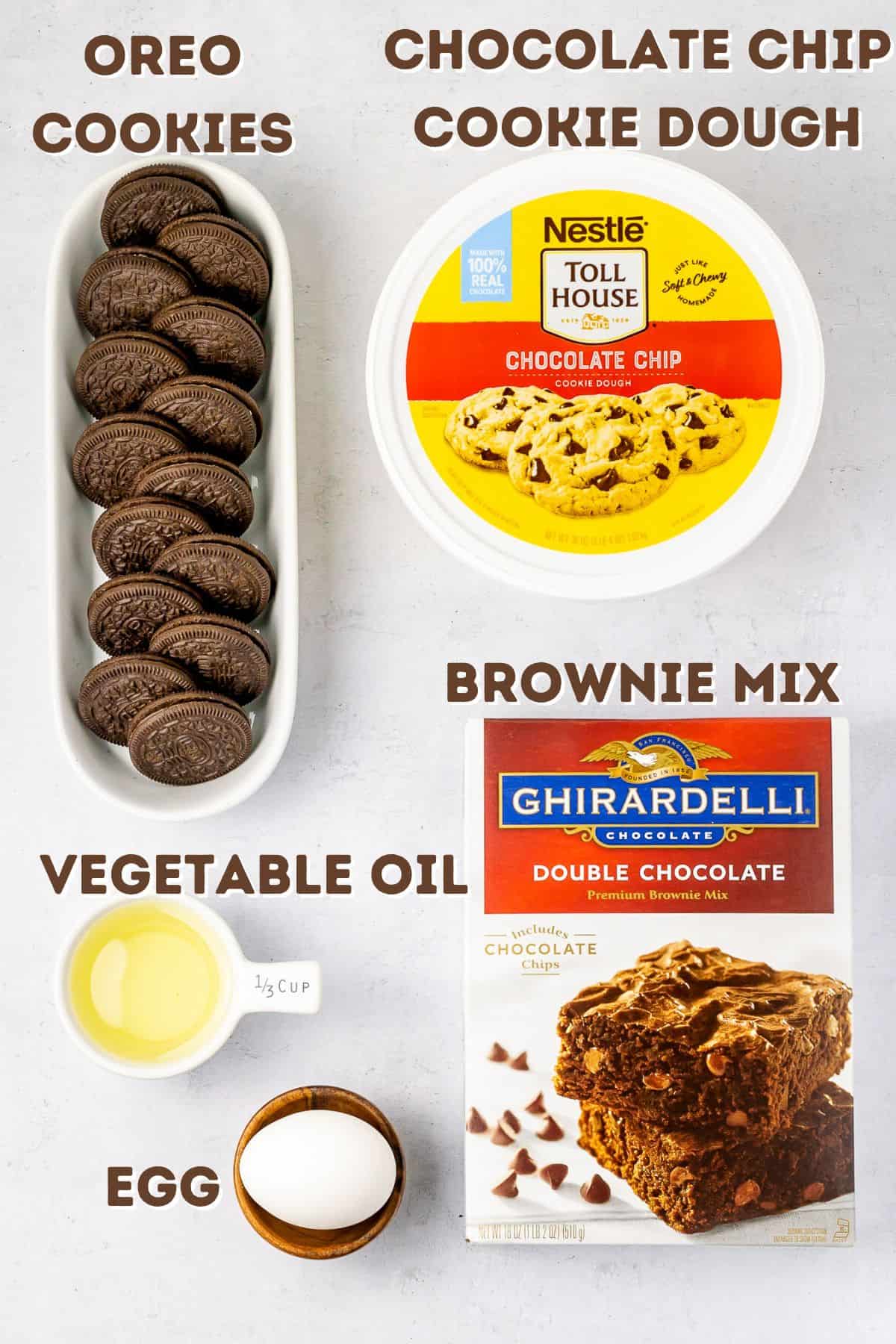 Chocolate Chip Cookie Dough
This is the bottom layer of these slutty brownies, giving them a chewy chocolate chip cookie dough foundation. Whether you use refrigerated cookie dough or homemade, it's the starting point.
You can use your favorite store-bought chocolate chip cookie dough for this slutty brownies recipe. You'll need 36 oz. of it for these Oreo brownies. To make things easier, be sure it is softened to room temp before making these.
Oreo Cookies
These will make up the second layer of these. We've all loved the classic Oreo cookie since the first time we tried it. These slutty brownies will give you a whole new appreciation of this classic cookie.
The top of the Oreos becomes slightly soft, nestled between layers of cookie dough and gooey chocolate brownie. This layer creates that sweet life-changing Oreo layer that gives you that sweet, addictive crunch in every bite.
Brownie mix
Because this Oreo brownie recipe is all about being over-the-top and easy, I'm using one of my favorite brownie mixes from Ghiradelli. Mention the name Ghiradelli and my mouth is already watering. And my pulse is quickening.
This mix ensures fudgy brownies every time for the ultimate brownie layer. The brownie portion of this recipe is what caps it off as the top (and final) layer.
Pro Baking Tip: You'll notice that I use an egg in these Oreo brownies. This is because of the brownie mix. Whenever you are using eggs in a baked recipe, be sure they are at room temperature before adding them to the mix. This will help these brownies bake more evenly and speed up the baking time.
When all of these are combined, this is how these slutty brownies stack up: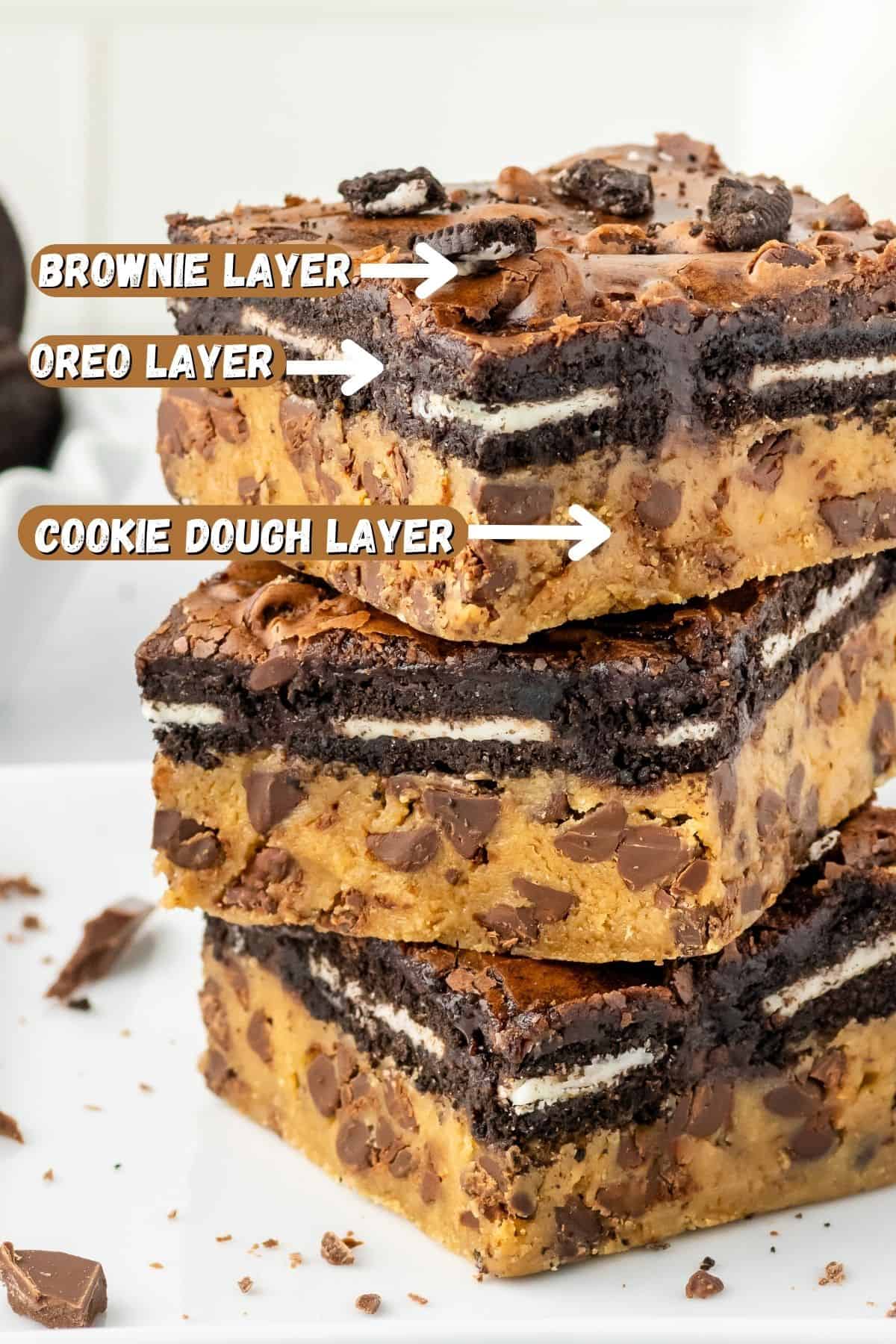 How to make slutty brownies
(Full directions are in the recipe card below)
First things first: Preheat your oven to 350° F. Then, take a 9 x 13-inch baking pan and line it with parchment paper. Allow the parchment paper to hang over the ends of the brownie pan so you can lift them out with one svelte move. Genius, right?!
At this point, you can take some non-stick spray and spray the sides of the pan along with the surface of the parchment paper.
Start with the cookie dough layer
Place the cookie dough into the bottom of the pan (on top of the parchment paper. Evenly press the dough into the bottom of pan and make sure the thickness is even throughout.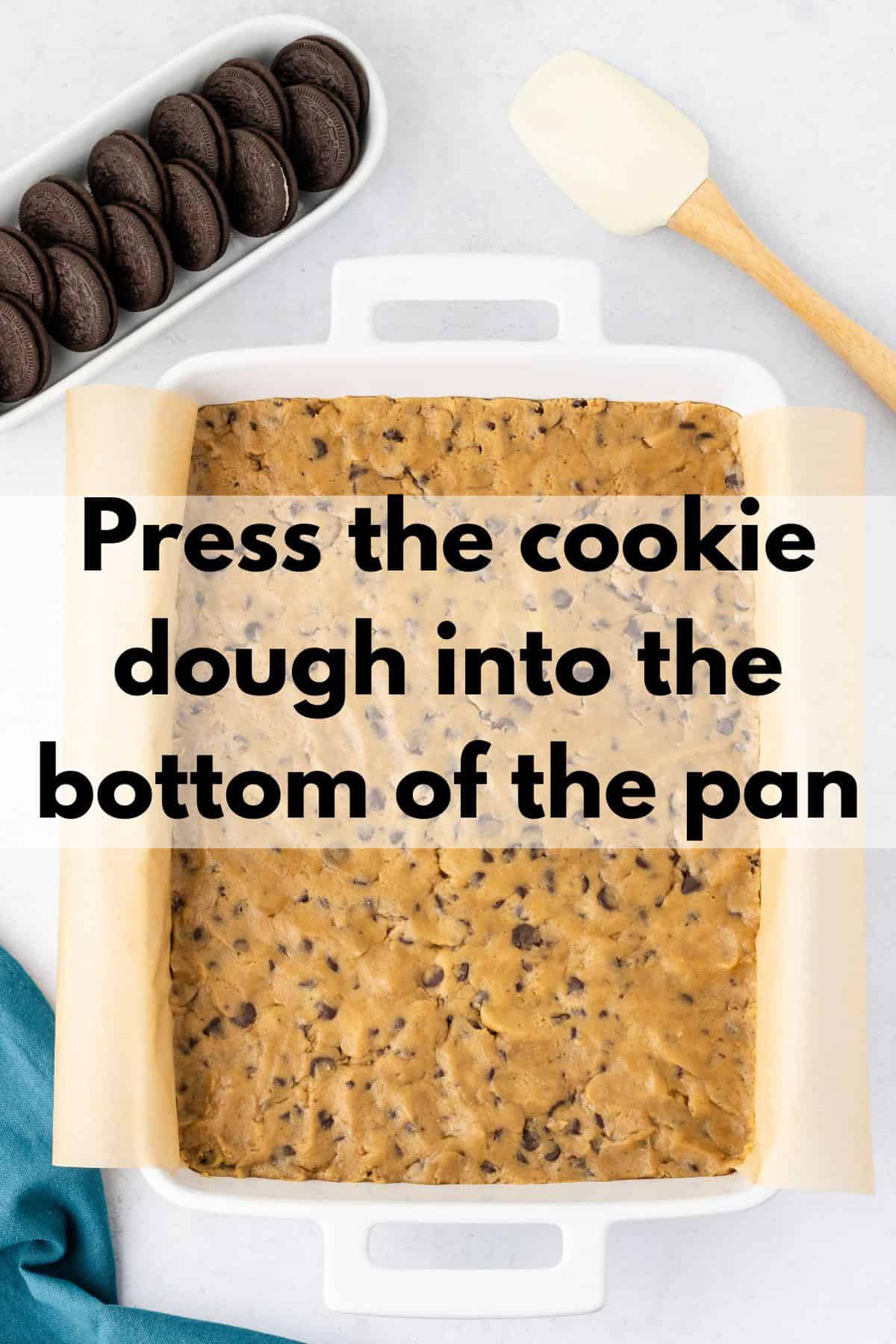 Add a layer of Oreos
Place a layer of Oreos over the cookie layer. You might need to cut Oreos in half to fit into the last row. (Eating any leftover Oreos at this point is always an option as well.) Just saying…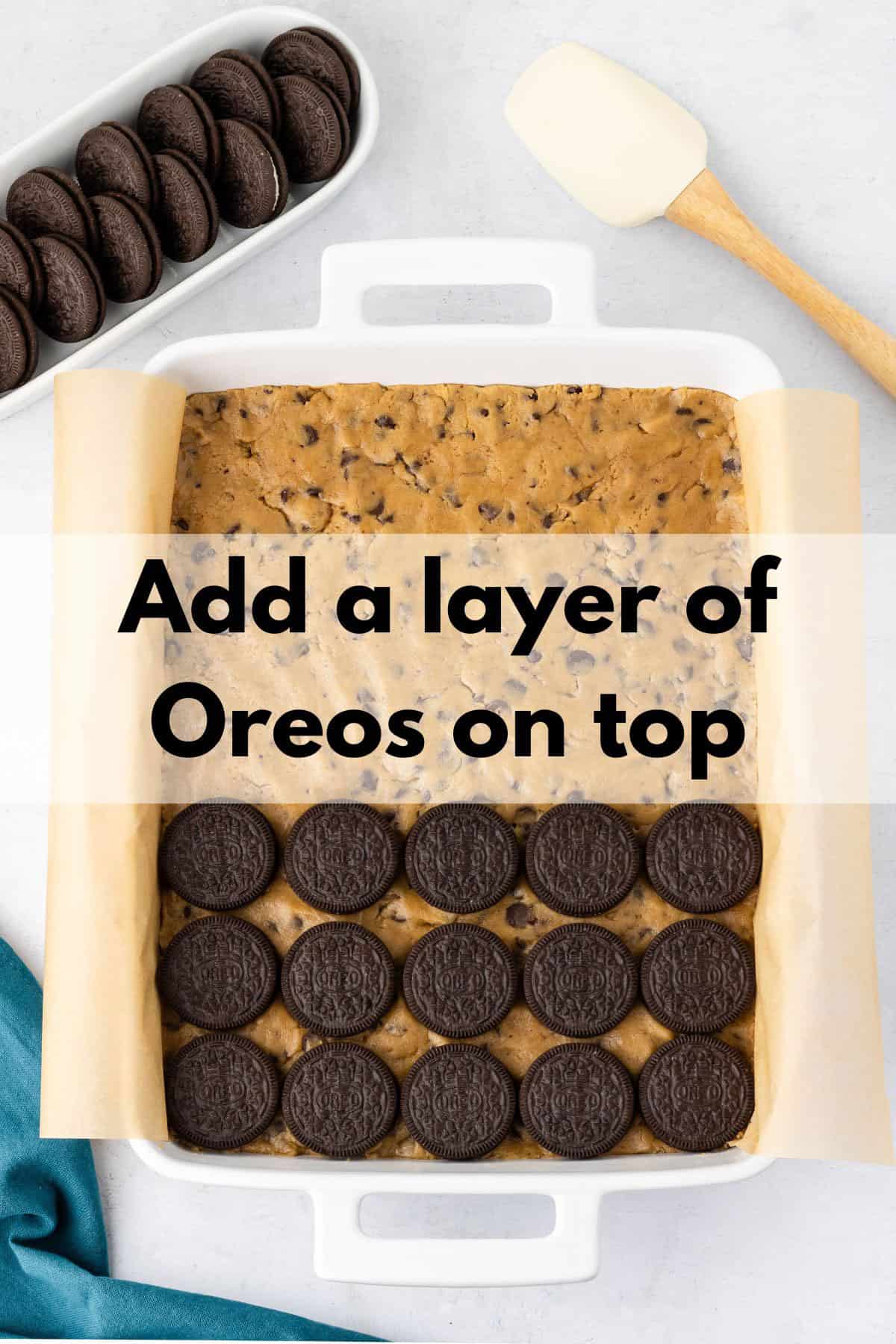 Add the brownie layer
Pour the mixed brownie batter over the Oreo layer and spread evenly.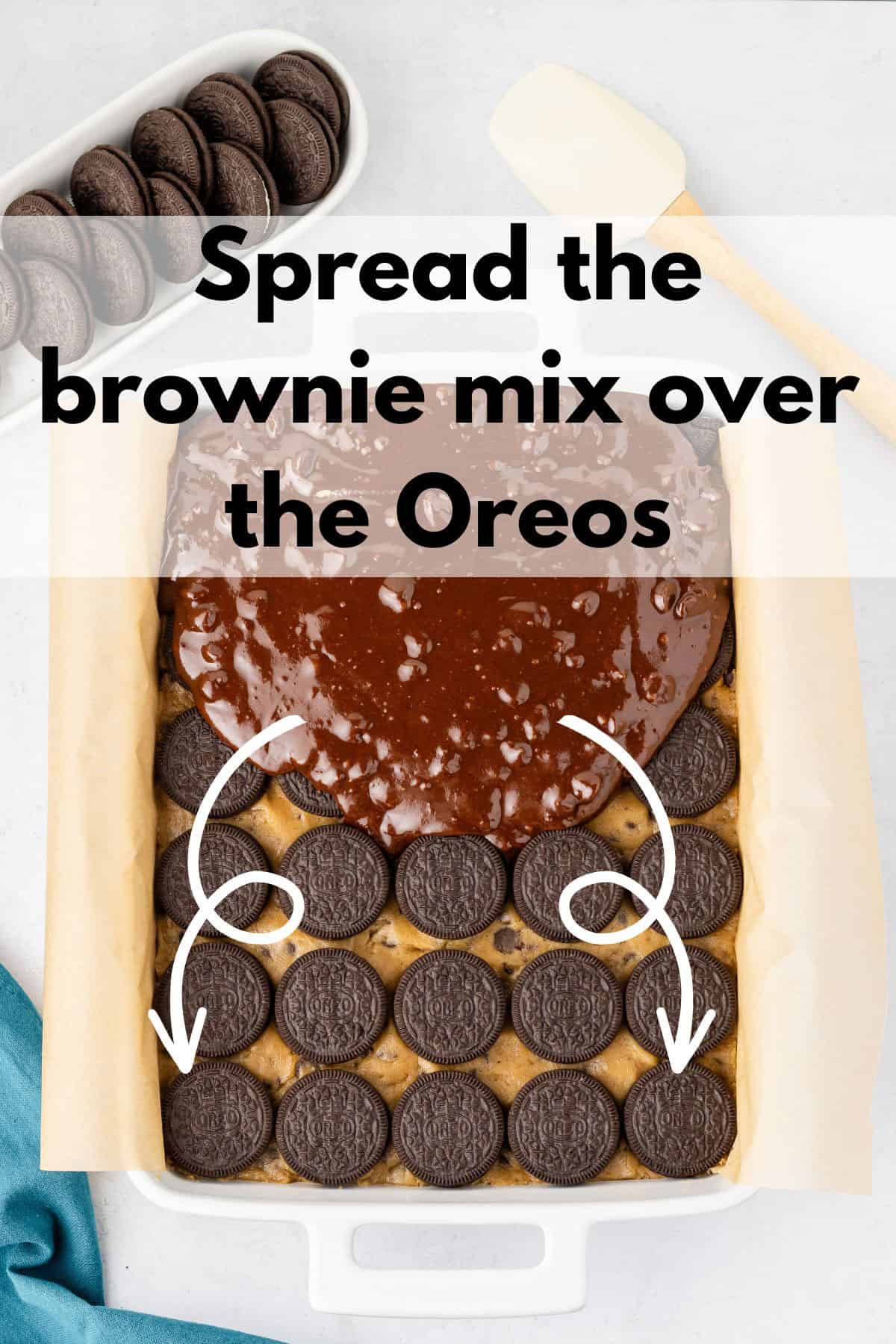 Bake these Oreo brownies for 45 to 50 minutes. When they are getting close to being done, do the toothpick test in a couple of different places. Try to insert it halfway between the edge of the pan and the center.
When you get a few glistening crumbs attached to the toothpick, these are done.
Pro Baking Tip: Be aware of oven variability! If your oven runs hot, check these a bit sooner. I always suggest having an oven thermometer that hangs from the rack, just to be sure!
If you want gooey, hot, messy brownies, you can cut and serve them soon after you take them out of the oven. If you want solid, well-formed ones, let them cool for 45 minutes or so. This, for me, is the hardest part about making this slutty brownie recipe!
There aren't many things that you can use Oreo cookies as a garnish, but these slutty brownies are one recipe where that will work!
Once you take these out of the oven and the brownie layer is still soft and warm, take some broken-up Oreo pieces and gently press them into the top layer. If this doesn't scream decadence, then I don't know what does!!!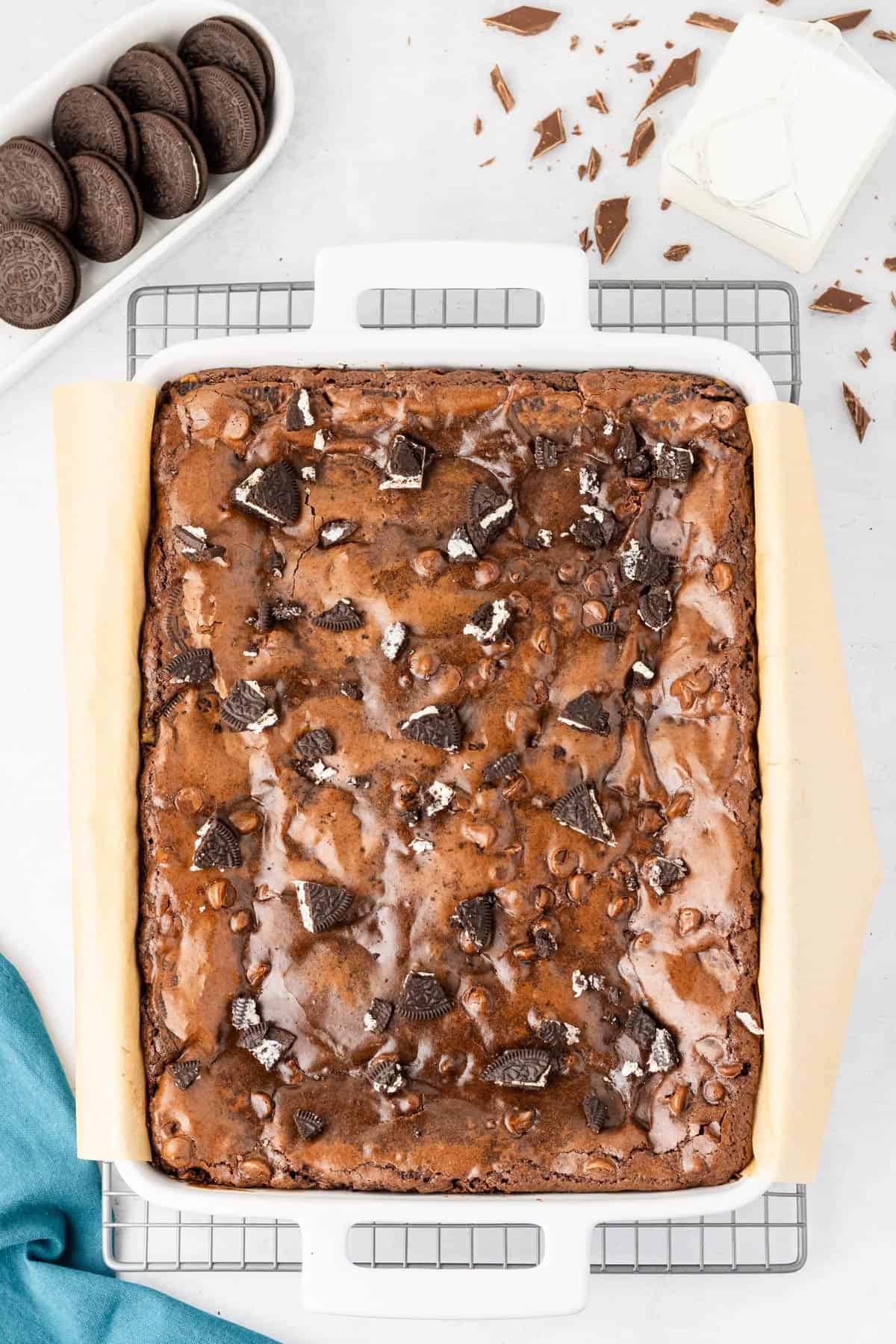 Top tips
Making the ultimate slutty brownies requires a little finesse. Here are my top tips to help make sure that yours turn out perfectly:
Prepare Your Pan: Before you start mixing any ingredients, always line your baking pan with parchment paper. This will not only make removing the brownies easier but will also ensure an even baking surface. Plus, it makes cleanup a breeze!
Layering is Key: When layering your cookie dough, Oreos, and brownie mix, make sure each layer is even and spread out to the edges of the pan. This ensures every bite contains all three components – the chewy chocolate chip cookie dough, the crunchy Oreo layer, and the gooey brownie.
Don't Overbake: Slutty brownies should be moist and gooey, so be careful not to overbake them. Use the toothpick test mentioned earlier, but remember you want a few moist crumbs to stick to the toothpick for the perfect texture.
Cool Completely Before Cutting: After removing your brownies from the oven, let them cool in the pan for a bit before transferring to a cooling rack. This will make them easier to cut into perfect squares without falling apart.
Customize with Quality: The beauty of this slutty brownie recipe is its adaptability. If you're going to make substitutions or additions, ensure you're using high-quality ingredients. For instance, if opting for a different cookie dough or adding extras like peanut butter cups, select brands or recipes you trust. Remember, these will only taste as good as the ingredients that are in them!
Keep in mind that baking is as much an art as it is a science. Trust the process, make it your own, and most importantly, enjoy your slutty brownie creation!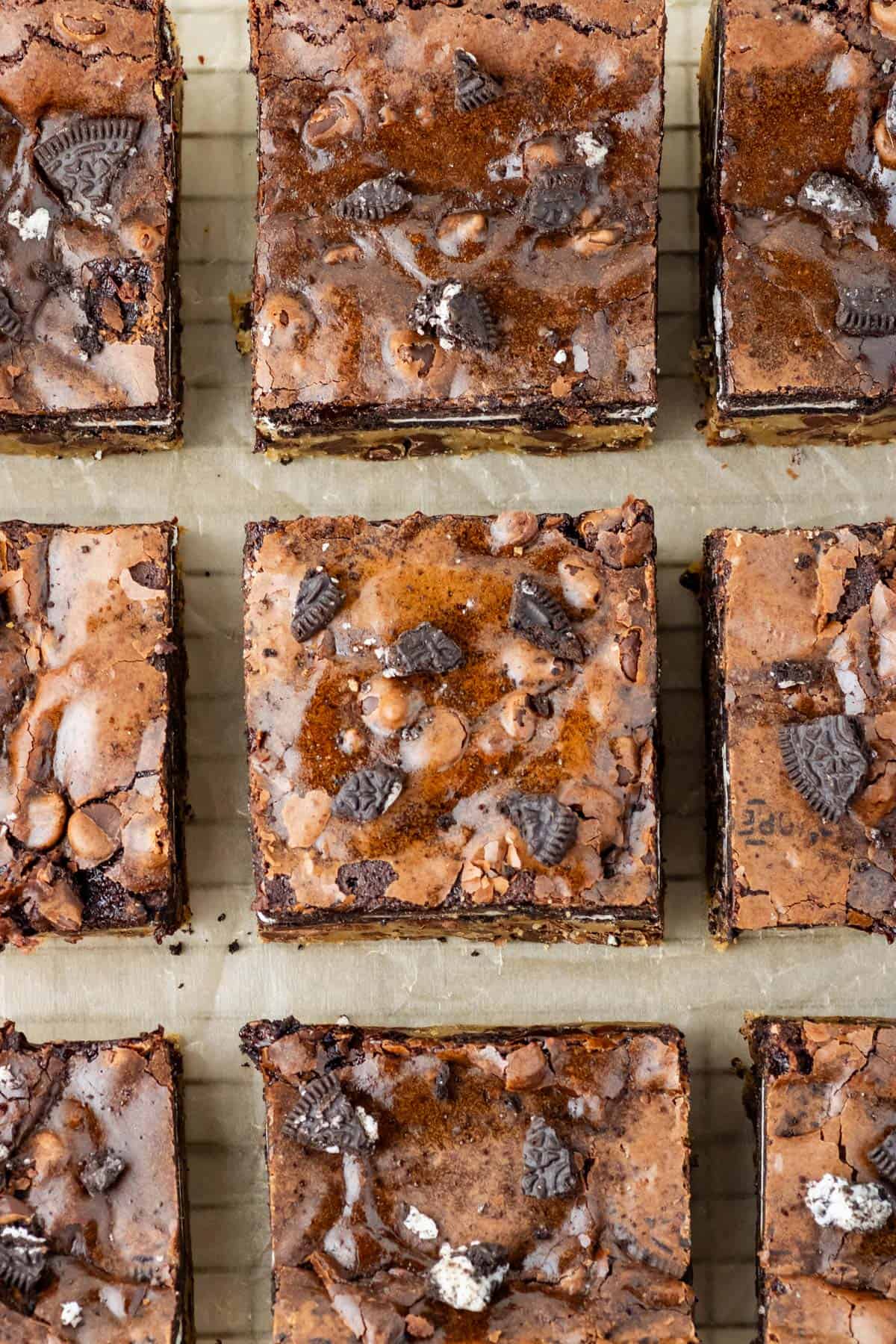 Substitutions and variations
For this slutty brownies recipe, use regular Oreos, double stuff Oreos, golden Oreos, or even birthday cake Oreos can be used. Each gives a unique twist.
Have a homemade brownie recipe that you love? Use it for the brownie layer!
Vanilla ice cream on top of these slutty brownies is optional but highly encouraged. Of course if you wanted to use Moose Tracks ice cream or something along those lines, I we would never judge you.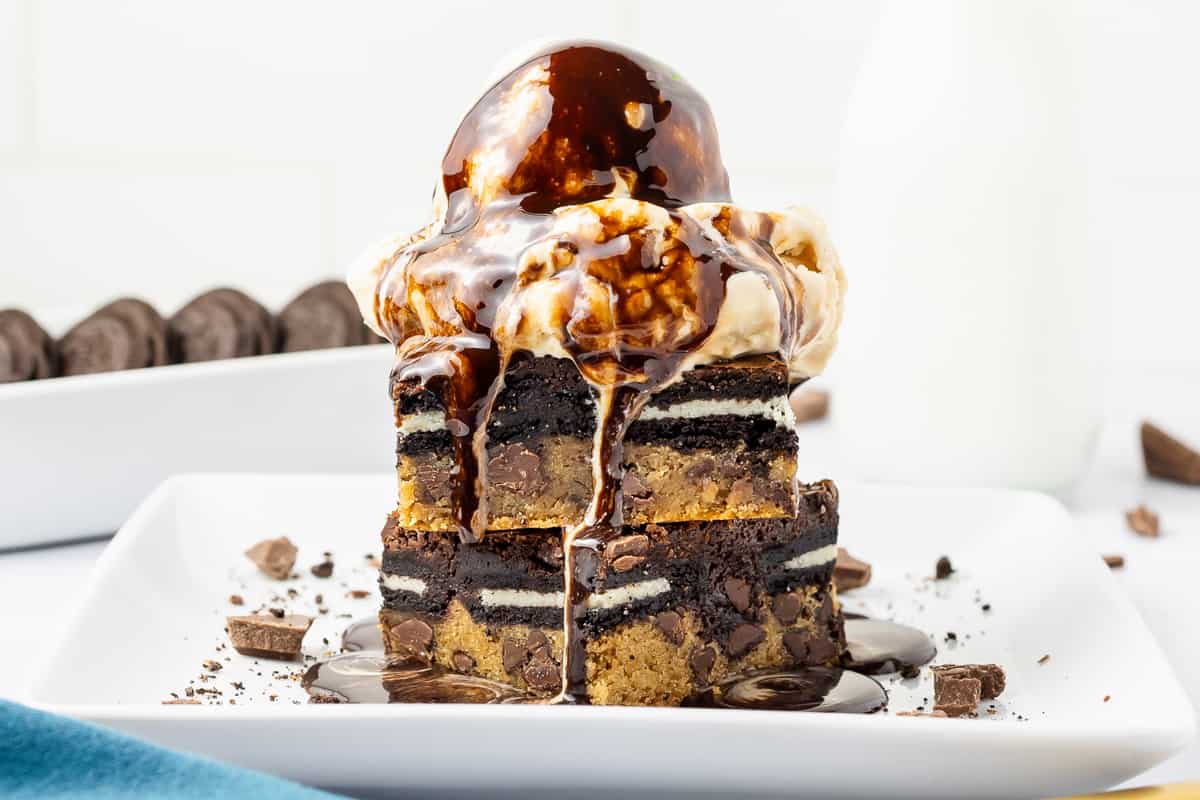 👨‍🍳 Tried this Recipe? Please leave a ⭐⭐⭐⭐⭐ rating in the recipe card below and leave a comment. We love hearing from our readers!
⏩ Stay in touch with us on social media by following us on Facebook, Pinterest, Instagram, and YouTube!
📬Get our Recipes delivered to your inbox for FREE!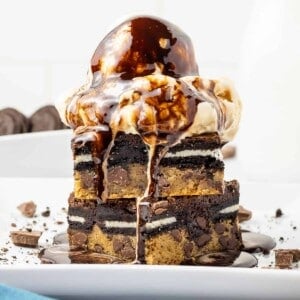 The Ultimate Slutty Brownie Recipe
Our Slutty Brownie Recipe (Oreo Brownies) uses our favorite box of brownie mix, Oreo cookies, and a tub of store-bought chocolate chip cookie dough. Serve these slutty brownies with a scoop of vanilla ice cream or enjoy them just the way they are!
Ingredients
36

oz

Cookie dough

,

(1 tub) I use Nestle Toll House, room temperature

1

package

Oreos

1

box

Brownie Mix

,

8 ounce Ghirardelli Triple Chocolate
For the Ghiradelli Triple Chocolate Brownie Mix
1

egg

⅓

cup

canola or vegetable oil

¼

cup

water
Instructions
Preheat the oven to 350 degrees F. Prepare a 9×13 rectangular pan with parchment paper extending the paper over the sides so that it will be easy to take the bars out later.

Press the cookie dough down on the bottom of the pan until it's evenly distributed.

Put a layer of Oreos over the cookie layer. You may need to cut Oreos in half to fit into the last row.

In a bowl combine and mix the brownie box contents, 1 egg, ⅓ c oil and ¼ cup water.( If choosing to use another brand of brownie mix, the egg, oil and water ratio may be different. Just follow box directions for whatever brownie mix you have chosen.)

Pour mixed brownie batter evenly over the Oreo layer.

Bake at 350 for 45-50 min. Test doneness with a toothpick inserted halfway between the edge and center and comes out with a few moist crumbs attached. * It's suggested to test 2 spots just in case you hit a chocolate chip or an oreo which can give an inaccurate read.

Let cool before slicing about 15-20 min.
Notes
For The Best Slutty Brownies:

Prep your baking pan with parchment paper and non-stick spray.
Do not over-bake them!
As hard as it may be, allow these to cool for a full 60 minutes before slicing and serving. You'll get nice, clean-cut servings by letting them cool first!
Nutrition
Calories:
739
kcal
,
Carbohydrates:
112
g
,
Protein:
8
g
,
Fat:
29
g
,
Saturated Fat:
8
g
,
Polyunsaturated Fat:
4
g
,
Monounsaturated Fat:
16
g
,
Trans Fat:
0.02
g
,
Cholesterol:
23
mg
,
Sodium:
524
mg
,
Potassium:
218
mg
,
Fiber:
2
g
,
Sugar:
68
g
,
Vitamin A:
52
IU
,
Calcium:
17
mg
,
Iron:
7
mg
Nutrition information is automatically calculated, so should only be used as an approximation.
Similar recipes