Chocolate Chip & Toasted Pecan Bars
on Dec 03, 2016, Updated Jan 03, 2021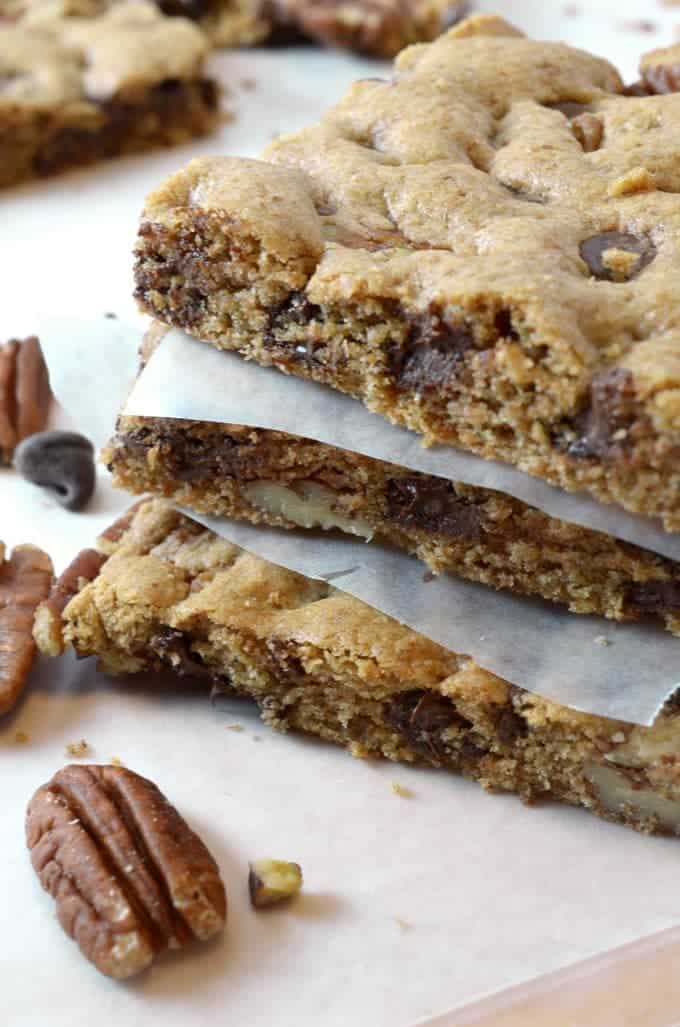 Chocolate Pecan Bars showcase the classic taste pairing of quality chocolate chips that are combined with the savory goodness of toasted pecan halves.
Chocolate Pecan Bars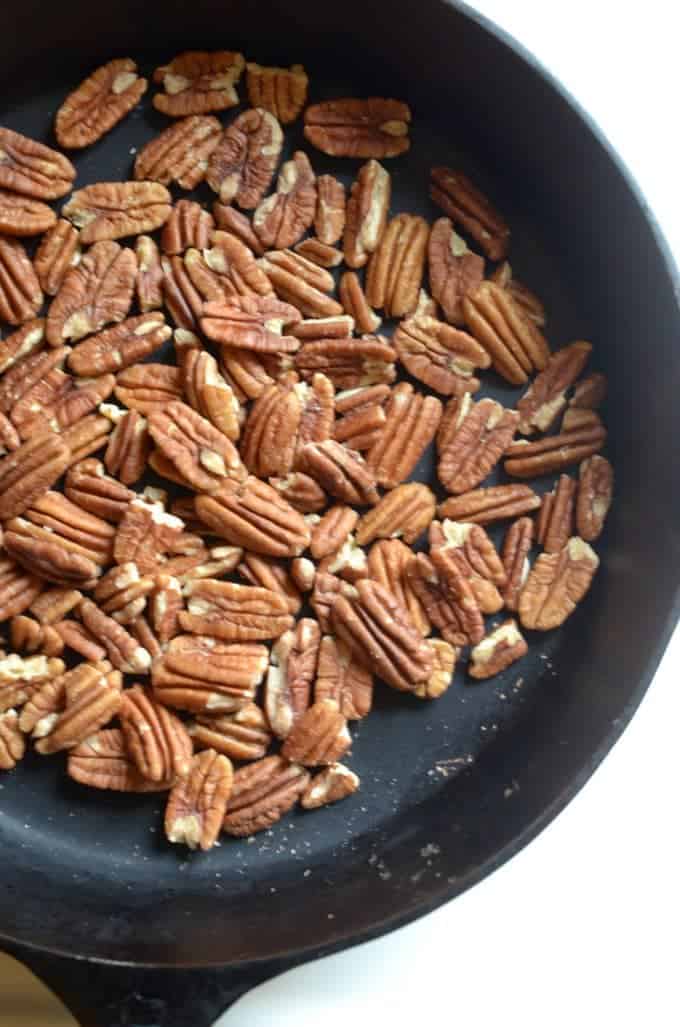 I review recipes every day and as the old adage goes, "We eat with our eyes first." When I first came across this recipe for Chocolate-Chip-Cookie Bars from Food & Wine, it wasn't a question of if I would be making them but rather when. And then, I poured water over may MacBook Pro laptop.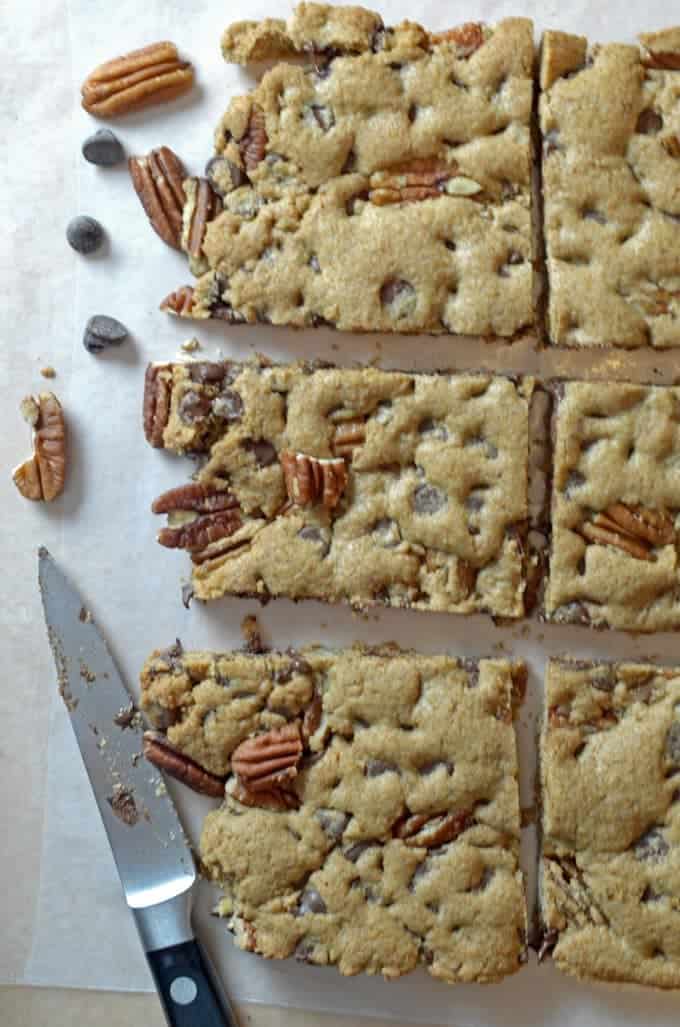 It wasn't intentional, needless to say, yet I felt like one of our six boys when they do something without appearing to give any thought to the consequences of their actions. A half eaten candy cane on our new sectional in the basement, leaving a new fishing pole out on the cottage pier overnight, ruining a very expensive piece of equipment because of a carelessly placed bottle of water. Oh wait. That was me. The father. The parent. The one who should have known better.
Quietly, I grieved both for the loss of my tethered computer and also for the egregious apparent absence of responsibility on my part. To teach myself a lesson, I forbade myself from buying a new laptop. Instead, I would have to use my old computer, a MacBook Pro that is nearly ten years old.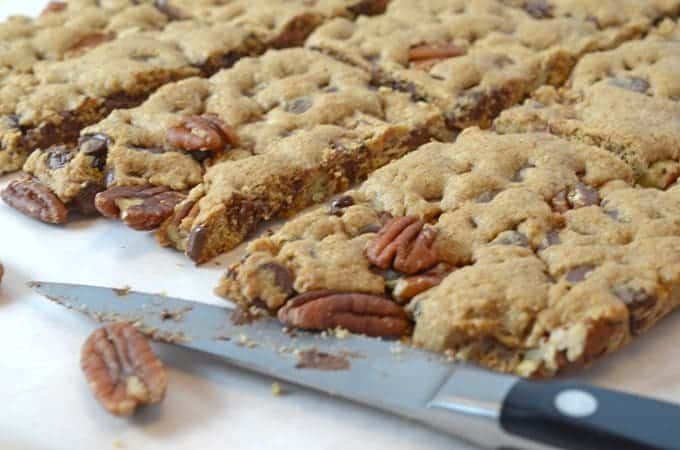 I tried. I gave it my best shot. Through multiple technical freezes, using long-outdated editing software, and a hard drive laden with angry birds and other such games that were apparently gifted from our kids, I have managed to put together a couple of posts for Platter Talk: Our Fall Shepherd's Pie and now, these wonderful Chocolate Pecan Bars.
The Essentials for these Chocolate Chip & Toasted Pecan Bars
A 9 x 13 inch baking pan

Parchment paper

Good chocolate chips (We use Ghiradelli Semi-Sweet Chocolate Chips)

Pecans

Whole wheat pastry flour (We used regular whole wheat flour, all-purpose flour would work too.)

An Egg

Pure vanilla extract

Granulated and brown sugar

Baking soda

Butter
We made these on the first (but snowless) weekend of December at our small lake cottage in the middle of Nowhere, Wisconsin. It's often a bit of a challenge when preparing food in our kitchen there. We might have a necessary part of any given recipe on hand and more times than not, we might not. On this day, we had no parchment paper and thus we used some aluminum foil that I treated with a non-stick spray and this worked perfectly when it was time to invert the finished product from the baking pan.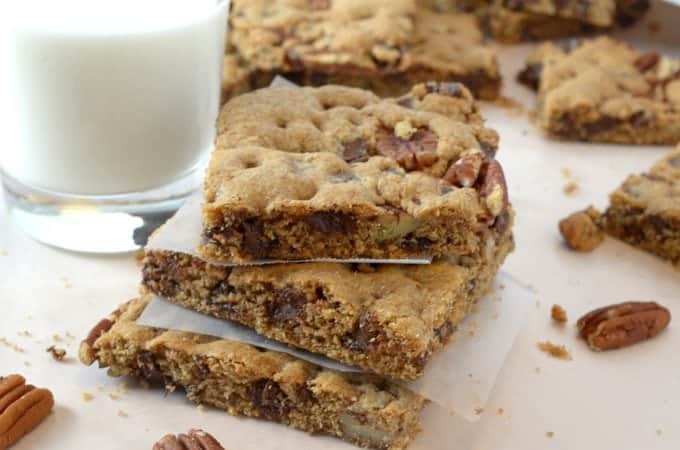 To evenly distribute the dough within the pan, we used a double rolling pin. It's a handy kitchen tool and one of my favorites that is great for spreading pizza dough, filo dough, and various dough and batters like the one we were working with in this Chocolate Pecan Bars recipe.
This post features a delicious baked cookie-bar and a small but expensive life lesson. "It happens," as Forrest Gump was known to say. Using an old laptop and substituting tin foil for parchment paper, we are still able to crank out some delicious recipes to share with you and these Chocolate Pecan Bars are a pretty good example of such. Give these a try and if you make a mistake now and then, don't be too hard on yourself. Instead, turn your oven on, grab a baking pan and some good chocolate chips. Thanks for reading Platter Talk, it truly means the world to us. -Dan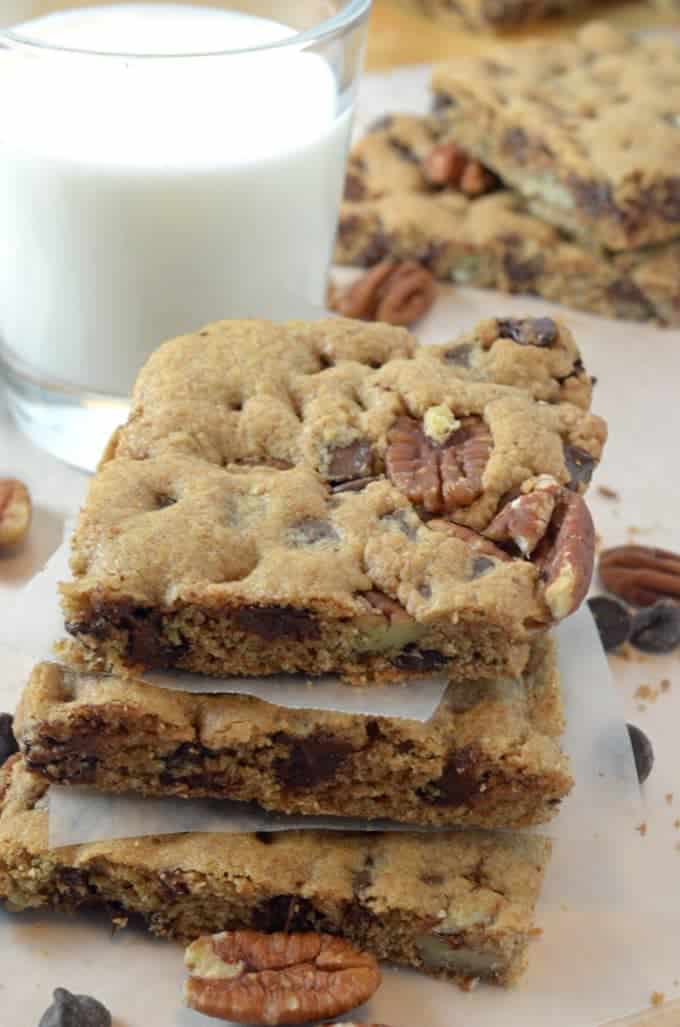 Other treats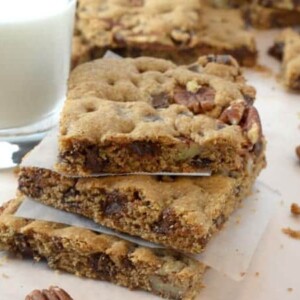 Chocolate Chip & Toasted Pecan Bars
Recipe from Food & Wine
Ingredients
1

cup

pecans

4

tablespoons

unsalted butter

,

softened

2

tablespoons

canola or vegetable oil

1/4

cup

granulated sugar

1/3

cup

brown sugar

1

egg

teaspoon

A pure vanilla extract

1 1/2

cups

whole wheat pastry flour

1/2

teaspoon

baking soda

1/2

teaspoon

kosher salt

1

cup

semisweet chocolate chips
Instructions
Preheat the oven to 350° and line the bottom of a 9-by-13-inch baking pan with parchment paper. Spread the pecans in a pie plate and toast for about 8 minutes, until golden.

Using large bowl, cream butter and oil with the granulated sugar and brown sugar. Beat in the egg and vanilla until smooth. In a small bowl, whisk the flour with the baking soda and salt; beat the dry ingredients into the mixer at low speed. Add the chocolate chips and pecans; beat just until incorporated.

Transfer the dough to the prepared baking pan and press into an even layer. Bake for about 20 minutes, until lightly browned and nearly set in the center. Let cool completely, then run a knife around the edges and invert the rectangle. Peel off the paper and invert onto a cutting board. Cut and serve.
Nutrition
Calories:
234
kcal
,
Carbohydrates:
23
g
,
Protein:
3
g
,
Fat:
14
g
,
Saturated Fat:
6
g
,
Cholesterol:
19
mg
,
Sodium:
121
mg
,
Potassium:
149
mg
,
Fiber:
2
g
,
Sugar:
12
g
,
Vitamin A:
120
IU
,
Vitamin C:
0.1
mg
,
Calcium:
23
mg
,
Iron:
1.4
mg
Nutrition information is automatically calculated, so should only be used as an approximation.