Rhubarb Upside-Down Cake Recipe
on May 02, 2020, Updated Oct 11, 2020
Rhubarb upside-down cake is light, like spring. It is almost creamy and it is 100% delicious. If you are looking for ways to use rhubarb, this is a recipe you must try.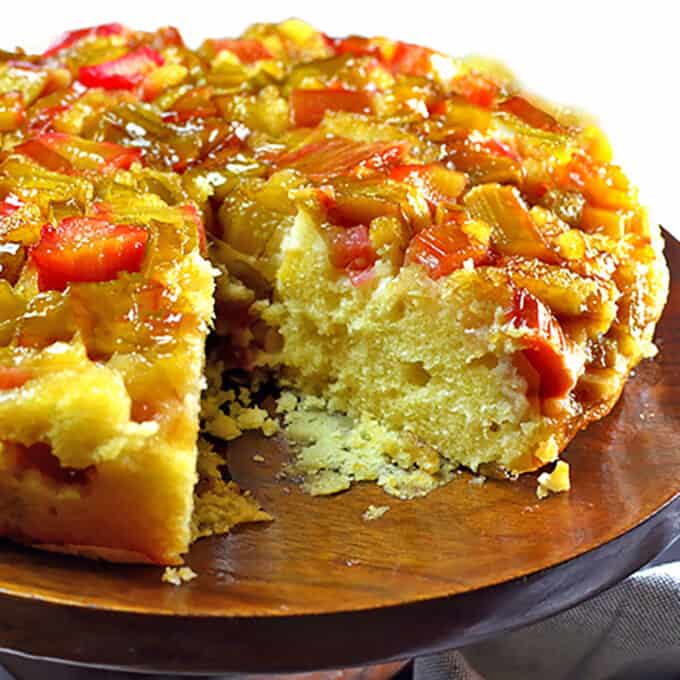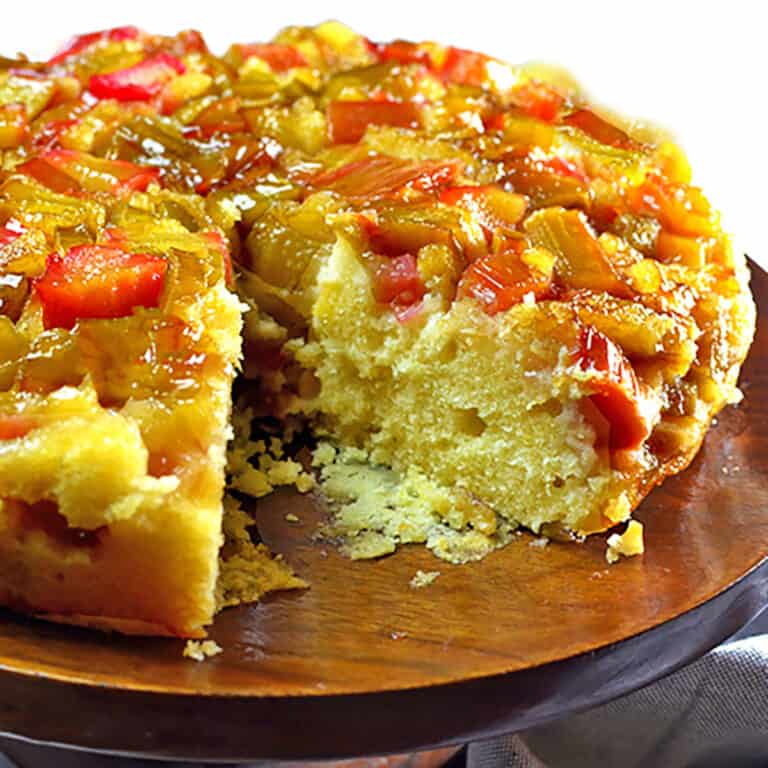 About this
Recently it dawned on me that homemade cake recipes are my favorite thing to make. Great desserts like chocolate whiskey cake, homemade almond cake, strawberry snack cake, and now this delicious rhubarb dessert.
I was a bit intimidated by this rhubarb upside-down cake recipe because, well, it's a cake recipe! Our collection of cake recipes continues to grow here on Platter Talk. Still, every time that I put a cake together, I have the same cluster of fears.
What if it's too dry? What if it's soggy? What if it falls in the center? What if I completely screw it up? As I have discovered over the years, my fear of baking cakes is silly. If you think you can't make this cake, the same is probably true for you!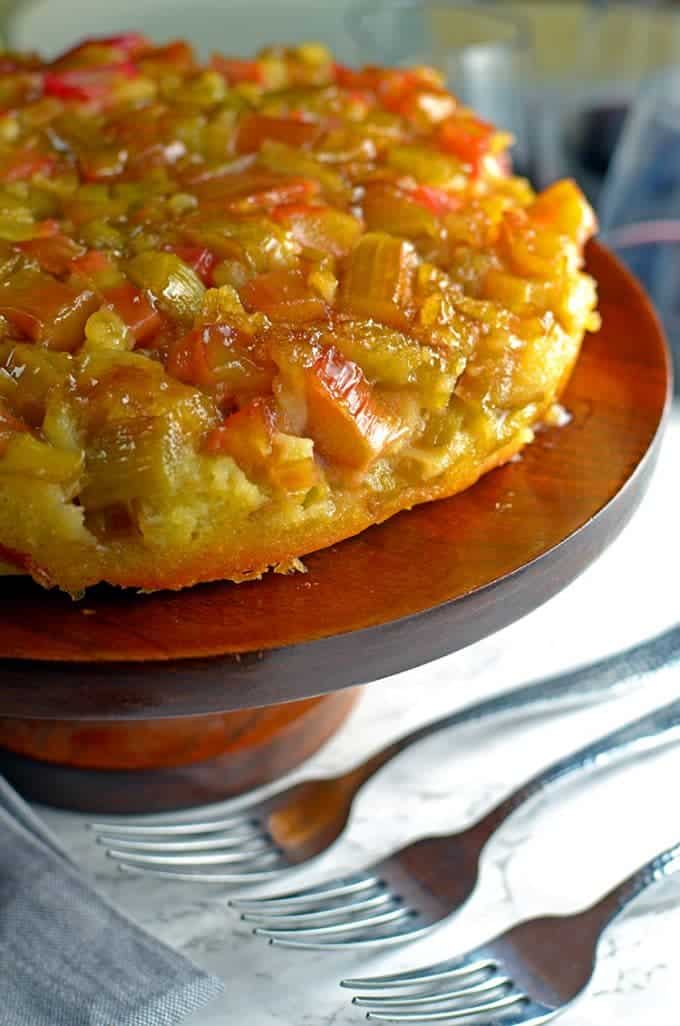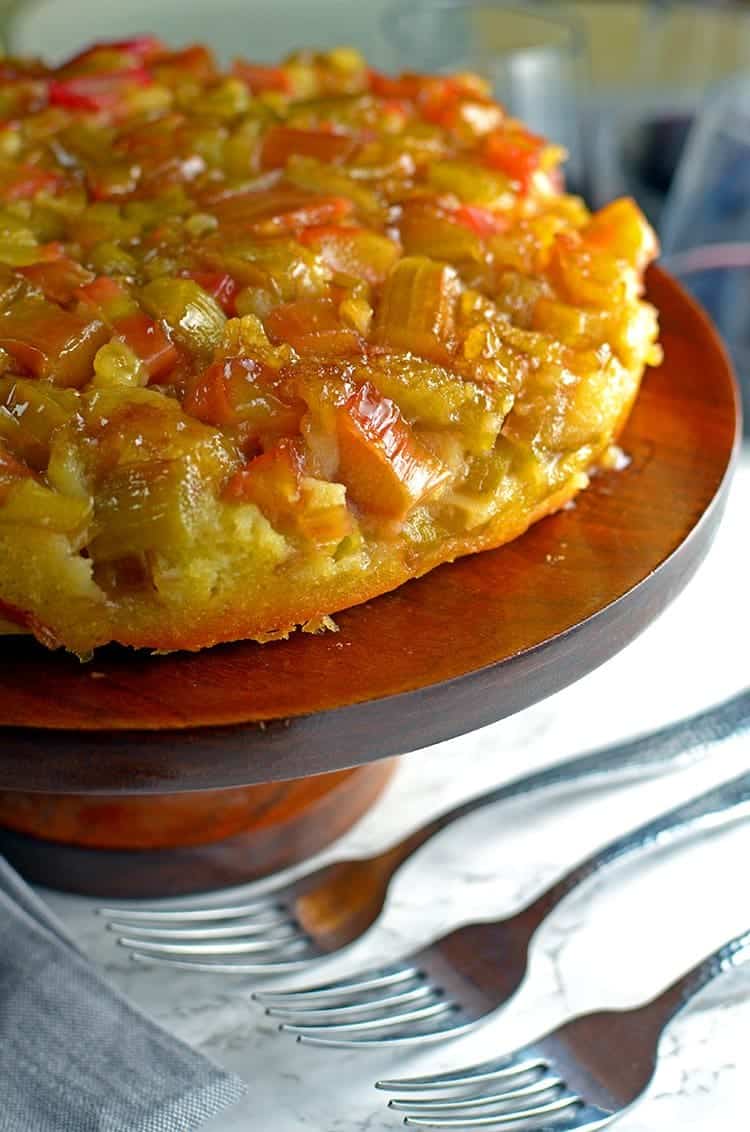 The perfect spring dessert
Rhubarb only comes around for a brief time here in Wisconsin. Since I hardly ever get to cook with it, I was especially anxious about this recipe. After I had one bite, it was clear that all that anxiety was one of the biggest wastes of my energy. Ever.
This rhubarb upside-down cake recipe uses about 4 cups, or about a pound and a half of sliced rhubarb. To be safe, I decided to use
my trusty kitchen scale
.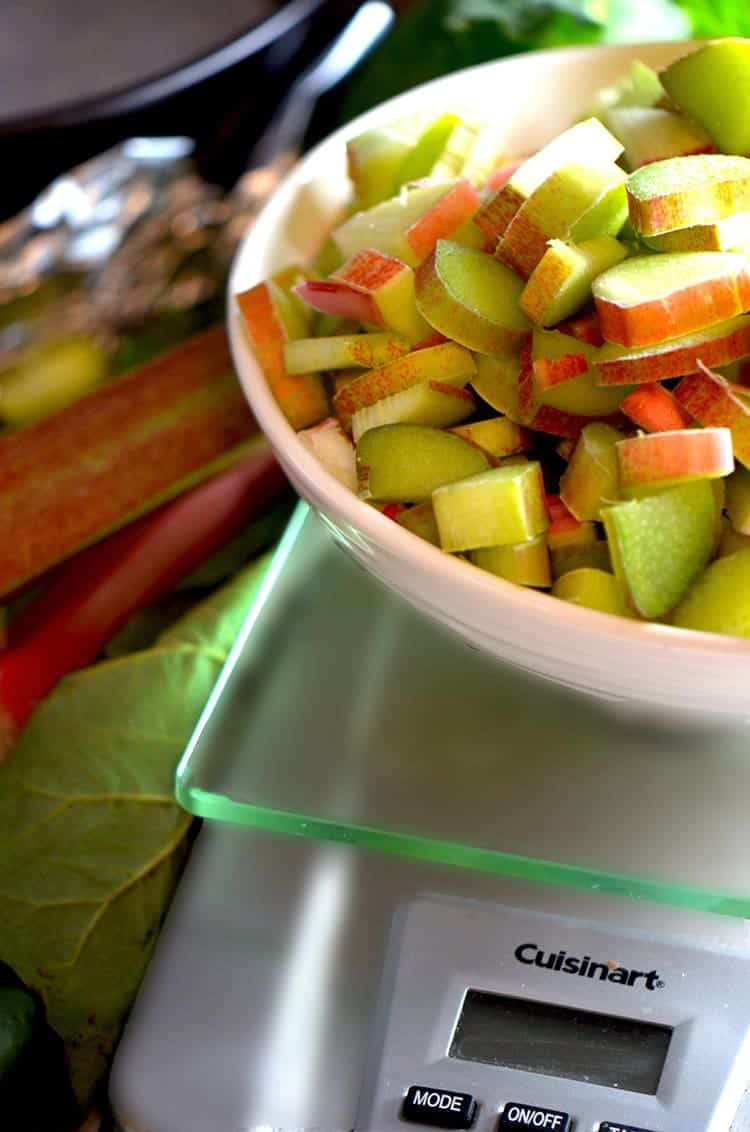 There are a thousand and one ways to measure ingredients. But using a kitchen scale is the only way to measure ingredients with accuracy and precision. A cup of flour to you may be a different cup of flour to your neighbor, depending on what you use to measure it with!
Flavors that go together

Peas and carrots (think Forest Gump)
Apples and cinnamon
Chocolate and blueberries
Cilantro and avocado
As I found out, we can add one more match that is made in culinary heaven to this list: Rhubarb and Lemon.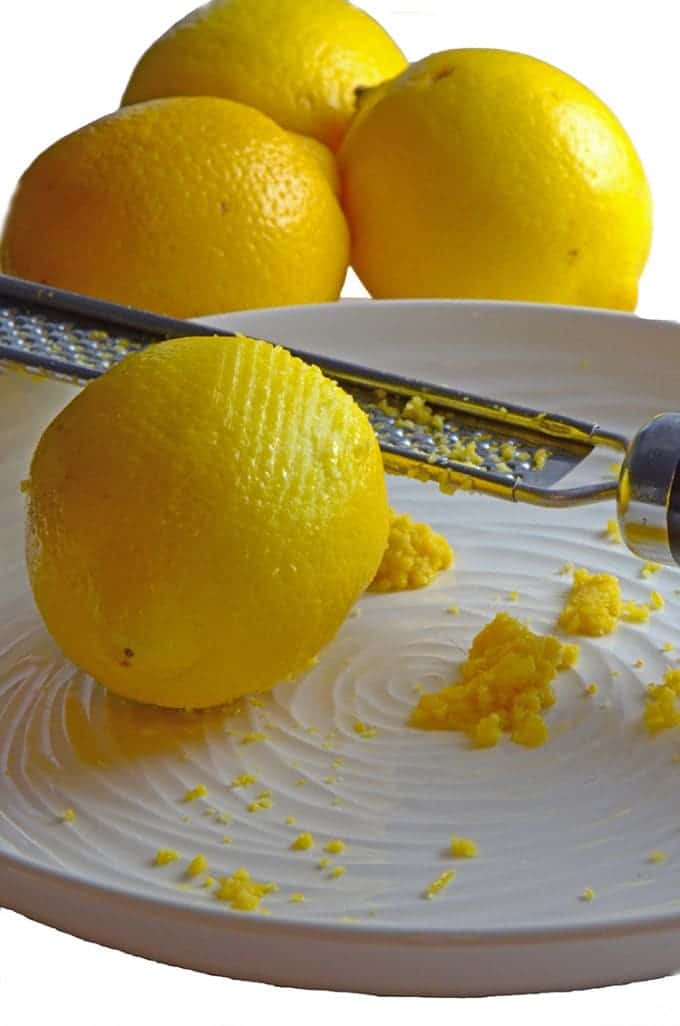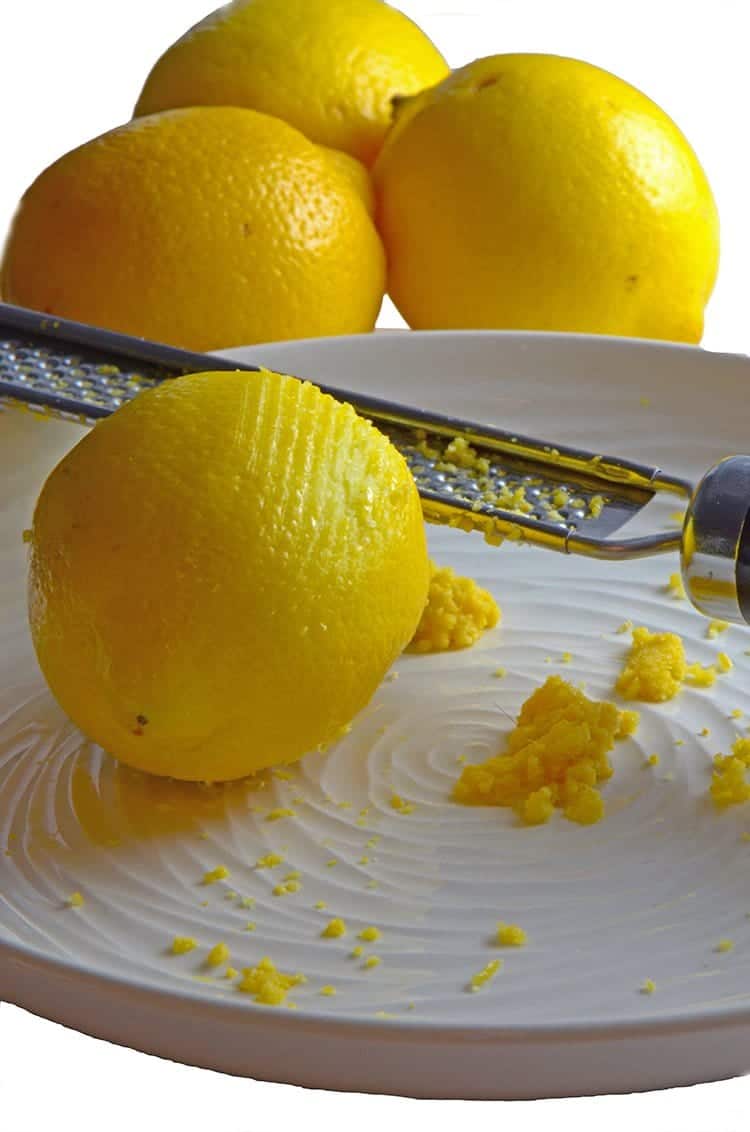 This rhubarb dessert has all the usual cake ingredients, like flour, butter, and eggs. But there is one more ingredient that makes this cake recipe special: Sour cream
Not a lot, just a third of a cup but enough to give the cake an understated creamy texture. It's pure heaven on a plate.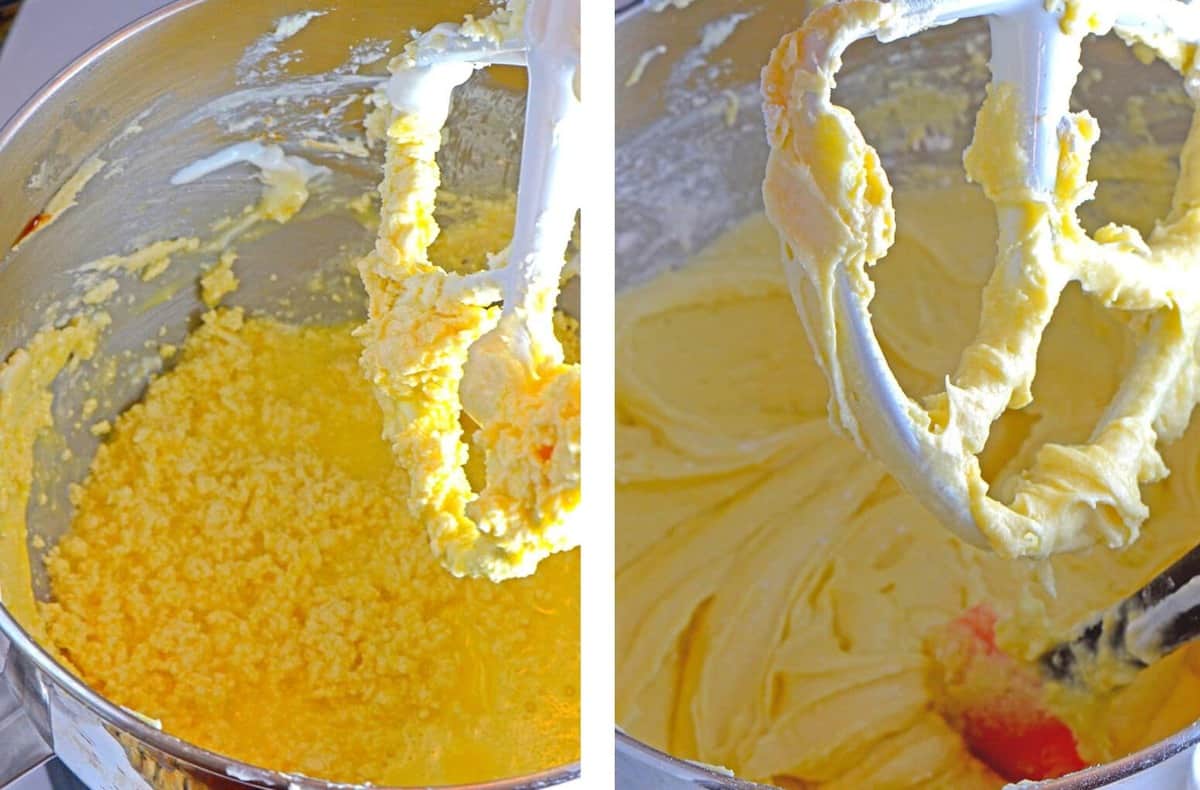 The batter may curdle at first, after the lemon juice and sour cream mix together. Although this may look weird, it's completely O.K. After you mix the rest of the batter ingredients for a few minutes, you have a silky smooth creamy cake batter.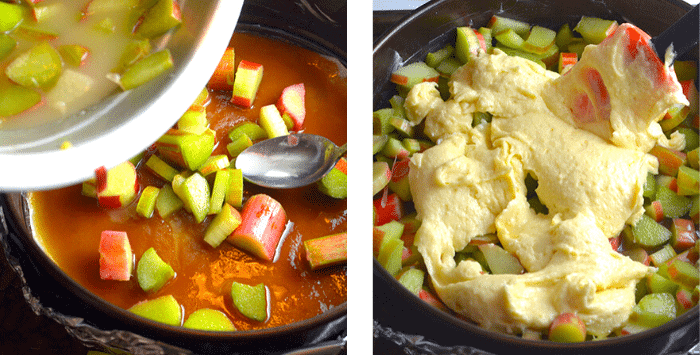 You're going to make a brown sugar and butter base for this cake. Then, you will evenly distribute that base into a buttered spring-form pan. Be sure to line the pan with parchment paper to keep the cake from sticking.
Add the chunks of rhubarb along with their juices over the base. Then, pour the batter over the top of the rhubarb base. Finally, you will bake this at 325° for about an hour and 15 minutes. Use the toothpick test to tell when the cake is ready to come out of the oven.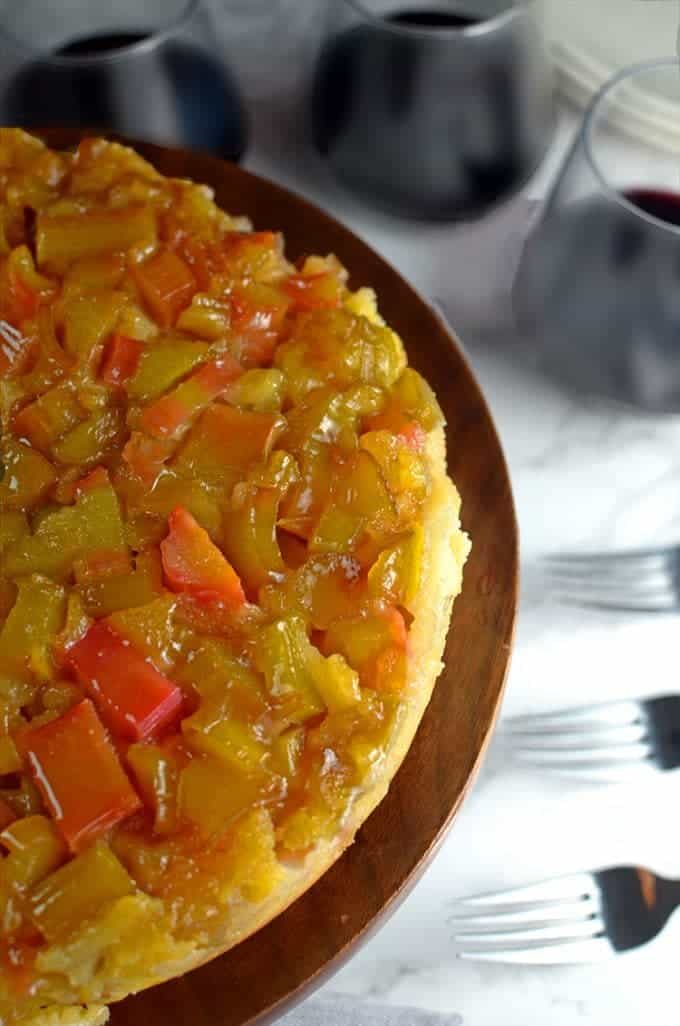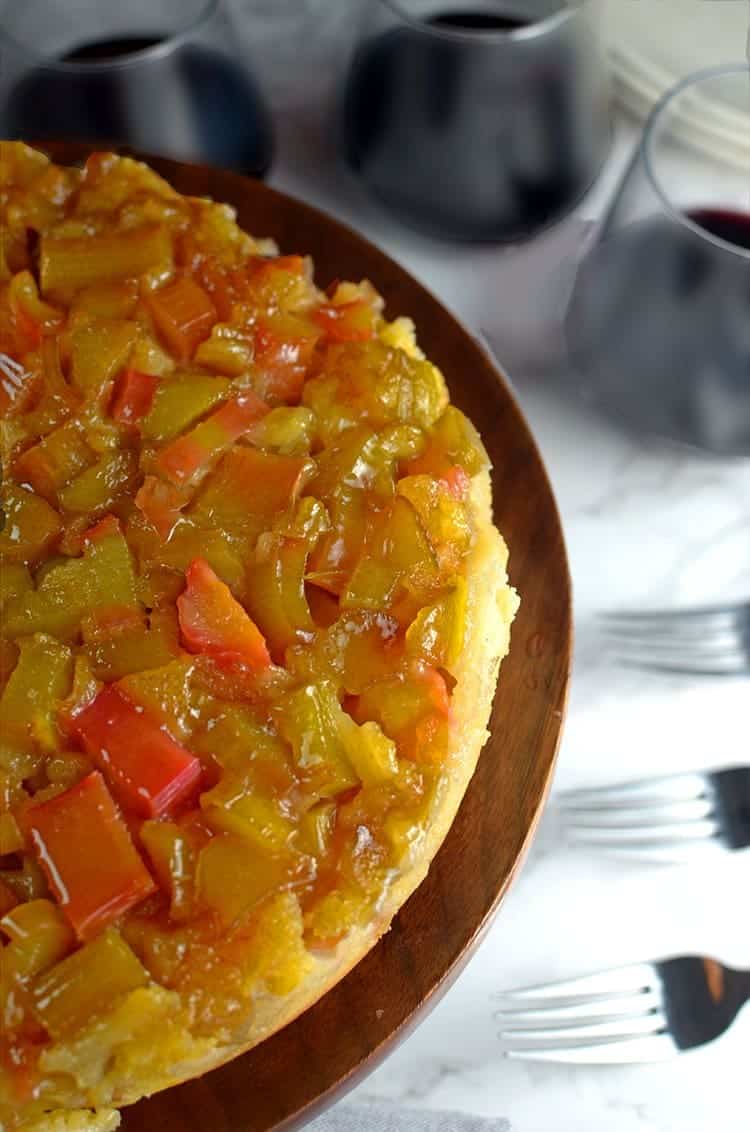 It takes about 75 minutes to bake this beautiful rhubarb dessert and take my word for it that it is worth the wait!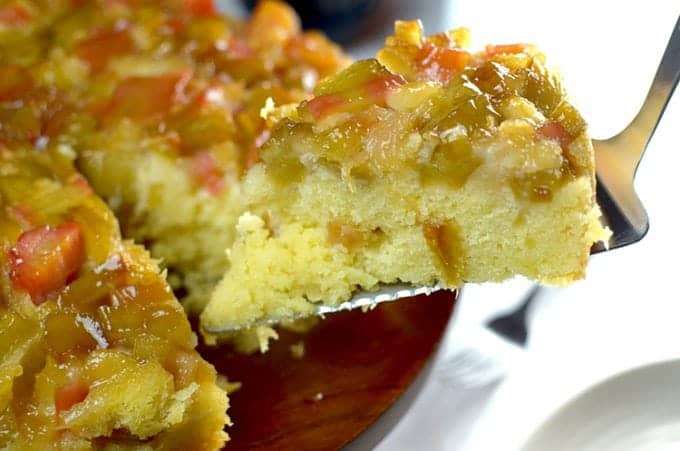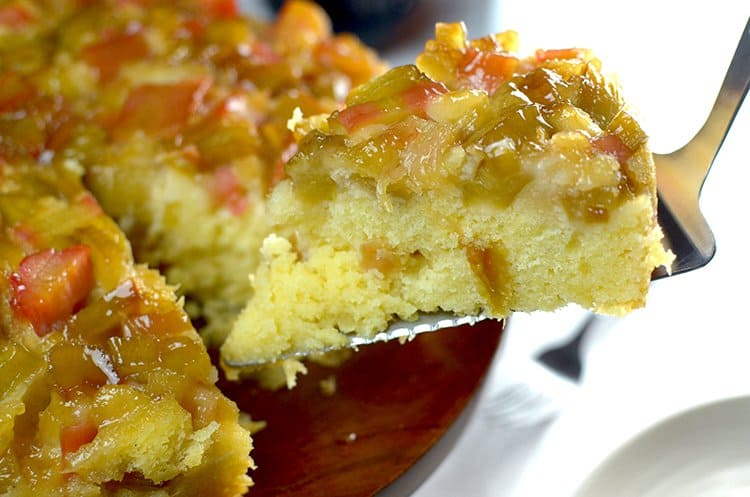 I was hoping this rhubarb upside-down cake recipe would turn out well but had no idea just how great it would taste. I was blown away by its beauty and its deliciousness!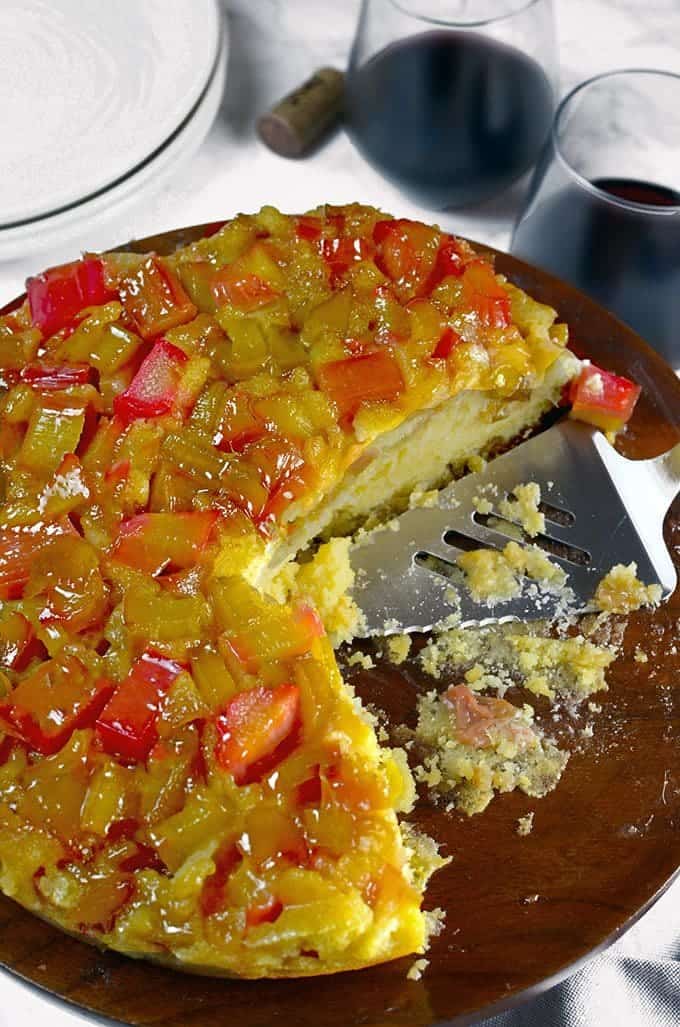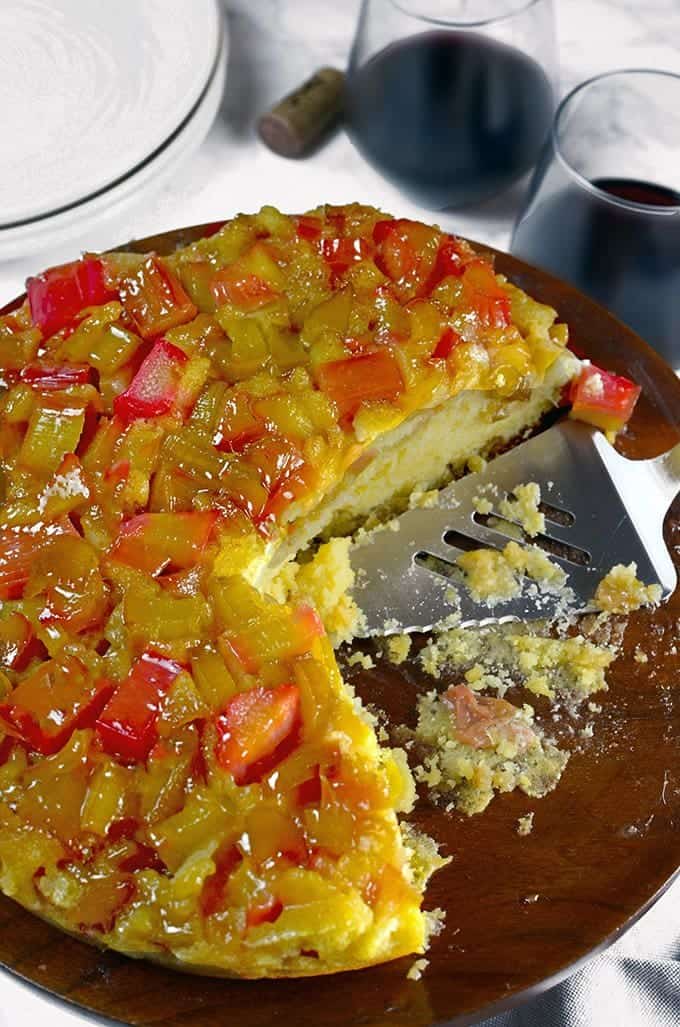 This has to be one of the best-tasting cakes that I have made. Remember how I mentioned that I have a fear of making cakes? This recipe taught me that it's time that I get over that particular insecurity. Maye it's time that you try this rhubarb upside-down cake recipe yourself!
You're going to love this rhubarb cake and don't worry; you can thank me later. Thanks for reading Platter Talk, it means the world to us, and happy spring to you and yours.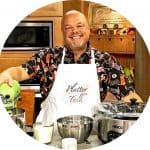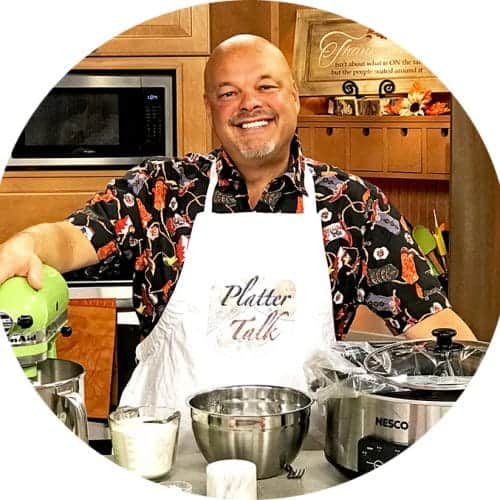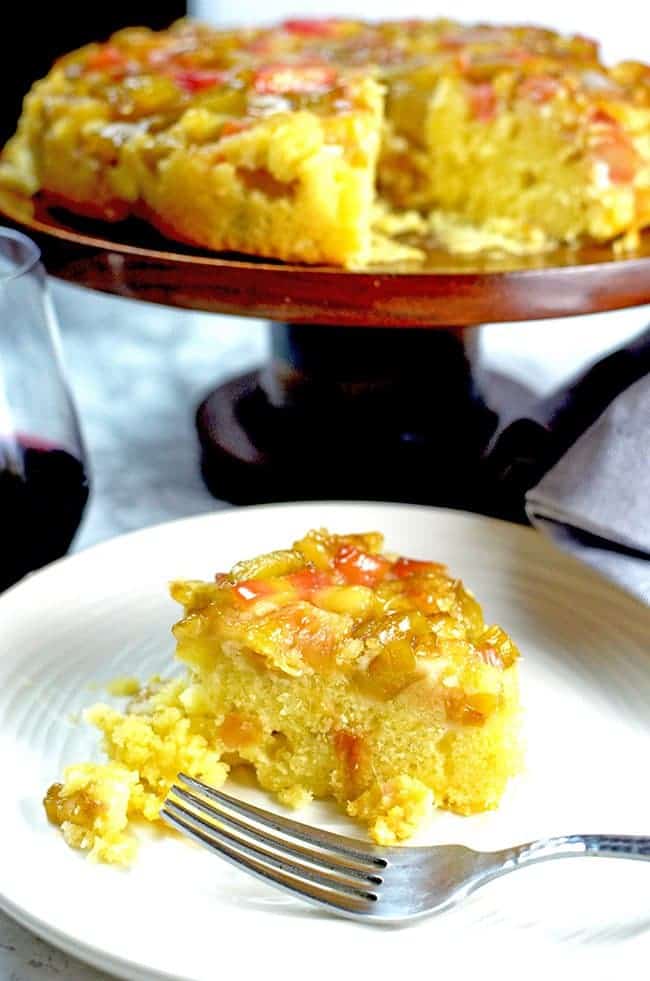 If you have ever asked, "What to do with Rhubarb?" you're not alone! We have a couple of other uses for this edible gift from spring!
Similar recipes

Rhubarb Slush

A fun frozen slushie that the whole family will enjoy.

Rhubarb Vanilla Pound Cake

An easy pound cake recipe that blends the flavors of rhubarb and vanilla. All in one yummy spring dessert.
For more great information and recipes on rhubarb, read All About Rhubarb, from The Spruce Eats.
---
Love cake? Me too!

It's really hard for me to pick out my favorite cakes. That is almost like asking which of my kids I love most. (Disclaimer: That can vary from day to day.) To make it easy, these are three of my favorite cakes on Platter Talk.
If you've tried this rhubarb cake, please let us know your thoughts in the comments below. We love hearing from you! FOLLOW US on FACEBOOK, INSTAGRAM, and PINTEREST.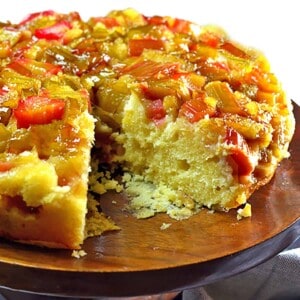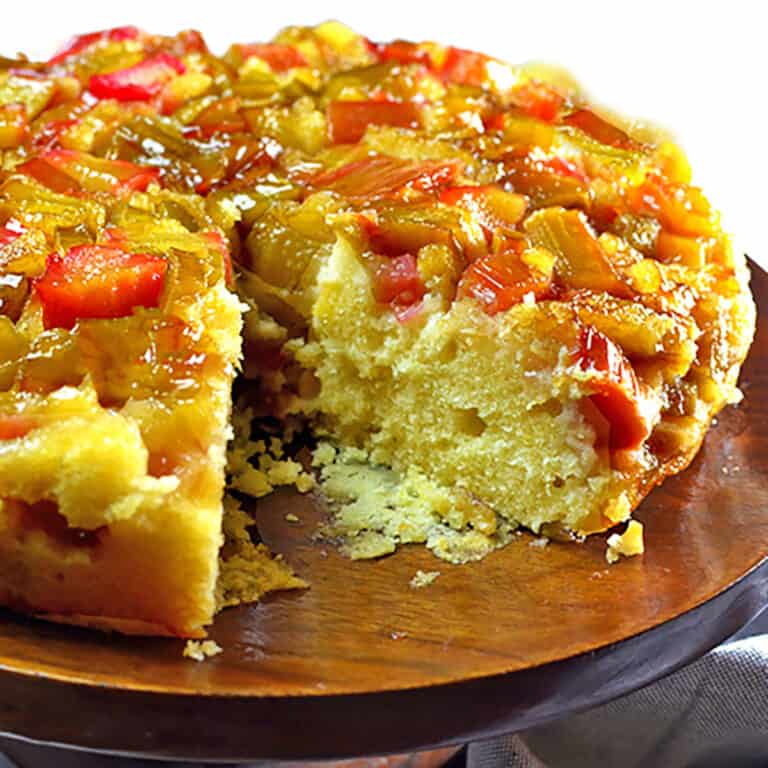 Rhubarb Upside-Down Cake Recipe
A beautiful and delicious rhubarb dessert. This Rhubarb Cake Recipe is adapted from Melissa Clark via The New York Times
Ingredients
1.25

cups

unsalted butter

,

2 and a half sticks and a little more to greast the pan

4

cups

rhubarb

,

about 1.5 lbs, rinsed and sliced into quarter to half-inch cubes

1

tbsp

corn starch

1.5

cups

granulated sugar

1/2

cup

brown sugar

2

cups

cake flour

1.5

tsp

baking powder

1/2

tsp

salt

1

lemon

,

juiced and grated zest

1.5

tsp

vanilla extract

4

eggs

,

large

1/3

cup

sour cream
Instructions
Preheat oven to 325°F. Line the bottom of a 9 inch spring-form pan with parchment paper and then grease the sides of the pan and the parchment paper with butter. Next, wrap two layers of aluminum foil around the base of the pan. Place the spring-form pan on a rimmed baking sheet.


Using medium size mixing bowl, combined rhubarb and 1/2 cup sugar and stir well. Sprinkle cornstarch into mixture, while stirring gently until thoroughly combined.


Place 1/2 stick of butter into a small sauce pan over medium-low heat and slowly melt it. Add the brown sugar, whisk until smooth, about 2 minutes. Next, combine combine cake flour, baking powder, and salt in a small mixing bowl. Gently stir together until well combined.


Using the paddle attachment of a stand mixer, whip the 2 remaining sticks ( one cup) of butter for about two minutes. Lower the mixer speed to low and add remaining 1 cup of sugar. Turn mixer off and use your fingers to blend in the lemon zest until completely mixed in and the mixture is uniform in color. Next, add the vanilla and cream this mixture together in the sand mixer, for about four minutes. Reduce speed to low and add the eggs, one at a time. Use a rubber spatula to scrape sides and bottom of bowl after the addition of each egg. Add the sour cream and 1 tablespoon of the lemon juice. It's normal for the mixture to curdle at this point. With the mixer speed on low, add the flour mixture a little at a time and scrape the sides and bottom of the bowl as you add the dry mixture.


Use a tablespoon or rubber spatula and pour the brown sugar and butter mixture into the prepared spring-form pan. It may be necessary to gently reheat the mixture prior to doing this. Next, spoon the rhubarb pieces and their juices onto the brown sugar and butter base. Finally, spoon the cake patter over the rhubarb, making sure to evenly distribute the batter and smooth it out with the back of a spoon or a rubber spatula.


Bake for 70-75 minutes or until firm and a tooth pick comes out clean after being inserted in cake's center. Cool on a wire wrack for 15 minutes and then use a paring knife to loosen the edges of the cake from the sides of the pan. Place a serving platter on top of the spring-form pan and invert while the cake is still warm. Waiting too long to release the cake from the pan may cause it to stick to the sides of the pan.

Notes
Kitchen Tip:
Use cake flour if possible for making this rhubarb cake. It will give you a lighter crumb and taste. If you don't have cake flour, all-purpose flour will work as well.
Nutrition
Calories:
425
kcal
,
Carbohydrates:
53
g
,
Protein:
5
g
,
Fat:
22
g
,
Saturated Fat:
13
g
,
Cholesterol:
108
mg
,
Sodium:
131
mg
,
Potassium:
260
mg
,
Fiber:
1
g
,
Sugar:
34
g
,
Vitamin A:
750
IU
,
Vitamin C:
8
mg
,
Calcium:
96
mg
,
Iron:
0.7
mg
Nutrition information is automatically calculated, so should only be used as an approximation.
Updated from the original publication date of May 10, 2017