The BEST Swedish Almond Cake Recipe
Swedish Almond Cake is a scrumptious dessert and one of my favorite easy cake recipes. This beautiful cake showcases a golden brown crust, a moist texture, and a heavenly almond flavor that will leave your taste buds wanting more.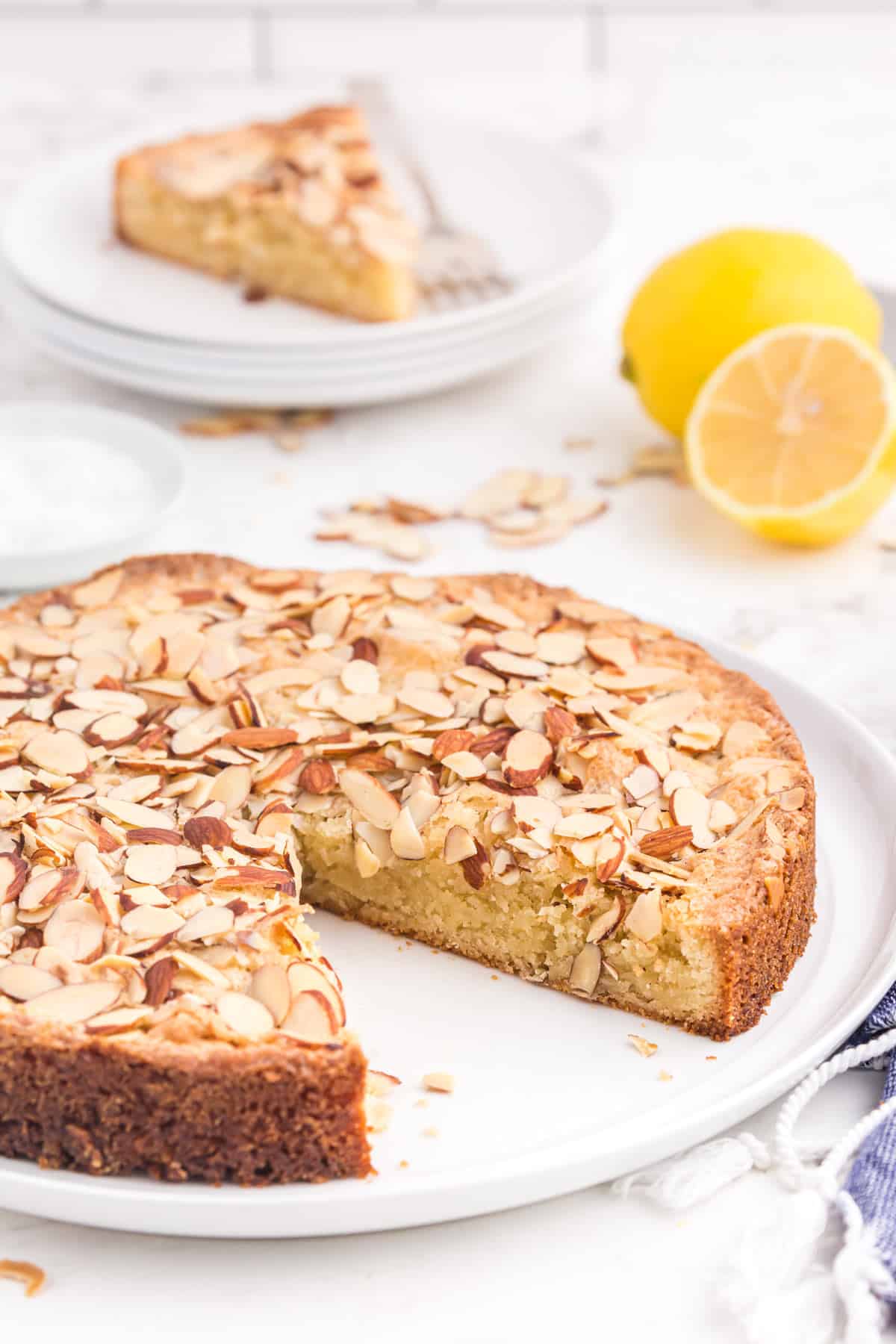 Get ready to create the perfect cake that will impress your family and friends. Best of all, this almond cake takes about an hour to make, from start to finish. Let's dive in!
About this Swedish almond cake recipe
History has a way of infusing flavors into our lives, and Swedish Almond Cake is no exception. Hailing from the beautiful Scandinavian region, this homemade cake recipe is all about the essence of traditional Swedish baking.
With its rich almond flavor, moist texture, and golden-brown crust, it is a homemade dessert that has stood the test of time. This Swedish almond cake recipe is something you might find in an old church cookbook.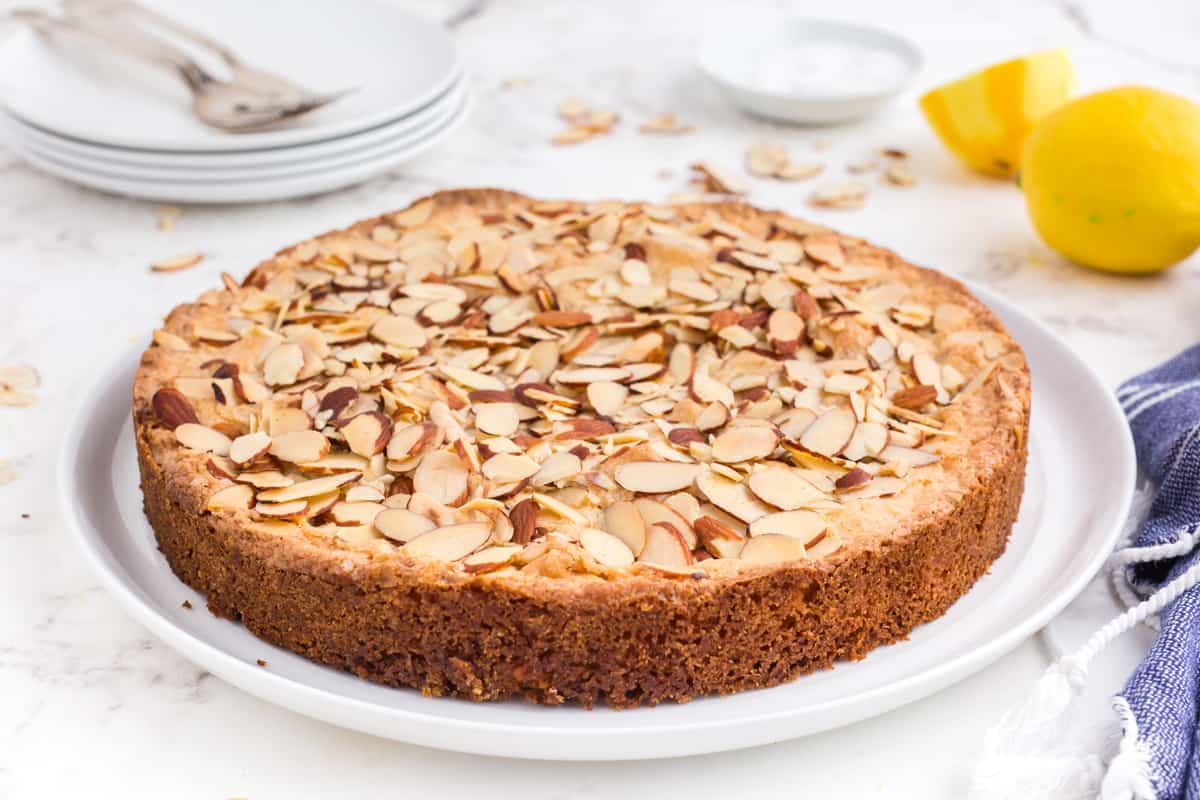 But what makes this cake truly special is its versatility – it's perfect for any occasion, whether a casual gathering or a special celebration. Like our vegetable quiche with no crust and Wisconsin cheese strata, it's perfect for Mother's Day Brunch, a bridal shower, or any other special occasion.
Swedish almond cake presents beautifully on a serving platter and is one of my favorite desserts during the summer months.
By making this timeless dessert, you are indulging in a delicious treat and becoming part of a baking tradition that spans generations. Don't be surprised if this becomes your new favorite cake!
Swedish Almond cake ingredients
The ordinary ingredients in this recipe work together perfectly to make a delicious cake. They are all common baking ingredients that combine to create a delightful treat. You probably have most of them in your pantry, just waiting to be used!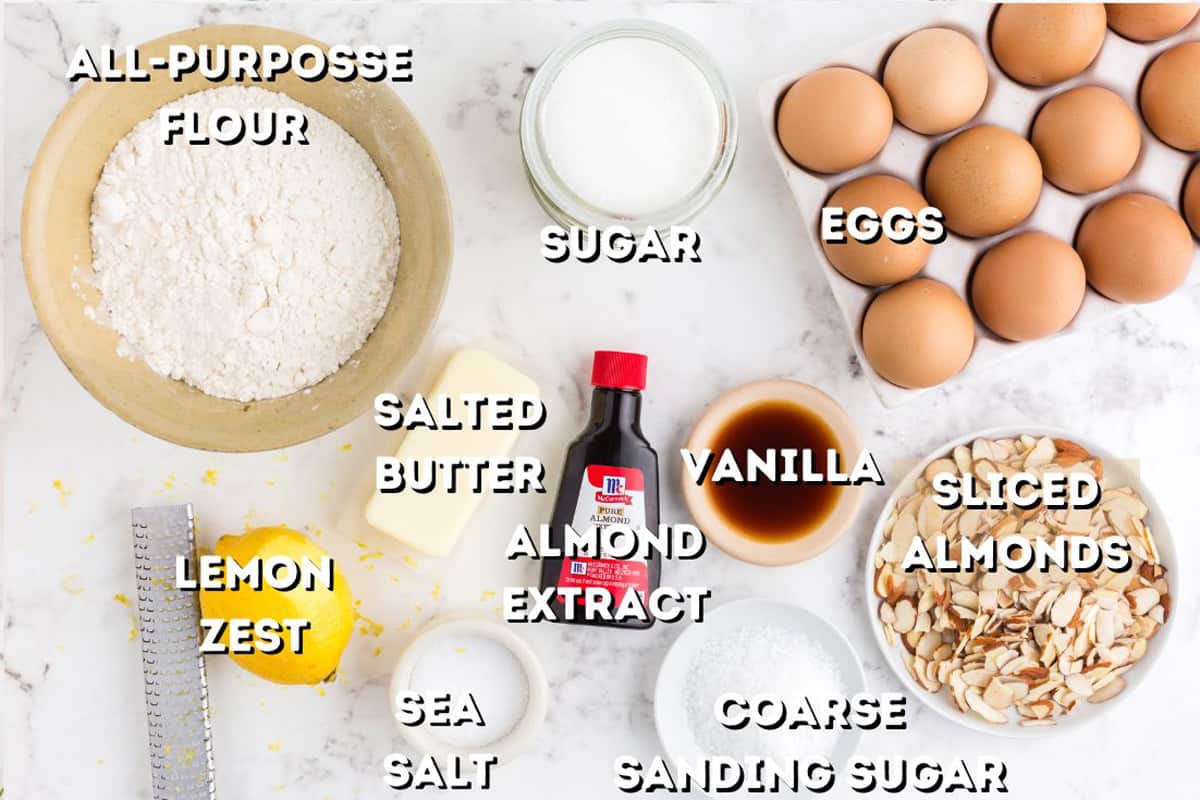 All-purpose flour: All-purpose flour serves as the foundation of the cake, providing structure and ensuring a light and tender crumb.
Large eggs: The large eggs act as a binding agent, providing structure and stability to the cake batter.
Granulated sugar: Adds sweetness to the cake, creating a nice balance of flavors.
Melted and cooled salted butter: The melted and cooled salted butter adds richness and a hint of savory flavor to the cake, contributing to its moist texture.
Expert Baking Tip: Always start with room-temperature eggs when adding eggs to baked recipes. This will speed the baking process and ensure a more even bake! Here's a kitchen hack to get eggs to room temp quickly.
Pure Almond extract: A teaspoon of almond extract imparts a distinct and delicious almond flavor to the cake, enhancing its overall taste.
Vanilla extract: Adding a teaspoon of enhances the cake's flavor profile, bringing a subtle hint of warmth and sweetness. This is one of the most common ingredients in any good dessert recipe.
Zest of 1 lemon: The lemon zest adds a bright and citrusy aroma, infusing the cake with a refreshing twist.
Coarse sea salt: The addition of coarse sea salt subtly contrasts the sweetness, enhancing the overall flavor of the cake.
Coarse sanding sugar: Sprinkling coarse sanding sugar on top of the cake before baking creates a beautiful golden-brown crust with a delightful crunch.
Sliced almonds: The sliced almonds are the star of the show and add a wonderful texture and nutty flavor to the cake, making each bite a delightful experience.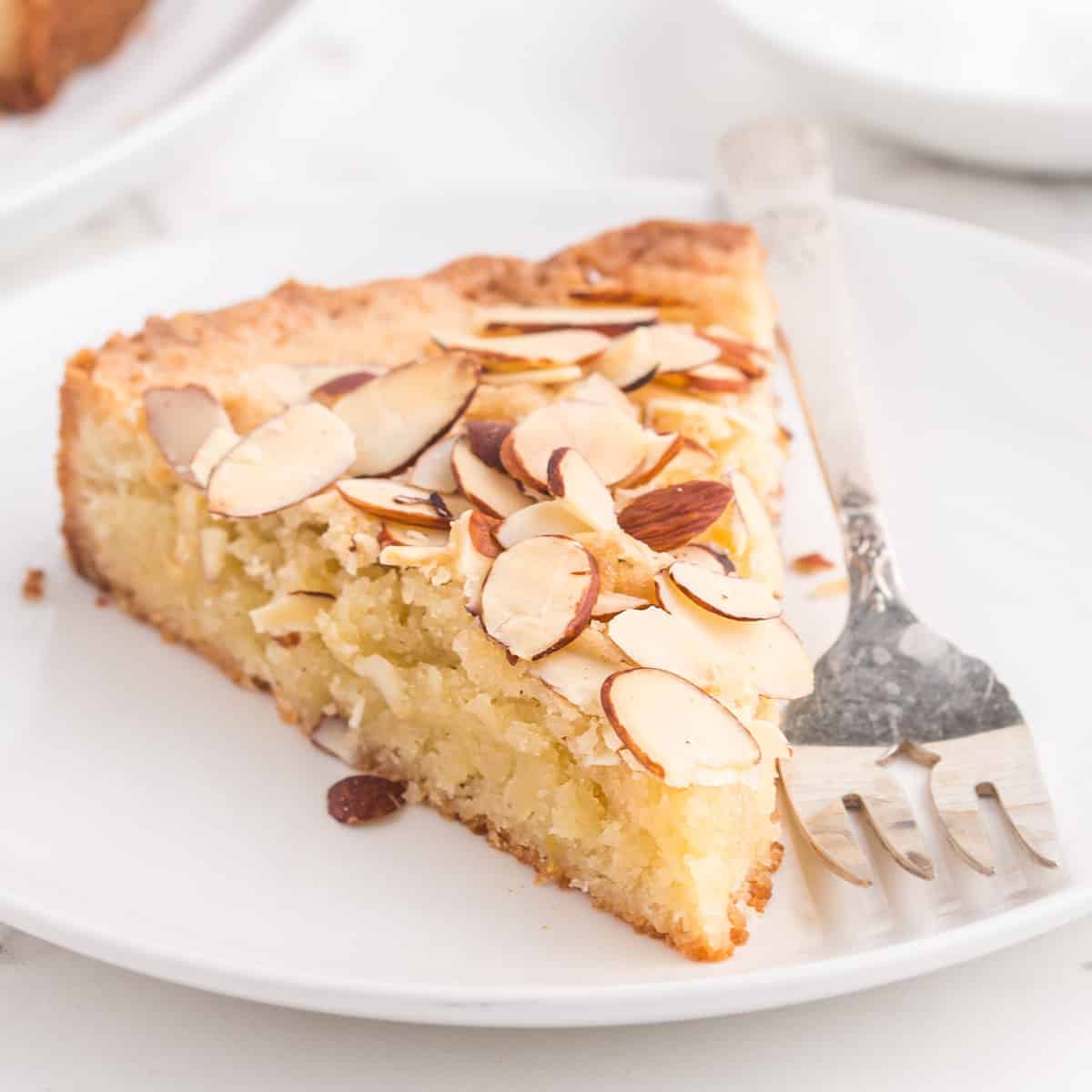 How to make Swedish almond cake
(Full directions are in the recipe card below.)
Start by pre-heating your oven to 350° F. Then, gather all the ingredients you'll need.
To get started, you'll line a 9" round springform or cake pan with parchment paper and spray with non-stick cooking spray. Scott does a great job of showing you an easy way to grease a cake pan if this is your first time doing it.
Next, melt the butter, set it aside, and allow it to cool. Then, do the following: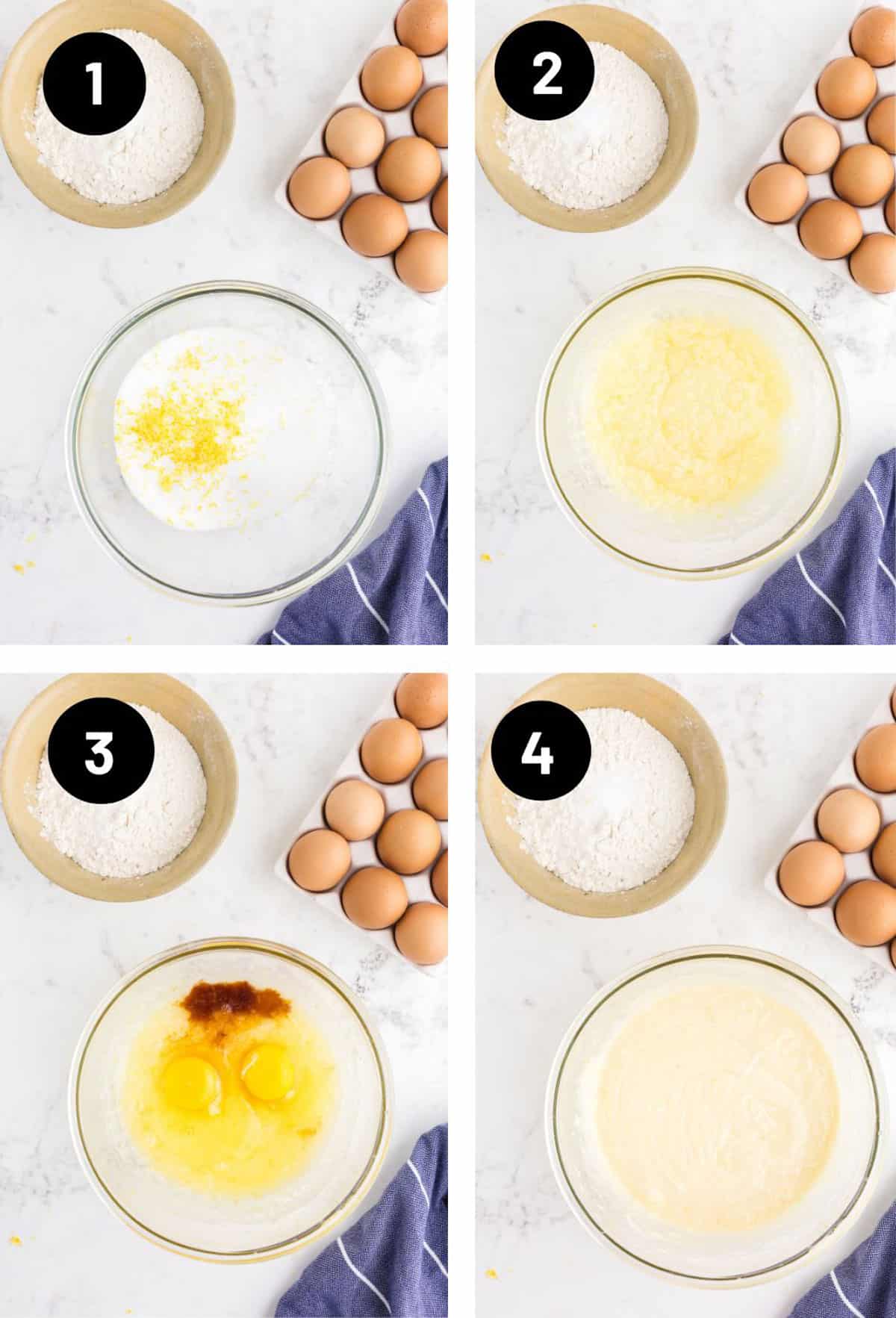 Use your fingers in a large mixing bowl and mix the lemon zest and granulated sugar. Mash the zest into the sugar granules.
Afte the melted butter has cooled, add it to the lemony sugar mixture and beat the mixture together.
Add the eggs, along with the almond and vanilla extracts. The combination of these flavors will give our cake its irresistible taste!
Beat it all together until light and fluffy.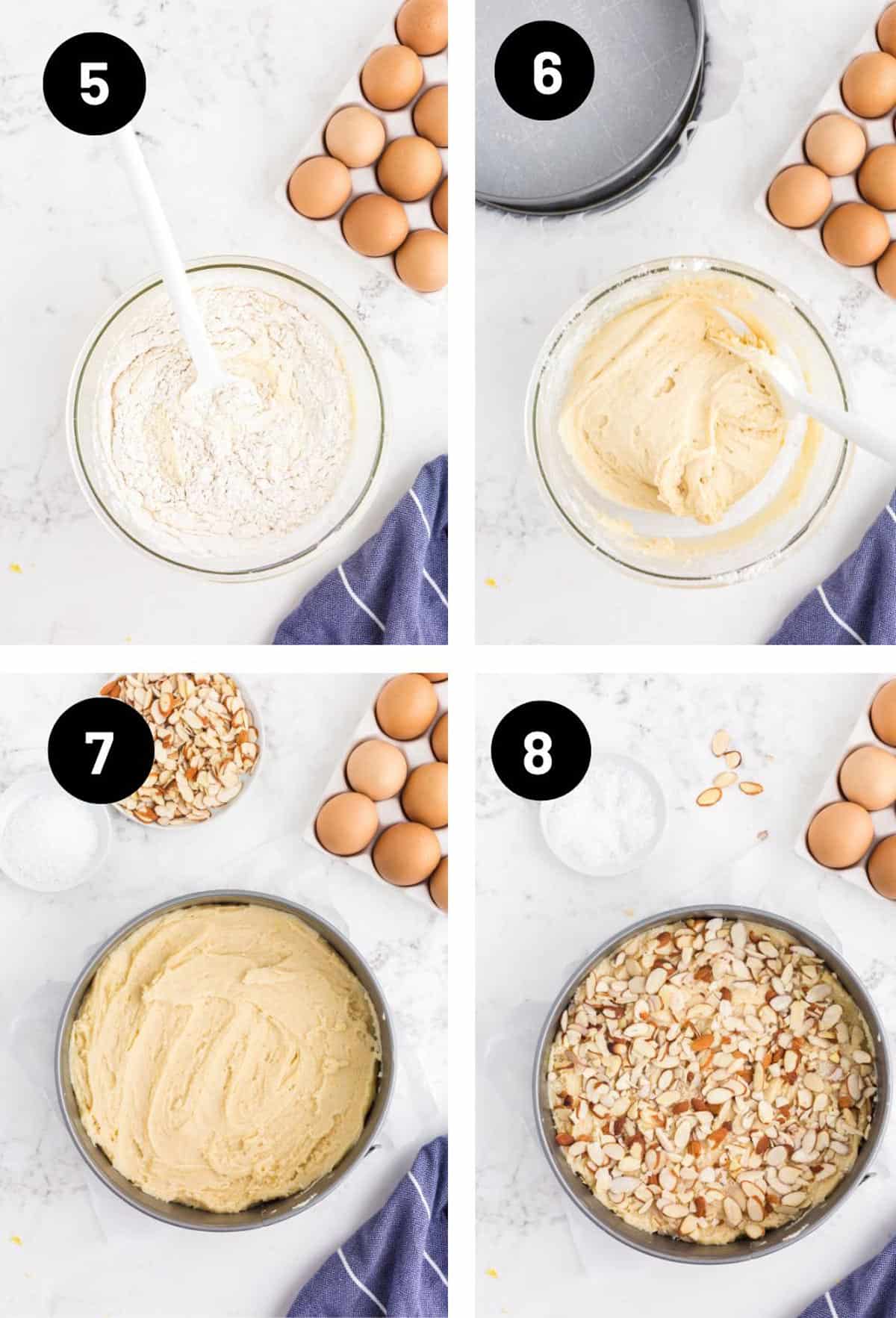 5. Mix the flour and salt until well incorporated in another bowl.
6. Combine the flour mixture with the egg and sugar mixture. Gently stir together until well blended.
7. Once our flour mixture and eggs are combined, we'll pour the batter into the prepared pan.
8. Top the batter with an even distribution of the coarse sanding sugar and the almond slivers.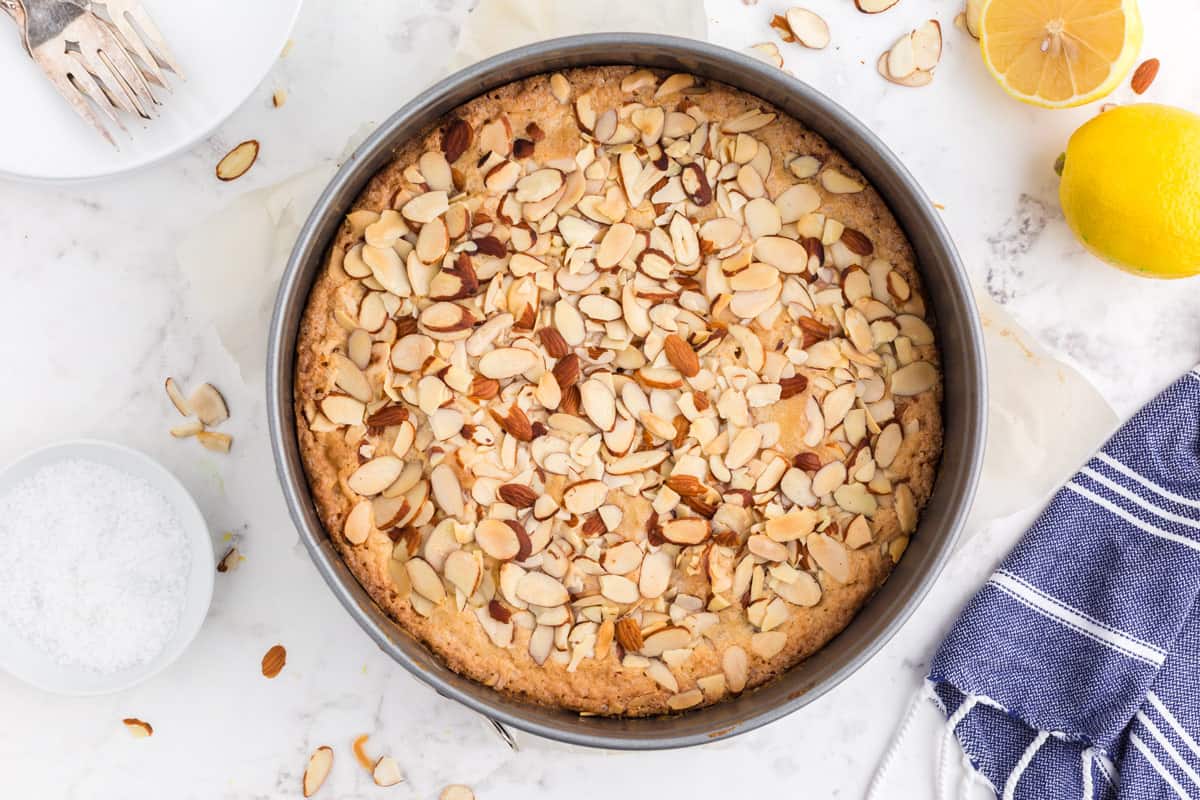 Finally, you'll bake this to perfection in your preheated oven for 35-40 minutes or until a toothpick inserted in the cake comes out clean, and the almonds are golden brown.
Important Step: Allow your new creation to cool until you can handle the pan. Then you can remove it from pan and cool on a cooling rack.
Tips for Baking the Perfect Swedish Almond Cake
Use a special Swedish Almond Cake pan (a Rhrucken pan) or a bundt cake pan to achieve the classic shape of this cake.
If you don't have a Scandinavian almond cake pan, you can use round cake pan instead.
Make sure to spray the pan with non-stick spray or use parchment paper to prevent the cake from sticking.
Once the cake is finished baking, let it cool in the pan for a few minutes, then transfer it to a wire rack to cool completely.
For a decorative touch, sprinkle some ground almonds on top of the batter before baking.
Variations and Serving Suggestions
While the Swedish Almond Cake is delightful on its own, you can get creative with variations and serving suggestions. Here are some ideas:
Substitute the lemon zest for a twist of orange zest to the batter for a refreshing citrus flavor.
Serve the cake with a dollop of whipped cream or a scoop of vanilla ice cream.
Dust the cake with powdered sugar for an elegant finishing touch.
Pair a slice of Swedish almond cake with a cup of coffee or tea for a delightful afternoon treat.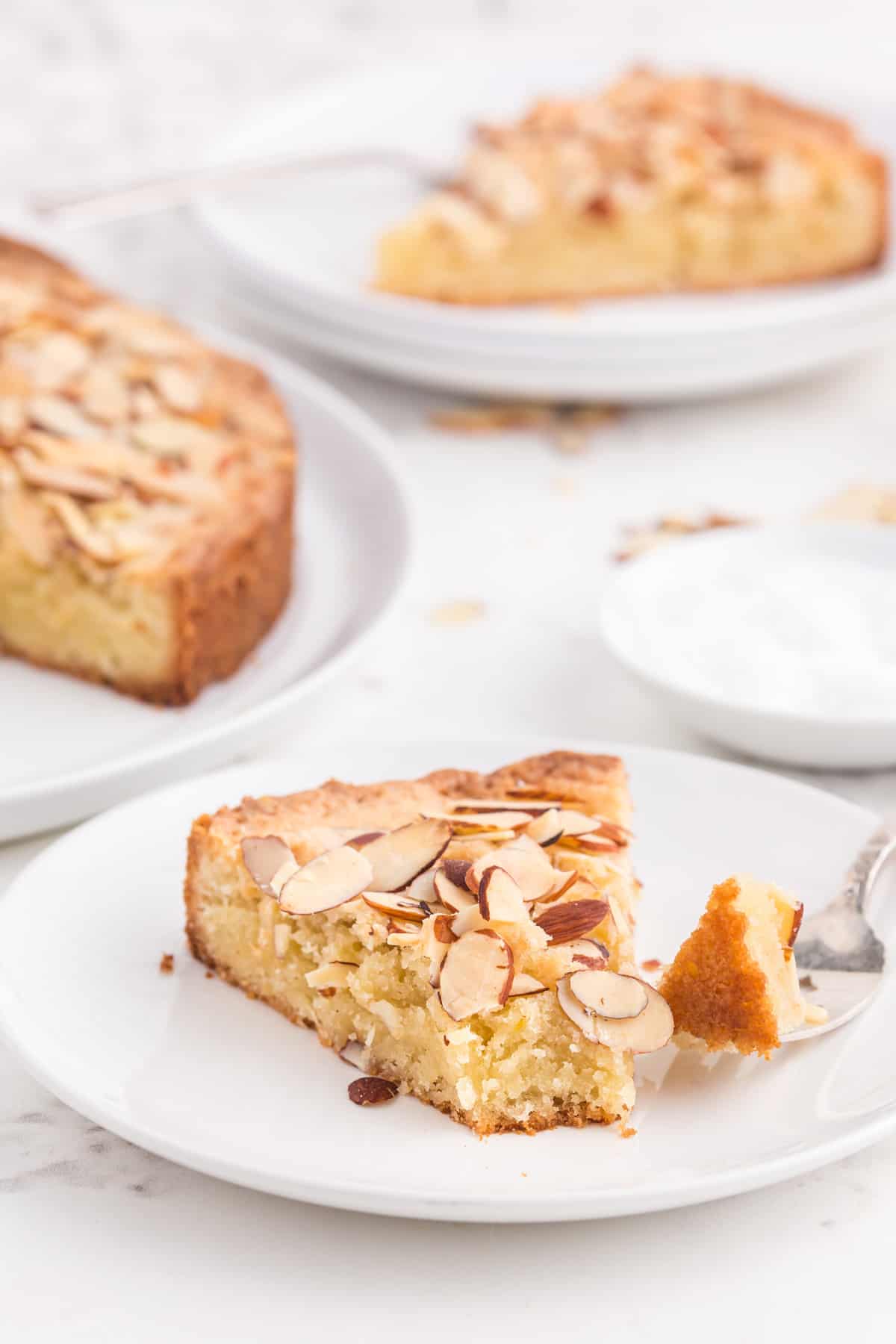 Common questions
Can I use a food processor to mix the batter?
I don't recommend that you use a food processor to mix the batter. It is relatively thin and can easily be mixed by hand or with an electric mixer. Also, a food processor will likely over-mix the batter, ruining the texture.
How long should I bake the Swedish Almond Cake?
Bake the cake for about 35-40 minutes or until a toothpick inserted into the center comes out clean. This ensures that the cake is fully cooked
How should I store the leftover cake?
To keep the cake fresh, store it in an airtight container or wrap it tightly in plastic wrap. It will stay moist and delicious for several days at room temperature.

Now that you have the perfect Swedish Almond Cake recipe, it's time to start baking!
With its golden brown crust, heavenly almond flavor, and moist texture, this cake will surely become a favorite in your household. Experiment with variations and serving suggestions to make it your own, and don't forget to share it with your loved ones. Get ready to enjoy a slice of pure bliss!
Our Swedish almond cake recipe is a true gem and the perfect thing for anyone seeking an easy dessert option.
👨‍🍳 Tried this Recipe? Please leave a ⭐⭐⭐⭐⭐ rating in the recipe card below and leave a comment. We love hearing from our readers!
⏩ Stay in touch with us on social media by following us on Facebook, Pinterest, Instagram, and YouTube!
📬Get our Recipes delivered to your inbox for FREE!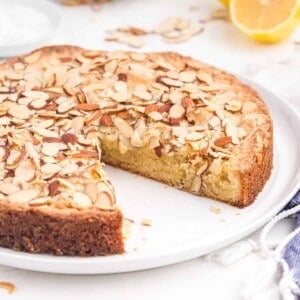 The BEST Swedish Almond Cake
Indulge in the delightful flavors of Sweden with this scrumptious almond cake recipe. This traditional Swedish dessert combines the richness of almonds with a moist and tender cake base. Topped with a sprinkle of coarse sanding sugar, this sweet treat is a perfect accompaniment to your afternoon fika (coffee break).
Ingredients
1 1/2

cups

granulated sugar

Zest of 1 lemon

3/4

cup

salted butter

,

melted and cooled

2

large eggs

1

teaspoon

almond extract

1

teaspoon

vanilla extract

1 1/2

cups

all-purpose flour

1/2

tsp

coarse sea salt

1-2

tbsp

coarse sanding sugar

3

oz

sliced almonds
Instructions
Preheat the oven to 350°F. Line a 9" round springform or cake pan with parchment paper and spray with non-stick cooking spray.

Melt the butter and set aside to cool.

Using your fingers, mix together lemon zest and granulated sugar, mashing the zest into the sugar granules to fragrance the sugar.

Beat in cooled butter, eggs, almond extract, and vanilla extract until light and fluffy.

Sift flour and salt together and pour into sugar mixture. Stir gently, just until the dry ingredients are incorporated.

Spread into prepared pan. Sprinkle with coarse sanding sugar and sliced almonds.

Bake 35-40 minutes or until a toothpick inserted in the cake comes out clean and the almonds are golden brown.

Cool until you can handle the pan. Remove from pan and cool on a cooling rack. Can be served warm or when completely cooled.
Notes
My Top Tips for Making the Best Swedish Almond Cake
Beat the eggs properly: When incorporating the eggs into the batter, make sure to beat them well until they are light and fluffy. This step helps to create a light and airy texture in the cake. Take your time to properly whisk the eggs to achieve the best results.

Be mindful of baking time: Keep a close eye on the baking time to prevent the cake from overcooking. Almond cakes can quickly become dry if left in the oven for too long. Check for doneness by inserting a toothpick into the center of the cake – it should come out with a few moist crumbs clinging to it. Remove the cake from the oven as soon as it reaches this stage to ensure a moist and tender result.

Allow the cake to cool completely before serving: It's important to let the Swedish almond cake cool down entirely before slicing and serving. This allows the flavors to develop fully and ensures that the cake maintains its structure. Patience is key to achieving a deliciously moist and well-set almond cake.
Nutrition
Calories:
468
kcal
,
Carbohydrates:
59
g
,
Protein:
6
g
,
Fat:
24
g
,
Saturated Fat:
12
g
,
Polyunsaturated Fat:
2
g
,
Monounsaturated Fat:
8
g
,
Trans Fat:
1
g
,
Cholesterol:
87
mg
,
Sodium:
299
mg
,
Potassium:
126
mg
,
Fiber:
2
g
,
Sugar:
40
g
,
Vitamin A:
591
IU
,
Calcium:
44
mg
,
Iron:
2
mg
Nutrition information is automatically calculated, so should only be used as an approximation.