Easy Cheese Strata Recipe
Cheese strata is a comforting breakfast casserole that is easy to make in advance, or at a moment's notice. Put it together the night before for a make-ahead breakfast or make and bake it over morning coffee.
Either way, you'll have a table full of happy faces when you serve this easy recipe! As a bonus, this can feed 6 or more people for breakfast or dinner – all for about $10!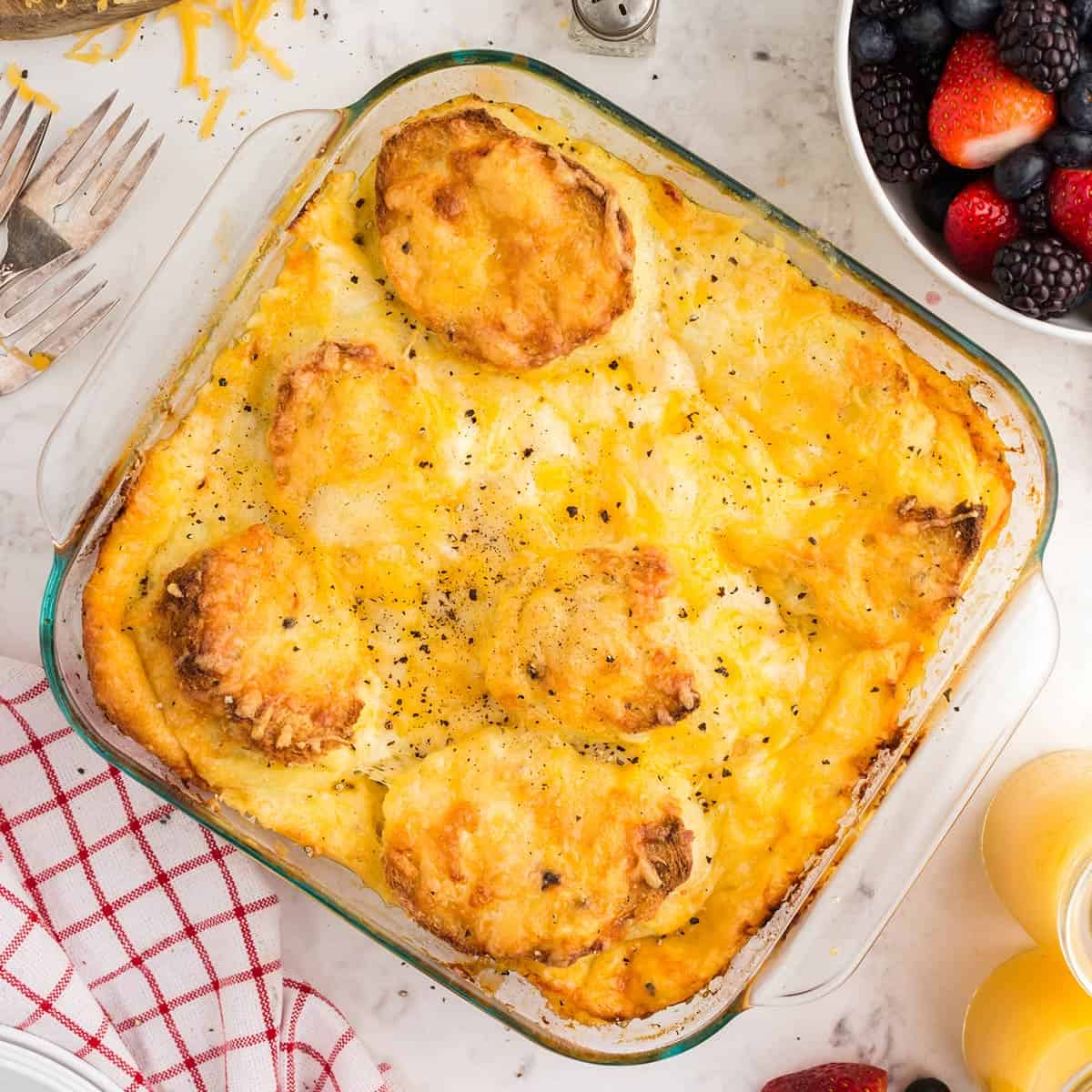 Jump to:
What is strata?
Strata is breakfast casserole made with layers of bread, egg custard, and cheese. You can customize it with veggies and meats and even different cheeses. The sky is the limit when it comes to building and baking a strata that tastes good to you.
Or, do what we often do and use what you have on hand!
Pro Cooking Tip: As a rule of thumb, you're going to use half the volume of milk and egg as bread. Also, about half the volume of cheese as bread. This is a good way to make this easy recipe without having to measure the ingredients.
So, if you use 2 cups of bread, you'll use about 1 cup of milk and egg mixture and about 1 cup of shredded cheese.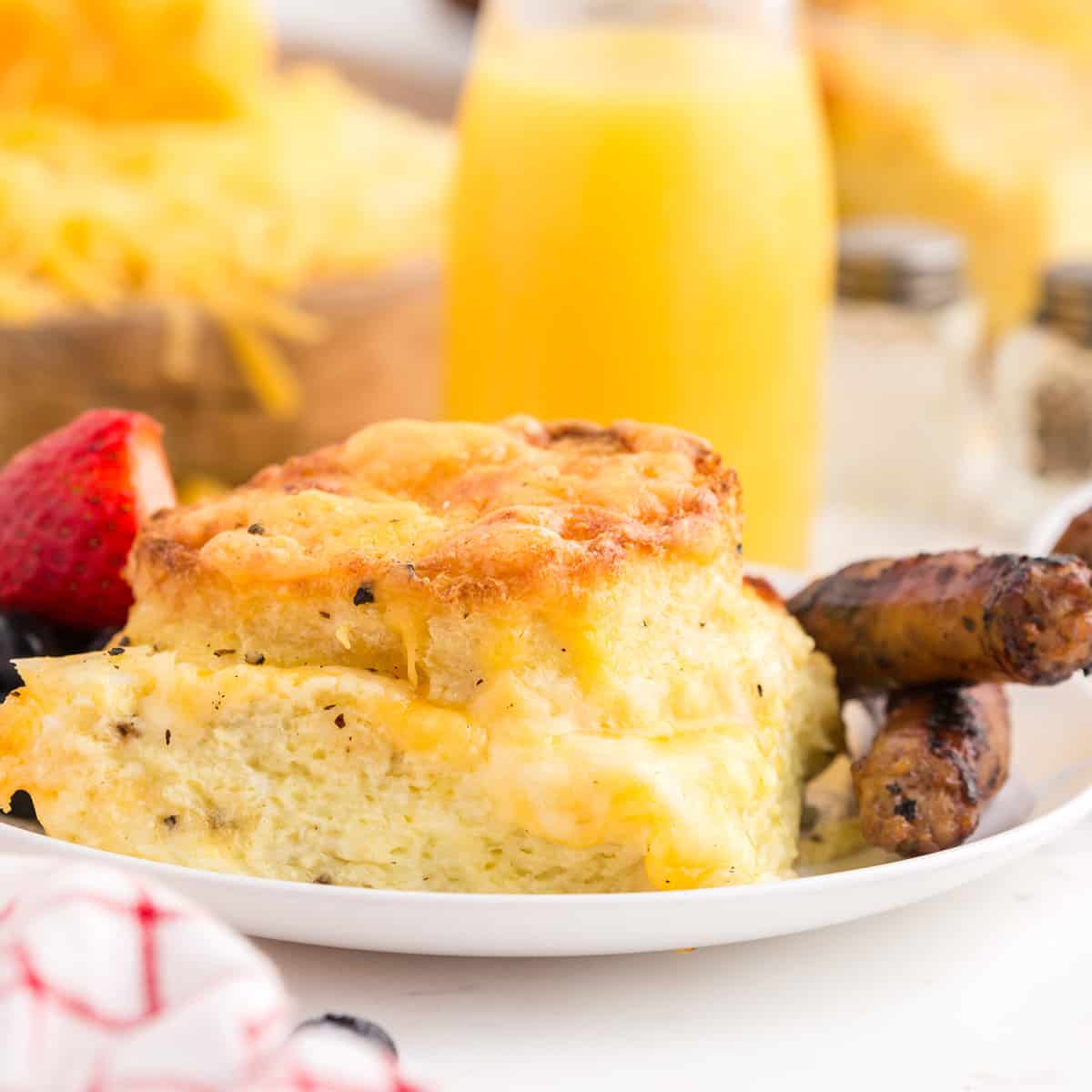 What's in this?
This breakfast casserole features the goodness of our state of Wisconsin. In it, we combine a couple of our local cheeses with farm fresh eggs, fresh milk, and a loaf of our crusty homemade bread.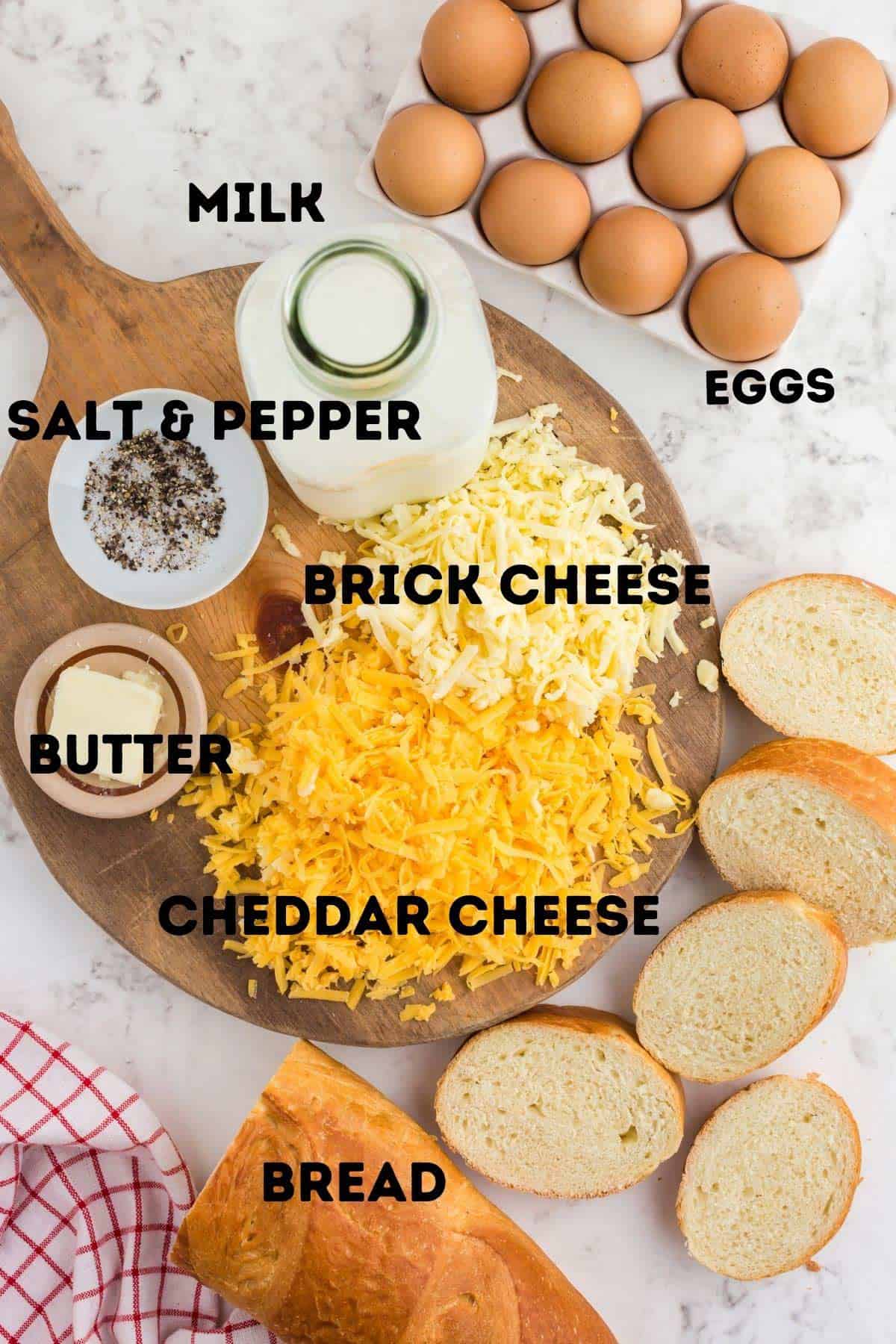 Variations and substitutions
Brick cheese – This is a Wisconsin-made cheese that formed and shaped into bricks. It is lighter in color and can be sweet and mild when young and strong and ripe with age. Much like myself!
Butterkäse or Havarti each make a good substitution for Brick in this easy recipe.
Cheddar cheese – This is the other cheese that we put into this strata recipe. You can use any variety of it, from mild to extra-sharp and anything in between. I'm a fan of aged cheddar, the sharper the better! This is what I use in our best macaroni and cheese.
For this strata recipe, you can substitute cheddar for Colby or Crowley. Or, use whatever combination tastes good to you! This strata recipe is all about Wisconsin cheese!
I recommend that you use either whole milk or 2% reduced-fat. Anything lower just doesn't cut it in cheese strata.
Flavor the liquid – You can add some personal flavoring by using things like:
Chopped fresh herbs such as rosemary, thyme, and sweet basil.
Add some truffle hot sauce and use truffle salt.
Mustard, paprika, and hot sauce can all add some flare to your finished cheese strata.
Add some extras – Feel free to further personalize this strata recipe by any of the following combinations. Or create your own!
Sauteed scallions and asparagus
Fried bacon and browned sausage or ham
Sauteed cherry tomatoes and mushrooms
Wilted spinach with feta cheese
How to make it
Start by shredding cheese by hand. Then, combine it (if you use more than one kind.)
Pro Cooking Tip: I don't recommend buying store-bought shredded cheese because it contains fillers like potato starch and cellulose. These fillers prevent it from melting evenly and also affects the taste.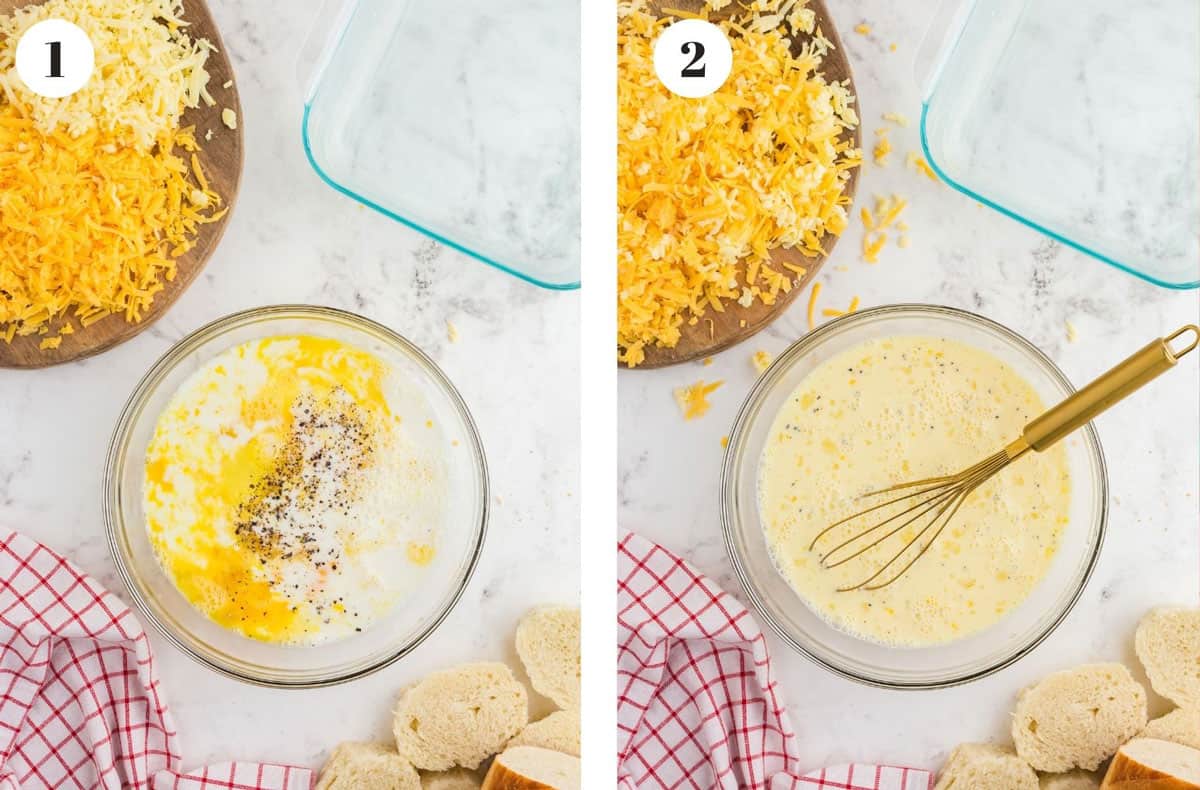 Using a large mixing bowl, start by combining the milk, eggs, salt, and pepper.
Use a wire whisk or a fork to make sure the egg and milk mixture is completely mixed together.
Pro Cooking Tip: Unless you are making a strata the night before, use room temperature eggs to ensure faster and more even baking. Here is an easy method for how to quickly bring eggs to room temperature.
After you have these ingredients mixed together, you're going to build the cheese strata using layers of bread, cheese, and egg.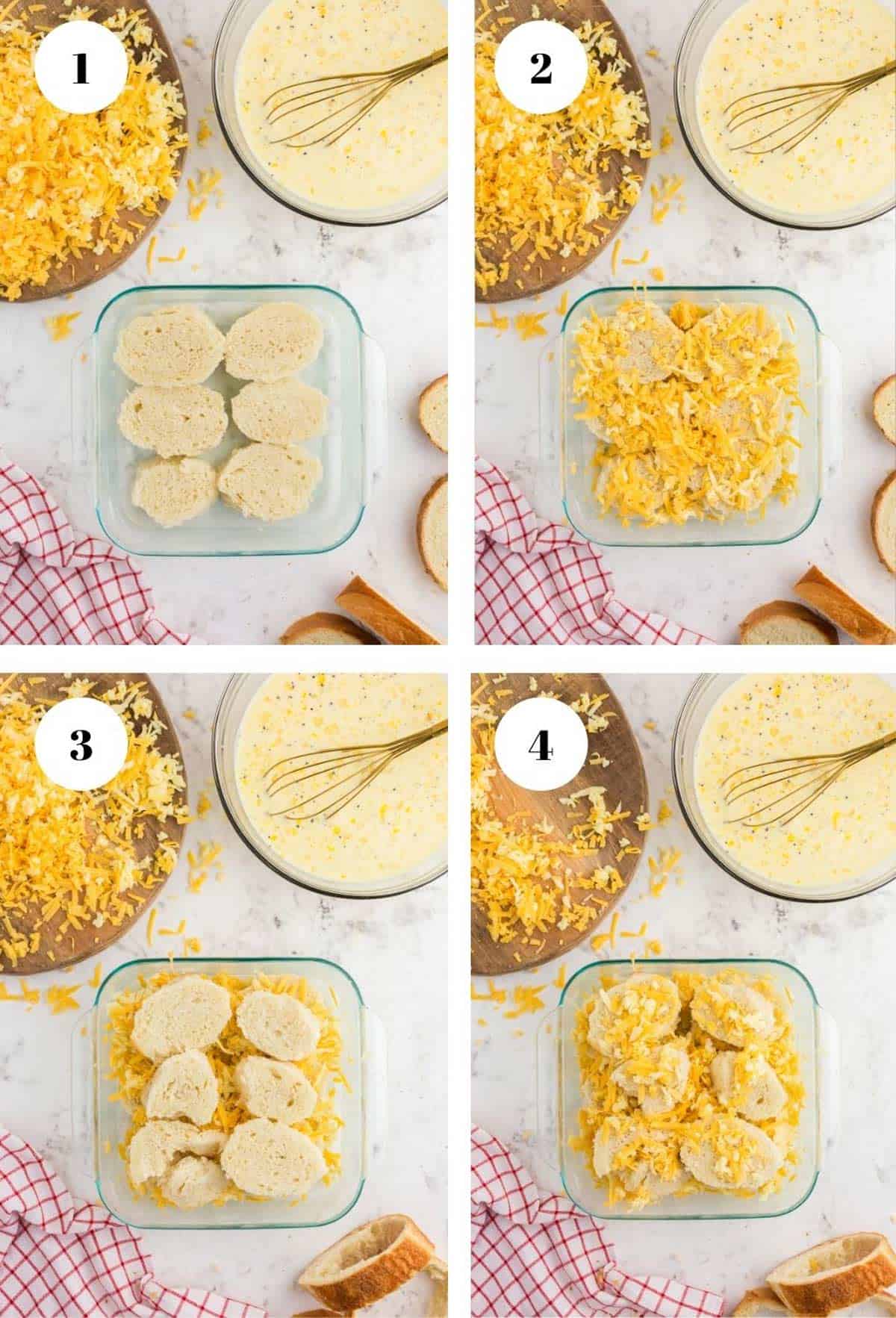 Use the butter to grease an 8″ x 8″ baking pan. Cover the bottom with slices of bread, cut to about 1-inch thickness. If you have to fill any gaps, cut a slice of bread that will fit in.
Sprinkle the first layer of bread with 1/3 of the shredded cheese.
Add another layer of bread, again filling any gaps as necessary.
Sprinkle another layer of cheese over the second layer of bread. Again, using 1/3 of the cheese.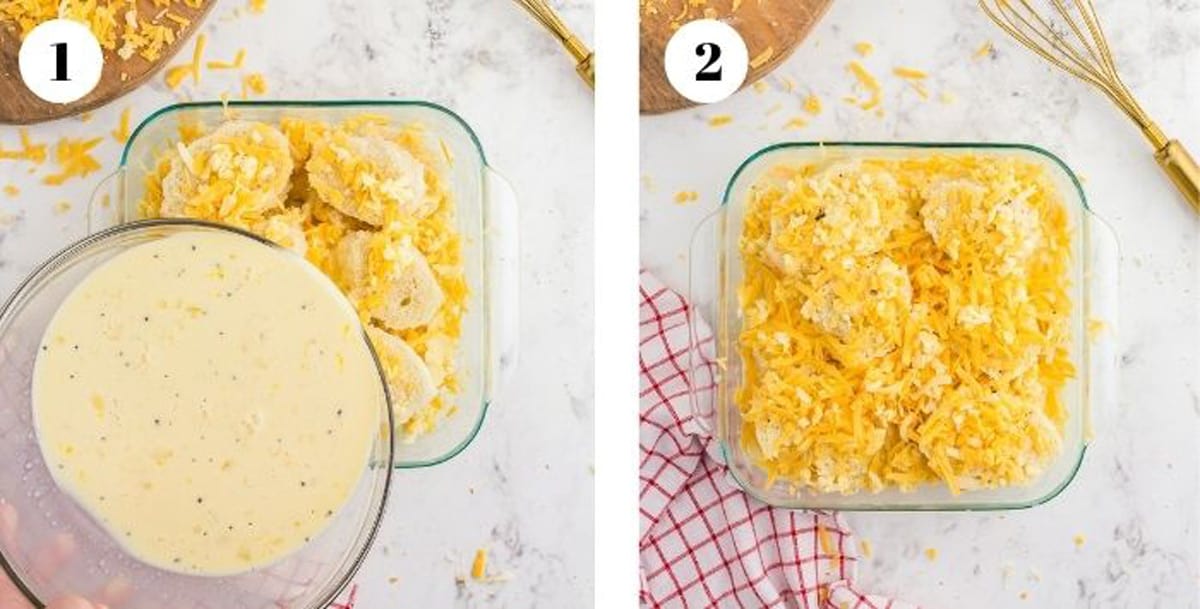 For the last two steps of building this cheese strata, you add the custard mixture of egg and milk and then top with the remaining 1/3 of the shredded cheese.
The egg and milk mixture will seem like a lot, but the bread will soak it up. The bread may also float to the top. You may need to use a wooden spoon to gently push the bread down so it can soak up the liquid.
Make-ahead breakfast strata
At this point, you can seal it with plastic wrap and store in your refrigerator for up to 24 hours.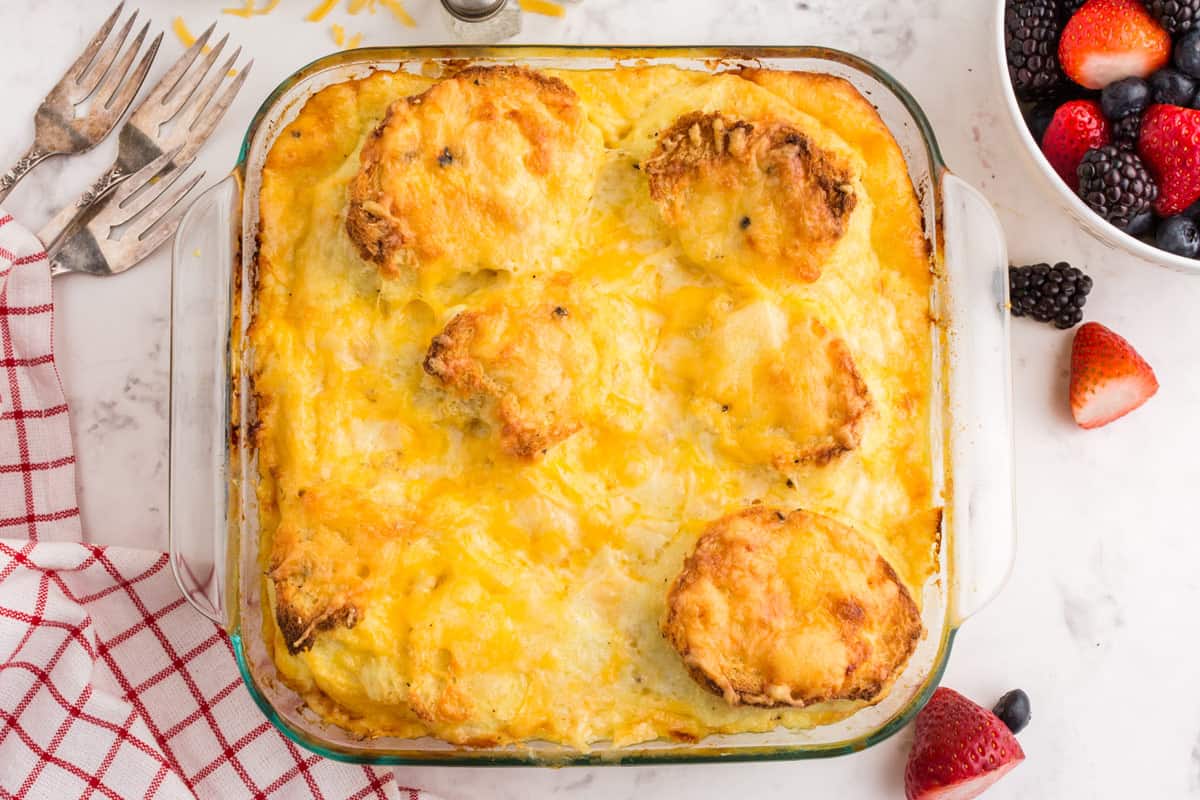 When you're ready to bake this strata recipe, place it in a pre-heated oven at 375° for 45 to 50 minutes. If you prepare this the night before, take it out of the refrigerator about a half hour before baking and plan on an extra 5 minutes or so for total baking time.
This is a soufflé-like dish and it will deflate for a few minutes after you take it out of the oven. It may not look as spectacular, but it tastes great!
What to serve with a cheese strata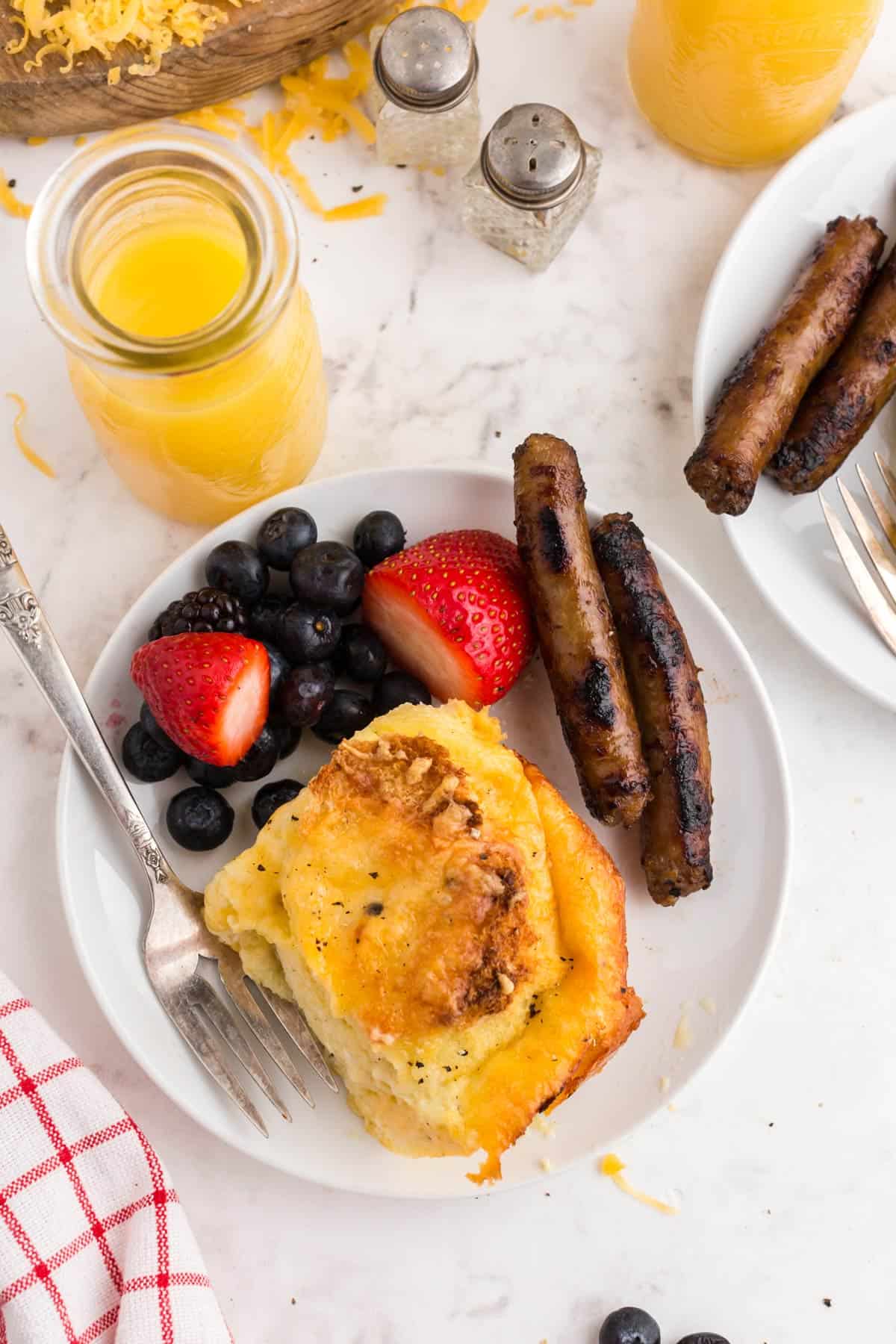 You can serve a variety of side dishes with any strata recipe. Although this is often made for breakfast or brunch, you can also have it for a delicious and savory dinner entree. When you serve it should determine what you serve with it.
If making this cheese strata for breakfast or brunch, consider serving it with:
Sausage links
Orange juice
Coffee
To make this cheese strata for dinner, serve it with things like:
Common recipe questions
Can cheese strata be frozen?
You can freeze this breakfast strata either baked, or unbaked.
To freeze a baked strata – Allow it to cool completely and then wrap tightly in kitchen wrap or aluminum foil. Freeze for up to 2 months and allow to thaw in the fridge overnight before reheating. To reheat, bake at 375°, covered with foil, for 20 minutes.
To freeze an unbaked strata – Wrap thoroughly with kitchen wrap or foil and freeze for up to 2 months. Place it in your refrigerator the night before baking to let it thaw out. Then, bake as directed.
Related recipes
👨‍🍳 Tried this Recipe? Please leave a ⭐⭐⭐⭐⭐ rating in the recipe card below and leave a comment. We love hearing from our readers!
⏩ Stay in touch with us on social media by following us on Facebook, Pinterest, Instagram, and YouTube!
📬Get our Recipes delivered to your inbox for FREE!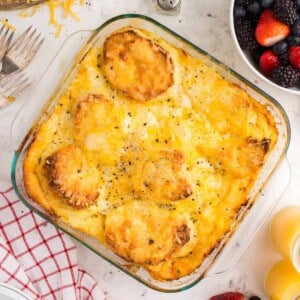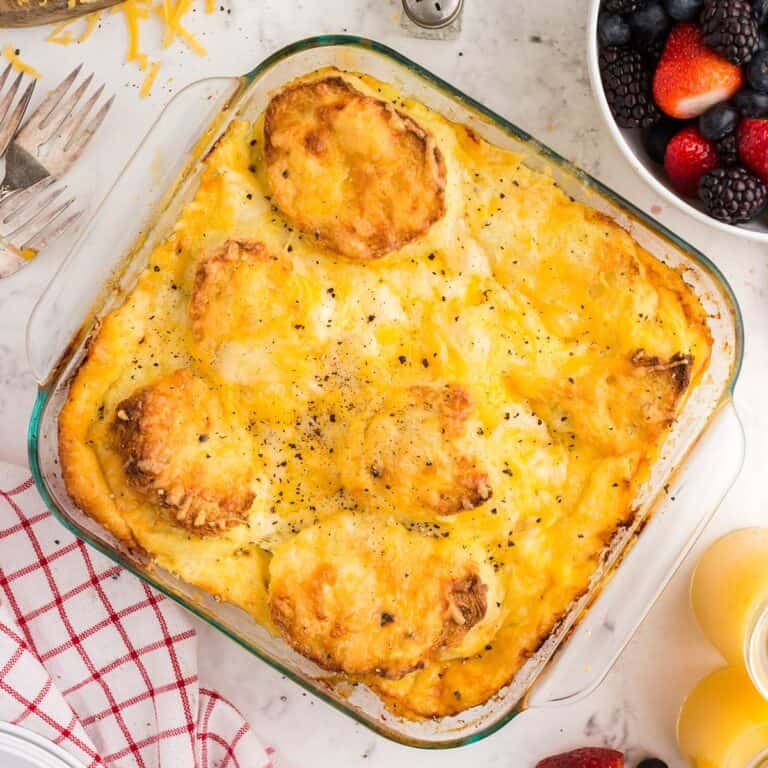 Cheese Strata
This cheese strata recipe features fresh ingredients from Wisconsin but you can add whatever you like to make it your own.
Ingredients
1

tsp

butter

,

room temperature

2.5

cups

milk

,

whole or 2%

6

eggs

,

large, beaten

3/4

tsp

salt

1/4

tsp

black pepper

,

fresh ground

5

slices

bread

,

1" slices of French bread

4

oz

brick cheese

,

shredded

4

oz

cheddar cheese

,

shredded
Instructions
Preheat your oven to 375° F and butter an 8 x 8-inch glass pan and set aside.

In a large bowl, mix together the milk, eggs, salt, and pepper. In a medium-size bowl, toss the cheeses together.

Place 2 pieces of bread on the bottom of the prepared pan. The bread should cover most of the bottom. If it doesn't not, add another piece of bread or part of one to fill in the gap. Sprinkle with one third of the cheese. Place the second layer of bread over the cheese and again, fill in any large gaps with extra bread. Carefully pour the milk and egg mixture over the entire casserole. It will seem lie a lot, but the bread will soak it up as it cooks. Top with the remaining cheese. (At this point you can cover and refrigerate the strata for up to 24 hours before baking.)

Bake for 45 to 50 minutes, or until the casserole is very puffy and the cheese is golden brown on the top. Let sit for about 10 minutes before cutting and serving.
Notes
This is a custardy and soufflé-like recipe, it will deflate a bit after it comes out of the oven.
Use whatever cheeses you have on hand to make this cheese strata.
Nutrition
Calories:
346
kcal
,
Carbohydrates:
17
g
,
Protein:
21
g
,
Fat:
22
g
,
Saturated Fat:
12
g
,
Trans Fat:
1
g
,
Cholesterol:
215
mg
,
Sodium:
759
mg
,
Potassium:
276
mg
,
Fiber:
1
g
,
Sugar:
7
g
,
Vitamin A:
803
IU
,
Vitamin C:
1
mg
,
Calcium:
445
mg
,
Iron:
2
mg
Nutrition information is automatically calculated, so should only be used as an approximation.