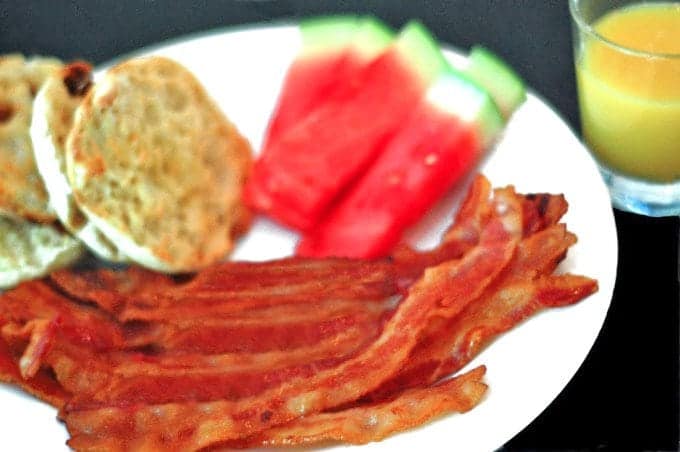 "Dad, I'll have my bacon crispy." If I had a nickle for ever time I heard my oldest son put in his breakfast order, with those words... For years I made bacon for the gang in the age-old method of frying it down in a skillet on the stove. Problem always was, depending on the amount, I would usually have to make it in batches and then tend to it constantly to straighten out each piece, rotate them around to ensure even distribution, and then drain the grease from the pan intermittently. Enter the Quick and Easy Guy, aka, Scott. "Why don't you do that in the oven?"
Hmm, "Never thought of that," is my silent response. "How did that man learn so much about cooking, growing up in inner-city Detroit," I muse, again in silence. "Guess "they" had to eat too," is my response to myself. In any event, this method of preparing bacon has elevetd breakfast time at our place several notches higher on the easy scale. As a side note, using this method, my oldest son never has to qualify his request of "crisp on the bacon." Double bonus.
Instructions
Preheat oven to 425 degrees F. Place bacon strips in single layer on baking or cookie sheet (with lip.)_ Bake for 12 to 15 minutes until brown and crispy. After baking, transfer bacon to absorbent paper towel or paper grocery bag until dry. Serve and enjoy.