Savory Cabbage and Bacon with Onion
on Feb 05, 2018, Updated Oct 26, 2021
This foodie was recently challenged to come up with a cooked cabbage recipe. I was looking for something new, something different, and something that I could put together. I found that in the recipe from Emeril, it's his favorite cabbage recipe and we are calling it Savory Cabbage and Bacon with Onion.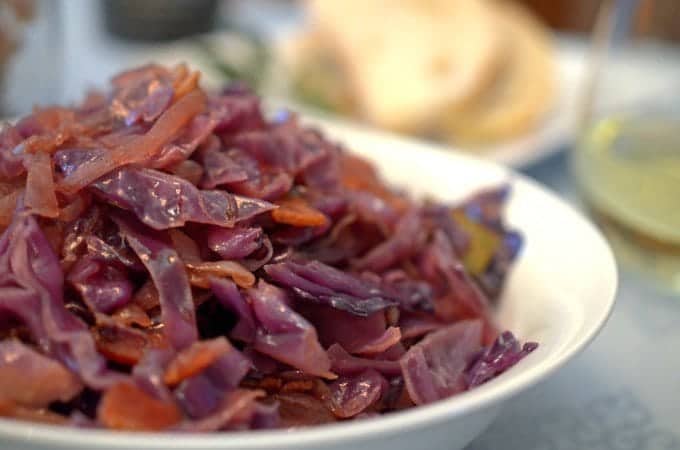 About this side dish

We've used cabbage before, notably in the Golumpki (Gołąbki, Stuffed Cabbage) that Scott put together some time ago from a recipe that had been handed down on his mom's side for generations. Since its publication on Platter Talk, it has been one of the most viewed recipes on the site.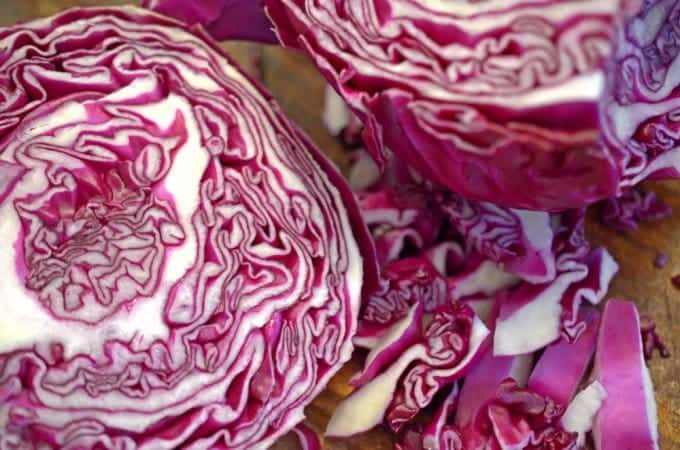 While I was putting this super simple and savory side dish together, I was struck with the reality of just how much I love food. Obviously I love to eat good food. I enjoy the taste, the texture, the memories it evokes from the days of my youth and of those who were a part of it. My mom, my dad, my aunts and uncles. Those are days and times I can't ever get back yet I can still connect to them, even tangibly through my love of food. Then, I was struck with how thankful I am to have a passion such as the one that I possess for food.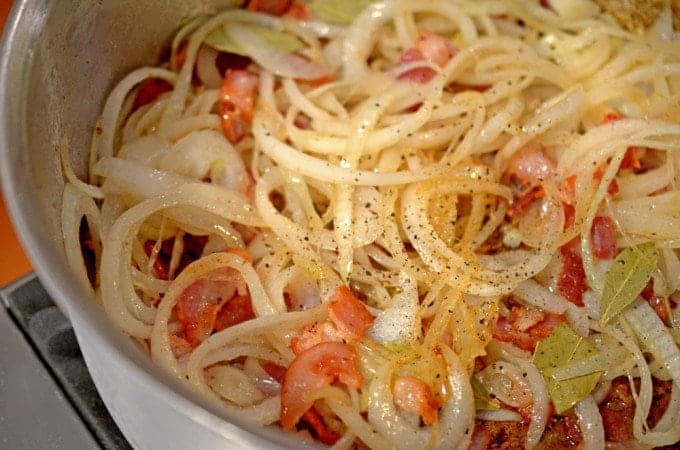 It's probably pretty obvious to you that I like to take photographs. It's something that I have enjoyed since second grade when my mom gifted to me an ancient plastic box of a camera that had been lying dormant in a cupboard above the oven in her farmhouse kitchen. Somewhere along the line I picked up a love of writing. I still remember clunking out "stories" on our old manual typewriter and having my sister (Chef Kathy) do the illustrations for me.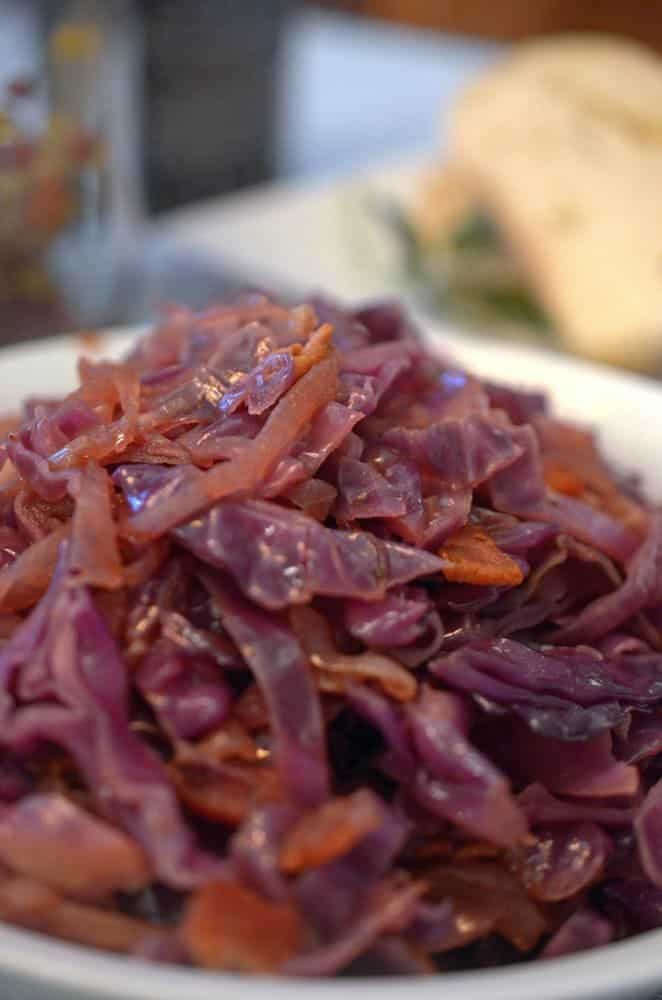 Fast forward a few decades. The Internet. Computers. Digital cameras. Food blogging. I didn't even know what a food blog was when we started Platter Talk a short 24 months ago. I am just starting to understand that whole concept.
Bacon and Cabbage is a Match Made in Heaven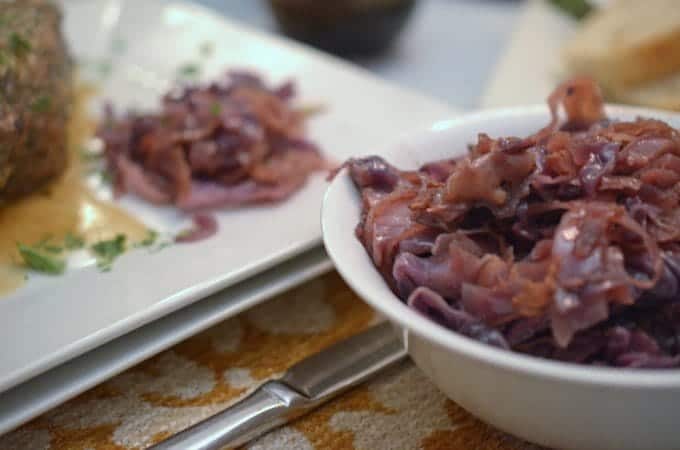 The color of this cabbage, the broad scope of flavors, the taste and how it all comes together so that I can relay it to you in words and photos thrills the heck out of me. Admittedly, this post may say little about this dish but let me assure you, it is fantastic. Is it one of my favorites? Yes. Remember though, as I tell our six kids, I have many favorites.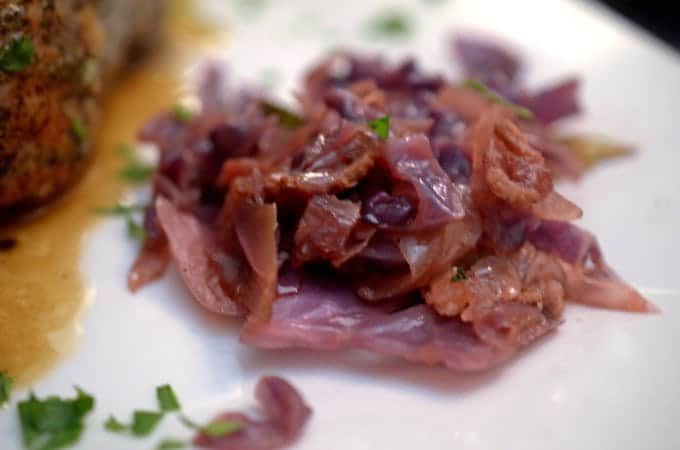 It took some time before I could admit that I was a foodie. I always thought that was an overstatement, to describe me. In reality, I was the one understating my affinity for food. I guess I wasn't sure what a foodie was at the time. Perhaps I equated the term with that of a food expert. That would hardly be the case for me. Food lover, yes. If that makes me a foodie then I happily claim the title.
Looking for cooked cabbage recipes? You're going to like this one!
In all earnestness, give this recipe for cabbage a try. It's colorful and full of savory goodness. It's perfect for a cold winter's day and perfect for the savory braised pork with which I chose to serve this as a side dish. Find your passion, then share it.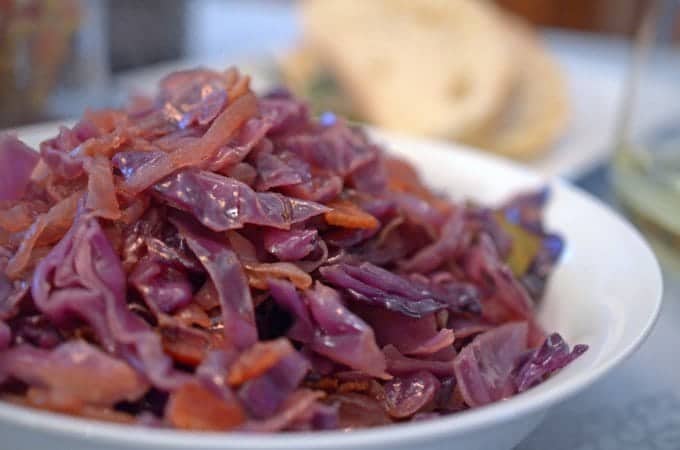 Similar recipes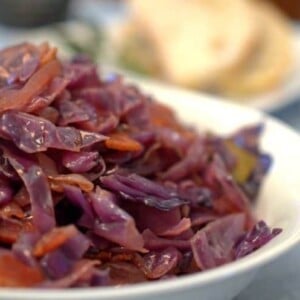 Savory Cabbage with Onion and Bacon
Recipe from Emeril Lagasse
Ingredients
1/2

pound

bacon

,

coarsely chopped

2

cups

thinly sliced onions

1 1/4

teaspoons

salt

1/4

teaspoon

cayenne pepper

3/4

teaspoon

freshly ground black pepper

1

teaspoon

sugar

3

bay leaves

1

head green or white cabbage

,

about 3 pounds, cored and thinly sliced

1

12-ounce bottle beer
Instructions
Cook the bacon in a large, heavy pot or Dutch oven over medium-high heat, until browned and slightly crispy, about 5 minutes.

Add the onions, salt, cayenne, black pepper, sugar, and bay leaves. Cook, stirring, until the onions are soft, about 5 minutes.

Add the cabbage and stir to mix well. Cook, stirring, until the cabbage just begins to wilt or soften, 3 to 4 minutes.

Reduce the heat to medium-low, and add the beer. Stir to mix.
Nutrition
Calories:
401
kcal
,
Carbohydrates:
14
g
,
Protein:
2
g
,
Fat:
37
g
,
Saturated Fat:
14
g
,
Cholesterol:
35
mg
,
Sodium:
570
mg
,
Potassium:
335
mg
,
Fiber:
4
g
,
Sugar:
7
g
,
Vitamin A:
185
IU
,
Vitamin C:
59.3
mg
,
Calcium:
73
mg
,
Iron:
0.8
mg
Nutrition information is automatically calculated, so should only be used as an approximation.
This recipe was updated from February 25, 2015