This is the best baked mac and cheese recipe that we have. I know many of you may find this hard to believe, but our kids love mac 'n cheese.  As do their dads.   Today we are featuring a more standard and always welcome preparation. It is hands-down the favorite of our boys and a while back, I respectfully asked them to refer to it as my "World Famous Mac 'n Cheese." And so they do.
Best Baked Mac and Cheese Recipe

We've featured a couple of different versions in the past. Our Ginger Mac 'n Cheese is a flavorful variant of the traditional dish and the decadent Smoked Gouda with Crab and Bacon Mac 'N Cheese that Scott threw together is the Gisele Bundchen of this age-old meal: rich, beautiful, and over the top exotic.
I'm fairly humble when it comes to my own kitchen skills. The first time a local chef referred to me as a foodie, I wasn't even sure I qualified for that descriptor. In a radical diversion from that trait of mine, I'm not going to say this mac and cheese recipe is good. I'm going to say that it's damn good.
My kids are my most honest critics and I rely on them to critique my culinary creations. "Too salty," "Too much cheese," "This tastes funny," and "I don't really like it," are all comments I've heard from them with various mac and cheese recipes I have made in the past and more times than not, I have to acknowledge they are right.  A few year back, I hit pay dirt with this mac and cheese  and this easy recipe with just a few ingredients makes it almost impossible not to nail.
My first clue that this is the best baked mad and cheese recipe and truly exceptional was when my chef-sister enthusiastically proclaimed it to be "restaurant-worthy."
Not really sure what she meant by that, I slowly figured it out when adult guests began to ask for the recipe. Soon my boys began to request that I make mac 'n cheese "The way you did it last time." For the most part, it is now the only way that I make it. It's a hit. Every. Single. Time. I served it at Easter this year and again a few weeks later at a small, impromptu brunch that we hosted at our cottage last Sunday.
Now, when the guys ask for this, they simply say, "Dad, will you make your world famous mac 'n cheese?" O.K., maybe I asked for them to refer to it that way but they always comply. They know how to work their old man and they know this is one of their favorite meals. I'd love for you to give it a try and let me know what you and your kids think of it.  -Dan
There's bacon in this best baked mac and cheese recipe. Instead of frying your bacon, consider putting it the oven like we always do. To see how, take a look at this Food Flash that we posted some time ago.
Don't miss some of our favorite other mac and cheese recipes, that may or may not have bacon in them. (OK, all of these have bacon in the recipes!)
Mac 'N Cheese with Bacon and Cheese Recipe
Cheddar-Bacon Mac and Cheese Recipe
Gourmet Baked Mac and Cheese with Bacon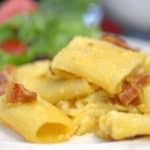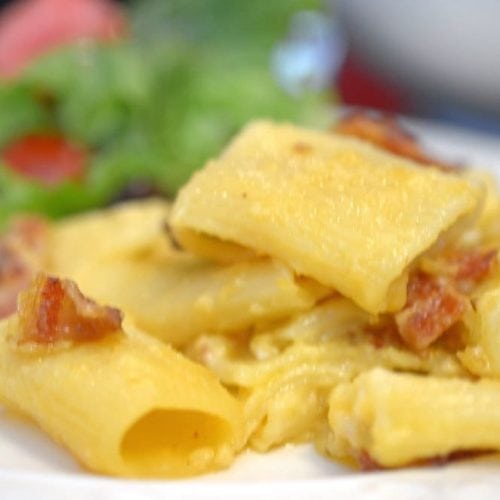 Best Baked Mac and Cheese Recipe
There's a that my boys call this my Almost World Famous Mac and Cheese! Try it today and find out.

Instructions
Preheat oven to 350 degrees.

Prepare oven safe casserole pan with non-stick coating.

Prepare pasta per package directions.

Meanwhile prepare rue by heating skillet over medium heat.

Place cheese and cream in skillet, add mustard and salt, stir until melted.

Add flour to rue, stir to thicken slightly.

Place cooked pasta in large mixing bowl, add rue and bacon and gently mix together until well combined and pasta is evenly coated.

Place mixture in prepared baking pan and bake uncovered for 30-45 minutes.

Add additional cream or milk throughout baking process if pasta appears dry.
Recipe Notes
Can be prepared ahead of time, stored overnight in refrigerator and baked the next day.
For a lighter version, substitute milk for cream.
You can use your noodle of preference, I prefer the size and texture of the large, tubular rigatoni-style.
Nutrition Facts
Best Baked Mac and Cheese Recipe
Amount Per Serving
Calories 786
Calories from Fat 540
% Daily Value*
Total Fat 60g 92%
Cholesterol 137mg 46%
Sodium 535mg 22%
Potassium 198mg 6%
Total Carbohydrates 45g 15%
Protein 15g 30%
* Percent Daily Values are based on a 2000 calorie diet.