The BEST Macaroni and Cheese (with Bacon)
on May 20, 2020, Updated Nov 21, 2020
This mac and cheese with bacon is one of my signature dishes. As humble as it sounds, I never thought that such an ordinary dish could taste this good.
Throughout the years our friends, family, neighbors, and guests have come to love this recipe. And over time it became clear to me that this is no ordinary recipe.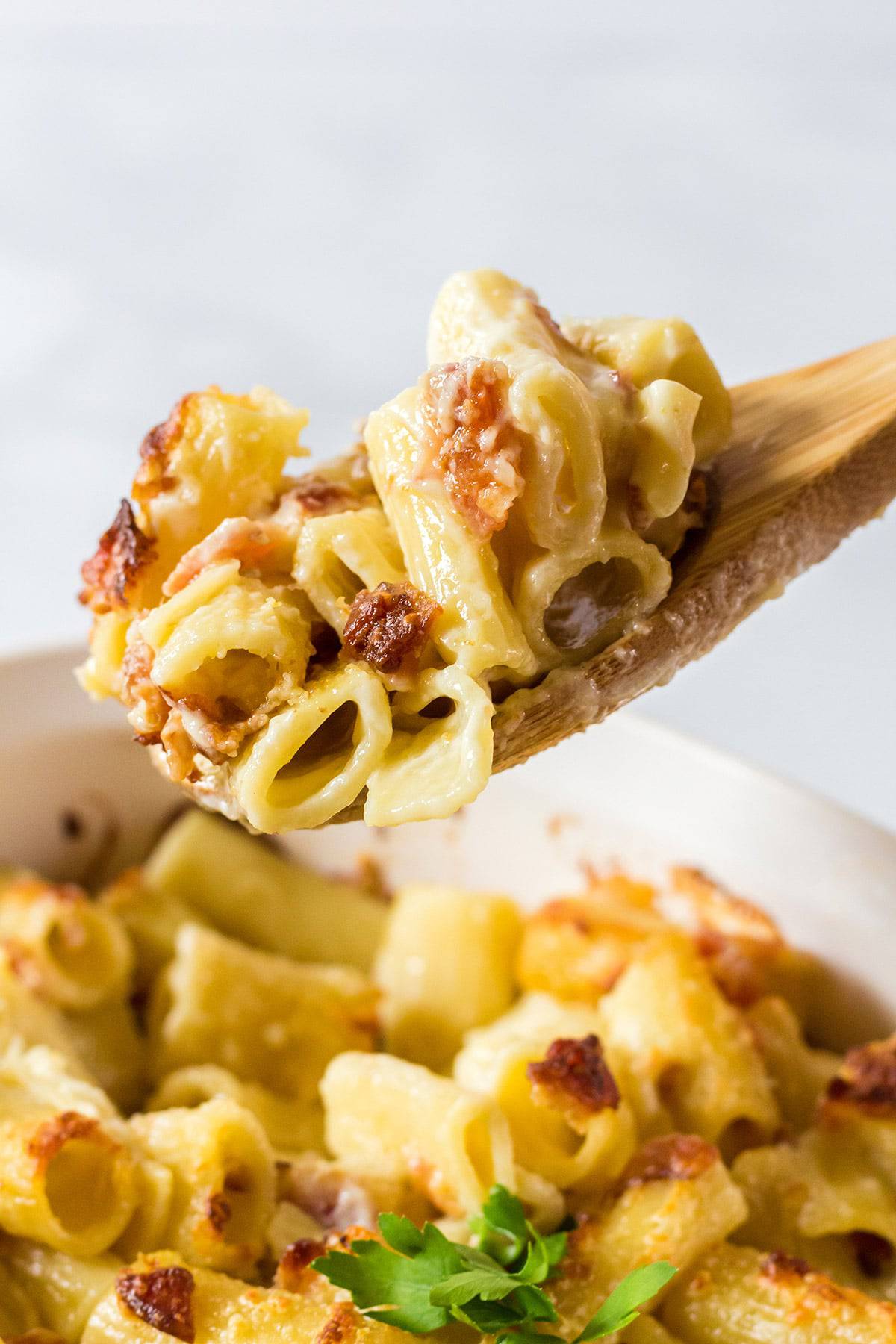 Jump to:
This is restaurant-worthy
The first time I knew that I was onto something special was when my sister, the real chef, told me this recipe was restaurant-worthy. I had no idea what she was talking about.
I started making it more often and soon my adult friends began to swoon over it. And then the requests for the recipe started coming in. It wasn't long before my kids began to plead for "that" mac and cheese on a regular basis.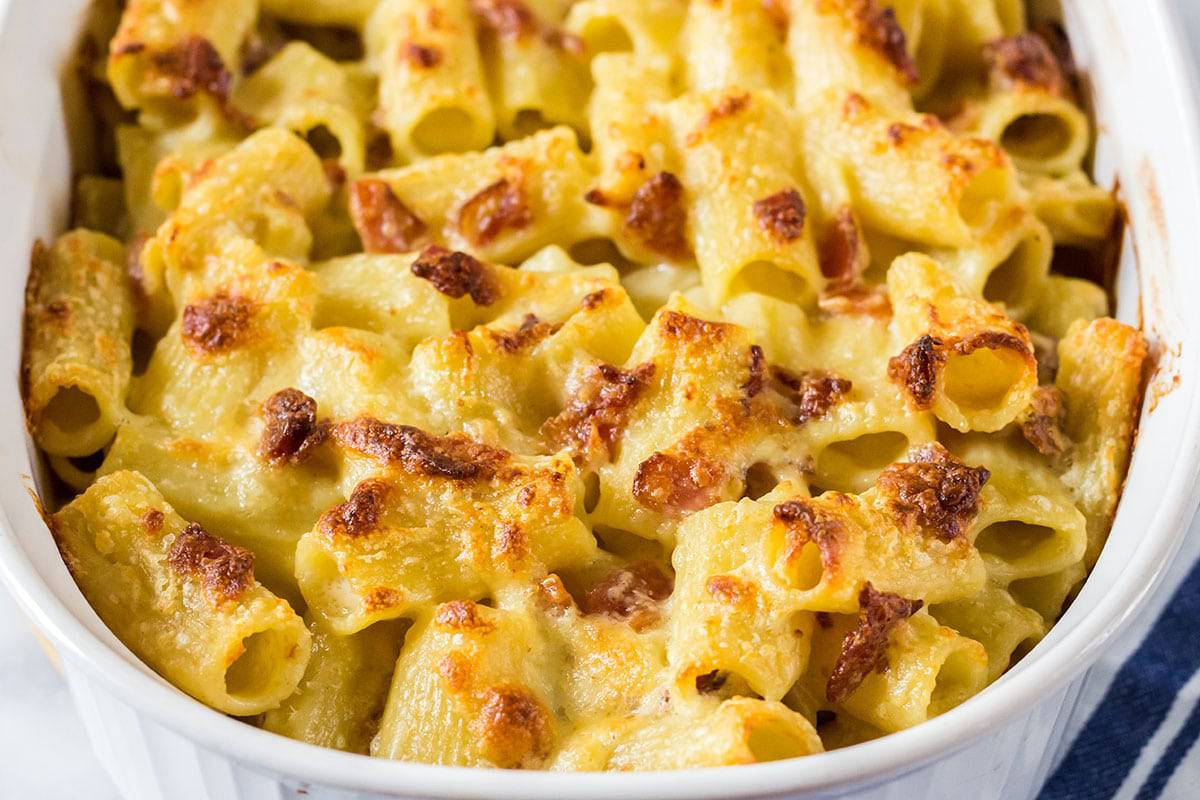 What makes this version better than the rest? To start with, the recipe is ridiculously easy. If your mother ever told you that simple is best, she may have been talking about this recipe.
Two things that help knock this easy macaroni and cheese out of the park are bacon and extra sharp cheese. Those two ingredients are a match made in heaven.
See all of our easy ways to use cheese!
There is no fancy breaded topping on this dish. You can make it on the stovetop or bake it. And it has just a handful of common ingredients.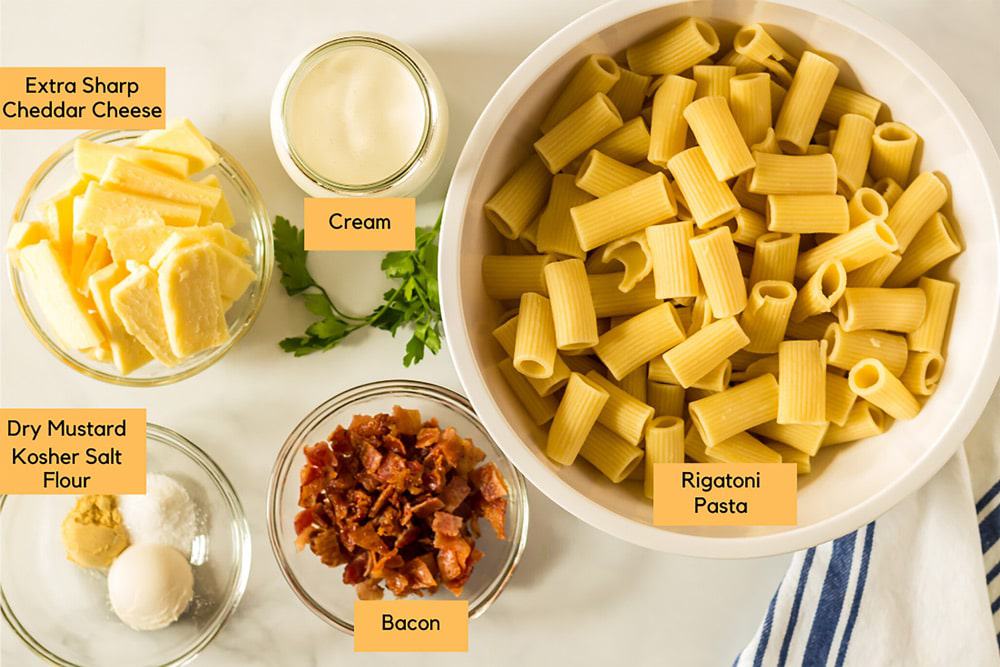 Ingredients
Extra sharp cheddar cheese

The sharpness gives a nice edge that is mellowed out by the cheese sauce, but it's still there. This adds an extra element of character to the whole dish.
Do not use pre-shredded cheese! Pre-shredded cheese usually is made with cellulose. This is used as an absorbent and it helps prevent caking. Because of this, block cheese will always taste better because it is all cheese and no filler.

Rigatoni Pasta

The long hollow tubes are perfect for holding the sauce for this macaroni and cheese.

Cream

You can substitute regular milk for the cream. This will naturally cut down on the fat and calories of this recipe. The tradeoff is that you will lose some of the heavenly creamy flavors.

Bacon

It's a concrete fact that pasta and cream always taste better with bacon. (What doesn't?)

Dry mustard
Kosher salt
Flour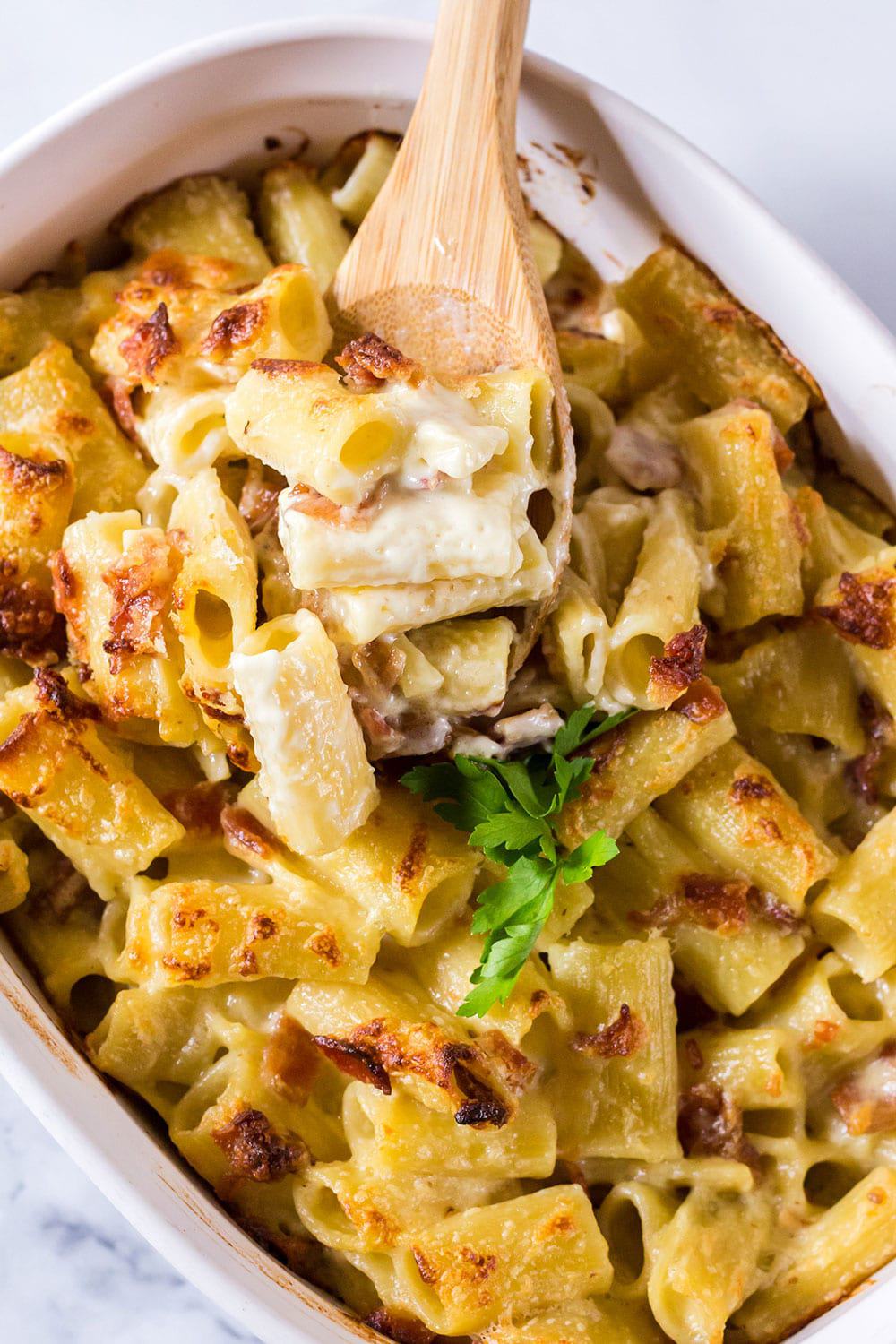 How to make it
(See the complete recipe at the bottom of this post)
Just like any recipe, the first thing I do is grab all of the ingredients along with the kitchen tools that I will use.
If you're going to bake this in the oven, which I highly recommend, preheat the oven to 350°.
Boil the Pasta
Use an 8 quart stock pot and prepare the pasta as directed on the package.
Pro Cooking Tip
Cook the pasta al dante, because it will continue to cook while it bakes in the oven.
Do this by boiling the pasta for 1 minute less than recommended on the package directions.
Make a Cheese Sauce Roux

One of the secrets to this mac and cheese is the roux. This is the sauce that holds all the flavor in this dish. It is an important part of gravy and other dishes. Be sure to check out our post where we show you how to make a roux!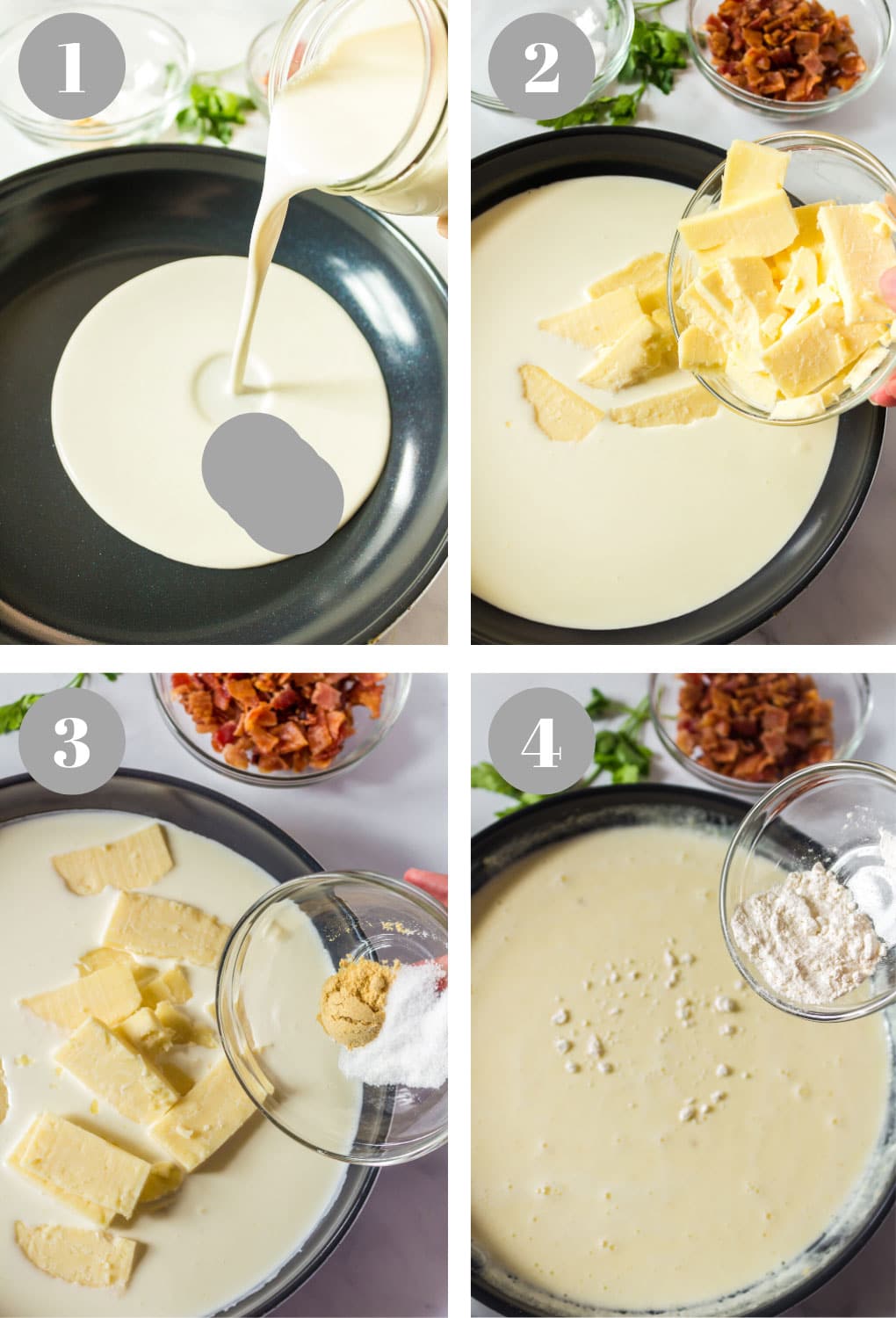 Making a roux, using cream, cheese, and flour.
Heat the cream slowly, over low heat.
Add the cheese to the cream as it warms. Gently stir and watch the magic start to happen as the two become one.
Stir in the kosher salt and dry mustard.
If you need to thicken the roux, stir in a couple of pinches of flour. It won't take much.
It is very important that you make the roux at a temperature below the simmer point!
While you are making the roux, you can make and dry the bacon. Do this by frying it the old-fashioned way in a skillet, or in the oven. After you finish making the roux, it's time to put it all together. This is where things turn from magical to heavenly!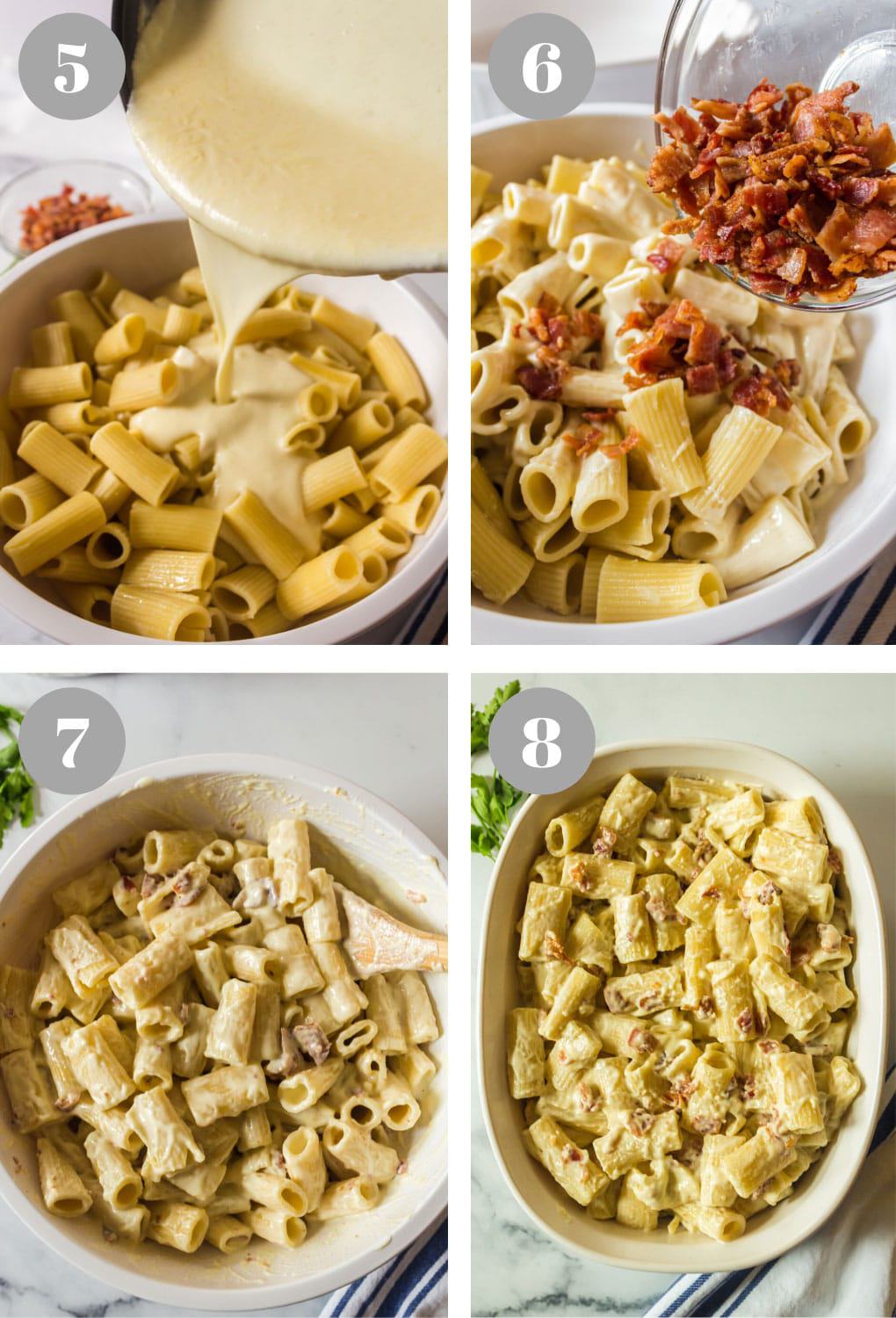 5. Drain the pasta and return it to the stockpot. Add a little olive oil and gently stir it to help keep it from sticking. Now pour the roux over the pasta, while gently stirring.
6. Fold in the crumbled bacon.
7. Stir it all together.
8. Transfer the mixture to a greased 2-quart baking dish. Bake at 350° for 30 minutes.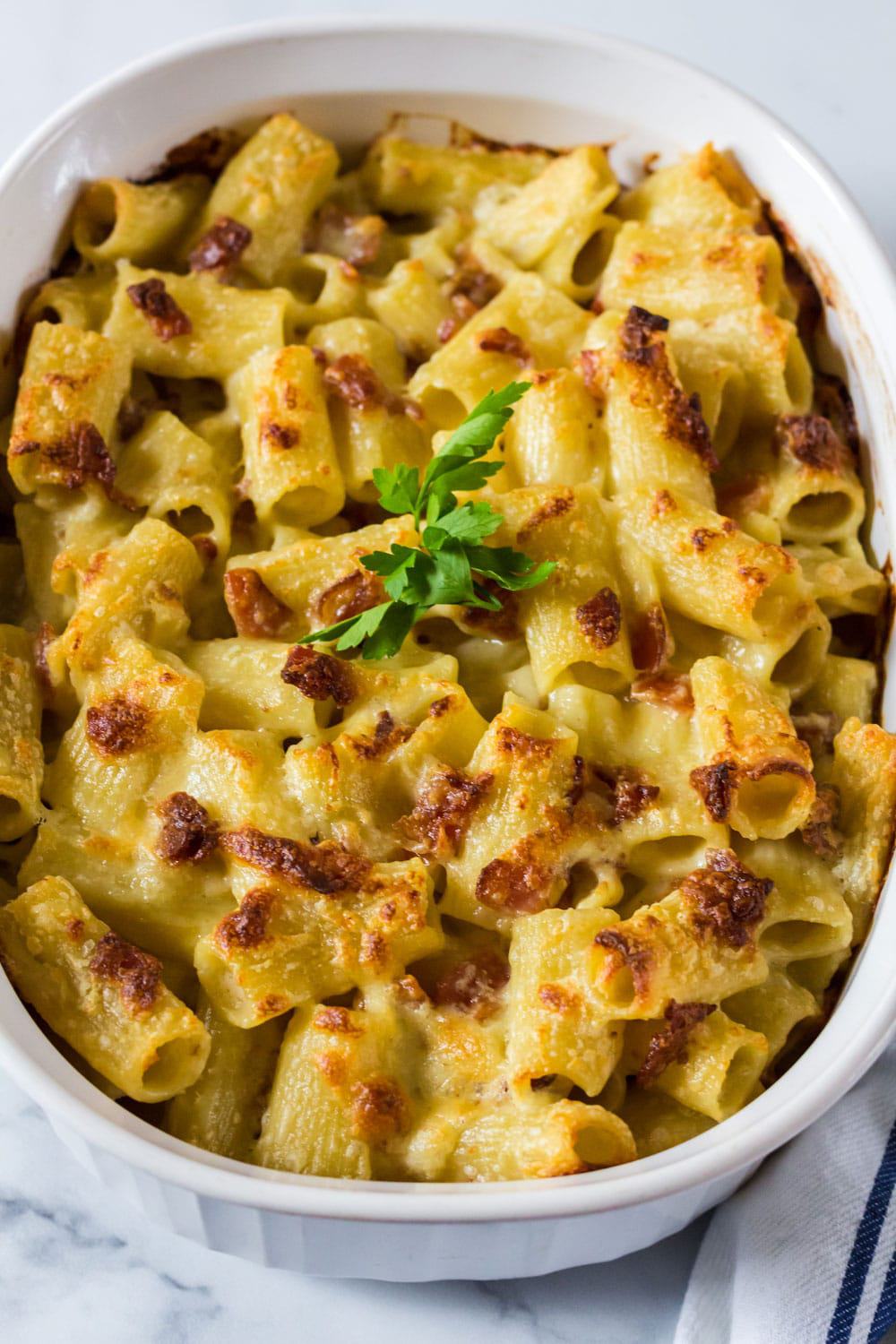 Don't do this – things to avoid
It took me a while to perfect this recipe. I tried different cheeses, different amounts of cheese, and even various pasta. Eventually, I hit the bullseye. Some of the mistakes I've made that you need to avoid:
I have cooked the roux over too high of heat which causes the cream (or milk) to curdle. This affects the taste less so than the appearance which is gritty instead of silky smooth.
I have added too much cheese. (More is not always better!)
Too much salt can be overpowering. Just a couple of pinches is all you need until the flavor of the cheese beings to pop into a third dimension.
I've used the wrong kind of pasta.
The long, hollow tubes of rigatoni hold the cheese sauce, and also the small chunks of bacon. Just a few bites of rigatoni that is baked in this sauce will make you think you might have died and gone to heaven, even for a brief period.
There are a million ways to make this dish. You can make it form a box or you can make it from this recipe. And 1,001 ways in between. The best mac and cheese is the kind that you make well and tastes great!
What goes with this?
One of the great things about our favorite family meal is that it can be served as a main dish or as a side dish. I make this often for holidays such as Easter and Thanksgiving and it always ranks right up there with the ham and turkey!
If you are serving this as a main dish, it is a meal all by itself. But, if you want to serve it with a couple of side dishes, here are a few things that go well with mac and cheese: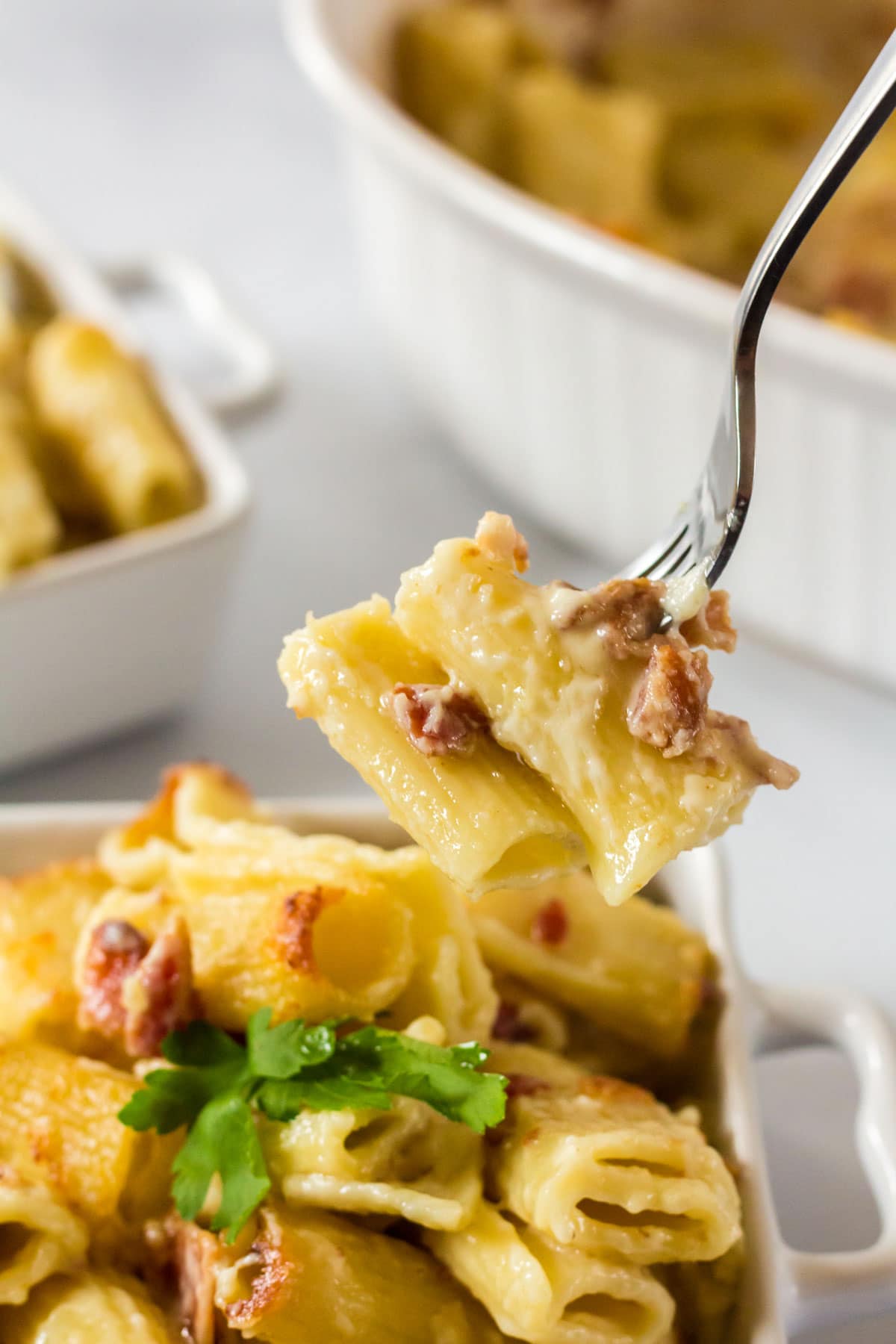 Common recipe questions
What's the Best Cheese for Mac and Cheese?
This, like a favorite color, is a matter of your personal preference. My favorite cheese to use for this recipe is extra sharp cheddar. It's what my mom used for her version and it tasted as great then as it does today.

If you want to add a little more character (and expense) to this macaroni and cheese, Gruyère is a great place to start. Its sharp nutty character adds another dimension to this recipe and my kids love it. (Disclaimer: Gruyère cheese is one of my personal favorites!)

Do I have to Bake This in an Oven?
Absolutely not. We show you how to make mac and cheese in an instant pot.
Or, you can just skip the baking part and make it all on the stovetop. Baking it only adds a crispiness to the top layer of pasta so the taste is still the same!
Can I Make this the Night Before and Bake it the Next Day?
I will often put this together the day before a holiday. Just put it in the baking dish and wrap it tightly with kitchen wrap, then place it in the fridge. When you are ready to bake, you may want to pour a cup or so of milk over the unbaked pasta. This will help compensate for the liquid that was absorbed by the pasta.
How Do You Store Mac N Cheese
You can store this for 2 or three days in a sealed container in your refrigerator.
How do I Reheat the Leftovers?
On the Stovetop – Use a small saute pan, over medium heat, and add a little milk to make it creamy again. This is my favorite way to reheat leftover mac and cheese.

In the Microwave – Add a little milk as above, and reheat for between one and two minutes.

In the Oven – Place in an oven-safe dish, stir in a little milk and cover with foil. Reheat for 15 minutes at 300° F.
How do you make this a keto-friendly recipe?
If you love a good mac and cheese but you're trying to cut carbs, Cauliflower Mac and Cheese is a must-make. Featuring low carbs and high flavor, you can put this delicious keto version of mac and cheese together in just 20 minutes!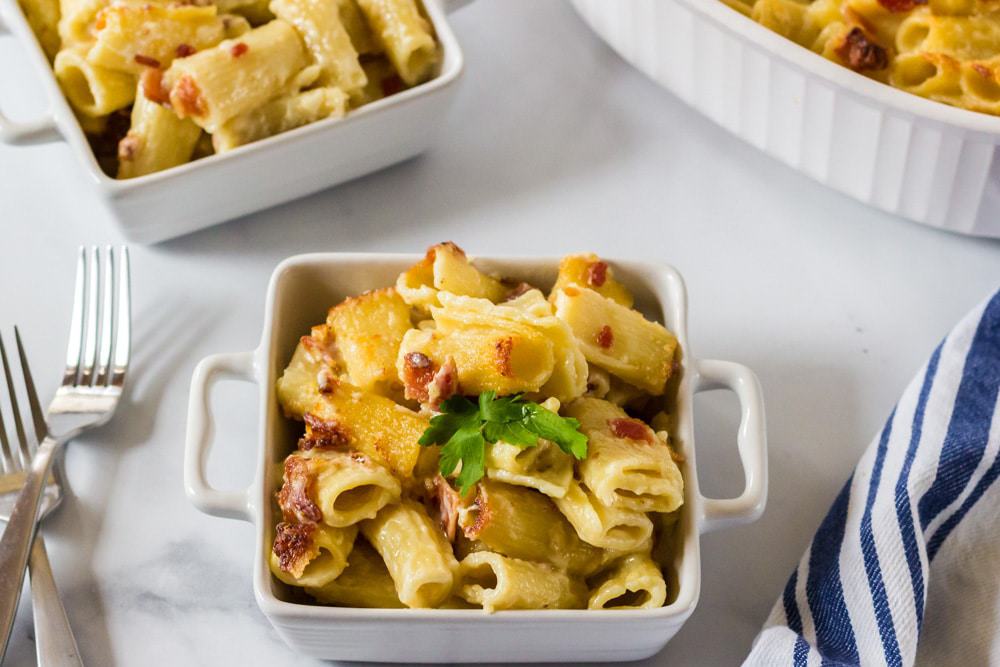 Freezer macaroni and cheese
I always make a double batch of this and then freeze half for our big family. Or for a smaller crowd, I'll make a single batch, bake half of it right away, and then use the rest for an easy freezer meal.
How Long Can Freezer Macaroni and Cheese Stay in the Freezer?
You can store mac and cheese in your freezer for up to two months. It's really important that you wrap it properly so it keeps well.
Be sure and press the plastic wrapper into the pan's contents and get out all the air in between the wrap and the food.
Then wrap the entire dish in foil.

Related recipes
Making Memories with Food
When I make this simple recipe, I think of so many people. I'm talking about my friends and family who have told me this is their favorite macaroni and cheese.
Our first-born son Jacob, who has given us unmeasured pride since the day he was born. Now an airline pilot, this is still his number one meal request when he comes "home." To be clear, this is a favorite recipe of all six of our boys!
One of my best girlfriends, beautiful Melissa. She's the friend that makes me laugh so hard that my stomach hurts. Literally. She wants this served at her funeral or some crazy thing like that!
Jeri, who I met over a recipe using burrata cheese. Shortly after meeting, we were off to see the legendary Patricia Wells and our friendship was sealed. Jeri is an understated culinary force who uses her brain to create her recipes. She puts most people to shame in the kitchen (she's way beyond my caliber) and draws you to her table and into her heart the same way that flowers are called to face the sun.
Our friend Julie. She's a bright and always-smiling light that we met through our book club and the wife of a former colleague. She's the type of friend who drops off thoughtful gifts, "just because." The type of gal you just can't love enough.
Our friend Debbie who owns the most popular restaurant in our town. When she asked for this recipe it was like getting an audience with the Pope.
My friend Nancy. She married my best buddy from anesthesia school and through the years our families have become each other's family. This is one of her favorite dishes.
And the list could go on and on. But this recipe is part of the beauty of cooking and sharing recipes. I hope you give it a try soon!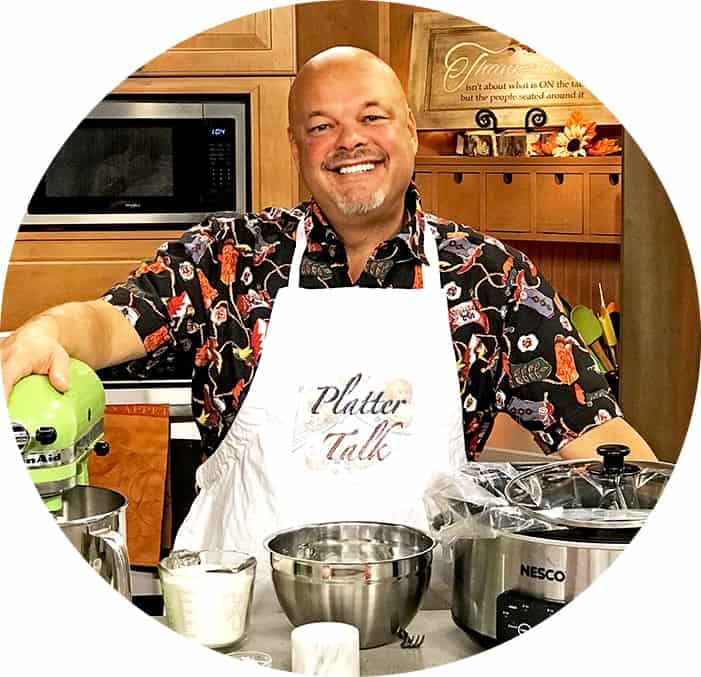 👨‍🍳 Tried this Recipe? Please leave a ⭐⭐⭐⭐⭐ rating in the recipe card below and leave a comment. We love hearing from our readers!
⏩ Stay in touch with us on social media by following us on Facebook, Pinterest, Instagram, and YouTube!
📬Get our Recipes delivered to your inbox for FREE!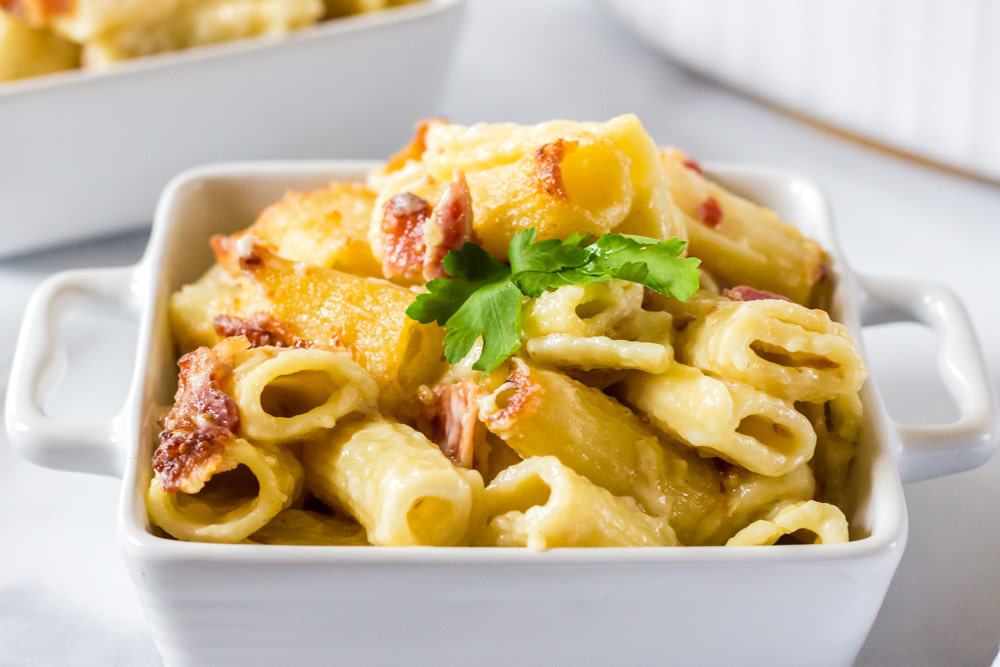 More of Our Mac and Cheese Recipe Collection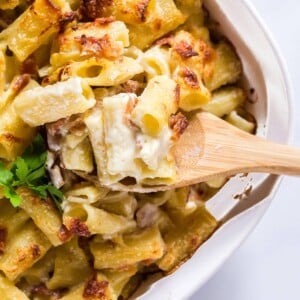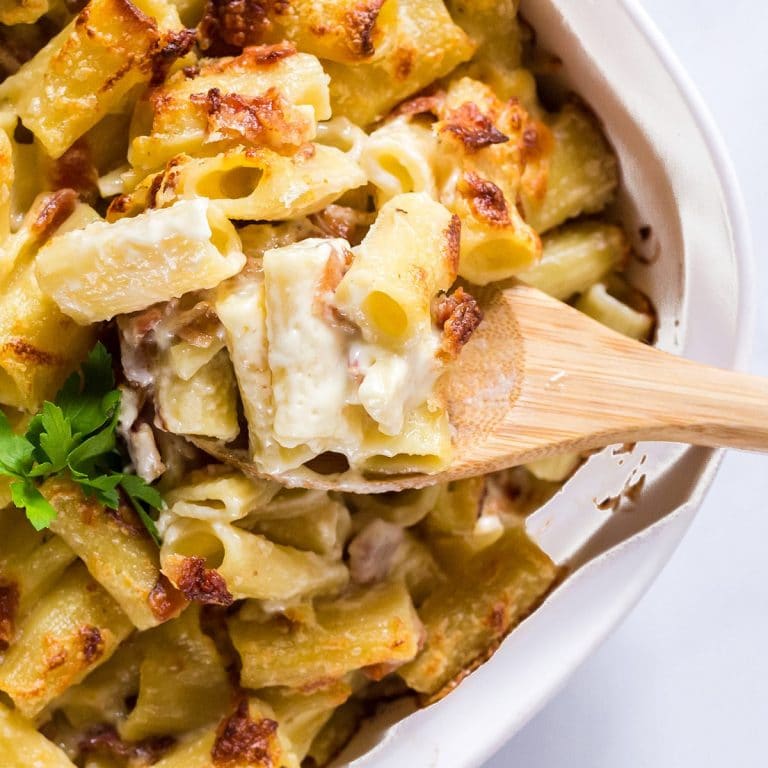 The BEST Macaroni and Cheese (with Bacon)
Make this recipe for Thanksgiving or any other day of the year!
Ingredients
1

lb.

450g Rigatoni-style pasta

8

oz.

extra sharp cheese

,

cut or sliced

1

pint

heavy cream

1/2

lb

bacon

,

(fried or baked), medium chop

1

tablespoon

flour

1

teaspoon

dried mustard

1/2

tablespoon

kosher salt

,

adjust to your personal taste.
Instructions
Preheat oven to 350 degrees. Prepare an oven-safe 2-quart baking dish with a non-stick coating. Boil the pastaa per package directions, minus 1 mintue.

Meanwhile, prepare rue by heating skillet over medium-low heat. Place cheese and cream in the skillet, add mustard and salt, stir until melted. Add flour to rue, stir to thicken slightly.

Place cooked pasta in large mixing bowl, add rue and bacon and gently mix together until well combined and pasta is evenly coated.

Place mixture in a prepared baking pan and bake uncovered for 30-45 minutes Add additional cream or milk throughout the baking process if pasta appears drys.
To Make this a Freezer Meal
Allow the roux/cheese sauce and bacon to cool to room temperature. Combine the cooled pasta and sauce (with bacon) in a big mixing bowl and gently mix together. Depending on the size of your batch, place it in a prepared 9×9 or 9×13 baking pan. Wrap the entire dish in plastic wrap and be sure to squeeze all the air out by pressing gently on the top surface of the dish. Cover with foil and label with the date. Remove the dish from the freezer 12 to 24 hours before baking. Place it in the refrigerator to thaw. Remove the plastic wrap and foil and then bake as directed in the instructions above.
Notes
This recipe can be prepared ahead of time, stored overnight in refrigerator and baked the next day.
For a lighter version, substitute milk for cream.
You can use your noodle of preference, I prefer the size and texture of the large, tubular rigatoni-style.
Nutrition
Calories:
785
kcal
,
Carbohydrates:
45
g
,
Protein:
16
g
,
Fat:
60
g
,
Saturated Fat:
30
g
,
Polyunsaturated Fat:
5
g
,
Monounsaturated Fat:
20
g
,
Cholesterol:
122
mg
,
Sodium:
683
mg
,
Potassium:
206
mg
,
Fiber:
2
g
,
Sugar:
3
g
,
Vitamin A:
1154
IU
,
Vitamin C:
0.4
mg
,
Calcium:
252
mg
,
Iron:
1
mg
Nutrition information is automatically calculated, so should only be used as an approximation.
Updated from original post of April 24, 2015