How to Make A Roux for Beginners
on Nov 06, 2018, Updated Oct 28, 2021
Knowing how to make a roux is one of our many cooking tips that will take your cooking skills to a whole new level. This is one of cooking's basic sauces that you use for making soups, sauces, and even macaroni and cheese.
The best part of all, you can make this important ingredient in just a few minutes. It's one of the best returns on your cooking time that you will ever get!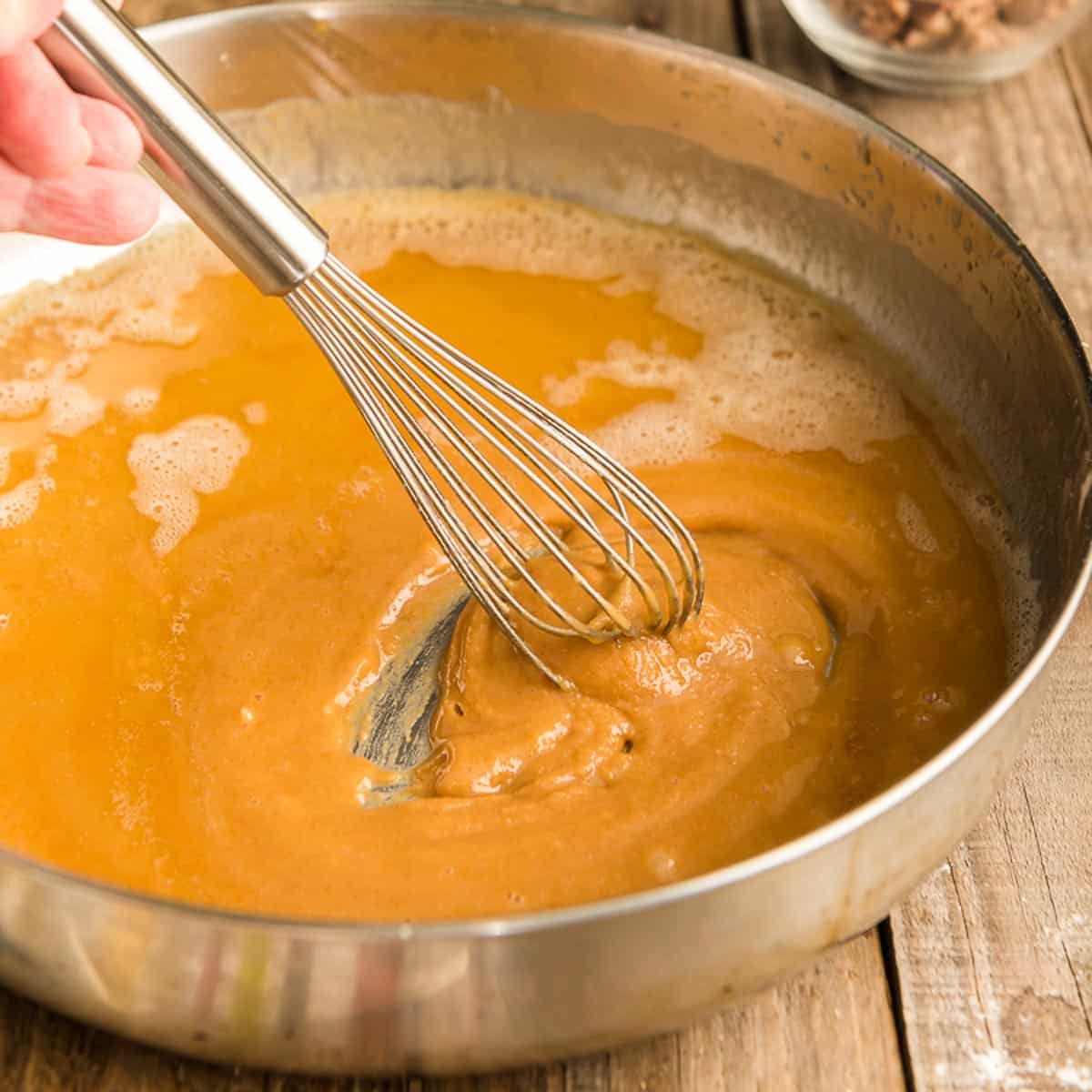 Jump to:
What is a roux?
Roux is a basic thickening sauce that is made up equal amounts of fat and flour. It is so important in cooking that it is used in three of the mother sauces of classical French cuisine. This includes a bechamel sauce. (Béchamel is the French word for white sauce.)
Whether you're making New Orleans gumbo recipes or your grandma's famous turkey gravy, you'll want a good roux to get you started.
The different types of roux are determined by how long you cook them.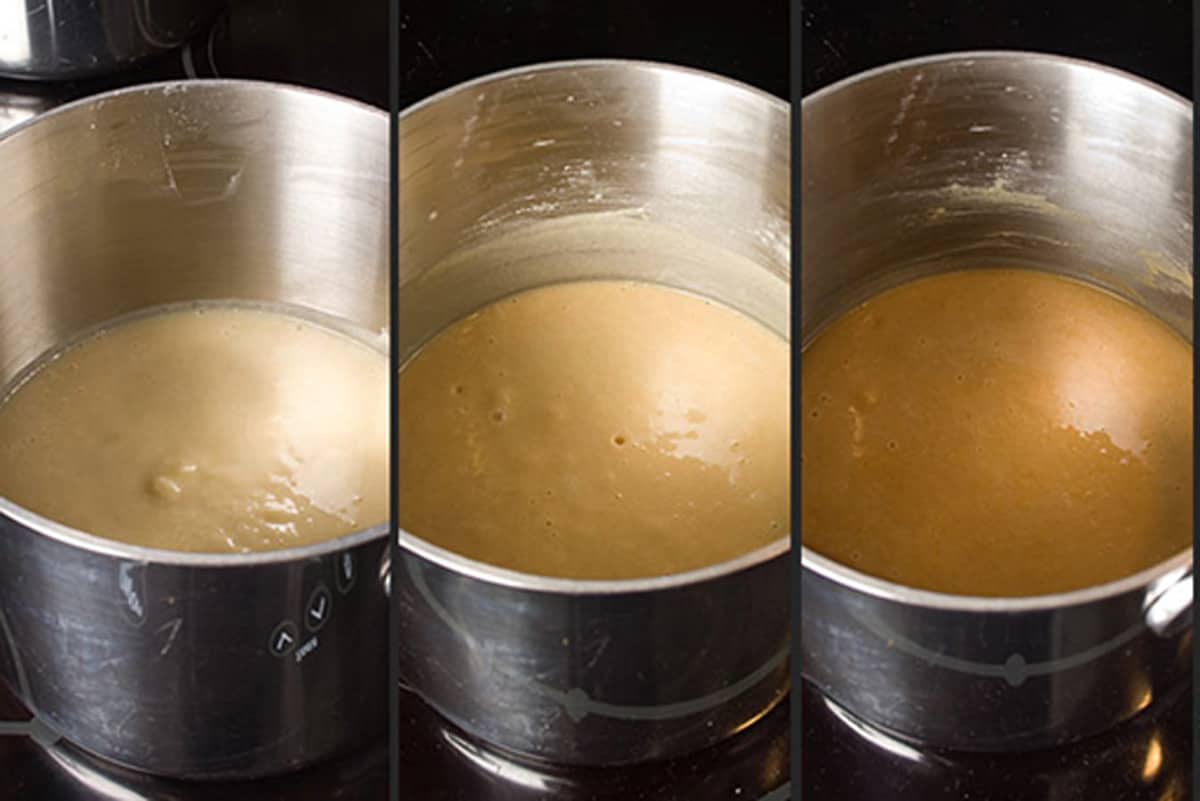 When making a roux, the flavor and color of the roux will change depending on how long you cook it.
The longer you cook this combination of fat and butter, the darker and more intense of a flavor you will get. For gravies and stews, you may want a darker, nutty flavor.
For lighter sauces like this mac and cheese recipe or this white chicken chili, a lighter and creamer flavor might be best.
What's in a roux?
For making a roux you need a fat and some flour. Both will add their own unique flavor depending on what you use and now long you cook it.
You'll want equal parts flour to equal parts fat. For example, if you are using butter for a fat, for every 2 tablespoons of flour, you'll want to add 2 tablespoons of butter.
How much roux do I need?
Generally speaking, 2 tablespoons of roux will be enough to thicken 3/4 cup to 1 cup of liquid (broth, milk, cheese sauce, etc.)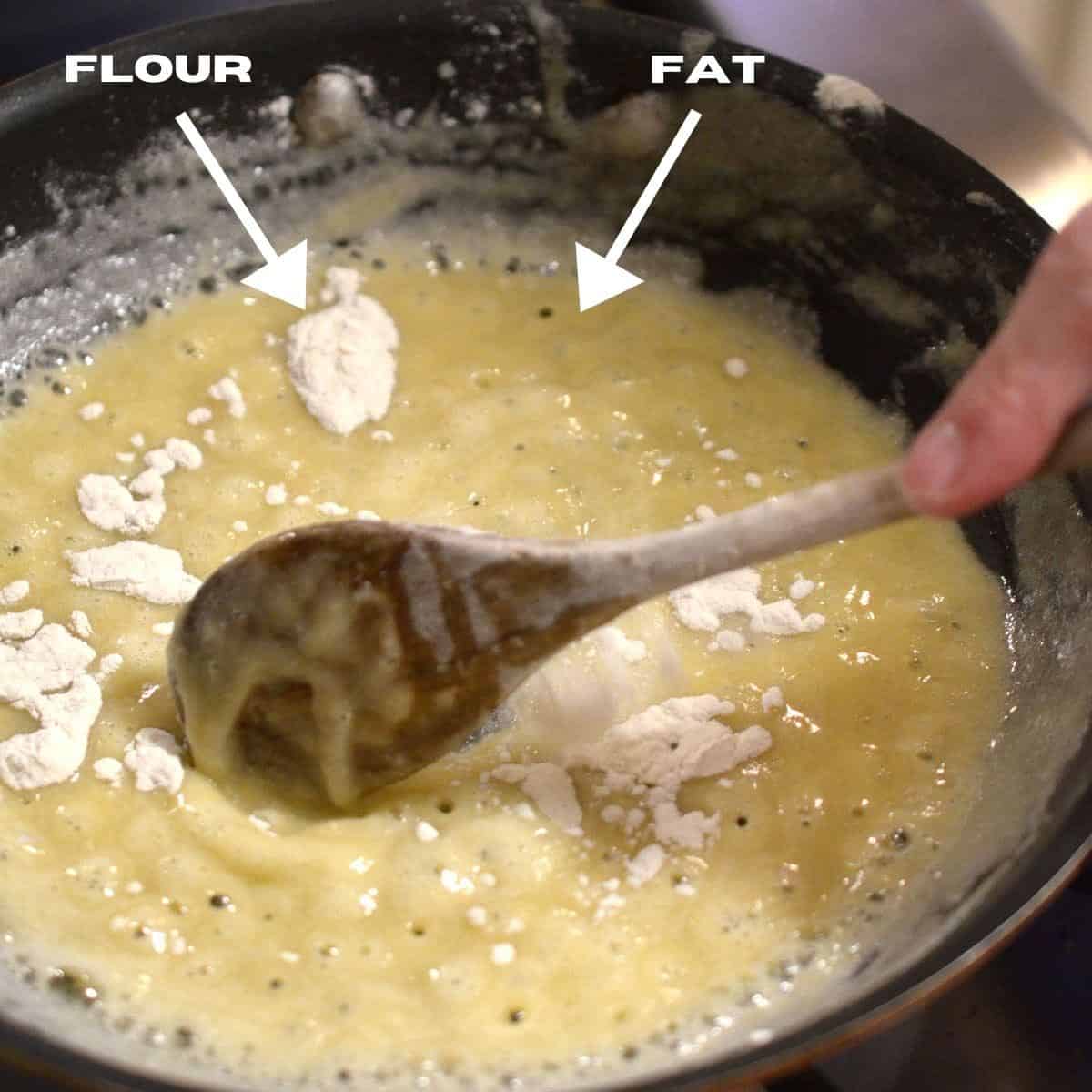 Ingredient Notes:
Flour – All-purpose flour works just fine for making a roux . This is where a lot of the flavor will come from. Cooking it longer and browning the flour will give you a deeper flavor.
Fat – Butter is the most common fat used for this but the more of these you make, the more substitutions you will find.
Variations and substitutions
Pan Drippings – Always use these with butter, or on their own. These pan dripping will contain little brown flavor bombs called fonds. These are the little dark specks that you often see in the bottom of a roasting pan or skillet.
Cream – This is my fat of choice for a cream sauce when making Dan's very popular mac and cheese. It also works great for scalloped corn.
Oil – Besides having a higher smoke point than animal fats, vegetable oil can be a healthy fat for your roux. This is a great choice as a base for many tomato sauces.
If you don't want to use fat for your roux, you can make a slurry instead. This is the same type of base but uses a combination of flour and water (instead of fat.)
If you don't want to use flour or fat for your roux, you can make a gluten-free roux using something other than flour for thickening power.
Arrow root and water
Corn starch and water
Pro Kitchen Tip – When you are ready to add the liquid to your roux (broth, milk, stock, cheese sauce, etc.) make sure it is warm. This will help incorporate all the ingredients and help to prevent your roux from having lumps.
How to make it
It only takes a few minutes to make a hot roux. From there, you can turn it into a luscious gravy, soup, or other sauce. Start with one part fat to one part flour.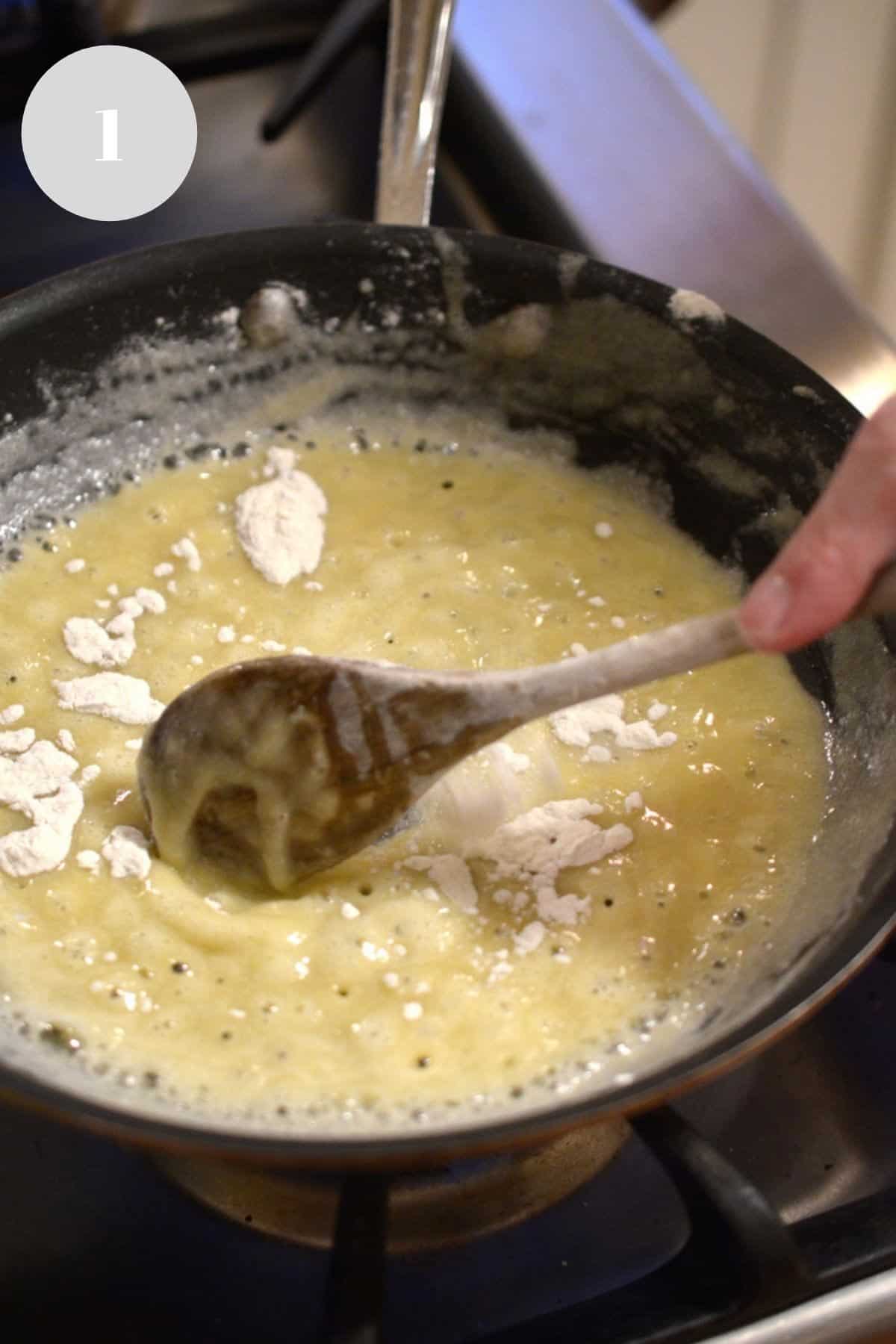 Start by heating some butter (or other fat) in a pan over medium heat. Gradually stir in some flour with a wooden spoon or rubber spatula.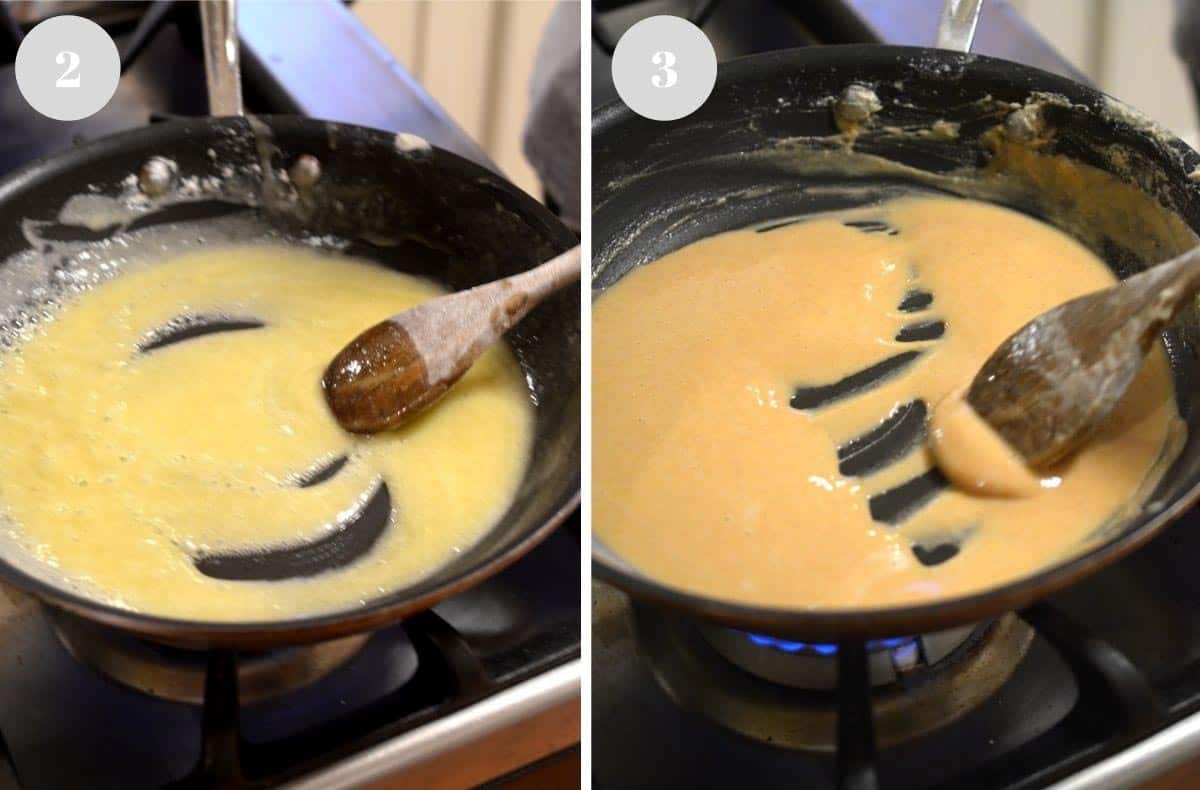 Slowly stir and cook the flour and fat mixture until the mixture thickens and turns to the color that you want.
Remember, the longer you cook it, the darker and more flavorful result you will get. Once you are satisfied with the flavor start to add the other liquids. Things like:
Broth or stock (like chicken stock) for gravies and sauces.
Cream, milk, or cheese for pasta and cheese sauces.
Tomato sauce for marinara
Meat drippings for gravy
Be sure to add hot liquids. This will give you a smoother texture and flavor.
Tips for making a roux
Use a fine-mesh strainer to "tap" the flour into the pan. This will prevent clumping.
Look for the perfect ratio of flour and fat to have the consistency and appearance of wet sand.
If adding cheese, milk, or cream, do not bring it to a boil! I've done this before and the result is a gritty sauce.
It's important to stir constantly (I use a wooden spoon) or whisk.
If making gravy for a roast, use the roasting pan or skillet to make the gravy. This is both convenient and keeps you from having to wash another pan!
Don't add cold liquid to your roux.
How to store a roux
The best way to store a roux is to make a beurre manié. This is an uncooked roux and is French for "kneaded butter."
You can store a berre manie for a week or so in the refrigerator or up to six months in the freezer. When you're ready to use it, there are two ways to use it:
Cook it as you would normally, in a pan over medium heat.
The second method to use a berre manie is to warm up the sauce you want thickened. Then, drop nuggets of the uncooked roux into the heated sauce or liquid. You'll want to do this in 1/2 tablespoon increments.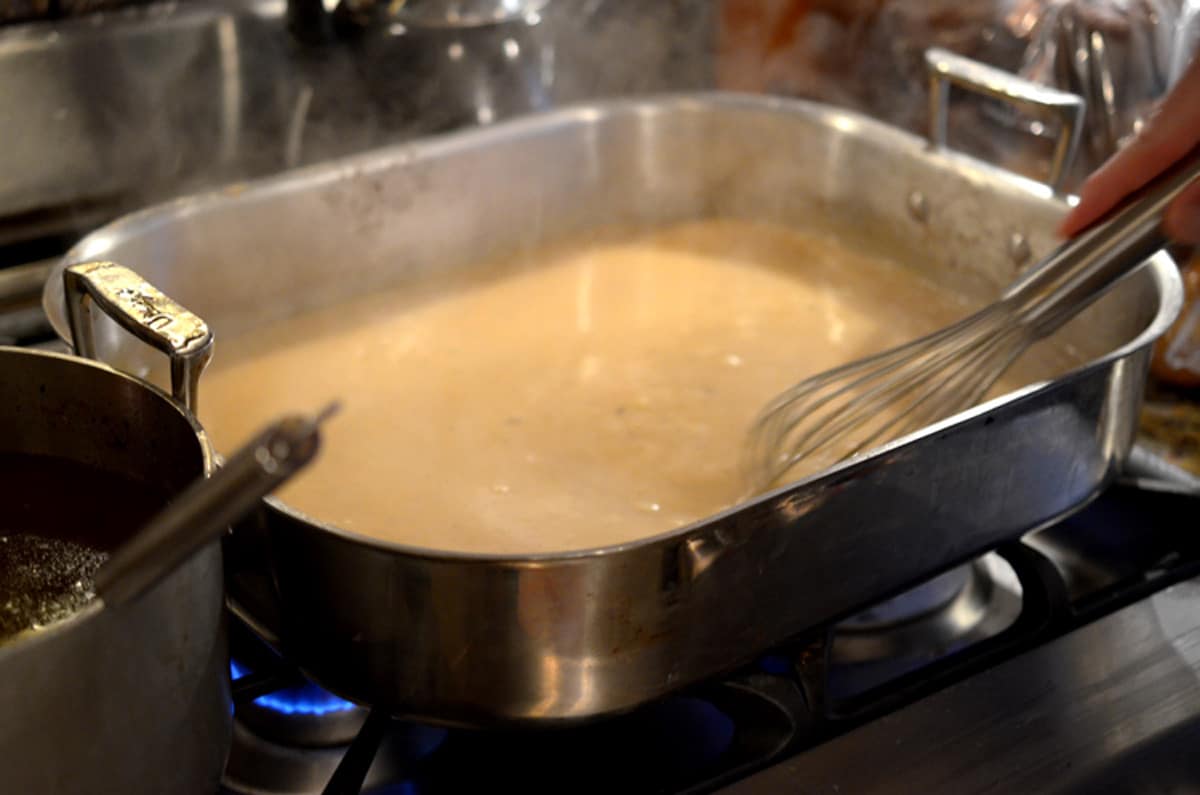 Common questions
Can roux be frozen?
You can freeze this for up to a year. A great way to do this is to freeze it ice cube trays. Seal it in a air-tight zip-lock bag and thaw and use whenever you need it!
What is roux used for?
It is a thickening agent that also adds flavor to gravies, stews, soups, and sauces.
How do I keep my roux from getting lumpy?
They key to preventing lumps from forming in a roux is to constantly stir it over medium-low heat, using a whisk. Using a fine mesh strainer to add the flour to your roux will also help. Simply tap the handle of the strainer, so the flour falls through the mesh like a steady but gentle snowfall.
How can you tell if your roux is burnt?

There are a couple of things that will indicate that your roux is burnt. First you may smell a burnt, acrid odor. This is in contrast to the warm nutty aroma that you normally want from a cooking a roux. Secondly, if your roux is burnt, you'll notice the appearance of black specks (or clumps.) The secret for not burning a roux is to stir it continuously with a whisk, and to not let the heat get to high. Medium-heat is as high as you should go.
What should I do if my roux is burnt.
Depending on how badly the roux is burnt, you may need to toss it and start all over. This is something that can't be undone. Next time, go with a lower heat, no higher than medium.
Recipes that use a roux
Related Posts
👨‍🍳 Tried this Recipe? Please leave a ⭐⭐⭐⭐⭐ rating in the recipe card below and leave a comment. We love hearing from our readers!
⏩ Stay in touch with us on social media by following us on Facebook, Pinterest, Instagram, and YouTube!
📬Get our Recipes delivered to your inbox for FREE!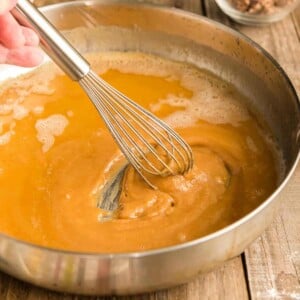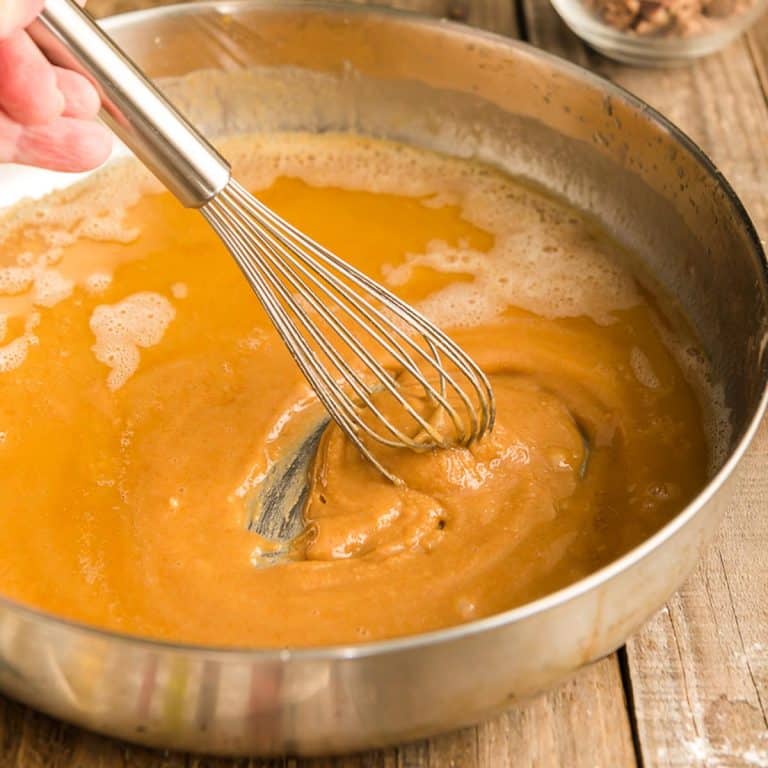 Roux Recipe
The best gravy, sauce, and stew starts with this recipe!
Ingredients
1/2

cup

Butter

1/2

cup

Flour

Salt and Pepper

,

to taste
Instructions
In a large skillet, melt the butter or other fat over medium-high heat.

Slowly but gradually stir in the flour and cook to the desired color and flavor.

Cooking times will vary, depending on the type of roux you want.

For a white roux, cook no more than five minutes

For a blonde roux, cook no more than 5 to 10 minutes.

For a dark roux, cook 10 to 30 minutes.
Notes
A white roux is cooked the least, no more than 5 minutes, so it remains light and is mostly used with a milk base (think Béchamel, one of the five mother sauces).
When making a blond roux, the fat & butter is cooked out to a golden color, 5 to 10 minutes, taking a little more time to make than a white roux. Because of this, it will have more flavor than a white roux.
A brown roux is cooked between 10 and up to 30 minutes. Brown roux are great bases for meat gravies and are used as an ingredient in another mother sauce, Espagnole.
Darker roux is used in traditional gumbo. Another 10 minutes can be added to the cooking time for this.
Nutrition
Calories:
1041
kcal
,
Carbohydrates:
48
g
,
Protein:
7
g
,
Fat:
93
g
,
Saturated Fat:
58
g
,
Cholesterol:
244
mg
,
Sodium:
1102
mg
,
Potassium:
67
mg
,
Fiber:
2
g
,
Sugar:
1
g
,
Vitamin A:
2836
IU
,
Calcium:
27
mg
,
Iron:
3
mg
Nutrition information is automatically calculated, so should only be used as an approximation.
Updated from the original post of November 15, 2016