Sausage and Chicken Gumbo is a timeless recipe that features a rich Creole stew. This a is a flavorful and satisfying meal that is easy to make, even if you don't live in Cajun country!
Sausage and Chicken Gumbo
The day we put t his together, my calendar told me that it was mid spring here in Wisconsin but morning's snowflakes told me otherwise. Not one to let this weather get me down, I decided to make the most of it and my mind began to contemplate comfort foods. For some reason the idea of a warm and hearty gumbo came to mind and this sausage and chicken gumbo recipe turned out to be just the ticket.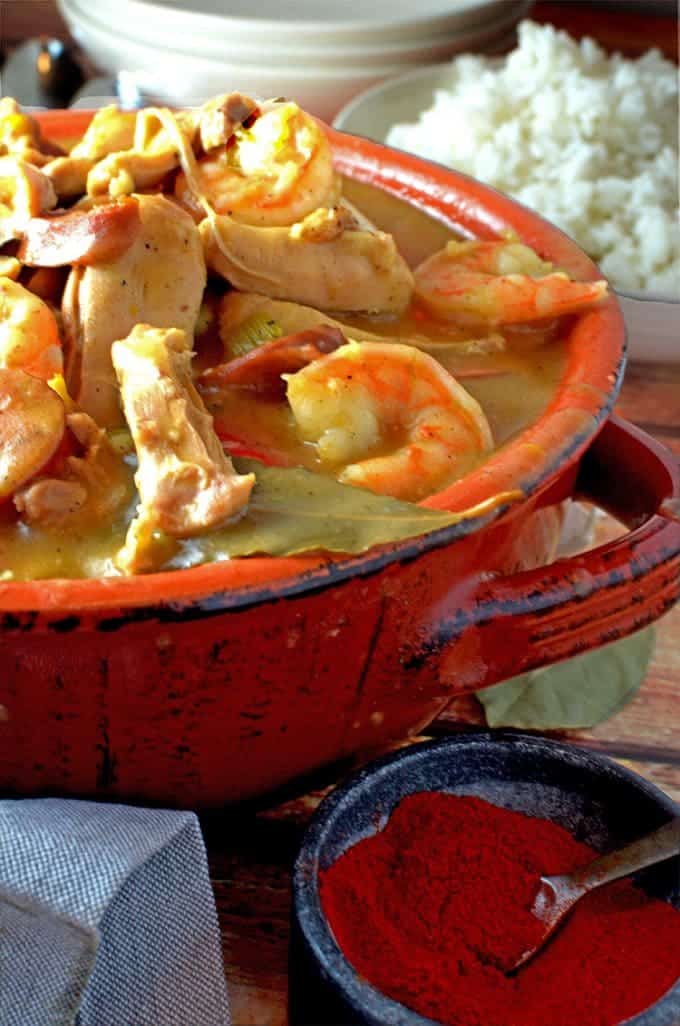 The Main Players of this Sausage and Chicken Gumbo Include:
Andouille Sausage

Chicken

Shrimp (An optional, special guest appearance)
One of the things that I enjoy the most about this sausage and chicken gumbo is the fact that it involves real cooking. There is some dredging involved, there is a mirepoix of sorts, and there's even a roux!  Sure, it takes a little bit of effort to put this hearty stew together but the end product is worth every single second. I had the luxury of having a good friend help out with much of the prep work which made this recipe even more fun. The best part though was when we all sat down together with a glass of wine and a big bowl of this tasty gumbo.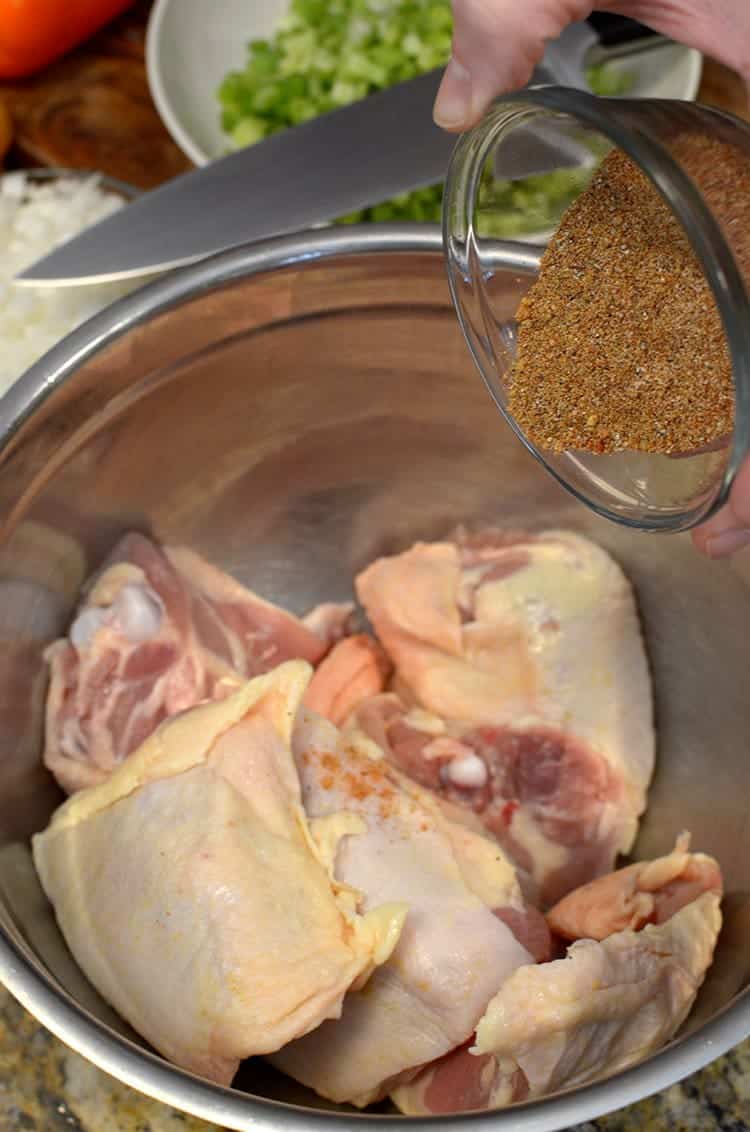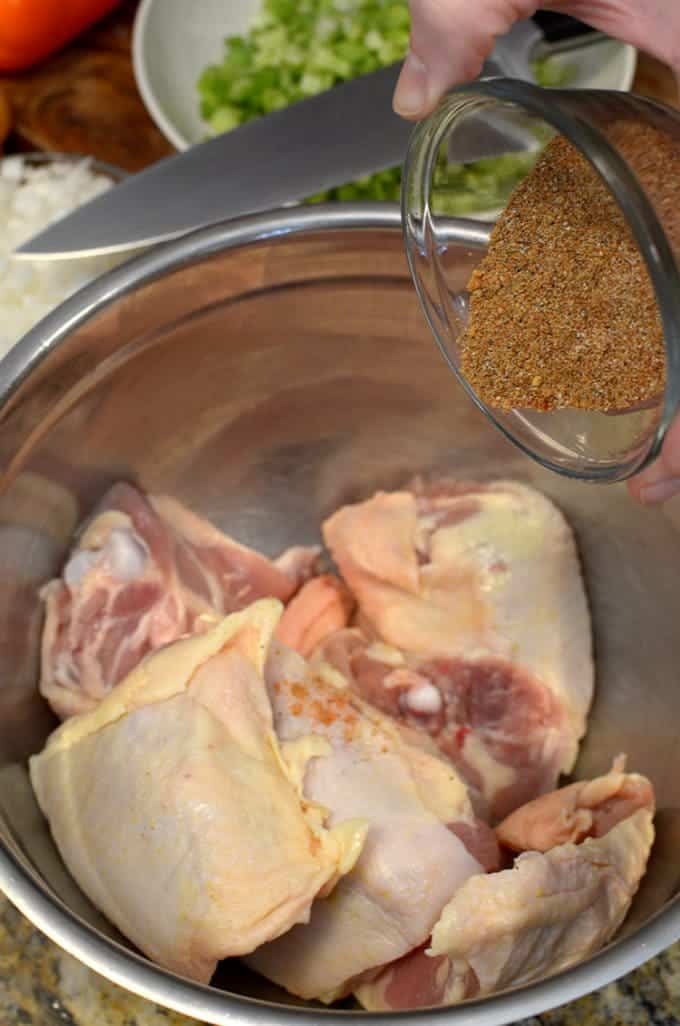 The real star of this sausage and chicken gumbo is of course the seasoning. We use a variety of spices for this dish, which include:
Peppers, white, black and cayenne
Powdered mustard
Paprika
Granulated garlic
Filé powder

File powder is optional, but it is integral to authentic gumbo. Filé js an herb that is extracted from dried, ground leaves of the sassafras tree. Many grocery stores carry filé and many don't stock it. I picked some up at Penzeys Spices but you can also order some

here

. It's not expensive.
Once the seasoning mixture is put together, it's time to spread some Cajun love onto the chicken. The chicken then gets a quick dredge in some flour that has some of the seasoning mixed in with it and then spends a couple of minutes getting seared in hot oil.
After searing, the chicken is briefly set aside and a roux is made using about a cup of reserved oil that was used to sear the chicken and the remaining seasoned flower leftover from dredging the chicken. The roux that is desired for making a gumbo is a dark one. Think: dark chocolate, in color. This takes a good 10 minutes or so to achieve.  A darker roux lends a deeper and more structured finish to this sausage and chicken gumbo. We discuss what a roux is and how to make it, in much greater detail here.
While the roux is being made, you take a big kitchen pot and bring about 9 cups of chicken broth to a simmer, covered. For this sausage and chicken gumbo recipe, I use one of my new favorite kitchen pieces, this beautiful and versatile stock pot. I have the dark blue one and I make all sorts of things in it like goulash, soup, and so much more.
Once the roux develops into a dark color and thick texture, it's time to add the Cajun mirepoix. This version differs from a classic mirepoix in that carrots are substituted for green peppers. In Cajun country this combination is referred to as the holy trinity. We wanted to add a bit more color and sweetness and therefore we use a combination of yellow and orange bell peppers. As with a traditional mirepoix, we add approximately equal amounts of finely chopped onion and celery to the pepper.
Next, we stir the roux into the broth until it is fully incorporated and then we add our slices of andouille sausage. We simmer this for about 15 minutes and stir frequently, allowing the gumbo's flavor to develop a bit while it reduces and thickens slightly. Finally, the chicken is added to the pot, along with a bay leaf or two and then we cover the pot and allow the chicken to finish cooking. This takes about an hour or so.
Once the chicken if cooked through, it is removed from the pot and allowed to cool for a few minutes. Next, we take the meat off the bone and discard the skin and then the meat is stirred back into the pot. If you want to save time, you can use skinless and boneless chicken but we prefer the flavor and structure that comes from using bone-in chicken. For the same reason, we use only chicken thighs in this sausage and chicken gumbo although you can use any part of the chicken that suits you.
You may have noticed that we threw in about a pound of large shrimp that had been peeled. This is completely optional and if you follow our lead here, these go in about 10 minutes before serving. Classically, gumbo is made with okra which we omitted because of food preferences by my sous chef for the evening. That's OK because from what I've read about gumbo recipes is that there really isn't a recipe at all. Instead, it's a pinch of something here, a little more spice there. Once again, the is a basic tenet of real cooking.
Is this sausage and chicken gumbo easy to make? The answer is yes. Does it go together quickly? The answer is no. This flavorful and authentic gumbo is really fun to make. It involves some real cooking and the results are worth it. I hope that I have tempted your taste buds with this sausage and chicken gumbo and that you give it a try soon and as always, make it your own. Thanks for reading Platter Talk, it means the world to us! -Dan