This Simple Goulash Recipe is packed with flavor, ease, and convenience. What makes it even better, you can make this warm and comforting stew in a single pot. Easy. Peasy.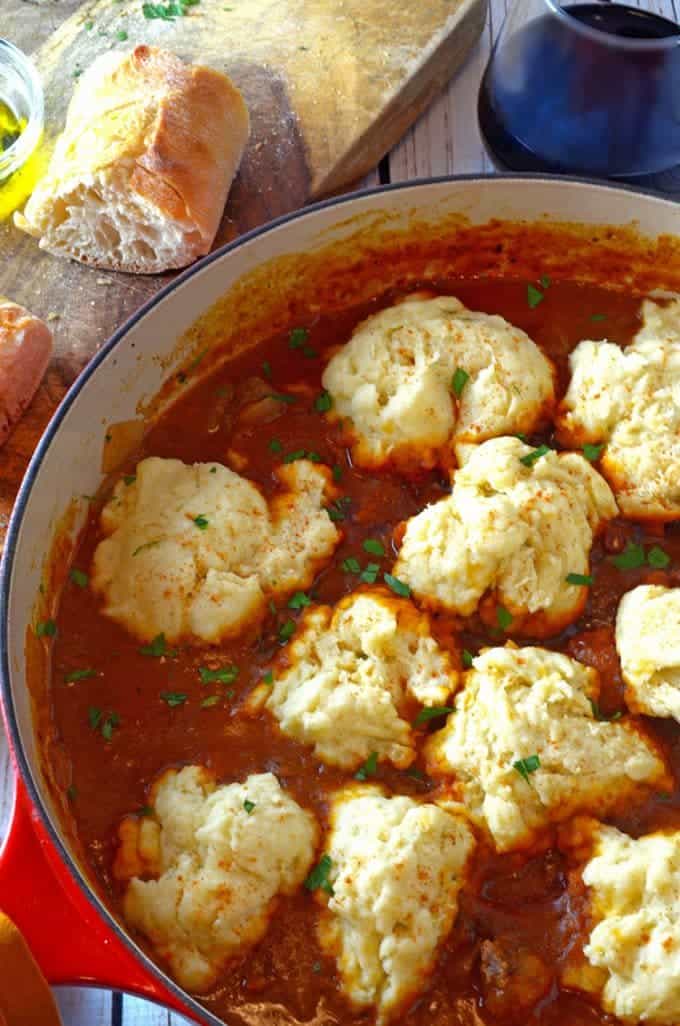 Simple Goulash Recipe
My only experience with goulash was a severely adulturated version served in the school cafeteria of my youth. There, that dish of elbow macaroni, ground beef and tomato sauce was served every couple of weeks and was billed as being Hungarian goulash.  Not so much.  Many years later and quite a few recipes to my credit, I seem to have come across something that is more like the real deal, with this simple goulash recipe.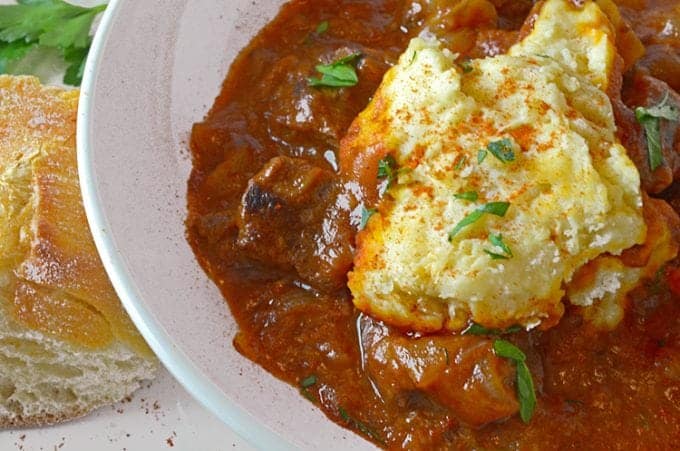 If you follow our site by now, you probably have caught on by now that often times I customize the recipes that I make to suit my taste. I  hope you practice this freedom in the kitchen as well.  In a nutshell, this is what I put in this Simple Goulash Recipe:
Onion
Beef
Flour
Broth
Paprika
Caraway
Tomato Paste
Salt & Pepper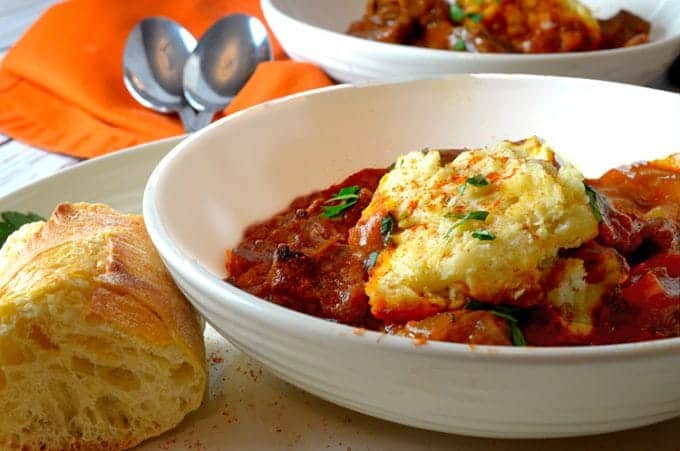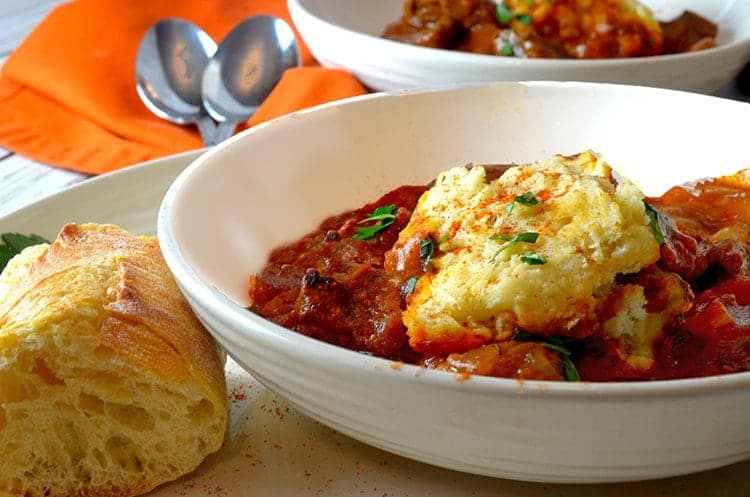 Among the goulash recipes that I reviewed, I noticed that many are served over a starch of some sort, including:



Mashed potatoes
Boiled potatoes
Egg noodles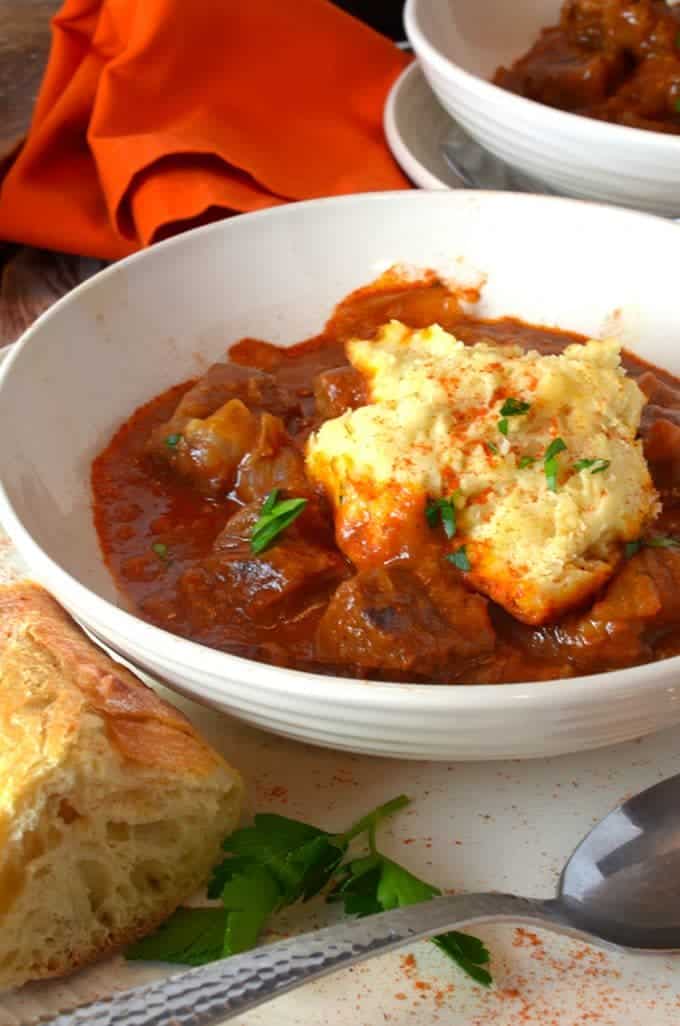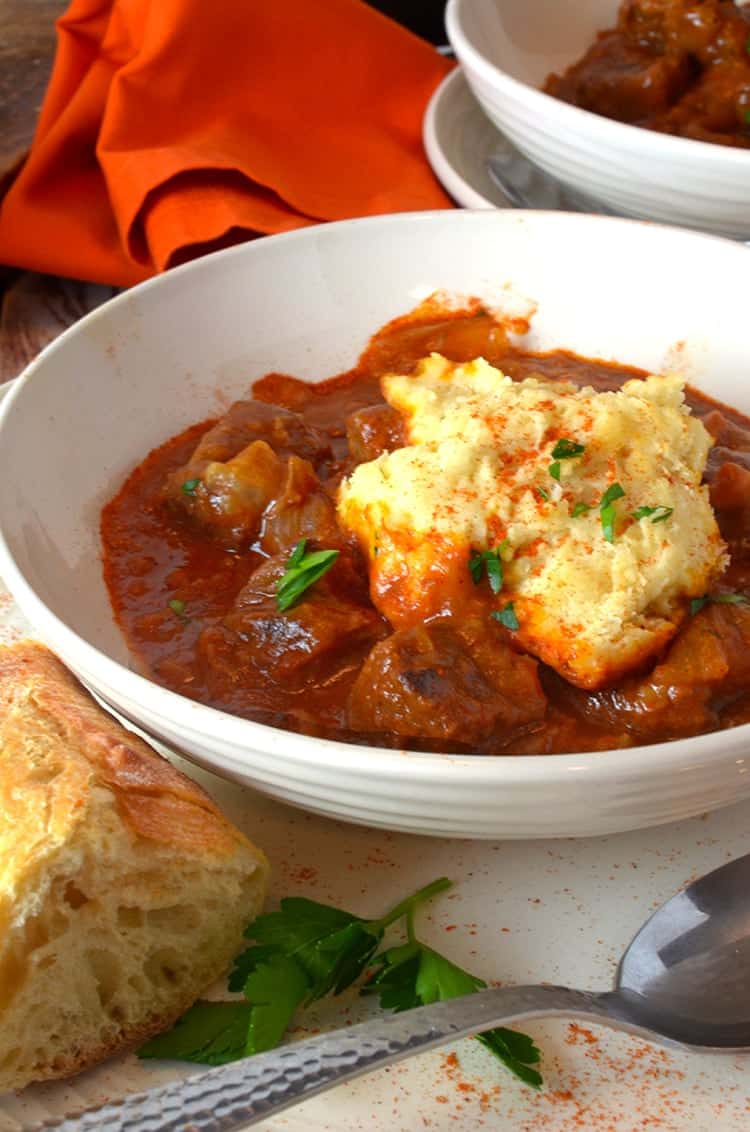 Or, many times it is just served as what it is: a simple hearty stew. I decided to try something a little different and instead of pouring the goulash over something, I steamed some dumplings atop of the stew itself and then served this simple goulash recipe with steamed dumplings. Let me tell you something, the dumplings are as easy to make as the goulash. Together, the two make the perfect meal of comfort and sustenance. Give this simple goulash recipe a try soon!  -Dan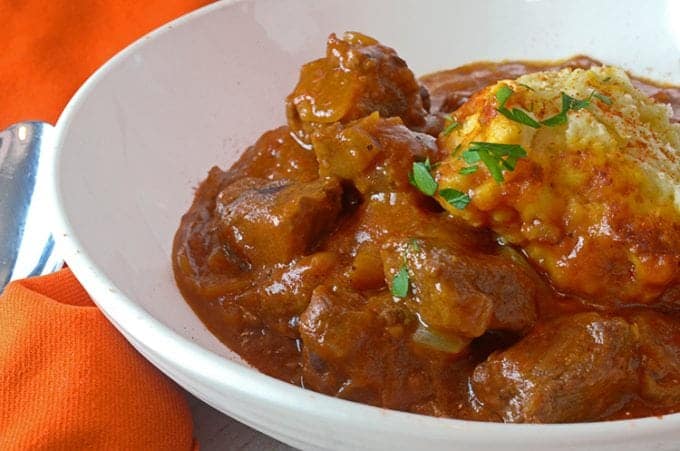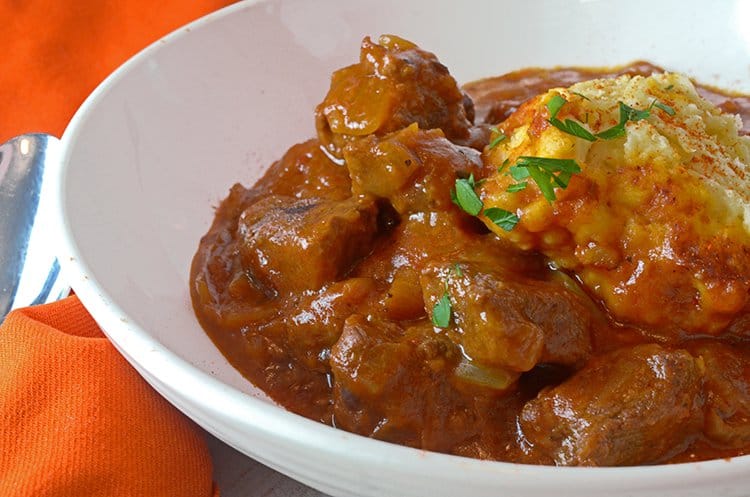 Click Here For Your Free and Secure Email Subscription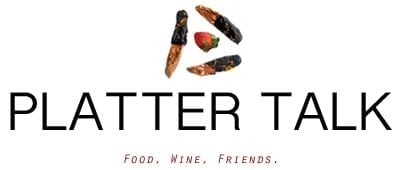 Simple Goulash Recipe with Steamed Dumplings from Platter Talk
A classic warm and comforting stew, all from one pot.

Ingredients
for the goulash
2

tbsp

butter

3

sweet

onions

Coarse Dice

3-4

tbsp

paprika

1

tbsp

caraway seeds

1/4

cup

flour

1-1.5

lbs

beef

Cut into 1" stewing chunks

2

cups

beef broth

2

tbsp

tomato paste

Salt and pepper

to taste
Instructions
for the goulash
Using skillet or dutch oven, place over medium heat and melt butter. Add onions and stir until soft and wilted, about 10 minutes. Stir in paprika and carway seeds and cook for 2 more minutes.


Using large mixing bowl, toss beef chunks in flour. Stir with wooden spoon until evenly covered. Add beef chunks to onion mixture. Pour in 1/2 cup of broth, tomato paste and stir and cook for 2 minutes.


Add remaining broth to pot, stir and bring to boil. Then, reduce heat to low and cover. Cook for 90 minutes until chunks of beef are tender.

for the dumplings
Combine dry ingredients in mixing bowl. Add milk and better and stir thoroughly.


Once the beef chunks are cooked to the tender stage, use a (heaping) teaspoon and drop the dumpling batter drop the dumpling batter into the simmering stew. Cover the pot and cook for an additional 15 minutes.


Do not uncover the pot for 15 minutes, doing so will allow the steam to escape and the dumplings will boil instead of steam. Steaming is necessary for a light a fluffy dumpling. At the 15 minute mark, test the dumplings with a toothpick. If it comes out clean they are done and ready to eat.

Notes
The longer you allow the goulash to cook, the more tender the beef becomes. As an added bonus, the flavor of the stew develops thereby making it even more delicious.
Nutrition
Calories:
689
kcal
|
Carbohydrates:
63
g
|
Protein:
31
g
|
Fat:
34
g
|
Saturated Fat:
15
g
|
Cholesterol:
107
mg
|
Sodium:
1273
mg
|
Potassium:
1324
mg
|
Fiber:
4
g
|
Sugar:
4
g
|
Vitamin A:
59.5
%
|
Vitamin C:
2.5
%
|
Calcium:
37.5
%
|
Iron:
43
%