Hungarian Goulash (Gulyás) with Steamed Dumplings
on May 01, 2020, Updated Jul 23, 2020
This Hungarian goulash
is packed
with flavor, ease, and convenience. What makes this family meal even better, you can make this warm and comforting stew in a single pot. What busy mom or dad doesn't love a delicious one-pot wonder?!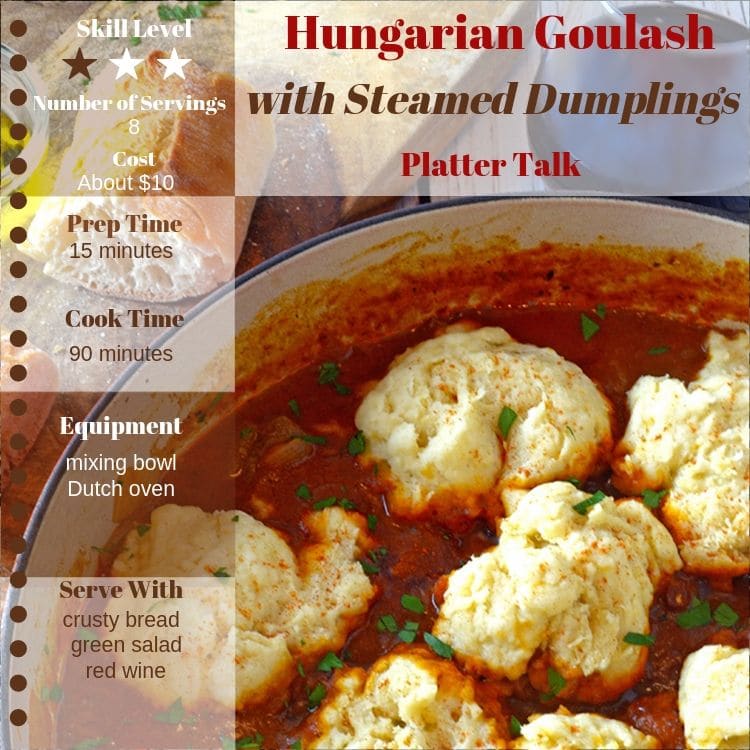 Hungarian goulash (

gulyás

)
Growing up, part of my elementary education was to learn to dislike goulash. The stuff served in my school cafeteria was so bad it was one of those things that I wouldn't even talk about at home. Almost like a dirty secret.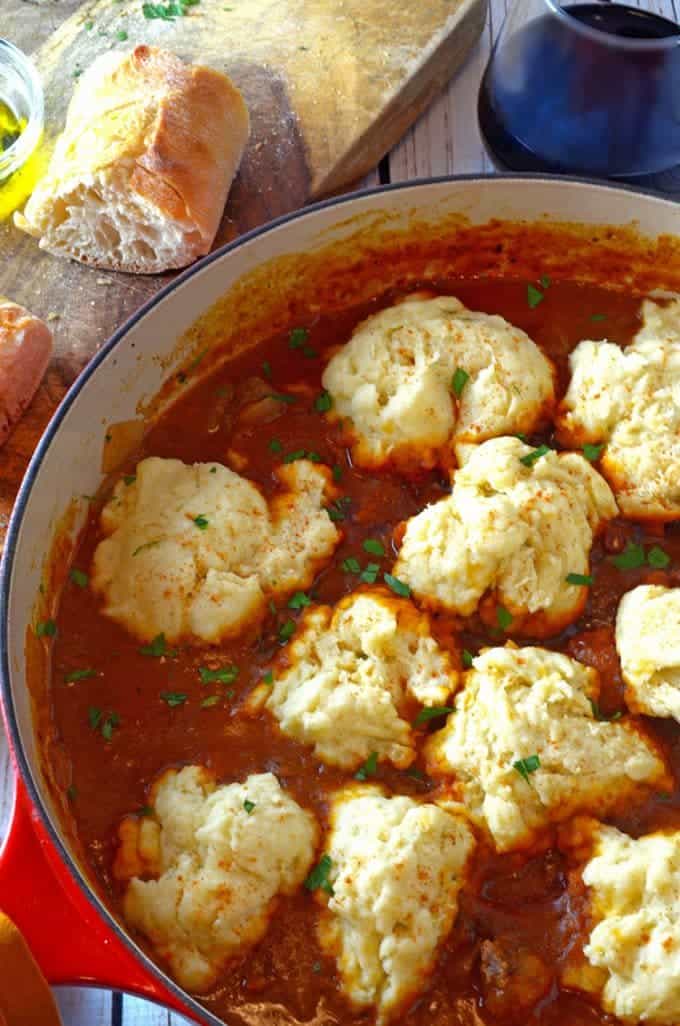 That was a dish of elbow macaroni, ground beef, and tomato sauce (full of bitter seeds). It was o the men every couple of weeks. Those were the days that my Looney Toons lunch pail got a lot of use.
Many years later and quite a few recipes to my credit, I now know what Hungarian goulash is, in its true form. This recipe that I am sharing with you today is the real deal.
What is goulash?
Goulash or Gulyás is the national dish of Hungary. It is a hearty beef stew seasoned with savory vegetables and warm spices. It can also be made with veal, pork, or lamb. The name comes from the Hungarian word cowboy or herdsman (Gulyás.) This is pronounced the same except without the "L" sound.
Goulash is enjoyed throughout central Europe. Lately in our household, it now popular even in parts of northeastern Wisconsin! It's the national dish of Hungary and a new favorite one-pot wonder in our kitchen.
The key ingredient to this Gulyás is the Paprika.
What is Paprika?
Most American kitchen spice cabinets have a jar of paprika sitting on the shelf. It is usually nestled in there with the cumin, pepper, garlic salt, and Italian seasonings. It's the red spice that we like to put on deviled eggs and potato salad to give them a little color and a little spicy heat.
Paprika is a Hungarian spice that is made of dried peppers that have been ground to a fine powder. The heat of these peppers can vary from region to region so there are different grades of paprika.
Paprika can be sweet, or smoked, or mild in flavor, which is the type that we usually have in our kitchen pantry. That's what we use in this Hungarian goulash recipe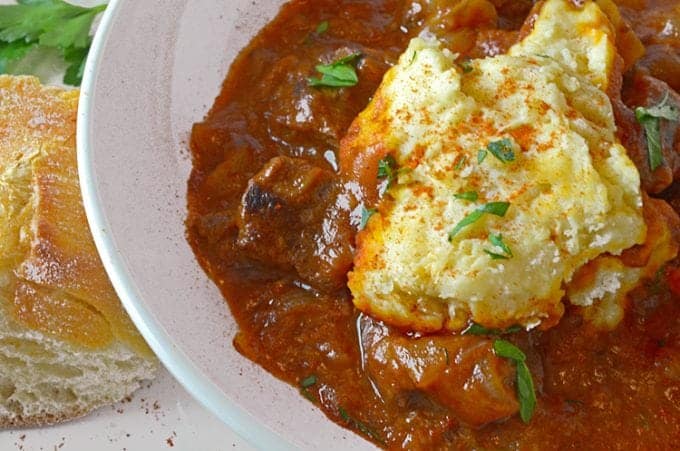 How to make goulash (

gulyás

)
(See the full recipe at the end of the post.)
In a nutshell, this is what I put in this Hungarian Goulash Recipe:
Onion
Beef
Flour
Broth
Paprika
Caraway
Tomato Paste
Salt & Pepper
As our readers know, I love using my
Dutch oven.
I've used it for
just
about everything short of a home for our kids' prized goldfish.
I can only hope that our son Isaiah never gets this notion. The Dutch oven is perfect for making this simple goulash recipe.
Start by sauteing a savory blend of onion, paprika, and caraway seeds in butter.
Dredge some chunks of beef in some flour.
Add the beef to the veggies and then created a simmering stew by adding broth and tomato paste.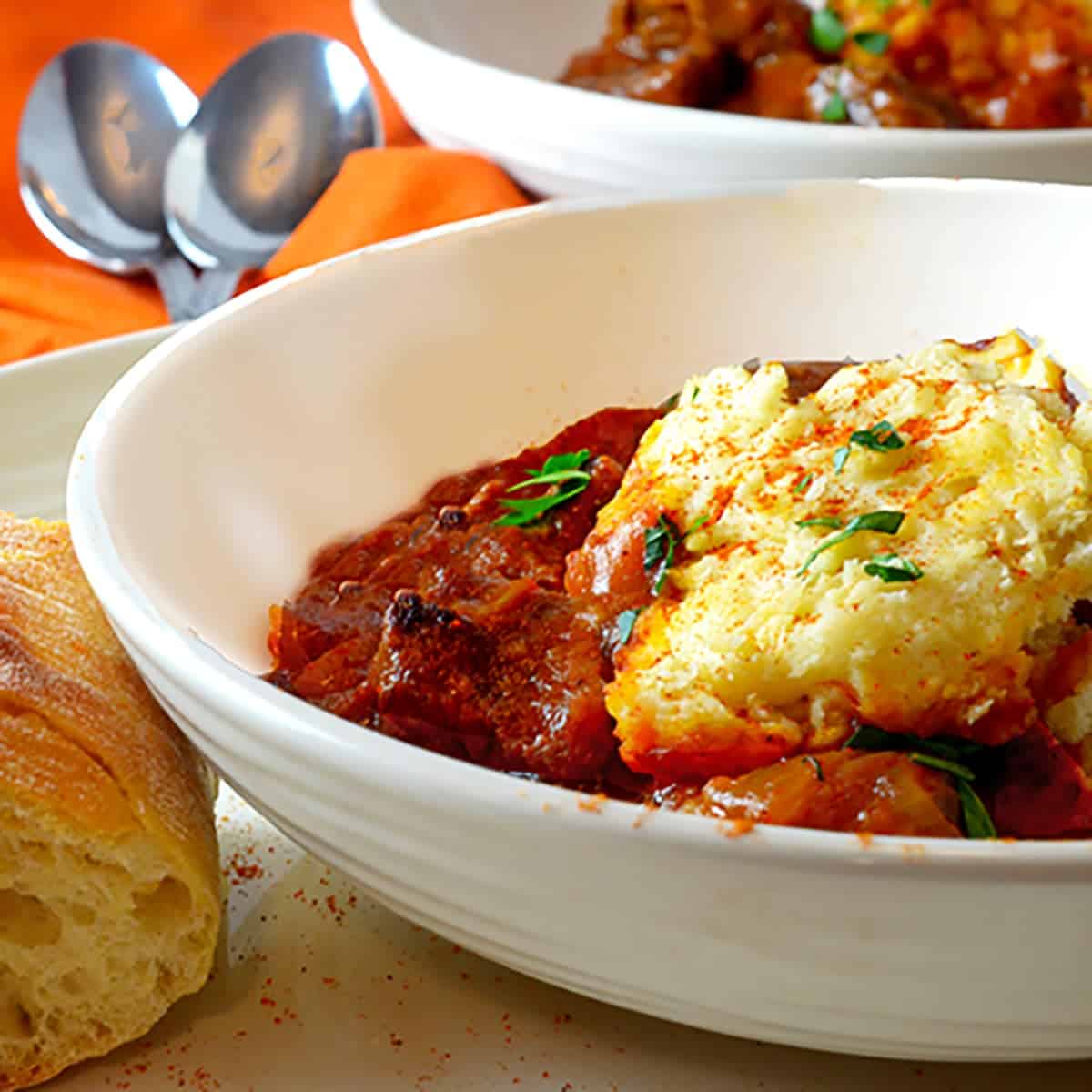 It's that simple!
Often, Hungarian goulash is served over noodles or pasta. In this version, we do something a little different. We make some homemade dumplings with the goulash, in the same pot.
To make this Hungarian goulash recipe even better, we add an easy topping of dumplings made of:
Flour
Baking Powder
Milk
Butter
Salt
There's no extra baking of the dumplings required for this goulash recipe. Instead, the dumplings take a delicious steam bath, on top of this Hungarian beef stew.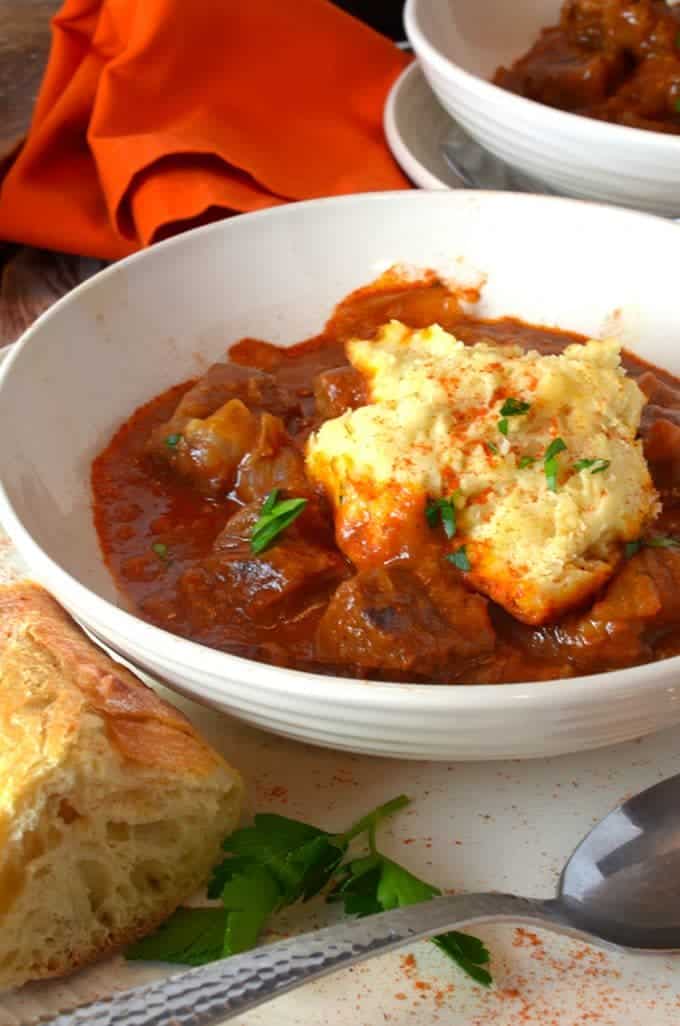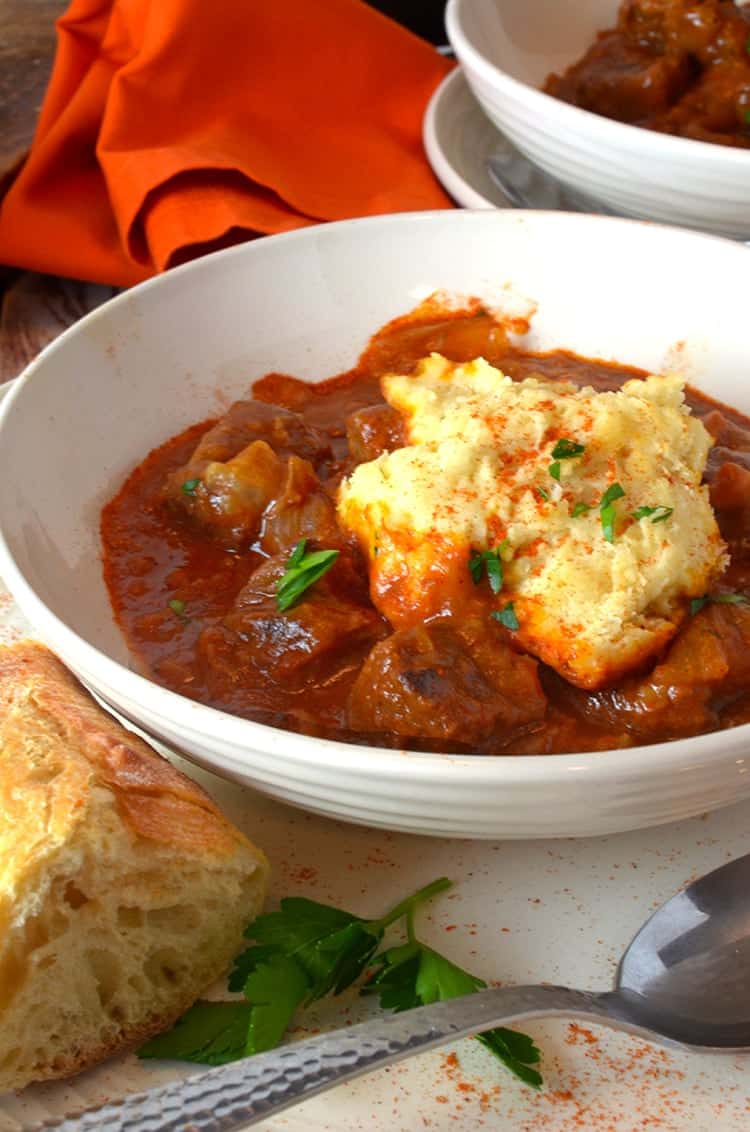 Let me tell you something; the dumplings are as easy to make as the goulash. Together, the two make the perfect meal of comfort and sustenance. Give this simple goulash recipe a try soon!
FAQ
Can I make Goulash in the Crock-Pot?
Yes. Follow the same instructions in the recipe. Then transfer the ingredients into your slow cooker and let it slow-cook all day long.
Can I store Leftover Goulash?
Store leftover goulash in the fridge in an air-tight container, for up to five days.
Can You Freeze Goulash?
You can freeze goulash for up to 3 months.

Allow it to thaw in the refrigerator overnight before using.
Reheat on the stove when ready to eat.

What to serve with Hungarian goulash
With this one-pot family meal, there is no need to serve any other side dish with it. It's always good to have a chunk of bread, slathered in butter, to soak up the warm and flavorful red gravy. These are a few things that we like to eat with this recipe:
Crusty bread
A Bottle of Red
If you've tried this Hungarian Goulash Recipe, please let us know your thoughts in the comments below. We love hearing from you! FOLLOW US on FACEBOOK, INSTAGRAM, and PINTEREST.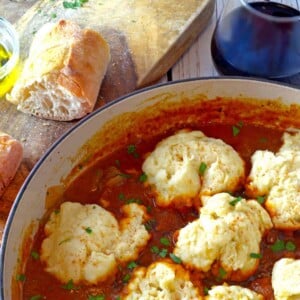 Hungarian Goulash (Gulyás) and Steamed Dumplings
Old-fashioned goulash made in a Dutch oven and served with simple, steamed dumplings.
Ingredients
for the goulash
2

tbsp

butter

3

sweet

onions

,

Coarse Dice

3-4

tbsp

paprika

1

tbsp

caraway seeds

1/4

cup

flour

1-1.5

lbs

beef

,

Cut into 1″ stewing chunks

2

cups

beef broth

2

tbsp

tomato paste

Salt and pepper

,

to taste
Instructions
for the goulash
Using a skillet or dutch oven, place over medium heat and melt butter. Add onions and stir until soft and wilted, about 10 minutes. Stir in paprika and caraway seeds and cook for 2 more minutes.

Using large mixing bowl, toss beef chunks in flour. Stir with wooden spoon until evenly covered. Add beef chunks to onion mixture. Pour in 1/2 cup of broth, tomato paste and stir and cook for 2 minutes.


Add remaining broth to pot, stir and bring to boil. Then, reduce heat to low and cover. Cook for 90 minutes until chunks of beef are tender.

for the dumplings
Combine dry ingredients in mixing bowl. Add milk and butter and stir thoroughly.

Once the beef chunks are cooked to the tender stage, use a (heaping) teaspoon and drop the dumpling batter into the simmering stew. Cover the pot and cook for an additional 15 minutes.

Do not uncover the pot for 15 minutes, doing so will allow the steam to escape and the dumplings will boil instead of steam. Steaming is necessary for a light a fluffy dumpling. At the 15 minute mark, test the dumplings with a toothpick. If it comes out clean they are done and ready to eat.

Notes
The longer you allow the goulash to cook, the more tender the beef becomes. As an added bonus, the flavor of the stew develops thereby making it even more delicious.
Make this a crock-pot goulash by using your slow cooker and letting it cook all day long on medium or low heat, depending on your crock-pot.
Nutrition
Calories:
345
kcal
,
Carbohydrates:
32
g
,
Protein:
16
g
,
Fat:
17
g
,
Saturated Fat:
8
g
,
Cholesterol:
54
mg
,
Sodium:
637
mg
,
Potassium:
662
mg
,
Fiber:
2
g
,
Sugar:
2
g
,
Vitamin A:
1487
IU
,
Vitamin C:
1
mg
,
Calcium:
187
mg
,
Iron:
4
mg
Nutrition information is automatically calculated, so should only be used as an approximation.