Leftover steak and leftover beef is something that we have pretty often in our household. Our steak enchiladas are an easy and delicious way to put that leftover meat to good use. This easy enchilada recipe is something I know our kids will always love. Real good enchiladas, that's what they call these!

These beef enchiladas are a perfect use for leftovers from our prime rib, jerked beef, and our braised beef.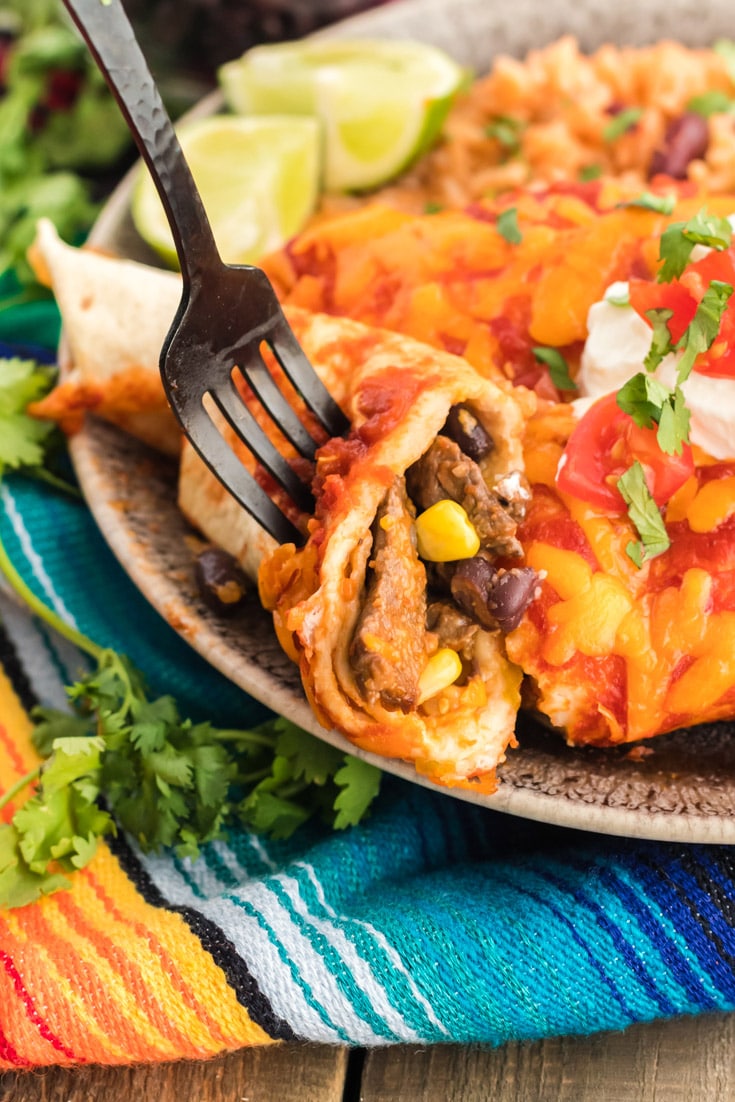 What To Do With Leftover Steak?
If you've ever asked this question, we have a delicious suggestion for the final destination of your leftover steak. We came up with this recipe for beef enchiladas after a visit to one of our favorite Wisconsin supper clubs, the legendary Schwart's Supper Club.
Although there were only four in our party, we ordered for three and received enough incredibly good tasting food to easily serve twice that many. In addition to our very full stomachs, this left us wondering what to do with leftover steak. These steak enchiladas were the answer to our question.
Because we had gigantic portions of both ground sirloin and sirloin steaks from our supper club visit, we loaded these babies up and then added some pan-roasted fresh sweet corn and black beans to the mix.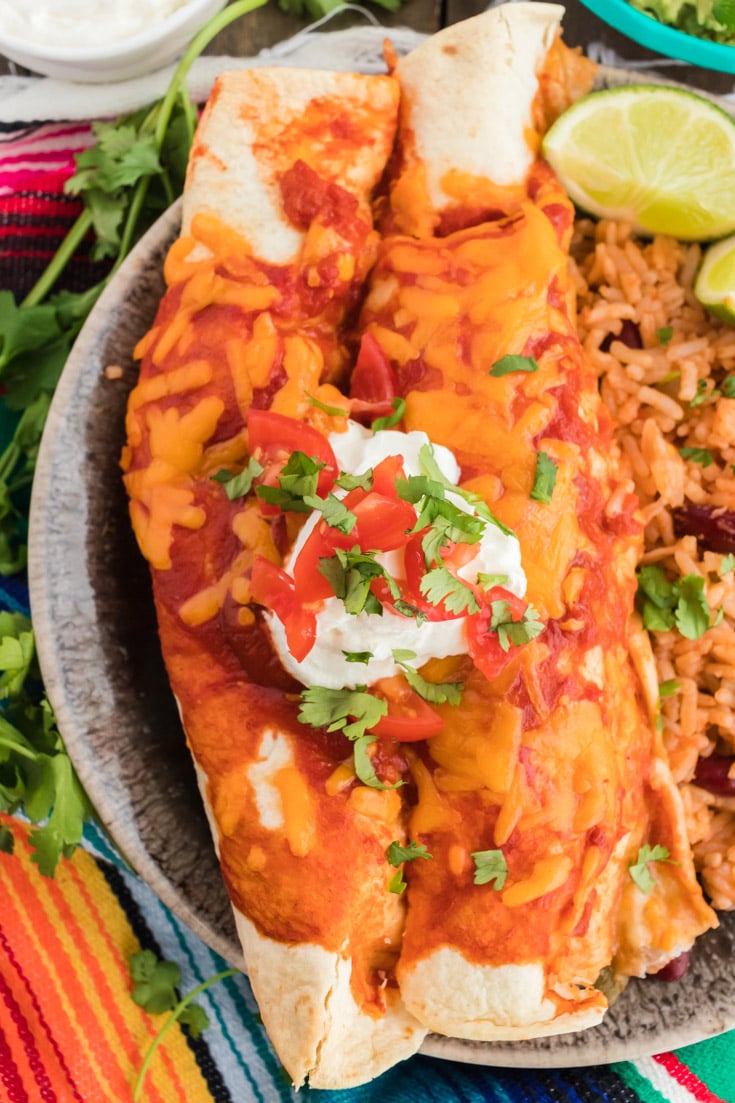 Steak Enchiladas Ingredients
Leftover steak
Tortillas
Black beans
Olive oil
Sweet corn
White onion
Chopped chili peppers
Red salsa
Red enchilada sauce
Cheddar cheese
Cilantro (optional garnish)

How to Make this Leftover Steak Recipe

(Complete Recipe at the end of this post.)
Gather up the ingredients along with a greased 2-quart baking dish. Turn your oven on to 350° F. Start by sauteeing the corn over medium heat in a large skillet. Add the chopped onion and stir for another minute or so. And now the fun part: Putting these enchiladas together.
Parent/Grandparent Tip:
This is a great time to get your kids in the kitchen. This is a fun and easy recipe to put together and they will love giving you a hand!
Use a large mixing bowl to combine the leftover steak, corn, onion, black beans, chili peppers.
Add ½ cup for your favorite red salsa.
Fold in a 1 cup of shredded cheese.

Shred the cheese from a block of cheese.
Pre-shredded cheese contains fillers like p

otato starch and natamycin to help keep it from shredding. These additives take away from the flavor and give the cheese a waxy finish. Also, you'll find that pre-shredded cheese will not melt as well as the real thing!

Add a can of red enchilada sauce.

You can use a green enchilada sauce as well. Or, a combination of the two. We never judge!

Scoop out 3 to 4 tablespoons of the mixture and spread down the center of a tortilla.
Place the rolled enchiladas in the baking dish. Then top with remaining can of enchilada sauce and the rest of the shredded cheese.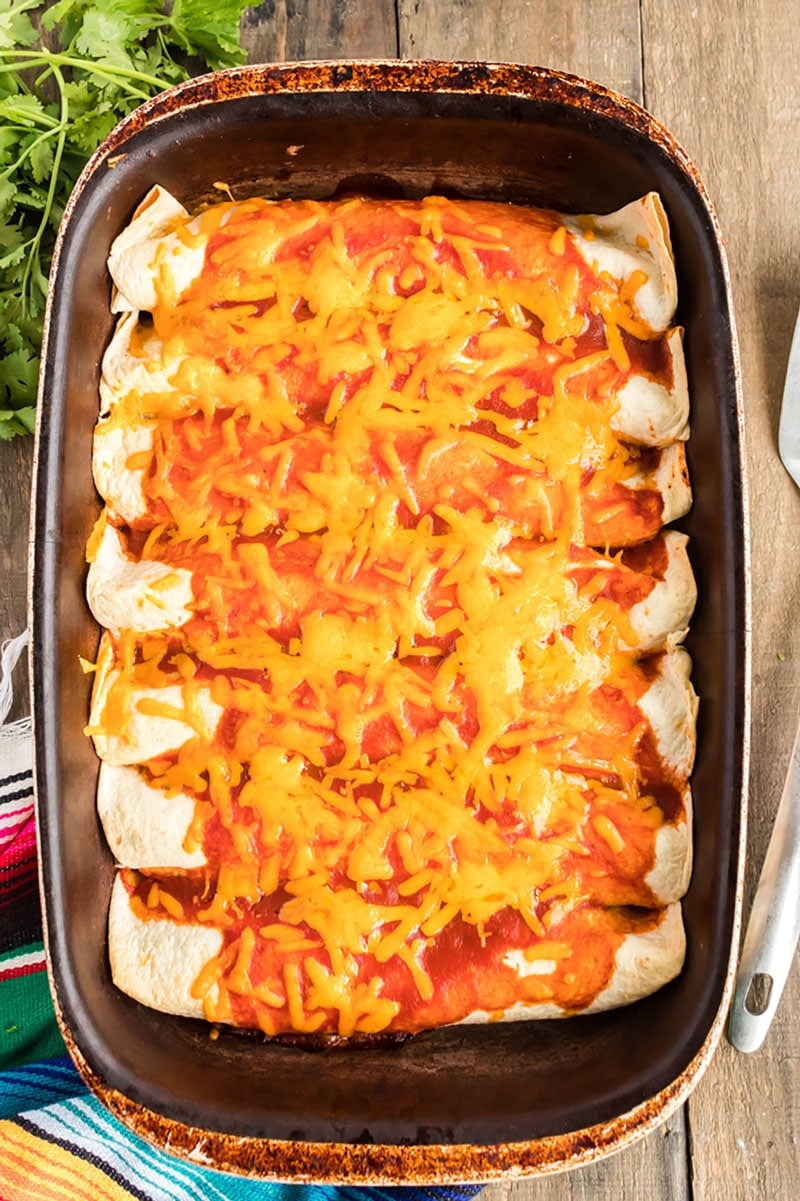 Bake these enchiladas in the oven for 30 minutes, uncovered.
What can I serve with this Leftover Steak Recipe?
We're all about casual when it comes to eating at home, especially when it comes to leftovers! I like to set a few side dishes and garnishes out and let everyone customize their own leftover steak enchilada. This works especially well with the kids as it lets them decided what they want to put on these delicious enchiladas. I think that over time it also encourages them to try new things.
Here are some easy ideas to serve with these steak enchiladas:
Sour cream
Salsa (red or green)
Spanish rice and beans
Chopped cilantro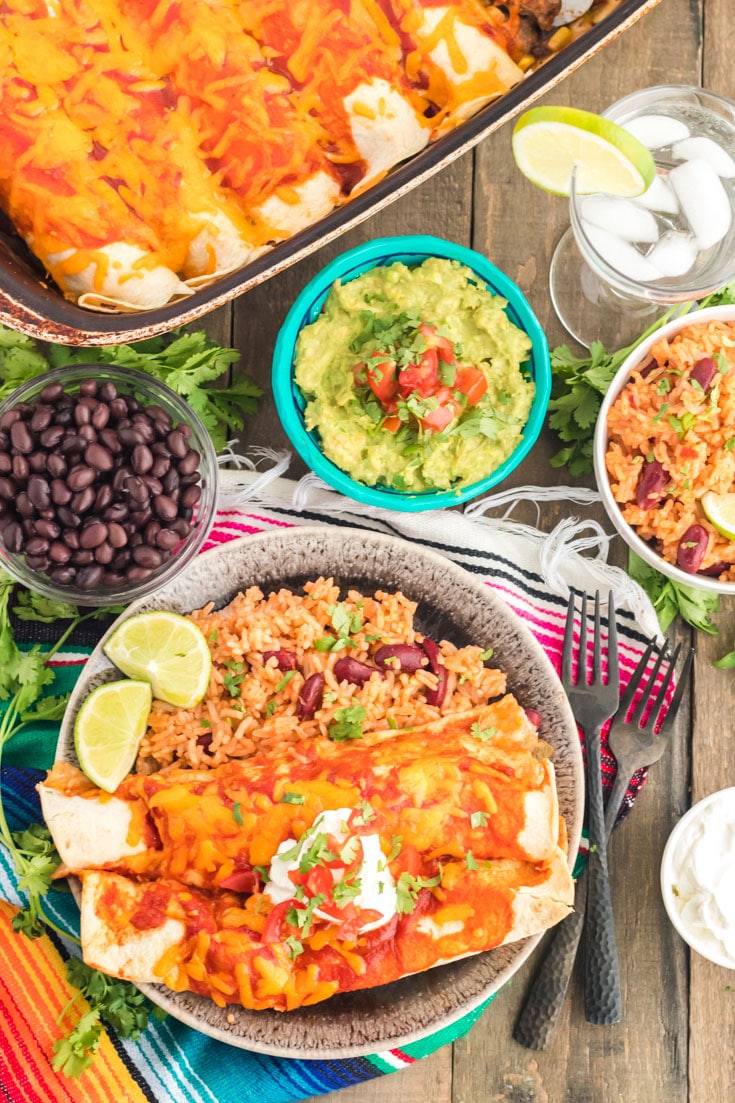 Can I use other Leftover Meat to Make Enchiladas?

Funny you should ask! The answer of course is yes.
What kind of Tortillas should I use to make Enchiladas?
Enchiladas are traditionally made with corn tortilla, but flour ones work just as well.
You'll want to use the six-inch corn tortillas or the 8-inch flour tortillas for these enchiladas. They will fit in the baking pan best.
There are gluten-free tortillas available to make gluten-free enchiladas.
You can also use cabbage leaves for the tortilla for a low-carb enchilada recipe!
Can I Make these Ahead of Time?
It's best to put these together just before baking. This helps to keep from getting soggy enchiladas.
How Long Can I Store Keep these Enchiladas?
You can keep leftover from this leftover recipe for up to five days. Just cover the leftover enchiladas in plastic wrap and place in the refrigerator. They make great lunches for work or home, later in the week!
To reheat, you can microwave them for 90 seconds on high. Or, reheat in the oven at 300° for 15 minutes, covered in foil.
Can I Freeze These Enchiladas?
Yes, these enchiladas can be frozen and reheated for a convenient freezer meal.
It's best to bake them first and allow them to completely cool down.
Wrap very well in the baking dish, try to get all the air out between the enchiladas and the plastic wrap.
Allow thawing over-night in the fridge before reheating in the oven.
Reheat the thawed enchiladas at 300° for 15 minutes, covered with foil.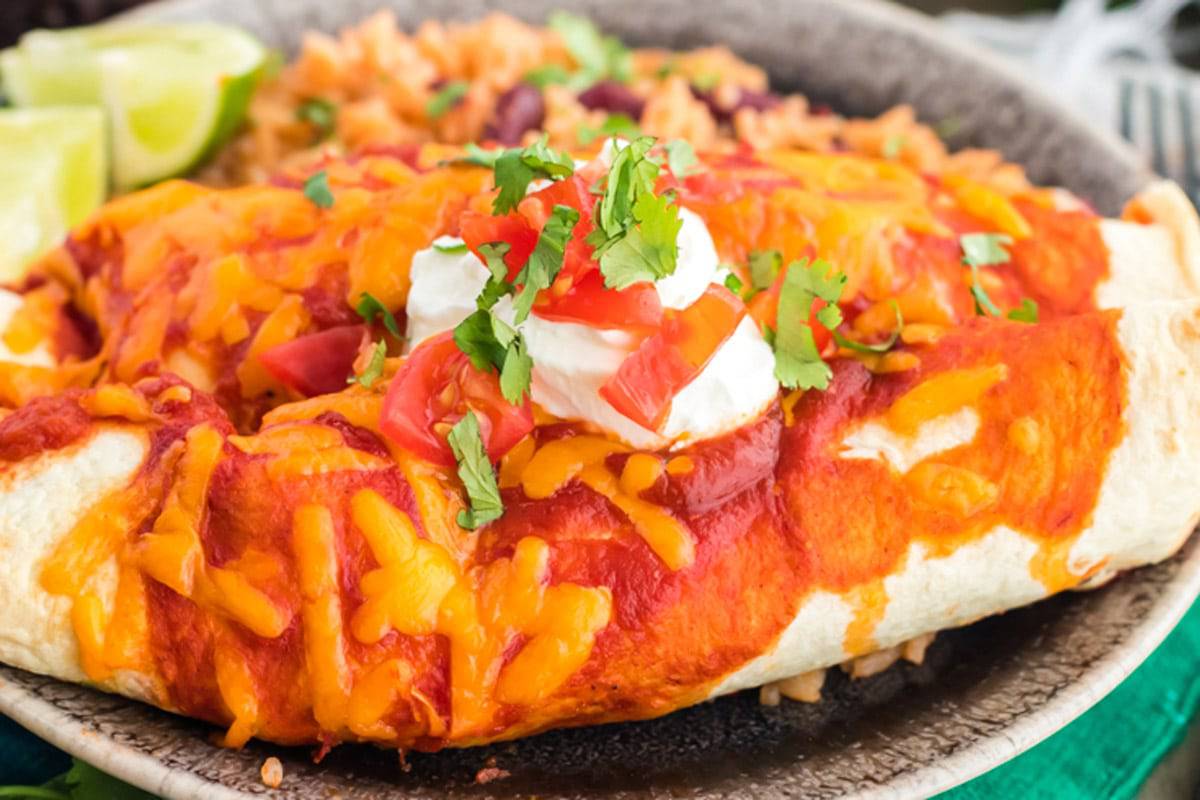 I hope you enjoy this easy family meal that uses leftover steak! Our family loves it and I think you're going to as well. Please drop me an email and let me know how you like to use leftover steak. Our family is always looking for new recipes for tasty leftover meals!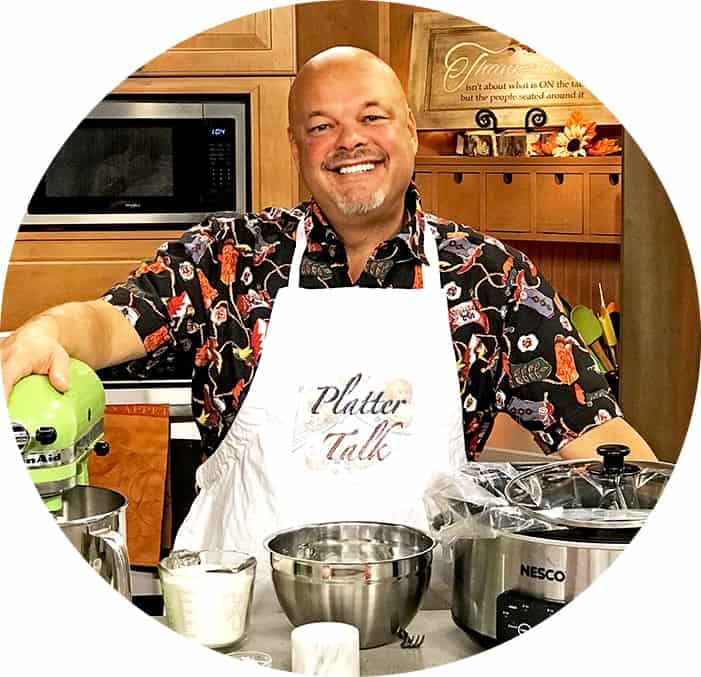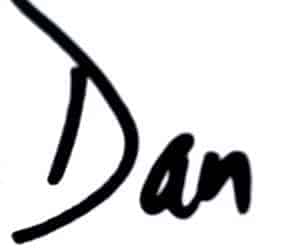 If you have tried this mandarin salad recipe, please let us know your thoughts in the comments below. We love hearing from you! You can also FOLLOW US on FACEBOOK, INSTAGRAM, and PINTEREST to see more delicious food and what we have cooking.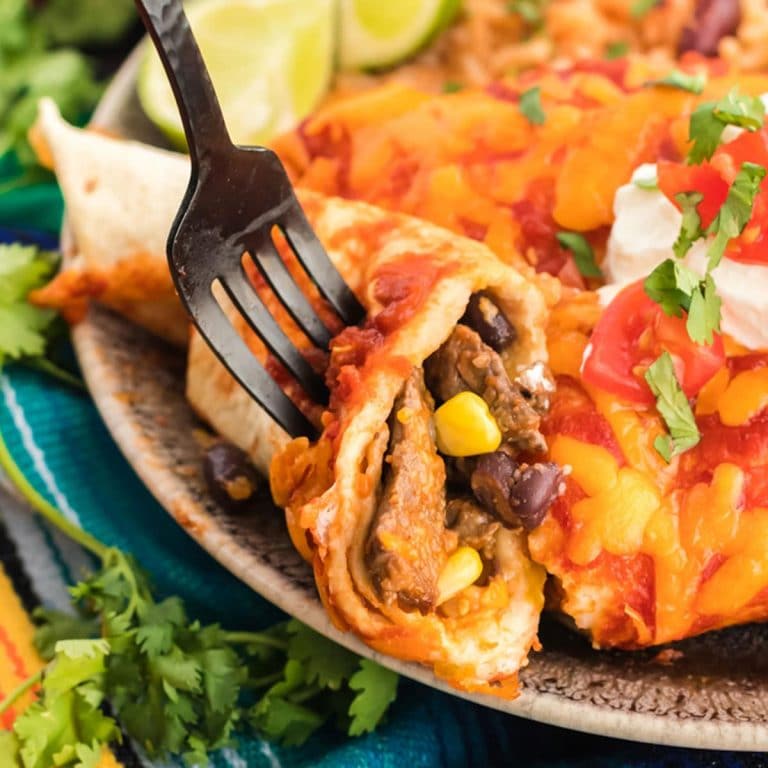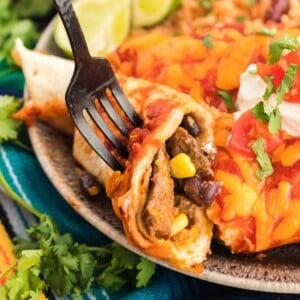 Steak Enchiladas Using Leftover Steak or Beef
Wondering what to do with leftover steak? Try this steak enchilada recipe for a good leftover meal the whole family will enjoy!

Print
Pin
Rate
Equipment
3-quart baking dish

Skillet
Ingredients
1

lb

combination of leftover steak

finely chopped or ground sirloin.

10

large tortilla wrappers

1 16

oz

can low-sodium black beans.

1

tablespoon

olive oil

2

ears fresh sweet corn

or 2 cups frozen sweet corn.

1

small white onion

diced (optional)

1 4

oz.

can chopped chili peppers

½

cup

red salsa

3 10

oz.

cans red enchilada sauce

½

cup

chopped cilantro leaves

2

cups

shredded cheese.
Instructions
Preheat oven to 350 degrees F.

Spray to 9 x 11 baking dishes with non-stick coating.

Heat olive oil in skillet over medium heat, add corn and saute till browned.

Add onions and saute until soft and translucent, if desired.

In large mixing, combine meat, corn, black beans, salsa, chili peppers, 1 can of enchilada sauce, 1 cup of cheese, and cilantro leaves.

Using 1 can of enchilada sauce, coat the bottom of a 3-quart baking dish.

Lay the tortilla out on a flat surface, dole out 3-4 tablespoons of meat mixture in each one and roll into enchilada.

Lay wrapped enchiladas in pans, and divide remaining can of enchilada sauce over enchiladas.

Sprinkle remaining shredded cheese on top of both pans.

Place in oven for 30 minutes, uncovered.

Serve with sour cream and garnish with additional salsa and cilantro if desired.
Notes
You can use green enchilada sauce instead of red if desired.
Sometimes I line the baking pan with a can of salsa verde, for extra zing and flavor!
Reheat these enchiladas in a foil-covered baking dish at 300°F for 15 minutes.
Nutrition
Calories:
483
kcal
|
Carbohydrates:
44
g
|
Protein:
26
g
|
Fat:
22
g
|
Saturated Fat:
9
g
|
Cholesterol:
62
mg
|
Sodium:
989
mg
|
Potassium:
572
mg
|
Fiber:
7
g
|
Sugar:
7
g
|
Vitamin A:
615
IU
|
Vitamin C:
3.8
mg
|
Calcium:
216
mg
|
Iron:
4.2
mg
Updated from the original post of September 28, 2018