Like many of my favorite things to eat, this beefaroni recipe has a special connection.
It came from my Grandmother and when I was growing up we visited my Grandma's house all the time.
We were lucky because she only lived down the street from us.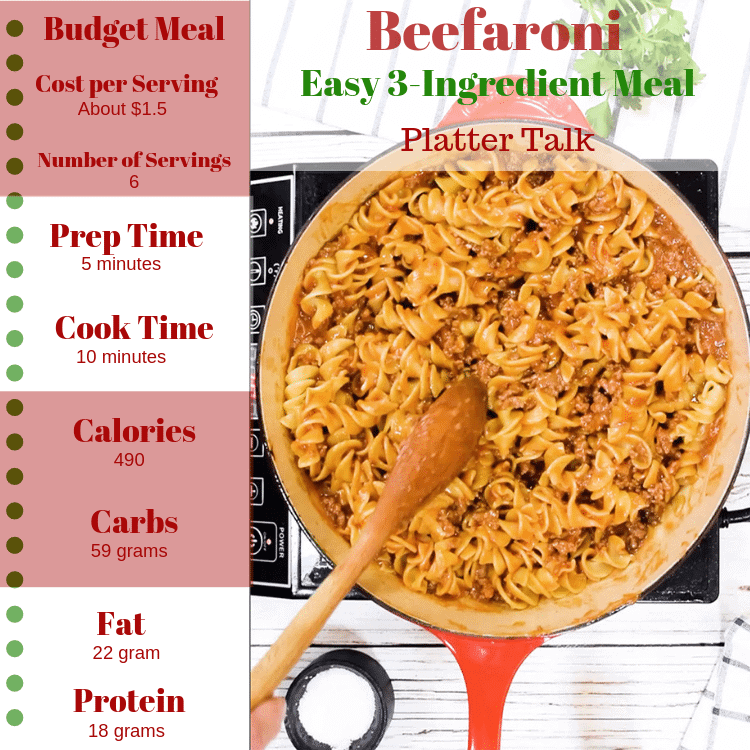 Beefaroni
Grandma Zub, Lottie was her first name, but we always referred to her by her last name.
She was a very loving person who provided us with many things, one of which were great meals.
I always thought of her as a gourmet chef.
One of my favorite meals that she made, she called Beefaroni.
Ingredients for Homemade Beefaroni
Egg noodles
Ground Beef
Cream of Tomato Soup
To Make Homemade Beefaroni

Unfortunately, my Grandma passed away many years ago, and this meal was lost to me, until one day when I wanted to make it for our kids.
So, I called my mother and asked her if she remembered when Grandma used to make this for us.
She of course remembered and asked why.
I told her that I wanted to try and make it and asked her to how to make beefaroni.
Step 1 for making Beefaroni at Home

Start by preparing a 12-ounce bag of egg noodles.
If we were over at her house and she mentioned that she was making beefaroni for dinner, we would immediately tell her that we were staying for dinner.

Step 2 For Homemade Beefaroni:
Brown 1 pound of hamburger. Don't use the leanest blend or it will be too dry.
We like to use a blend of 80% lean and 20% fat.
Step 3 For of this Beefaroni Recipe:

Add a family size can of Campbell's Cream of Tomato Soup. If you don't have a family size can, use two regular sized cans.
I was ready with a pencil and paper ready to take down every ingredient.  Mom laughed at the idea that I was so excited about this recipe.
Step 4 To Make Beefaroni:
Return the drained egg noodles tot the pan ground beef and tomato soup mixture and stir it up!
I was hoping that I could recreate my childhood memories for my children.  She took a deep breath and began the list.
"1 pound of ground beef," she said.  Quickly I jotted this down.
"OK," I responded as if I was a reporter of a newspaper getting an exclusive story.
"Next," she said, "One family sized can of Campbell's tomato soup."
"Interesting," I responded.  "What next?" I asked.
"That's it," she stated.
"That's it?" I responded, puzzled.
I learned from my mom that Grandmother cooked for convenience.
That gourmet chef was more like Rachel Ray before  Rachel Ray was even born.  Grandma liked to make easy meals for her family.
She had eight children to care for.  The last thing that she wanted to do was to spend the entire day in the kitchen.
So, this Beefaroni recipe was created for this purpose.
Three simple ingredients for this Beefaroni
Ground Beef

Tomato Soup

Egg Noodles
This homemade beefaroni can be put together on a work and school night with no problem.
It has quickly become my children's favorite meal, and they think that I slaved in the kitchen making this for them.
Makes me smile knowing that I am giving them the same type of memories I had with my Grandmother.  Maybe one day they will make it for their kids.
-Scott
More of our Ground Beef Recipes
Step 5 For Homemade Beefaroni:
Be sure to make enough for leftovers!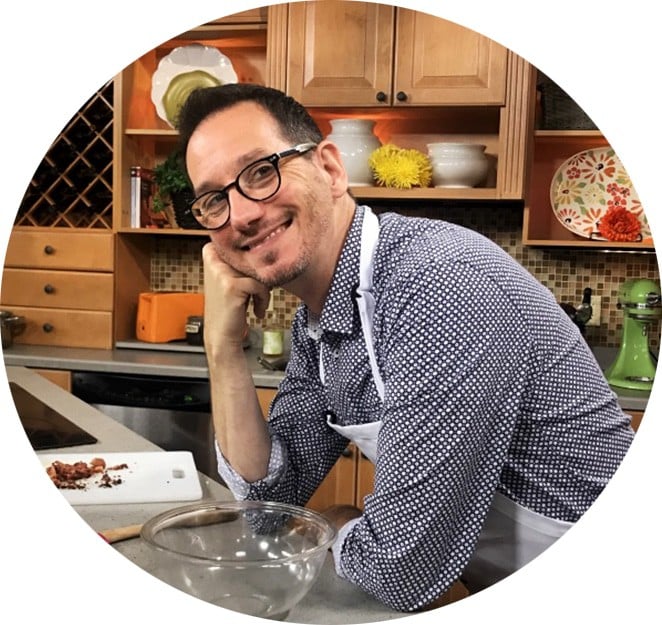 Have you made this Beefaroni or any other recipe on Platter Talk? If so, please let us know your thoughts in the comments below, we love hearing from you! You can also FOLLOW US on FACEBOOK, INSTAGRAM, and PINTEREST to see what we have cooking!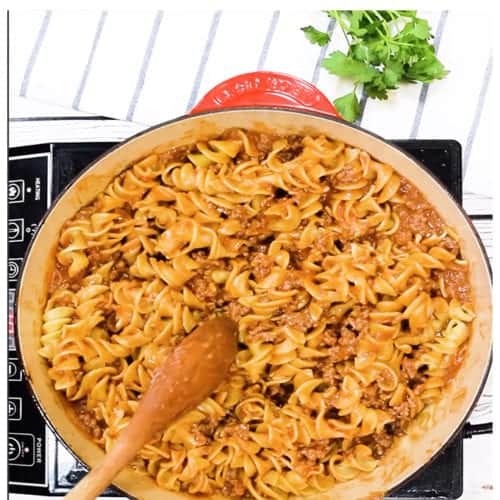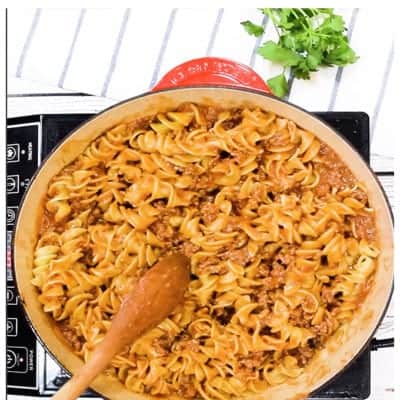 Beefaroni
This delicious and inexpensive family meal of homemade beefaroni is lovingly inspired by my Grandma Zub. I think of her every time we enjoy this old dinnertime recipe.

Print
Pin
Rate
Ingredients
1

lb

ground beef

26

oz

Tomato soup

1 family size can

12

oz

Egg noodles

Salt and pepper to taste
Instructions
Brown ground beef in a skillet, season to taste with salt and pepper, and drain excess grease from pan.

Add can of tomato soup to the cooked ground beef.

In a pot boil water and cook egg noodles according to directions on packaging.

Drain egg noodles when cooked and add to beef and tomato soup mixture.

Stir to combine.

Add salt and pepper to taste.
Notes
Serve with a vegetable of choice, our kids like corn or green beans with this.
Sprinkle with grated mozzarella cheese.
Serve some brown and serve rolls with this. You can cook them in the oven at the same time you are putting together the beef-a-Roni.
Nutrition
Calories:
490
kcal
|
Carbohydrates:
59
g
|
Protein:
22
g
|
Fat:
18
g
|
Saturated Fat:
6
g
|
Cholesterol:
101
mg
|
Sodium:
525
mg
|
Potassium:
1032
mg
|
Fiber:
3
g
|
Sugar:
11
g
|
Vitamin A:
515
IU
|
Vitamin C:
15.8
mg
|
Calcium:
49
mg
|
Iron:
3.3
mg
Updated from the original post of January 20, 2014