The BEST Homemade Beefaroni Recipe With 3 Ingredients
on May 03, 2020, Updated Jan 09, 2023
Homemade beefaroni is the perfect alternative to the usual casserole dish for busy weeknights. It's one of our favorite low-cost meals for the entire family and uses just 3 main ingredients that are all pantry staples.
I'm going to show you how to make this childhood classic. This easy homemade beefaroni takes just 15 minutes to make. Just one bite, and you'll realize it is so much better than the chef Boyardee beefaroni canned stuff you ate as a kid.
The best part is that it only costs about $1.50 per serving and makes a complete meal!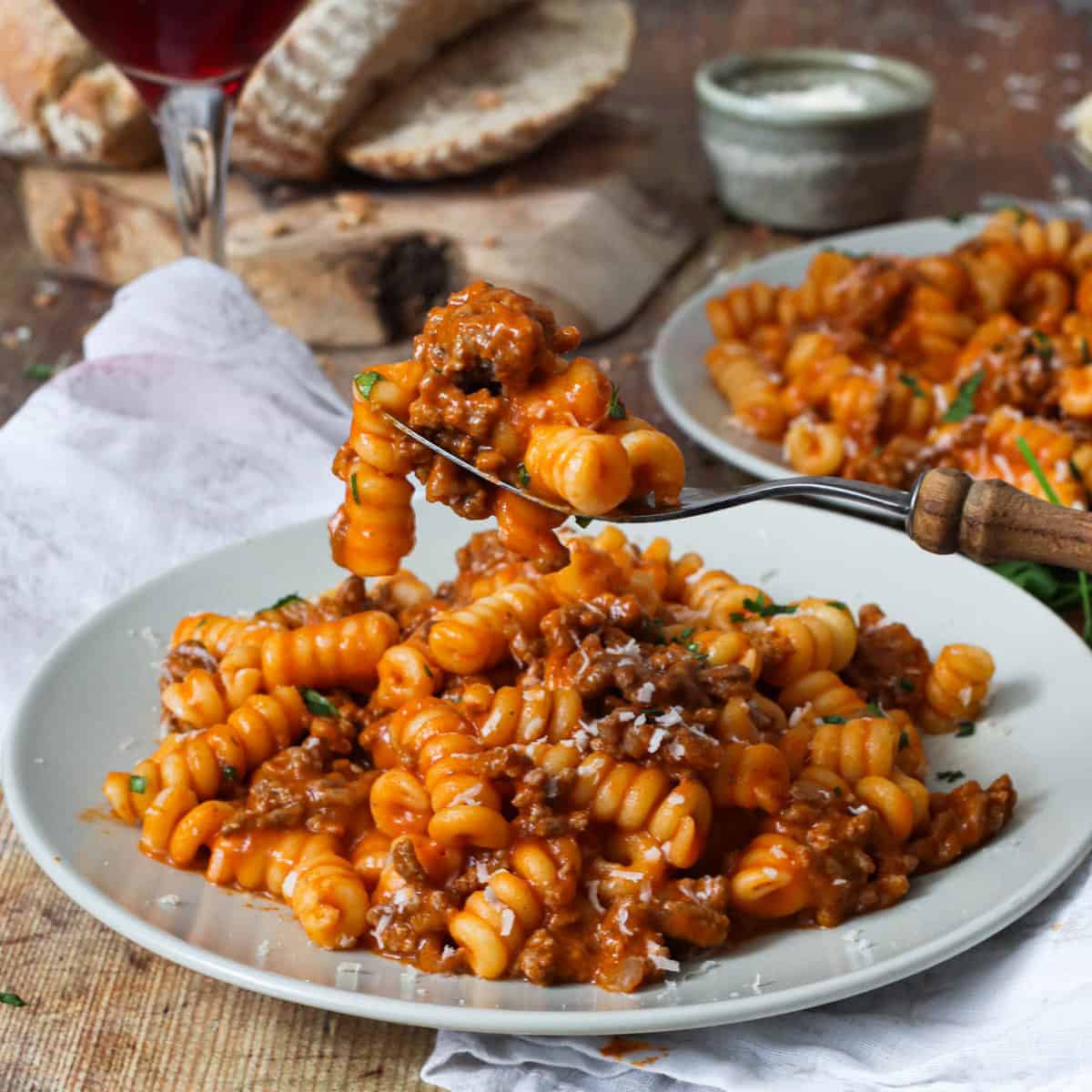 Jump to:
What is beefaroni?
Some people refer to beefaroni as an American goulash. Homemade beefaroni is one of my favorite things to eat, and it holds a special place in my heart.
This beefaroni dish comes from my Grandmother, and when I was growing up, we always visited my Grandma's house. We were lucky because she only lived down the street from us.
Our kids love this homemade beefaroni; it is a total comfort food for us. As a bonus, every time they make this recipe, it's almost like my long-departed grandma gives them a big hug. It can't get any better than that.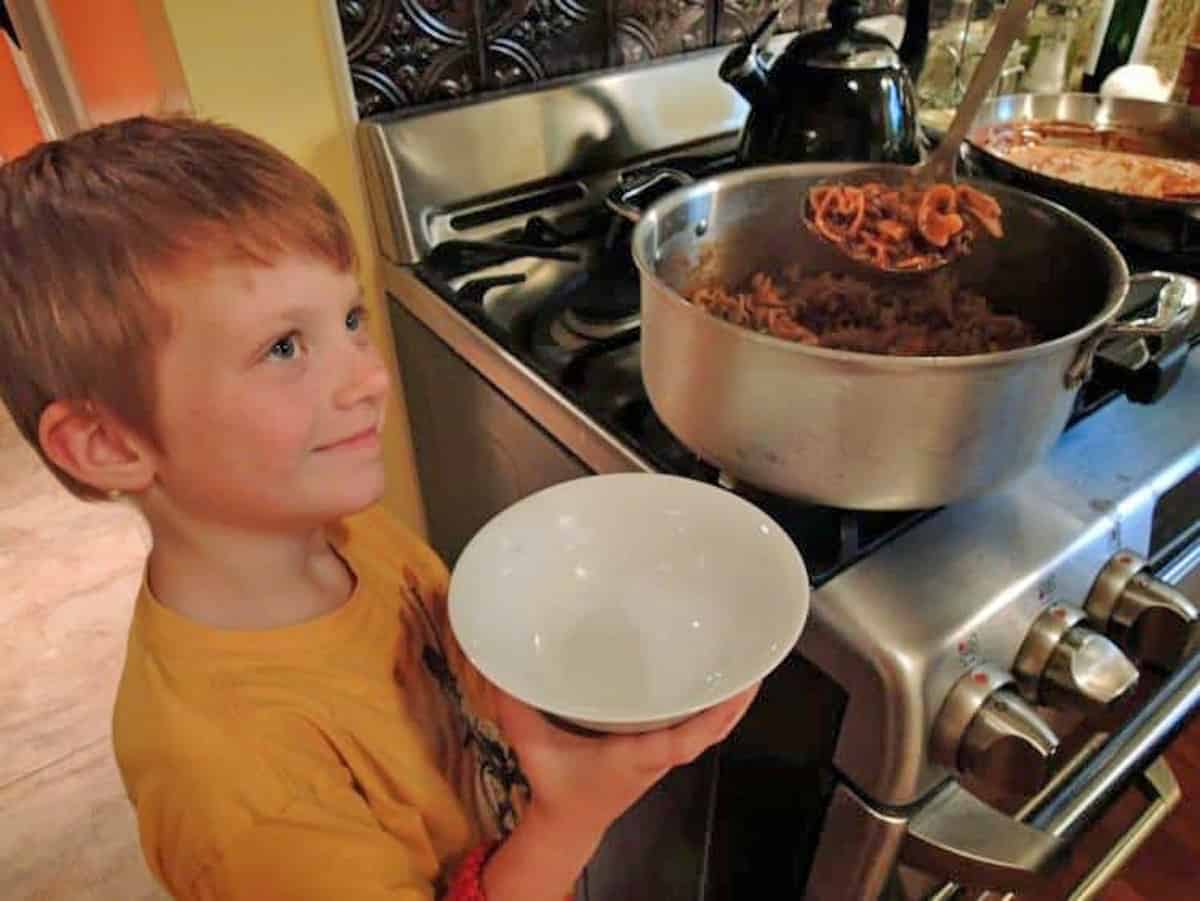 Grandma Zub, Lottie was her first name, but we always referred to her by her last name. She was a very loving person who provided us with many things, including great meals like this homemade beefaroni.
I always thought of her as a gourmet chef, and one of my favorite meals she made was beefaroni. We would always invite ourselves to stay for dinner if we were ever at her house and knew she was making this meal. Grandma never said no.
This is the same beefaroni my grandma made for me.
This low-cost family meal is a lot like the lady my grandma was. Simple, comforting, and as delicious as she was loving.
The recipe I am sharing with you has minimal ingredients, just three. Again, like the lady behind it, you can dress it up with some additions. Either way, it is a surprisingly good meal.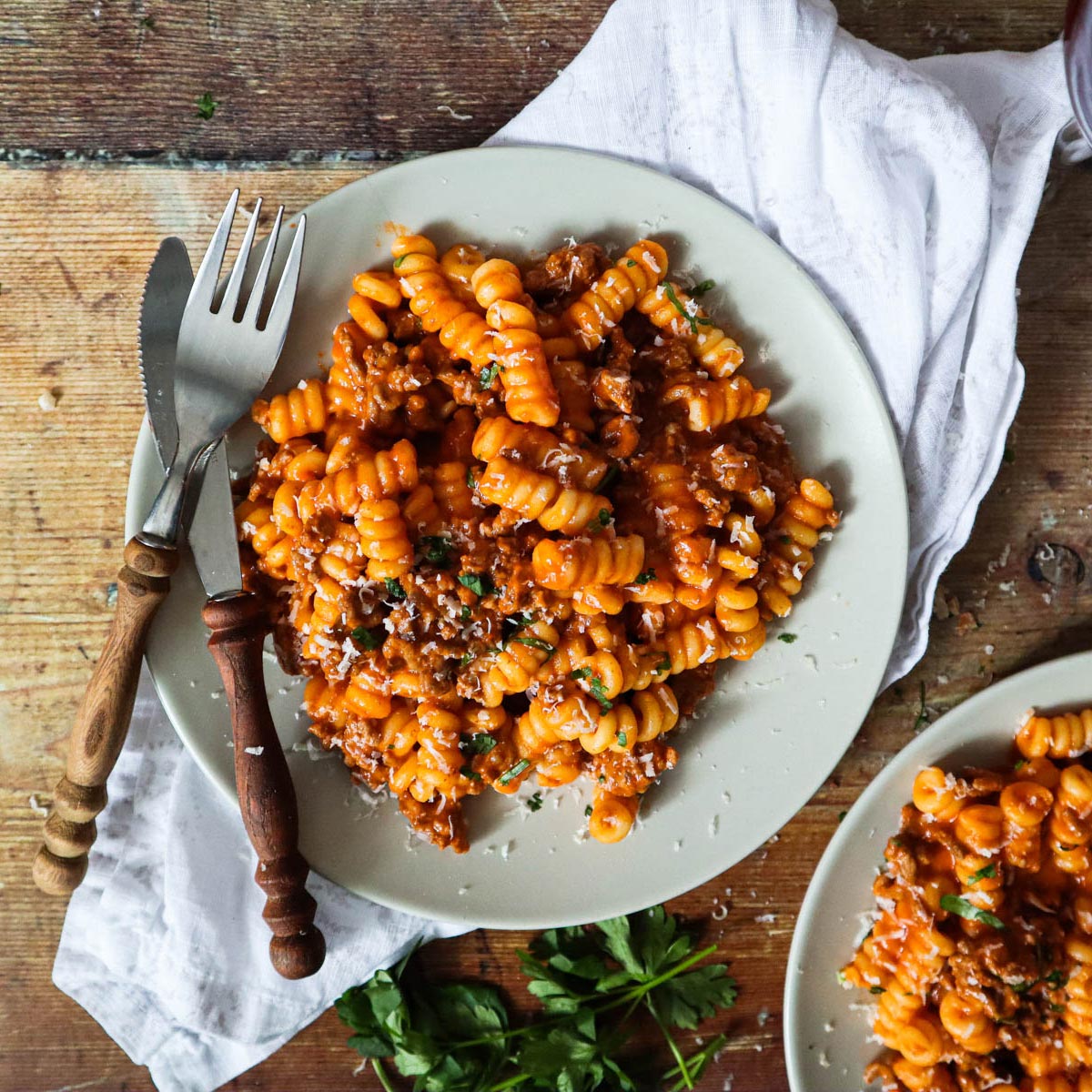 Many people who first see this homemade beefaroni recipe discount it as a kids' meal. Kids indeed love this beefaroni, but I think you'll be surprised at how much you will like it too!
What's in this
(See the full recipe at the end of this post.)
Egg noodles

Egg noodles are the base for this beefaroni recipe. A lot of folks use elbow noodles (macaroni) instead, and that is fine. I like the way the egg noodles hold the sauce and besides, this is what Grandma used!

Ground Beef

We use ground beef for this homemade beefaroni but you can use any ground meat such as ground turkey.
I prefer an 80/20 (Lean/fat) ground beef for a little extra flavor.
Cooking Tip
When you brown the ground beef for this beefaroni, let it sear a bit in the skillet. This will give the meat some caramelization and add a nice beefy flavor to the finished recipe!
Cream of Tomato Soup

I have found that Campbell's cream of tomato soup tastes the best in this beefaroni.
How to make it
Unfortunately, my Grandma passed away many years ago, and this meal was lost to me until one day when I wanted to make homemade beefaroni for our kids. So, I called my mother and asked her if she remembered when Grandma used to make this for us.
She, of course, remembered and asked why I was wondering. I told her I wanted to try and make it and asked her how to make Grandma's homemade beefaroni. I had a pencil and paper ready to take down every ingredient. Mom laughed at the idea that I was so excited about this recipe.
I was hoping that I could recreate my childhood memories for my children. She took a deep breath and began the list. "One pound of ground beef," she said. Quickly I jotted this down.
"OK," I responded as if I were a newspaper reporter getting an exclusive story. "Next," she said, "One family-sized can of Campbell's tomato soup." "Interesting," I responded. "What next?" I asked.
"That's it," she stated. "That's it?" I responded, puzzled.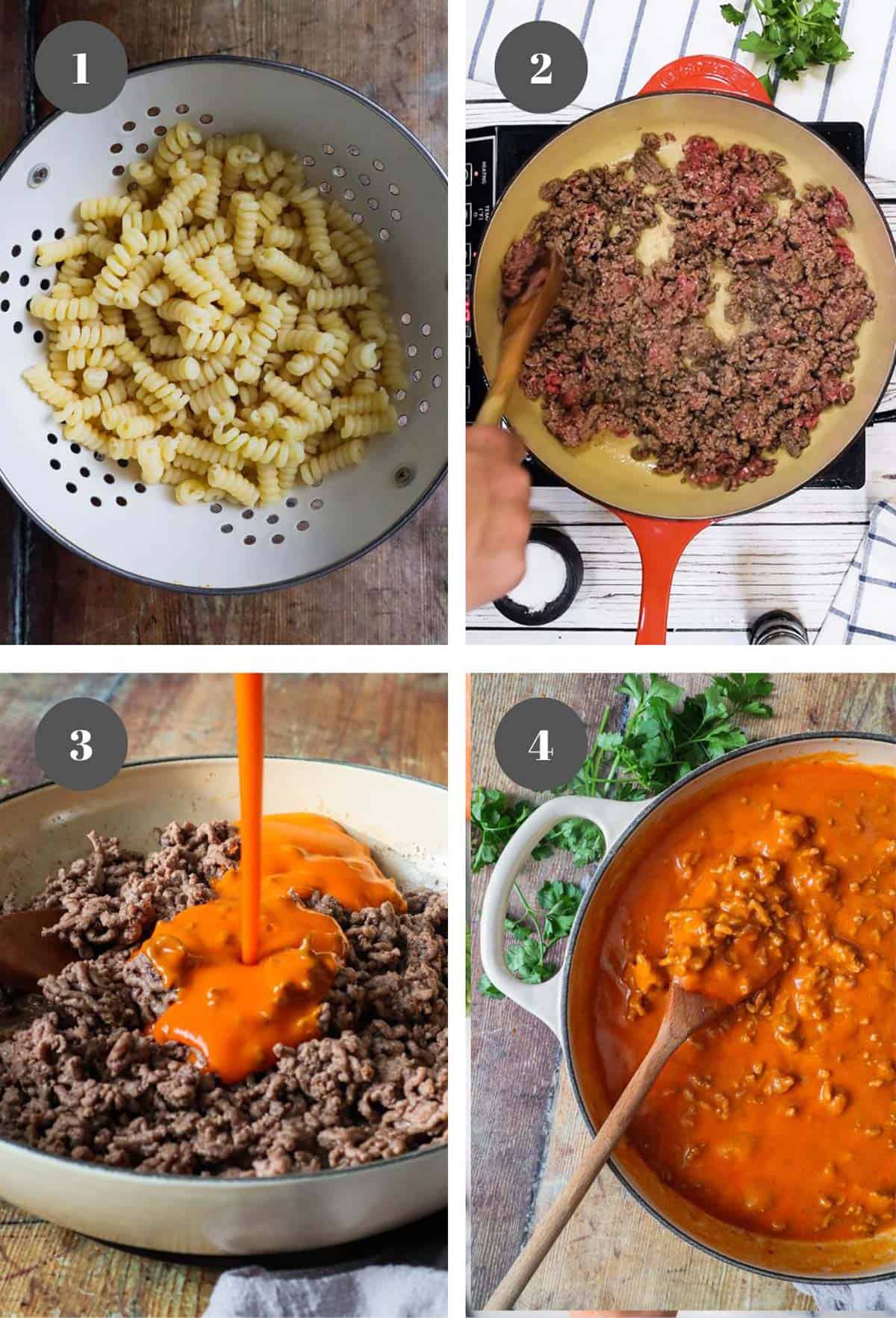 Start by preparing a 12-ounce bag of egg noodles al dente.
In a large skillet over medium heat, brown 1 pound of hamburger. Don't use overly lean ground beef, or it will be too dry. We like to use a blend of 80% lean and 20% fat.
Add a family-size can of Campbell's Cream of Tomato Soup. You can use two regular-sized cans if you don't have a family-size can.
Use a large wooden spoon to stir the beef and tomato soup together.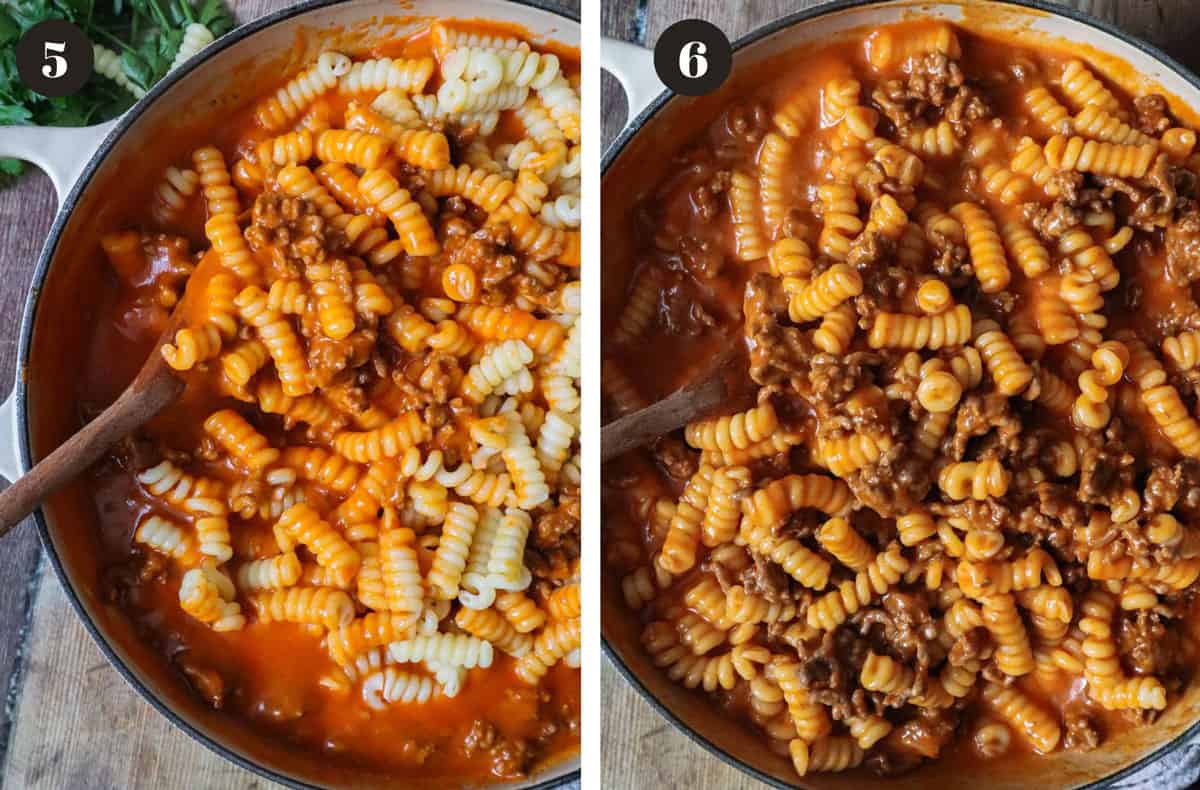 5. Return the drained egg noodles (or macaroni noodles) to the pan with the beef mixture.
I learned from my mom that my Grandmother cooked for convenience. That gourmet chef was more like Rachel Ray before Rachel Ray was even born. Grandma liked to make easy family meals.
She had eight children to care for. The last thing she wanted to do was spend the entire day in the kitchen. So, this quick family recipe was created for this purpose.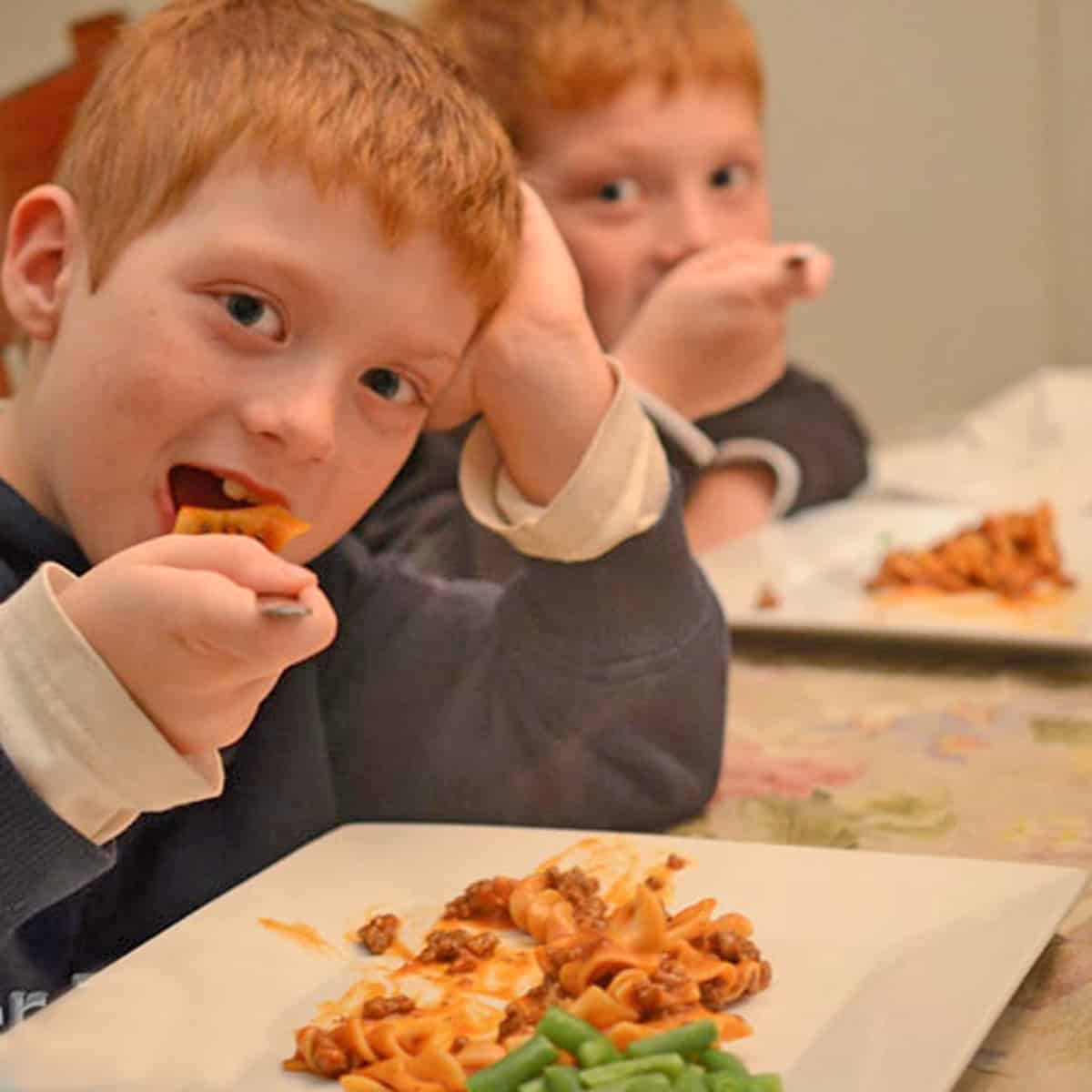 This homemade beefaroni is an easy meal that can be put together on a work and school night with no problem. It has quickly become my children's favorite meal, and they think I slaved in the kitchen making this for them. This will also keep well in an airtight container or freezer bag so you can pull it out on a chilly night.
It makes me smile knowing that I am giving them the same memories I had with my Grandmother. Our boys can make this homemade beefaroni on their own now; it's that simple to put together. Maybe one day, they will make it for their kids.
Substitutions and variations
If you want to add a little flair to this homemade beefaroni, toss in some of the following!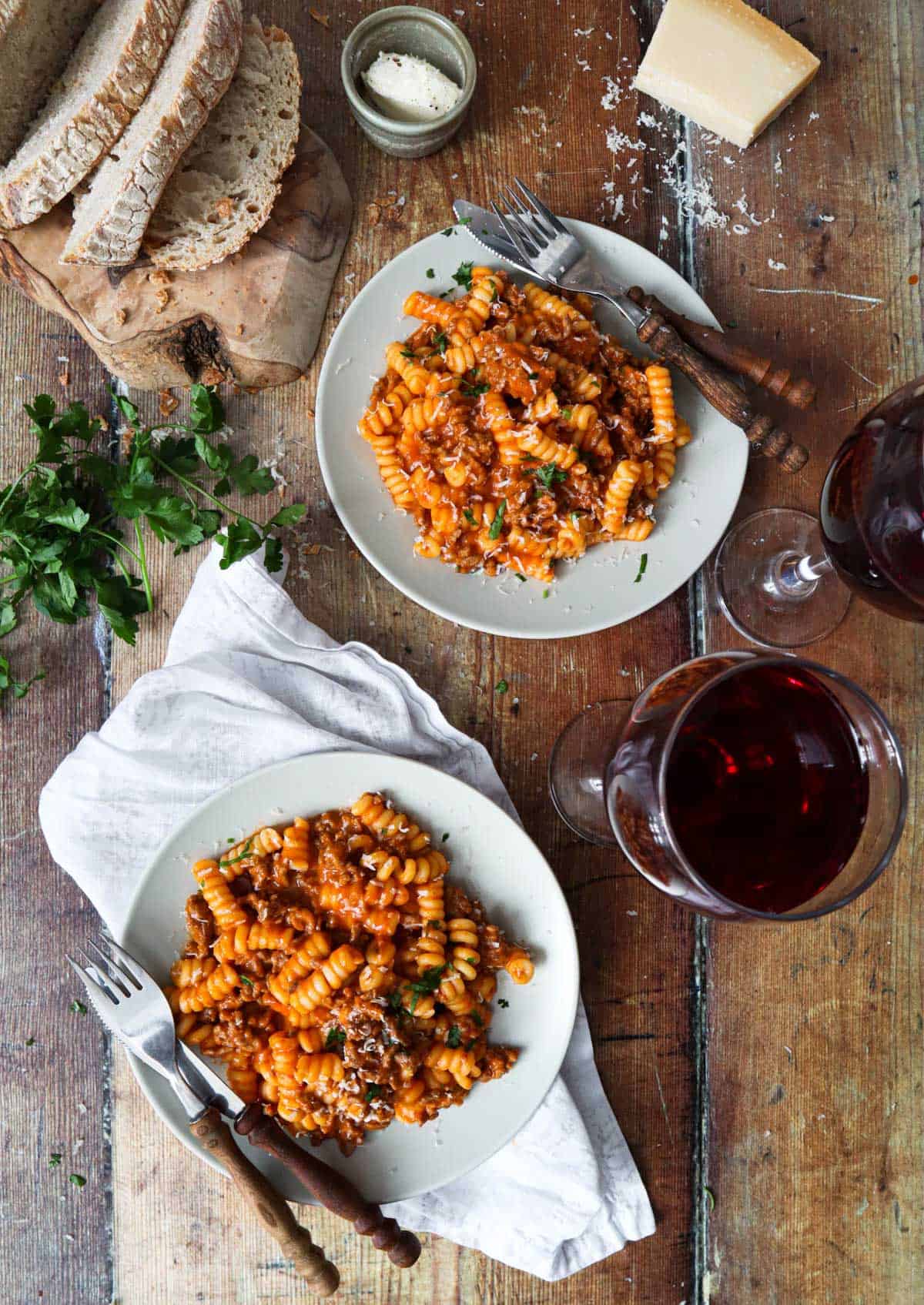 Add vegetables such as diced bell peppers, diced onion, and mushrooms to the dish for a more flavorful and nutritious meal.
Instead of ground beef, use an equal amount of ground turkey or chicken for a leaner version of this homemade beefaroni.
Use a different type of pasta, such as penne or rigatoni, in place of elbow macaroni.
Try various types of tomato sauce. Some examples might be marinara or arrabbiata for a whole different twist of flavor.
Throw some cheese into the mix. Sprinkle a handful of shredded cheese on top of each serving or stir a cup into the pot before serving. Sharp cheddar or Parmesan cheese always taste good with this beefaroni recipe.
Give the dish an Italian twist by adding a sprinkle of Italian seasoning or by stirring in a can of diced tomatoes with Italian herbs. Fresh basil and fresh parsley are also good in this homemade beefaroni.
Add some spice by tossing in a pinch of red pepper flakes or diced jalapenos to the sauce.
Try some of these suggestions to jazz up this homemade beefaroni and turn it into a spectacular dish!
Common questions
Can I bake this homemade beefaroni in the oven?
You can finish off this family meal in the oven for a beefaroni casserole. Just place it in an oven-safe skillet or casserole dish, then bake it at 350° for 30 minutes.
How do you store this for later?
Beefaroni always tastes best when it is fresh, but it heats up nicely for an easy leftover meal. Just store the leftovers in an air-tight container in your fridge.

They'll stay good for up to 3 days. When ready to reheat, put the leftover beefaroni into a saucepan, add a little water, and warm up over a medium setting on the burner. You can also place this in the microwave for a minute or two.
This homemade beefaroni may sound like a kid's recipe, but adults also love it. Do yourself a favor one of these evenings and try it. I can't wait to hear how you like it!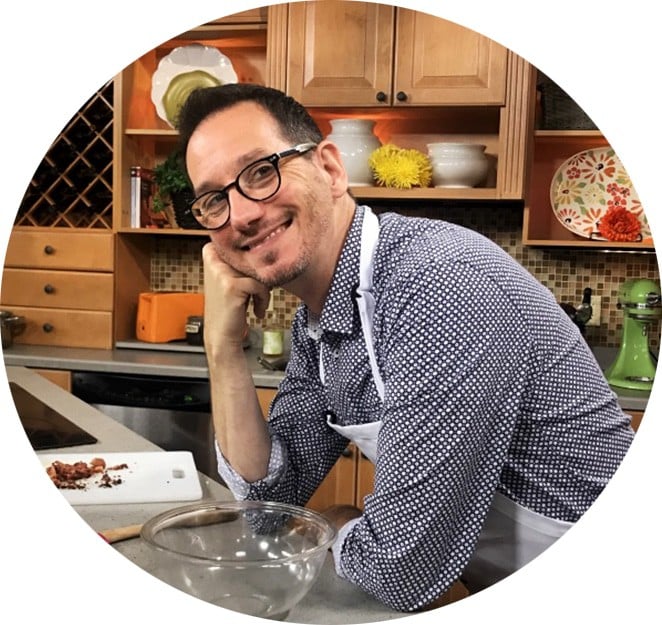 More ground beef recipes
---
👨‍🍳 Tried this Recipe? Please leave a ⭐⭐⭐⭐⭐ rating in the recipe card below and leave a comment. We love hearing from our readers!
⏩ Stay in touch with us on social media by following us on Facebook, Pinterest, Instagram, and YouTube!
📬Get our Recipes delivered to your inbox for FREE!

The BEST Homemade Beefaroni Recipe with 3-Ingredients
This delicious and inexpensive recipe for homemade beefaroni is lovingly inspired by my Grandma Zub. I think of her every time we enjoy this old dinnertime recipe.
Ingredients
1

lb

ground beef

26

oz

Tomato soup

,

1 family size can

12

oz

Egg noodles

Salt and pepper to taste
Instructions
Brown ground beef in a skillet, season to taste with salt and pepper, and drain excess grease from pan.

Add can of tomato soup to the cooked ground beef.

In a pot boil water and cook egg noodles according to directions on packaging.

Drain egg noodles when cooked and add to beef and tomato soup mixture.

Stir to combine.

Add salt and pepper to taste.
Notes
Serve this homemade beefaroni with a vegetable of choice; our kids like corn or green beans with it.
Sprinkle with with grated mozzarella cheese. You can also use shredded cheddar cheese as an optional topping.
Use egg noodles or macaroni noodles.
Serve some dinner rolls with this.

You can cook them in the oven while putting together the beef-a-Roni.
Nutrition
Calories:
490
kcal
,
Carbohydrates:
59
g
,
Protein:
22
g
,
Fat:
18
g
,
Saturated Fat:
6
g
,
Cholesterol:
101
mg
,
Sodium:
525
mg
,
Potassium:
1032
mg
,
Fiber:
3
g
,
Sugar:
11
g
,
Vitamin A:
515
IU
,
Vitamin C:
15.8
mg
,
Calcium:
49
mg
,
Iron:
3.3
mg
Nutrition information is automatically calculated, so should only be used as an approximation.
Updated from the original post of January 20, 2014