Skillet Hamburger Stroganoff
on Jul 07, 2020, Updated Nov 18, 2020
Hamburger stroganoff is a favorite family dinner at our house. The kids love the hearty flavor and clean up is a snap thanks to making it all in a skillet. As a bonus, we lighten the ingredients and use fortified pasta. At just over 400 calories a serving, and taking about an hour to make, this is one meal you have to try!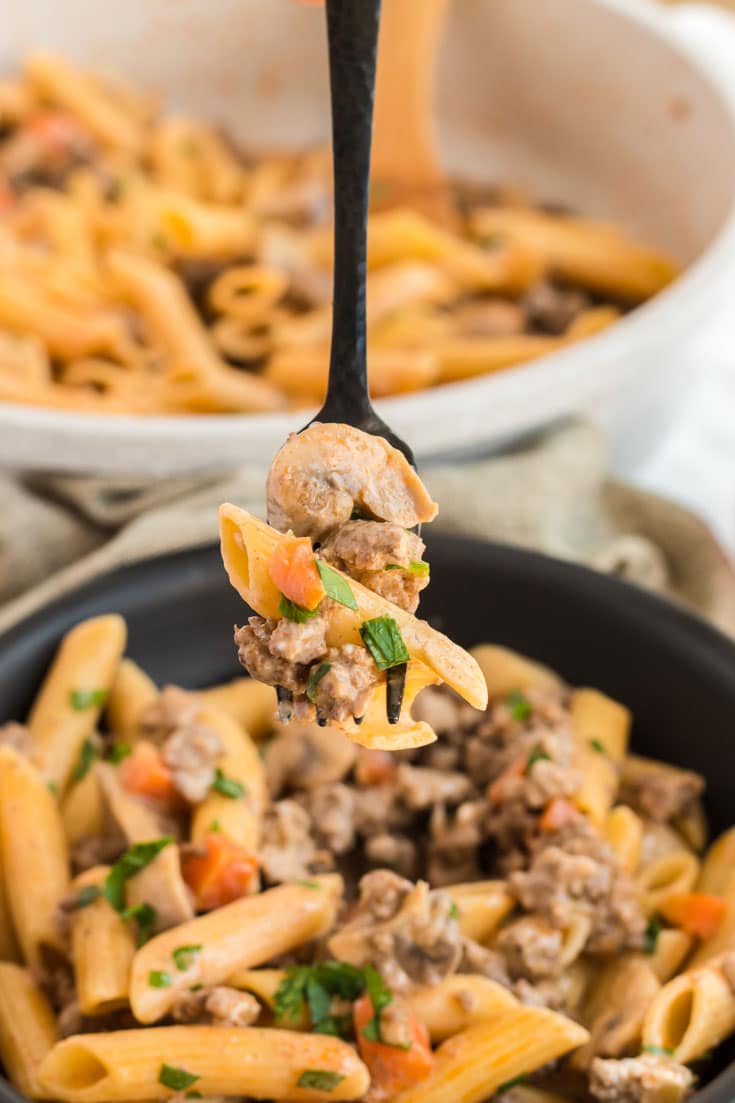 Jump to:
What is this?
Lean ground beef and a reduced-fat cream sauce kick-start this ground beef recipe into a healthy one-pot wonder. We use calcium and fiber-enriched pasta that makes an even healthier eating option. And finally, soft and savory mushrooms along with a dash of Worstashire sauce send this hamburger stroganoff into flavor overdrive. It's that good!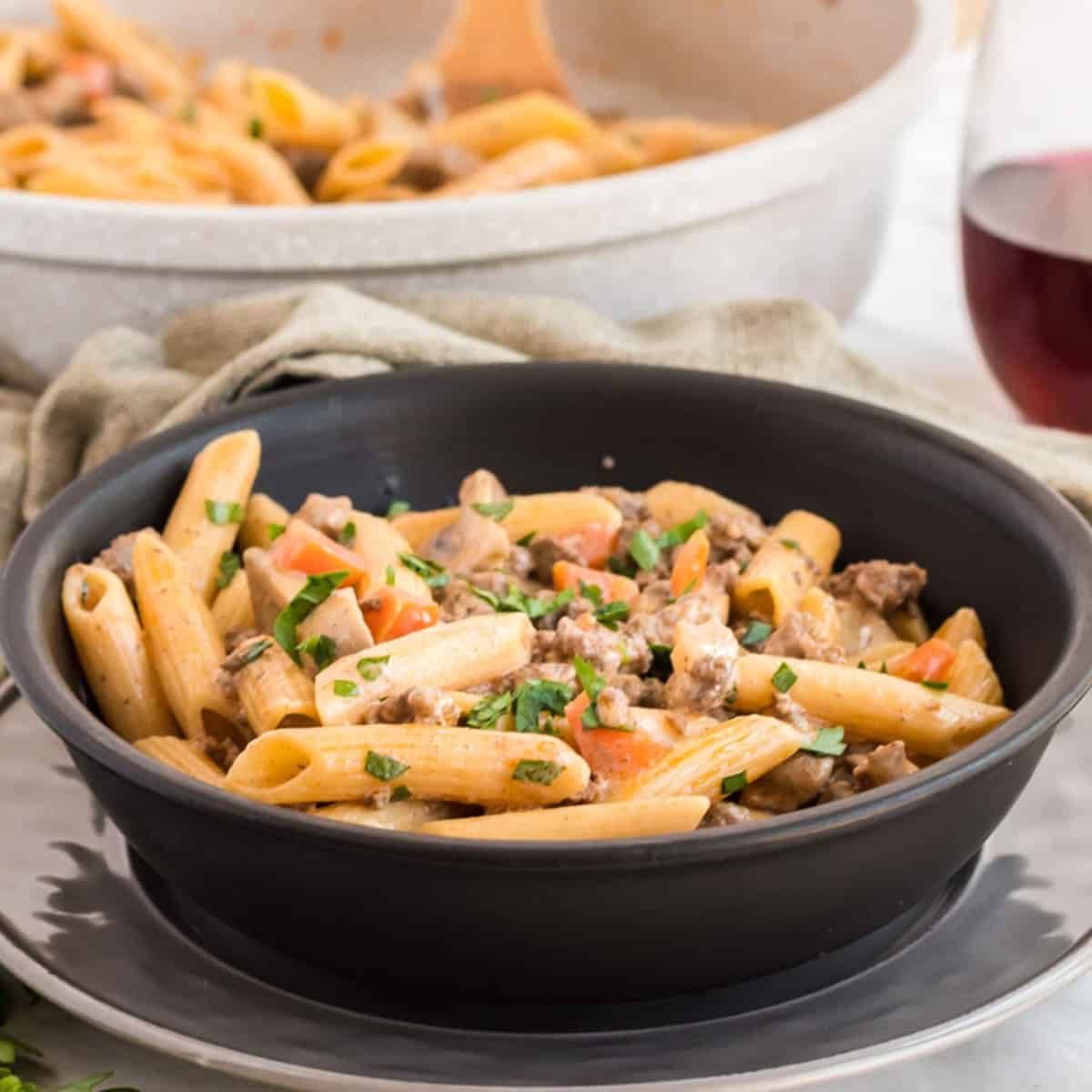 🥘 What's in it?
Besides the reduced fat and low-sodium ingredients, we use fresh carrots, mushrooms, and Italian (flat-leaf) parsley. These all play very nicely together and are a perfect match for the fortified pasta in our hamburger stroganoff.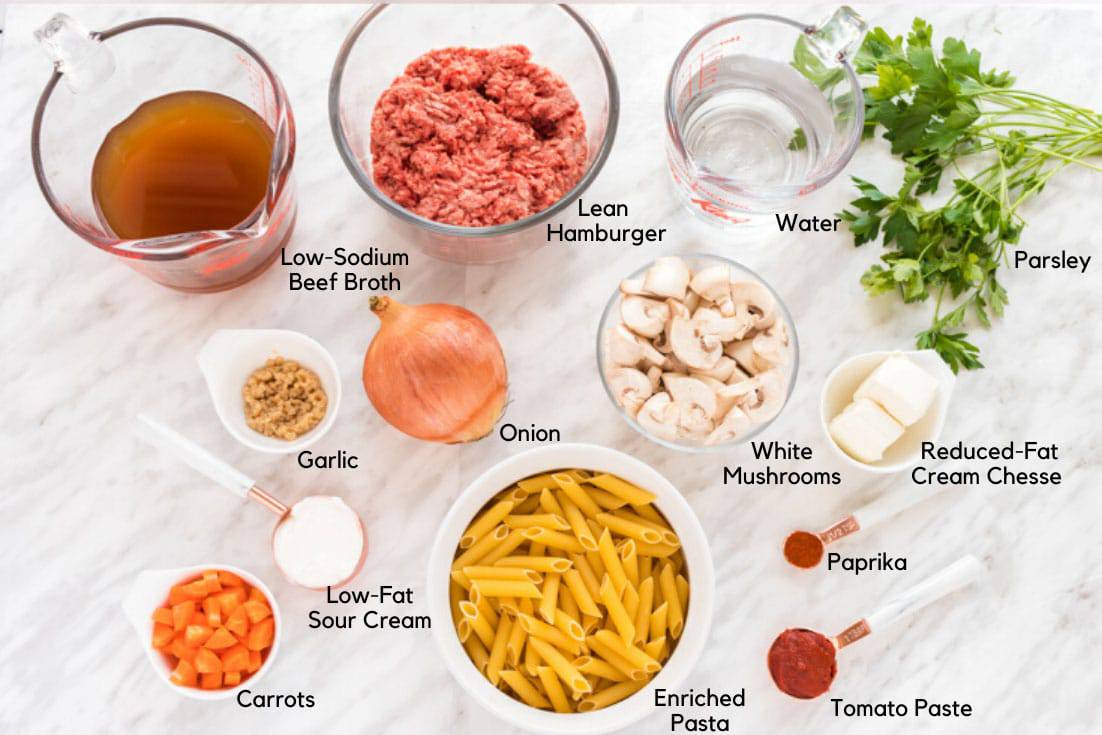 Featured ingredients include: (See the full recipe below.)
Lean Hamburger

90 percent lean ground beef is what I try to use for this hamburger stroganoff. The farm boy in me can't stress enough how important it is to know your source of ingredients. At the very least look for organic and grass-fed ground beef. You'll pay a bit more but you won't be feeding poor quality meat to your family.

White mushrooms

I use halved or quartered mushrooms to add a bit more substance to this dish.

Tomato paste

Be sure to brown the tomato paste in the skillet. The caramelization process will bring out the natural sweetness of the tomatoes adding more flavor to this.

Low-sodium beef broth
Worcestershire sauce
Pasta

I love to use rigatoni or penne pasta for this hamburger stroganoff. Hollow pasta holds the sauce, giving you more flavor with every bite. Look for the calcium and fiber-enriched pasta for added health!

Low-fat cream cheese
Low-fat sour cream

Greek yogurt is a great substitute for sour cream.

Italian parsley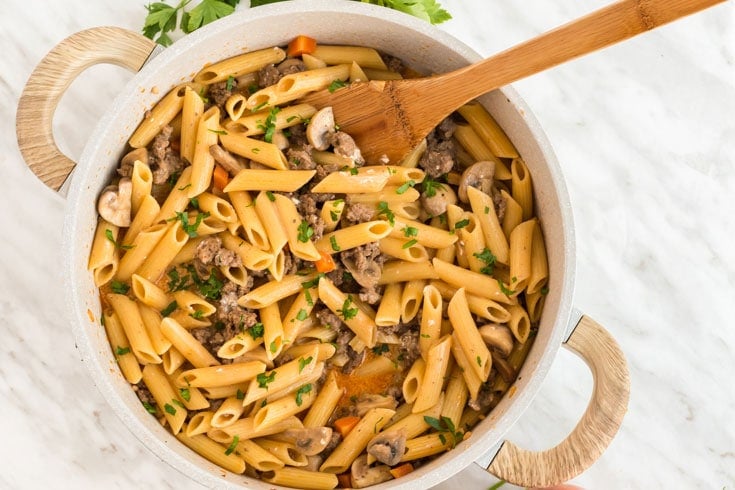 🔪 How to make it
Start by doing a quick inventory of your pantry. You probably already have most of the ingredients on hand. Aside from a skillet or Dutch oven and an extra plate or bowl. You should be good to go. If you're any sort of a messy cook like me, don't forget a dish towel. (I carry a dish towel over my shoulder, like a security blanket, most of the time.) Maybe my family makes fun of me but go ahead. Ask if I care!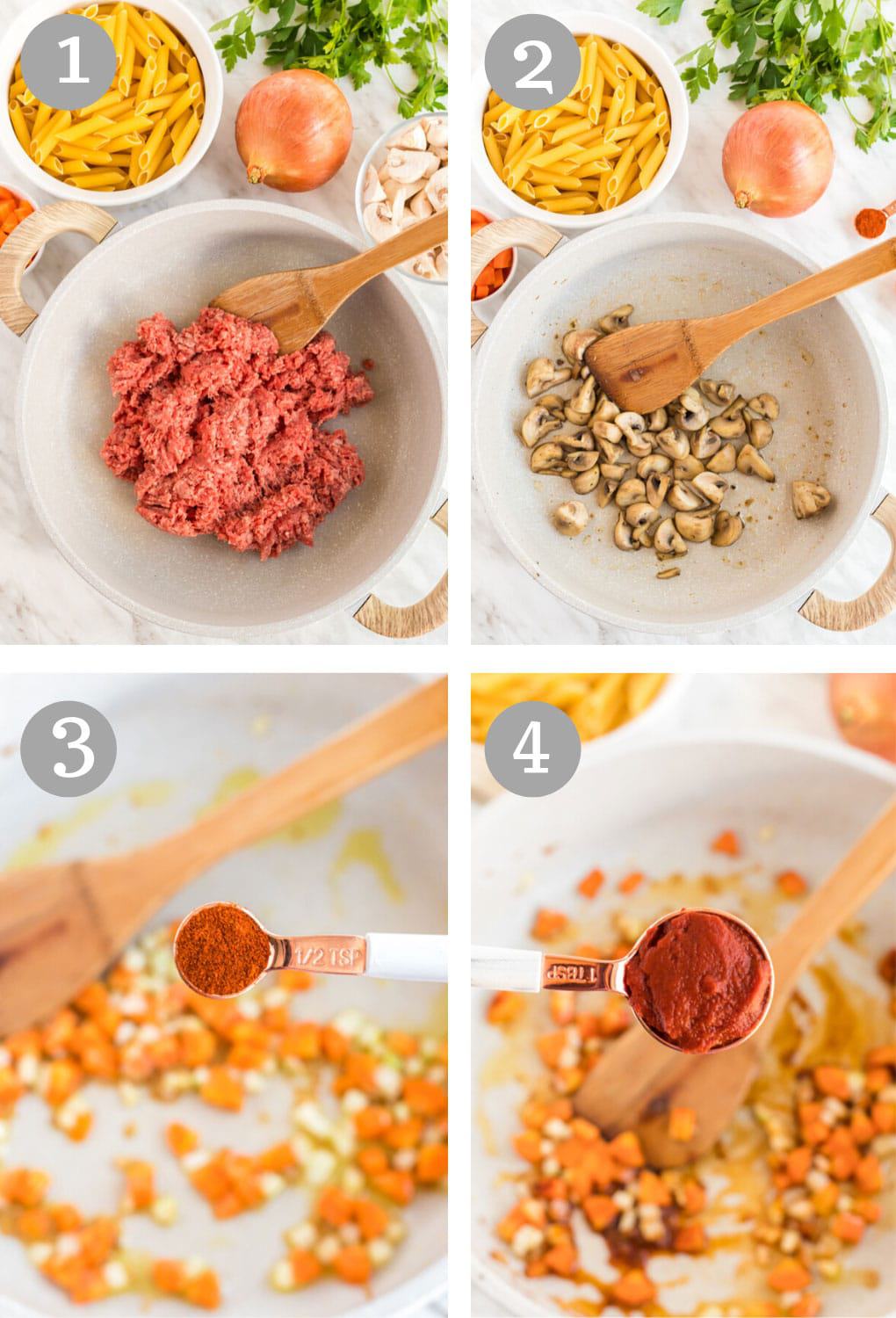 Brown the ground beef in a large skillet laced with olive oil. Season the hamburger with salt and pepper.

Browning the meat is so important! To do it properly, have your skillet very hot and give the hamburger a good searing while breaking it up into small pieces. Browning locks in the flavor and gives the stroganoff a better taste.
After browning the meat, transfer it to a holding dish. Be sure to save the little brown flecks of residue. These flavor bombs are loaded with extra flavor.

Next, you're going to sautee the sliced mushroom in the same skillet and then add them to the dish holding the ground beef.
Using the same skillet, add some olive oil, along with the diced carrots and onions. Stir in the paprika and gently saute for about 10 minutes. You want the carrots to be soft and the onions to have just a kiss of brown caramelization on them.
Now stir in the tomato paste and allow it to coat and cook the mirepoix for about three minutes.

Be sure and brown the tomato sauce for extra flavor!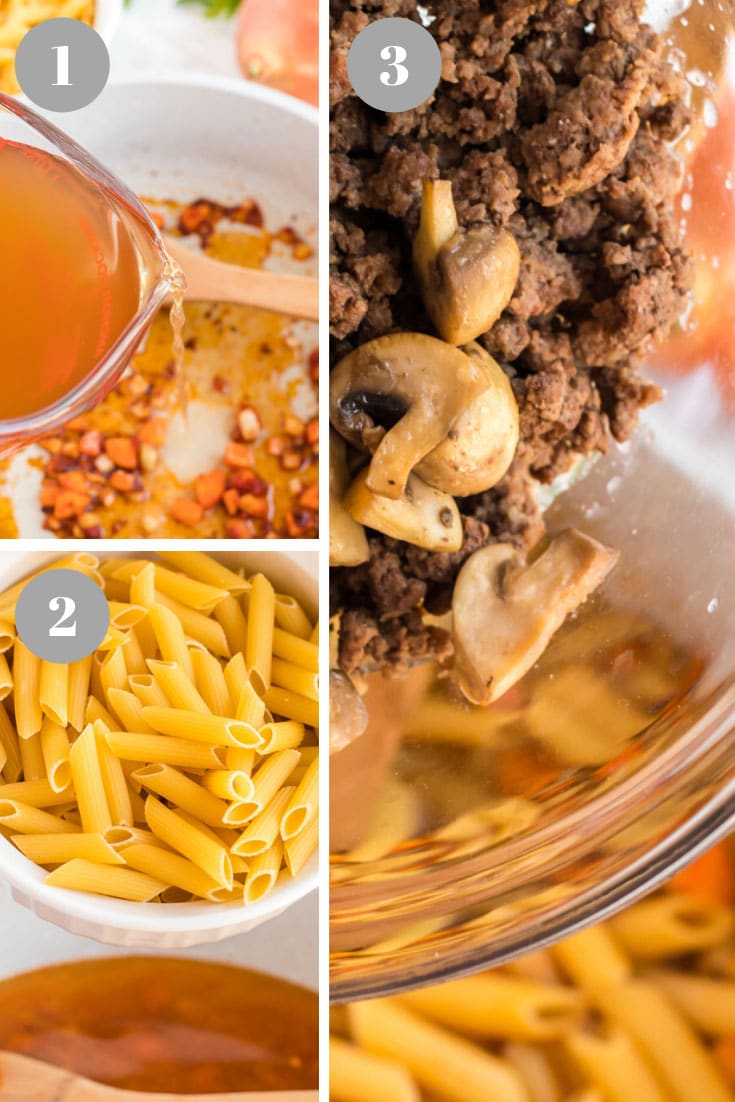 For the next step, stir in the broth, Worcestershire sauce, and water. Bring this to a simmer.
Add the pasta to the skillet and cook as directed on the package.

I prefer my pasta al dente (firm,) therefore I usually cook it for about a minute or two less than the directions on the package.

Once the pasta is cooked, return the browned hamburger and mushroom to the skillet.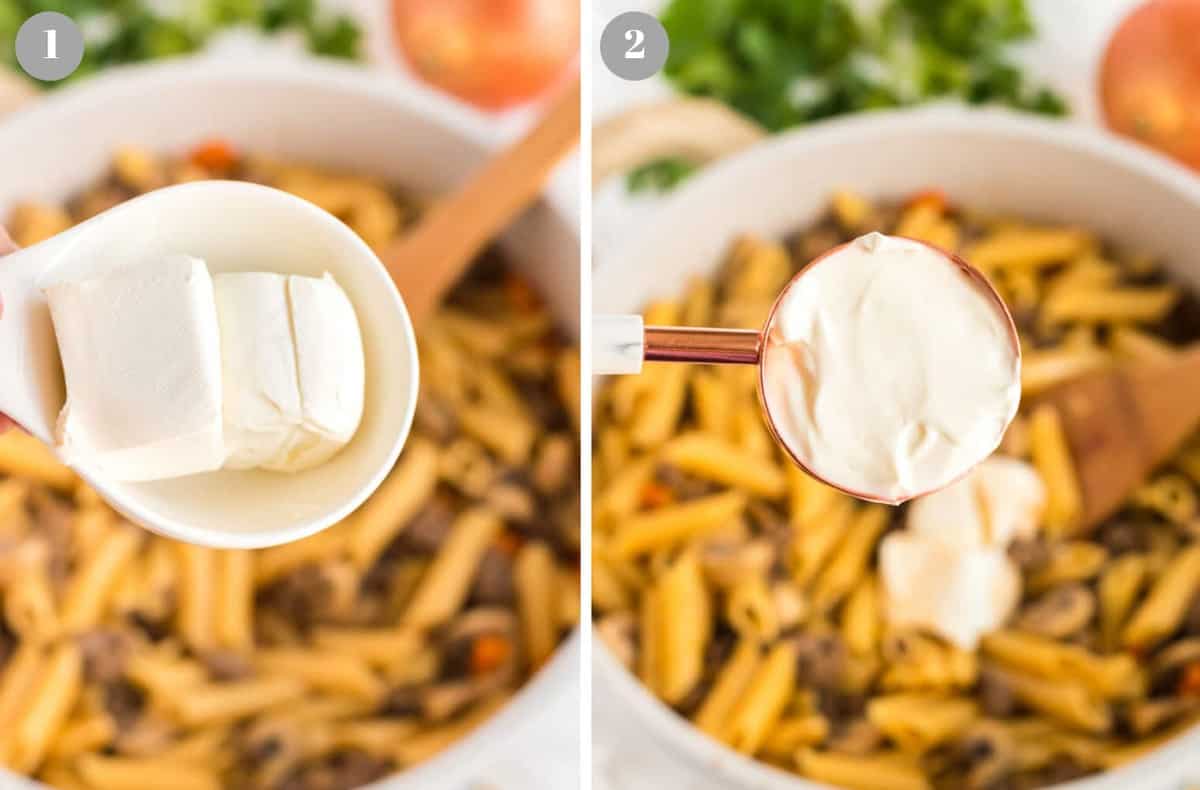 We're in the homestretch of this hamburger stroganoff recipe. Now, just a couple of more ingredients to help keep it flavorful and on the healthier side. Toss some chopped parsley into the skillet and then the last two ingredients.
Stir in the low-fat cream cheese.
Add the reduced-fat sour cream.

Greek yogurt is a good substitute for sour cream. I've even been known to put it on my baked potatoes.
Finally, stir everything together, call the family, and tell themd that dinner is served!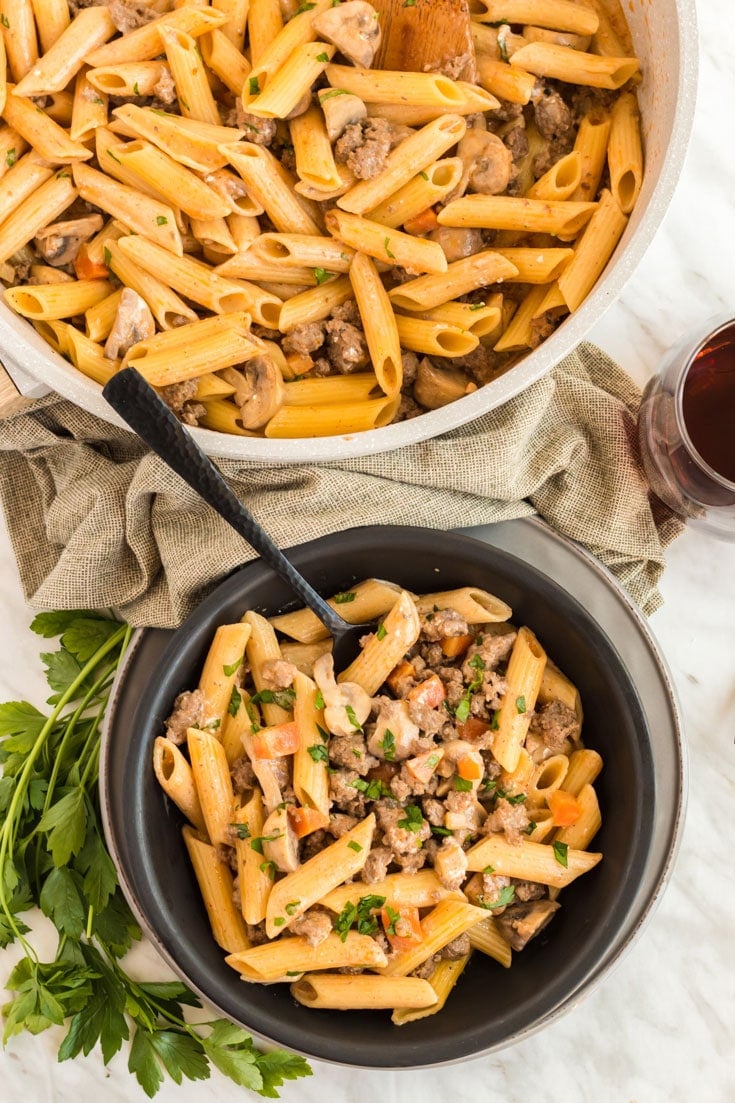 What to do with the leftovers
I'm a freak about leftovers. Especially with dishes like hamburger stroganoff. I'm a firm believer that recipes with a tomato-based sauce taste better with time. In the unlikely event you have leftovers from this, store them in an airtight container for up to three days in the refrigerator. Reheat on the stovetop, microwave, or in a covered oven-safe pan.
Can I freeze this?
Hamburger stroganoff freezes well and therefore can be an ideal freezer meal. Be sure and undercook the pasta slightly as it will be reheated when you are ready to eat. Another idea is to make everything according to the directions, except for the pasta. When you are ready to eat this, thaw the stroganoff and boil and drain the pasta in the water at that time. Then, simply stir the two together and serve! This hamburger stroganoff should store well in the freezer for up to three months.
Tips for freezing:
Use a zip-lock bag,
Get every bit of air out of it, then
Date the bag before freezing.
Can I make this in the
slow cooker
? To make this hamburger stroganoff in the slow cooker, add everything except for the cream cheese and the pasta, then slow cook on low for at least 4 hours. Stir the cream cheese into the stroganoff about 40 minutes before serving, making sure the pot is not too hot. Cream cheese can curdle if boiled. When you're ready to eat, stir a tablespoon or so of flour into the stroganoff if there is too much liquid. This will help thicken the sauce. Prepare the pasta as directed on the package, add it to the crockpot, and serve!
What can I serve with this?
This hamburger stroganoff is a meal all by itself. If you want a side dish, I would suggest a salad or vegetable side dish. Of course, I have never been known to turn away some good bread, for any meal!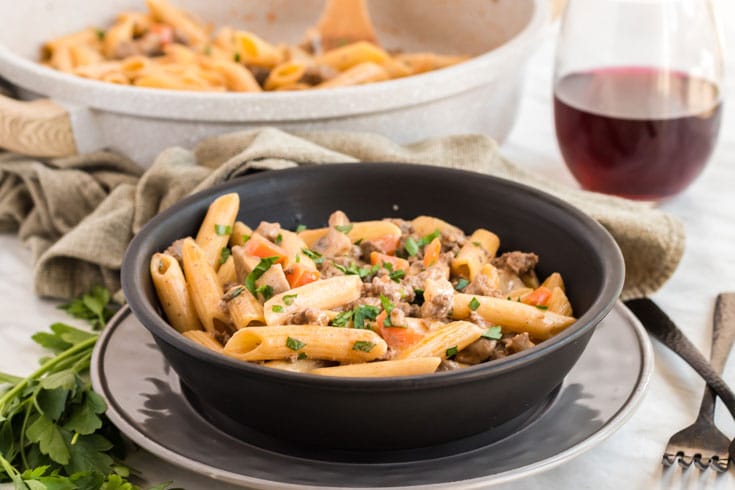 I hope you try this hamburger stroganoff recipe and let us know what you think of it. It's
such
a great family meal! We love hearing from our readers and always welcome suggestions on how we can better serve you!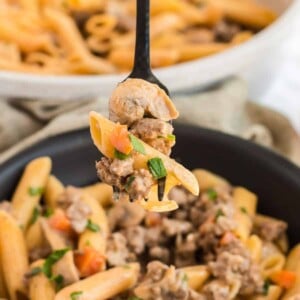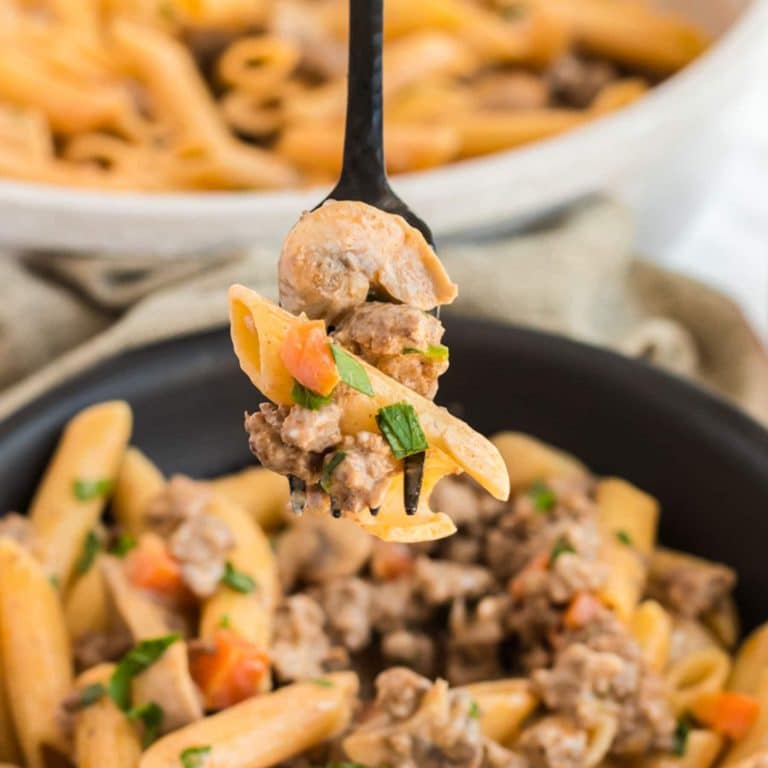 Skillet Hamburger Stroganoff
Hamburger Stroganoff made with healthier ingredients.
Ingredients
1

pound

Ground beef

,

85 to 90 percent lean

3

tbsp

Extra-virgin olive oil

,

divided

Kosher salt and black pepper

,

to taste

8-10

oz

White mushrooms

,

halved or quartered

1

White onion

,

chopped

1

Carrot

,

peeled and diced into 1/4 inch pieces (1 cup)

3

Garlic clove

,

finely chopped

1/2

tsp

Paprika

1/4

cup

Tomato paste

15

oz

Low-sodium beef broth

1 1/2

cups

Water

1

tbsp

Worcestershire sauce

2

cups

Rigatoni pasta

,

calcium and fiber-enriched. Penne-style works well too.

1/2

cup

Low-fat cream cheese

,

room temperature

1/2

cup

Reduced-fast sour cream

2

tbsp

Italian parsley

,

chopped
Instructions
Use a large skillet and heat a tablespoon of olive oil over medium-high heat. Add the ground beef, season with salt and pepper. Sear and brown the hamburger while breaking it up with a wooden spoon. After about 5 minutes, transfer to a dish. Reserve any flavoful bits and pieces (fond) in the skillet.

Using the same skillet, add the mushrooms and saute over medium heat until soft and brown, 8 to 10 minutes. Add the cooked mushrooms to the bowl with the beef. Add the oil, onion, carrot, garlic, and paprika to the skillet and continue to cook until the carrots are soft and the onion is lightly browned, about 10 minutes.

Add the tomato paste and fold it into the vegetables. Allow it to cook for 3 minutes or so on medium-high heat and then pour in the broth, water, and Worcestershire sauce. Bring to a simmer and add the pasta. Cook the pasta until al dente (firm.) Stir in the reserved ground beef and mushrooms and allow them to warm up again. Now, remove from heat and add the remaining ingredients. Salt and pepper to taste and continue to stir until the cream cheese is melted. You should now have a nice creamy sauce in the stroganoff and it's time to call the family to the table. Serve it up and give thanks!
Notes
Variations of this recipe can use any type of lean ground meat, like chicken or turkey.
You can also use lean cuts of beef.
Substitute any mushroom for the white ones. Cremini or baby portobello mushrooms both taste great with this dish.
Penne pasta can be substituted for rigatoni.
You can skip the pasta and serve it over mashed potatoes, something our kids swoon over!
Nutrition
Calories:
433
kcal
,
Carbohydrates:
25
g
,
Protein:
21
g
,
Fat:
28
g
,
Saturated Fat:
10
g
,
Cholesterol:
71
mg
,
Sodium:
417
mg
,
Potassium:
799
mg
,
Fiber:
2
g
,
Sugar:
5
g
,
Vitamin A:
2133
IU
,
Vitamin C:
6
mg
,
Calcium:
93
mg
,
Iron:
3
mg
Nutrition information is automatically calculated, so should only be used as an approximation.