Brussels Sprouts Sauteed with Fennel
on Dec 04, 2014, Updated Jan 02, 2021
Brussels Sprouts Sauteed with Fennel make for a savory and healthy side dish.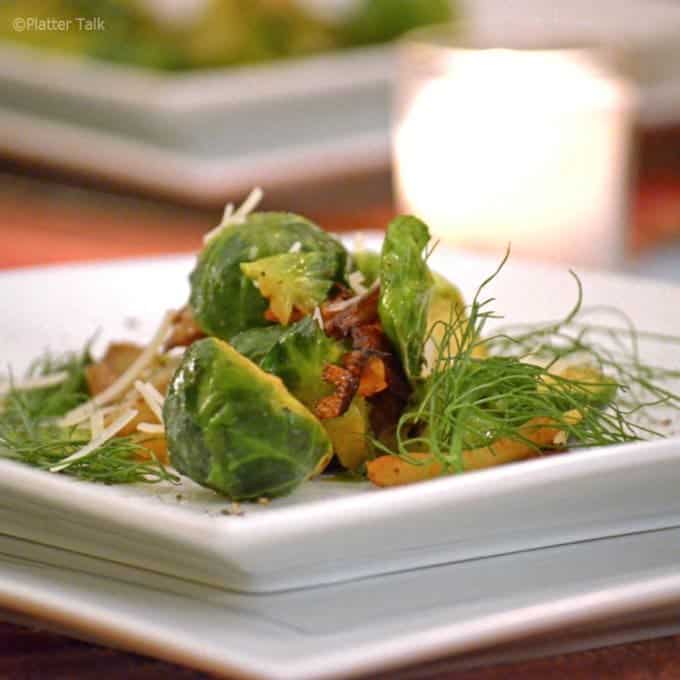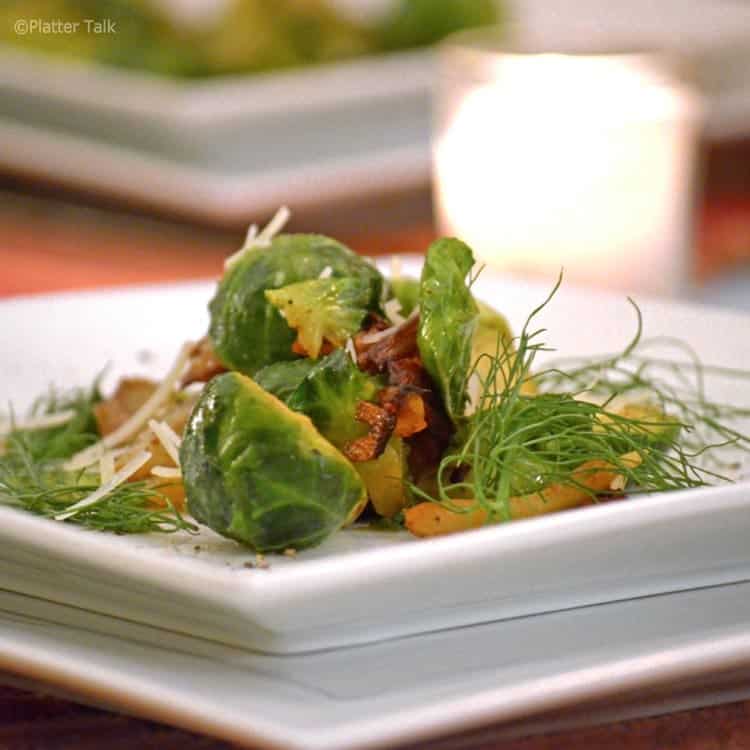 About this recipe

A few nights ago our family was privileged to host a group of dear friends for a holiday party held at one of our favorite places to grab a bite and a brew in downtown Neenah, Greene's Pour House. We made it pretty simple, and to make matters even better, the very talented chef from Greene's prepared all of the food.
By the night's end we realized we had a small pan of leftover lasagna and before we even left for the night, with lasagna in hand, I knew what we would be having two nights later in honor of the 11th anniversary of Scott's 32'nd birthday. The big question in my mind was, "What to serve with it?" I had a couple of days to decide and as we were heading home, the immortal words of Scarlett O'hara popped into my head, "I can't think about that right now. If I do, I'll go crazy. I'll think about that tomorrow."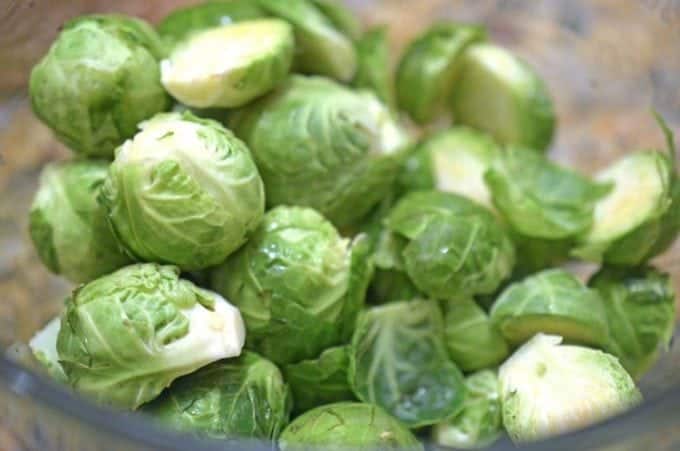 In truth, I had a couple of days to stew over it. While the unbaked savory lasagna continued to meld in our very cold garage for the remainder of the weekend, I had one more day to plan the meal for a small joint birthday party honoring Scott and our dear friend Deb who would be joining us along with her hubby and two young boys.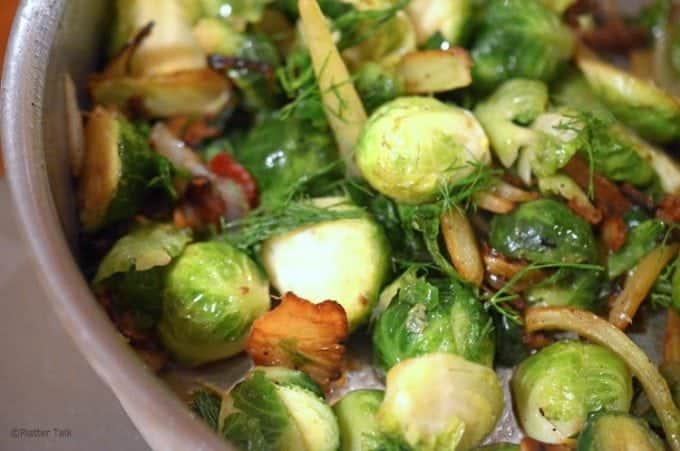 As is often the case, the idea for this side dish of color, health, and flavor came to me at the 11th hour on Monday. Actually, it was more like the 14th or 15th hour as I was making my way down the produce section of Festival Foods. I could not help but to be distracted by some fennel fronds that waved to me as my cart brushed past them. "How nice some of that would be with tonight's dinner," I thought to myself. But what to put with them? A few feet away, the answer came to me, replete with green glory.
As the kids filtered through the kitchen after school and shortly after the guests for the birthday dinner, everyone wondered where the savory aroma was coming from. "Lasagna," was my rote reply, yet that answer alone failed to satisfy their curiosity. "No, there's something else and it smells delicious!" seemed to be the common retort. Their surprise was unanimous when I lifted the cover of my pan and pointed out to them, "Oh, you must be talking about the Brussels sprouts!"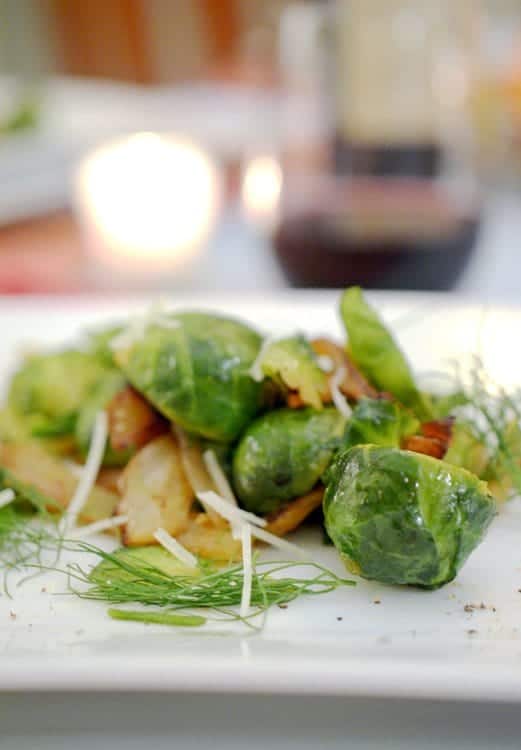 Many people don't care for Brussels sprouts, especially kids. In all likelihood, most folks haven't tried them when prepared this way. The fennel is a great savory compliment and the two fit especially well together with a savory and red tomato sauce-based entrée such as lasagna. While we are on the topic of savory and red, let's not forget the vino that goes along superbly with such a meal. We served this with a red blend that goes by the name of Crush. It's made by the Dreaming Tree label which is the winery co-founded by legendary musician Dave Matthews.
The subtle tones of smokey berry and raspberry jam contained within each pour of this wine make for a perfect pairing for this savory side. For around $11 per bottle, you can't afford not to try this wine. If you are a fan of Brussels sprouts, I hope you will make this. If you are not a fan of them, I hope (even more) that you will give these a taste. Chances are pretty good that this dish will make a Brussels sprout believer out of you. Oh, one more thing, don't forget the Crush. -Dan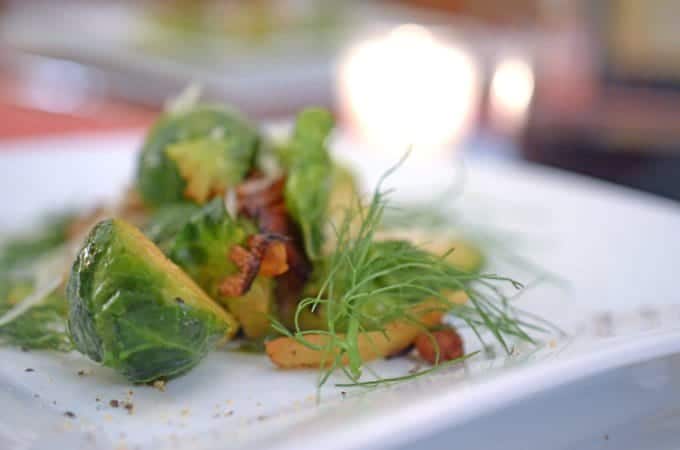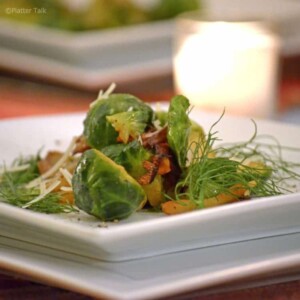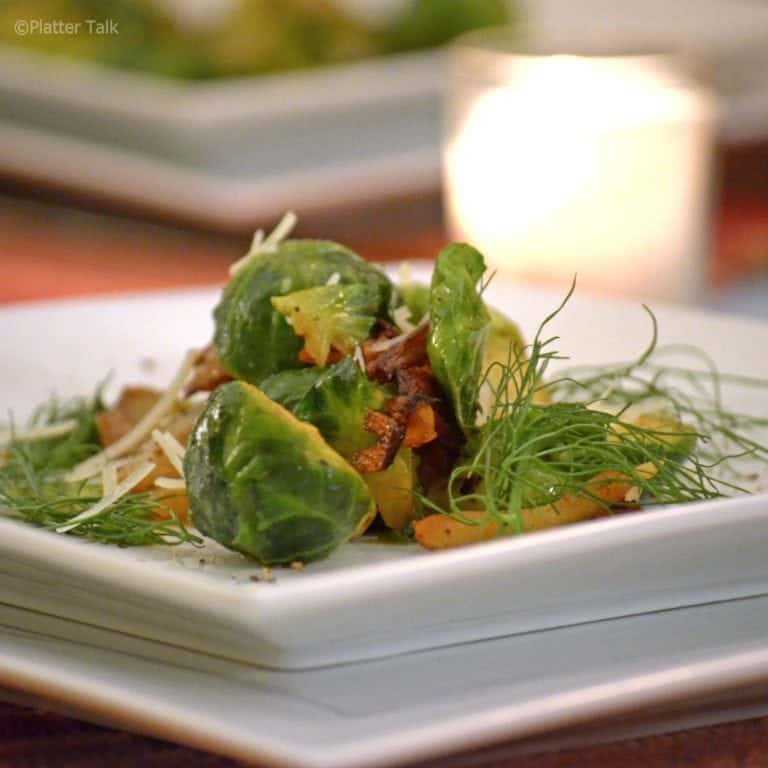 Brussels Sprouts with Fennel
A Platter Talk Exclusive
Ingredients
1

lb

Brussels Sprouts

,

washed and halved

1

bulb fennel

,

washed and sliced into 1/2" wedges. Reserve some fronds for garnish.

3

slices

bacon

,

coarsely cut

1/4

cup

white onion

,

coarsely diced

1

clove

garlic

,

thinly sliced

1

pinch

kosher salt

fresh ground black pepper

Parmesan cheese for garnish

,

optional

fennel fronds

,

chopped, for garnish (optional)
Instructions
Fill 6 quart sauce pan with water and bring to boil.

Place Brussels sprouts in water for 2-3 minutes, taking are to not over-cook them. Remove from heat, drain in sink, and set aside.

In large sauté pan fry bacon pieces over medium high heat, drain excess grease.

Add fennel wedges, and stir for about 5 minutes at same heat level until lightly brown.

Reduce heat, add onion and garlic and stir for another minute or so until they are soft and translucent.

Add Brussels sprouts and salt and pepper. Continue to sauté for 3-5 minutes, stirring frequently.

Serve hot.
Notes
These can be prepared an hour or so ahead and kept in pan over very low heat. Do not completely cover pan while waiting to serve or this will cause the Brussels sprouts to overcook in steam and become soft and mushy.
In lieu of bacon, panchetta, pepperoni, or sausage, (turkey or pork) are all good alternatives to add a little flavor. Or, just a tablespoon or so of olive oil or butter.
Nutrition
Calories:
314
kcal
,
Carbohydrates:
62
g
,
Protein:
18
g
,
Fat:
4
g
,
Saturated Fat:
1
g
,
Cholesterol:
2
mg
,
Sodium:
280
mg
,
Potassium:
2791
mg
,
Fiber:
25
g
,
Sugar:
11
g
,
Vitamin A:
3735
IU
,
Vitamin C:
417.5
mg
,
Calcium:
305
mg
,
Iron:
8.1
mg
Nutrition information is automatically calculated, so should only be used as an approximation.