Red Wine Braised Beef
on Jan 05, 2019, Updated Jan 08, 2022
Braised beef is a simple and inexpensive meal that you can feed your family or guests, for just a couple of dollars per serving. This is one of our easy beef recipes that doesn't cost a lot to make.
Best of all though, this delicious meal will give your house the savory aroma of a home where someone knows their way around the kitchen.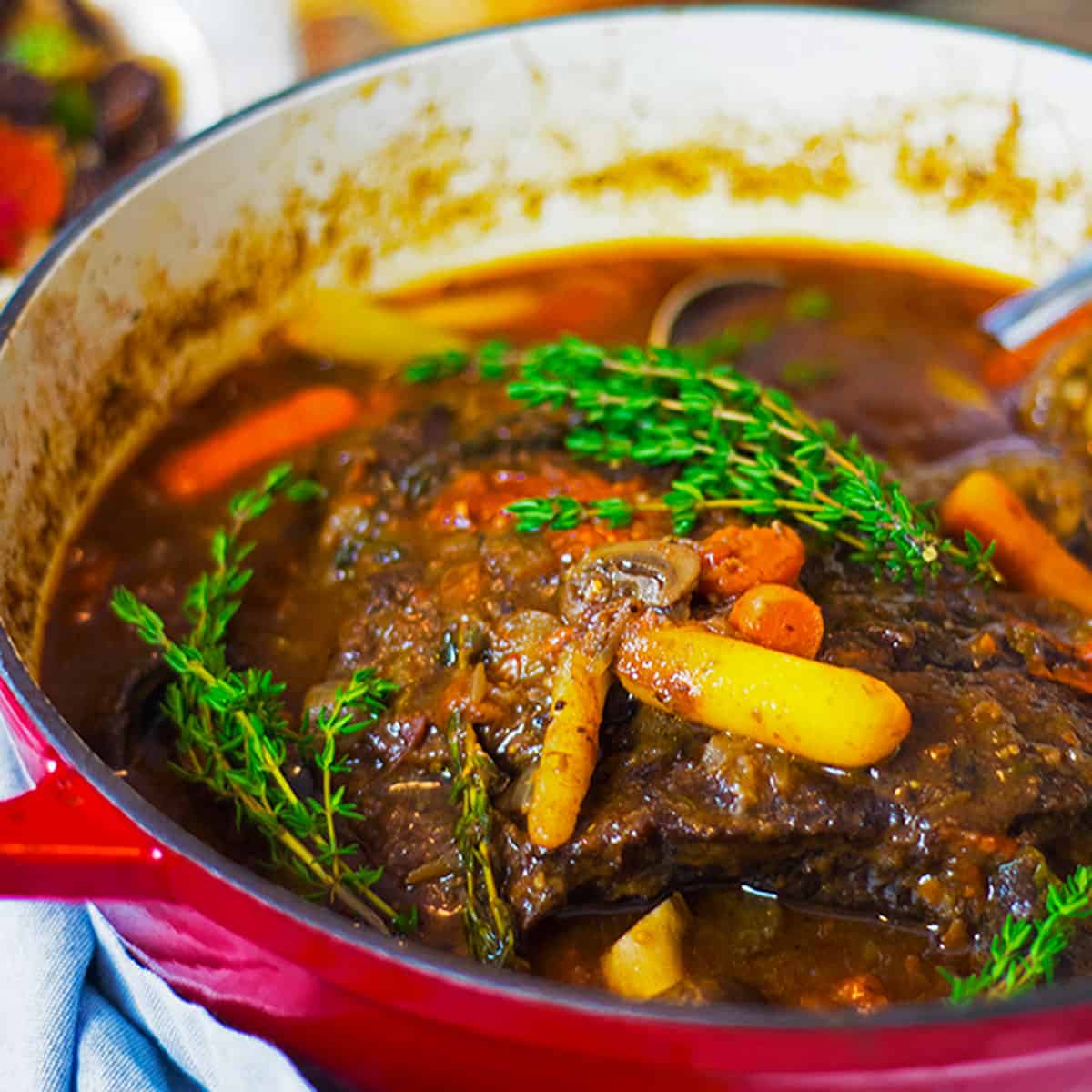 This is a good way to use your Dutch oven.
What is this?
This is a great meal to make when you feel like spending some time in the kitchen and doing some real cooking. It isn't complicated in the least, but this is not fast food.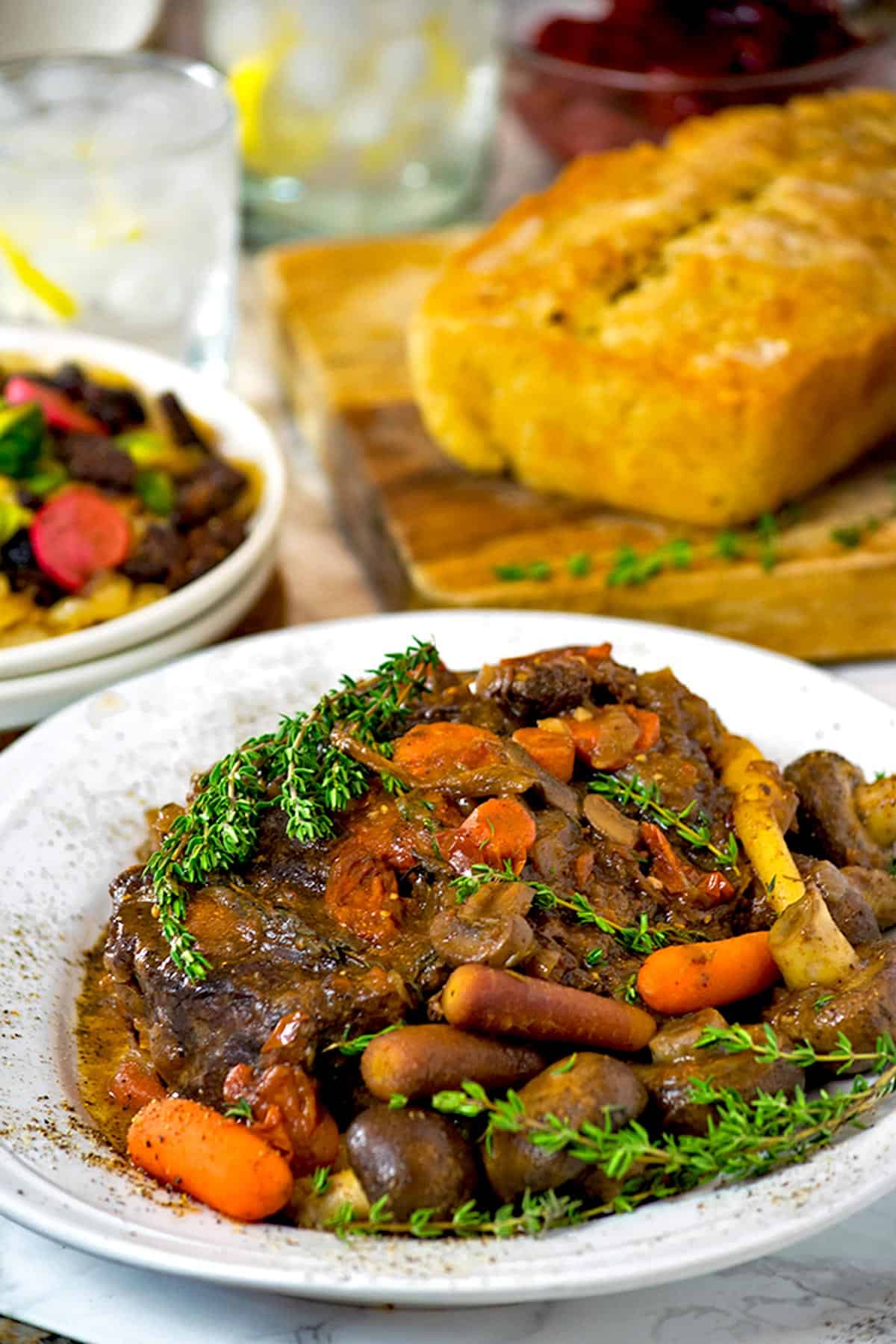 What is braising?
Braising involves a combination method of cooking, using both dry and wet heat.
Typically the braising process starts with searing the food over at high heat and then finishing it off in a hot oven, usually while sitting in some liquid such as a broth or stock.
Braising is similar to stewing but more liquid is involved for the braising process. Braising also uses larger cuts of meat.
It's a great way to use tougher, inexpensive cuts of meat like chuck roast. These tougher cuts of meat are made tender through the long braising process.
After searing the meat, a mirepoix is created before placing the braised beef in the oven to finish cooking.
How to make braised beef
Let's start with a 2 lb. chuck roast. When making this delicious beef recipe, look for less expensive cuts that aren't super lean.
You're going to briase the meat for several hours. Leaner and pricier cuts are going to give you a tough and dry finished product. We want tender and juicy!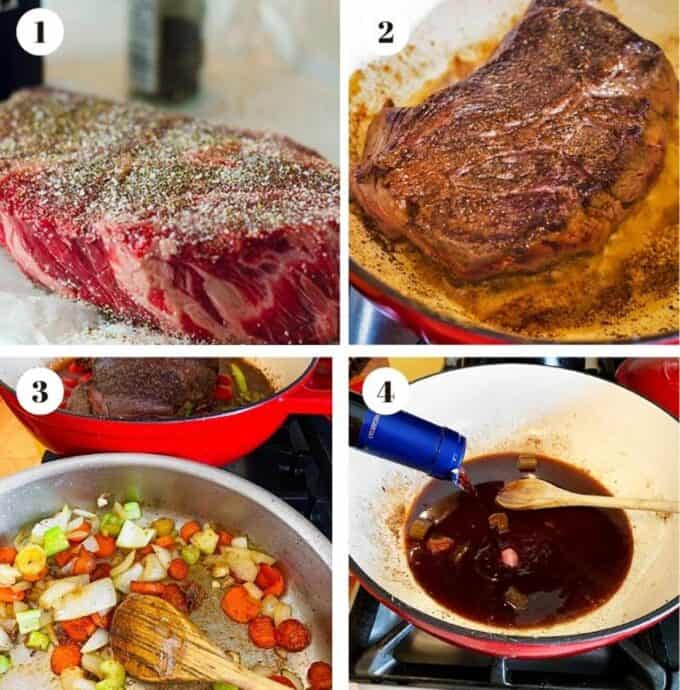 1. Season the meat
Take the meat out of the refrigerator and use a paper towel to pat it dry on all sides.
Next start by seasoning your meat on all sides with kosher salt and fresh ground pepper. Be generous with the seasoning as this is a big chunk of beef.
Let it sit out for an hour before moving on to the next step.
2. Sear the meat
Add some butter and olive oil to a Dutch oven and heat it to just before the smoke point. Then place the beef in the pot and don't touch it for four or five minutes.
The goal is to get a nice crust on this chuck roast Use a couple of big flat wooden spoons to help flip the roast to the other side.
Brown is the color of flavor and searing. This will add depth and complexity to the flavor of whatever meat that your are braising.
As the heat and caramelization increase, the amino acids of the meat and reducing sugars will add tons of flavor to the meat. This actually has a chemical name, called the Maillard reaction and it is critical to making braised beef.
When the meat is seared on both sides, take it out of the pot and set it aside.
3. Make the mirepoix
Use the same pot and with some of the drippings from the searing process, add some chopped carrots, onion, and celery.
Or, you can use a separate pan for the mirepoix as I did here. Make a mirepoix for this braising recipe, using carrots, onion, and celery.
Start with the carrots and heat and stir them until they get a caramel color, taking care not to scorch them. This will turn the carrots sweet and add mounds of flavor!
Finish the mirepoix by adding some onion and celery. For a little added complexity and flavor, we melt some anchovy fillets into the mirepoix as well.
4. Deglaze the pot
Deglazing your pot will release all the little brown bits of flavor bombs that have adhered to the pot during the searing and sauteeing process.
We use a combination of beef broth and red wine for the braising liquid in this recipe. This combination of acidic wine with a savory stock helps round out the flavor. (Water has no flavor and thus deglazing with water will reduce the flavor of your braised beef.)
Add the liquid to deglaze the pot and stir up and loosen all those little brown bits (fond) on the bottom and sides of the pot.
The deglazing process will greatly enhance the flavor of your meat.
When choosing a red wine for the deglazing, choose one that you would drink and that will pair well with the braised beef. Consider a Cabrent Sauvignon or a (red) Zinfindel.
How to braise beef
Now it's time to place the meat back into the pot, with the braising liquid and the mirepoix.
Be sure the meat isn't submerged as you don't want to boil it and too much liquid will dilute the taste of the sauce at the end of the braising process.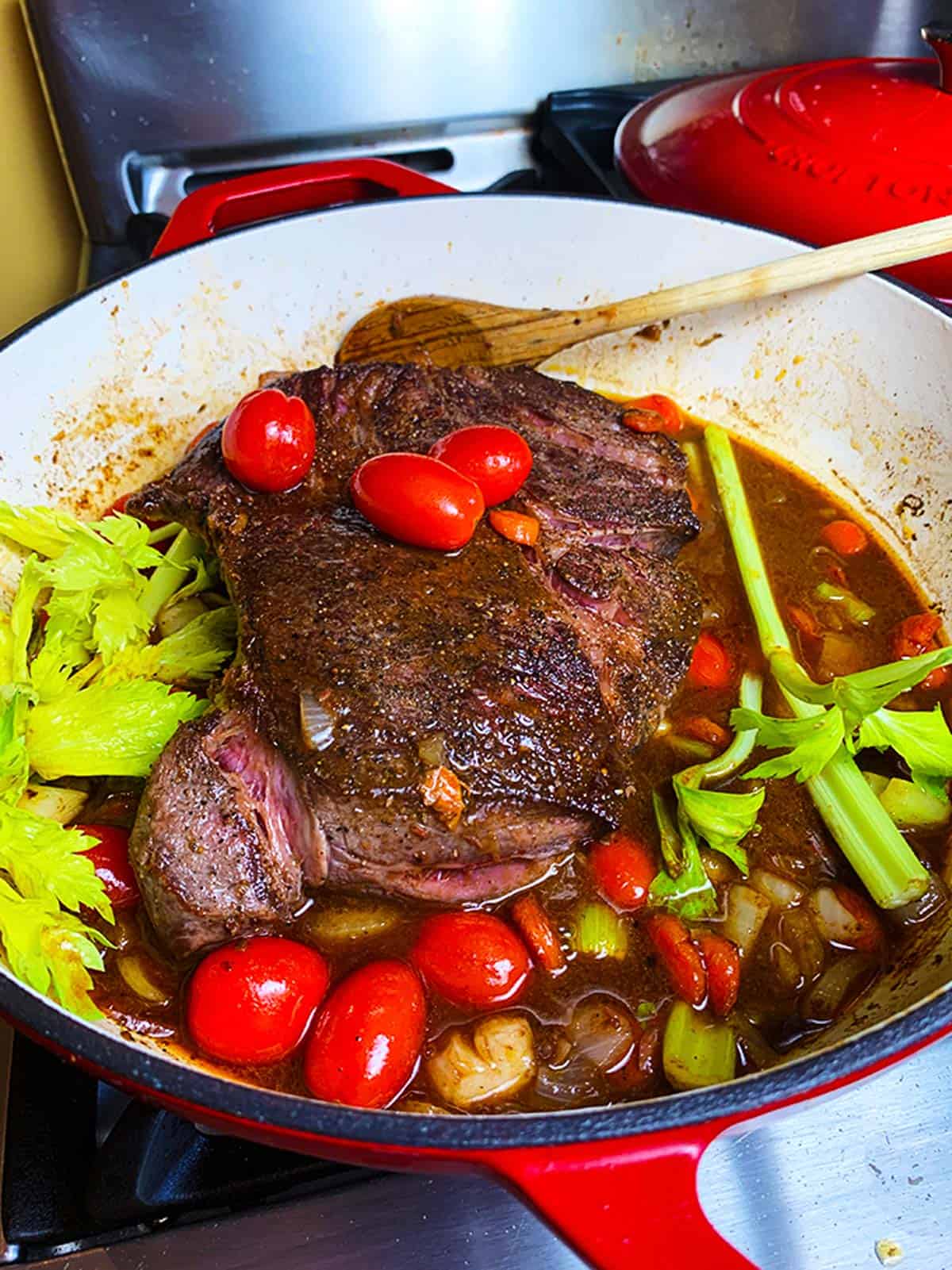 Add the meat to the braising liquid and mirepoix.
If you have some on hand, toss in a handful of cherry tomatoes which will add flavor and color to the dish.
Bring the pot to a simmer, then cover it and place in the oven at 300°. F.
Plan on finishing this off in the oven for at least three or four hours depending on the size of the roast.
Your braised masterpiece is done when you can shred it with a fork.
Reduce the sauce
When the braised beef is fork-tender, take it out of the pot, with the vegetables and set them aside.
Reduce the remaining braising sauce over medium heat until it will coat the back of a spoon. Return the meat and vegetables to the concentrated sauce and spoon the sauce over the meat before serving.
Substitutions and variations
You can use almost any cut of meat when making braised beef. But you'll want to avoid the super lean cuts.
Some good choices for braising include:
Chuck arm roast – Inexpensive and flavorful, this is best when slow cooked (as when braising.)
7- bone chuck roast – Flavor and ideal for braising.
Chuck neck roast – Full of flavor and tender after slow cooking.
For added flavor, you can use some of the following for making the best braised beef.
Tomato paste
Beef bouillon
Crushed garlic
Fresh thyme
Fresh parsley
Pearl onions
If you don't want to use wine when cooking this recipe, you can substitute it for beef or vegetable broth.
Expert tips for making braised beef
Now that you know the four essential steps of how to braise beef, there are a couple of things you can do to make it taste even better.
Check your pot every hour and make sure you're not running low on braising liquid.
Add a little wine or broth if you need to and be sure to keep at least an inch or so of the liquid in the pot
Add some extra vegetables like mushrooms or potatoes, about 45 minutes before the braised beef is done. This will add some great flavor and texture to the beef, without overcooking the added vegetables.
One of the most important steps for braising is the final step.
Allow the meat to cool in the braising liquid.

This permits the juices and gelatin to seep back into the meat that may have been lost during the braising process.
Common questions
How do you know when this is done?
When the meat is fork-tender, then it is done. You'll want to allow it rest for 30 minutes or so before serving so meat fibers will reabsorb the juices.


Can I make this ahead of time?
This is a great family dinner to make ahead of time as the flavor will only get better with time. When you're ready to serve it, reheat this on the stove top or in your slow cooker on warm setting.
Can I freeze the leftovers?
You can freeze the leftovers in an air-tight container for up to 3 months. Allow it to thaw in the refrigerator overnight then reheat it to serve.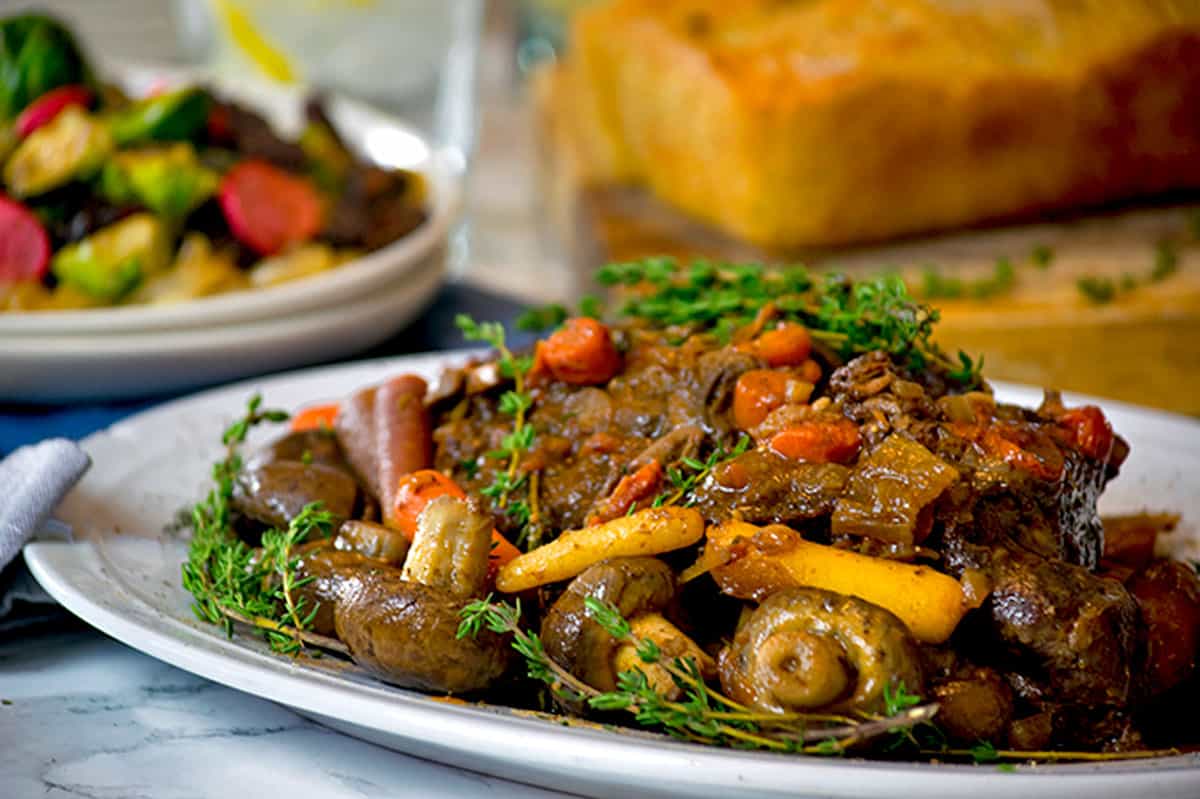 More braised recipes
More braising resources

👨‍🍳 Tried this Recipe? Please leave a ⭐⭐⭐⭐⭐ rating in the recipe card below and leave a comment. We love hearing from our readers!
⏩ Stay in touch with us on social media by following us on Facebook, Pinterest, Instagram, and YouTube!
📬Get our Recipes delivered to your inbox for FREE!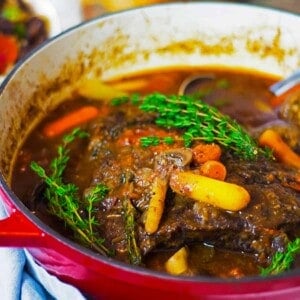 Red WIne Braised Beef
Braised beef is a wonderful way to transform a tough and chewy beef roast into a savory and tender dinner masterpiece.

Ingredients
2

lbs

Beef

,

chuck roast

2

tbsp

kosher salt

1

tbsp

black pepper

,

fresh ground

2

tbsp

butter

2

tbsp

olive oil

2

carrots

,

washed and sliced into 1/2 inch pieces.

2

stalks

celery

,

sliced into 1/2 inch pieces.

1

onion

,

coarsely diced

2

oz

anchovies

,

drained

1

cup

red wine

1

cup

beef stock

5

sprigs

fresh thyme
Instructions
Set the beef roast out for an hour before you start the recipe, to bring to room temperature. Next, blot the roast dry with a paper towel, on all sides. Generously season with an even coating of kosher salt and fresh ground black pepper, on all sides.


Preheat oven to 300° F. Place butter and olive oil in a 6-quart Dutch oven, over medium-high heat until hot. Sear the meat for 4 to 5 minutes on both sides, do not move the meat around the pot while it is searing. Reduce heat and remove meat from the pan and set aside.


Using the juices from the meat, saute the mirepoix over medium heat, starting with the carrots. Add additional butter or olive oil if necessary and cook the carrots until they are golden-caramel in color. Add the celery and onion and saute and stir for another 4 or 5 minutes until tender. Add the anchovies and stir for a couple more minutes until they are melted into the mirepoix.


Add the wine and stock to the pot to deglaze and be sure to stir up the brown bits until they are released and dissolved in the liquid. Stir in thyme leaves and return the meat to the pot.


Cover the Dutch oven and place in oven. Allow it to braise for 3 to 4 hours. Add (optional) additional vegetables about 45 minutes before removing from oven. The braised beef is ready to come out of the oven when you can shred it with a fork.


After you remove the braised beef from the oven, allow the meat to rest in the braising liquid until ready to serve. Remove meat from the Dutch oven and reduce braising liquid, if desired, then serve with the braised beef.

Notes
For additional vegetables, consider 8 oz. portabella mushrooms and more carrots.
Other than anchovies, some additives to the mirepoix could include citrus zest, fresh ginger, or lemon grass.
Garnish with additional fresh thyme, when serving the braised beef, if desired.
Nutrition
Calories:
398
kcal
,
Carbohydrates:
4
g
,
Protein:
22
g
,
Fat:
29
g
,
Saturated Fat:
11
g
,
Cholesterol:
92
mg
,
Sodium:
1932
mg
,
Potassium:
531
mg
,
Fiber:
1
g
,
Sugar:
1
g
,
Vitamin A:
2710
IU
,
Vitamin C:
3.2
mg
,
Calcium:
54
mg
,
Iron:
2.9
mg
Nutrition information is automatically calculated, so should only be used as an approximation.