Julia Child's Beef bourguignon (Boeuf à la Bourguignonne) is a beef stew in red wine, with bacon, onions, and mushrooms. This iconic dish was turned into a household word thanks to the unforgettable Julia Child.
Freshly home from a trip to Paris last week, I couldn't get this incredible French recipe off my mind and so I decided to make it this past weekend. It is a wonderful addition to our collection of delicious beef recipes.
Read on and I will show you step-by-step directions on how to make Julia Child's beef bourguignon!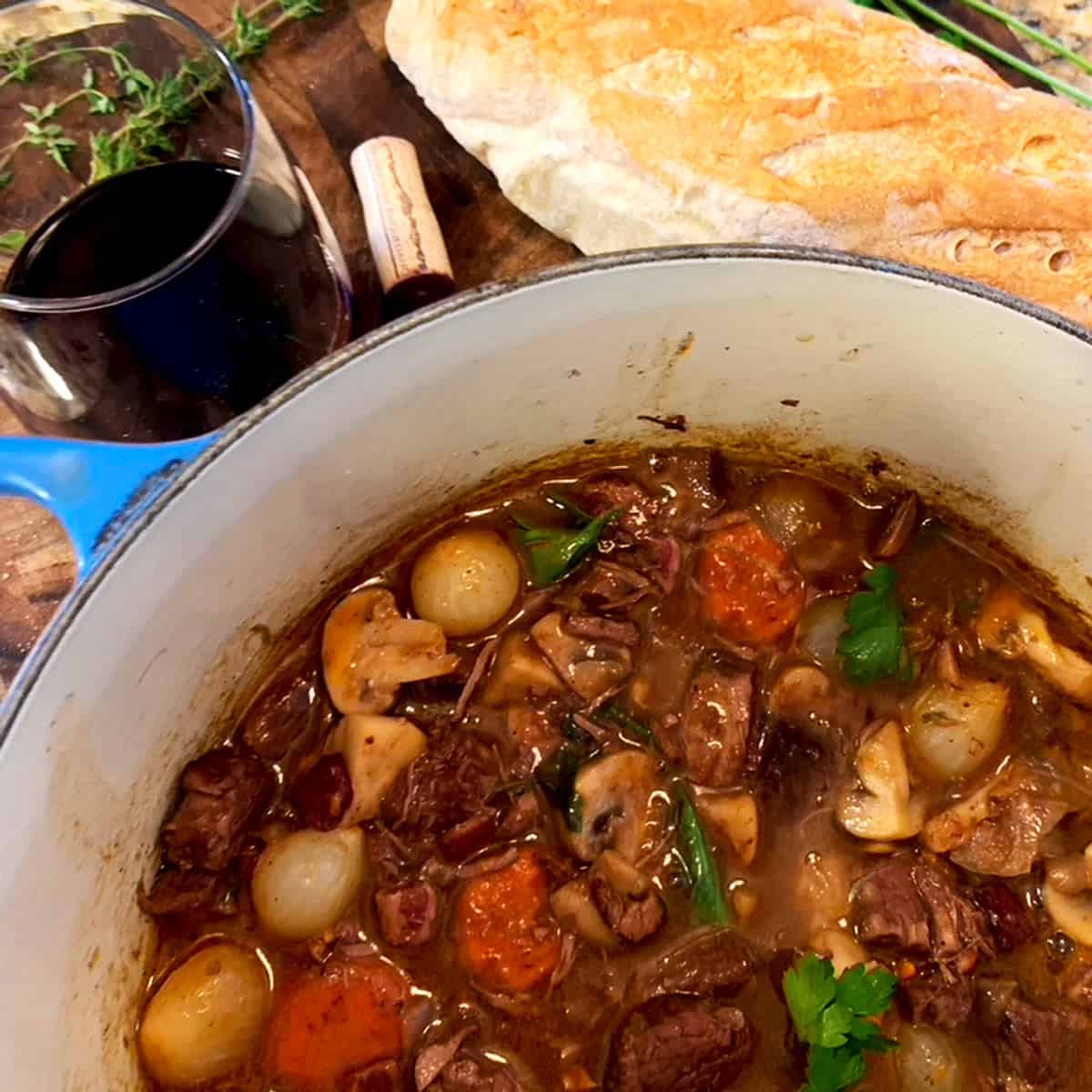 Jump to:
What is this?
Beef bourguignon is nothing more than a simple beef stew that is braised in red wine and beef broth. Julia Child's recipe for boeuf bourguignon most often has browned pearl onions, carrots, onion, and mushrooms in it as well.
Like most famous dishes, there are many different ways to make beef bourguignon. I'm going to show you how she made this recipe but you can tailor it to your own tastes. It's a very forgiving dish.
Julia Child's beef bourguignon recipe is a labor of love that involves "real cooking." It is not a fast family diner or a 30-minute meal!
There are many short-cut recipes for this classic French dish. I suggest the first time you make it that you use this recipe to learn the principles of cooking that are used.
The next time, you can alter it to your liking, maybe even try a slow cooker beef bourguignon or an instant pot bourguignon. Although I would think either of those ideas might make Julia turn over in her grave.
Like most stews, this classic dish gets better after a day or two. Thus, you can make it ahead (on the weekend) and have a delicious and perfectly flavored weeknight meal later in the week.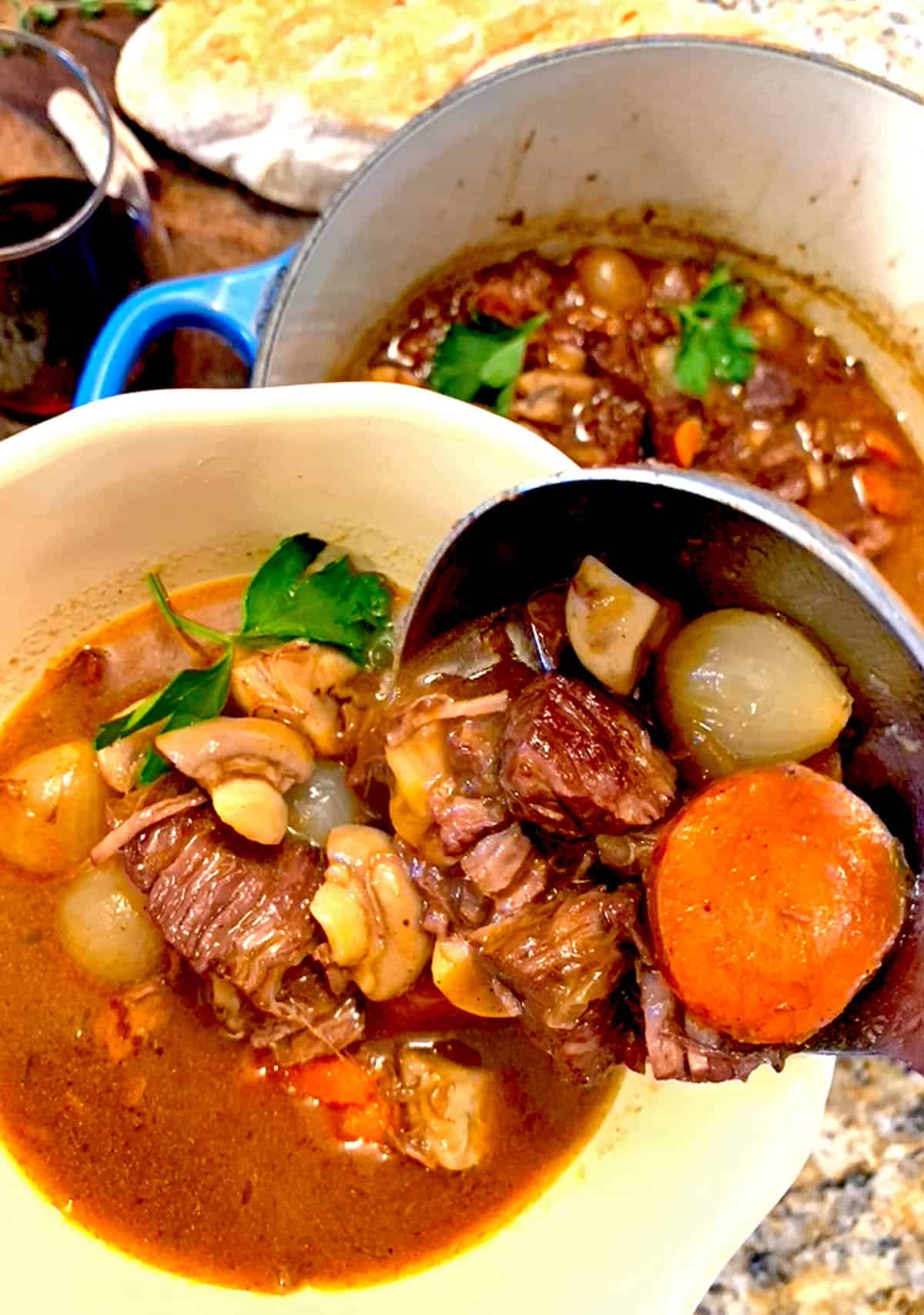 Ingredients you'll need
The basic ingredients for Julia Child's beef bourguignon are simple. Aside from a large Dutch oven, these are the things you're going to need to make it.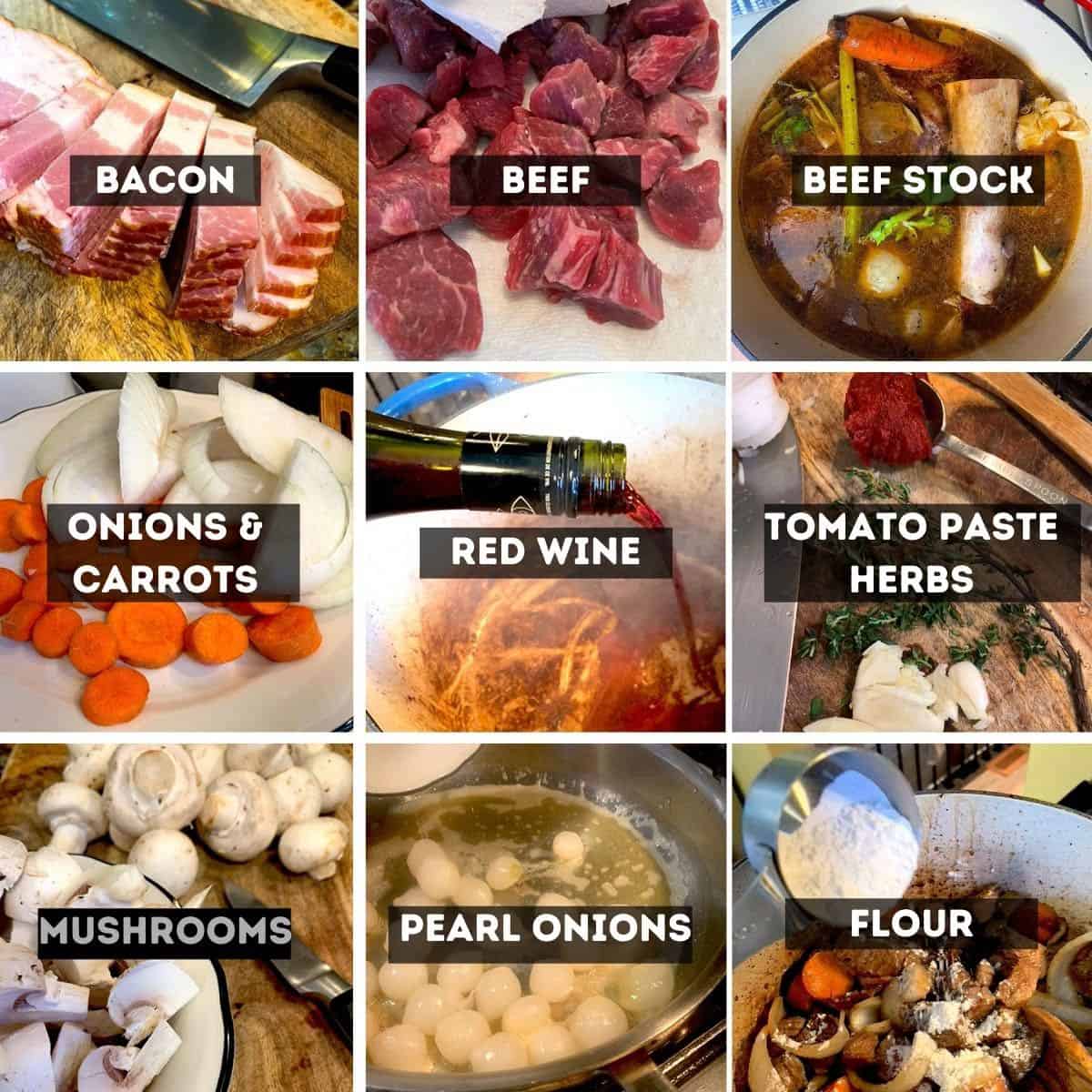 Beef is the main ingredient and the good news is you can use virtually any cut that you like. It can be a less expensive cut like a chuck roast or something like a brisket.
I recommend cubing the meat yourself, as opposed to buying the pre-cut stewing type. You're going to want larger pieces, somewhere around the size of 2" x 1" chunks. Smaller than that and you'll end up with shredded beef.
Beef Stock is one of the two main liquids you'll use to make this recipe. Make your own if possible, and you'll find it 1,000 times better than the stuff you buy in the store. Plus, you'll know exactly what's in it!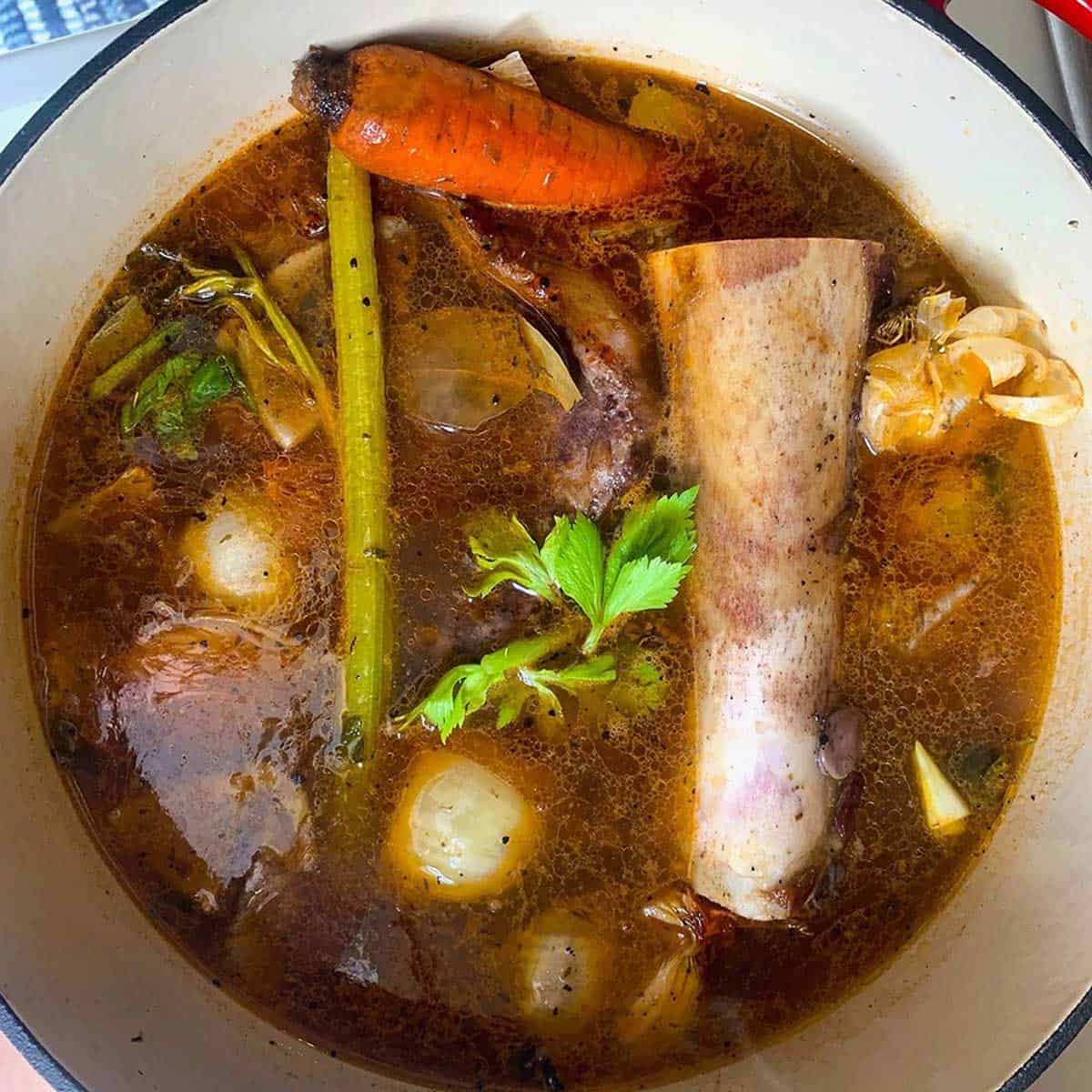 Red Wine is the other braising liquid in Julia Child's beef bourguignon. You can use a variety of red wines but you'll want to use one of good quality. A cheap bottle won't cut it for this dish.
Instead, think about a big bold red wine. You can find a good bottle of one of these for around $20. Some varieties that would work well for this French beef stew include:
Chianti
Red Zinfandel
Burgundy
Pinot noir
Cabernet sauvignon
Onions and Carrots - Use white or yellow onions, whichever you have on hand.
Herbs - For this beef bourguignon you'll want to have some fresh thyme and a couple of bay leaves on hand, along with some fresh garlic.
Mushrooms - You can use white mushrooms or brown ones (cremini or portobello.)
Pearl Onions - These small onions are known as baby or button onions in the U.K. They are a close relative to the leak and in French they are known as oignon grelot
How to make Julia Child's beef bourguignon
Start by making sure you have everything ready to go. Preheat your oven to 450° F.
The first thing you're going to do is prepare the bacon. This method of cooking it in water and then briefly sauteing it will give you a nice cross between chewy and crispy bits of bacon in the beef bourguignon.
The French refer to thin strips of bacon as lardon.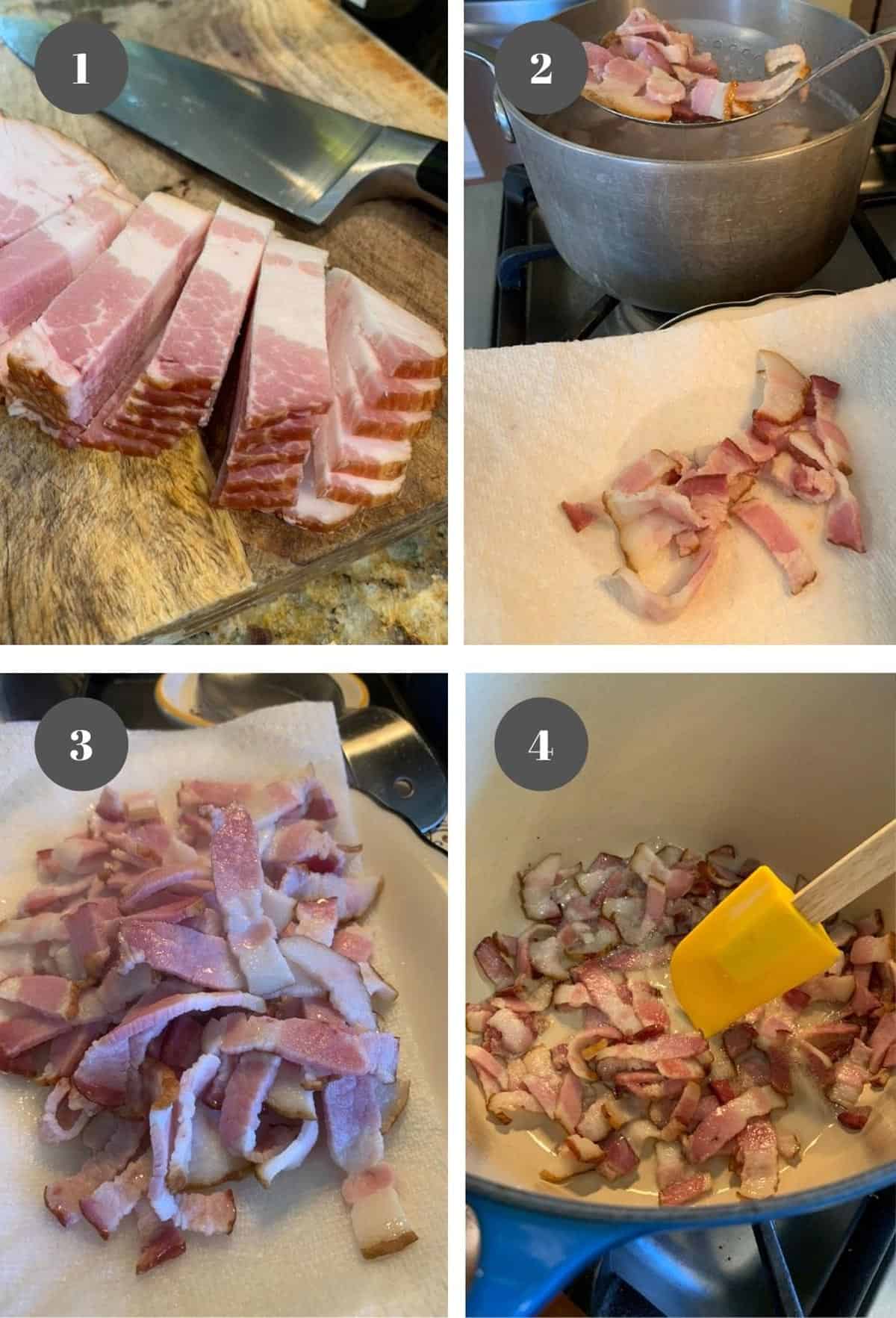 Use about 8 oz. of good quality bacon. I like it on the thicker side. You'll cut it into ¼-inch thick slices.
Simmer the bacon in a pot of water over medium heat for about 10 minutes. Then remove it with a slotted spoon.
Allow the bacon to drain on a layer of paper towels.
Saute the bacon for about 3 minutes.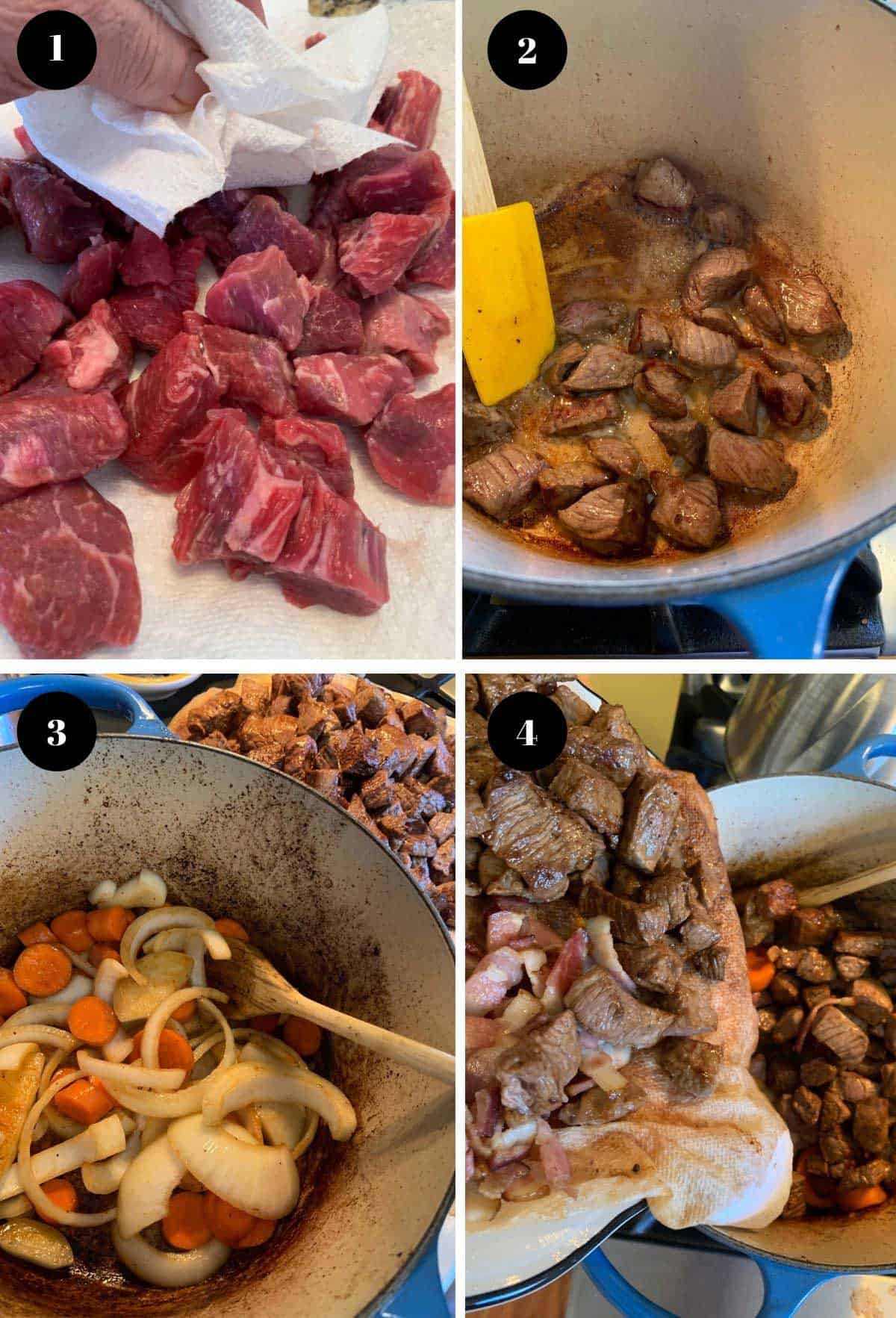 Cube about 3 lbs of beef into 2-inch pieces, or use some pre-cubed stewing beef. Pat it dry with some paper towels.
Use the Dutch oven to sear the beef cubes in single layers in a tablespoon or so of hot olive oil Do not over-crowd the pot and do this in batches.
Remove the meat and then saute the onions and carrots for 3 or four minutes, until they start to soften.
Add the bacon and the beef back to the Dutch oven.
You'll notice a bunch of little brown bits on the bottom of the pan. These are called fonds and they are little flavor bombs that you don't want to go to waste!
To save these, add a little red wine or enough beef broth to de-glaze the pan and free-up the browned bits to cook with the rest of the ingredients.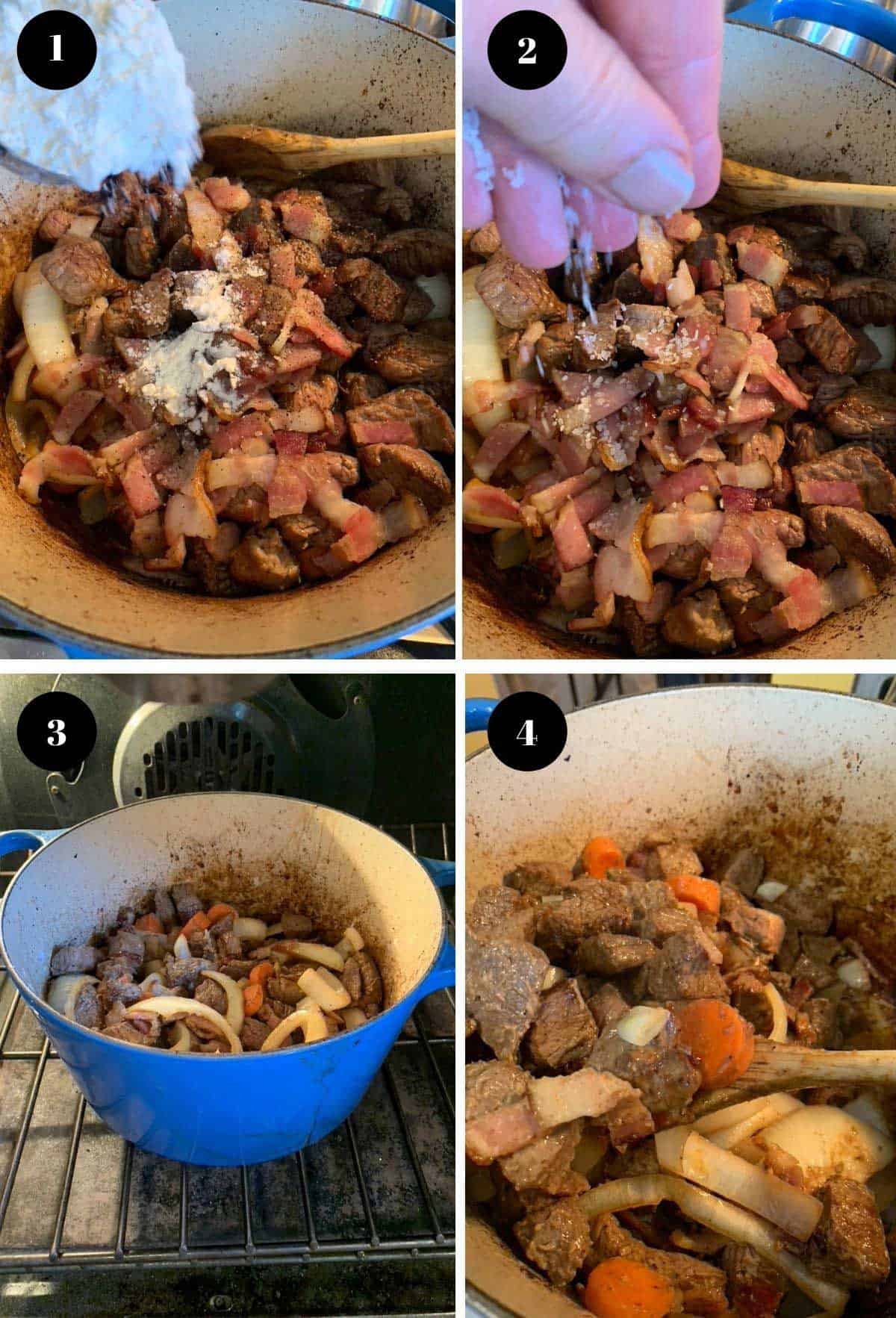 Toss some flour over the mixture.
Then sprinkle in some coarse kosher salt. Mix it all up.
Place in the oven for 4 minutes.
Then remove, toss and stir, and place it back in the oven for 4 more minutes. Then reduce the oven temperature to 325°.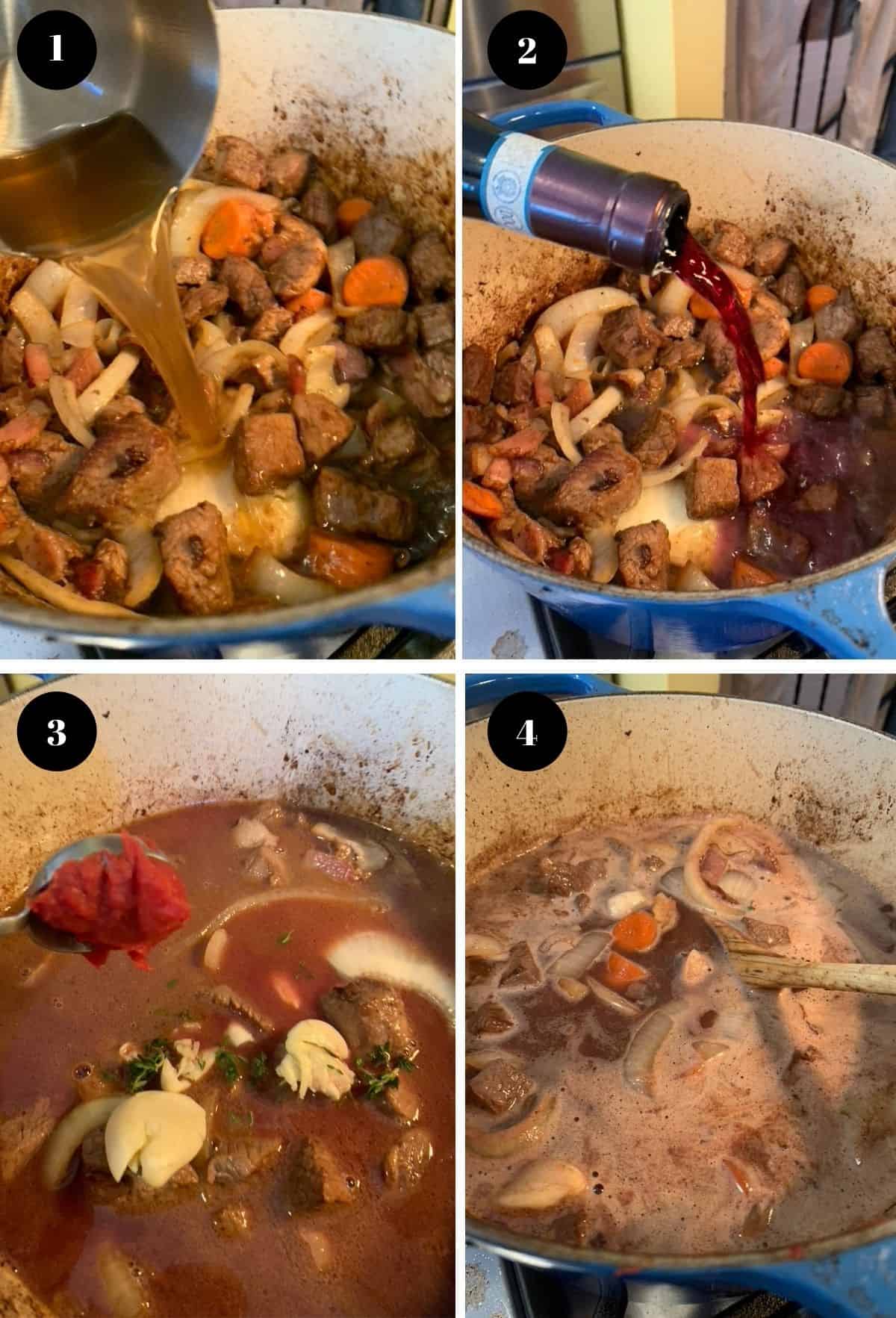 Add the broth to the mixture. Make sure it is warm before adding.
Add the wine. The liquid should just be covering the meat mixture.
Stir in the tomato paste, crushed garlic, and fresh thyme.
Bring the stew to a light simmer. Cover the Dutch oven and place in the oven for 3 to 4 hours, until the beef is fork-tender.
This is when the beef burgundy will begin to develop a nice rich flavor.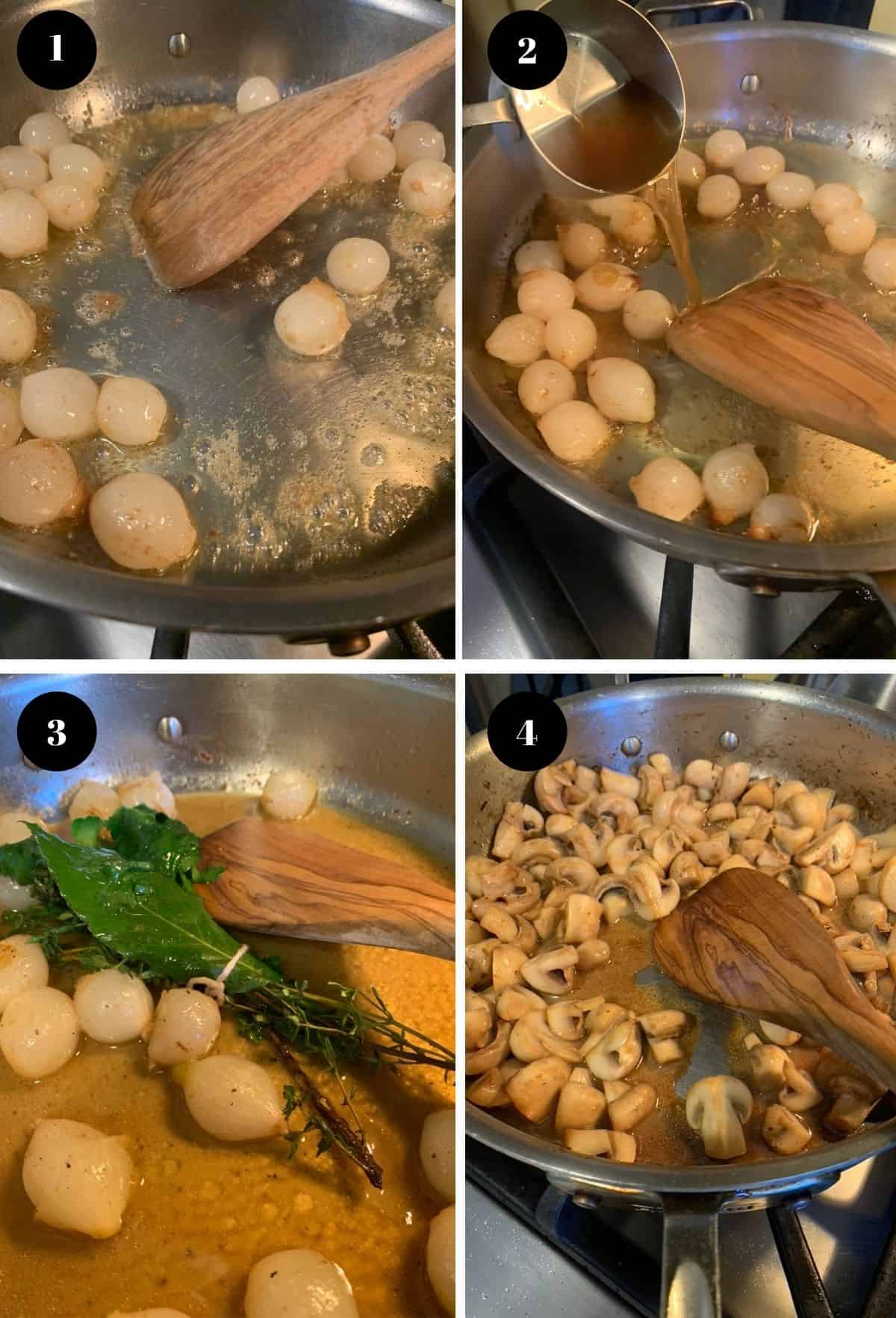 About an hour before you take the beef bourguignon out of the oven, you're going to start preparing the pearl onions and the mushrooms.
Use a large skillet and heat about 1 ½ tablespoon of butter with 2 tablespoons of olive oil, over medium-high heat. Add about 20 pearl onions (approximately 14 oz.) Saute them in the olive and butter mixture until lightly brown.
Stir in ½ cup of beef broth.
Make an herb bouquet using a bay leaf, a sprig or two of fresh thyme, and a couple of stems and leaves of fresh Italian parsley (flat-leaf parsley.) Add this to the pan and reduce the heat to low. Simmer for about 40 minutes or until the onions are tender and golden brown. Remove the cooked onions and set them aside.
Take a pound mushrooms and quarter them. Saute them on low heat for about 5 minutes. Add a little butter or olive oil if necessary. Then remove the mushrooms and set them aside.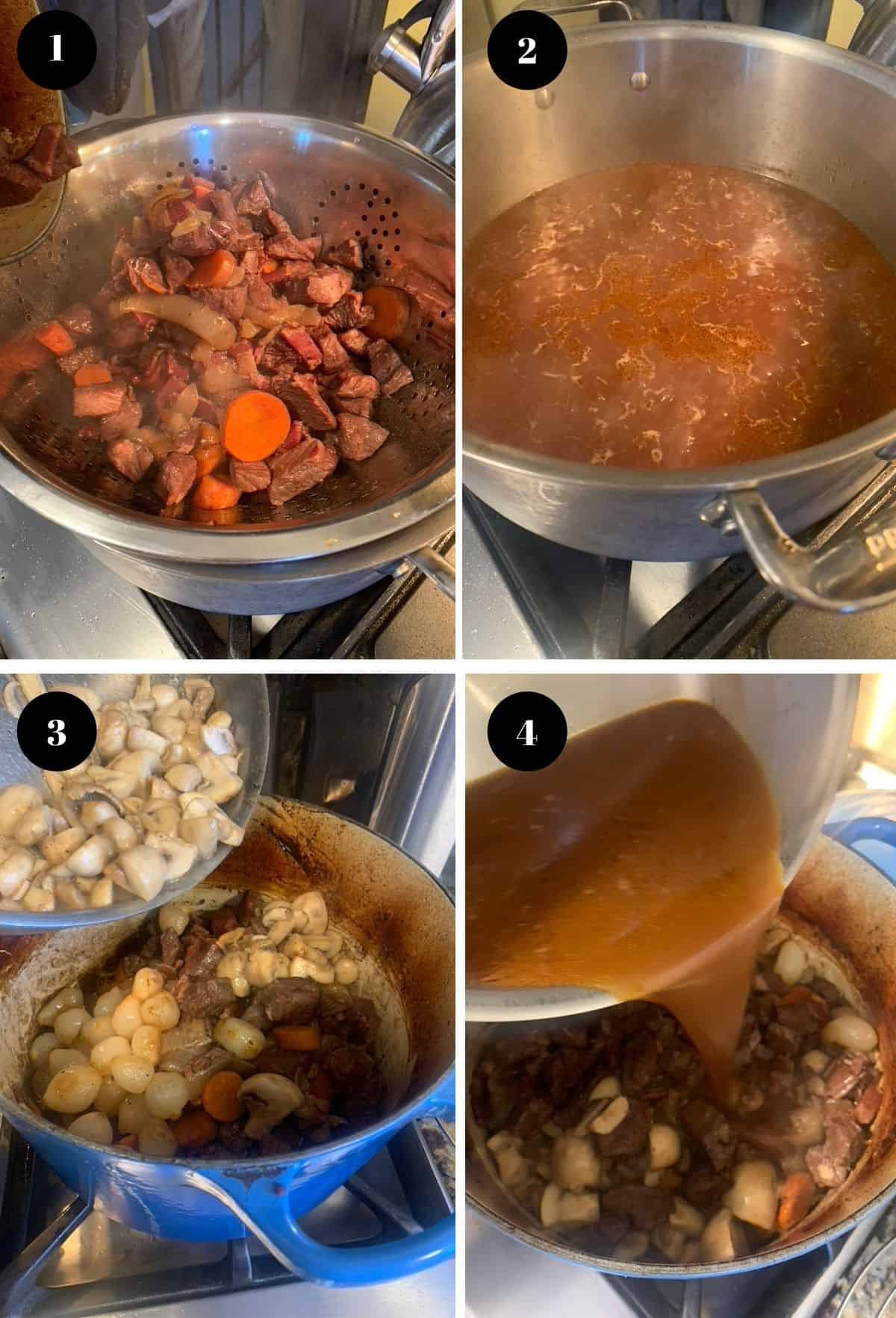 Using a colander, separate the stew from the liquid and drain into a large pot.
Bring the liquid to a low simmer for about five minutes and skim any fat from the top.
Return the beef mixture to the Dutch oven and add the pearl onions and mushrooms.
Pour the sauce over the meat mixture and gently stir it all together. Simmer on the stovetop for about 5 minutes.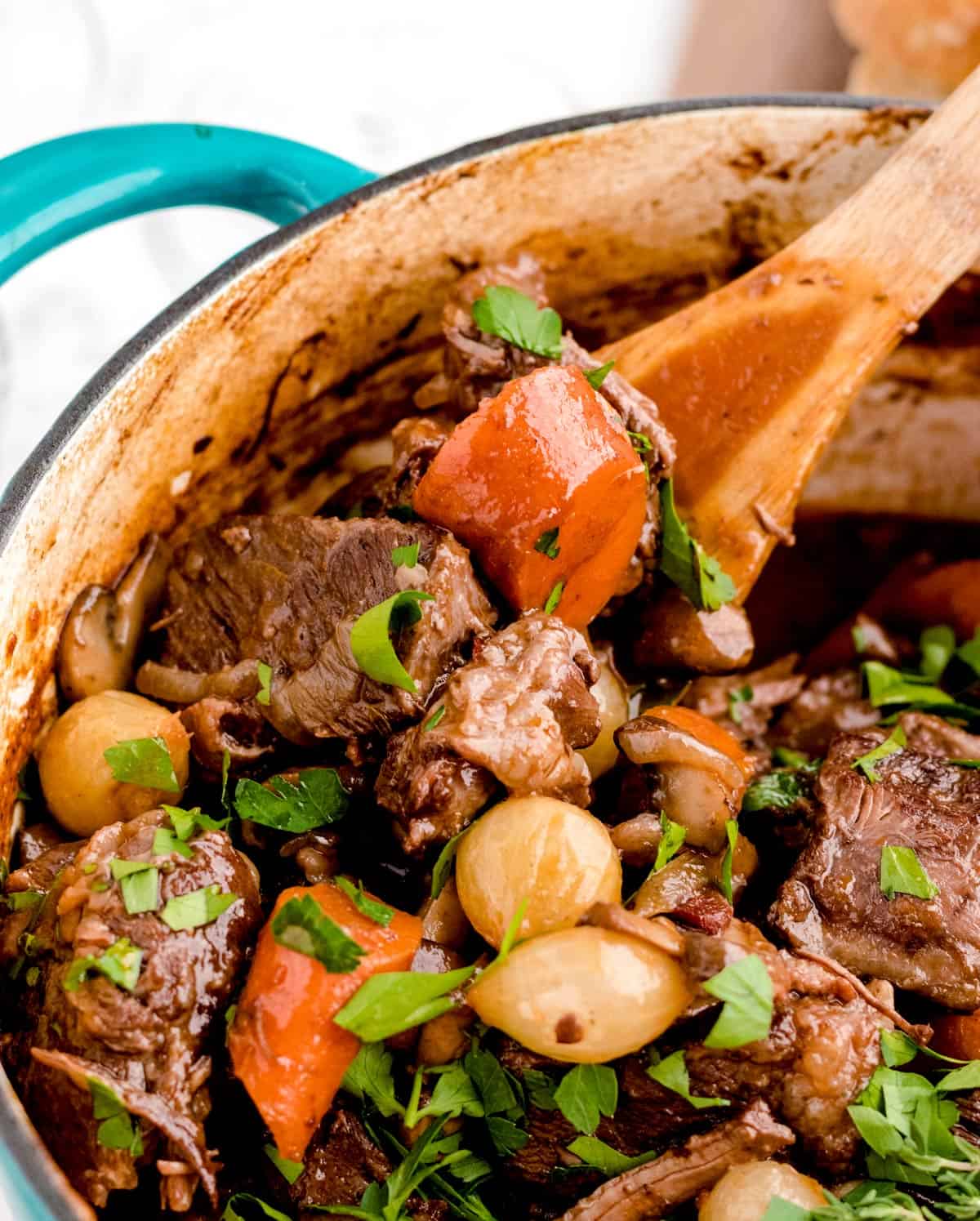 Substitutions and variations
Instead of bacon, you can use pancetta when making beef bourguignon.
If you can't find pearl onions, you can use cocktail onions, shallots, or frozen onions.
If you don't want to use wine in this beef bourguignon, you can just go with beef broth. Or, you can use grape juice or cranberry juice instead. These will give it a nice flavor and a beautiful color.
Expert tips
Use larger chunks of meat for this beef burguignon and don't skip the searing process.
Use a good red wine when making this. It can be simple but drinkable. You'll want to go for a "big" red that is full-bodied.
Don't saute the pearl onions or mushrooms until just before the beef bourguignon is finished braising.
This dish is best when made a day or two ahead of serving.
What goes with beef bourguignon?
Traditionally classic French stew is served with butter peas or over egg noodles. We like to eat it with crusty bread and mashed potatoes.
If you want to keep with the French them of this traditional beef stew, serve a bowl of this French Onion Soup. It's my favorite!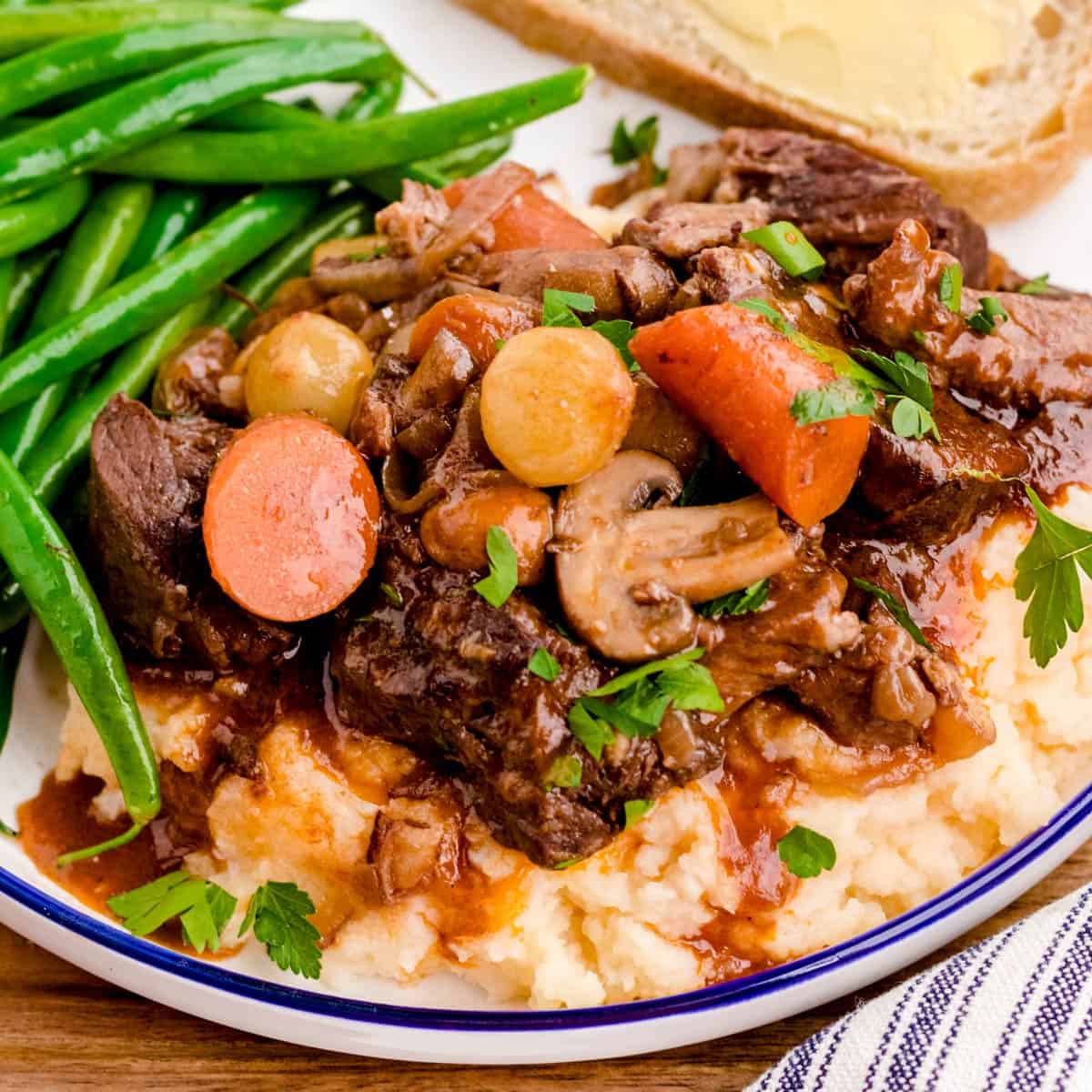 Common questions
What can I use in this instead of wine?
You can use a cup of unsweetened grape juice with two tablespoons of rice wine vinegar. Replace the remaining volume with beef broth.
How long is this good for?
Beef bourguignon tastes best if it sits in the refrigerator for a day or two. Make sure it is in an air-tight container and then reheat in a saucepan when ready to serve. It will stay good for 5 days in the fridge.

You can also freeze it for up to 3 months for a delicious ready-to-eat meal!
Related recipes
👨‍🍳 Tried this Recipe? Please leave a ⭐⭐⭐⭐⭐ rating in the recipe card below and leave a comment. We love hearing from our readers!
⏩ Stay in touch with us on social media by following us on Facebook, Pinterest, Instagram, and YouTube!
📬Get our Recipes delivered to your inbox for FREE!

📖 Recipe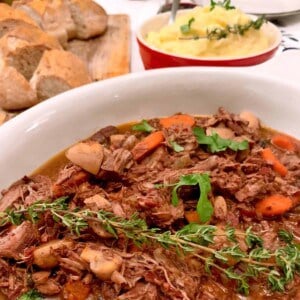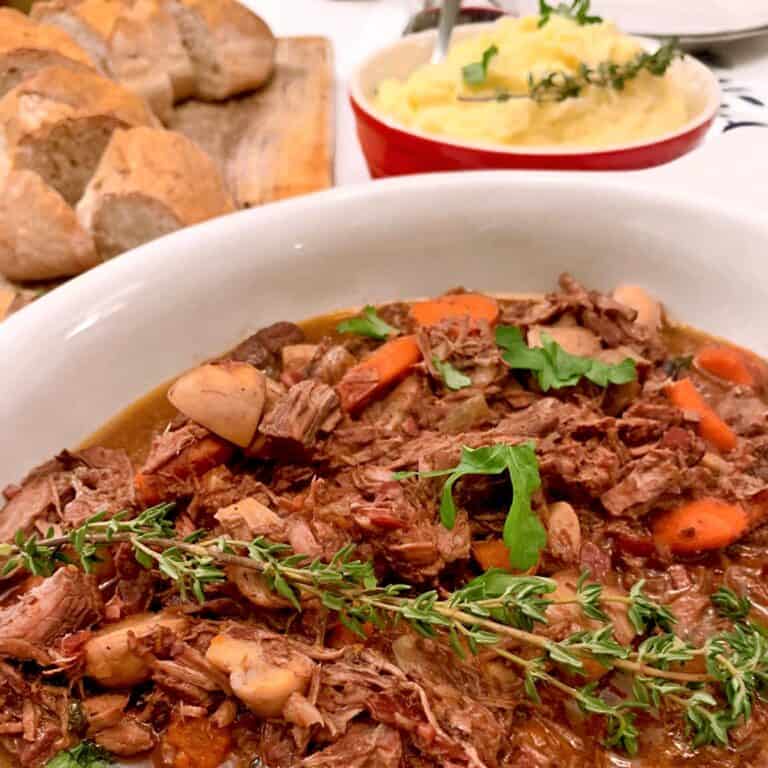 Julia Child's Beef Bourguignon
Classic beef bourguignon cooked in rich Burgundy wine.
Print
Pin
Rate
Ingredients
8

oz

Bacon

Sliced into lardons (¼-inch slices.)

4

tbsp

Olive oil

3

lbs

Beef

Stewing beef, cut into 2-inch cubes.

1

Carrot

Large, sliced into ½-inch coins.

1

Onion

Large, sliced.

1

pinch

Kosher salt and fresh ground pepper

2

tbsp

All-purpose flour

Unbleached is preferred.

3

cups

Red wine

3

cups

Beef stock

Use 2 ½ to 3 ½ cups.

1

tbsp

Tomato paste

2

cloves

Garlic

smashed

½

tsp

Thyme

14

oz

Pearl onions

18 to 24.

3.5

tbsp

Butter

1

Herb bouquet

1 bay leaf, 2 sprigs thyme, 4 sprigs flat-leaf parsley, tied together.

1

lb

Mushrooms

Fresh and quartered.
Instructions
Preheat your oven to 450°. Simmer the bacon lardons in a pot of water for about 10 minutes. Remove with a slotted spoon and let them drain on some paper towels.

Over medium heat, saute the cooked bacon in 1 tablespoon of olive oil for about 3 minutes. You'll want it to be lightly brown. Remove with a slotted spoon and set aside.

Take the beef cubes and pat them dry using a paper towel. Then, working in batches, sear the meat on all sides over medium-high heat in a large Dutch oven. Then set it aside with the bacon.

In the same Dutch oven, saute the sliced onions and carrots over medium heat for about 3 minutes. Add a little more olive oil (or butter) if necessary. Return the bacon and the seared meat back to the pot and sprinkle in about ½ teaspoon of coarse salt and about ¼ teaspoon of fresh ground black pepper. Sprinkle the flour in and toss. Place in the oven, uncovered, for 4 minutes. Remove the pot fro the oven, toss again, and place back in the oven for another 4 minutes. Then, remove from the oven and reduce the heat to 325°.

Pour the wine and the stock into the pot. You'll want enough so the meat is just barely covered. Then, stir in the tomato paste, crushed garlic, and thyme leaves. Bring this to a light simmer on the stove, then cover and place in the oven for 3 to 4 hours, until the meat is fork tender.

About an hour before you take the stew out of the oven, use a medium-size saute pan and heat 1.5 tablespoons of butter with 2 tablespoons of olive oil over medium heat. Add the pearl onions and cook until they are golden-brown, about 10 minutes. Then stir in ½ cup of beef broth, a pinch of salt and pepper, and the herb bouquet. Gently saute for another 30 to 40 minutes, until the small onions are soft.

Remove the pearl onions from the pan and set aside. Discard the herb bouquet and add the remaining butter and oil to the pan, over medium heat. Stir in the mushrooms and saute for about 5 minutes until they are soft. Remove the mushrooms and set aside with the peal onions.

When the meat and vegetables are ready to come out of the oven, place a colander over a large pan and strain the liquid from the meat. Set the meat aside and bring the pan of liquid to a low simmer for about 5 minutes. Place the beef and vegetables back into the Dutch oven, then pour the sauce over that mixture. Stir in the pearl onions and mushrooms, and bring to a low simmer for 5 or 10 minutes.

Serve at this time or allow it to cool and refrigerate for a day or two before serving. The flavor will get better and develop with a little time.
Notes
Top Tips for Making Beef Bourguignon
Be sure to sear the meat as directed. This step is important for a deep, rich-flavored beef burgundy.
You can use cheaper cuts of meat for this beef bourguignon as it will become tender as it cooks.
Use a good quality red wine in this recipe. One that you would enjoy by the glass.
Serve beef bourguignon over mashed potatoes or over egg noodles.
Nutrition
Calories:
931
kcal
|
Carbohydrates:
14
g
|
Protein:
34
g
|
Fat:
75
g
|
Saturated Fat:
28
g
|
Polyunsaturated Fat:
5
g
|
Monounsaturated Fat:
34
g
|
Trans Fat:
2
g
|
Cholesterol:
161
mg
|
Sodium:
409
mg
|
Potassium:
1065
mg
|
Fiber:
2
g
|
Sugar:
5
g
|
Vitamin A:
1467
IU
|
Vitamin C:
7
mg
|
Calcium:
68
mg
|
Iron:
5
mg