The BEST Swiss Steak Recipe (Tender and Easy)
Swiss steak is an easy and inexpensive family meal and one of our favorite retro recipes. With just a few simple ingredients and some easy-to-follow steps, you'll be able to enjoy a mouth-watering steak in no time.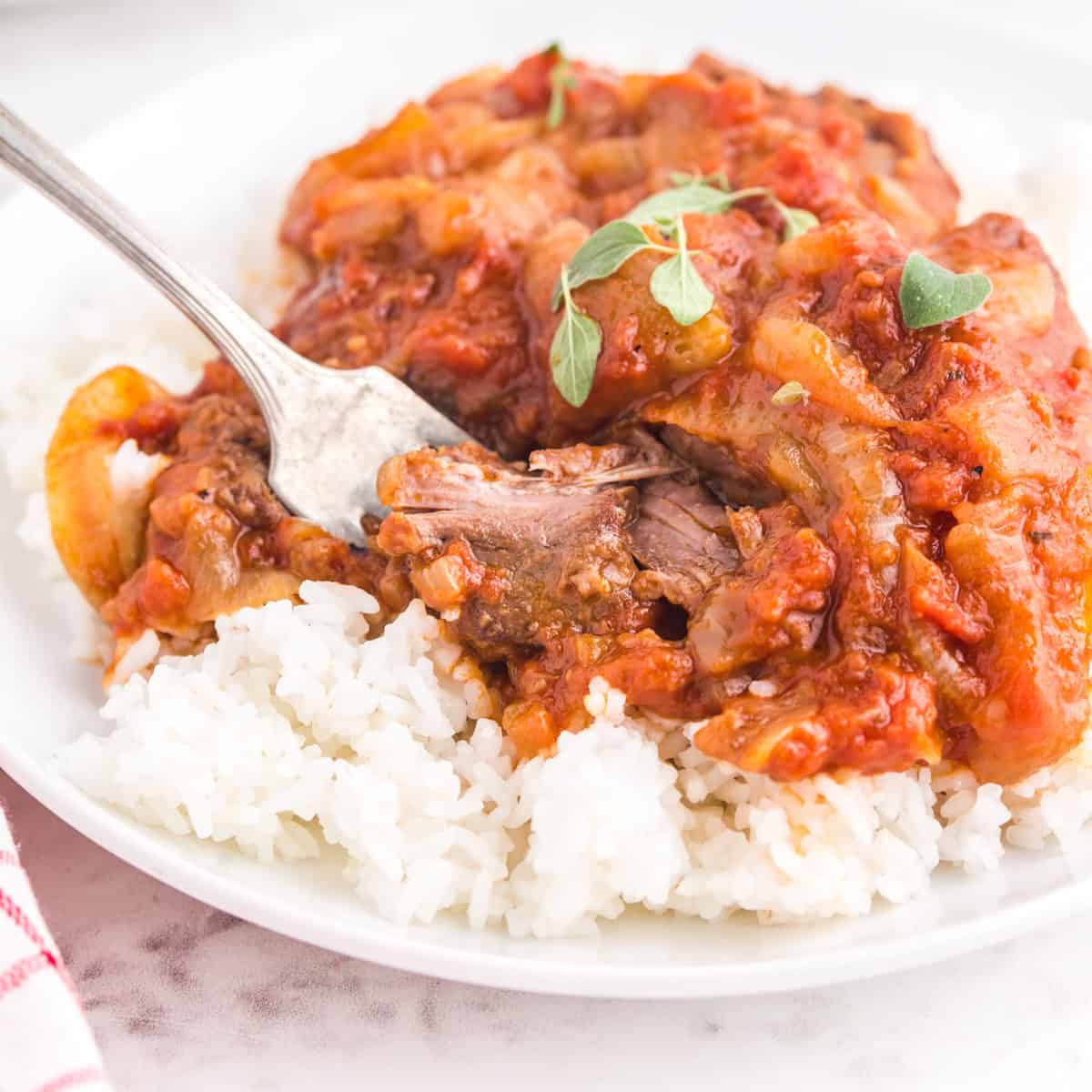 If you're tired of spending hours in the kitchen only to end up with a tough and tasteless steak, then this diner is the answer to your problems! I have a tender and easy Swiss steak recipe that will have your taste buds dancing with joy.
Grab your apron, and let's start cooking one of my favorite beef recipes!
What is Swiss Steak?
Swiss steak is a popular and versatile main course dish well-loved because of its tender, slow-cooked beef, and rich tomato sauce. With its comforting flavors and wide appeal, Swiss steak has become a beloved classic that stands the test of time.
Whether you're yearning for a satisfying meal on a cozy winter evening or seeking a delightful centerpiece for a memorable family gathering, Swiss steak delivers on all fronts. Discover the joy of this timeless dish, where succulent beef is expertly cooked to perfection, creating a culinary masterpiece that will impress and satisfy even the most picky eaters.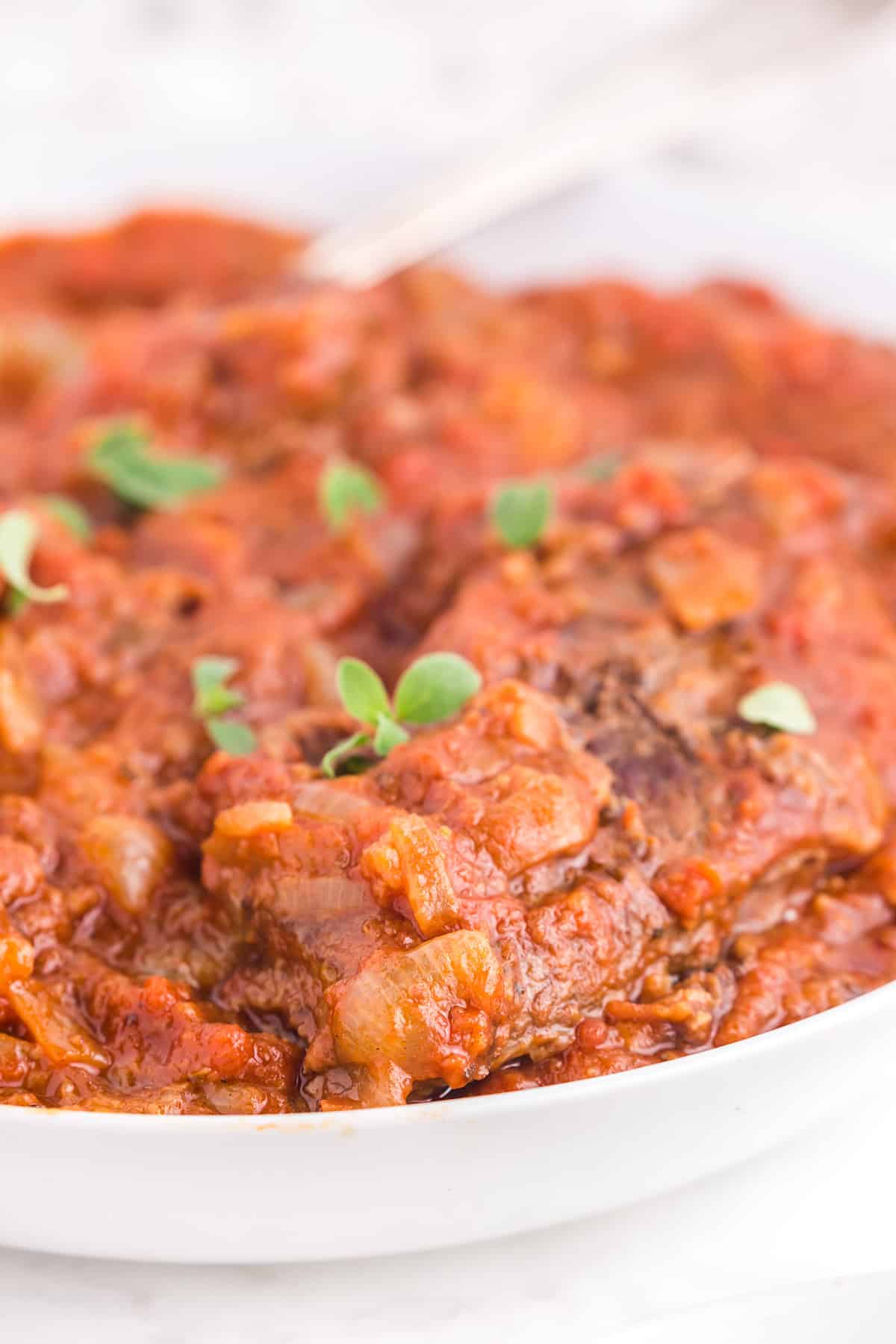 The smothered steak dish typically consists of a tougher cut of meat that has been tenderized by pounding or marinating it. First, it is coated in flour and then braised in a flavorful tomato-based sauce with vegetables like onions, carrots, and celery. The result is a rich and savory meal that will satisfy your taste buds.
You can elevate the dish with prime cuts of meat, but it's also easy to save a bit of money by using an inexpensive cut of beef.
Expert Cooking Tip: My secret for making the best Swiss steak is to use tougher cuts of meat and seal in the flavor by searing it properly and using the browned piece of meat from the bottom of the pan. Delicious!
Read along, and then try this easy Swiss steak recipe. It's sure to become one of your new favorite recipes! Here's my step-by-step guide and ingredients list to making the perfect Swiss steak for your family.
What's in this recipe?
Alright, hungry readers, let's break down the ingredients we'll need for our Swiss steak adventure!
First, let's start with the main ingredient for this recipe: beef.
Beef chuck eye is my favorite cut for Swiss steak because it comes from the chuck primal cut, known for its rich flavor and tenderness.
Chuck eye is a well-marbled cut with just the right amount of fat, making it ideal for slow-cooking methods like Swiss steak. As with the best prime rib, marbling ensures that the meat stays juicy and flavorful during the cooking process.
This results in a melt-in-your-mouth texture that pairs perfectly with the hearty tomato-based sauce.
So, by using beef chuck eye, you can make a deliciously tender and flavorful Swiss steak that will have everyone asking for seconds!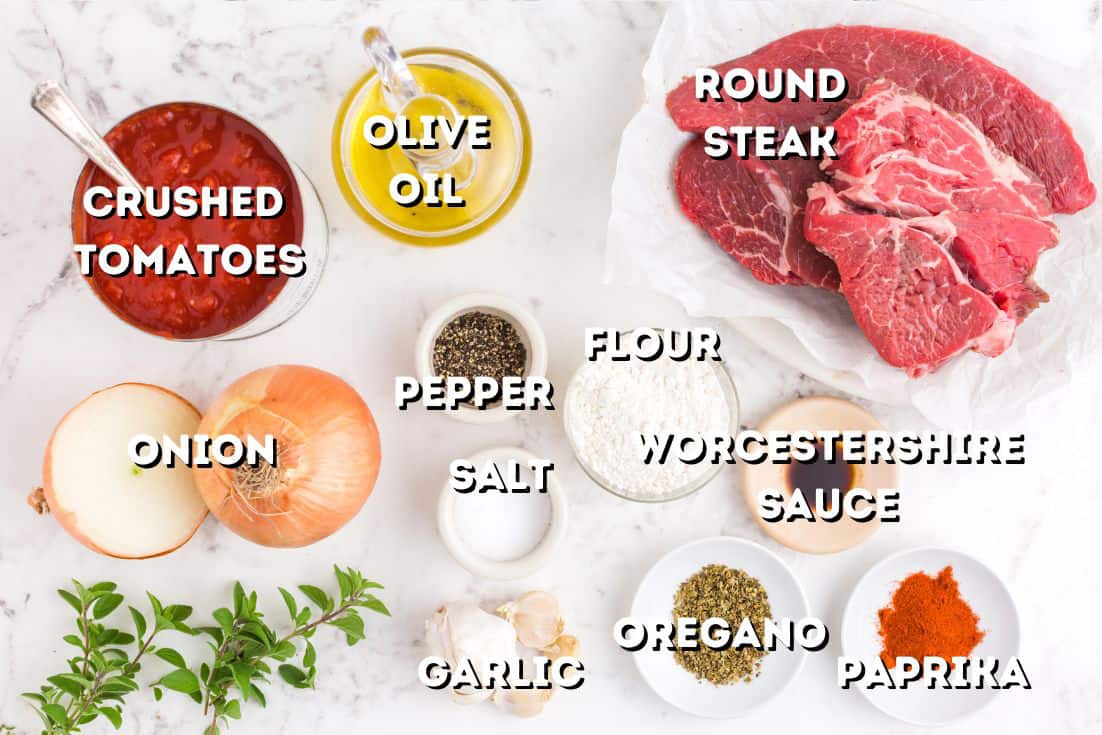 Olive Oil: You'll need some olive oil, which you'll divide into two portions.
Round Steak: Next up is a whopping 2 pounds of beef. Beef chuck eye is my go-to cut of meat for making Swill steak.
Onion: You need two medium-sized yellow onions, all sliced up. If you only have white onions, you can use these as well.
Minced Garlic: Don't forget about the magical flavor of minced garlic! We use around 2 teaspoons of it.
Salt and Pepper: You'll add some salt, about 1/2 teaspoon, and a teaspoon of black pepper for a little kick.
All-Purpose Flour: Abut 3/4 cups is what you'll need. You'll be using it for coating our steak.
Paprika and Oregano will add a touch of spice t to this Swiss steak recipe. You don't need a lot; a teaspoon of each will work.
Crushed Tomatoes: You'll need a 28-ounce can for some delightful tomato goodness.
Worcestershire Sauce: Use this to add a tangy touch to your Swiss steak. Two teaspoons of it will do the trick.
Fresh Oregano: Add a special touch with some fresh oregano or parsley to garnish your creation.
Now that our ingredients are ready, it's time to roll up our sleeves and start cooking this delectable Swiss steak!
How to make Swiss steak
Making Swiss steak is straightforward once you know the basics. Here's our step-by-step guide and ingredients list to making the perfect Swiss steak for your family.
Equipment
Preparation and Cooking Instructions
1. Start by preheating the oven to 325°F then preparing the meat. Choose a tough cut of beef, such as chuck or round steaks, and tenderize it by pounding it with a meat mallet between two sheets of parchment paper until the cube steak is about 1/2″ thick.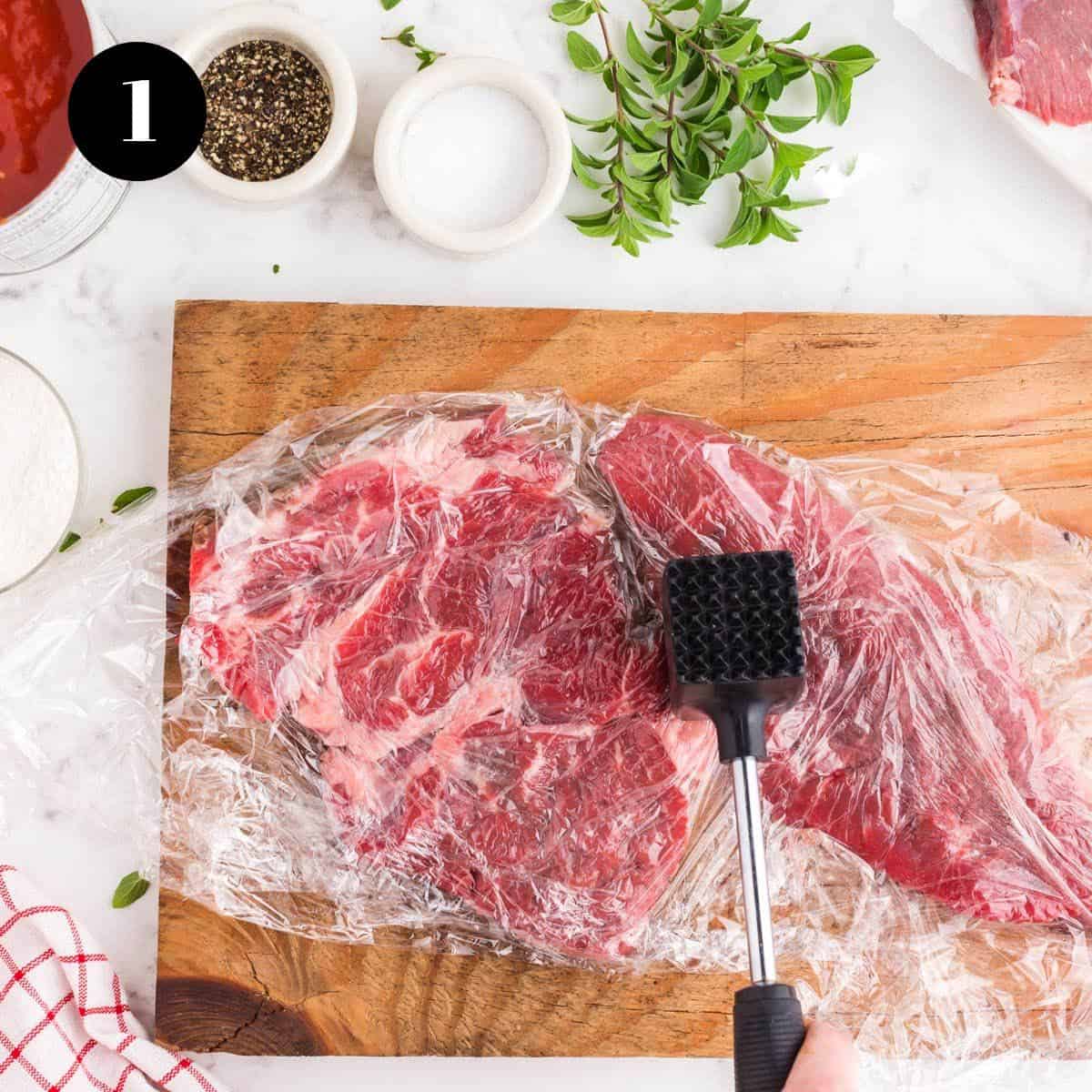 2. Next, mix flour, salt, pepper, and paprika, then season the beef by coating it in flour mixture on both sides. Tap off the excess flour. This step will help to thicken the sauce later on.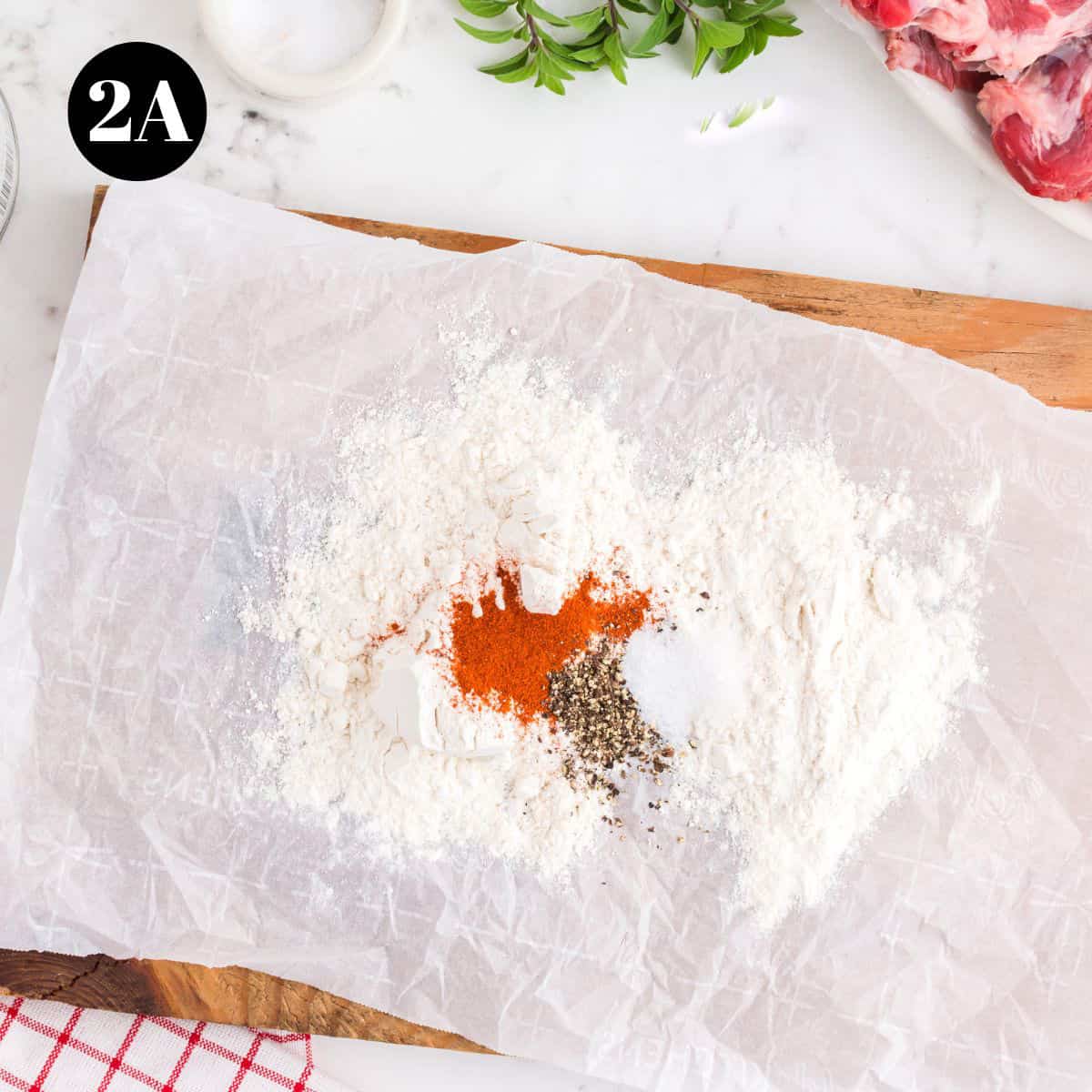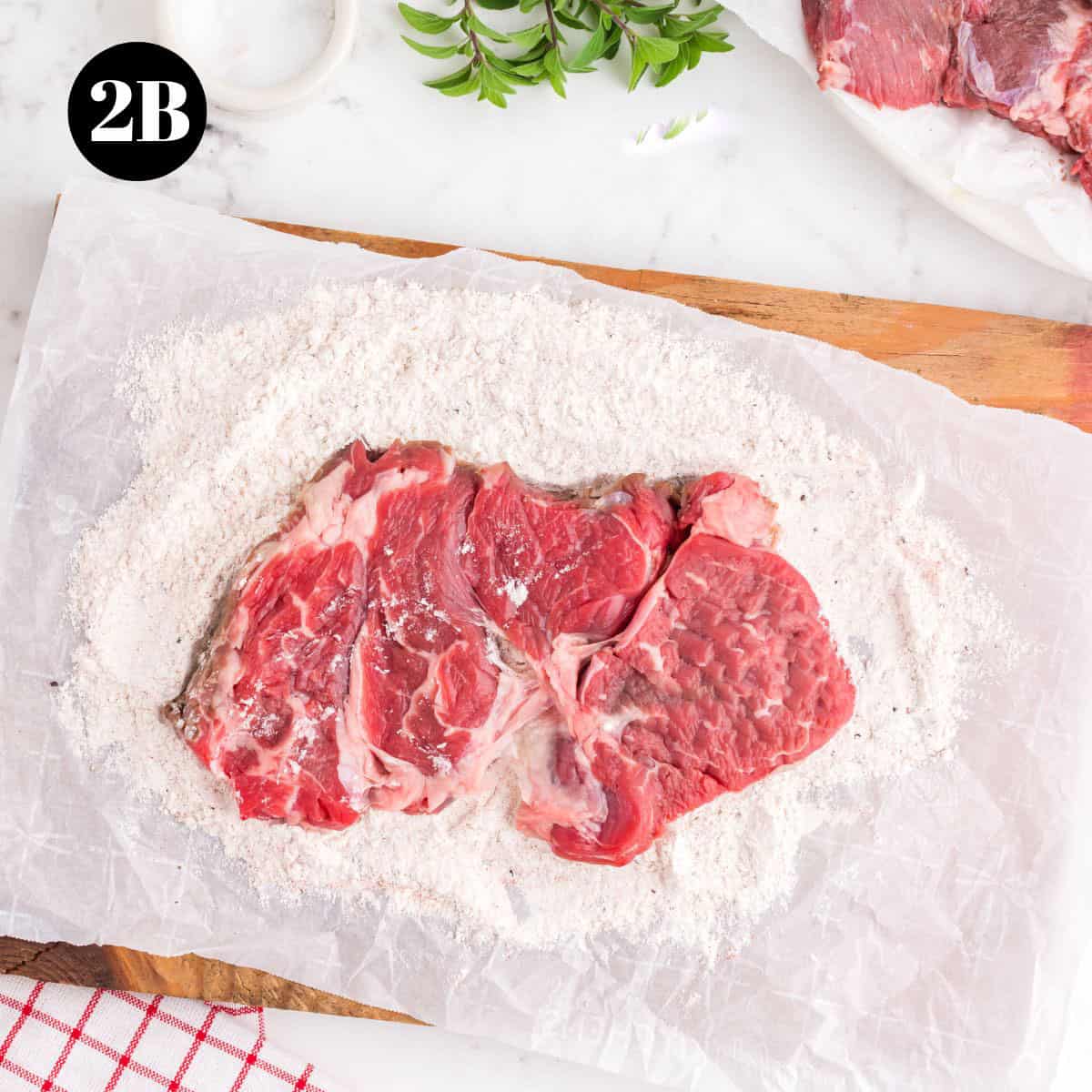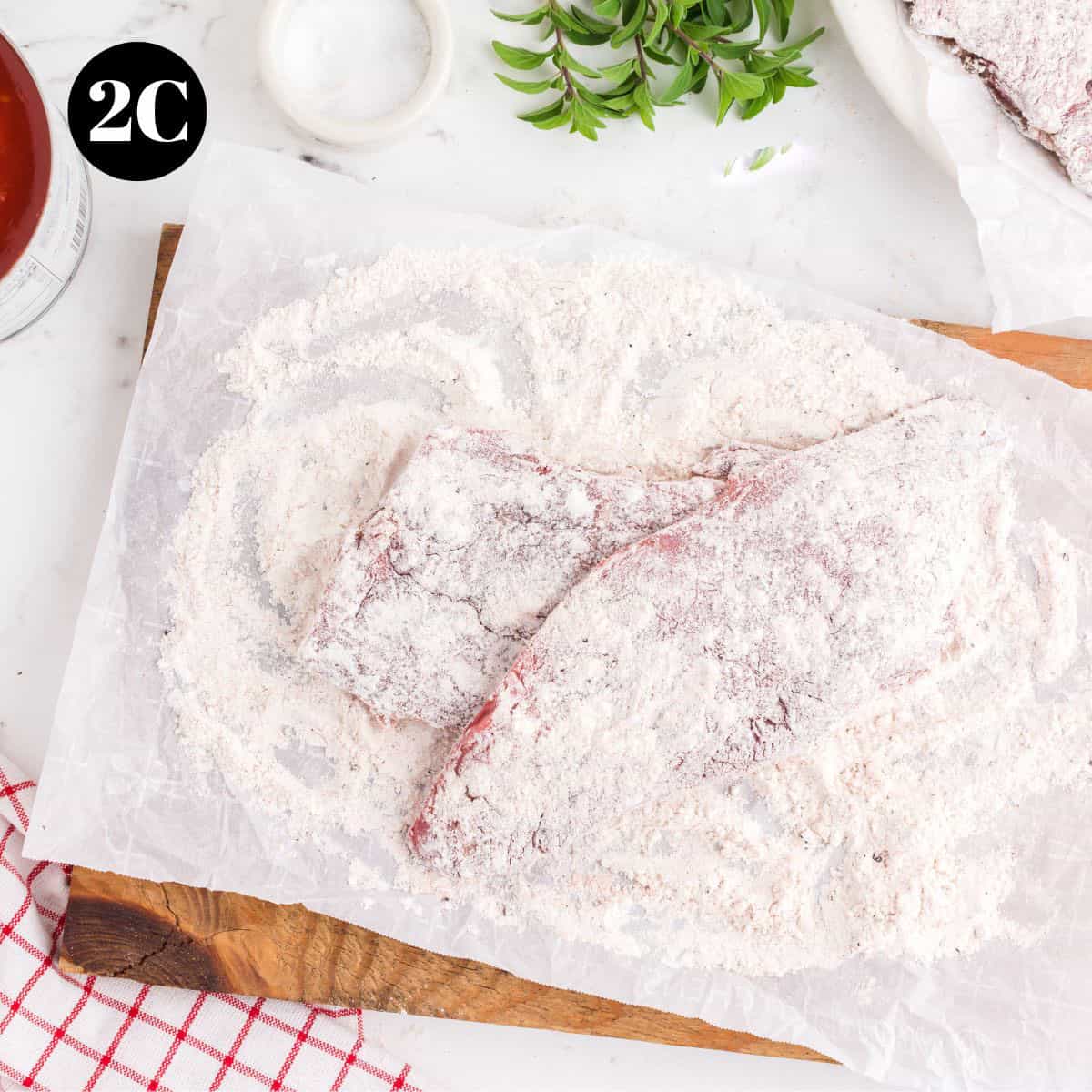 3. Heat the Dutch oven over medium high heat and 2 tablespoons of oil. Once the pan is hot, add the sliced onions and garlic to it and cook for about two minutes until lightly browned and start to caramelize. Remove the onions and set aside.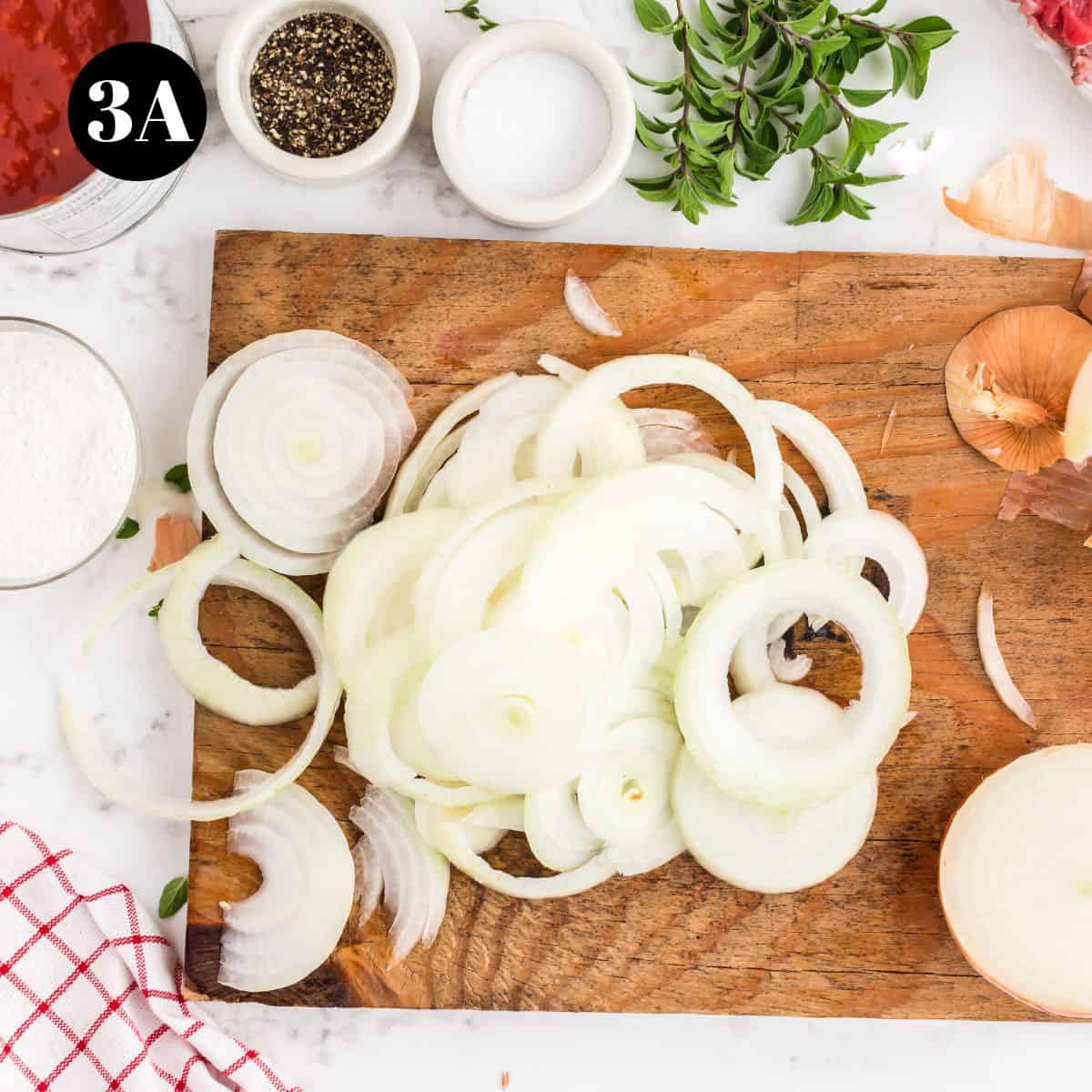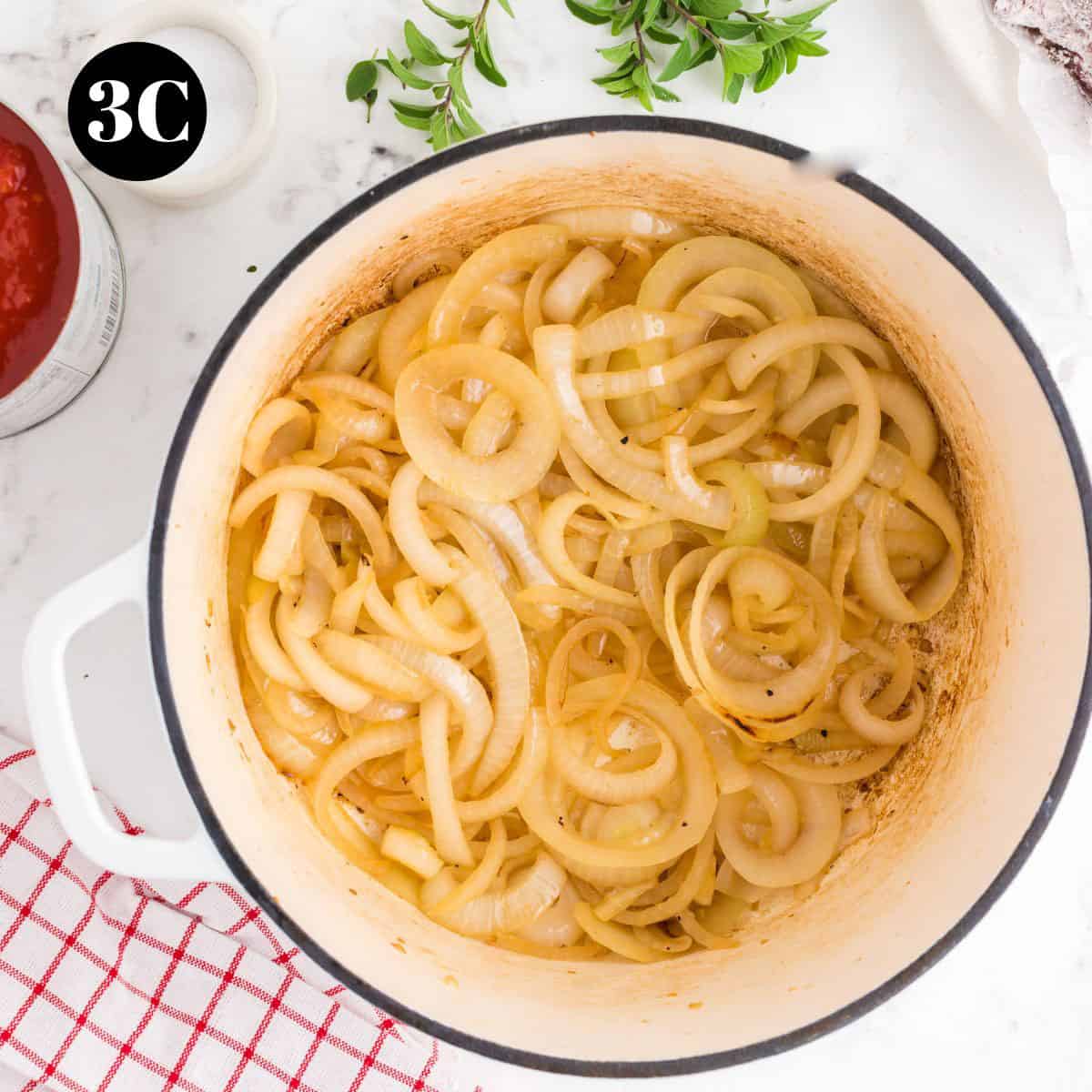 4. Add the remaining oil and prepared meat to the pan and cook on each side until they are browned. Add the onion mixture back to the pan, adjusting the steak on top of the onions.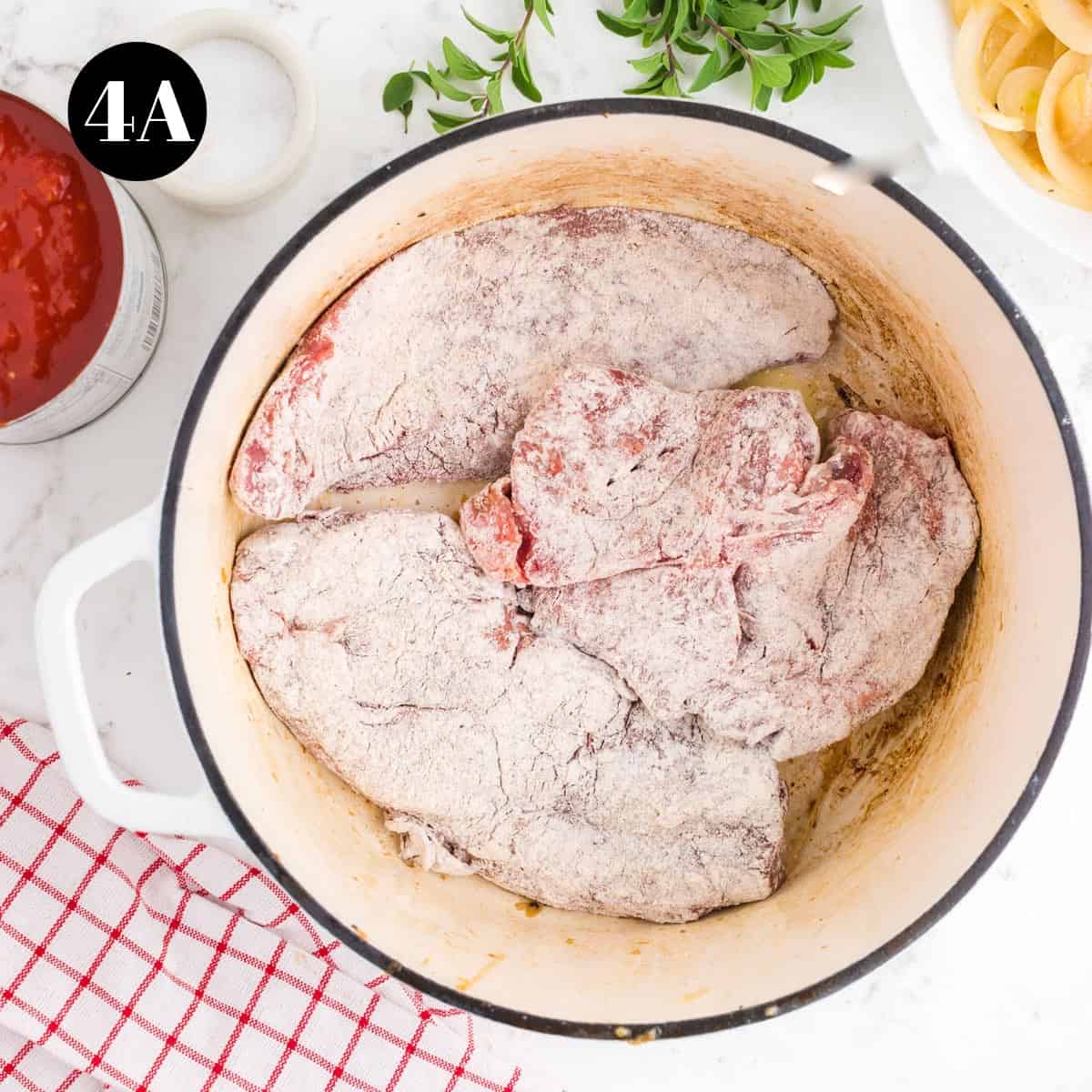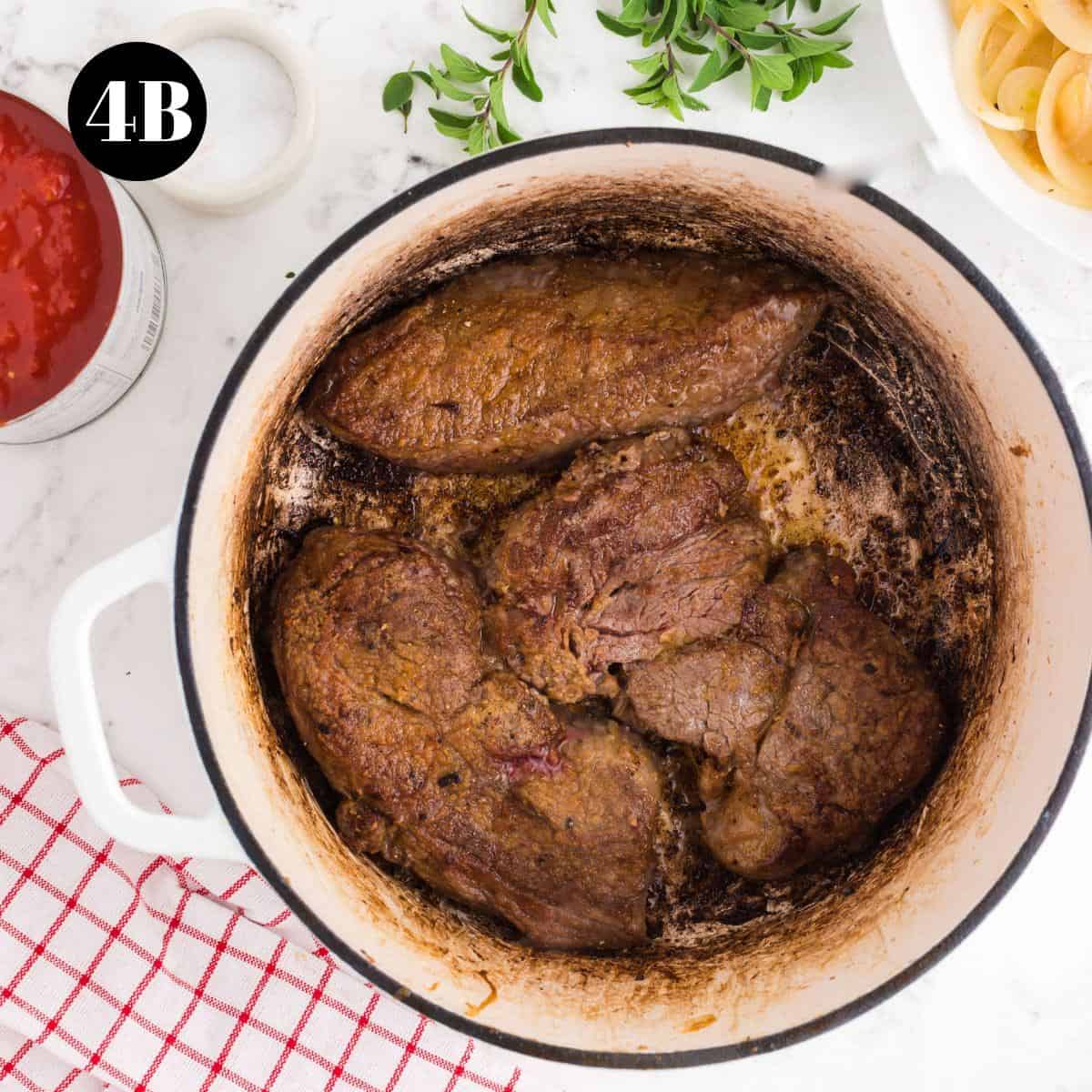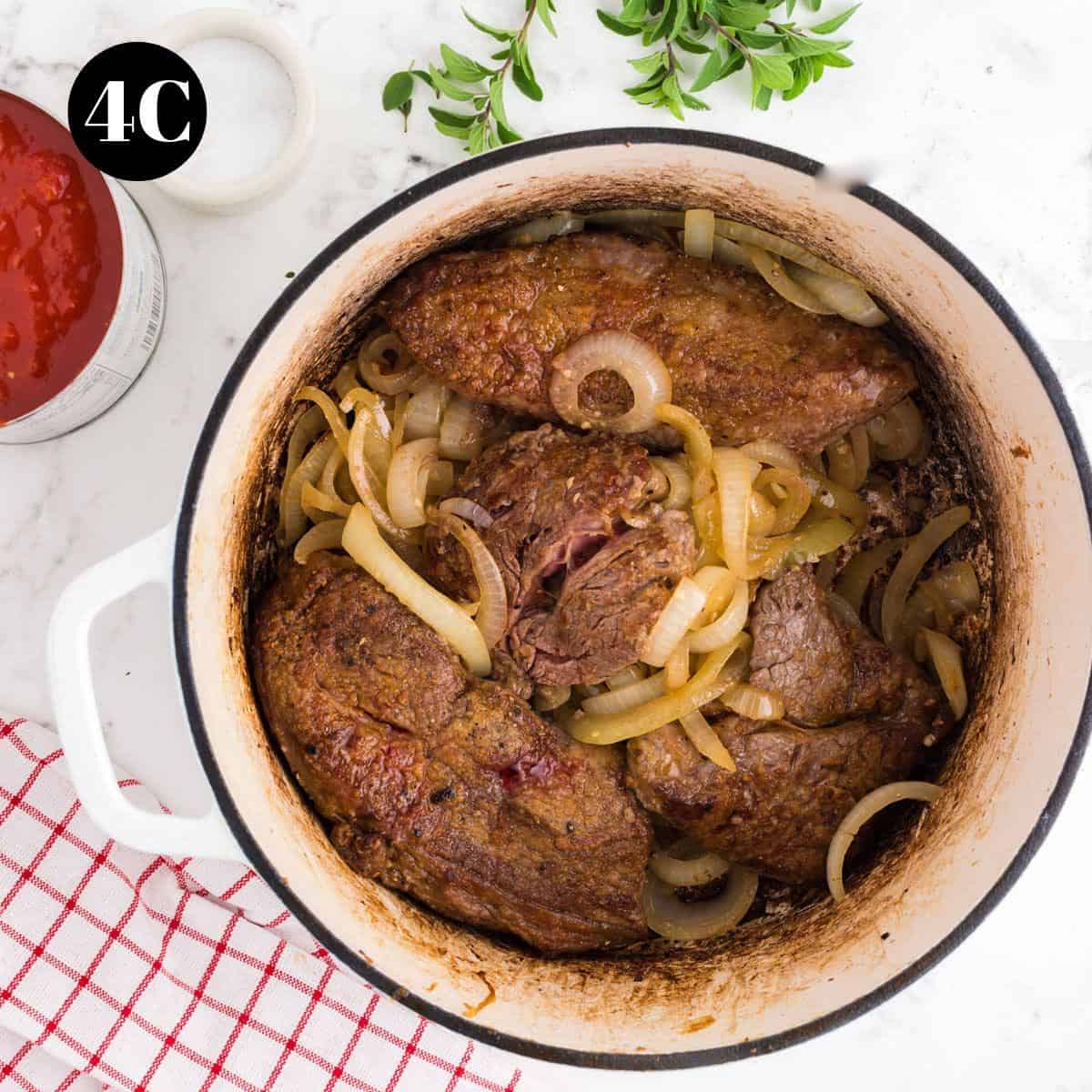 Add the onion mixture back to the pan. Place the meat on top of the onoin mixture.
5. Pour in a can of tomatoes including the juice, herbs, and Worcestershire sauce and stir slightly. Make sure to scrap the browned bits for added flavor. Place the lid on the Dutch oven and bake for about 2 1⁄2 hours cooking time until the beef is fork-tender.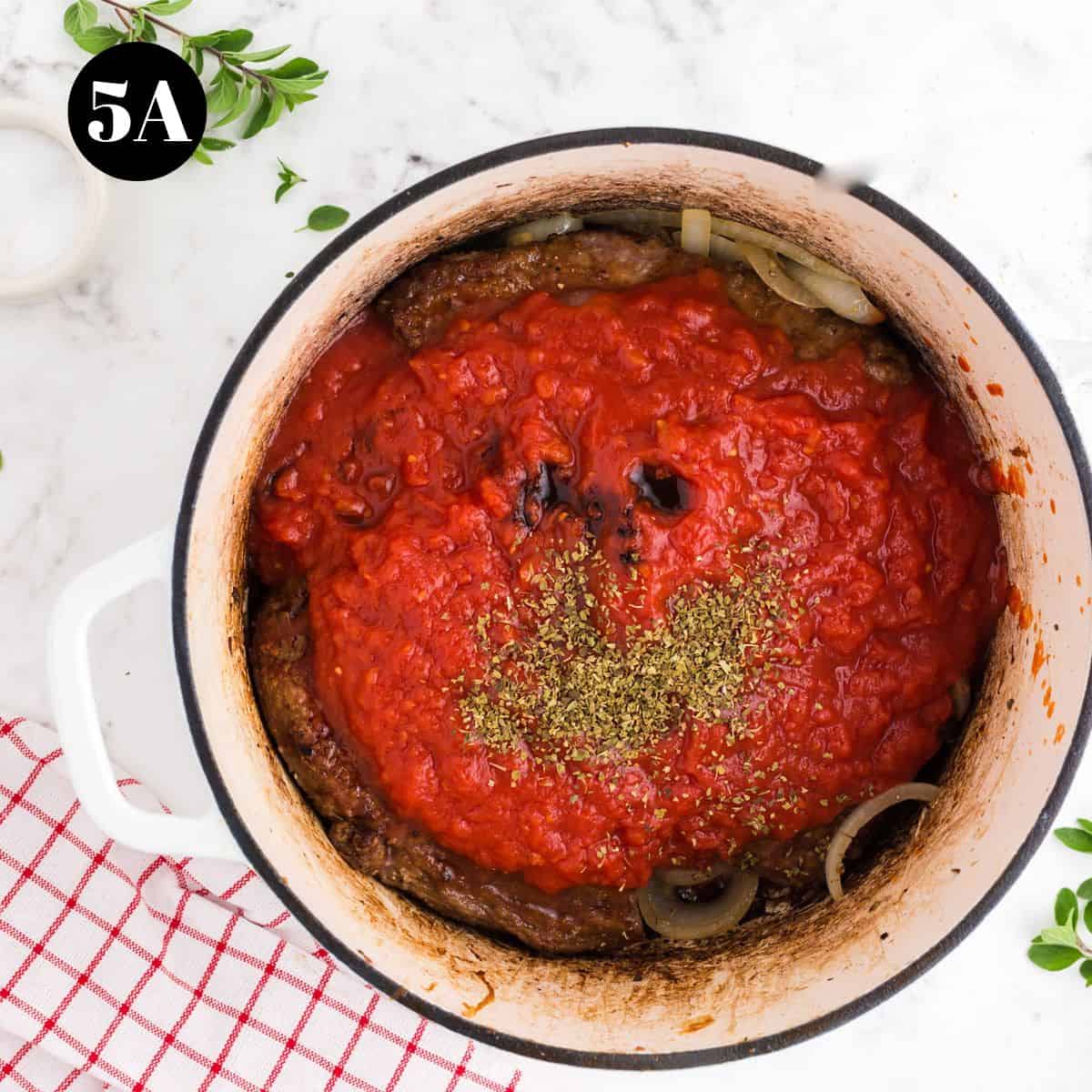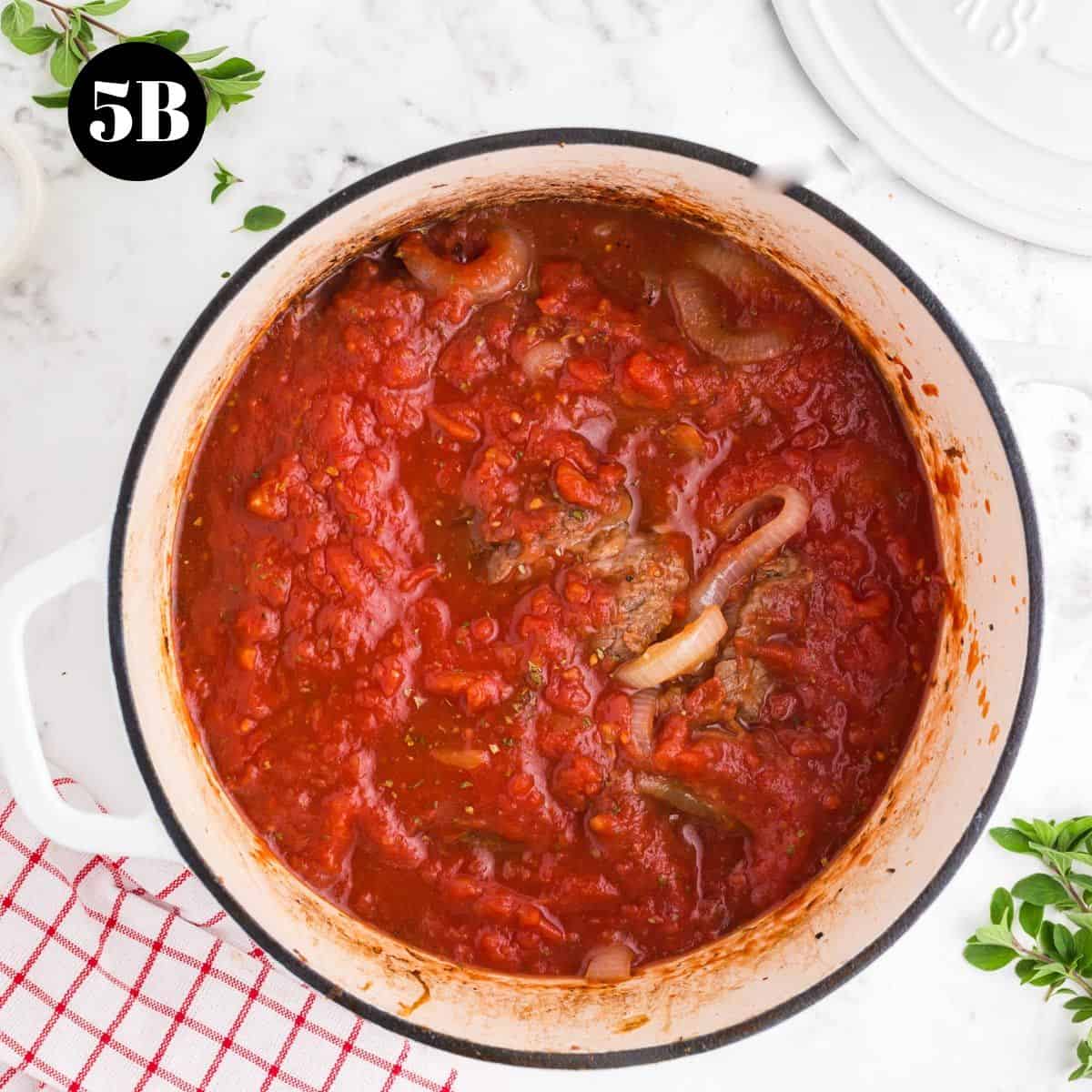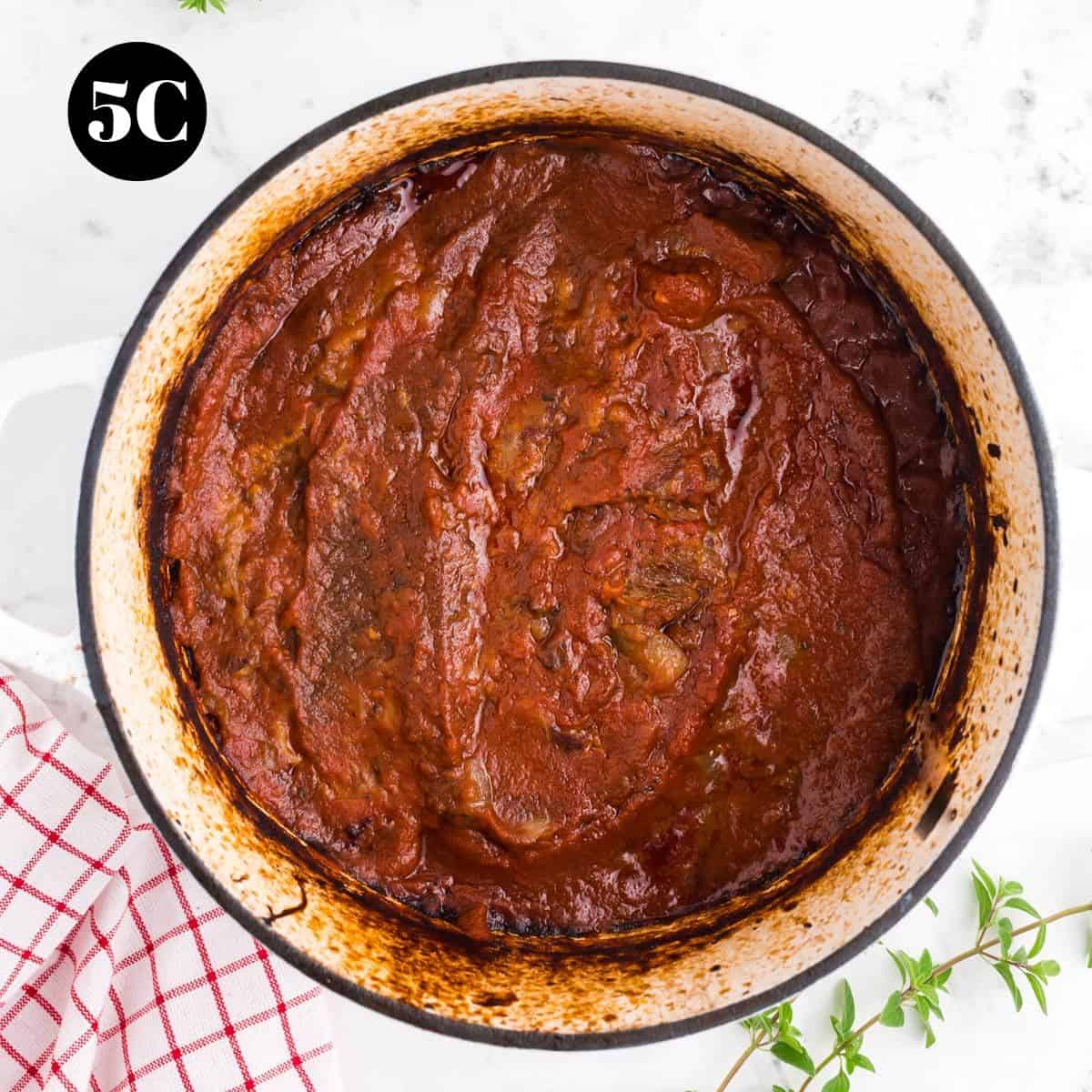 Serve over the perfectly cooked Swiss steak over rice, mashed potatoes, or noodles. Garnish with fresh oregano or parsley if desired
My top tips for making the perfect Swiss steak
When selecting the ingredients to use for Swiss steak, quality is key. Quality beef cuts will ensure that your dish has plenty of flavor as well as a rich, tender texture.
For this reason, it's best to buy steaks that are at least an inch thick and have plenty of marbling throughout the meat. Look for cuts with labels such as "USDA Choice" or "Prime."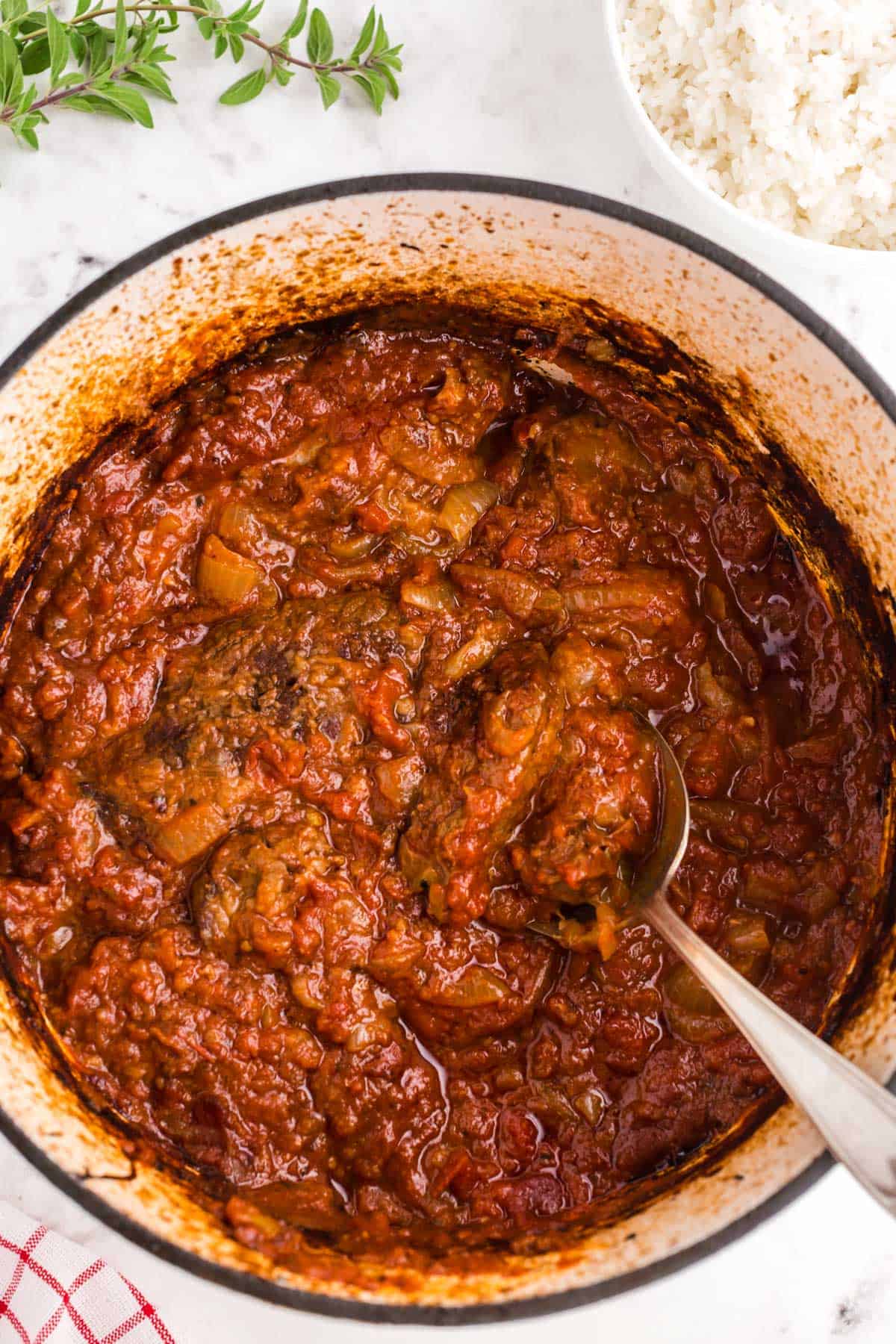 Also, it's important to cook the steak in a medium-high heat so that the flour coating doesn't burn and turn bitter. Browning all sides of the steaks is also key, as this will create an additional layer of flavor.
Finally, it's important to let the steaks rest for a few minutes after cooking before serving. This will ensure that all of the juices and flavors are sealed in and won't escape when you cut into them.
There you have it — with these tips and tricks, you'll be able to make perfect Swiss steak every time, so get ready to impress your family and friends with this timeless recipe. Enjoy!
Variations and substitutions
For those who want to mix up the classic Swiss steak recipe, there are many options for tweaking it to make it their own. One way to add variety is by using a marinade or a dry rub on the beef prior to coating in flour.
Marinades can be as simple as a mixture of garlic, soy sauce, and olive oil or as complex as a full-fledged teriyaki marinade. Dry rubs are usually made with spices such as paprika, cumin, and garlic powder, but you can also get creative and use your own favorite herbs and spices.
For a healthier twist on Swiss steak, try using leaner cuts of beef such as sirloin or filet mignon, and reduce the amount of oil used in the recipe. You can also lighten up the sauce by adding vegetable or chicken broth instead of tomato sauce.
Prefer thicker sauce? Tomato paste can be substituted for tomatoes with a bit of beef broth to get the consistency you like. Bell pepper is also a popular vegetable to add to the onions and garlic if you'd like.
With just a few simple tweaks, you can make Swiss steak into your own signature dish!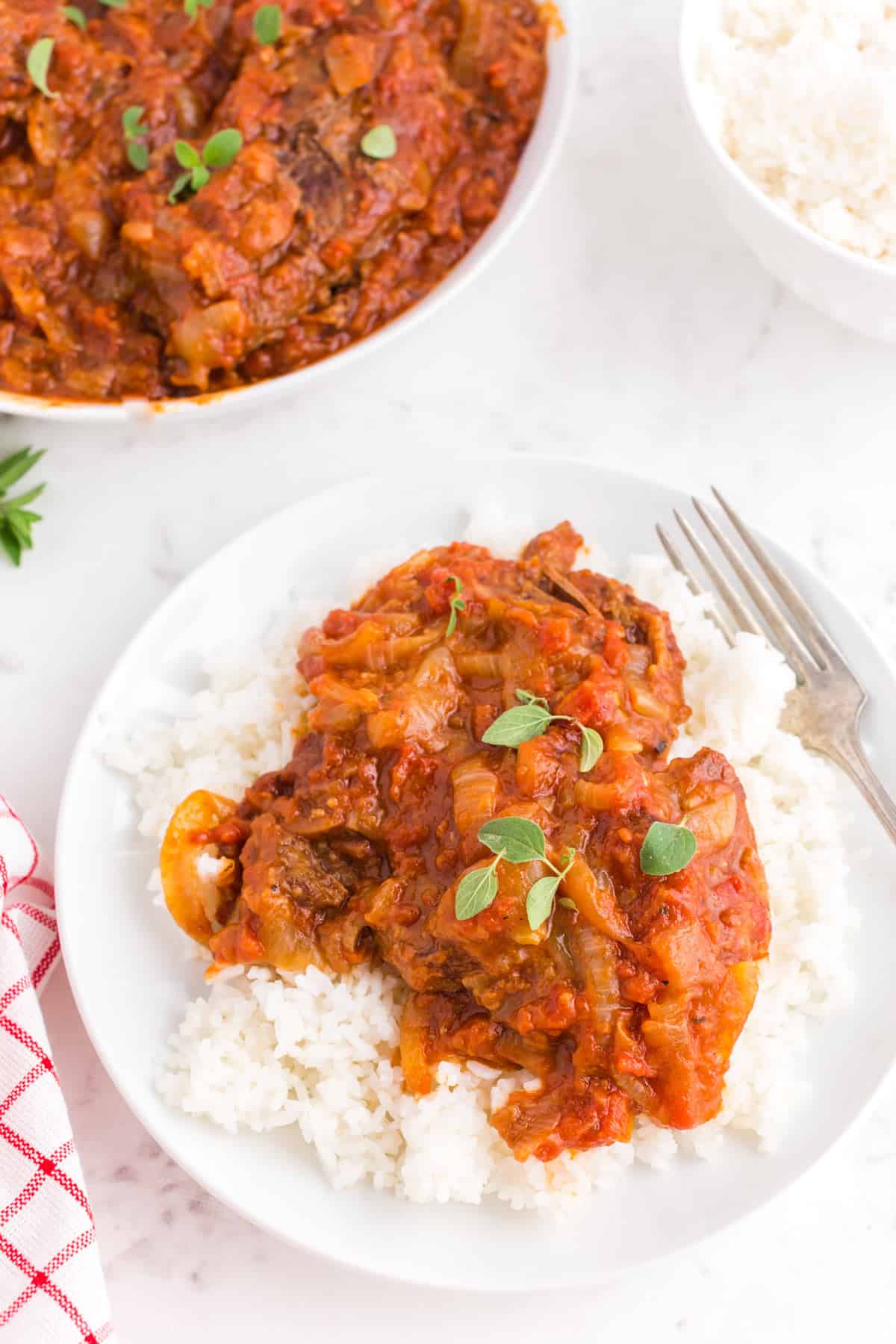 What goes with Swiss steak?
Swiss steak is a classic recipe that can be paired with a variety of side dishes. Mashed potatoes are a traditional accompaniment to Swiss steak, as the creamy texture of the potatoes helps to balance out the hearty, rich flavors of the beef.
To make mashed potatoes particularly delicious when serving them with Swiss steak, try adding some fresh herbs for an added kick of flavor. I love serving our garlicky mashed potatoes , German potato dumplings, or a flavorful fried cabbage with this meal!
If you're looking for something lighter to accompany your Swiss steak, green beans make a great option. Cook fresh green beans with some beef broth and bacon for a delicious side.
Homemade rustic bread is a great way to soak up the delicious sauce. You can also add a side of steamed vegetables or a crisp salad for a complete meal.
Recommended beverage pairings
Swiss steak is a hearty and flavorful dish that pairs beautifully with a glass of robust red wine. Try pairing it with Cabernet Sauvignon, Merlot or Syrah for a delicious combination. For beer drinkers, an amber ale or brown ale are great options to bring out the rich flavors of the beef.
How to store leftover Swiss steak
Leftover Swiss steak can be stored in an airtight container in the refrigerator for up to four days. To reheat, place the steaks on a baking sheet and bake at 350°F for about 15 minutes or until heated through.
Swiss steak is a hearty and flavorful dish that can be enjoyed by the whole family. It's perfect for Sunday dinners, special occasions, or a cozy night in with friends.
Making Swiss steak at home is a great way to enjoy a delicious recipe with an added personal touch. Not only does it taste delicious, but the comfort food is also relatively easy to make. With just a few simple ingredients and some basic cooking techniques, you can elevate this humble dish into something truly special. Enjoy!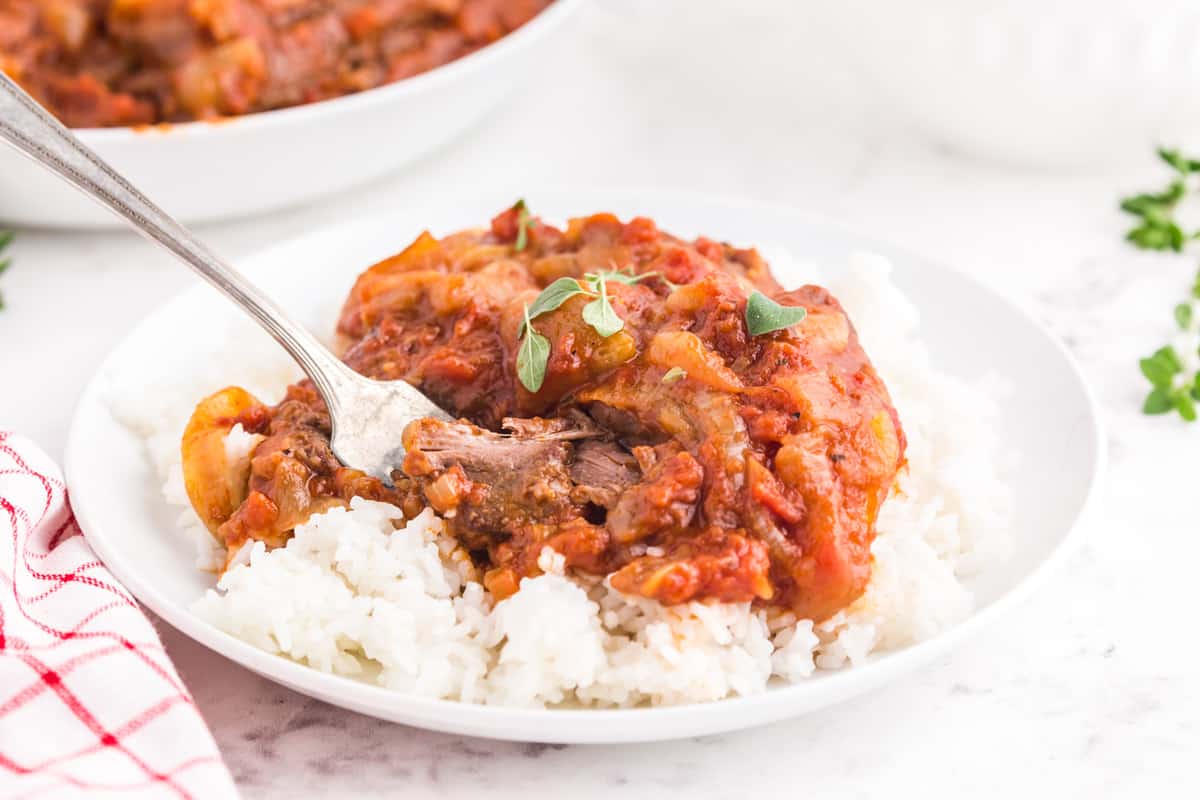 👨‍🍳 Tried this Recipe? Please leave a ⭐⭐⭐⭐⭐ rating in the recipe card below and leave a comment. We love hearing from our readers!
⏩ Stay in touch with us on social media by following us on Facebook, Pinterest, Instagram, and YouTube!
📬Get our Recipes delivered to your inbox for FREE!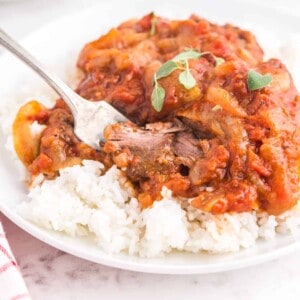 The BEST Swiss Steak (Tender and Easy Recipe)
Swiss steak is rich and delicious. The chuck eye cut of meat is inexpensive and so delicious in this recipe. It cooks down to a tender and flavorful main dish that everyone loves.
Ingredients
3

tablespoons

olive oil

,

divided

2

lbs

round steak

,

beef chuck eye works nicely

2

medium yellow onions

,

sliced

2

teaspoons

minced garlic

1/2

tsp

salt ,

plus more as needed

1

tsp

black pepper

3 1/4

cups

all-purpose flour

1

teaspoon

paprika

1

teaspoon

dried oregano

28

oz.

crushed tomatoes

2

teaspoons

Worcestershire sauce

Fresh oregano or parsley for garnish
Instructions
Preheat oven to 325°F.

Place steaks between two sheets of parchment paper or plastic wrap and pound out to about 1⁄2" thickness with a meat mallet.

In a shallow bowl or on a sheet of parchment paper, mix flour, paprika, 1⁄2 teaspoon salt, and 1 teaspoon black pepper.

Dredge each side of the meat with the flour mixture and set aside.

In a 6 Quart Dutch oven, heat 2 tablespoons of olive oil over medium heat. Add sliced onions and garlic. Cook, stirring occasionally until onions soften and begin to brown. Remove onion mixture garlic. Cook, stirring occasionally until onions soften and begin to brown. Remove onion mixture from pot and set aside.

Add the remaining tablespoon of olive oil to the pan. Brown prepared steaks on each side.

When the meat has browned, add onion mixture back into the pan. Adjust steaks to rest on top of the onions. Pour tomatoes (including juice), oregano, and Worchestire sauce over and stir just a bit.

Place the lid on the Dutch oven and bake for about 2 1⁄2 hours until meat falls apart easily.

Serve over rice, mashed potatoes, or noodles. Garnish with fresh oregano or parsley if desired.
Notes
More Important Tips for Making the Best Swiss Steak
Tenderize the meat: Swiss steak is traditionally made with tougher cuts of beef, such as round or chuck steak. To ensure a tender result, it's crucial to tenderize the meat before cooking. You can use a meat mallet to pound it or a fork to pierce it on both sides. This helps break down the muscle fibers and allows the meat to become more tender as it cooks.
Properly brown the meat: Before simmering the steak in the flavorful sauce, it's essential to brown it properly. Browning the meat adds a depth of flavor and creates a delicious crust. Heat up some oil in a pan over medium-high heat and sear the steak on both sides until nicely browned. This step enhances the overall taste and appearance of this easy family meal.
Simmer the steak low and slow: This is a dish that benefits from slow cooking. Once the meat is browned, transfer it to a pot or slow cooker along with the onions, garlic, tomatoes, and seasonings. Cover the pot and let it simmer on low heat for a couple of hours. This slow cooking process allows the flavors to meld together, tenderizes the meat further, and results in a deliciously rich and hearty dish.
Nutrition
Calories:
851
kcal
,
Carbohydrates:
94
g
,
Protein:
65
g
,
Fat:
23
g
,
Saturated Fat:
5
g
,
Polyunsaturated Fat:
2
g
,
Monounsaturated Fat:
12
g
,
Cholesterol:
143
mg
,
Sodium:
724
mg
,
Potassium:
1537
mg
,
Fiber:
7
g
,
Sugar:
9
g
,
Vitamin A:
678
IU
,
Vitamin C:
19
mg
,
Calcium:
138
mg
,
Iron:
13
mg
Nutrition information is automatically calculated, so should only be used as an approximation.