Braised Pork Shoulder
on Oct 12, 2018, Updated Nov 14, 2020
This braised pork shoulder recipe has it all. High flavor, low cost, and slow-cooked in the oven.
What could be better? All of these factors make it one of our favorite pork recipes.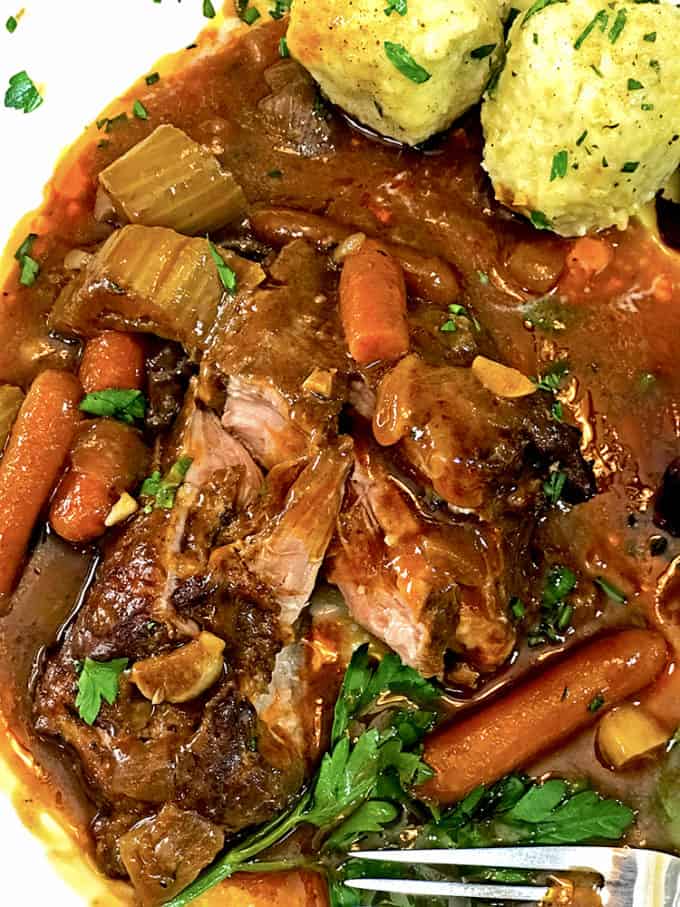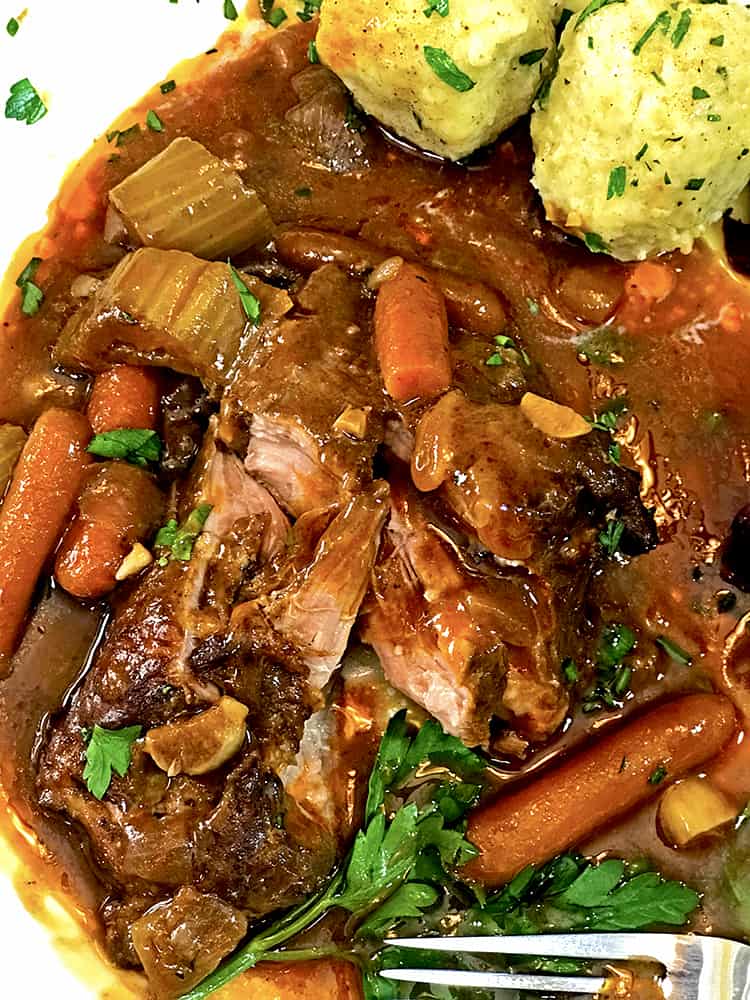 About this dinner
This savory Boston butt dinner will feed your family and guests for just a couple of dollars per serving. With lots of savory flavors and vegetables, it is perfect for Sunday dinner or weeknight meals.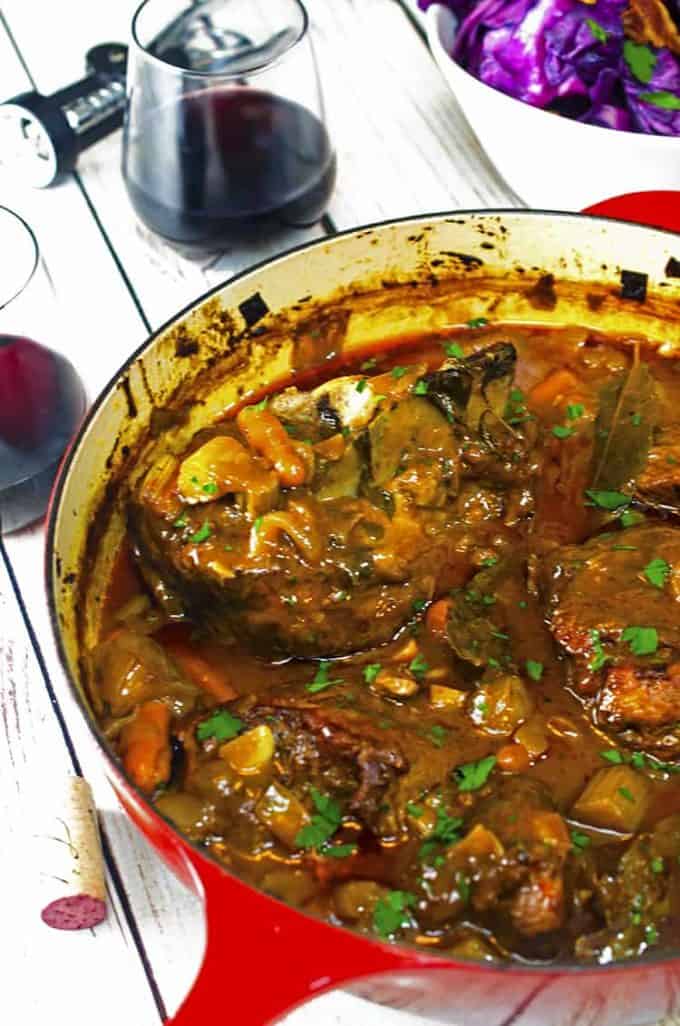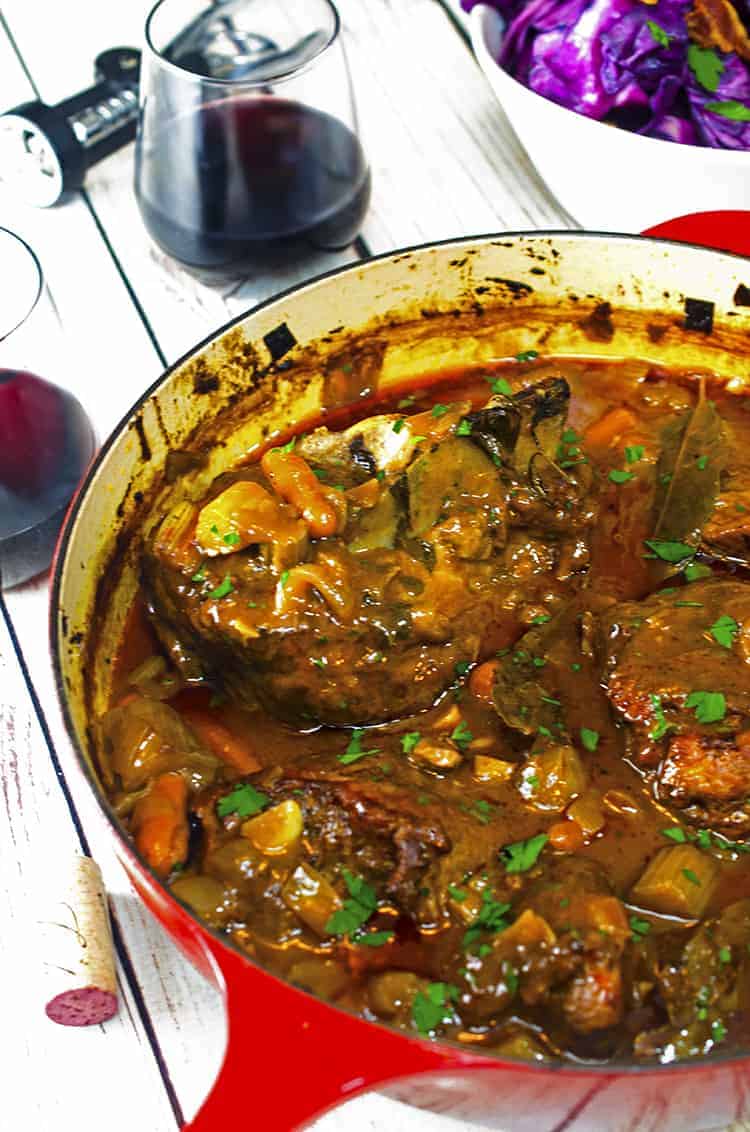 This braised pork shoulder recipe starts on your stovetop and finishes in your oven.
The different cuts of pork
This braised pork recipe uses the shoulder, which is the same cut as Boston butt. These are good cuts for making stew and other slow cooker pork recipes.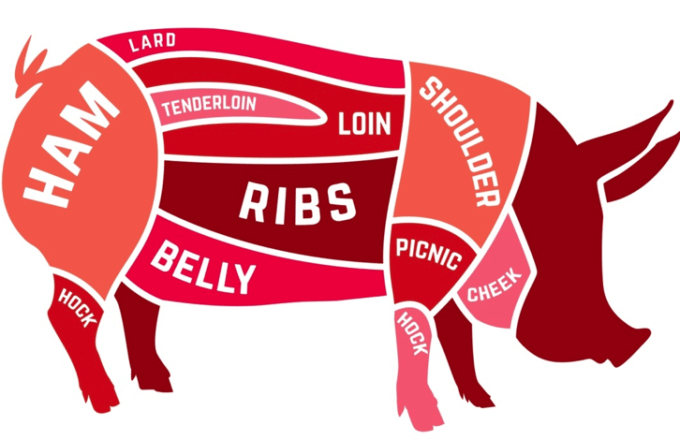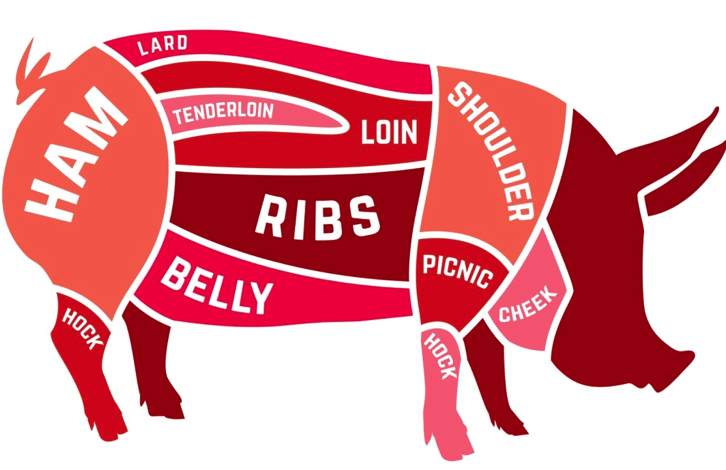 Pork shoulder and Boston butt are interchangeable terms for the same cut of meat.
Where to Get Great Pork
For this recipe, I always recommend pork roasts from Snake River Farms. Besides being delivered to your front door, they are always of the highest quality and full of great flavor.
How to braise food
We make this braised pork shoulder using a braising technique of cooking. Braising is a common way of preparing meat and vegetables that involves a combination of wet and dry heat.
When braising, meat is often seared first over high heat on the stovetop and then covered and slow-cooked in the oven at a reduced temperature. That's how we make this braised pork shoulder.
Braising often involves some "real cooking" techniques. We will get into that in just a bit, specifically with our use of tomato paste and flour, when making this deliciously braised pork shoulder.
How to make it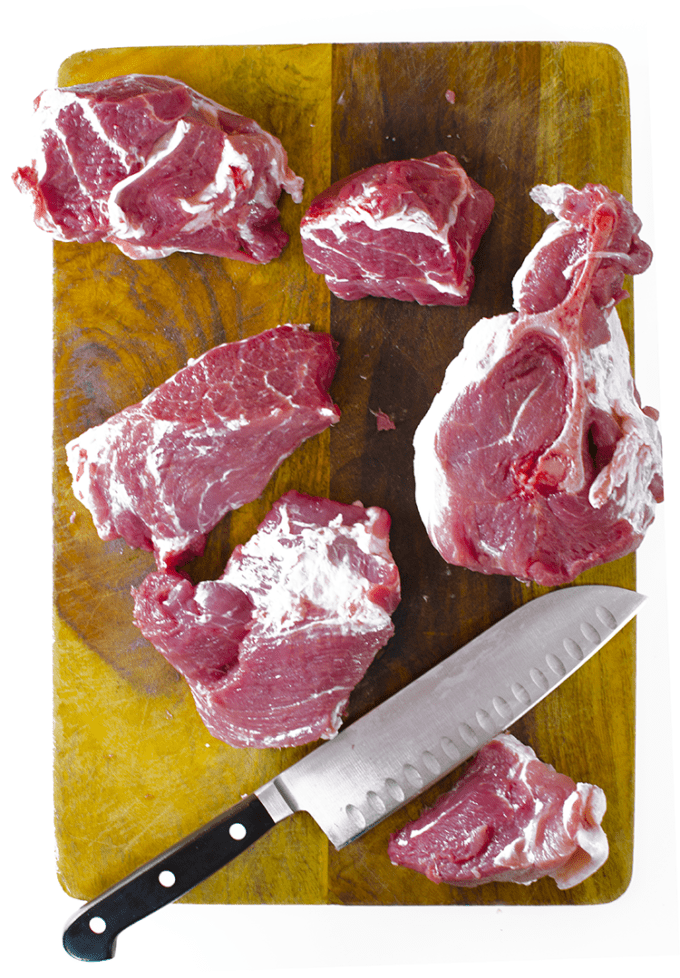 Take a 2 or 3 pound cut of Boston butt and cut it into six large chunks.
Now that we know a bit more about the various cuts of meat and have a better understanding of braising, it's time to make this braised pork shoulder!
Start by cutting up the meat into about six large chunks. If you have a piece of butt with the bone it, even better! The bone will add flavor and texture throughout the braising process.
Use a large Dutch oven and work in batches, sear the chunks of meat on all sides, over medium-high heat unit a golden crust develops.
This takes about 3 minutes. Then, set the seared meat aside.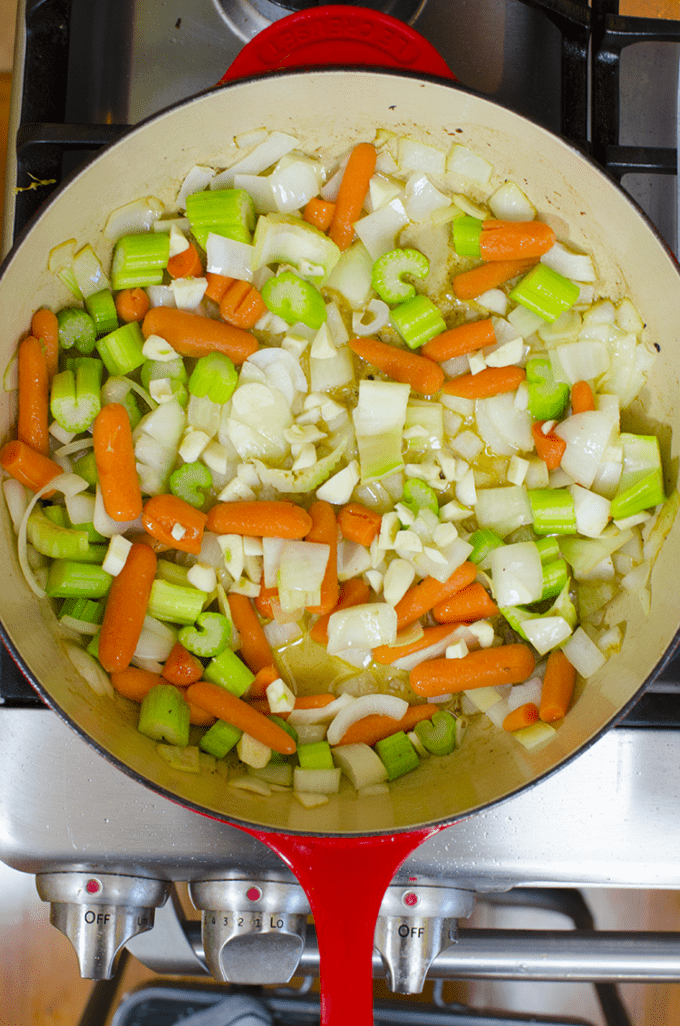 Sweat a mirepoix in the Dutch oven for five or six minutes.
Now you will reduce the heat and use the same Dutch oven to sweat a mirepoix of carrots, onion, and celery. When sweating vegetables, the goal is to merely soften them without caramelizing them or making them turn brown.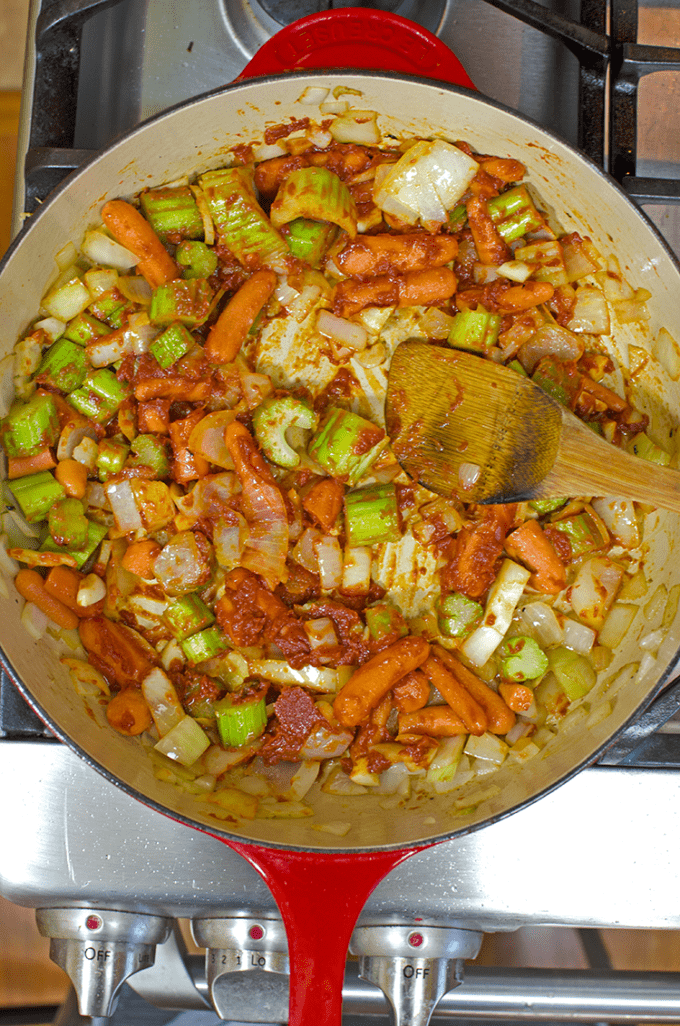 Browning tomato paste will add depth and flavor to it.
After the mirepoix softens, add some tomato paste to the skillet and stir it around until it cooks for a few minutes and turns darker.
Pro Cooking Tip: Browning and cooking tomato paste will add depth and flavor to any recipe that uses it.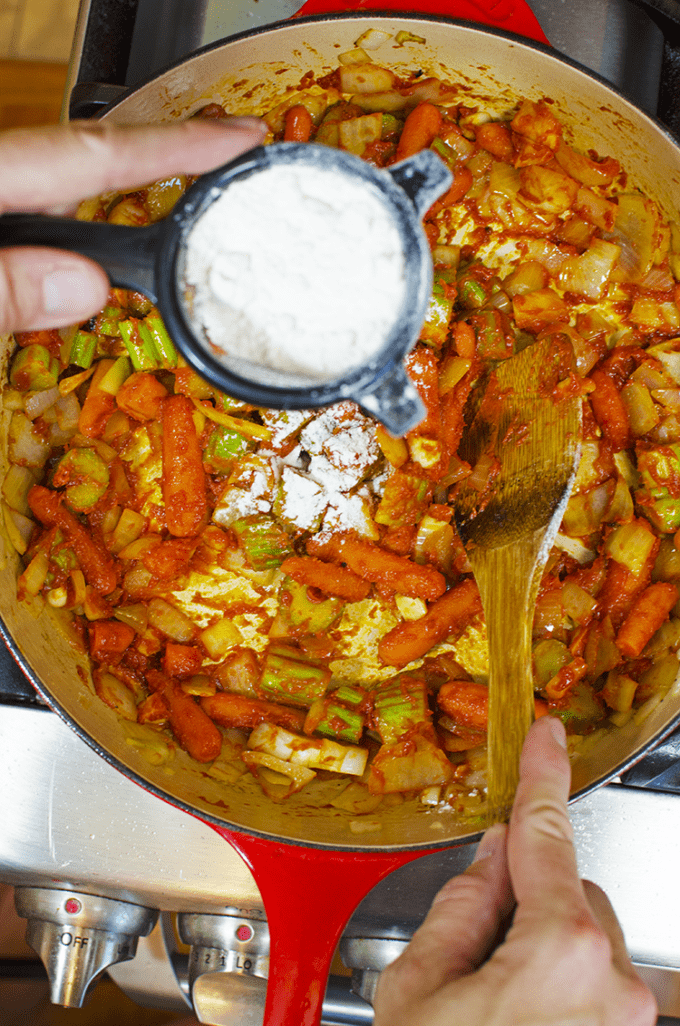 Cooking the flour for a minute or two takes away its raw taste.
Once your tomato paste is nicely caramelized, use a fine mesh strainer and sprinkle some flour into the bottom of the skillet and stir it around for a couple of minutes.
This is a great way to add flour to any recipe if you don't want it to clump. It works especially well for making a roux or gravy recipes! The flour will help add body to the braised pork shoulder and slightly cooking it first will take away the raw taste of the flour.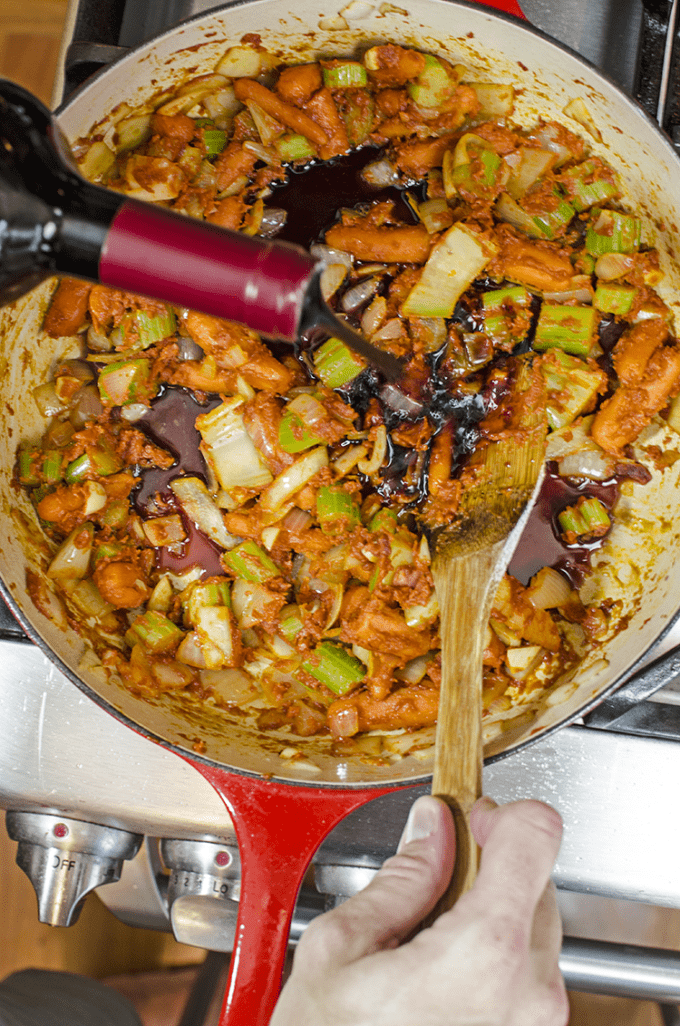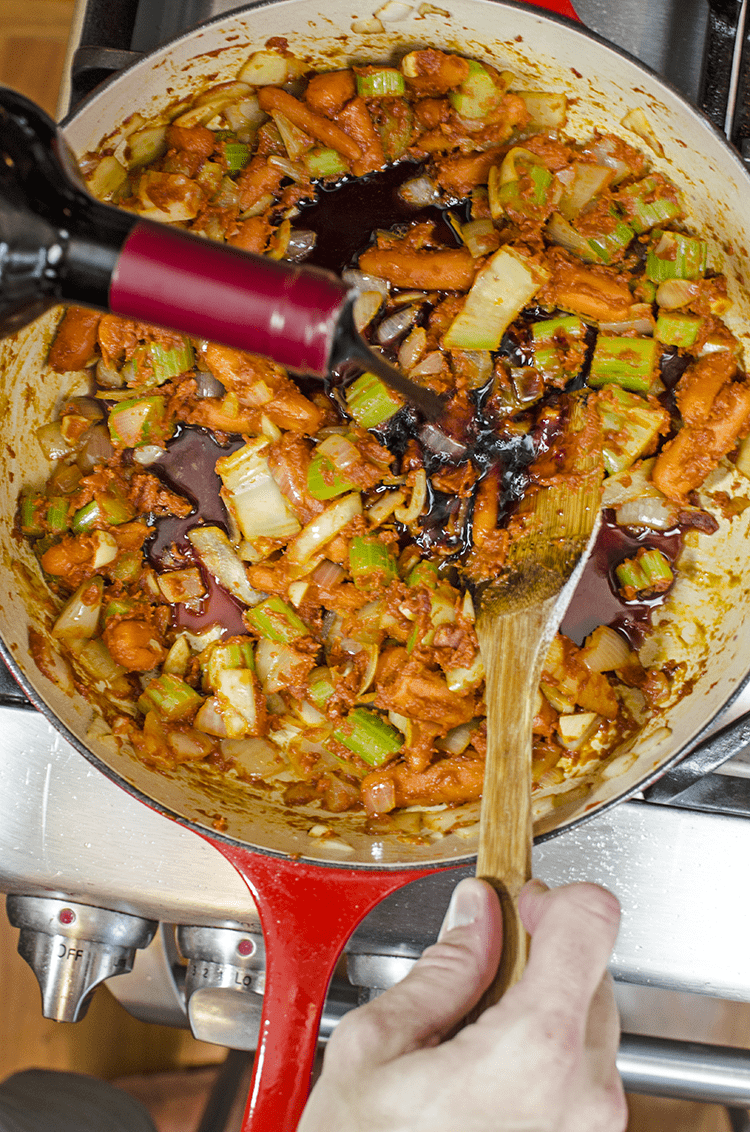 Add a cup or so of red wine and reduce it by half.[/caption]
Now we are starting to add some of the "wet" for the braising process of this recipe. I recommend a full-body red, like a cabernet sauvignon or a pinot noir. Are you starting to get a better idea of just how wonderful this dinner is going to taste?!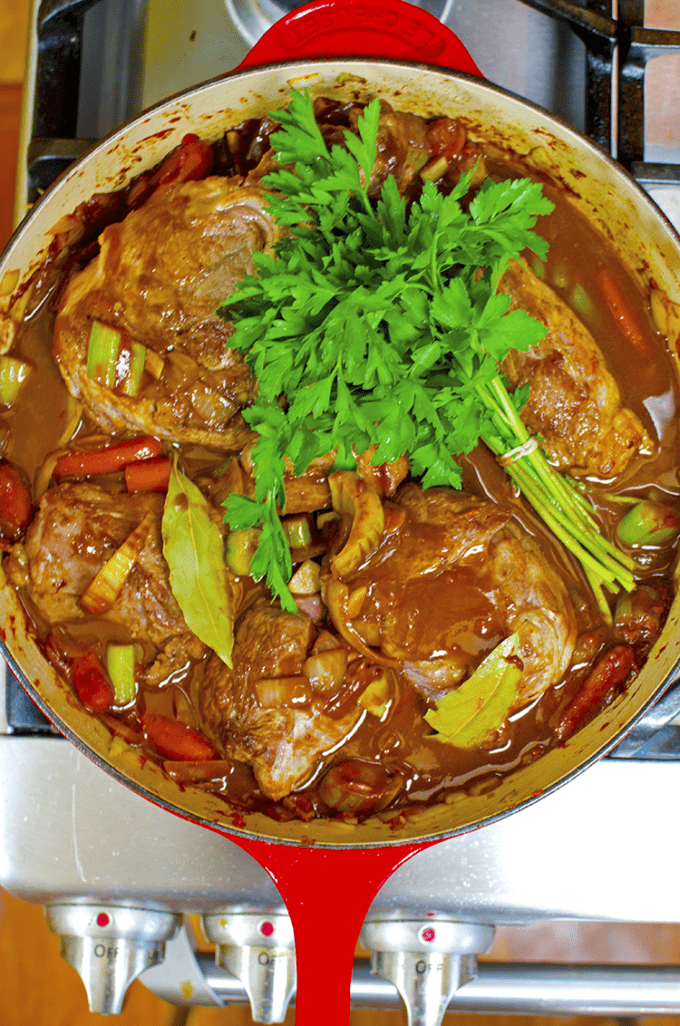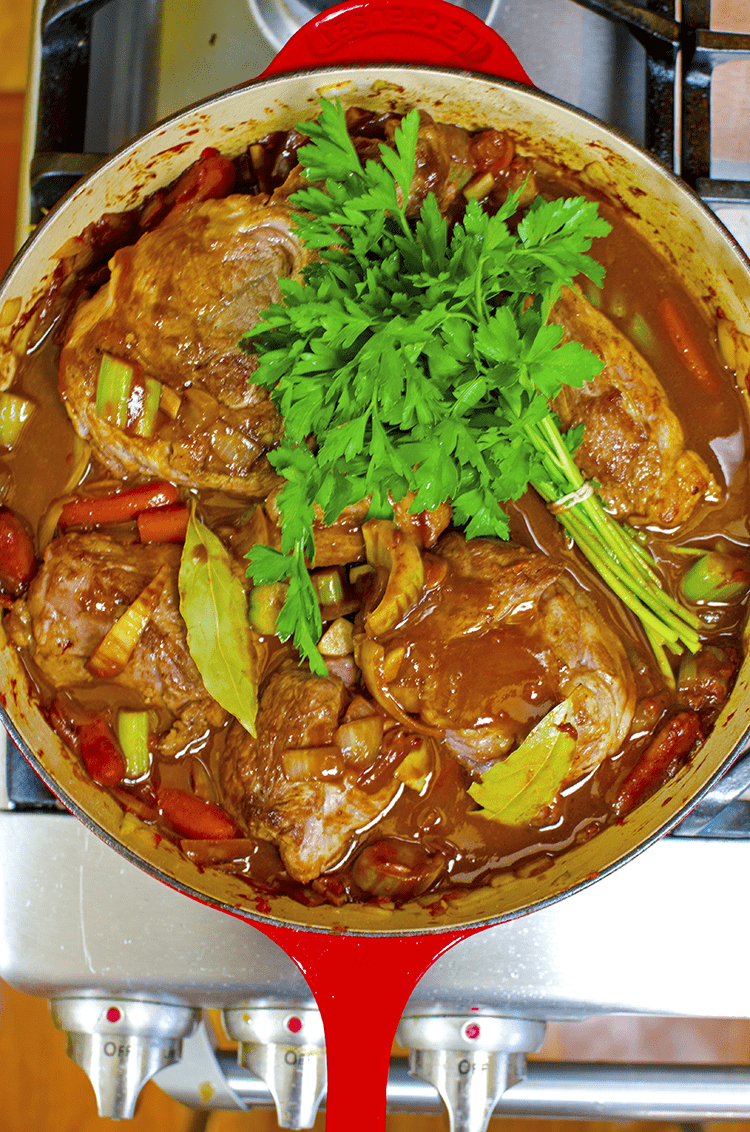 Add some beef broth, parsley, and bay leaves to the pot.
Finally, we are going to add some beef broth, a couple of bay leaves, and some parsley to enhance the flavor of this amazing dinner. Now, the only thing left to do is cover the pot, place it in the oven. And then wait.
Food Safety Tip: The FDA recommends pork to have a minimal internal temperature of 145° F before serving it. This instant-read thermometer is the best one out there and it is the one I always recommend using. It's super fast and crazy-accurate (to 1/2 of a degree!)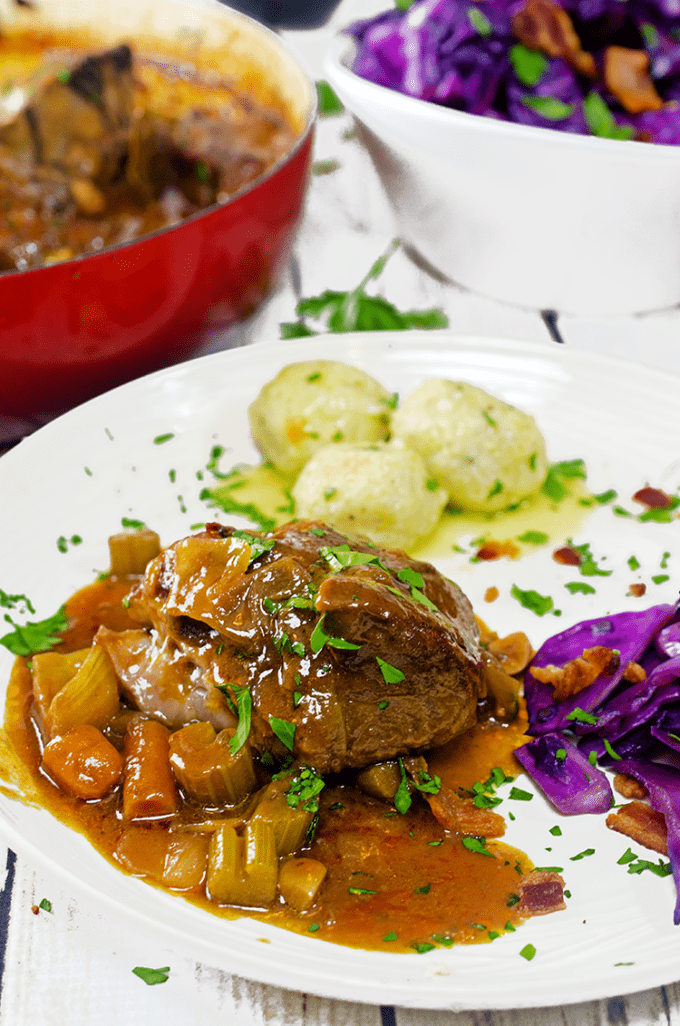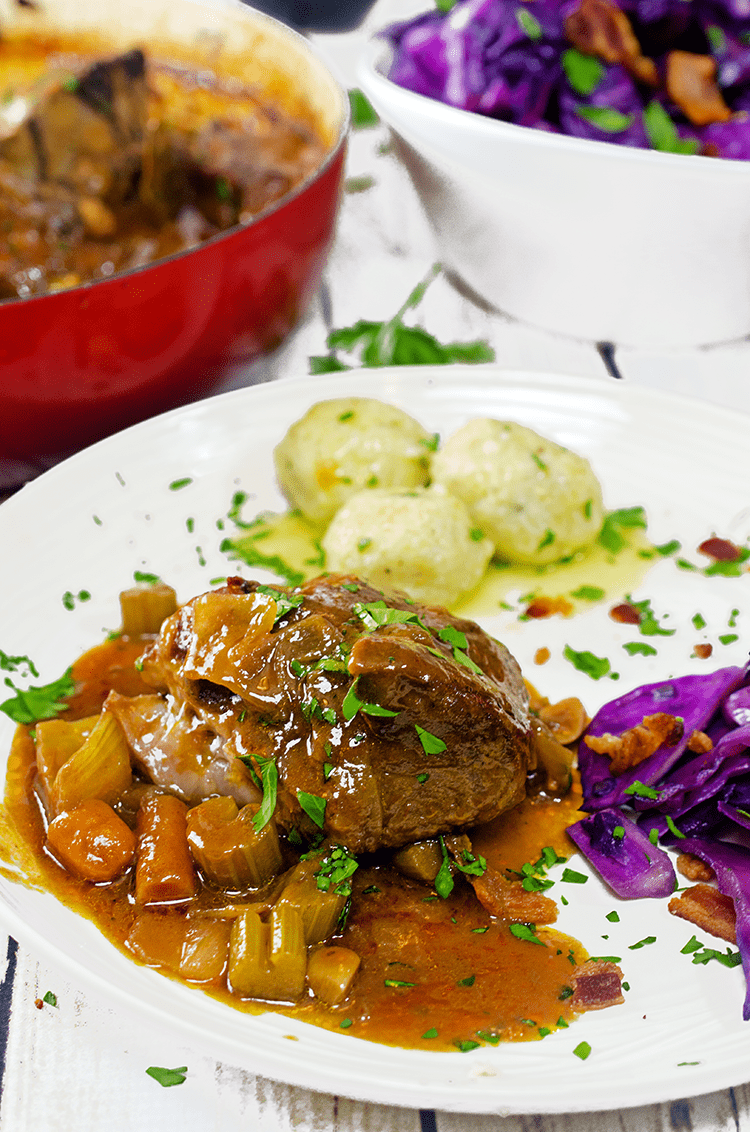 Make this braised pork shoulder dinner for just a couple of dollars per serving.
This braised pork shoulder is part of a recent night of family cooking at our house in town which also included a fried cabbage with a bacon side dish and German potato dumplings. We also serve this pork shoulder recipe with our incredible mushroom sauce.
May I just say that these three recipes get along quite nicely? Try this easy family dinner soon. It's perfect for fall, and your family will love it.
How can I use leftovers?
If you have any concerns about leftovers from this savory dinner, I suggest using them for a pot pie later in the week. We did not have that luxury. Our Tacos de cerdo sobrantes (Leftover Pork Tacos) is another final destination idea for this meal.
Wondering how to make a similar recipe in your instant pot? Learn how to make Instant Pot Pork Roast with this easy and delicious recipe from a Pressure Cooker Kitchen!
Braising recipes
Easy pork recipes
Finally, if you're looking for a way to make pork with the instant pot, try this instant pot pork roast; it's delicious too!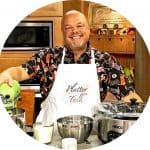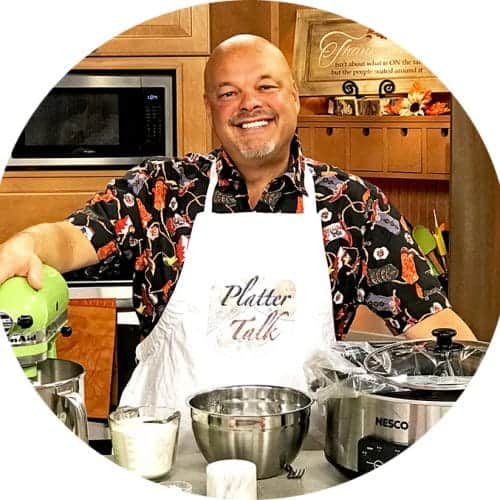 👨‍🍳 Tried this Recipe? Please leave a ⭐⭐⭐⭐⭐ rating in the recipe card below and leave a comment. We love hearing from our readers!
⏩ Stay in touch with us on social media by following us on Facebook, Pinterest, Instagram, and YouTube!
📬Get our Recipes delivered to your inbox for FREE!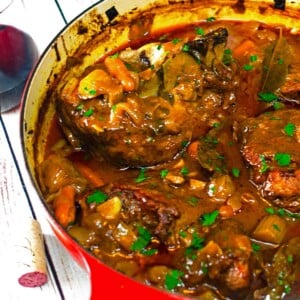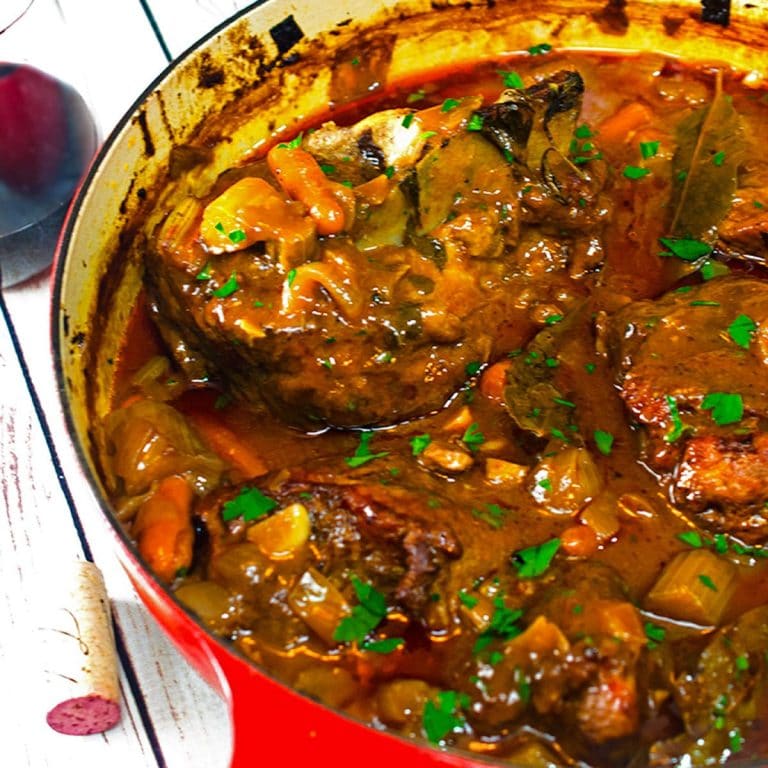 Braised Pork Shoulder
This savory braised pork shoulder is inexpensive, easy, and delicious. Try this fall family meal for Sunday dinner or a weeknight supper.
Ingredients
2.5

lbs

Pork shoulder

2

tbsp

Olive oil

2

tbsp

Butter

1

Onion

,

chopped

2

ribs

Celery

,

chopped

1

Carrot

,

chopped

6

cloves

Garlic

,

chopped

1

tbsp

Kosher salt

fresh ground black pepper

3

tbsp

Tomato paste

2

tbsp

Flour

1

cup

Red wine

2

cups

Beef broth

,

low sodium

1

bunch

Parsley

,

tied

2

Bay leaves
Instructions
Preheat oven to 350° F. Cut pork shoulder into five or six large chunks. Heat olive oil and butter in a large Dutch oven, over medium-high setting. Working in batches, sear the pork chunks on all sides until they have a light golden-brown crust. Remove pork and set aside.


Reduce heat to medium and add onion, celery, and carrot. Sweat the mirepoix for about five minutes until soft. Add garlic and cook for another minute. Stir in salt and pepper.


Stir in the tomato paste and cook for a couple of minutes until it starts to brown slightly. Then, sprinkle the flour in the pan and cook it for a couple of minutes as well. Add the red wine and cook to reduce slightly. Return the pork chunks to the Dutch oven.


Add enough beef broth until it reaches the top of the pork but does not cover it. Add parsley and bay leaves, cover the Dutch oven and place in oven for three hours or until fork tender. Allow the meat to rest for five minutes and then serve.

Notes
Discard parsley and bay leaves before serving.
If you're not a fan of pork, try an inexpensive cut of beef in this recipe instead. Braising takes tough meat and tenderizes until it's soft and delicious!
Nutrition
Calories:
495
kcal
,
Carbohydrates:
6
g
,
Protein:
34
g
,
Fat:
33
g
,
Saturated Fat:
12
g
,
Cholesterol:
129
mg
,
Sodium:
1282
mg
,
Potassium:
720
mg
,
Fiber:
1
g
,
Sugar:
2
g
,
Vitamin A:
2110
IU
,
Vitamin C:
14.3
mg
,
Calcium:
71
mg
,
Iron:
3.1
mg
Nutrition information is automatically calculated, so should only be used as an approximation.