Harvest Pork with Pan Seared Pork Chops
on Sep 20, 2018, Updated Aug 04, 2023
Pans seared pork chops are a fast and savory meal that our family loves.
Shorter days mean less time daylight hours and these fast and delicious pan-seared pork chops will help you squeeze every last drop of daylight out of this autumn season.
Who wants to spend any more time in the kitchen than necessary, especially during the most colorful time of the year?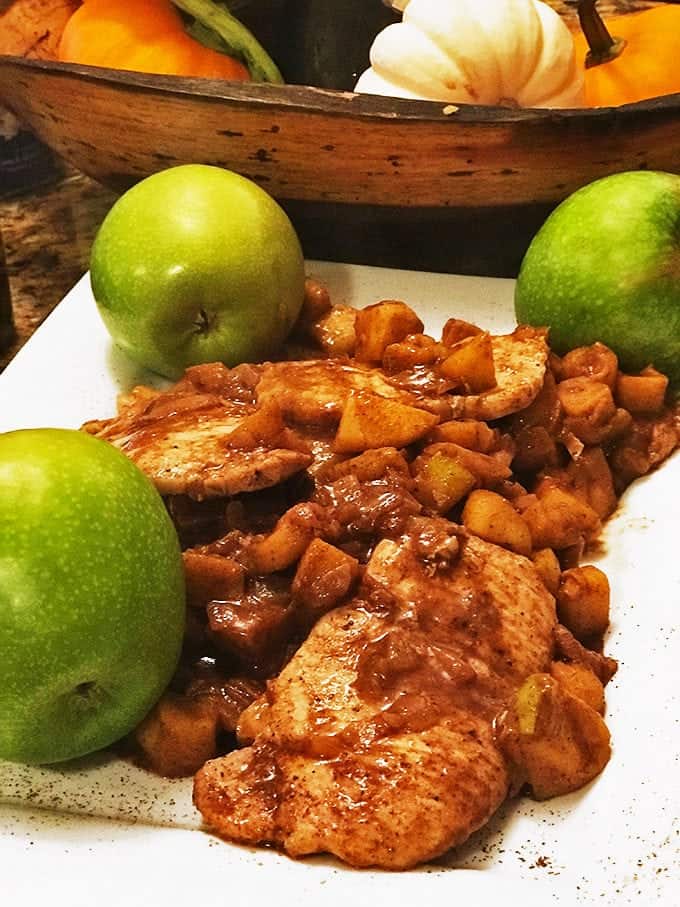 Pan-Seared Pork Chops Recipe
We use thin cut pork chops for this harvest pork. Doing so allows you to enjoy all the great flavors of autumn and pork while taking less time to make.
What's in this Pan-Seared Pork Chops Recipe?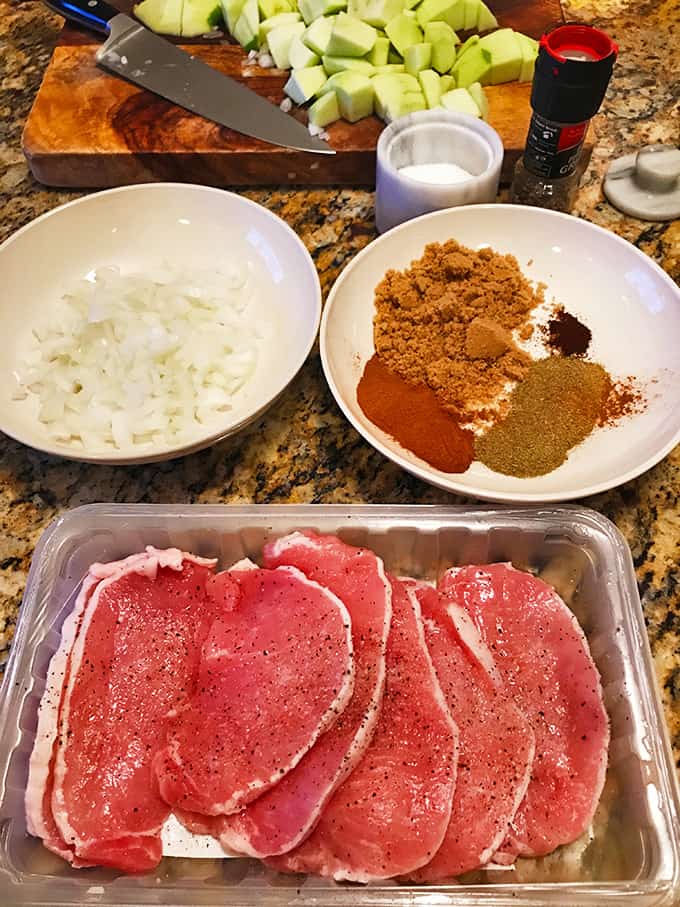 Thin Cut Pork Chops
Onion
Granny Smith Apples
Dry White Wine (We prefer a sauvignon blanc)
Apple Cider Vinegar
Poultry Seasoning
Brown Sugar
Cloves
Salt and Pepper
Chicken Broth (low sodium)
Our temperatures are falling. Quickly. Our number of daylight hours are diminishing. Rapidly. We all know what this means, it is almost fall, and I'm not fighting it anymore.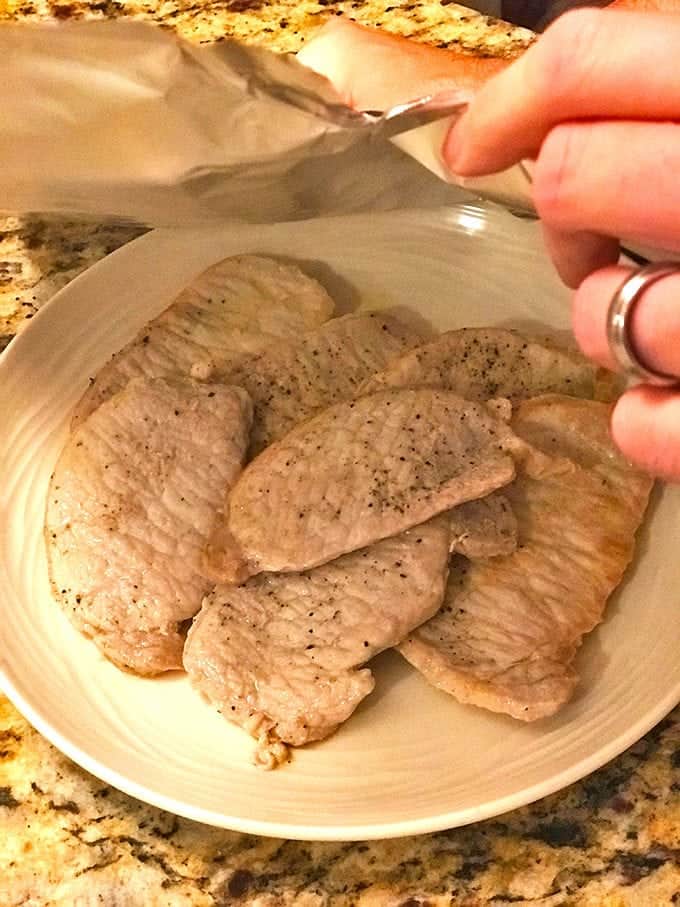 I love summer, but last week when we had a day in the mid-90's. Reality has been waking us up with temperatures in the mid-30s, and gravitational forces are causing the branches of our apple trees to almost touch the ground below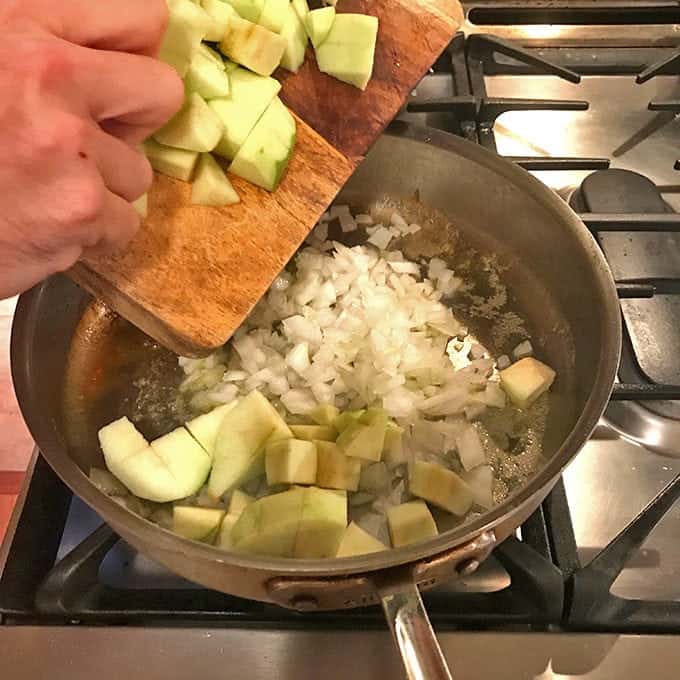 To autumn I say, "Bring. It. On." Scott made the entire process dramatically more palatable, literally.
This evening he put this meal together on the fly, and it is too delicious not to share. With gratitude and pleasure, I once again turn the keyboard over to him.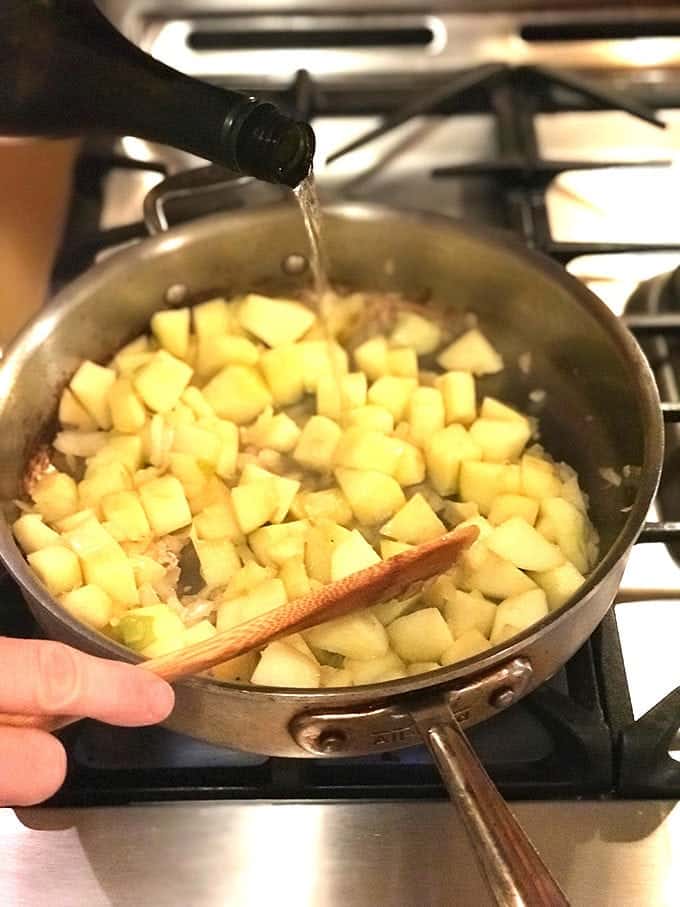 Today after work I went to pick up our boys from after-school care. The first question, as usual, was "What's for dinner?"
Hmmm, great question. I wasn't sure. I had gone grocery shopping on Sunday and picked up our weeks worth of meals. What I should say is that I picked up some staples like milk and bread and some other things that were on sale or just caught my eye.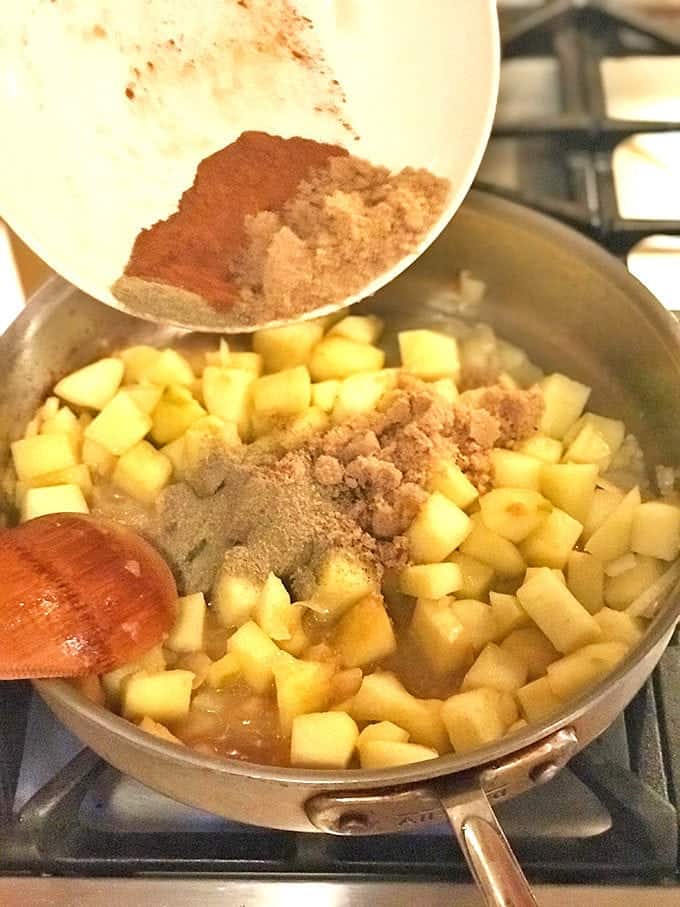 I could not walk past the granny smith apples without putting them in the cart. I just love them, delicious. After a survey of the meat counter, thin cut pork chops called to me. I know that they are quick to cook and very versatile.
Little did I know that they would become the base and the answer to the question that was posed to me earlier this afternoon.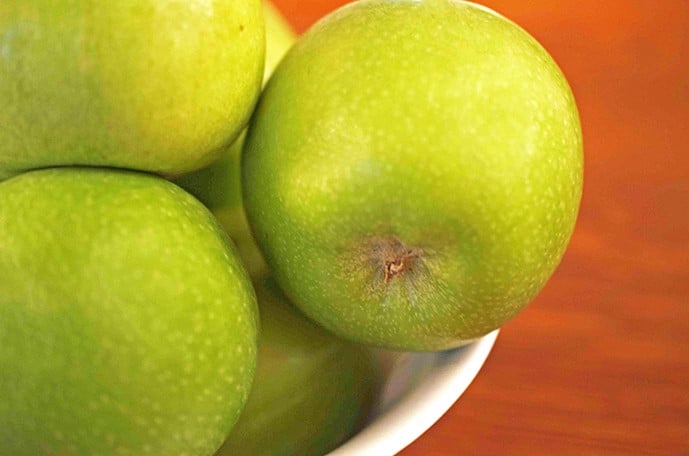 When we got home from work, I went into a frenzy to see what I could "throw" together to accompany the apples and the pork. Fall was on my mind, with the weather being a bit cooler this week. When I think of fall, I think of things like freshly baked apple pie.
I knew that we could not have apple pie for dinner, but I thought that the idea of a sweet and savory sauce for the pork would be delicious. The kids would surely love it and so to the pantry I went. I wanted to find anything that screamed fall to me.
Cinnamon, cloves, brown sugar. Perfect, I thought. But I also needed something to make it savory as well. White onion, poultry seasoning, apple cider vinegar. That would help to balance out the flavors. White wine, too, seemed in order.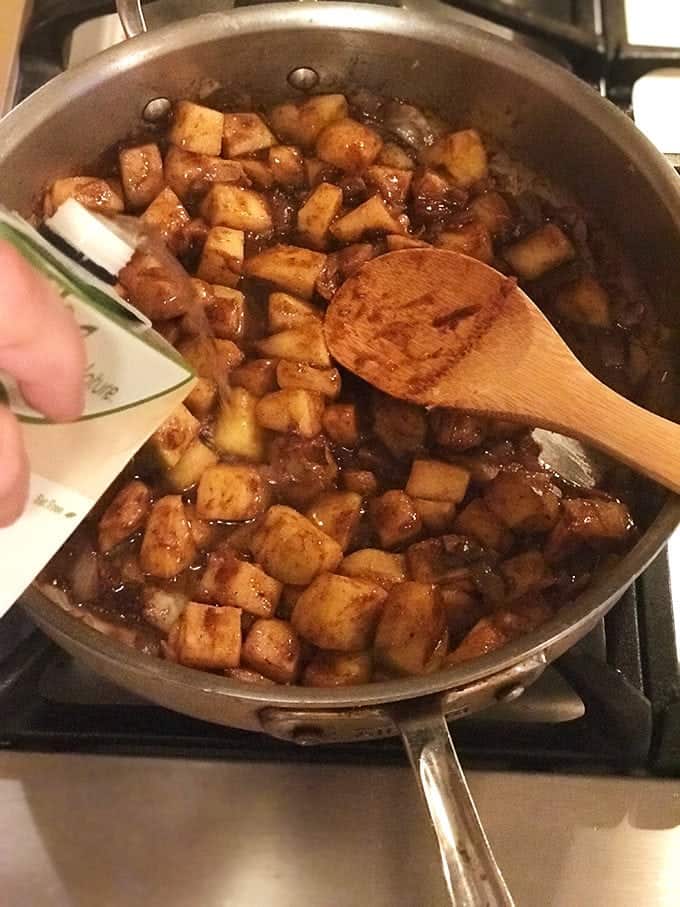 Besides, what a great excuse for me to enjoy a glass. It's the least I deserved after a day of work, right? Right.
Now, I was in uncharted territory. The glass of wine was helping, but I wasn't sure where I was going with this recipe. I knew that it was going to be a little of this and a little of that, but what would happen if it was too little of that, or too much of this?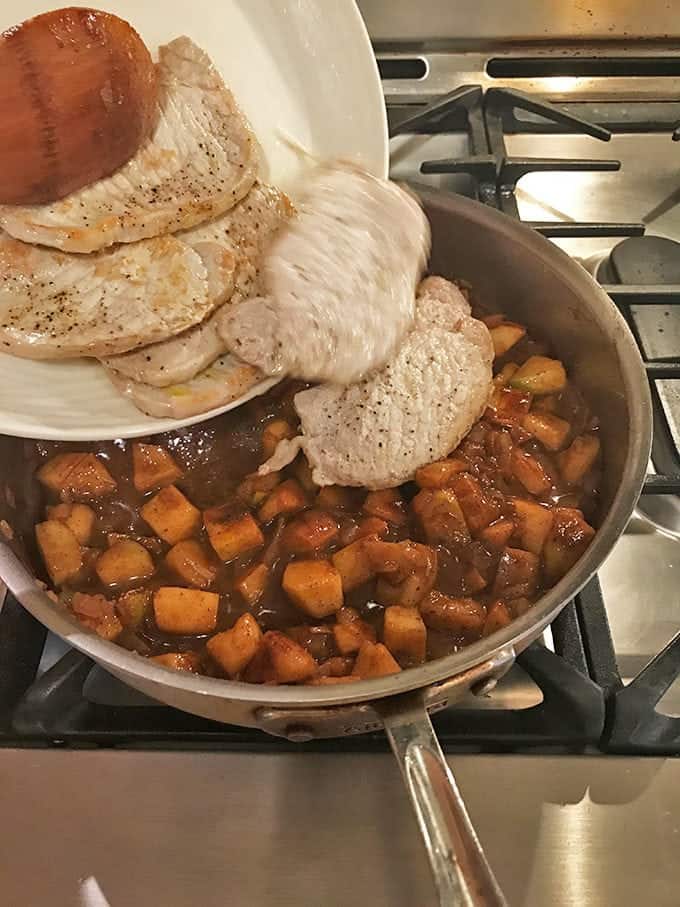 One thing for certain, there was too much worry. Today was not that great of a day, with a lot of stress at work, as sometimes can happen.
Cooking normally calms me down and puts me in a much better mood. "Have fun with it," I thought, and so I dove in feet first and just enjoyed the process.
As I sauteed the pork chops and began the process the house started to warm. Then the onions and the apples were added, followed by the poultry seasoning, brown sugar, cinnamon, and cloves.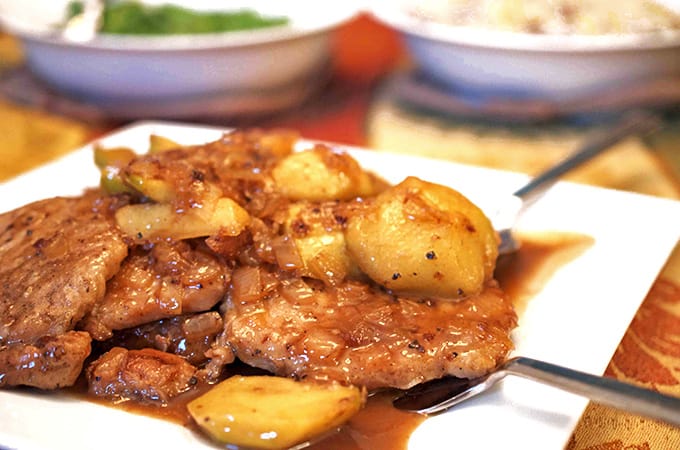 Wow, my shoulders began to drop. The house was smelling like fall. Instead of the boys asking when dinner would be done, they started to make comments on the kitchen aroma as it made its way throughout the house.
As the wine and apple cider vinegar was added to create the sauce, the dish pulled together very nicely and as a bonus, very quickly. Things were looking up.
We sat at the table as a family and talked about the day. The events of school and work, the lessons we learned, and what we expected in the upcoming days. We enjoyed these pan-seared pork chops flavored with the taste of autumn, but even better we enjoyed each other.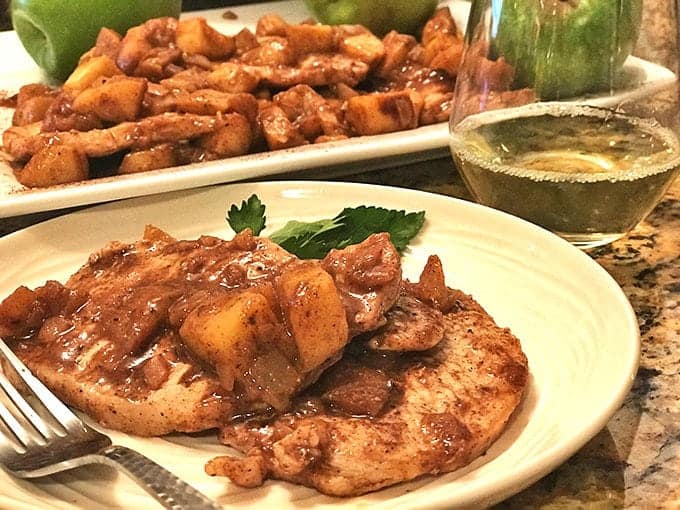 Isn't it great what happens when you don't stress about what is for dinner, and you just enjoy the process and your family? This fast and easy pork chop recipe is a must try. Conversation smiles, and even laughs are guaranteed.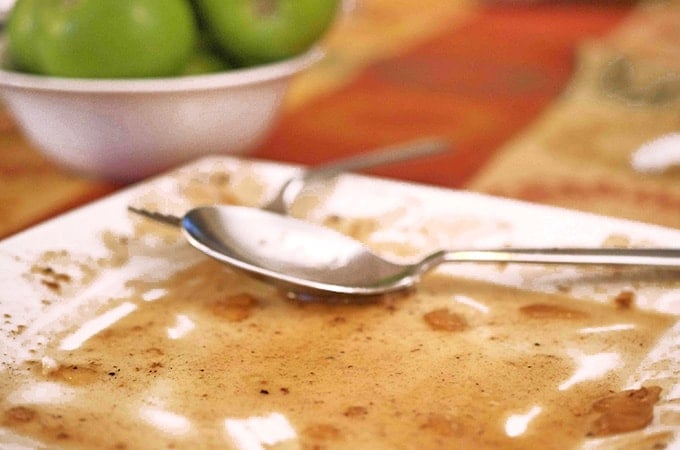 Looking

for More Way of How to Cook Pork Chops? Try some of These!
More Great Fall Recipes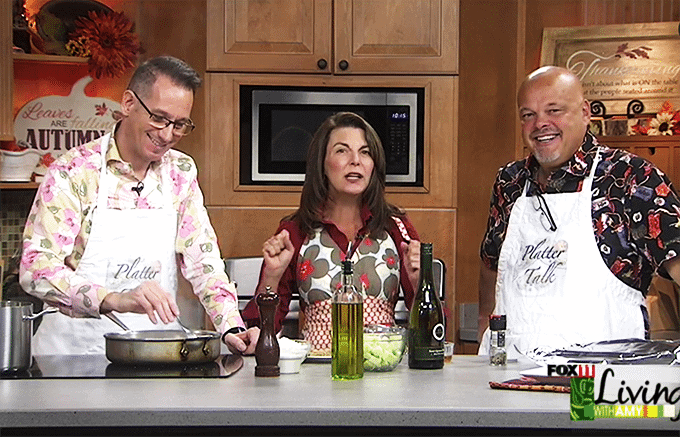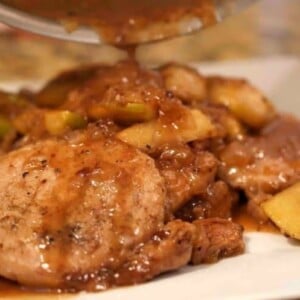 Pan-Seared Pork Chops Harvest Pork Recipe
This fast and easy pork chop recipe from Platter Talk features pan-seared pork chops, cooked with Granny Smith apples and other warm fall flavors.

Ingredients
1

lb

thin cut pork chops

2

tbs

extra virgin olive oil

1/2

chopped white onion

3

granny smith apples peeled and coarsely diced

1

cup

sauvignon blanc

3

tbs

apple cider vinegar

1

tbs

poultry seasoning

1/4

cup

brown sugar

2 to 3

tbs

cinnamon

1/8

tsp

ground clove

salt and pepper to taste

1

cup

chicken broth

,

low sodium
Instructions
Salt and pepper pork chops.

In a large saute pan add 1 tablespoon of olive oil and saute the pork chops until browned, over medium heat.

Remove the chops, set aside and tent with foil to keep warm.

Add remaining tablespoon of olive oil to saute pan and then add the onions and apples.

Cook over medium heat until the onions are soft and translucent being careful not to overcook the apples.

Add the wine and bring to a boil scraping the bottom of the pan to deglaze.

Reduce heat to a simmer and cook for a minute or two and then add poultry seasoning, brown sugar, cinnamon, ground cloves, and apple cider vinegar. Stir in broth to desired consistency.


Cook and stir until mixture starts to thicken.

Return the pork chops to pan and cook on medium-low heat until the pork chops are cooked thoroughly.
Nutrition
Calories:
431
kcal
,
Carbohydrates:
38
g
,
Protein:
25
g
,
Fat:
15
g
,
Saturated Fat:
3
g
,
Cholesterol:
75
mg
,
Sodium:
64
mg
,
Potassium:
651
mg
,
Fiber:
3
g
,
Sugar:
29
g
,
Vitamin A:
130
IU
,
Vitamin C:
8.5
mg
,
Calcium:
58
mg
,
Iron:
1.7
mg
Nutrition information is automatically calculated, so should only be used as an approximation.
Updated from Original Recipe of September 13, 2013