Mango and Peach Salsa + Oven-Baked Pork Chops
on Jul 23, 2013, Updated Oct 15, 2021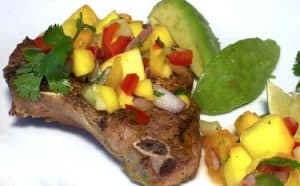 A couple of days ago I experienced a "first." I've had mangoes on my mind for a few weeks now. Likely because, by nature, I always seem to be thinking about food in general – or maybe it's because of the beautiful summer season and with it we are enjoying all of the fresh fruit and produce that comes our way. Whatever the cause, I put together a simple mango salsa and the very first thing that entered my mind after tasting it was, "Why haven't I done this before….?"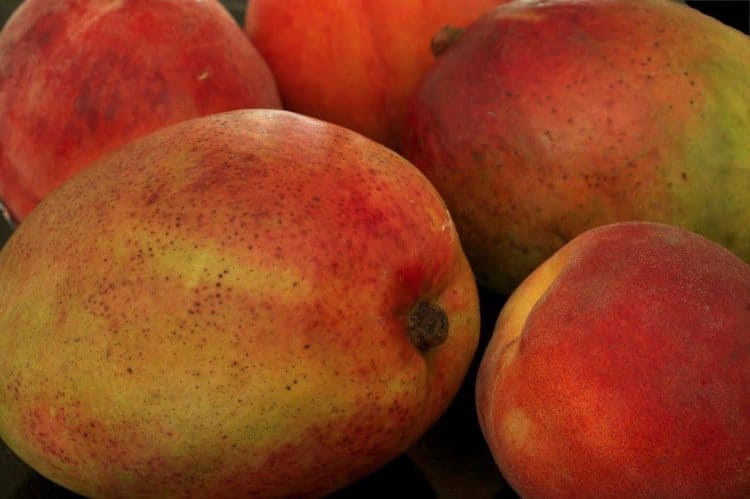 I remember my first taste of mango. I was in second grade and a classmate of mine whose dad was a native of the Philippines brought in a couple of the sweet and tropical fruit with their big pits in the center. I distinctly recall not being impressed one way or the other, at the time. It was unlike any fruit I had tasted before, not offensive by any means but still rather intriguing, I suppose.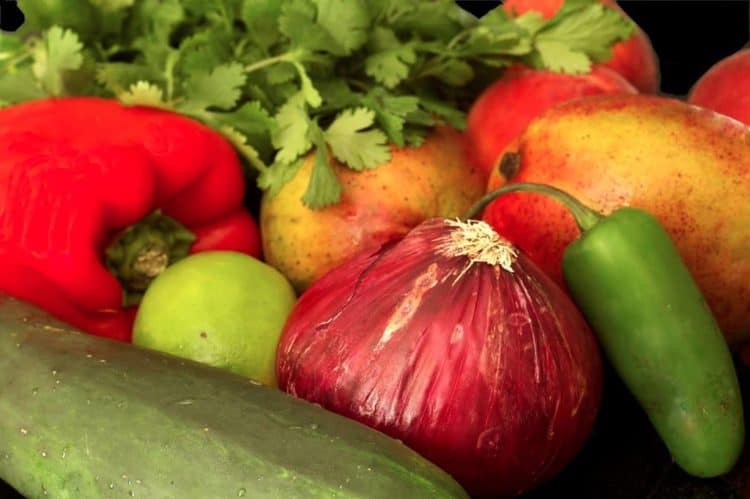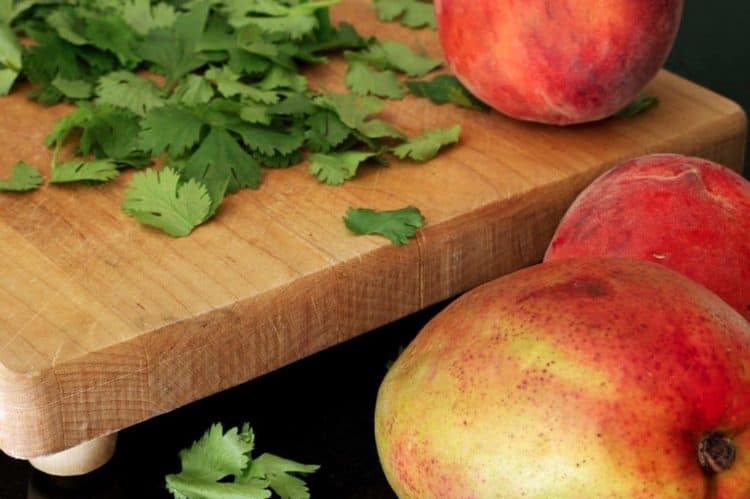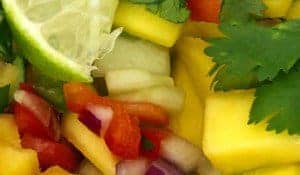 In any case, mangoes became better known to me later on in life. Through the years, I have tasted ice cream made with them, juices flavored by them, and on occasion found them in salads that I might be enjoying. However, mangoes really became more prominent to me with the occurrence of a couple of other events in my life. First there was the discovery of this fruit by my foodie-son, Isaiah, who was probably 3 years of age when he fell in love with this fruit. Even today, at the ripe old age of 9, mention the word mango to Isaiah and he stops everything, always trying to find the angle that will bring the fruit to him in the most expeditious manner.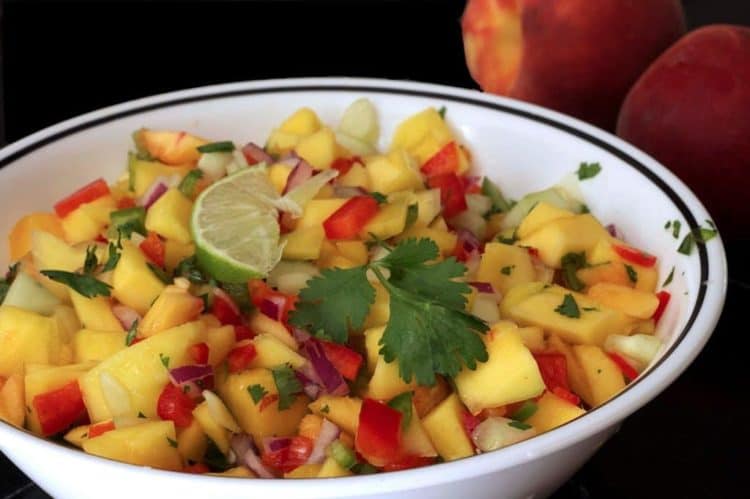 About the same time I began an ongoing love affair with the people and land of Costa Rica, a tropical paradise laden with rainforests, pristine beaches, volcanoes, and mango trees. The ticos (people of Costa Rica) have a diet filled with beautiful and delicious fresh fruits of all kinds, mangoes frequently being principle. It is in the rainforest of Manuel Antonio, near the fishing town of Quepos, where I truly fell in love with the mango.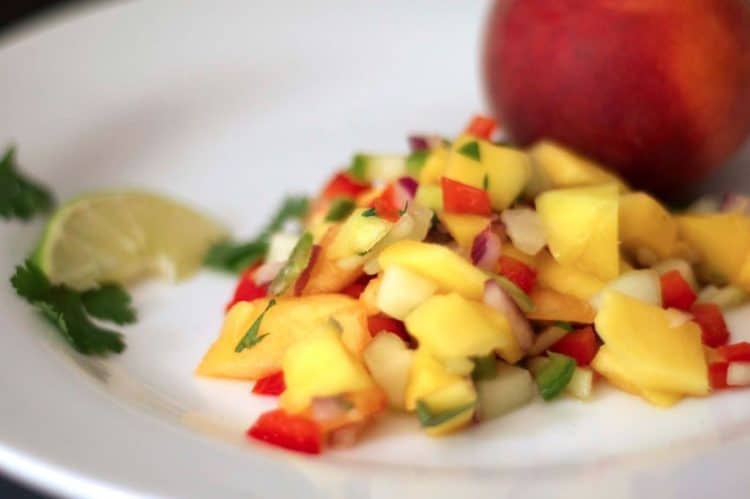 My original intent was to create this post exclusively centered around mango salsa. But a couple of twists of fate transpired over the course of the weekend, leading me to take a slight change of path. First, I was at the Piggly Wiggly doing some cottage grocery shopping, when I ran smack-dab and head-on into the most succulent-appearing bin of fresh peaches I've ever seen. Before I had any specific uses in mind for these beauties, they were already settled nicely into my cart and we continued our our way.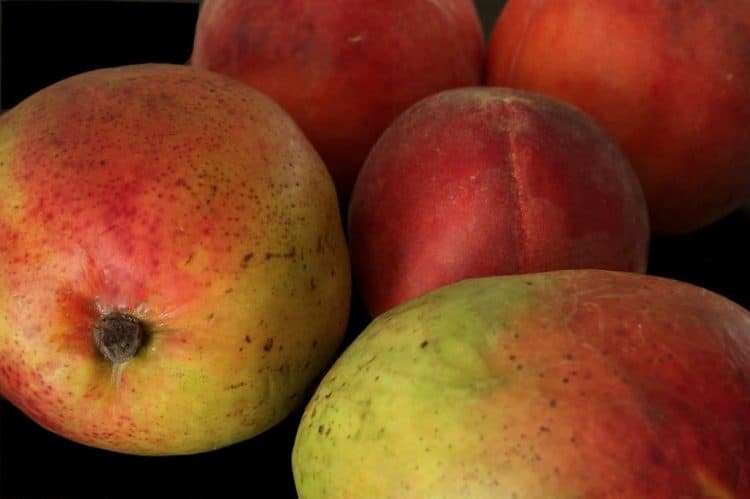 Peaches and mangoes, has there ever been a more suitable match?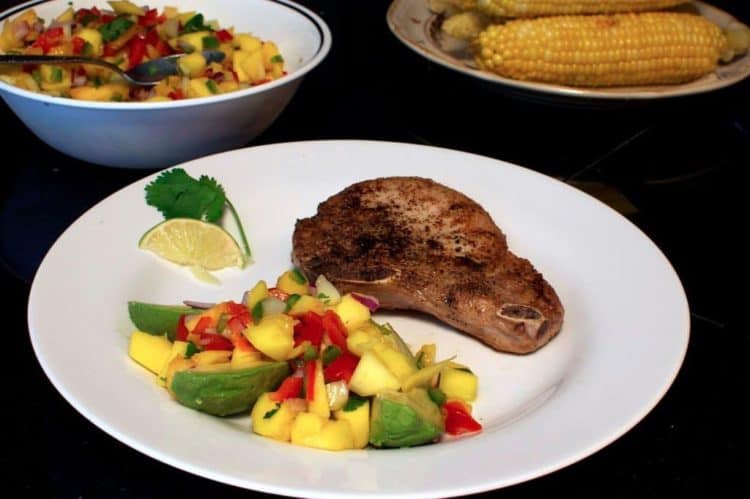 The next thing that ultimately led to the incorporation of pork chops into this post was a welcomed but unexpected rains shower that arrived at our little lake cottage late on Sunday afternoon. My intention was to grill some nice chops and serve them up to the boy with fresh sweet corn and salad, but once again I found myself switching gears slightly, this time because of the light but steady rain. Undaunted by the rain, I did a quick pan sear of the chops which I had seasoned earlier in the day, and then finished them off in the oven. By this time, there was mango and peach salsa aplenty and I realized that destiny had brought all of these delicious components together on this rainy, summer Sunday afternoon. My intuition served me well. Jake, our 16 year old and most candid food critic, enthusiastically proclaimed this to be an excellent meal. When I get that from him, I know I've done alright.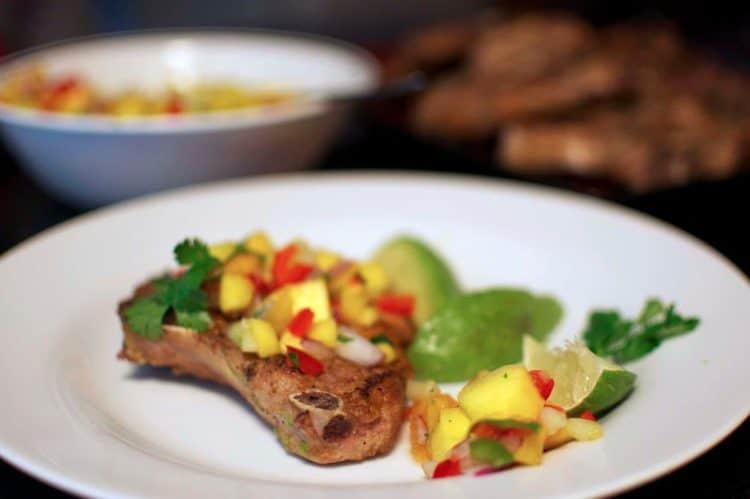 Never miss another great Platter Talk Recipe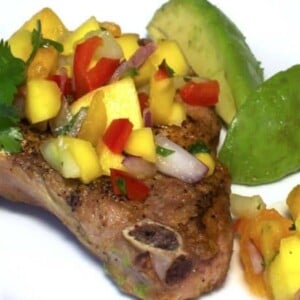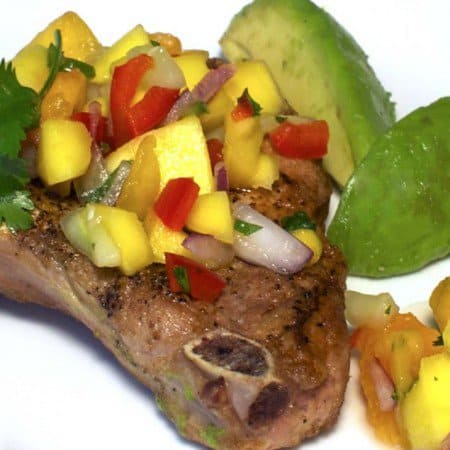 Mango and Peach Salsa + Oven-Baked Pork Chops
A Platter Talk Exclusive
Ingredients
for the salsa
2

ripe mangoes

,

peeled and diced.

2

ripe peaches

,

peeled and diced

1/4

red onion

,

finely chopped

1/2

cucumber

,

peeled, seeds removed and finally diced

1

small jalapeno pepper finely chopped

1/2

cup

fresh cilantro

,

stems removed and finely chopped.

juice from 1/2 fresh lime

salt and pepper to taste
for the pork chops
Pork chops

Garlic salt

Fresh ground peppercorn

1

tablespoon

butter

1/4

cup

vegetable oil
Instructions
for the salsa
In large mixing bowl coming all ingredients. Stir gently until well mixed.
for the pork chops
Preheat oven to 350 degrees F.

Generously season pork chops with garlic salt and pepper. This can be done ahead of time, keep seasoned meat in refrigerator until ready to make.

Place butter and vegetable oil in large skillet over medium high heat.

Sear each pork chop, one minute per side and then place on a oiled broiler pan.

When all of the pork chops are seared, place broiler pan in oven and bake for 30-40 minutes, depending on thickness, until juices run clear.
Nutrition
Calories:
451
kcal
,
Carbohydrates:
25
g
,
Protein:
31
g
,
Fat:
26
g
,
Saturated Fat:
16
g
,
Cholesterol:
97
mg
,
Sodium:
238
mg
,
Potassium:
888
mg
,
Fiber:
3
g
,
Sugar:
21
g
,
Vitamin A:
1652
IU
,
Vitamin C:
49
mg
,
Calcium:
31
mg
,
Iron:
1
mg
Nutrition information is automatically calculated, so should only be used as an approximation.