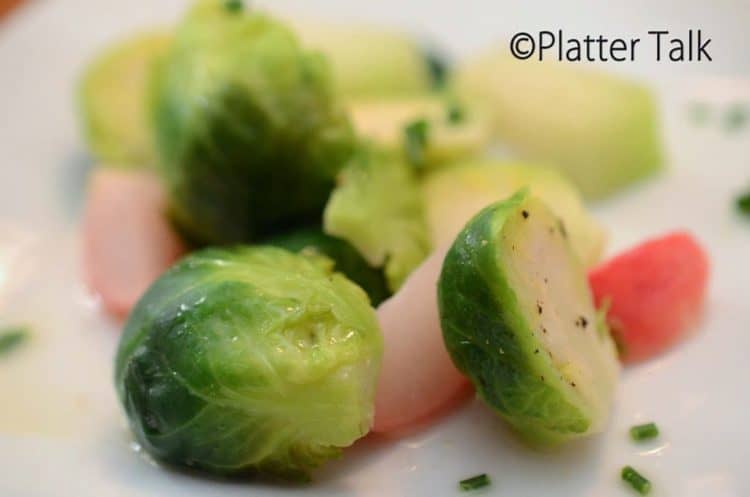 It's High Food Week here in the U.S. as we finalize the menu items for our Thanksgiving feast to be prepared in just two short days.   In addition to the main event, there are appetizers, soups, salads and desserts to be made.  And sides.  Lots of sides.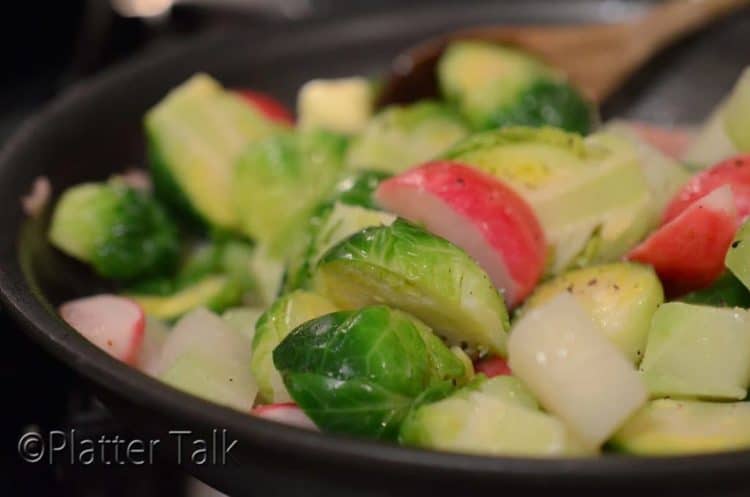 This little dish caught my eye, while leafing through Ad Hoc At Home, by Thomas Keller.  It seemed reasonably healthful, void of carbs and heavy cream, and completely seasonal with Brussels sprouts and root vegetables.
We are accustomed to eating radishes when raw.  In this recipe, the divided radishes are gently cooked in butter.  The resulting crisp sweetness is vastly unlike the sharp bite of raw radish.
The tender kohlrabi lends another, mellow and pleasing soft crunch to the dish, echoing the flavors and texture found in the inner stalk of broccoli.
Finally, the Brussels sprouts, blanched in salted water to enhance and extract their sweetness, provide a solid foundation for the accompanying root vegetables.
We gave this a trial run this evening and served it with some fresh cod and quinoa.  As a side dish, it passed with flying colors.  It possesses the versatility to pair with almost anything but is especially well suited for autumn fare, tailor-made for the Thanksgiving table.
Never Miss Another Platter Talk Recipe