Rhubarb Vanilla Pound Cake
on Jun 13, 2018, Updated May 02, 2020
Today we showcase this Rhubarb Vanilla Pound Cake from Melissa Clark via the New York Times. It's clearly another rhubarb sensation and in case you don't care for rhubarb, we've got you covered. You can make this gorgeous vanilla pound cake with blueberries, strawberries, peaches, or, nothing at all. It's that good!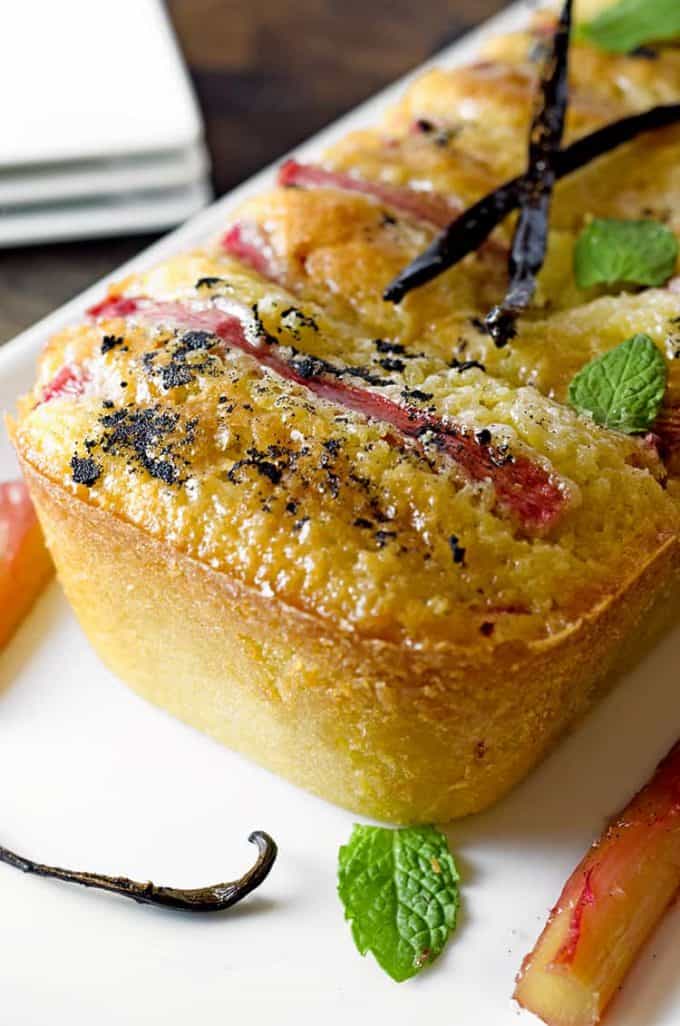 What is it?
When I was a kid I wouldn't go near anything that my mom would make with rhubarb. Now I'm growing old and I can't imagine myself staying away from the stuff that signals the beginning of summer and all of it's glorious foods. I've had my eye on this vanilla pound cake recipe for a few weeks now and when I first saw it in the New York Times Cooking section I knew I had to make it.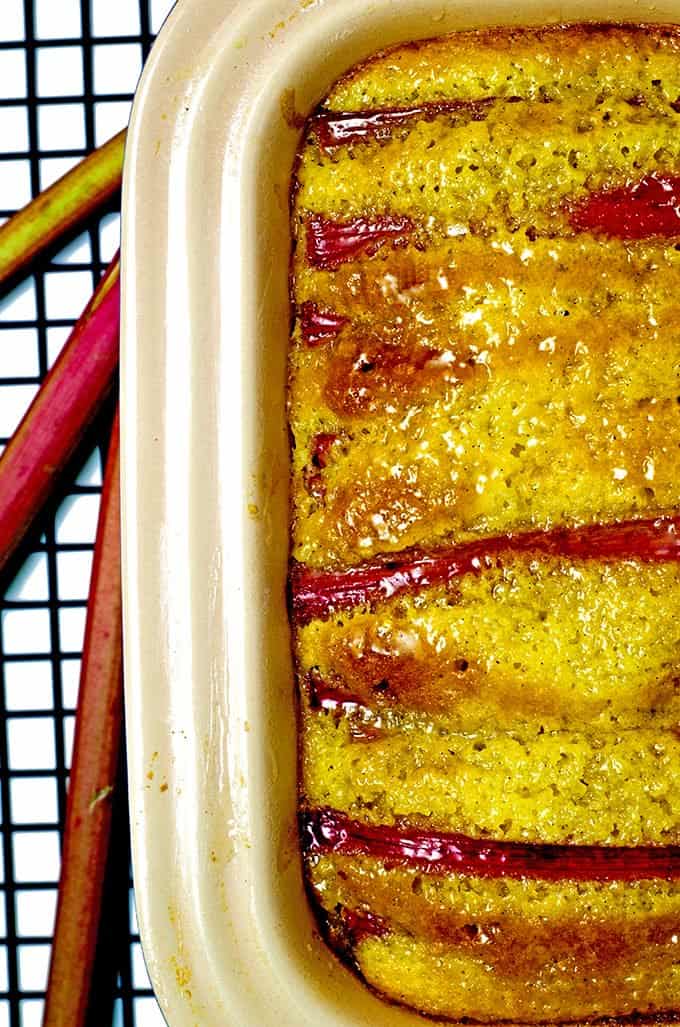 Different varieties of rhubarb
Most of us think that the red stalks of rhubarb are sweeter and taste better than their green counterparts. Although red rhubarb may be prettier to look at, green varieties of rhubarb such at Victoria are among the sweetest. Here's a good resource on rhubarb varieties.
The base flavor of this vanilla pound cake recipe comes from a vanilla bean and it's seeds, along with some pure vanilla extract. I've never worked with whole vanilla beans in the kitchen but thankfully I found a couple of them that I had picked up at Penzy's Spices, some time ago. Fortunately, if you keep vanilla beans sealed and protected from light, they will last for a couple of years.
How to make it
Start this rhubarb cake recipe by cutting some rhubarb stalks into segments about 4 inches in length. You will want them just a bit more narrow than the width of your loaf pan. Then, cut the rhubarb segments down the center, lengthwise. Next, divide a whole vanilla bean in half, slit it down the center and scrape the vanilla seeds out of it. Then,
Make a Vanilla Simple Syrup and Poach the Rhubarb
Combine some sugar with water, add the vanilla bean and it's seeds and bring to a boil. Reduce this mixture to a simmer and add the cut and sliced rhubarb segments and poach for about 2 minutes. Remove the rhubarb and let it cool to room temperature and reserve the poaching liquid – you're going to use this once the rhubarb cake comes out of the oven.
To Make the Vanilla Pound Cake Batter
Grease and flour a loaf pan.

Scott shows you how to grease a pan in this great little post and video.

Cream the butter with the eggs. When making a cake from scratch, always bake with eggs at room temperature. This will help the eggs to spread in the batter more evenly and help to created a lighter and smoother texture. Also, add the eggs one at a time. This way, if you have a bad egg or get some loose eggshell in with the egg, you won't have to toss out the whole recipe.
Add the cake flour a little at a time. Again, this will help you get an even texture in the cake batter. In case you don't have any cake flour on hand, here's a handy article on

how to make your own cake flour

.
Finally, add the milk and vanilla mixture to the cake batter, until just blended.
---
Pro Kitchen Tip

When using a KitchenAid stand mixer to make a dough or batter, always use the lowest gear possible. If you don't, there is a "worm gear" in the KitchenAid that will break and cause it to not work. This is actually a protective mechanism that will keep the motor from burning from being overworked. If this happens, the good news with this scenario is that you won't have to replace your KitchenAid. The bad news is you will still have to have it repaired to replace the worm gear.
---
Assemble this Rhubarb Cake
Now you want to divide the cake batter into two even portions and pour half of it in the prepared loaf pan. I'm a bit of a nerd and I enjoy playing with kitchen gadgets but I also like accuracy when baking, it can make or break a cake recipe. For this reason, I always try to measure the cake batter by weighing it if it has to be divided with precision.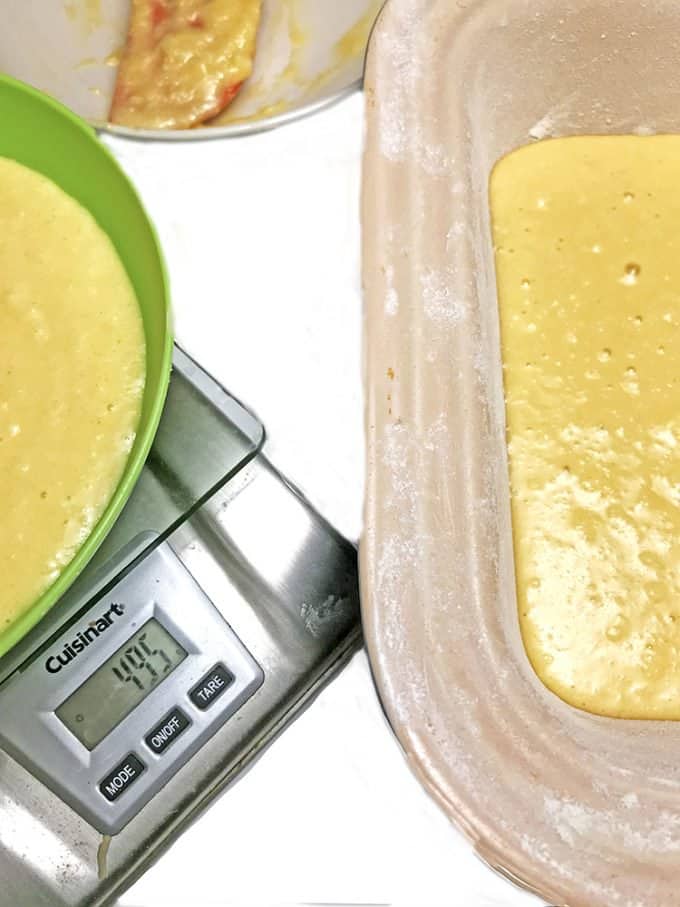 Call me a nerd, or maybe a baking nerd, but I love my kitchen scale. We bake a lot with our kids too, it's something they love to do. Using a kitchen scale to ensure accuracy helps their recipes to turn out better and it's an awesome review in mathematics for all of us!
As you can see, half the rhubarb is added to the first layer of batter. Then, the rest of the batter is poured over the rhubarb. We're going to bake the cake for about 20 minutes at 350° F, just long enough for the top of the batter to "set". Then we will add the top layer of rhubarb and finish baking this delicious rhubarb cake.
Put the Vanilla in this Vanilla Pound Cake!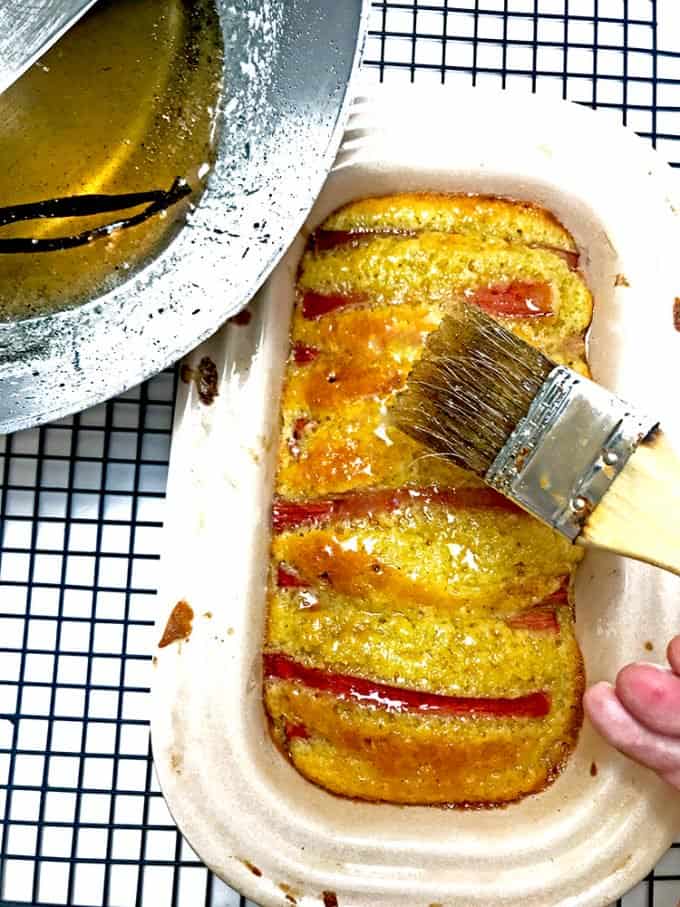 Once this rhubarb cake comes out of the oven, you're going to brush it with the reserved poaching liquid from earlier. First, you'll reduce it slightly and you'll probably have a bit leftover.
Hint: Before adding this layer of vanilla simple syrup, use a toothpick and poke a bunch of holes in the top of the cake, evenly throughout. These little pores will allow that sweet vanilla goodness to seep deep within the cake, adding flavor while preventing your cake from drying out.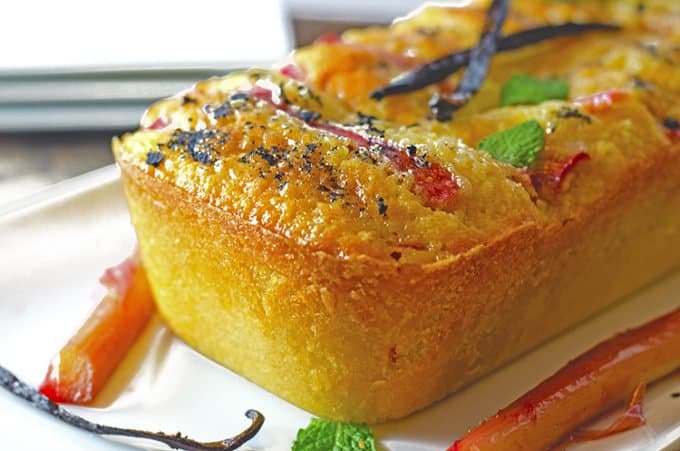 You can see, we garnish the top of this vanilla pound cake with some additional vanilla beans, and a leaf or two of fresh mint leaves. The colors, textures and most of all flavors all work magic together. Our guests raved over this rhubarb cake.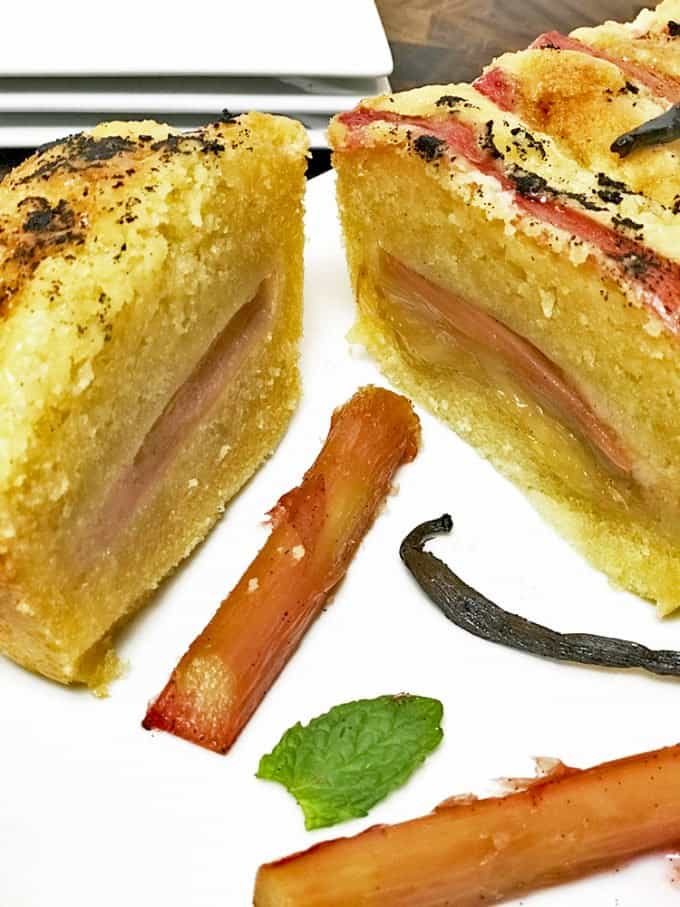 Rhubarb makes its appearance here in the mid-west as a signal of beautiful weather and fresh produce. We have a few other great rhubarb recipes that you might like, including our rhubarb slush, and our rhubarb upside-down cake.
Favorite homemade cake recipes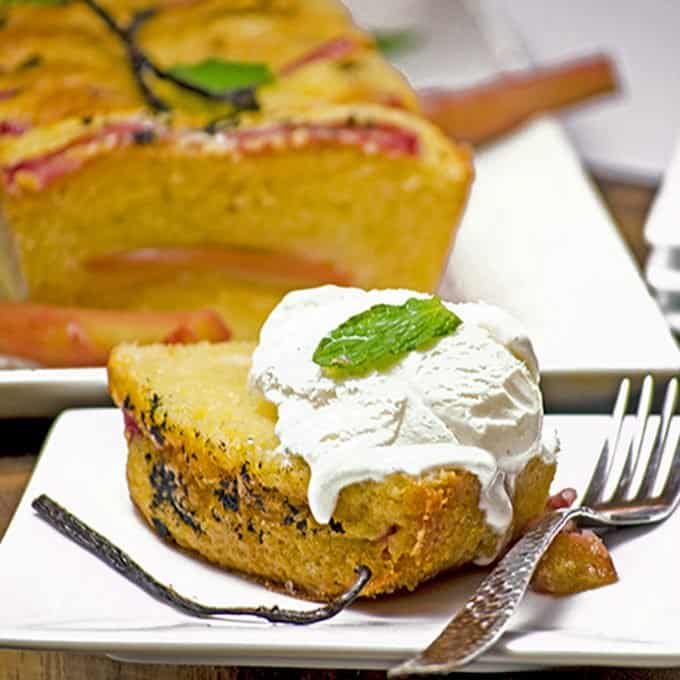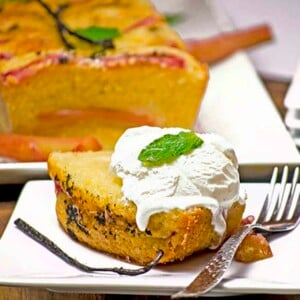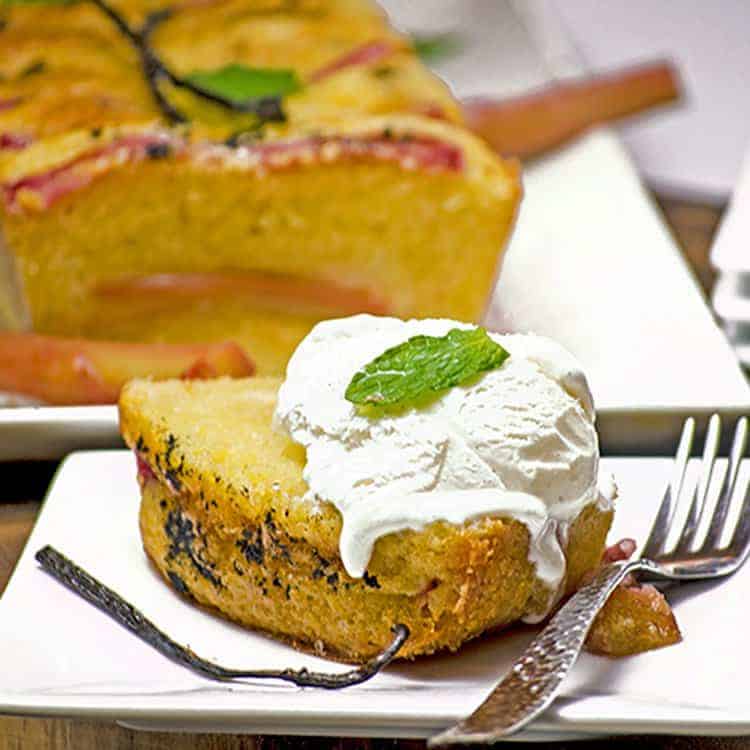 Rhubarb Vanilla Pound Cake
Inspired by Melissa Clark, this vanilla pound cake recipe is fortified by sweetened and vanilla-poached stalks of tender rhubarb. Try this rhubarb cake recipe from scratch today!

Ingredients
For the Rhubarb and Vanilla Glaze
8

oz

rhubarb

,

4 large stalks

1

cup

granulated sugar

1

cup

water

1/2

vanilla bean

,

split and seeded with seeds reserved.
For the Vanilla Pound Cake
1

cup

unsalted butter

1 2/3

cups

cake flour

1

tsp

salt,

use fine sea salt

1

tsp

baking powder

1/3

cup

milk

,

use whole milk

1

tsp

vanilla extract

1/2

vanilla bean

,

split and seeded, with seeds reserved.

1

cup

granulated sugar

4

eggs

,

large, at room temperature
Instructions
For the Rhubarb and Vanilla Glaze
Use a chef's knife to cut the rhubarb so the segments fit crosswise into a 9 x 5 inch loaf pan, about 4.5 inches. Cut about a dozen segments. Then, splice them in half again, lengthwise.


Combine sugar and vanilla bean and seeds in medium size sauce pan, stir in water and bring to a boil. Reduce heat to simmer and add cut rhubarb segments. Allow the rhubarb to poach for about a minute and a half to two minutes. Remove the rhubarb from the liquid and cool to room temperature. Reserve poaching liquid.

For the Vanilla Pound Cake
Preheat oven to 350° F and grease and flour a 9x5 inch loaf pan. Using a medium bowl, combine flour, salt, and baking powder.


Use a small bowl to combine milk, vanilla extract and vanilla seeds.


Using a stand mixer with the paddle attachment, combine the butter and sugar and cream together. Scrape sides of bowl and cream again. Add eggs, one at a time and scrape the bowl after the addition of each egg. Add half the flour mixture while beating, scrape the side of the bowl and gradually add remaining flour mixture. Finally, add milk mixture and stir in until just combined.


Pour half the batter into the prepared loaf pan and lay about 10 segments of softened rhubarb, cross-ways, on top of the batter. Evenly pour remaining batter over rhubarb layer.


Bake for 20 minutes to allow the top of the batter to set somewhat, then remove from oven and quickly place remaining rhubarb along the top of the batter. Return cake to oven and bake for 45 more minutes, until a toothpick comes clean from the center.


While the cake is baking, simmer reserved poaching liquid over medium heat, for about 10 minutes or so, until it is reduced and forms a simple syrup. Once the cake comes out of the oven, place it on a cooling rack. Use a toothpick to poke several deep holes throughout the cake and then generously brush the vanilla simple syrup onto the cake.


Allow cake to cool for at least 90 minutes before removing from pan. Garnish with additional vanilla beans if desired and the reserved vanilla beans. Serve with softened French vanilla ice cream.

Nutrition
Calories:
430
kcal
,
Carbohydrates:
56
g
,
Protein:
5
g
,
Fat:
20
g
,
Saturated Fat:
12
g
,
Cholesterol:
115
mg
,
Sodium:
265
mg
,
Potassium:
126
mg
,
Fiber:
0
g
,
Sugar:
40
g
,
Vitamin A:
700
IU
,
Vitamin C:
1.8
mg
,
Calcium:
47
mg
,
Iron:
0.5
mg
Nutrition information is automatically calculated, so should only be used as an approximation.