Red Velvet Christmas Cake Roll
on Dec 07, 2016, Updated Nov 19, 2021
Red velvet cake rolls aren't just for Valentine's Day. This Christmas dessert will dominate your holiday dessert table every single year.
If you're like most people, you probably think that cake rolls are too hard to make. Think again! I'm going to show you how to make this easy red velvet cake roll in just 40 minutes!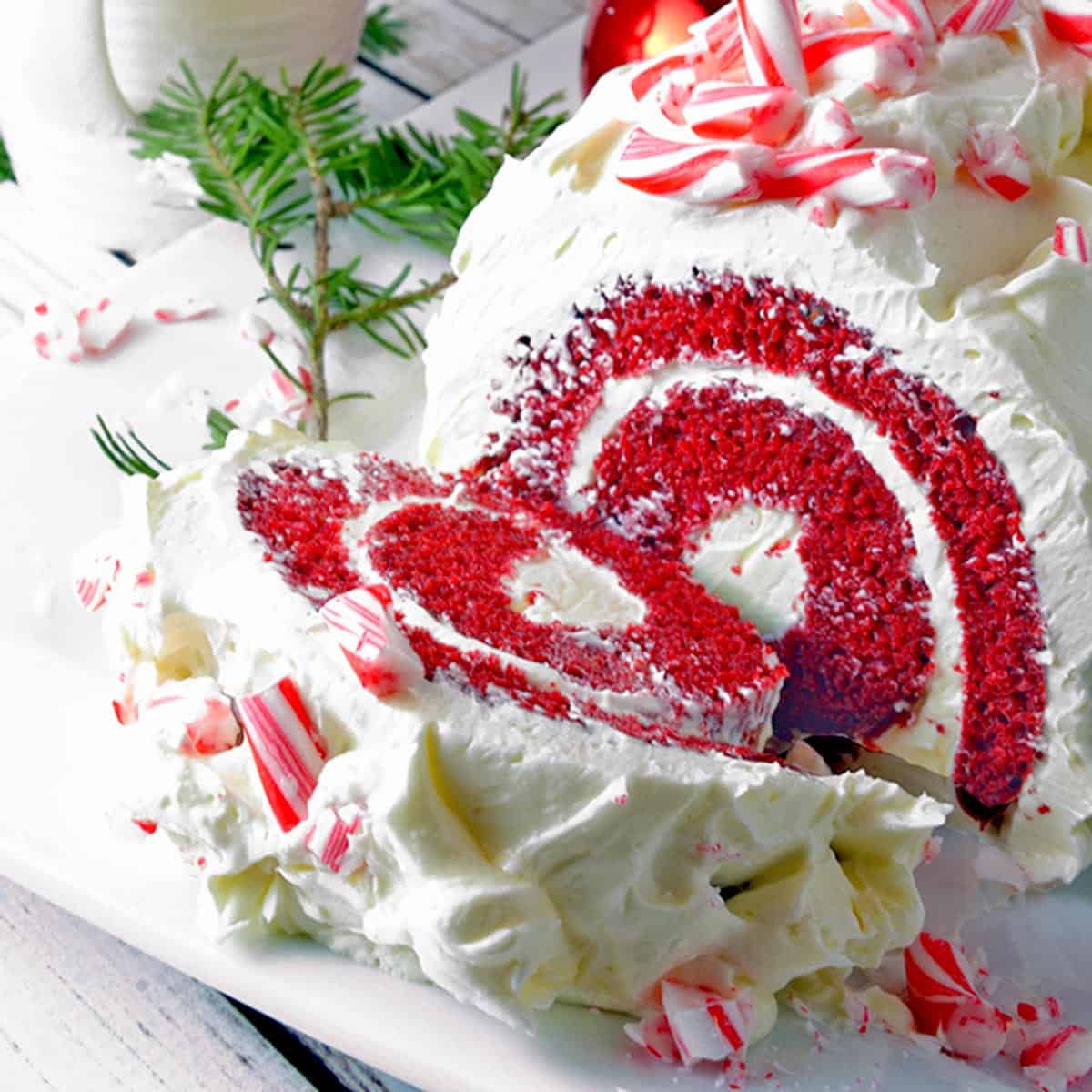 About this Christmas dessert
People are always asking me, "What's your favorite thing to make?" Until recently, I wasn't sure. Then, not too long ago I had a mid-life revelation.

Cake recipes are my favorite. I love making them and eating them and I always have. I love bundt cakes like our Lemon 7-Up Pound Cake. Chocolate ones like our Chocolate Coffee Whiskey Cake. And even the kind you make in a crockpot like our Slow Cooker Sticky Caramel Pumpkin Cake.
And then there are cake rolls like our traditional Bûche de Noel (Yule Log) and our Pumpkin Cake Roll. There's something special about gorgeous desserts that are made from a type of sponge cake.
They look sort of fancy. They are something you don't make every day. And they are fun to make!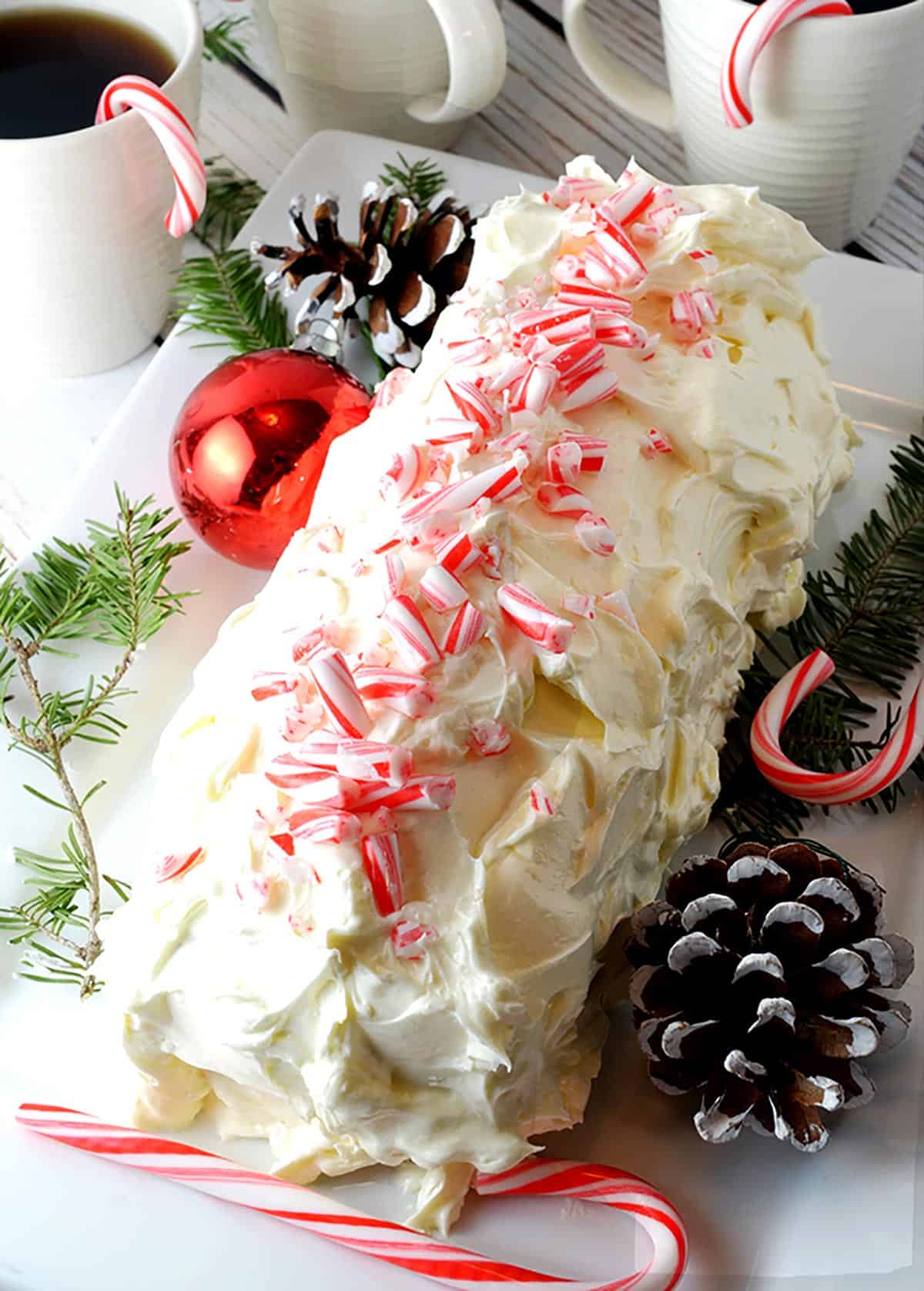 This holiday dessert isn't your traditional Christmas cake recipe. Instead, it is a red velvet cake roll filled with peppermint buttercream frosting and not the typical cream cheese frosting you might expect from a roll cake.
The whole thing is then topped with crushed candy canes for a delicious holiday flare.
What you need to make it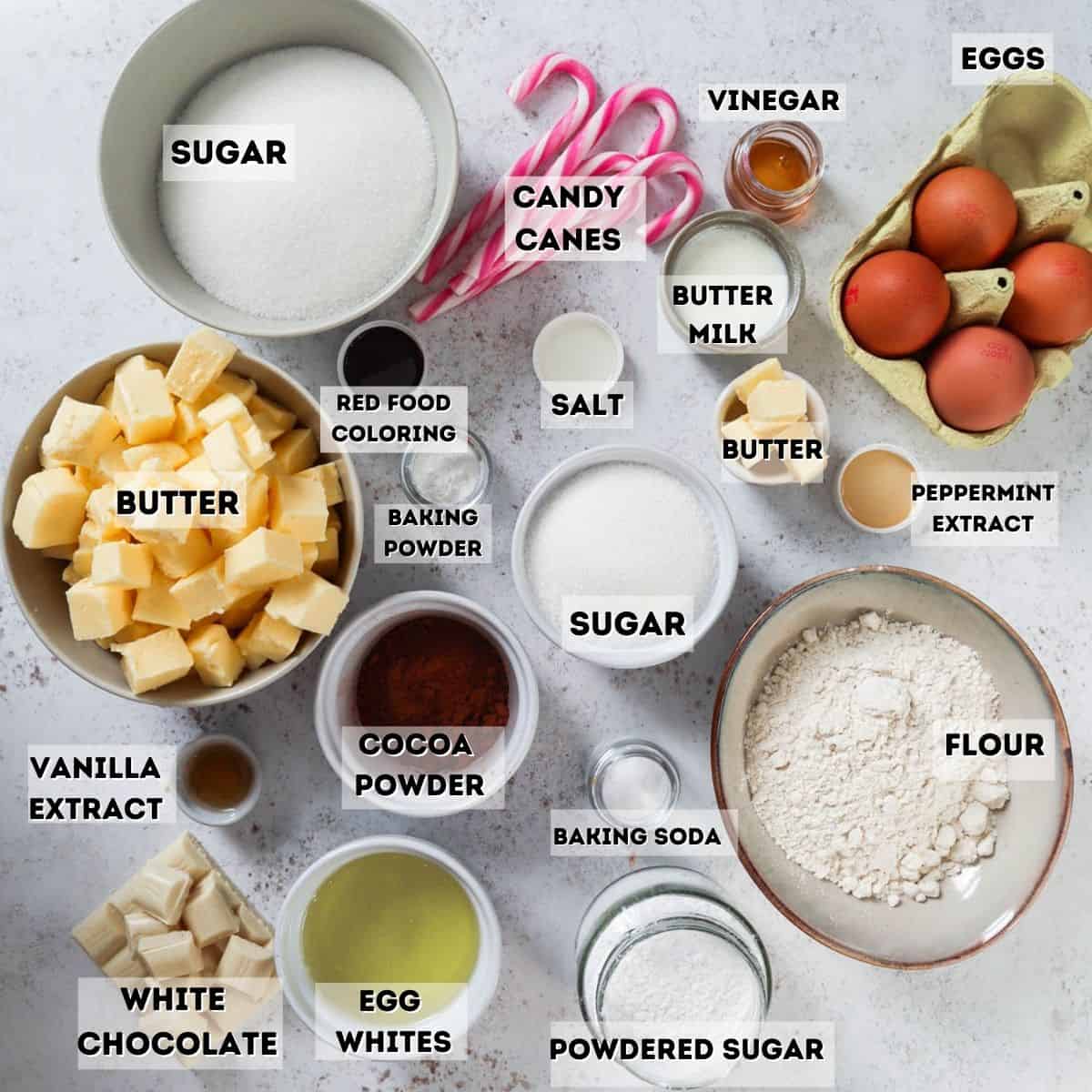 Wet and dry ingredients
Flour – You'll want to use cake flour for this recipe. If you don't have any of that on hand, you can use all-purpose flour as well. Be sure to measure the ingredients carefully!
Eggs and Egg Whites – Use extra-large eggs for this and make sure they are at room temperature before baking! This will ensure that it bakes evenly.
Pro Kitchen Tip: Save the egg yolks to make a batch of these Forgotten Cookies!
Here is a great way to quickly bring eggs to room temp. Never leave eggs out of the fridge for more than two hours!
Cocoa Powder – You can use either natural cocoa powder (sometimes labeled as unsweetened cocoa powder) or Dutch process cocoa powder. The Dutch process type will give you a more intense chocolatey flavor but the chemical properties of the natural cocoa powder will react with the buttermilk for a richer, red color.
Red Food Coloring – Use liquid or gel red food coloring. The gel may give you a deeper and intense red color, especially if you use the natural cocoa powder.
Vinegar – Use white vinegar. This serves to help a reaction occur with the cocoa powder causing it to turn red in color.
How to make a cake roll
(See the full recipe with directions at the end of this post.)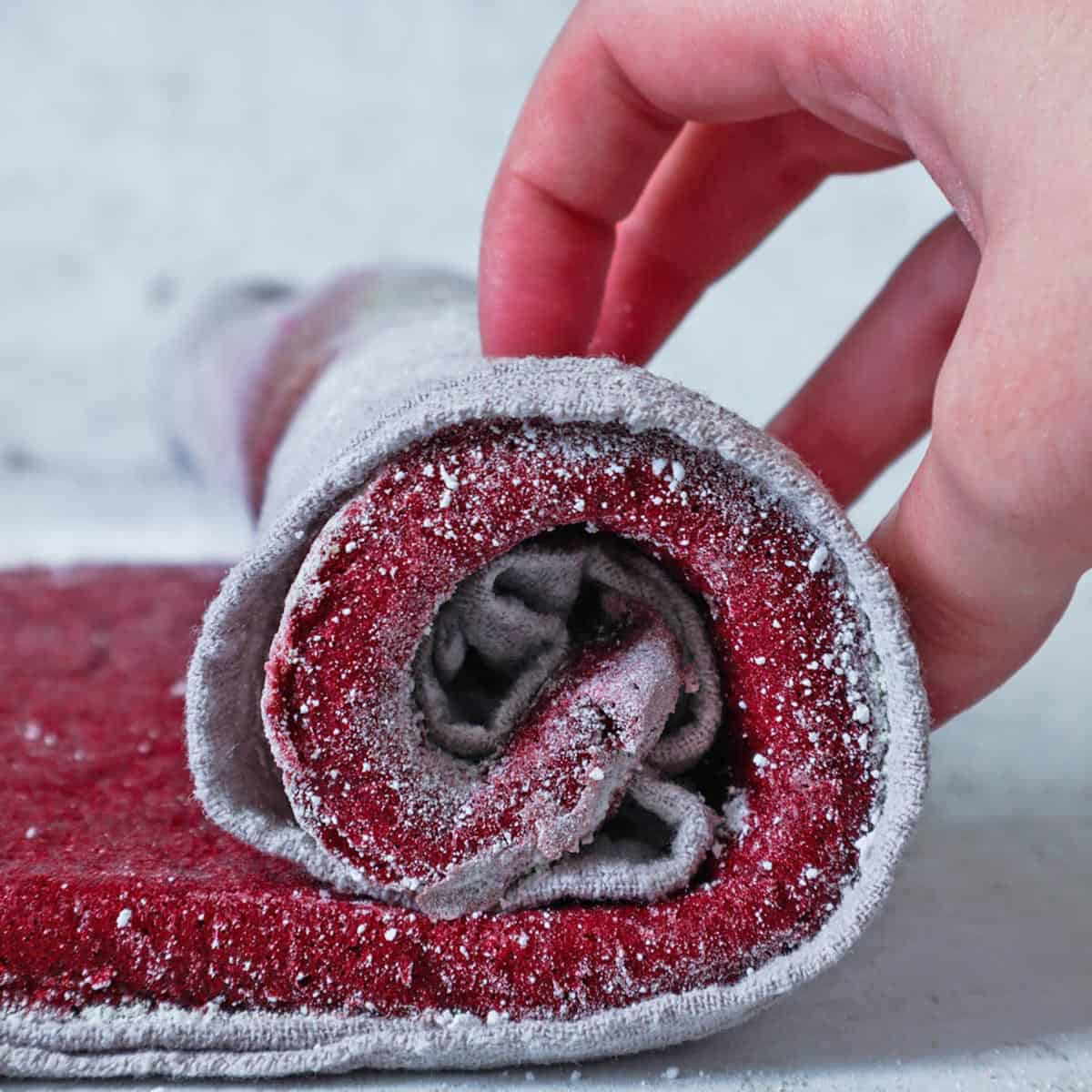 In case you have never made one of these, this is the perfect time to start. Although the process may seem daunting to beginners, we've all been there before and you have nothing to fear. Instead, roll your sleeves up, get ready to get a little messy, and have a lot of fun!
---
Read the complete recipe beforehand and have everything ready to go
Be sure your jelly-roll pan is greased with nonstick spray and lined with parchment paper when your batter is ready to pour.
When rolling the cake, time is of the essence.
Have a clean kitchen towel ready and sprinkled with powdered sugar.
This towel is used to roll the hot cake up as it comes out of the oven. If not rolled immediately, it will be less pliable and therefore prone to cracking.
Do not over-bake the it! This is especially critical, to enhance the rolling process.
Most important, do not be discouraged if this is your first time. After doing this process a couple of times, you will get a good feel of how it's supposed to go!
---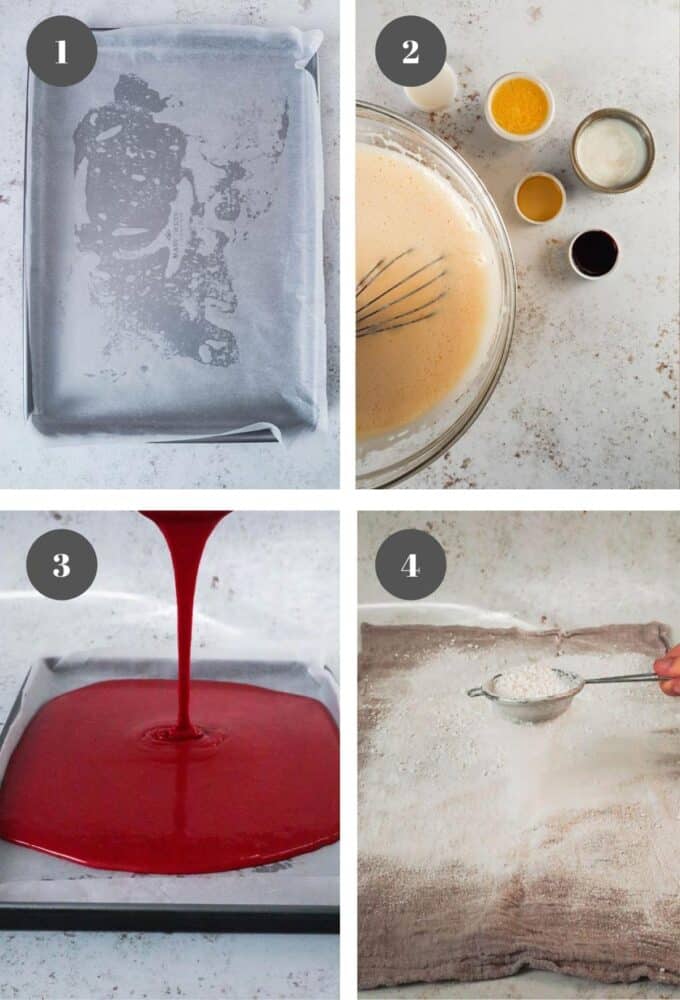 Prepare a 9 x 13-inch jelly-roll pan or cookie sheet with a nonstick spray. Line it with parchment paper. (Do not use wax paper!)
Use a medium bowl to combine the dry ingredients. Then, in a large bowl, whisk the eggs and sugar on medium speed until they are pale in color and tripled in volume. Add other ingredients as directed in the recipe below and combine the flour mixture into the egg mixture as directed below.
Pour the batter into the prepared pan. Bake for about 10 minutes at 350° F or until the top of the cake springs back when touched.
While this is in the oven, using a fine mesh strainer, line a clean kitchen towel with powdered sugar.
When this comes out of the oven, you'll want to move quickly and do the following. Have a clean work surface cleared and ready to work on.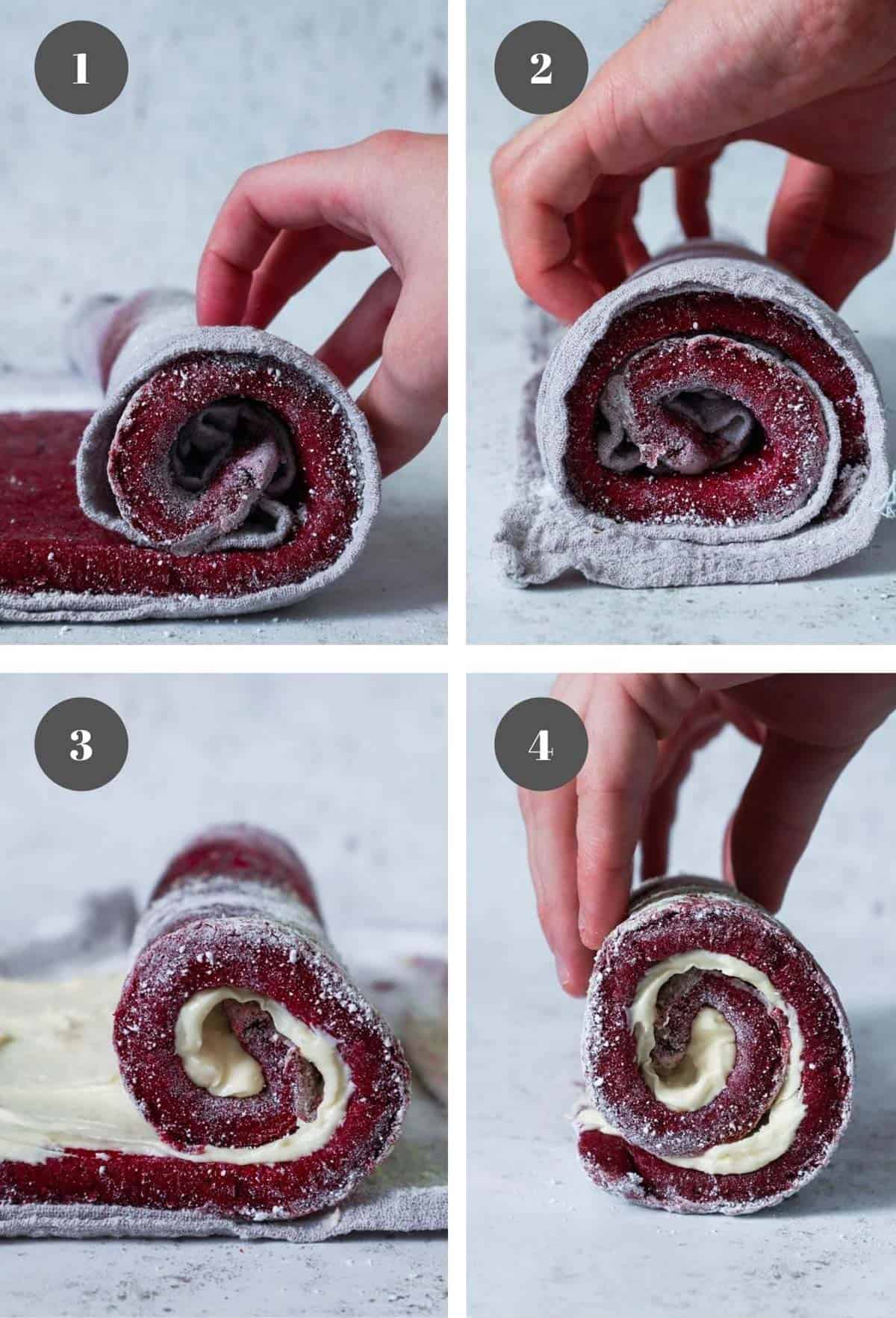 You will invert the hot cake onto the kitchen sprinkled with confectioners' sugar. Then you're going to sprinkle a thin dusting of powdered sugar onto the top of the cake.
Beginning with the short end, roll the cake up tightly and allow it to cool on a wire rack. While this cools, it's time to prepare the buttercream frosting as outlined in the directions below.
When the cake is completely cooled, you're going to gently unroll it and remove the towel. Evenly spread about 1/2 an inch of the frosting onto the top. An offset spatula works great for this.
Next, gently re-roll it and place it on a serving platter, seam side down. Frost with the remaining frosting on the long side and short sides of the cake. Garnish with a few crushed candy canes or crushed peppermint candy.
The light crunch of the candy canes adds a nice texture to the otherwise smooth icing, making it the perfect Christmas dessert that you won't ever forget.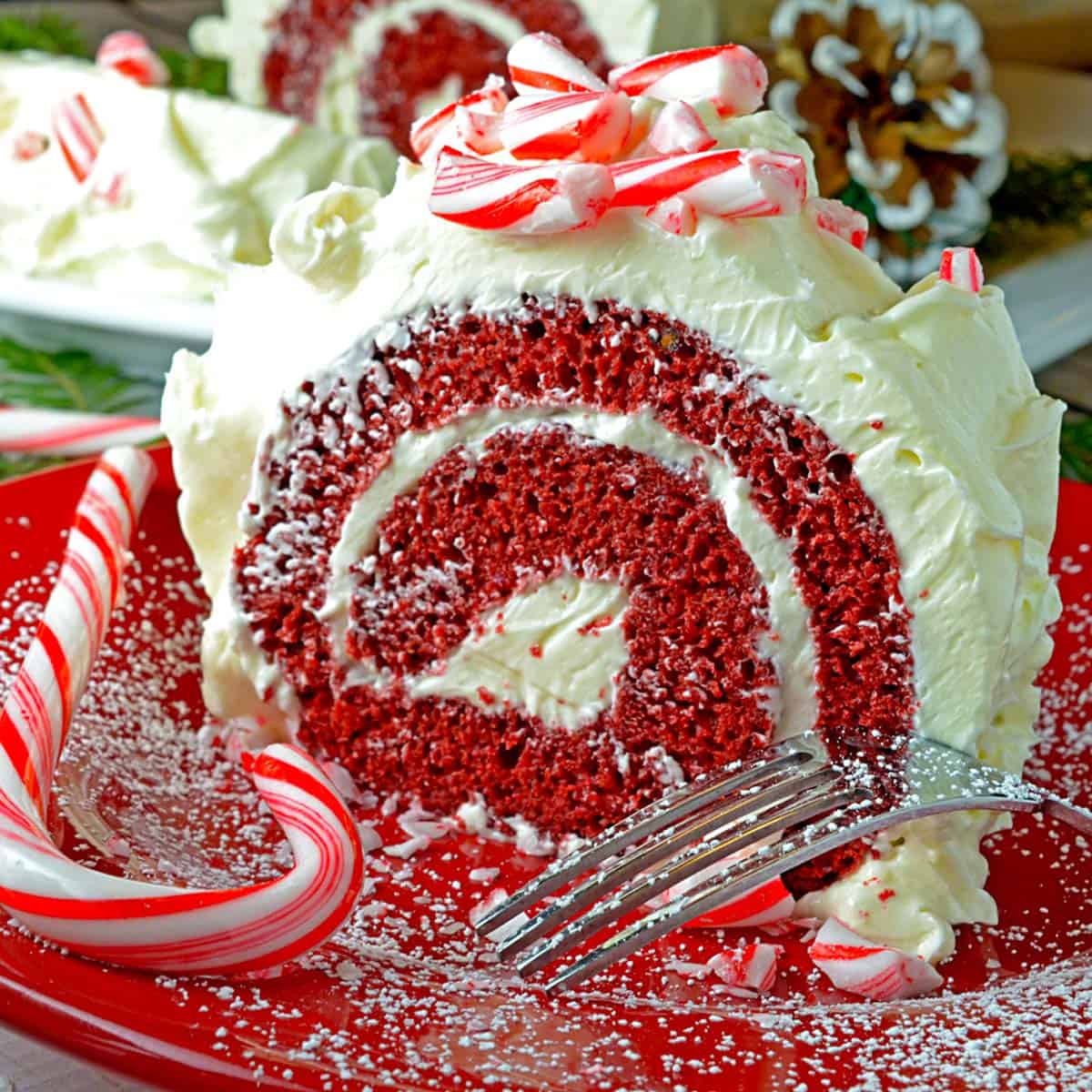 Tips for how to make the perfect red velvet cake roll
The cake has to be warm when you roll it. Fresh out of the oven, it will still be moist and pliable to easily roll.
Under-bake for a minute or two. This will ensure the cake is not dry and will make it easier to roll without cracking.
Let the cake cool completely before unrolling and and applying a layer of filling.
Use a rubber spatula to evenly distribute the filling before rolling. Check to make sure that the layer is as even as possible. This will give you a beautiful uniform spiral pattern.
The light crunch of the candy canes adds a nice texture to the otherwise smooth icing, effectively wrapping this up into a holiday treat you won't ever forget.
Next time you're looking for the perfect dessert for Christmas, make this red velvet yule log.
Common questions
Why do Cake Rolls Crack?
Cake rolls crack if they are rolled after the cake cools off. This is why you want to roll the cake while it is still warm and has some moisture in it.
What's the best way to store this?
You can refrigerate this red velvet cake roll for up to 3 days in an air-tight container. Or, make it ahead of time and freeze it. Wrap it snugly with plastic wrap and store it in your freezer for up to 3 months. Allow it to thaw overnight in the refrigerator when you are ready to serve it.
👨‍🍳 Tried this Recipe? Please leave a ⭐⭐⭐⭐⭐ rating in the recipe card below and leave a comment. We love hearing from our readers!
⏩ Stay in touch with us on social media by following us on Facebook, Pinterest, Instagram, and YouTube!
📬Get our Recipes delivered to your inbox for FREE!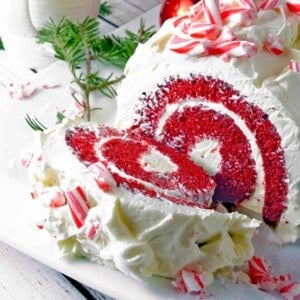 Red Velvet Cake Roll with Chocolate-Peppermint Buttercream Frosting.
The perfect dessert for Christmas, recipe from Tessa Huff
Ingredients
For the cake roll:
1

cup

flour,

all-purpose or cake flour

2

teaspoons

cocoa powder

1

teaspoon

baking powder

1/2

teaspoon

baking soda

1/4

teaspoon

salt

4

eggs

3/4

cup

granulated sugar

2

tablespoons

melted butter

,

cooled but liquid

1

teaspoon

pure vanilla extract

2

tablespoons

buttermilk

1

teaspoon

vinegar

Red food coloring to visual preference
For the White Chocolate & Peppermint Buttercream Frosting:
1/2

cup

egg whites

,

about 4 large eggs

1 1/3

cup

granulated sugar

2

cups

unsalted butter

,

softened to room temperature

3 1/2

ounces

white melted chocolate

3/4

teaspoon

peppermint flavored extract

1

teaspoon

pure vanilla extract
Necessary add-ons
Powdered sugar for dusting the cake when rolling

Crushed candy canes for garnish
Instructions
Preheat oven to 35o°F. Treat a 9 x 13 inch jelly-roll pan with nonstick spray. Line the pan with parchment paper and then set aside.

Mix the dry ingredients and then set aside. Using a stand mixer, whisk eggs and sugar on medium-high until the mixture is tripled in volume and the ingredients becomes pale in color, about 5 to 8 minutes. Lower the mixer speed to medium-low and add the vanilla and. Mix in vinegar, buttermilk and red food coloring.

After stopping the mixer add half of the dry ingredients over the liquid ingredients in the bowl. Stir on low speed until just combined. Stop the mixer again and then add the remaining dry ingredients, mixing until just combined.

Pour the batter into the prepared jelly roll-pan. Use the back of a spoon to evenly distribute the batter and then place in oven. Bake for about 10 minutes, or until the surface springs back when touched.

White the cake is in the oven, prepare a clean kitchen towel by applying a heavy dusting of powdered sugar and then place towel on flat working surface. Once it is finished baking, remove from pan and invert directly on powdered-sugar surface of towel. Remove the parchment from the cake and discard. Apply a dusting of powdered sugar to the top surface of cake.

Beginning with short end, roll it up in the towel and allow to cool.

Now, it's time to prepare the buttercream frosting, while the cake is cooling. Using a stand mixer, combine egg whites and sugar in the bowl and whisk together. Fill a saucepan with water and heat over medium-high. Set the mixing bowl on top of sauce pan and make a double-boiler. Heat the egg mixture until hot to the touch or 150°F with a candy thermometer, being sure to stir the mixture intermittently.

Next, whisk the hot egg whites in the stand mixer, for about 5 minutes or so, until the outside of the bowl has reached room temperature. Then, replace whisk with paddle attachment.

Turn the mixer on low and then add in the remaining ingredients. Continue to mix, on medium-high speed, until frosting reaches silky and smooth texture, about 5 to 10 minutes.

To assemble the finished cake roll, gently unroll it and remove towel. Spread about 1/2 inch layer of the buttercream frosting over the surface of the cake. Next, gently re-roll it. Place it seam-side down on a serving platter. Frost with the remaining buttercream and garnish with crushed candy canes.
Notes
Be sure the cake is hot out of the oven when rolling it.
Underbake the cake but a minute to make rolling easier.
Store in the refrigerator for up to 3 days or in the freezer for up to 3 months.
Nutrition
Calories:
532
kcal
,
Carbohydrates:
48
g
,
Protein:
4
g
,
Fat:
37
g
,
Saturated Fat:
22
g
,
Cholesterol:
141
mg
,
Sodium:
157
mg
,
Potassium:
117
mg
,
Fiber:
0
g
,
Sugar:
39
g
,
Vitamin A:
1085
IU
,
Calcium:
38
mg
,
Iron:
1
mg
Nutrition information is automatically calculated, so should only be used as an approximation.