Red Velvet Cake Roll, features a buttercream frosting infused with white chocolate and peppermint, garnished with a crown of candy cane bits making this a festive holiday dessert that is fit for a king, a queen, or just about anyone lucky enough to make Santa's nice list.
About this
We put this holiday dessert together last evening when challenged by our good friends over at The Daily Meal to come up with a recipe that uses Candy Canes.  It wasn't long before we found a beauty, in this recipe that we are sharing with you today.
This is not my first "go-around", making a cake roll. I've been putting these babies together for longer than many of you who are reading this have been around.
For me, it all started with the classic Bûche de Noel (Yule Log) recipe that I started making many years ago when I was a young teenager.
Back then, I would spend an occasional Saturday with my sister (Chef Kat), giving her a hand at the restaurant where she worked her magic.
In case you have never made a cake roll, this is the perfect time to start. Although the process may seem daunting to beginners, we've all been there before and you have nothing to fear. Instead, roll your sleeves up, get ready to get a little messy and have a lot of fun!
---
How to make a cake roll

Read the complete recipe beforehand and have everything ready to go
Be sure your baking sheet is greased and lined with parchment paper when your batter is ready to pour.
When rolling the cake, time is of the essence.
Have a clean kitchen towel ready and sprinkled with powdered sugar.
This towel is used to roll the hot cake as it comes out of the oven. If not rolled immediately, the cake will be less pliable and therefore prone to cracking.
Do not over-bake the cake. This is especially critical, to enhance the rolling process.
Most important, do not be discouraged. After doing this process a couple of times, you will get a good feel of how it's supposed to go!
---
Trying new things, like a cake roll (if you've not made one before), is a part of cooking and baking that makes it fun to me.
I've made a few cake recipes for Platter Talk in the past and as we have shown you before, with every good cake there is a great frosting.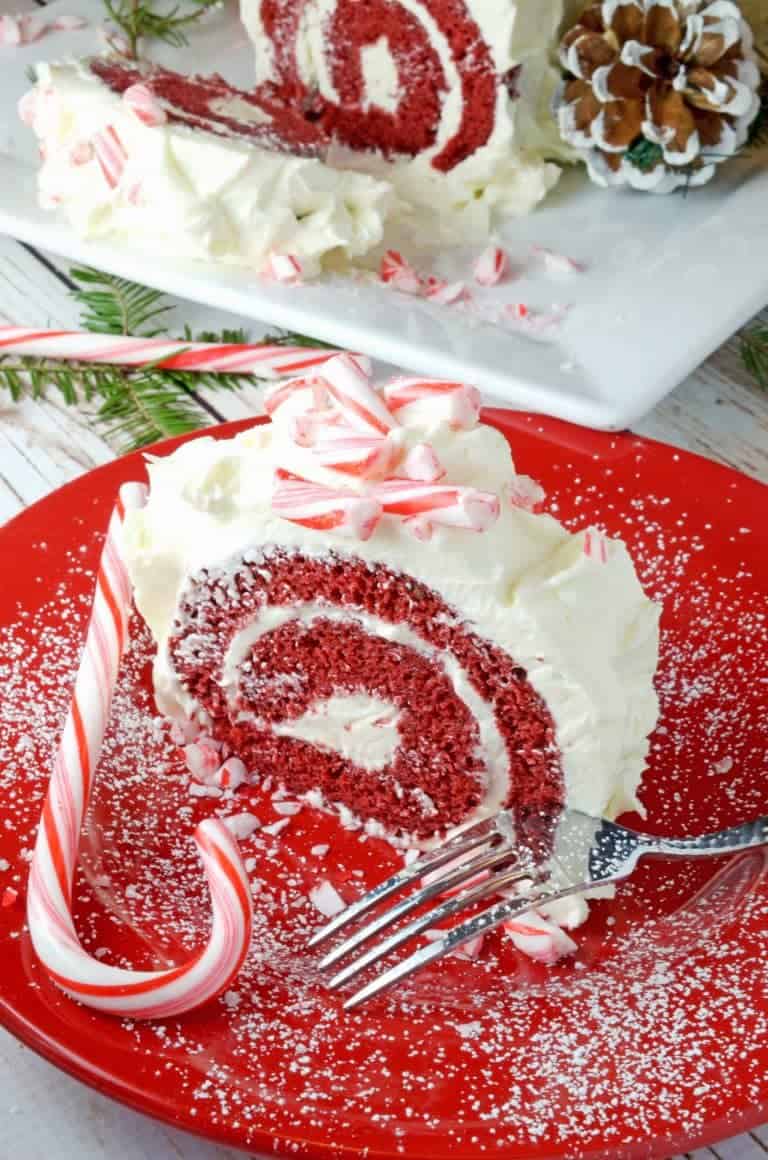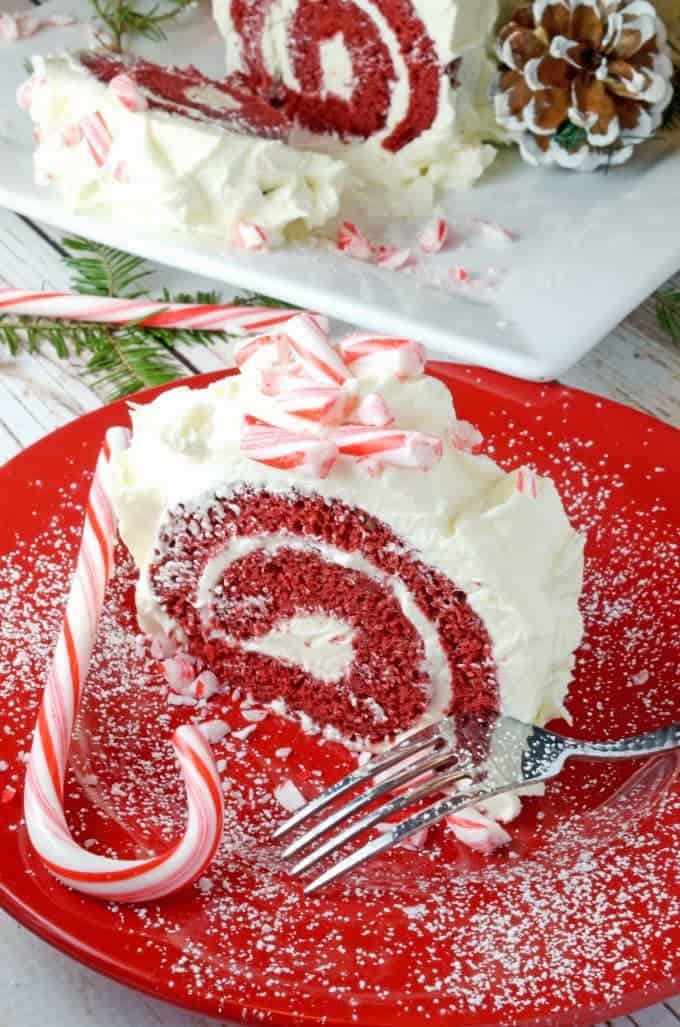 The white chocolate and peppermint buttercream frosting that goes over this red velvet cake roll is a delicious example of what I'm talking about.
Easy to make and composed primarily of egg whites and butter, the white chocolate and peppermint, therefore, make a perfect compliment to the candy cane topping on this dessert.
The light crunch of the candy canes adds a nice texture to the otherwise smooth icing, effectively wrapping this up into a holiday treat you won't ever forget.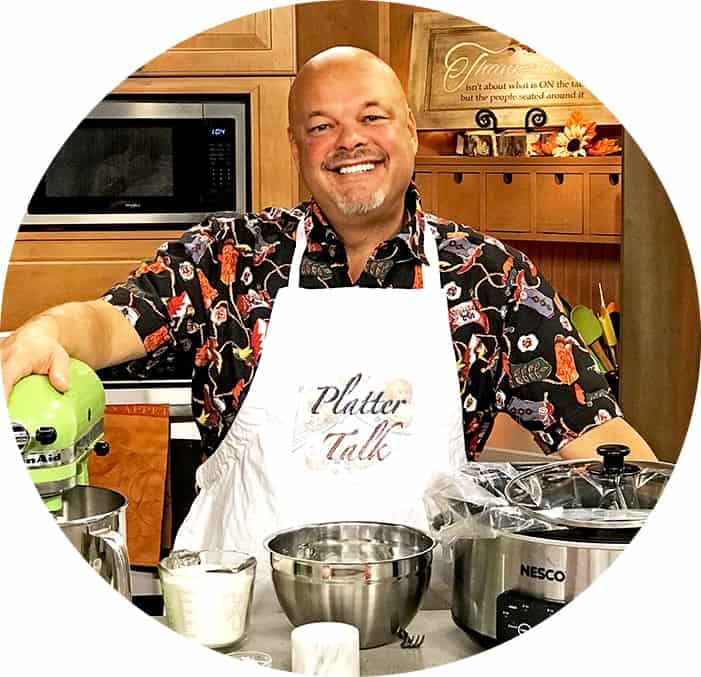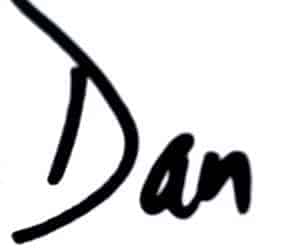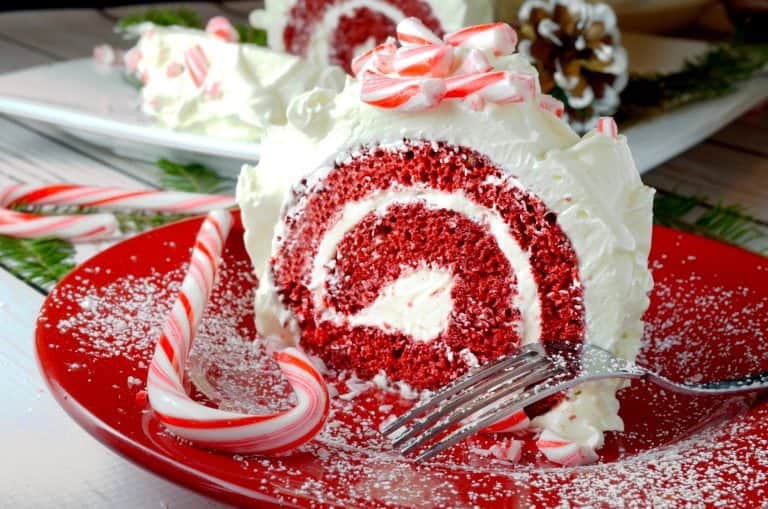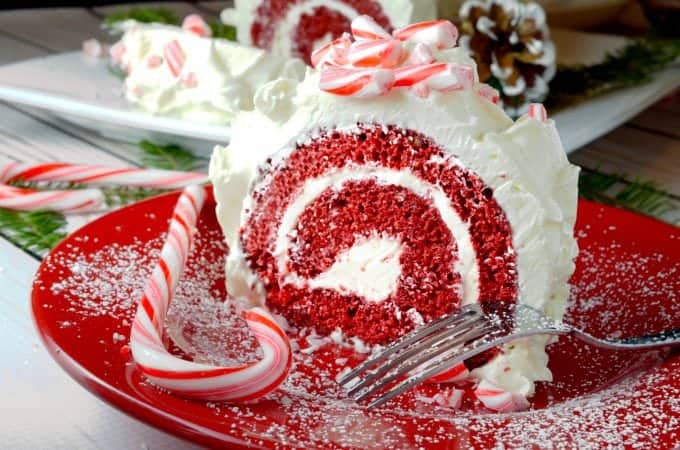 More of our cakeroll
If you've tried this Red Velvet Cake or any other recipe on Platter Talk, please let us know your thoughts in the comments below, we love hearing from you! You can also FOLLOW US on FACEBOOK, INSTAGRAM, and PINTEREST to see what we have cooking!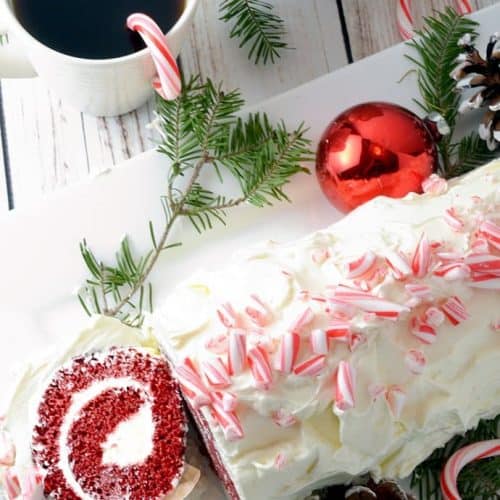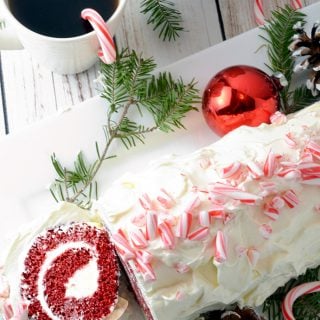 Red Velvet Cake Roll with Chocolate & Peppermint Buttercream Frosting
Recipe from Tessa Huff
Print
Pin
Rate
Ingredients
For the cake roll:
1

cup

flour

all-purpose or cake flour

2

teaspoons

cocoa powder

1

teaspoon

baking powder

½

teaspoon

baking soda

¼

teaspoon

salt

4

eggs

¾

cup

granulated sugar

2

tablespoons

melted butter

cooled but liquid

1

teaspoon

pure vanilla extract

2

tablespoons

buttermilk

1

teaspoon

vinegar

Red food coloring to visual preference
For the White Chocolate & Peppermint Buttercream Frosting:
½

cup

egg whites

about 4 large eggs

1 ⅓

cup

granulated sugar

2

cups

unsalted butter

softened to room temperature

3 ½

ounces

white melted chocolate

¾

teaspoon

peppermint flavored extract

1

teaspoon

pure vanilla extract
Necessary add-ons
Powdered sugar for dusting the cake when rolling

Crushed candy canes for garnish
Instructions
Preheat oven to 35o°F. Treat a 9 x 13 inch jelly-roll pan with nonstick spray. Line the pan with parchment paper and then set aside.

Mix the dry ingredients and then set aside. Using a stand mixer, whisk eggs and sugar on medium-high until the mixture is tripled in volume and the ingredients becomes pale in color, about 5 to 8 minutes. Lower the mixer speed to medium-low and add the vanilla and. Mix in vinegar, buttermilk and red food coloring.

After stopping the mixer add half of the dry ingredients over the liquid ingredients in the bowl. Stir on low speed until just combined. Stop the mixer again and then add the remaining dry ingredients, mixing until just combined.

Pour the batter into the prepared jelly roll-pan. Use the back of a spoon to evenly distribute the batter and then place in oven. Bake for about 10 minutes, or until the surface springs back when touched.

White the cake is in the oven, prepare a clean kitchen towel by applying a heavy dusting of powdered sugar and then place towel on flat working surface. Once cake is finished baking, remove from pan and invert directly on powdered-sugar surface of towel. Remove the parchment from the cake and discard. Apply a dusting of powdered sugar to the top surface of cake.

Beginning with short end of cake, roll it up, in the towel and allow to cool.

Now, it's time to prepare the buttercream frosting, while the cake is cooling. Using a stand mixer, combine egg whites and sugar in the bowl and whisk together. Fill a saucepan with water and heat over medium-high. Set the mixing bowl on top of sauce pan and make a double-boiler. Heat the egg mixture until hot to the touch or 150°F with a candy thermometer, being sure to stir the mixture intermittently.

Next, whisk the hot egg whites in the stand mixer, for about 5 minutes or so, until the outside of the bowl has reached room temperature. Then, replace whisk with paddle attachment.

Turn the mixer on low and then add in the remaining ingredients. Continue to mix, on medium-high speed, until frosting reaches silky and smooth texture, about 5 to 10 minutes.

To assemble the finished cake roll, gently unroll the cake and remove towel. Spread about ½ inch layer of the buttercream frosting over the surface of the cake. Next, gently re-roll the cake. Place the cake with seam-side down on a cake plate or serving platter. Frost with the remaining buttercream and garnish with crushed candy canes.
Nutrition
Calories:
532
kcal
|
Carbohydrates:
48
g
|
Protein:
4
g
|
Fat:
37
g
|
Saturated Fat:
22
g
|
Cholesterol:
141
mg
|
Sodium:
157
mg
|
Potassium:
117
mg
|
Fiber:
0
g
|
Sugar:
39
g
|
Vitamin A:
1085
IU
|
Calcium:
38
mg
|
Iron:
1
mg