Red Velvet Crinkle Cookies
on Nov 04, 2020, Updated Nov 27, 2020
Red velvet crinkle cookies are a favorite cookie in our household. Although we never need an excuse to make them, these red velvet crinkles are perfect for Christmas cookies or a special Valentine dessert.
Even more important, our kids always have fun putting this easy cookie recipe together, making more time for one-on-one time with my favorite mini-mes!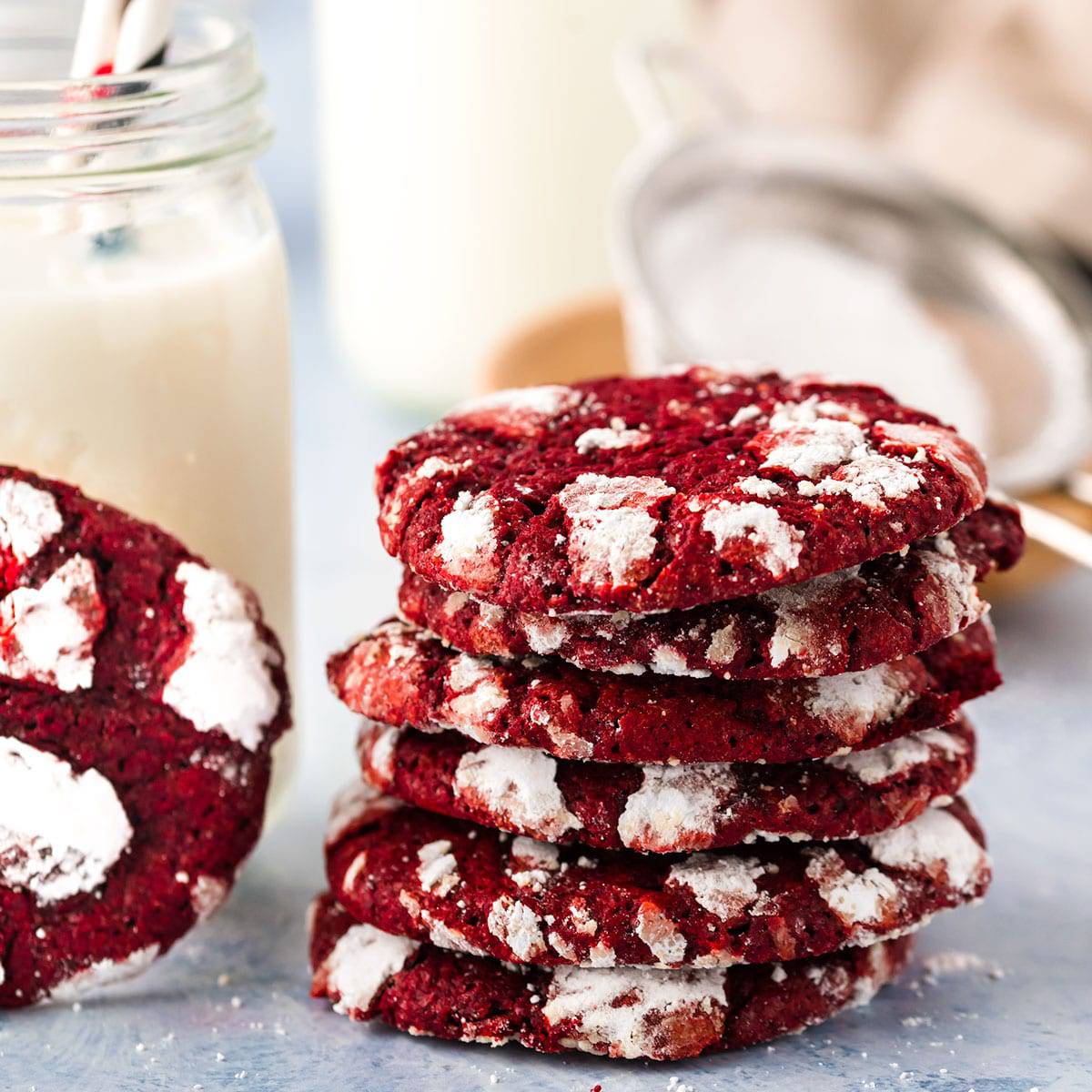 Jump to:
What are these?
Red velvet crinkle cookies are a sweet and chewy cookie with a fudge flavor and a festive red color. Put these in your holiday cookie exchange or bake a batch for your special Valentine. Either way, they are a bright and deliciously chewy cookie!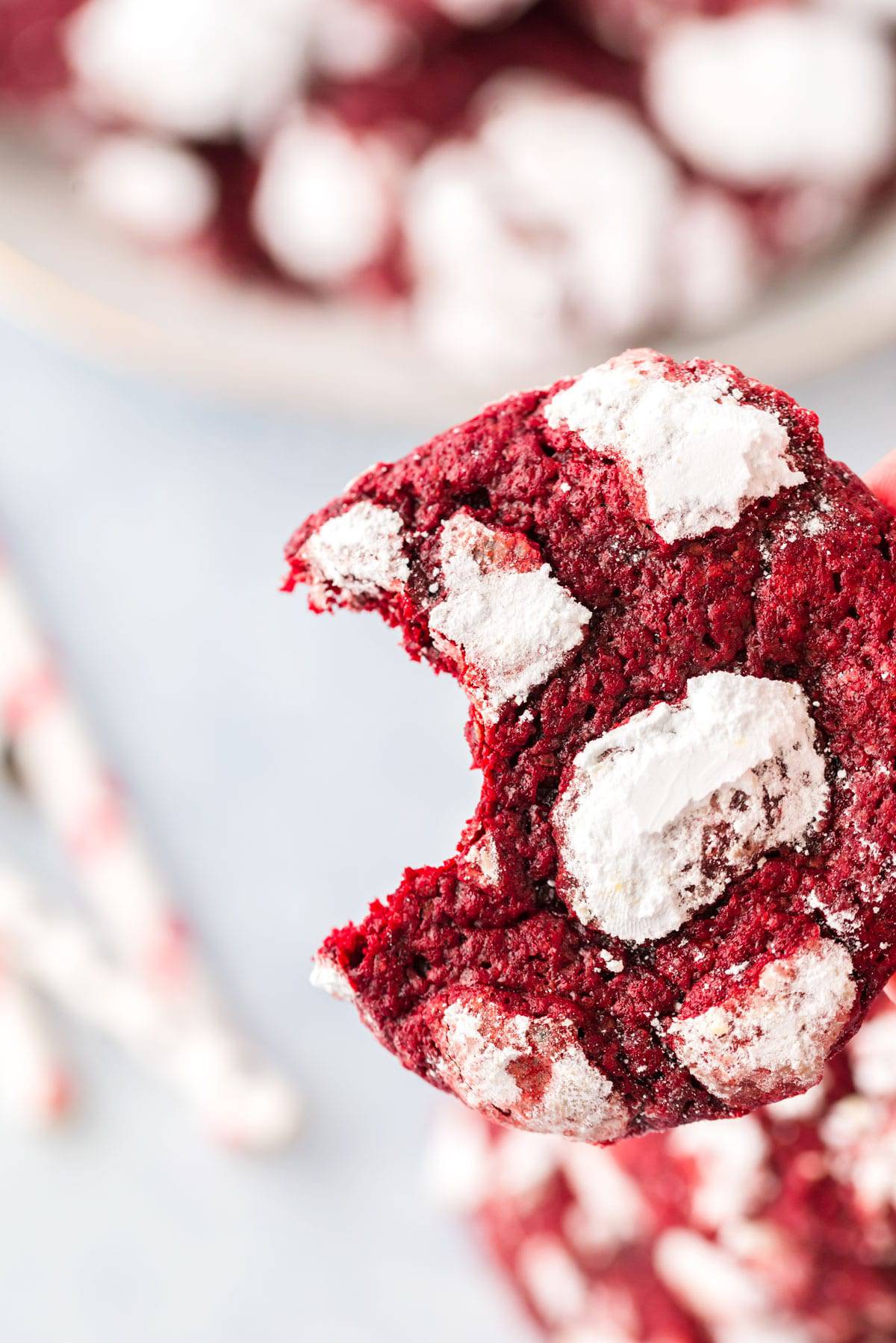 Ingredients you'll need
Another great thing about this red velvet cookies recipe is that you probably have all of the ingredients you need to make them!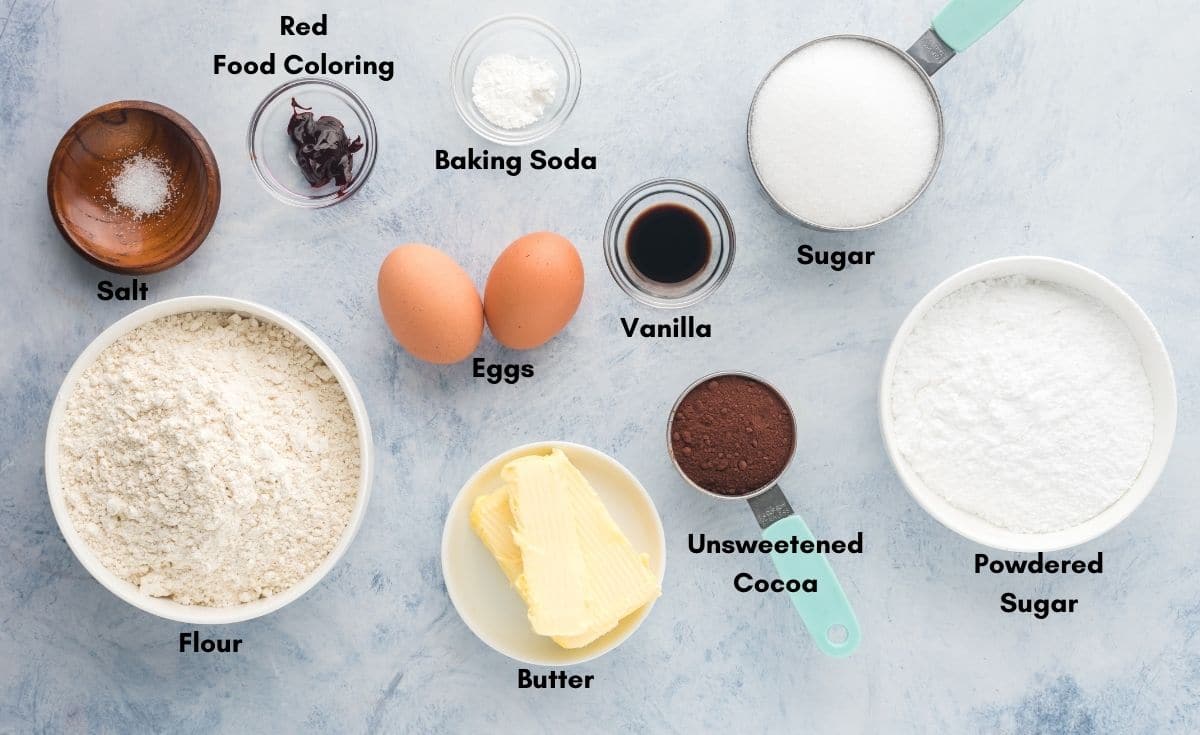 You can easily make cake mix crinkle cookies, but sometimes it's fun to learn how to bake cookies from scratch as well!
How to make these
(Full recipe is at the end of this post.)
To make these red velvet cookies, you begin the same way that most cookie recipes are made.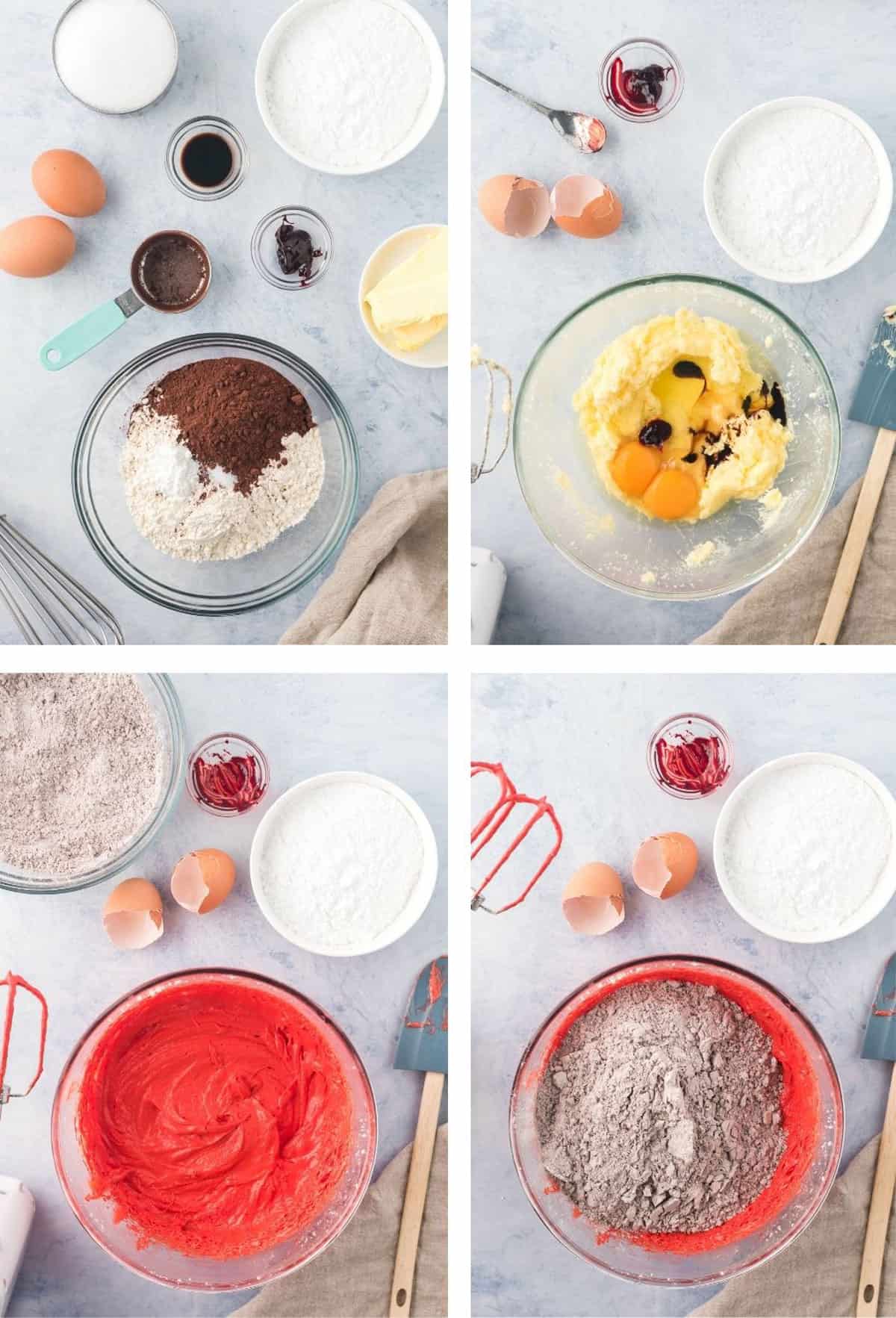 Combine the dry ingredients in one bowl.
Cream the butter and sugar in another bowl.
Mix them together.
Pro Kitchen Tip: Use butter that is softened to room temperature. This makes it much easier to work with and allows it to be mixed more evenly in the cookie dough.
After the dough is completely mixed, you're going to chill it in the refrigerator for 2 to 4 hours. You can even chill it overnight if you want to.
Just make sure it is sealed tightly with a plastic wrap over the the bowl. This will keep the cookie dough from drying out.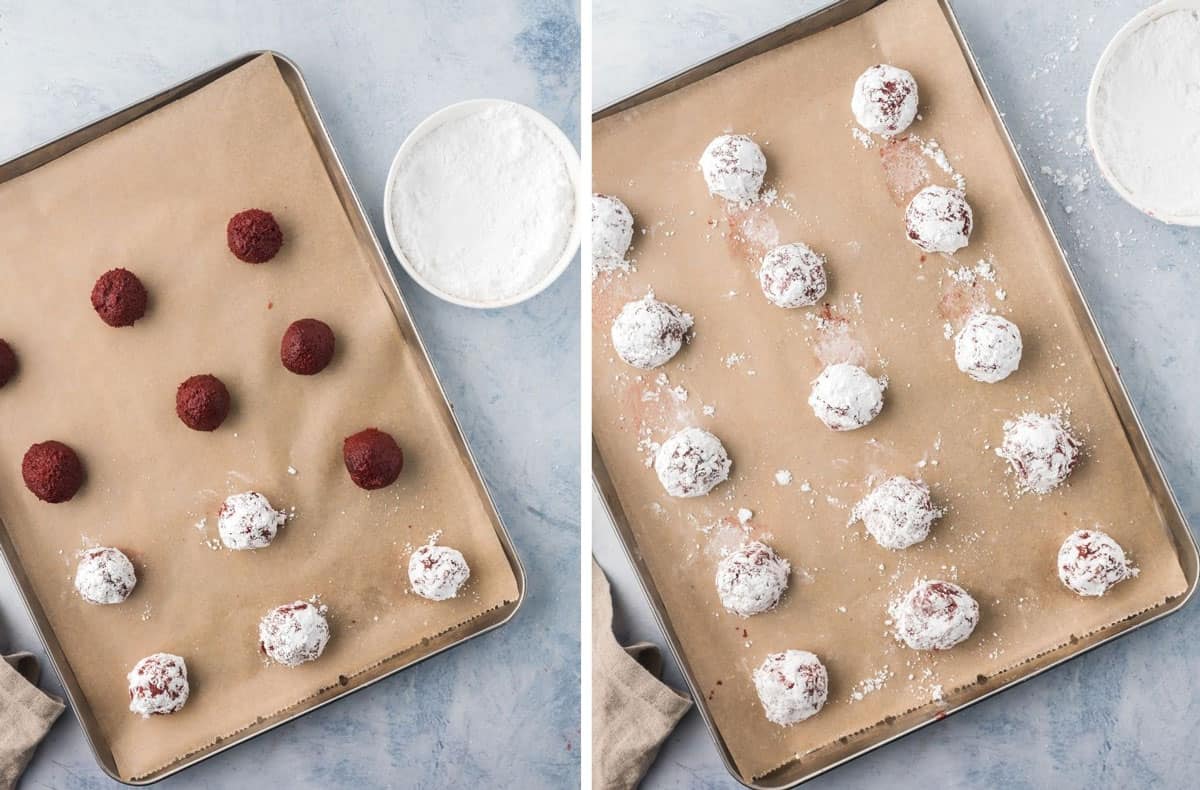 Once the cookie dough is firm enough to work with, you'll roll it into little balls and then cover each one with powdered sugar.
Use a cookie scoop to help measure the dough for each cookie. This will give you a uniform size of each cookie. Then, roll them into 1-inch balls.
Roll each ball into a bowl of sifted powered sugar. I like to use a fine-mesh strainer to sift the powdered sugar. This gives it a fine powdery texture with no lumps.
Place the shaped and powdered cookie dough onto a parchment paper-lined baking sheet.
Bake the cookies at 350° F for 10-12 minutes.
Be sure to keep the unused cookie dough in the refrigerator between batches!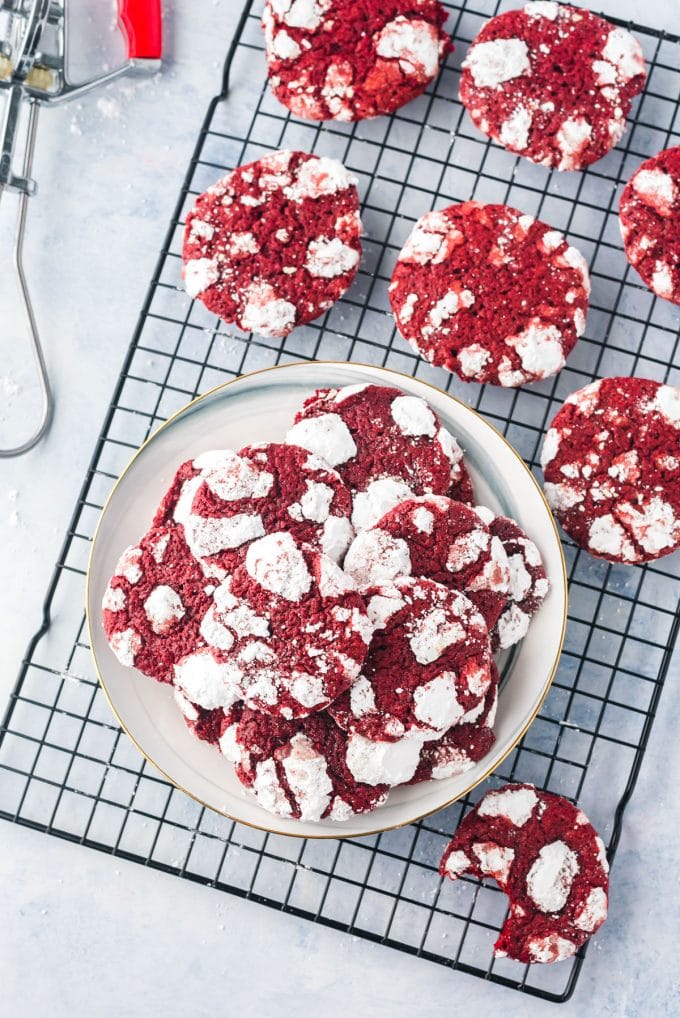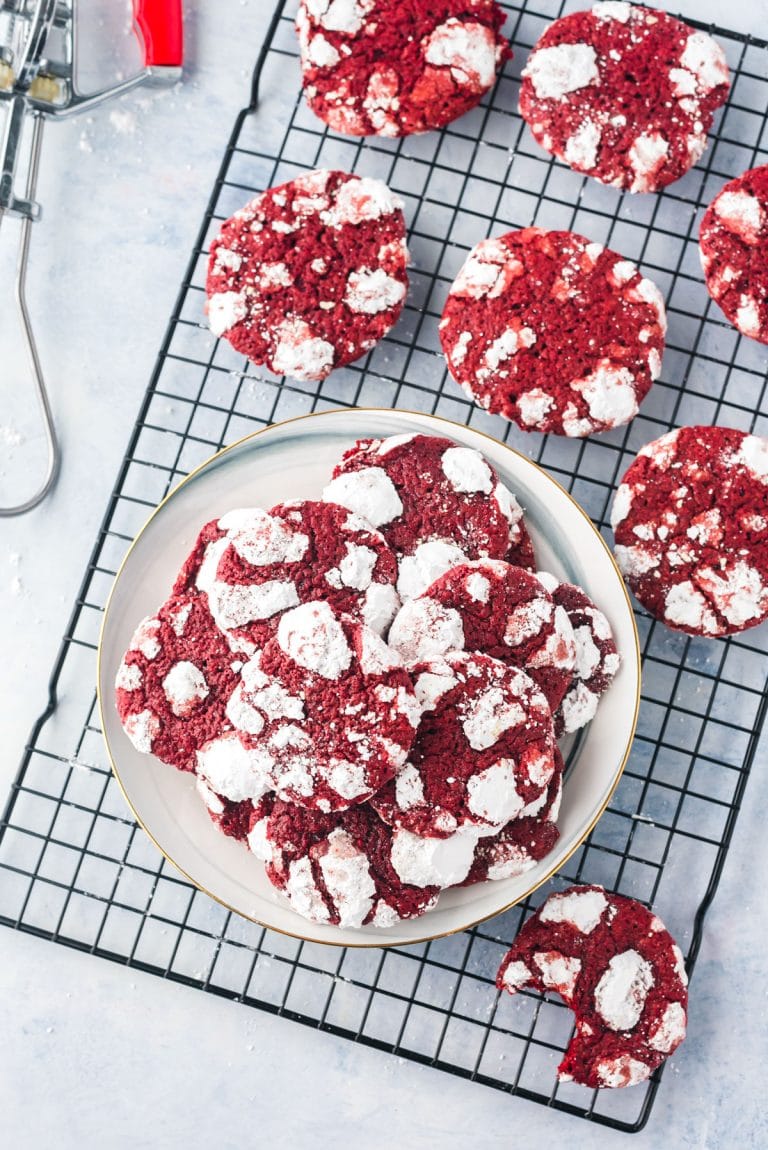 Allow the red crinkles to cool for 5 minutes on the baking sheet, then transfer to a wire rack so they can completely cool.
Baking tips
Roll these in powdered sugar twice. This will give each cookie a thicker coating which won't be dissolved into the dough.
Don't over-bake these cookies! They should be a little gooey when they come out of the oven and will finish baking on the pan.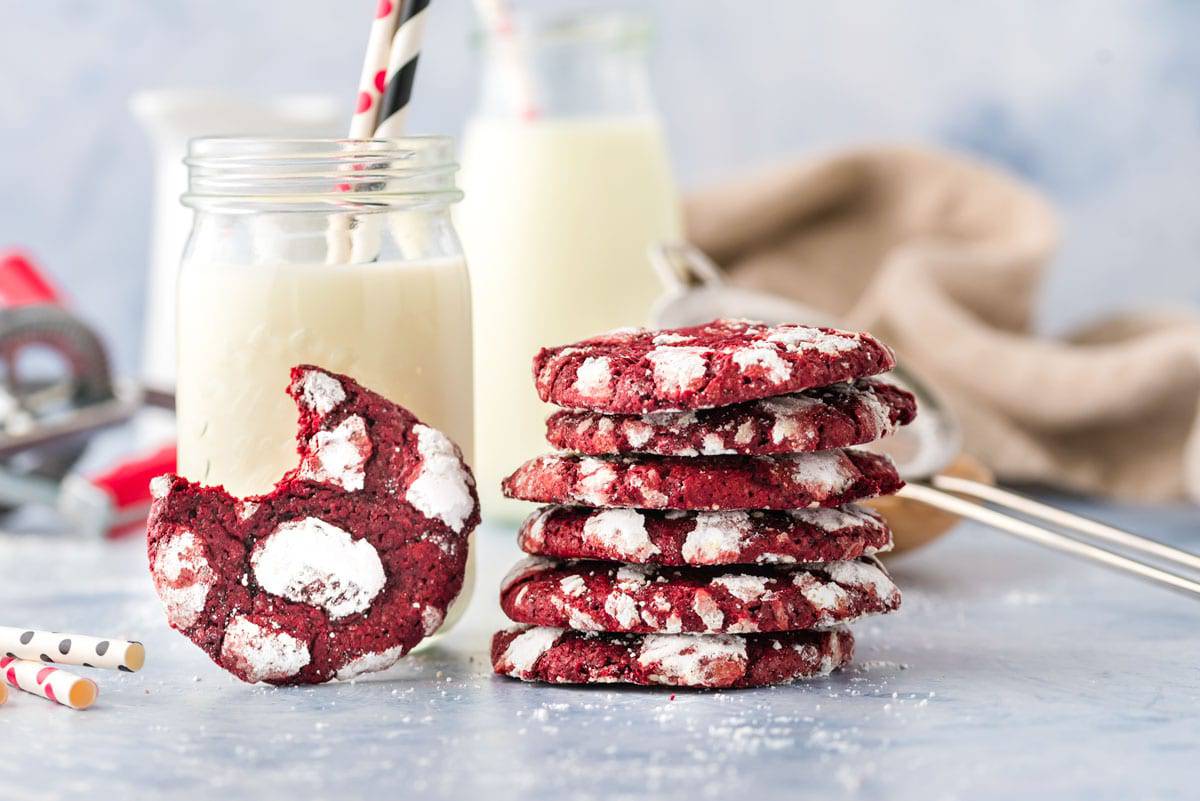 FAQ
How do I store these?
You can store these red velvet crinkle cookies in an air-tight container for up to 5 days.
Variations
For an even more chocolate flavor, add some white chocolate chips to the dough.
Other Similar Recipe for You
Give these red velvet cookies a try and be sure and let us know how you like them. We love hearing from our readers!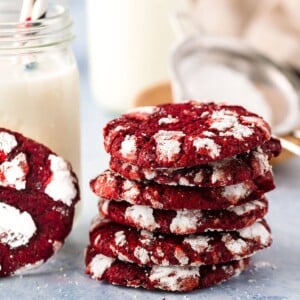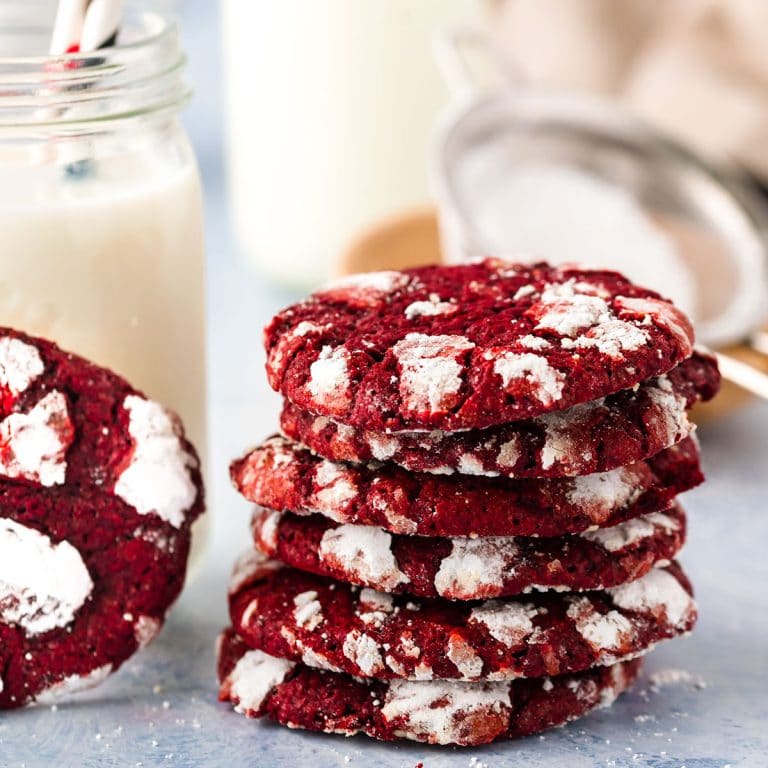 Red Velvet Crinkle Cookies
Easy homemade red velvet cookies. These red crinkles are perfect for your holiday cookie exchange or as a Valentine dessert!
Instructions
Using a large mixing bowl, mix the flour, cocoa powder, baking powder, and salt. Stir until blended thoroughly.

In a large bowl, use an electric mixer to beat the butter and sugar until light and fluffy. Beat in the eggs, vanilla extract, and red food coloring until smooth and completely mixed together.

Use the mixer, on low speed, to add the flour and cocoa mixture to the batter until well blended. Cover the the bowl of cookie batter with plastic wrap and chill for 2 to 4 hours, until very firm.

Preheat the oven to 350 F. Then, line a large baking sheet with parchment paper or spray with nonstick baking spray.

Use a fine-mesh strainer to sift the powdered sugar into a mixing bowl.

Using your hands, roll the dough into small cookie balls, about 1-inch in diameter. Place each ball of dough on the cookie sheet, about 1.5 inches apart. When all of the balls are formed, roll each one into the sifted powdered sugar and return it to its place on the baking sheet. Leave the remaining dough in the refrigerator, to keep chilled, between batches.

Bake the cookies for 10 to 12 minutes, until they have a crinkled appearance. Allow the finished cookies to cool for 4 or 5 minutes before transferring to a cooling rack. Repeat the procedure with the remaining dough.
Notes
Adjust the amount of food coloring a little at a time to get the color that you want. Liquid food coloring is less concentrated than the gel and paste type. So, you may need more or less, depending on what form you are using.
Use a small scoop to measure dough, to keep the cookies uniform in size. Then shape with your hands.
Be sure to keep the cookie dough in the refrigerator, between batches.
Nutrition
Calories:
122
kcal
,
Carbohydrates:
20
g
,
Protein:
2
g
,
Fat:
4
g
,
Saturated Fat:
3
g
,
Cholesterol:
24
mg
,
Sodium:
64
mg
,
Potassium:
39
mg
,
Fiber:
1
g
,
Sugar:
12
g
,
Vitamin A:
138
IU
,
Calcium:
10
mg
,
Iron:
1
mg
Nutrition information is automatically calculated, so should only be used as an approximation.