101 Best Christmas Cookie Recipes for 2023
on Oct 15, 2021, Updated Sep 27, 2023
The holiday cookie season is fast approaching. Forget that batch of chocolate chip cookies you thought about making, Santa is going to be hungry.
Today I'm sharing this list of the best Christmas cookies to fill your holiday cookie tray. Put your favorite Christmas music on, roll up your sleeves and grab a mug of hot chocolate. It's time to make some treats that scream, "Merry Christmas!"
What you'll need
It's the time of year when we all start thinking about one of my favorite things, holiday baking. A little planning will go a long way, especially if this is your first time making Christmas cookies.
It's a good idea to take a minute and see what you have on hand and what you need to pick up at the store. Planning your baking strategy and the right recipe will help you make the perfect holiday cookie.
Our professional in-house even shows you how to make cookies for beginners. Be sure to see Chef Kat's informative post.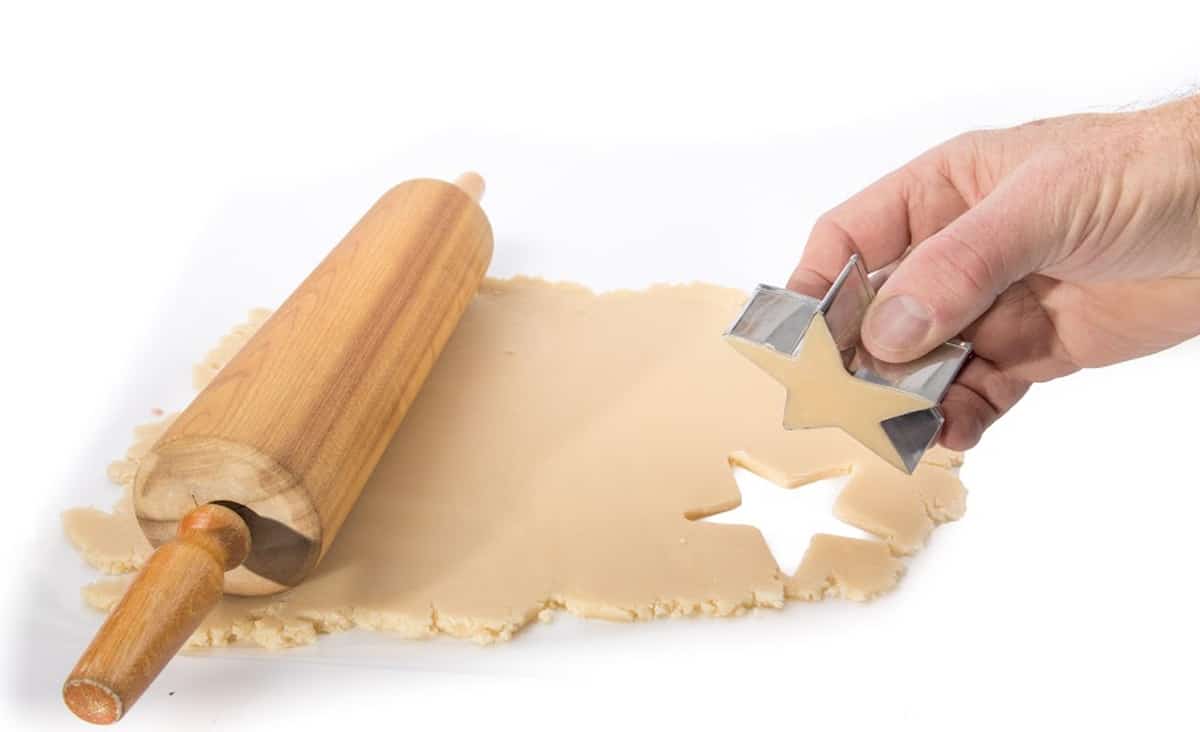 Each cookie recipe is different, but many of them will use some or all of the same basic baking ingredients and kitchen tools. Below is a short list of things to help you get started with your holiday baking adventures with 101 easy recipes that you will love.
Cookie Cutters – From reindeer to gingerbread men, there are many different types to choose from when making Christmas treats.
Baking Sheet – It's always good to have a couple of these ready to load up with cookie dough. Pro Kitchen Tip: Line them with parchment paper or a silicone baking mat to make clean-up easier.
Cookie Platters – You may want a few of these for serving or wrapping up to give as gifts. You can buy inexpensive holiday-theme platters at many stores like dollar general, Walmart, and even some grocery stores.
Cookie Tin – You'll want some of these so you can giveaways some of your Christmas cookies. Christmas-themed tins come in all shapes and sizes. I love the ones from Dollar General.
Candy Canes – Usually, if a recipe calls for these, you'll want to have the smaller, mini-candy canes. They make fun garnishes and tree ornaments if you have any leftovers!
We asked dozens of our best foodie friends to come up with their best Christmas cookie recipes, and this is what they gave us.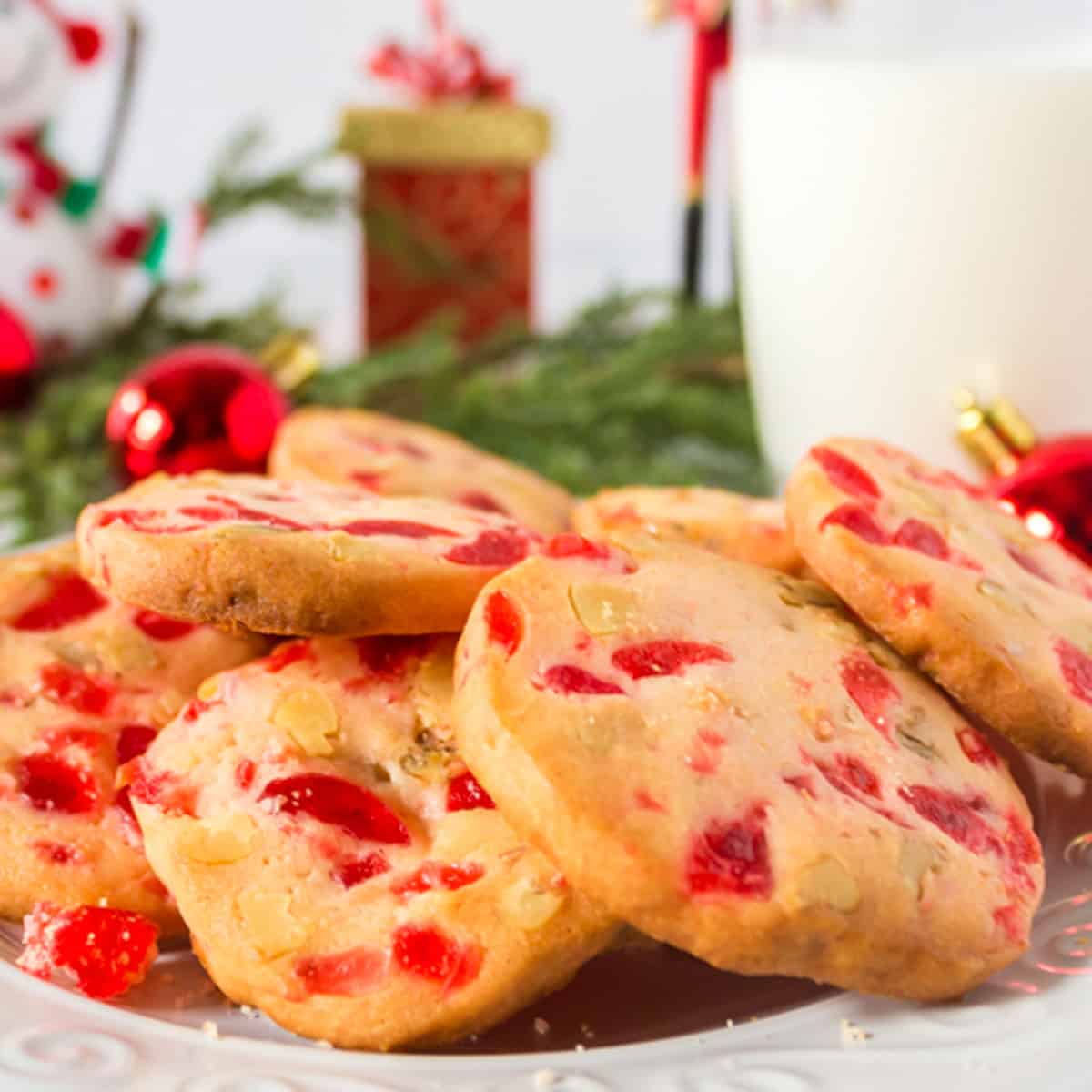 My grandmother used to make these every year. Then my mom made them and now I make them with our kids. It's no wonder this is one of my favorite Christmas recipes.
You'll need some candied cherries for these refrigerator cookies, which take just over an hour to make, including the chilling time.
This is one of our readers' favorite recipes as well.
---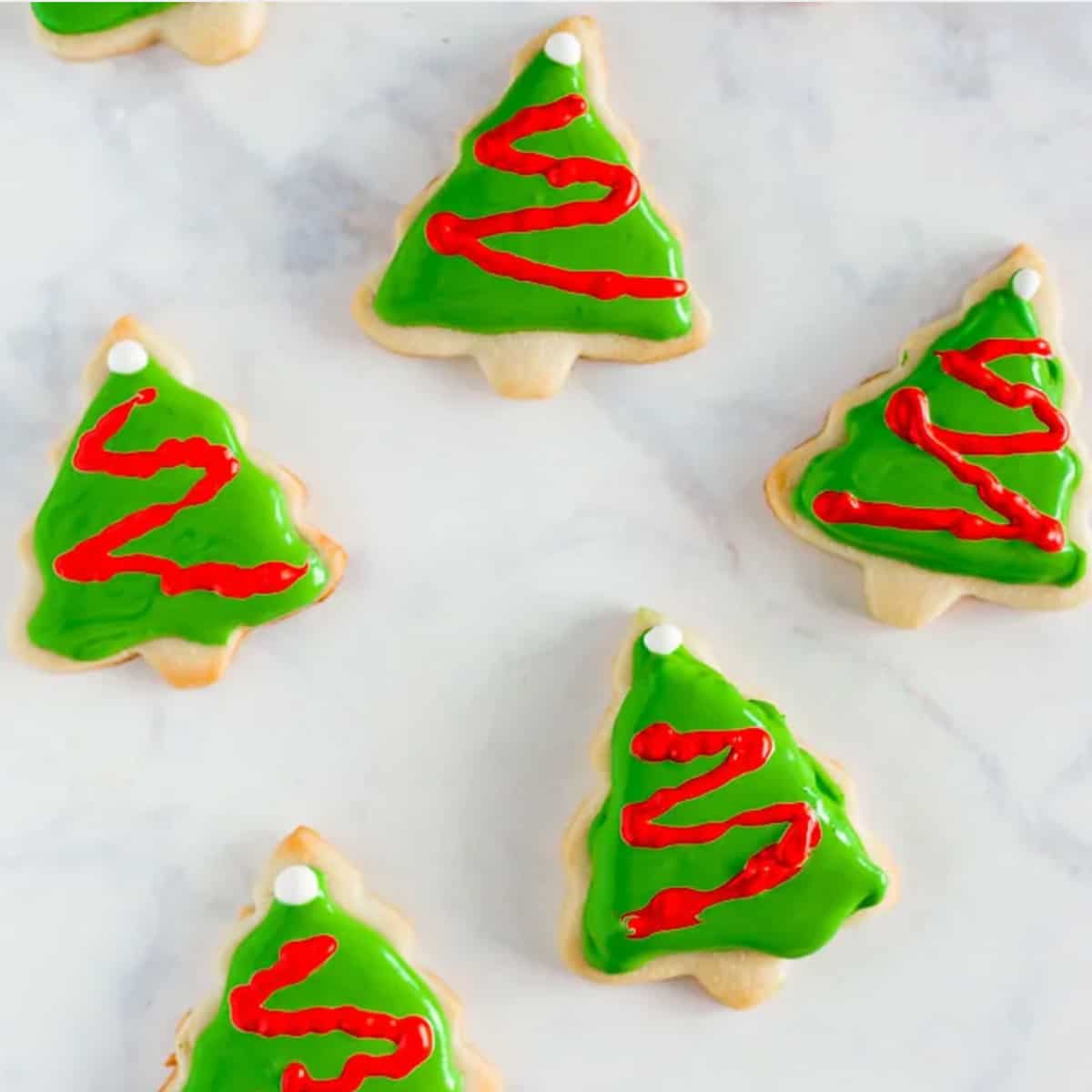 This guide will show you that decorated treats are much easier than you think. Plus, there's a video to help with your decorating. Be sure to add these to this year's Christmas desserts.
---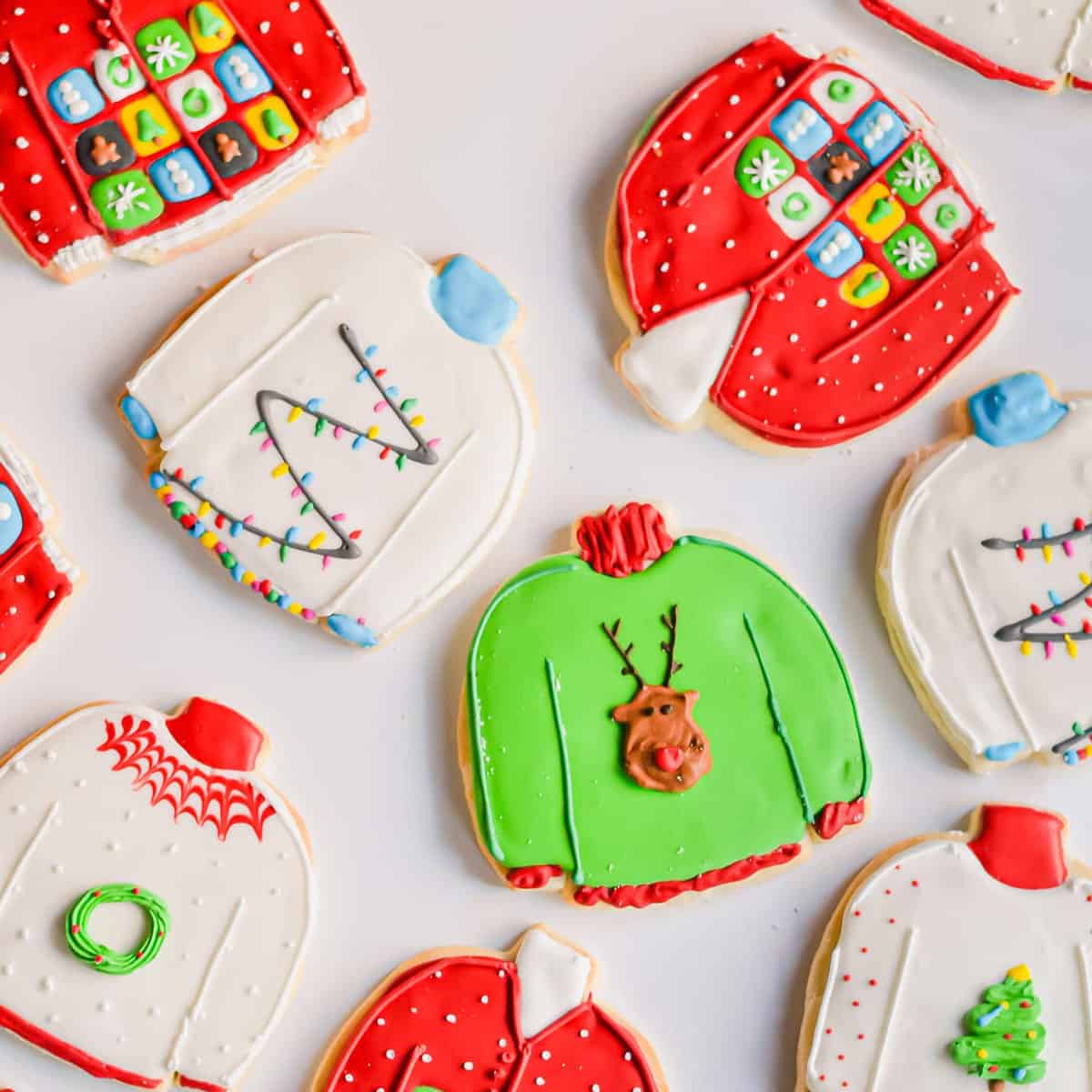 These gluten-free treats are so fun for the holidays! Whether you are having a Christmas party or gifting them to your neighbor, these are perfect for you!
---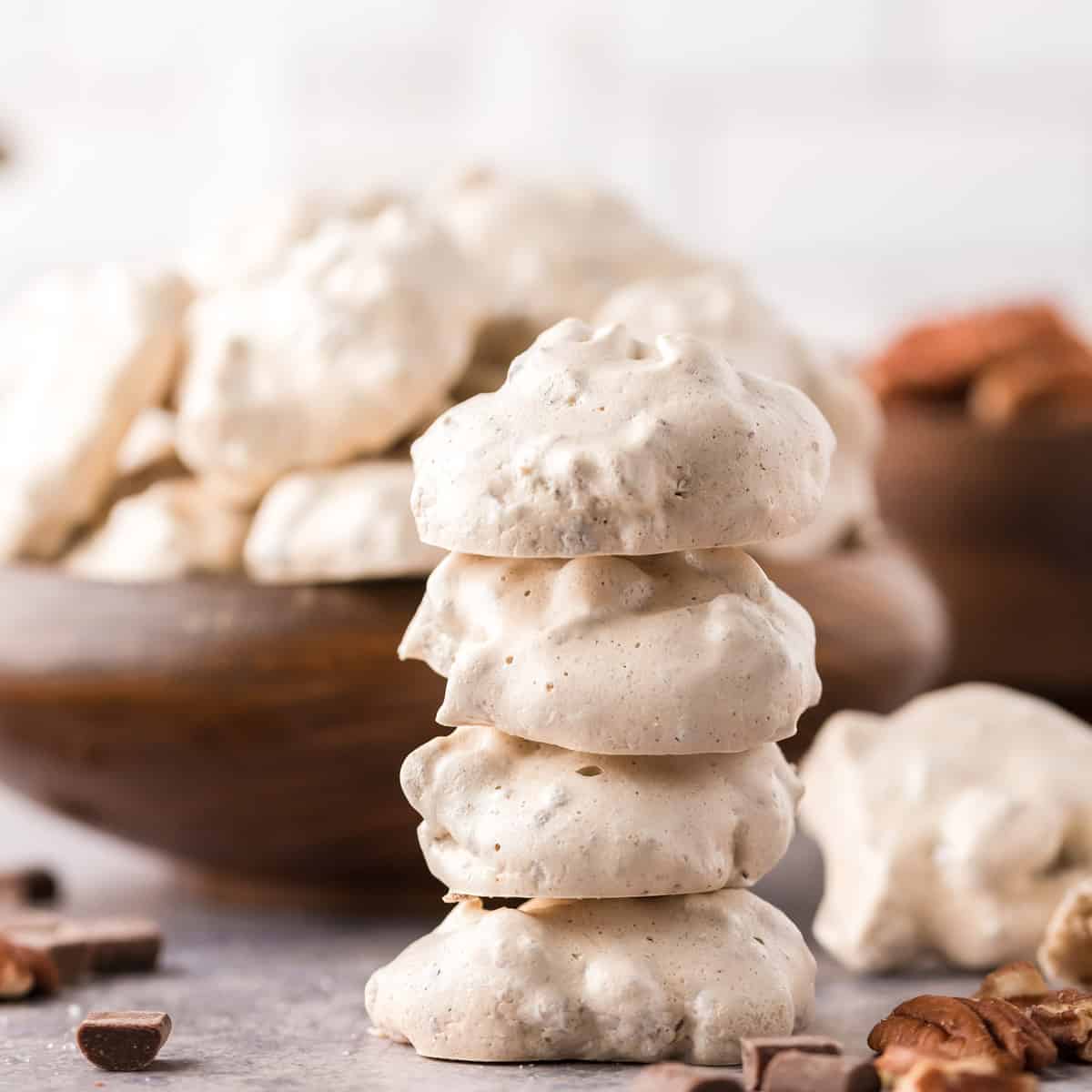 This easy cookie recipe for egg white cookies will give you a smooth holiday treat with a sweet fluffy center. This is the perfect way to use any leftover egg whites from your holiday recipes!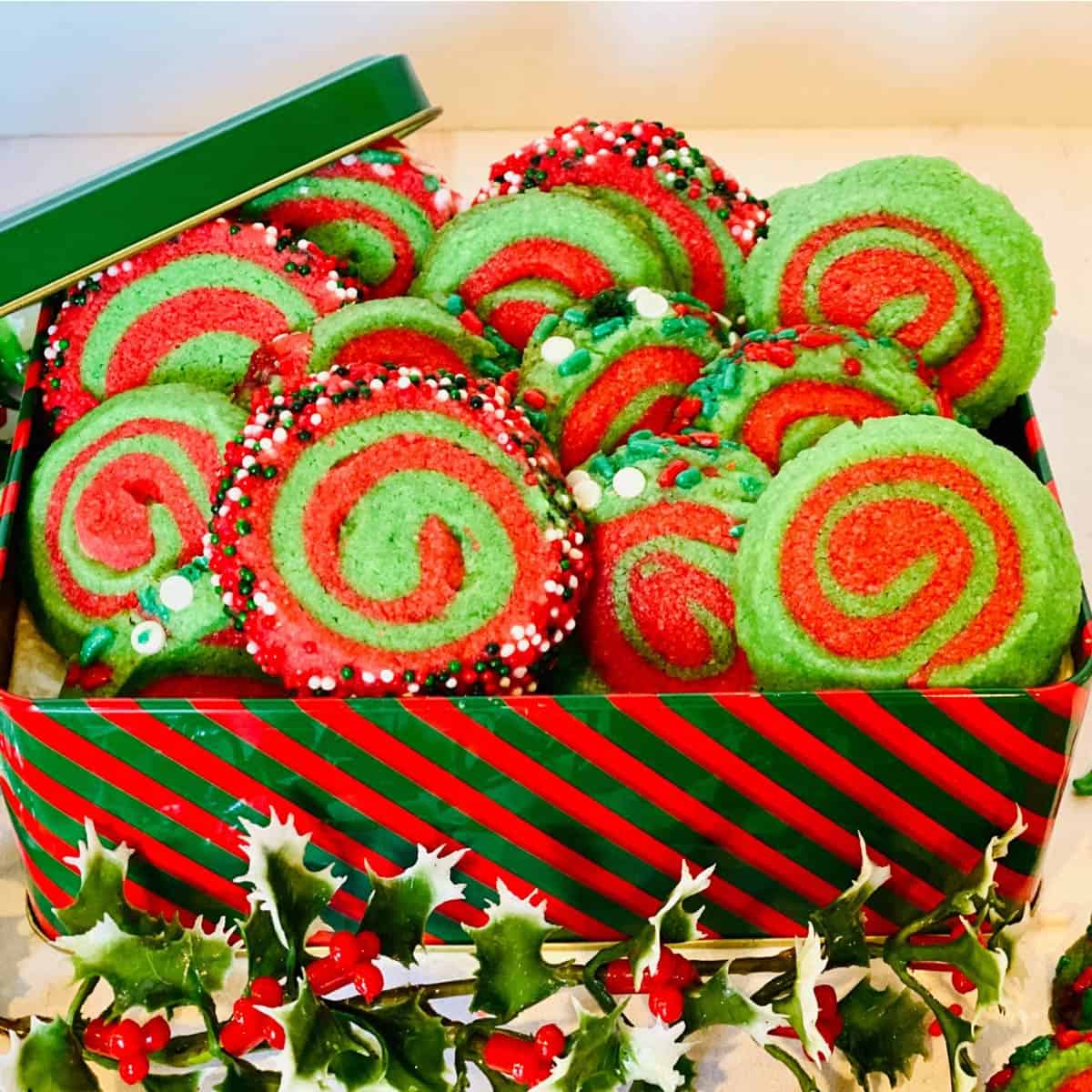 These pinwheels are so much fun to make for the holidays! Just tint a homemade sugar cookie dough with holiday colors, roll, slice, and bake. They year, say Merry Christmas with a big batch of these!
---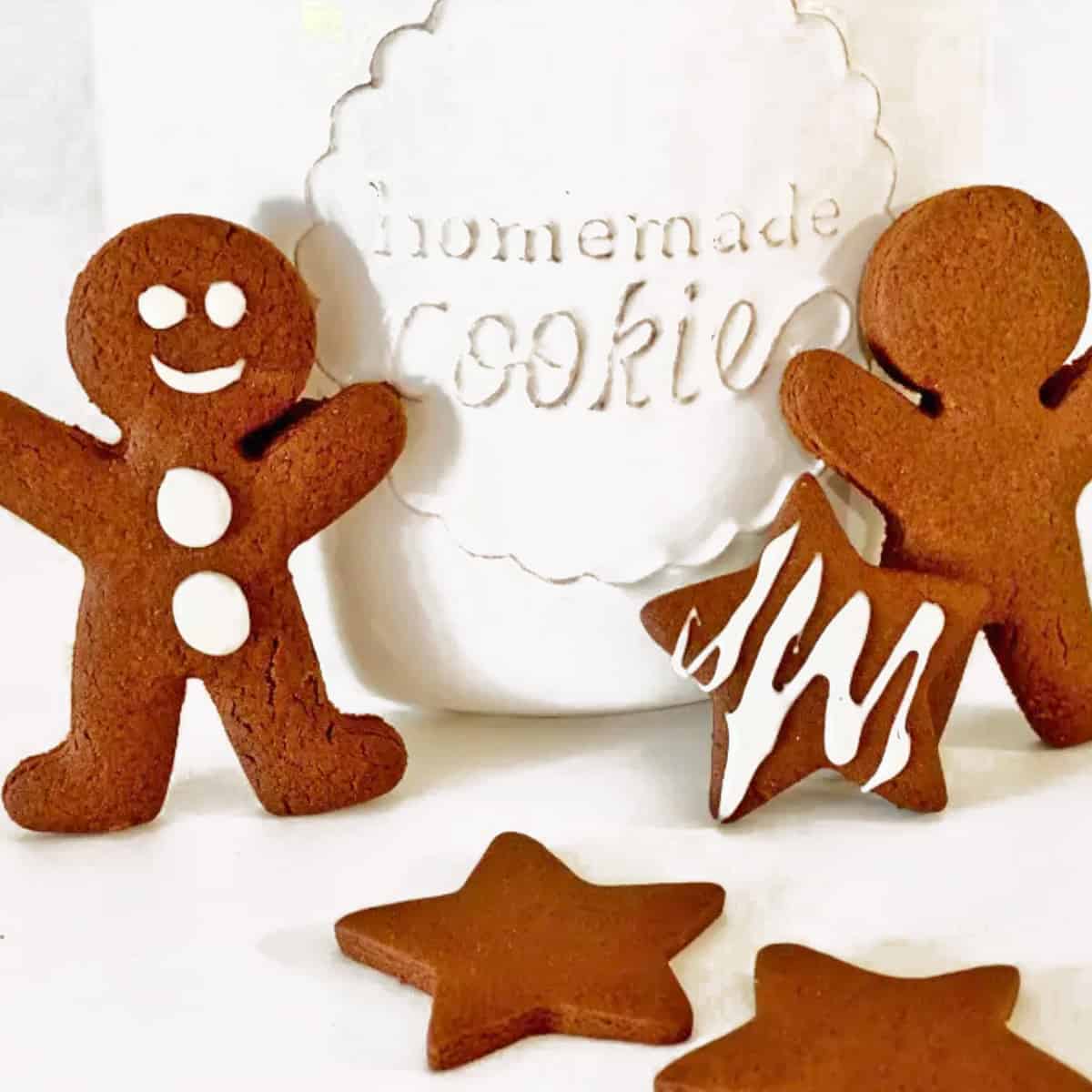 For a great Christmas combination of flavors, make this easy gingerbread cookie dough. This homemade recipe is chewy, crisp, spiced, chocolatey, and rich, all in one cute and tasty treat.
---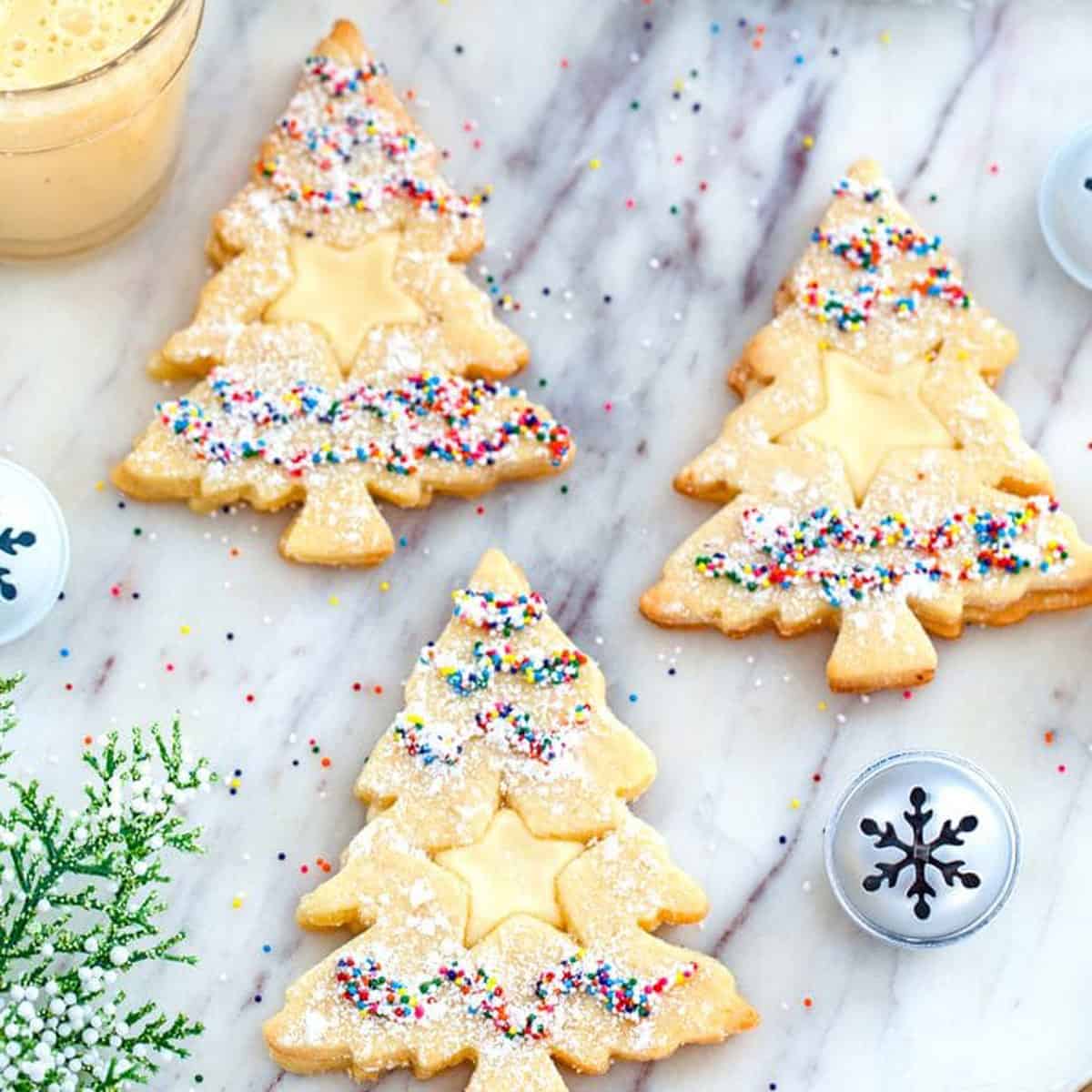 These eggnog linzers will be the hit of the holiday cookie platter! With delicious eggnog icing sandwiched in the center, these make delightful holiday gifts that anyone will love.
---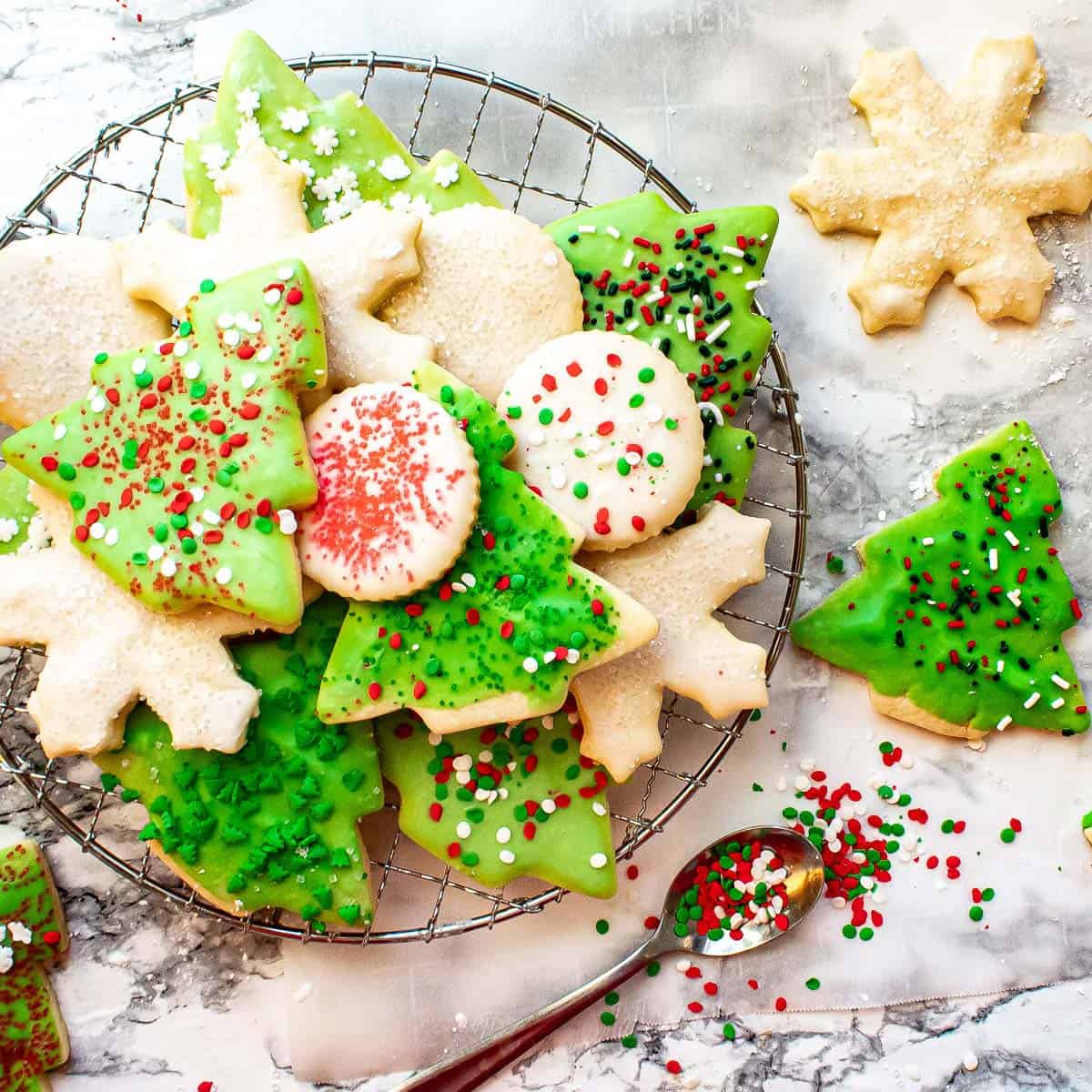 These classic cut-out sugar cookies are perfect for your holiday baking tradition! They're a no-chill, no-spread recipe with perfect edges and delicious flavor. You'll find these in any list of classic cookie recipes; make them this year.
---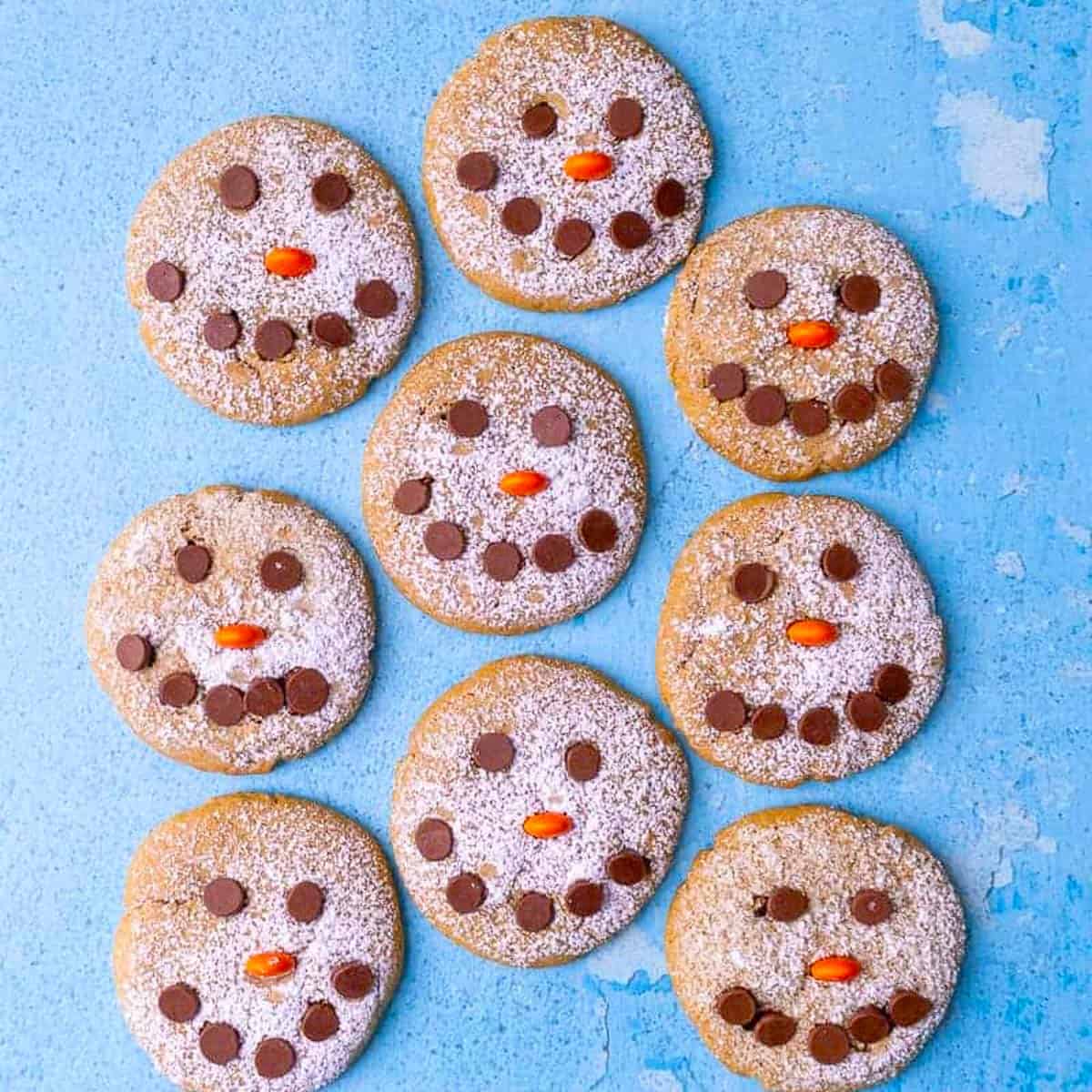 Fun and simple peanut butter treats decorated to look like snowmen. An easy recipe for kids and adults, these are perfect for any holiday party.
---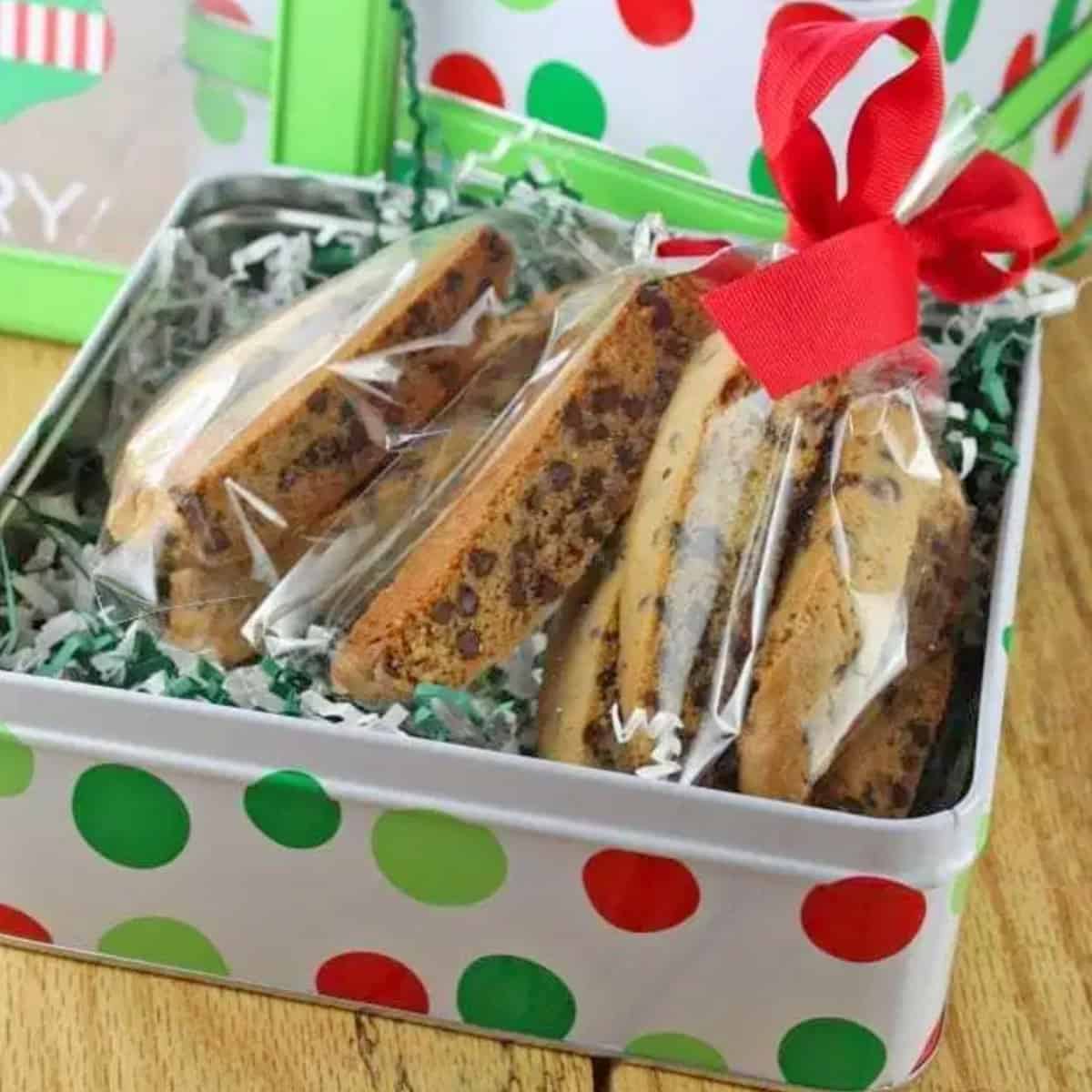 Chocolate Chip Biscotti is a holiday favorite. Great to make ahead and perfect for dunking in your morning coffee!
---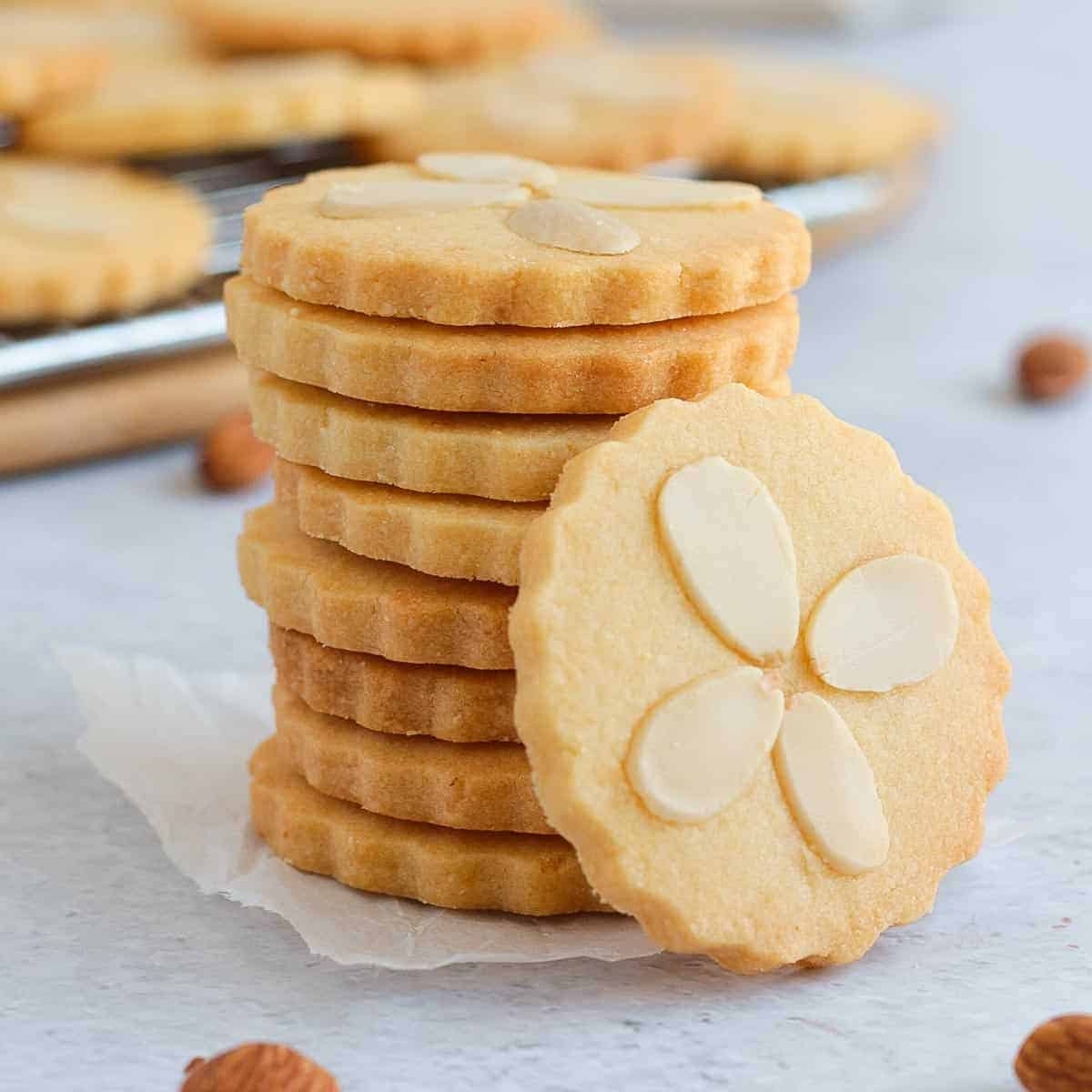 Rich, buttery, crumbly… that's everything you want from a delicious Christmas cookie recipe. Now add a delicious Almond flavor to these cookies and you've got yourself a winner!
---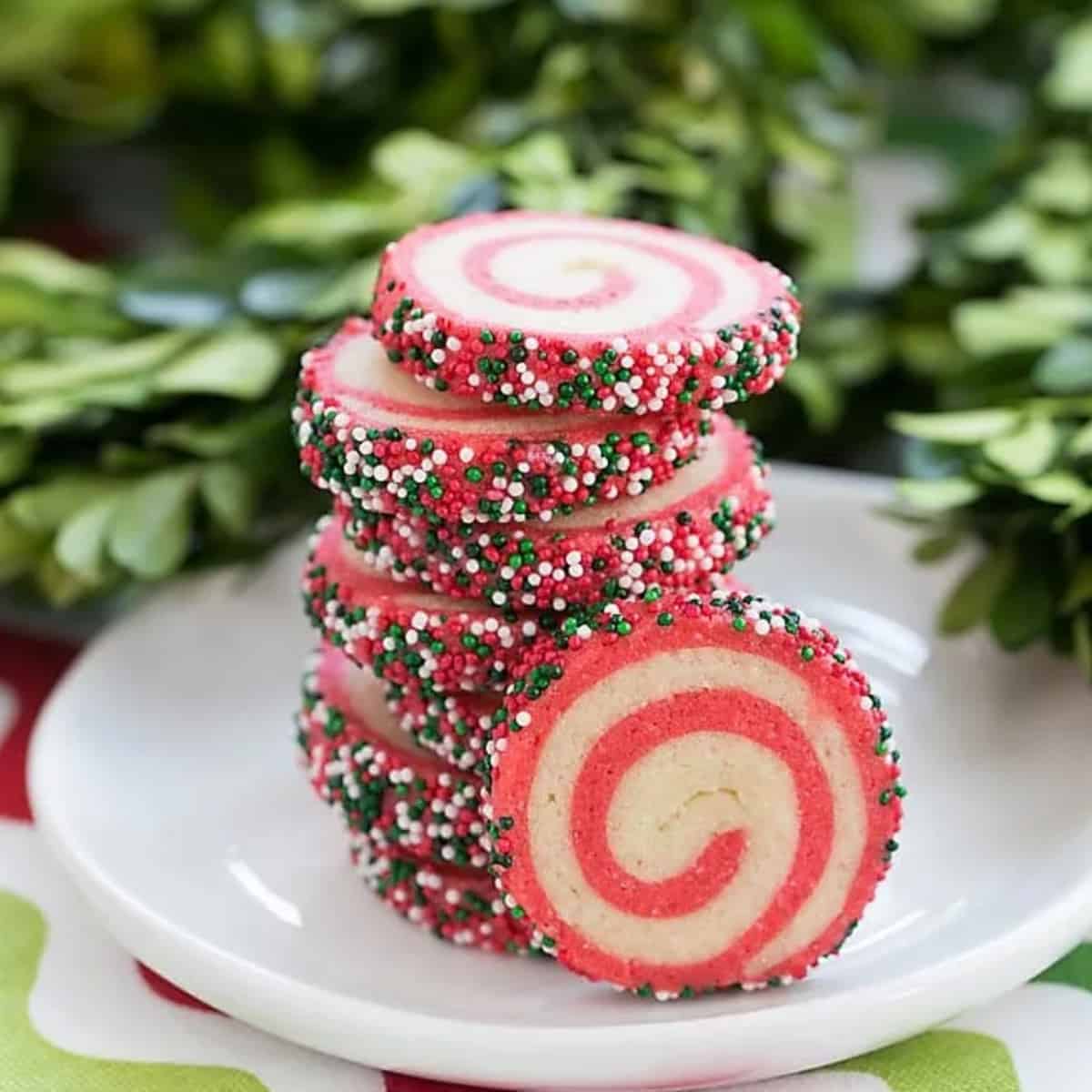 Make these festive cookies that scream Christmas with their red and white spirals and holiday sprinkles!
---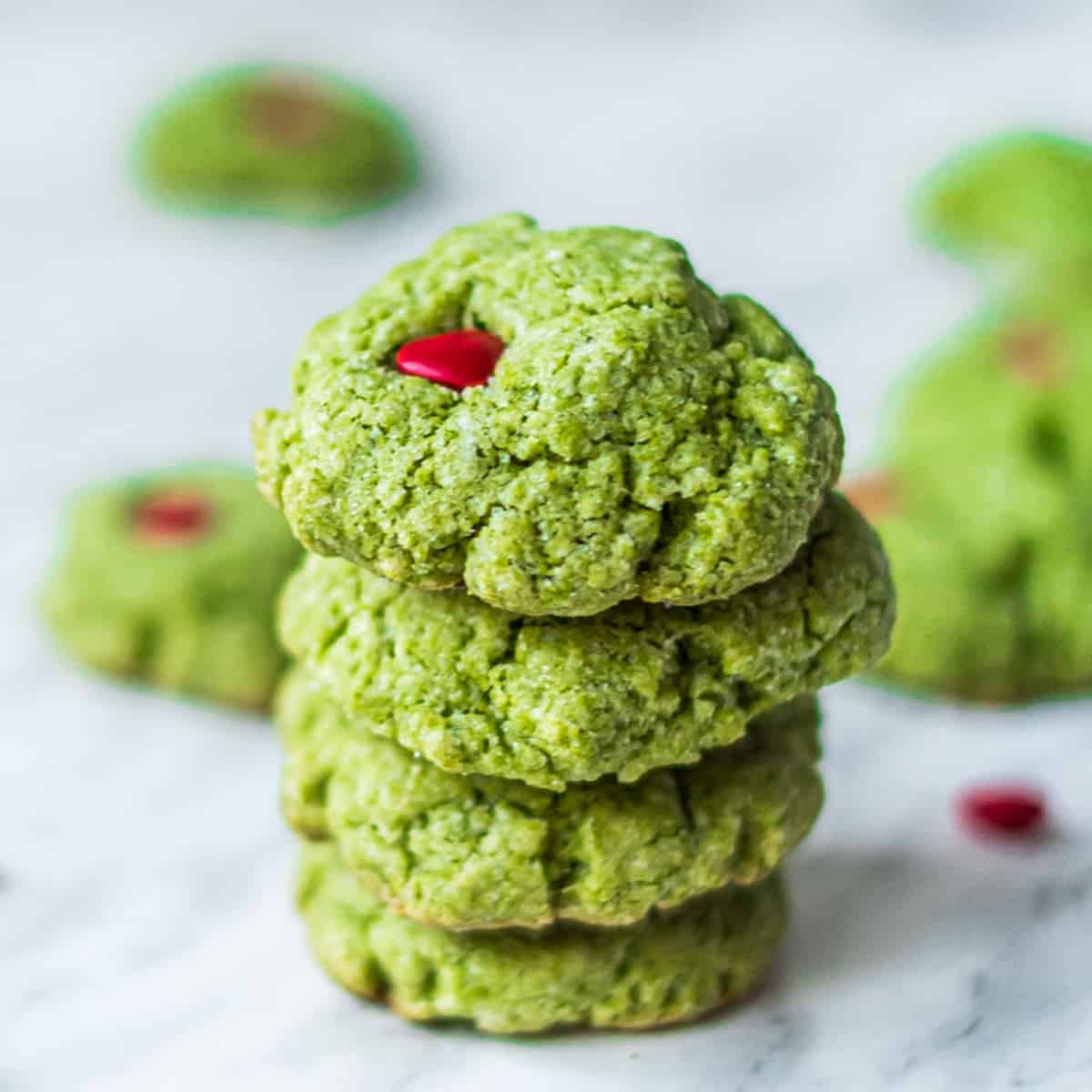 If you are looking for a fun way to get into the festive Christmas spirit, then making these fun and chewy cookies is definitely the place to start!
---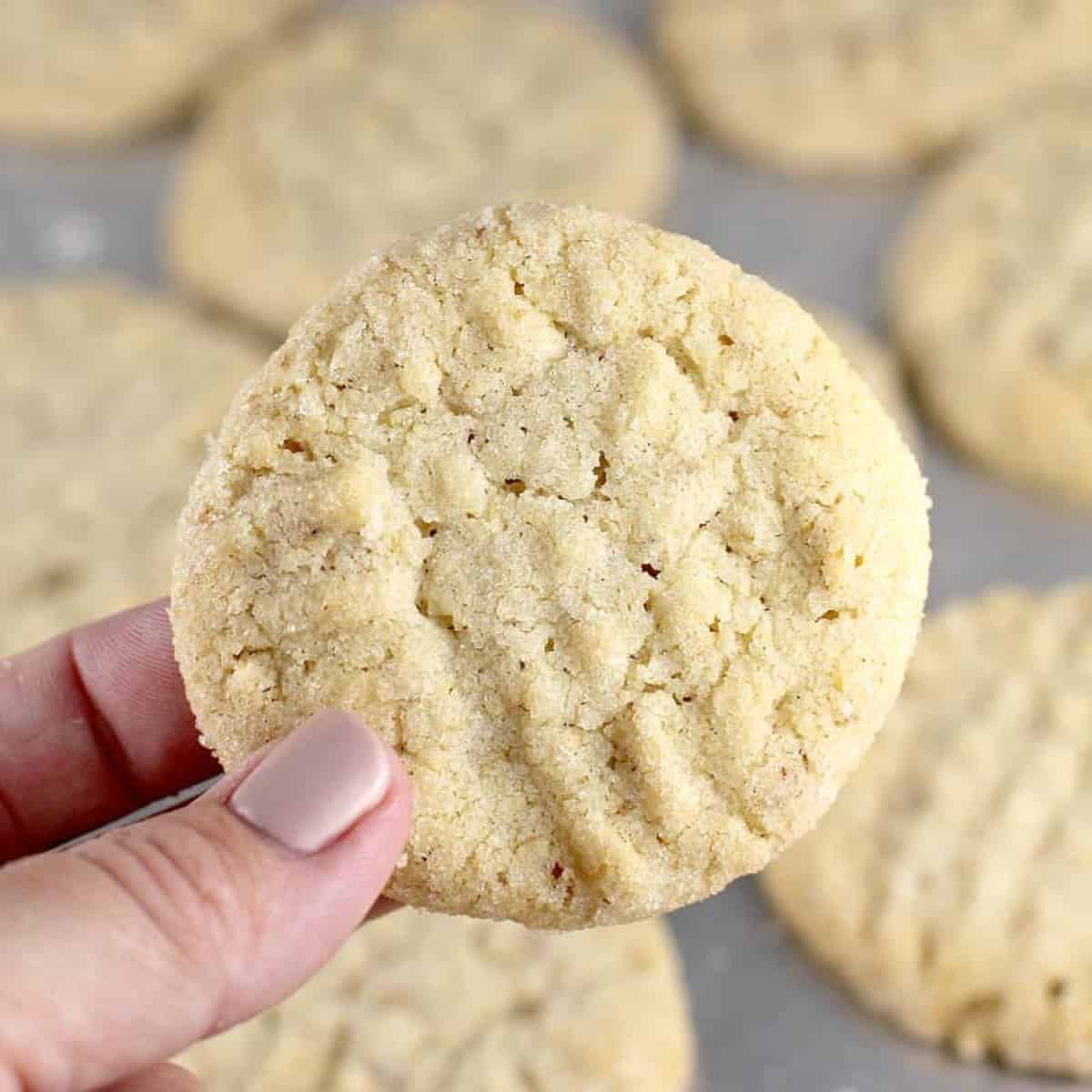 This is a simple and sweet holiday dessert. The soft, beautiful crunch from potato chips and walnuts helps bring them to a holiday perfection.
---
This recipe takes classic snowball desserts up a notch with the addition of red and green M&M candies. Everyone who bites into the snowballs will love the little chocolate surprise! It's no wonder these are among holiday favorites in many households!
---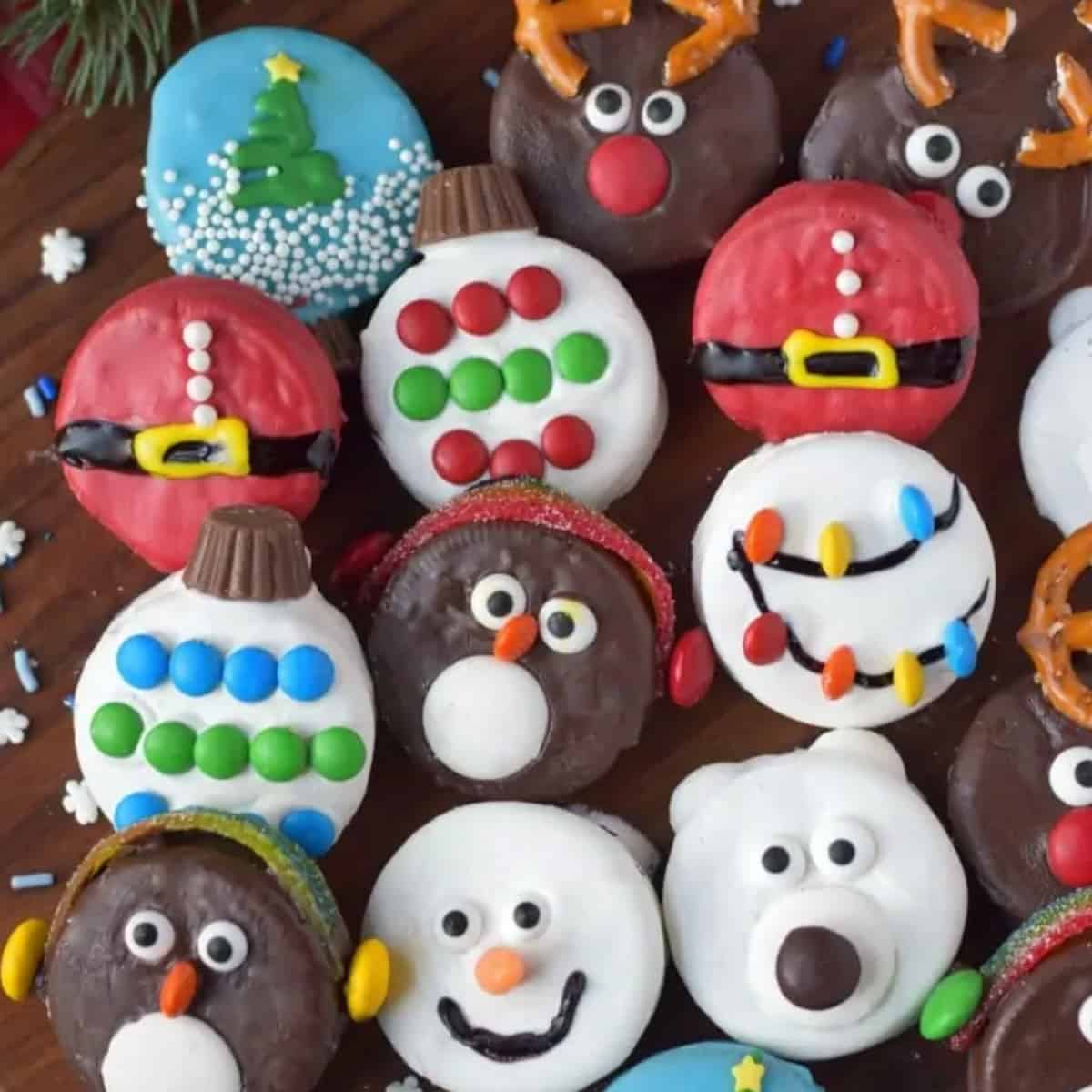 These fun Christmas Oreo dipped desserts are always a huge hit for any cookie exchanges or leaving out for Santa!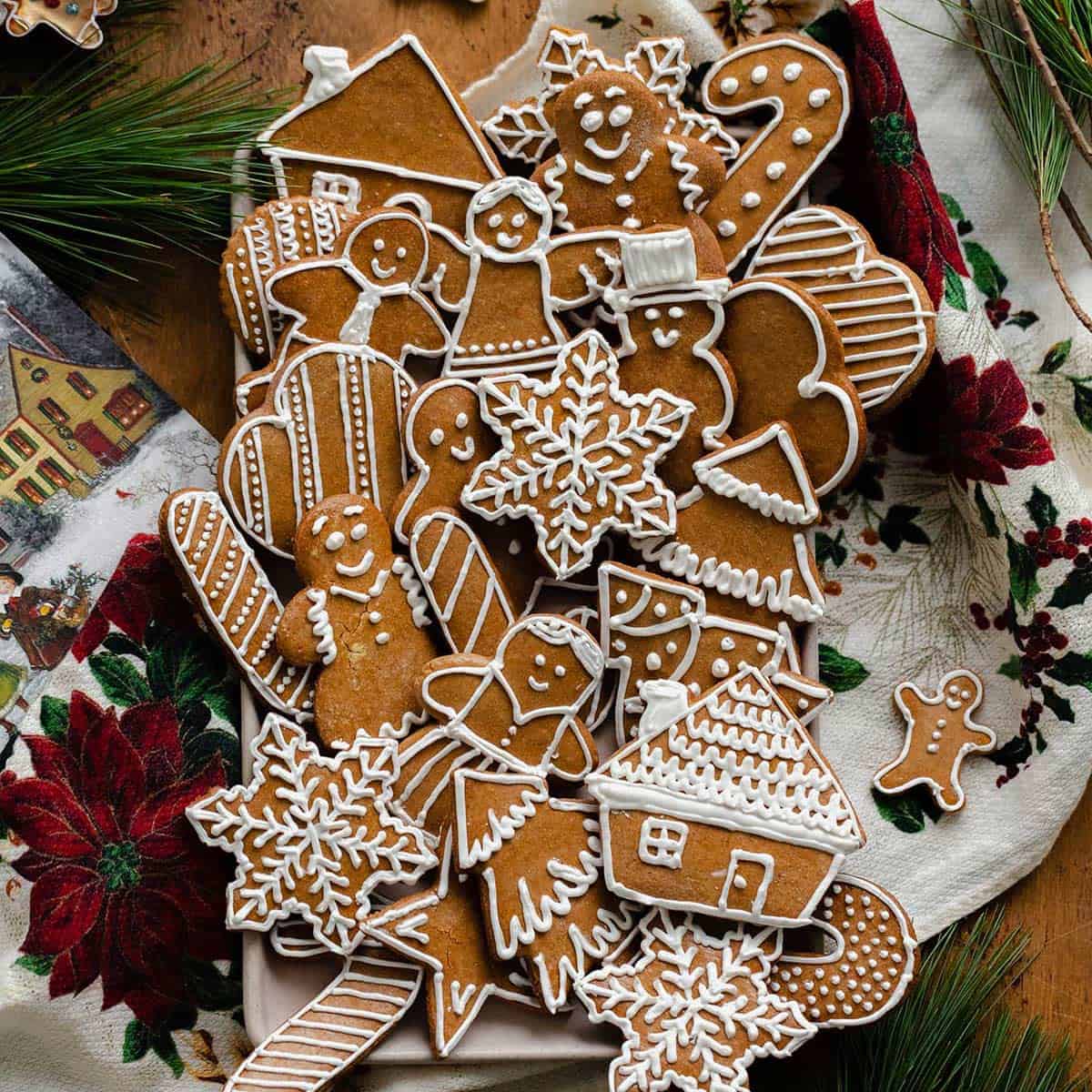 These gluten-free Czech gingerbread treats are honestly my all-time favorite. They're very different from your usual American gingerbread and a fun dessert to make if you want to try something new.
Sweetened with honey and full of a lot of warming winter spices, they're dairy-free, gluten-free, and can be made refined sugar-free too!
---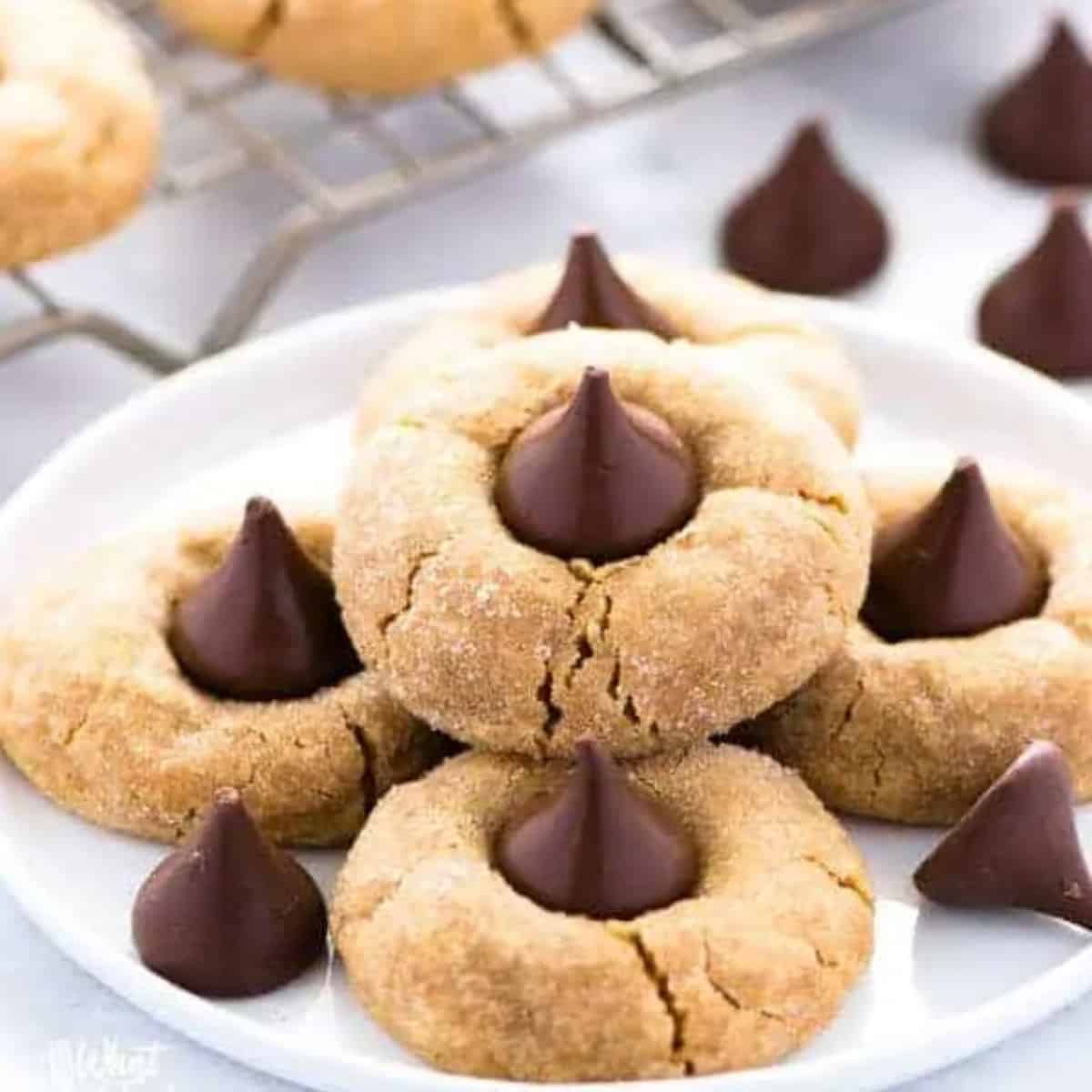 These classic Gluten Free Peanut Butter Blossoms are soft peanut butter gluten free cookies topped with a Hershey's kiss. Peanut butter and chocolate, so deliciously perfect.
---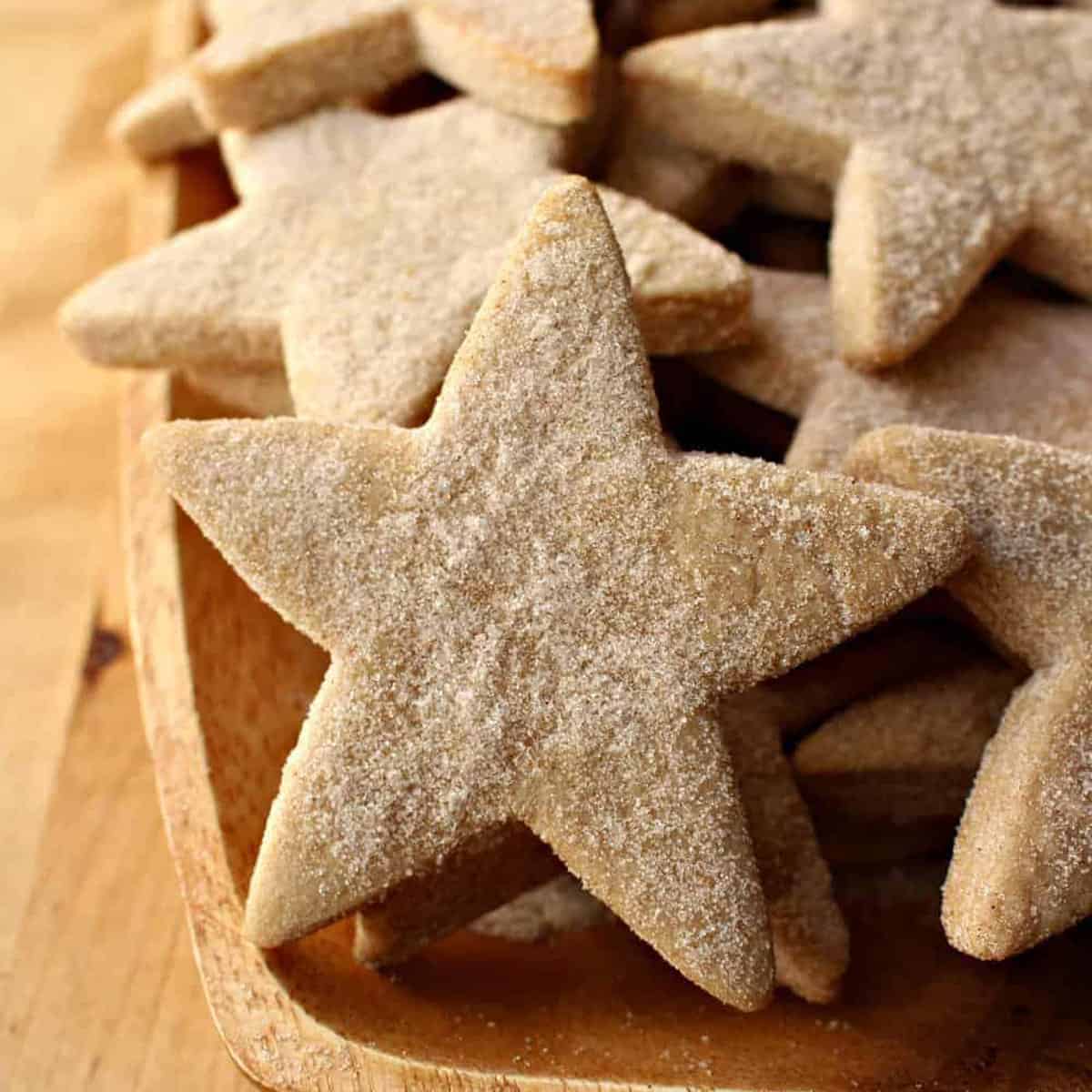 Hojarascas are yummy Mexican shortbread treats that are traditionally made during the holidays. They are melt-in-your-mouth soft and delicious.
---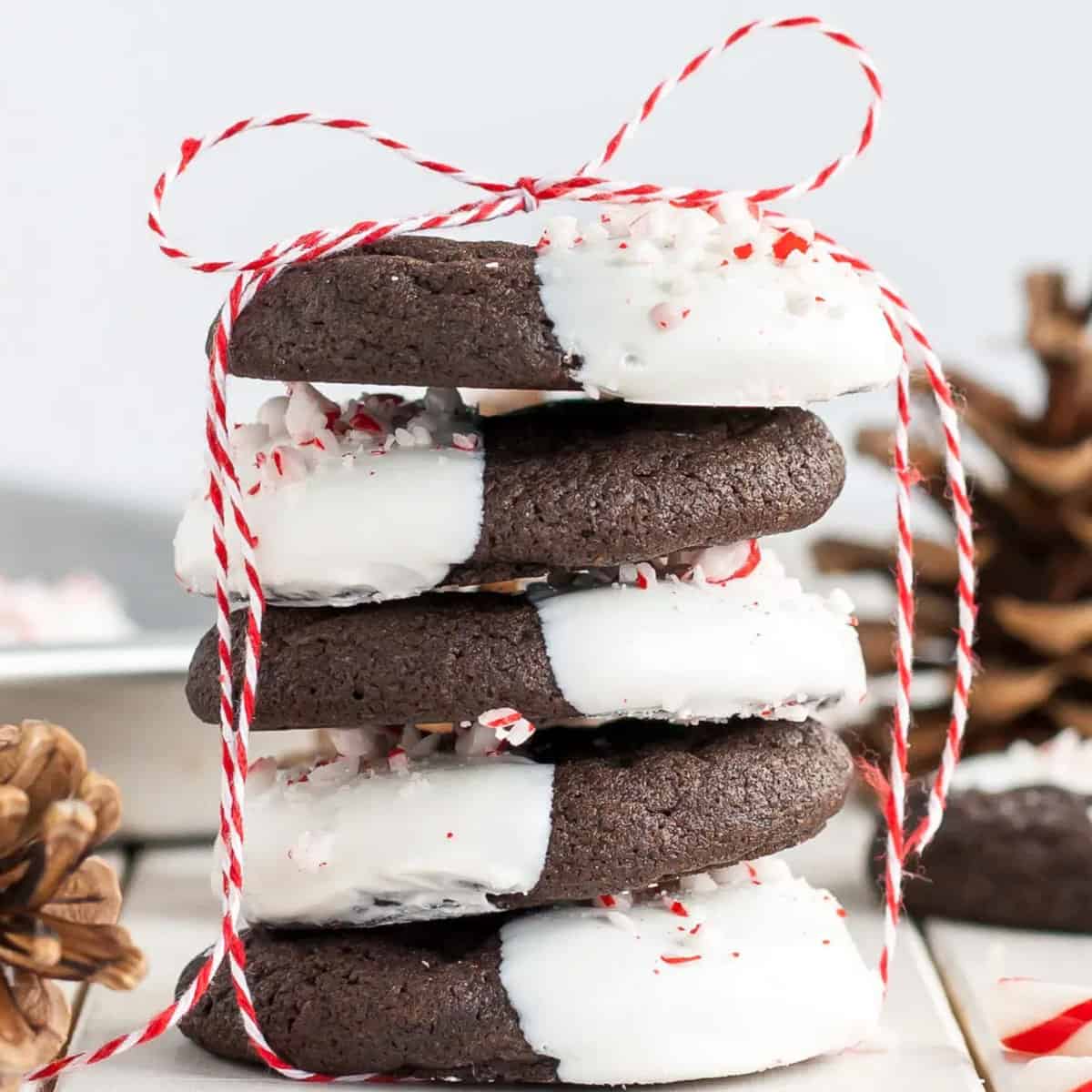 The classic combination of chocolate and peppermint make these are the perfect treat for the holidays! Featuring dark chocolate cookies dipped in white chocolate and sprinkled with crushed candy canes.
---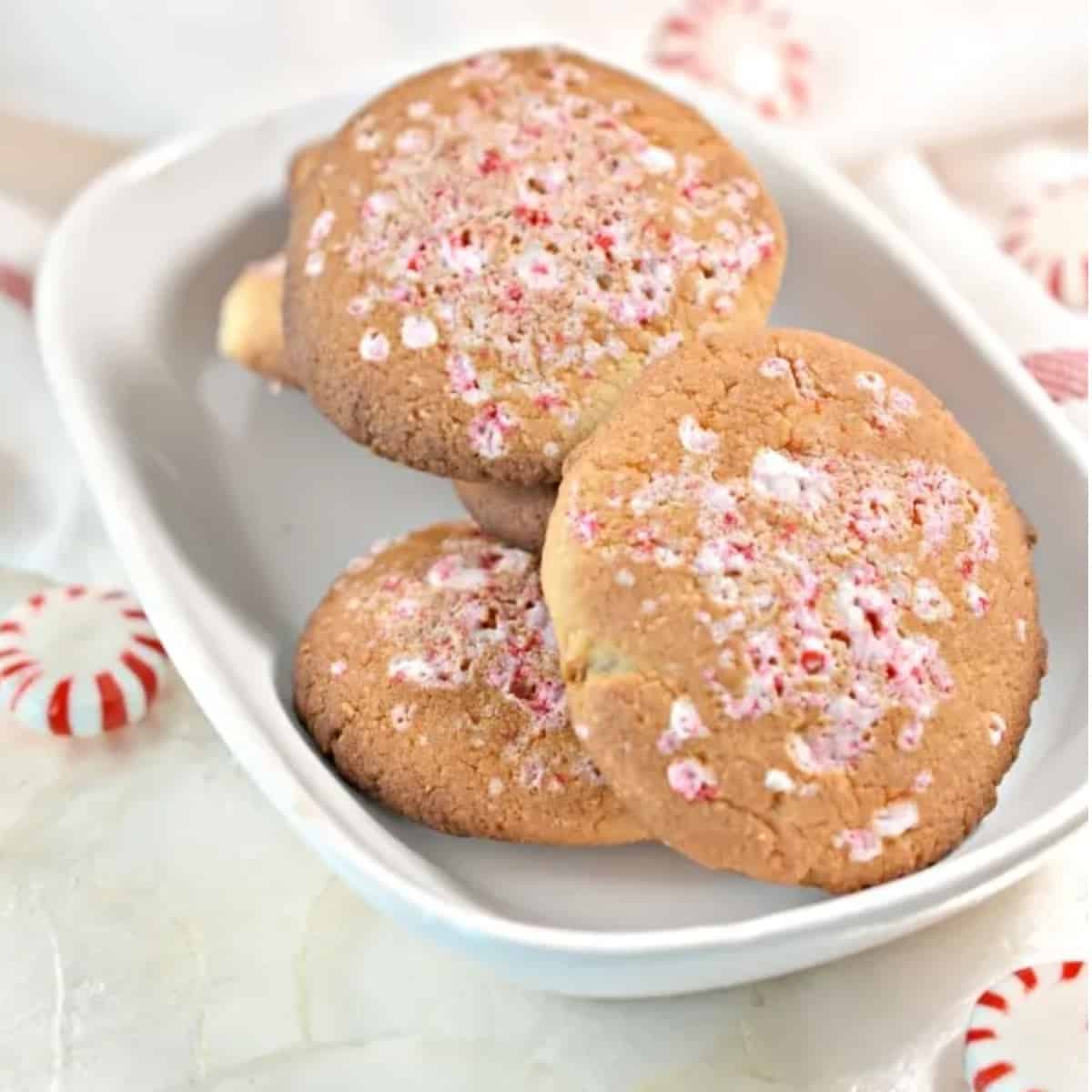 These are the best soft holiday keto cookies with a sweet peppermint crunch! Enjoy a seasonal treat without the guilt of added sugar or tons of carbs.
---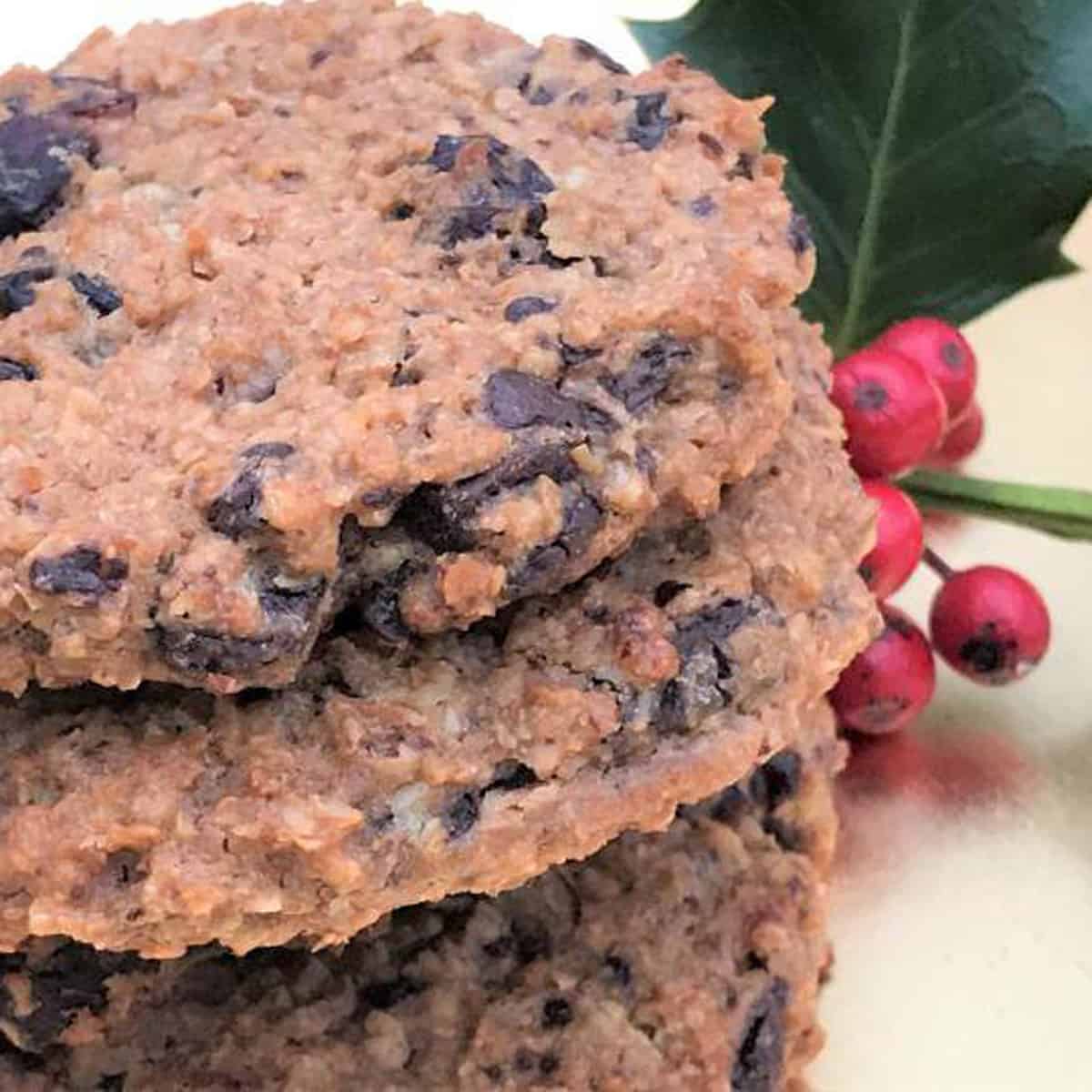 These healthy Christmas goodies are low in added sugar, and gluten free. But the classic combination of cranberries and dark chocolate makes them festive and delicious.
---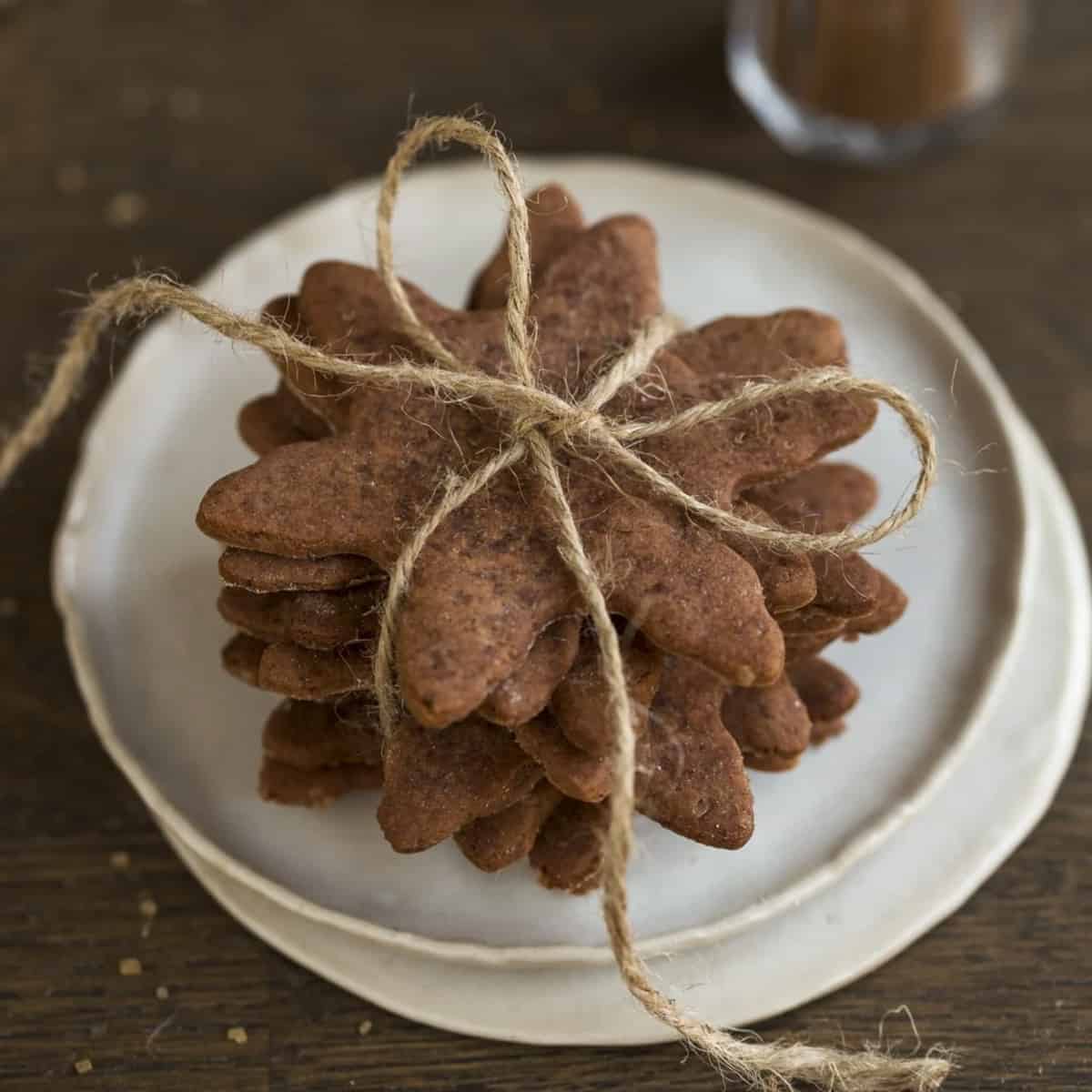 Made famous by Ikea, ginger thins are a true staple of the Swedish Christmas. They are excellent with mulled wine but also with blue cheese!
---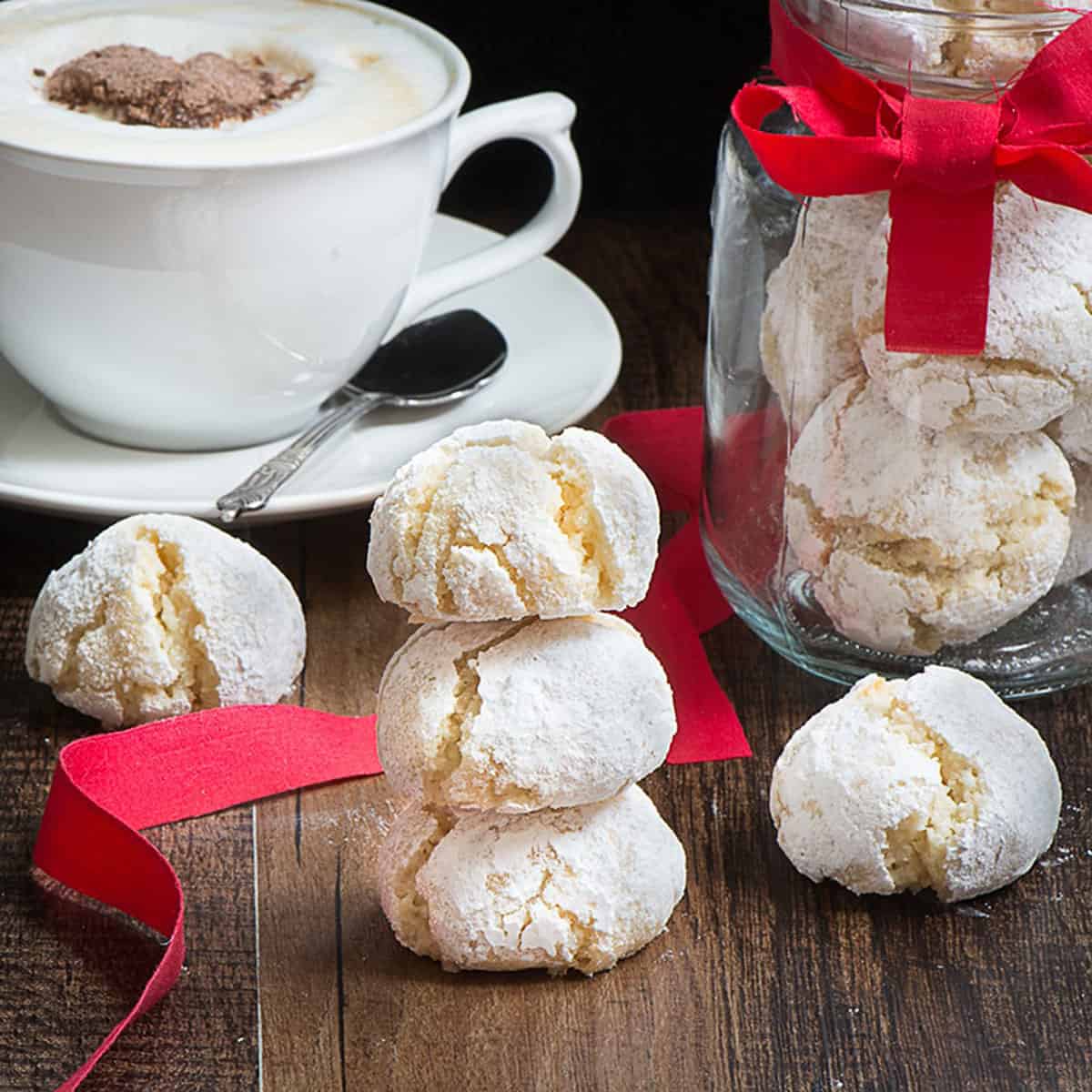 These delicious Amaretti biscuits are crisp on the outside and chewy in the middle and packed full of flavor. They're perfect for serving to your guests at Christmas or making for someone special as a gift.
---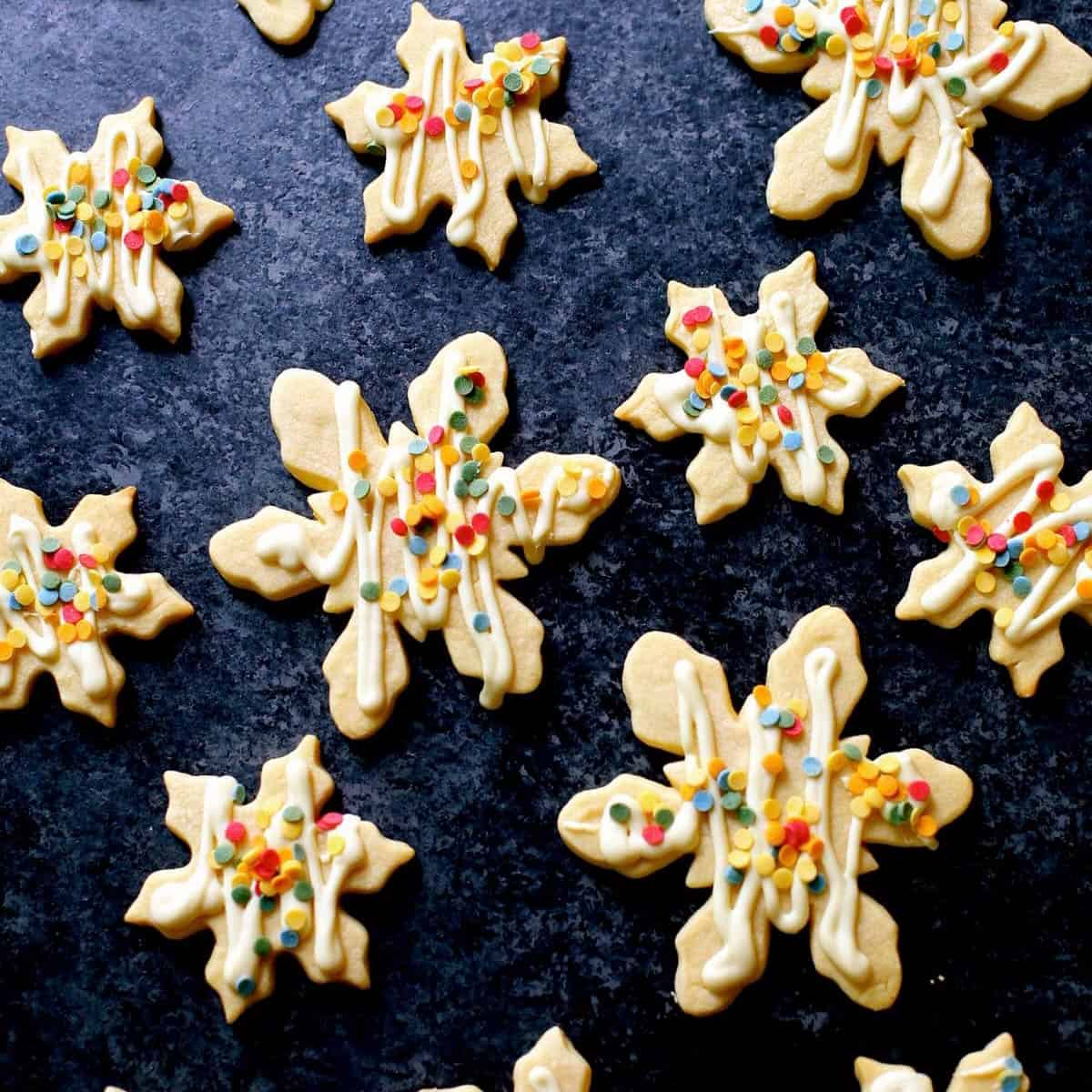 Thick vanilla sugar confections that are easy to make from scratch and so pretty on a holiday dessert platter!
---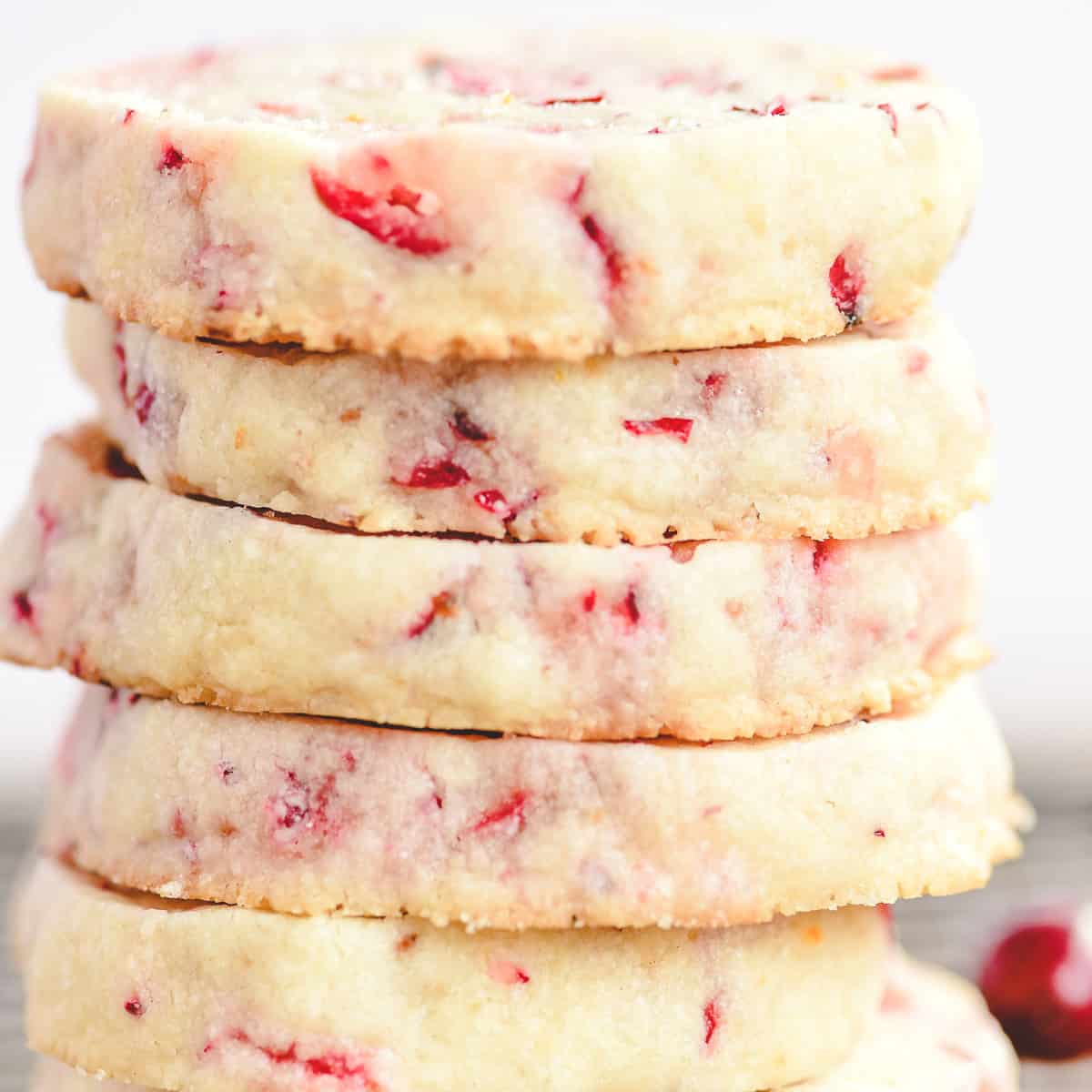 These cranberry orange shortbread beauties might just be the perfect little slice and bake dessert for the holidays. I'll be making them right through to when I snag that last bag of fresh cranberries of the season (always a sad moment!)
---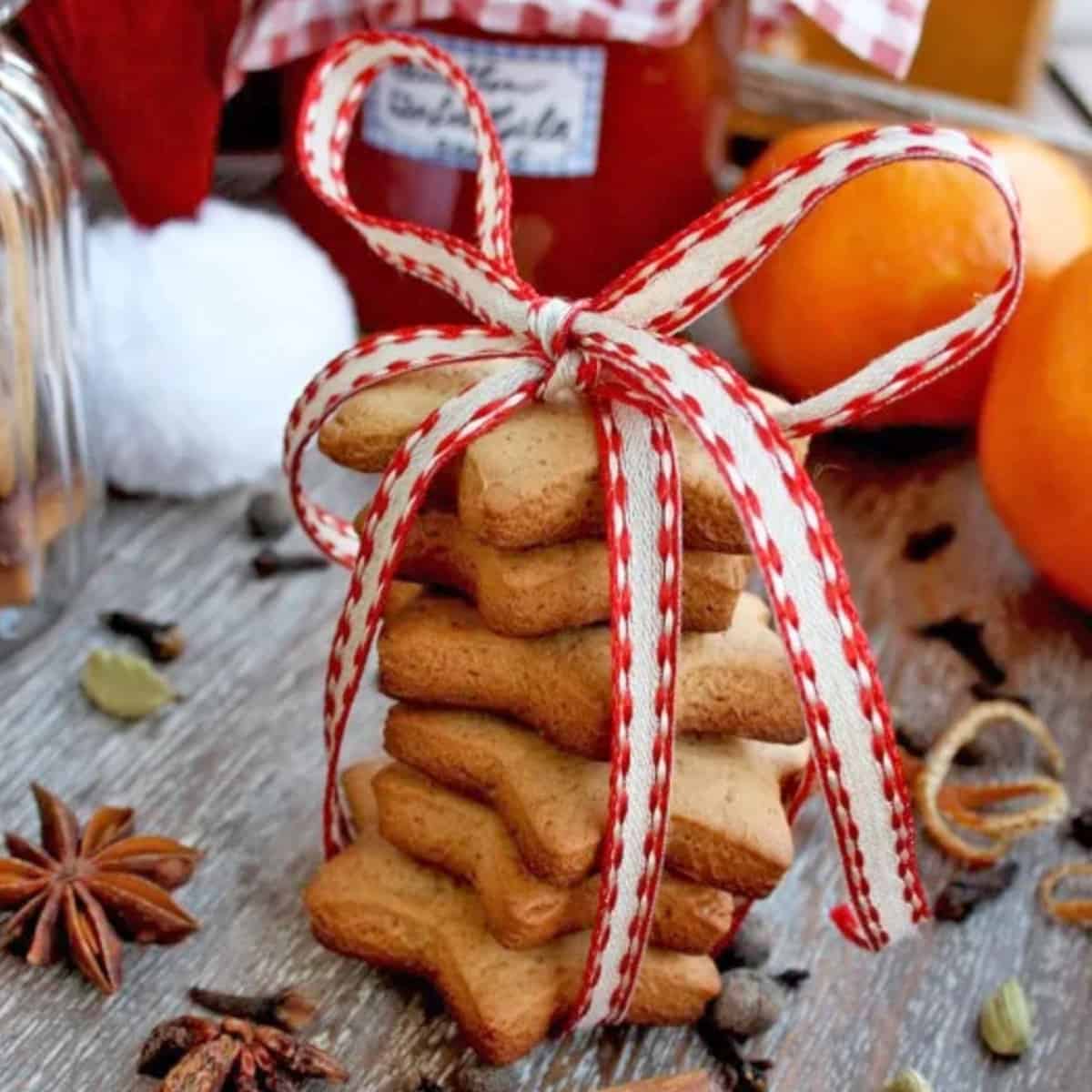 Soft and spicy German Christmas cookies (Lebkuchen) are the most popular Christmas dessert in Germany. They are incredibly flavorful and perfect as gifts to family and friends!
---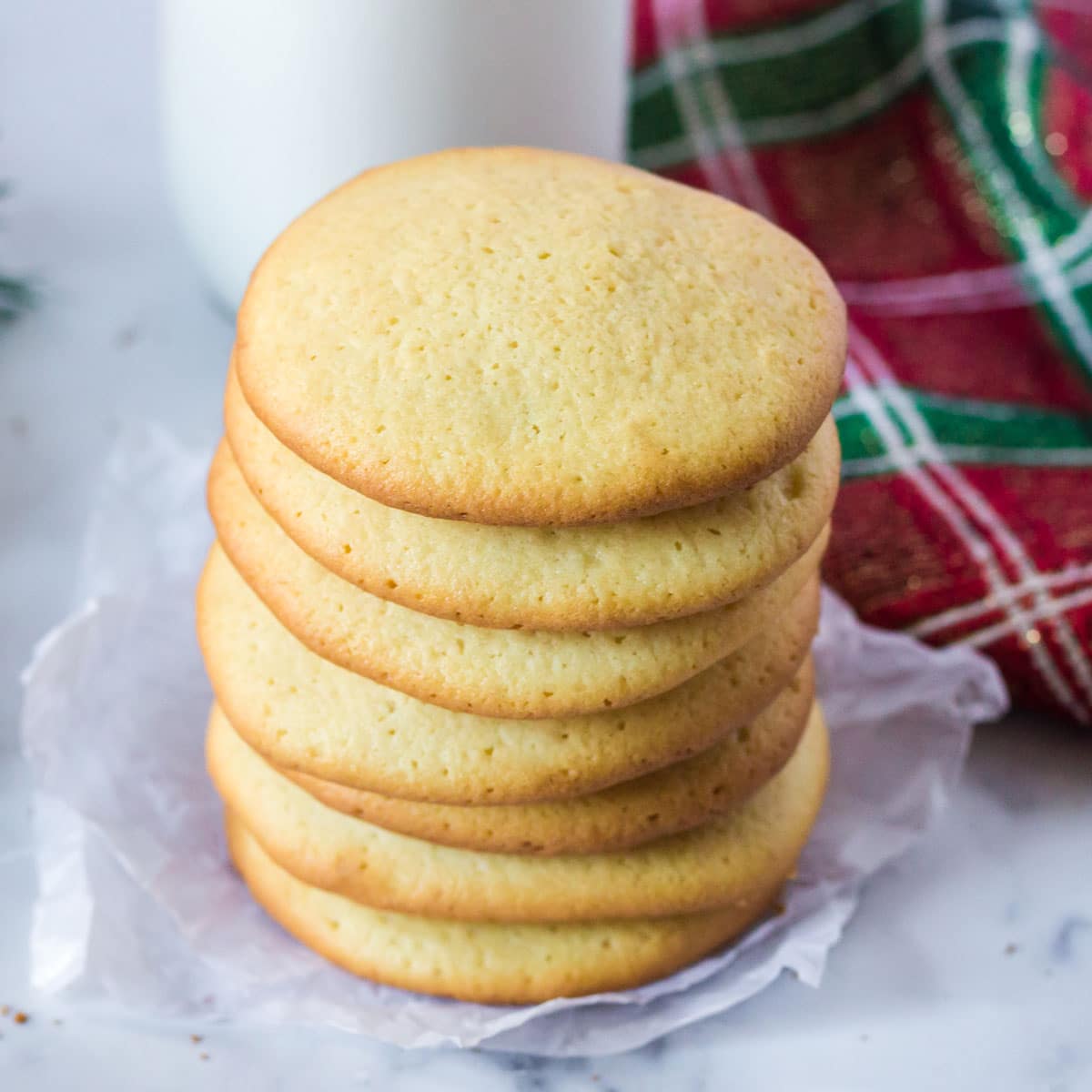 The best family recipes withstand the test of time. Found in her recipe box, these old-fashioned Amish treats were handed down by my cousins from my beloved Aunt Marian. Simple and classic, like the lady I loved and remember.
---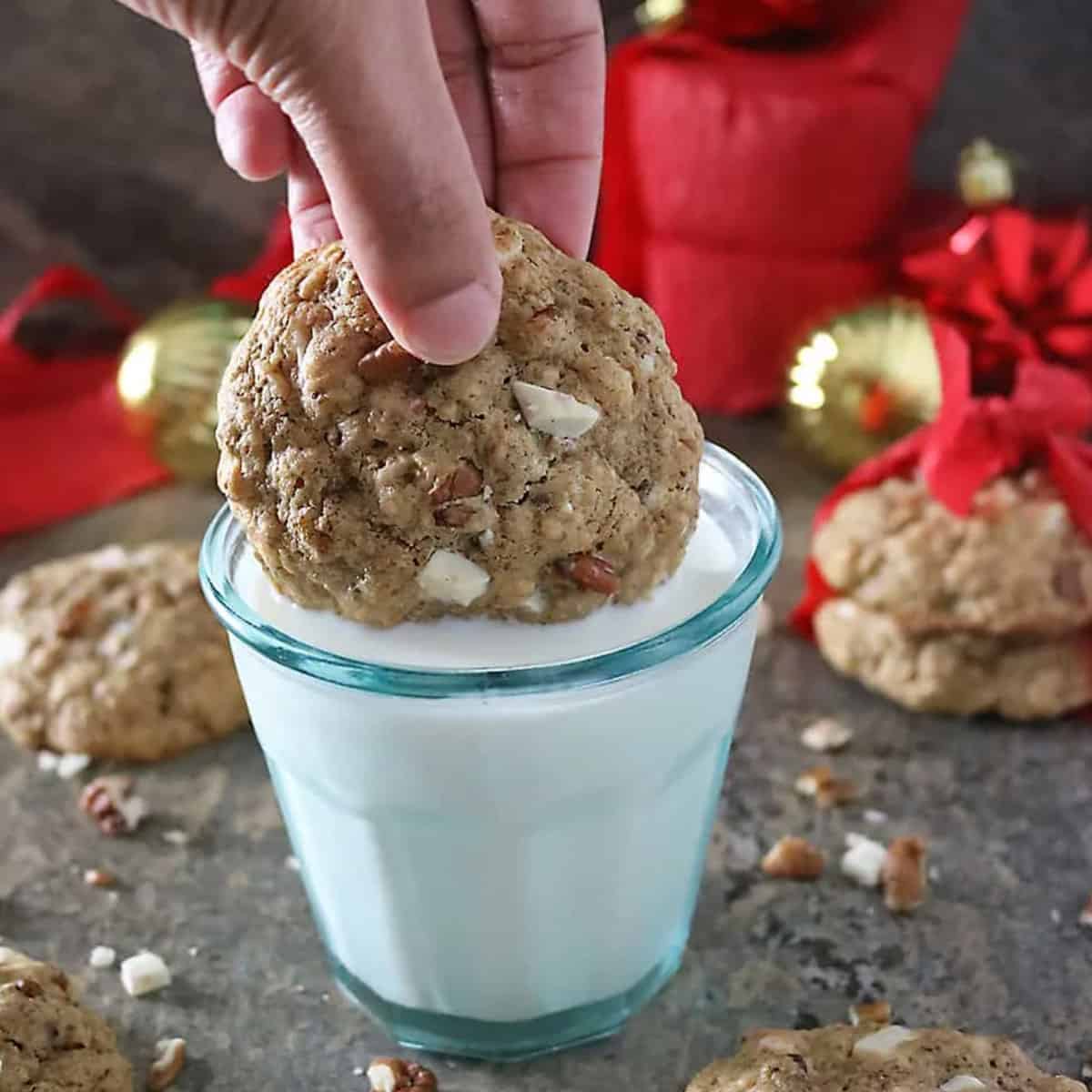 Deliciously soft, these are perfect for holiday gifting. Glancing at their ingredient list might have you and your family enjoying these for breakfast too!
---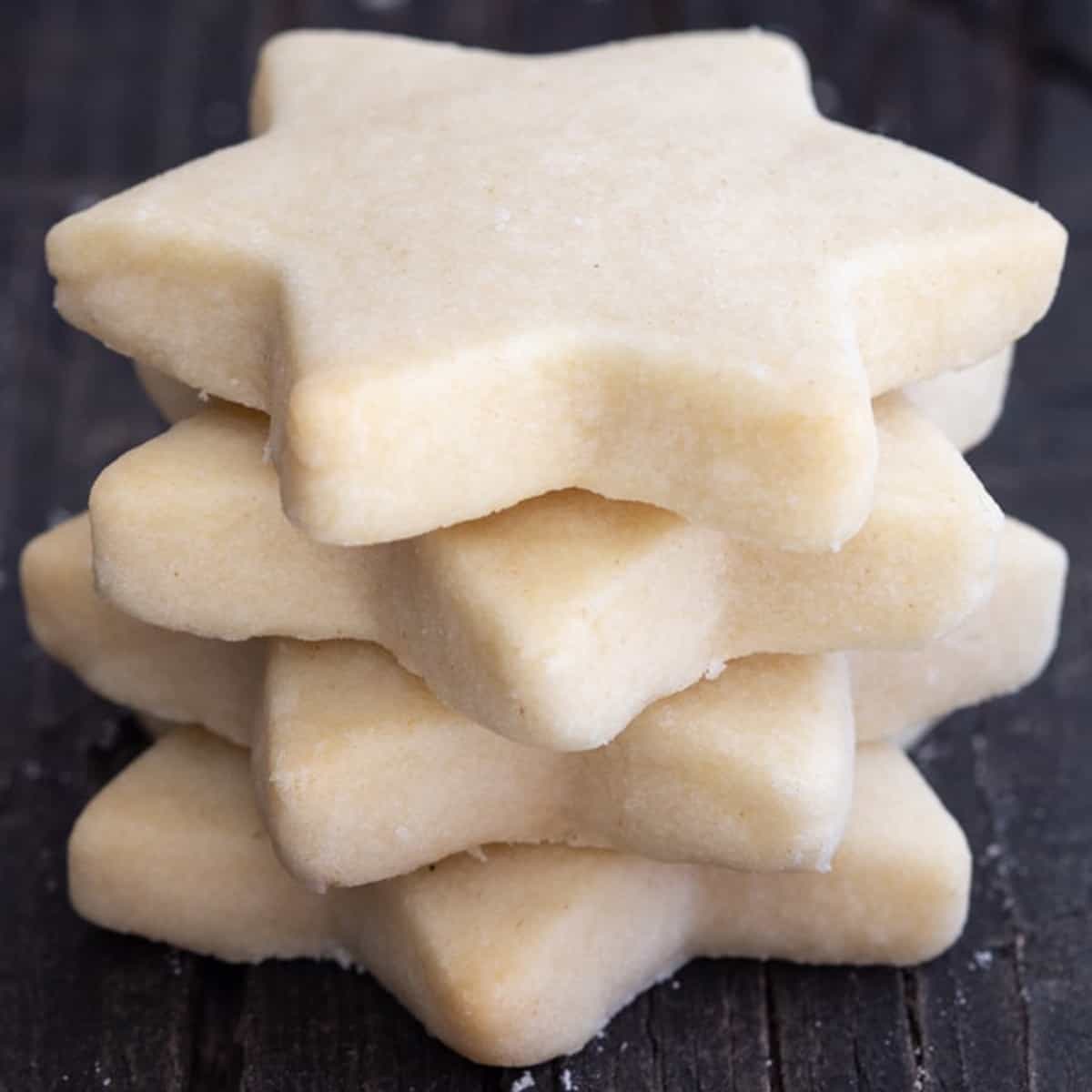 This simple recipe can be made two ways. Both are a delicious and easy-to-make as a melt-in-your-mouth cookie that you will make year after year. Choose the traditional shortbread or brown sugar version.
---
These are everything you love about the holidays: tender shortbread, caramel pecan topping, chocolate ganache, and a pecan on top. They're the perfect treat for Christmas teat exchanges and holiday parties
---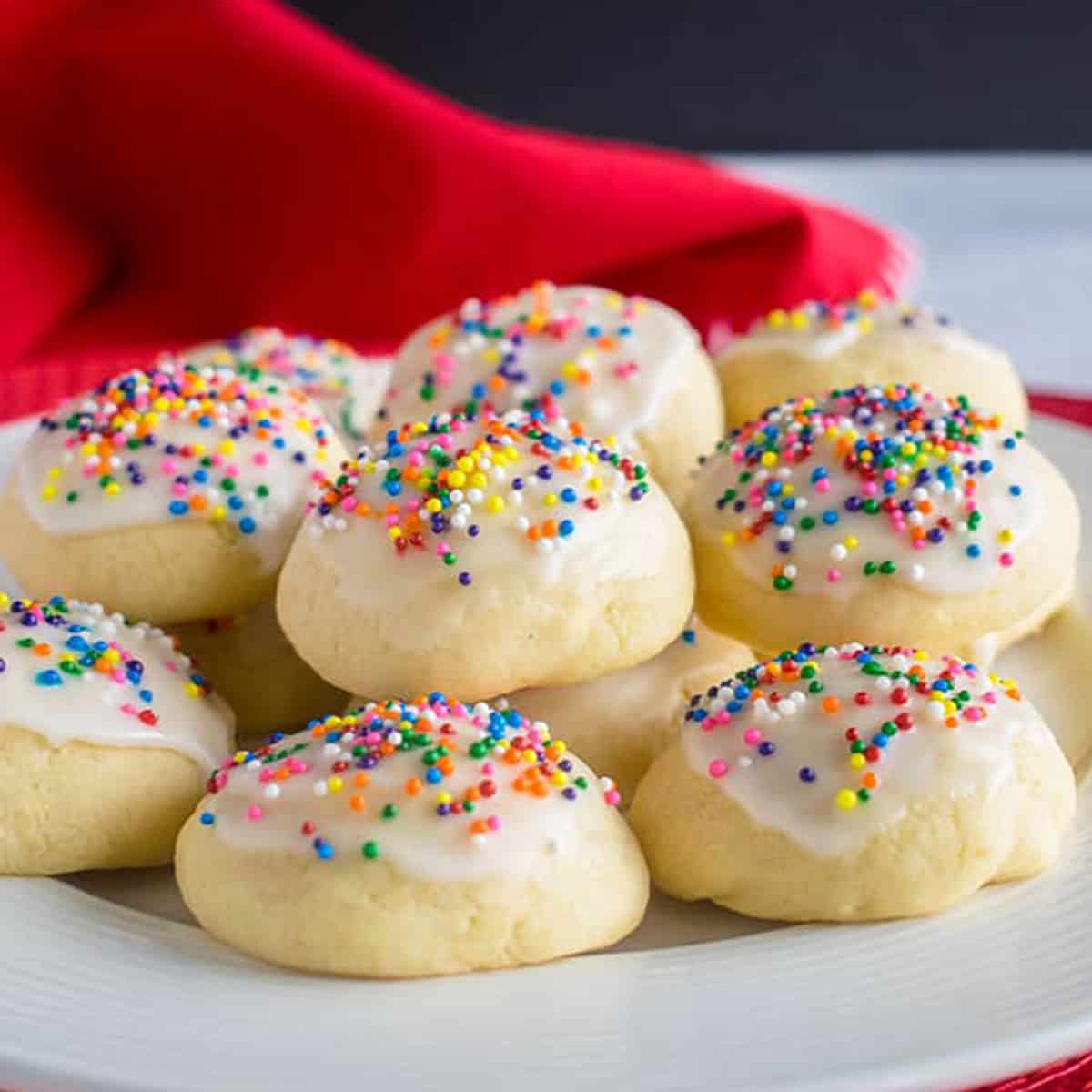 Their soft texture and can be flavored with vanilla or anise making them some of the best holiday desserts to make this year.
---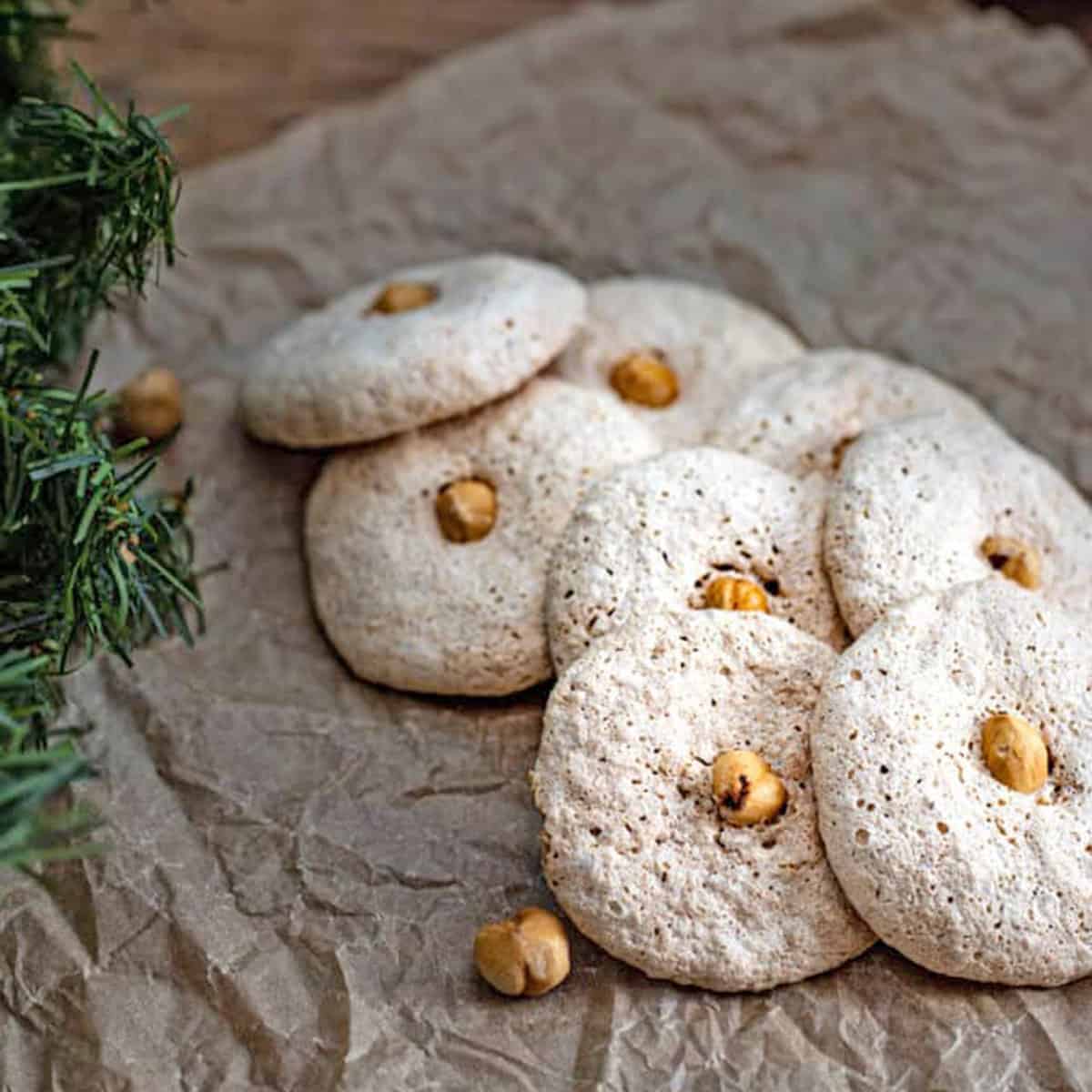 Haselnussmakronen or German hazelnut macaroons are incredibly easy, light, and flavorful. They're naturally gluten and dairy-free.
---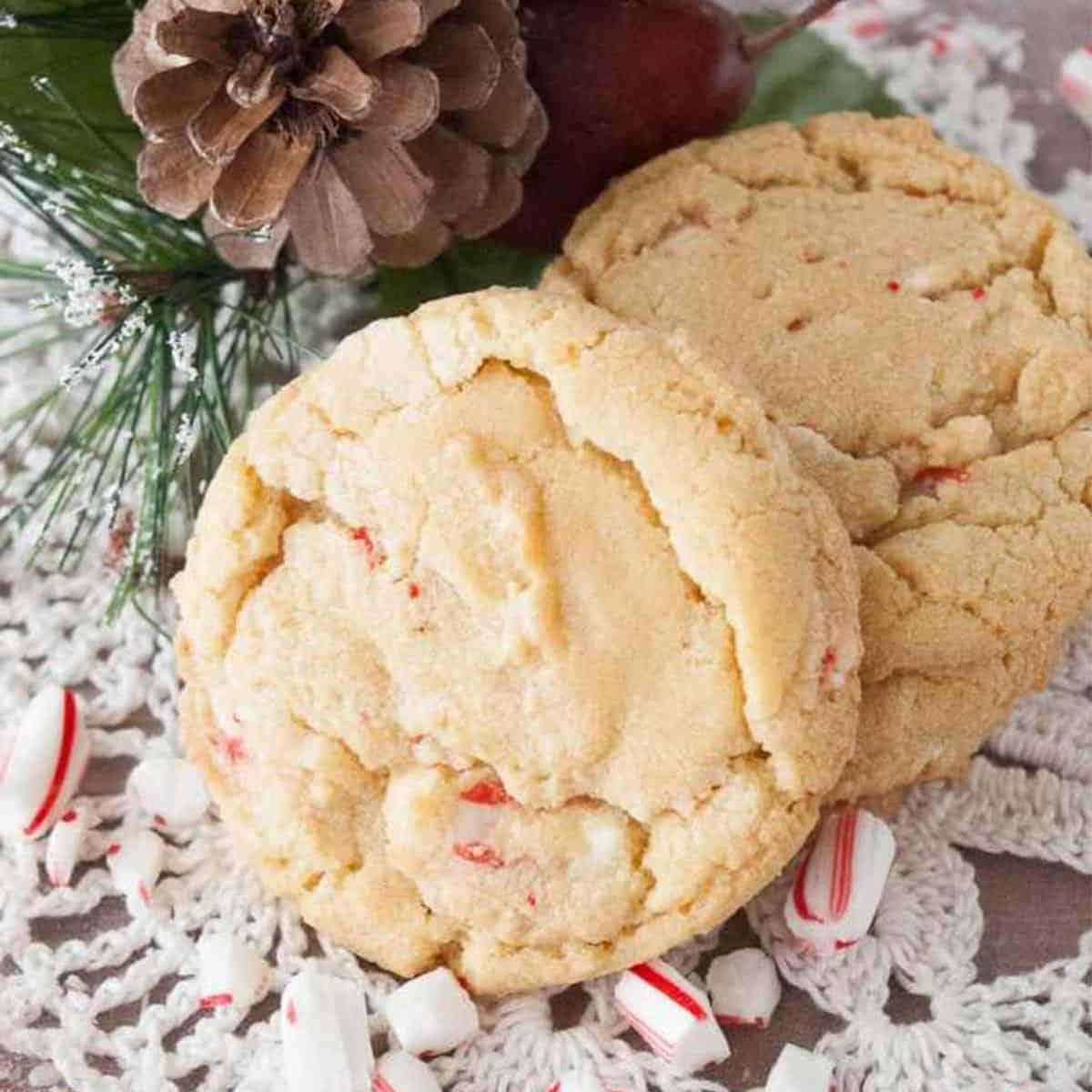 These scream Christmas! If you are looking for a quick and easy peppermint treat to add to your holiday baking then this is the one!
---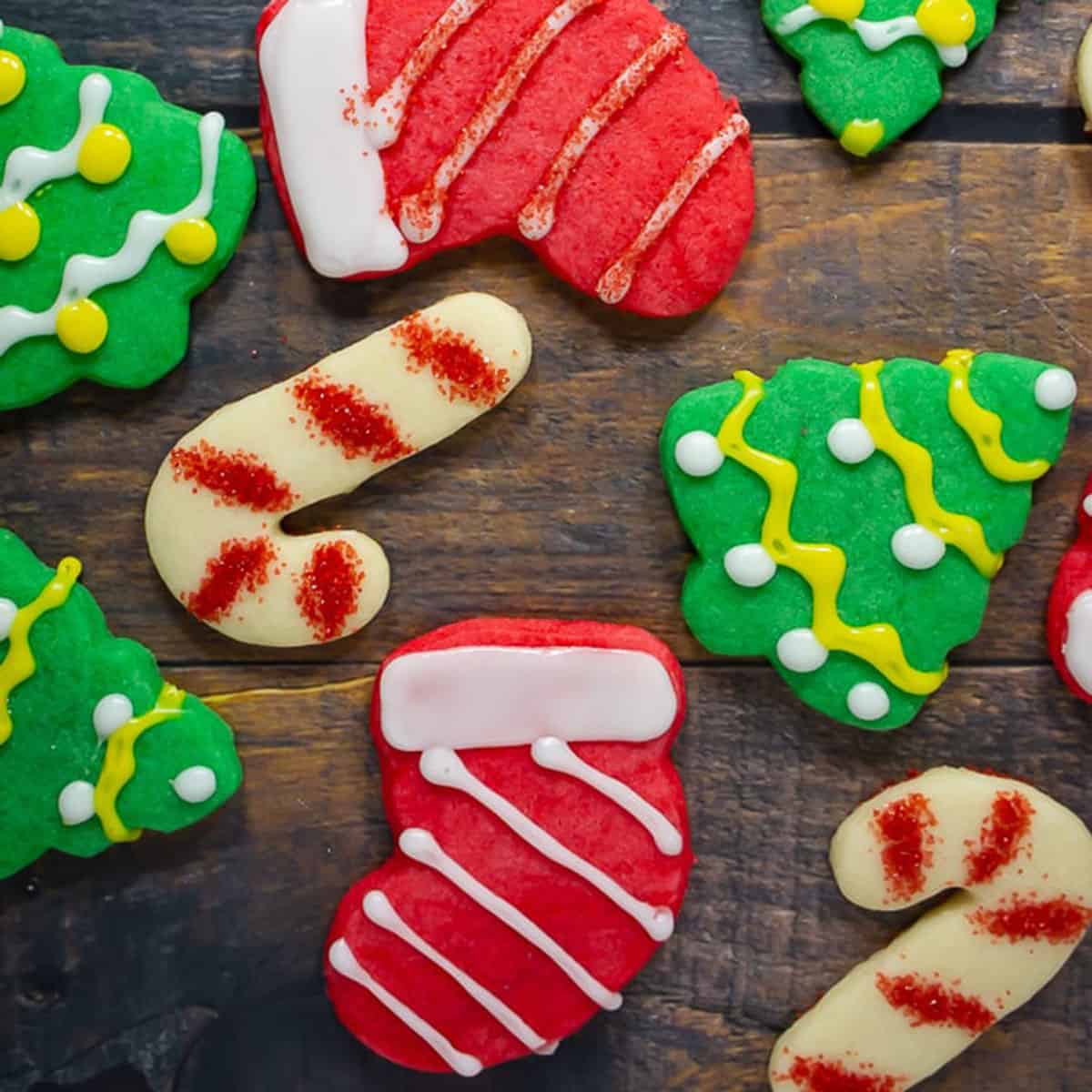 These are easy to bake, perfectly sweet, and soft. They're from an old-school recipe that you can decorate for any holiday, not just Christmas!
---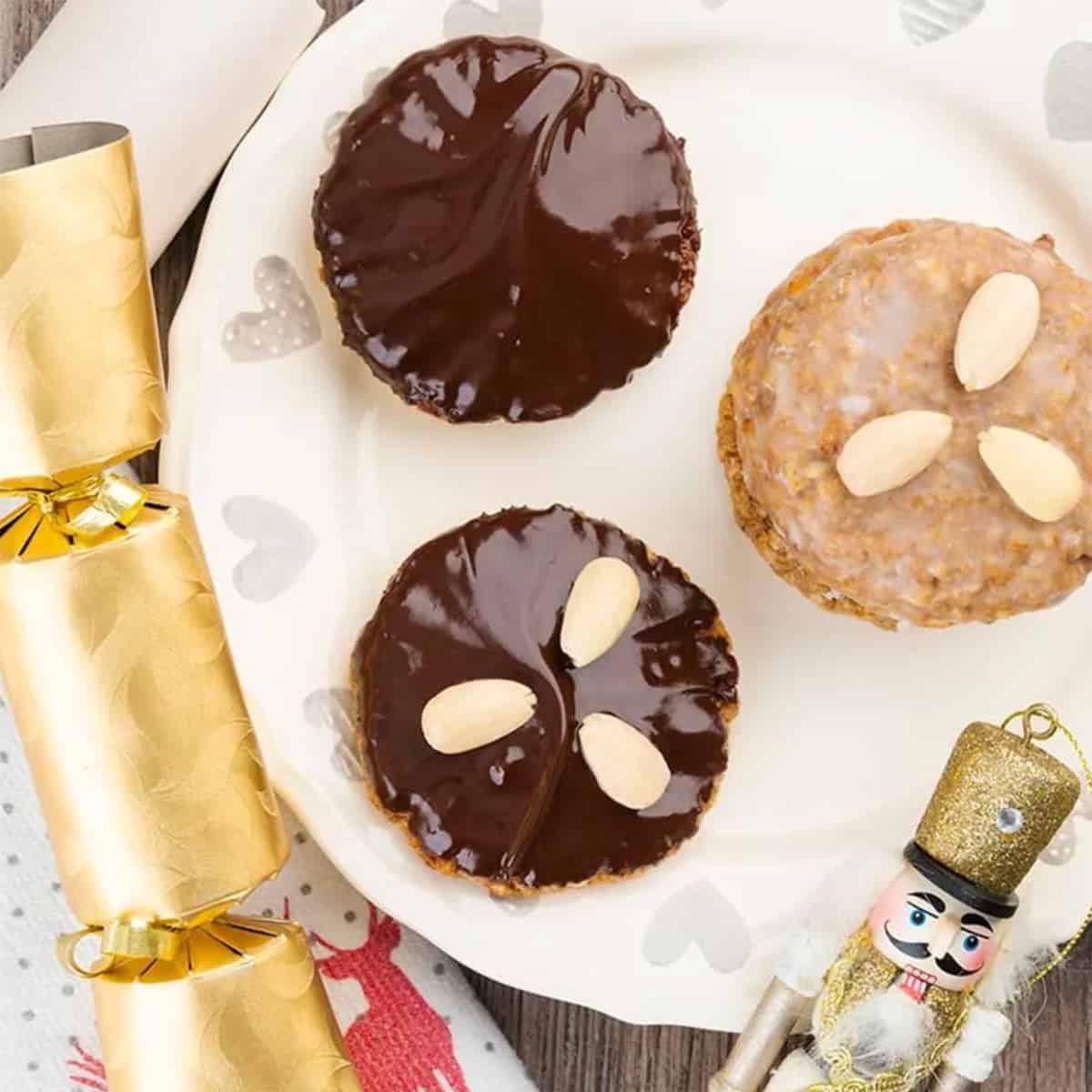 German Elisen Lebkuchen Cookies recipe – a quintessential German recipe. These world-famous edibles are chewy, soft, and simply electable.
When you are ready to serve your family or guests awe-inspiring treats, it's time to make these tasty gems. You and your family won't be able to get enough of these holiday cookies without flour.
---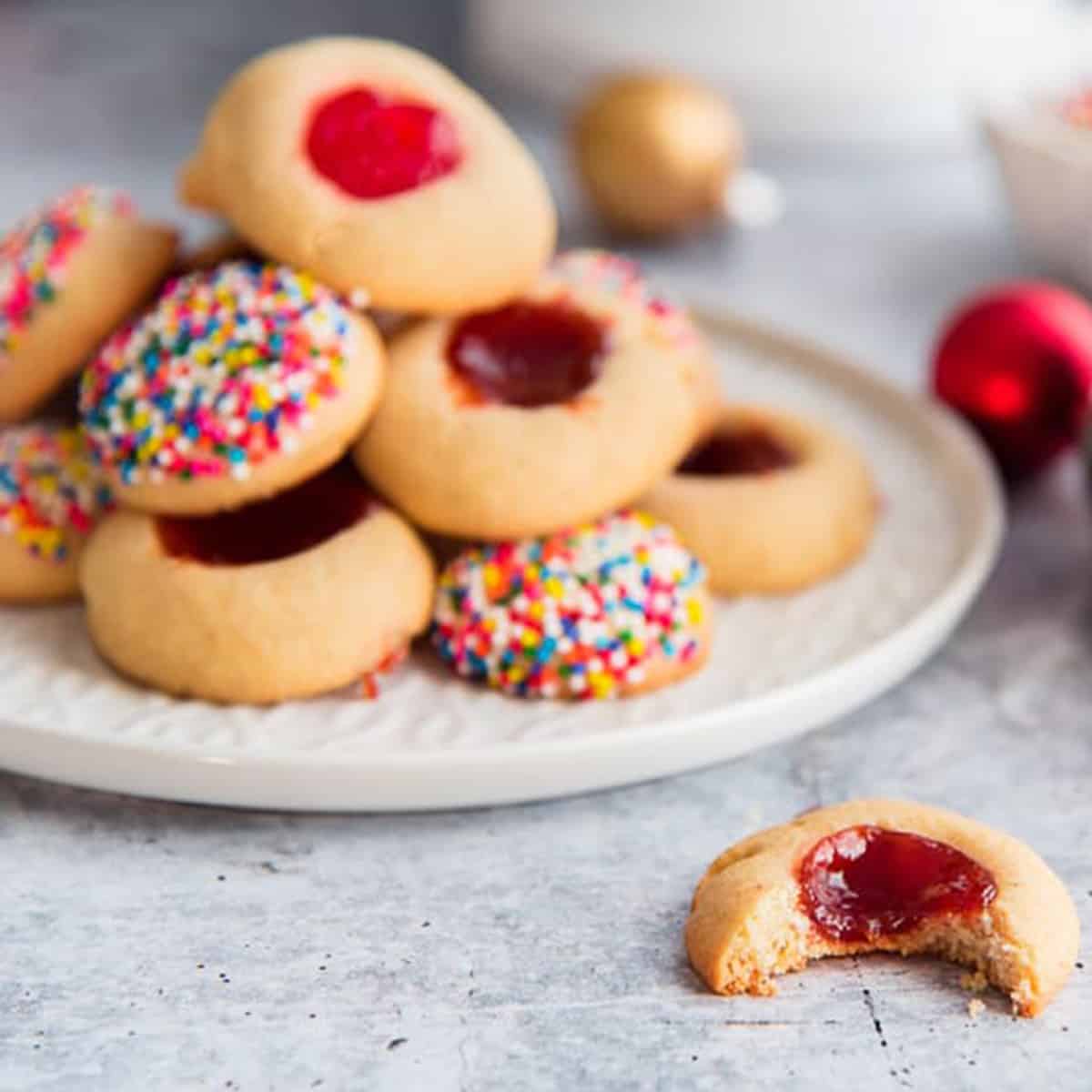 Mantecaditos are beloved in Latin America. My favorite variety uses guava paste, nonpareils, or cherries.
---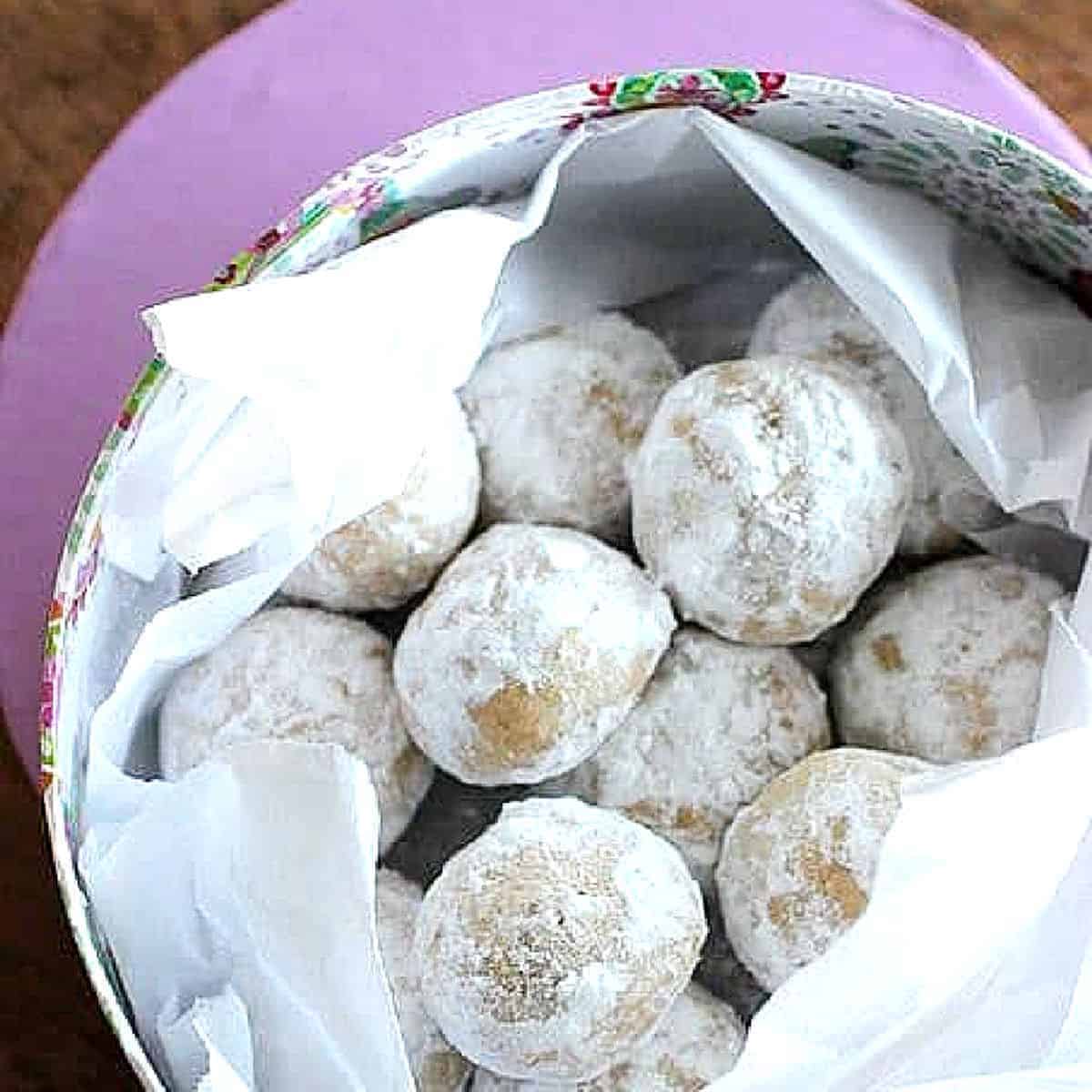 Melt-in-your-mouth, easy-to-make almond dessert using 4 ingredients that will bring raves. Huge raves! You might also know them as butterballs. They never disappoint, keep well for a few weeks, and are perfect for gift giving.
---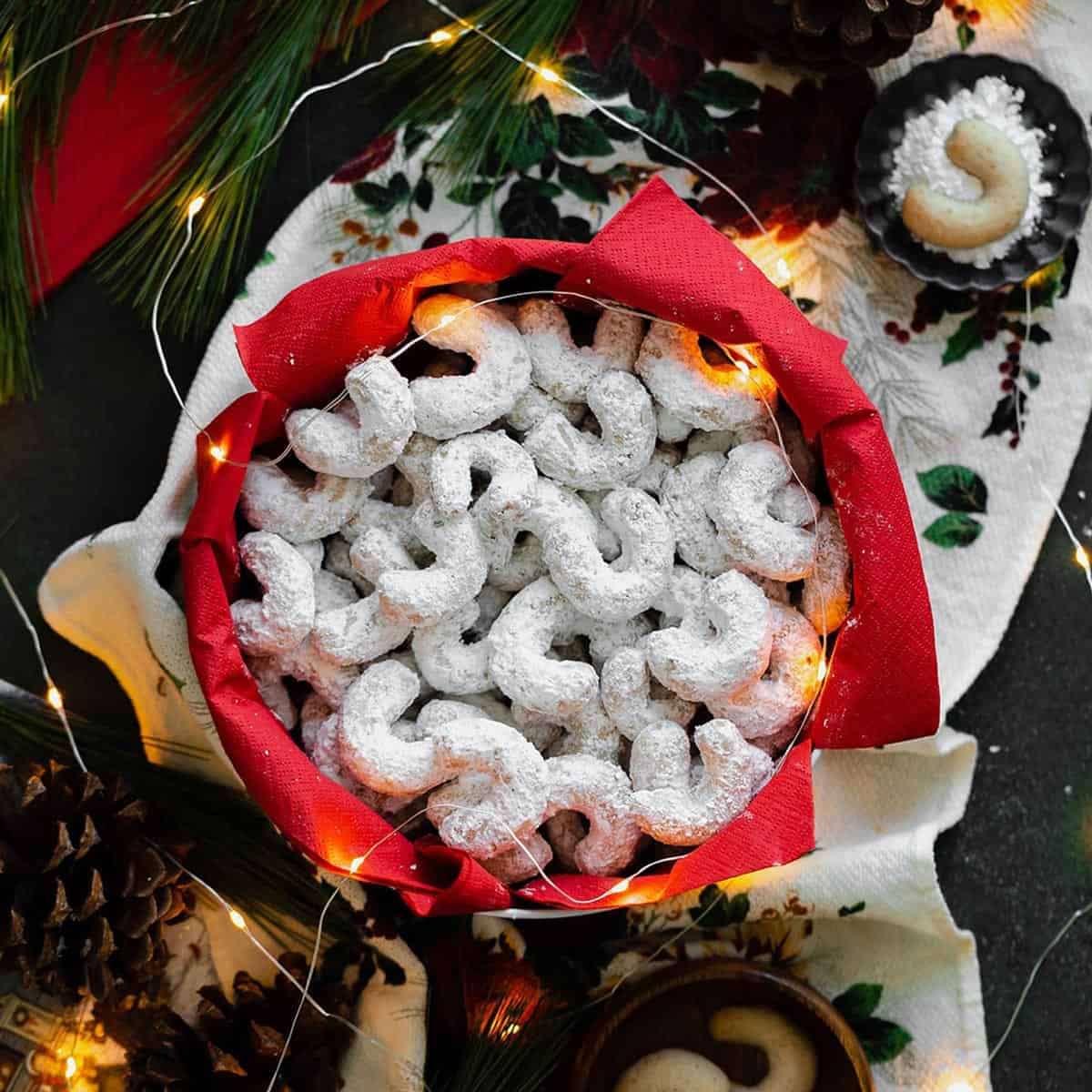 These Czech gluten free Christmas cookies are easy to make sugar free. Be sure to check out these classics this year!
---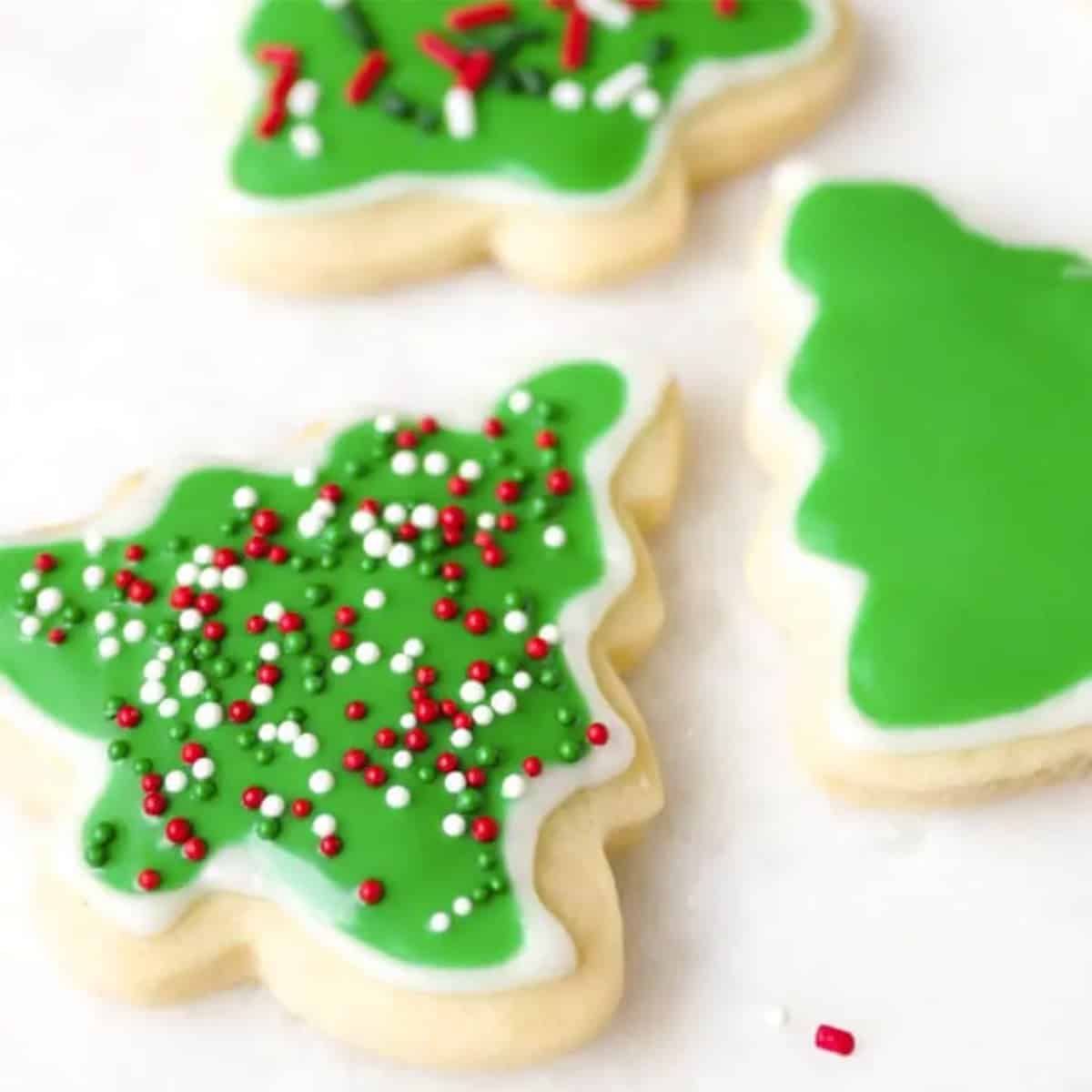 This simple recipe makes a versatile dough that is easy to roll and holds its shape while baked, giving you sharp, beautiful, defined edges perfect for fun and different shapes. You need to make these holiday classics this year.
---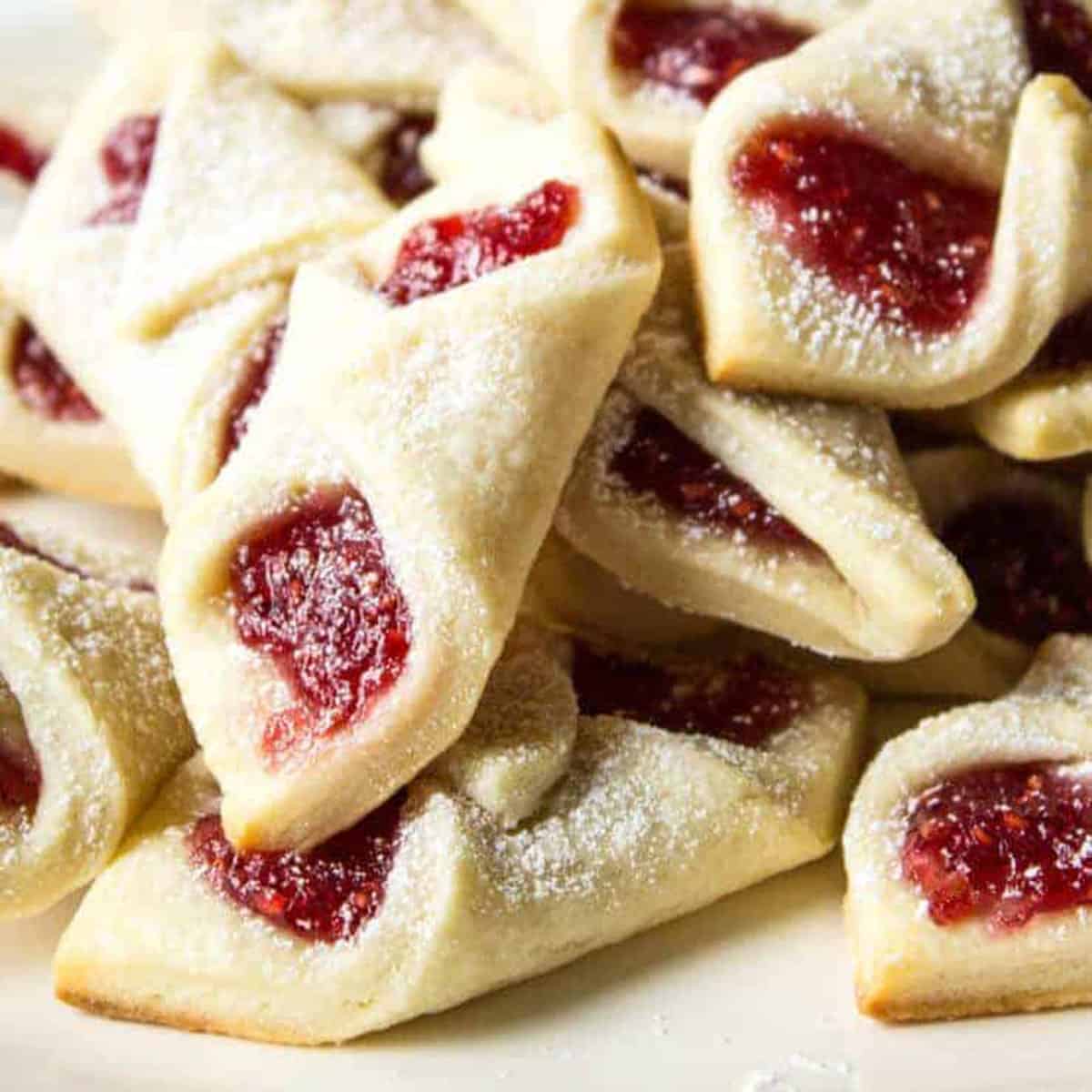 These Raspberry bow tie pastries are delicious and an impressive little sweet. Fill with raspberry jam or your favorite type of jam.
---
These traditional Dutch cookies especially popular during the Holiday Season. They are delicious shortbread treats that are prettily decorated with almonds and rock/pearl sugar. A delicious dessert that is as beautiful as it is tasty!
---

Pfeffernüsse is a German word for smoked spice. These classic holiday treats bring comfort and warmth to both body and soul. Perfect for a cold cozy night, you'll want to make these a part of this year's holiday exchange!
---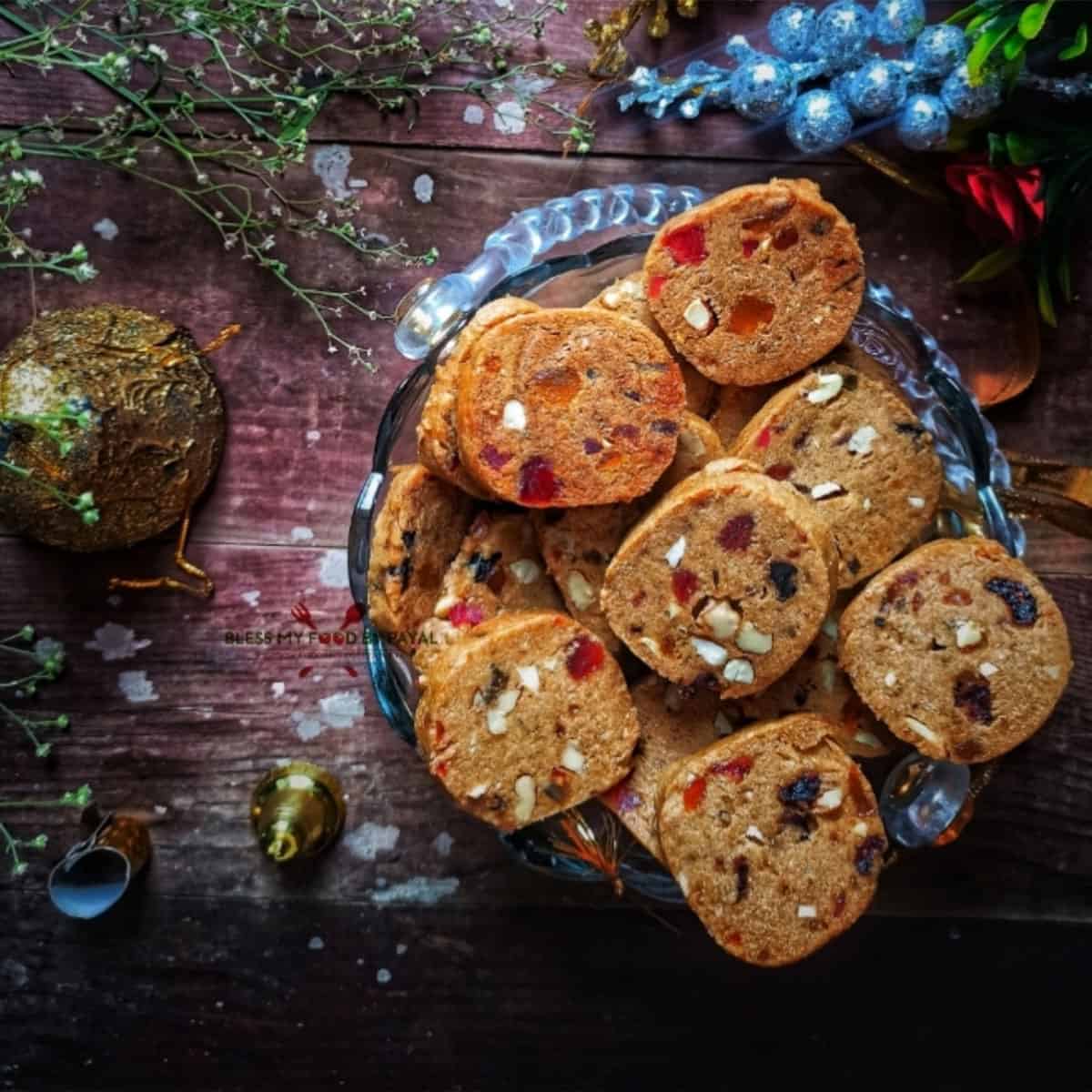 You are already well acquainted with Christmas cake. Now let's move on to an extension of that and make these delicious and mouth-melting vegan Christmas fruit cake treats. Enriched with candied fruits and nuts, each bite guarantees a blast of flavors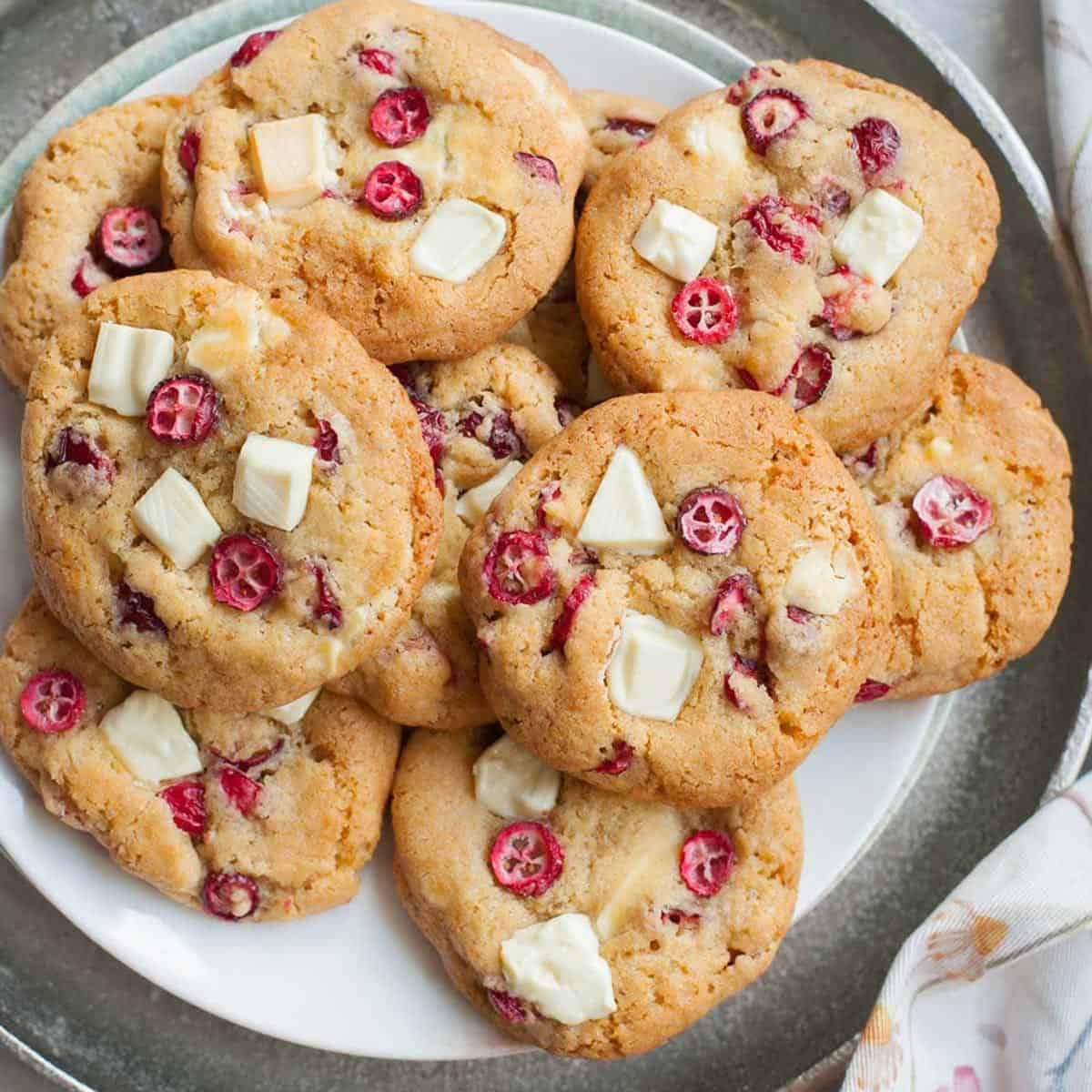 These are made with fresh cranberries and white chocolate. They have crunchy edges, chewy centers and look very festive!
---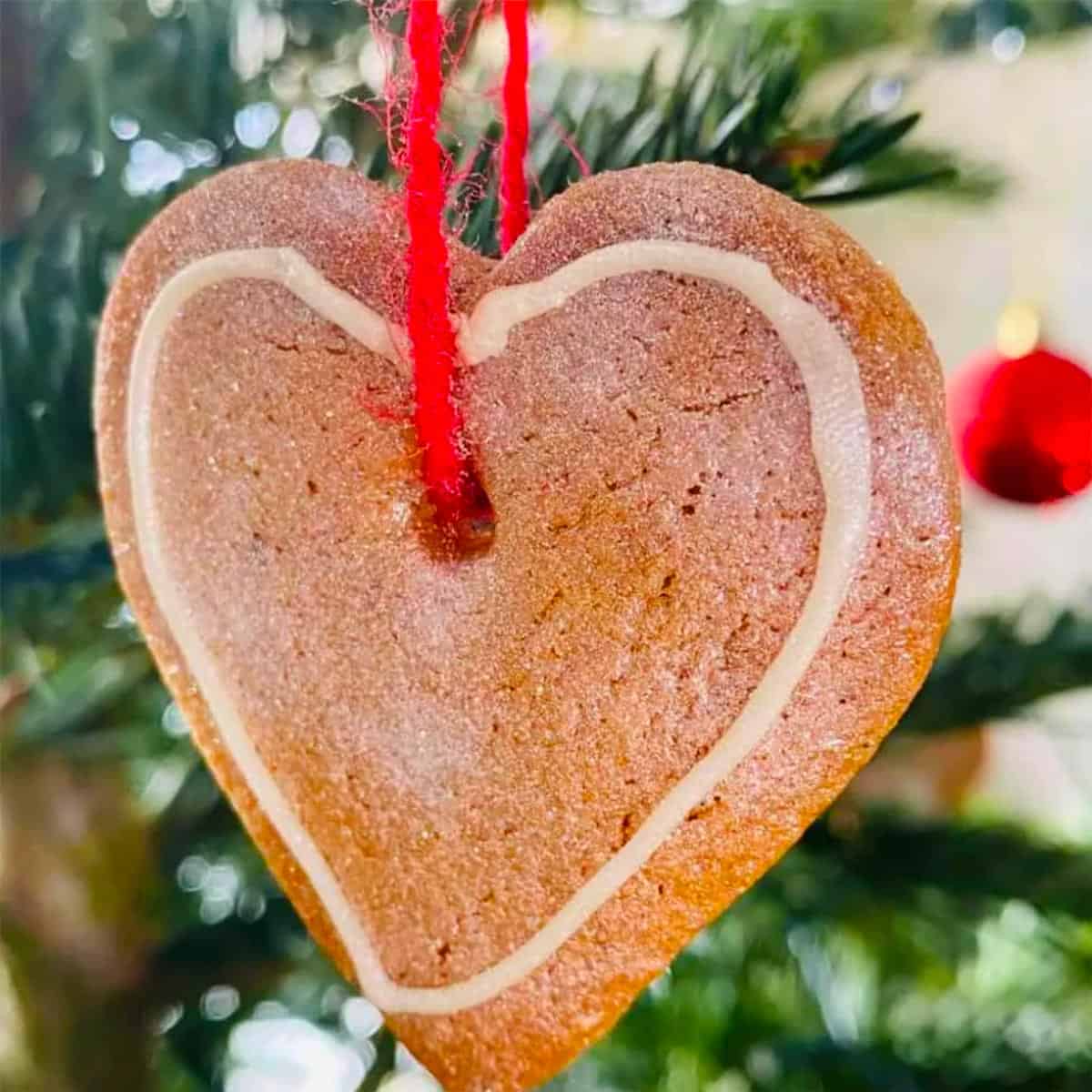 These Christmas Tree Biscuits are the perfect baking activity to do with the kids just before the big day. Not only will everyone have fun making them, but they can also then enjoy decorating the tree with the biscuits – and then, of course, eat them on Christmas Day!
---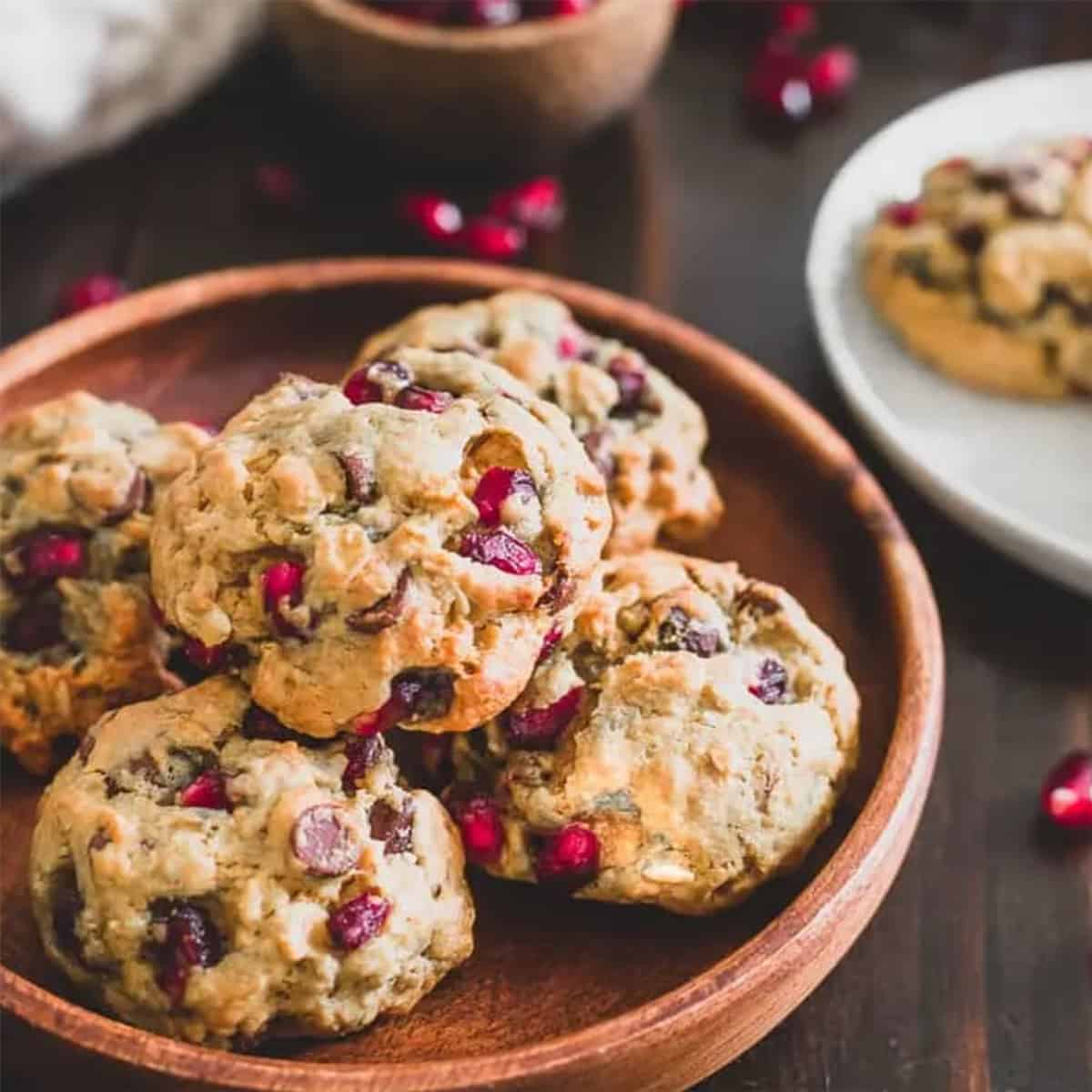 These holiday favorites are flavored with orange zest and extract to make the perfect winter-themed dessert. A great addition to your holiday baking!
---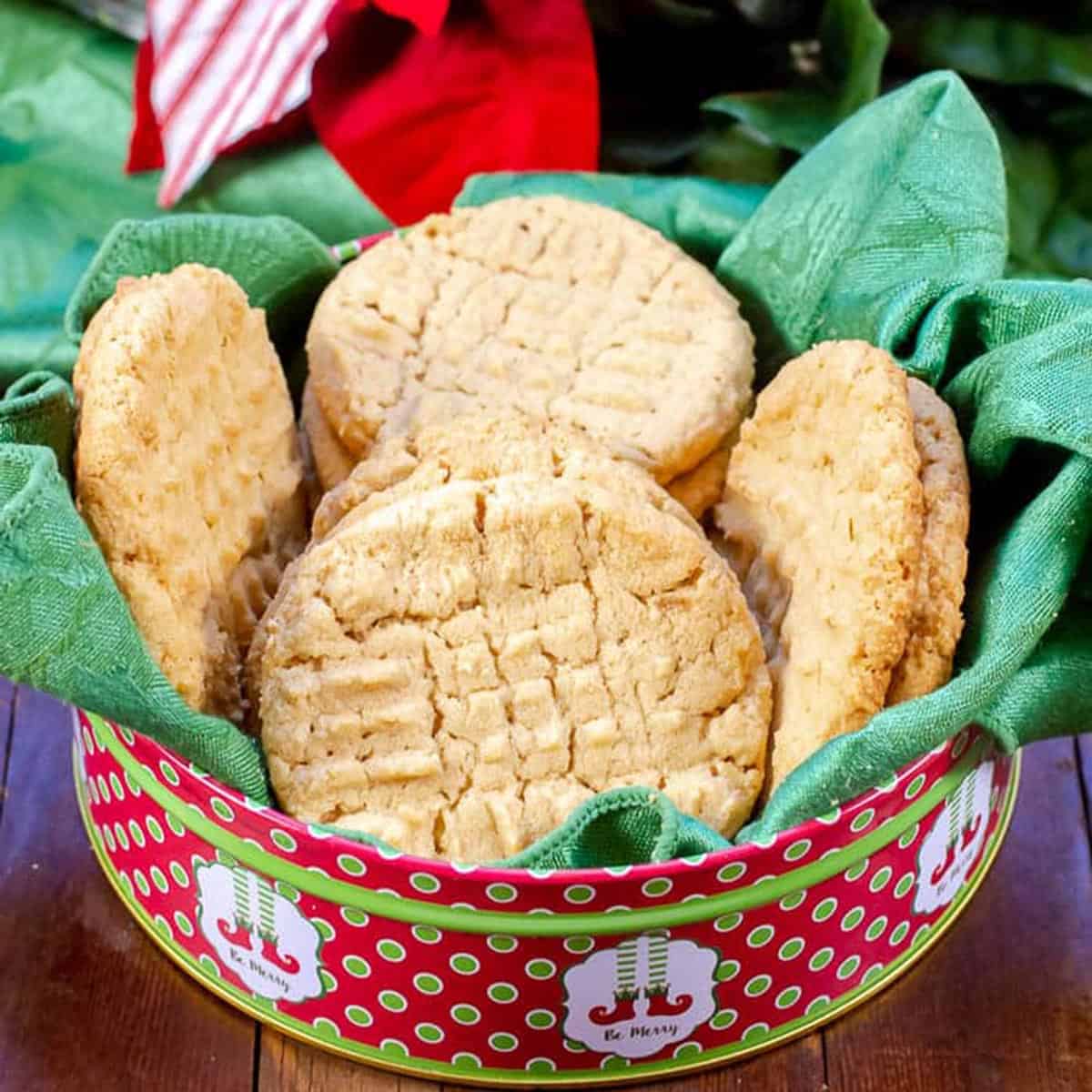 These are simple and homemade with no eggs but taste just like the classic peanut butter ones you remember from your childhood.
---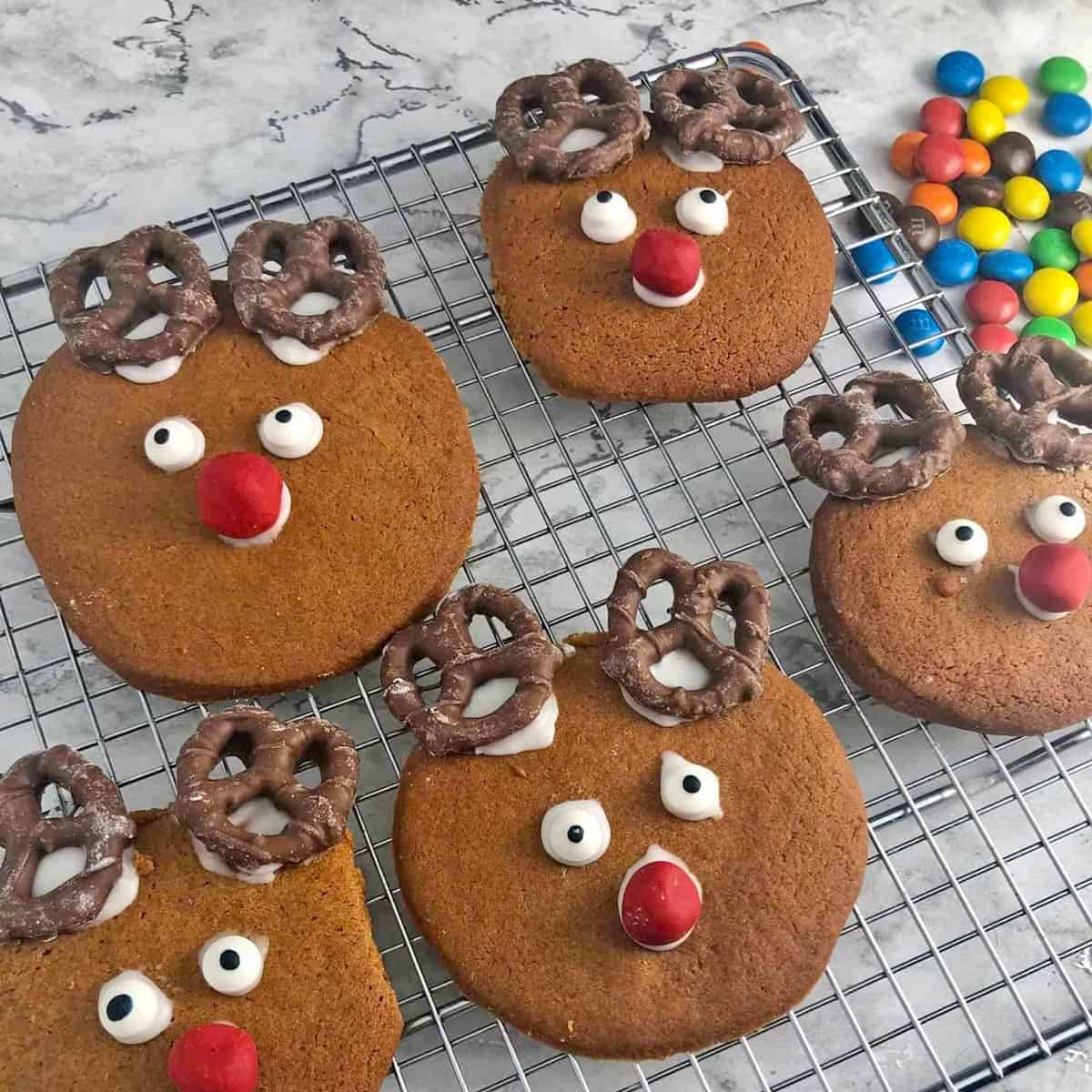 These Gingerbread Reindeer Biscuits with pretzels for antlers are very cute and a great Christmas treat to make with your kids. Try these this year to help get into the holiday spirit!
---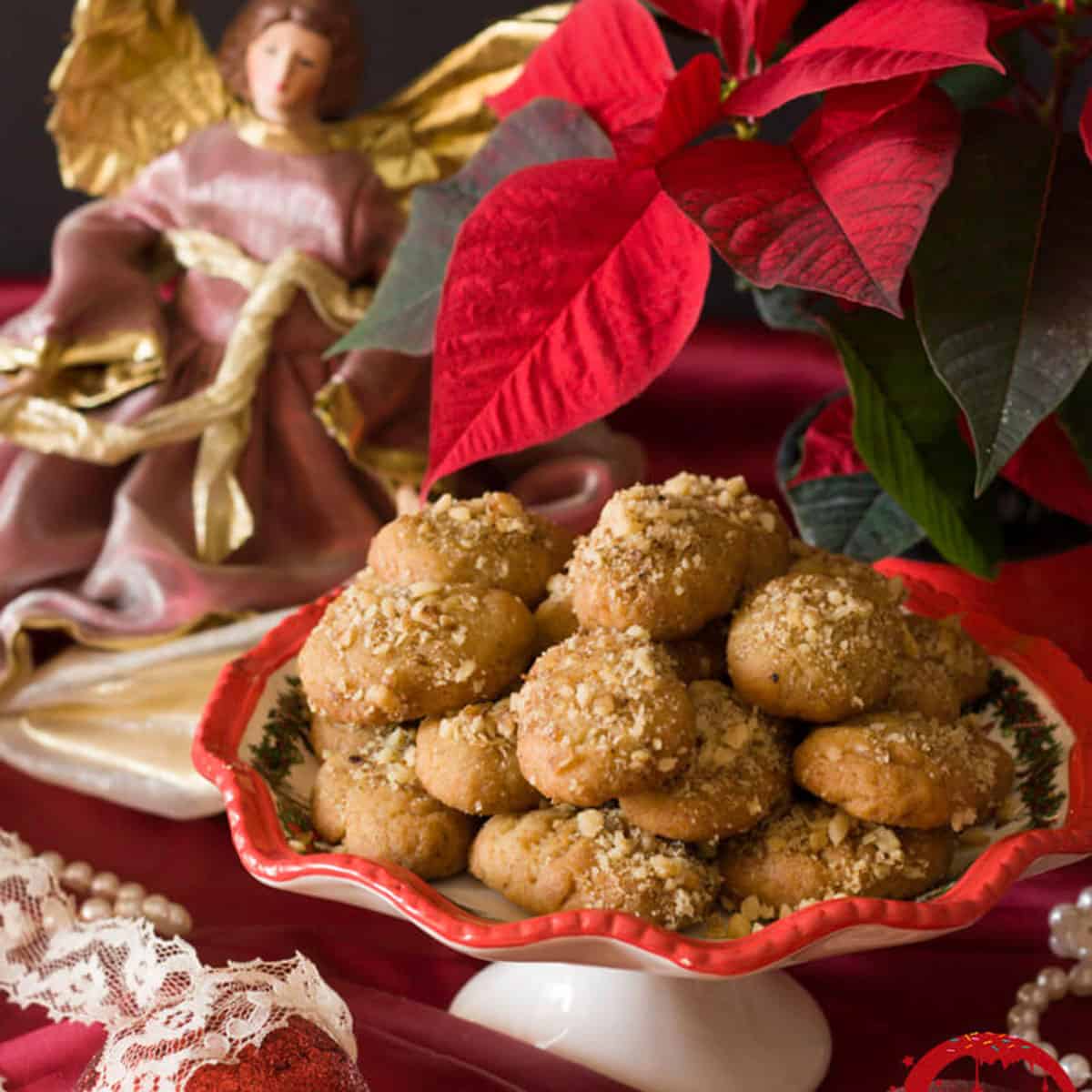 Melomakarona are traditional Greek Christmas honey treats that are mildly spiced and dipped in a thick honey syrup. This classic Greek dessert will fill your house with a warm aroma of spices!
---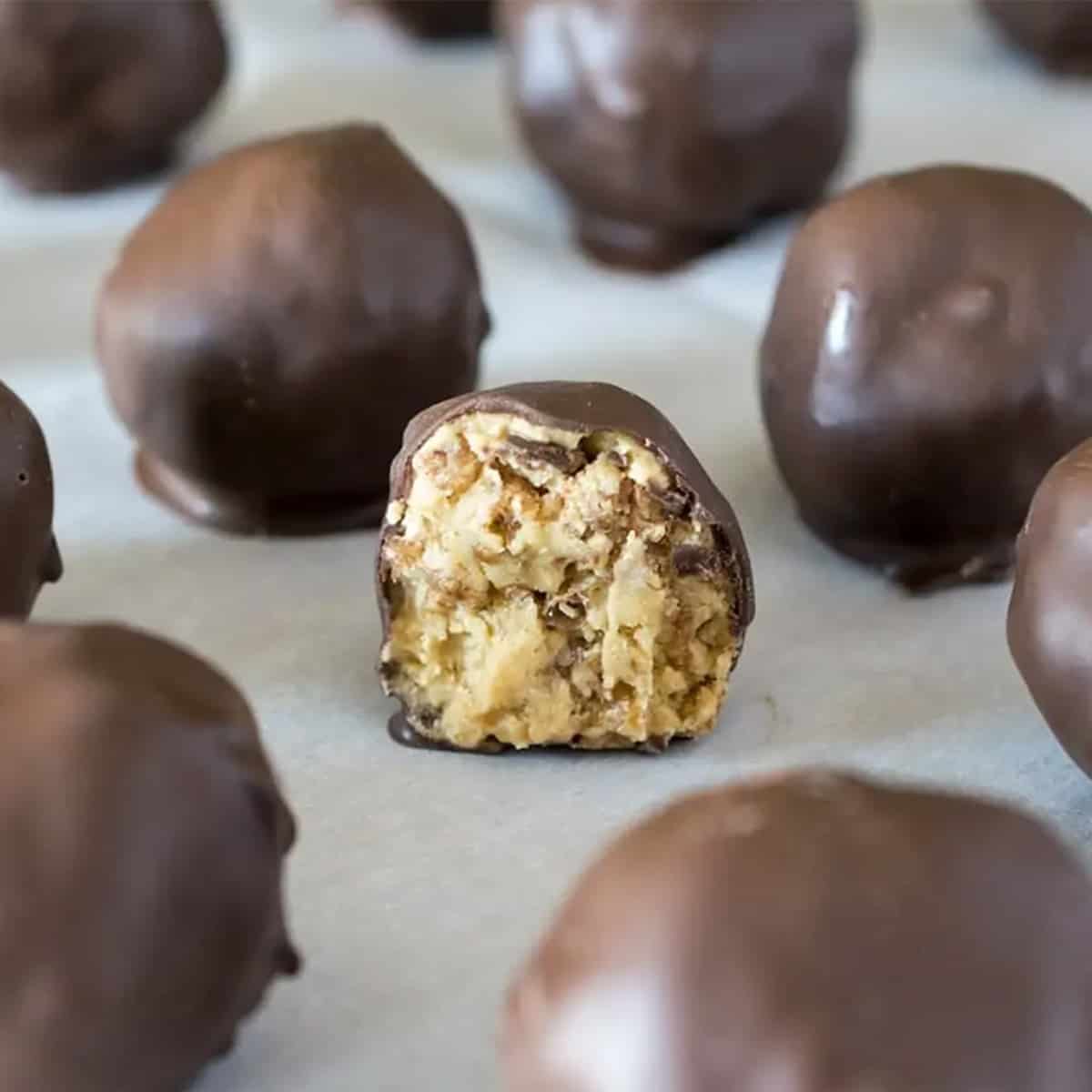 The ultimate bite-sized holiday treat! These chocolate peanut butter balls get a crispy upgrade that makes them one of Santa's favorite holiday snacks, with only 5 ingredients.
---
It's hard to resist this cute Spiced Christmas Tree dessert for your holiday platters. Everyone loves the smell of spices during the holidays and there is plenty of cinnamon, nutmeg, and cloves to flavor these. Adding the simple icing dots makes these extra festive.
---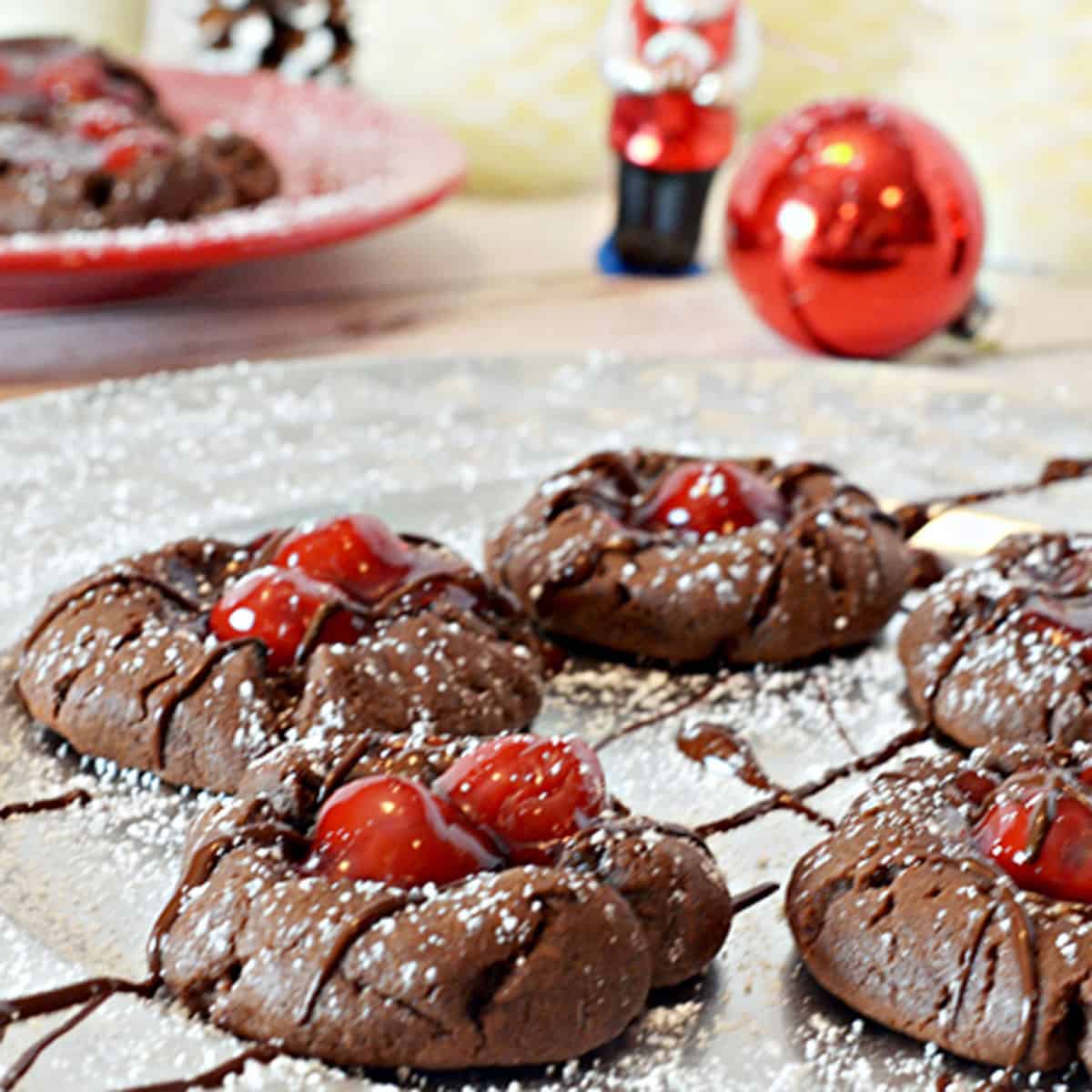 Every year our kids love to help bake these easy Christmas treats. They take just 25 minutes to eat and disappear even faster. Make sure these are a part of your holiday baking this year!
---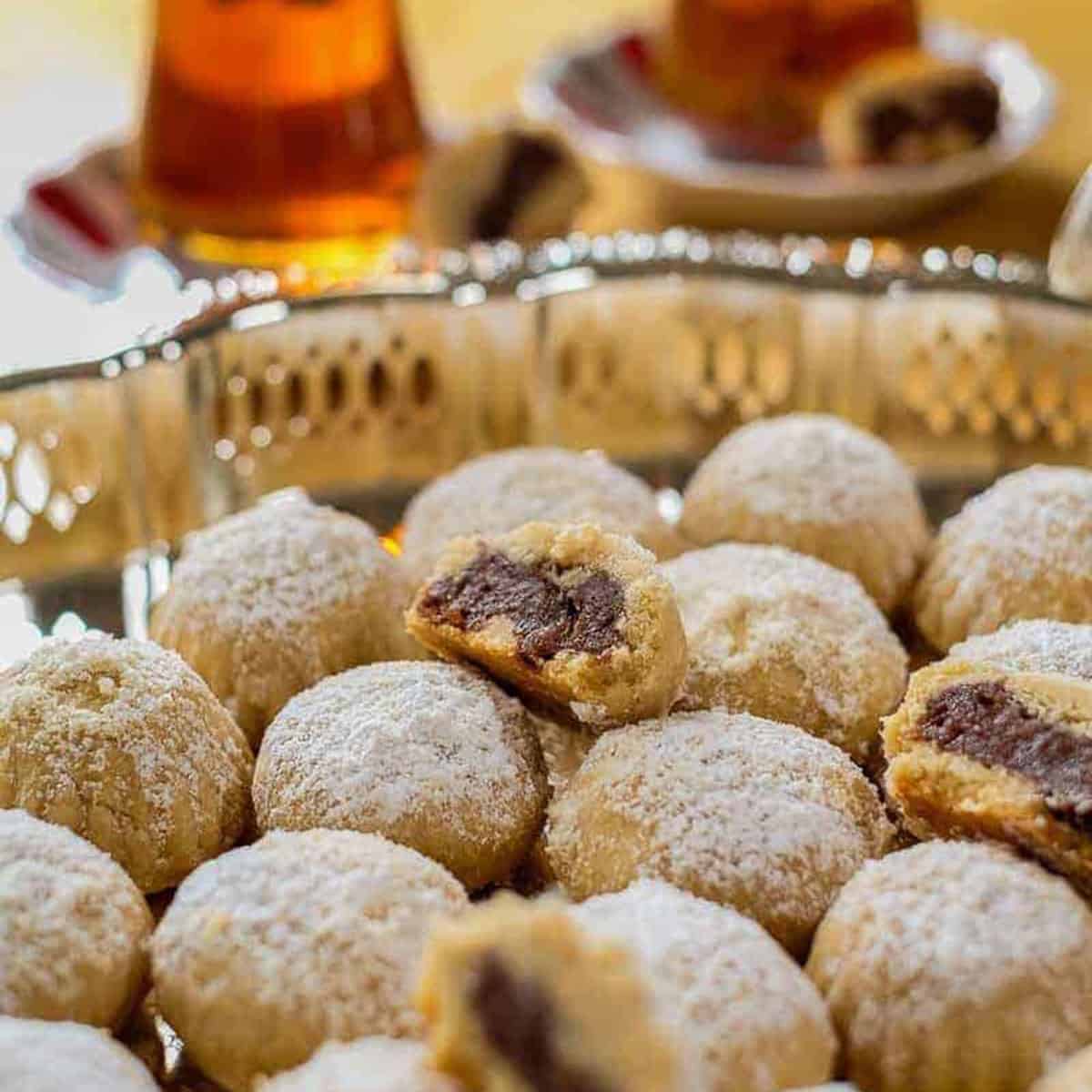 Maamoul are the famous middle-eastern holiday pastries that will melt in your mouth and are absolutely delicious. These are sweetened with dates and have minimal added sugar.
---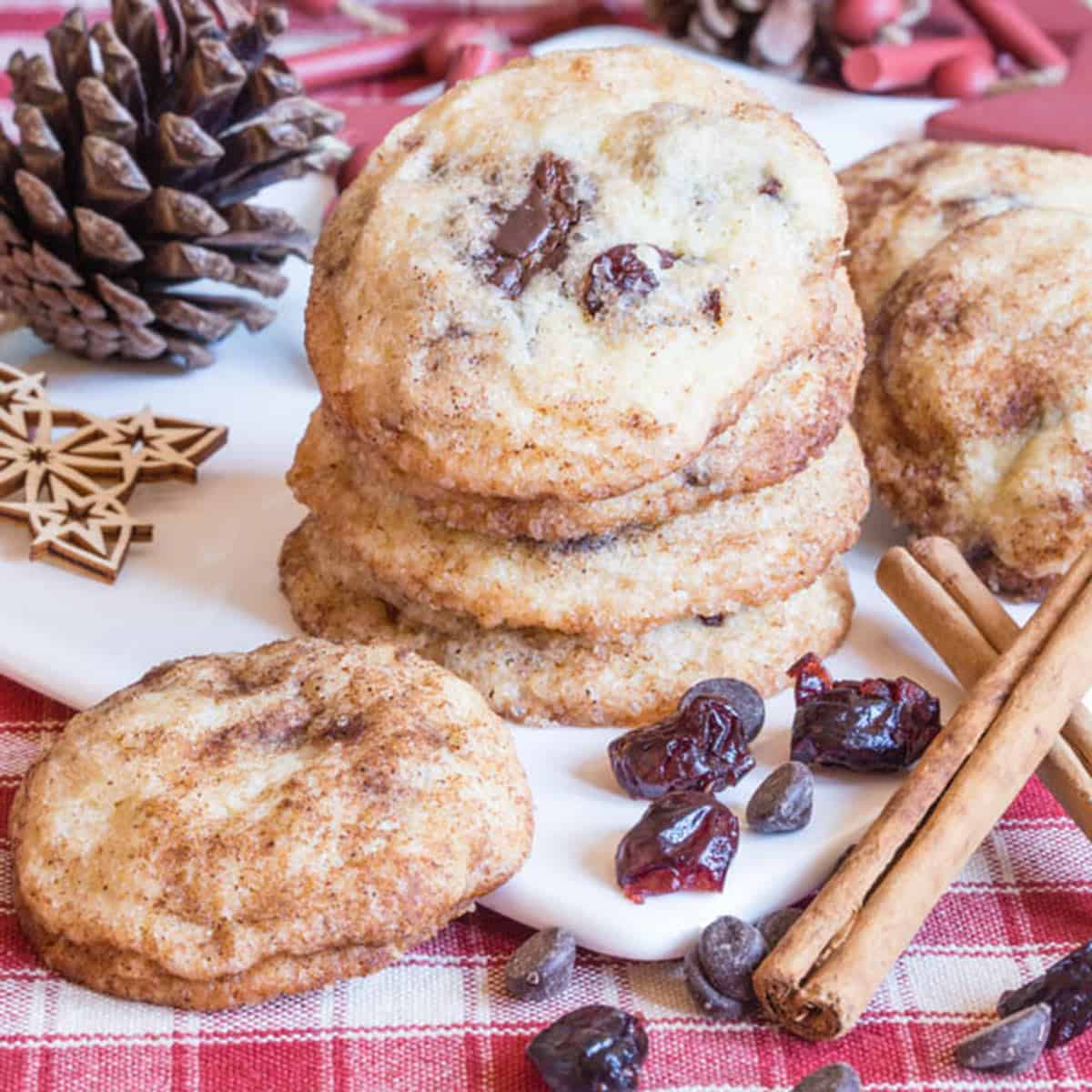 Christmas snickerdoodles are a cinnamon-dusted American holiday classic. These chocolate chip and cranberry Christmas cookies are a delicious twist on that theme. Add this delicious variation of a an American classic to this year's holiday platter!
---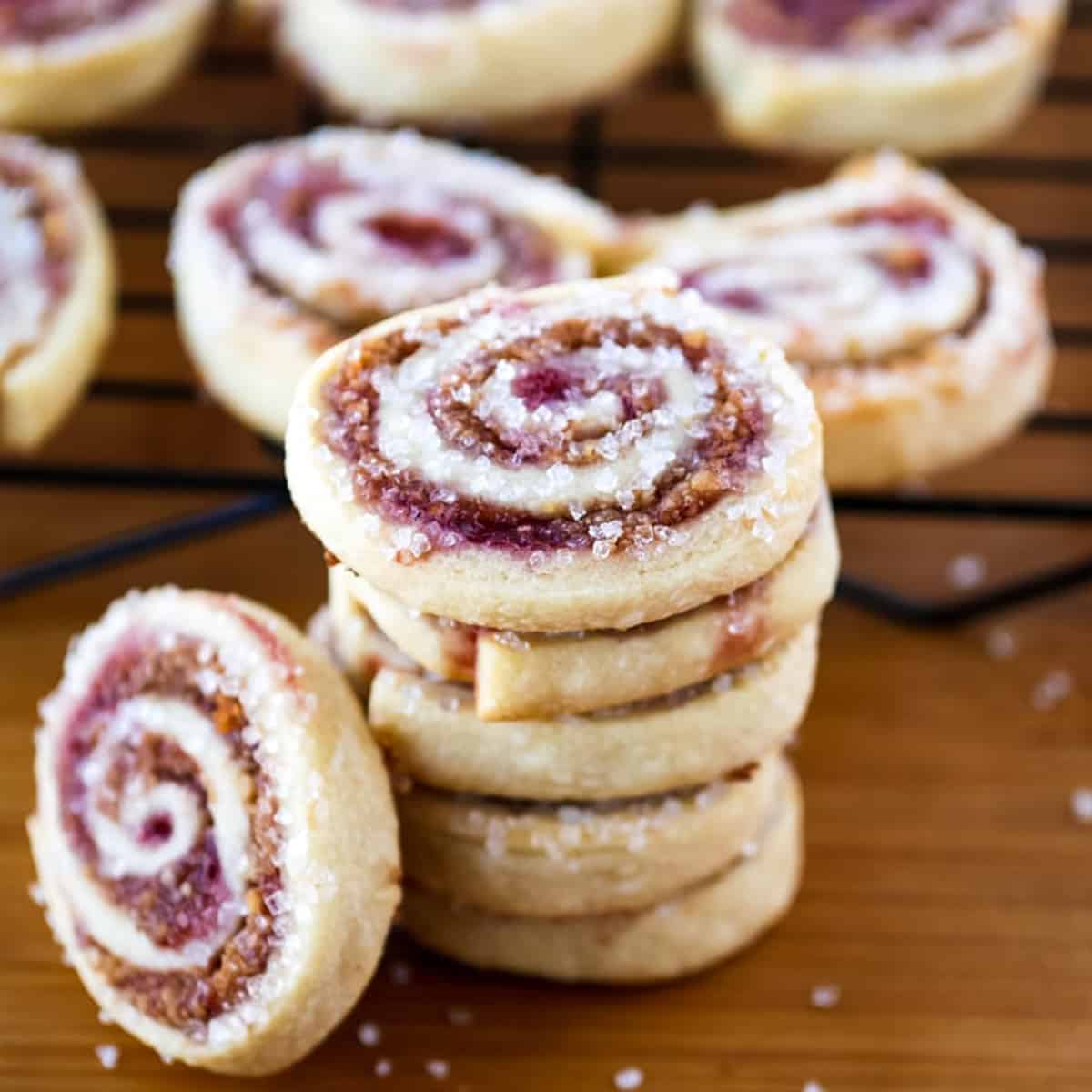 These classic pinwheel holiday treats are filled with jam and walnuts for a simple and delicious bite that is sparkly and gorgeous.
---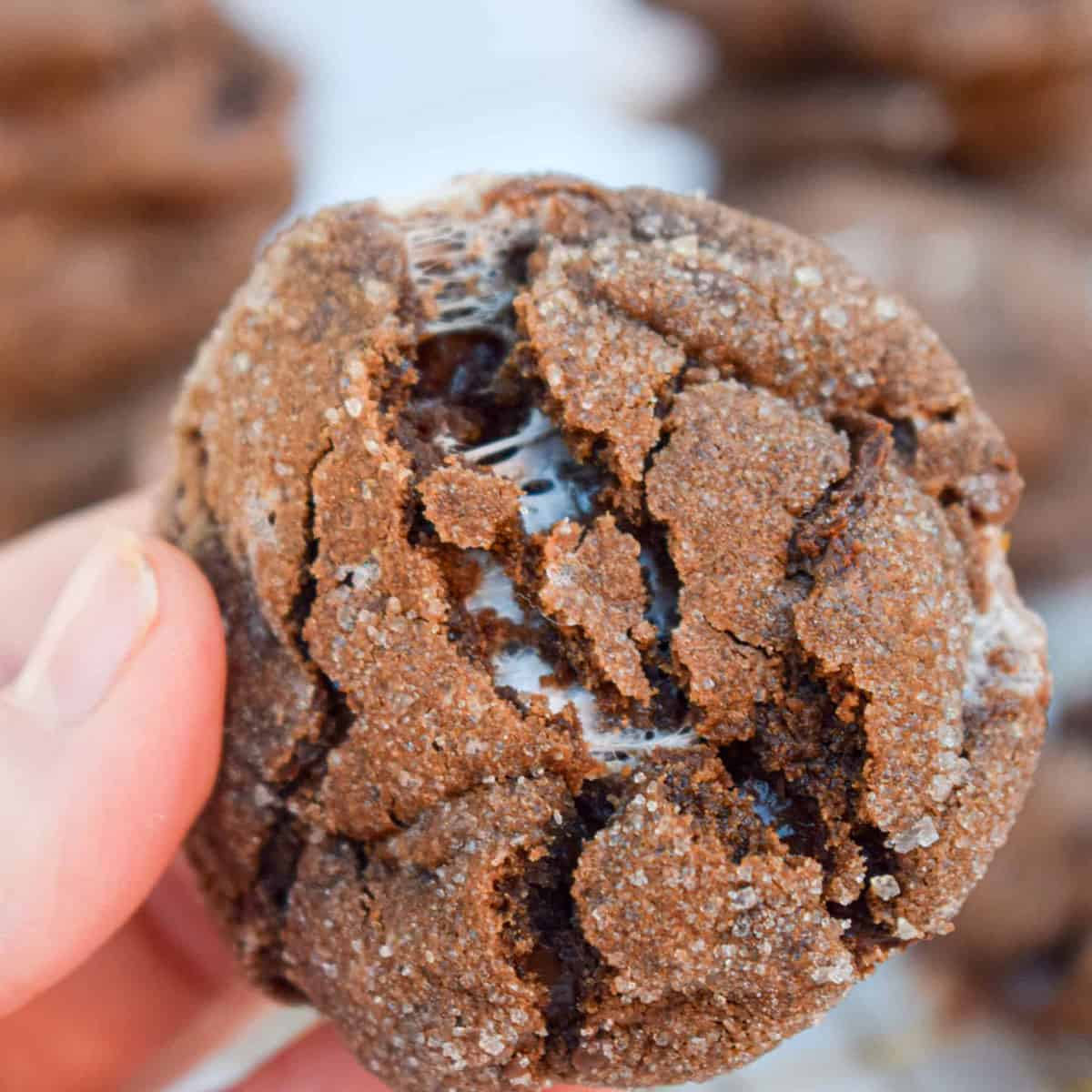 These addictive treats combine cocoa powder, cinnamon, marshmallows and chocolate chips. You won't be able to get enough of this dreamy holiday dessert!
---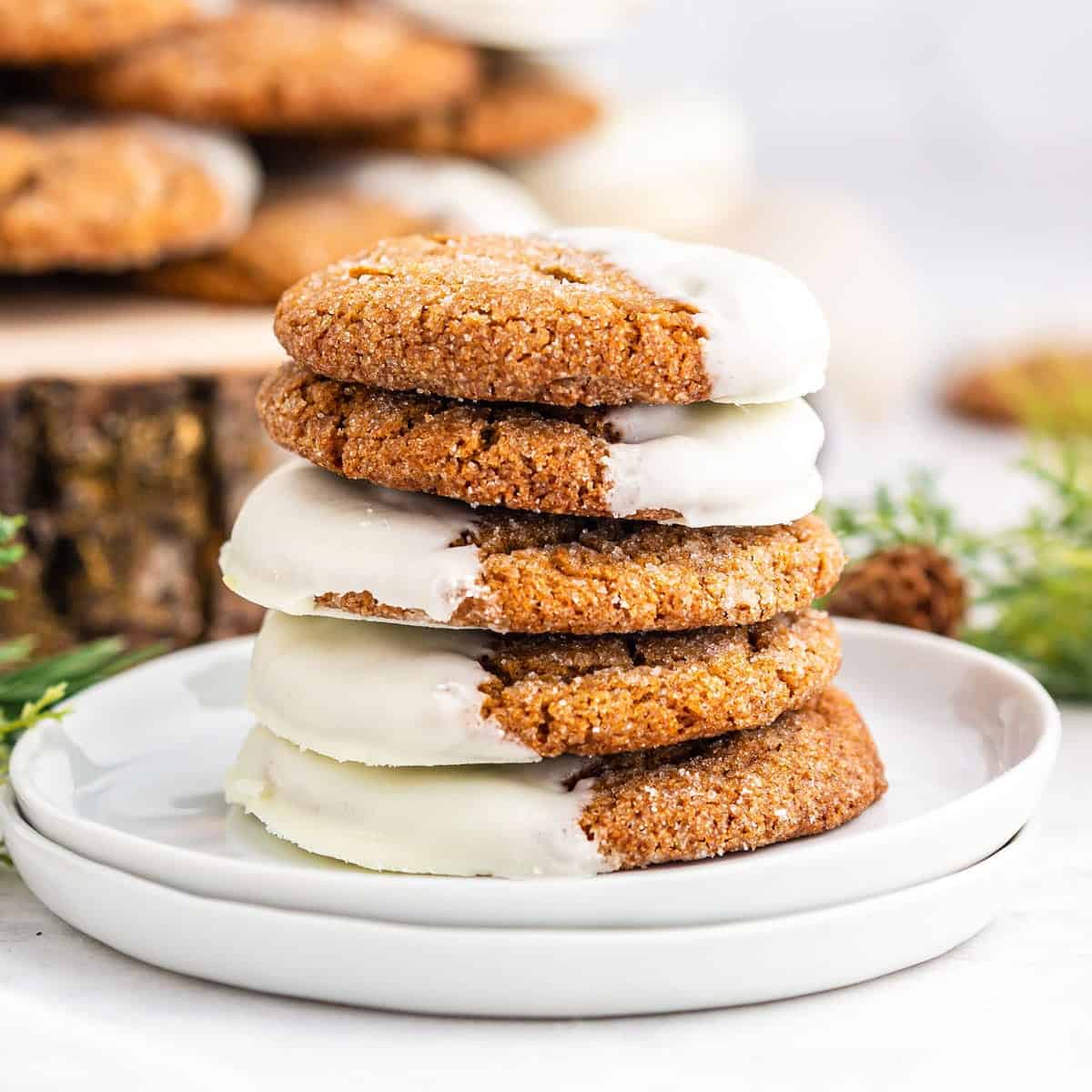 Featuring warm flavors that are made for the holidays, these mouthwatering Christmas treats are made for dunking. Coffee, cold milk, and hot tea all work great! Save a plate of these for Santa he is sure to add a little something to your stocking.
---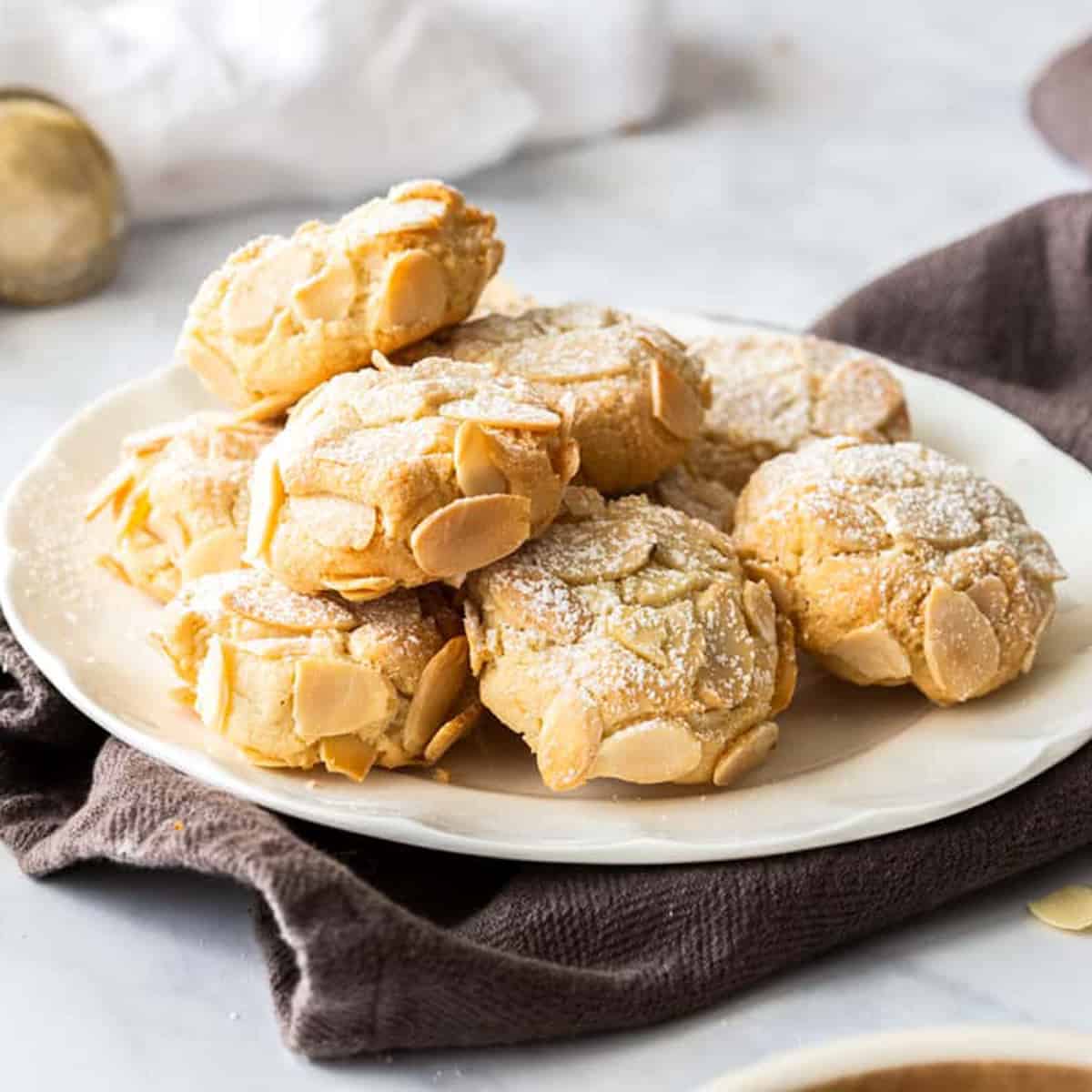 Just 5 ingredients are all that is required, and they are ideal to make in advance and freeze well. They have a crisp exterior and chewy center, with a delicate almond flavor.
---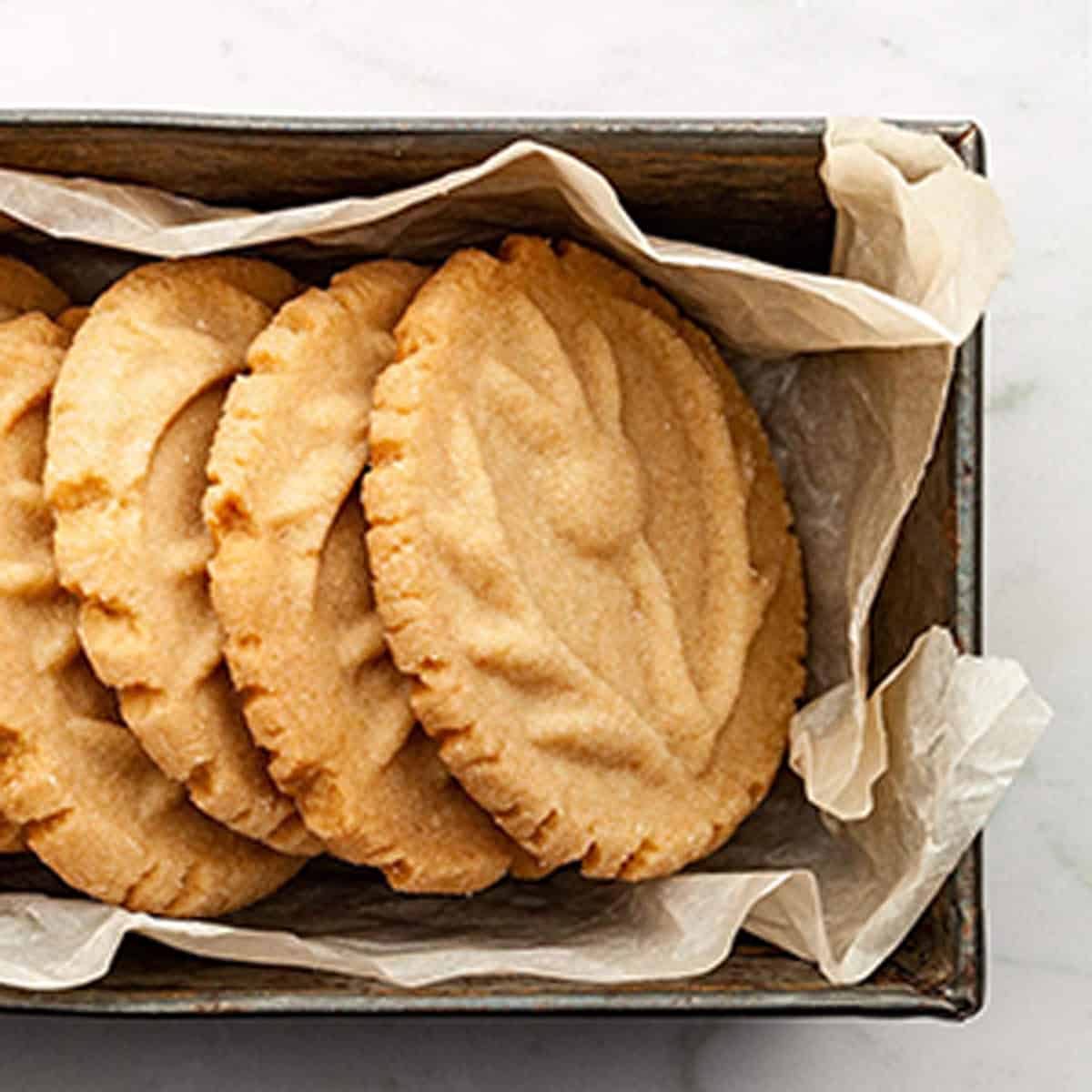 These are so pretty for Christmas! They're buttery and rich with a crisp, sandy, melt-in-your-mouth texture.
---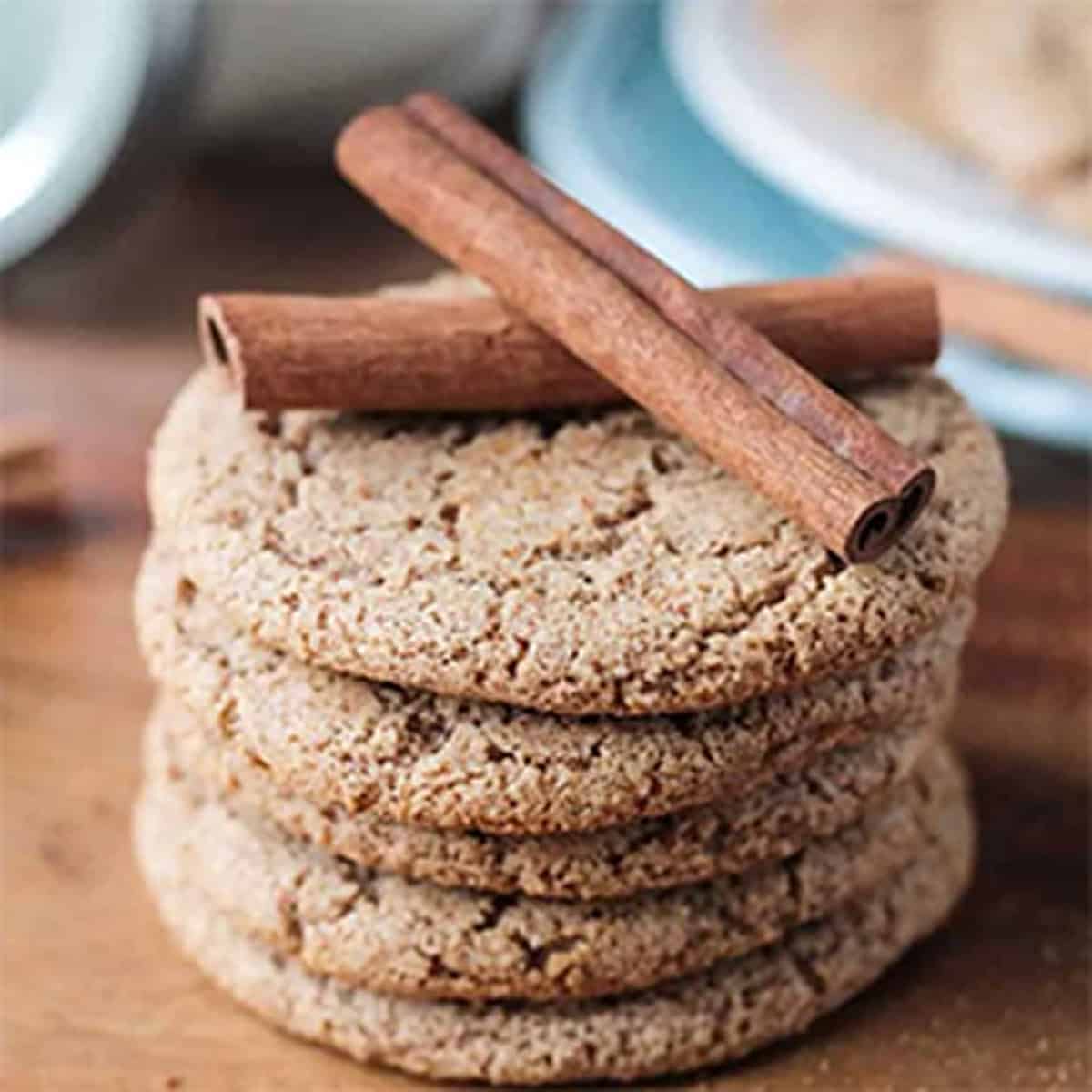 Perfectly chewy, sweet, and packed with warm cinnamon. Only 6 ingredients and 15 minutes needed to make these quick and easy, gluten free Vegan cinnamon holiday treats!
---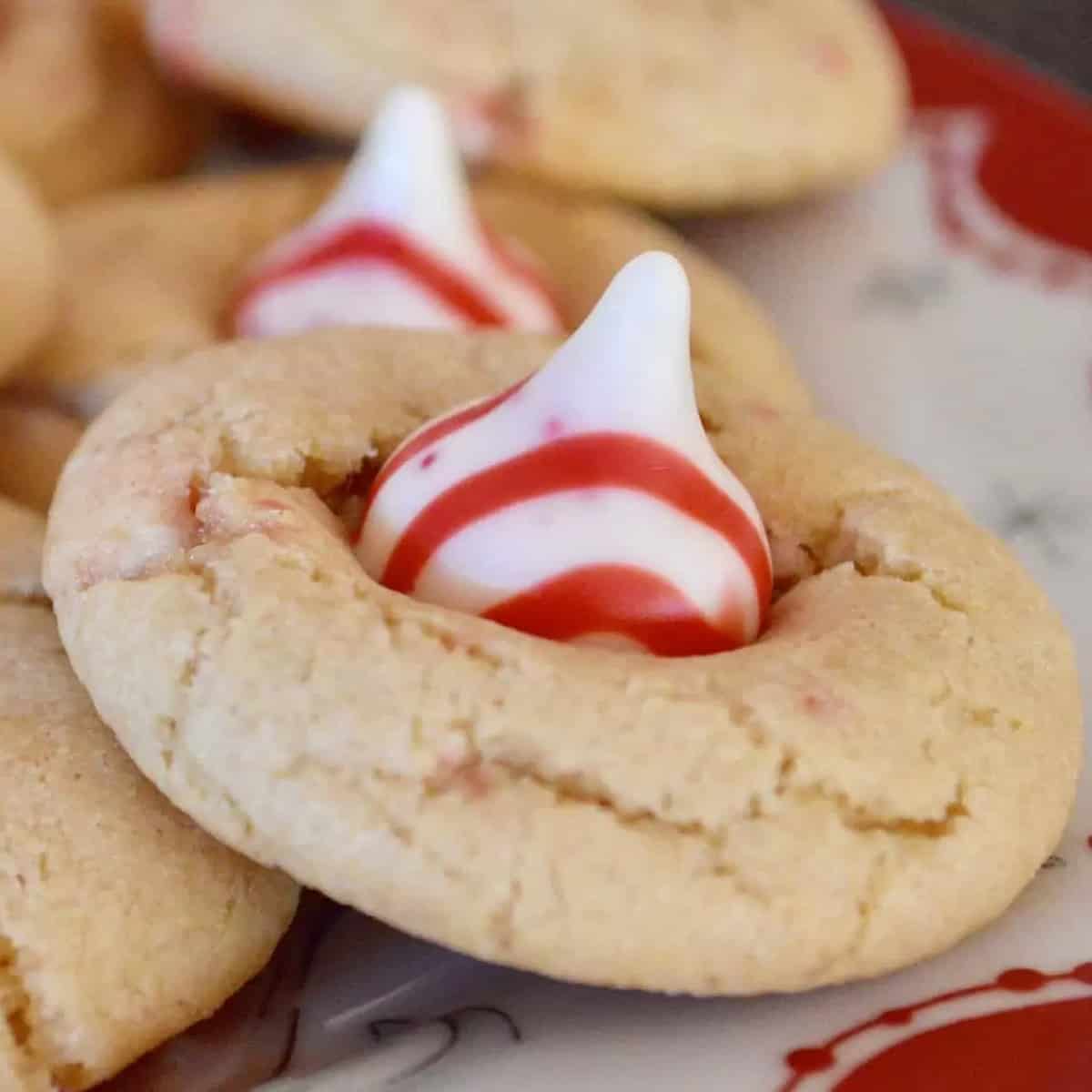 Made with Hershey's Candy Cane Kisses and crushed candy canes, these candy cane kiss holiday treats are the perfect holiday cookie! Don't miss this festive and easy-to-make Christmas treat that's great for cookie exchanges. Try these peppermint kisses this year!
---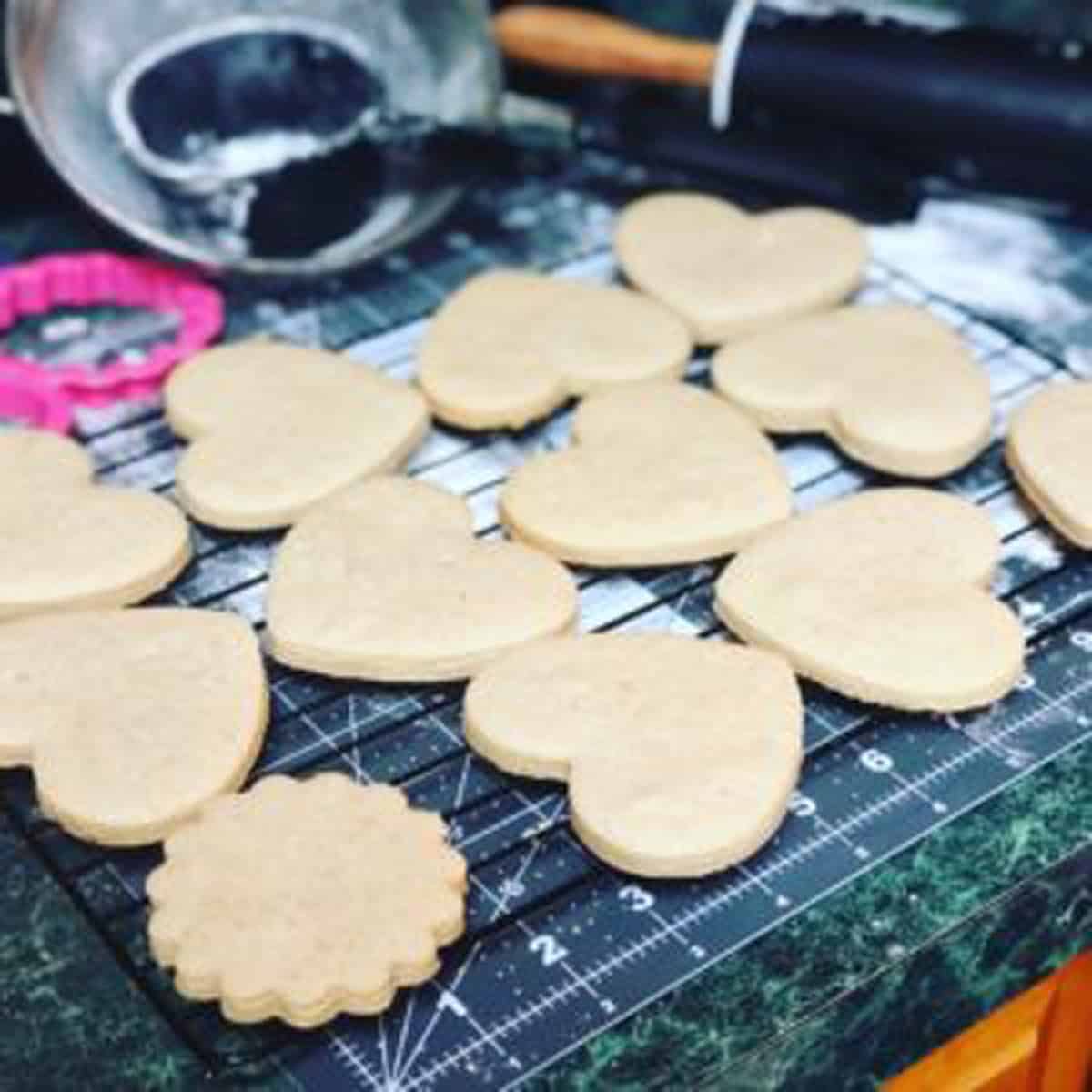 No eggs, no dairy, no problem! These taste just as great as Grandma's without the need for chilling.
---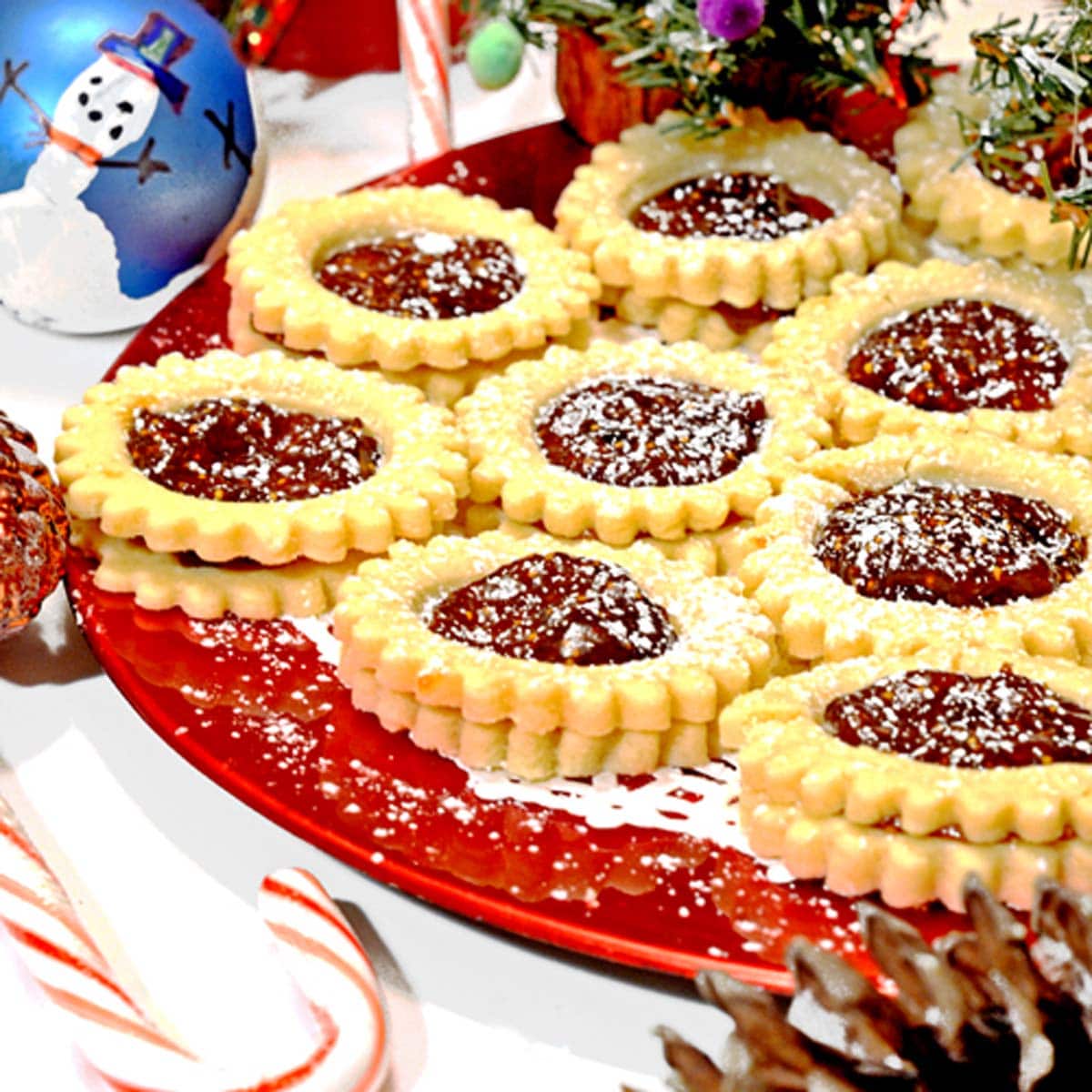 These have a fancy name but are super easy to make. Fill them with your favorite jam or preserve and deck the halls!
---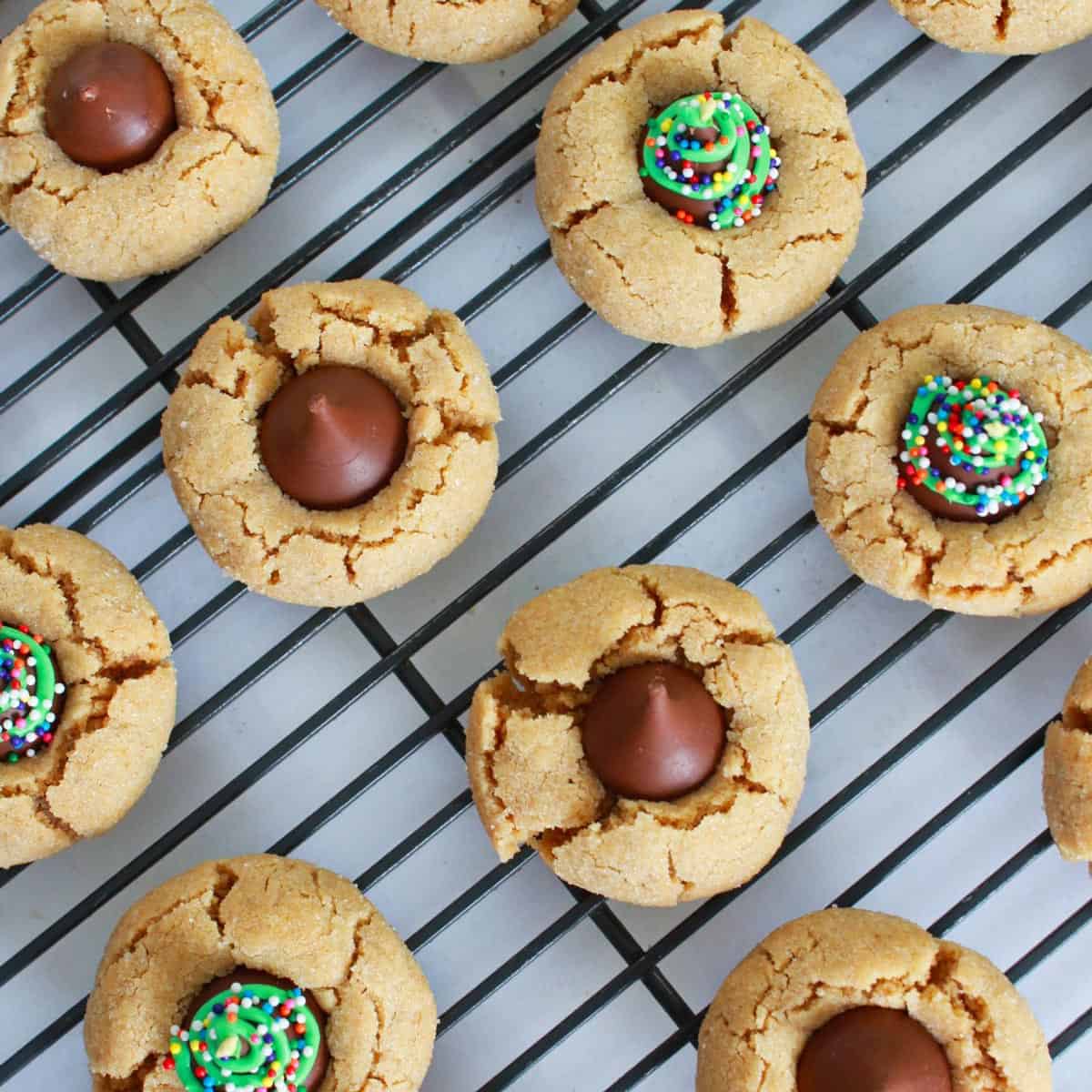 Turn a classic peanut butter blossom into an adorable Christmas treat with only a few simple steps. Add them to your holiday to-do list for an extra special treat. No holiday dessert platter is complete without some of these.
---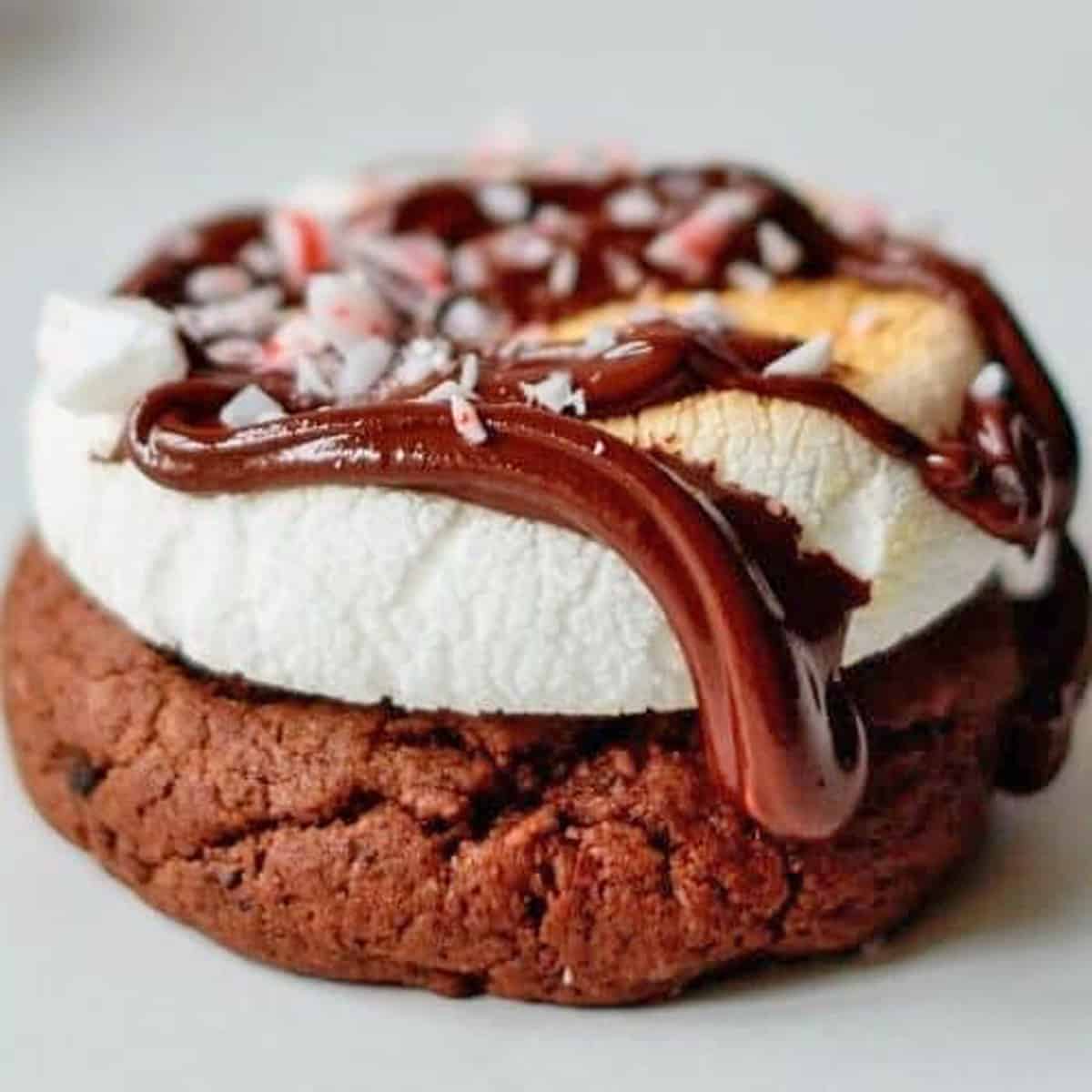 Anyone who loves peppermint hot cocoa will go crazy for these!! Rich and fudge-flavord, they are topped off with toasted marshmallows and globs of melted chocolate, yum!
---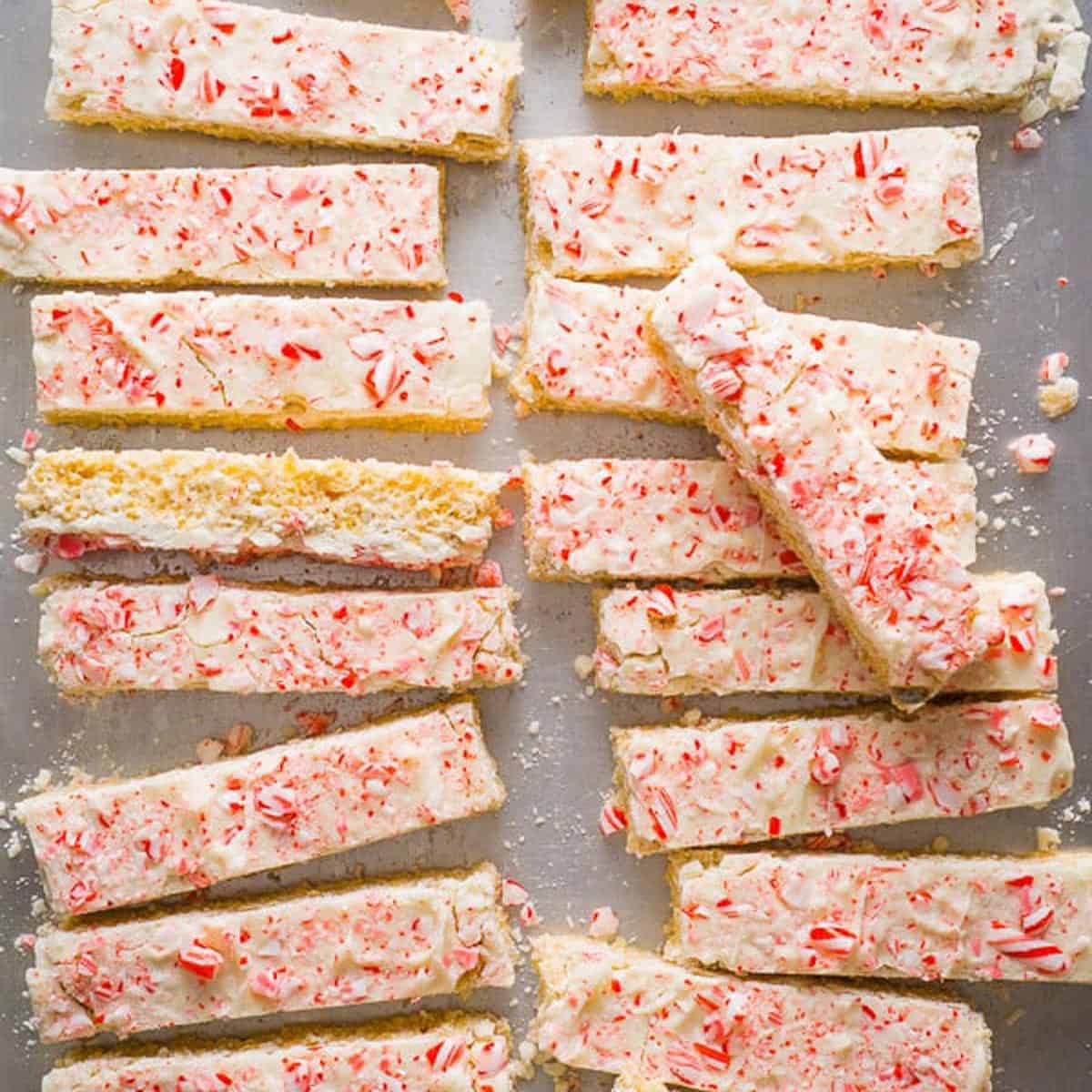 These might be bars but I have never seen Santa turn his nose up at these. Christmas rice krispie treats are everyone's favorite treats topped with white chocolate and peppermint candy. This no-bake holiday indulgence is fun, easy, and downright crave-worthy.
---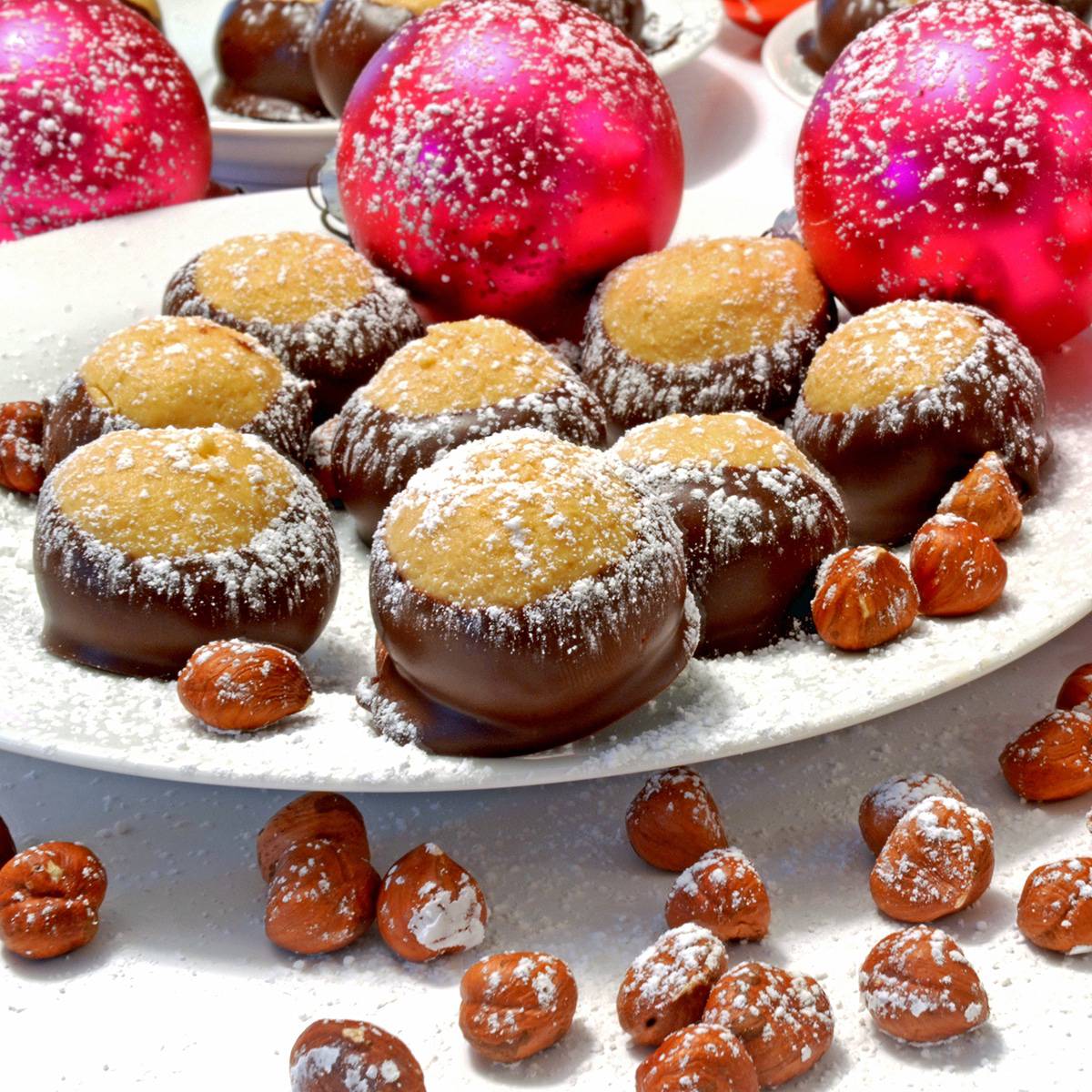 This spin on a classic holiday treat is filled with warm flavor and sweetness. Use your favorite hazelnut spread or try something a little different like one of the many butter flavors from Trader Joe's.
---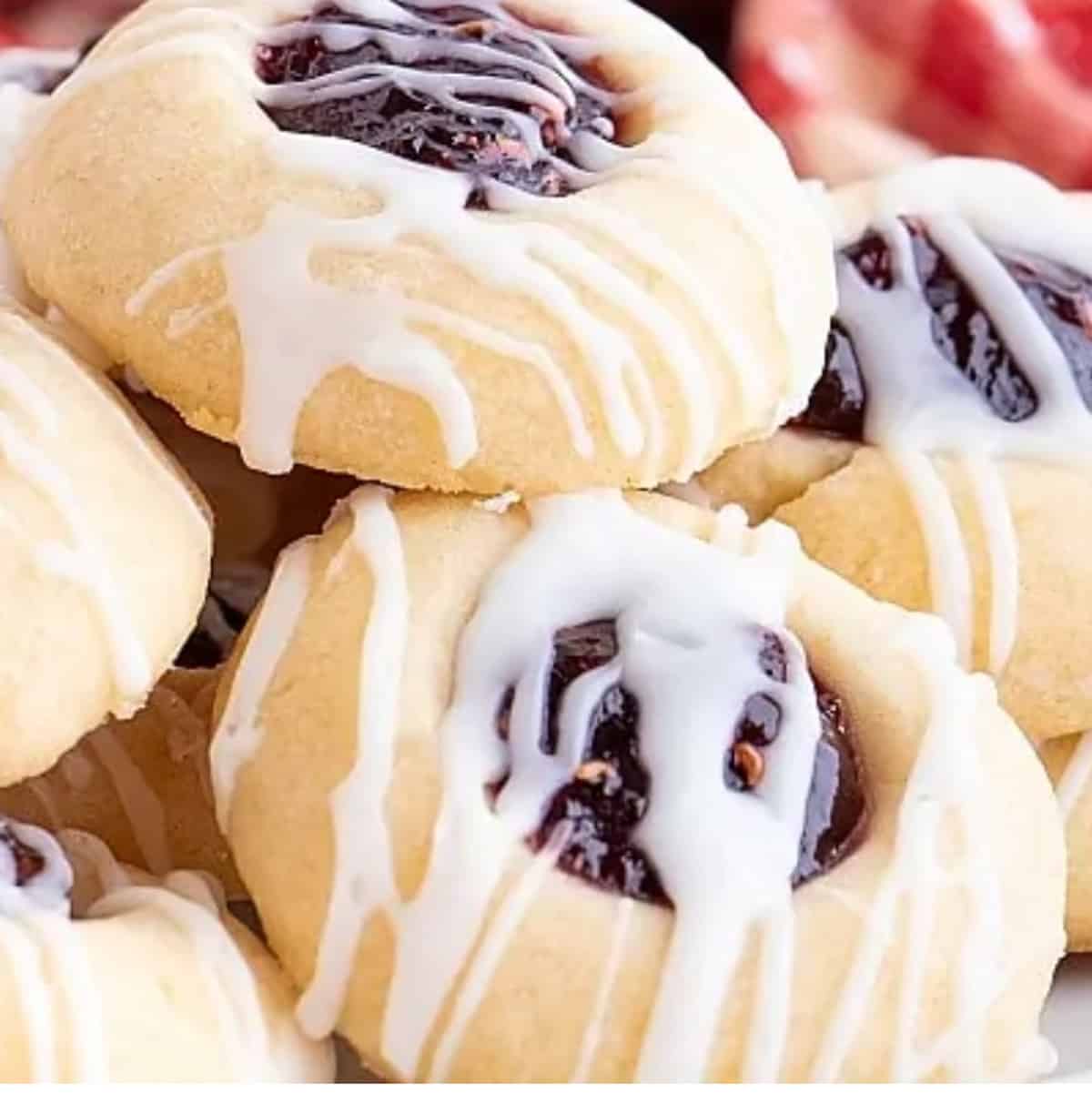 The tastiest vegan thumbprints have an almond flavor and a sweet glaze on top. The best shortbread jam treats ever!
---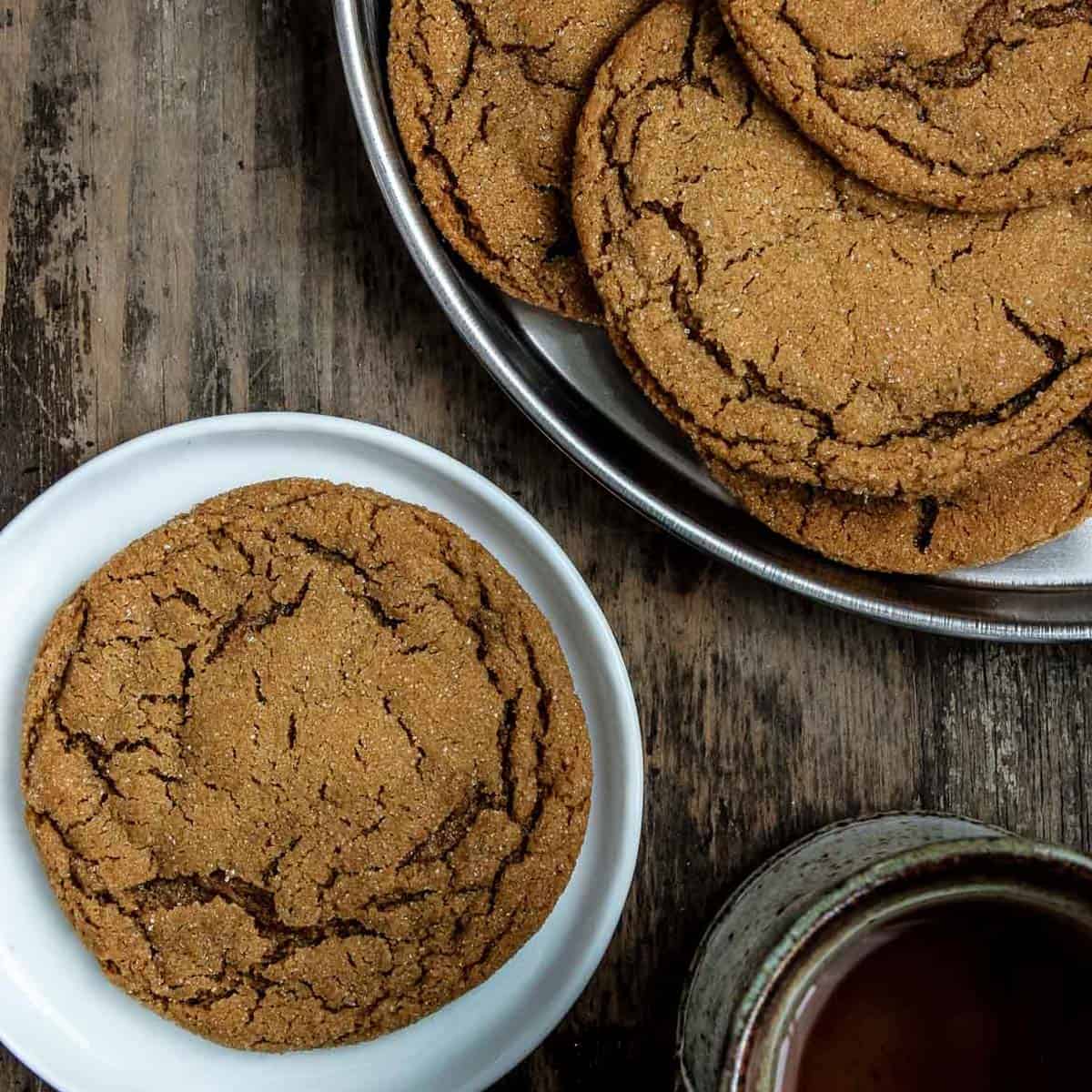 This chewy recipe is easy to make. They are soft and pillowy with a hint of five-spice and vanilla flavor.
---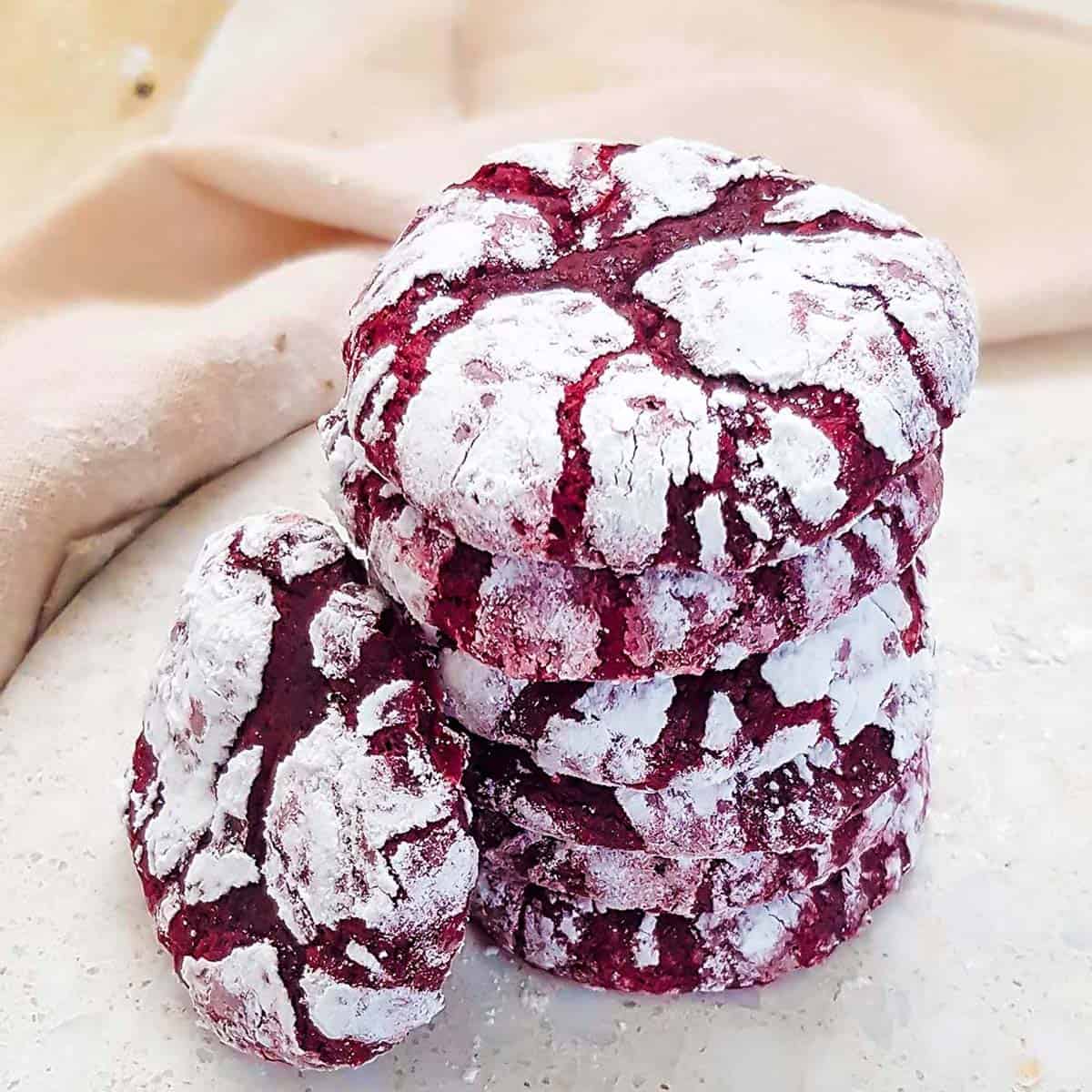 Featuring a crispy crinkly outside to the soft fudgy center with the stunning color of a red velvet cake. It is one of the most beautiful-looking vegan Christmas cookies recipe ever.
---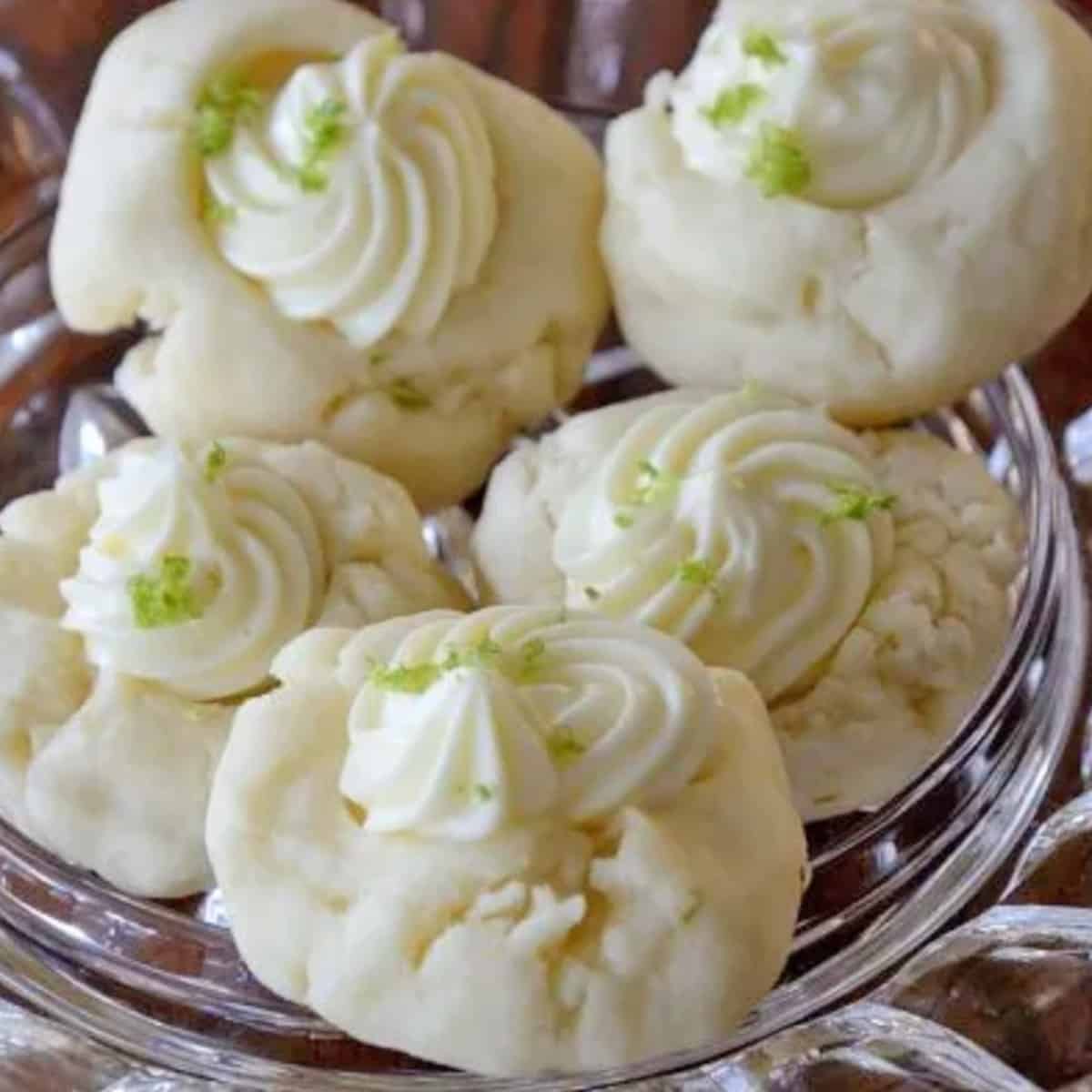 A hint of lime in the dough and the cream cheese frosting give a sweet and tart flavor to these They are sometimes called Meltaways because the dough is so tender they melt in your mouth.
---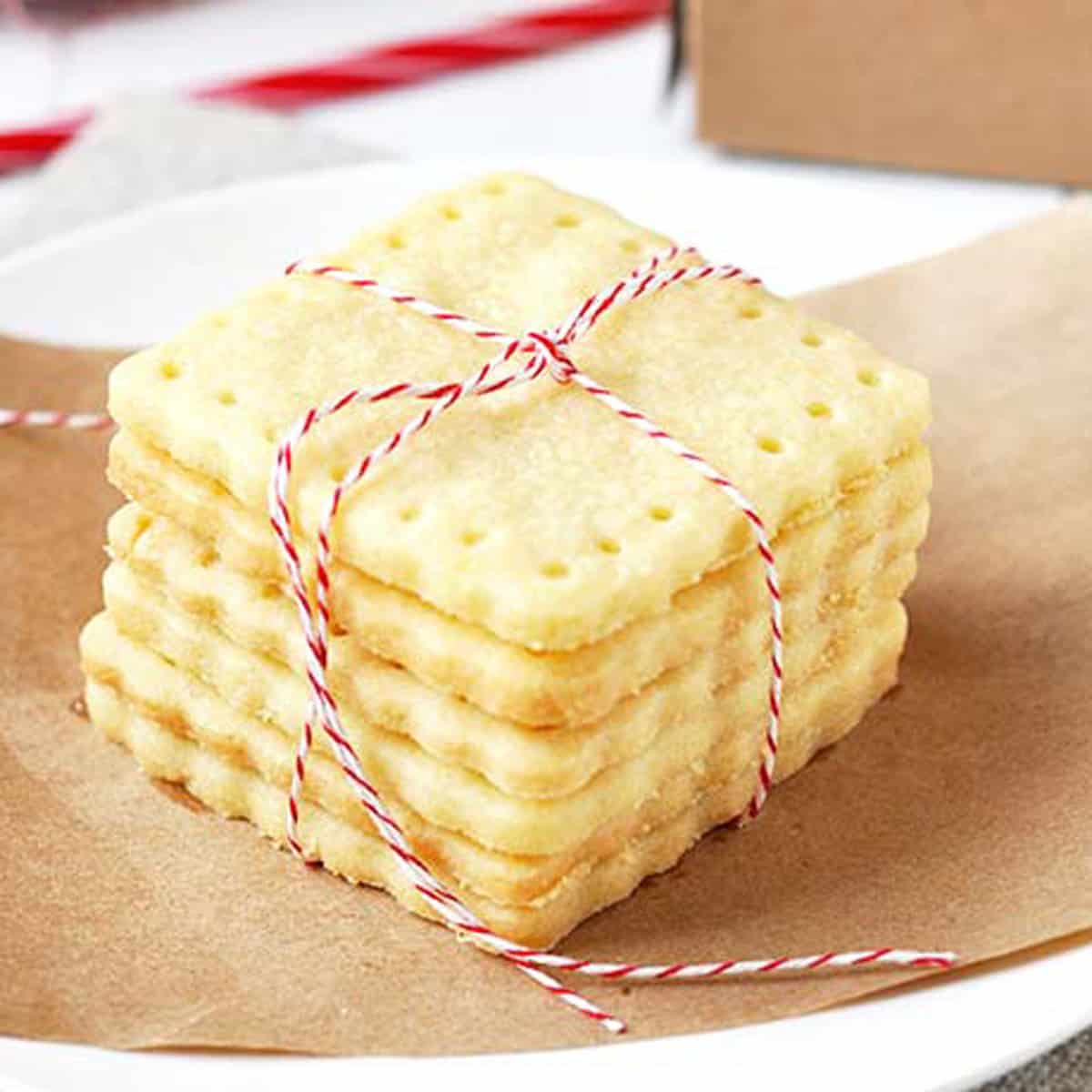 These melt-in-your-mouth holiday treats are cute and festive. This buttery shortbread treat is easy to make using just three ingredients!
---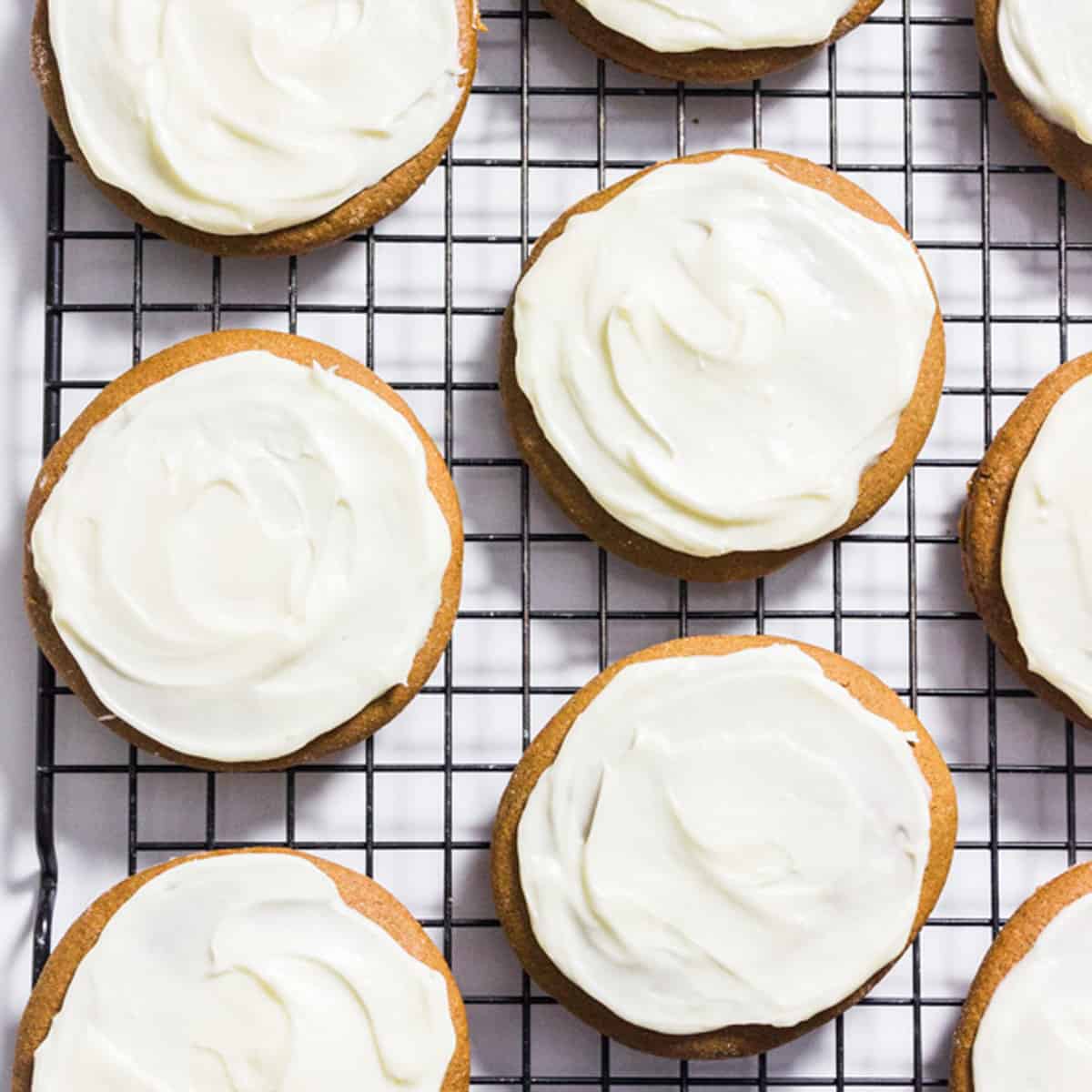 A soft and perfectly spiced gluten-free gingerbread treat topped with a dreamy, cream cheese frosting. This is the gluten-free holiday dessert you've been waiting for!
---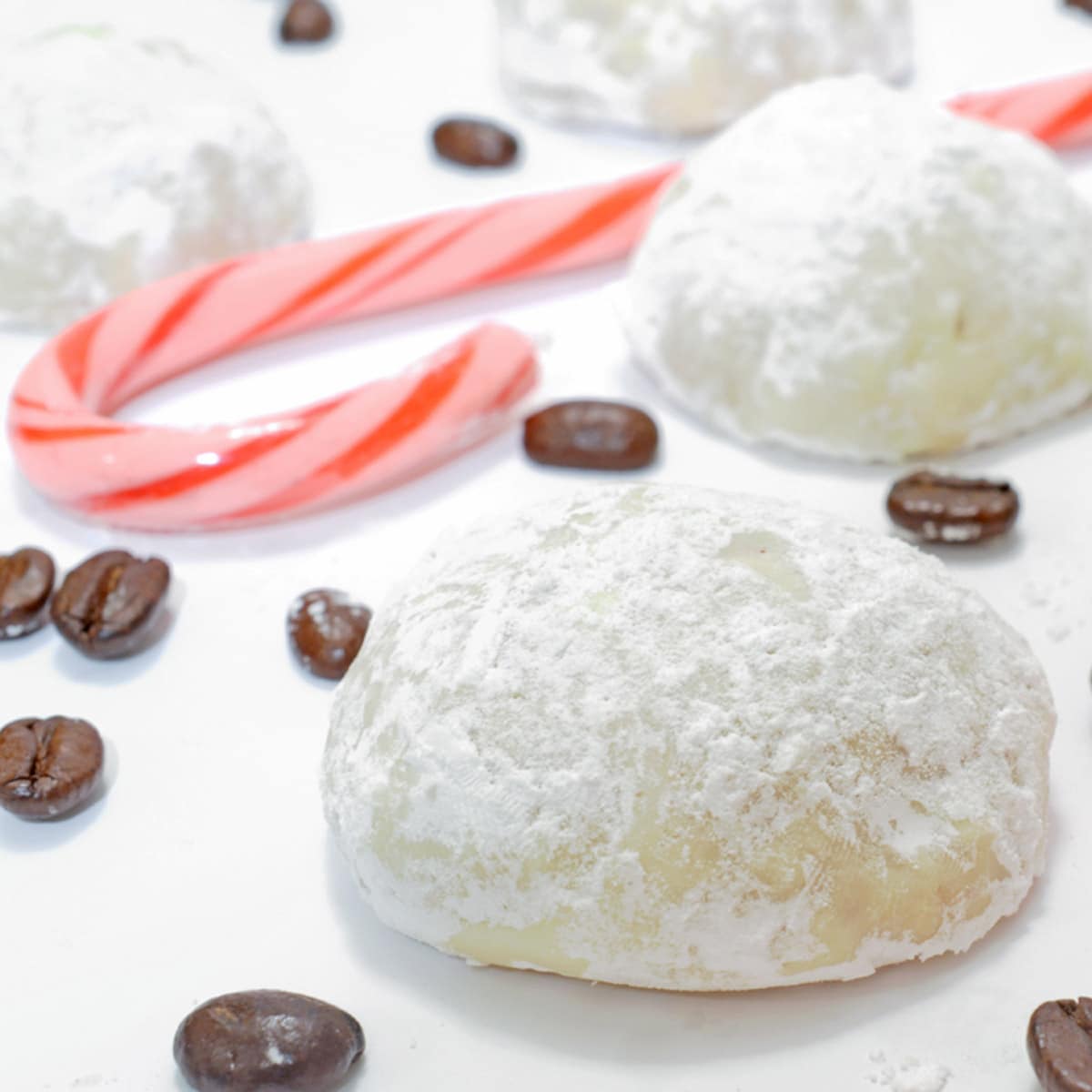 One of the best things about this classic holiday treat is how easy they are to make. In less than 20 minutes, you'll have over 24 of these snowball confections. That's the best return on investment of your holiday you'll ever get!
---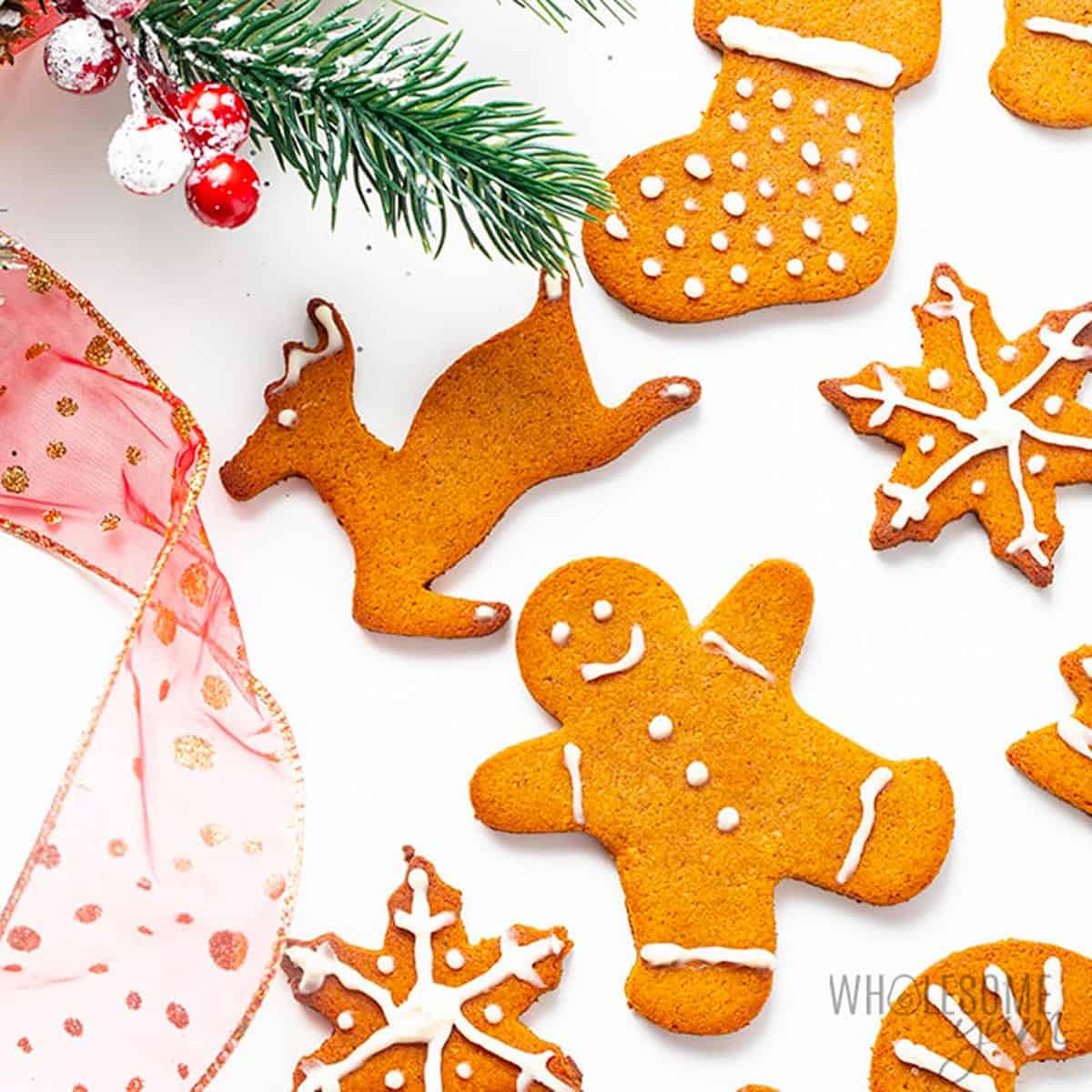 The best keto gingerbread recipe to make your holidays merry and bright. These low-carb sugar-free gingerbread cookies have just 1.4 net carbs each!
---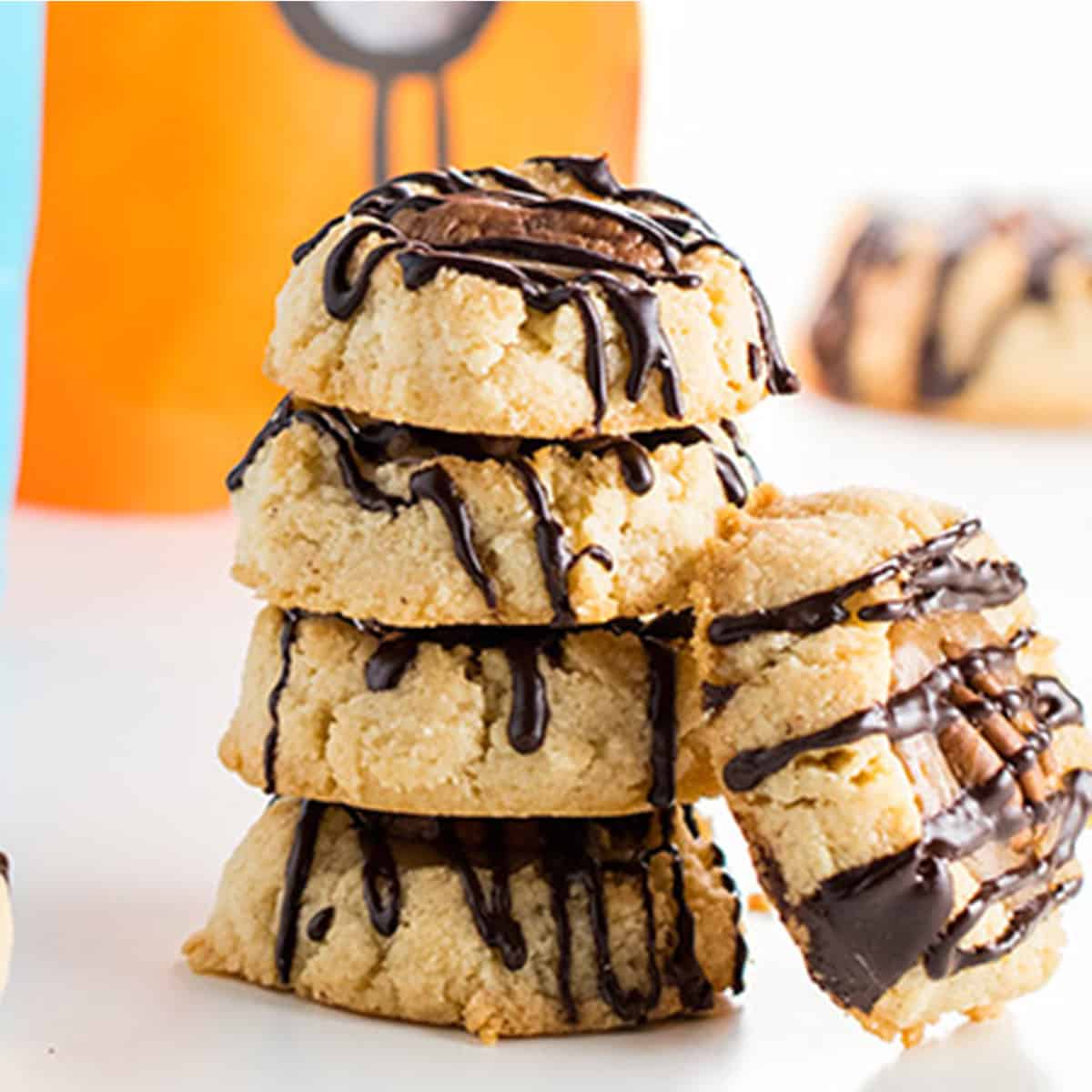 An EASY caramel pecan turtle recipe that looks and tastes impressive! No one will believe these are sugar-free & gluten-free.
---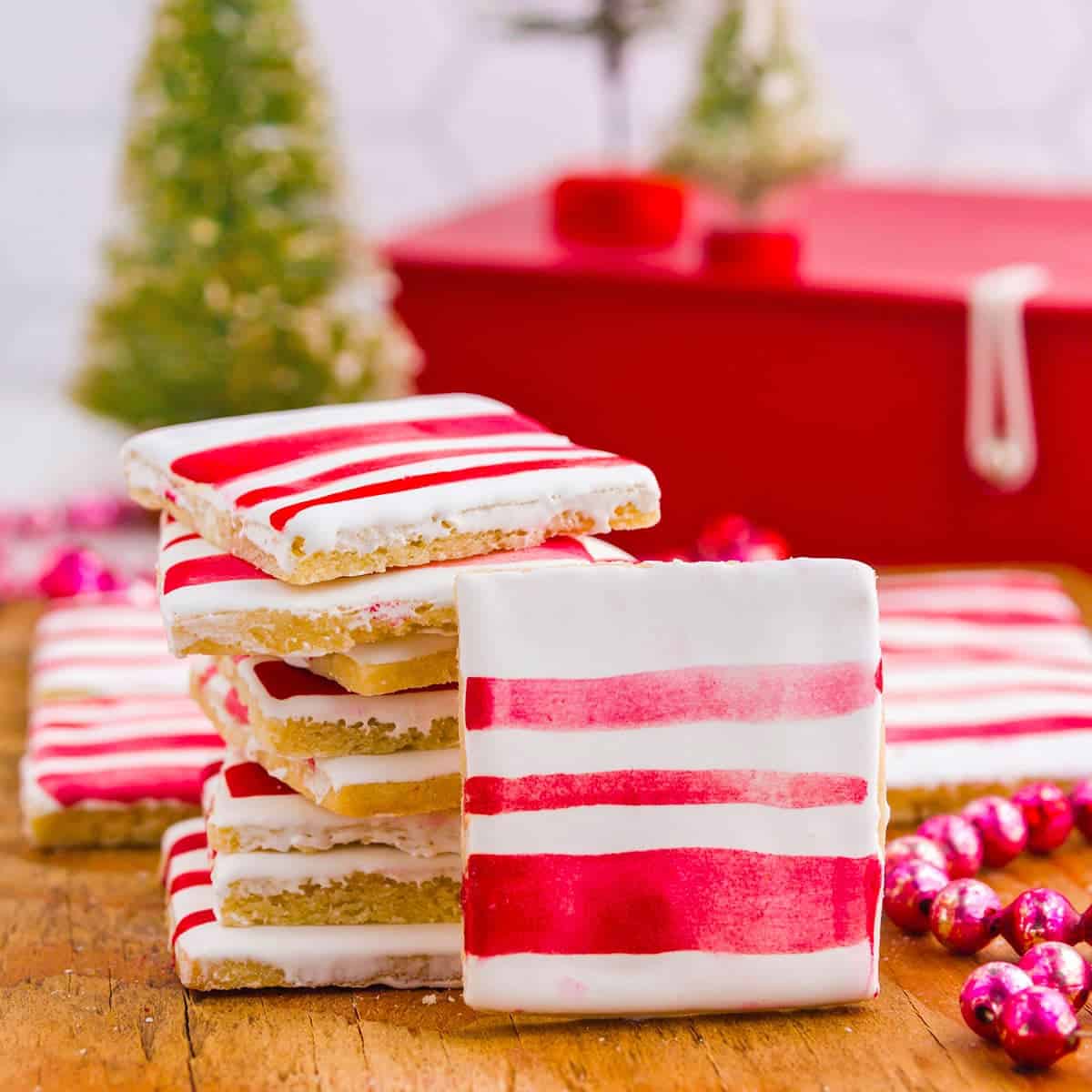 These make the perfect edible Christmas gift and will definitely impress Santa and his helpers.
---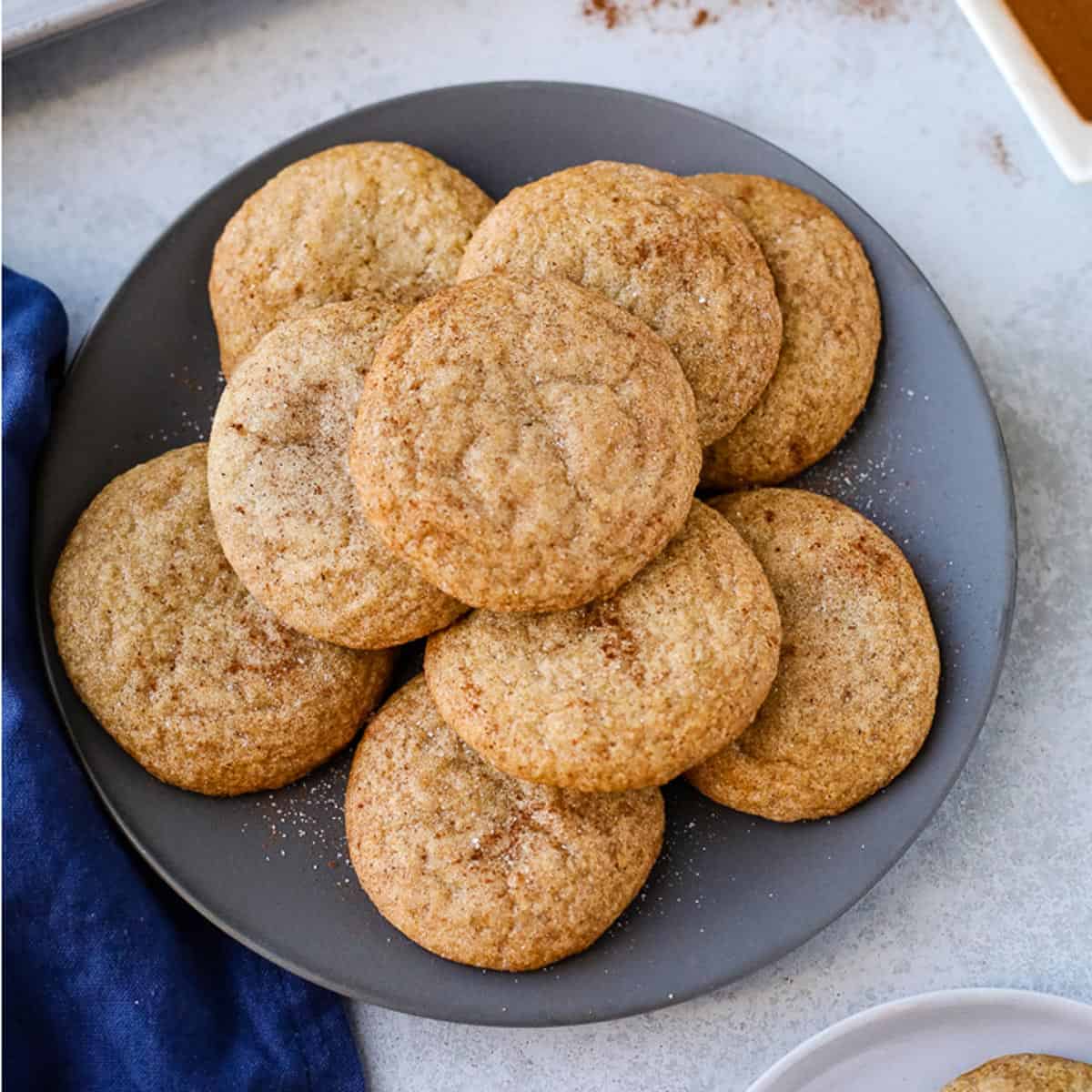 These snickerdoodles are soft and fluffy with plenty of cinnamon! Plus, they're made without butter and eggs so they're a vegan dessert anyone can enjoy!
---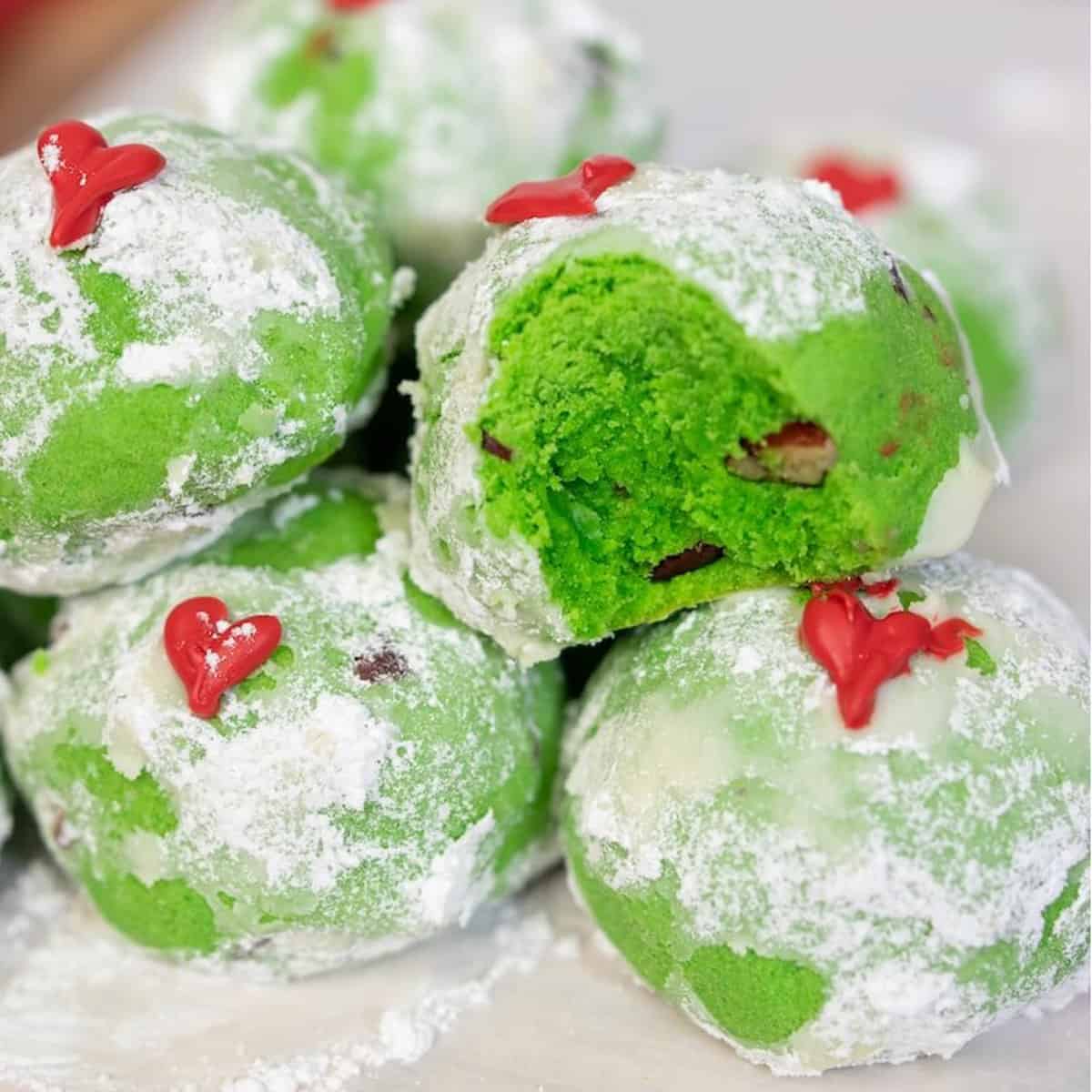 These are a colorful twist on the classic snowball recipe. They're one of our most popular Christmas recipes of all time!
---
These s are the ultimate holiday dessert! They are a true-to-taste copycat of the popular Starbucks treat, and are easy to make right at home!
---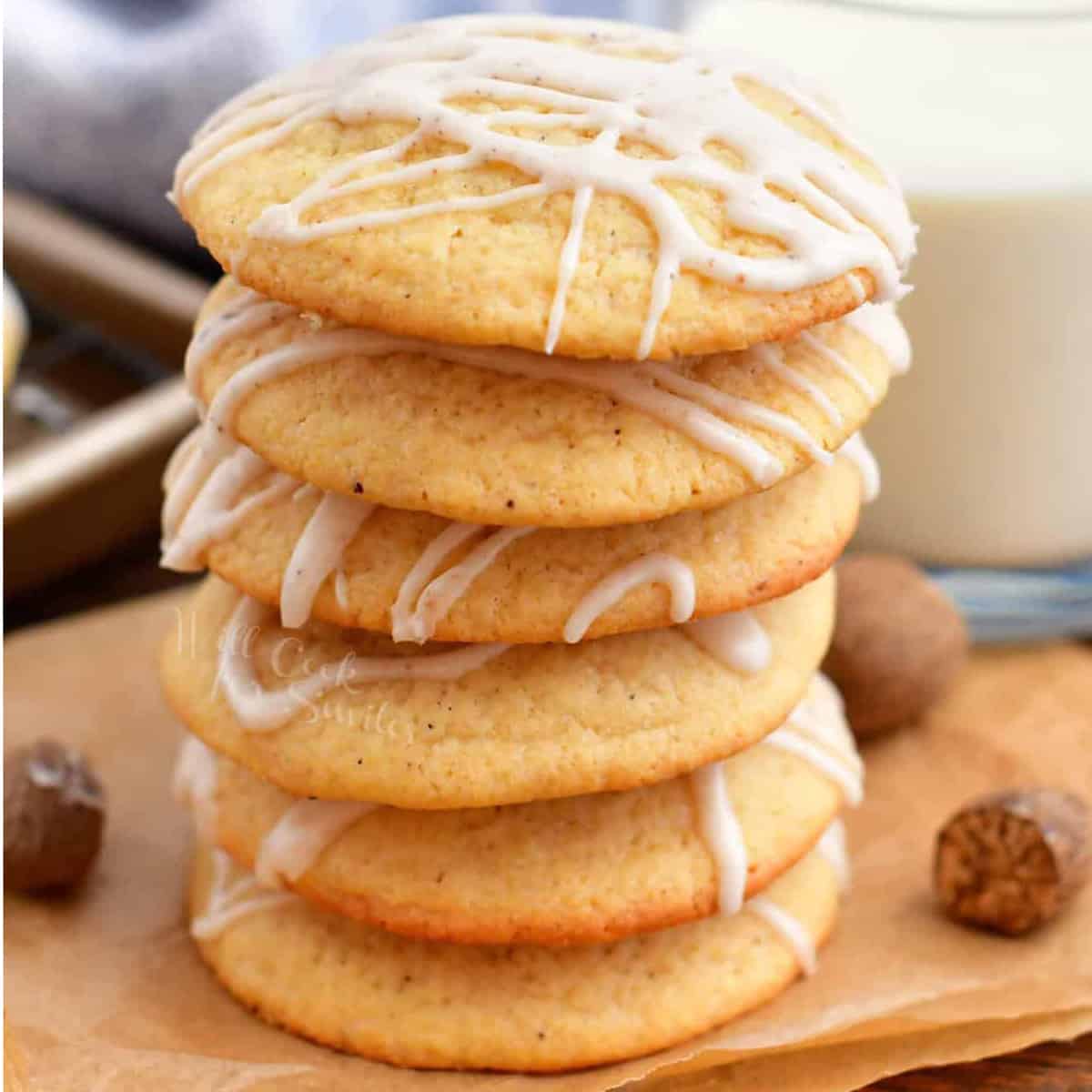 These are festive, sweet, and will melt in your mouth. They have a soft and fluffy taste, incredibly like eggnog and are drizzled with a sweet eggnog glaze.
---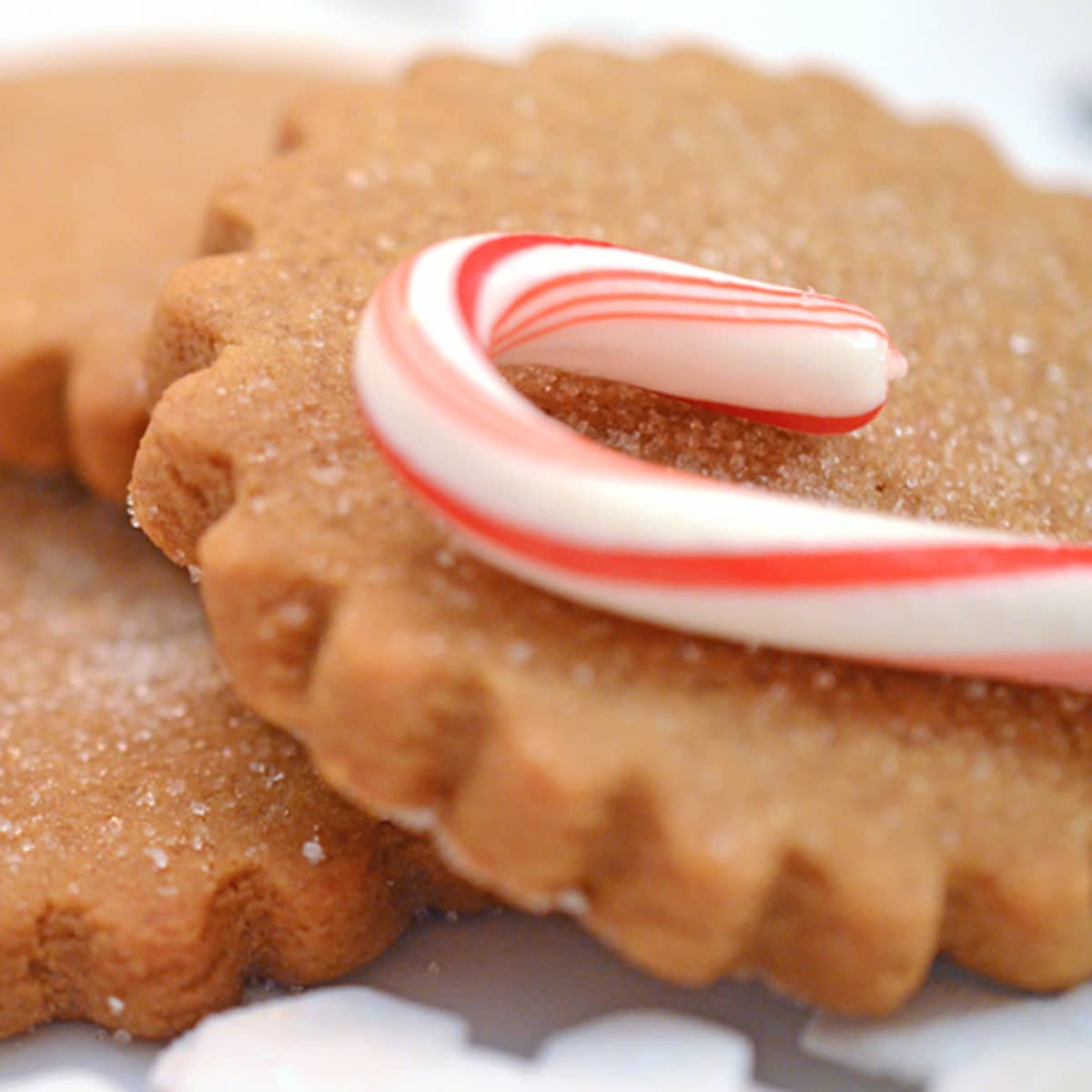 These are filled with love and flavor, just like my grandma who passed these down to her family. Make these part of your holiday traditions, starting this year.
---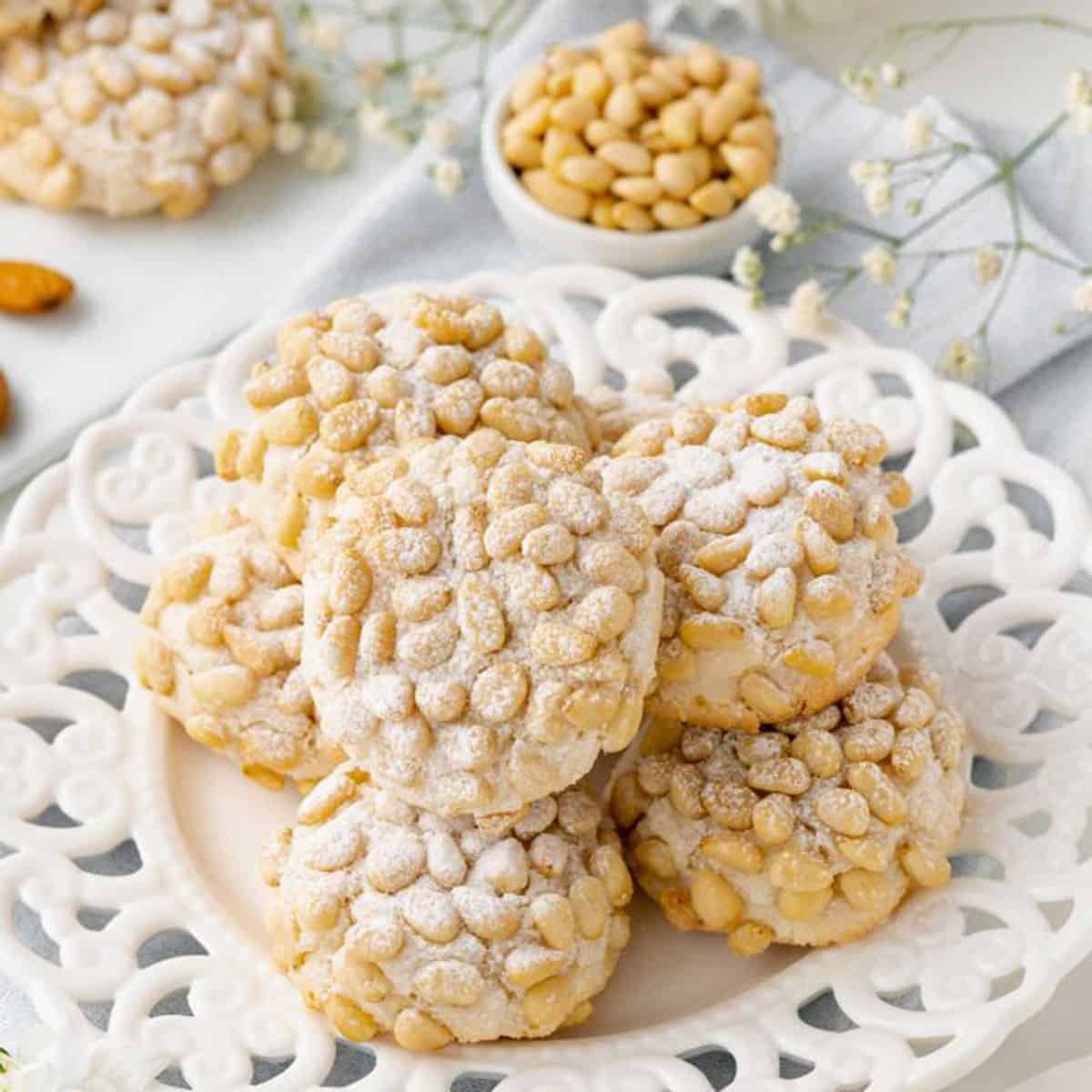 These easy pignoli cookies are super quick and easy to make. Featuring a mellow nutty flavor, they are typical Italian in goodness and flavor. You'll love the crisp exterior and chewy interior.
---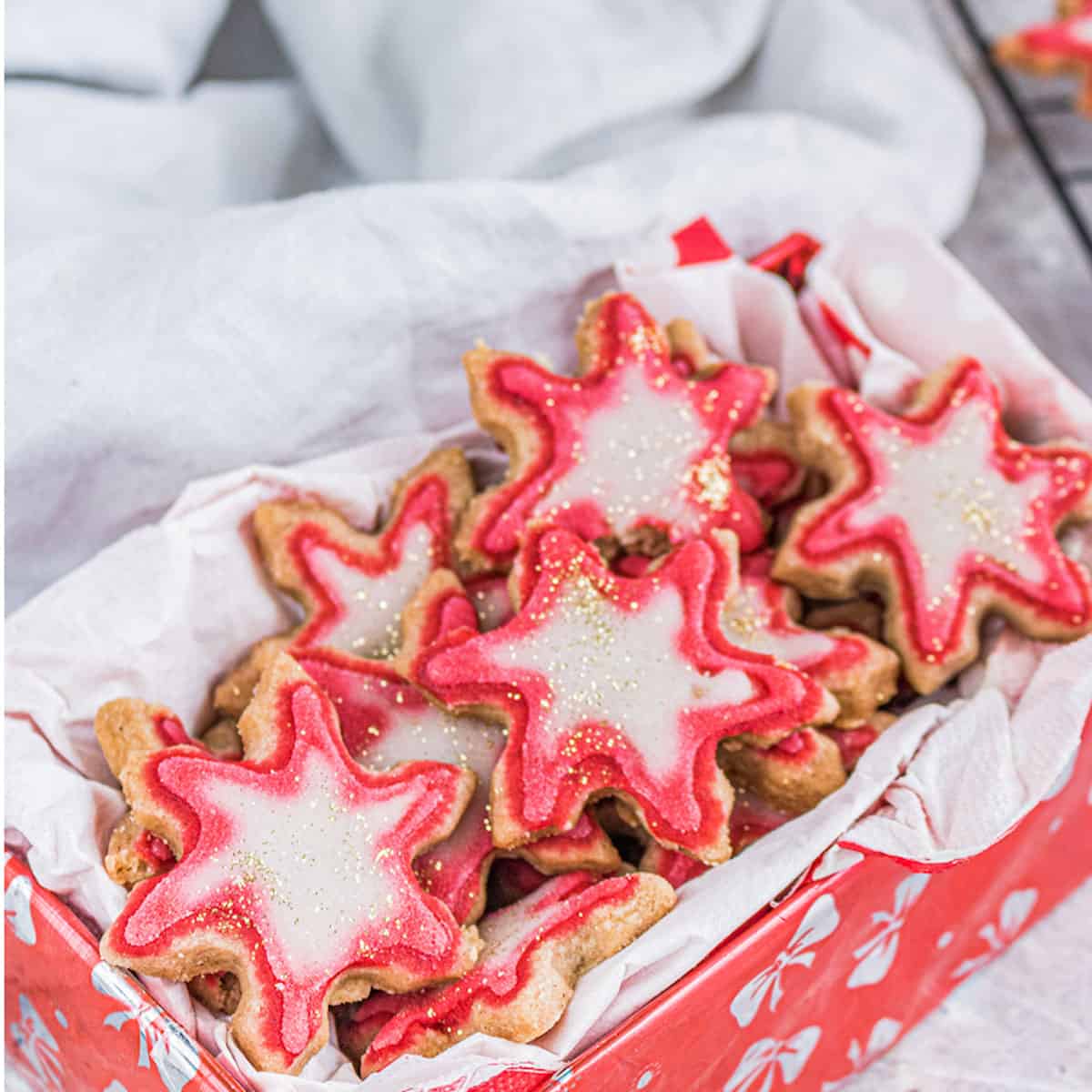 These Christmas beauties are buttery and spiced with a hint of cinnamon, nutmeg, and ginger. Cut them into festive shapes for the holidays, then make and enjoy this shortbread recipe all year long.
---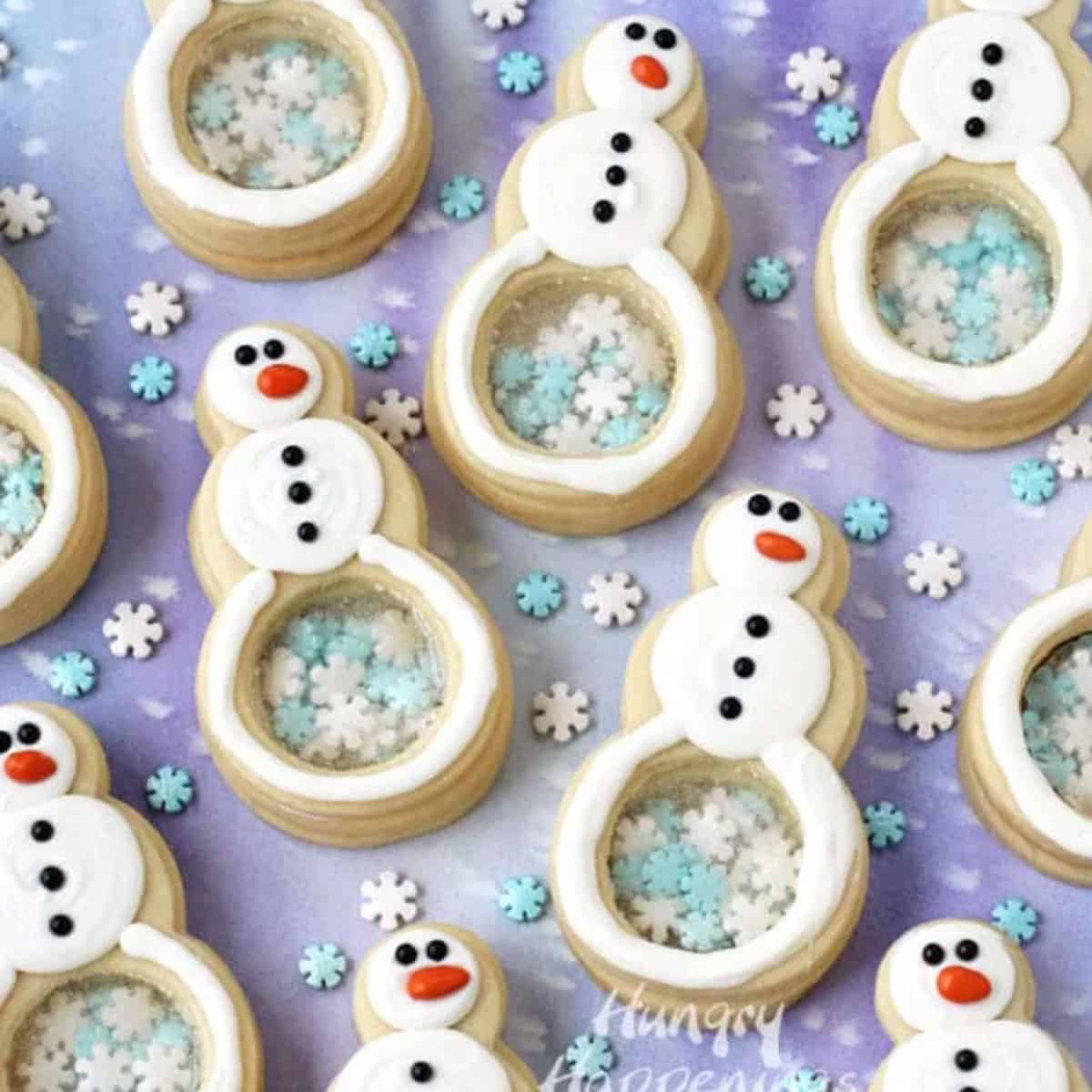 Cute little dessert bites that are as much fun to play with as they are to eat. Shake them and watch the snowflakes in the snowman's belly fly around.
---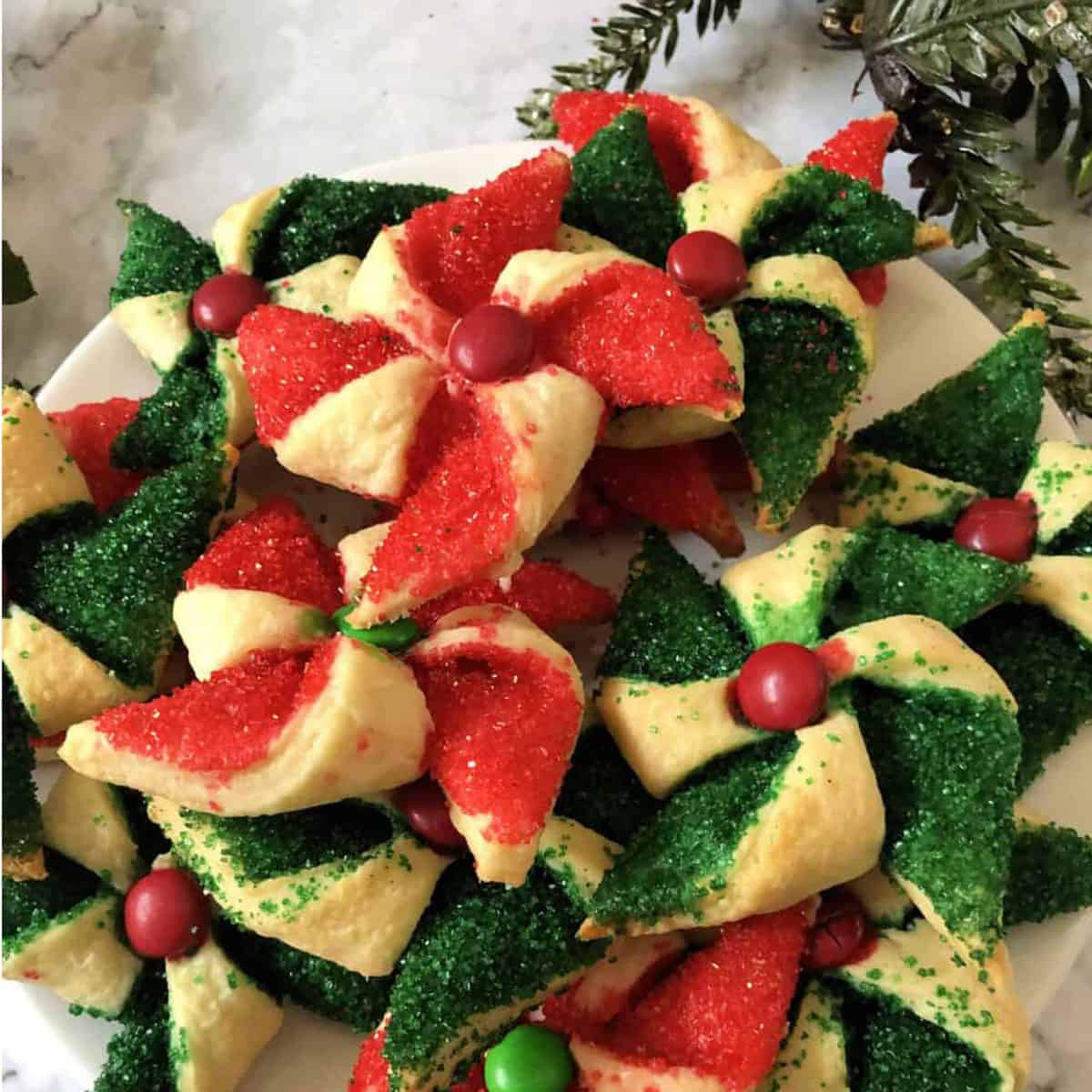 These pretty pinwheels look like a holiday poinsettia, thanks to red sanding sugar. These will brighten any holiday tray!
---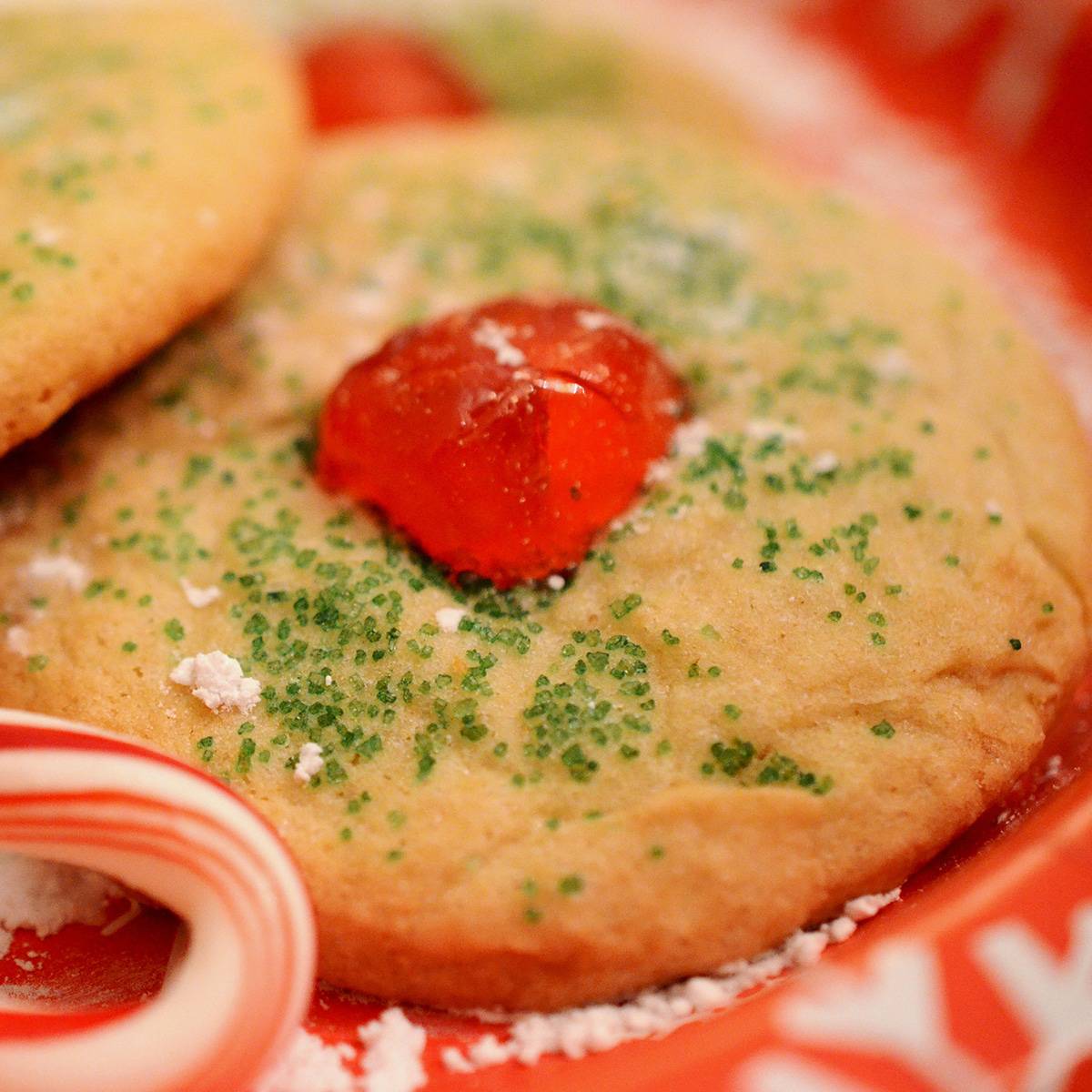 These are fast to make and spend an hour in the refrigerator before chilling. Topped with candied cherries, these are all about the holiday season.
---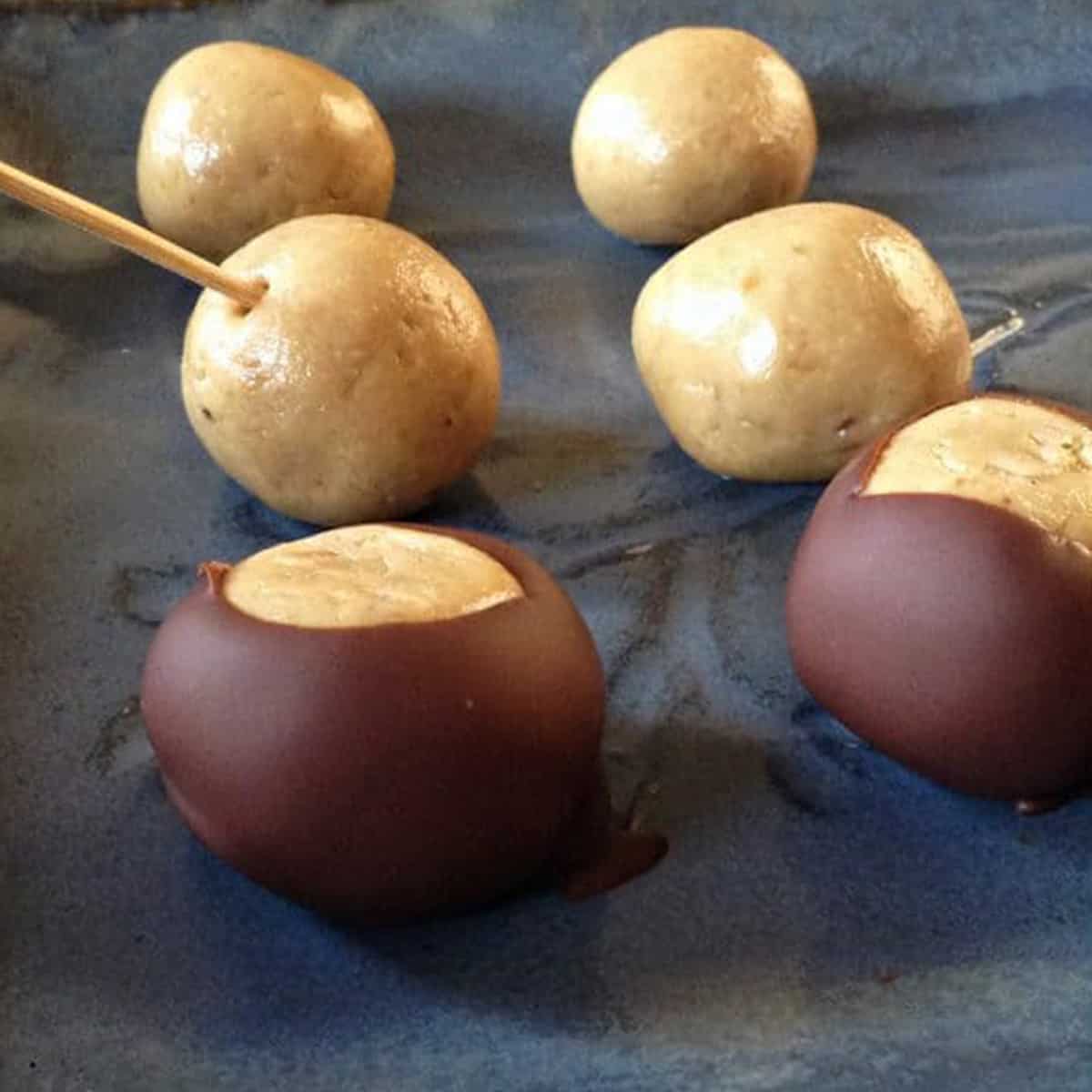 These delectable buckeyes are made without peanuts, grain, or gluten, so they're 100% paleo and vegan. Made with cashew butter, both taste and texture are so on point, you'll swear they're better than the ones we grew up with!
---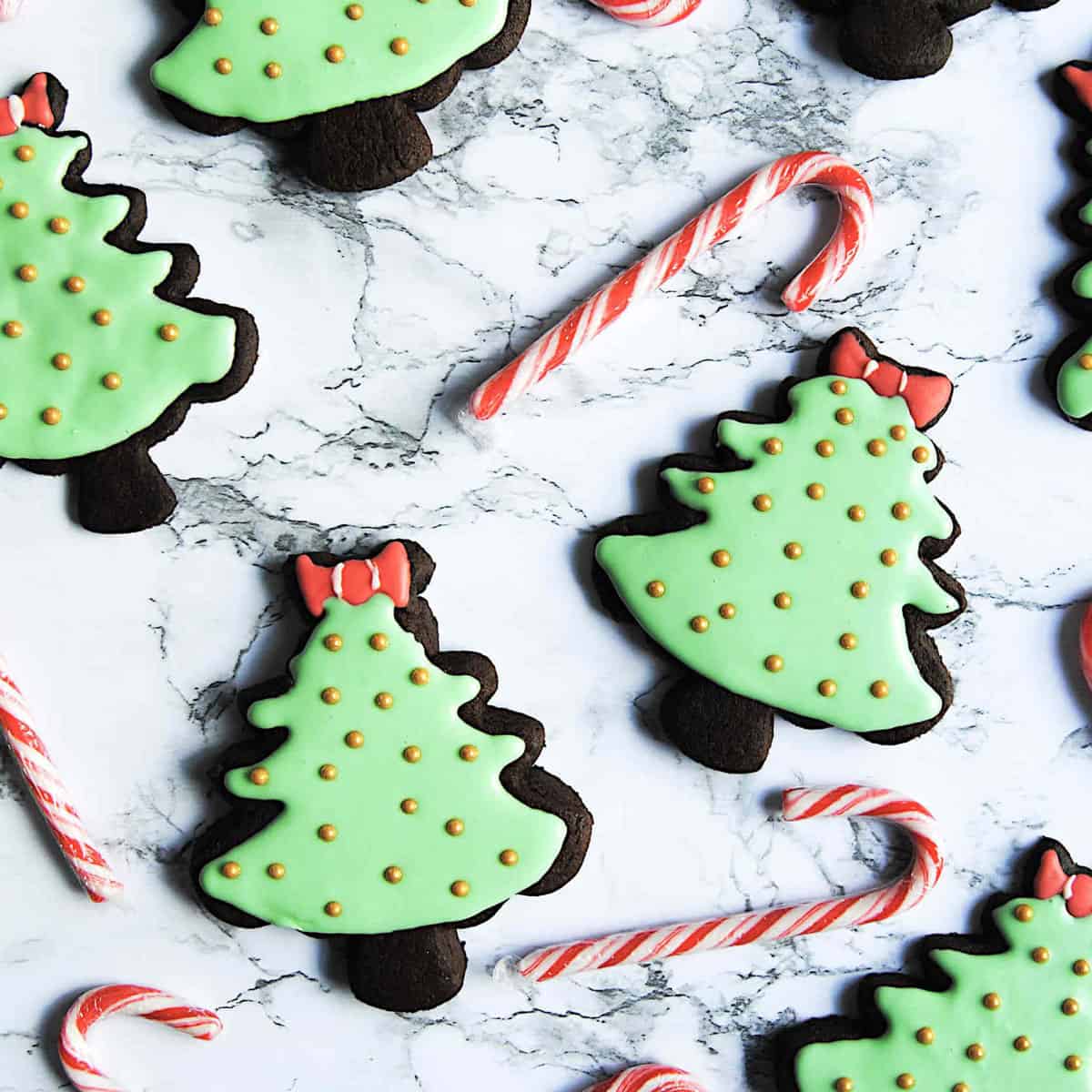 There are so many good things about this holiday favorite. They're crunchy on the edges, chewy in the center, and full of chocolate and peppermint flavor!
---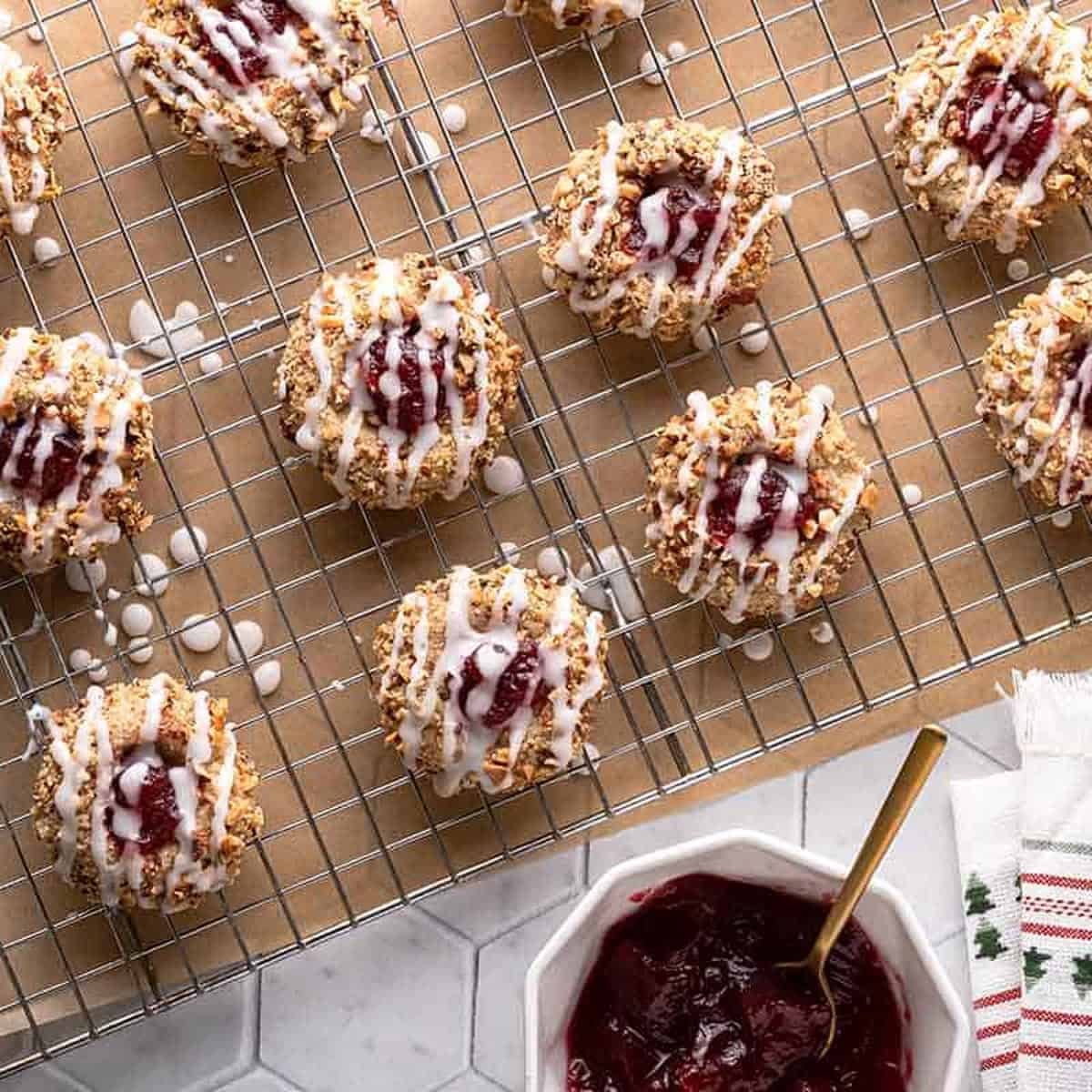 Filled with a cranberry filling, almond crust and icing drizzle! Be sure to get a plate out on your hearth this Christmas eve.
---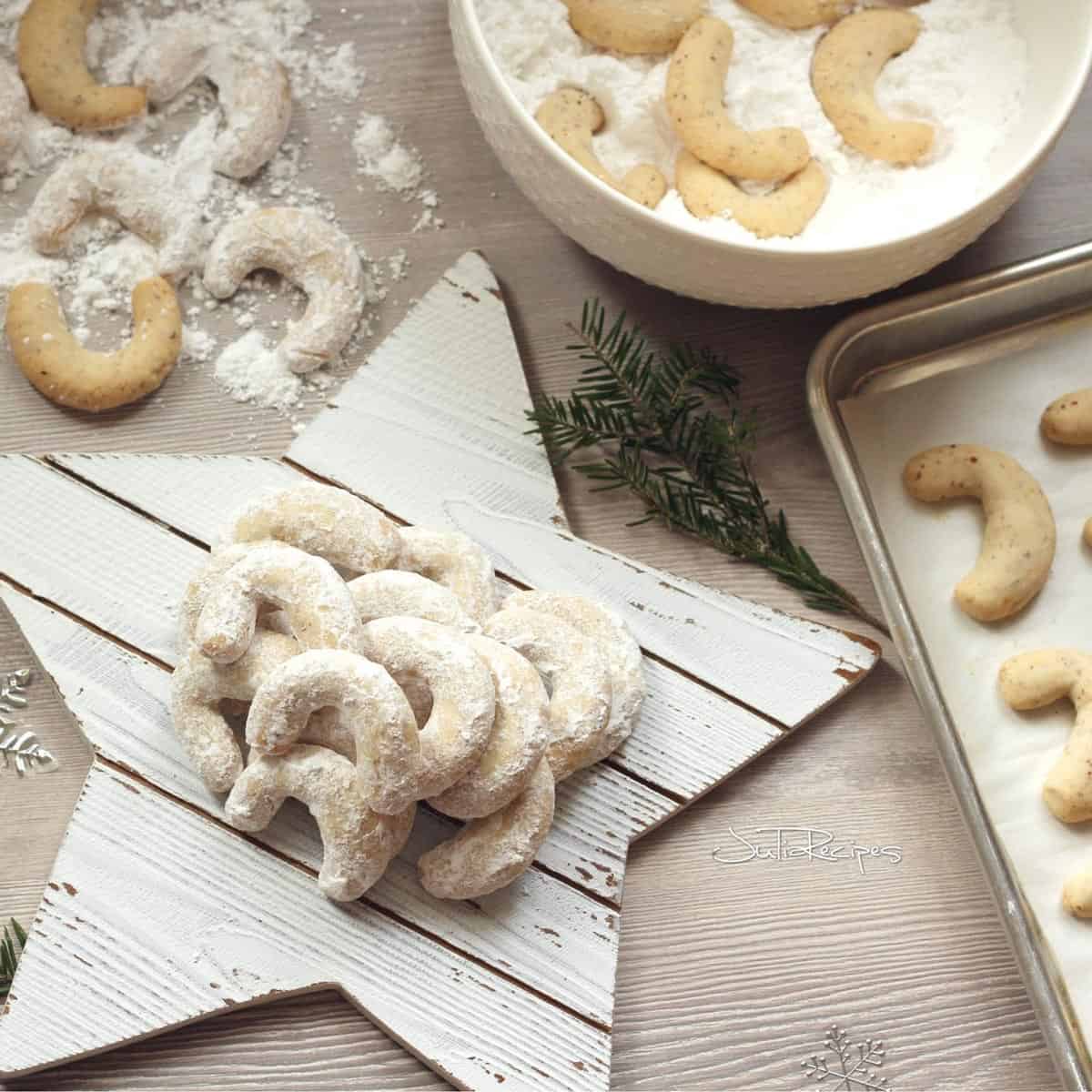 These hazelnut crescents are the right holiday treat to please your family during the Christmas season. Their buttery flavor melts in your mouth with every bite.
---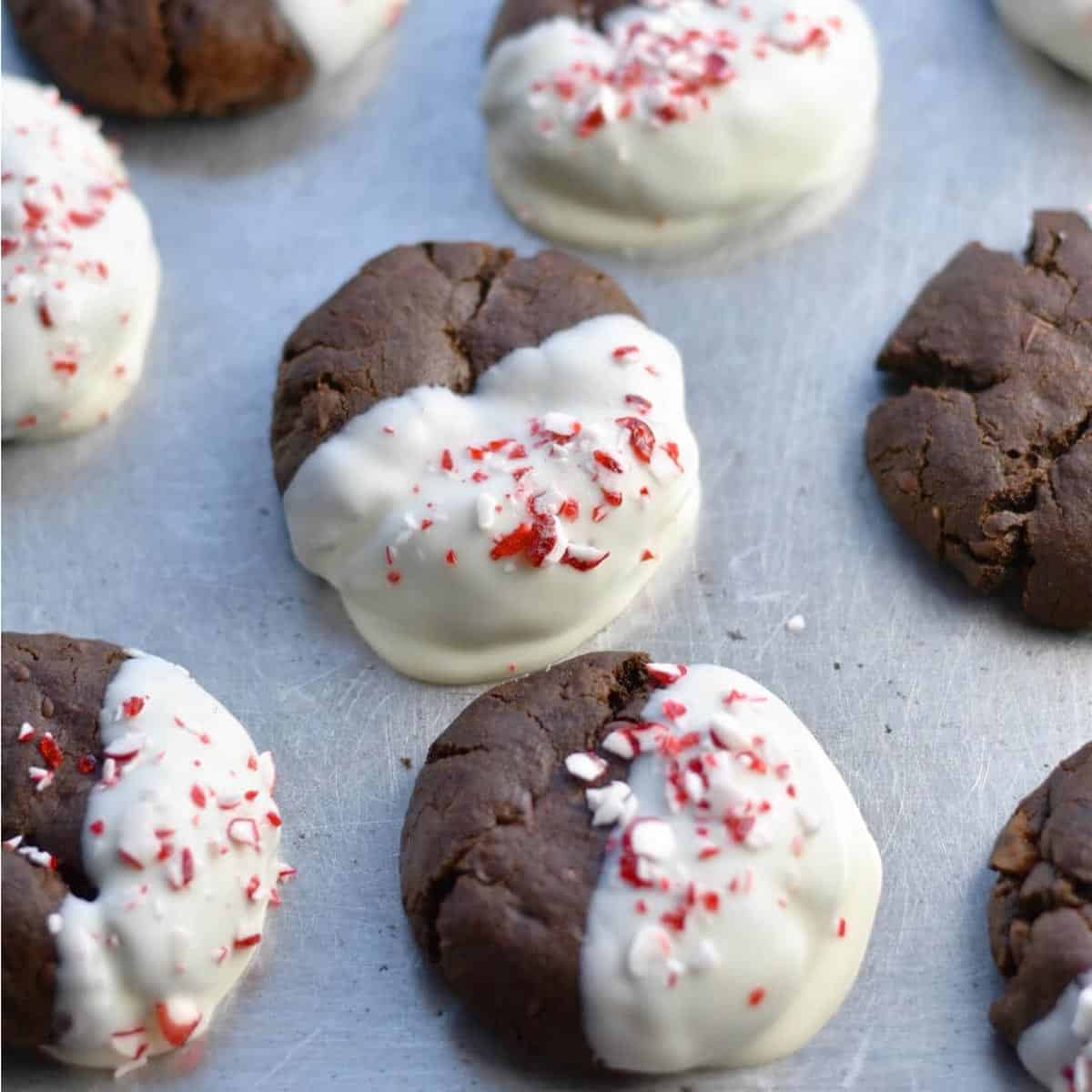 Try a batch of these for this year's for holiday baking. A decadent mocha cookie is topped with white chocolate and peppermint… it's a winning combination!
---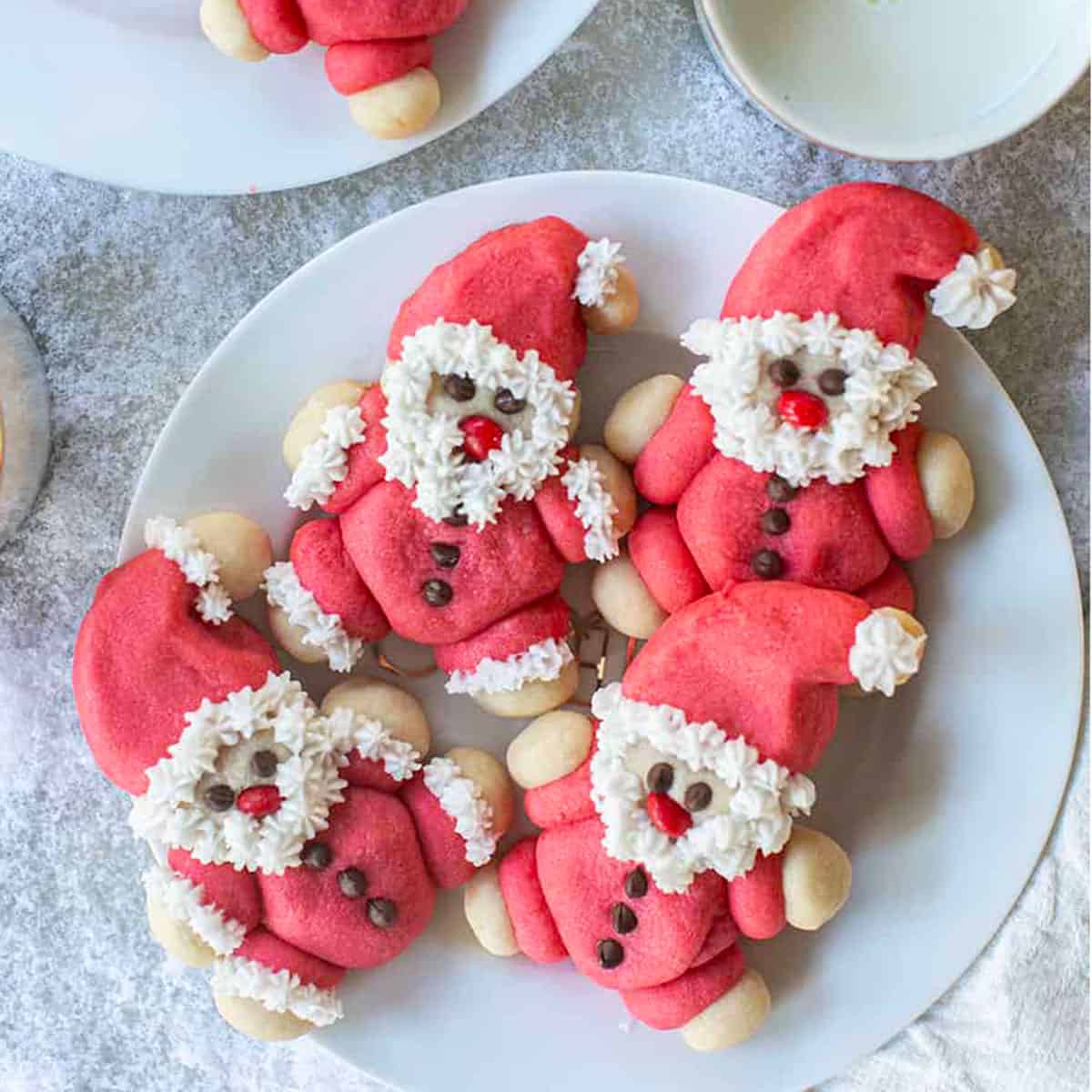 Adorable and tasty, these are great to make with your kids! With their buttery flavor, chocolate eyes and frosted beards, they'll stand out at any Festive party. Hands down the yummiest Christmas treat to come down your chimney!
---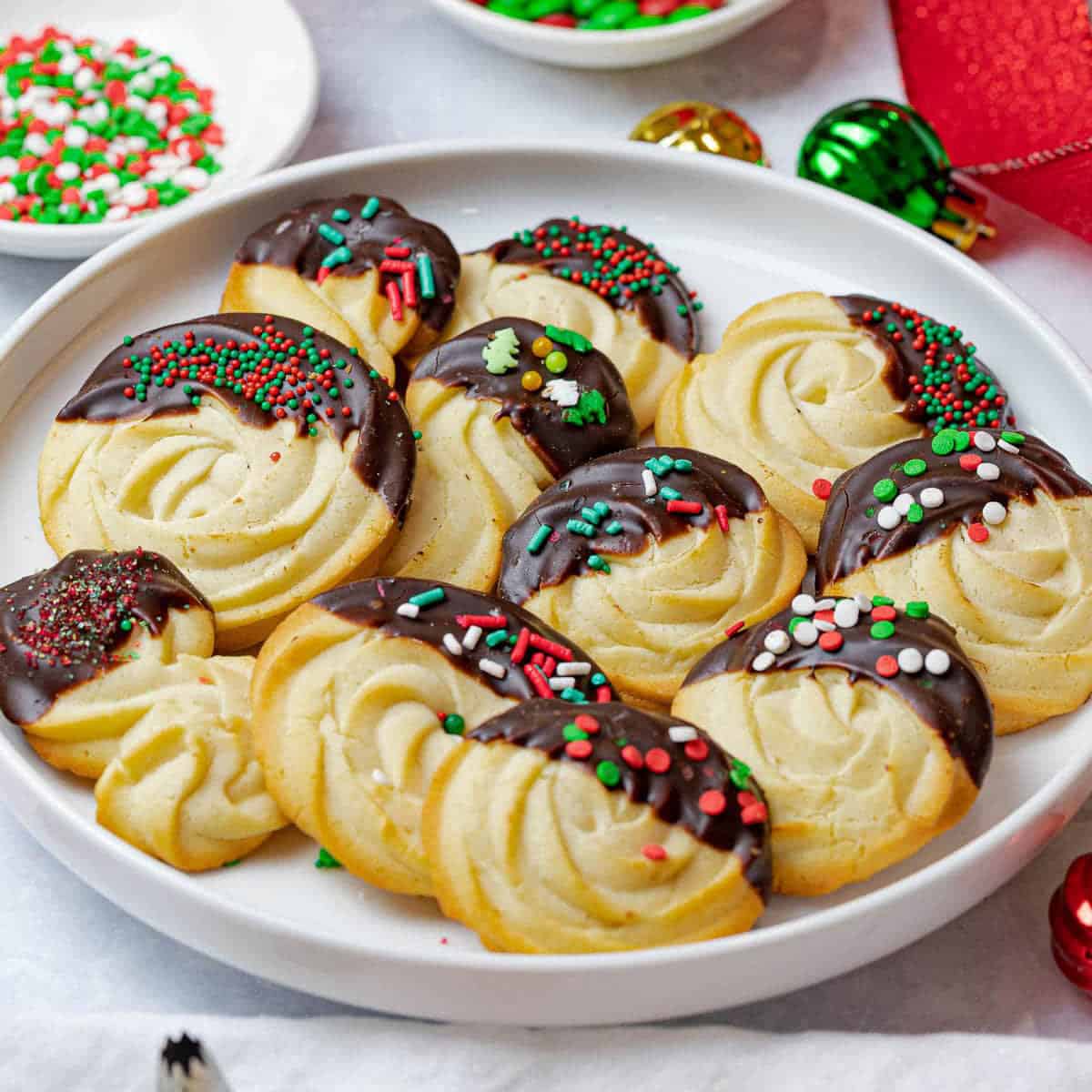 Bake these with just 6 ingredients . They can be decorated with chocolate, sprinkles, or frosting! It's a no-chill dough and bakes up in 10 minutes!
---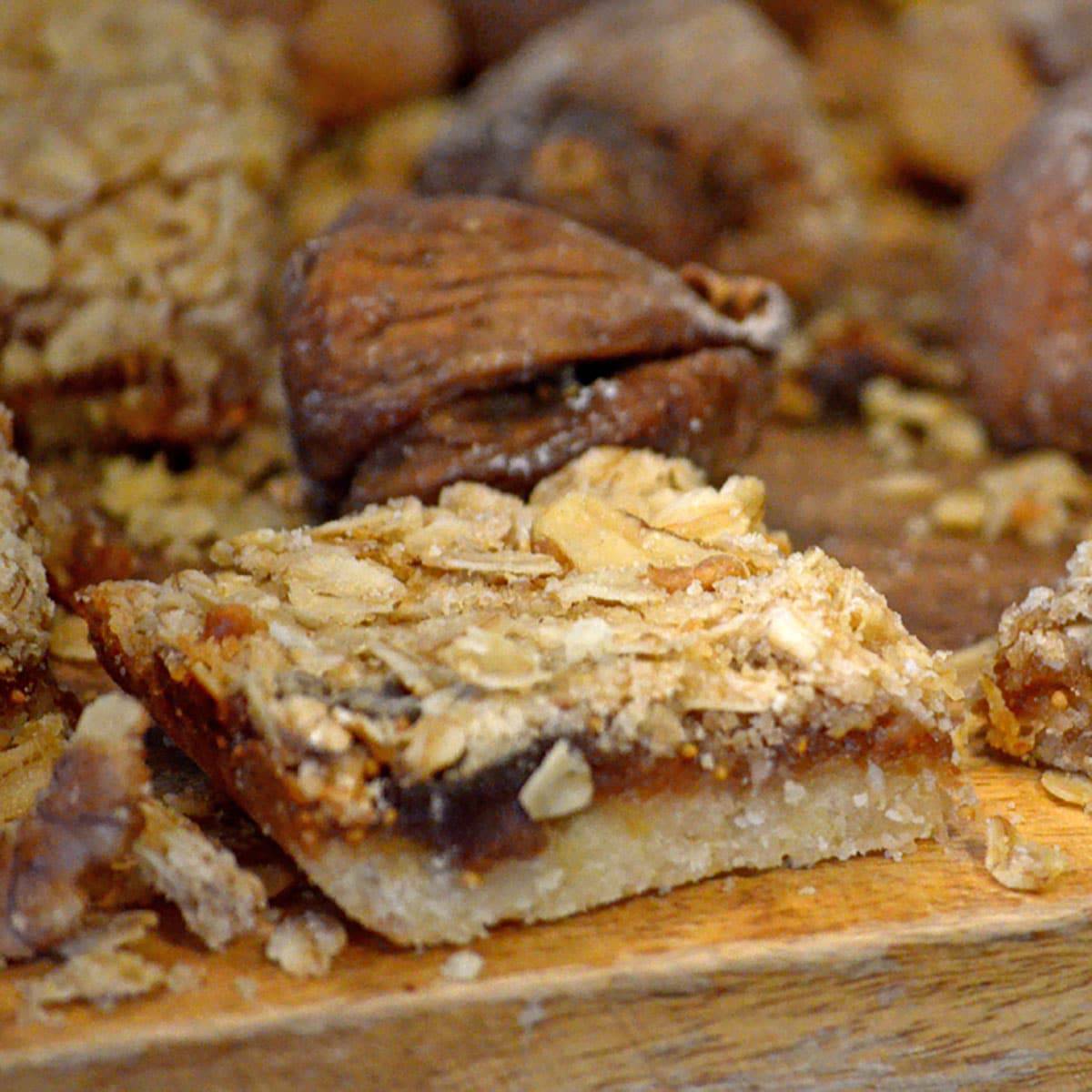 Homemade fig bars are the perfect addition to your holiday dessert platter. Make these ahead of time and freeze them until the big guy makes his trip down the chimney!
---
Gingerbread crinkle cookies are a must-try during the holidays. They are chewy, full of ginger flavor and coated in sugar with exposed cracks.
---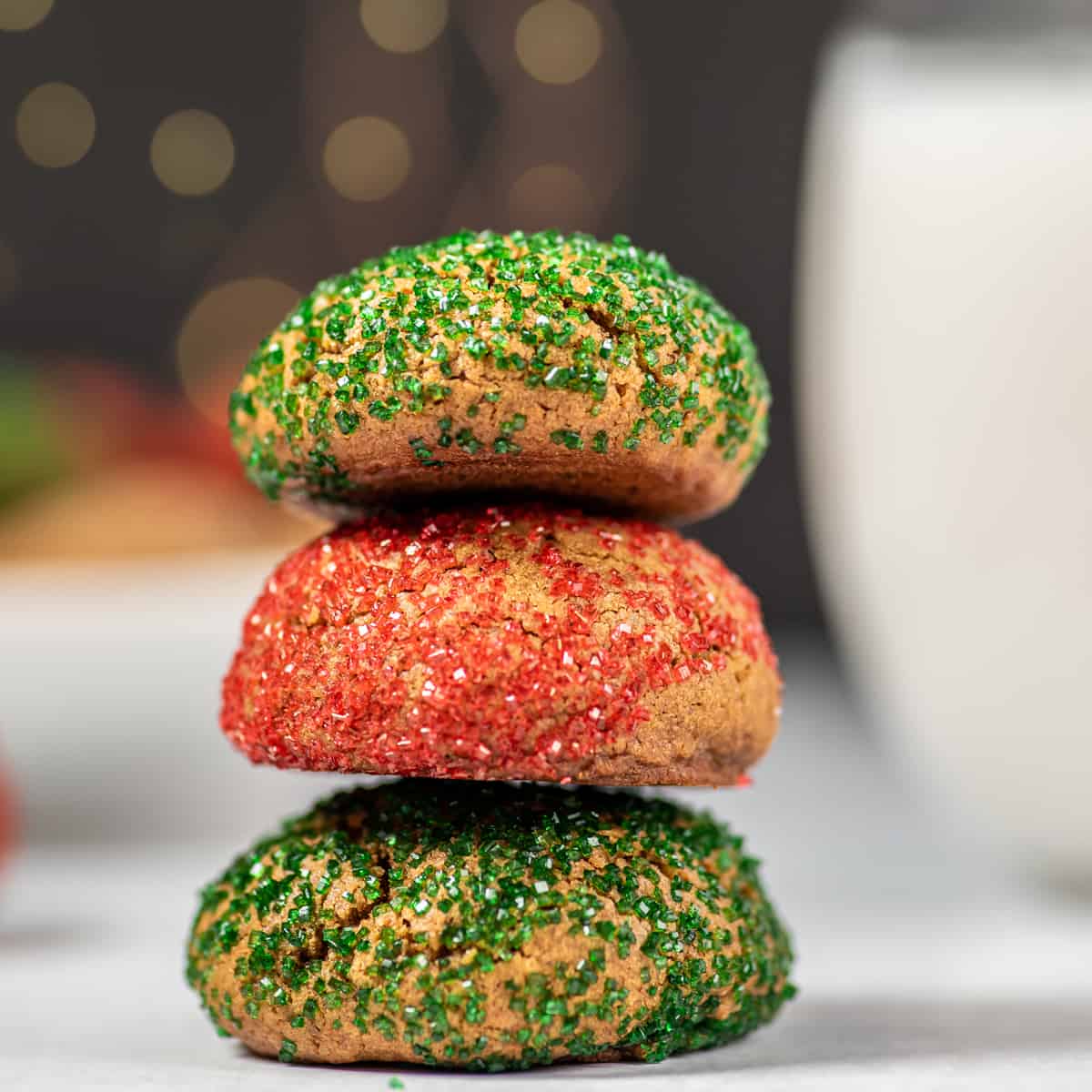 This easy holiday treat features a blend of warm seasonal spices. Cloves, nutmeg, ginger, and cinnamon all come together and makes these taste like Christmas.
---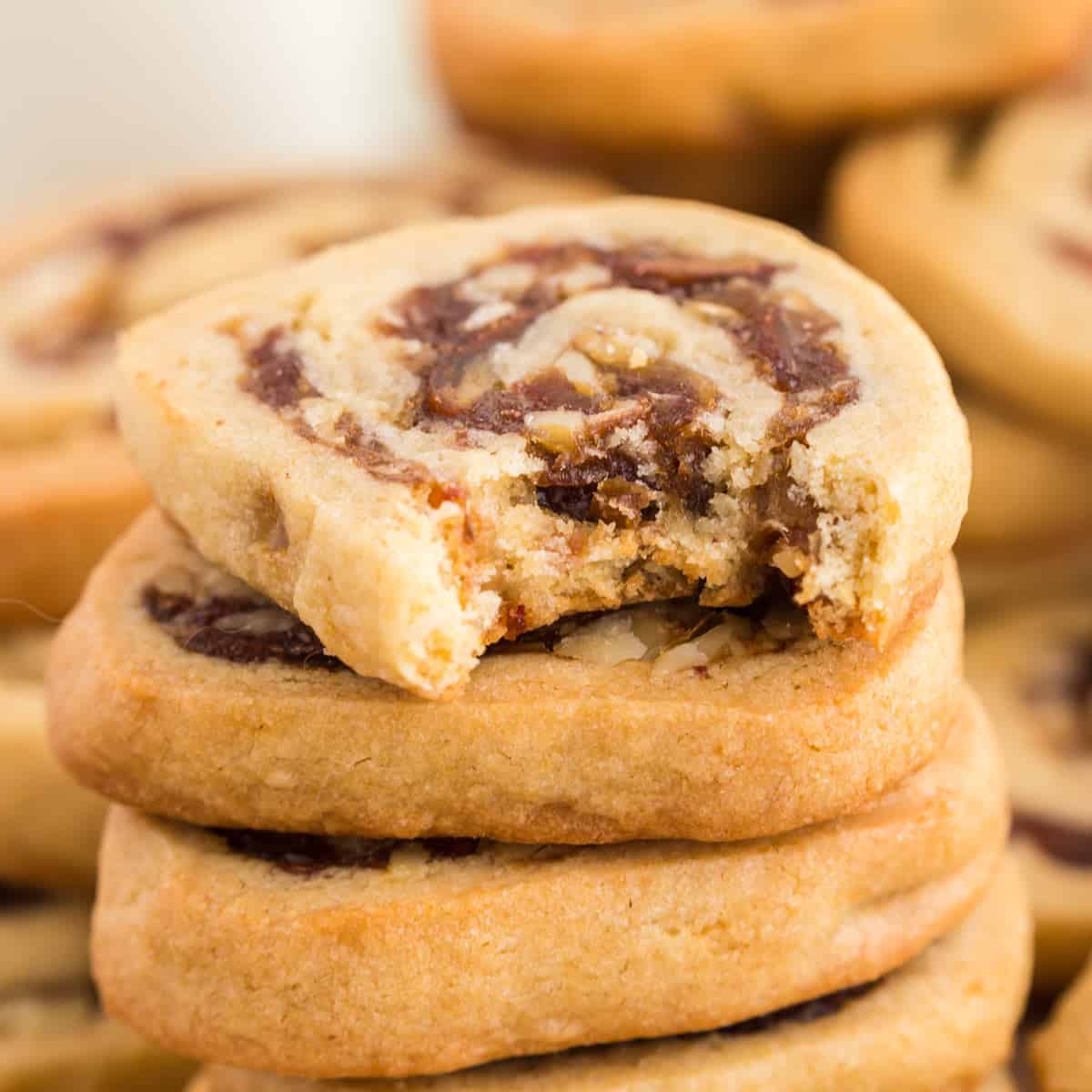 This old-fashioned date desserts are rolled and then cut into individual portions. Your kids will love making this fun holiday classic!
---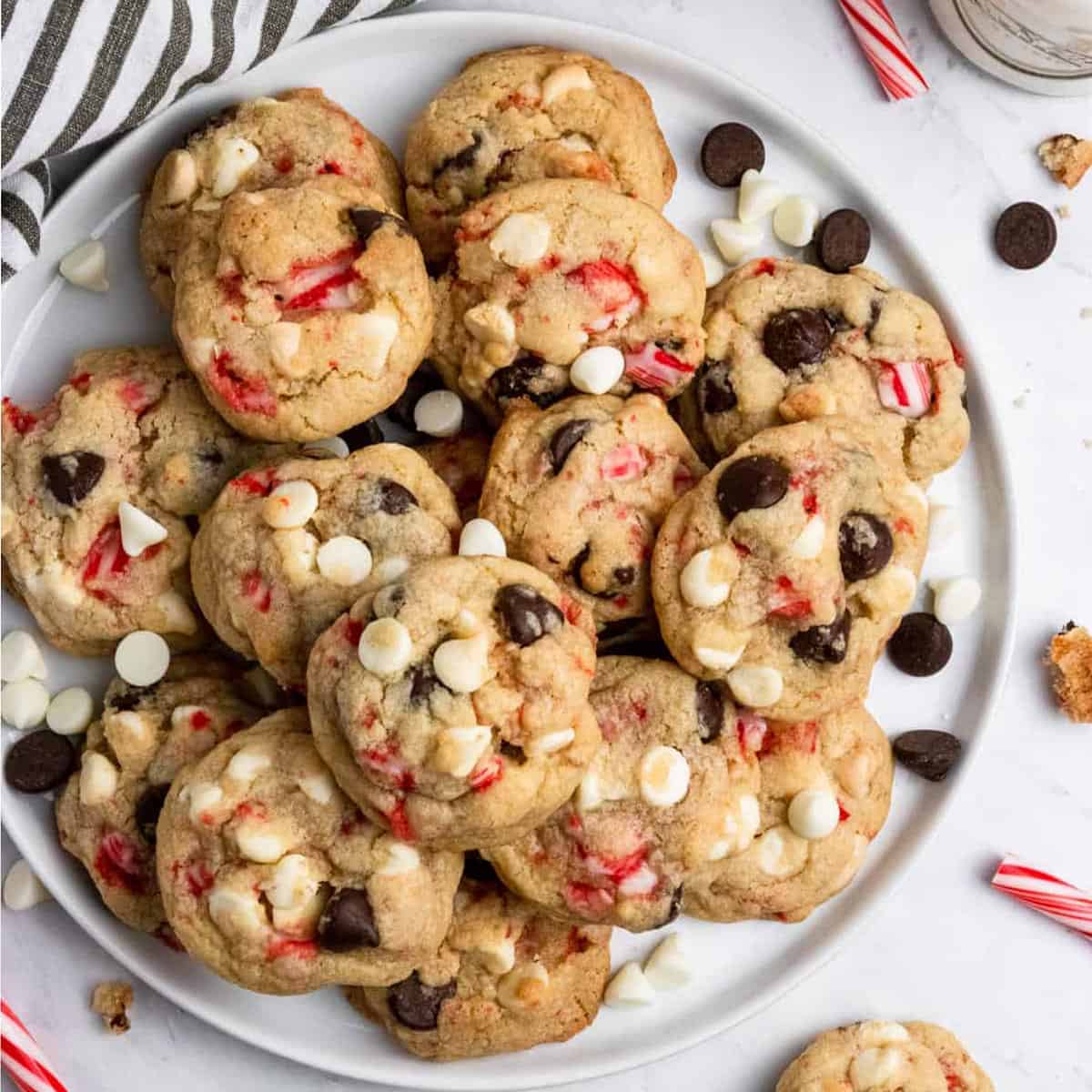 Soft and chewy, these holiday sensations are your new favorite Christmas dessert! Take these to the holiday exchange–or save them for yourself–loaded with candy canes and lots of dark and white chocolate chips, they will make Santa extra happy!
---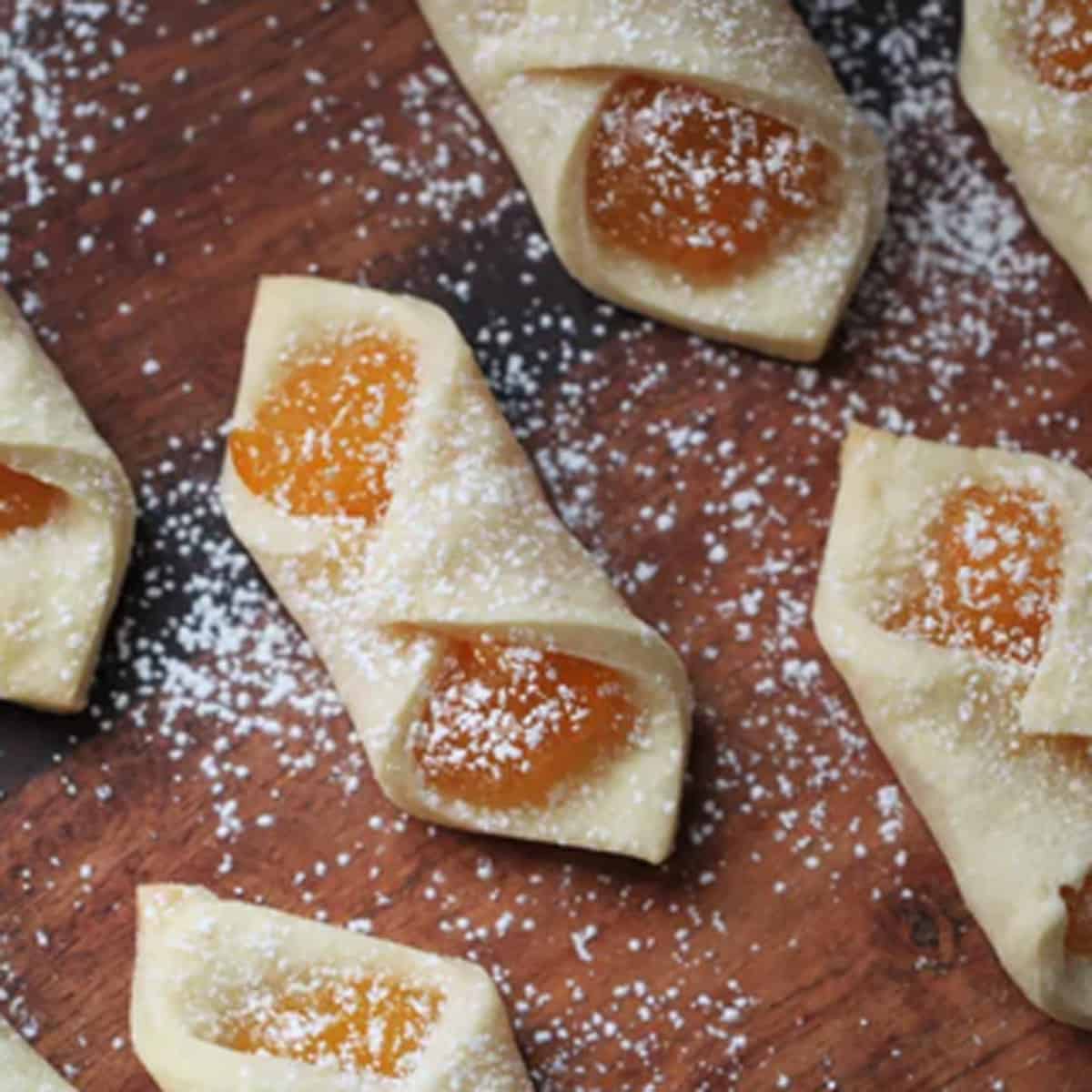 These are soft, sweet, and filled with a bright fruit filling. Be sure to include these in your holiday baking this year.
---
See more of our easy Christmas cookies here!
More holiday food ideas
👨‍🍳 Tried this Recipe? Please leave a ⭐⭐⭐⭐⭐ rating in the recipe card below and leave a comment. We love hearing from our readers!
⏩ Stay in touch with us on social media by following us on Facebook, Pinterest, Instagram, and YouTube!
📬Get our Recipes delivered to your inbox for FREE!