The Best Amish Sugar Cookies Recipe
on Nov 29, 2014, Updated Nov 27, 2020
This recipe for Amish sugar cookies is a family treasure. Today I'm sharing it with you because certain gifts were made to be shared.
And besides, I know that is what my Aunt Marian would want. These were her melt-in-your-mouth sugar cookies.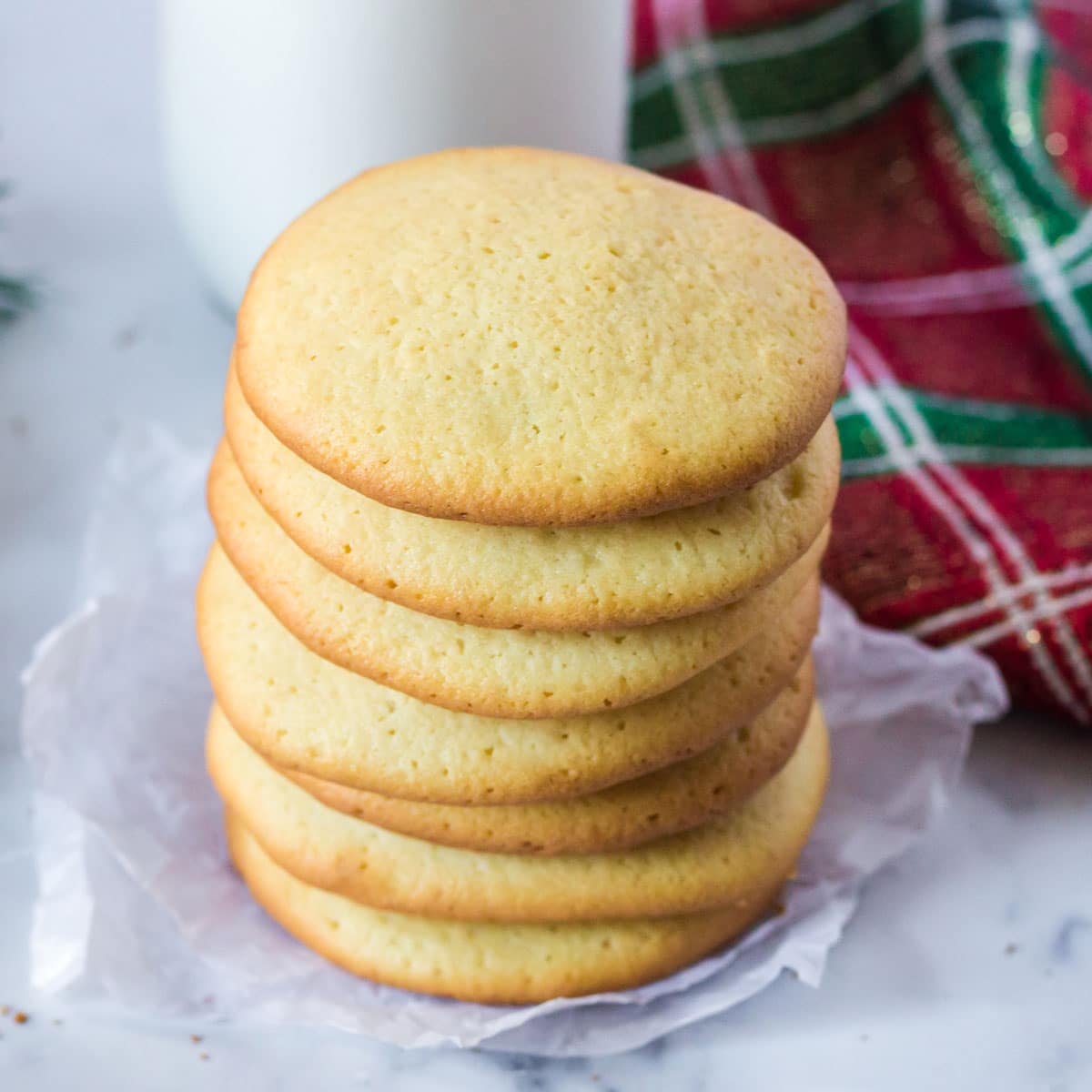 Jump to:
What are these?
(New to baking? Learn how to make cookies from our own in-house professional chef, CIA-trained Chef Kat.)
A few years ago, I received an email from my cousin Florine. The correspondence contained a puzzle to the past, of sorts. It was sent to her sisters, her brother, and to me and it read something like this: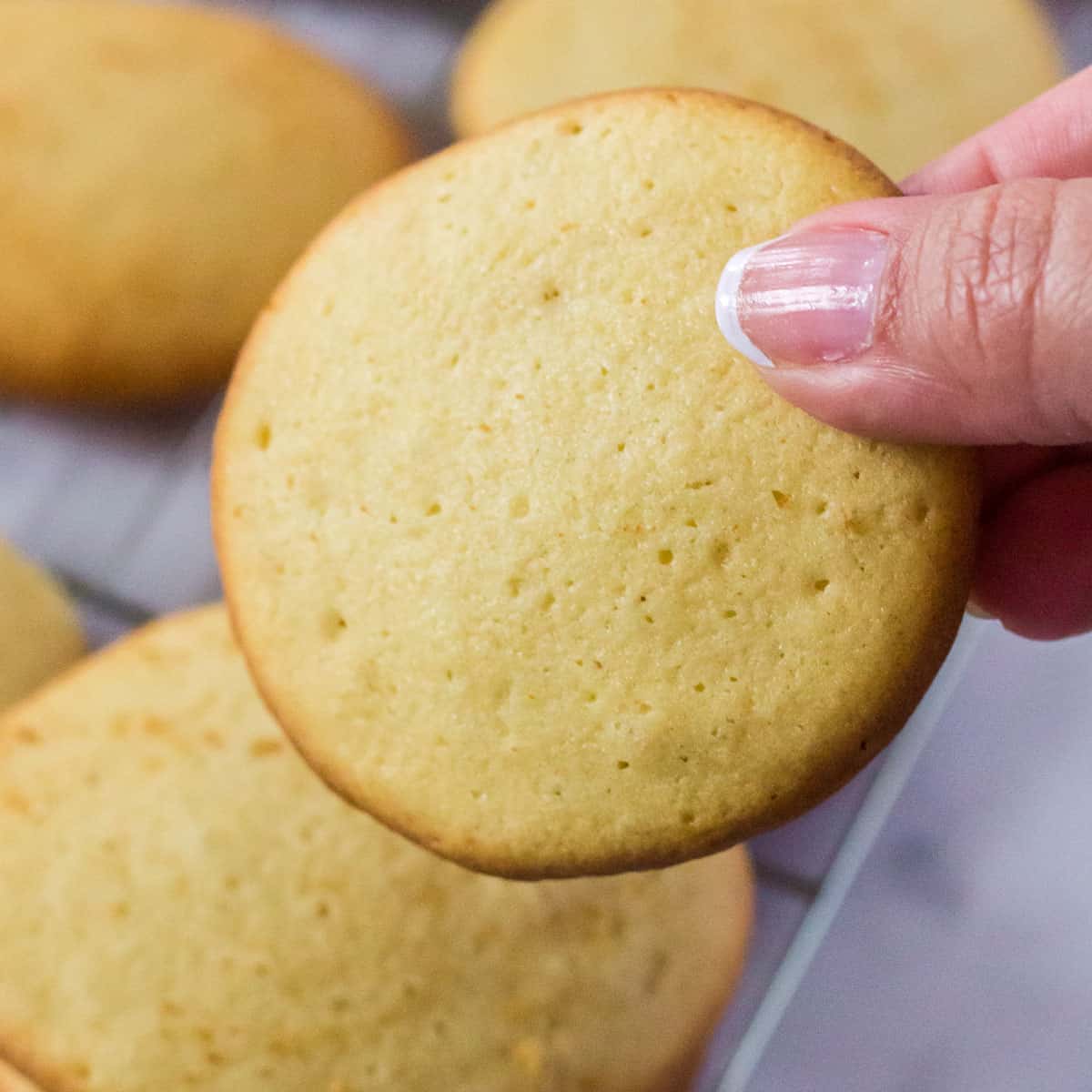 Hey, Sis,
You mentioned the other day that you couldn't find Mom's sugar cookie recipe. For whatever reason, it ended up in my recipe box. This is actually the only recipe I have in her handwriting, though I have a few more that I copied from hers. A verbatim version is attached. The cup she refers to is a 1-cup measuring cup, and the flavor means vanilla or whatever. You'll notice the rather glaring omission of flour except in the note at the end. So good luck trying to recreate these! (Though now that I have found the recipe I will probably give it a try at some point.)
Cheers,
Me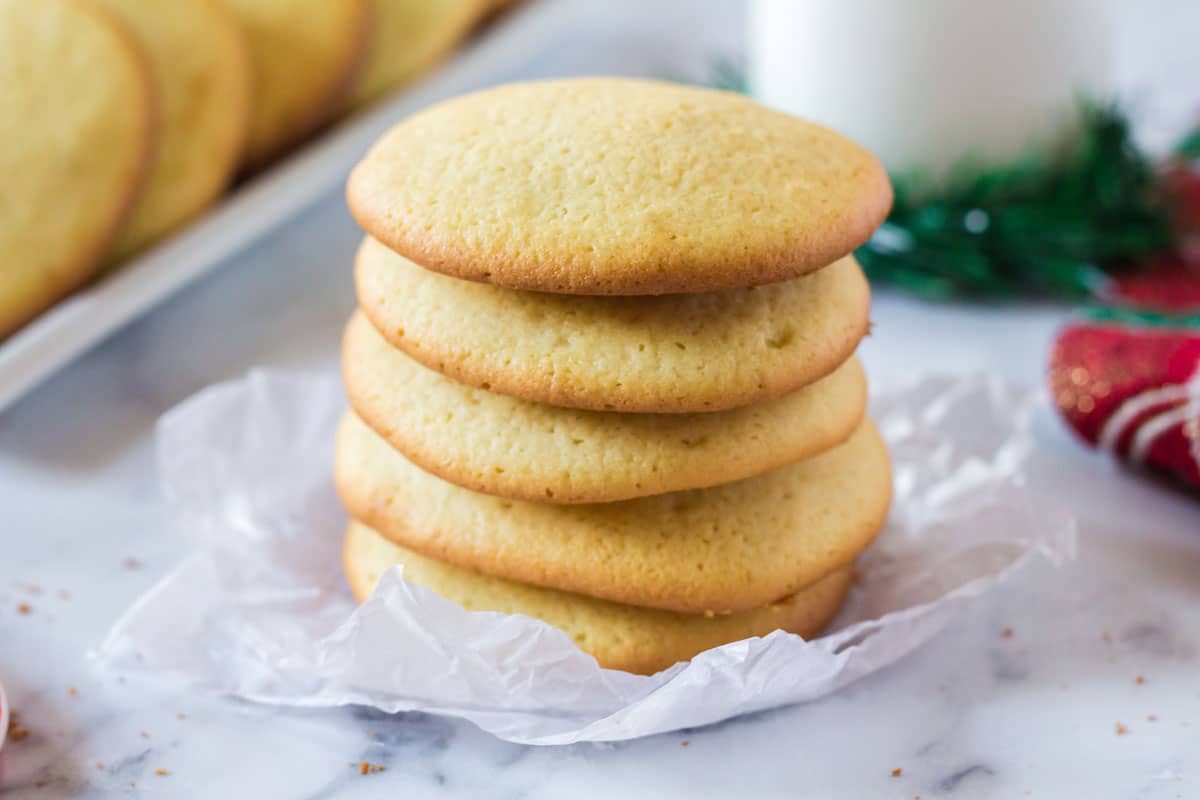 What's in them?
As with many good cookie recipes, you only need a few basic ingredients for these.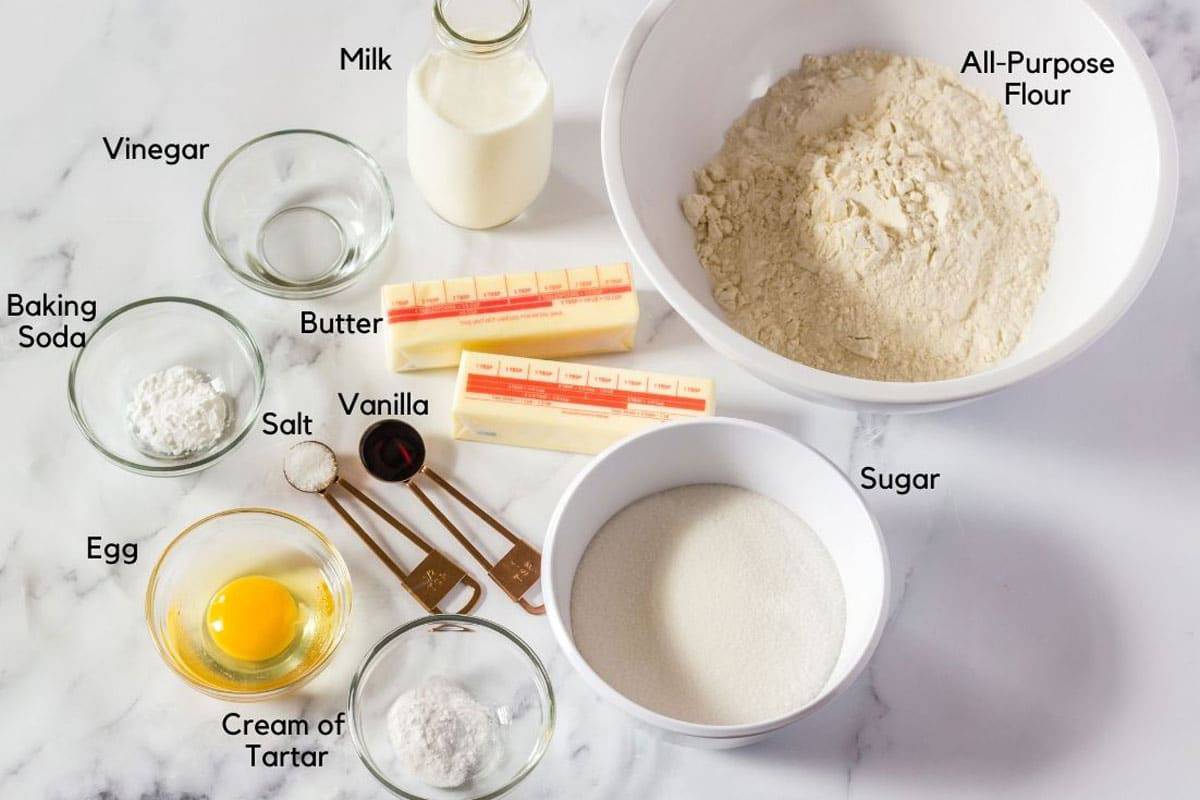 Like any good cookie, you'll use all-purpose flour. Unlike classic sugar cookies, this Amish sugar cookie recipe calls for sour milk, giving you a soft and tender sugar cookie with crispy edges.
Instead of lard or vegetable oil, you can use one cup butter, just make sure it is at room temperature before making these.
Kitchen equipment needed for these
You can make these using a large bowl, some measuring cups, and spoons.
Using a cookie scoop to place the dough on a baking sheet for uniform-sized cookies. Be sure to line it with parchment paper for easy clean-up!
Finally, when they come out of the oven, transfer these cookies to a wire rack to let them cool a bit.
How to make them
Putting these soft Amish sugar cookies together is pretty simple. This is part of what makes them so appealing. It also makes them the perfect cookie for learning how to bake.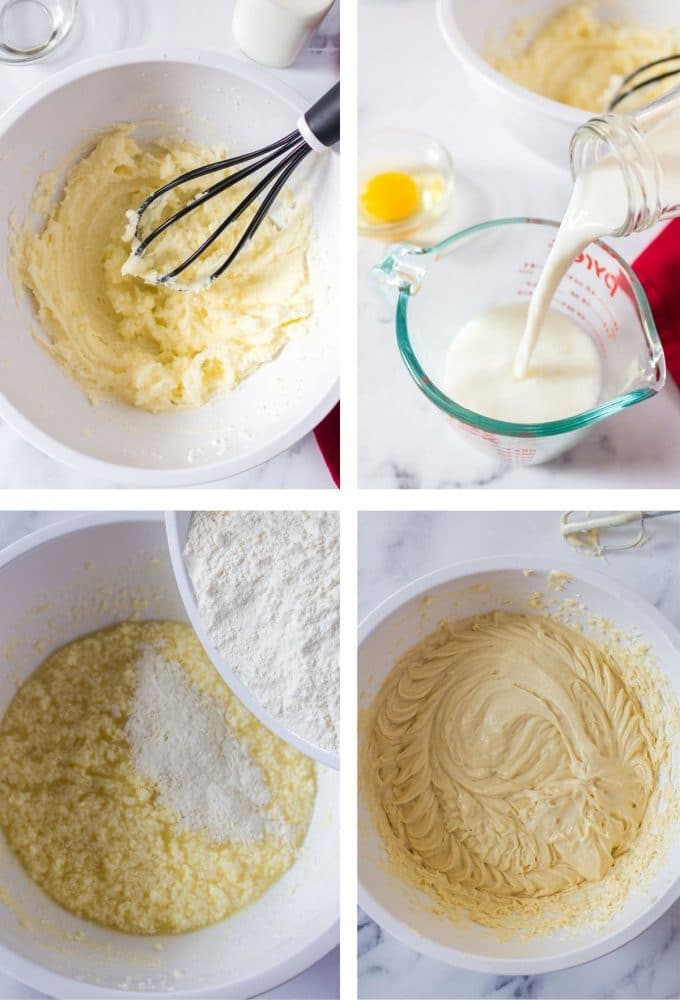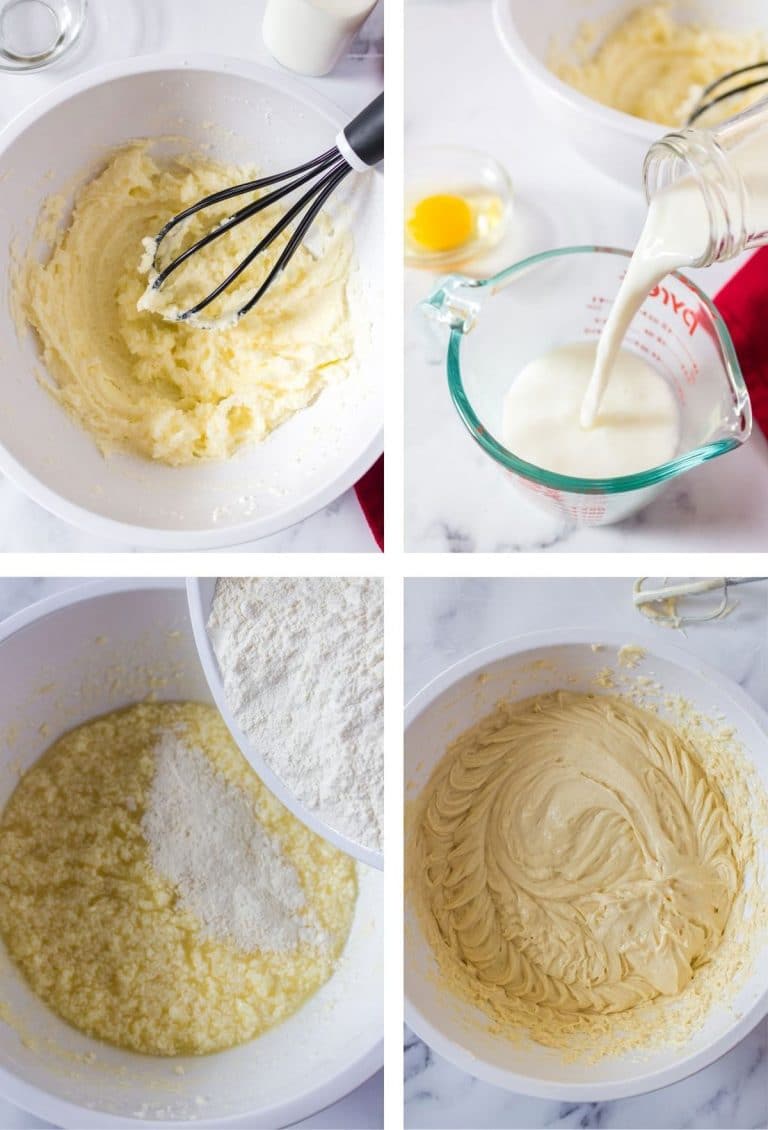 You're going to mix the wet ingredients into a large mixing bowl. For the butter and sugar mixture, you can use an electric mixer or stand mixer if you want.
In a separate bowl, you'll add the dry ingredients before combining the two.
Substitutions and additions
Instead of vanilla extract, you can use almond extract.
Also, these Amish cookies are great for Christmas cookie exchanges. You can add a festive flair by topping them with a crushed candy cane, some green sprinkles, or a few chocolate chips. A light dusting of powdered sugar is another idea you can use.
Pro tips
This Amish sugar cookies recipe will give you softer results than a traditional sugar cookie.
Baking time can vary. These are done when the edges are crispy.
The Art of Baking
As my cousin noted in her email about the recipe, my aunt did not include the amount of flour she used to make her cookies.
At first, I assumed she had forgotten that minor detail. But after giving it some thought, I decided maybe not.
To her and her method of making things in the kitchen, Aunt Marian probably didn't measure many things. This is the art of baking and she was a kitchen artist.
Could it be that she added enough flour to attain a consistency in the dough that was just right for the cookies? I'm going with that guess.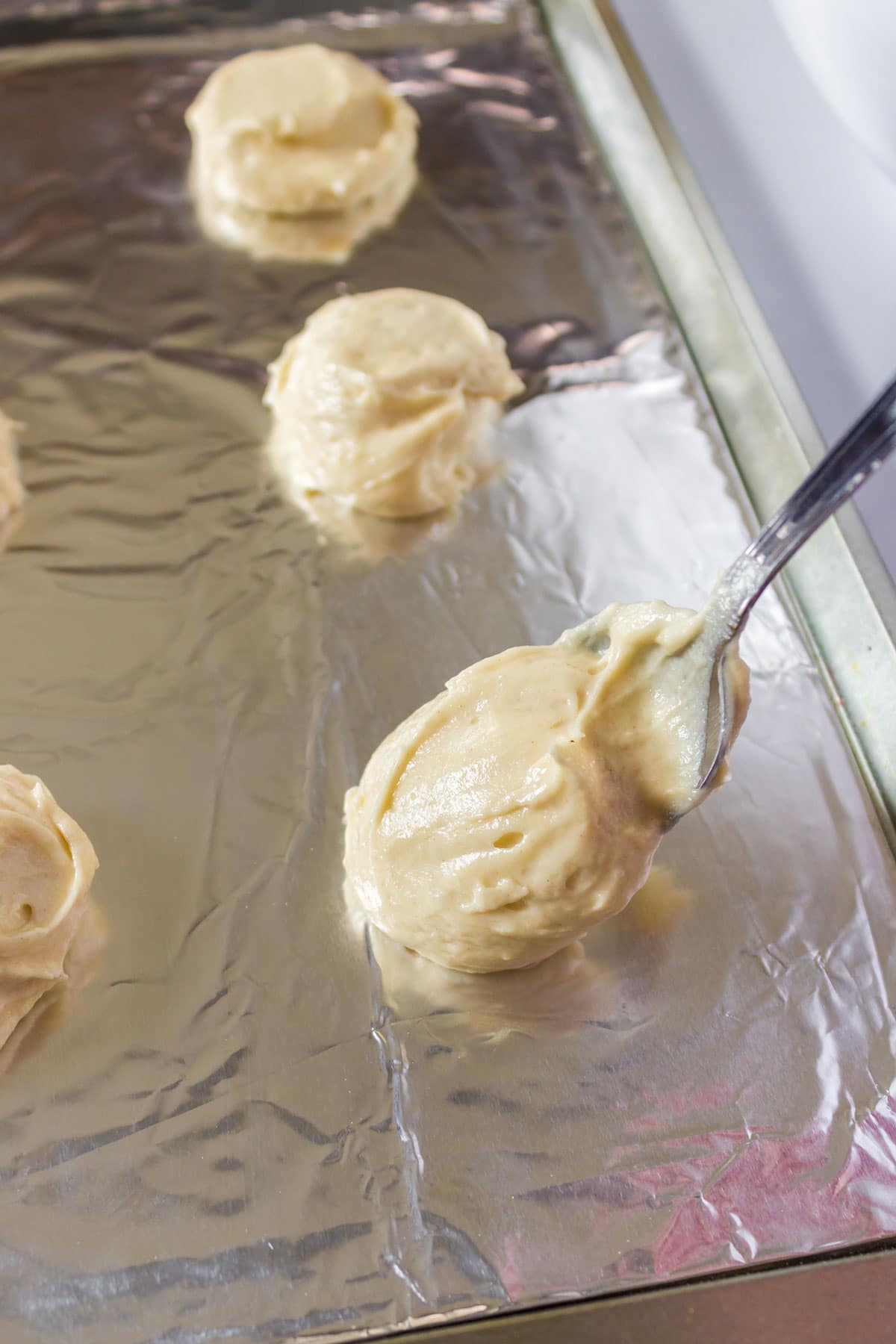 Common questions about these cookies
What is Sour Milk?
Soured milk, is milk that is acidified. This gives the milk a tart taste, as in these Amish sugar cookies.
How do you Make Sour Milk?
You can make soured milk by adding vinegar (or lemon juice) to milk. In this recipe, we make it by combining a tablespoon of vinegar with a cup of milk.
How Long with the Sugar Cookies Stay Fresh
You can store these in an airtight container for up to a week and they will stay soft and delicious.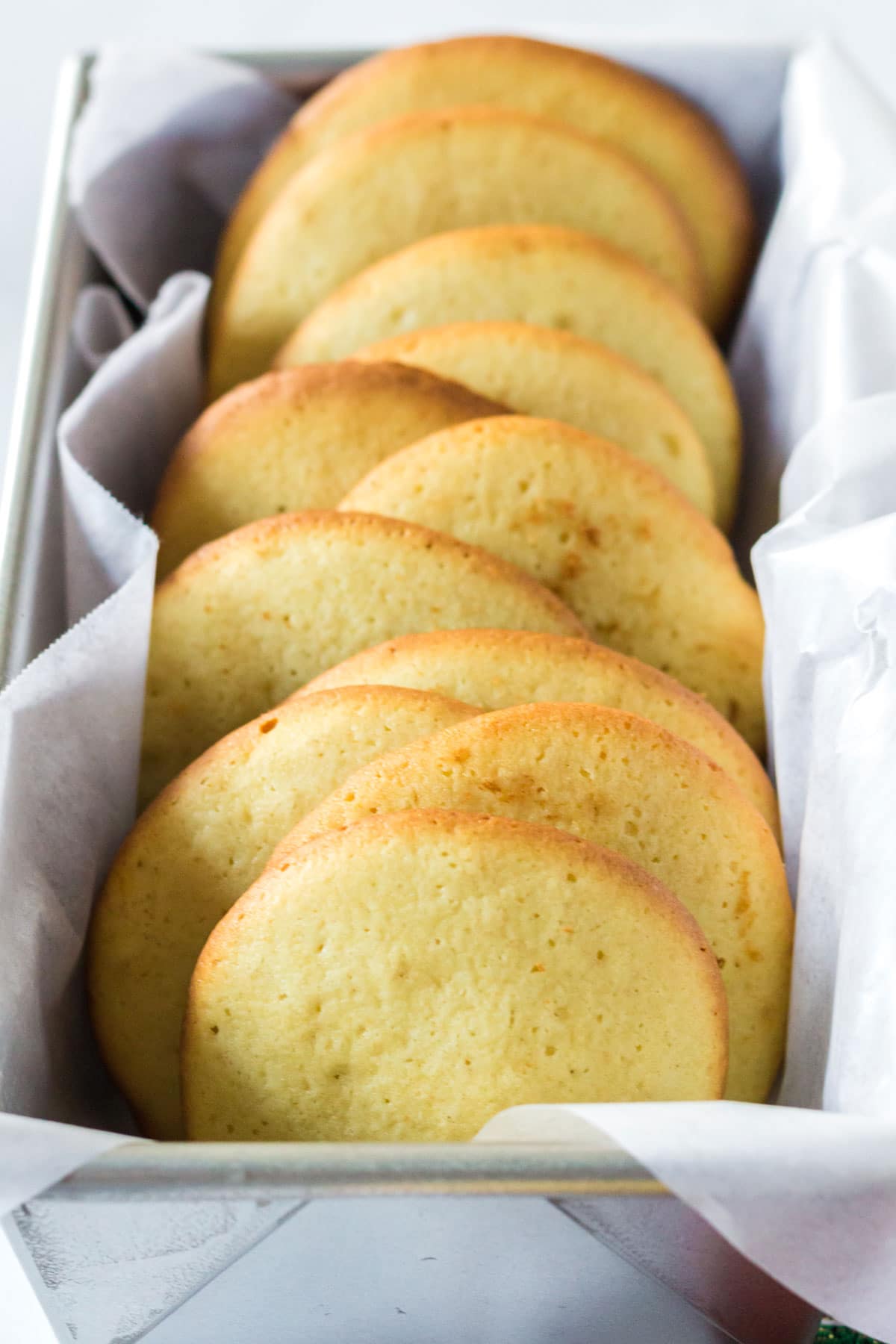 Whenever I make these simple sugar cookies, memories of my aunt Marion flood my mind. Gone over 40 years now, I'll have those memories and a few photos of her forever.
Now, thanks to Florine, I have these cookies too. I would have loved for you to have met my aunt Marion; these cookies are just a tiny bit of her.
Expert baking tips
How to Make these Less Flat
There are several things you can do to make these Amish sugar cookies less flat:
Chill the dough: Before baking, chill the dough for at least 30 minutes to an hour. This will help solidify the butter in the dough, which will prevent the cookies from spreading too much.
Use cold butter: Use cold butter instead of room temperature butter when making the dough. Cold butter takes longer to melt in the oven, which means the cookies will spread less.
Don't overmix the dough: Overmixing the dough can lead to too much gluten development, which can make the cookies spread too much. Mix the dough just until the ingredients are combined.
Use less sugar: Sugar can cause cookies to spread, so reducing the amount of sugar in the recipe can help prevent flat cookies.
Add more flour: Adding a bit more flour to the dough can help make it sturdier and prevent the cookies from spreading too much.
Use a different baking sheet: A dark-colored baking sheet can cause cookies to spread more than a light-colored baking sheet. Using a light-colored baking sheet can help prevent flat cookies.
Don't overcrowd the baking sheet: Make sure to leave enough space between the cookies on the baking sheet. Overcrowding the baking sheet can cause the cookies to spread too much.
Use these expert baking tips, to help make Amish sugar cookies that are less flat and have a better texture.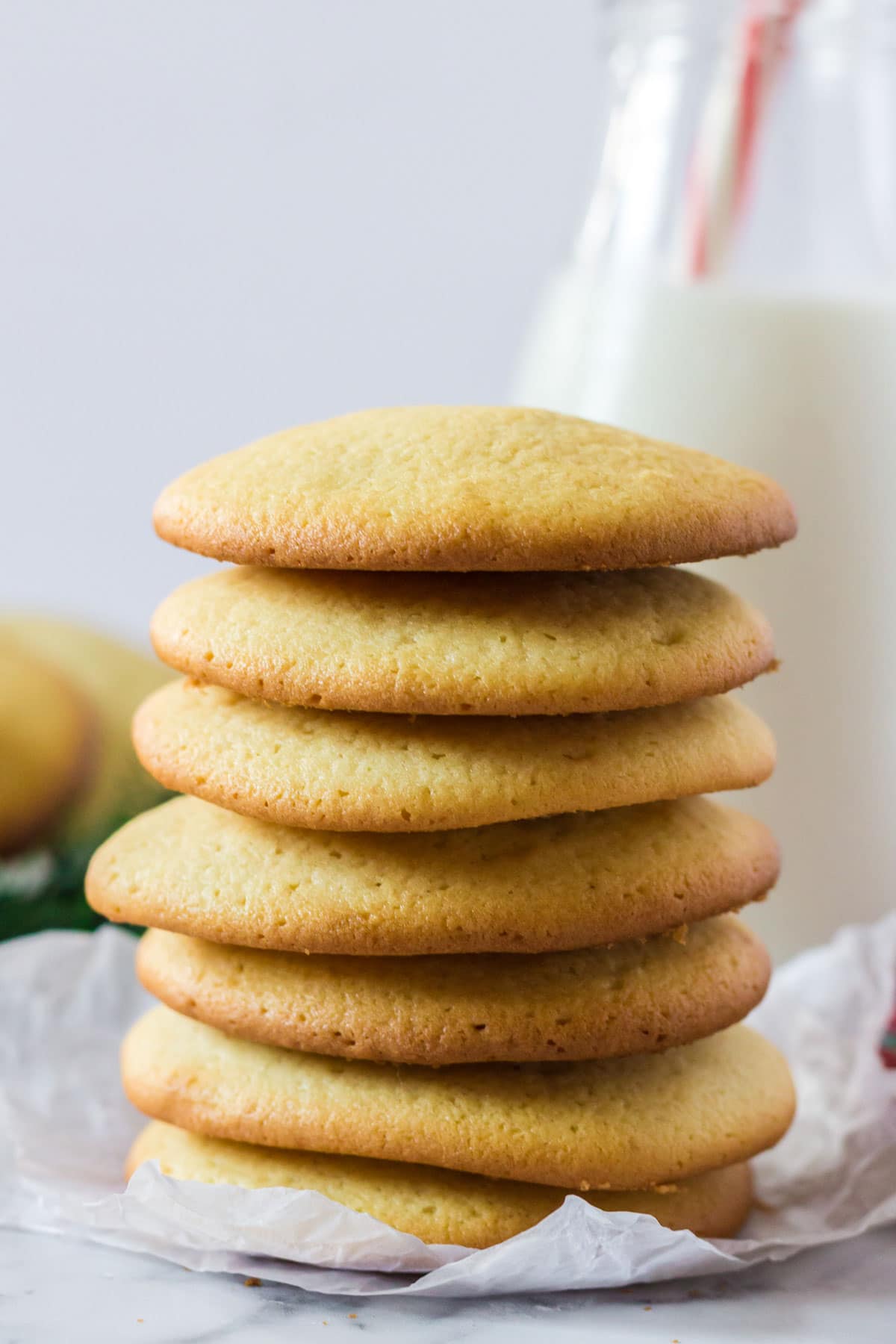 Are you looking for a great icing recipe for sugar cookies? Find out here: Easy Royal Icing Recipe for Sugar Cookies.
You can make these Amish sugar cookies any time of the year. But they are one of our favorite Christmas cookies because they are so easy to make and they store very well. They are a great addition to any holiday cookie exchange.
More Christmas Cookies
Be sure to see our complete list of cookie recipes.
What to serve with these
These go perfectly with a cup of hot coffee or a glass of cold milk. If you wanted to eat these with vanilla ice cream, I can't imagine that anyone would judge you!
👨‍🍳 Tried this Recipe? Please leave a ⭐⭐⭐⭐⭐ rating in the recipe card below and leave a comment. We love hearing from our readers!
⏩ Stay in touch with us on social media by following us on Facebook, Pinterest, Instagram, and YouTube!
📬Get our Recipes delivered to your inbox for FREE!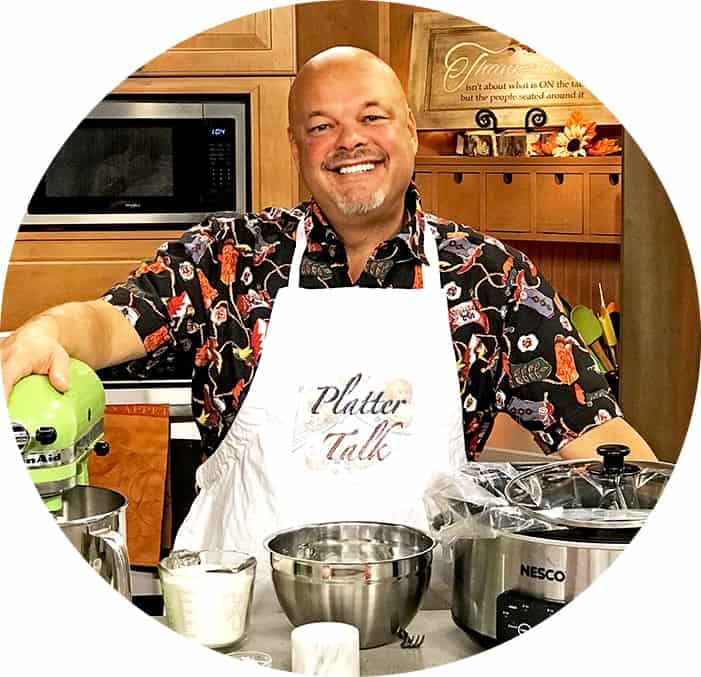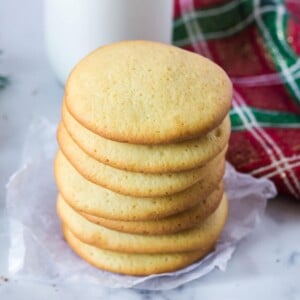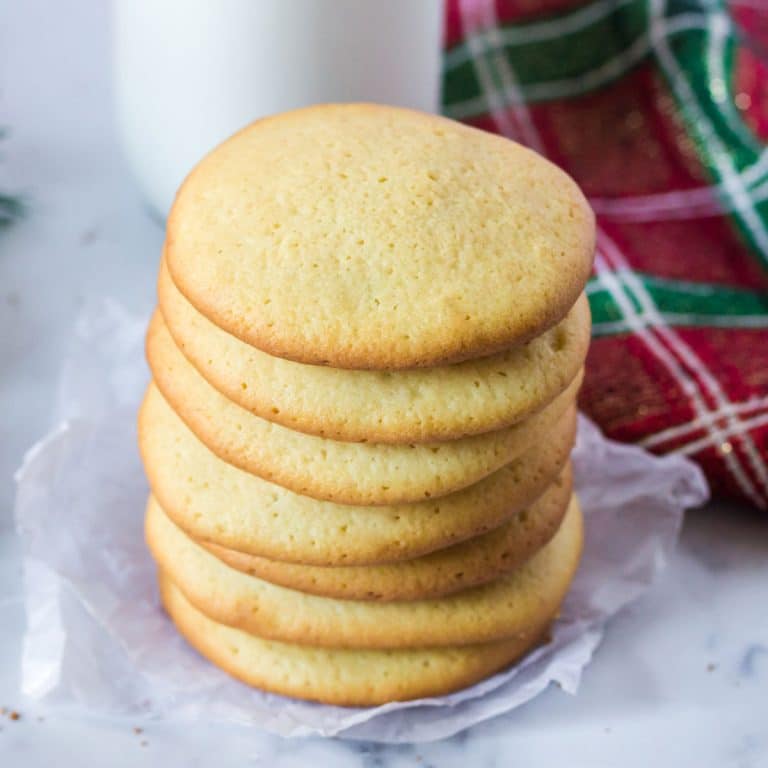 Amish Sugar Cookies made with Sour Milk
Old-fashion cookie recipe inspired by Marion Jantzi Gingerich
Ingredients
1 1/2

cup

sugar

1

cup

butter

,

softened

1

tablespoon

vinegar

,

for sour milk

1

egg

,

beaten

1

cup

sour milk

2 3/4 to 3

cups

all-purpose flour

1

teaspoon

baking soda

1

teaspoon

cream of tartar

1/2

teaspoon

salt

1

teaspoon

vanilla extract
Instructions
Preheat oven to 350 ℉.

In large mixing bowl, cream sugar and butter, use hand mixer if necessary.

For sour milk, add vinegar to measuring cup, fill with milk. Add this along with beaten egg to sugar mixture and stir vigorously until well mixed.

Incorporate dry ingredients, using hand mixer, until thoroughly combined.

Drop by teaspoons onto baking sheet.

Bake 10-12 minutes until firm and pale yellow in appearance.

Enjoy with cold glass of milk and give pause to remember the special people from your life.
Notes
Make your own sour milk by adding 1 tablespoon of vinegar to 1 cup of milk.
Nutrition
Calories:
188
kcal
,
Carbohydrates:
26
g
,
Protein:
2
g
,
Fat:
8
g
,
Saturated Fat:
5
g
,
Cholesterol:
28
mg
,
Sodium:
169
mg
,
Potassium:
57
mg
,
Fiber:
1
g
,
Sugar:
13
g
,
Vitamin A:
263
IU
,
Calcium:
17
mg
,
Iron:
1
mg
Nutrition information is automatically calculated, so should only be used as an approximation.