We are winding down to the final moments before we celebrate the Christmas holiday. Over the past few days, I've heard a couple of people claim to be "Christmassed-Out."  With holiday parties, gift shopping and travel plans, it's easy to understand this sentiment.  Interestingly enough, I've not heard any of our six youngsters echo this feeling, quite the contrary.  Along with school vacation, sledding down the the hills and holiday treats everywhere we turn, I'm hearing this quite a bit, lately, "Dad, can we make some of those Date Pinwheel Cookies?"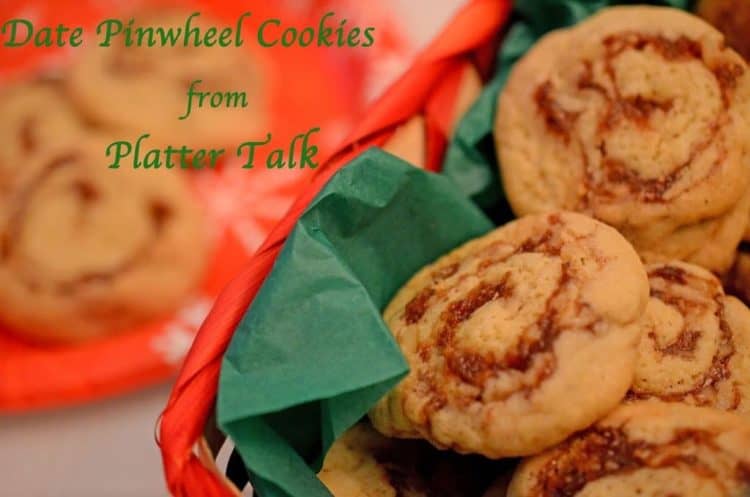 Date Pinwheel Cookies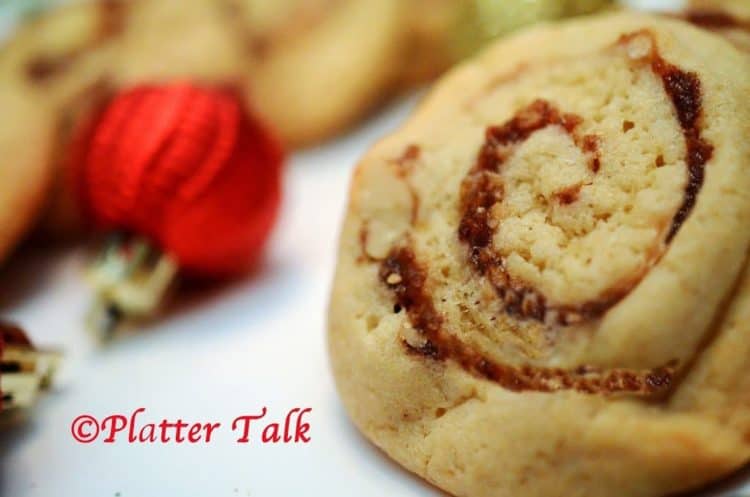 These date pinwheel cookies are a holiday standard in our family.  It is the only time during the entire year that we have them and that of course is part of what makes them special.   For me, they are speciall for another reason.  I always think of my mom when I make these because she made date cookies every Christmas.  Hers were a bit different than these, being essentially a sugar cookie filled with a soft pillowy date inside.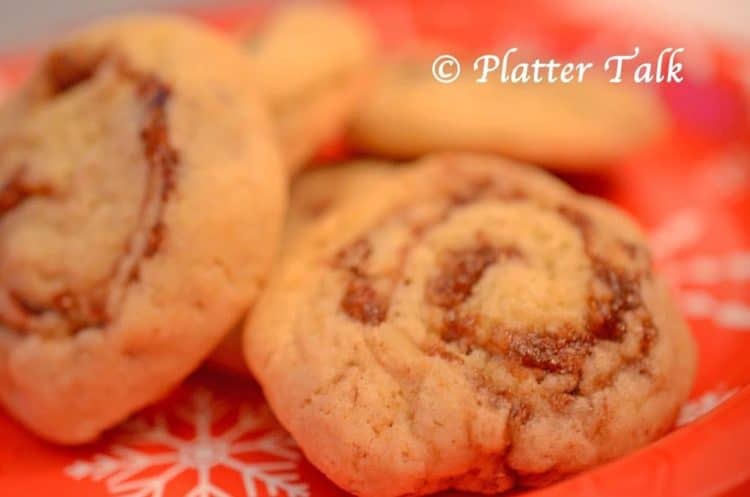 Our kids enjoy making any kind of pinwheel cookie.  There is just something fun about pinwheel-anything.   I think it has something to do with the magical swirl that results from rolling the dough.  With these date pinwheel cookies, there is also the magical taste of sweet chopped dates highlighted by an ever so soft crunch from the chopped walnuts.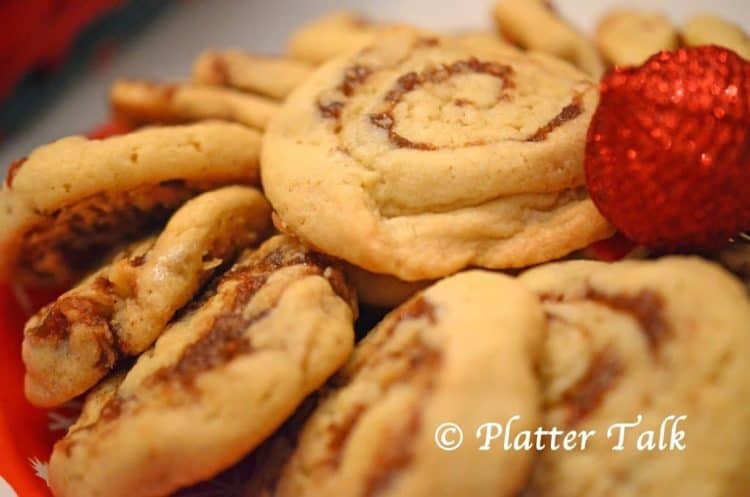 Eating one of these date pinwheels cookies is not a great deal unlike the feeling of trekking through a foot of fresh fallen snow, making your way inside to the warm glow of a fire amidst the aroma of holiday baking and cooking.  Our family wishes you and your family a holiday season of good cheer along with new year filled with health and prosperity.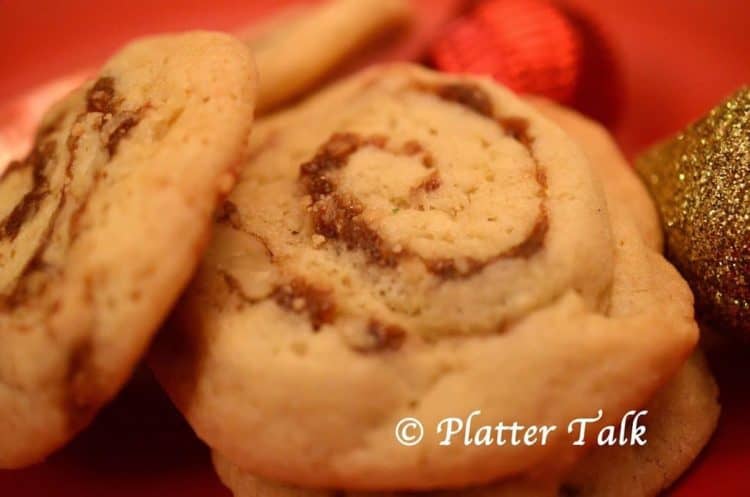 Never Miss Another Platter Talk Recipe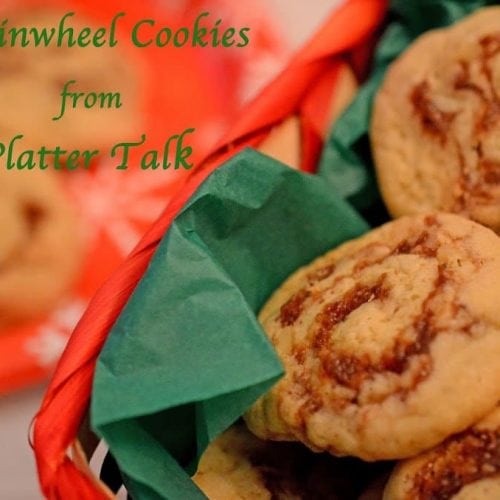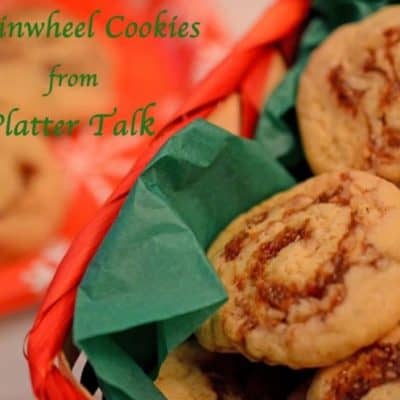 Ingredients
1

10-ounce package chopped dates

3/4

cup

sugar

divided

1/2

cup

water

1/4

teaspoon

salt

divided

1

cup

chopped walnuts

1/2

cup

butter or margarine

softened

1/2

cup

firmly packed brown sugar

1

large egg

1/2

teaspoon

vanilla extract

2

cups

all-purpose flour

1/4

teaspoon

baking soda
Instructions
Stir together dates, 1/4 cup sugar, 1/2 cup water, and 1/8 teaspoon salt in a saucepan; bring mixture to a boil over medium-high heat. Reduce heat; simmer 3 to 5 minutes. Remove from heat; stir in walnuts, and set aside.

Beat remaining 1/2 cup sugar, softened butter, and brown sugar at medium speed with an electric mixer until light and fluffy.

Add egg and vanilla, beating until blended. Gradually add remaining 1/8 teaspoon salt, flour, and baking soda, beating until blended. Cover and chill 1 hour.

Turn dough out onto floured wax paper, and roll into an 18- x 12-inch rectangle. Spread date mixture evenly over dough, leaving a 1/2-inch border.

Roll up dough jellyroll fashion, beginning at 1 long side. Wrap in wax paper, and chill 1 hour.

Cut roll into 1/4-inch-thick slices; place on lightly greased baking sheets.

Bake, in batches, at 375° for 12 to 14 minutes or until lightly browned. Cool cookies 2 to 3 minutes on baking sheets, and remove to wire racks to cool completely.