The BEST Homemade Fig Bars (Easy Recipe with Oatmeal)
on May 25, 2018, Updated Sep 18, 2023
This old-fashioned fig bar recipe is fun and easy, using simple ingredients you probably already have. Besides being a great way to clean out your pantry, these homemade fig newtons can be enjoyed anytime.
No wonder these are one of our most popular dessert bar recipes!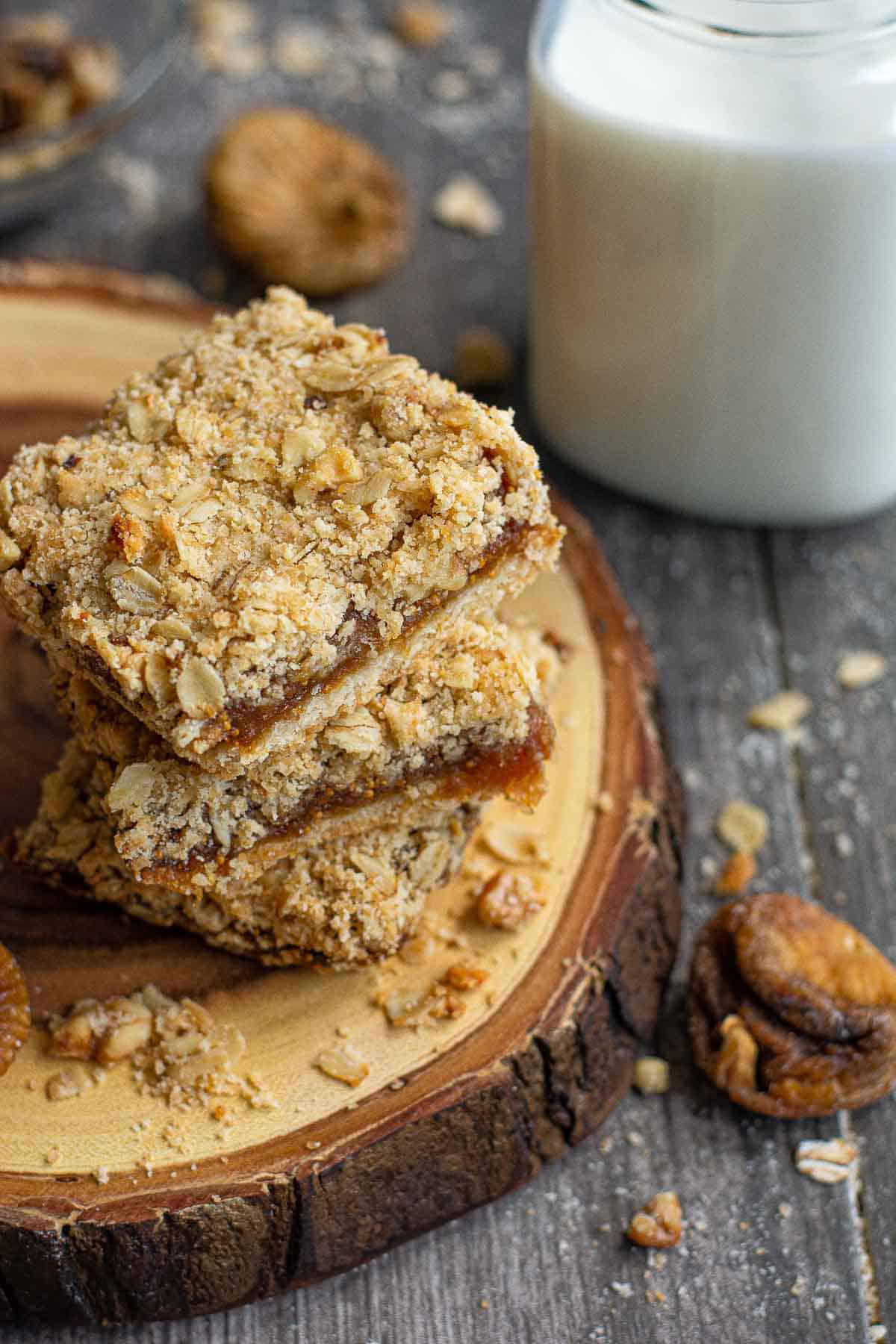 Whether you're a seasoned baker or a novice in the kitchen, homemade fig bars are the perfect recipe to add to make today.
So what are you waiting for? Get your apron on, and let's start baking!
About these
If you've tried a taste of our turtle bars, simple apple bars, Oreos cookie brownies, or even our Christmas bar cookies, you've probably figured out that I have a bit of a sweet tooth, especially for easy dessert recipes. We are even huge fans of no-bake dessert bars like our no bake cherry cheesecake. It's the best!
This fig bars recipe uses wholesome ingredients like fresh or dried figs, oatmeal, and other everyday ingredients. You can easily customize them to your taste and have them ready to eat in 40 minutes.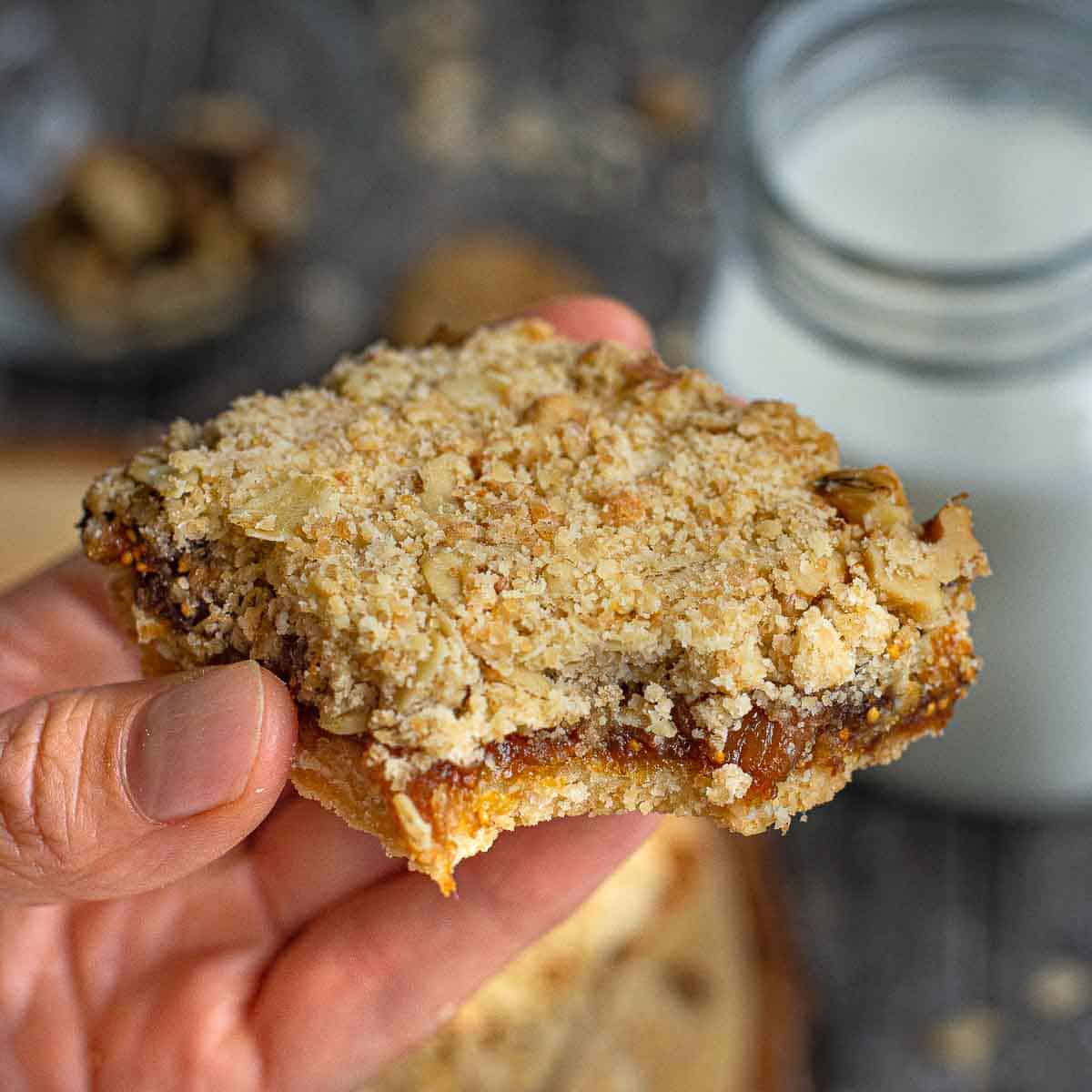 Whether you're looking for a sweet breakfast treat, a healthy snack, or a dessert that's both delicious and nutritious, a fig bar recipe is a perfect choice.
Fig bar ingredients
One of the best things about this recipe for homemade fig bars is the list of simple ingredients. Take a look in your pantry. Right now!
I'll bet you have most if not all of the things you need to put these together!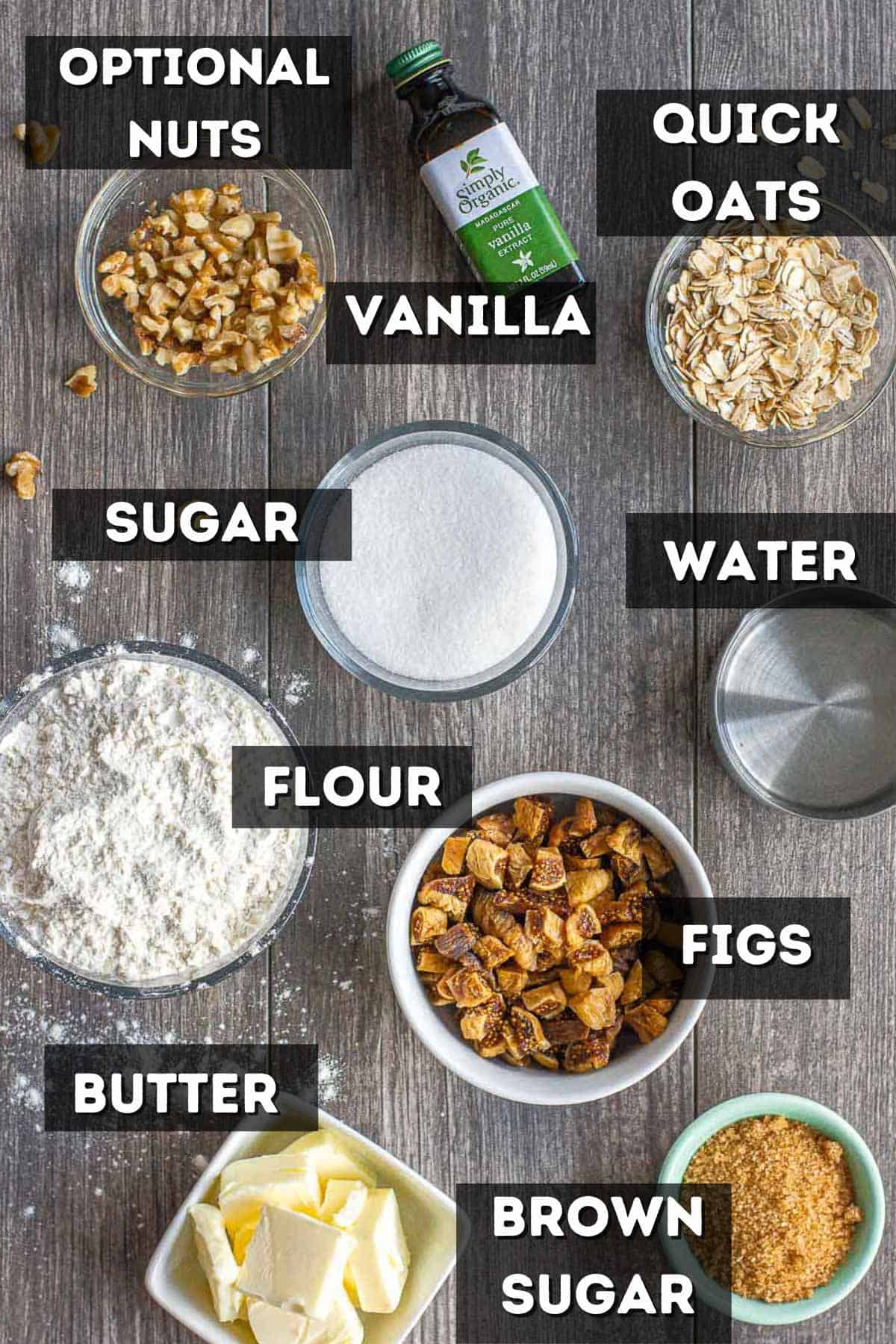 Butter: Softened butter is used for the crust, adding a rich buttery flavor to the bars. Make sure the butter is at room temperature before using it.
Sugar: Use this in the crust and filling to add sweetness. Be careful not to add too much sugar, as the dried figs are already quite sweet.
Vanilla: Vanilla extract is added to the crust to enhance the flavor. Use pure vanilla extract for the best flavor.
Flour: Like many baked things, flour is used in the crust and topping, giving the bars structure. Use all-purpose flour or whole wheat flour for a healthier option.
Boiling Water: Boiling water is used in the filling to soften the dried figs. Use caution when working with hot liquids.
Dried Figs: Dried figs are used in the filling and add a sweet and chewy texture. Look for high-quality dried figs without added sugars or preservatives.
Brown Sugar: Brown sugar is used in the topping to add sweetness and a caramel-like flavor. Use light or dark brown sugar, depending on your preference or whatever you have on hand!
Quick-Cooking Oats: Quick-cooking oats are used in the topping to add texture and crunch. Look for rolled oats that cook quickly and evenly.
Cold Butter: Cold butter is used in the topping to create a crumbly texture. Make sure the butter is very cold before using it, as this will help create the desired texture.
Optional Walnuts: Chopped walnuts are added to the topping to provide a nutty flavor and extra crunch. Use toasted walnuts for added depth of flavor, and omit them if you have a nut allergy.
How to make homemade fig bars
(See the full directions in the recipe card below.)
To make this easy dessert, start by gathering all of the ingredients we listed above for you.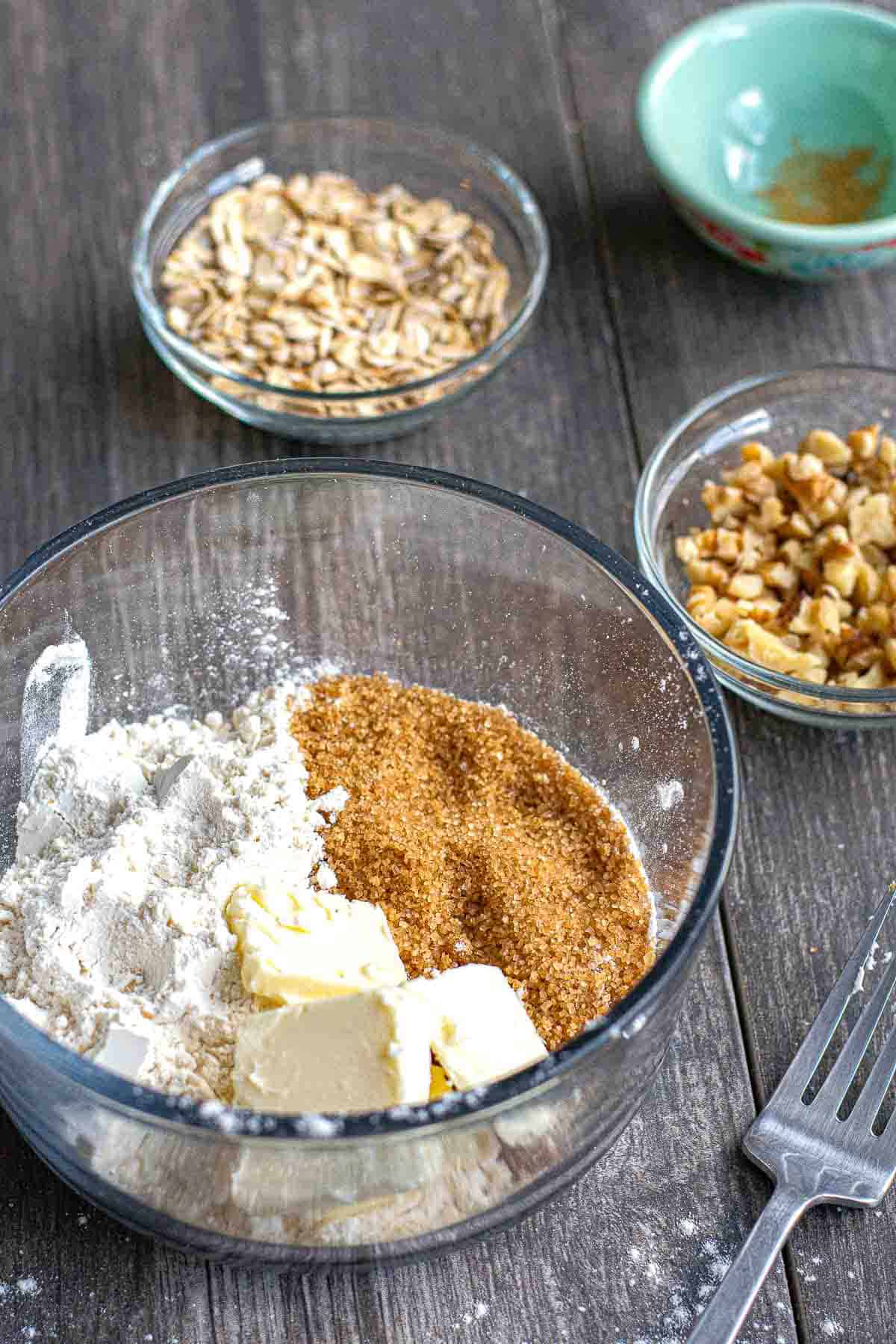 Then, grab your mixer, a couple of mixing bowls, some measuring cups, and a baking pan. These are going to be good!
Start with the crust: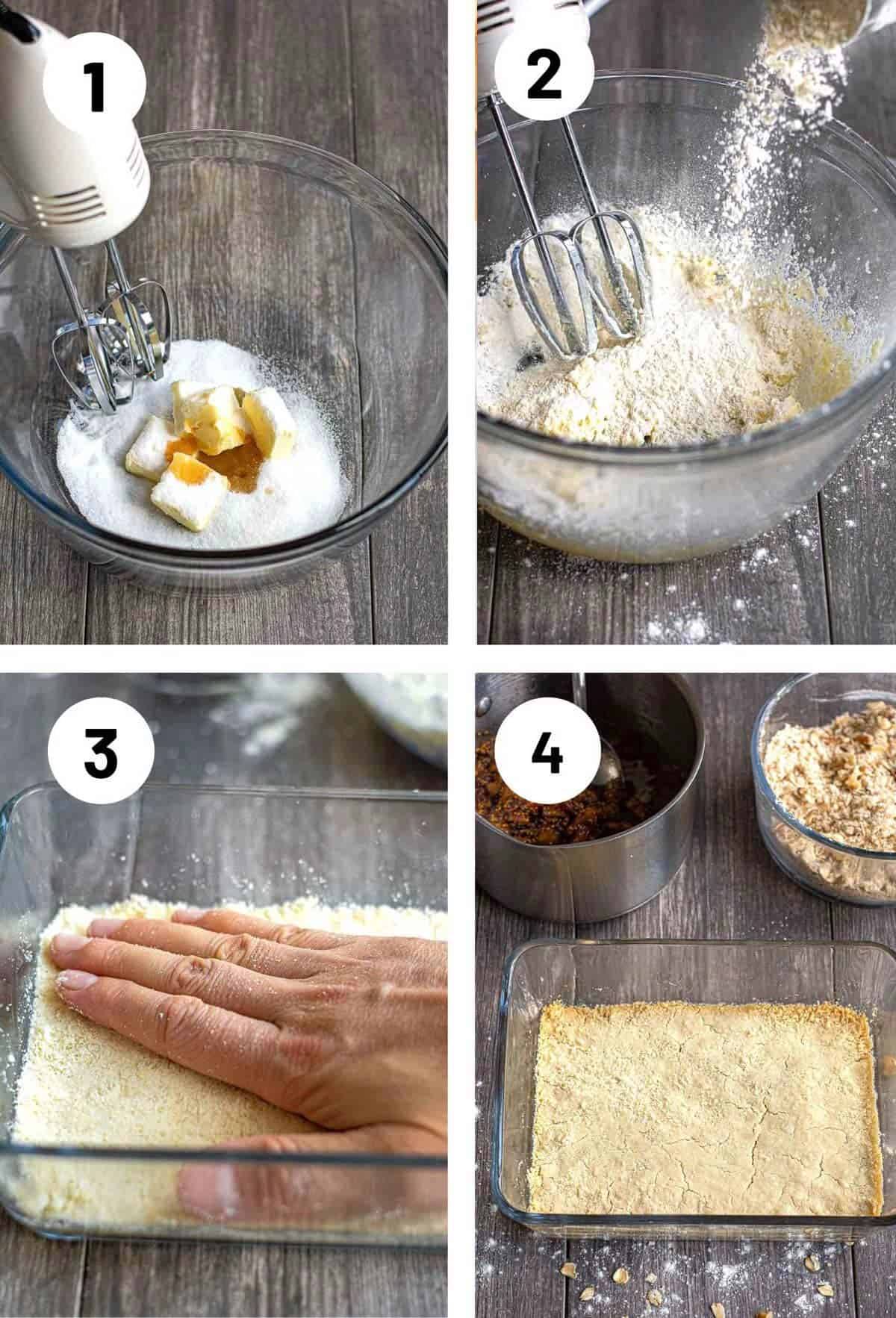 Use a large mixing bowl and combine 1/2 cup of softened butter, 1/4 cup of sugar, and the vanilla, and beat with an electric mixer on medium speed until well blended.
Then, beat in 1 cup flour, on low speed, until a soft dough forms.
Press the dough into the bottom of the pan.
Bake the crust at 350° for 10 to 15 minutes or until the center is set.
Make the filling:
Using a 2-quart saucepan, cook the filling ingredients over medium-high heat for 5 to 10 minutes, stirring frequently, until the figs are tender and most of the liquid is absorbed.
Spread the filling over the crust.
Make the topping and bake: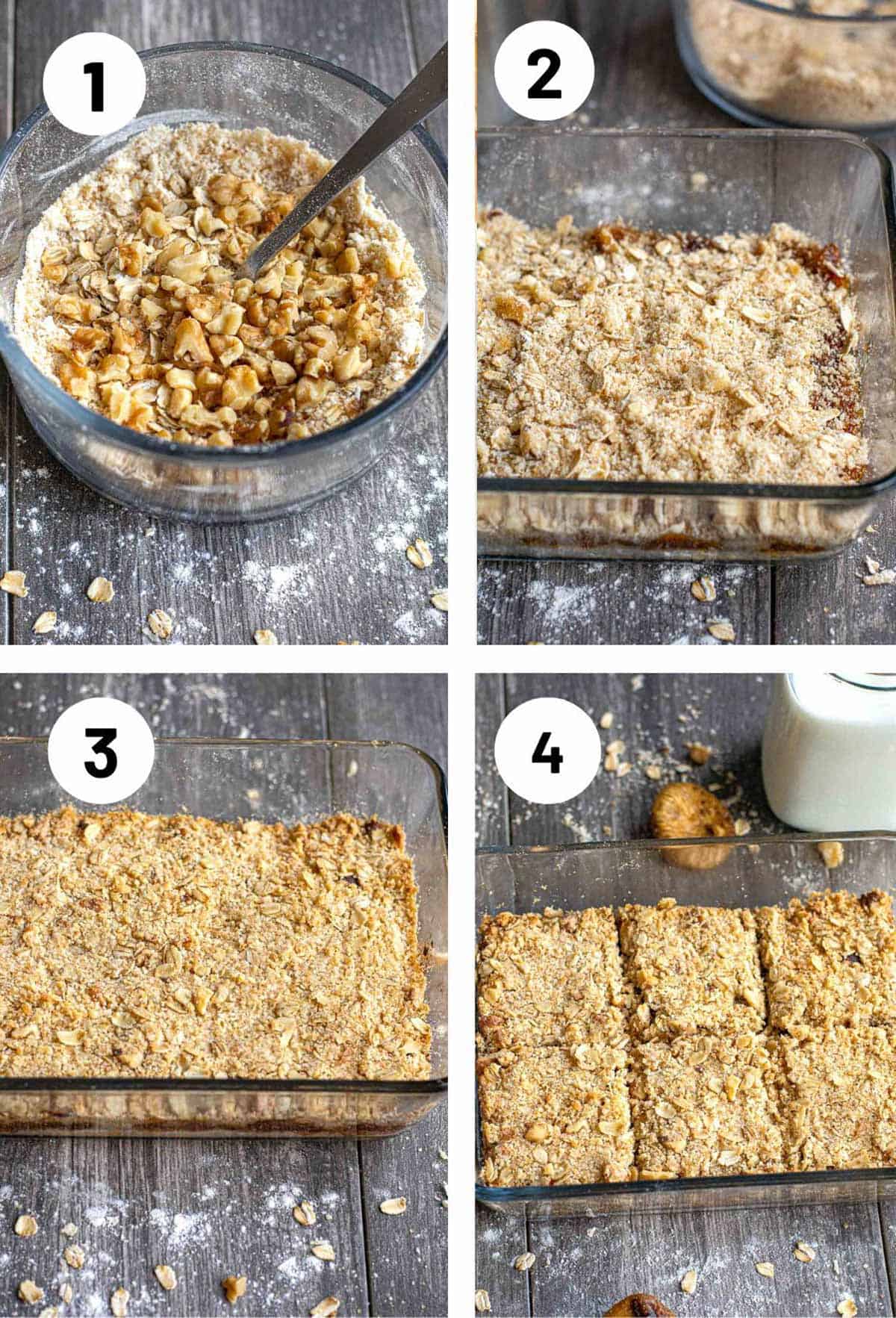 In a small bowl, mix ¼ cup flour, the brown sugar and three tablespoons butter, using a pastry blender or fork, until crumbly.
Next, stir in the oatmeal and the optional nuts.
Bake the oatmeal fig bars in a preheated oven at 350°F for 35-40 minutes or until the top crust is golden brown.
Allow the bars to cool before cutting them into squares with a sharp knife.
How to store these
First, be sure they are cooled to room temperature. Then, you can store these homemade fig bars in an airtight container at room temperature for up to a week.
If you want to freeze them, wrap them in some kitchen wrap, and be sure to get all the air out between the bars and the plastic wrap. Store them in the freezer for up to 3 months before using them.
Substitutions and variations
Like all of our recipes, I always tell our readers to make these your own! Build this homemade fig bars recipe to fit your likes. Here are some easy ways to switch these up.
For a healthier option, you can use whole-wheat flour instead of all-purpose flour.
You can also use coconut oil instead of butter for a vegan option.
Instead of brown sugar, you can use maple syrup as a natural sweetener.
Add some fresh orange zest or lemon zest for a bright and delicious citrus flavor.
What makes these better?
There are 101 reasons why these homemade fig bars are better than anything you can buy in grocery stores. Call me old-fashioned (I'm fine with that), but for starters, I think it's nice to know the source of your food!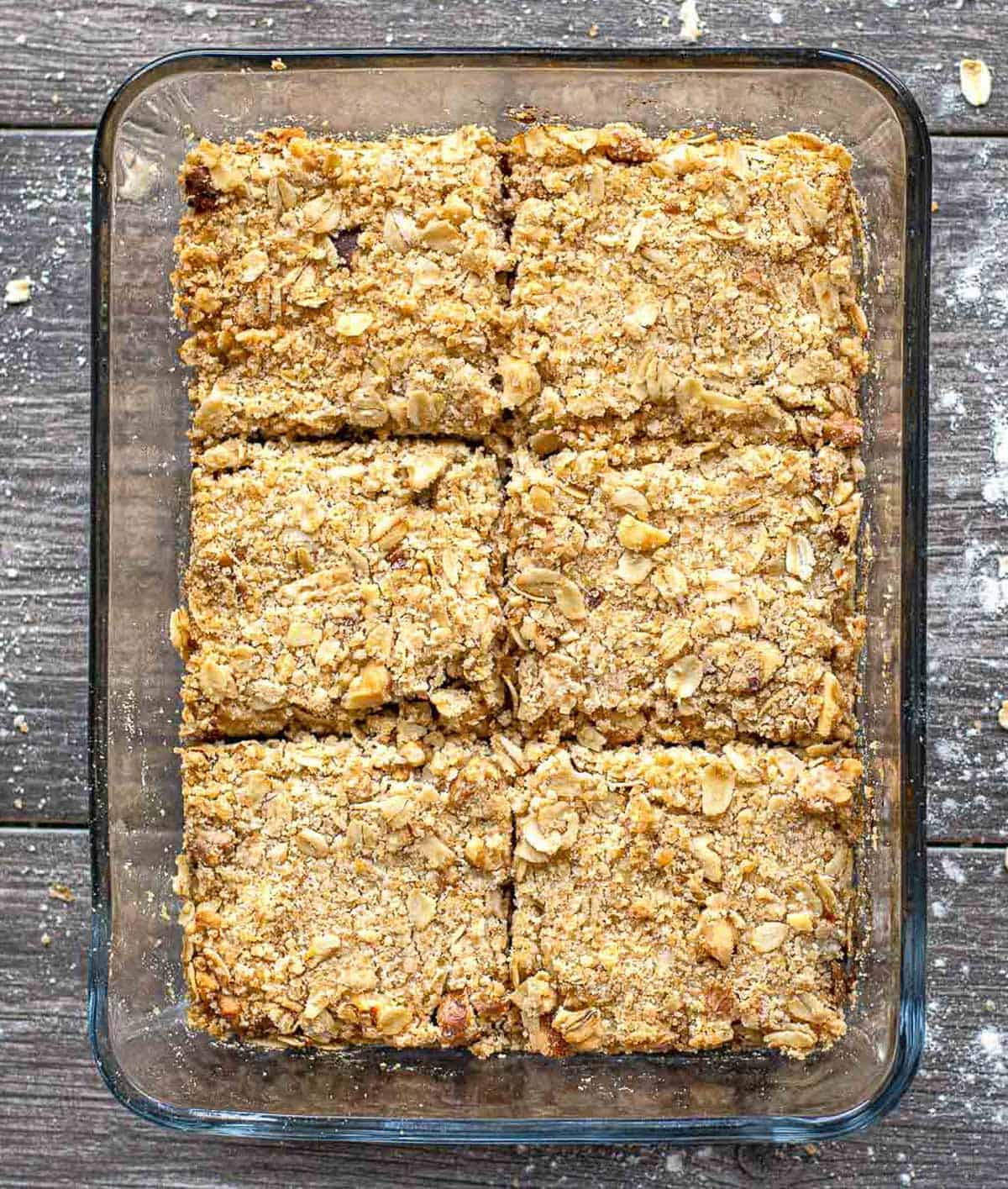 Here are a few other reasons you need to make this recipe for homemade fig bars.
Freshness: Homemade fig bars are made from scratch using fresh ingredients. This makes them taste fresher and more flavorful than store-bought ones.
Customization: With homemade fig bars, you have the flexibility to customize the filling and the dough to your liking. You can use different types of figs or add other fruits, nuts, or spices to the filling, and you can experiment with different types of flour and sweeteners for the dough.
Healthier: Homemade fig bars can be made with healthier ingredients, such as whole wheat flour, honey, or maple syrup, which makes them a healthier snack option than store-bought ones that often contain high amounts of sugar, preservatives, and artificial flavors.
These are Less Expensive: Homemade fig bars can be more cost-effective than store-bought ones, especially if you buy the ingredients in bulk or use ingredients already in your pantry.
Satisfaction: Making your fig bars from scratch can be a satisfying and rewarding experience. It can also be a fun activity to do with family and friends. (Especially kids; we should know!)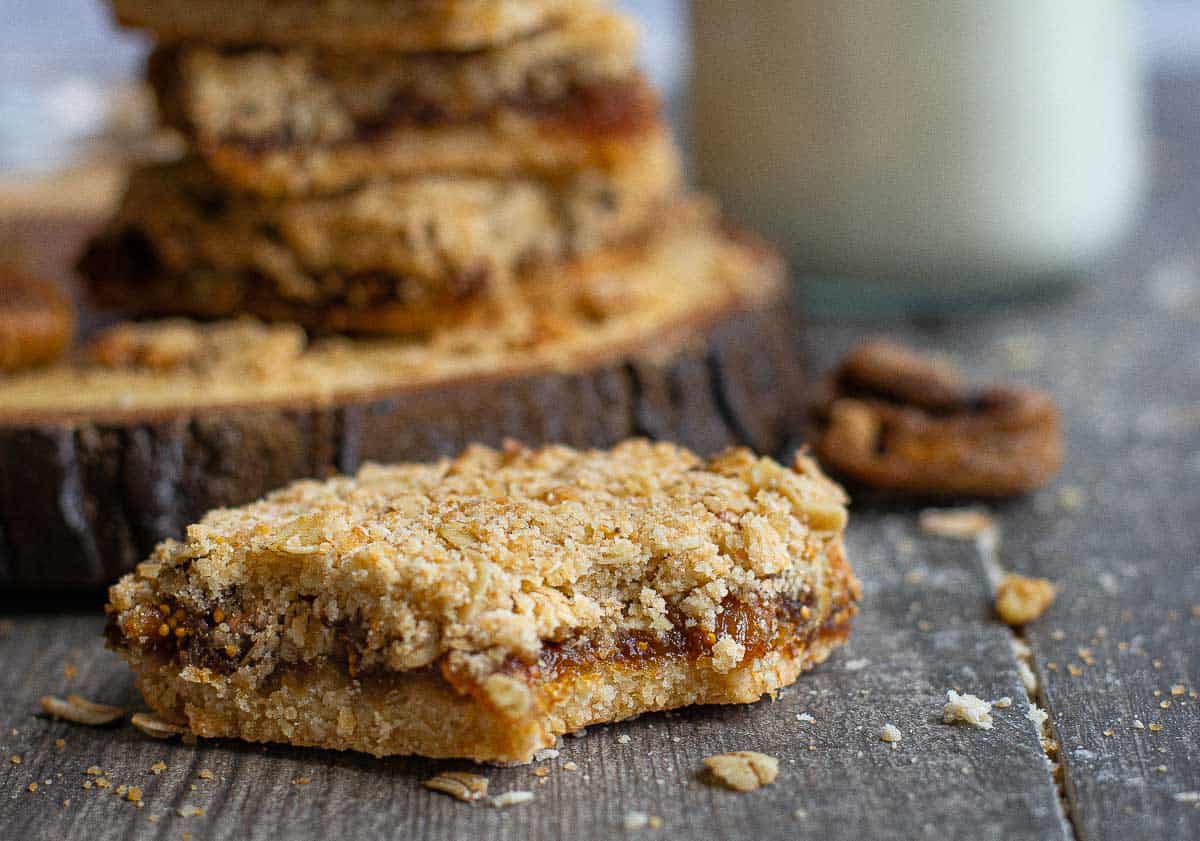 Common questions
Are figs good for you?
Figs are a great source of several important nutrients. They are high in fiber, which helps promote digestive health and can also help lower cholesterol levels.

Figs also contain several vitamins and minerals, including potassium, magnesium, calcium, and vitamin K.

Plus, figs are a good source of antioxidants, which can help protect your body against damage from harmful molecules called free radicals.
Can I use fig preserves or jam instead of making my own filling?
Yes. You can use store-bought fig preserves or fig jam to save time. Spread the preserves or jam a thin layer over the crust before adding the topping.
Can I make these fig bars ahead of time?
Yes, you can make these bars ahead of time and store them in an airtight container at room temperature for up to a week.
Can I use a food processor instead of a stand mixer or electric mixer?
You betchya. You can use a food processor to mix the crust ingredients. Just pulse the ingredients until a soft dough forms.
👨‍🍳 Tried this Recipe? Please leave a ⭐⭐⭐⭐⭐ rating in the recipe card below and leave a comment. We love hearing from our readers!
⏩ Stay in touch with us on social media by following us on Facebook, Pinterest, Instagram, and YouTube!
📬Get our Recipes delivered to your inbox for FREE!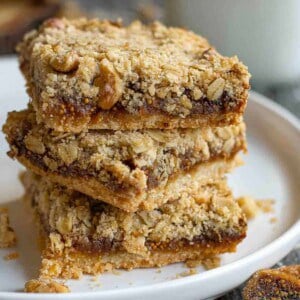 Homemade Fig Bars Recipe
This fig dessert is one of the best fig recipes you can make at home! From Betty Crocker.
Ingredients
for the crust
1/2

cup

butter

,

softened

1/4

cup

sugar

1/2

teaspoon

vanilla

1

cup

all-purpose flour
for the filling
1/4

cup

sugar

1

cup

boiling water

1

cup

dried figs

,

chopped
for the topping
1/4

cup

all-purpose flour

1/4

cup

packed brown sugar

3

tablespoons

cold butter

1/4

cup

quick-cooking oats

1/4

cup

chopped walnuts
Instructions
Preheat oven to 350 degrees F.

Spray 9-inch square pan with cooking spray.

In small bowl, beat 1/2 cup butter, 1/4 cup granulated sugar and the vanilla with electric mixer until well blended.

On low speed, beat in 1 cup flour until soft dough forms.

Press dough in bottom of pan and bake 10 to 15 minutes or until center is set.

Meanwhile, in 2-quart saucepan, cook filling ingredients over medium-high heat 5 to 10 minutes, stirring frequently, until figs are tender and most of liquid is absorbed.

Spread over crust.

In small bowl, mix 1/4 cup flour, the brown sugar and 3 tablespoons butter, using pastry blender or fork, until crumbly.

Stir in oats and walnuts. Sprinkle over filling.

Bake 15 to 20 minutes longer or until edges are bubbly and topping is light golden brown.

Cool completely, about 1 hour.

For bars, cut into 4 rows by 4 rows.
Notes
A quarter cup of chopped pecan pieces, toasted may be substituted for the walnuts.
As with any dessert recipe, nut may be complete omitted with these bars.
Nutrition
Calories:
180
kcal
,
Carbohydrates:
24
g
,
Protein:
2
g
,
Fat:
9
g
,
Saturated Fat:
5
g
,
Polyunsaturated Fat:
1
g
,
Monounsaturated Fat:
2
g
,
Trans Fat:
1
g
,
Cholesterol:
21
mg
,
Sodium:
74
mg
,
Potassium:
91
mg
,
Fiber:
1
g
,
Sugar:
14
g
,
Vitamin A:
260
IU
,
Vitamin C:
1
mg
,
Calcium:
27
mg
,
Iron:
1
mg
Nutrition information is automatically calculated, so should only be used as an approximation.
Updated from original recipe from December 10, 2014