Easy Oatmeal Bars with Apple Butter Filling
on Mar 26, 2020, Updated Nov 30, 2020
Oatmeal bars are a perfect way to use what in your pantry. They are one of our most popular easy dessert recipes and our homemade apple butter filling makes them the perfect sweet and savory treat.
These dessert bars can be made in just 45 minutes and you probably already have all the ingredients just sitting in your pantry, waiting to be used.
As a bonus, they can easily be turned into a make-ahead recipe as they freeze well for up to two months. Read on and we'll show you exactly how to do all of this.
About these
A day or so ago we had a childless afternoon in our house. Hence I returned home to an unusually quiet home on an unusually frigid day. I had just made some of our homemade apple butter from apples stored in the fridge, and I wanted to put it to good use.
Using the oven to take the chill out of a cold day is always a great excuse to bake a yummy dessert. We do this often with things like Danish kringle, open-face apple pie, slutty brownies, and of course our family favorite of shoofly pie!
The outside temperature never exceeded 15 degrees below zero throughout the day, so I decided to use the magical heat of an oven ready to bake.
The kitchen began the transformation to a warm and cozy haven; this is how a new recipe came into the world. Along with our no bake cherry cheese cake bars and homemade raised donuts, this is one of our favorite desserts.
Ingredients for this Oat Bars Recipe
Old-fashioned rolled oats
Flour
Brown Sugar
White Granulated Sugar
Salt
Cinnamon
Butter
Apple Butter or substitute (See suggestions below)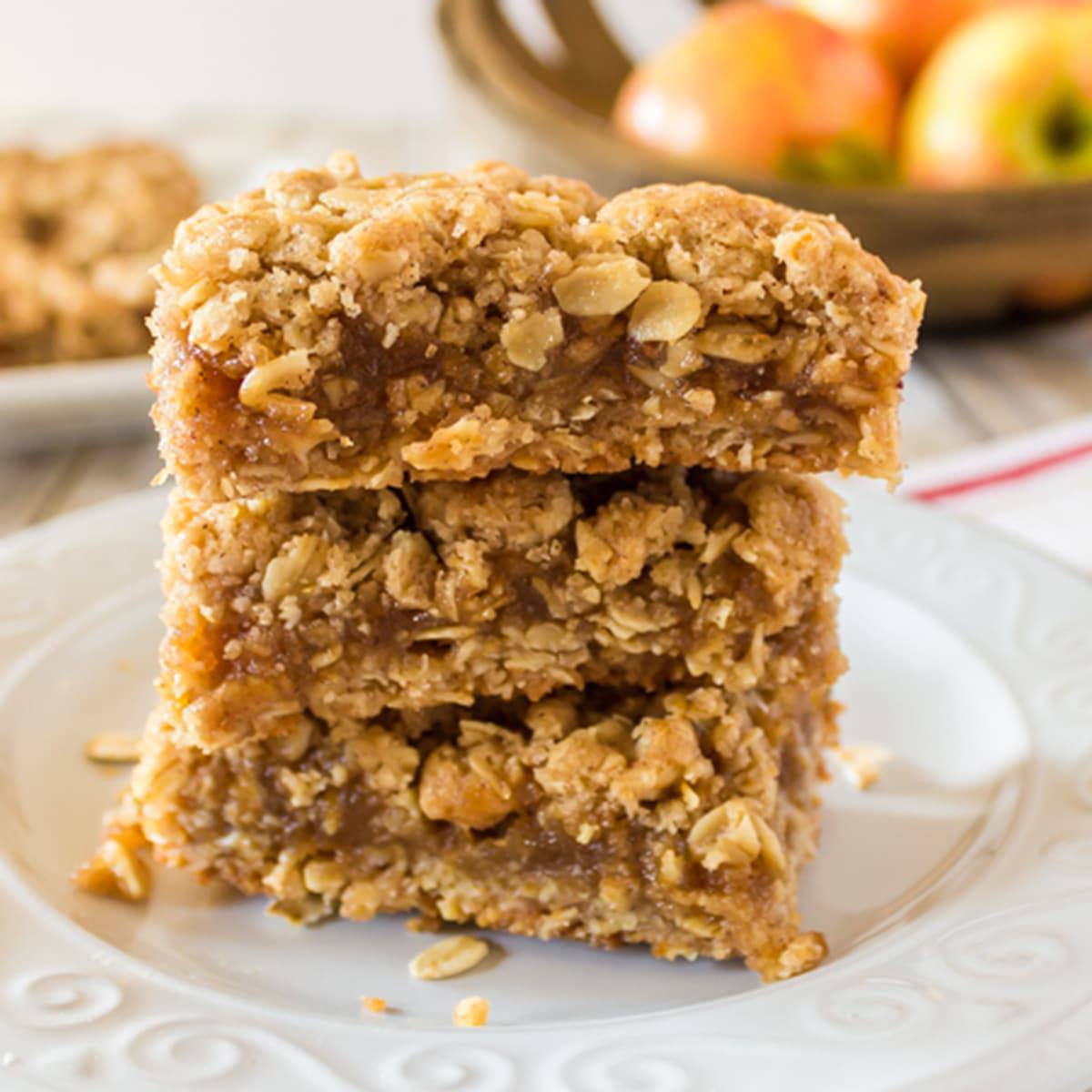 If you don't have apple butter in your pantry, there are many other common spreads you can use (see the list below.)
How to make these
(New to baking? Learn how to make cookies from our own in-house professional chef, CIA-trained Chef Kat.)
Start by preheating your oven to 350° and then gather all of the ingredients listed above.
Next, assemble the shortlist of kitchen tools and equipment for this recipe:
A mixing bowl
Measuring cups
Measuring spoons
A 9″ x 9″ baking pan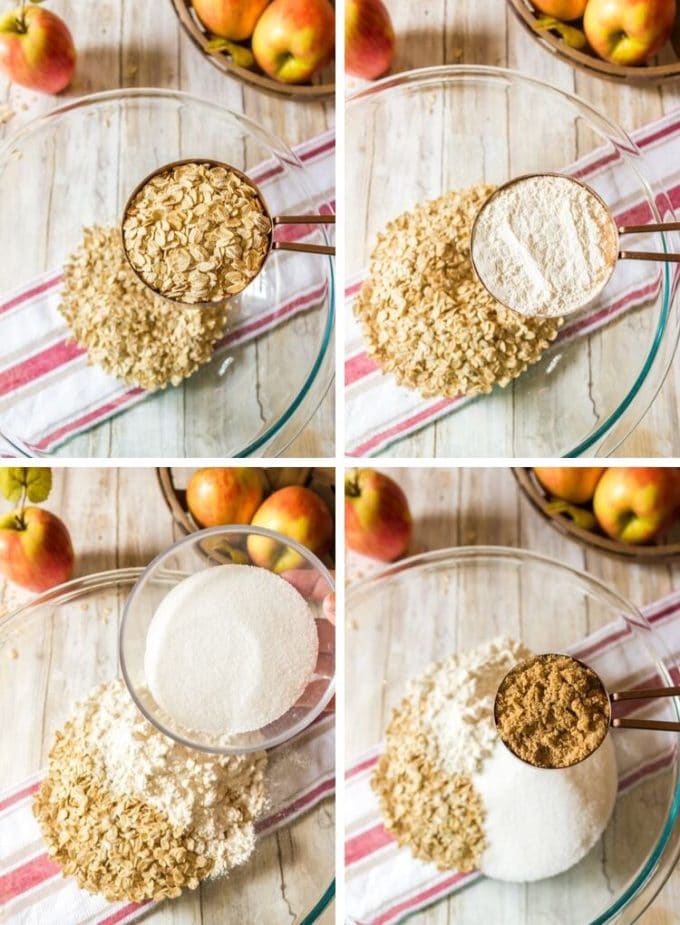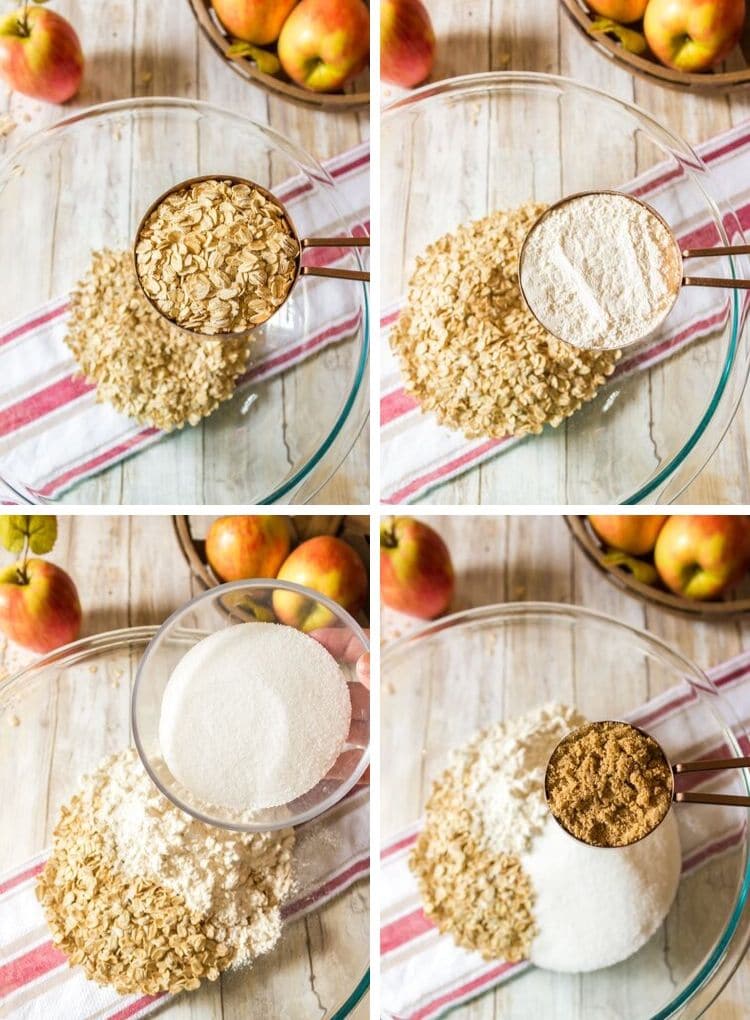 Start by placing 2 cups of old-fashioned oatmeal in a medium-size mixing bowl.
Add 1 cup of all-purpose flour.
Measure and add 3/4 cup of granulated sugar.
Then add 1/4 cup of brown sugar.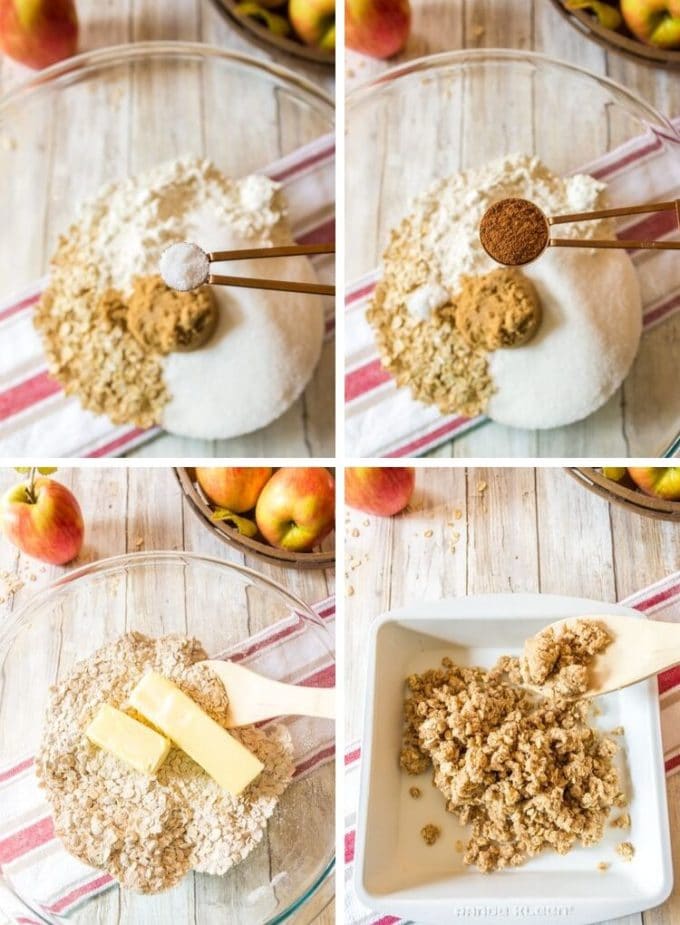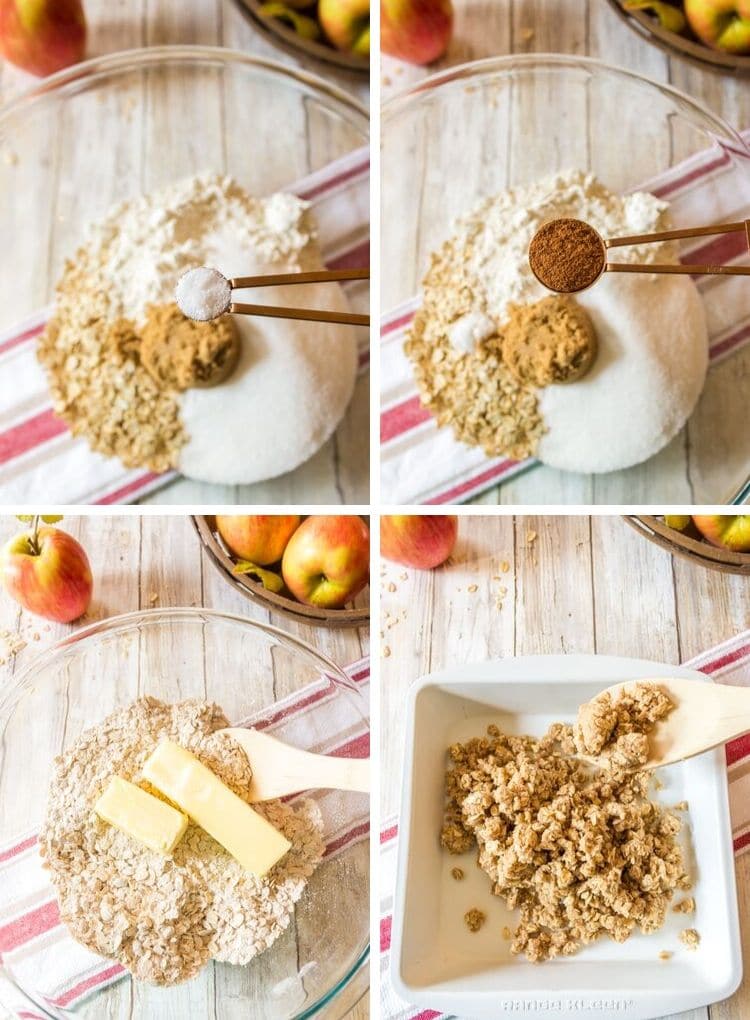 Add the salt and cinnamon and mix it all together.
Then, add and stir in the softened butter.
Transfer the half of the mixture to a greased 9″ x 9″ baking pan.

Reserve the remaining crumbs to use as a topping.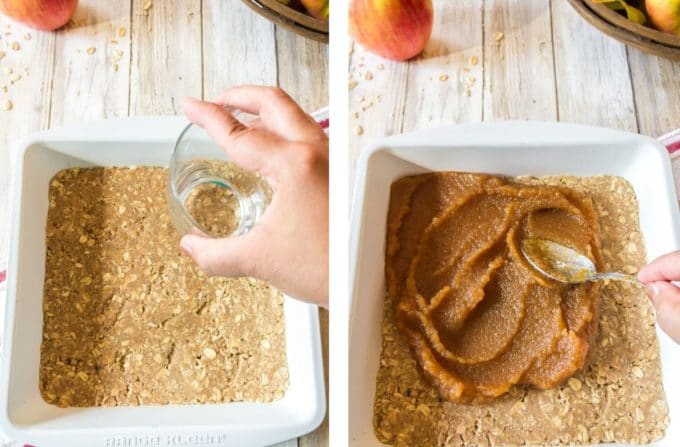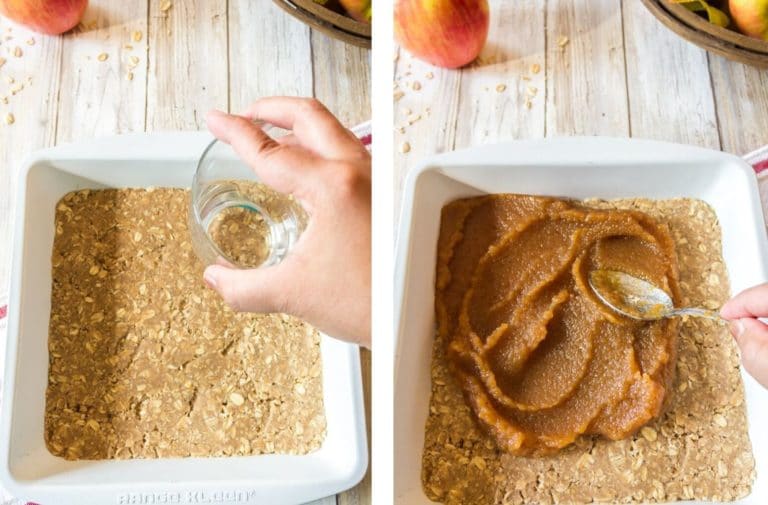 Use the bottom of a drinking glass to firmly pack the base in the pan.
Next, add the magical ingredient: Apple Butter!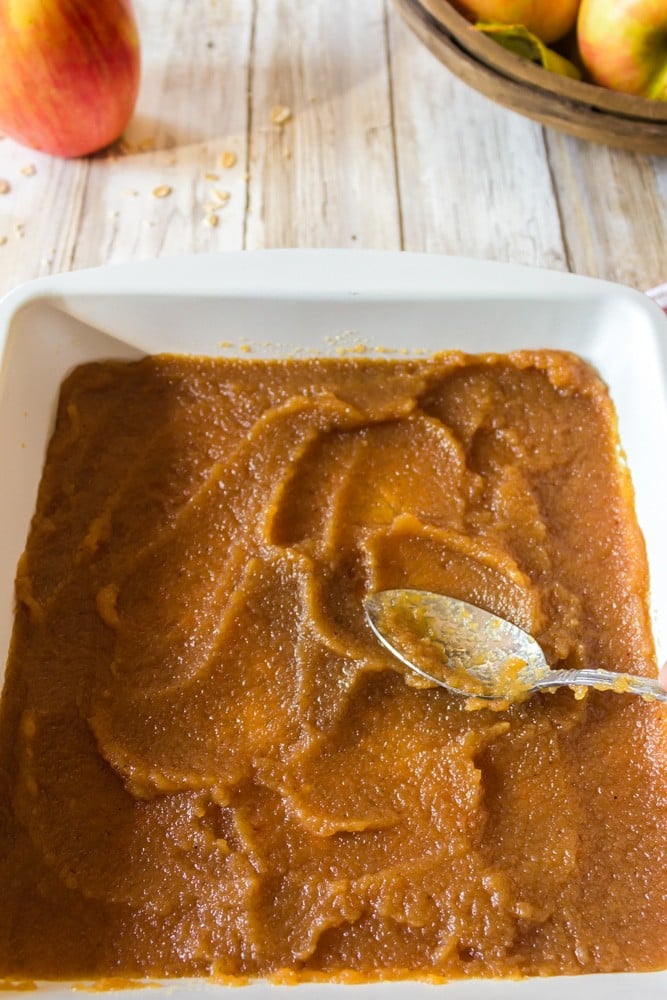 Use a soft rubber spatula and spread the apple butter evenly over the oat bar base.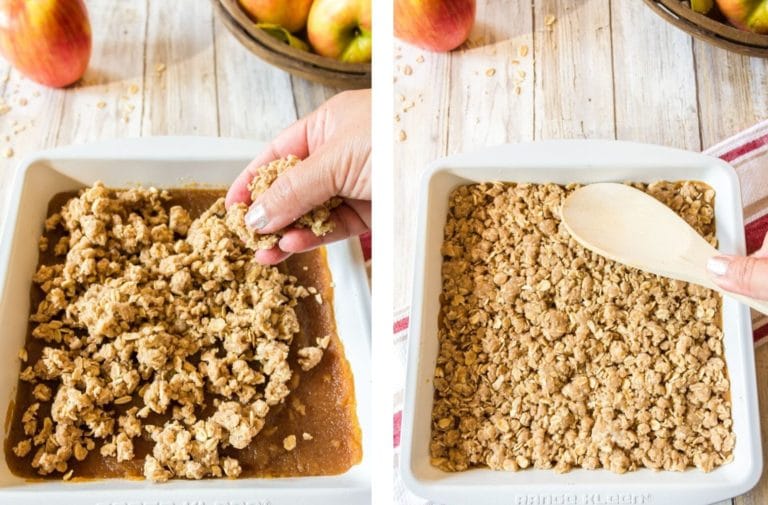 Finally, sprinkle the remaining crumb mixture on top of the layer of apple butter.
Then pat firmly before baking for 30 minutes.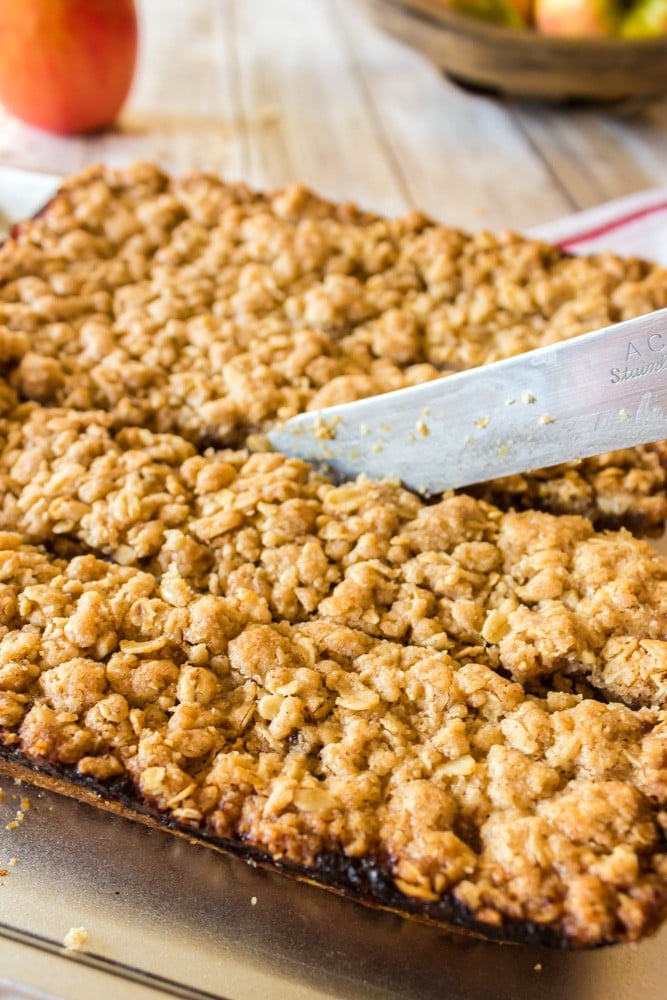 ---
Common recipe questions
How do I store these?
These can be stored at room temperature for up to two days, in a sealed container. Otherwise, they will keep in the refrigerator for 5 days.
What can I substitute for apple butter in this recipe?
If you don't have apple butter, you can use things like:
Fig preserves
Apricot preserves
Chocolate-Hazelnut Spread (Nutella)
Ripe Bananas
Jelly (Grape, Apple, or Strawberry)
Can this dessert be frozen?
You can make these oatmeal bars ahead of time and freeze for up to two months. Here is the best way to enjoy them as a make-ahead dessert:
1. Bake and Freeze Method
Prepare as directed and allow to completely cool.
Cut portions as desired.
Using a flat surface like a cookie sheet, platter, or large plate, line the bottom with plastic kitchen wrap and leave plenty of extra wrap to cover the top of the bars.
Double-wrap the bars, making sure there are no air pockets between them and the plastic wrap.
Place a date label on the outside (to remind you of when you made them), and place in your freezer.
Remove from freezer 6 to 12 hours before serving to allow them to thaw at room temperature.
2. Freeze and Bake Method
Prepare as directed but do not bake.
Wrap the entire baking dish, with the unbaked bars, in plastic kitchen wrap. Press down lightly on the wrap to make sure you get out any air pockets. Wrap in a second layer and place the dish in the freezer.
Allow thawing in the refrigerator 12 hours before ready to bake and serve.
Bake as directed.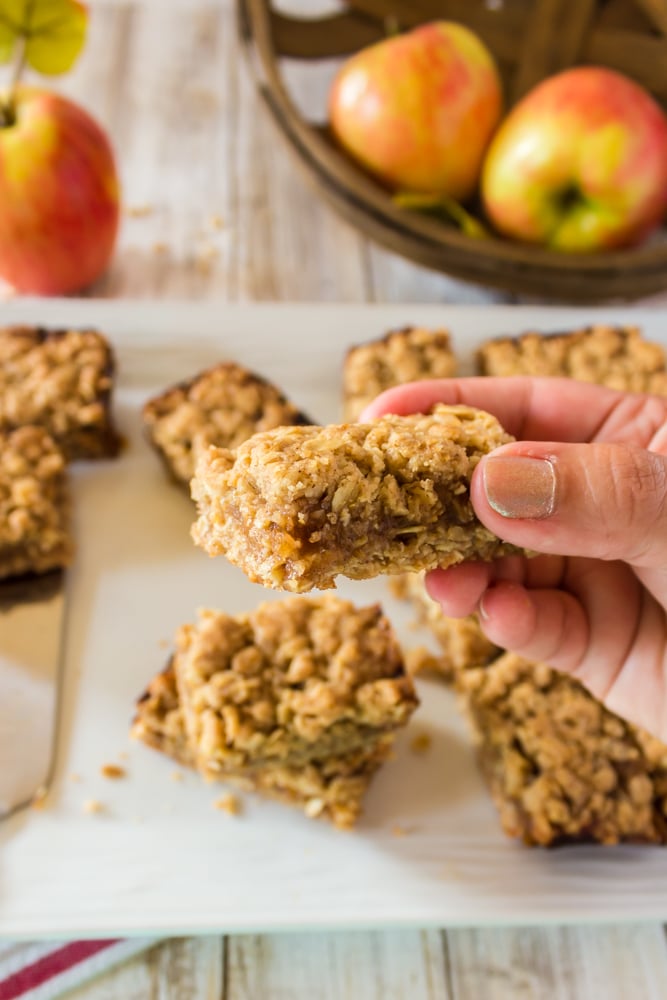 ---
This easy recipe for oatmeal bars is perfect for the holidays, or any time of the year. If you're looking for another year-round dessert recipe, be sure and try our forgotten cookies!
Other recipes that use apple butter
(Be sure and check out our own recipe for Crock-Pot Apple Butter.)
See all of our bar recipes and our complete collection of easy dessert recipes!
👨‍🍳 Tried this Recipe? Please leave a ⭐⭐⭐⭐⭐ rating in the recipe card below and leave a comment. We love hearing from our readers!
⏩ Stay in touch with us on social media by following us on Facebook, Pinterest, Instagram, and YouTube!
📬Get our Recipes delivered to your inbox for FREE!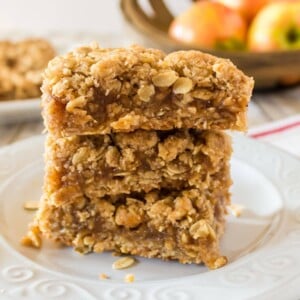 Homemade Oatmeal Bars with Apple Butter
Easy dessert bar recipe that is a perfect use for apple butter!
Instructions
Pre-heat oven to 350 degrees.

Grease 9-inch square baking pan with nonstick cooking spray.

In large mixing bowl, combine oats, flour, sugars, salt and cinnamon.

Add butter and stir until creamy.

Pat half of the mixture into baking pan.

Spread apple butter evenly over crumb layer.

Sprinkle remaining crumbs over apple butter and press down gently.

Bake 30-35 minutes or until golden.

Transfer pan to wire rack and cool completely.
Notes
If you don't have apple butter, consider substituting any of the following:
Pumpkin Butter
Fig Preserves
Apricot Preserves
Chocolate and Hazelnut Spread (like Nutella)
Grape, Apple, or Strawberry Jelly
Ripe Bananas
Nutrition
Calories:
178
kcal
,
Carbohydrates:
26
g
,
Protein:
1
g
,
Fat:
7
g
,
Saturated Fat:
4
g
,
Cholesterol:
18
mg
,
Sodium:
93
mg
,
Potassium:
54
mg
,
Fiber:
1
g
,
Sugar:
15
g
,
Vitamin A:
215
IU
,
Vitamin C:
0.1
mg
,
Calcium:
12
mg
,
Iron:
0.7
mg
Nutrition information is automatically calculated, so should only be used as an approximation.
More Easy Dessert Bar Recipes You Might Like
Updated from the original post of January 22, 2014