Oatmeal bars are an easy dessert recipe and our apple butter filling make them the perfect fall treat.
This recipe for oatmeal bars can be made in just 45 minutes and you probably already have all the ingredients on hand.
Turn your oven on and let's get these savory oat bars in the oven!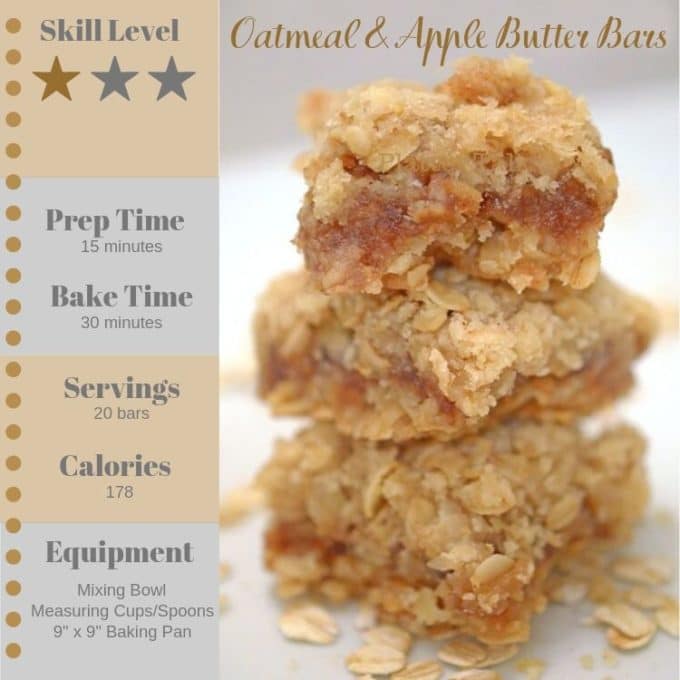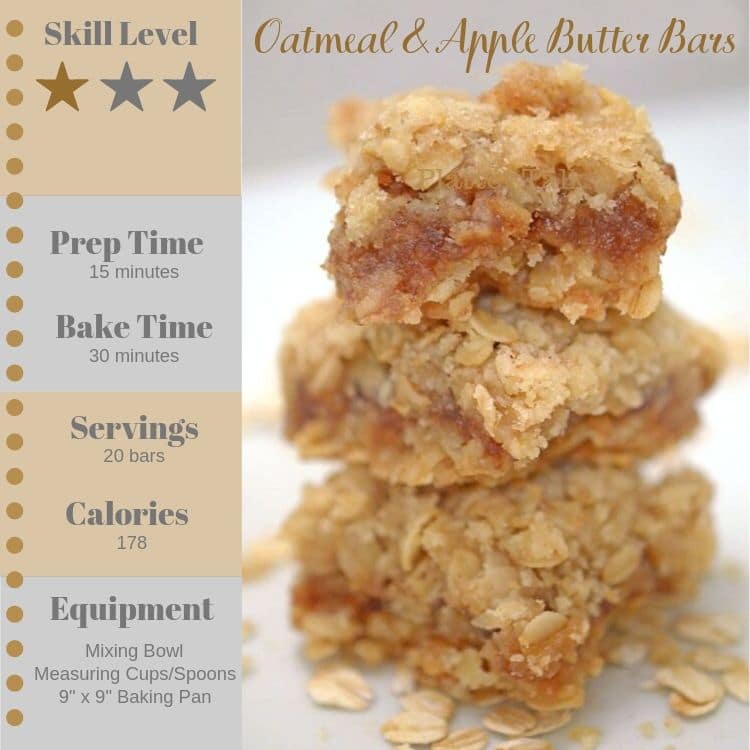 Oatmeal Bars with Apple Butter Filling

A day or so ago we had a childless afternoon in our house, hence I returned home to an unusually quiet home on an unusually frigid day.
The outside temperature never made it above 15 degrees below zero throughout the day and so I decided to use the magical heat of an oven ready to bake.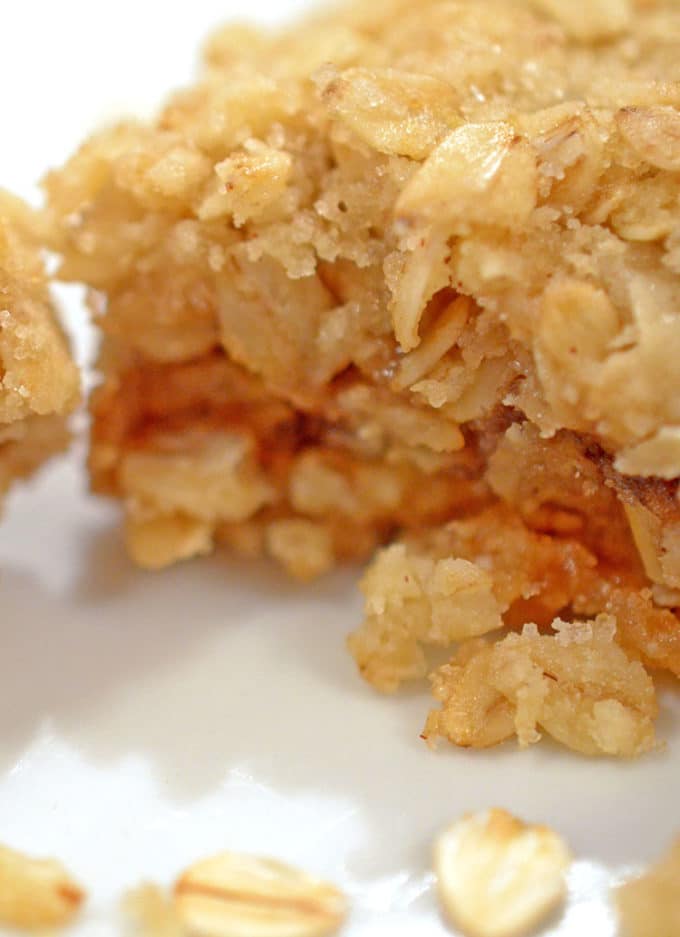 The kitchen began the transformation to a warm and cozy haven and this is how a new recipe came into the world.
Ingredients for this Oat Bars Recipe

Old-fashioned rolled oats
Flour
Brown Sugar
White Granulated Sugar
Salt
Cinnamon
Butter
Apple Butter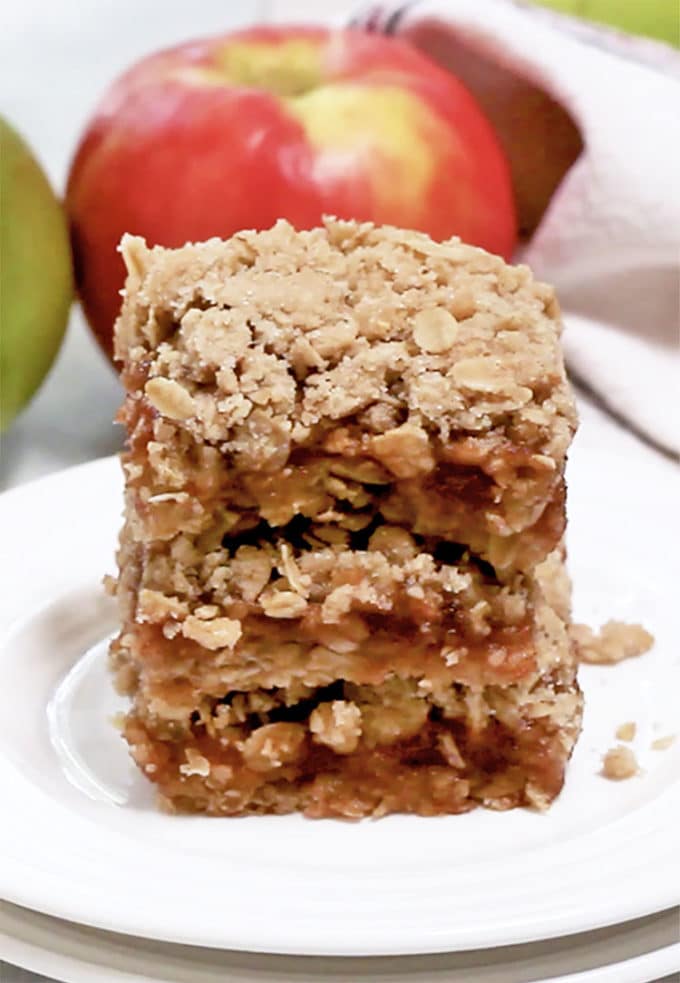 How to Make these Apple Butter filled Oatmeal Bars
Start by preheating your oven to 350° and then gather all of the ingredients as listed above.
Next, assemple the shortlist of kitchen tools and equipment for this recipe:
A mixing bowl
Measuring cups
Measuring spoons
A 9″ x 9″ baking pan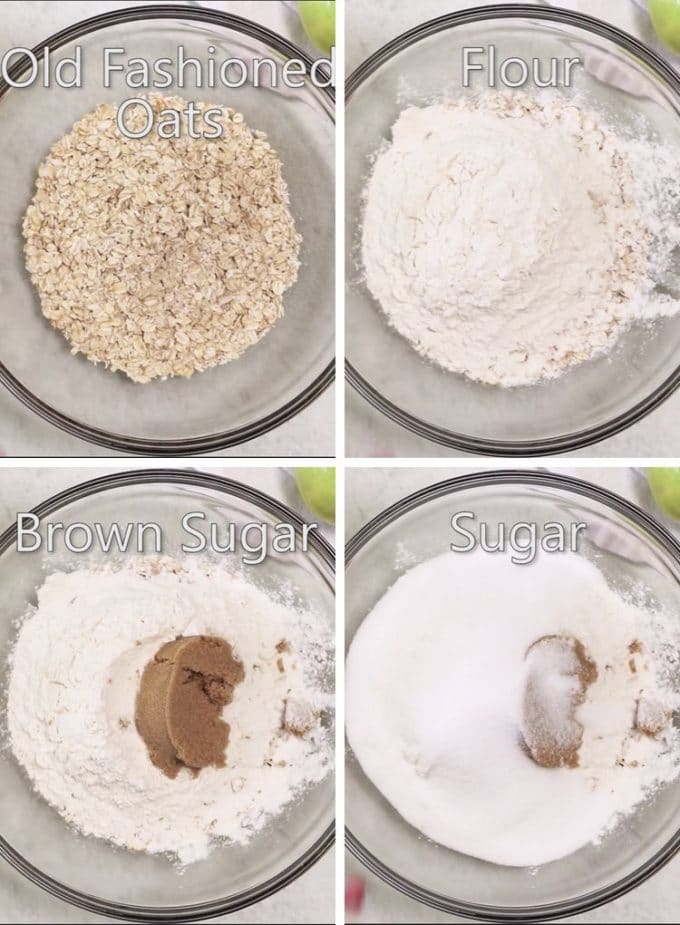 Start by placing 2 cups of old-fashioned oatmeal in a medium-size mixing bowl.
Add 1 cup of all-purpose flour.
Measure and add 1/4 cup of brown sugar.
Then add 3/4 cup granulated sugar.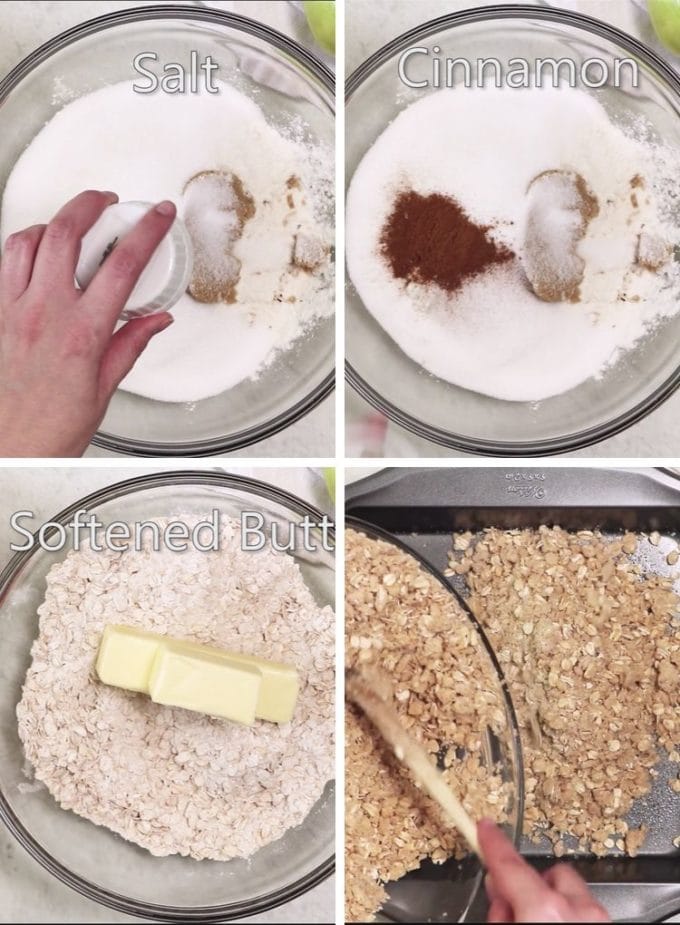 Add the salt and cinnamon and mix it all together.
Then, add and stir in the salted butter.
Transfer the half of the mixture to a greased 9″ x 9″ baking pan.

Reseerve the remaining crumbs to use as a topping.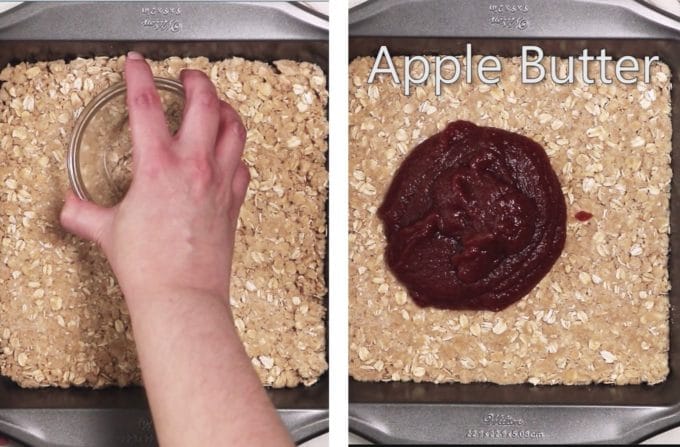 Use the bottome of a drinking glass to firmly pack the base in the pan.
Next, add the magical ingredent: Apple Butter!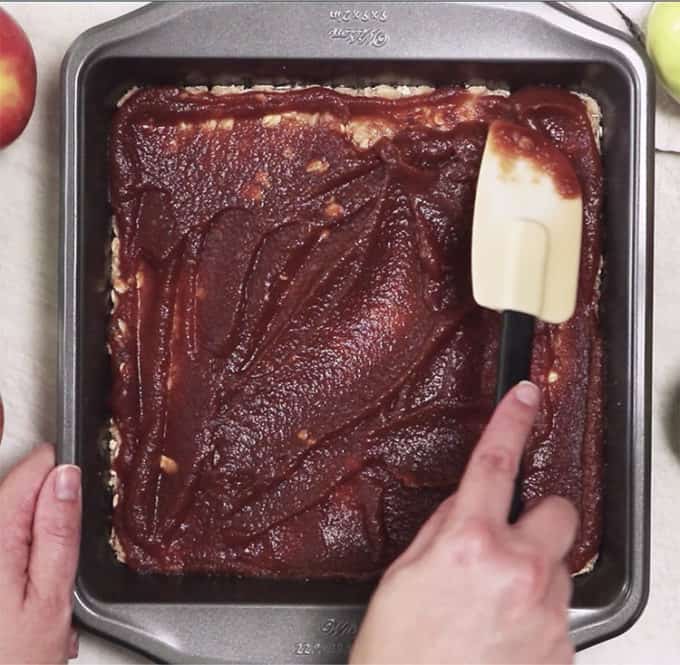 Use a soft rubber spatula and spread the apple butter evenly over the oat bar base.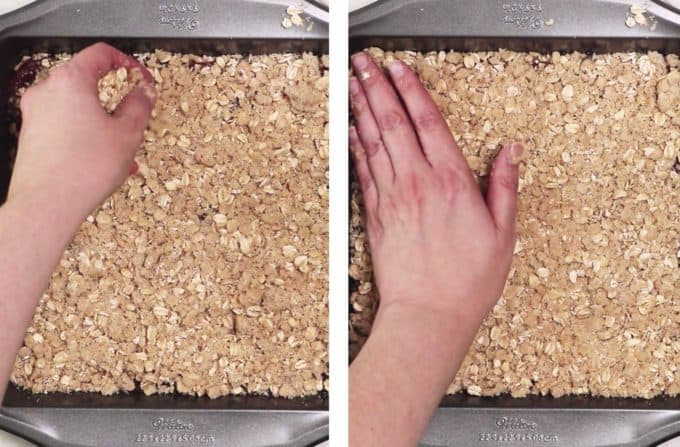 Finally, sprinkle the remaining crumb mixture on top of thelayer of apple butter.
Then pat firmly before baking for 30 minuFinally, sprinkle the remaining crumb mixture on top of thelayer of apple butter.
Then pat firmly before baking for 30 minutes.
Be sure and try this oatmeal bar cookie recipe; I know you're going to love it!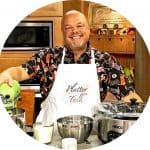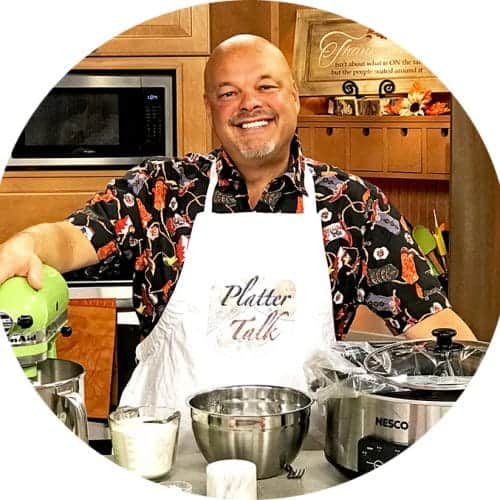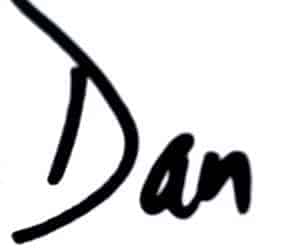 ---
Other Great Uses for Apple Butter
More Bar Cookies for You to Try
---
If you've tried this Oatmeal Bar Recipe or any other recipe on Platter Talk, please let us know your thoughts in the comments below, we love hearing from you! You can also FOLLOW US on FACEBOOK, INSTAGRAM, and PINTEREST to see more delicious food and what we have cooking.
WP Recipe Maker #13604

remove

Oatmeal and Apple Butter Bars

Chewy and Wonderful

Course: Dessert

Cuisine: American

Keyword: oatmeal and apple butter bars

Prep Time: 15m

Cook Time: 30m

Total Time: 45m

Servings: 20

Author: <a href="https://www.plattertalk.com/who-we-are/" target="_blank">Dan from Platter Talk</a>

– 2 cups old fashioned oats

– 1 cup all-purpose flour

– 3/4 cup sugar

– 1/4 cup brown sugar

– 1/4 teaspoon salt

– 1 teaspoon ground cinnamon

– 3/4 cup butter

softened to room temperature.

– 1 cup apple butter

1) Pre-heat oven to 350 degrees.

2) Grease 9-inch square baking pan with nonstick cooking spray.

3) In large mixing bowl, combine oats, flour, sugars, salt and cinnamon.

4) Add butter and stir until creamy.

5) Pat half of the mixture into baking pan.

6) Spread apple butter evenly over crumb layer.

7) Sprinkle remaining crumbs over apple butter and press down gently.

8) Bake 30-35 minutes or until golden.

9) Transfer pan to wire rack and cool completely.

calories 178

carbohydrates 26

protein 1

fat 7

saturated_fat 4

cholesterol 18

sodium 93

potassium 54

fiber 1

sugar 15

vitamin_a 215

vitamin_c 0.1

calcium 12

iron 0.7

 
Updated from the original post of January 22,  2014