This kringle recipe is brought to you from the middle of Nowhere, Wisconsin. If you're not familiar with our state or never been here, there are a few essentials that every good cheesehead is familar with.
The Green Bay Packers, cheese curds, brats, and authentic Danish kringle pastry.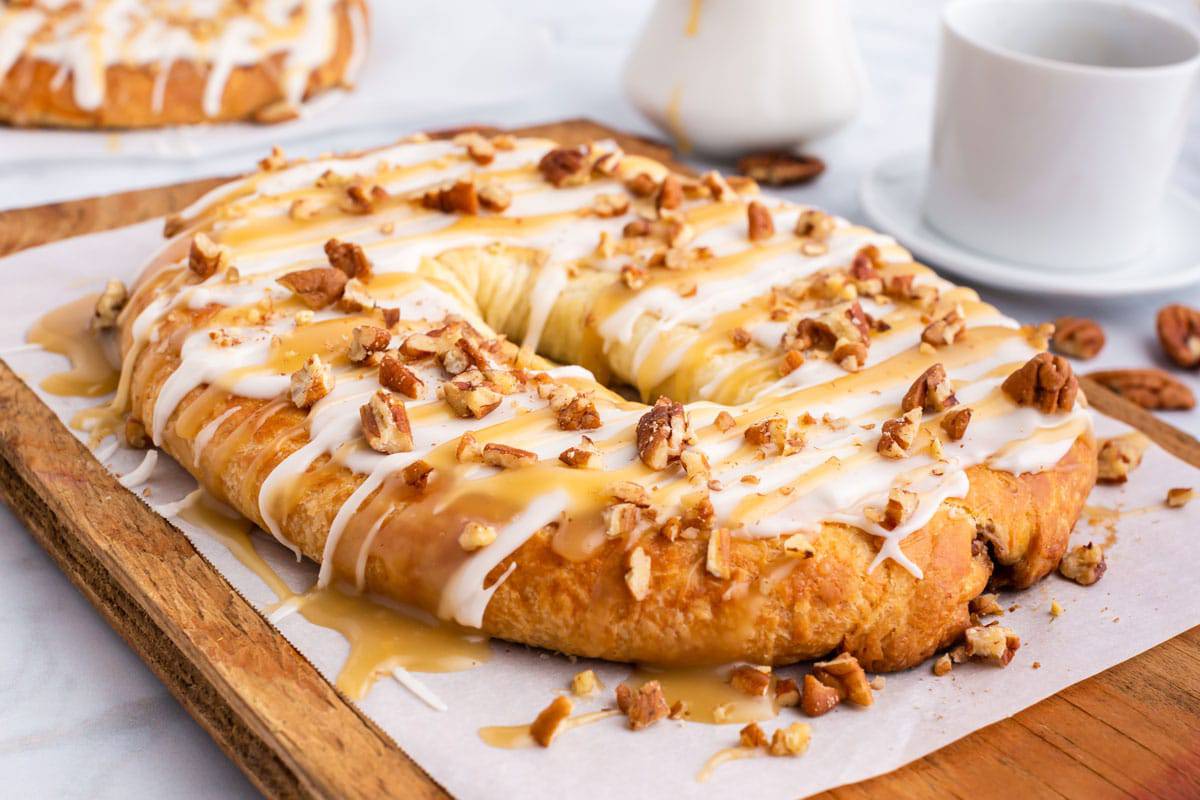 There is so much that I love about Wisconsin, aside from the winters. The people are abnormally friendly, summertime is heavenly, and then there is the Wisconsin kringle. (It is the state's official pastry, thanks to the original Racine kringle.)
Seriously, my kind of place!
Jump to:
What is this?
This kringle recipe is a delectable pastry and the pride of Racine, Wisconsin. That's where it was first made by Danish immigrants back in the late 1800s. Hence the name, Racine kringle.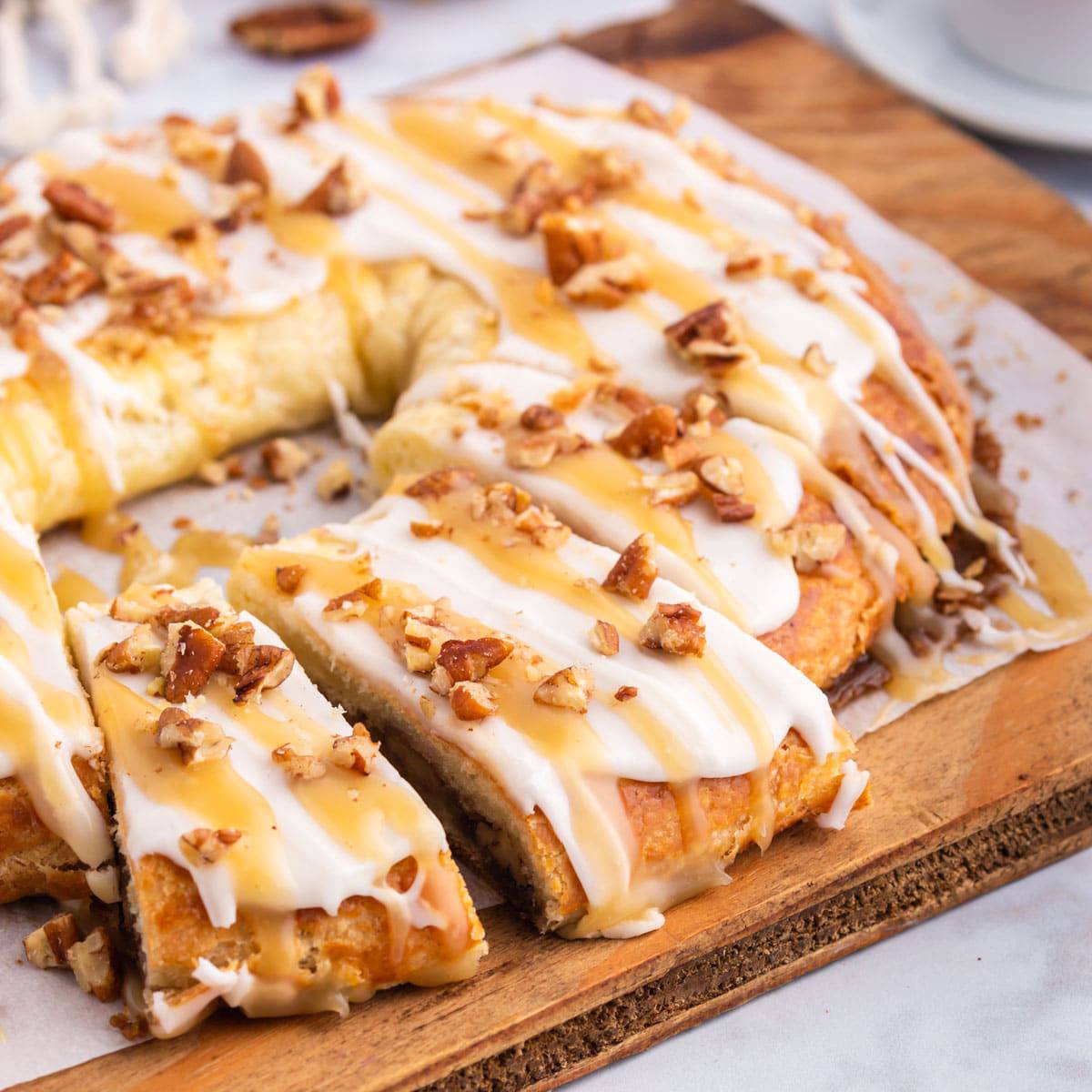 It is made with layers of buttery dough. The end result is a sweet and flaky pastry filled with a nut or fruit filling and topped with a frosting or drizzled icing.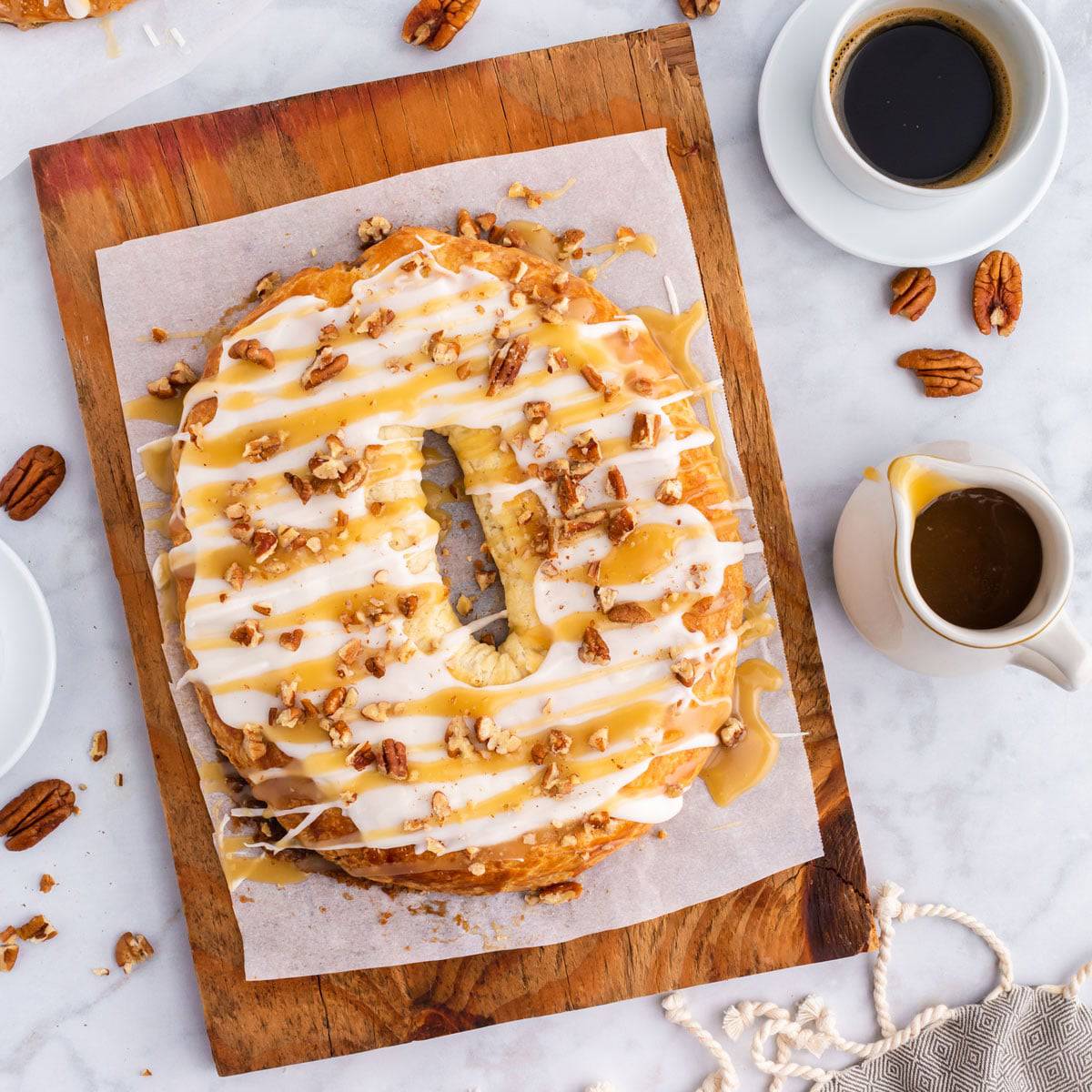 This kringle recipe is part of the Danish concept of Hygge (pronounced hue-guh not hoo-gah). It's all about a state of comfort and coziness. A Racine kringle is as hygge as it gets!
Ingredients
Our kringle recipe starts with a flaky pastry that is mostly butter and flour. And of course any good Wisconsin dessert is usually loaded with sugar. That's just how we roll in these parts.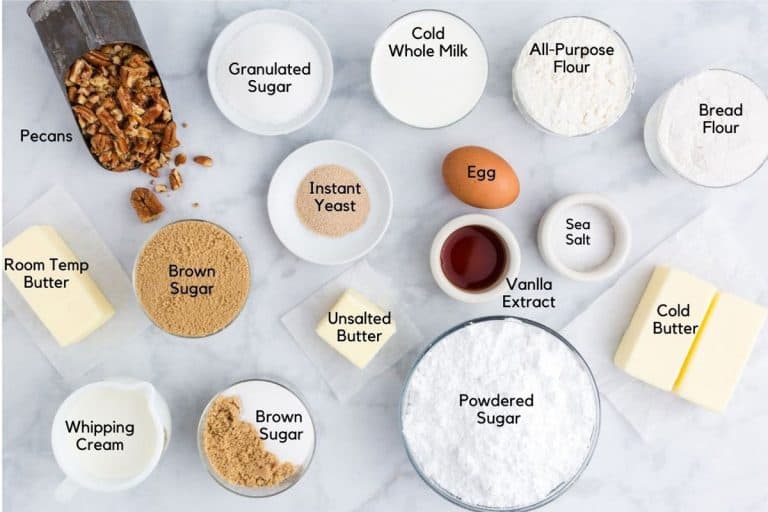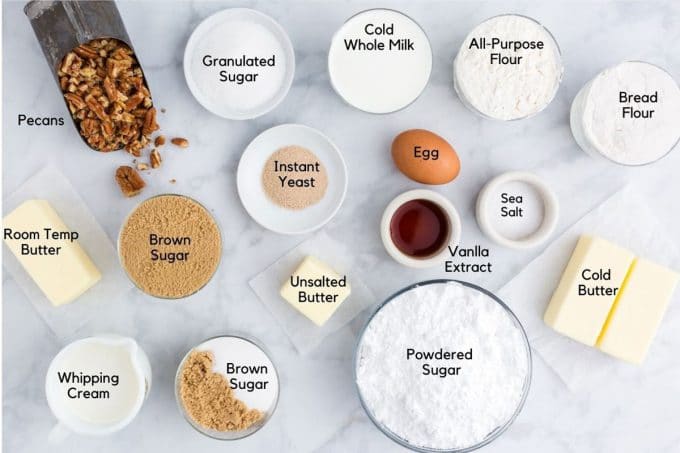 We've jazzed this Danish kringle recipe up a bit for a true blend of Wisconsin flavors. As a kringle baker, you can make them as simple as you like.
Although it can be filled with any number of goodies. Popular Wisconsin kringle fillings often include:
Apple
Almond
Cherry
Pecan
Cream cheese
The list of fillings is limited only by your taste and imagination. Almond kringle and raspberry kringle are some of the most popular throughout the United states.
How to make it
(Read the full Racine kringle recipe with detailed directions at end of post.)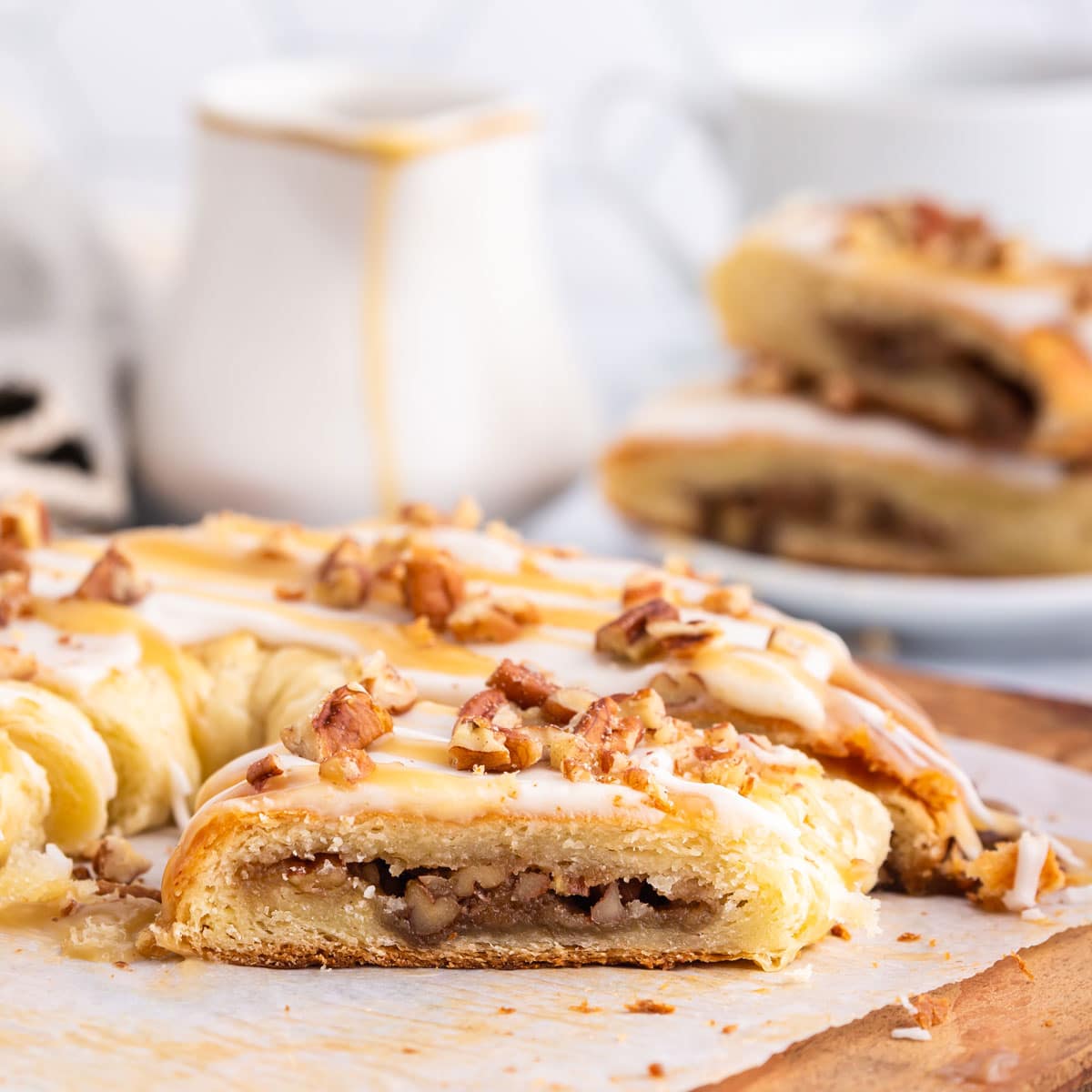 A Racine kringle is not hard to make but the process has several steps. As I mentioned above, you can fill them with whatever strikes your fancy.
You're going to need some sheet pans, parchment paper or plastic wrap, and a large clean work surface.
This is how I make this pecan-filled kringle recipe with a salted-caramel glaze.
The first part of making a Danish kringle is making the dough. In summary, you'll do the following:
Roll it Out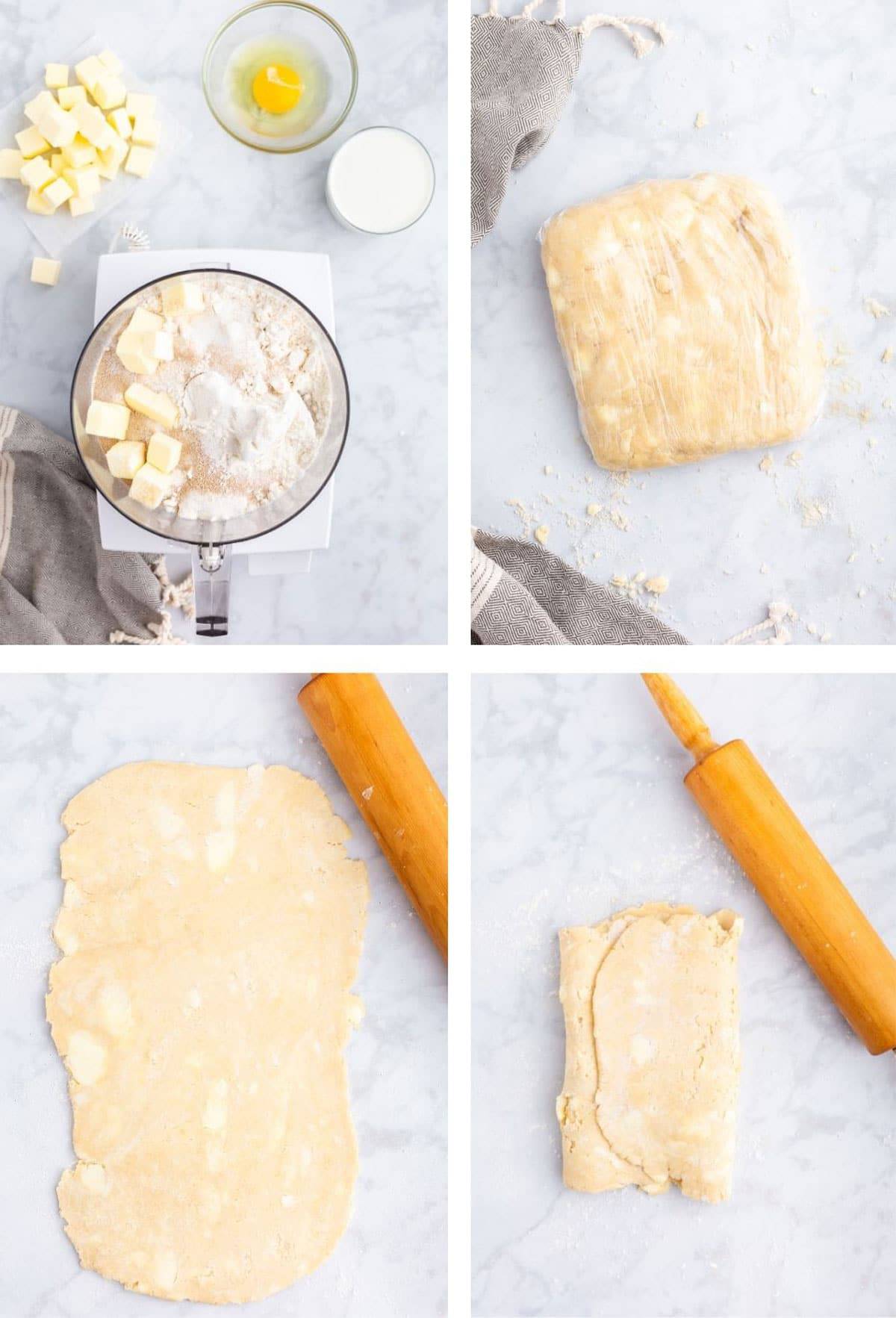 Process and stir ingredients to form a dough.
Pat the kringle together to form a rectangle, then wrap and refrigerated.
Roll the chilled pastry out. Fold it, seal it, and refrigerate.
Repeat step 3.
This kringle dough can be refrigerated for up to 3 days or frozen for up to 2 months.
Make the Filling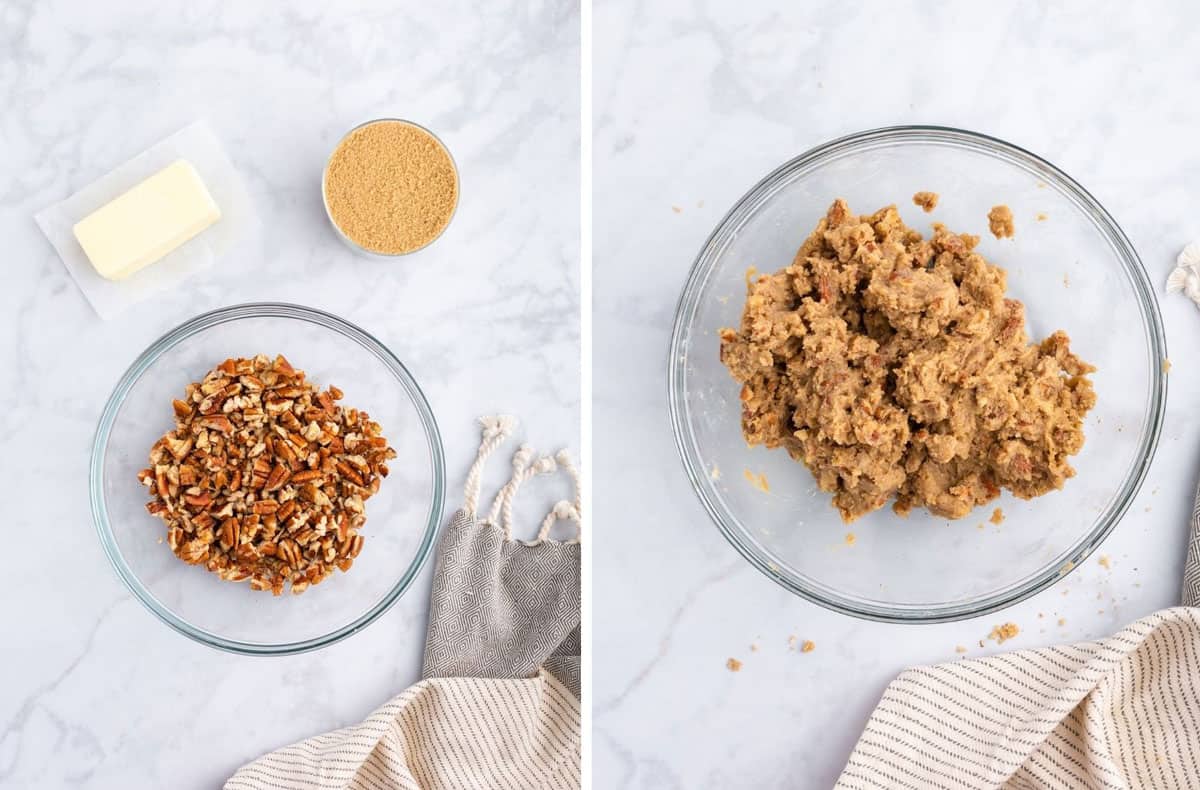 When you're ready to bake this kringle recipe, you can put the filing together. Here we use just a simple combination of pecans, butter, and brown sugar.
Put it all Together
To assemble the kringle, you're going to roll out the dough and fill it. Do this with the following steps: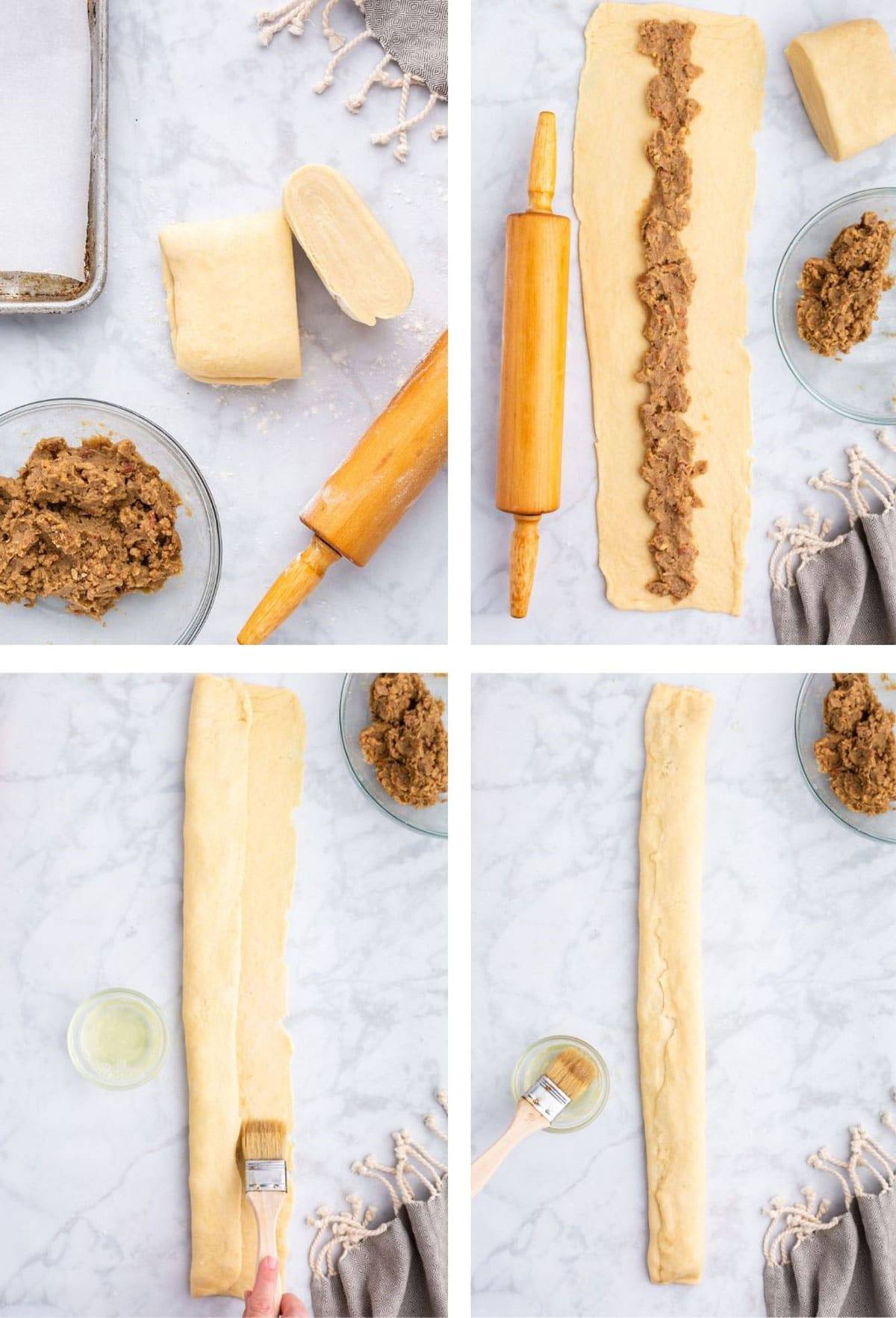 Unwrap the dough and divide it in half.
Roll each piece of dough into a 6″ x 24″ strip. Then divide the filling and evenly spread down the center of each piece of dough.
Fold one long side of each piece of dough over the filling. Brush the remaining exposed side with an egg wash and each short end.
Fold the exposed long side over the other (folded) side and pinch and seal.
Shape, Raise, Bake, Frost
You're almost ready to bake and enjoy this kringle recipe. First though, we have a few last steps to making it.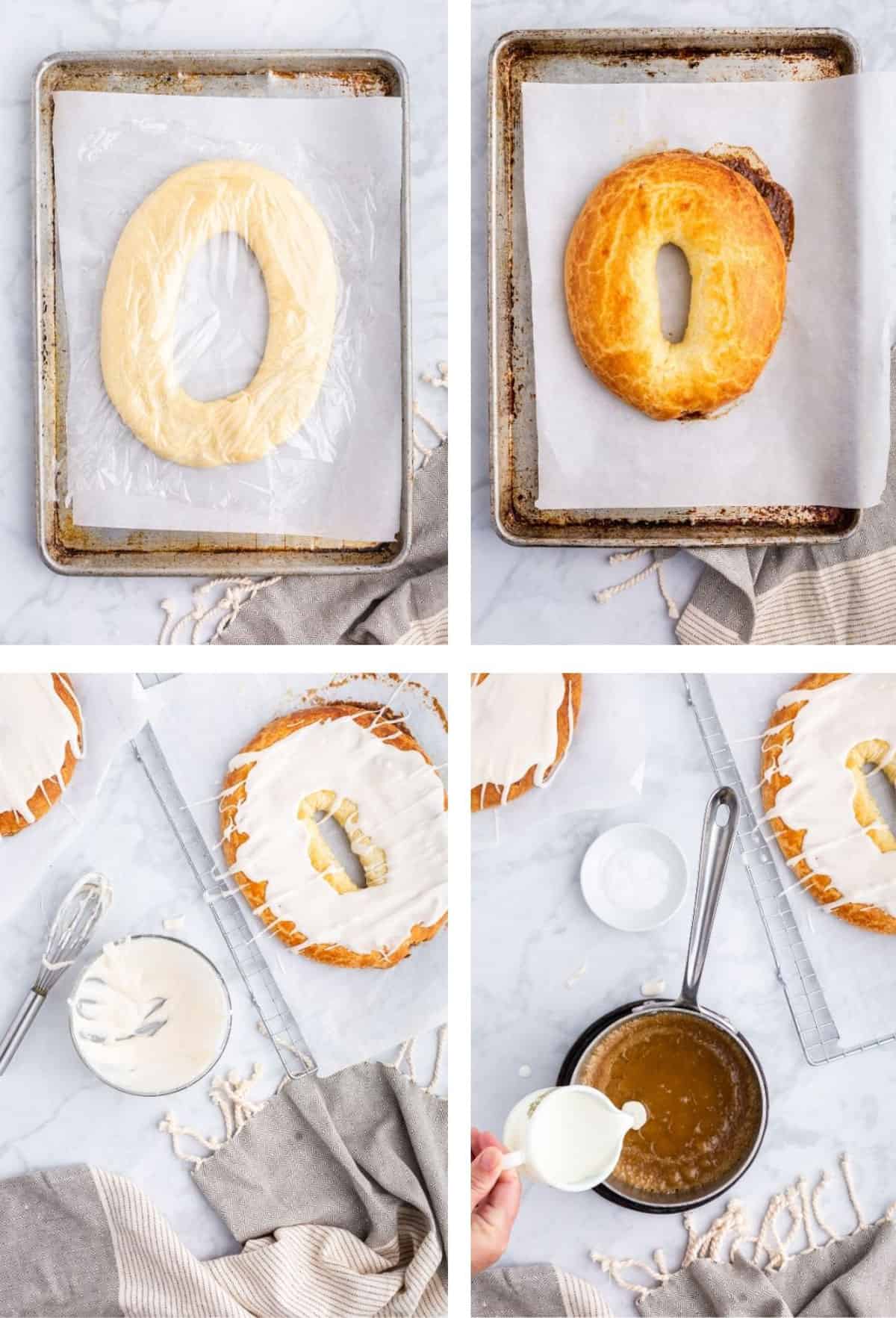 Form each piece of dough into an oval, attaching and sealing the ends. Place (seam-side down) on a baking sheet. Cover it and allow it to rise in a warm place for a couple of hours.
Apply an egg wash to each kringle, then bake at 375° for about 25 minutes.
Allow each pastry to cool. Make the frosting and spread some of that love on each kringle.
Make the salted caramel glaze and drizzle it over each pastry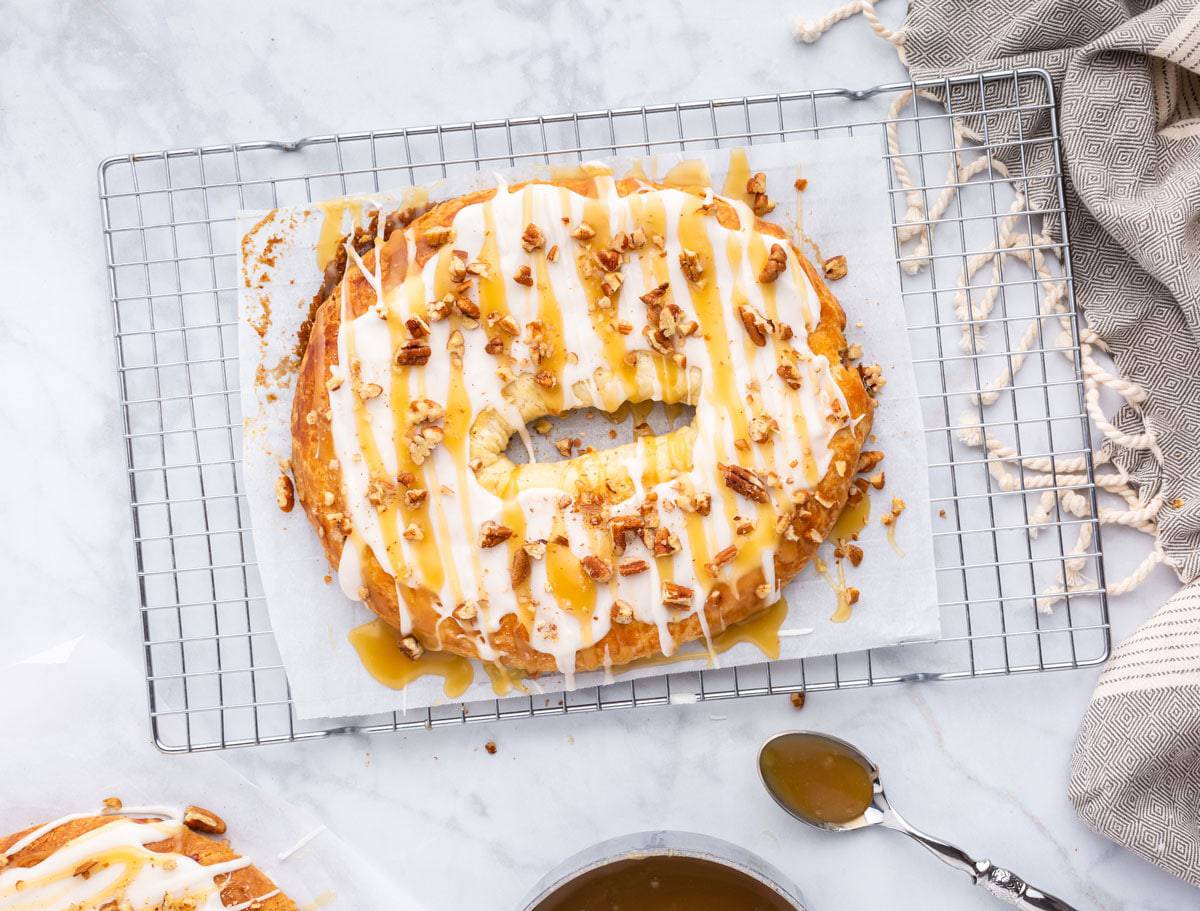 FAQ
How long do kringles stay fresh?
These will stay fresh for about five days. We've never had one make it past 12 hours, in our household!
Can Danish kringle be frozen?
Yes, you can freeze this pastry for up to four months. Be sure to seal it well before freezing. Thaw and eat at room temperature or warm it up in the oven before serving.
How do you pronounce this?
(kring-ul)
More of our Favorite Pastries
🧑‍🍳 Tried this recipe? Please leave a ⭐⭐⭐⭐⭐ rating in the recipe card below and a comment. We love hearing from our readers!
⏭️ Stay in touch with us on social media by following us on Facebook, Pinterest, Instagram, and YouTube!
📬 Get our recipes delivered to your inbox for FREE!
📖 Recipe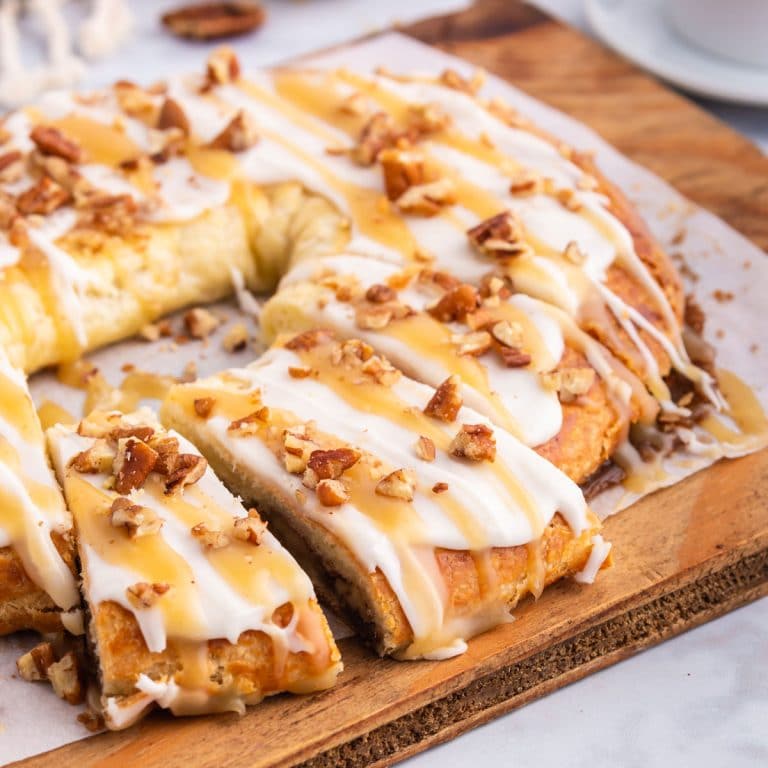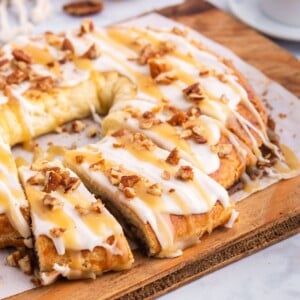 Kringle Recipe
The official pastry of Wisconsin, this Danish kringle recipe is a must-try no matter where you live!
Print
Pin
Rate
Ingredients
Instructions
Prepare the dough: In the bowl of a food processor, combine all-purpose flour, bread flour, sugar, yeast and salt. Pulse a few times to blend. Add butter and pulse 10 times, or until butter chunks are broken down by about half.

In a medium bowl, whisk together milk and egg. Scrape flour mixture into the bowl and use a flexible spatula to stir together until nearly all the flour is moistened. Use your hand to quickly knead the dough to bring it together. Transfer dough to a work surface, pat into a rectangle, and wrap with plastic wrap. Refrigerate for at least 4 hours and up to 2 days.

On a lightly floured surface, roll chilled dough into a roughly 8-by-15-inch rectangle. Fold the two short sides of the rectangle toward the center, folding the rectangle into thirds, like a letter. Rotate dough 90 degrees, then roll out again into a 8-by-15-inch rectangle; fold into thirds again. Wrap dough in plastic wrap and chill for at least 20 minutes

Roll the kringle dough out into a roughly 8-by-15-inch rectangle, fold into thirds, wrap in plastic wrap and chill for at least 20 minutes two more times. At this point, wrapped dough can be kept in the refrigerator up to 3 days, or freezer for 2 months.
For the Kringle Filling
In a large bowl, combine pecans or walnuts, brown sugar, and butter
Shape and Bake
Line two rimmed sheet pans with parchment paper. Unwrap the dough and cut in half.

On a lightly floured work surface, roll each half into a 6-by-24-inch rectangle. Spread ½-cup filling on each in an even strip down the center (about 2 ½-inches wide)

Fold one long side over the filling, leaving the remaining third of the dough exposed. Use a pastry brush to the open border of dough with reserved egg whites on both the long side and two short ends. Fold the second long side over the first; pinch and press the seam tightly along the length and at both short ends, sinking your fingertips into the pastry to create a tight seal.

Remeasure dough to make sure it's at least 24 inches long; if necessary, stretch it back out. Form into an oval, then tuck one end into the other. Pinch and press the seam together, then transfer oval to prepared sheet pans and flip over so it's seam-side down. Repeat with the remaining dough and filling. Cover loosely with plastic wrap and let rise in a warm spot for 30 to 45 minutes, or until slightly puffy.

When ready to bake, heat oven to 375 degrees. Brush pastry with more egg white, then bake until golden, about 25 minutes, rotating sheet pans from front to back and top to bottom halfway through

As soon as the pastries come out of the oven (and the pastries are piping hot!) Compress each pastry slightly by using the sheet pan with the other pastry on it, setting the sheet pan on top of the pastry and pressing gently to eliminate the air pocket between the pastry and filling. Transfer the sheet pans to wire racks and allow pastries to cool completely.
Make the Frosting and Icing
In a small bowl, whisk together confectioners' sugar, vanilla, fine sea salt and 4 teaspoons water. Spread icing over tops of the kringles. Let icing dry.

For the salted caramel glaze: In heavy small saucepan melt butter over medium-low heat. Stir in packed brown sugar and granulated sugar. Bring to boiling, stirring constantly. Then stir in whipping cream and return to boiling. Boil 2 minutes, stirring constantly. Remove from heat; stir in sea salt. Cool completely. Then, drizzle the glaze over the icing.
Notes
This makes two kringles.
Substitute walnuts for pecans if desired.
You can substitute lemon juice for vanilla extract, in the frosting.
Nutrition
Calories:
234
kcal
|
Carbohydrates:
29
g
|
Protein:
3
g
|
Fat:
13
g
|
Saturated Fat:
5
g
|
Cholesterol:
29
mg
|
Sodium:
143
mg
|
Potassium:
72
mg
|
Fiber:
1
g
|
Sugar:
20
g
|
Vitamin A:
269
IU
|
Vitamin C:
1
mg
|
Calcium:
25
mg
|
Iron:
1
mg