Apple Butter Muffins
on Sep 29, 2016, Updated Jan 10, 2022
Apple Butter Muffins are our newest creation using one of our favorite gifts of fall, apple butter. This past weekend, I was a man on a mission. I wanted to see if we could spend the entire time at our weekend lake cottage without going out to eat.
Apple Butter Muffins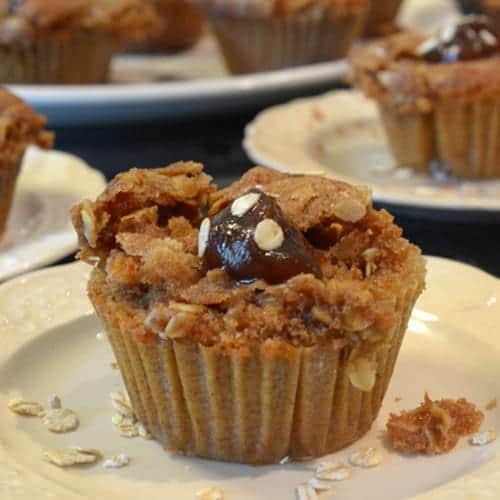 Although to most this may not sound like too much of a challenge to you, some of our favorite restaurants are located in the vicinity our little oasis in the middle of Nowhere, WI. They call out to us like the Sirens call out to sailors. If it's a weekend, it is not uncommon to find us at the farmers market or enjoying a glass of wine at one of the local establishments.
I vowed to make this weekend different. I was going to feed our four youngest kids, Dan, and myself breakfast, lunch, and dinner for 3 days for $75.00, total. The only problem was that I forgot all about dessert. So I did what I normally do and "shopped" our cupboards at the cottage and discovered a lovely jar of apple butter that Dan brought back from Mennonite country in Wellesley, Ontario, during a family reunion this summer. So with a dash here and a pinch there, I created these delicious Apple Butter Muffins.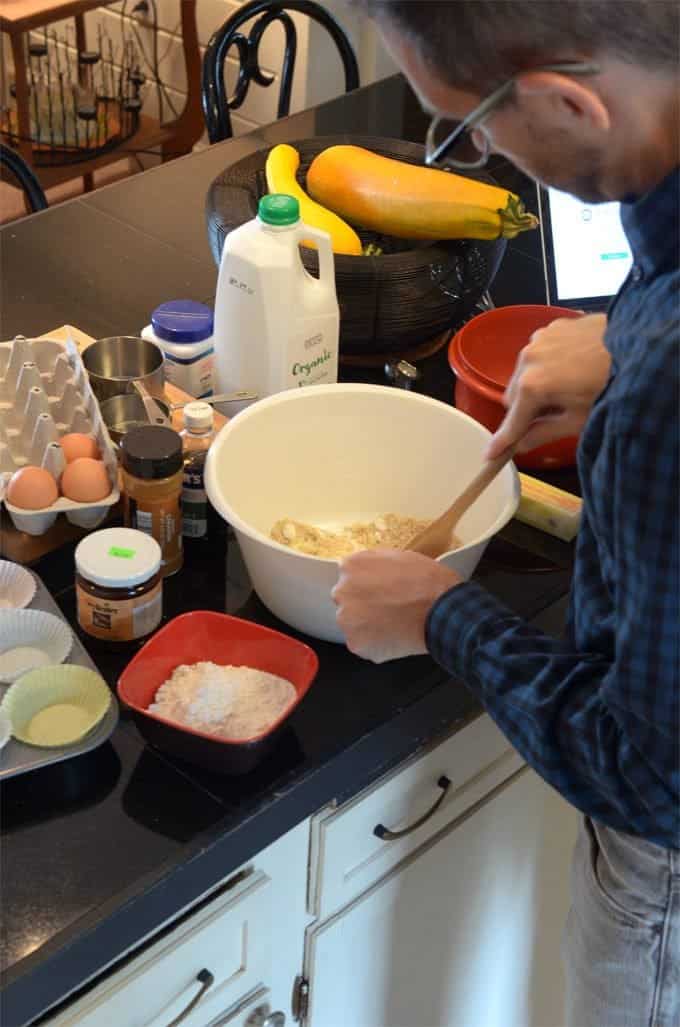 Under normal circumstances I probably would have had a brownie mix hidden away at the cottage, but not this weekend. Because of this, I was forced to think outside of the box, the brownie box that is :).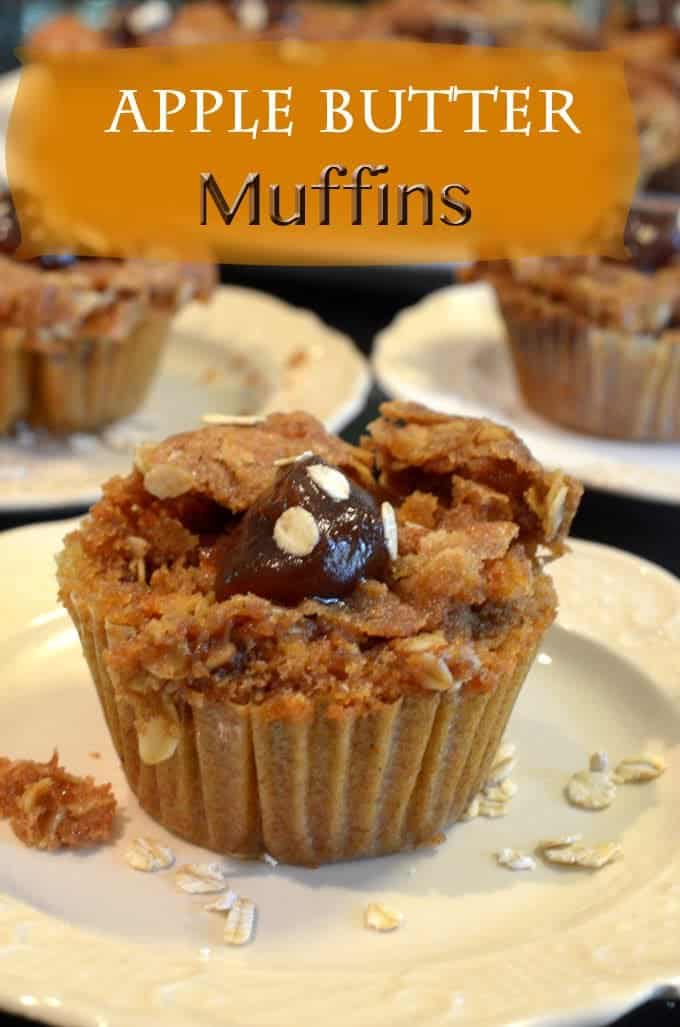 While I am not a baker, I do have some basic knowledge of how baking works. Using some common ingredients, butter, flour, eggs, sugar, baking powder, apple butter and some spices, we made our first batch of Apple Butter Muffins.
Now, we have all heard the saying that beauty is only skin deep, right? Well, deliciousness runs all the way through this recipe. While this cupcake is not a traditional beauty, because they did not rise as much as I wanted them to, they were almost alarmingly delicious, in spite of their appearance.
The entire family got into the swing of things and tried to figure out how to "pretty" them up. It was our son Joe that made the suggestion to garnish with a little more apple butter and some oats, which was a great idea for our Apple Butter Muffins. Not only did they look great, they tasted even better.
I learned a valuable lesson today in the kitchen. Even though my muffins weren't the world's prettiest cup, they were delicious. You can't judge a book by its cover. These sweet and savory fall treats have a wonderful crisp and chewy top. But on the inside, they are moist and flavorful. Do yourself a favor and make my Apple Butter Muffins for your family. You will love them just like my family did. Enjoy-Scott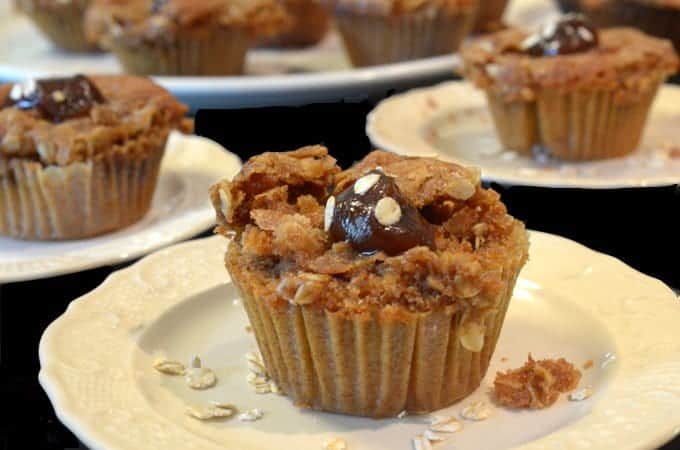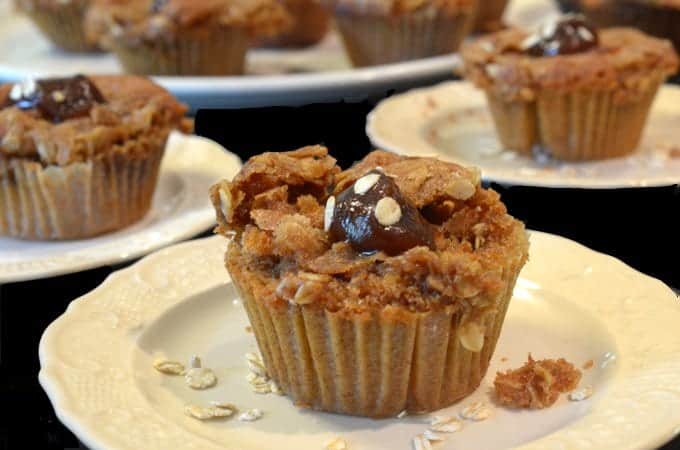 Other delicious muffin recipes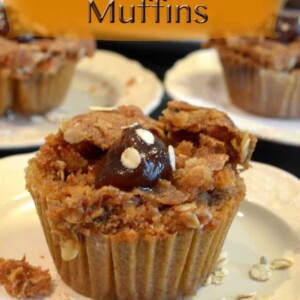 Apple Butter Muffins
Apple Butter Muffins feature an easy cake recipe from scratch and the sweet and savory goodness of Canadian Apple Butter.
Ingredients
For the Muffins
1/2

Cup

Softened Butter

1/2

Cup

Brown Sugar

1/2

Cup

Granulated Sugar

1 1/2

Cup

Flour

1 3/4

Teaspoon

Baking Powder

1/2

Cup

milk

2

eggs beaten

2

Teaspoon

Vanilla

3/4

cup

Apple Butter

2

Tablespoon

Cinnamon

1

Teaspoon

Cloves
For the Strussel Topping
1/4

Cup

Softened Butter

3/4

Cup

Brown Sugar

1/2

Cup

Granulated Sugar

1/4

Cup

Oatmeal

1/4

Cup

Flour

2

Tablespoons

Cinnamon
Instructions
Cupcakes:

Preheat oven to 350 degrees.

Grease cupcake pan or use cupcake liners and set aside.

In a large mixing bowl cream butter, brown sugar and granulated sugar together until butter and sugar are incorporated.

Add eggs and milk and mix only until the mixture becomes looser.

Add baking powder.

Add flour a little at a time and stir each time to incorporate.

Add cinnamon, cloves and apple butter and combine until batter is smooth. Do not over stir.

Fill batter in a cupcake pan only halfway up each cupcake liner.

Set aside.

Strussel top:

In a bowl add all ingredients.

Using your hands combine until the mixture is "lumpy". You may need to add more flour to accomplish this.

Place a little of the topping on each of the cupcakes before baking.

Bake in preheated oven for approximately 25-30 minutes. Cupcakes are done when you can insert a toothpick in the center and it removes clean.
Nutrition
Calories:
380
kcal
,
Carbohydrates:
64
g
,
Protein:
4
g
,
Fat:
13
g
,
Saturated Fat:
8
g
,
Cholesterol:
59
mg
,
Sodium:
27
mg
,
Potassium:
161
mg
,
Fiber:
2
g
,
Sugar:
46
g
,
Vitamin A:
411
IU
,
Vitamin C:
1
mg
,
Calcium:
95
mg
,
Iron:
2
mg
Nutrition information is automatically calculated, so should only be used as an approximation.