Easy Whole Wheat Apple Muffins
on Oct 17, 2014, Updated Jan 01, 2021
Our celebration of fall is going full force, here on Platter Talk. Cooler temps, falling leaves, and Green Bay Packer games. These are all sure signs of autumn here in Wisconsin. Of course there are many other signs of fall here and apples are high on that list. That's where these whole wheat apple muffins come in to play!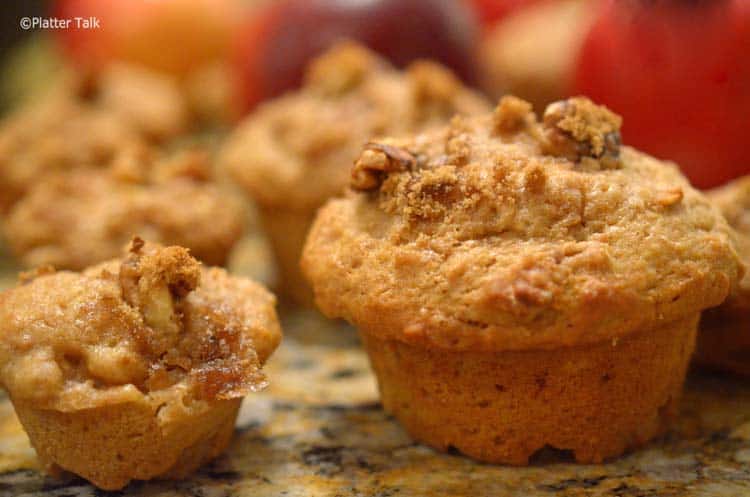 About these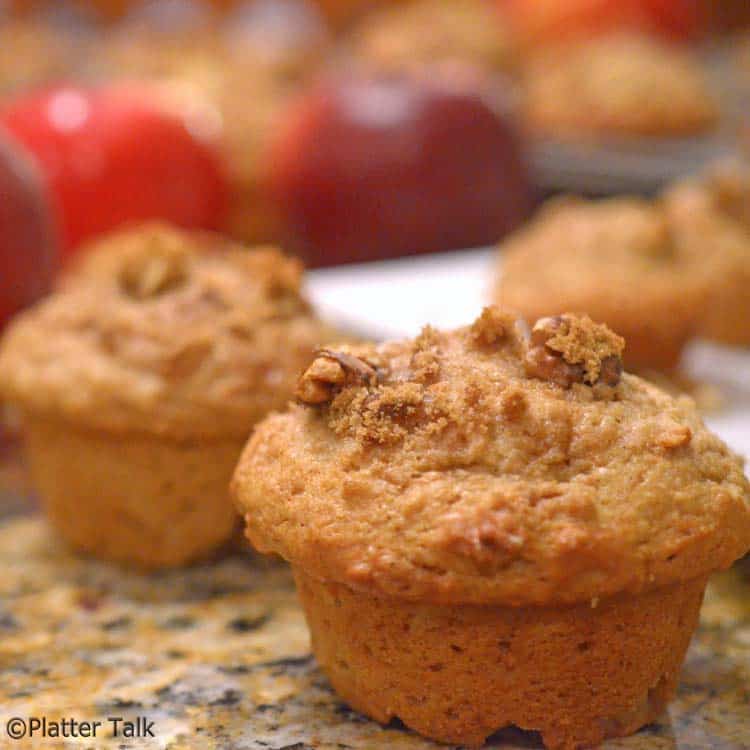 We haven't made a ton of muffins on this site and after putting these together with some of our very own honey crisps, I have to ask myself "Why?" We are very much in an apple-type of theme here in our kitchen at home. Over the past day we've had apple butter cooking, applesauce in the making (for use in this recipe), and of course today's featured Easy Whole Wheat Apple Muffins.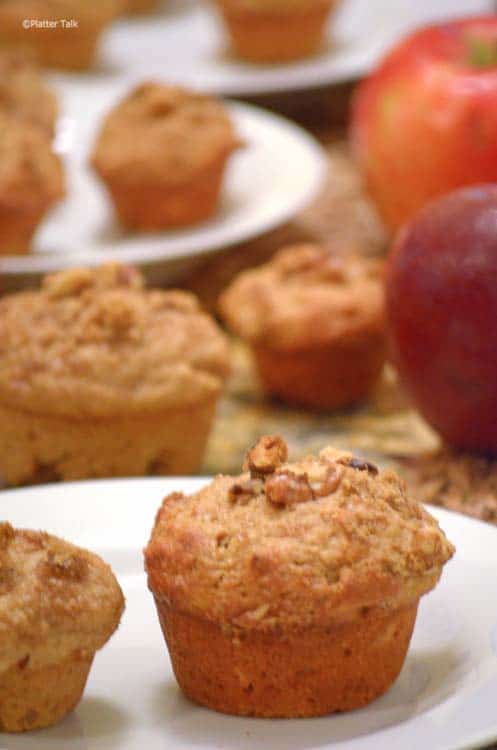 These muffins, in my humble opinion, are far superior to those in most bakeries, delis, and food stores. They're light, they're spongy, moist, and all-in-all, mouthwatering.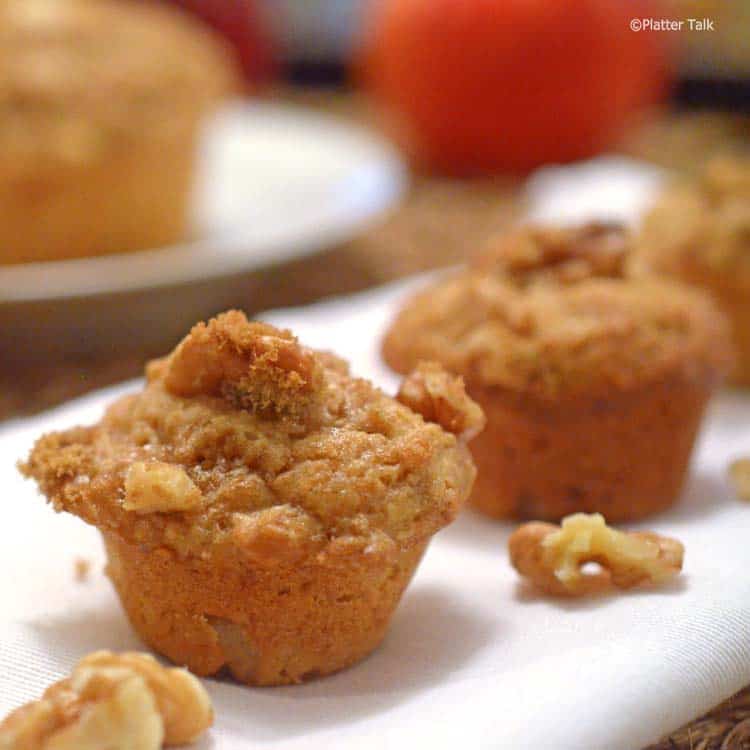 I decided to have a little fun with this recipe and in addition to conventional size muffins, I found one of our mini-muffin pans to prepare these in. In mini-form, these little apple muffins make delightful bite-sized treats that are great for work, school, church, and special parties. Of course they taste best when eaten in your own kitchen, preferably with a hot cup of coffee or an ice-cold glass of milk.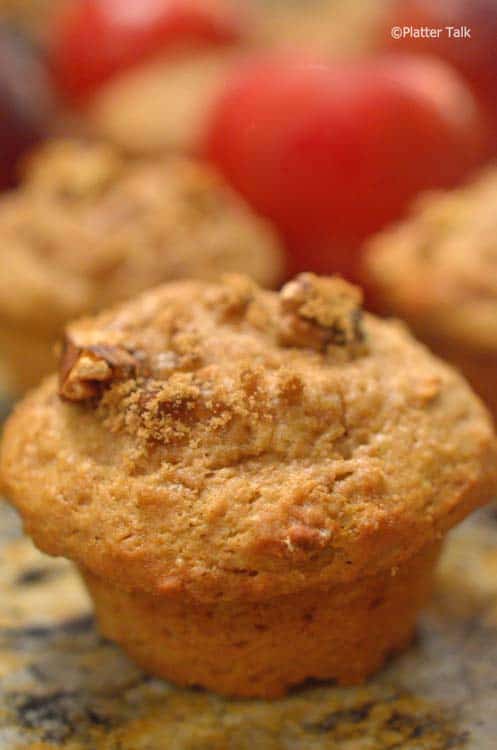 Besides whole wheat flour, the recipe I was following for these calls for pastry flour. This was somewhat of a wild card for me, being unfamiliar with that type of flour. I learned that pastry flour is a high-starch and low-protein flour. It falls somewhere between the (average) 8% protein content of cake flour and the 10-11% protein content of all purpose flour. This means that it is similar to, but not the same as, cake flour. Doing some reading on pastry flour, I learned that you can substitute equal amounts of a combination of cake flour and all-purpose flour and achieve good results. I also learned that for the purpose of these muffins, equal parts whole wheat and all-purpose flour work just fine. Better than fine, even. To that end, I'm predicting these apple muffins won't last in our household. Happy fall. -Dan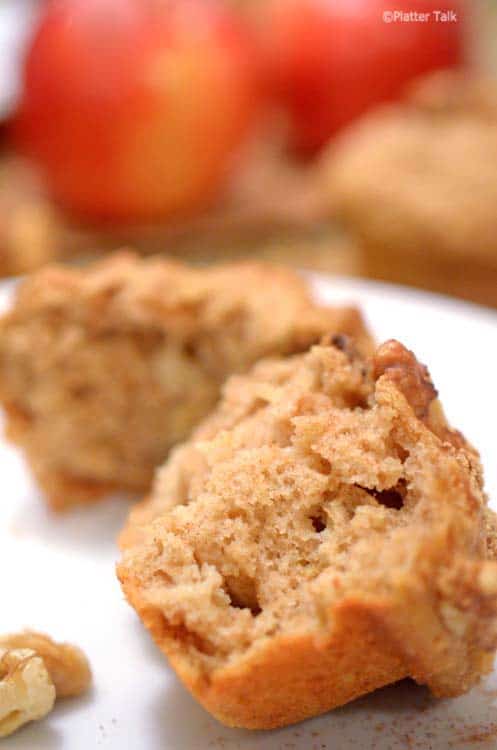 Easy Whole Wheat Apple Muffins
Adapted from recipe by Ellie Krieger
Ingredients
1/4

cup

chopped pecans

3/4

cup

plus 2 tablespoons packed brown sugar

1/2

teaspoon

ground cinnamon

1

cup

all-purpose flour

1

cup

whole wheat flour

1

teaspoon

baking soda

1/4

cup

canola oil

2

large eggs

1

cup

applesauce

1

teaspoon

vanilla extract

3/4

cup

low fat buttermilk

1

apple

,

peeled, cored and cut into 1/4-inch pieces
Instructions
Preheat the oven to 400 degrees F. Coat a 12-capacity standard muffin pan with cooking spray.

In a small bowl, mix together the pecans, 2 tablespoons of the brown sugar and the cinnamon.

In a medium bowl, whisk together the all-purpose and whole wheat flour and baking soda.

In a large bowl, whisk the remaining 3/4 cup sugar and the oil until combined. Add the eggs, one at a time, whisking well after each addition. Whisk in the applesauce and vanilla.

Whisk in the flour mixture in two batches, alternating with the buttermilk. Whisk just until combined. Gently stir in the apple chunks.

Pour the batter into the prepared muffin pan and sprinkle with the pecan mixture. Tap the pan on the counter a few times to remove any air bubbles. Bake until a wooden pick inserted in center of one of the muffins comes out clean, 20 to 25 minutes.

Let cool on a wire rack for 15 minutes. Run a knife around the muffins to loosen them and unmold. Cool completely on the rack.
Notes
No buttermilk? No worries. Here are two great substitutions for buttermilk. I used the first method for these.
1. For 1 cup of buttermilk, substitute 3/4 cup greek yogurt mixed with 1/4 cup water.
2 For 1 cup of buttermilk, substitute 1 tablespoon of white vinegar or lemon juice plus enough milk to measure 1 cup. Stir, then let stand for 5 minutes.
Nutrition
Calories:
215
kcal
,
Carbohydrates:
34
g
,
Protein:
4
g
,
Fat:
7
g
,
Saturated Fat:
0
g
,
Cholesterol:
27
mg
,
Sodium:
122
mg
,
Potassium:
139
mg
,
Fiber:
2
g
,
Sugar:
17
g
,
Vitamin A:
60
IU
,
Vitamin C:
1.1
mg
,
Calcium:
40
mg
,
Iron:
1.2
mg
Nutrition information is automatically calculated, so should only be used as an approximation.