Butter Tarts
on Oct 29, 2019, Updated Mar 06, 2021
Canadian butter tarts are one of the many signature treats from Canada that were part of my boyhood, growing up in northern New York state.
This old fashioned recipe for them is easy to make and taste just like what I remember from half a century ago.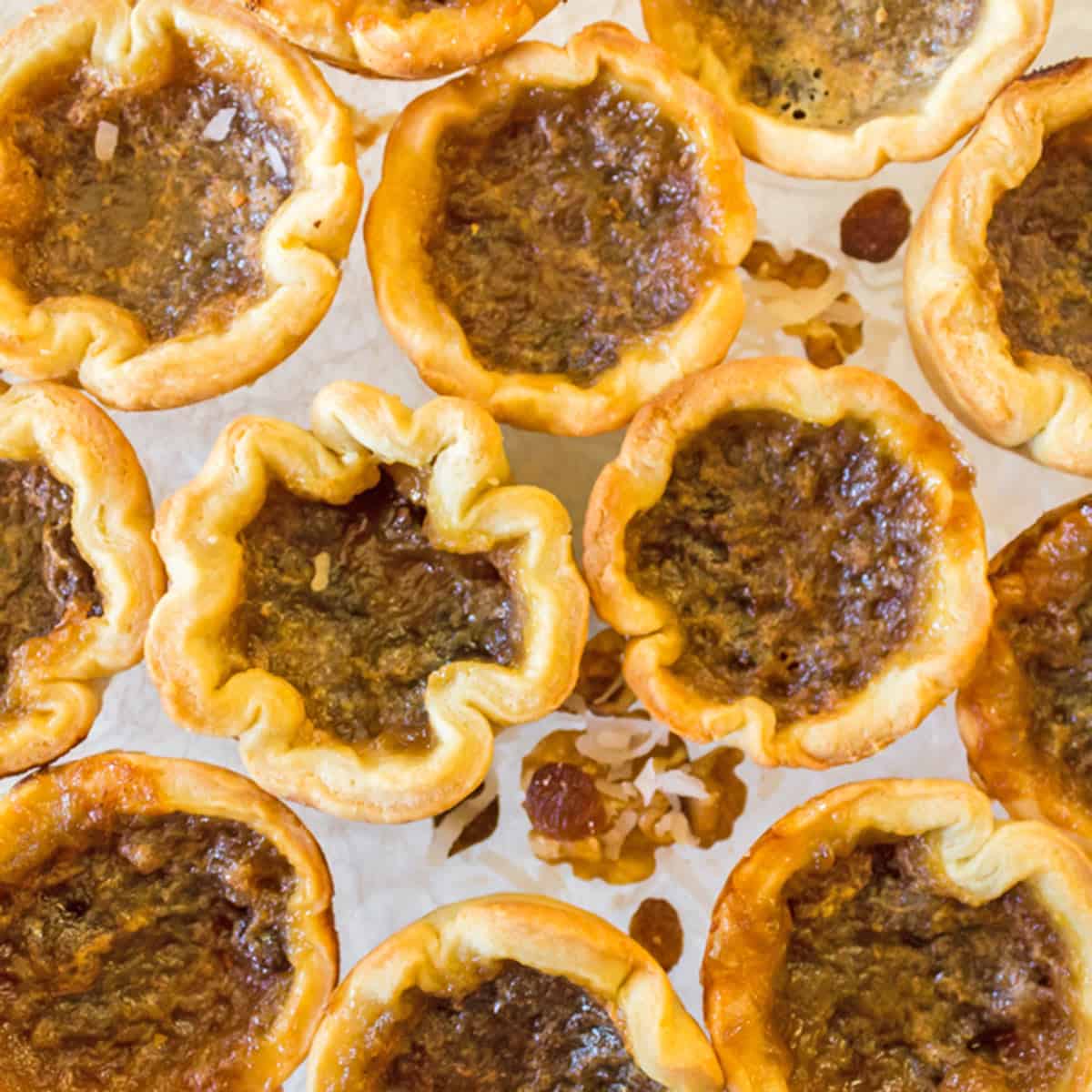 Jump to:
What are these?
Canadian Butter Tarts are one of the hallmarks of the Great White North. Some people prefer them with a firm filling and without raisins.
Others, like me, enjoy a slightly runny and gooey filling in them. Today I'm showing you how to make them either way. The choice is completely up to you!
Neatness has never been a strong point of mine, especially when it comes to savoring and enjoying something this delicious. It's almost like a private moment. These luscious little homemade pastries are that good!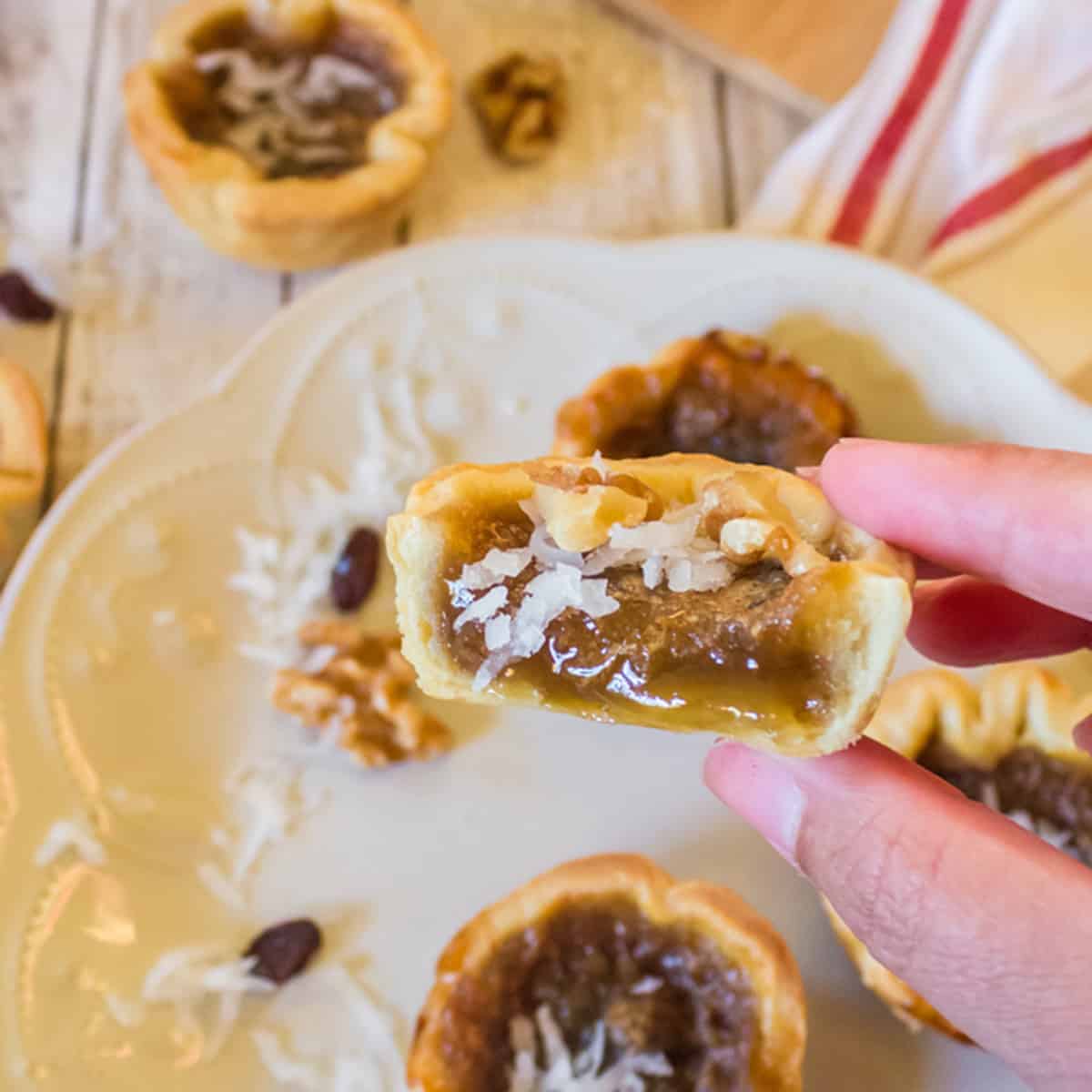 What's in them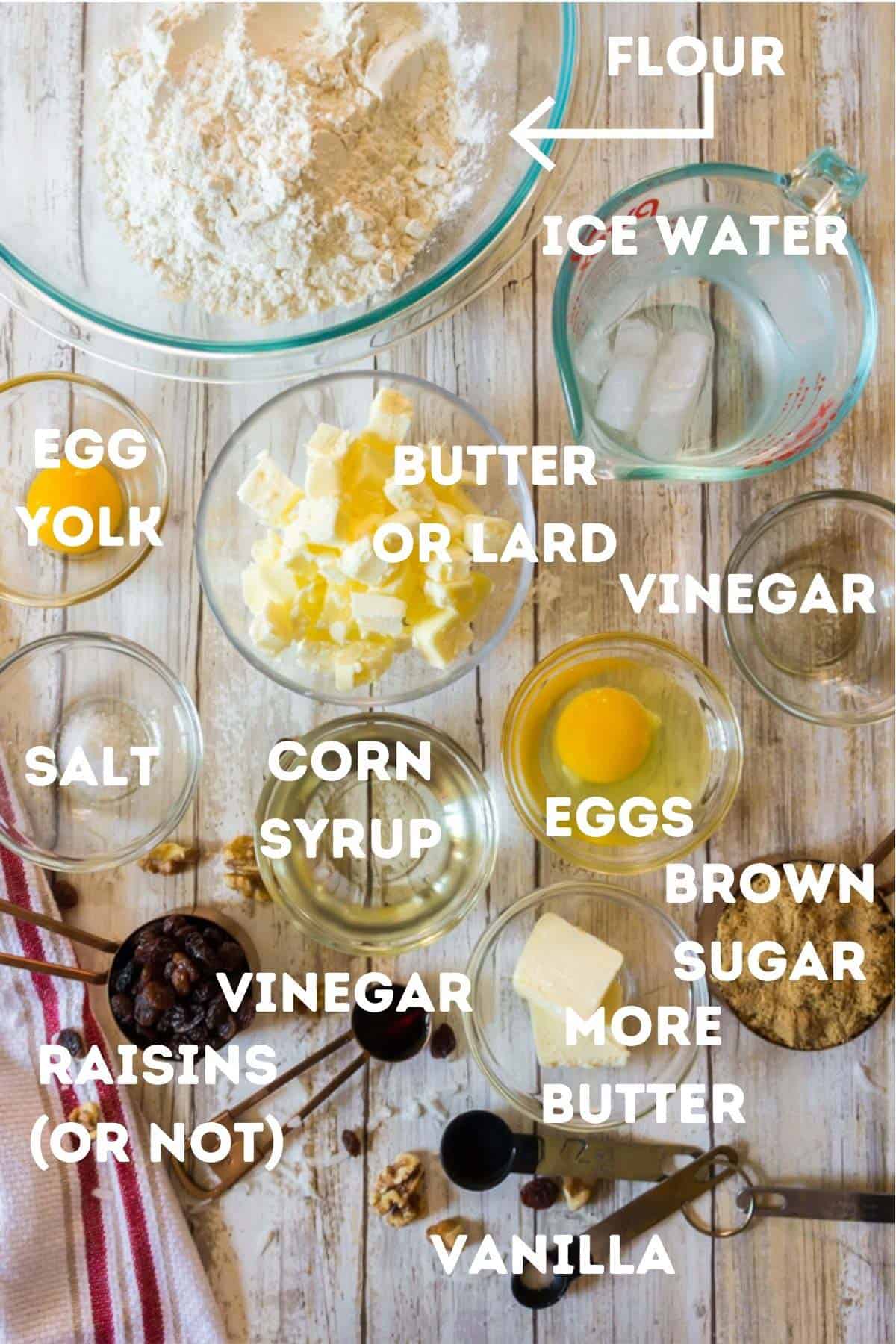 As you can see, you can make these Canadian butter tarts and the filling using ordinary ingredients. A few notes about these.
Butter: For the pastry, you can use butter or lard like my mom would use when she made these.
Pro Cooking Tip: If you want use lard, it's best to render your own (like my mom did) or find some from a local source. Avoid the lard found in grocery stores. This stuff has been partially hydrogenated and the taste does not compare to the real thing.

Butter Tart Filling:
Besides raisins or no raisins, the big debate when it comes to butter tart filling is runny or firm. To make these firm and less messy, you can simply do the following:
Add an additional egg to the filling.
Increase the brown sugar to 3/4 cup.
Decrease the corn syrup to 1/4 cup.
Bake for an extra 2 minutes.
Variations
When making these Canadian butter tarts, let your palate decide what to put in them. Here are some of our favorite additions.
Raisins (We love golden raisins for these!)
Currants
Walnuts
Shredded Coconut
If you decide to add nuts, coarsely chop and then toast them before adding to the filling.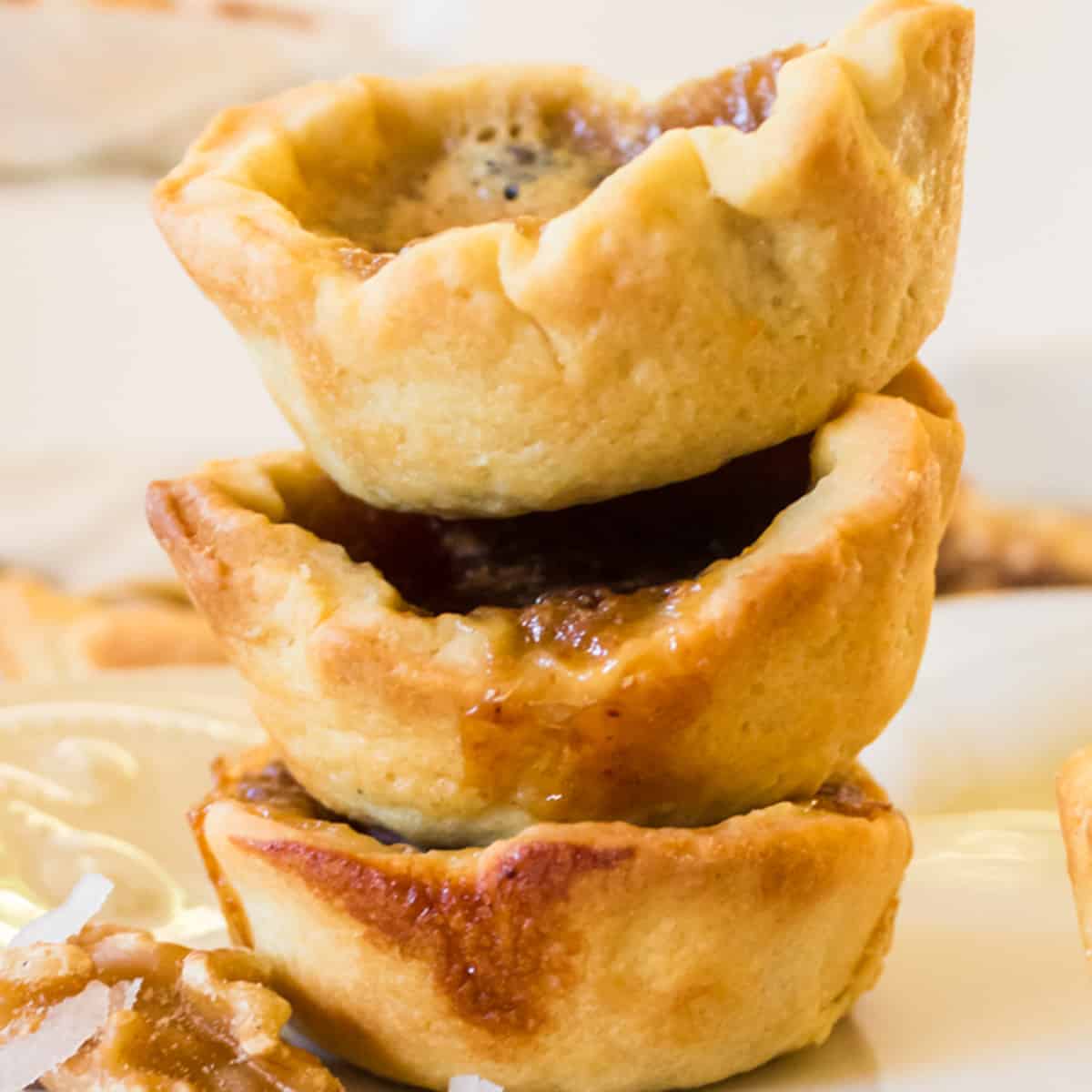 How to make these
You're going to start making these by assembling all of the equipment that you need.
Mixing bowls
Measuring cups
Measuring spoons
Pastry cutter
Whisk
4-inch cookie cutter
Rolling pin
Mini muffin pan
Now that you have all the kitchen tools necessary, let's get your kitchen nice and comfy and preheat your oven to 450° F. And now it's time to gather your ingredients as shown above. You will start by making the pastry shell.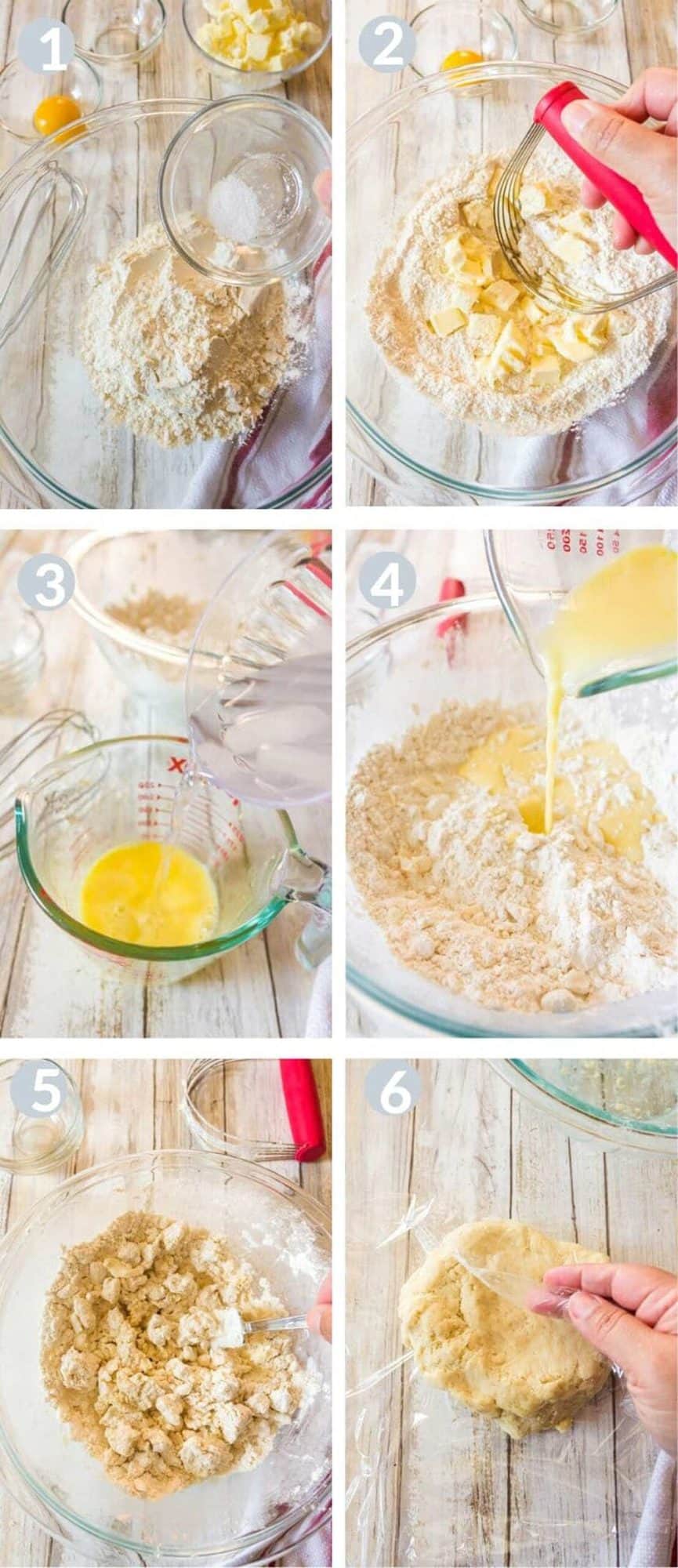 Use a large mixing bowl and stir the salt into the flour.
Next, use a pastry cutter and work the butter (or lard) into the flour mixture.
Combine the egg yolk and vinegar and add ice water and stir it until combined.
Pour this ice water mixture over the flour.
Use a fork to briskly work the flour and water mixture together.
Form dough into a disk, wrap with plastic, and chill in the refrigerator for an hour.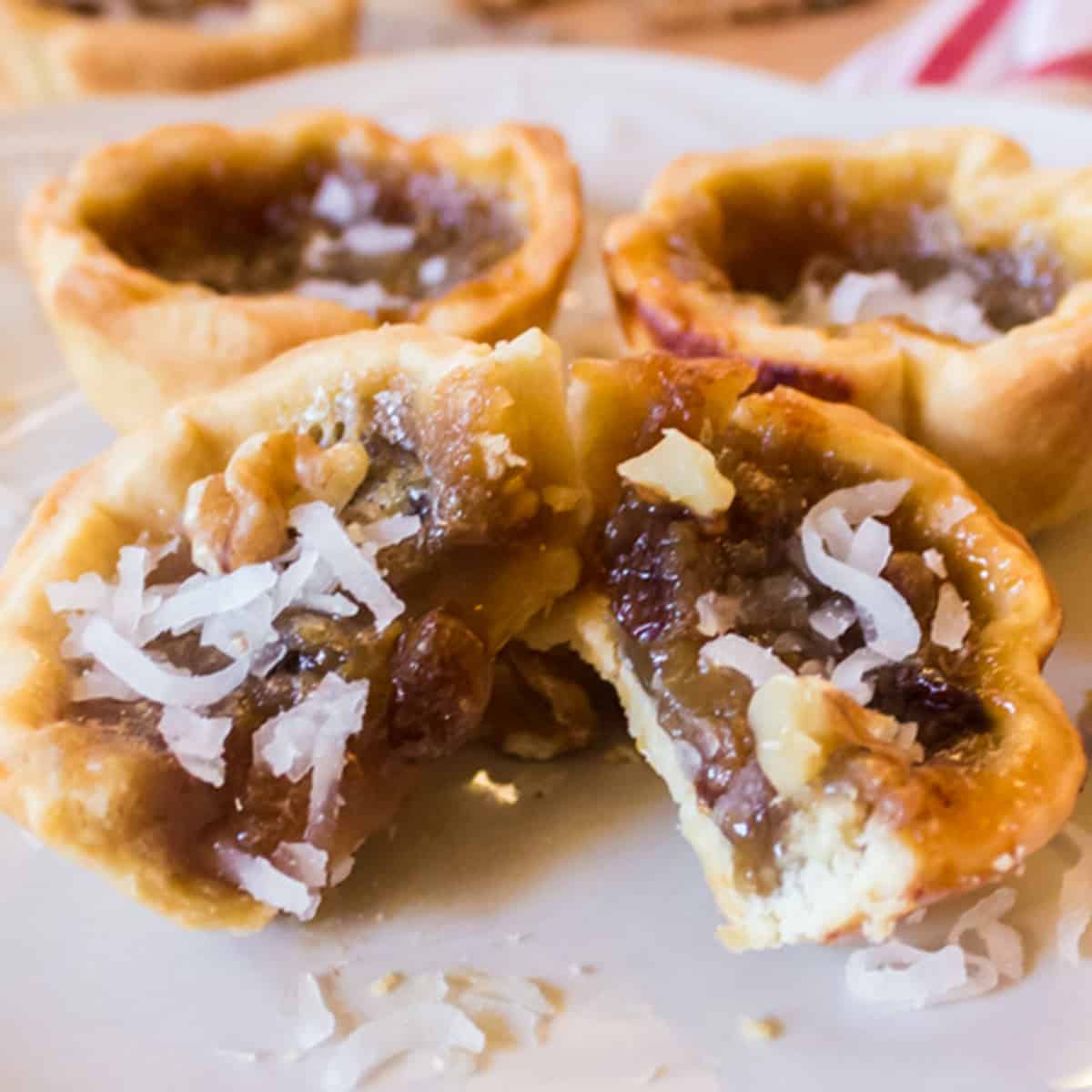 While your butter tart dough is chilling, let's get started on the filling. This step is super easy.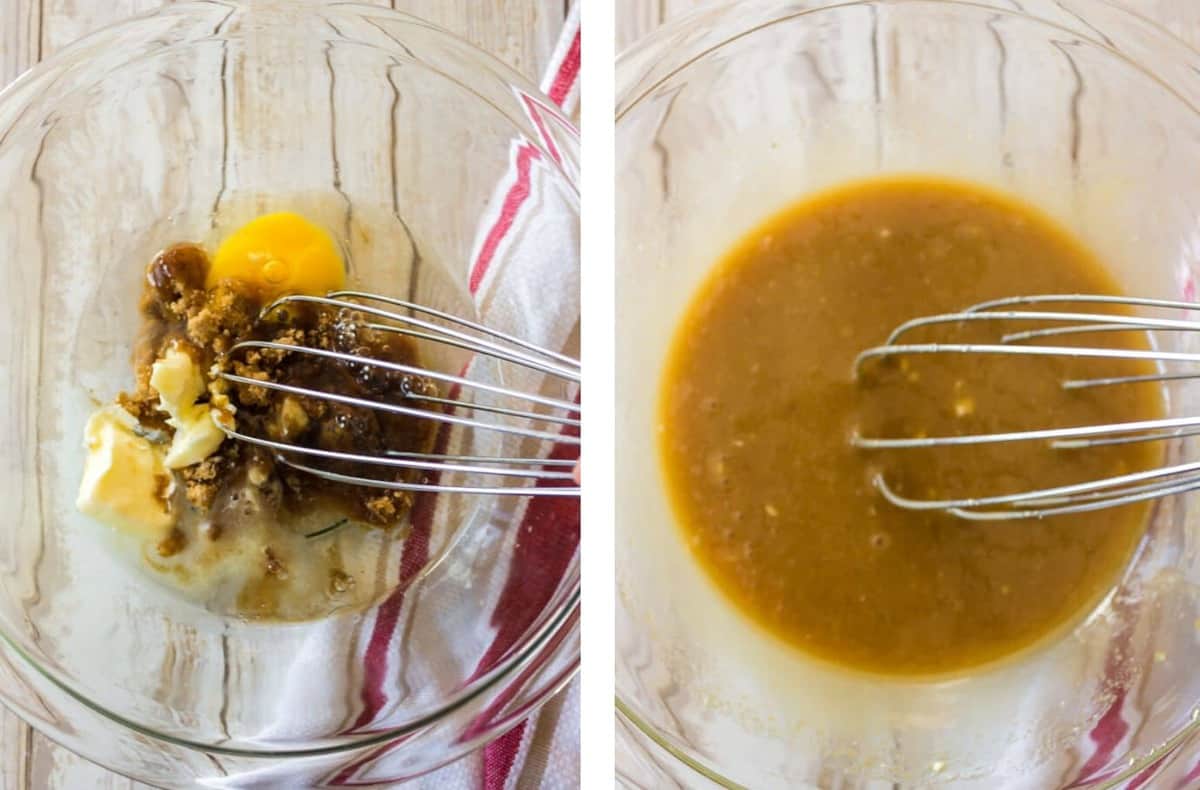 Use a large mixing bowl and combine all the ingredients for the filling.
Use a whisk and stir until thoroughly blended, then set aside.
After the pastry dough has chilled for an hour or so, it's time for things to get really fun!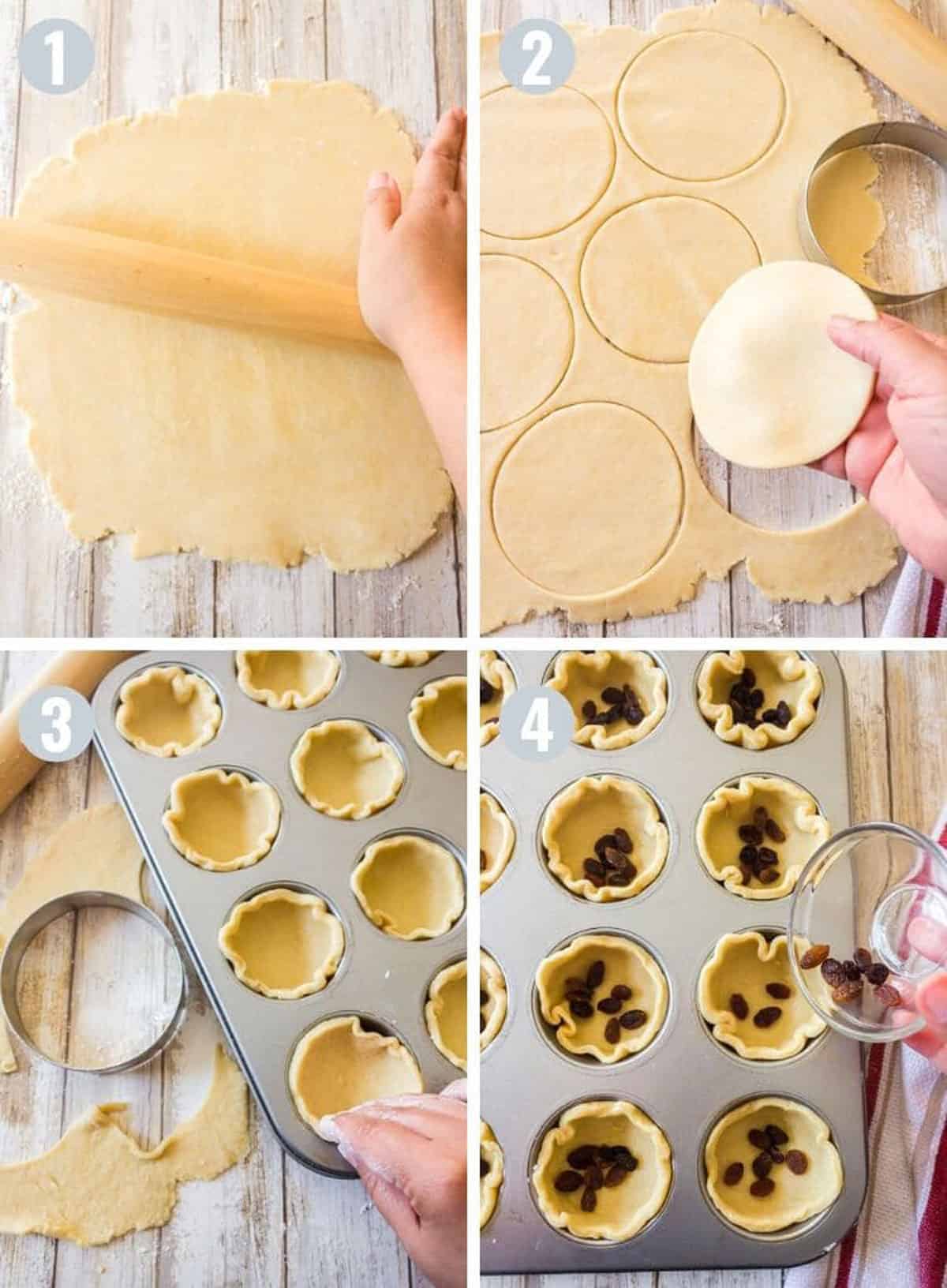 On a lightly floured surface, roll out the chilled dough to about 1/8″ thickness (or 3mm.)
Next, use a 4-inch round cookie cutter (or drinking glass) and cut out 12 pastry shells. Re-roll the scraps if necessary.
Tuck the butter tart pastry shells into the pan shown.
If you want to use raisins or currants, divide them evenly into the shells.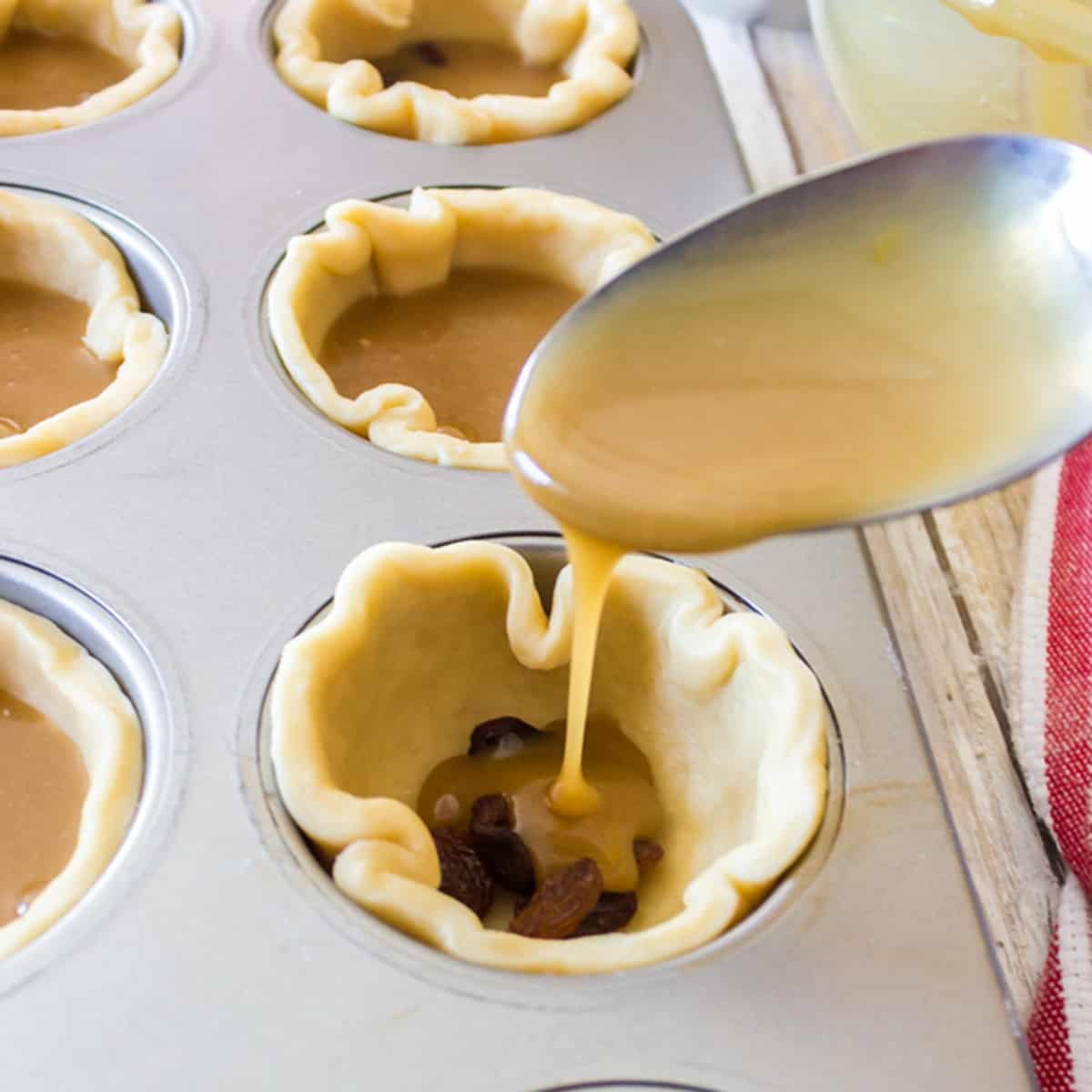 Now spoon the butter tart filling into each pastry shell, filling them about 3/4 of the way.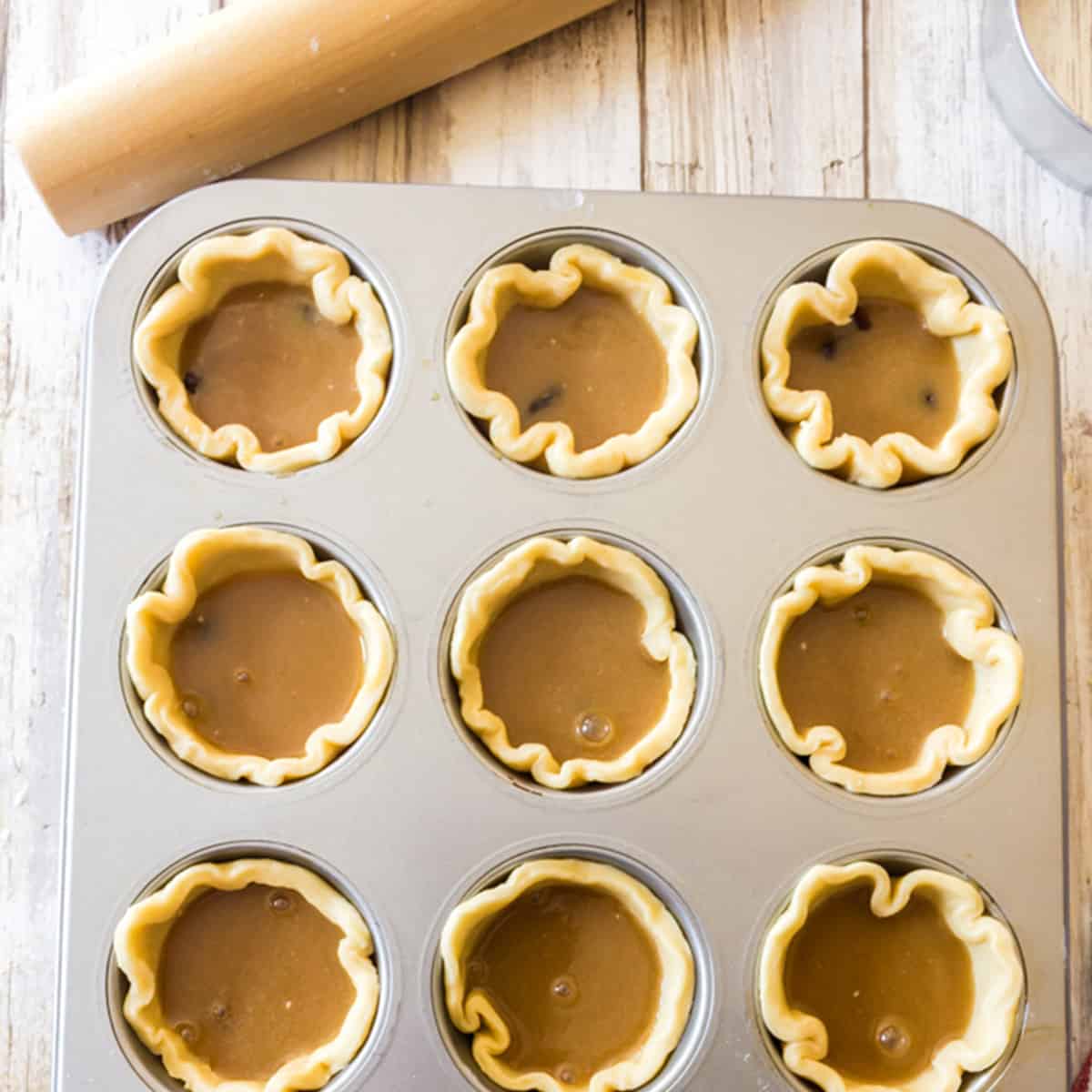 Now you'll place the unbaked butter tarts onto an oven rack in the lower one-third of your oven. Bake these puppies for about 12 minutes at 425° F.
When the pastry turns golden brown, and filling is puffed and bubbly, it's time to bring these babies back to Mama. Or Daddy.
Allow the baked tarts to sit for a minute or so.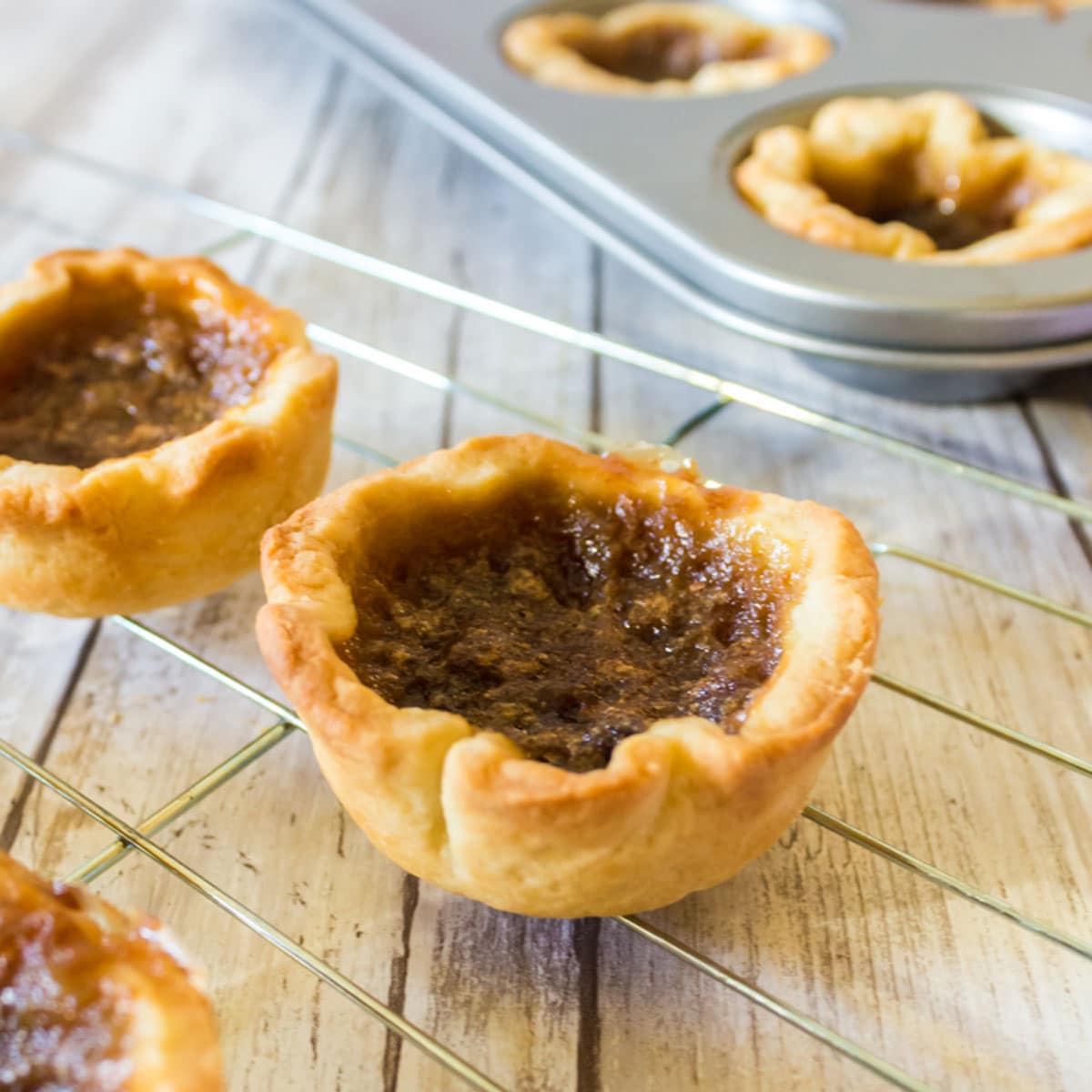 Then, use a metal spatula and loosen the edges of them and carefully lift and transfer to a cooling rack. I will admit it. This is the hardest step for me. Letting them cool.
If somehow on or two of these old-fashioned Canadian butter tarts don't make it to the serving platter, I fully understand.
And I won't judge. I promise.
---
Common recipe questions

Can you freeze butter tarts?
Yes! These freeze very well and taste great when thawed. I like to gently reheat them for a little added comfort.
Do they need to be refrigerated?
Butter tarts should be refrigerated and can be stored up to 3 days. These taste best when served at room temperature!
How do I make the butter tart filling firmer?
If you prefer your filling to be less runny, simply increase the brown sugar to 3/4 cup and decrease the corn syrup to 1/4 cup. Also, you can leave these in the oven for an extra minute or two for a firmer and more solid butter tart filling.
Do butter tarts have raisins?
Add (or leave out) any of the optional fillings of your choosing.
Similar recipes
👨‍🍳 Tried this Recipe? Please leave a ⭐⭐⭐⭐⭐ rating in the recipe card below and leave a comment. We love hearing from our readers!
⏩ Stay in touch with us on social media by following us on Facebook, Pinterest, Instagram, and YouTube!
📬Get our Recipes delivered to your inbox for FREE!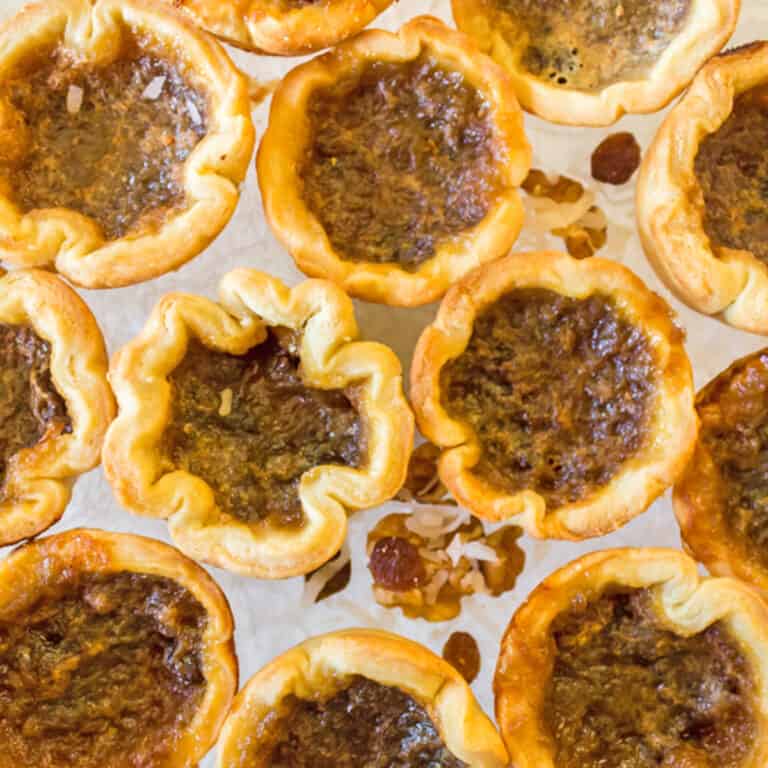 Butter Tarts
Old fashioned butter tarts just the way you remember them.
Ingredients
For the Butter Tart Pastry
1.5

cups

all-purpose flour

1/4

tsp

salt

1/2

cup

butter

,

chilled and cubed

1

egg yolk

1 tsp

vinegar
For the Butter Tart Filling
Instructions
Preheat your oven to 425° F.
To make the butter tart pastry
Use a large bowl to combine and whisk the flour and salt. Work in butter and/or lard using a pastry cutter.

Whisk the egg yolk and vinegar and then add enough ice water to make 1/3 cup (75 mL). Sprinkle this over the flour mixture and stir briskly using a table fork until the pastry holds together.

Press and form the dough into a disc and then wrap it in plastic wrap and place in the refrigerator to chill for one hour.
For the butter tart filling
Combine all of the filling ingredients into a large bowl and whisk together until thoroughly combined.
To finish the butter tart recipe
On a lightly floured surface, roll the dough out to 1/8 inch (3 mm) thickness.

Use a 4-inch round cookie cutter (or the rim of a drinking glass) and cut out 12 pastry forms. Re-roll the scraps if necessary.

Place the forms in a 2-3/4- x 1-1/4-inch (7 x 3 cm) muffin pan and evenly divide the optional raisins among them. Fill each pastry shell 3/4 to the top with the butter tart filling.

Bake in the lower third of your oven for about 12 minutes or until the pastry is golden brown and the butter tart filling is puffed and bubbly. Remove from oven and allow to rest for a minute or two.

Use a metal spatula to carefully loosen the sides of the butter tarts and transfer them to a metal cooling rack.
Notes
To make the filling for these butter tarts more firm, make the following adjustments:
Add an additional egg to the filling.
Increase the amount of brown sugar to 3/4 cup.
Decrease the amount of corn syrup to 1/4 cup.
Bake for a couple of extra minutes.
Nutrition
Calories:
236.53
kcal
,
Carbohydrates:
34.33
g
,
Protein:
2.5
g
,
Fat:
10.51
g
,
Saturated Fat:
6.34
g
,
Cholesterol:
55.27
mg
,
Sodium:
154.37
mg
,
Potassium:
58.89
mg
,
Fiber:
0.63
g
,
Sugar:
19.91
g
,
Vitamin A:
336.1
IU
,
Vitamin C:
0.16
mg
,
Calcium:
18.9
mg
,
Iron:
0.97
mg
Nutrition information is automatically calculated, so should only be used as an approximation.