Raised Donut Recipe (Fasnacht)
on Apr 12, 2013, Updated Jan 01, 2021
This raised donut recipe is a part of my childhood that I have passed on to my boys as a part of theirs. Making this family recipe with them is one way I am able to share stories of my mom, their Grandma they never met.
Between snuggling up in the quilts and comforters she made some 40 years ago and making old recipes like this one, it's almost as if she is giving them some of the hugs that I know she would have wanted them to have. These donuts show the magic of family recipes and timeless memories. Plus, they are amazingly delicious!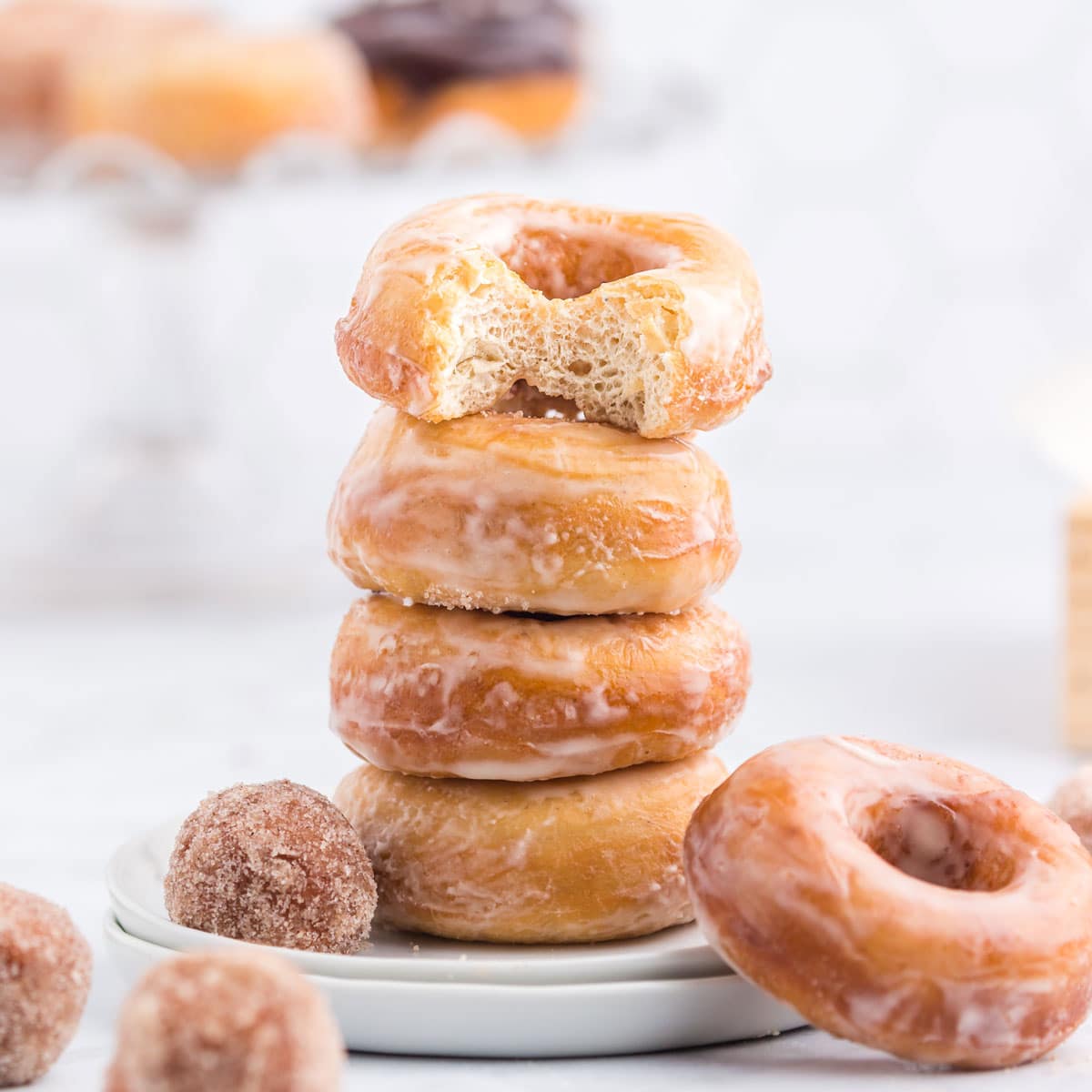 Jump to:
I can't recall the first time I "helped" my mom make donuts, but I do know that it has been in the neighborhood of four decades that my hands have played with a donut cutter.
Making donuts back then was always a special activity. Fun, creative, and incredibly delicious. So much has happened in the ensuing years of my boyhood. Loved ones have passed and new ones born.
I've gotten quite a bit older and gas is no longer 29 cents a gallon. Many things however have remained constant. The comfort of my own bed, the voice of my best friend from my youth, and the indelible memories of favorite treats that I grew up with.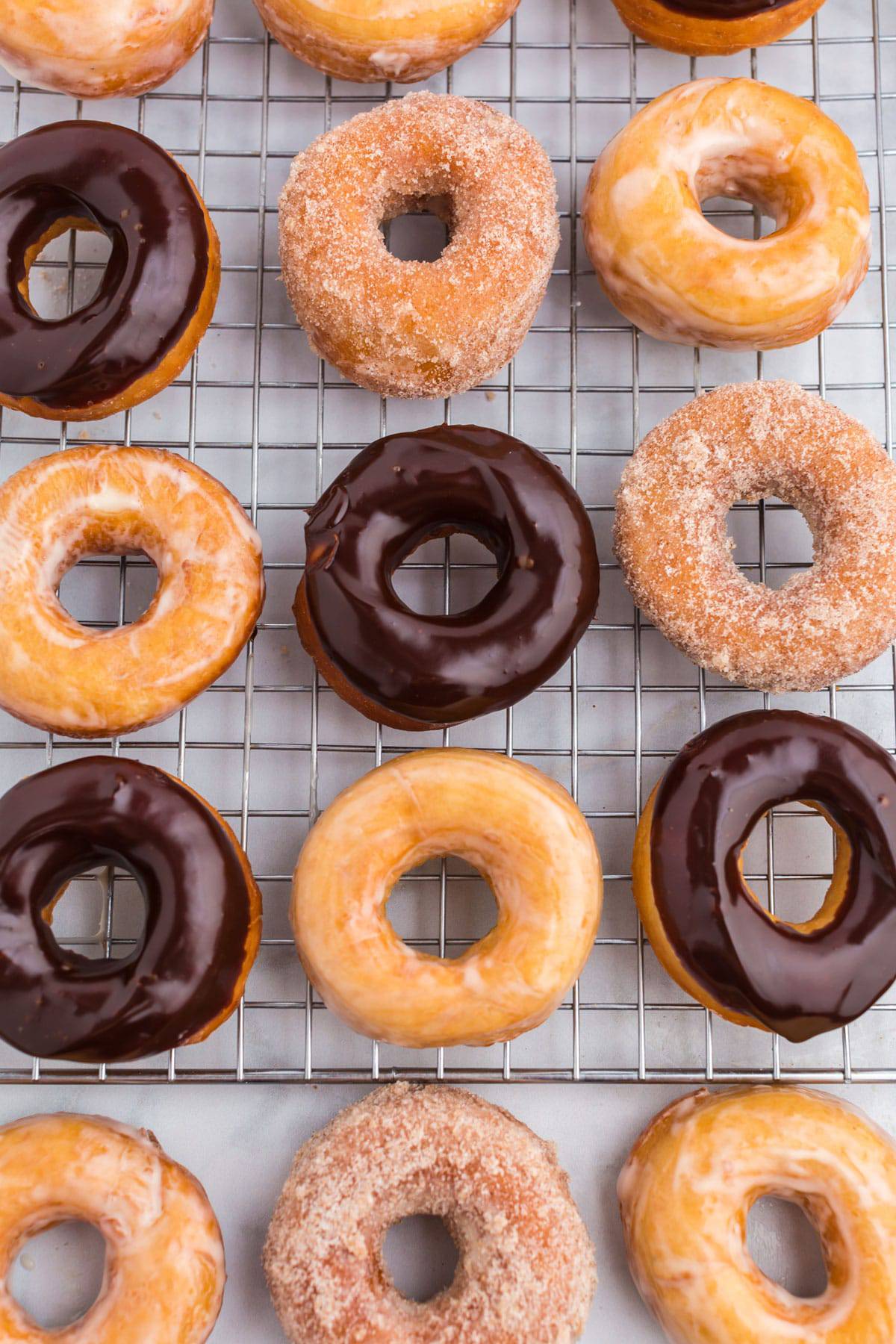 What is Fasnacht?
Fasnachts are heavy German donuts, traditionally made in a square or triangular-shape with no holes in the center. They can be filled with cream, glazed, powdered with sugar, or all of the above. The old way is to make them with lard, just like my mom did with the fat rendered from our own pigs.
Made from an Amish Fasnacht recipe, my mom just called these raised donuts and on the mornings she revealed she was making them, I knew it was going to be a special day.
We use a regular donut cutter which is part of what makes it so fun for kids.
What can be more fun than cutting donuts, and then having all the donut holes as your own private stash. This is probably one of the recipes I have to thank for giving me a life-long love of baking. And, eating donuts.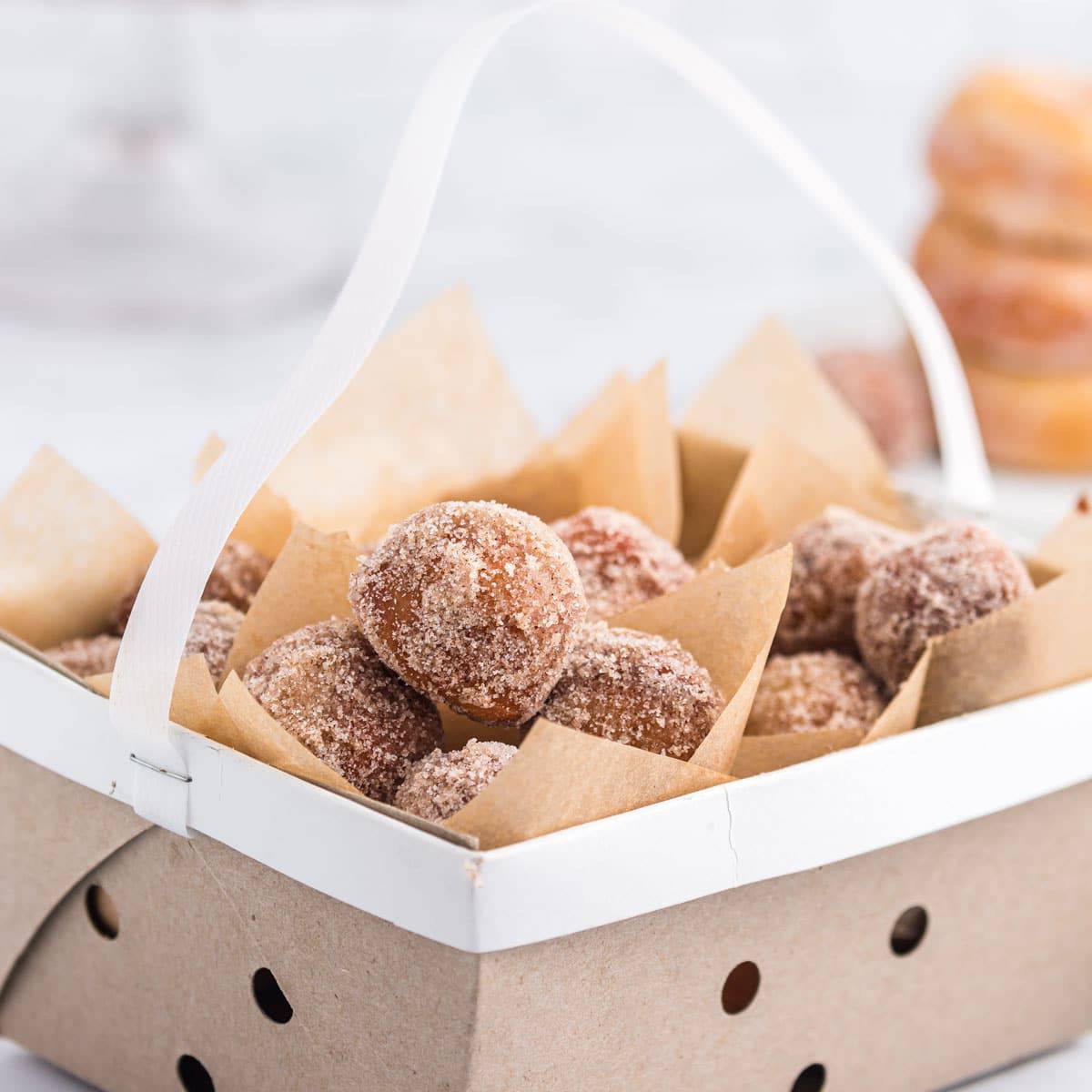 Ingredients overview
This recipe for raised donuts takes ordinary pantry ingredients. My mom always used lard for these, but that was way back when on the farm. We fry these in vegetable oil today and my kids don't know the difference!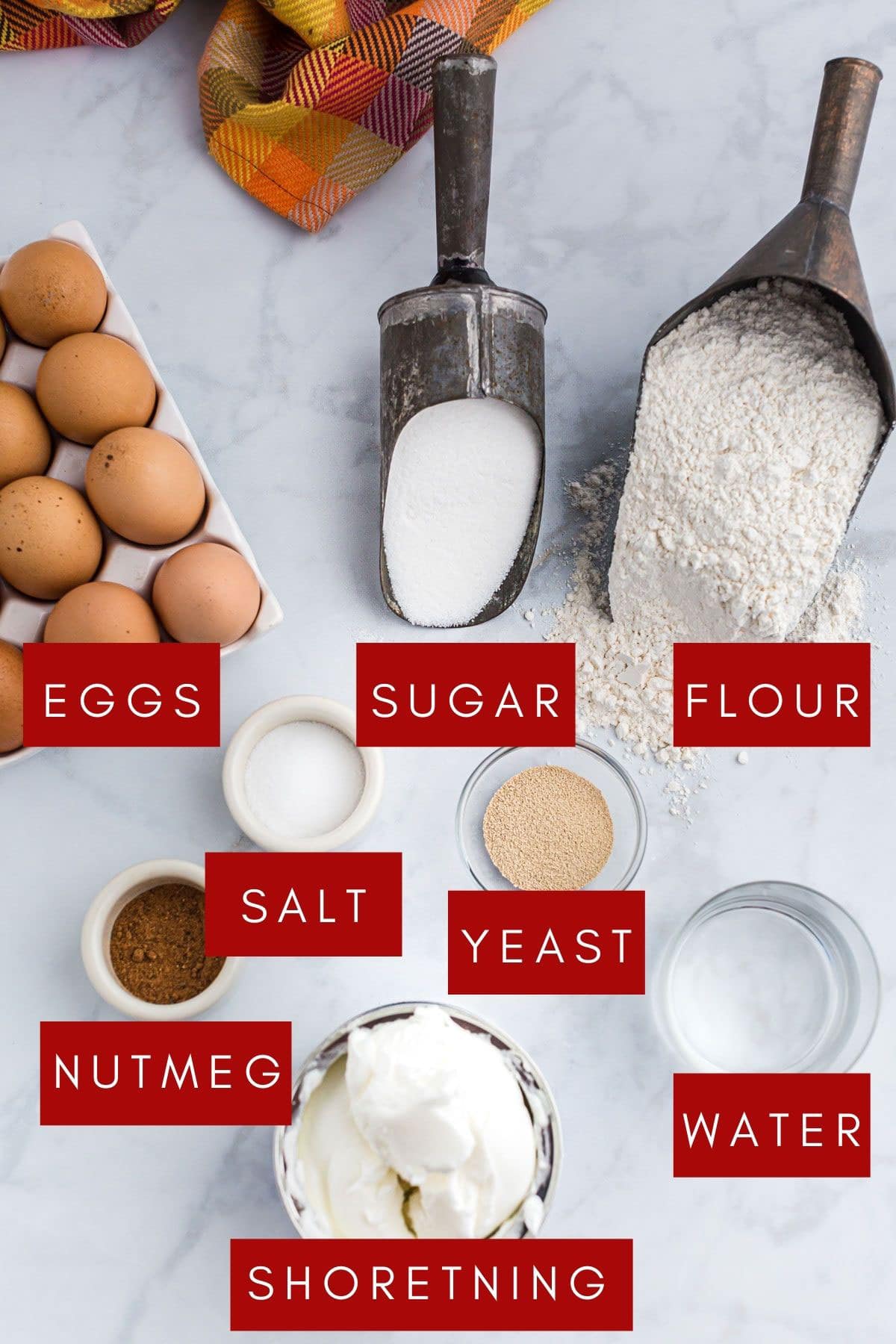 How to make them
(Full recipe is at the end of this post.)
This raised donut recipe starts with a sponge made with yeast and flour. I suggest letting the sponge raise overnight which I think gives a flavor boost to the Fasnacht.
Once you have all of the ingredients assembled, it's time to make the donuts!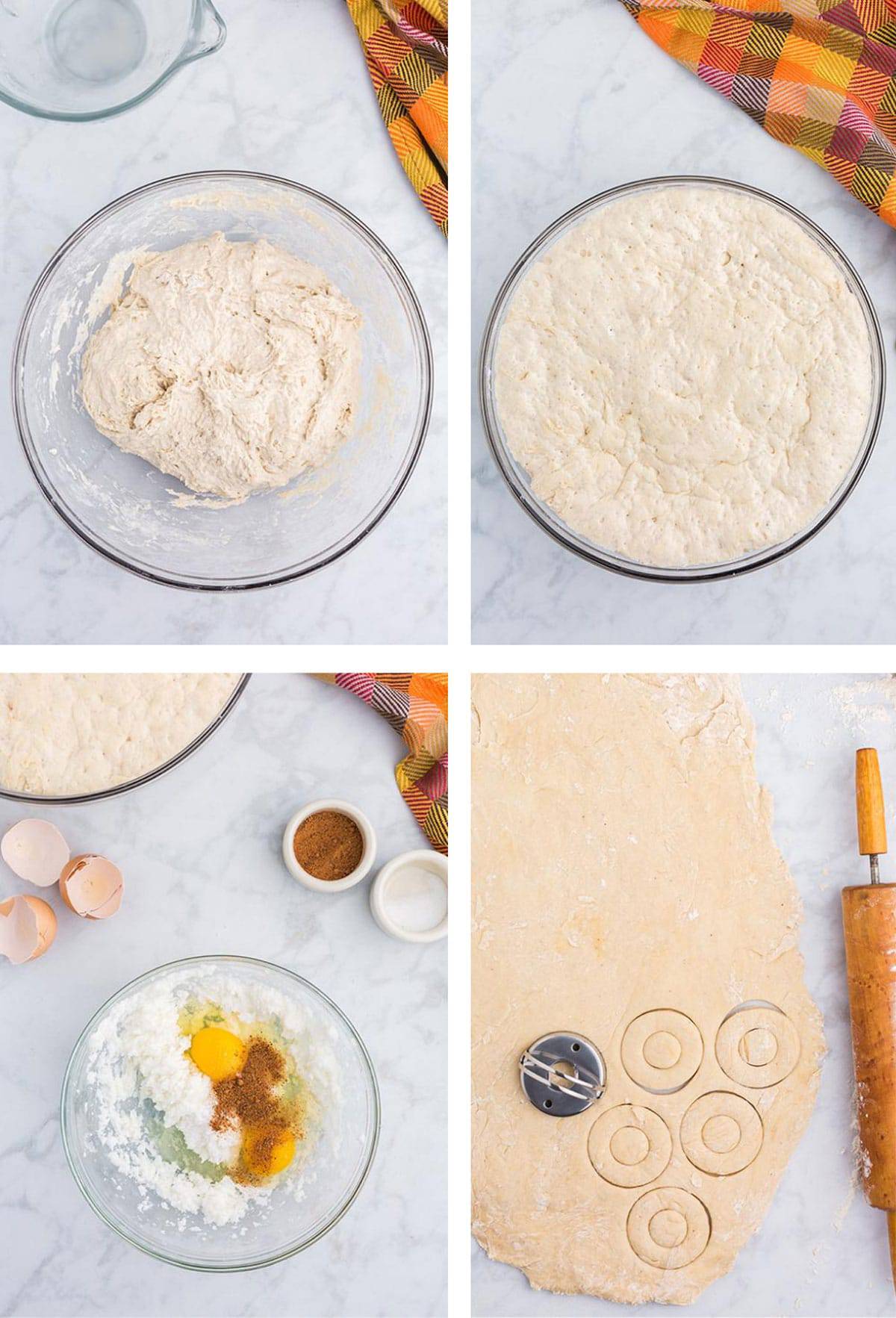 Make the simple sponge.
Let it double in size.
Make the donut dough and add it to the sponge. Allow the two to rise together.
Roll out the dough and let the fun being!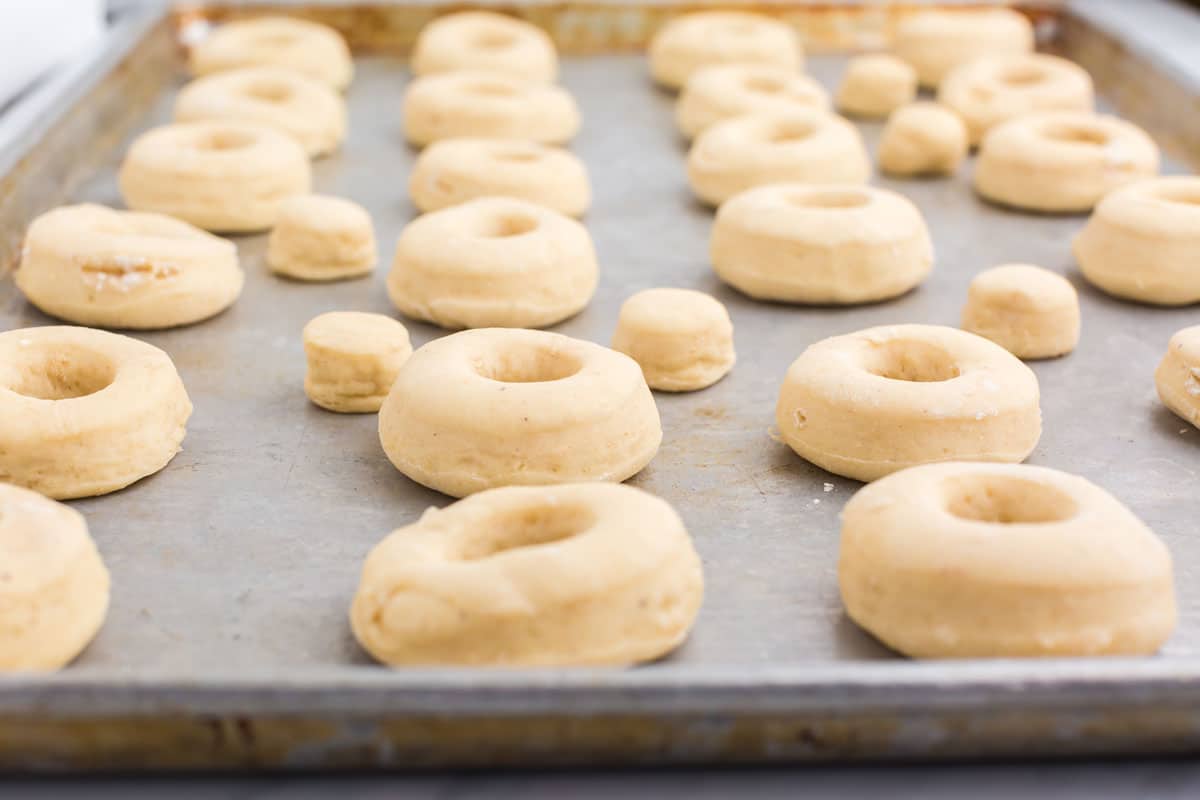 When you have the donuts cut out, place them on a baking sheet and let them rise until they double in size. Toss a kitchen towel over them to facilitate the rising process and keep them from drying out.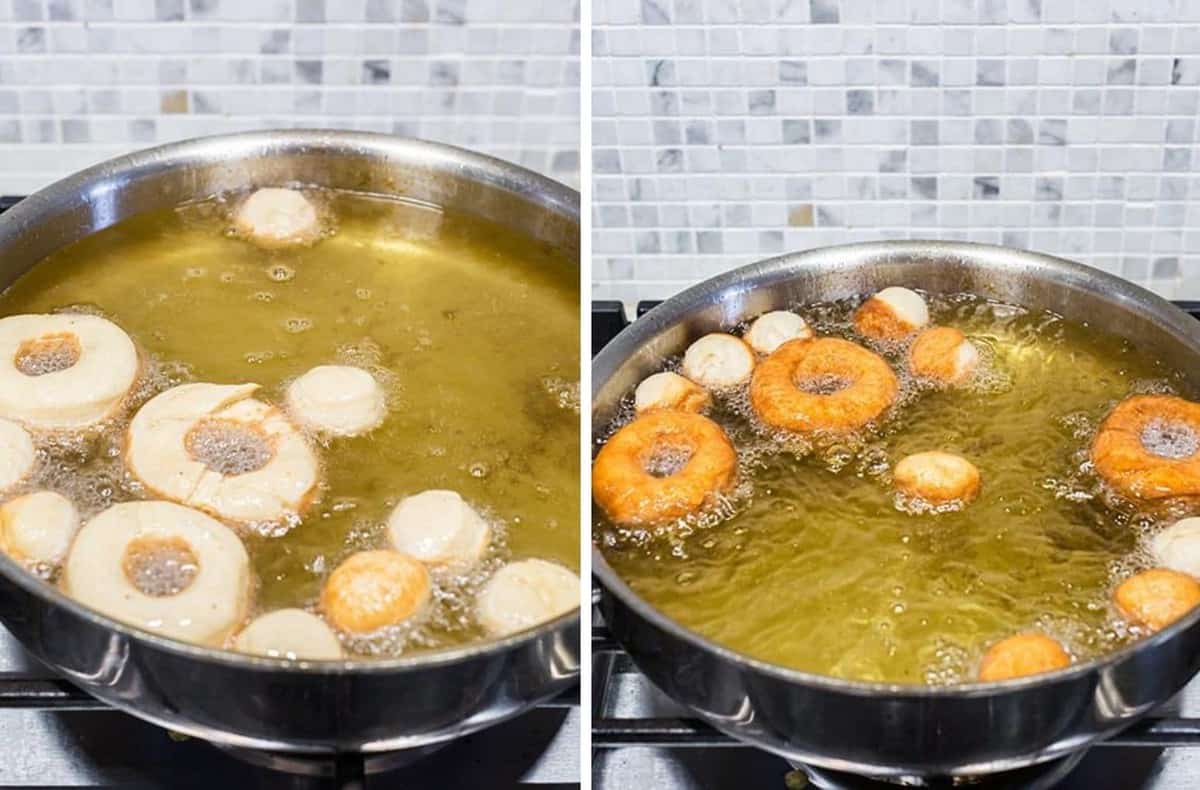 You'll fry these yeast donuts in a large skillet, with the oil heated to 375°. Be sure to flip each one so they have a nice golden brown color on each side.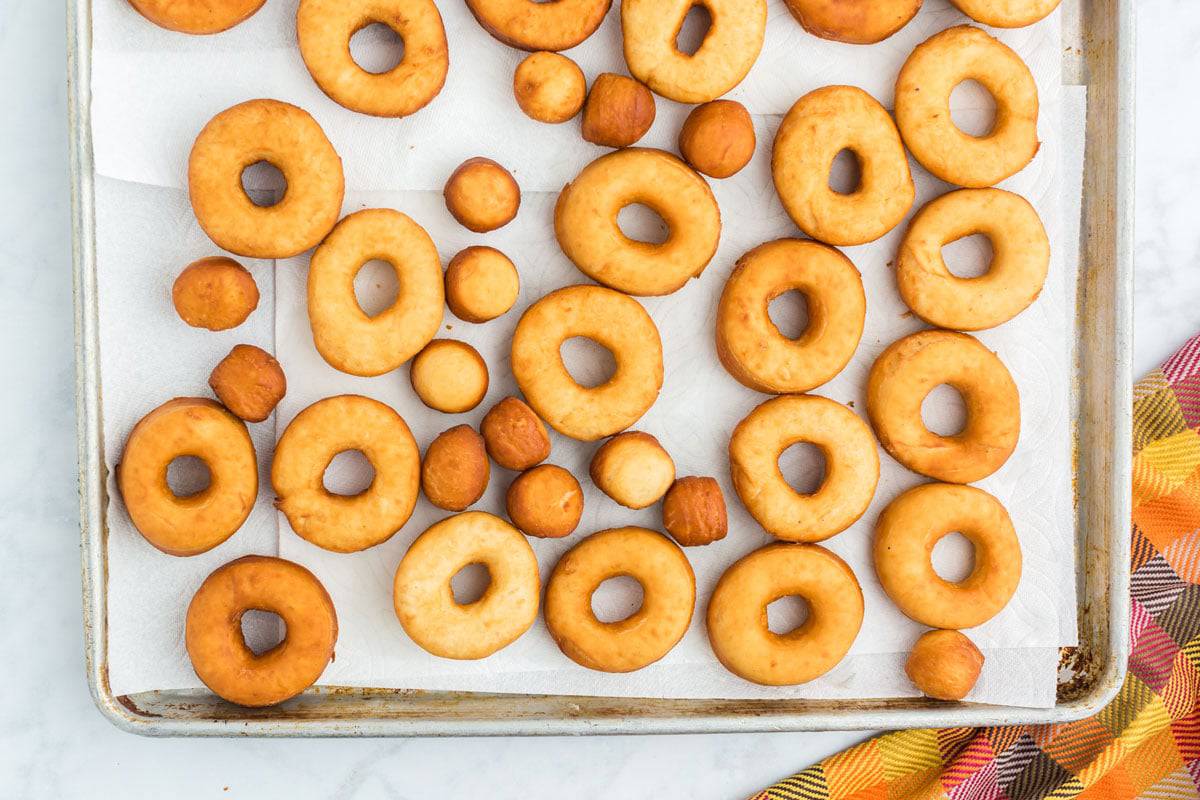 I like to drain these donuts on brown paper grocery bags, and then let them cool for a few minutes before adding the crowning touch of a sweet topping.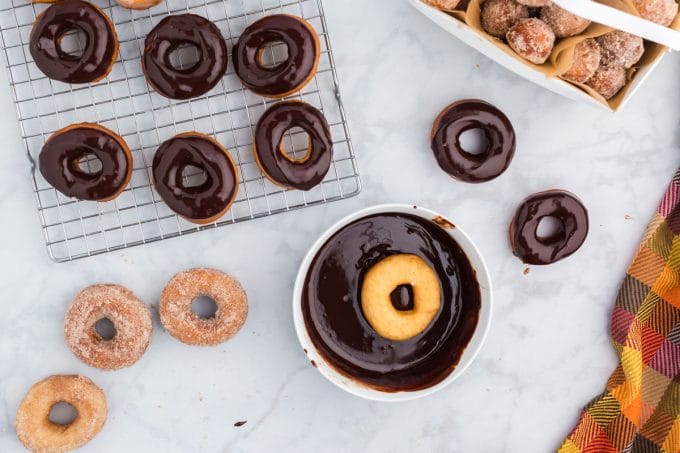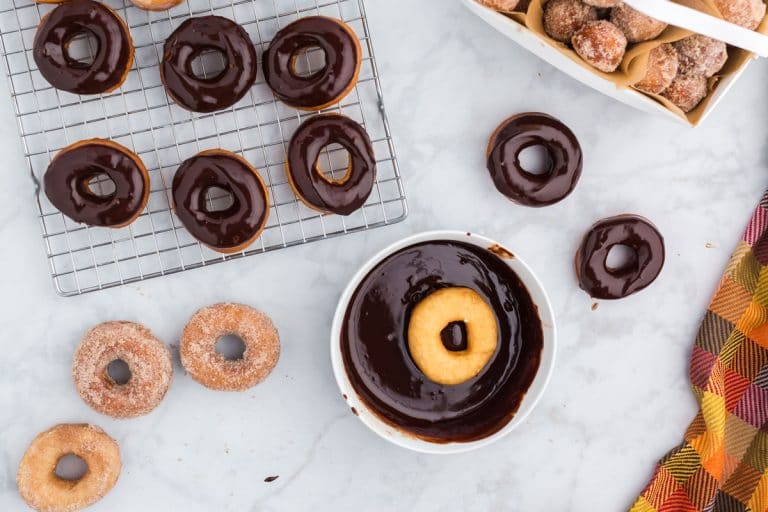 I have one son in particular who is a bona fide foodie. Isaiah is my blue-eyed nine-year-old who possesses a genuine passion for taste and flavor. He's our boy who loves seafood for breakfast. You get the picture.
For quite some time now, I have shared with him the stories of making donuts as a youngster while giving to him my word to undertake that activity with him some day.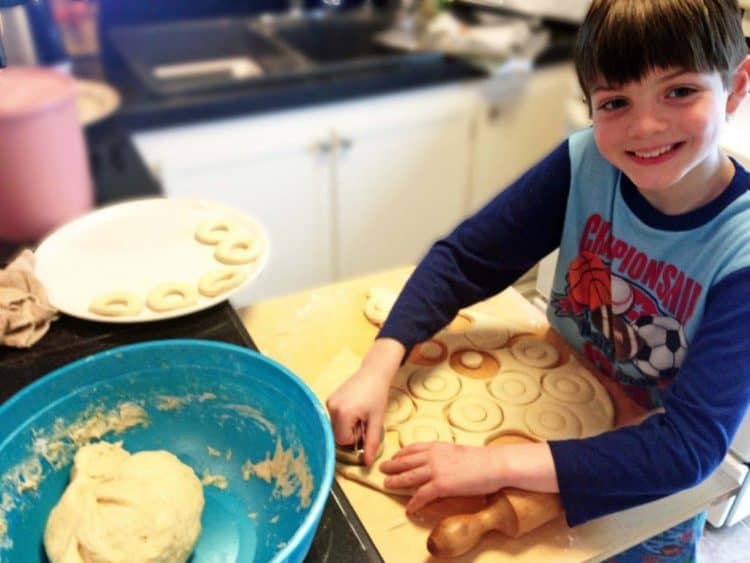 I made good on that promise this past cold and wet April weekend, at our small cottage, on a small lake, in the middle of Nowhere, Wisconsin. Isaiah had a blast, as did his dad.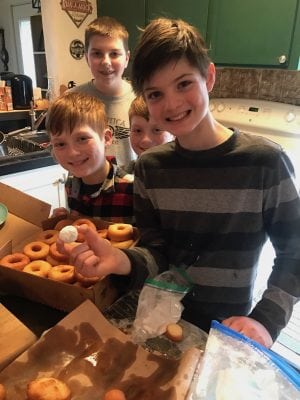 Isaiah and I ended up adapting a recipe from amishamerica.com. It seemed basic and well suited to a couple of newbie donut makers such as the two of us.
I love cooking with our kids. After making this raised donut recipes, Isaiah made a remark that echoed his brother Joe, when he made our molasses cookies. He told me of his hope of someday making donuts with one of his kids. I sure hope that happens some day.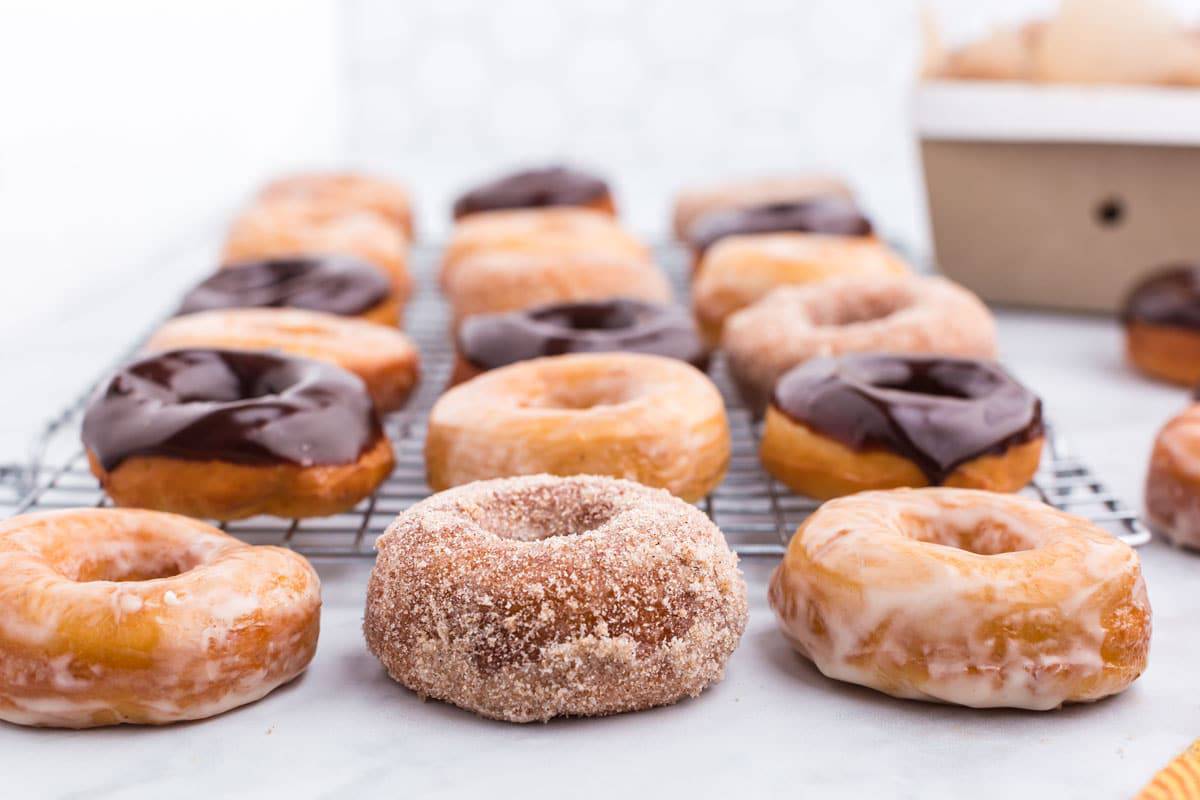 How to glaze these
I always make a simple glaze for these using a combination of powdered sugar, salted butter, a splash of vanilla and some heavy cream or milk. You'll want to be generous with the liquid and just play with the consistency until its thin enough to drizzle over the donuts but not so watery that it won't stick.
Ideas for Donut Glaze
One of my favorite ways to eat these is to add a cup of powdered sugar to a gallon-size zip lock bag and shake a donut inside of it. This works well for the holes as well. This is not only a simple and mouthwatering idea, it's also a lot of fun!
If you want a little fancier glaze, the sky is the limit. Here are a few of my favorite glaze recipes for donuts:
Orange Donut Glaze – Use a teaspoon or so of fresh orange juice and sprinkle some fresh orange zest on the glaze as it dries.
Chocolate Donut Glaze – Add a tablespoon or two of cocoa powder to the glaze mix. You may need a little extra milk to make it smooth and silky.
Maple Glazed Donuts – This is my favorite. Instead of vanilla extract, add a tablespoon or two of pure maple syrup to the mix. Use the darker and cheaper maple syrup which is stronger in flavor and ideal for baking.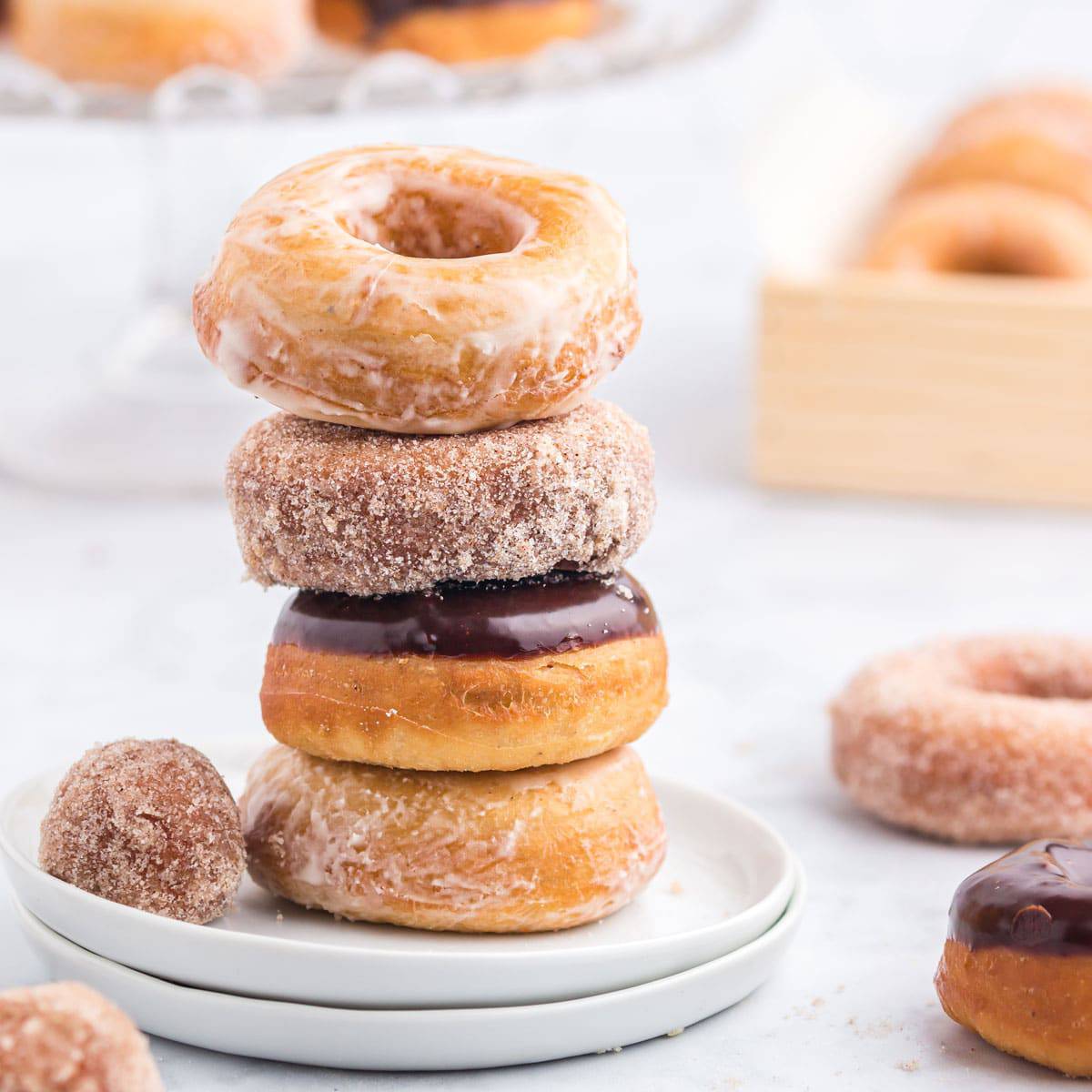 FAQ
Can I use Self-Rising Flour?
Self-rising flour contains all-purpose flour, baking powder and salt. I do not recommend substituting this for regular flour when making donuts as it will affect the texture and the taste. Remember, we want light and airy raised donuts! Although you can use substitute self-rising flour for these donuts, you'll want to leave out the yeast.
What's the Best Temperature for Frying Donuts?
375° is the best temperature for frying donuts. I like to use this long probe digital candy thermometer to safely check the temperature of the oil.
What Can I use Besides a Donut Cutter to Shape the Donuts?
If you don't have a donut cutter, you can use a wide-mouth jar or a large drinking glass to cut shape them. A vitamin container or pill bottle can be used to easily cut the donut holes.
What is Fastnacht Day?
This raised donut recipe is so good, it has it's own holiday! Fasnacht Day (or Fastnacht Day) is a Pennsylvania Dutch celebration that takes place on the day before Ash Wednesday, or Shrove Tuesday.
Legend has it the Fastnacht Day was created as a way to use up all the eggs, butter, lard, and other delectable foods in preparation for lent. The Amish and Mennonites have some close ties to the Pennsylvania Dutch and this Fasnacht recipe is one of them.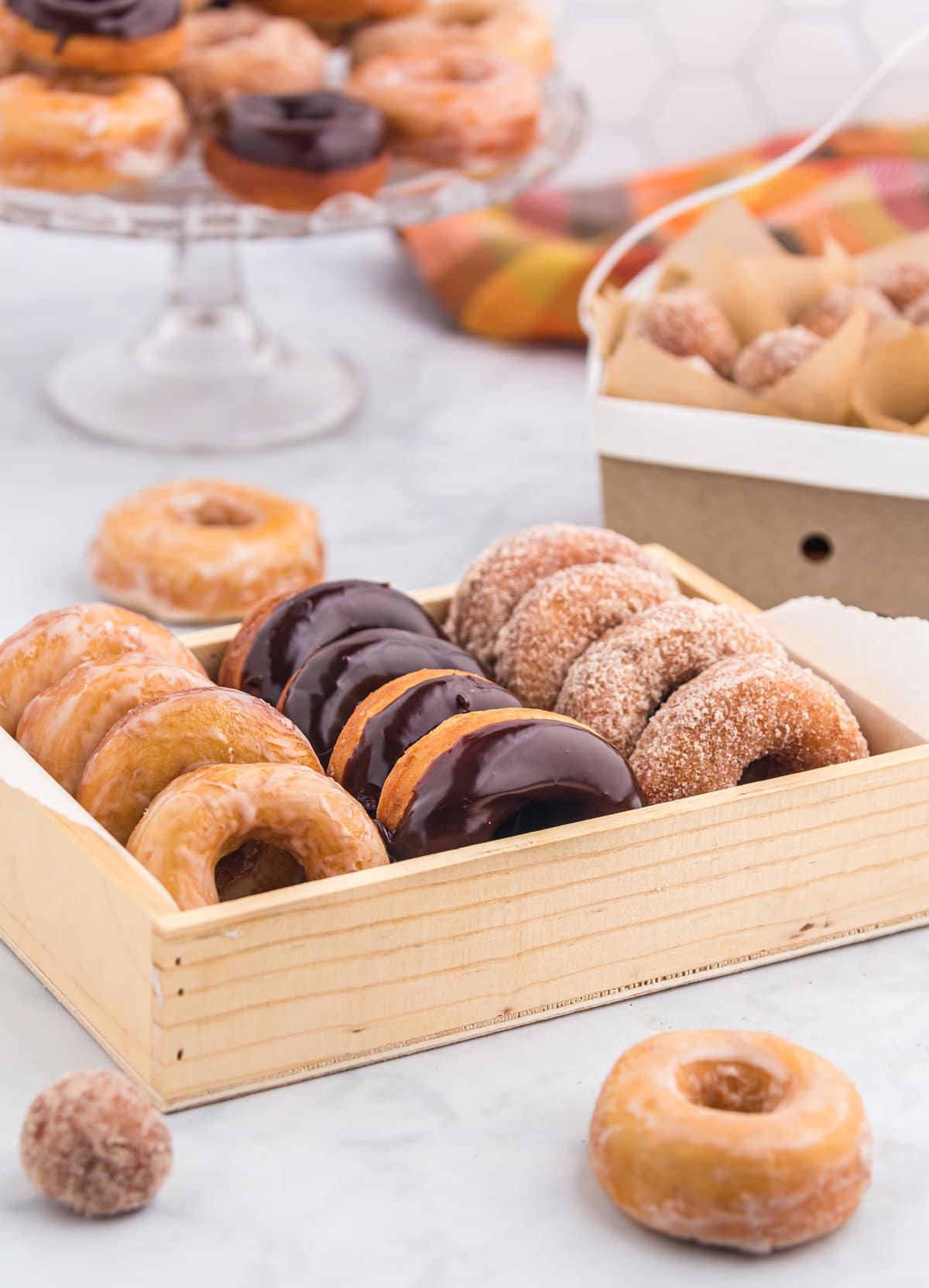 Similar Recipes
👨‍🍳 Tried this Recipe? Please leave a ⭐⭐⭐⭐⭐ rating in the recipe card below and leave a comment. We love hearing from our readers!
⏩ Stay in touch with us on social media by following us on Facebook, Pinterest, Instagram, and YouTube!
📬Get our Recipes delivered to your inbox for FREE!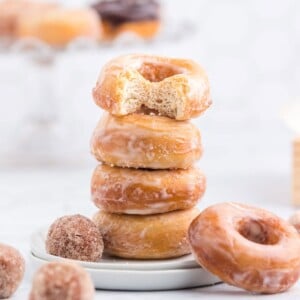 Raised Donut Recipe
How to make Amish Fasnacht
Ingredients
For the Sponge
4

cups

flour,

all-purpose

2

cups

water

,

luke warm

1

tbsp

yeast

,

dry active
Instructions
Prepare sponge by mixing yeast and warm water in large mixing bowl. Stir well until yeast is dissolved. Add flour and mix thoroughly. Cover bowl and set in warm place, overnight or until sponge has doubled.

For dough, use a medium-sized mixing bowl and cream together sugar and shortening. Add the nutmeg, salt, and eggs and mix thoroughly. Pour this mixture into the bowl containing the sponge and mix together. Gradually stir in remaining flour. Stir in as much flour as the dough will readily take. Cover dough and set in warm place and allow to double in bulk.

On a floured board, roll dough to ⅓ inch thickness. Cut dough using donut cutter or round form. Allow cut-outs to rise until doubled in size, keeping covered to prevent from drying.

Heat frying oil to 375 degrees in deep skillet. Fry donuts until a light golden brown, be sure to turn them over so each side is evenly fried.

Allow to cool and drain on paper bag or paper towels. Glaze or coat with your choice of topping, or enjoy plain. Have coffee or milk readily available for immediate dunking.
Notes
Let the dough rise overnight for more flavor.
Use a large drinking glass to shape the donuts if you dont' have a donut cutter.
Eat these plain or with a simple glaze made of powdered sugar, vanilla extract, butter, and milk.
Nutrition
Calories:
119
kcal
,
Carbohydrates:
19
g
,
Protein:
2
g
,
Fat:
3
g
,
Cholesterol:
6
mg
,
Sodium:
28
mg
,
Potassium:
28
mg
,
Sugar:
2
g
,
Vitamin A:
10
IU
,
Calcium:
5
mg
,
Iron:
1.1
mg
Nutrition information is automatically calculated, so should only be used as an approximation.